The ECO Wedding Show – Norfolk
April 10, 2022 @ 11:00 am

-

3:00 pm

£7.00 – £12.00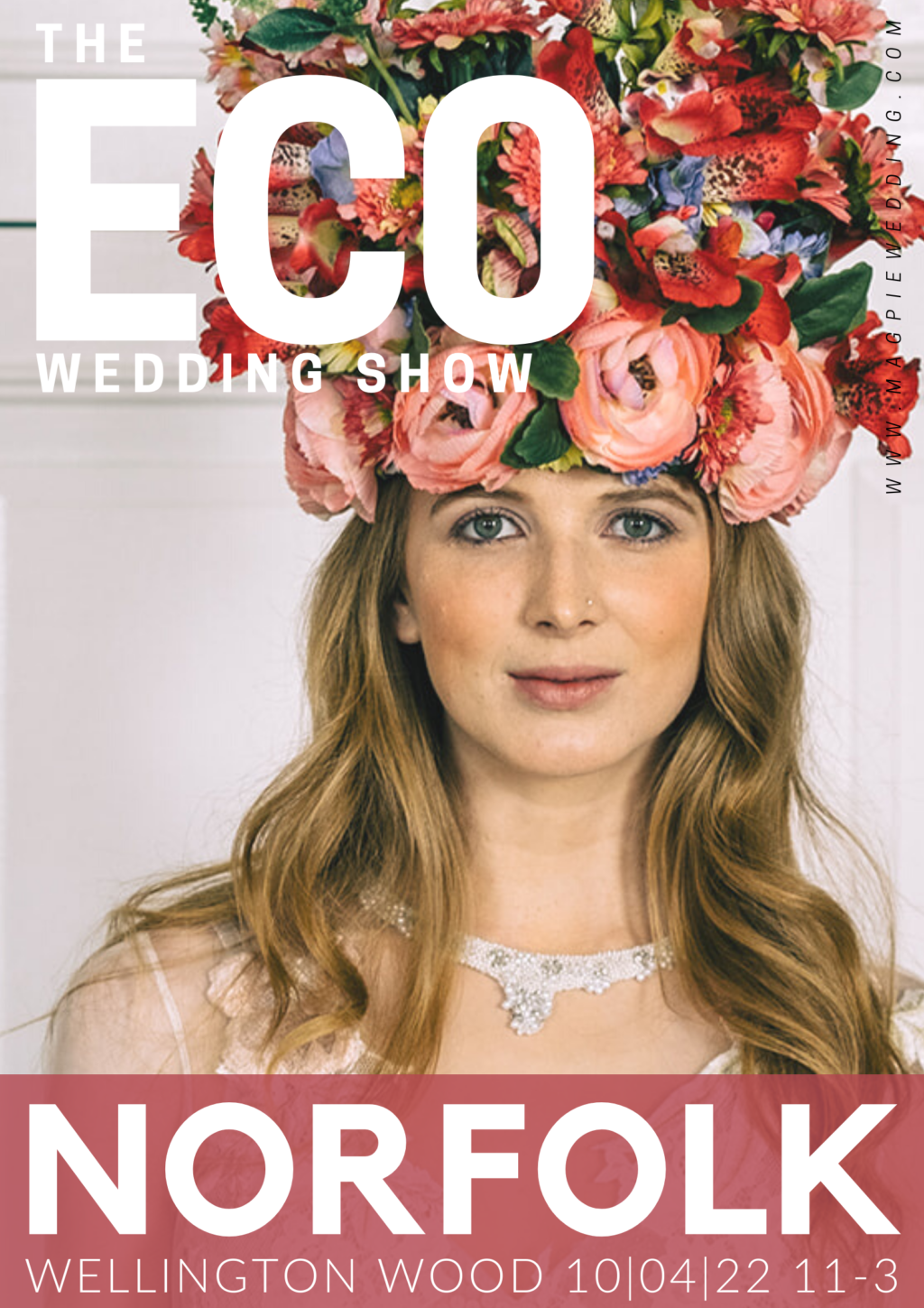 The ECO Wedding Show (formerly The Ethical Wedding Show) is back in Thetford Forest, Norfolk in spring 2022 at the beautiful Wellington Wood on April 10th. It is a show for eco, ethically-minded couples who love the planet as well as each other. Set in a meadow, next to the forest in a beautiful tipi – this one's for you if you want this outdoor rural vibe.
Every supplier has been handpicked for The ECO Wedding Show, not just for their gorgeous product and impeccable service, but because they too care about the planet.
They have worked hard to reduce their plastic use before, during, and after your wedding.
They have introduced vegan versions to give more choice, and because they care.
They have been clever with recycling or up-cycling in their designs as well as after your wedding.
They source locally to keep their carbon footprint low.
They embrace pre-loved or vintage.
But this doesn't mean quality has dropped. Neither does it mean they don't deliver the creative luxe weddings we are known for here at Magpie Wedding.
Show Programme
11:30 – Trend tables with a twist – Making trends work for you – with Doesn't Cost the Earth plus Newall & Wright 
12:15 – Wedding stationery: Where to start and what to avoid! – with Something's Brewin Stationery 
1:00 – Perfecting your Personal Vows– with Jamie Walker celebrant 
1:45 – Raffle prize draw (in/outside tipis) 
2:00 – Makeup and skin care confidence, the natural way – with Brunetti Artistry 
PLUS – Around the Kitchen Table – an informal talk about sustainable wedding catering with Ripe Events every half past the hour at the catering kitchen (between the Noggin Bar and Tipis) 
There will be music and vocal performances throughout the day from Laura Wyatt in the tipis. 
Style Lounge Programme 
11:15 – Natural makeup demo with Brunetti Artistry  
12:00 – Bridalwear and Accessories Show and Talk with Tatty's Original and Petal and Metal Bridal 
12:45 – Bold beauty makeup demo with Brunetti Artistry  
1:15 – The dressmaking process exhibition by Tatty's Original 
Why The ECO Wedding Show?
Being eco-minded in your life choices and therefore your wedding choices is one of our core values and always has been. Let's face it, choosing vintage which is where we began, is a great way to be eco-friendly, cut down your carbon footprint and recycle (and look good too!). We know that our couples love the planet as well as each other so want to have a positive impact with their spend for their big day. They don't want single-use plastic. They want to know that their venue follows good practices with their recycling and supports local businesses. They don't want a load of tat from China.
They care.
How ECO will the show be?
We are firm believers that a million people embracing being ethical imperfectly is better than a few people doing it perfectly. Therefore we have designed a 5 point criteria for our businesses with everyone involved having to meet at least 3. This, therefore, means they may be less good at one aspect – but overall they are making a difference. And want to.
ECO stands for Ethical, Creative and Off Beat – the shows will be this as is Magpie Wedding!
The 5 points are:
SUPPORTING LOCAL – to bring down their carbon footprint, to support communities and small businesses here in the UK.
NO SINGLE-USE PLASTIC – reducing plastic use overall and cutting out single-use plastic
BEST RECYCLING PRACTICES – using recycled materials, and recycling afterward
CARING FOR WILDLIFE – adding a large vegan choice, not using chemicals that harm nature, and generally loving the planet
SUPPORTING OTHER ECO INITIATIVES – supporting charities, reducing waste, donating after the day, excellent working practices, hand-making items that last forever…..
What you need to know
The ECO Wedding Show is on April 10th 2022 and doors open at 11 and close at 3.00. The address is Wellington Wood, Brandon Road, Thetford, IP26 5NP
Visitors will be able to enjoy regular performances from acoustic guitarist and singer Laura Wyatt whilst they explore the show or have a break for a bite to eat and something to drink from our bar and food truck exhibitors. In our dedicated talk and workshop space, couples will be able to take part in a workshop about styling, trends and how to make them work for you and your wedding.
In addition, we have Jamie Walker Celebrant sharing her top tips and essentials for writing your own vows, plus Katie from Something's Brewin Stationery will be covering some dos and don'ts of planning your stationery. Our Style Lounge will feature regular model showcases and talks from a Norfolk based bridal designer and dressmaker, guiding you through her ethical approach and how you too could work with her to design your own unique dress. In addition to makeup demos during the day, Brunetti Artistry will be delivering a talk about how the right makeup can boost your confidence before, on and after your wedding day.
The closest train station is Brandon, from which is a 10 minute taxi ride or 30 minute cycle to Wellington Wood. There is no taxi rank at the station so please book your taxi in advance or use the details found on the station noticeboard.
Children are free and very welcome as are well behaved pets!
Standard tickets are £7 which includes a £1 donation to Brides Do Good charity, helping to stop child marriage worldwide including the UK.
VIP tickets are £12, where you can enjoy some British booze and get an eco goody bag. This also includes a £1 donation to Brides Do Good charity, helping to stop child marriage worldwide including the UK and we will plant a tree for every VIP guest in the Amazon Rainforest