Style and fashion are subjective, and so is jewellery. We all know that there are just some things that have stood the test of time when it comes to weddings. Veils, lace and ruffles for one thing, have kept their prominent places on our dresses for a long time. Wedding dresses, in particular, have been able to pull off the strapless look for centuries – as far back as the middle ages, women were wearing such dresses, as it gave their necklaces and earrings a fair chance to shine. Today, we thought we would run down a list of the best, most trusted jewellery pieces from the past that brides have chosen to wear on their special day.
Bracelets
Nobody can deny that bracelets are chic and somewhat mysterious. The ancient Egyptian queens wore them to great effect, making the golden bracelet popular ever since. There are a number of styles that are great for weddings. Remember that you don't want to outshine other parts of your outfit, such as the head jewellery, necklace or earrings.
Classic diamonds – A diamond bracelet is great for a wedding, especially if it's in silver. The band has to be in a silver that is no more than 10 karats. The diamond should also be just about 10 karats or less. This way, the bracelet will not have such a gleaming sheen, which captures the attention of onlookers and doesn't let go. Square diamonds are the most popular if you want a classic design.
Early-modern – The early-modern bracelet is very extravagant. The look is just as French as you'd hope, with vines, leaves, oak leaves and conjoining pieces as grand as the kings and queens who once designed them.
Pearl – Very popular with the contemporary crew, this diamond and pearl bracelet mixes both class and wealth in one item. The diamonds act like wreaths around the pearl, allowing for light to make the trip from pearl to pearl, really shining and drawing attention to the wearer.
Headbands
Perhaps the most beautiful type of jewellery for a wedding is the jewelled headband. This is not like your typical headband that keeps your hair back, it's the type of headband that is worn kind of like a crown. However it can be attached in many ways, so it behaves like either a crown or a loose piece of separate jewellery. Headbands can come in all kinds of styles.
French – The French headband has a little bit of green and yellow in it. The meadows of Versailles and the amazing orchards that King Louis VIII lives in are what have inspired this style. Diamonds entrust the headband, and it has emeralds for the leaves and amber for the flower. It's usually made using silver but it can also be made from platinum as the latter has a higher shine.
British – The British style of the headband is very exquisite. It has a rustic flair, lots of class, and its gemstones are very evenly spaced. Unlike some other headbands, this style is all about being discreet, only putting stones where it counts. Again, it's made from silver and usually uses 8 Karat diamonds.
Tiaras
The tiara has made a big comeback thanks to a series of Royal weddings in the UK. There was William and Catherine, then Harry and Meghan, then Eugenie and Jack. All three of these weddings had tiaras featured as the main jewellery for the brides. It has led to a revival of this kind of bling and it's just as well because there are so many different options now. More and more jewellers are prepared to create new types of tiaras to suit the customers' needs.
The main type is the lotus flower design. Its sprouting pillars are fantastic for the bride that wants to wear a veil. They give the veil support and allow it to dangle over the face, without actually touching it. The other types of tiaras are the classic Celtic queen design. These are purely one strong band with a central precious stone in the middle. Then you also have the 3 pillar design which is popular in the French dynasty that was ruling the country in the middle ages. This has three precious stones on each of the pillars. You can decide between the precious stones to have just one, or you can mix the three such as diamond in the middle, ruby on the right and emerald on the left.
Earrings
One of the many things that brides encounter when they are choosing their look for their special day, is the amount of jewellery they should be putting on. It's also about selecting the right kinds of pieces. You can't wear your normal everyday jewellery, it's a wedding! However, if you are in doubt about what kinds of piercings or other jewellery you should or should not be wearing, follow our advice and you should be fine.
It's okay to have a Helix Piercing but you may want it to be a diamond or some kind of precious stone. Select the ring with clear crystals, for a silver and gold look. Crystals are a lot lighter than diamonds, so they won't tug on your ear as much after a long day of partying. Or you could go for something simpler like the barbel piercing with the crystals in one end.
Pendant earrings are very popular for weddings as they provide an elegance that no other style can match. There are so many different options. The classic style is the cascade 3-tier diamond setup, whereby the earring droops down almost to the mid-neckline and it is made from no less than 14-16 karats. The design is very recognizable because the bottom tier has 1 attachment, the second has up to three and the final tier has about 1 or 2.
You also have the option of wearing a single string that has multiple different kinds of stones. They can be shaped however you want and you could have up to 4-6 different pieces. Be careful about how many pieces you are wearing as the more you have, the lower the earrings will be. You don't want them to droop down to your shoulders. You want the dress not to be outshined either. Certain earrings will also be too much regarding the karat, so you don't want to compile this either. For example, you may have a pendant earring with 4 pieces each, and each of those pieces is 10 karats. That is 40 karats per earring. Surely your wedding ring cannot match that!? So, be careful not to overdo it.
Necklaces
For a long time in Western wedding culture, the Roman-inspired necklace has been the go-to for wedding days. Its design is that of oak leaves and roses. Both of these things were what Roman emperors were showered with when they returned home from a war campaign that was successful. Oak leaves in gold or silver, look splendid, especially if they have detailed leaves. This takes time to do and when done correctly, looks sublime. However, this type of necklace isn't really meant to sit low, and thus it should only be worn with a medium-high neckline.
If you would like something a little bit more ancient, try the ancient Chinese style, with jade stones and gold as the ring that attaches all the pieces together. Jade is light green and it usually pops out when you team it with gold, instead of silver. We recommend that you look for a necklace that is high in gold karats and has a string of smooth jade stones. There are many styles you can get the jade stones in. Some of them will be in characters, and others will have symbolic writing on them. You can also check out the Ruby necklaces at Diamondere.com. Rubies have been mentioned in the Bible, worn by royalty throughout human history, and believed to protect ancient warriors in battle. They are also believed to act as a talisman for peace, and a promise of wisdom and health to the owner.

Personal touches
And of course, we could not end this list without recommending that you wear something personal. Whether it's an earring, bracelet, necklace or other jewellery, as long as you are wearing something that means a lot to you, this is the most important thing. This also means that you should not shy away from wearing something if it is not quite so bling. Even if it's a marble ring that your mother gave you when you were little, find some way to include it in your outfit.
Brides have so many options to wear jewellery on their special day and these are just some of them.
Do you think one of the pieces you have chosen fits any of these styles?
Do you have any nation's style you like particularly?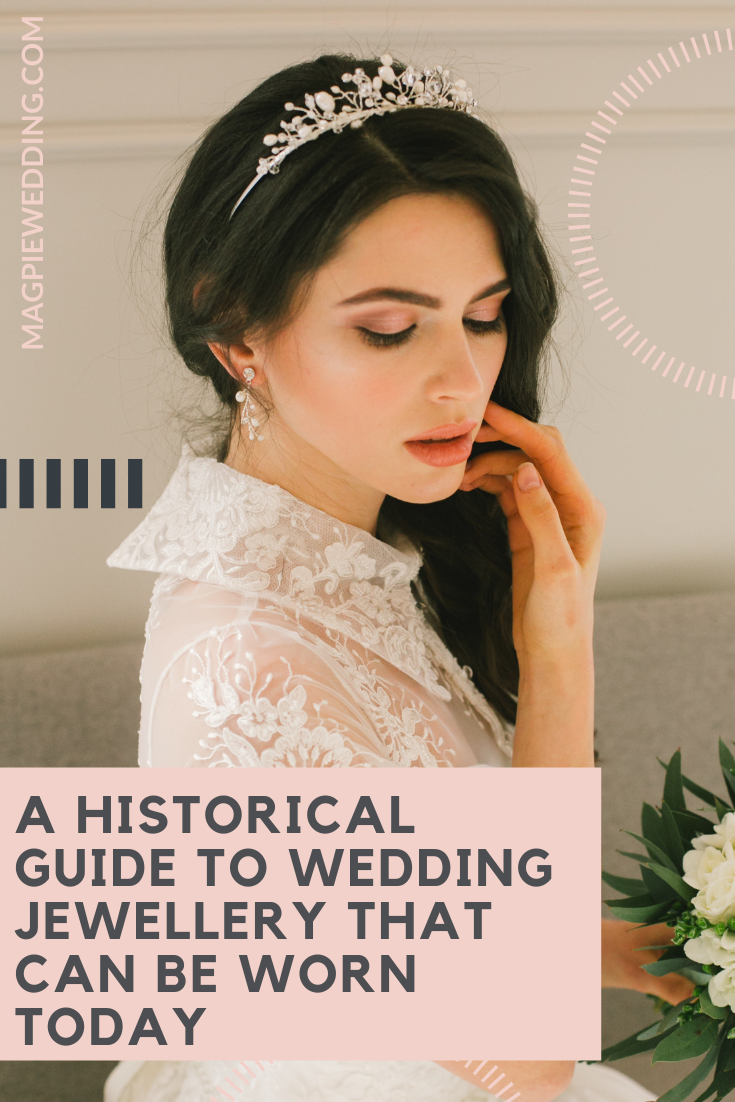 (This is a collaborative post)