Sometimes simple is enough! If you're a chic and simple bride we have the best of the best from Daisy London in today's must haves! From recycled silver pendants to vintage vibe earrings that are delicate, dainty and perfect for your wedding day look!
London born and bred the brand is all about creating simple, chic and effortless jewellery that you will cherish forever. They're also on a sustanibilty journey too and have teamed up with 4ocean to help clean up our act and our oceans. For every item purchased, Daisy x 4ocean will remove 90g of plastic—equivalent to 10 small plastic bottles—from our planet's oceans. For each item you buy, Daisy will send a donation contributing to 4ocean's clean-up efforts. Having a positive effect on our planet and giving you something beautiful to wear on your wedding day too!
(This post contains affiliate links)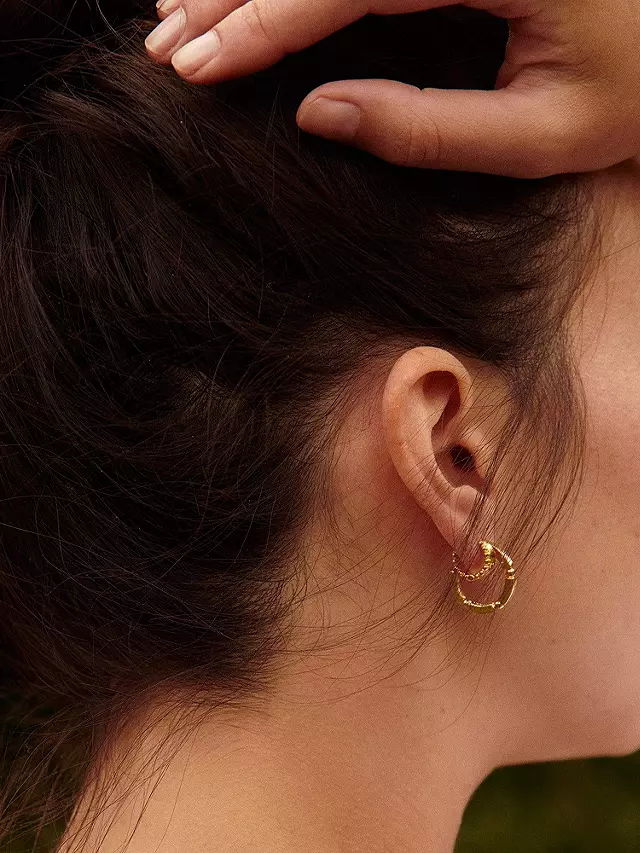 X Estée Lalonde Figaro Bracelet
X Estée Lalonde Figaro Bracelet is hand finished, 18kt gold-plated on recycled sterling silver bracelet. Complete with chain design and designer tag it has a classic lobster clasp fastening and comes in a beautiful signature designer-stamped Daisy box.
Aphrodite Recycled Necklace
Aphrodite Recycled Necklace is an adjustable chain that can be altered to fit with your wedding dress neckline perfectly. It's made from recycled sterling silver and has a sculptured female bodice pendant with a designer tag.
Palm Hoop Earrings
Looking for a modern vintage vibe? The Palm Hoop Earrings are 18kt gold-plated hoop earrings with a beautiful ridged design and high the ear and create a simple and chic look for your wedding day. They come presented in a designer-stamped box with a beautiful little pouch too!
X Estée Lalonde Sunburst Necklace
X Estée Lalonde Sunburst Necklace is a short bit sweet chain that will sit delicately around your neck and complement almost any wedding day look. An 18kt gold-plated recycled sterling silver necklace with chain design and textured sunburst detail it's classic yet striking.
Infinity Chain Bracelet
Perfect to represent your love on your wedding day the Infinity Chain Bracelet is an 18kt gold-plated recycled sterling silver bracelet with a stunning chain design with a designer tag.
Stacked Bead and Bar Hoop Earrings
With classic geometric shapes, these Stacked Hoop Earrings are a modern twist on a classic hoop. With its bead and bar elements, this design-led piece creates a charming and highly wearable look for your wedding day and beyond.
Peachy Recycled Chain Bracelet
Peachy Chain Bracelet has a classic yet dainty feel. Made from recycled sterling silver it has a unique chain design and an adjustable lobster clasp fastening. It comes complete with the signature Daisy London designer tag and gift box, making it the perfect gift for a bride-to-be!
(This post contains affiliate links)
IF YOU LOVED THESE SIMPLE BRIDAL JEWELLERY IDEAS PIN THEM FOR LATER
If you loved this statement bridal jewellery you may also like;
10 Things To Consider When Choosing Your Wedding Jewellery
5 Alternative Wedding Jewellery Ideas For You and Your Bridesmaids