Ah, the wedding photo album—a treasure trove of memories, a time capsule of love, and let's face it, the ultimate coffee table showpiece! If you want to create a compelling narrative with your wedding photo book so that it becomes a storybook of your love, read on. We're about to dive into the art of storytelling through your wedding photo album – and we'll also talk about how you can also create a striking narrative by displaying canvas prints on the walls of your home!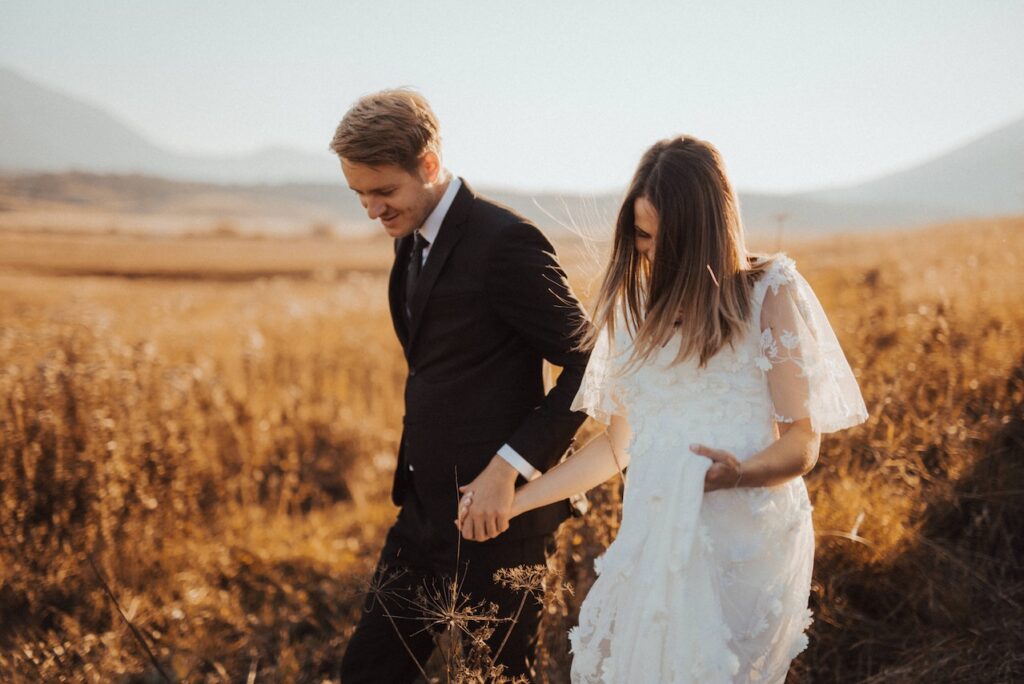 The Pre-Wedding Phase: Setting the Stage
Consult with Your Photographer
Think of your photographer as the creative interpreter of your love story. In the pre-wedding consultation, discuss your vision, your themes, and yes, even your respective "good sides". Did you know that many couples have a pre-wedding shoot? It's like the trailer to the blockbuster that is your wedding!
Choose Locations that Speak to You
Your wedding venue is more than just a backdrop; it's a part of your love story. Whether you choose a rustic barn or a swanky hotel, make sure it aligns with the narrative you want to tell.
Creating a Shot List
Planning is key, but remember, even the best-laid plans often go awry. So, have a list of specific shots you want but leave room for those spontaneous, magical moments. Treat the whole thing like jazz—structured yet improvisational.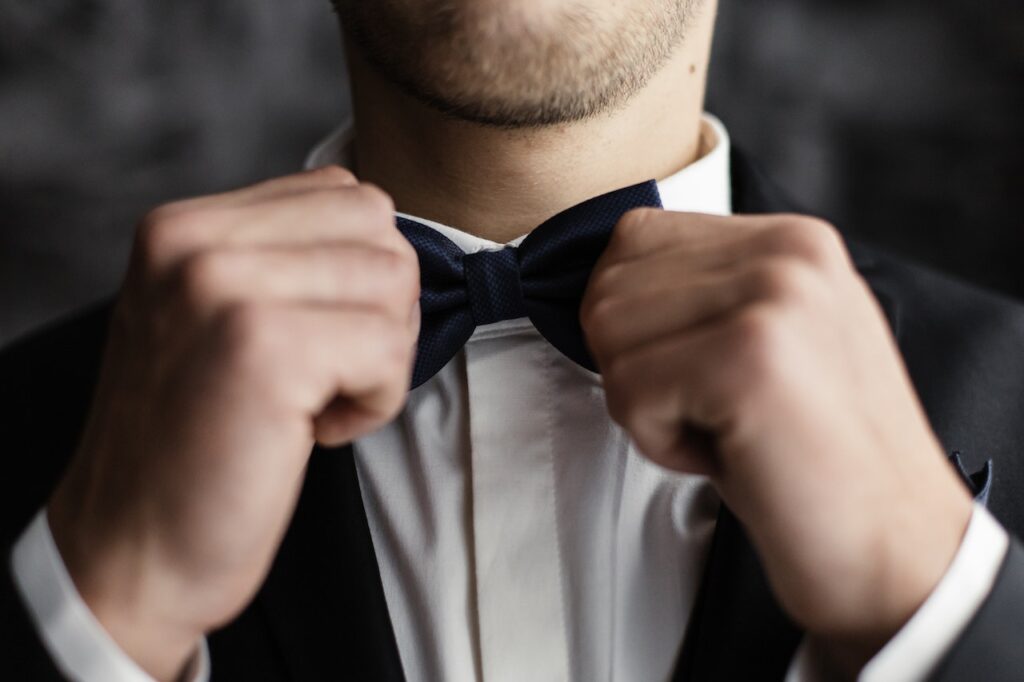 The Wedding Day: Capturing the Moments
The Getting Ready Photos
These are the "rising action" of your story. The nervous giggles, the clinking of champagne glasses, and the last-minute makeup touch-ups set the stage for the story to unfold.
The Ceremony
This is your climax, the emotional high point. Capture the tears, the laughter, and that moment when you can't quite get the ring on. Trust us, it adds character!
The Reception
Think of this as the finale, where all the storylines come together in a joyful celebration. From the awkward dad dance moves to the bouquet toss, these are the moments that add layers to your story.
Unscripted Moments
Ah, the plot twists! The flower girl picking her nose or the dog stealing a canapé. These candid shots bring depth and humanity to your wedding album.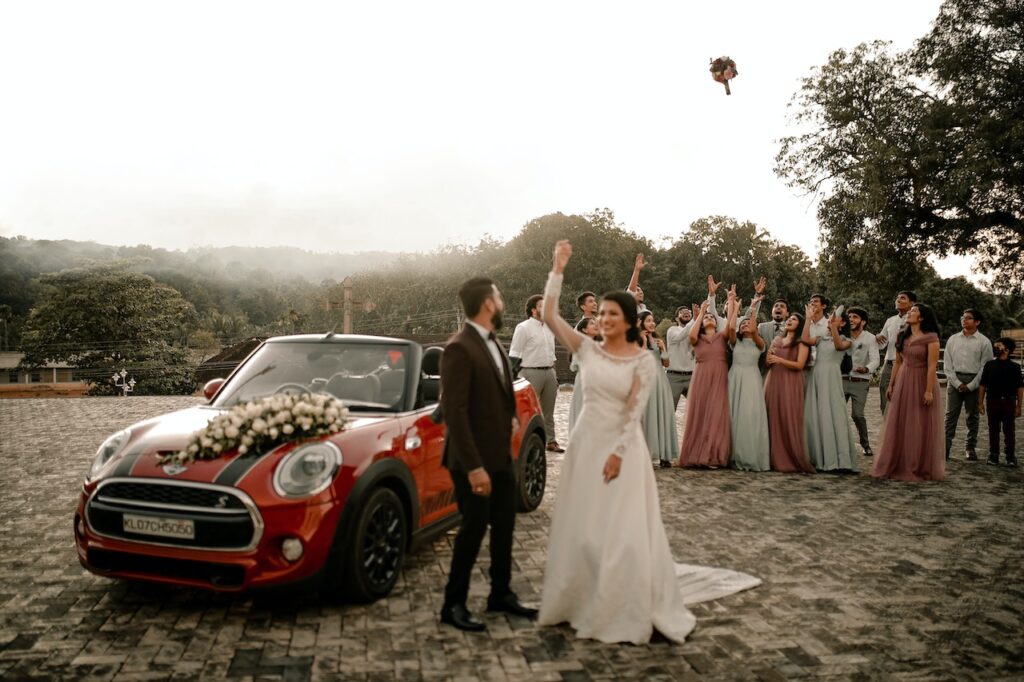 Post-Wedding: The Art of Selection
Sorting and Choosing Photos
Now comes the editing phase, where you and your spouse need to trust your instincts about what to include. You'll probably have hundreds of photos, but not all will make the final cut. Choose the ones that contribute to your story, not just the ones where your hair looks fabulous.
Designing the Album: Where Art Meets Technology
Photo Album vs Photo Book: Choose Your Medium
Before we dive into the design issues, let's clarify the terminology we're using. People tend to use "photo album" to mean printed photos that are manually inserted into sleeves in the traditional manner. By "photo book" they mostly mean a professionally printed book where your photos are printed directly onto the pages.
Advantages of a Photo Album
Tactile Experience: There's something deeply satisfying about flipping through physical photos.
Flexibility: You can easily rearrange or swap out photos as you wish.
Advantages of a Photo Book
Professional Finish: The seamless layout and binding give it a polished look.
Customisation: From cover materials to photo layout options for each page, the sky's the limit.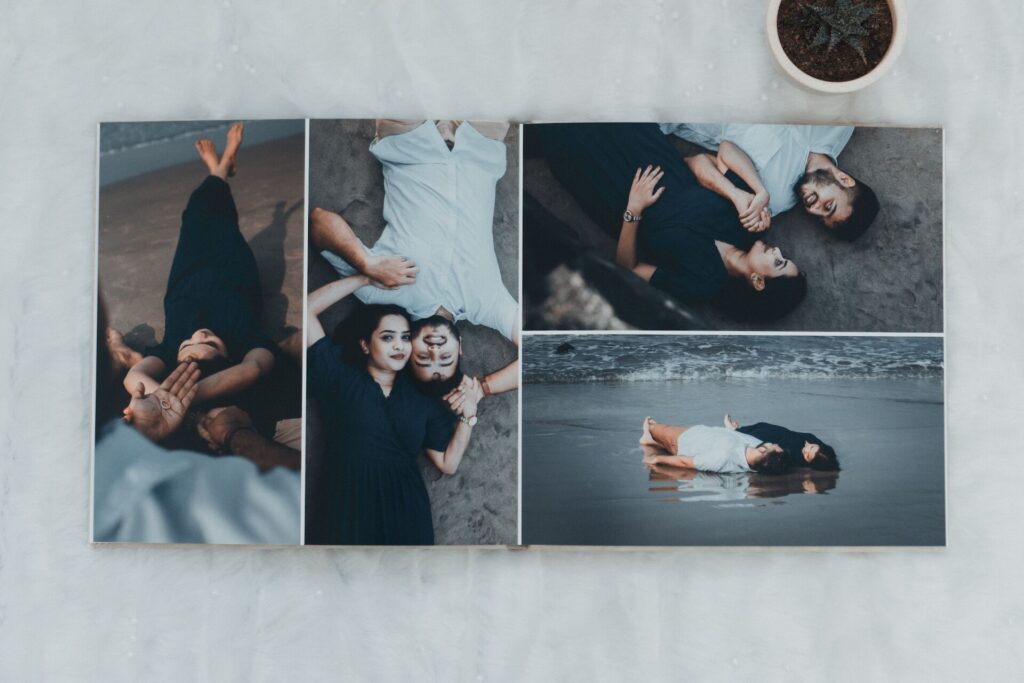 Crafting the Perfect Layout
Whether you opt for a wedding photo album or a photo book, your layout serves as the narrative rhythm of your future keepsake. Consider mixing a chronological layout for the ceremony and a thematic one for the reception.
We recommend:
Create a Storyboard First: Before committing to a layout, create a storyboard or a digital mock-up.
Consult Your Photographer: They can offer valuable insights into which photos work best side-by-side.
The Power of Text and Captions
Sure, a picture may be worth a thousand words, but the right caption can enhance it even further. If you design a photo book, you can use captions to provide context, evoke emotion, or inject a bit of humour. For example, caption the cake-cutting photo with something like, "The Great Cake Heist of 20XX."
We recommend:
Be Consistent: Choose a font and style that complements your photos and don't use too many different fonts in one photo book.
Less is More: Keep captions concise; let the photos do the talking. If you want to include your wedding vows, for example, consider dedicating a full page to the vows, rather than squeezing them in with a photo.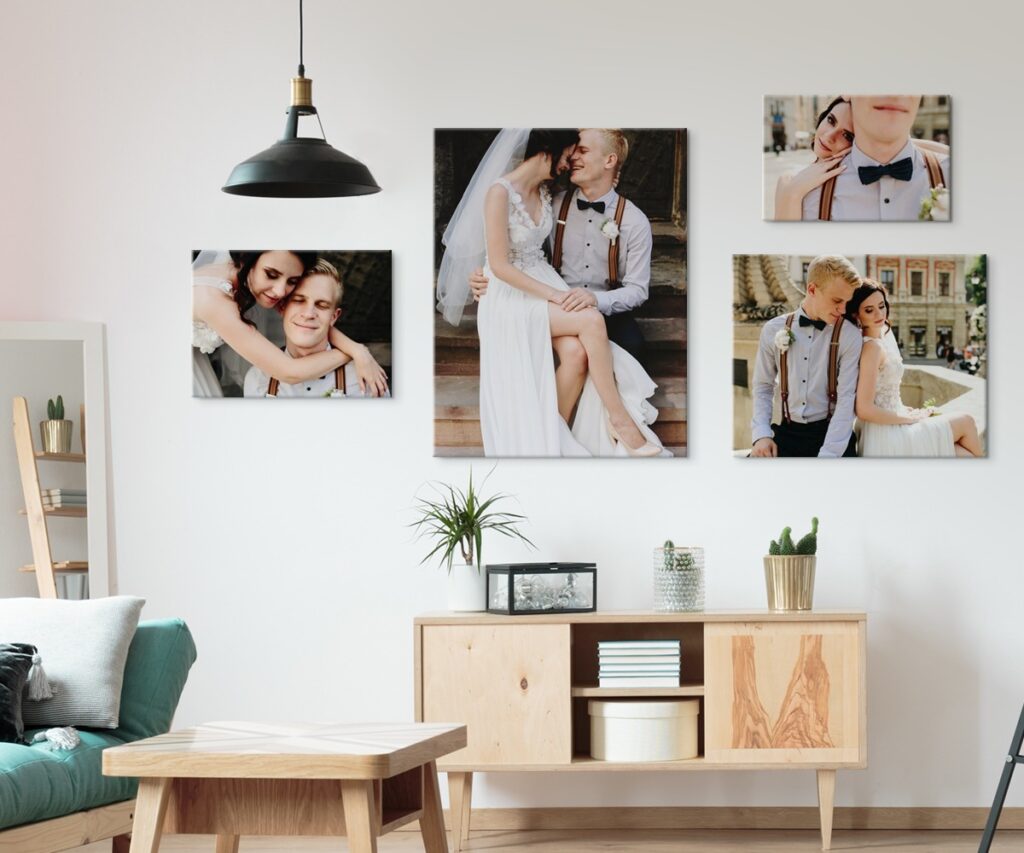 Prioritising Quality
When it comes to preserving your love story, cutting corners on quality is a no-go. Your wedding album or photo book is more than just a collection of images; it's a tangible representation of one of the most significant chapters in your life.
We recommend:
Paper Matters: Opt for acid-free, archival-quality photo paper to ensure longevity.
Inks Matter Too: Solvent-free inks offer vibrant, long-lasting colours that won't fade over time, ensuring that the visual narrative of your love story remains as vivid as your memories.
The Third Option: Wedding Photos as Wall Art
Why limit your cherished memories to albums when you can turn them into stunning wall decor features? Printing your photos on canvas prints or other art products brings the following benefits:
A Constant Memento: Having your wedding photos as wall art serves as a daily reminder of your love and commitment. It's like having a visual love letter that you can glance at any time you walk by.
Aesthetic Appeal: A well-framed wedding photo can elevate the aesthetic of your living space. It's not just a photo; it's a piece of art that complements your home decor.
Fully Customised: From canvas prints to metal art, the options for wall art are nearly endless. You can even go for a multi-panel layout that tells a mini-story on its own. Imagine a triptych of the first look, the kiss, and the celebratory exit—a three-act romantic play on your living room wall
Print Your Photos, Save Your Money
We recommend checking MYPICTURE.co.uk for personalised prints – this respected provider can print your photos as wall art, home accessories, or photo gifts.
And we're offering our readers a special discount on MYPICTURE orders! Use code MAGPIE25 to get a 25% discount on all orders above £50. The 25% discount is applied on top of any other discounts active on MYPICTURE.co.uk, so you can really make some fantastic savings!
Creating a wedding photo album is an exercise in storytelling. It's the first important record of your life as a married couple, one that will be passed down through generations. So invest the time, the thought, and yes, even a little bit of drama, to turn your album into a blockbuster. Because every picture tells a story, but a well-crafted album gives you an entire saga.
IF YOU FOUND THIS USEFUL THEN WHY NOT PIN IT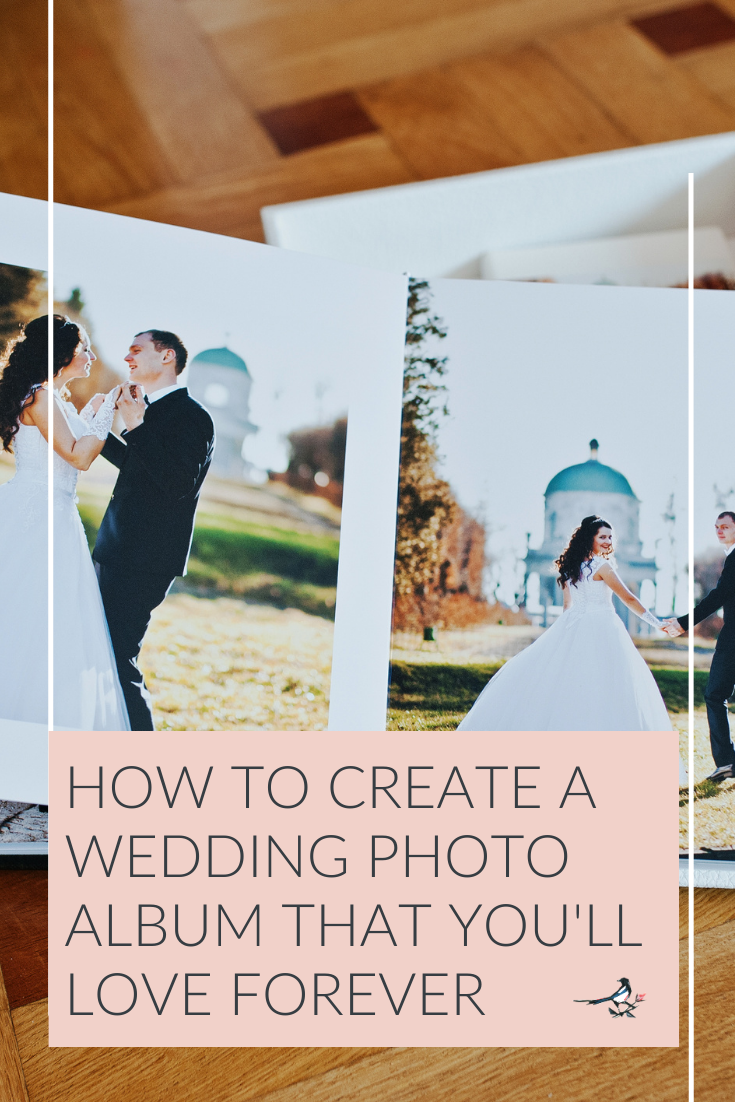 This is a collaborative post