Want to plan the perfect beach wedding for the two of you? It will look different for every couple but there are some things that are essential and lots of things to consider to make it a day to remember. Whether you're planning to elope just the two of you in a romantic getaway or you're planning a more formal affair, a beach elopement is an intimate and romantic way to exchange vows. We've put together some of our top tips and advice on how to plan one. Plus, alongside it, we have a some beautiful inspiration set at Formby Beach by a creative team of industry professionals including Nicola from Silver Sixpence In Her Shoe and photographer Paulina of PLH Photographs who share with us the inspiration behind the shoot too!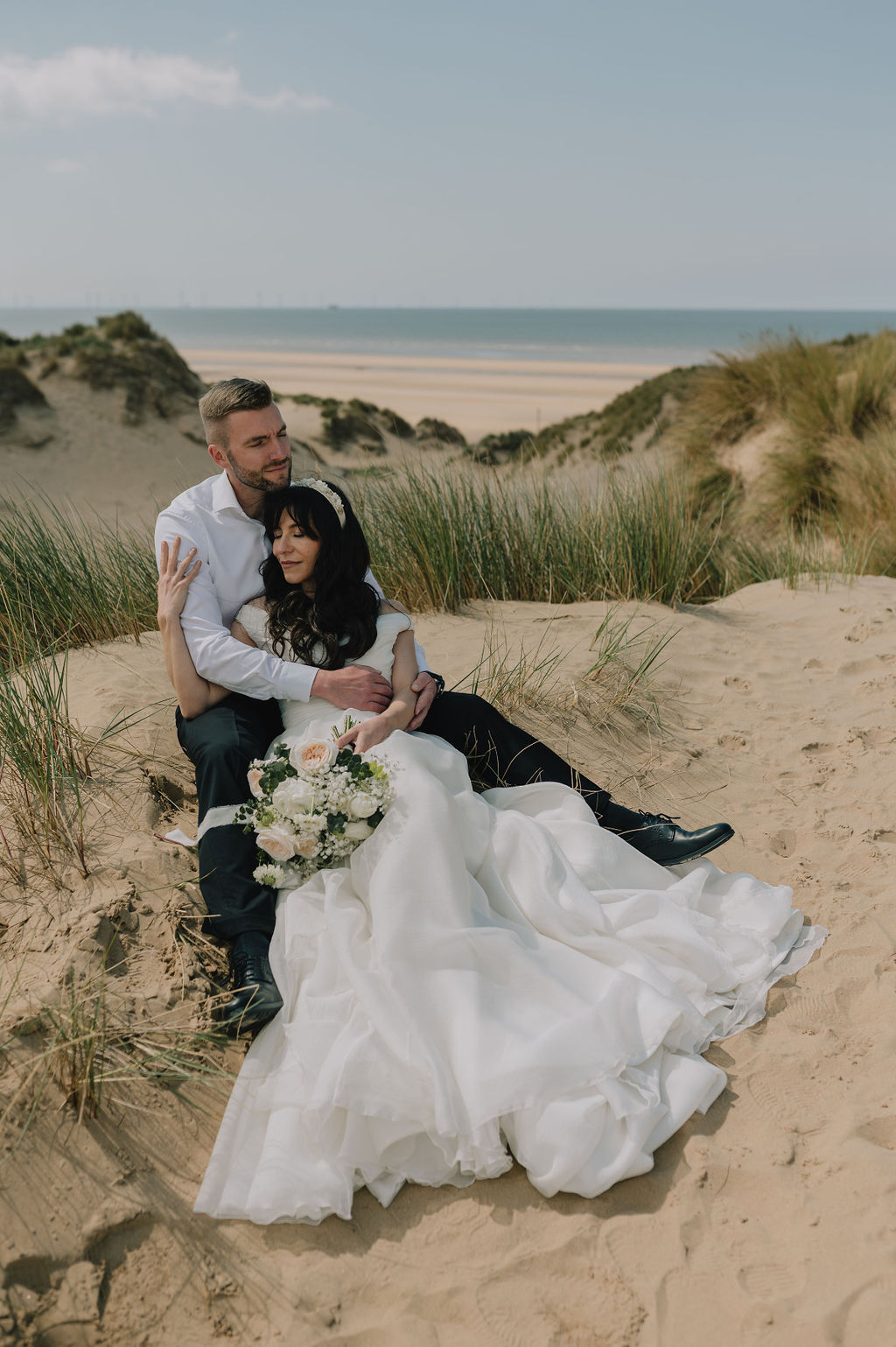 Choose The Location
Do you have a favourite beach you like to visit together? Ideally, this is the most romantic option, choose somewhere that resonates with you both and/or somewhere of significance. Research is key, find somewhere that's beautiful, as private as possible and accessible! If you're eloping just the two of you then location and ease of travel for your guests doesn't have to be taken into consideration, so if that's the case the world is your oyster!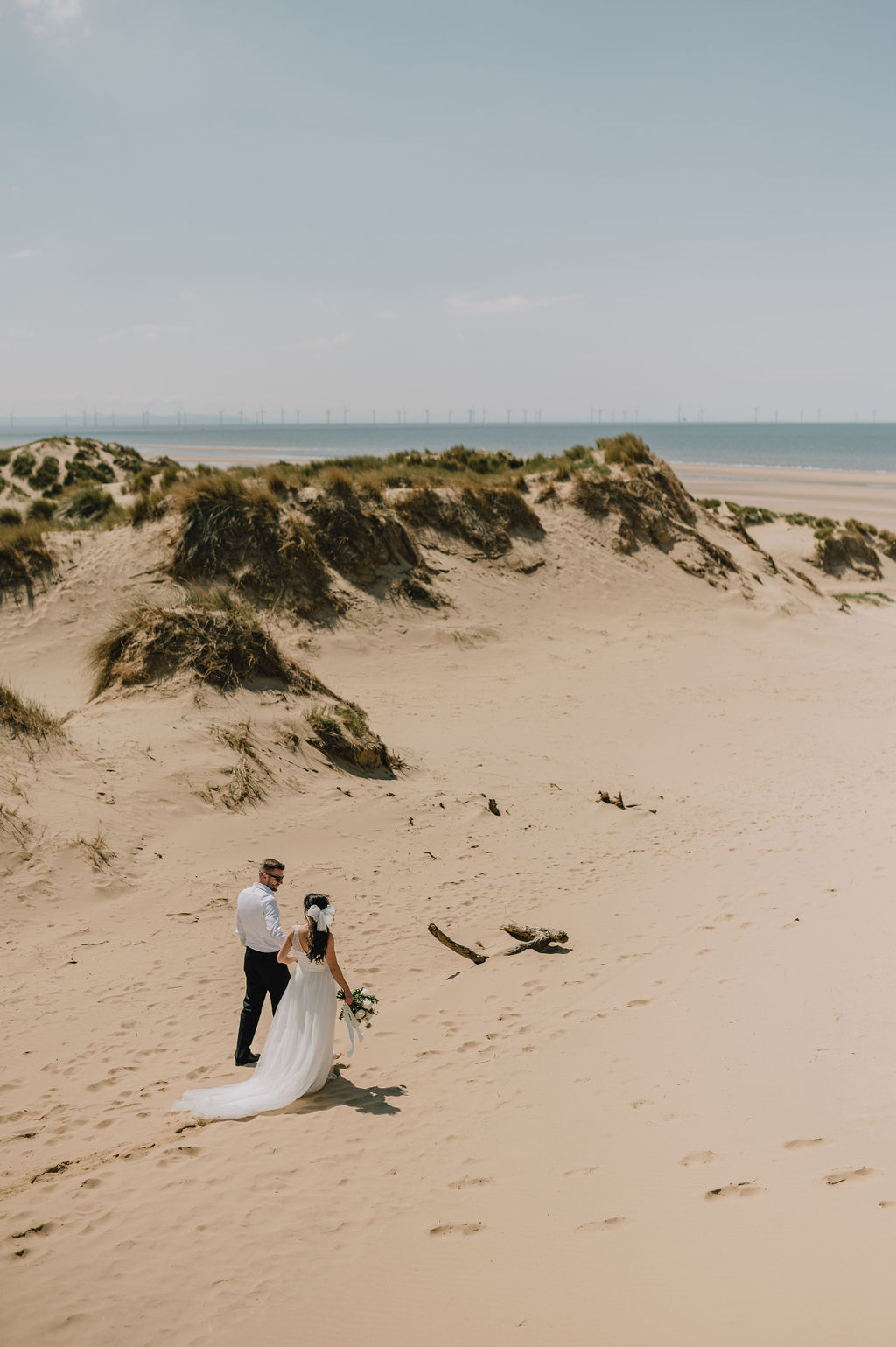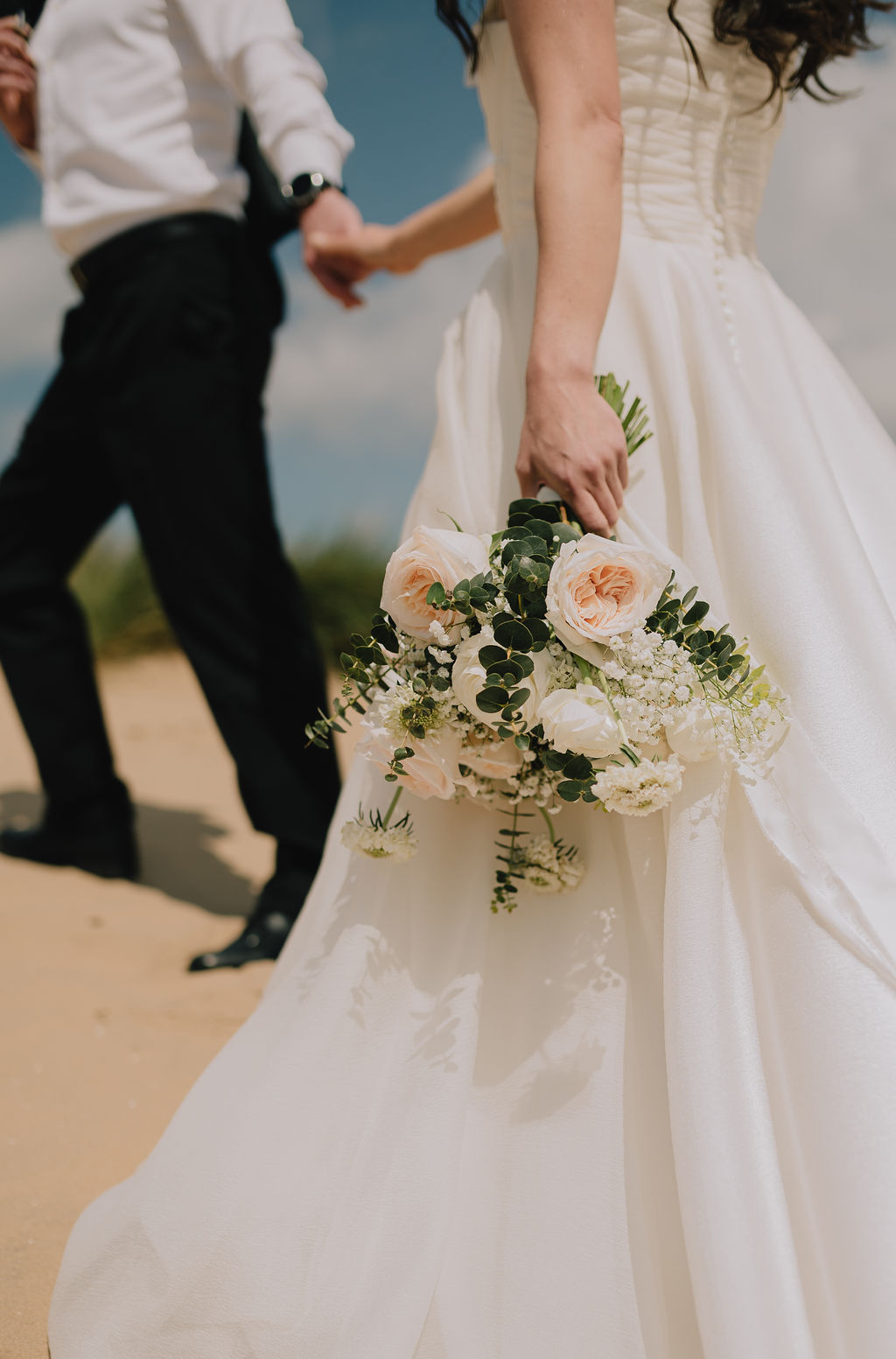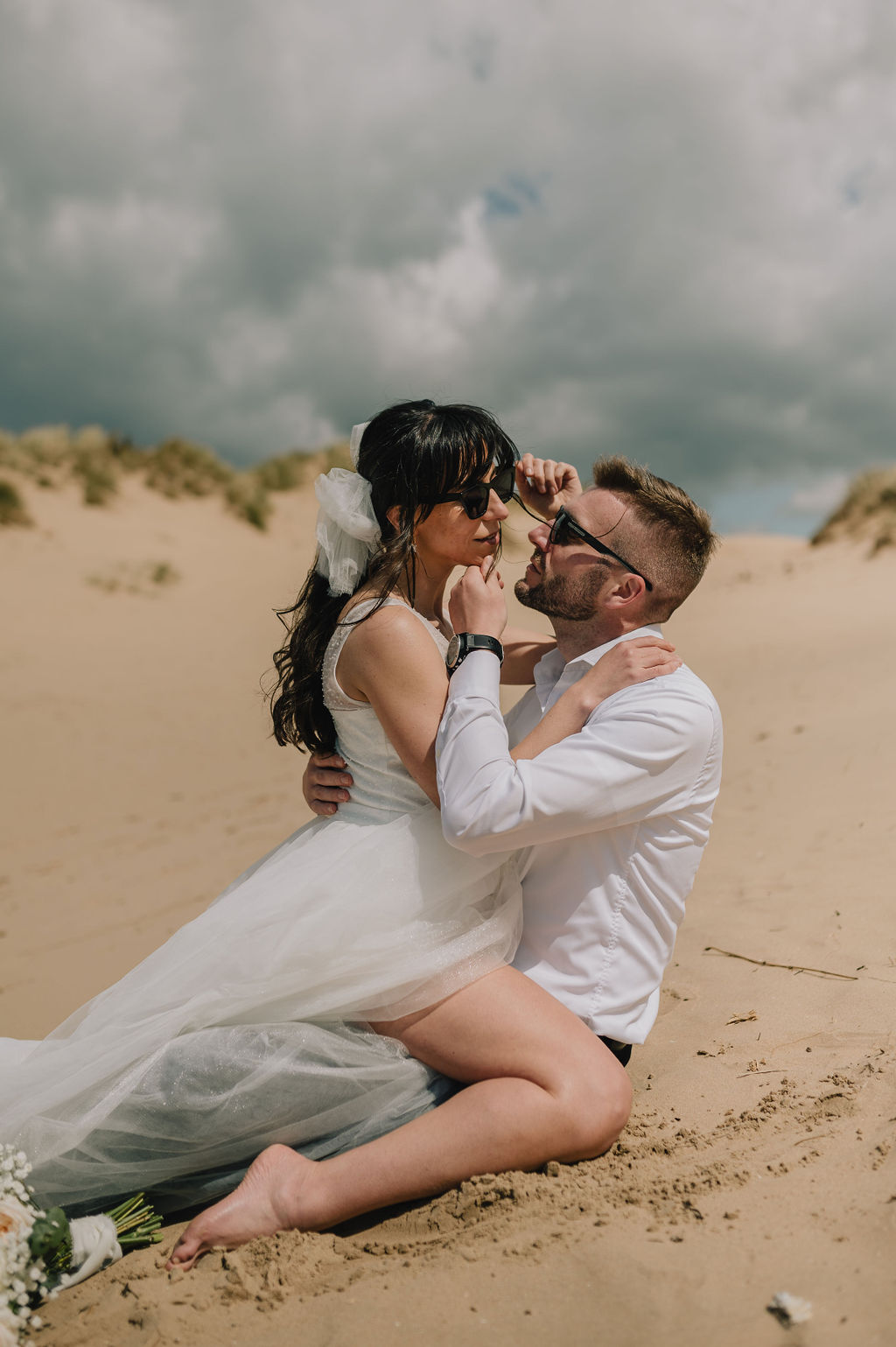 Check Regulations
Once you've decided on your location it's important to check the regulations and legalities of the particular beach you are interested in, especially before inviting your guests. Check with the local authorities or beach management to understand any specific regulations or permits required. Ensure you have any necessary permissions in place before going full steam ahead with your planning.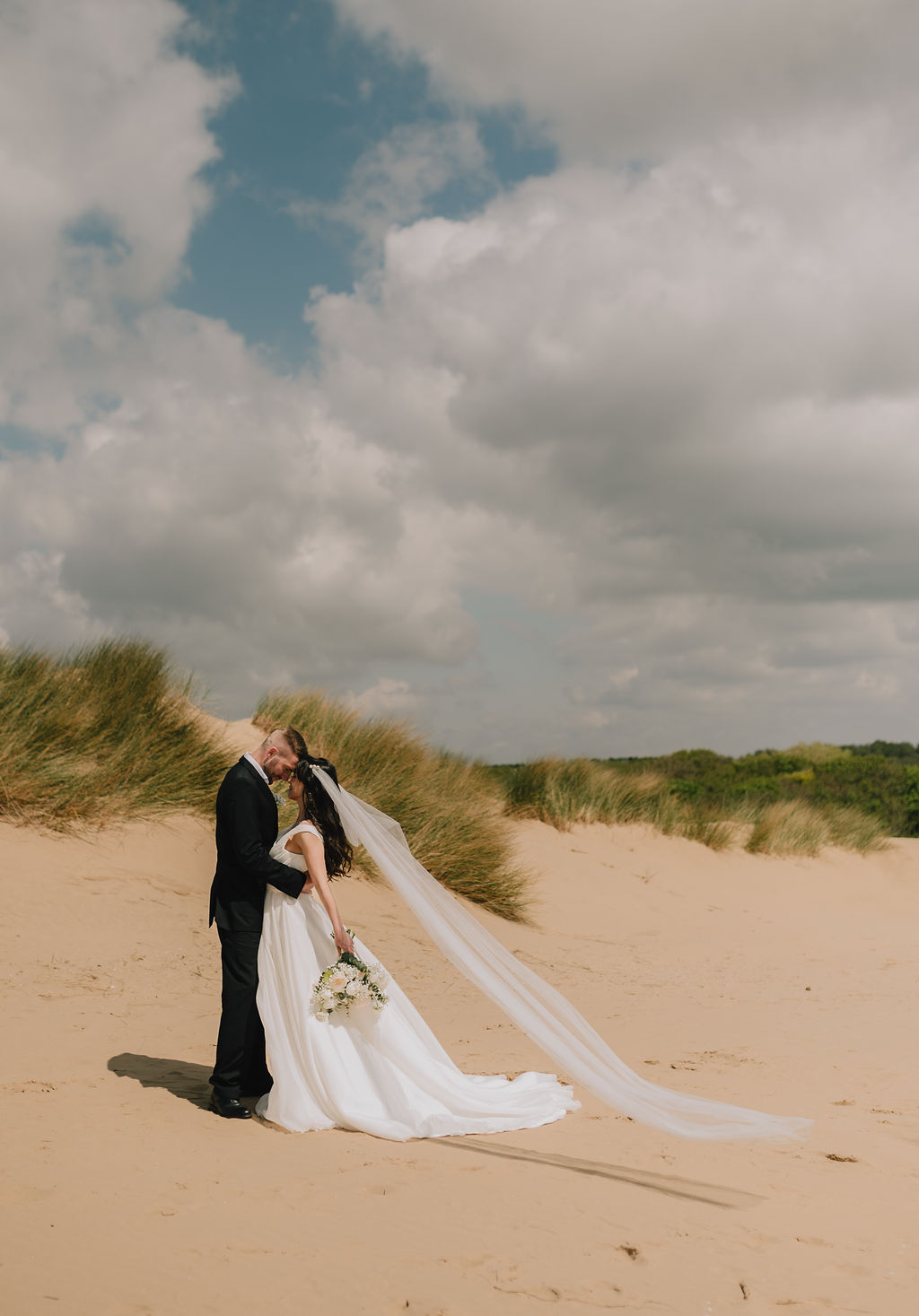 Decide on Your Guest List
Beach weddings tend to be intimate affairs so decide whether you're going to go it alone or whether you are going to invite a small group of loved ones. This will form the basis of what you require for the rest of your planning so choose carefully and consider the pros and cons of each.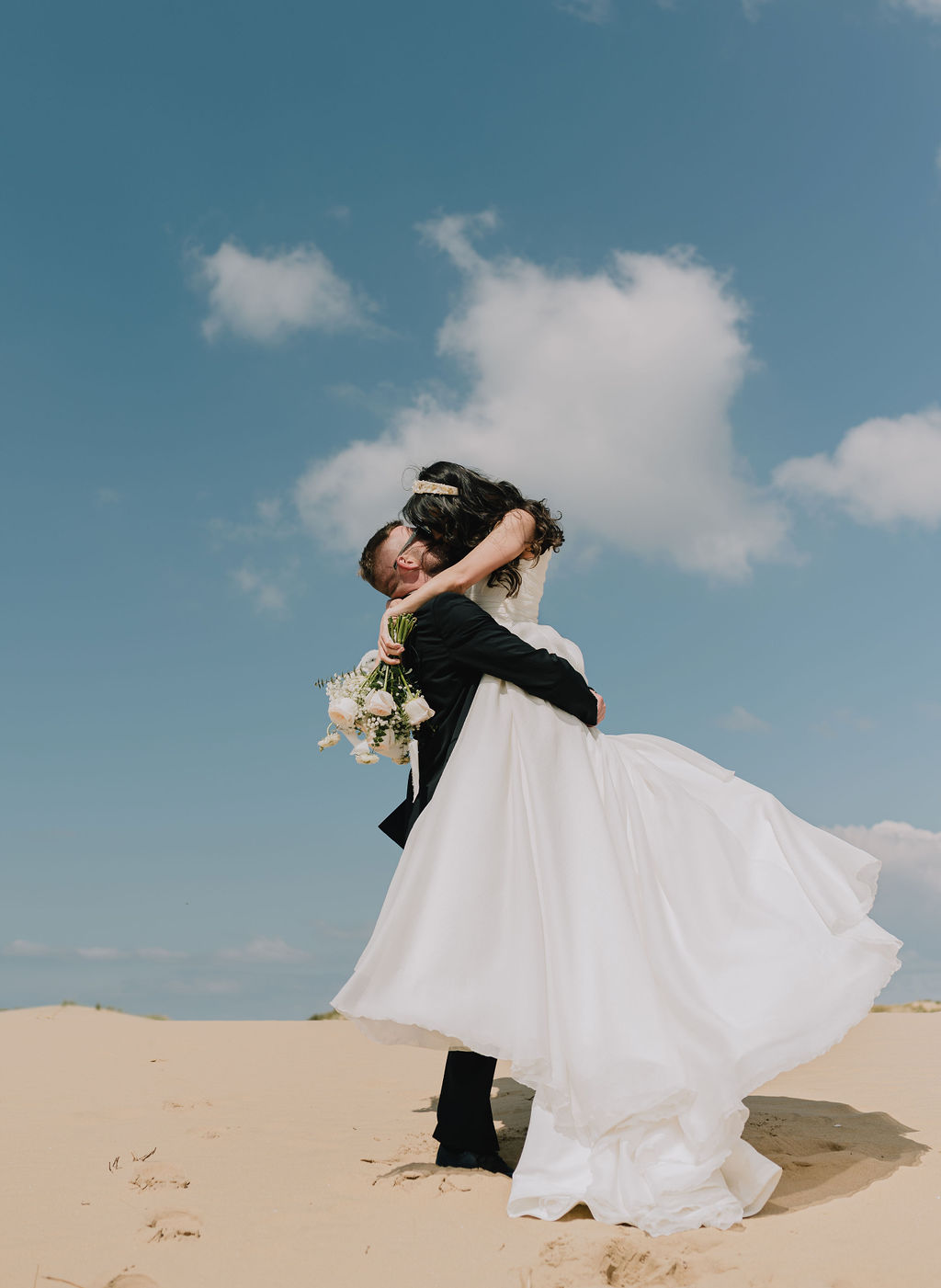 Set The Date
Dates and times are important when it comes to beach weddings. This will vary on whether you are choosing to get married in the UK or abroad so do some research on when the weather will most likely be on your side. For the UK dare we say it the summer months are probably best. This applies to abroad too, however, if you don't want it too hot you may choose to get married just out of the summer season. Lots of destination weddings take place at a later time too. This avoids the hot peak time sunlight hours and is generally more comfortable for you and your guests. The weather, tides and lighting conditions all need to be taken into consideration to ensure the beach looks its best during your ceremony.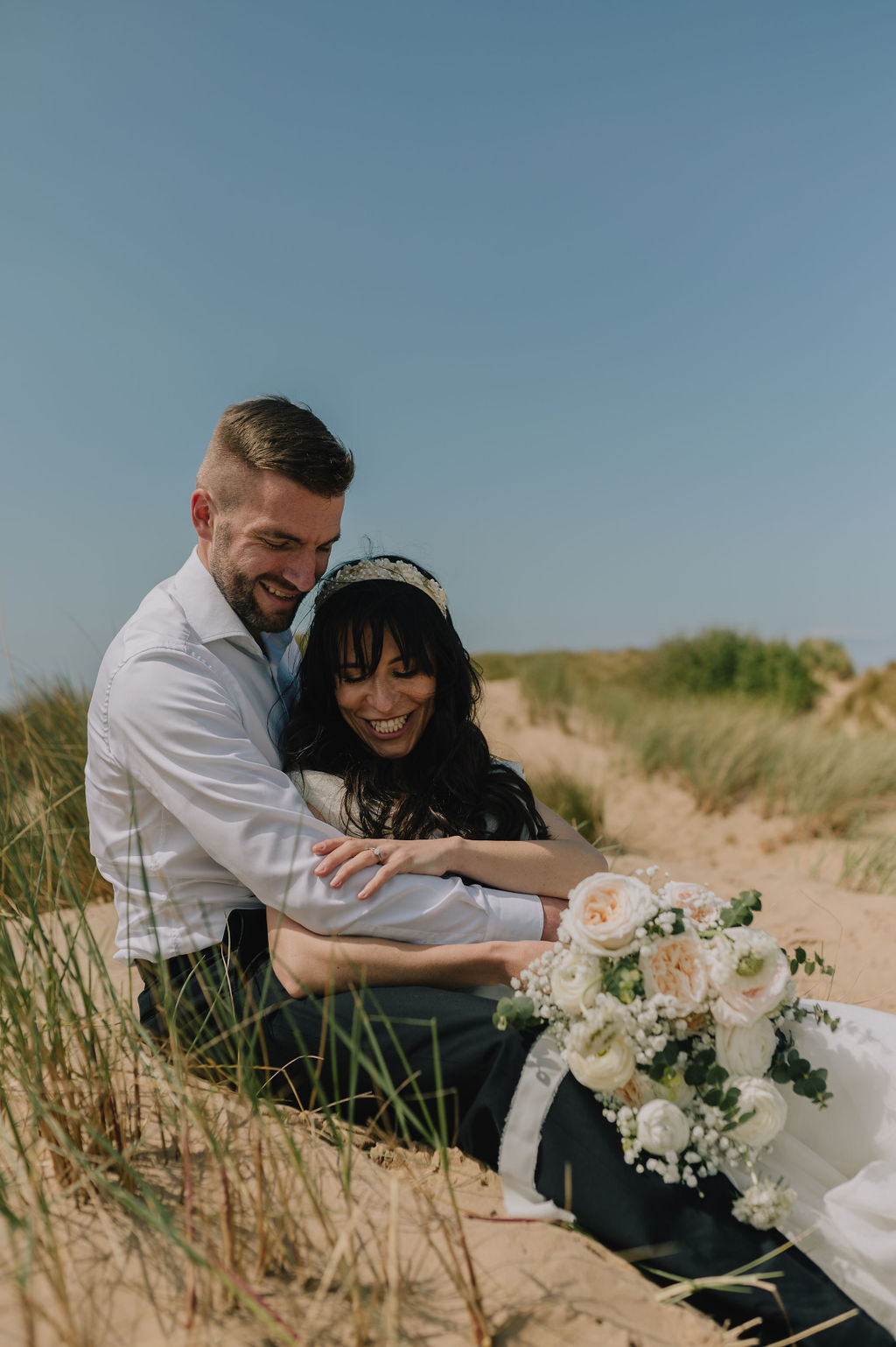 Find an Appropriate Officiant
Find an appropriate officiant who can perform your wedding ceremony on the beach. There may even be a local celebrant who specialises in beach weddings so doing your research here could pay off! You could also consider having a close friend or family member officiate, bear in mind that this will be a blessing as opposed to a legally binding ceremony so decide what you would like to do and then find the appropriate person from there. You may choose to get married legally elsewhere and then have a small intimate ceremony in a romantic beach location.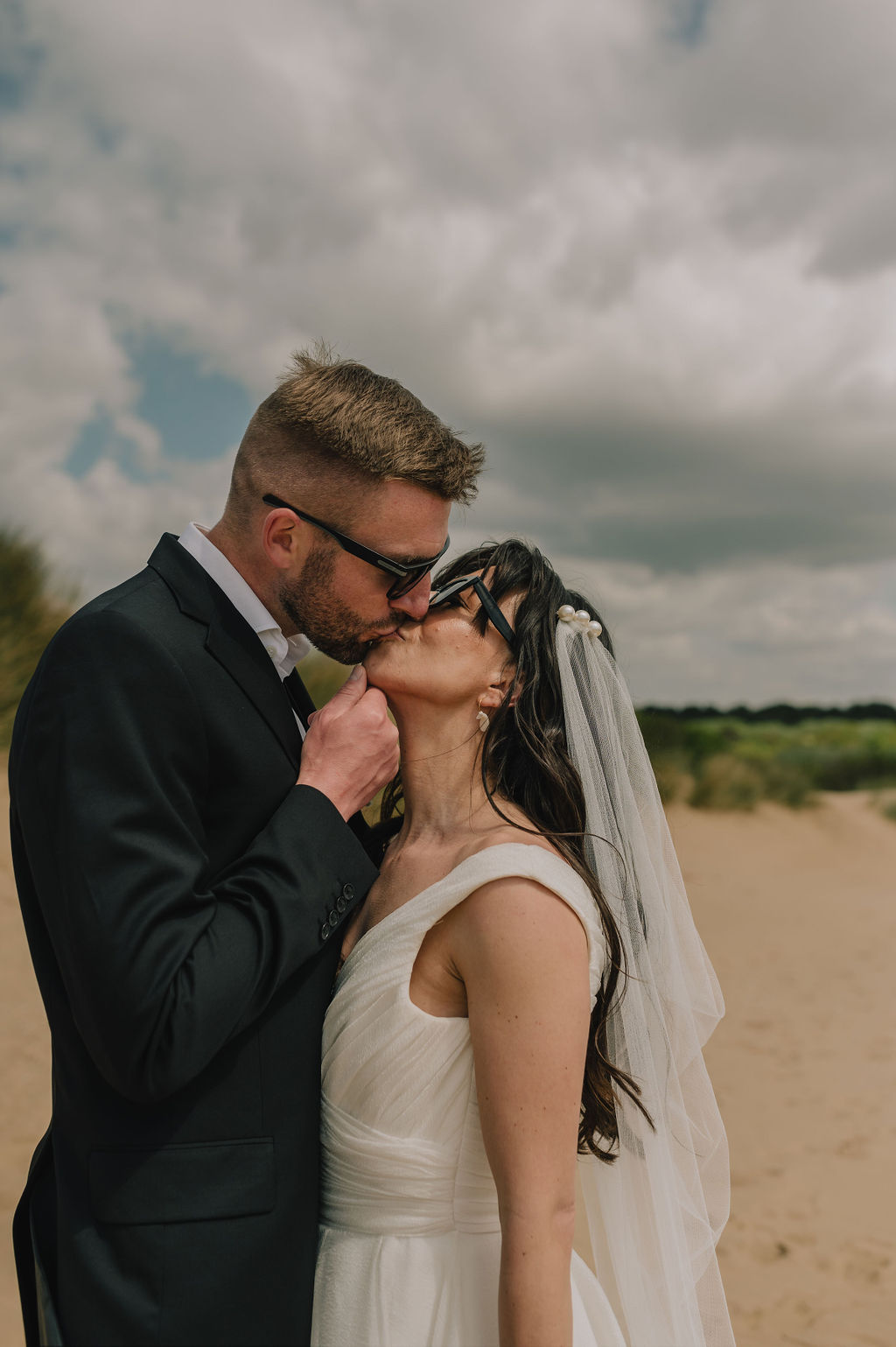 Plan The Decor
Do you want to let your natural surroundings speak for themselves? Do you want a dedicated ceremony area? The decision is yours of course! If you choose to have a designed area then you will need to arrange for any necessary ceremony essentials, such as a small altar, arch, or canopy. Think arches, runners and backdrops. Creating a ceremony space and an aisle will make your wedding ceremony the wow factor of the beach! For the aisle natural bamboo and hessian runners are perfect or for something with a bit more dramatic your own 'red' carpet vibe with a colourful and complimentary carpet. For the altar, consider a simple arch adorned with draped fabric or epic florals.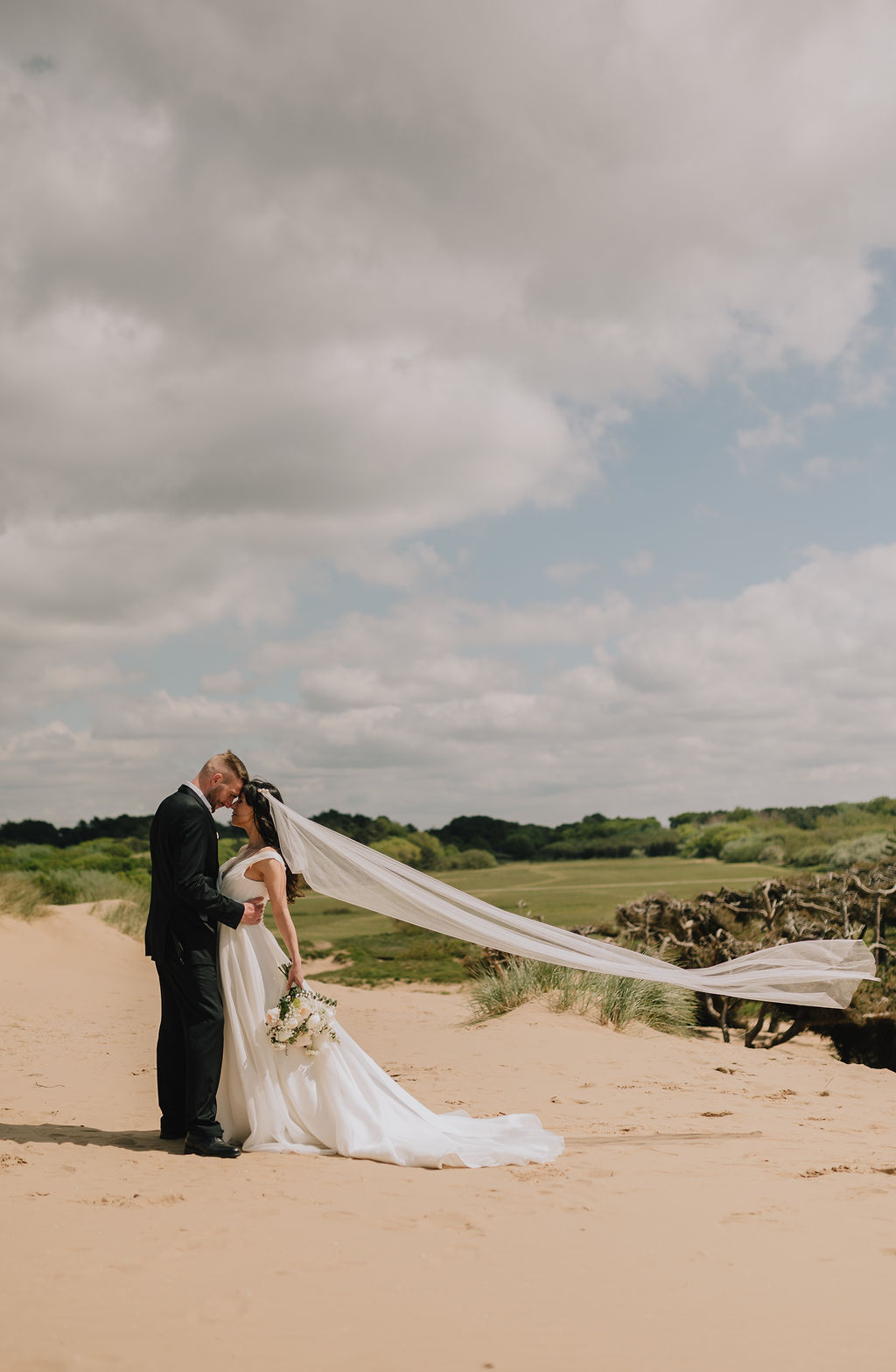 Choose Beach Friendly Attire
Again this is down to personal choice but choosing beach-friendly attire may make your life easier for photography etc. Select attire that is suitable for a beach setting, we're not suggesting shorts and a tee or a bikini (unless you want to) but opt for lightweight, breathable fabrics that will keep you comfortable. Consider the wind, sand and sea when choosing your dress, suit, or other outfits.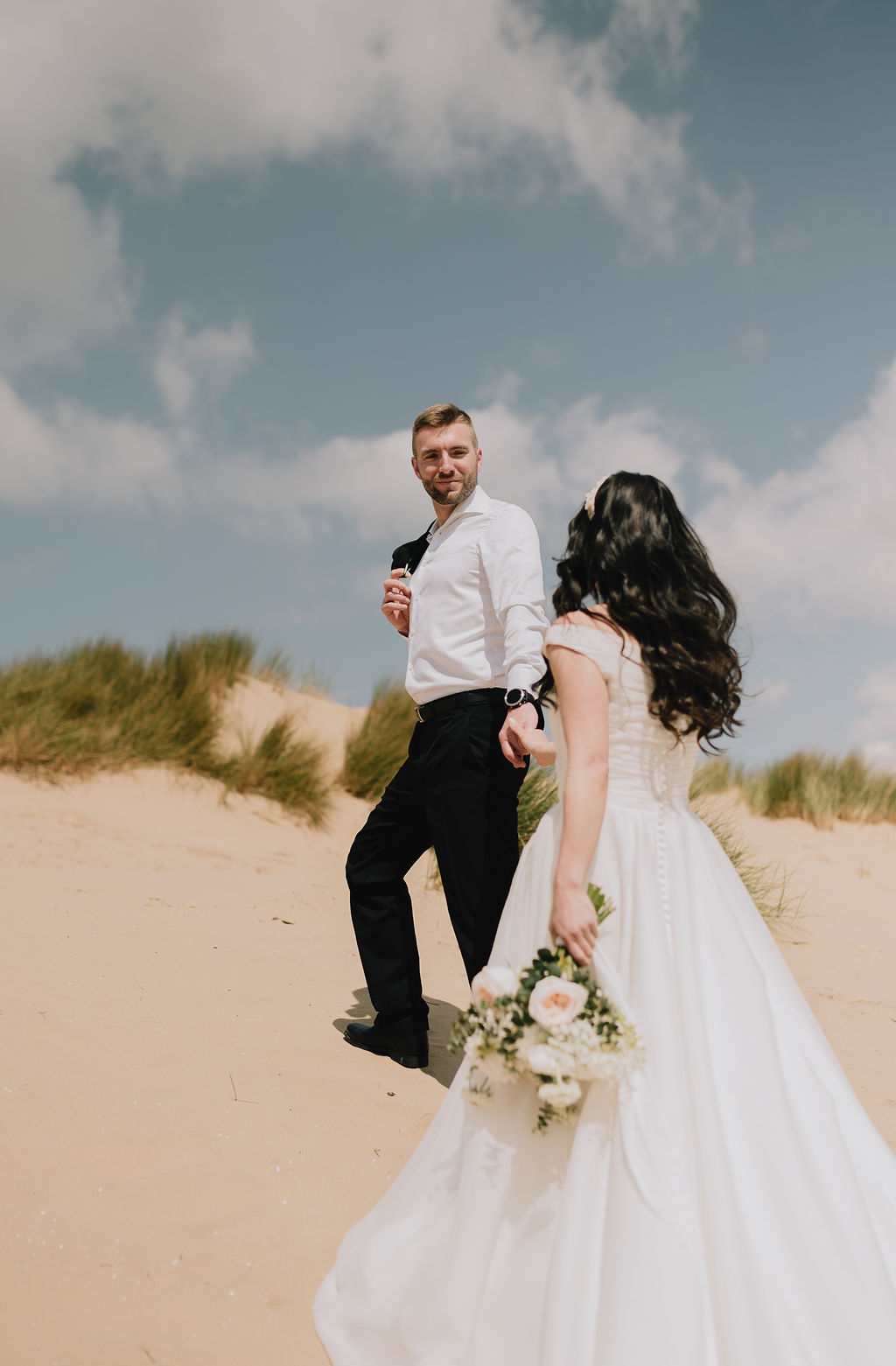 Consider The Logistics
The logistics of a beach wedding are possibly the hardest part. You will need to plan transportation for yourself and think about ease of access for any other guests you may be inviting. Depending on how long you plan to spend on the beach and how far away from home it is you will need to check local accommodation and facilities surrounding it. Think about the heat too! If it's going to be a hot day you will need to keep cool and hydrated so, a shaded area and plenty of water to hand is always a good idea.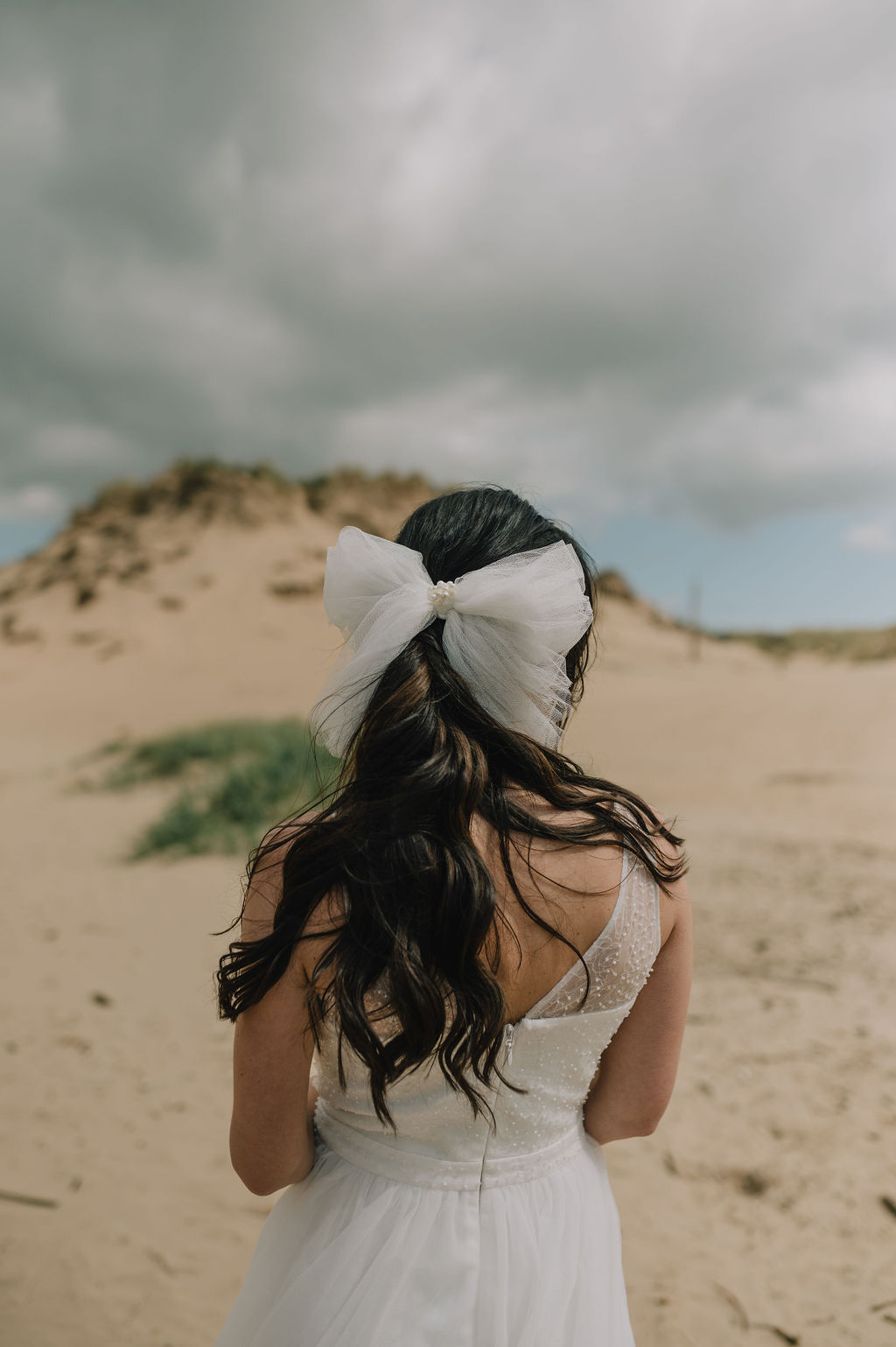 Ramp Up The Romance
Ramp up the romance either in your photography or your setting! Enhance the natural surroundings with candles and fairy lights if the logistics and rules allow for this. Solar-powered lighting is also a great alternative if it doesn't. Create a romantic atmosphere and add some music too in the form of a portable speaker or even a live performer!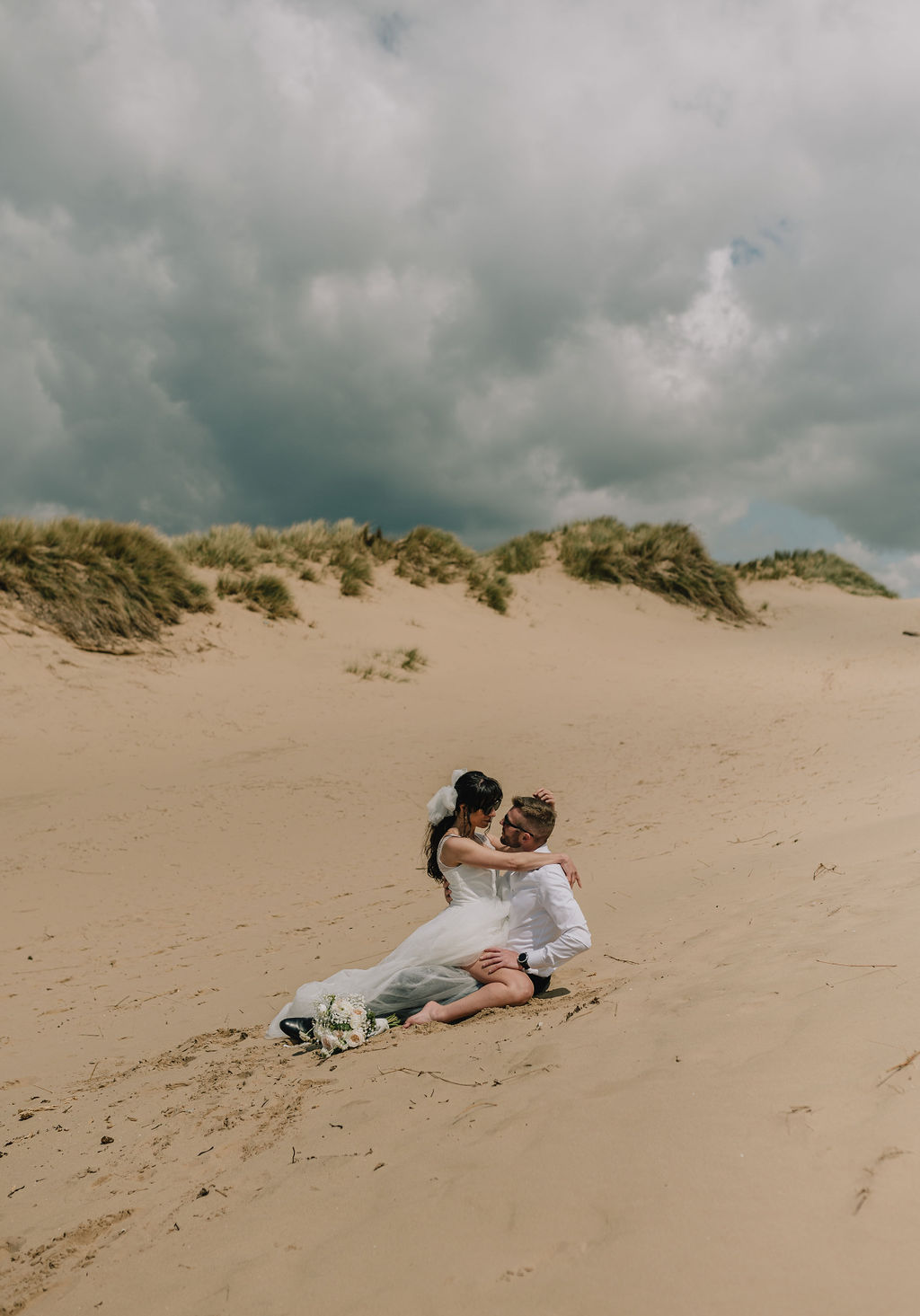 Celebrate and Take In the Epic Scenery
All that's left to do is celebrate! You may choose to party on the beach and get some epic photography whilst the sun sets. You could pack a romantic picnic and some celebratory drinks or you may choose to move to a nearby restaurant for a beachside dinner to commemorate the occasion. If you decide to do this you could arrange for any decor you have for your ceremony to be moved to your nearby location and could add in further table decor to match!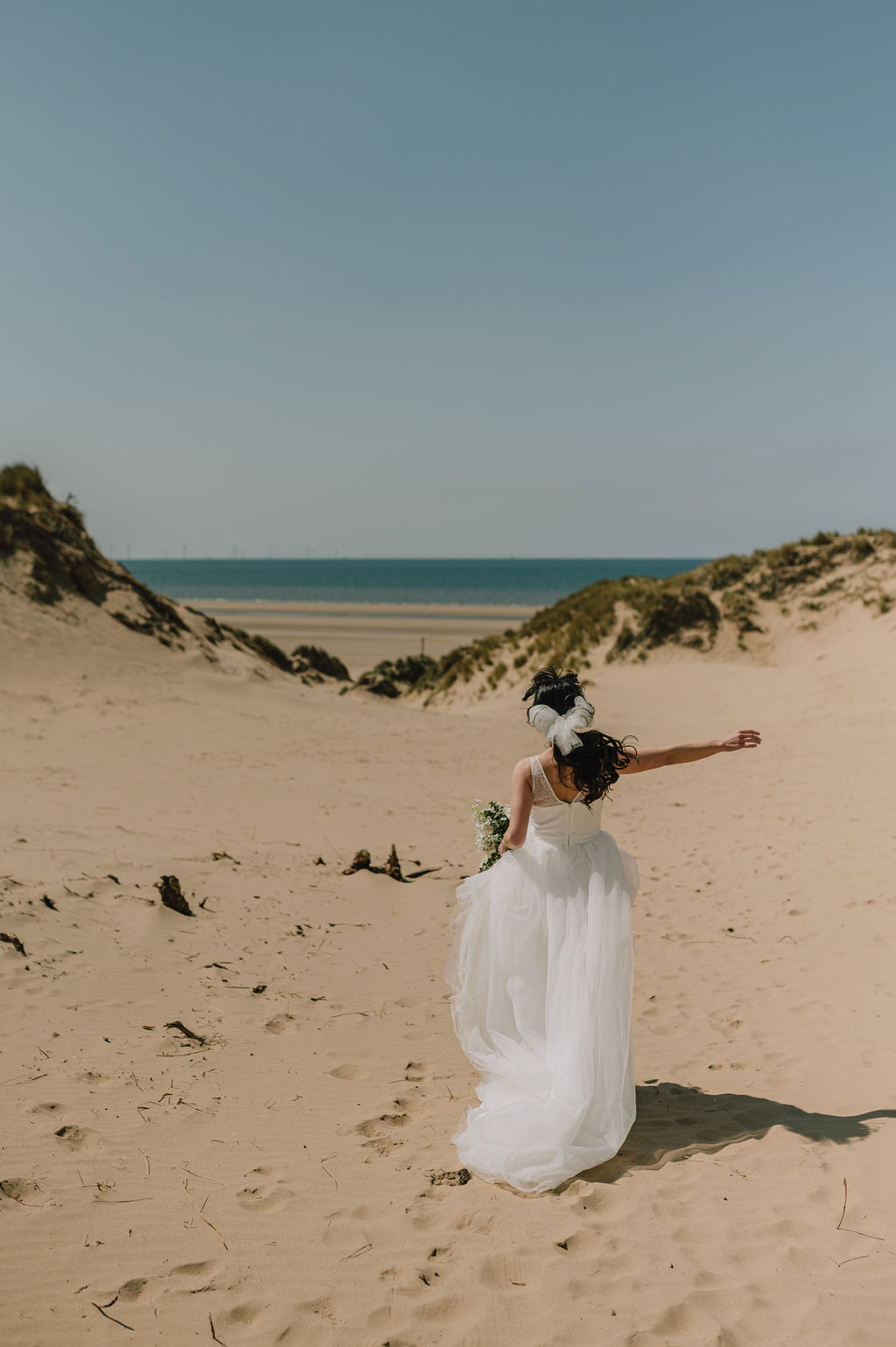 Formby Beach Inspiration
Paulina says: "I really wanted to show two free spirits coming together to elope. With a relaxed and unmanufactured feel, presenting an emotion of wild and free, as seen by the setting. I wanted a laid-back with an edge of sophistication. Using the usual wedding attire but in a way that created a sense of elopement, almost reckless in love. My advice on turning a beach elopement into reality for your wedding day is to be brave, being you is your first priority. We chose this beach in particular due to the untamed and unpolished serenity of sand dunes, they provided a sense of beauty and power, a landscape ever-changing but full of power, like a good marriage."
Nicola says: As an accessories supplier, I took the location of the beach and the fact we were going natural with the hair and went with easy-to-wear versatile hair accessories and earrings, that didn't take the seaside theme too literally but had nods towards the beach with mother of pearl chips, freshwater pearls and so on. The super-long veil was used to make the most of our windswept British beaches! The hair and makeup were kept very natural and the dress was simple too to allow her to relax on the beach.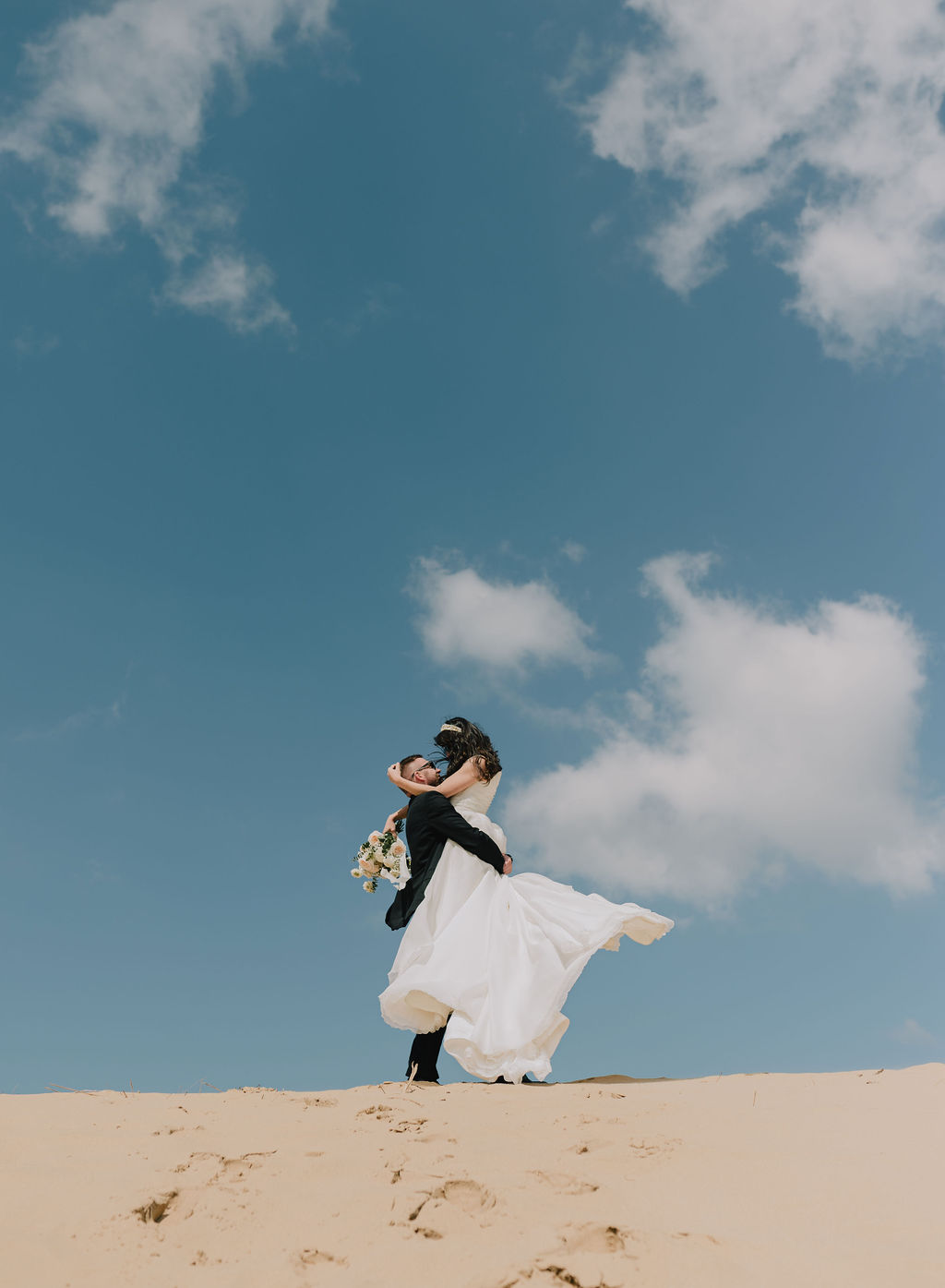 The Team – 10 Steps To Planning The Perfect Beach Wedding
Photography and concept PLH Photographs @plhphotographs / Models Natalie and Ivan @natalieivan.modelcouple / Flowers Rock and Bloom @rockandbloomflorist / Hair Accessories Silver Sixpence In Her Shoe @silversixpenceinhershoe / Hair and Makeup SJ Faces Bridal @sj_facesbridal / Dress Timeless Bride @timelessbrideuk / Location Formby Beach- National Trust Formby Lancashire
IF YOU LOVED THESE BEACH WEDDING TIPS PIN THEM FOR LATER!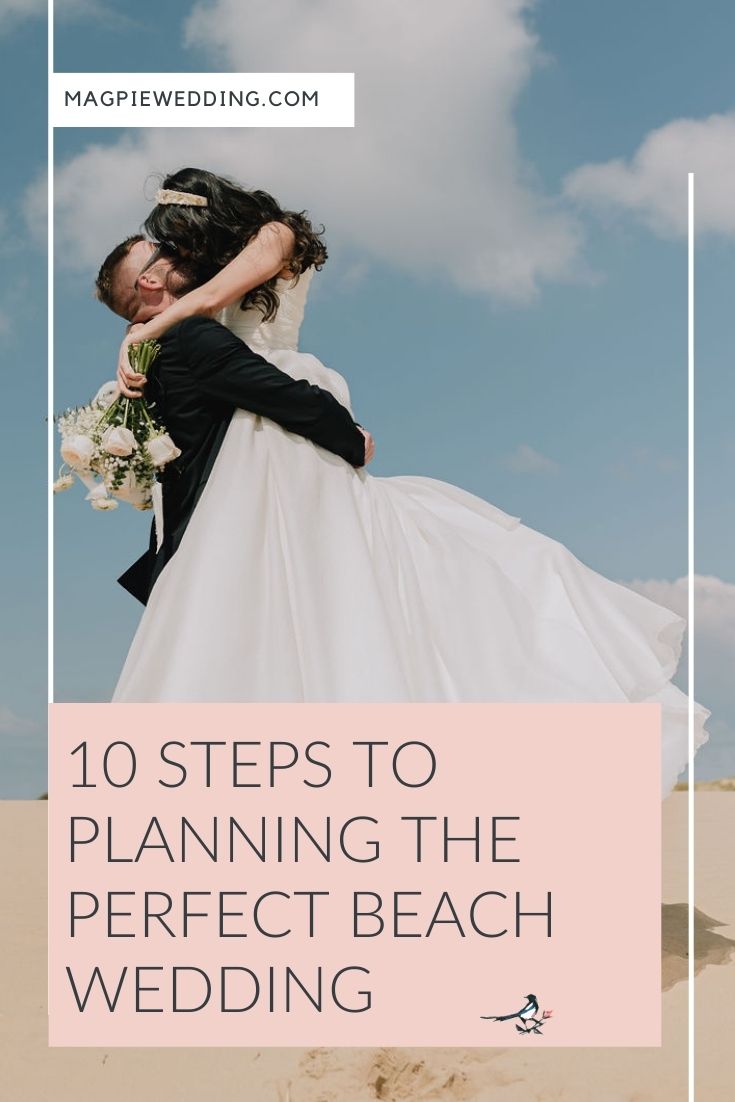 If you loved this beach wedding inspo you may also like;
Intimate Beach Wedding at Sheringham Beach, Norfolk
Boho Beach Wedding with Ombre Dress and Blue Wedding Cake
UK Beach Wedding With Bespoke Veil At The Grand Hotel, Brighton