Unplugged wedding days are becoming more and more popular with people wanting to choose when and how they want to share their special day with everyone. Smartphones, of course, are amazing inventions and coupled up with social media they keep us connected with loved ones and the world around us, but in certain situations especially on your wedding day, both things can cause issues when it comes to your photography and sharing your special day before you want it to be shared! Today on World Social Media Day we take a look at the pros and cons of having an unplugged wedding and how to go about having one and/or sharing your wishes with your guests about when and where photographs can be taken on your big day…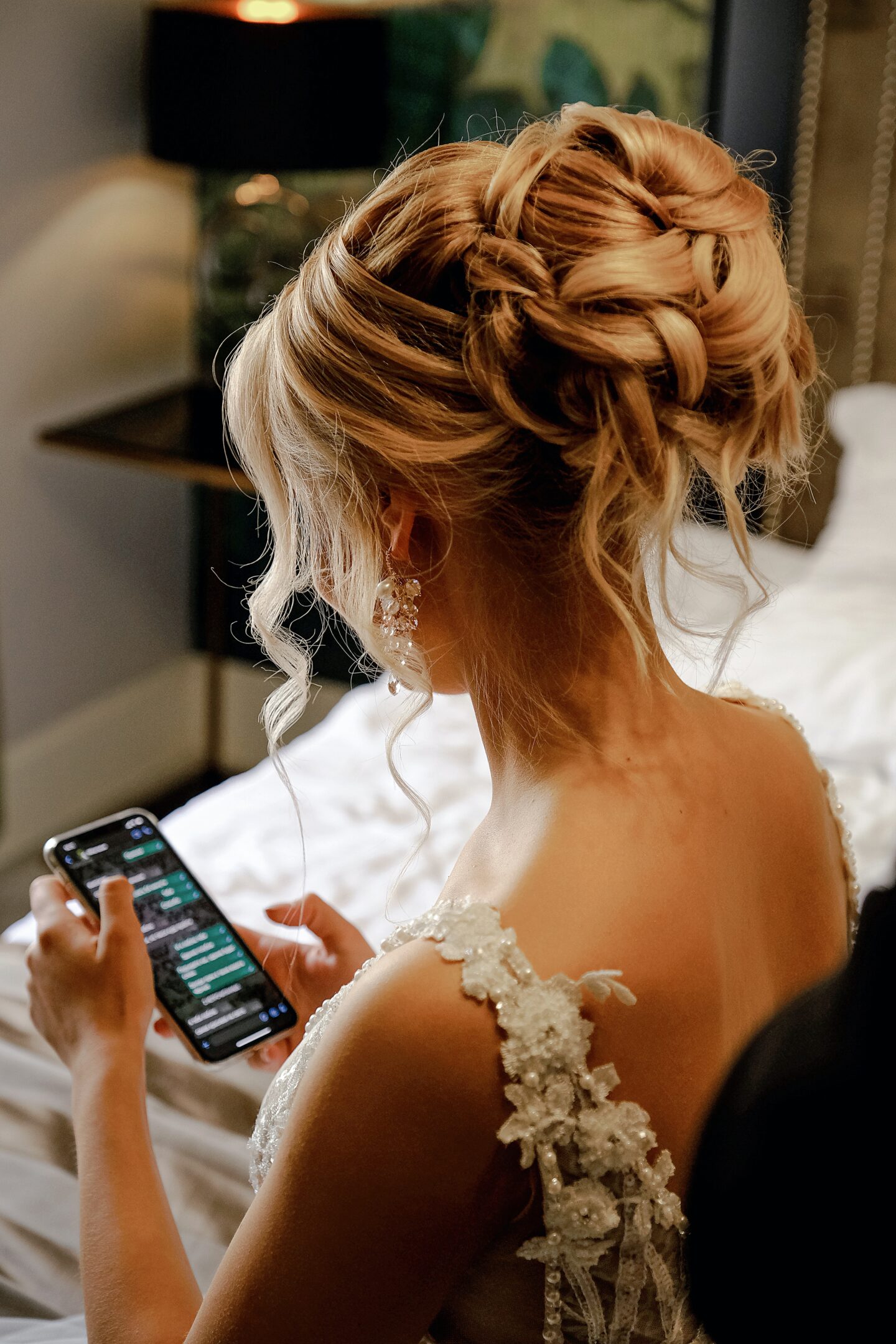 Reasons To Go Unplugged
As a couple, you've probably spent a lot of time finding your photographer. For most people, it's top of their list when it comes to the hierarchy of wedding day planning. The style of photography is important and you know doubt want your day to be portrayed to run alongside the vision you have. Your photography is your keepsake of one of the most important days of your life so you want it to be just right! Having an unplugged ceremony means you get to pick and choose when and where your photography is shared (especially on social media), and that's just one of the many reasons why you should go unplugged…
Everyone is present and living in the moment and they're actually listening to what's going on around them, including your vows and having wonderful conversations with your other guest too!
When you walk down the aisle you won't be met with multiple phones/flashes in your face, you'll be able to see your guest's faces. Your photographer won't have pictures of people taking pictures and will be able to capture the emotion on their faces instead.
There's less chance of a professional photo blockage. You don't want a moment to go uncaptured because someone has stood in front of your photographer to get the (less flattering) shot.
No phones means no awkward rings or pings because someone forgot to put their phone on silent
There won't be anyone checking the sports scores or uploading things to social media immediately during your wedding day.
Phones are distracting. No phones mean less distraction.
We guarantee that the professional photographs will be better than those taken on an iPhone
If you're 'a glued to your phone' person it will allow you to live in the moment and not get distracted (we're all guilty of it)!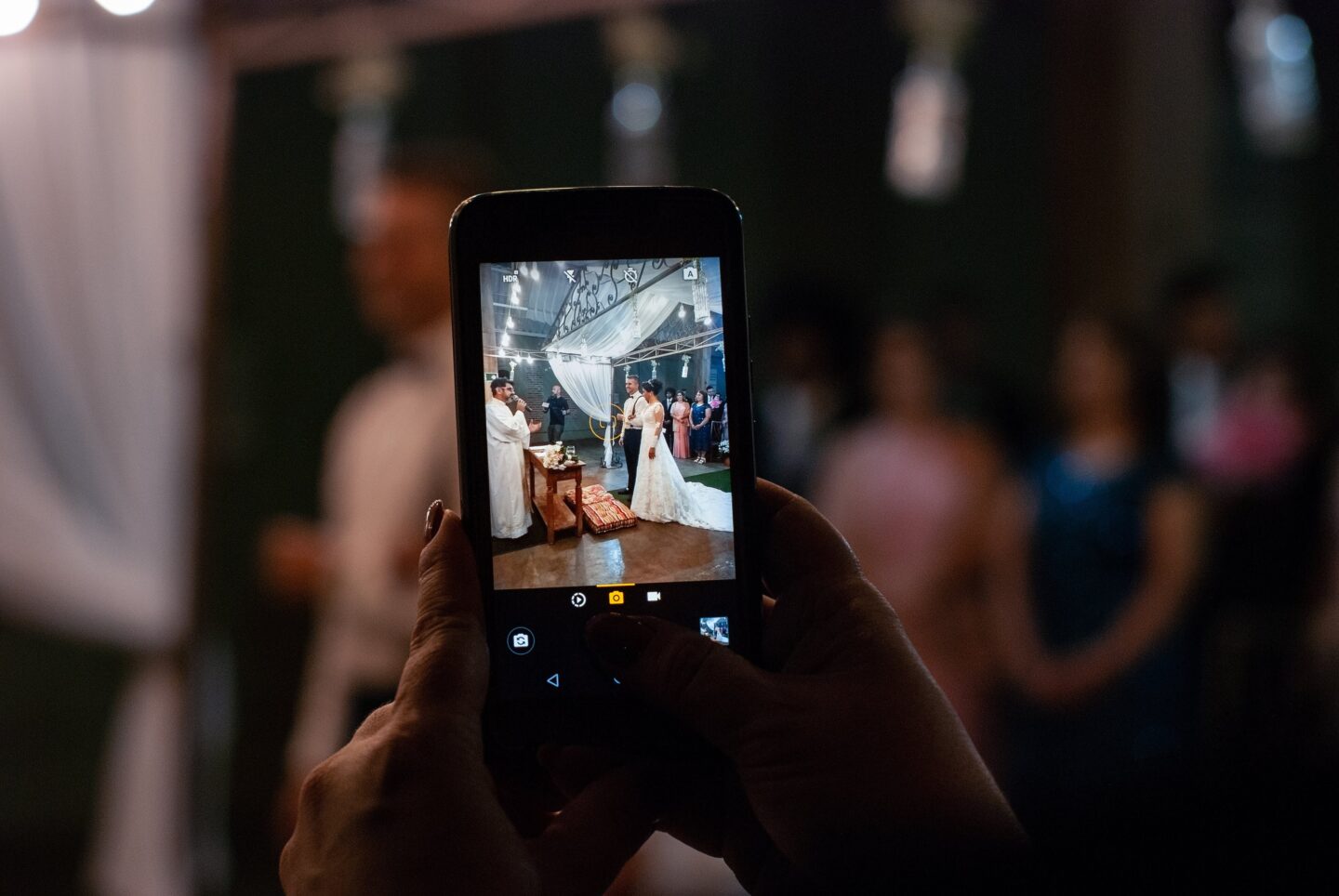 How To Have An Unplugged Wedding?
Like anything having an unplugged wedding is easy if you know how! Tell your guests well in advance so adding this to your invitations is the best idea. Make sure you make it clear that you do not want any photography other than your professional photography on your wedding day. On the day itself make sure that you have a cute and quirky sign up to remind people and get your planner or celebrant/registrar to instruct guests (in a nice way of course) before the ceremony begins.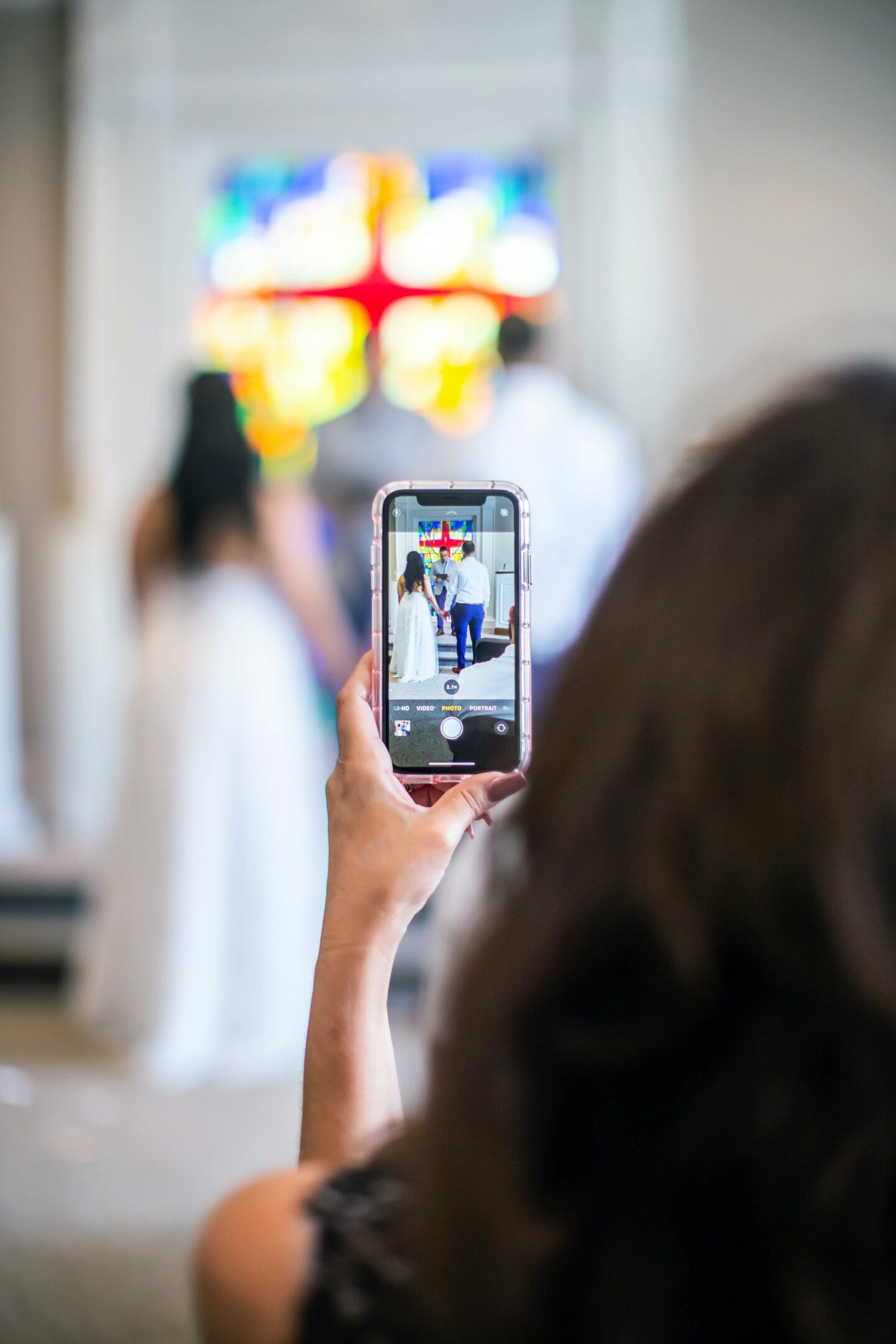 The Cons To Having An Unplugged Wedding
To be honest, in our opinion there aren't many cons to going unplugged but here are a few to consider…
Some of your guests choose to ignore your wishes which could lead to some awkward conversations or generally feeling annoyed if you see them.
You won't get your wedding day from your guest's perspective, you may want to have two albums and lots of memories from everyone's viewpoint of your day.
Your photographer won't capture ALL the moments of joy and emotion from everyone attending.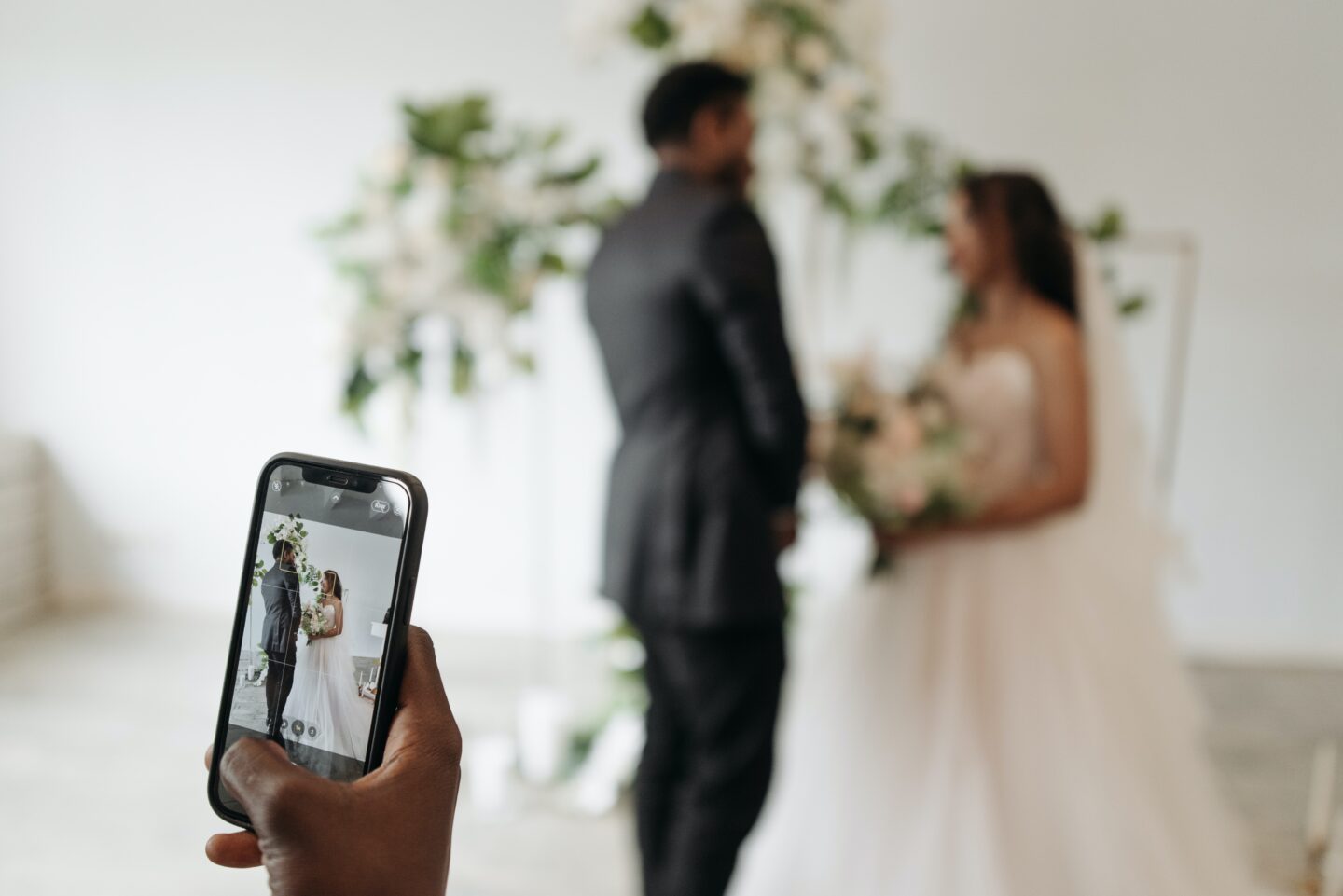 Going unplugged is a personal preference it may not be for everyone, you may want to go unplugged for just part of your day, such as your ceremony and speeches. Make this clear to your guest if this is what you want. Remember it's your day, your way!
IF YOU LOVED THIS UNPLUGGED WEDDING ADVICE PIN IT TO YOUR PINTEREST BOARD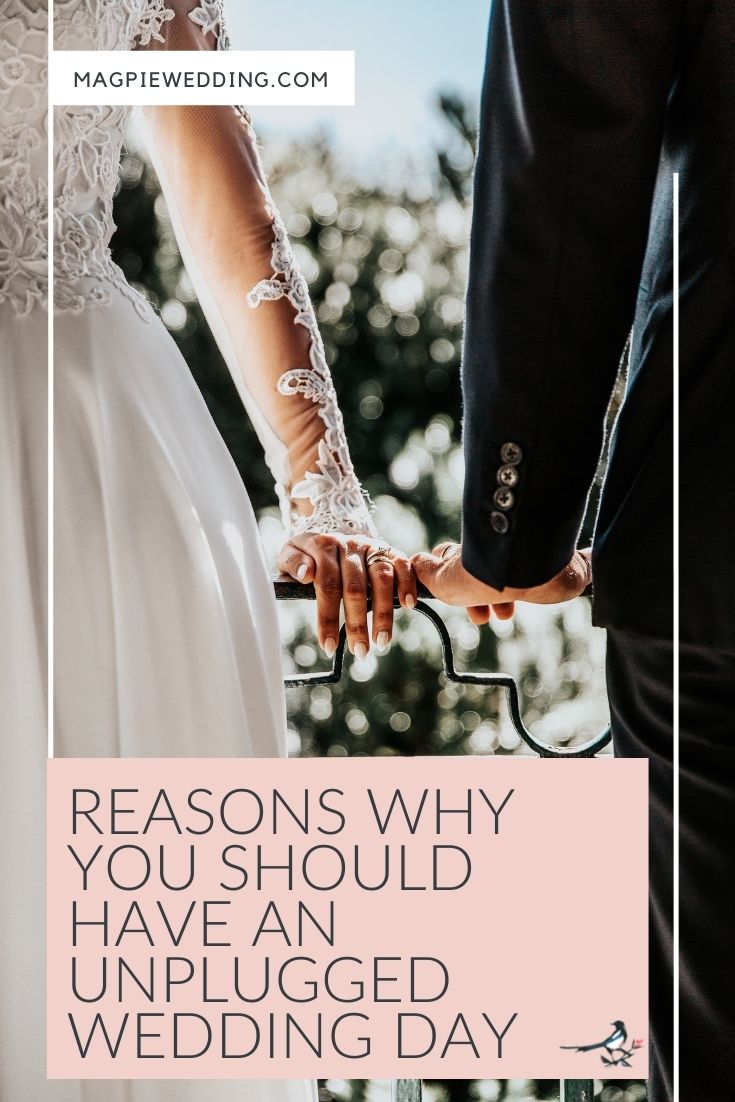 If you loved this unplugged wedding advice you may also like;
6 Unique Ways to Add Humour In Your Wedding Ceremony
First Dance Advice: 5 Ways To Add Confidence To Your First Dance