It is our Bath show this Sunday (22nd October 2017 in case you are reading this after the event) at the Assembly Rooms so we thoughts we would share 5 reasons to come along to this event, and indeed any wedding fair.
It is great to meet wedding suppliers
Yes Pinterest and Instagram are really helpful when it comes to inspiration but there is nothing better than meeting wedding suppliers in the flesh and chatting through your plans. You can see, touch and sometimes taste their product which will give you ideas, but actually speaking to them will ignite loads more. They all have years of experience and are keen to listen to your plans and help you form more. And they will have loads of advice too, on how to make it simpler, or how much you will need etc. There is nothing better than getting away from your pc and getting inspired from the real thing.
Image by Claire Macintyre Photography
You can learn a thing or two
We have workshops at every show where you will learn from clever, creative people how to make beautiful items for your wedding. At Bath we have Ruth Tilley from Festoon sharing how to create flower head crowns and pom pom garlands (she will also be with us on Leamington Spa and London). They are really fun sessions and a great way to spend an hour with your bridesmaid or mum, and you get to take them away afterwards. They are free to join in but spaces are limited.
It's a fun way to talk weddings with your bridesmaids/mum/friends
Wedding planning can be stressful. You have ideas, and sometimes you cannot explain them to your friends or they are super busy to chat. Come out, bring them and make a day of it – listen to our live music, have a slice of cake in the tea room and relax. You can also choose to go VIP and enjoy a glass of Prosecco!. We have a fashion parade too throughout the day where you can see different types of wedding dress up close and accessories, and flowers! And Bath (and indeed all our show locations) is so special why not go out afterwards and enjoy the city. The Assembly Rooms have a fashion museum open all day so maybe pop in there too.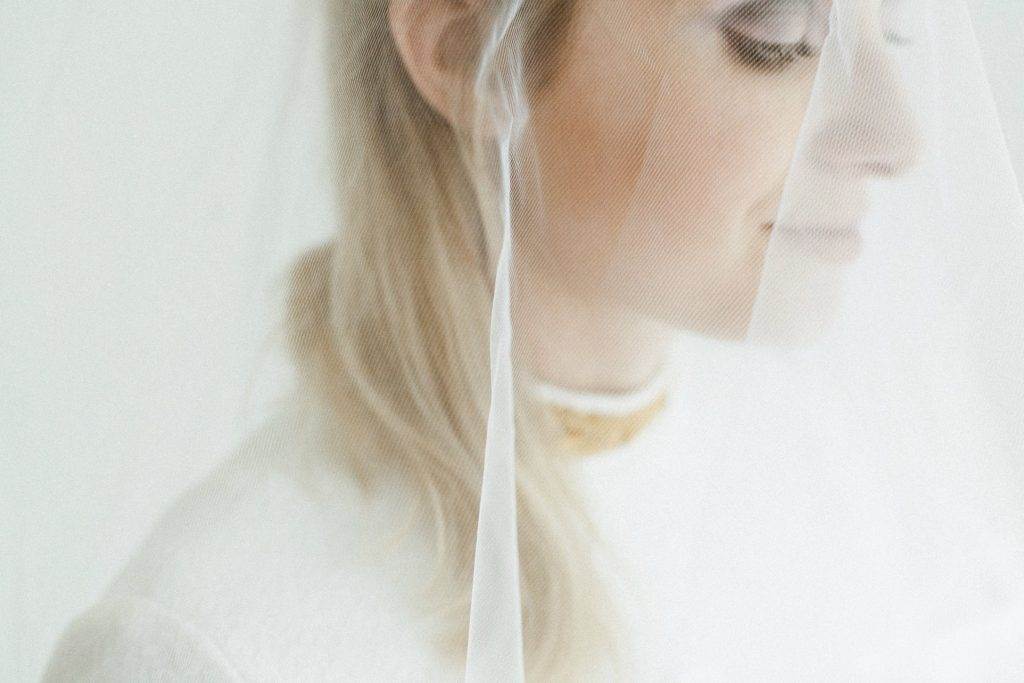 Image by Claire Macintyre Photography
We have live hair and makeup demos at every show and if you fancy something different, we have Painted Peach at Bath who is doing live demos of bridal body art!
You can save money
Often our exhibitors have offers or competitions on the day where you can save money, which everyone wants right? When you are there, sign up to people's mailing lists too as they will then send you info at a later date on everything they are launching.
You may well find the wedding dress of your dreams!
We love wedding dresses, both vintage and modern, beautiful, elegant, creative and artisan. Come along and try on the dresses and prepare to fall in love. And don't forget the fashion parade too for extra inspiration.
Bath Wedding Fair programme – what you need to know.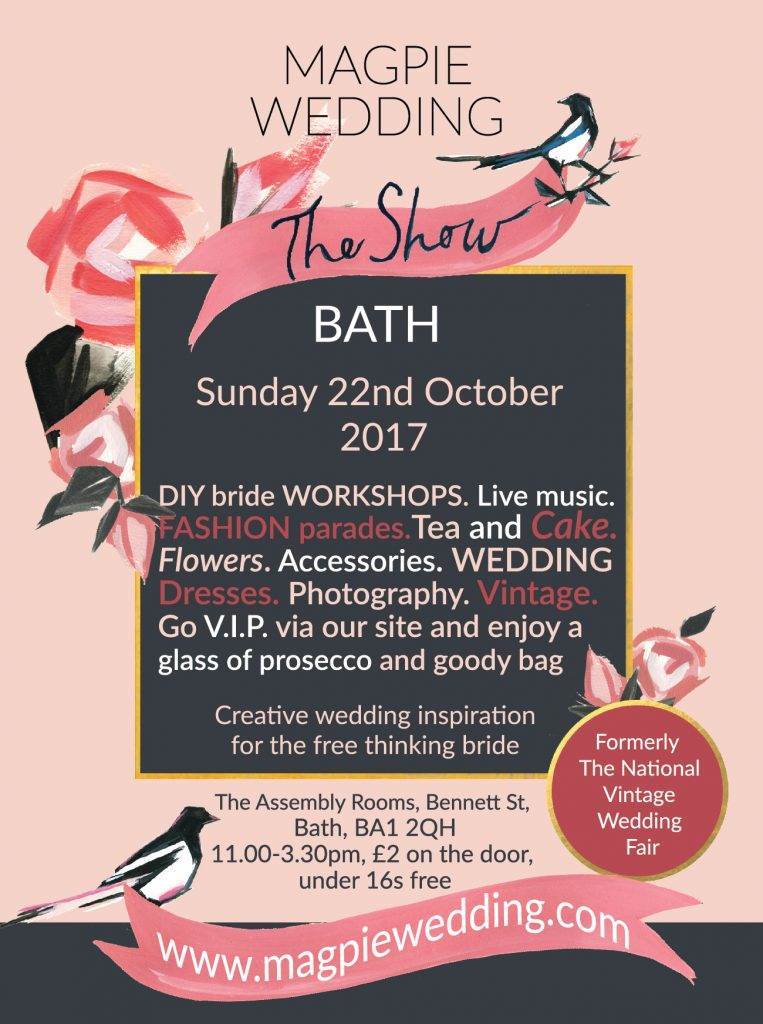 Doors open at 11.00 and close at 3.30. The full address is Bennett Street, Bath, BA1 2QH.
The first 80 brides will get a free copy of Your Bristol and Somerset Wedding Magazine on arrival. The VIP guests will be greeted by bubbly and the bride will get a VIP goody bag with treats in. This includes stationery, macrame, badges, sweet treats and more.
Live music will be played throughout the day by Karen Marie Music. She can be booked for your wedding so come along, listen and maybe have a little dance!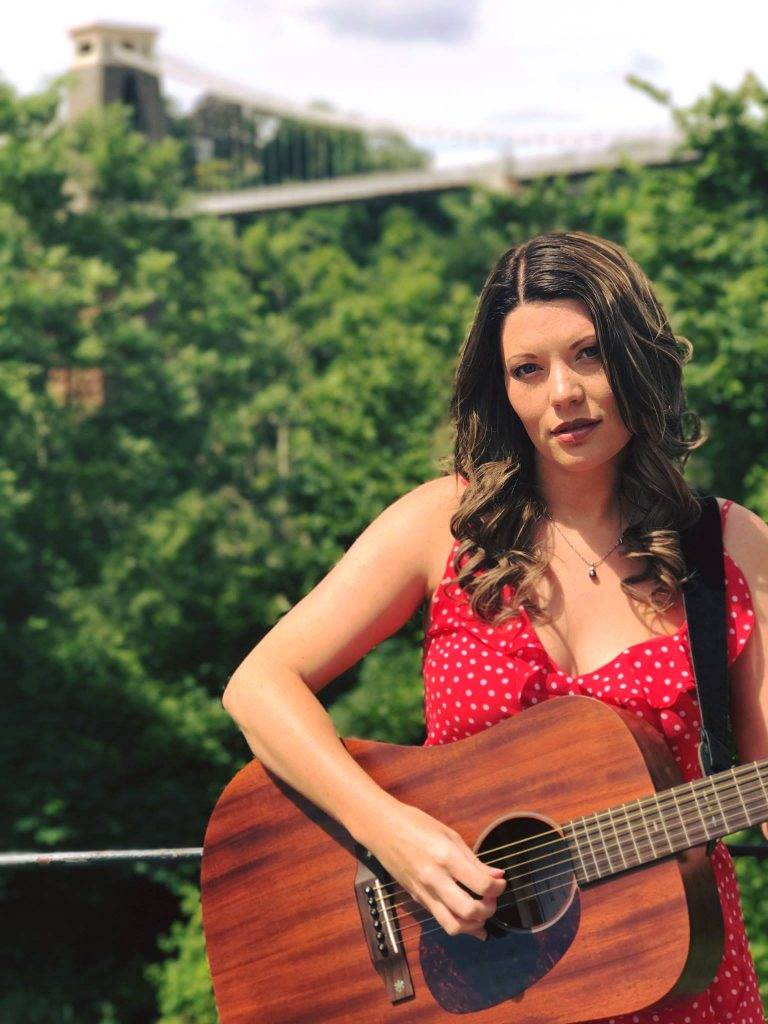 There will be tea and cakes plus other refreshments in the cafe.
WORKSHOPS
We have 2 workshops hosted by Ruth Tilley. Festoon is owned by Ruth, and is an independent wedding stylist and florist based in the Bristol. Ruth specialises in wild, seasonal and foraged floristry as well as having great items you can hire.
11.45: Head Garland Workshop
In this workshop, you will be shown how to make a simple head garland using easy to learn techniques, which are perfect for bridesmaids, flower girls or brides. You will then be able to make your own one to take home and show off, or wear around the wedding show!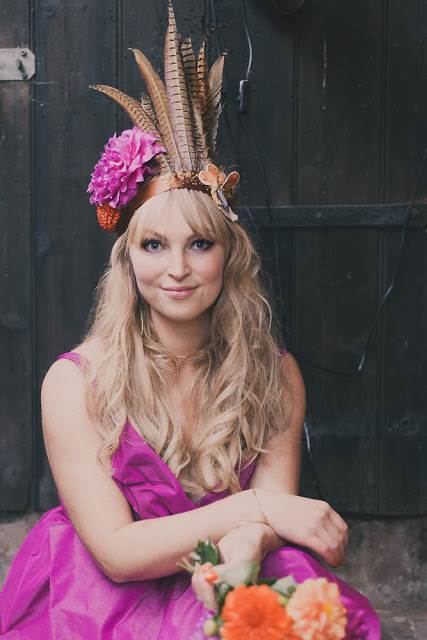 12.45: Wool pom pom garlands
In this workshop you will learn how to create a fun garlands using wool, in bright fun colours. They make fab hanging decorations or add them to table displays.
The workshops are free of charge but spaces are limited to 10 at each one. Book your place by emailing uniquebride@outlook.com
There will be live hair stylists and make up artists demos to inspire you by Lisa Ellis. Painted Peach will be creating wedding body art throughout the day also.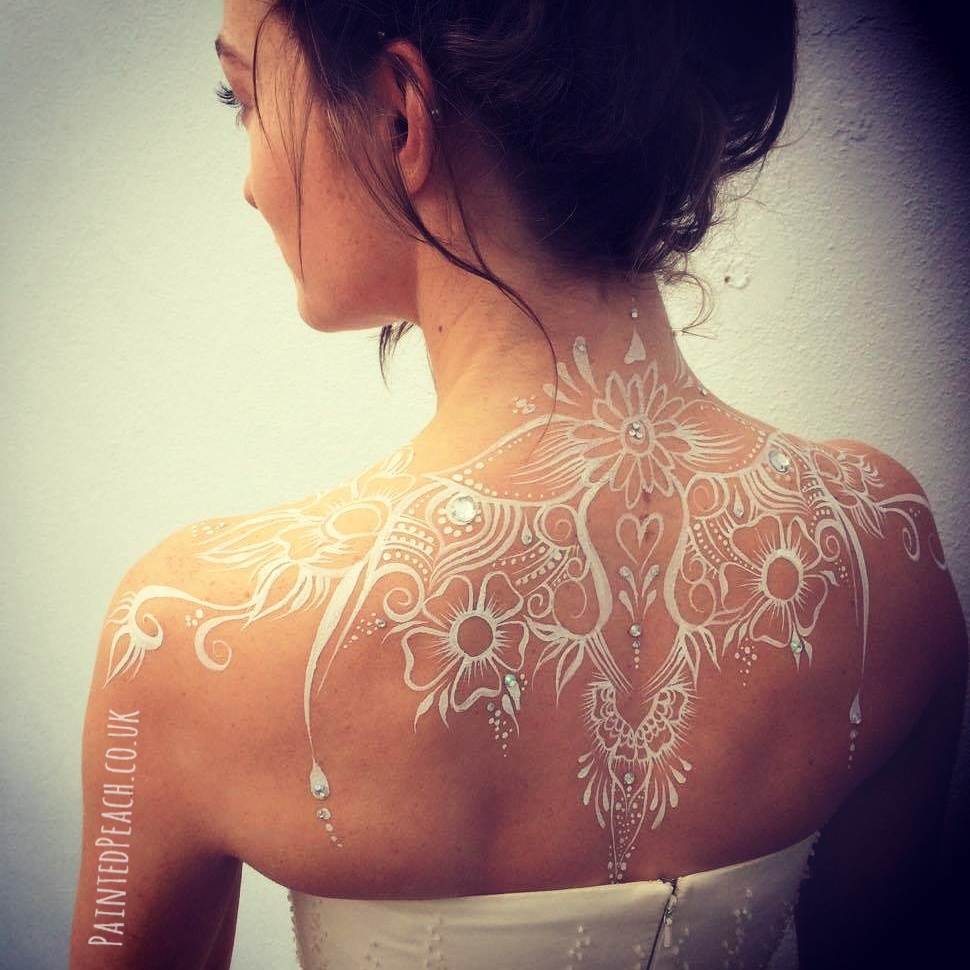 The fashion parade will be at 1.30.
We look forward to seeing you there!