When it comes to wedding attire, ties play a significant role in completing a polished and sophisticated look. Traditionally associated with groomsmen and grooms, ties have evolved to become a stylish accessory for all members of the wedding party, including brides who opt for chic wedding suits. With an array of tie options available, each carrying its own charm and allure, finding the perfect one to complement your wedding attire can be tricky. In this guide, we'll explore various tie styles, from classic to contemporary, and discuss why you might choose each one to elevate your wedding ensemble with style and elegance.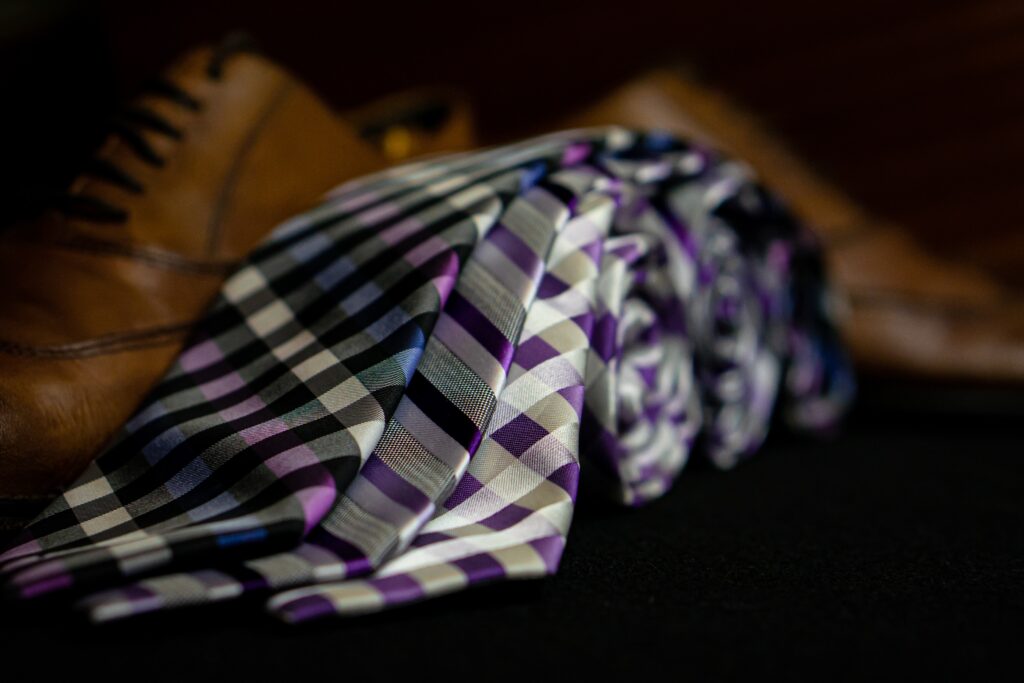 Classic Necktie
The classic necktie is a timeless and versatile option suitable for both formal and semi-formal weddings. It features a pointed tip and comes in a variety of colors, patterns, and fabric choices. A classic tie is an excellent choice for those seeking a refined and traditional look that complements any suit or dress shirt.
Skinny Tie
For a modern and sleek look, consider a skinny tie. This narrow and contemporary style is particularly popular among fashion-forward grooms and brides. It pairs well with fitted suits and adds a touch of youthful elegance to the wedding ensemble. It is also perfect for a 60s inspired wedding.
Bow Tie
Bow ties exude charm and sophistication, making them a beloved choice for both grooms and brides. Available in self-tie and pre-tied styles, they can range from simple and understated to bold and vibrant. Bow ties are especially popular for black-tie and vintage-themed weddings, adding a touch of dapper elegance to the overall attire.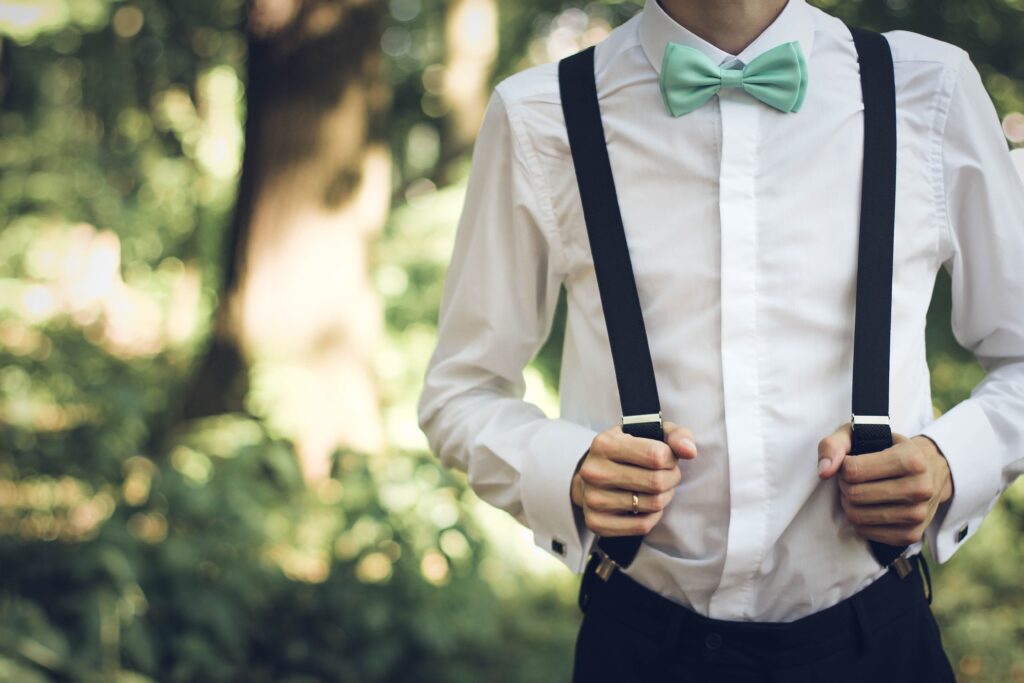 Ascot Tie
The Ascot tie is a refined and elegant option that falls between a cravat and a necktie. It features a wide, formal knot that creates a sophisticated and debonair appearance. Ascot ties are ideal for vintage or formal weddings, adding a touch of old-world charm to the overall look.
Knitted Tie
For a more casual and textured look, consider a knitted tie. Knitted ties offer a relaxed yet fashionable appearance, making them perfect for garden, beach, or bohemian weddings. They add a touch of informality while maintaining a sense of refined style.
Paisley Tie
Paisley ties feature intricate and swirling patterns, adding a touch of artistic flair to the wedding ensemble. Ideal for couples seeking a bohemian or vintage-inspired wedding, paisley ties lend a touch of individuality and artistic expression to the overall look.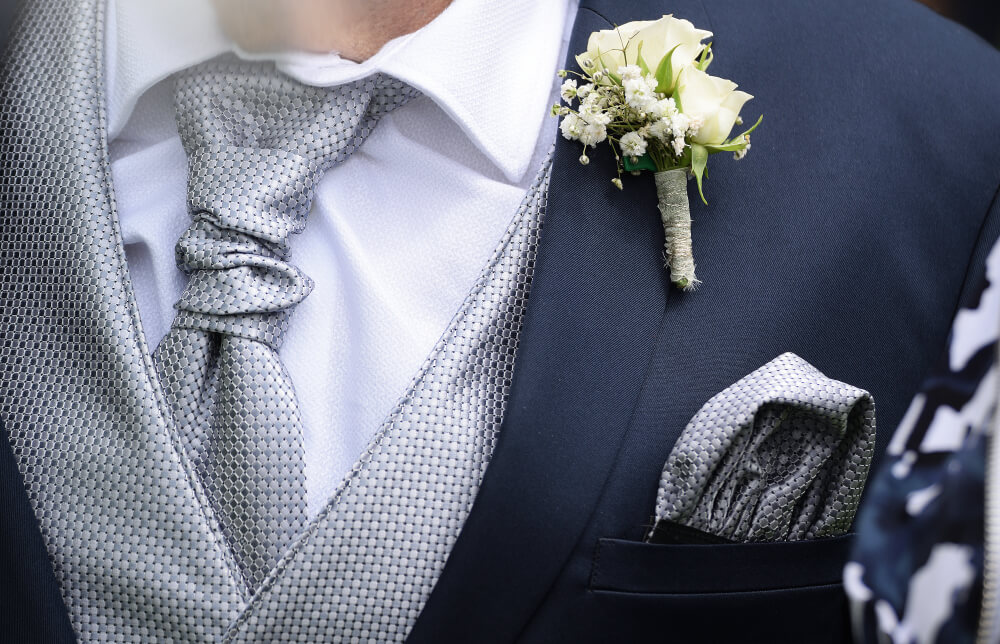 Cravat
A cravat exudes an air of timeless romance and sophistication, making it a wonderful choice for vintage-themed weddings. This wide, formal neckwear is worn tucked into the shirt, and it can be paired with a waistcoat or suit jacket for an opulent and regal look.
Western Bolo Tie
Perfect for rustic or western-themed weddings, the bolo tie offers a unique and distinctive alternative to traditional neckwear. Featuring a decorative clasp or slide, this tie adds a touch of rustic charm and individuality to the wedding attire.
Ascot Cravat
A blend of the ascot and cravat, the ascot cravat is a refined and stylish choice for sophisticated weddings. It showcases a formal knot like the ascot but is typically made from luxurious fabrics like silk, adding an extra touch of elegance to the ensemble.
Four-in-Hand Tie
The four-in-hand tie is a versatile and universally flattering option for any wedding. Its slightly asymmetrical knot gives it a relaxed and effortless look, making it suitable for both formal and informal ceremonies.
No Tie
Finally, how about not wearing a tie at all? More and more grooms are choosing a relaxed vibe and ditching the tie, especially for beach weddings.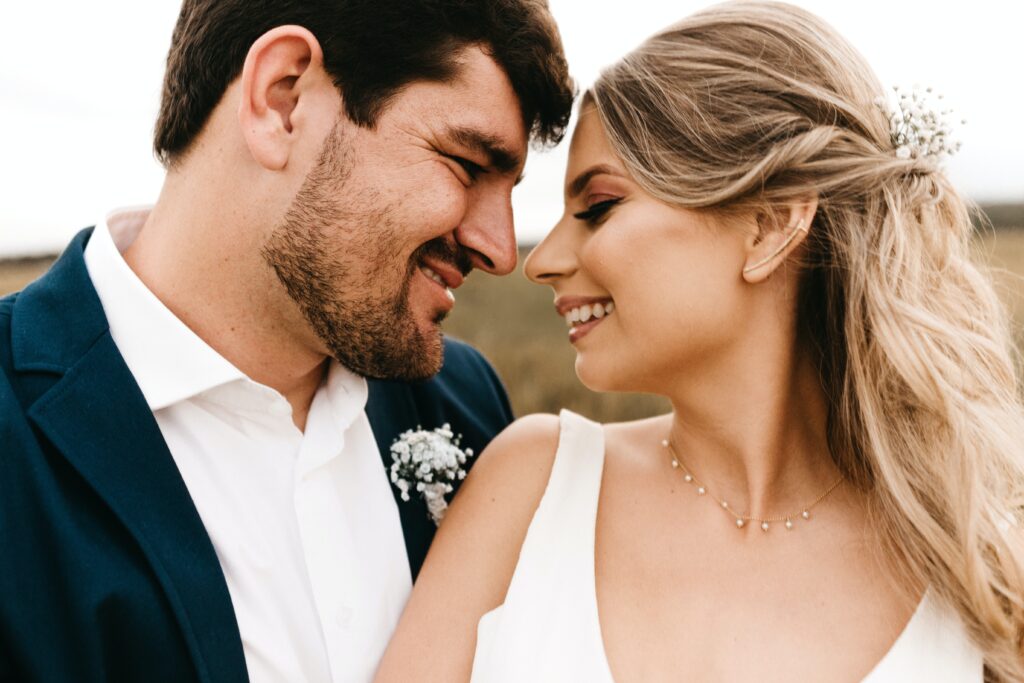 The right tie can elevate your wedding attire, adding a touch of style and personality to your overall look. From classic neckties and bow ties to ascots, cravats, and knitted ties, each style offers its own charm and allure, making the choice of tie an enjoyable part of wedding preparations. Whether you're a groom, bride, groomsman, or bridesmaid, exploring the diverse world of tie options will help you find the perfect accessory to complete your wedding ensemble with style and elegance. Embrace your personal taste, wedding theme, and the overall ambiance of your special day to select a tie that truly reflects your unique love story.