Wedding veils are far from what they used to be; stiff, scratchy net that brides couldn't wait to remove. As they now generally no longer symbolise their historical representation, and are more of a fashion accessory, it means they come in all different shapes and sizes with an array of embellishments. Today we speak to Margaret Byrne from Dream Veils who gives us her thoughts and top tips to finding the right veil, and what kind of veils are available.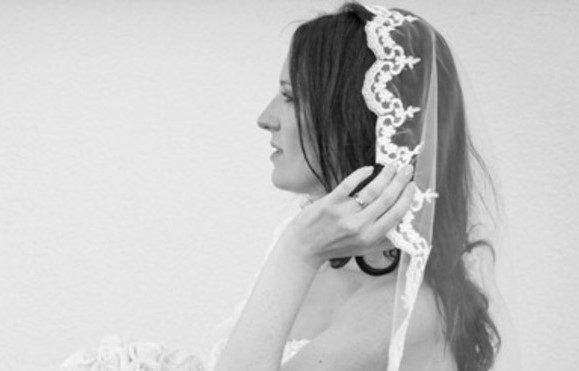 "Wedding veils! Now that conjures up visions of brides surrounded by voluminous amounts of tulle; all romantic and ethereal! But the truth out there is that when it comes to getting married, I find that a bride actually has a real problem with deciding on a veil or if in fact they really want one. Can they be bothered with having to decide what to have? What suits the dress? What they can afford? Or will they be able to walk in it?"
"Some girls know from the moment they are born that they want a veil yet others say "No definitely not" and then there's the last minute deciders who run around with a few weeks to spare, trying to find one – which is usually when they seem to find me!
The most important tip is to wait until you have the dress. Your dress is the most important thing and the veil should compliment it by adding to the look rather than clashing with it."
Wedding Veil Edges
"I would say the more ornate and embellished the dress, the less fuss that should be on the veil. A cut edge veil is the one to go for if you have a heavy beaded or laced dress as it allows the details to show through without any edge on tulle showing up and cutting across it."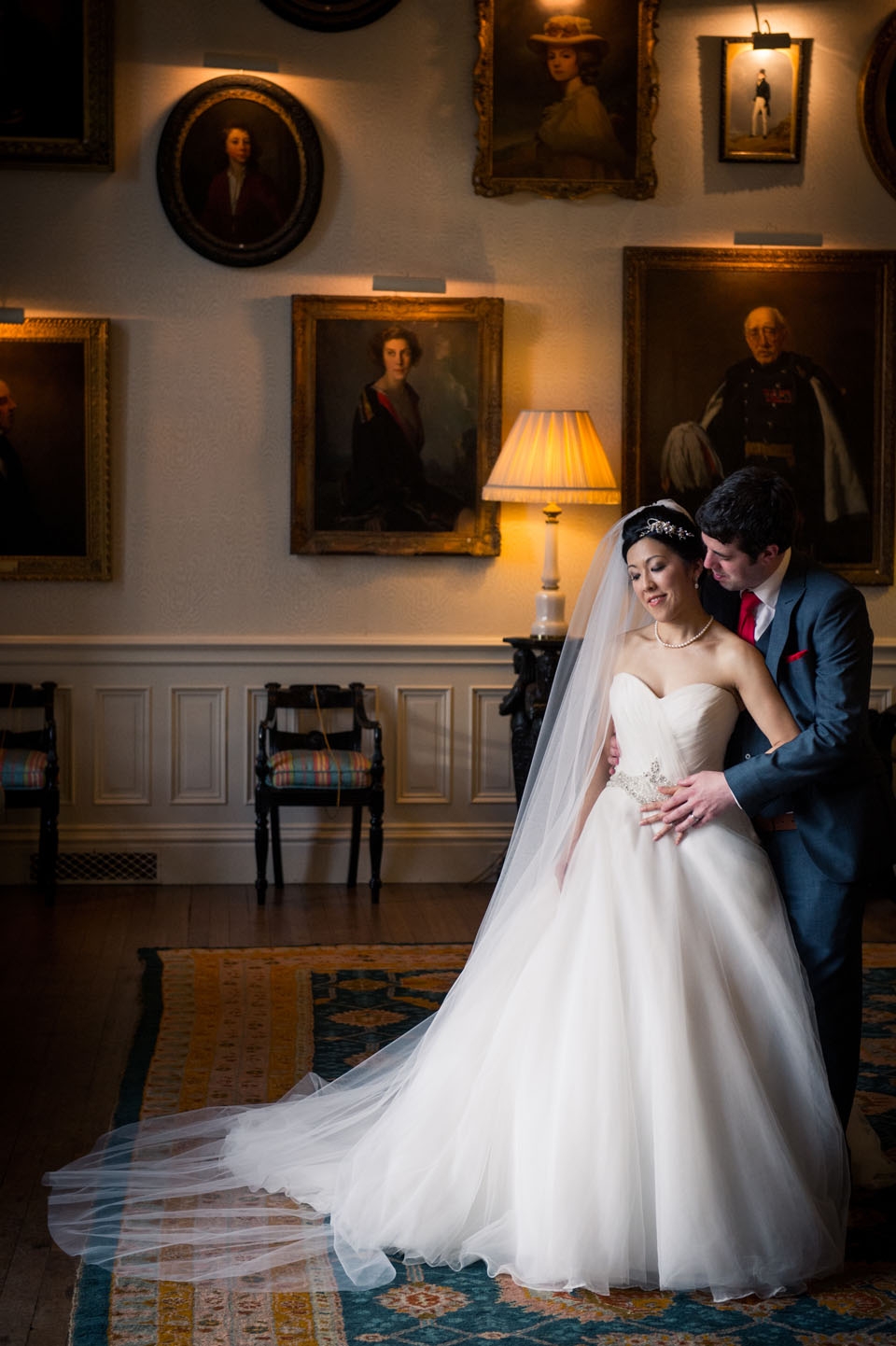 "Then a satin dress looks amazing with a satin edged veil, the edges fold, curve and shape down so beautifully so it is always a real winner. There are other edges that I put onto veils such as a stitched edge or pencil edge, a curly or wired edge, a Rat-tail corded edge, Swarovski banded edge, Swarovski drops on the edge or lace edges. Always choose one that will match the dress; if in doubt go with a cut edged veil."
Single or two layered veils.
"Then there is the decision about single or two layer veils. Really if you don't want to cover your face to walk down the aisle then save money by buying a single layer veil. I have created a cascade veil range in the single style which adds interest to the sides of a straight layered veil. This photo is an example and it has the satin edge around it which really shows off the cascading effect."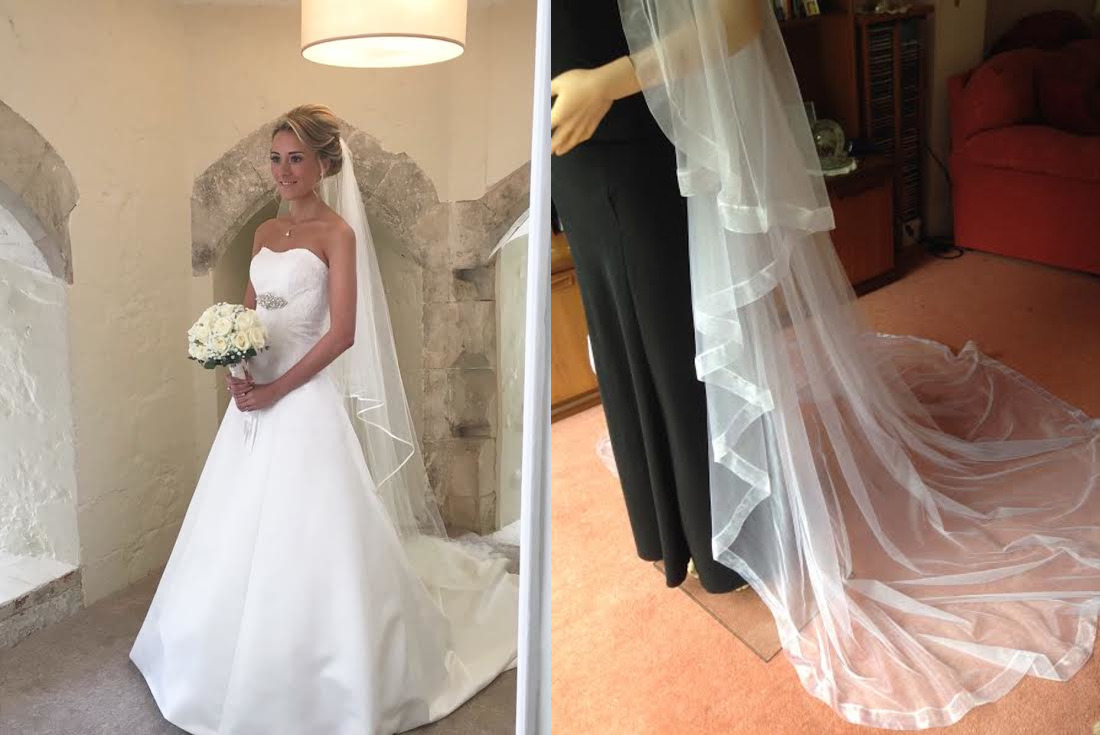 "The single layer veil is cut very differently than a two layer veil which has a definite pattern to it depending on the lengths of the layers you want. A single layer has to be fully gathered along the top and sewn onto the comb but a two layer veil can be fully gathered, part gathered, the most popular, or flat onto the comb which is also called a drop veil. A flat veil can give the Duchess of Cambridge look but this can only be a two layer veil if you want."

Mantilla style or lace veils
"If you want a real statement veil then a Mantilla style veil or a lace edged veil is fantastic. The Mantilla style has the lace across the comb so it lies over the head; you might not want or need a headpiece with this veil."
"A lace edged veil can be single layered or two layered, some laces though have a "Face" so are only suitable for a single layer or mantilla style as they have an underside which doesn't look right when the blusher is pulled over. You might need guidance as to which laces to choose for the style of veil wanted."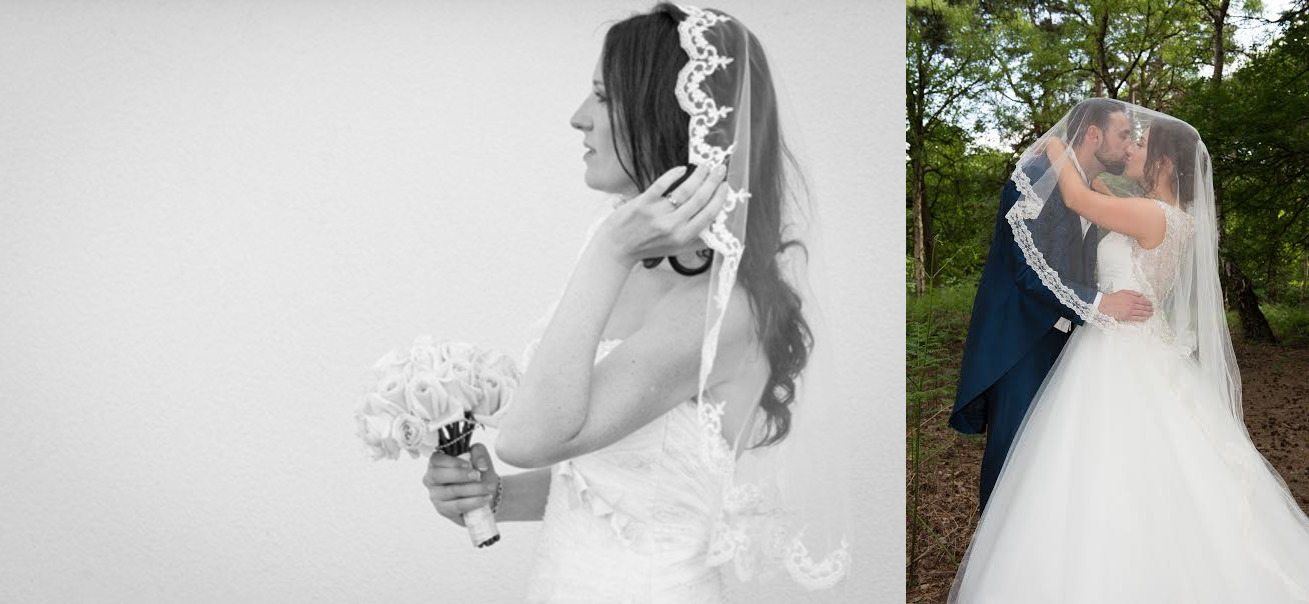 Tulle types and colours
"Tulle comes in normal nylon/polyester tulle and silk; firm silk and soft silk.
There are more colours available in the normal tulle, they are affordable and actually very sheer and soft. The tulle can be coloured or the edging coloured."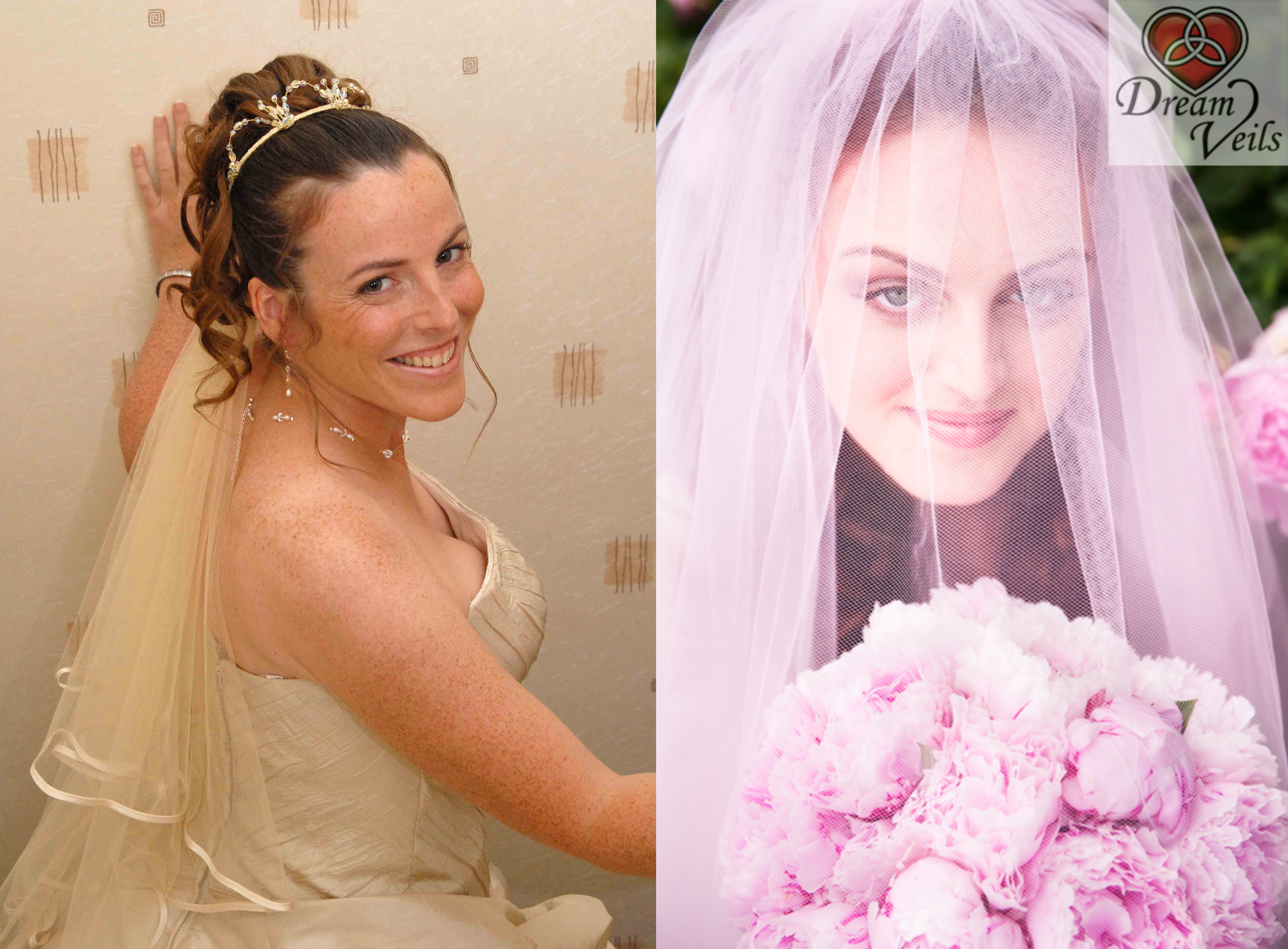 "The silks I stock are white & ivory. The soft silk is the silk the Duchess of Cambridge had for her veil. The firm silk behaves similar to the normal tulles but the soft silk gives a completely different look."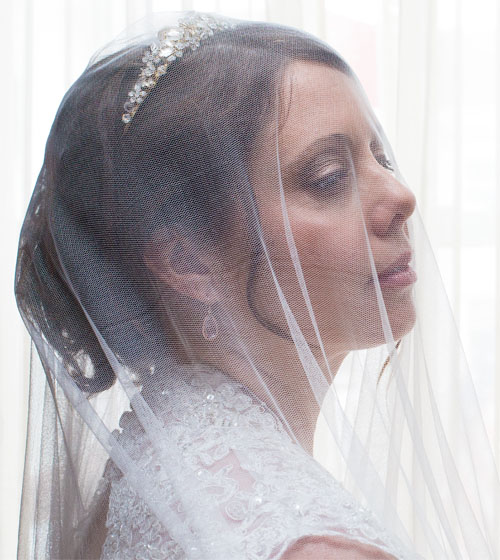 Vintage veils
"I now have a vintage collection which is growing by the day! I took my inspiration from some famous veils from the past and my own mum's veil. I have posted on my site the original photos of the veils I took the inspiration from. These veils are evolving and I am adding to this collection as we speak!"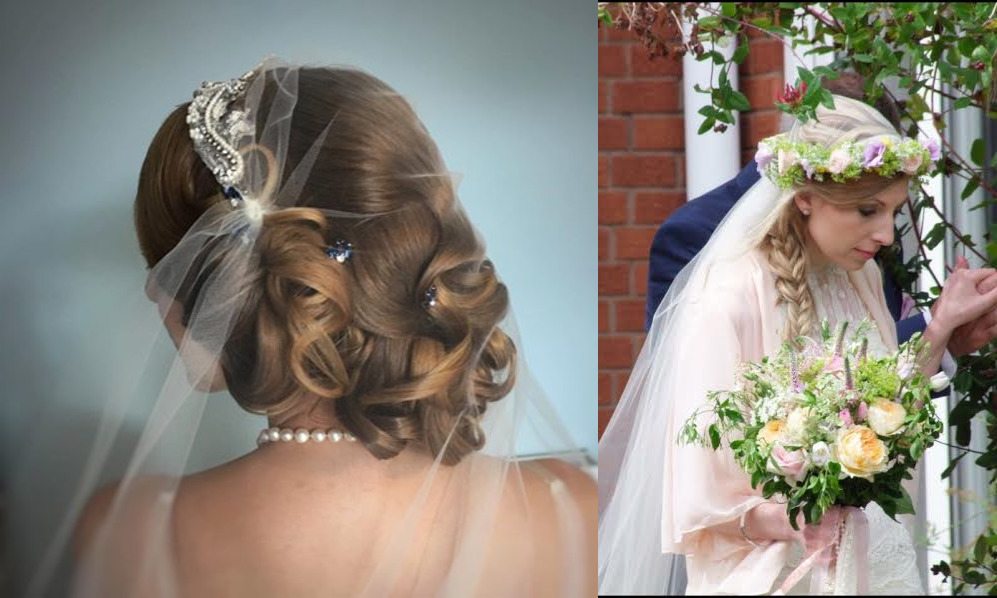 Birdcage veils
"And then there are the birdcage veils; these are great if you don't want a drop of tulle around you but want to look like a bride. They used to be for a very vintage-y wedding style but now they have become more acceptable to be worn with any style of dress.
They can be of different types of net or made of tulles and also dotted tulles."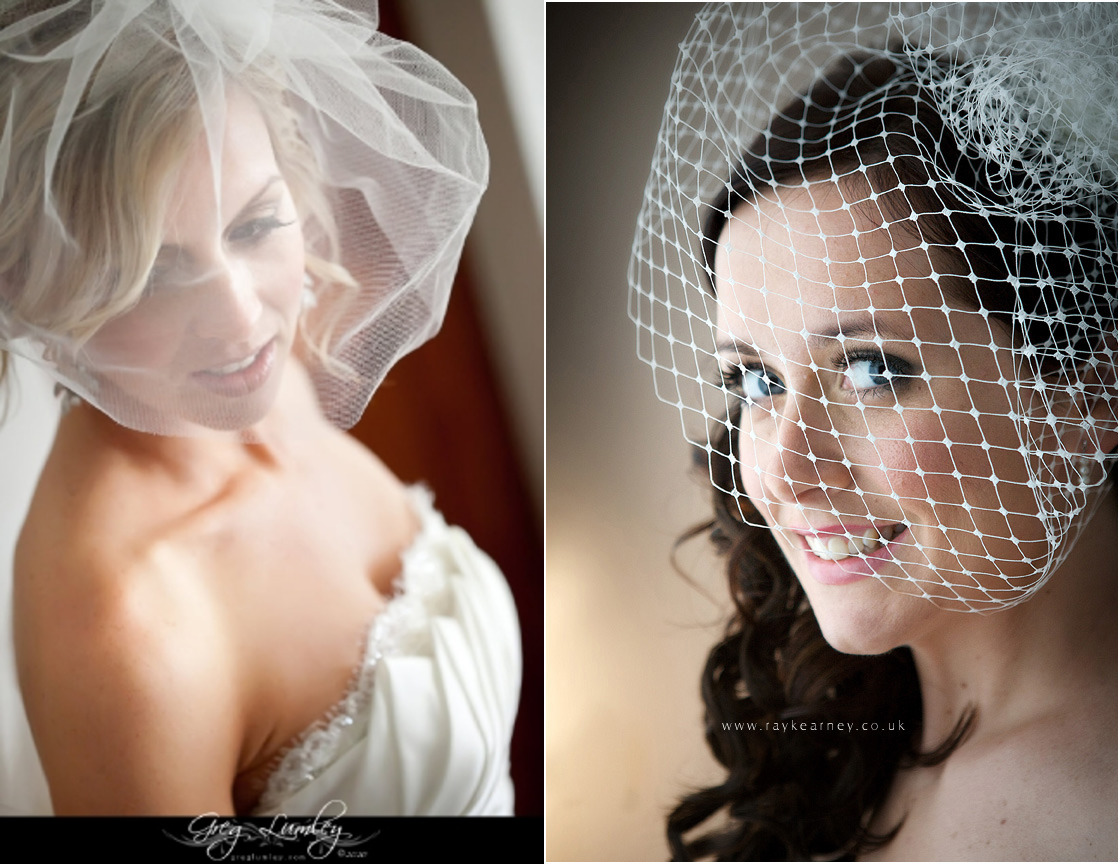 Tulle Capes
"I have recently created a collection of tulle capes, asome brides want their shoulders covered but don't want a veil or a wrap, so these have emerged over time and have become a sort of "No veil- veil !!" The first were pull over the head types with lace around, then I was asked for a tie round the neck "Like a bed-jacket" short style, and now I have created a cape which drapes across the back and over the shoulders and which fastens onto the shoulder straps or the front bodice of the dress. This last cape is an on-going work in progress and more examples will be posted onto the site as I work through them!"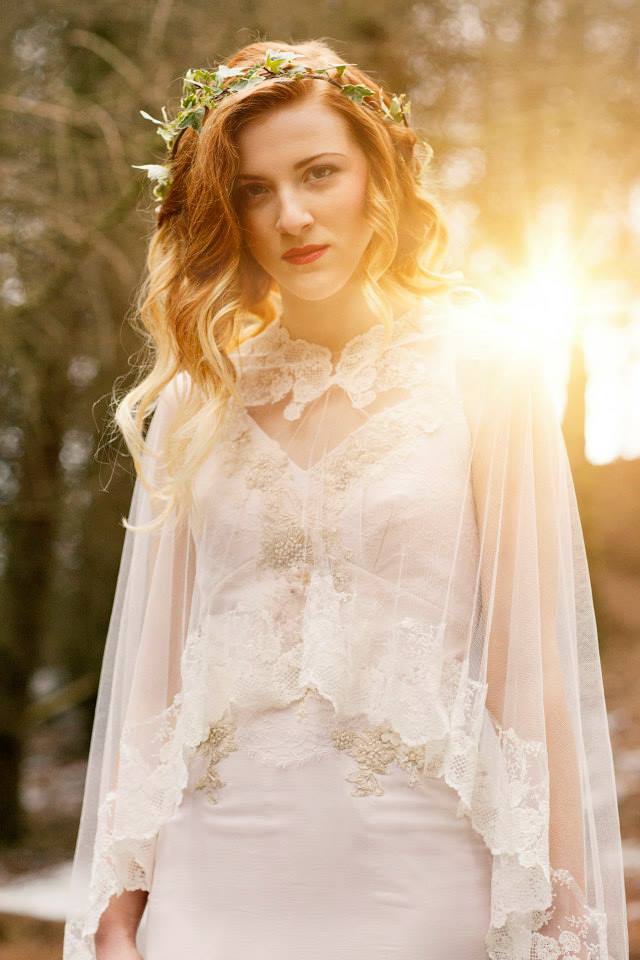 "All of these veils and capes are featured on my very large site with hundreds of photos of real brides wearing them to give you inspiration, just contact me if you need any help. The veils are all handmade by me to order so you can have a truly "one off" veil."
Visit Dream Veils website to see more of their designs.
If your looking for more top tips for your wedding check out our blog The 10 do's and don'ts when choosing how to wear your wedding hair
Cover image by Binky Nixon