Following our recent trend report on bridal capes we thought we would bring you a real treat on the blog today with this alternative winter wedding styled shoot, featuring some of the most creative and unique bridal capes in the industry. Coordinated by Ashley King from Adorn by Ashley it shows an epic collection of bridal capes and accessories if your looking for an alternative look on your wedding day. Here we catch up with Ashley and the team involved who tell us all about this alternative winter wedding shoot…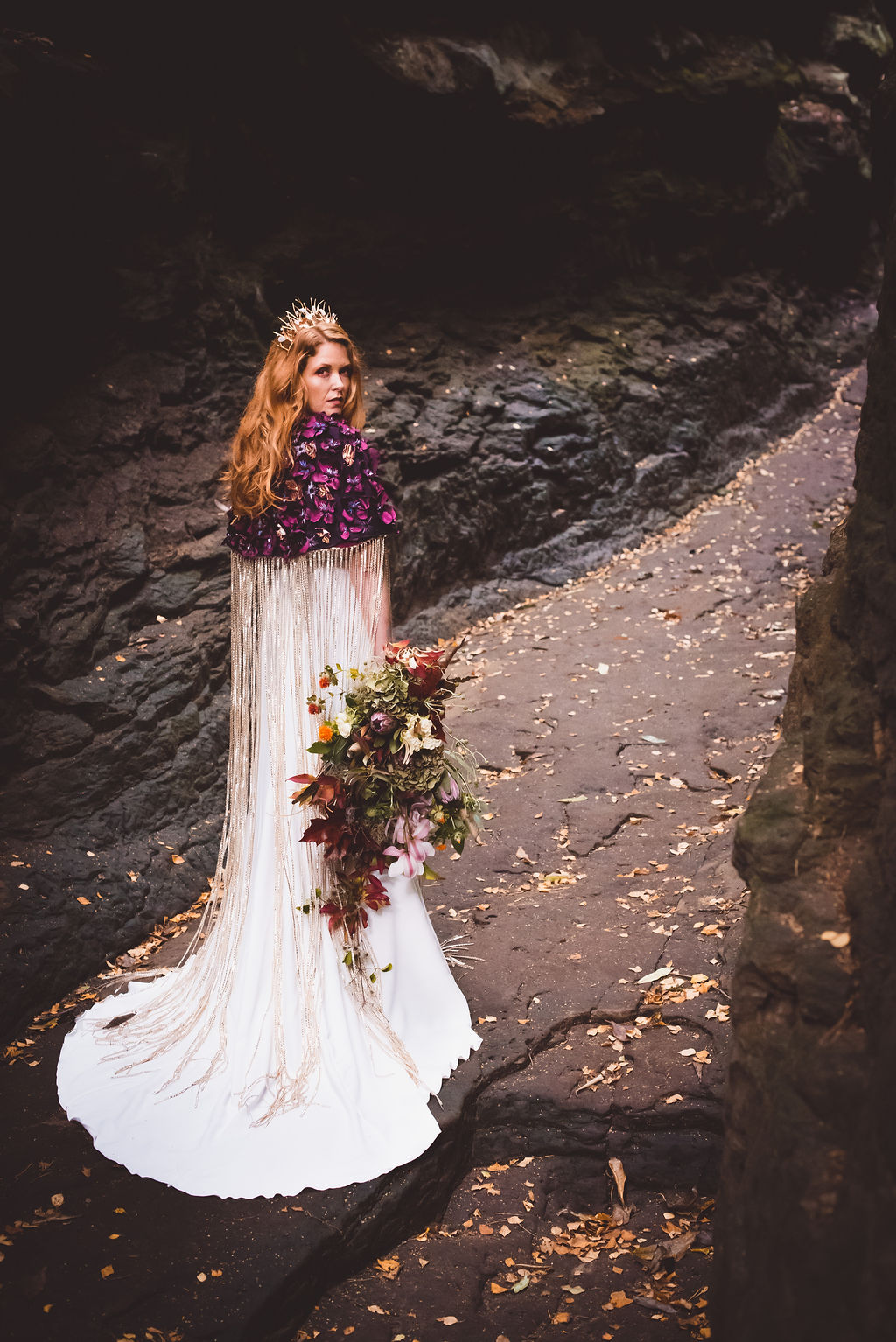 Alternative Winter Wedding Style with Jewelled Cape and Floral Veil
"Our reasons for this photoshoot were to showcase creative talent that complimented Adorn by Ashley's autumn/winter cape creations. The capes were created for brides getting married in the colder months that still wanted to feel warm and comfortable without compromising their style or wedding theme."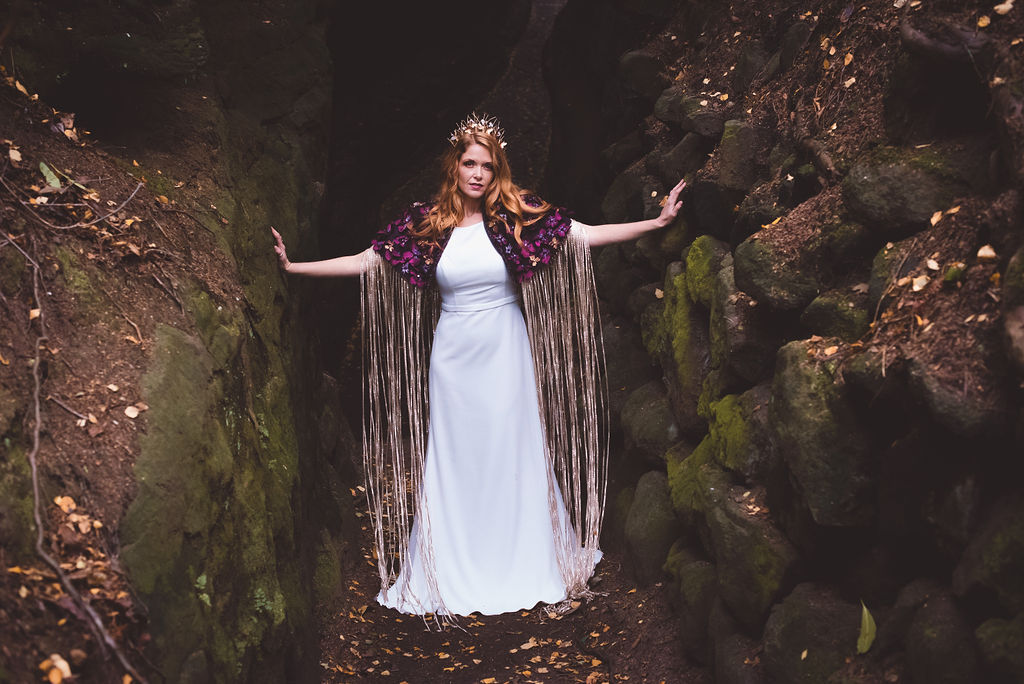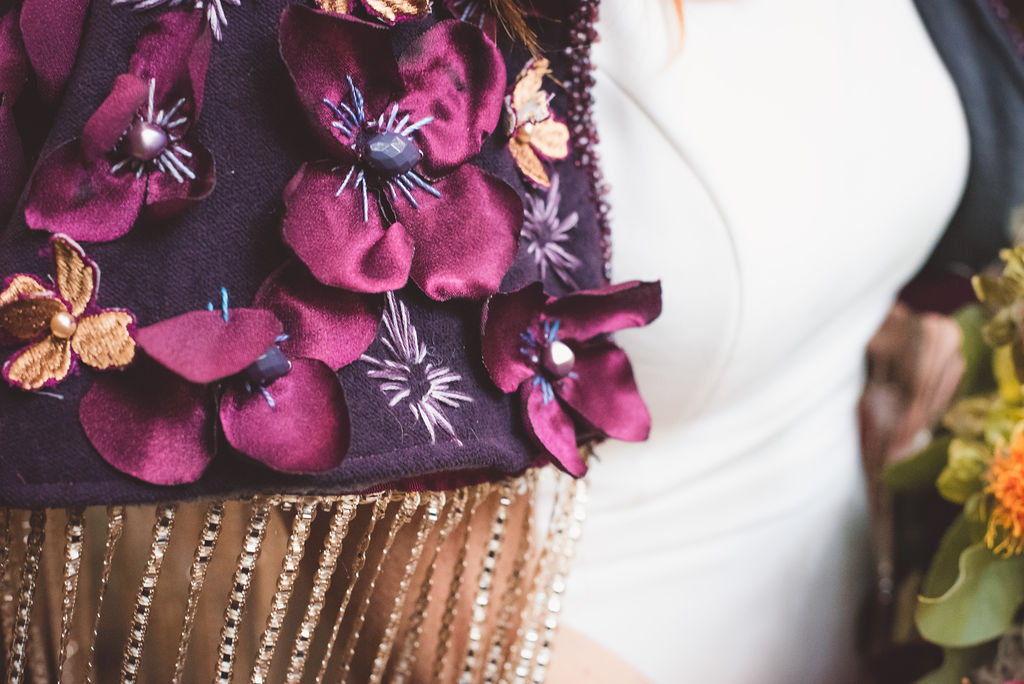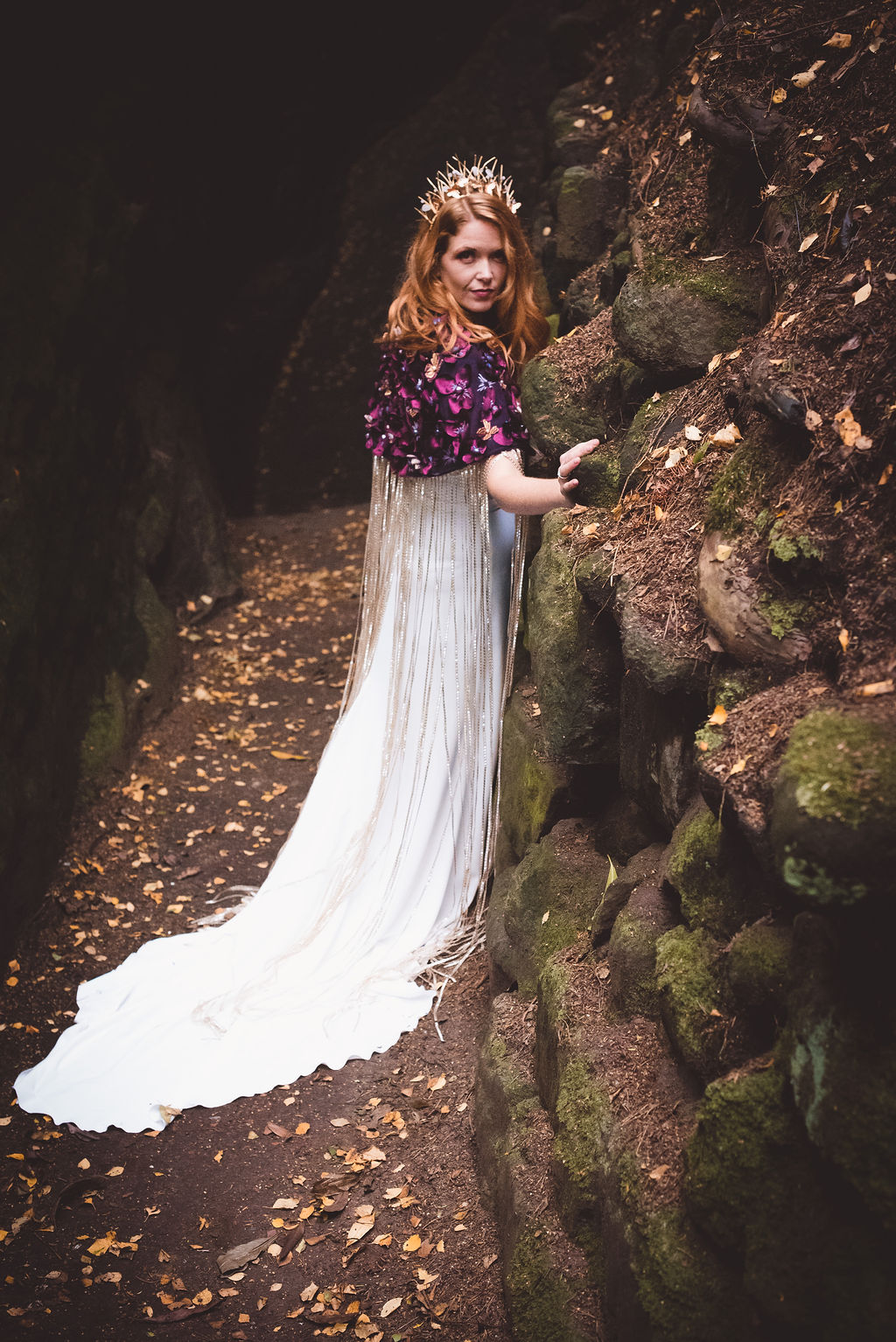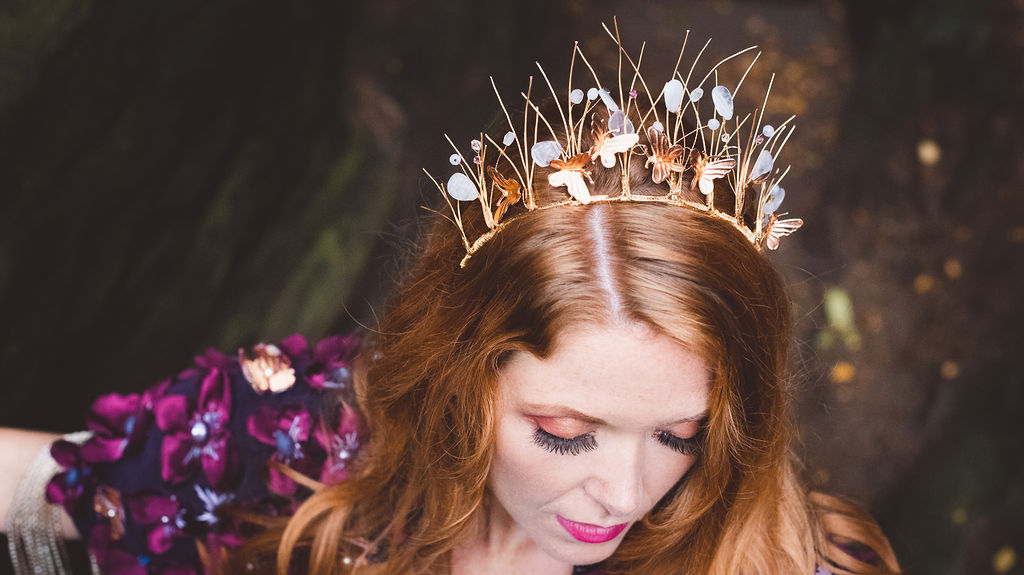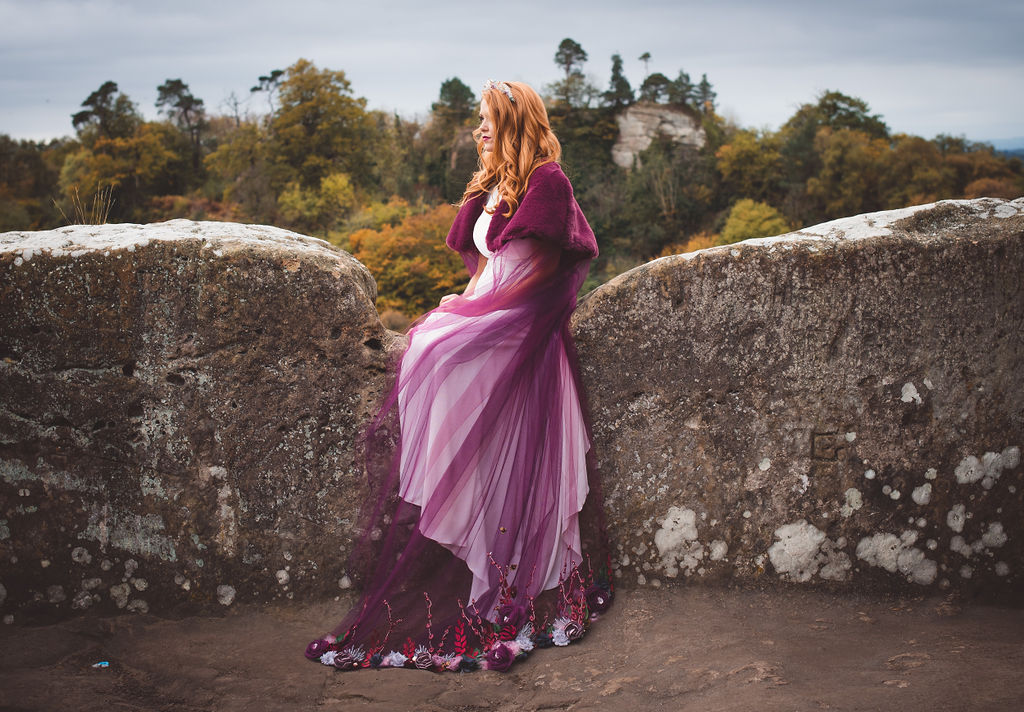 "An earthly colour pallet, combining a mix of textures with metallic touches created with trailing leaves and floor length tassels, hand embroidery, 3D floral elements and applique make these capes a real show stopper. They were teamed with a simple cut dress to show off the detailing on the capes."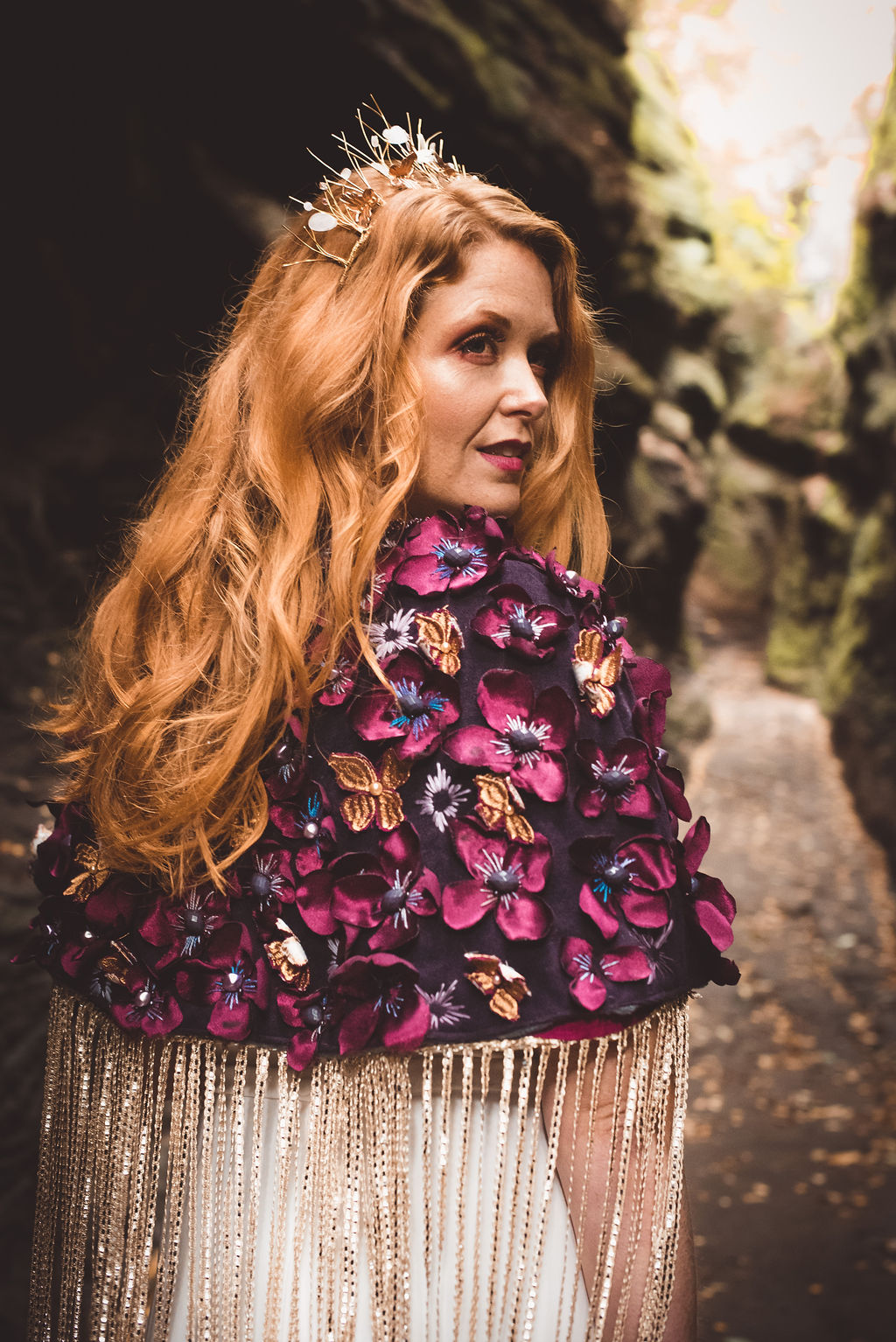 "The trailing part of the capes have been designed so they are detachable meaning the bride can wear them again and again for other occasions or just to look and feel fabulous every day."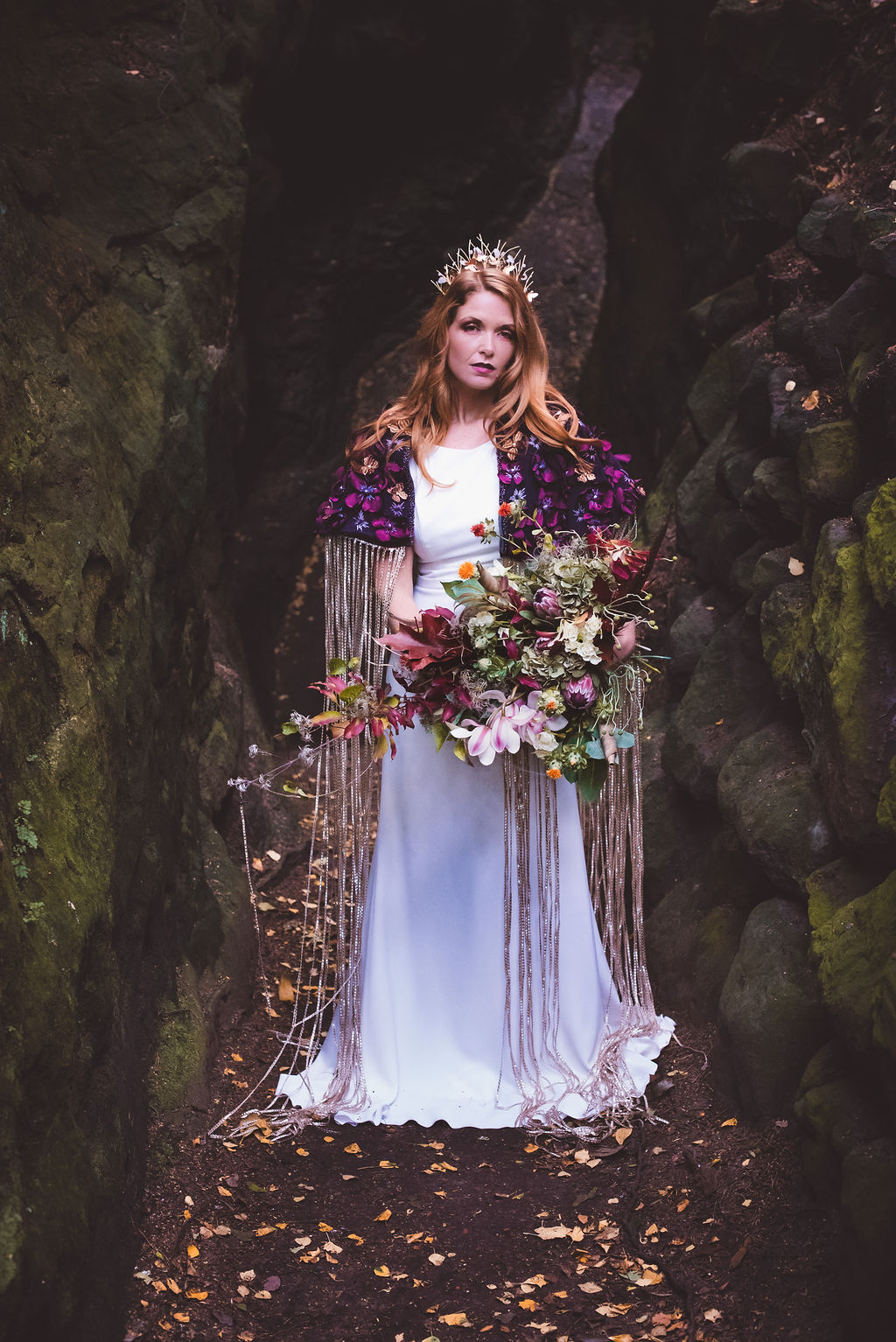 Photography – Birgitta Zoutman
"Having started out in street photography Birgitta's work is very much about people, emotions and the things that connect them, whether that's their surroundings or the people in their lives So for this shoot she took some of her inspiration from Peter Jackson's film adaptation of Lord of the Rings. A story full of magic and the ethereal."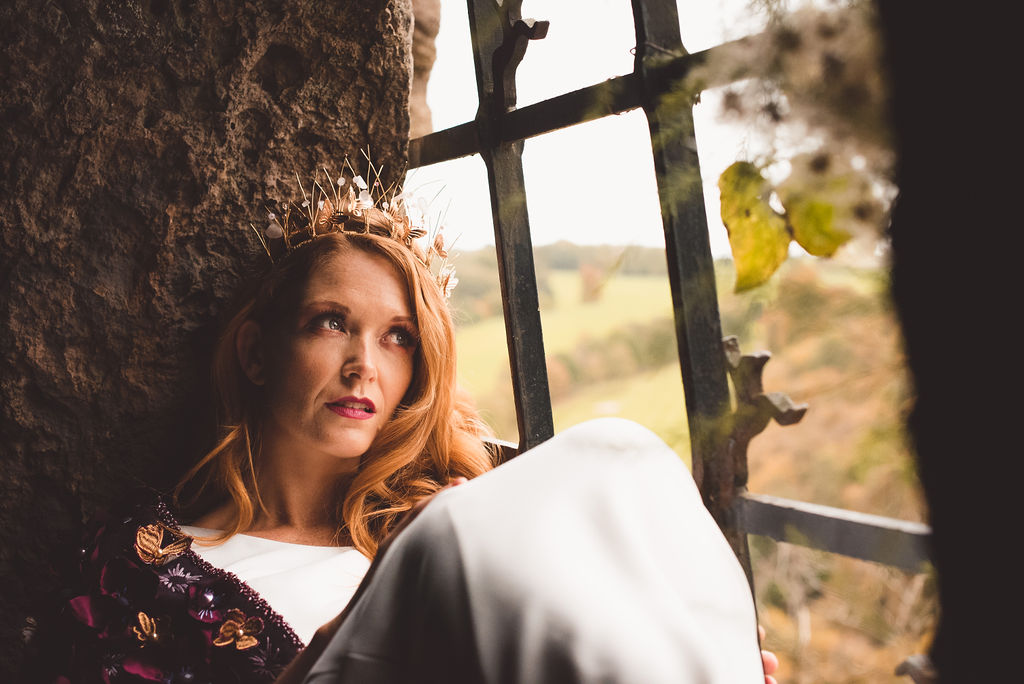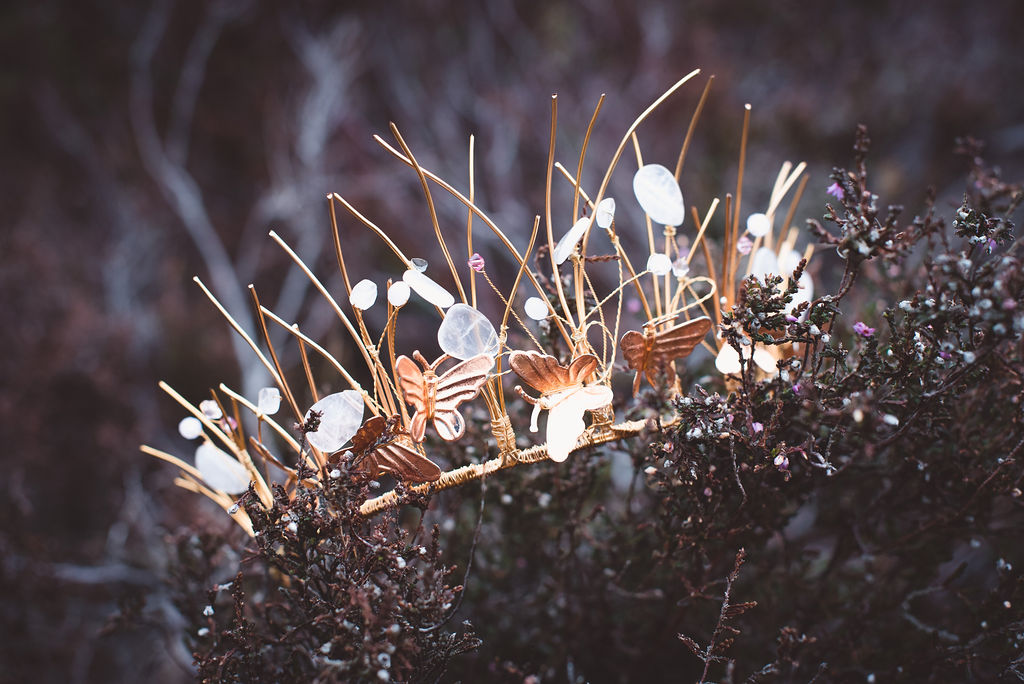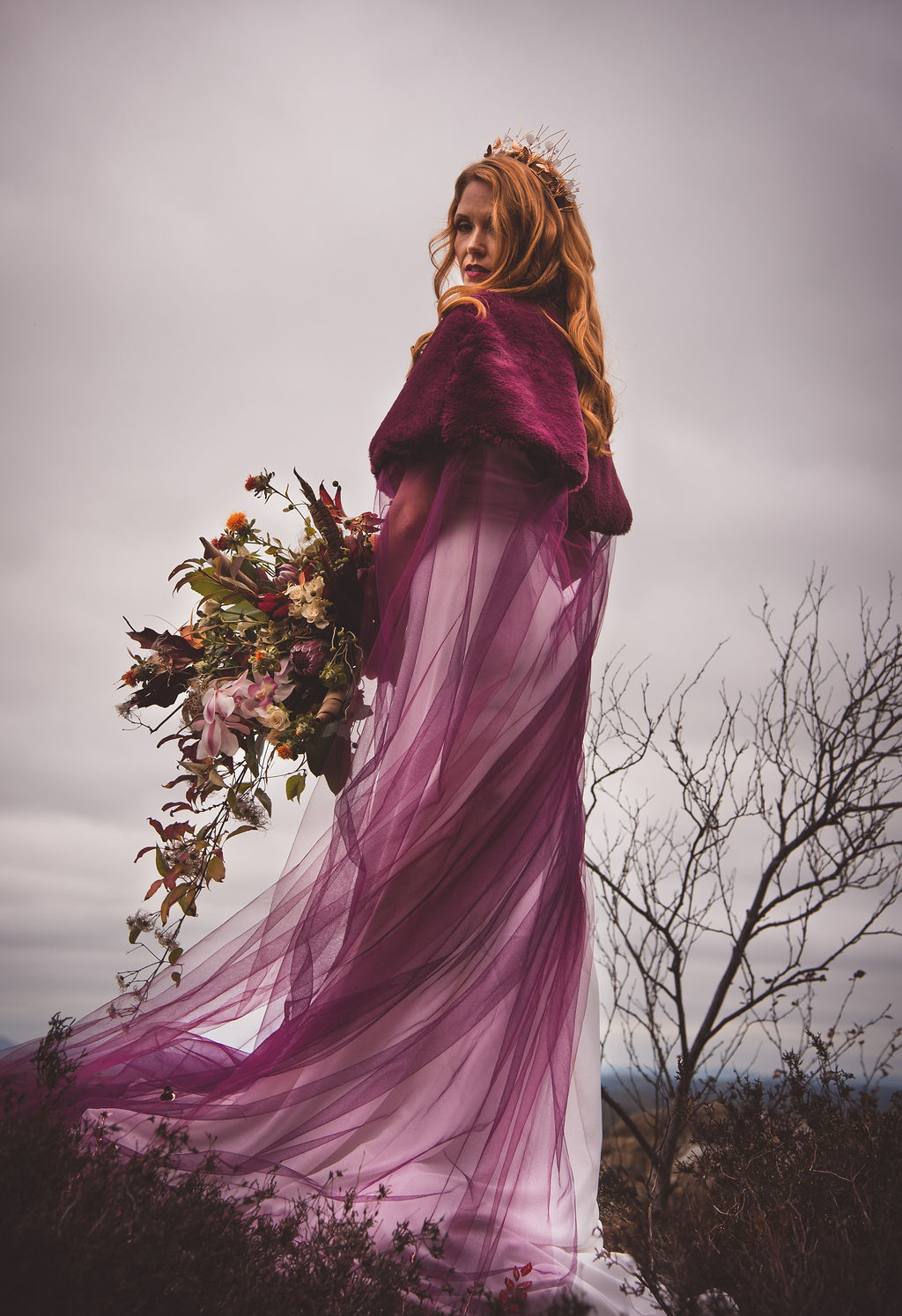 "Ashley's capes with their rich opulent colours and floral designs gave the suggestion of royalty and grandeur, I loved how the colours were such a juxtaposition to the darker skies, rock and woods surrounding us. The follies evoke such a moody other worldliness it's not hard to imagine a fairy queen wandering the forest pathways and surveying her kingdom from the rocky outcrops."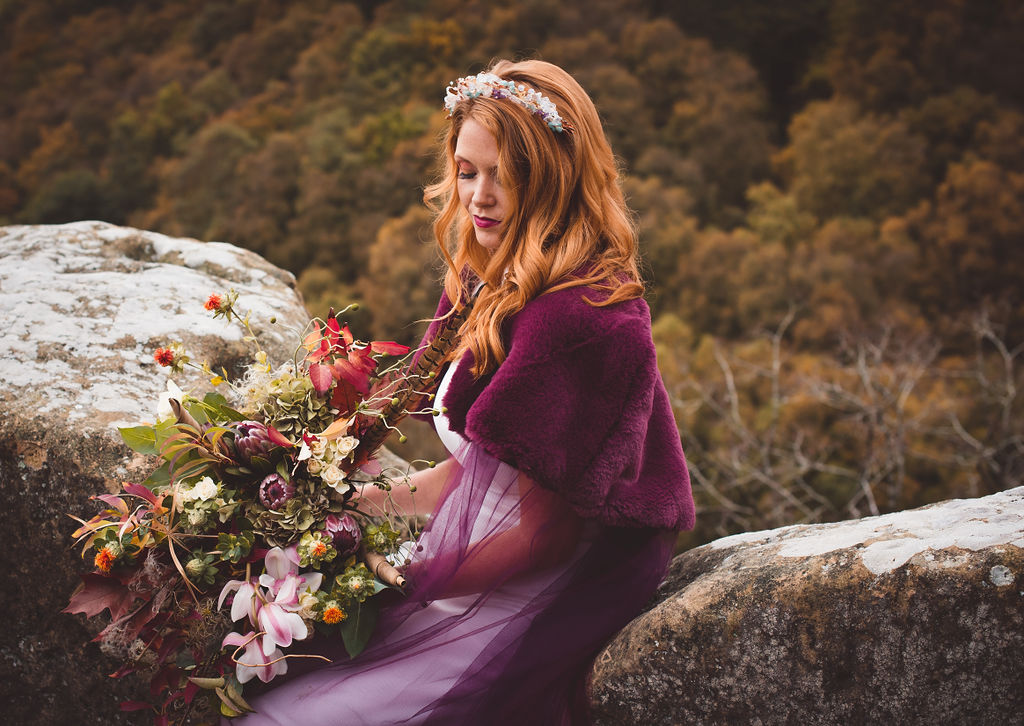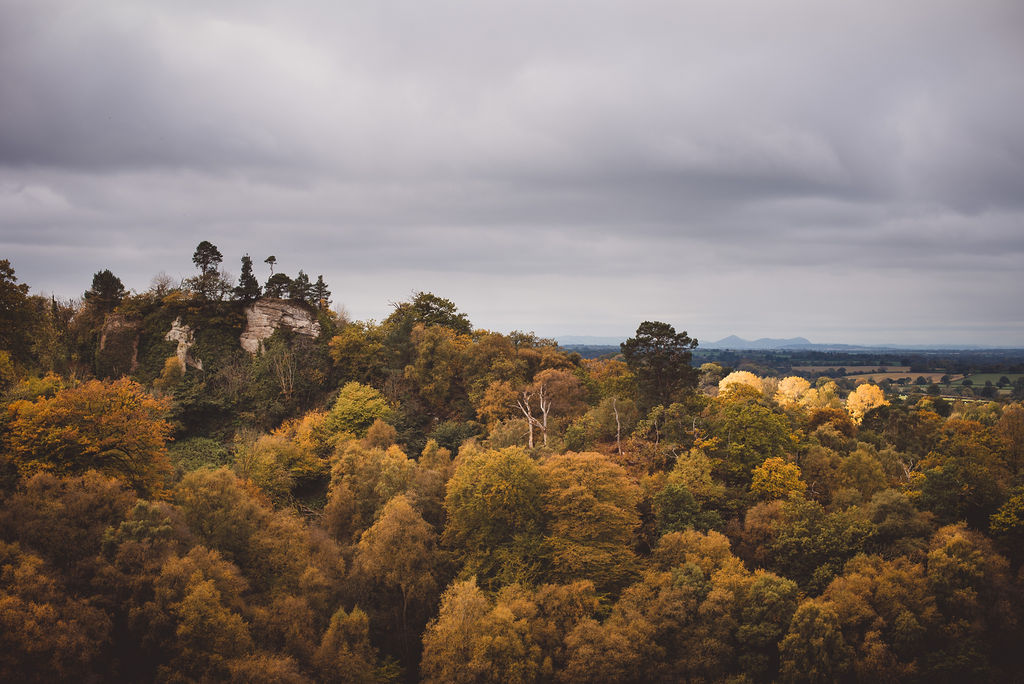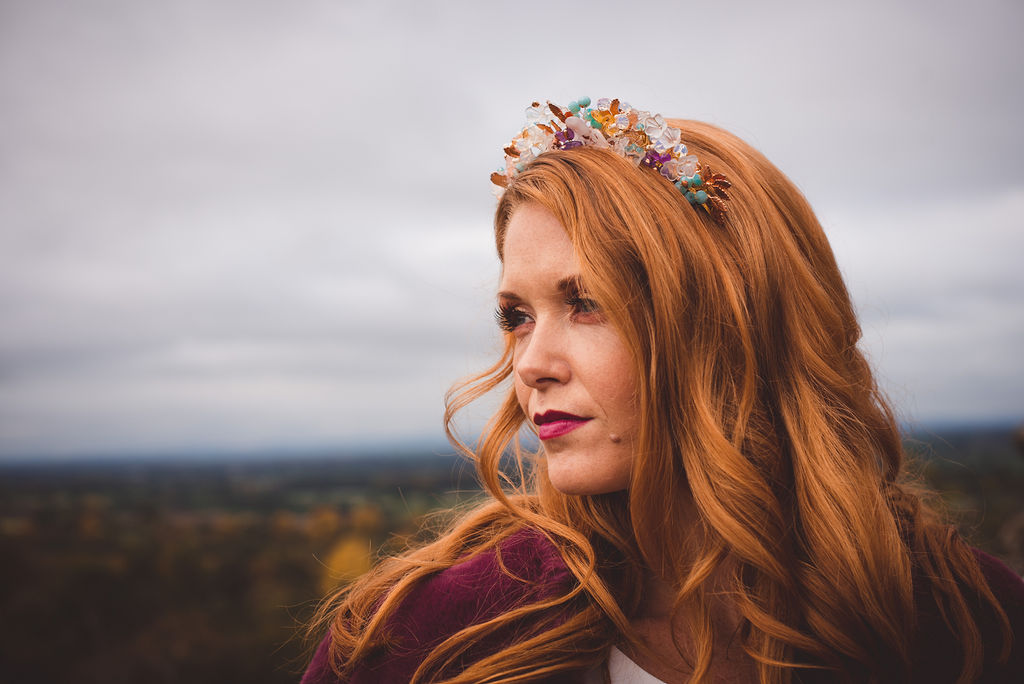 Venue – Hawkstone Follies Grotto
"We chose the Hawkstone follies grotto as the venue as it's a place we have always wanted to show off, Its such an ethereal place that really evokes a sense of mystery and is such a versatile venue for the off beat bride."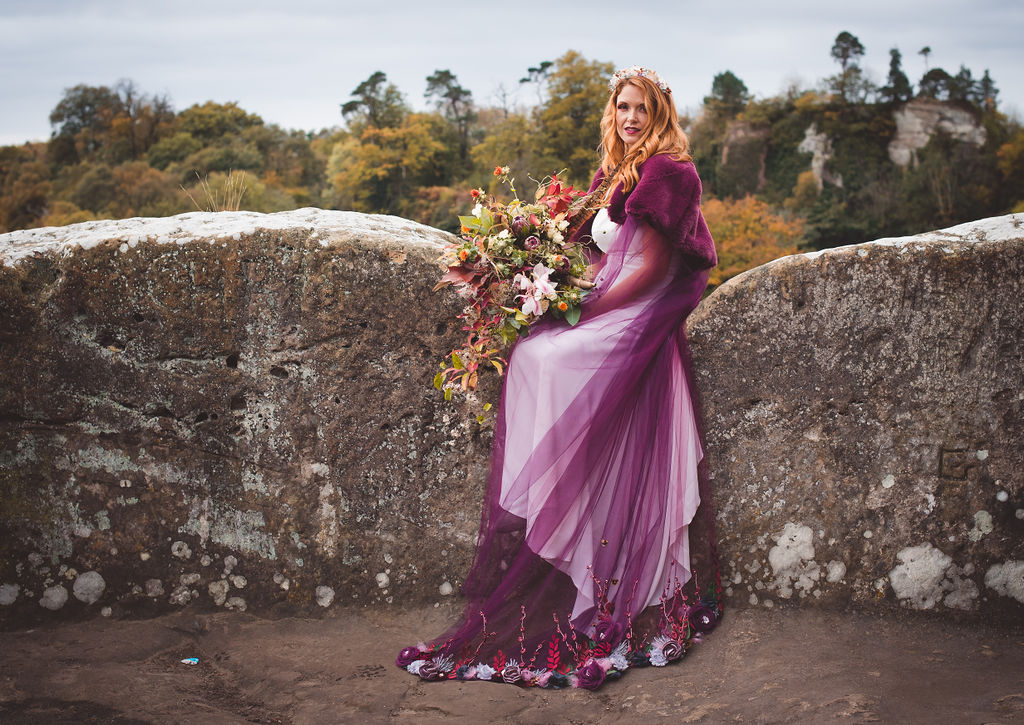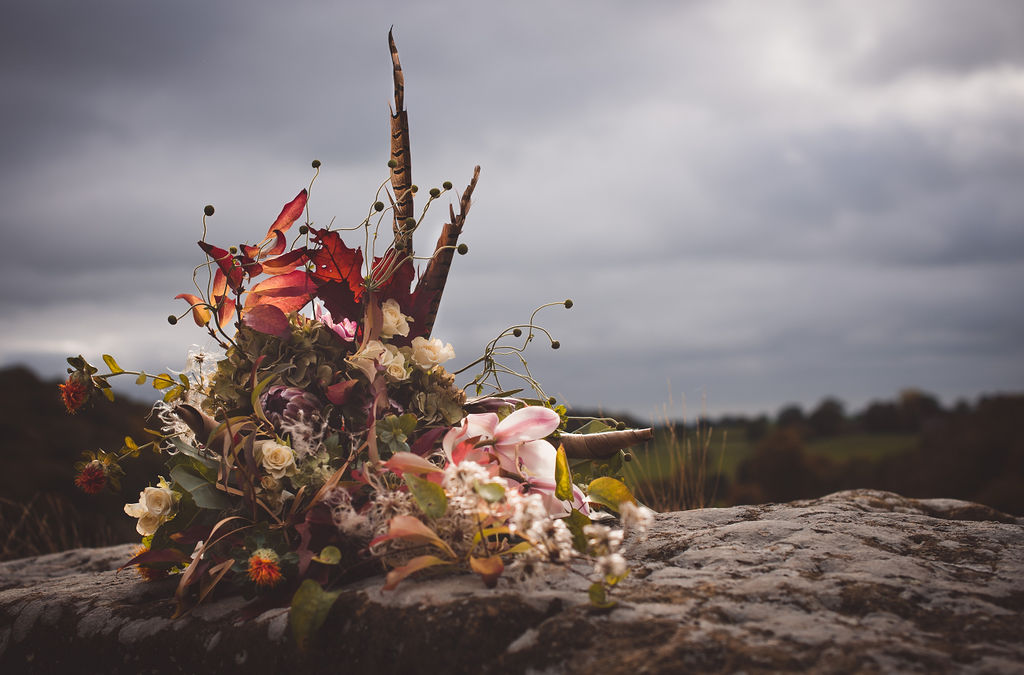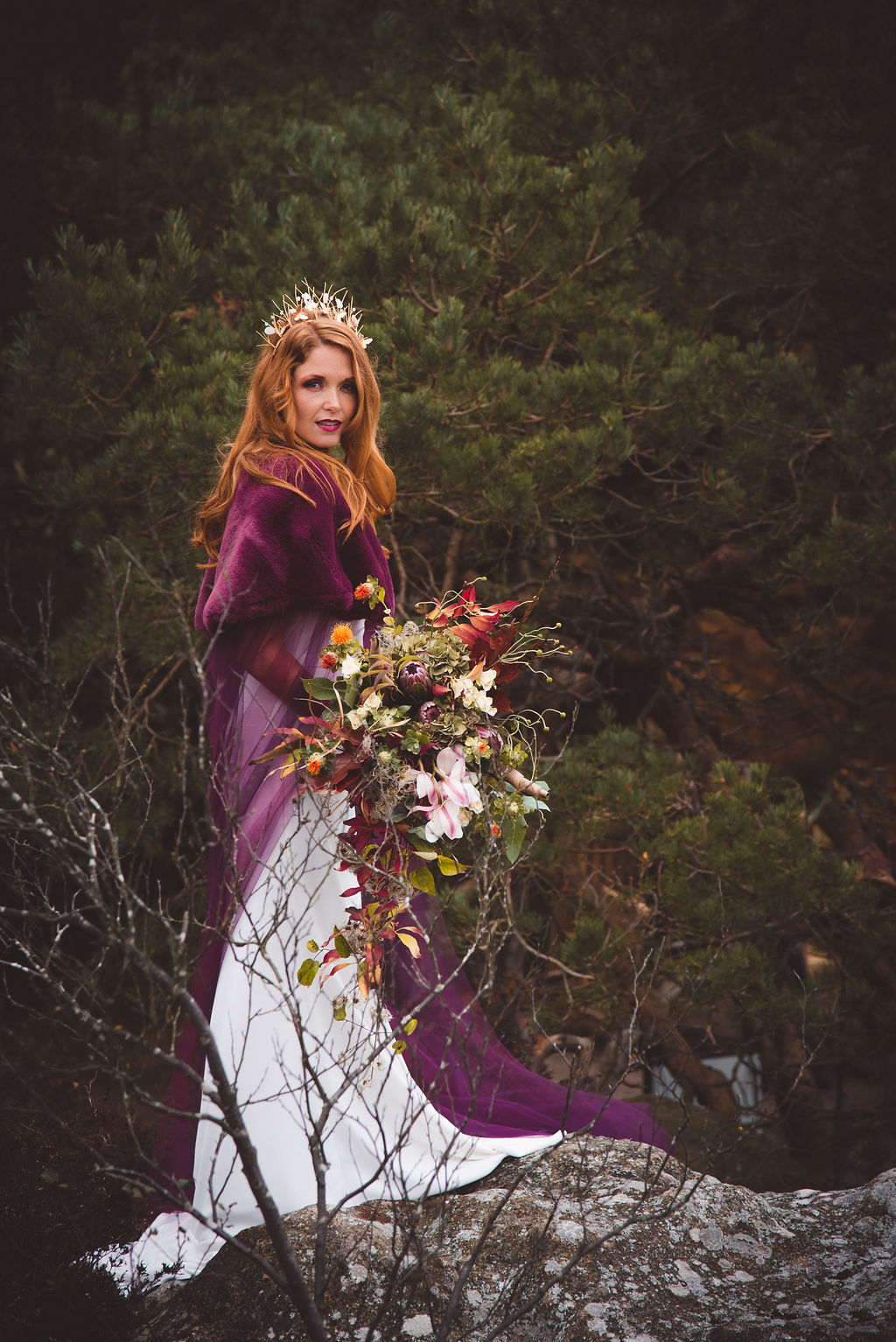 "The follies, which was used to film parts of Narnia in the BBC's TV adaptation of C. S. Lewis's books for the battlegrounds in The Lion, the Witch and the Wardrobe in 1988 and Prince Caspian a year later, have the most amazing landscapes and views which all lend themselves to the overall theme of the shoot. The follies are made up of a historic woodland with cliffs, crags, caves, deep woods and a series of extraordinary monuments built over 200 years ago as part of a Victorian theme park. We loved the caves with the wrought iron windows and it all evoked a slightly Lord of the Rings feel."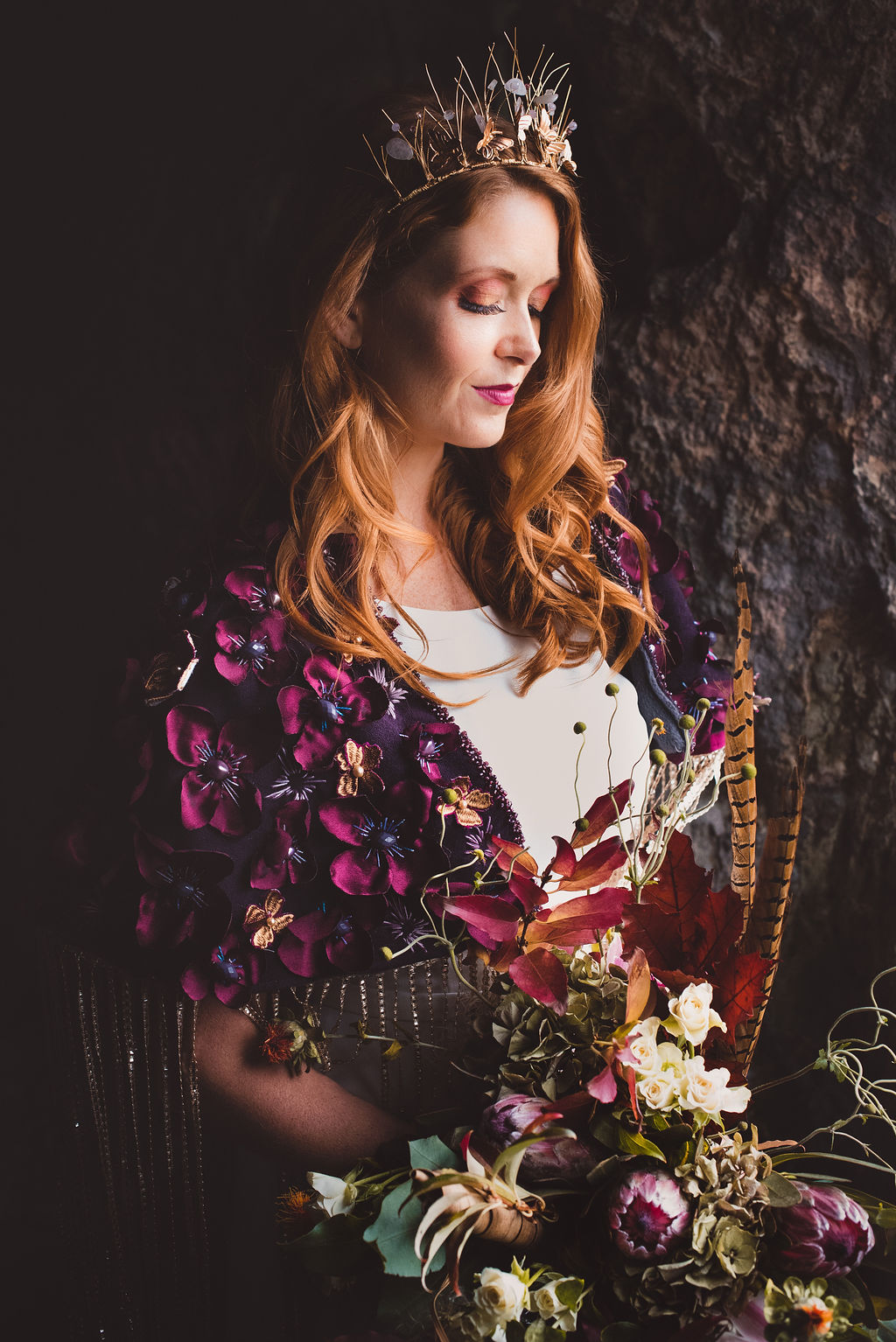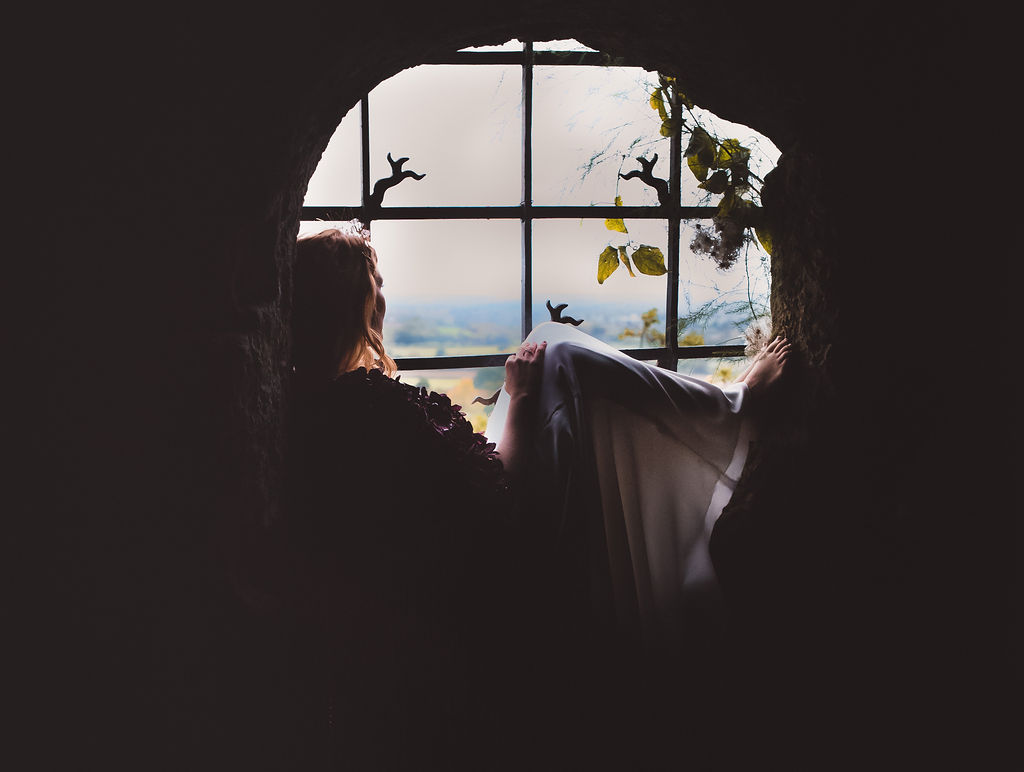 Florals – The Black Pearl Florist
The floral arrangements were designed to mirror the surrounding flora of the follies with a very natural shape and rhythm to the bouquet with a few textured 'unusual' flowers to add depth.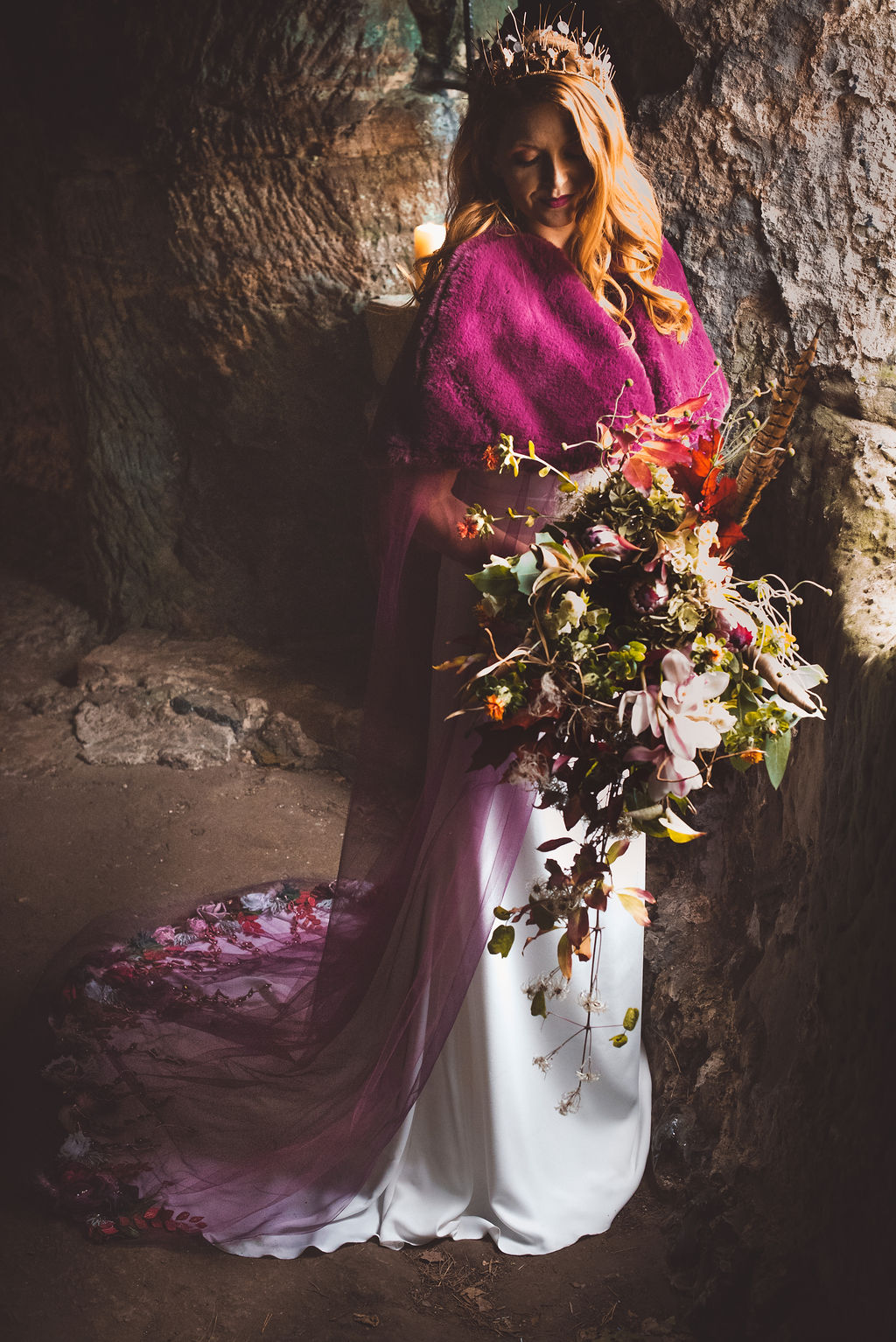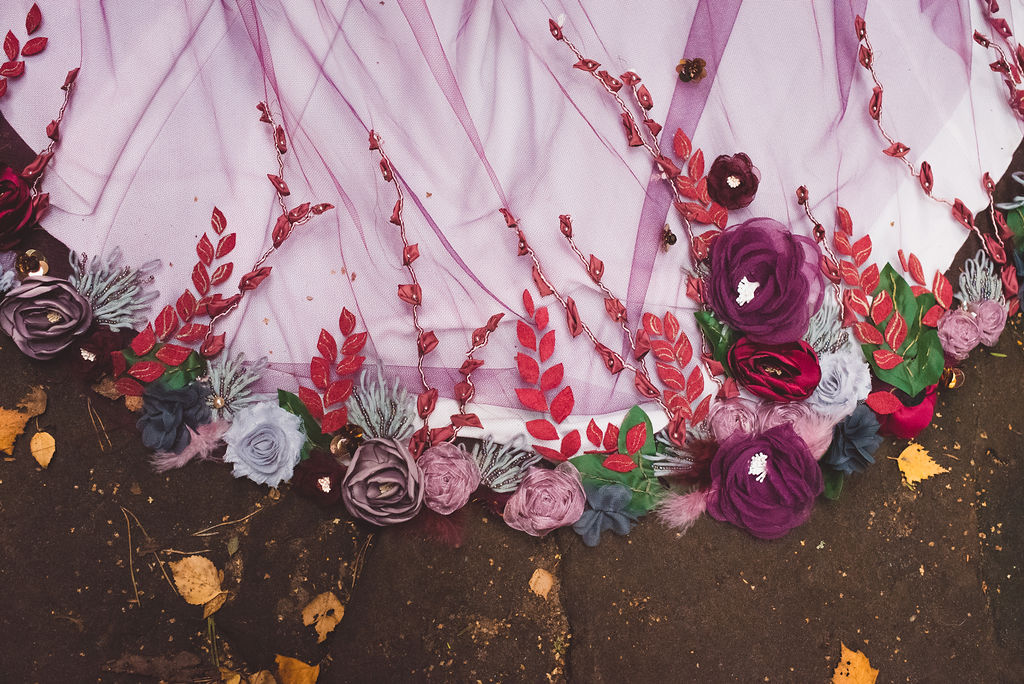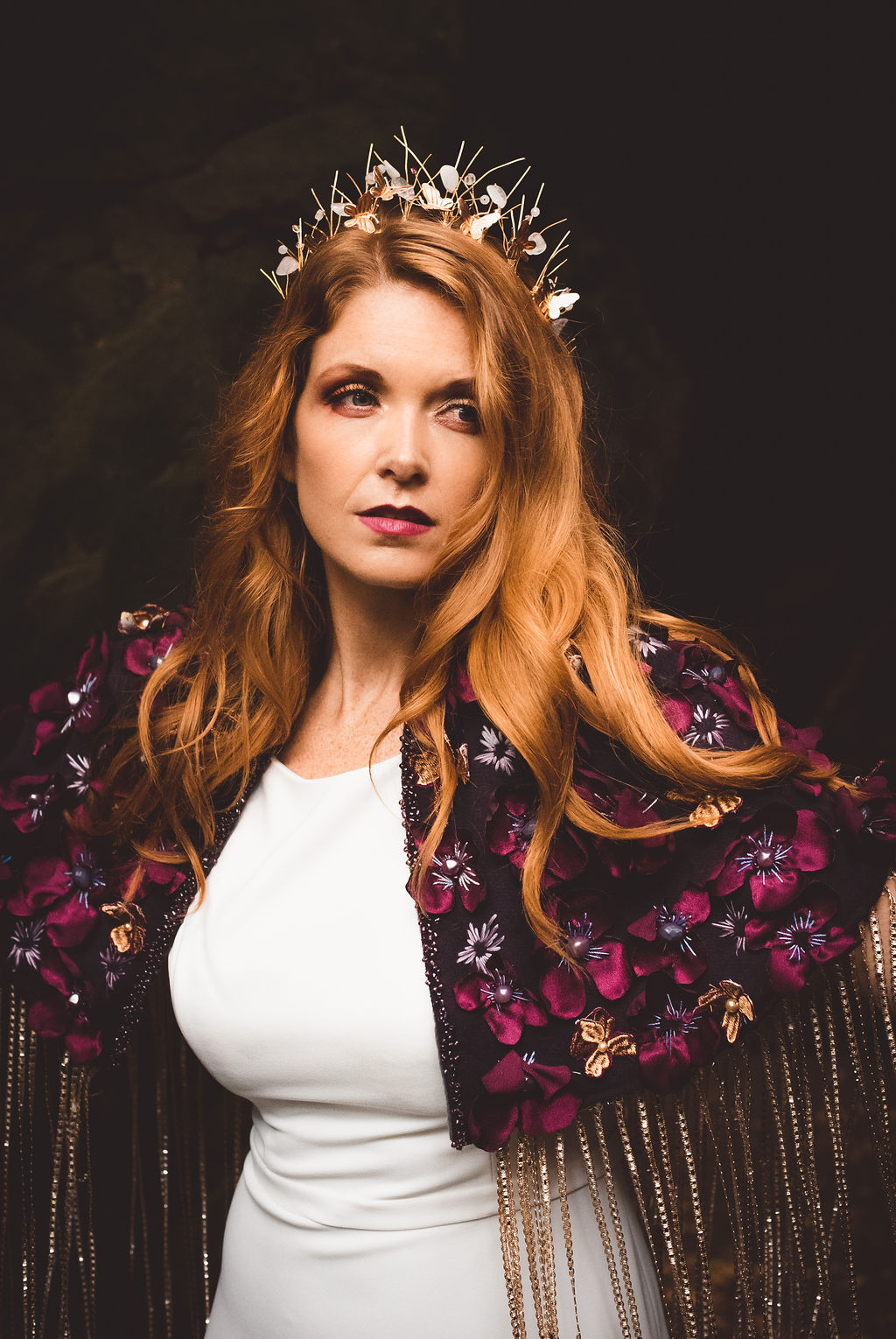 Tiaras – Wisheart Design
"The hair pieces were created by Wisheart tiara design with the shoot featuring a hand constructed crown and halo, inspired by autumnal colours, earthy elements and natural formations. Each headpiece is hand gilded, using rose, copper and gold leaf to bring warm metallic mixes to natural coloured quartz, amethyst ad amber stones. In addition to creating statement pieces, Wisheart tiara designs wanted to combine warmth and beauty to each design."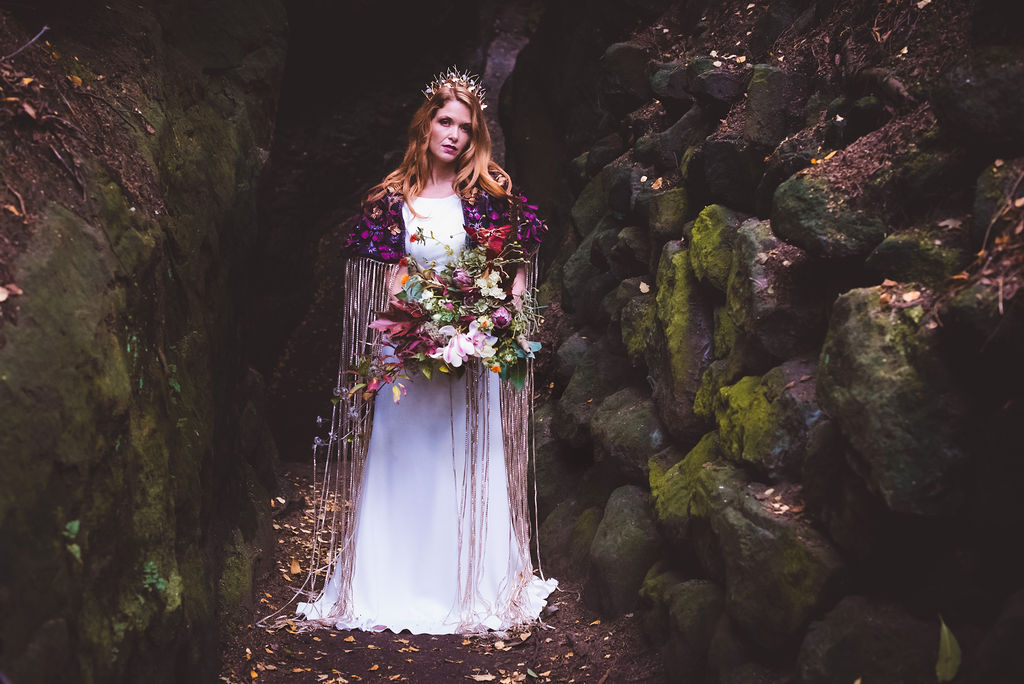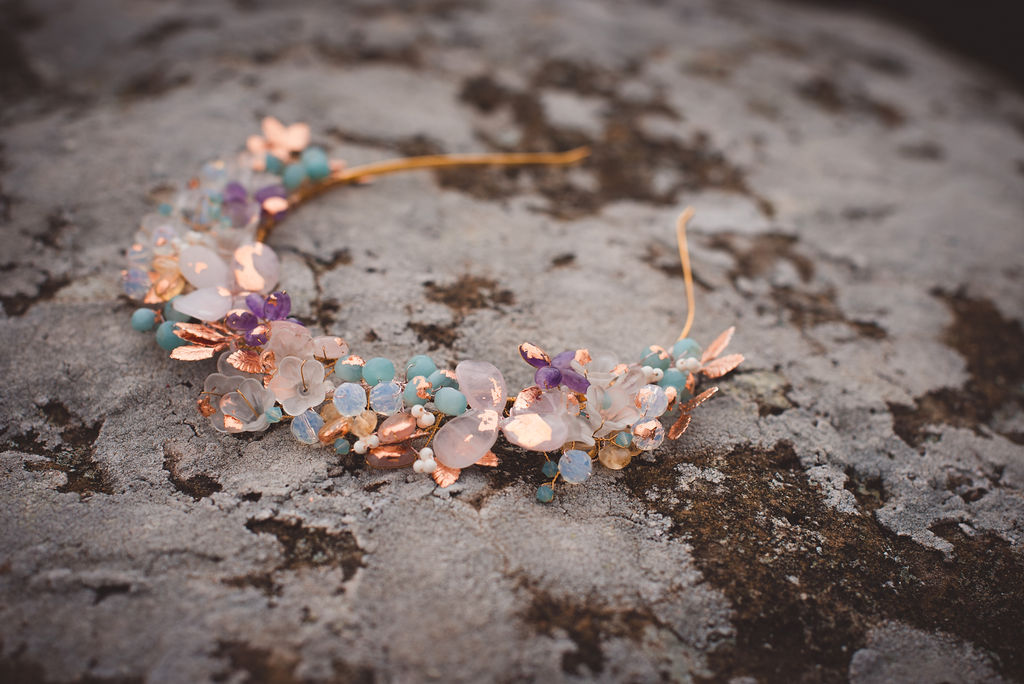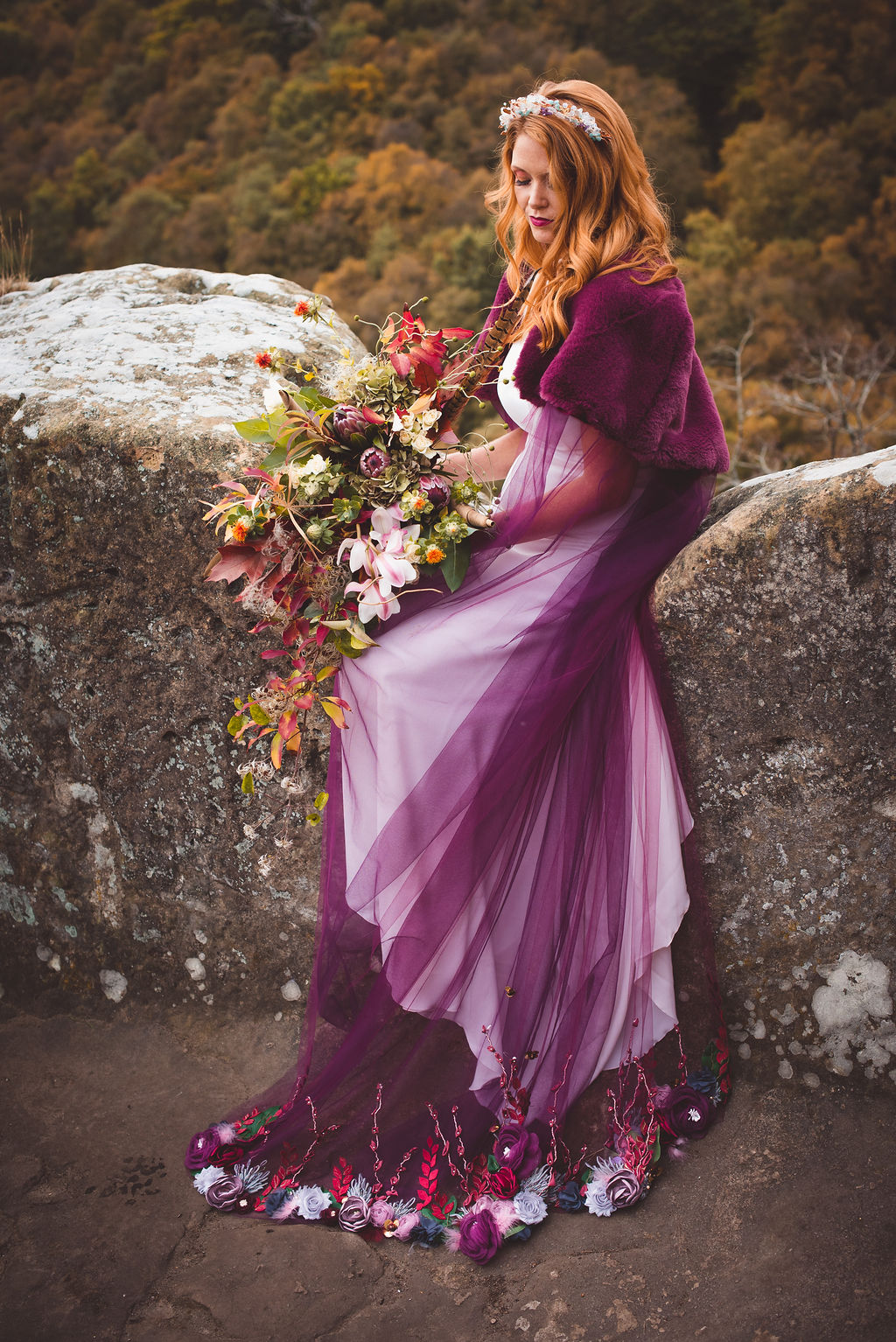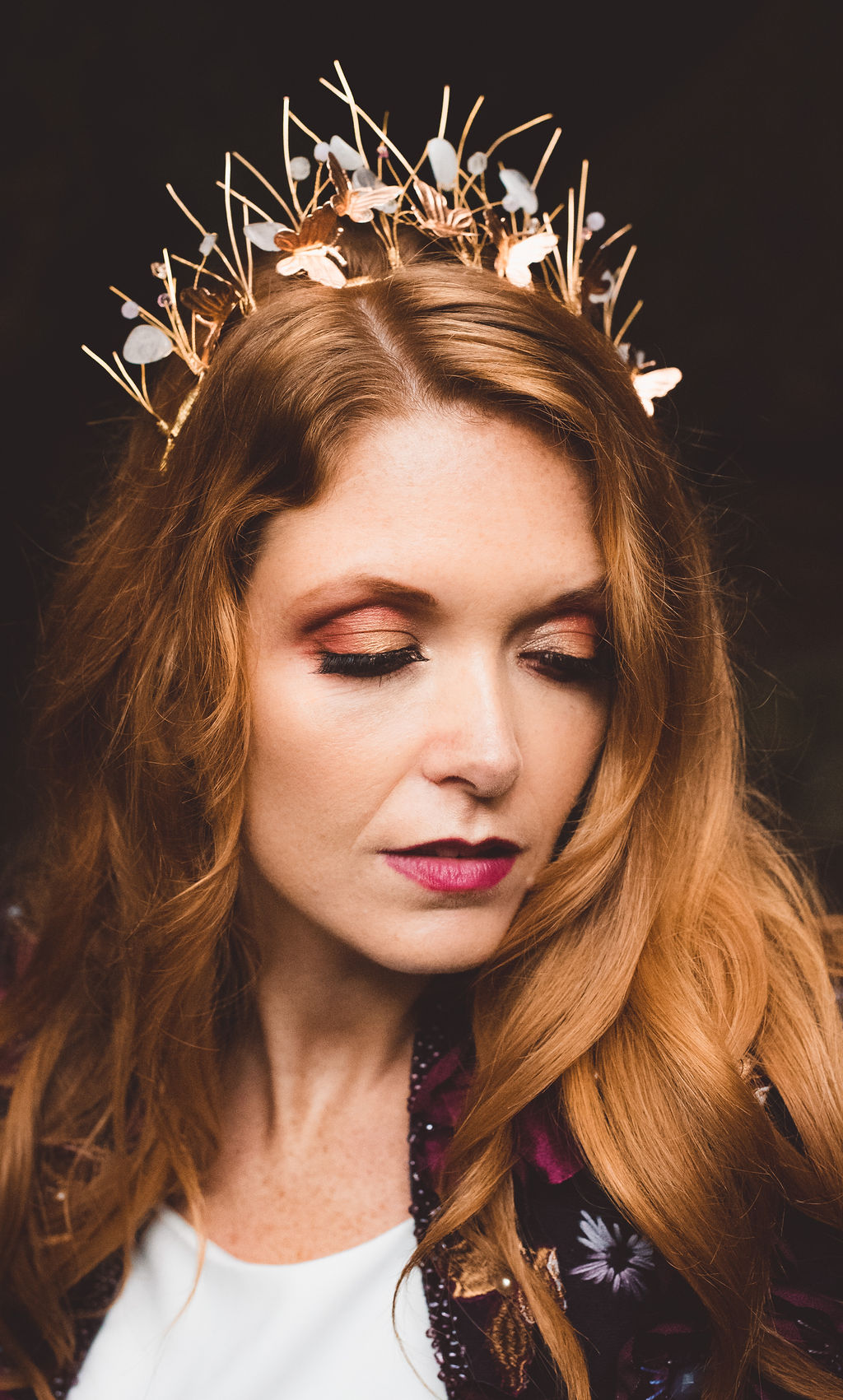 Hair and Make Up – Michelle Watson Make Up
"Creating this autumn/winter bride look was a pleasure. The model had fabulous natural hair and this was kept quite simple with soft waves to show off her red tones. Michelle tends to use a lot of Arbonne products on her brides as it lasts all day and looks great on photos, it's also vegan friendly and botanically based. The skin was kept light and her lips and eyes made beautifully bold.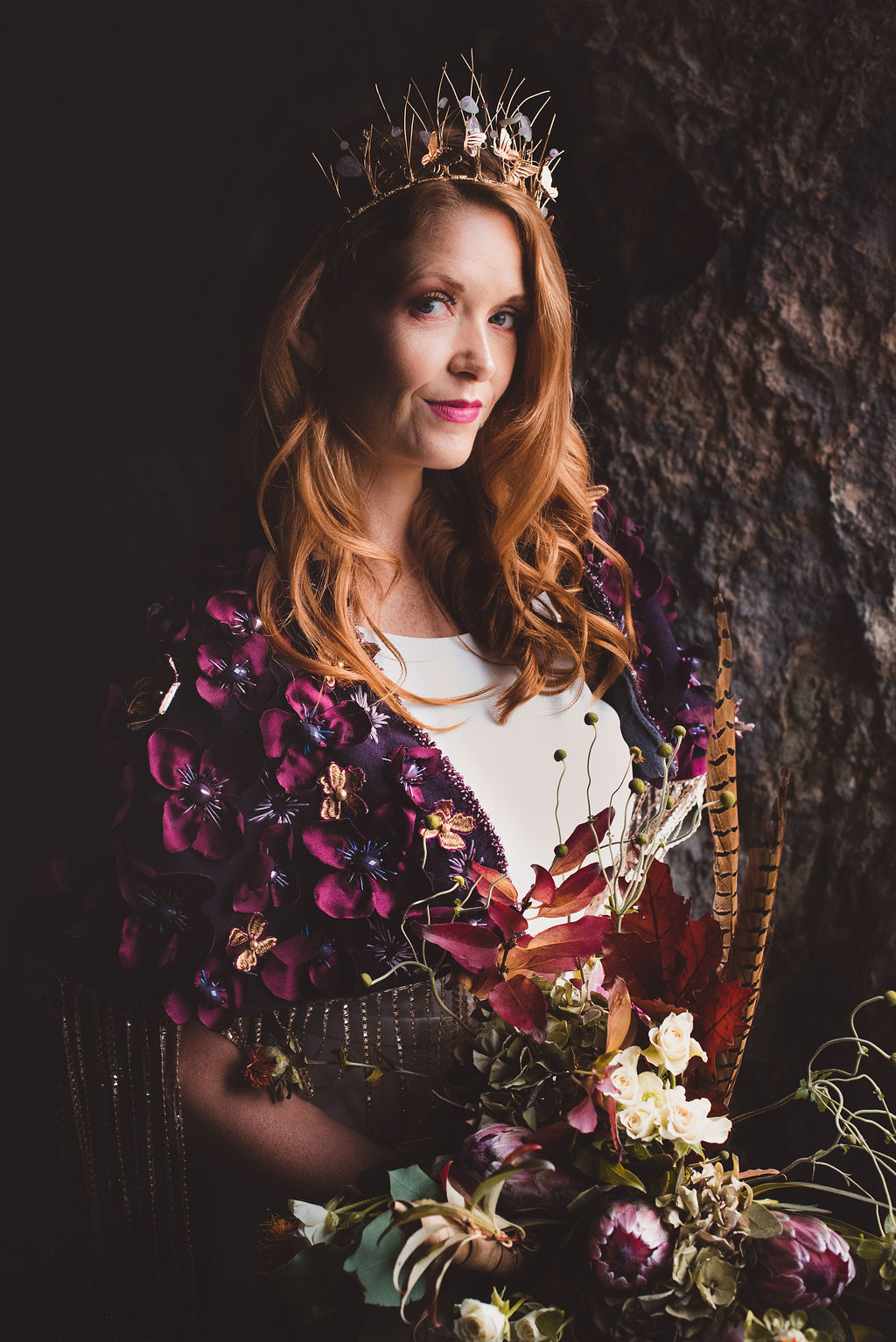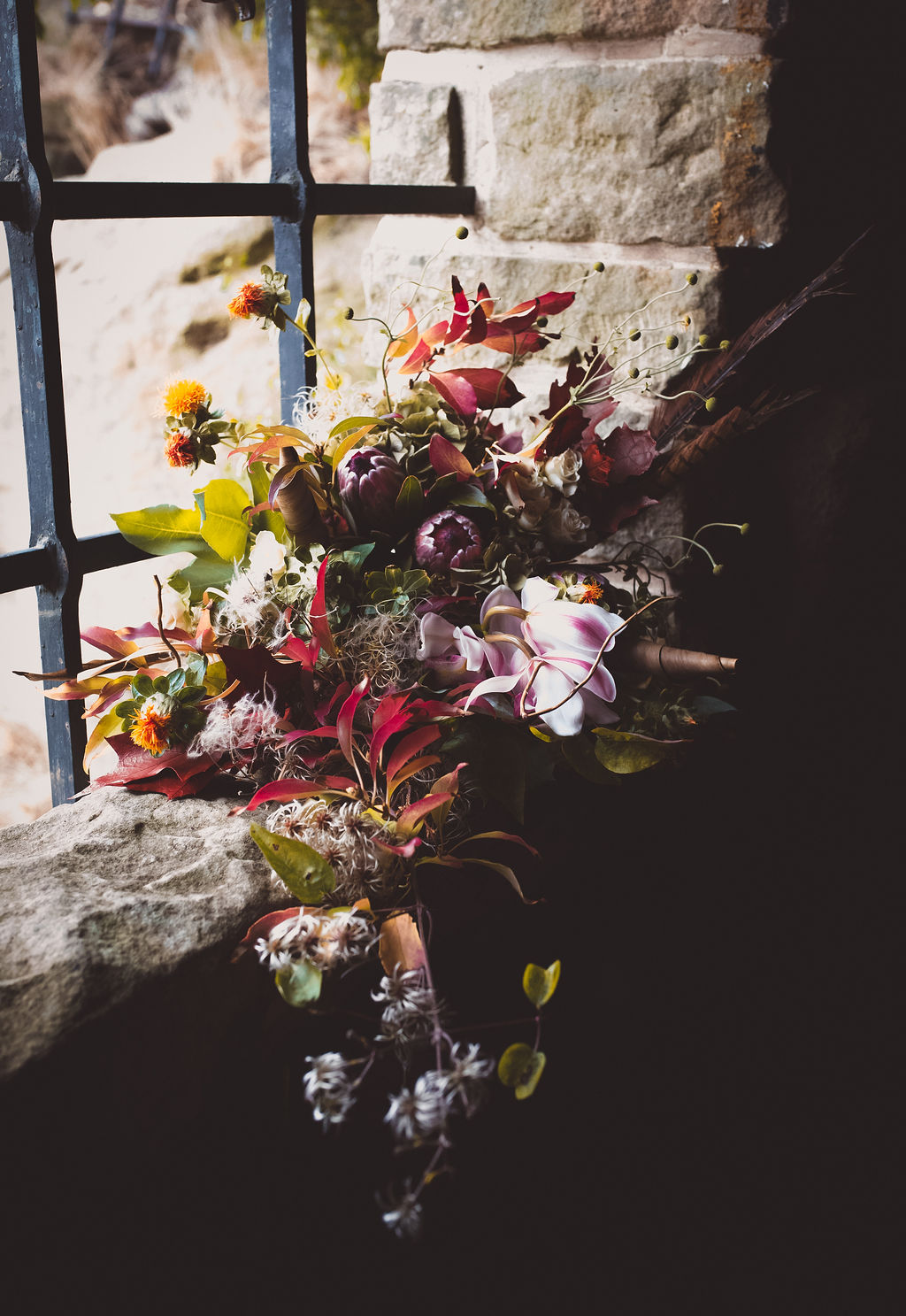 "Water colour blusher was added just on the apples of the cheeks to create that fresh look. For the eyes, reds,ranges and browns were used with a hint of gold to compliment the look and finished off with a lovely plum coloured lipstick to create a wonderful timeless autumnal look."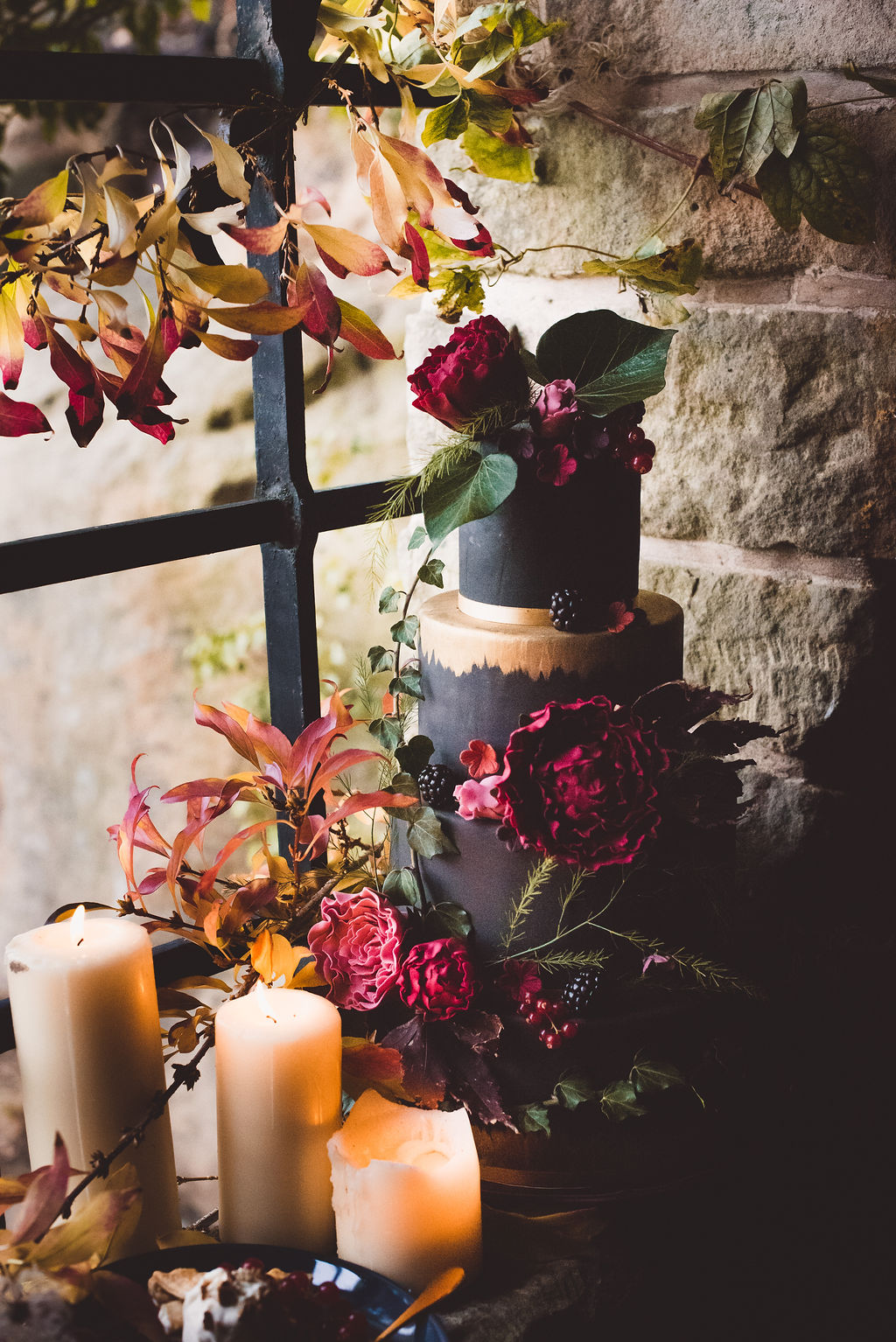 Cake – The Sugar Cart
"For the autumnal bridal shoot Annie Davies from the Sugar Cart took inspiration from the beautiful natural foliage and berries available in the wild this time of year. For the handmade sugar flowers she used deep cherry colours, dusky pinks, purples and oranges to reflect the array of colours that are abundant this time of year.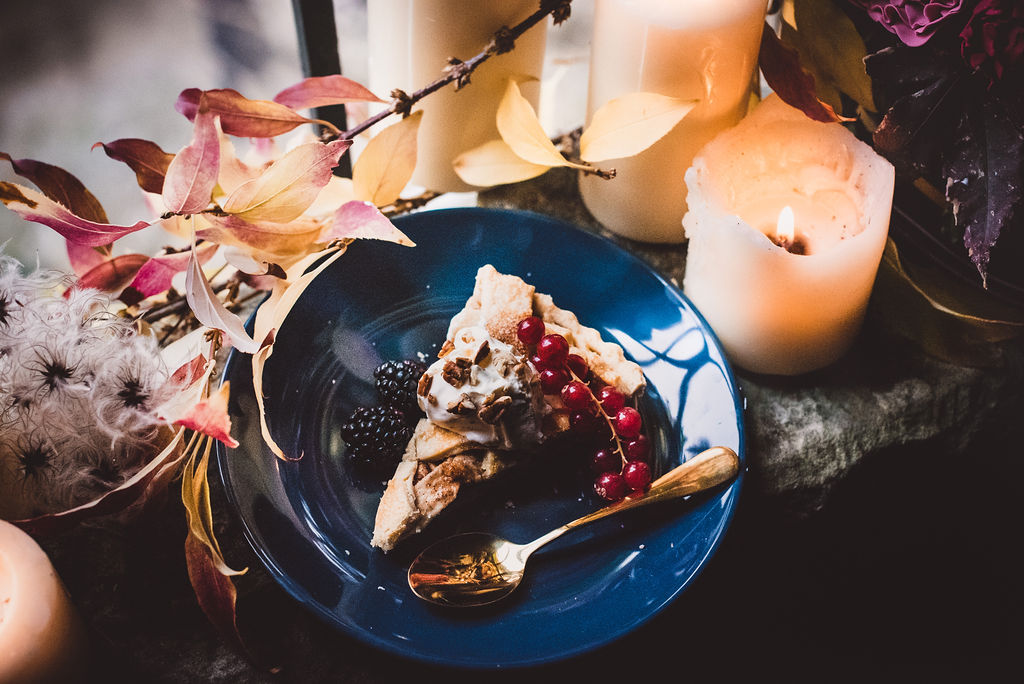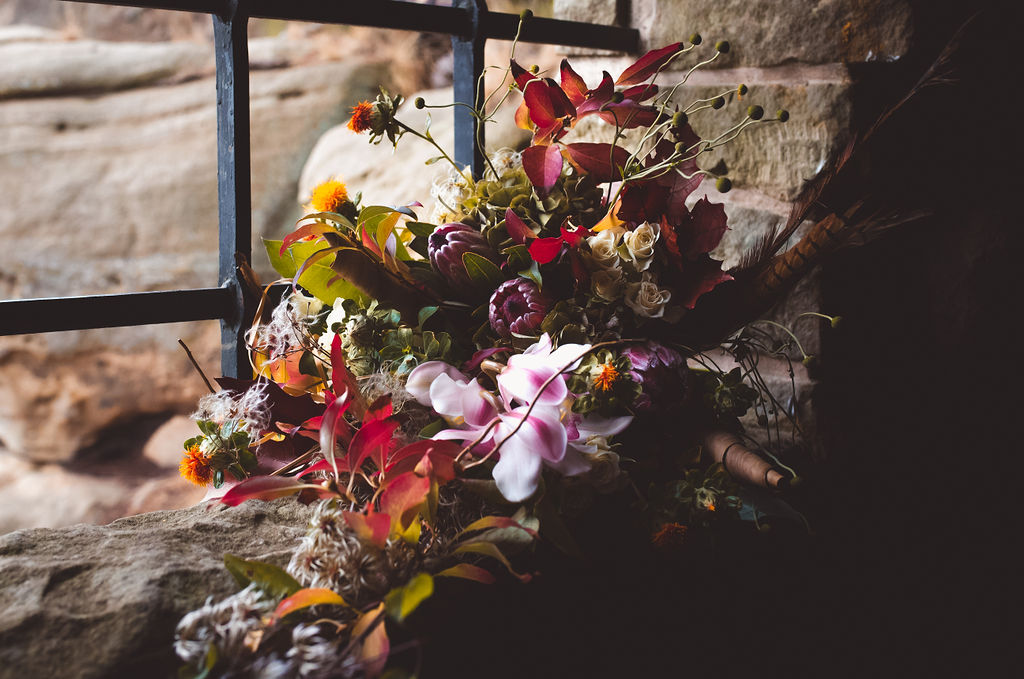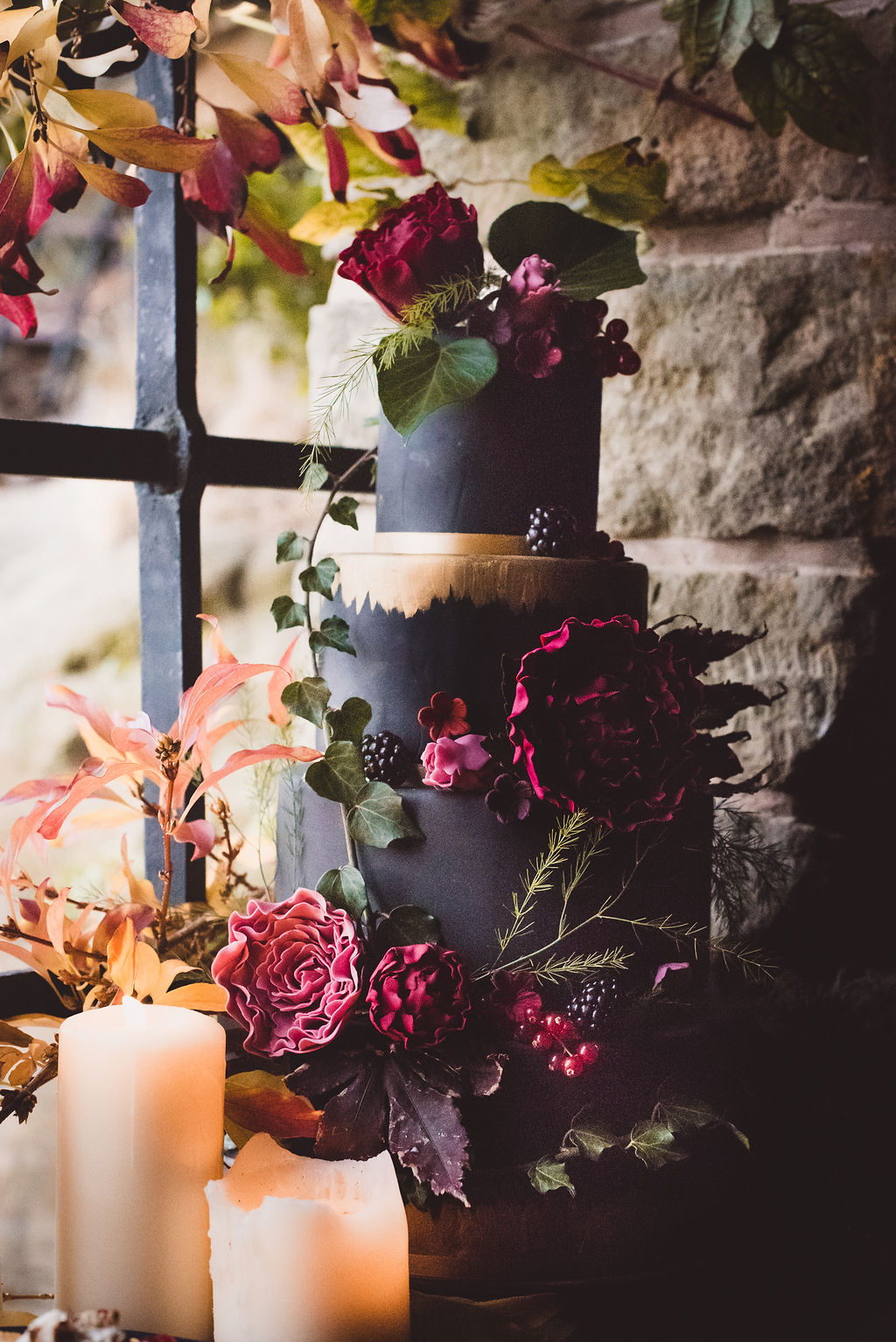 "She then combined sprigs of ivy and other found leaves and foliage alongside fresh red currants and blackberries to truly showcase the best of what autumn has to offer. The base colour of the cake was matte black to match the moody atmosphere of the Hawkstone Follies, which also created a beautiful contrast to the vibrant colours of the decorations."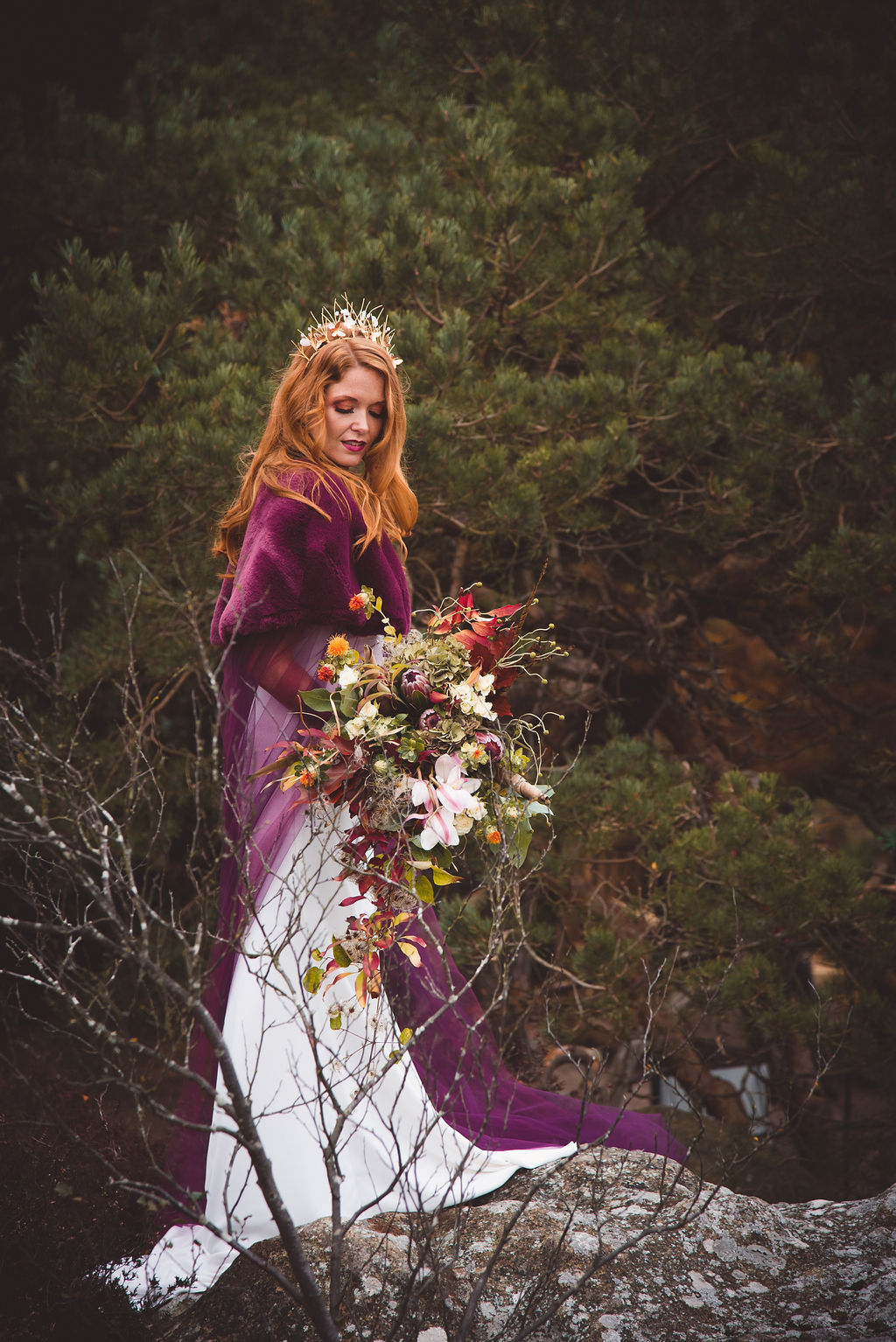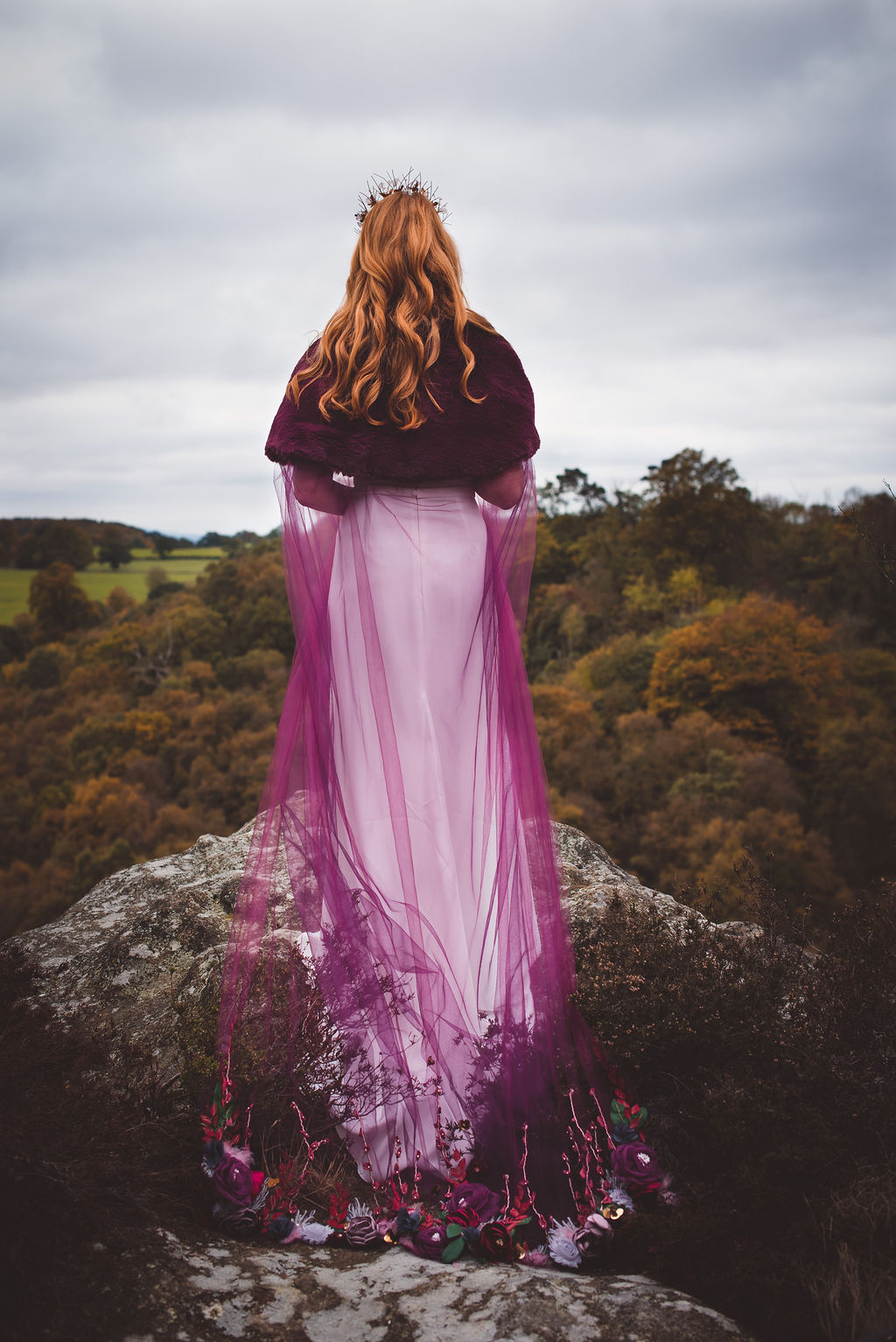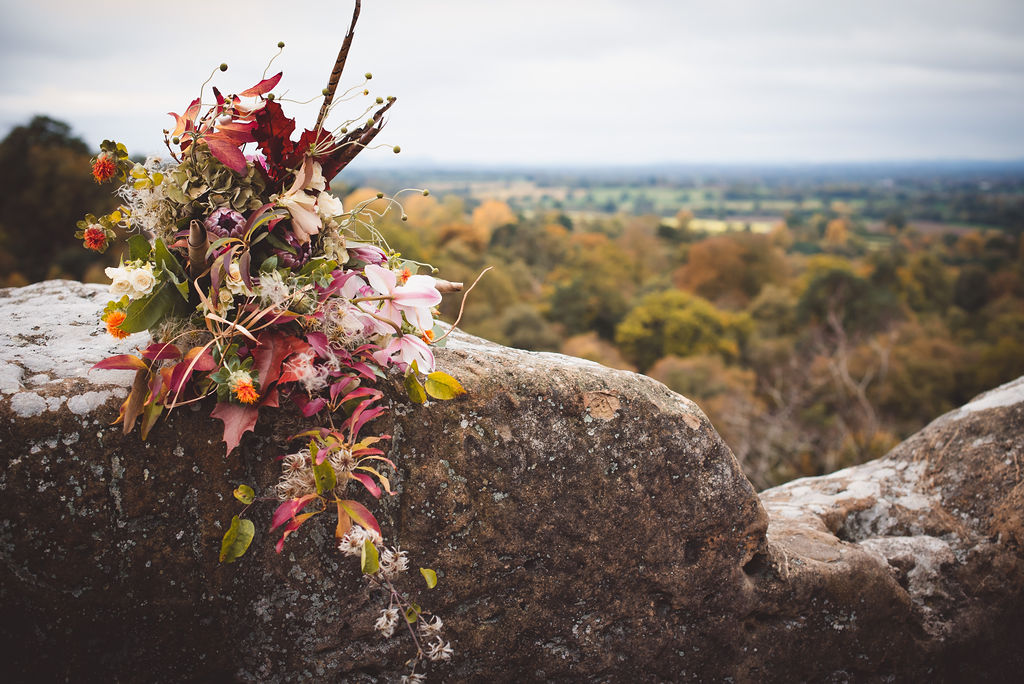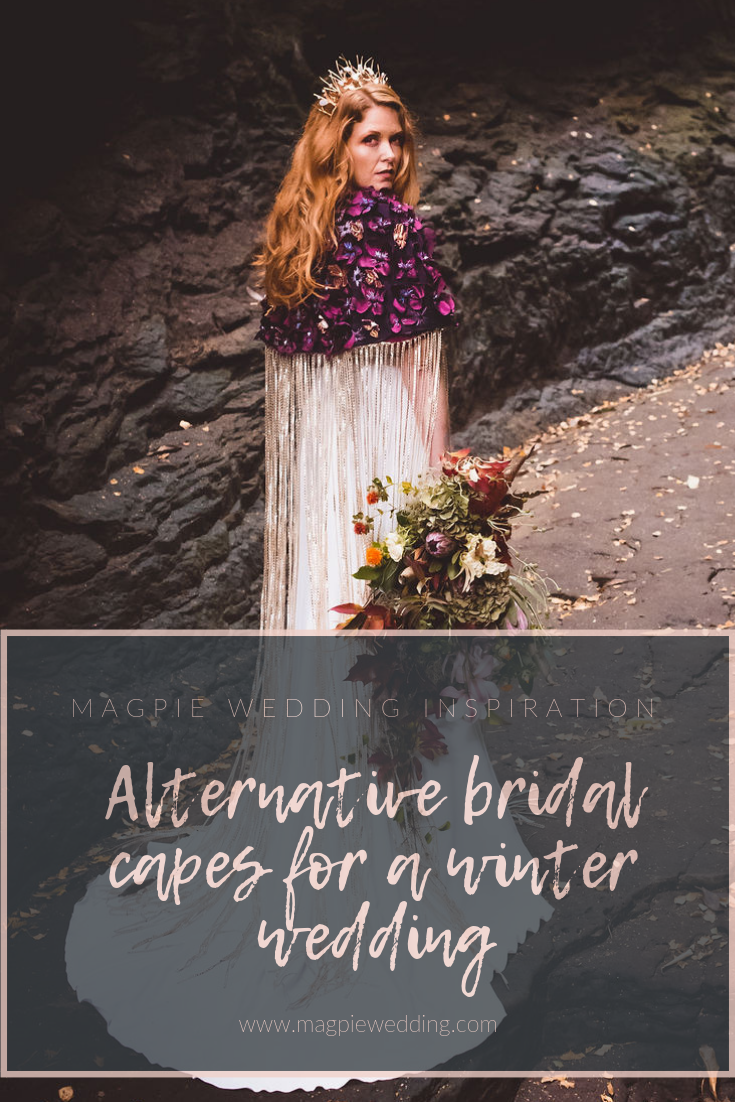 The Team – Alternative Winter Wedding Style with Jewelled Cape and Floral Veil
Venue – Hawkstone Follies Grotto, Shropshire @hawkstoneparkfollies
Veils and Accessories – Adorn By Ashley @adornbyashley
Photography – Birgitta Zoutman Photography @birgittazoutmanphotography
Cake – The Sugar Cart Shrewsbury @thesugarcartshrewsbury
Make up – Michelle Watson Make Up @michellewatson mua
Tiaras – Wish Heart Tiara @wisheartiaradesign
Flowers – The Black Pearl Florist @theblackpearl
Model – Kimberley Quoteer Martingano
Looking for more purple wedding inspiration or alternative winter wedding inspiration? Check out our latest edition of BOND BRIDE