Breath-taking setting, wonderful summer sun, a bespoke wedding dress, and Valentino shoes – what more could you ask for? The beautiful wedding of Lydia and Adam has got us swooning over the finer details that made the wedding day theirs, with a mix and match of classic, vintage, laid back beach vibes and DIY elements. Here we catch up with Lydia who tells us all about how they met, the proposal and the planning of her and Adam's dream day!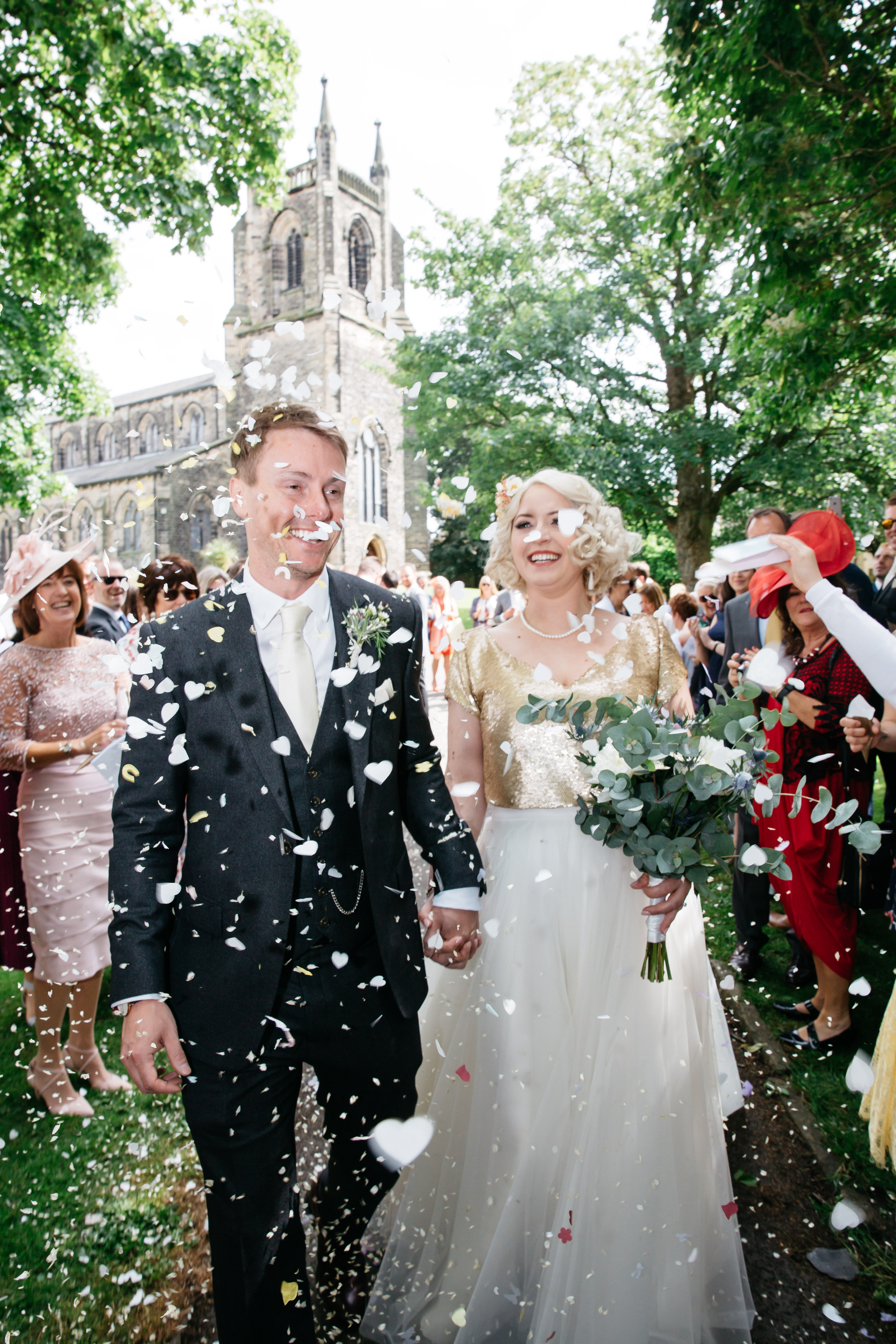 How did you meet?
"Adam and I have been together for approximately 12 years which is a hell of a long time! I was, I think, 19 and Adam 21. He was working in a bar in Leeds City centre called Life and I started there after burning my way through my student loan (which was supposed to be being saved…) Work nights out proved to be the time we got to know each other, however things weren't meant to be and I left for a summer abroad and Adam stayed in Leeds. We lost touch over the summer and when I came back to work we both were seeing other people, but eventually those relationships fell by the way side and so marks the start of our relationship!"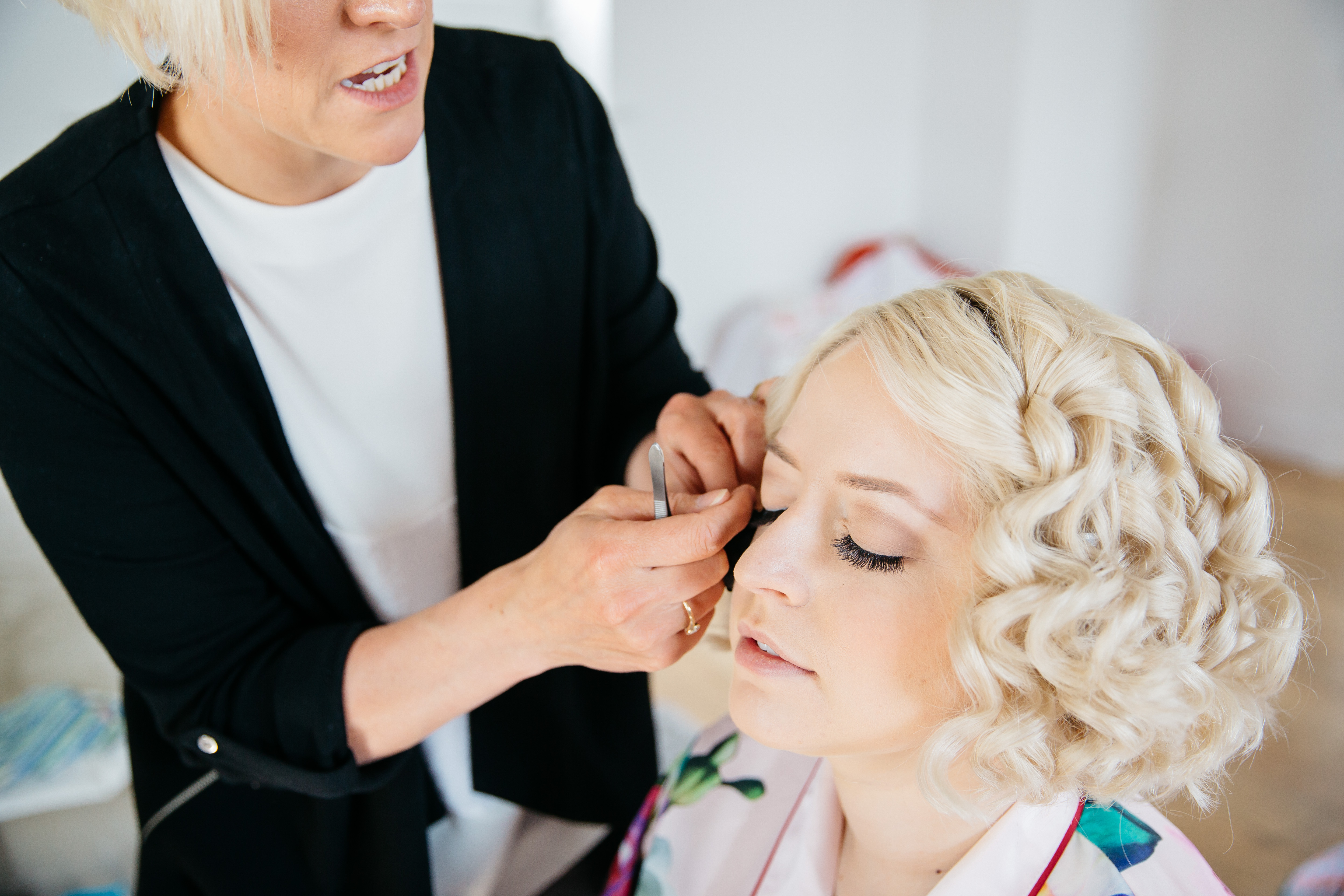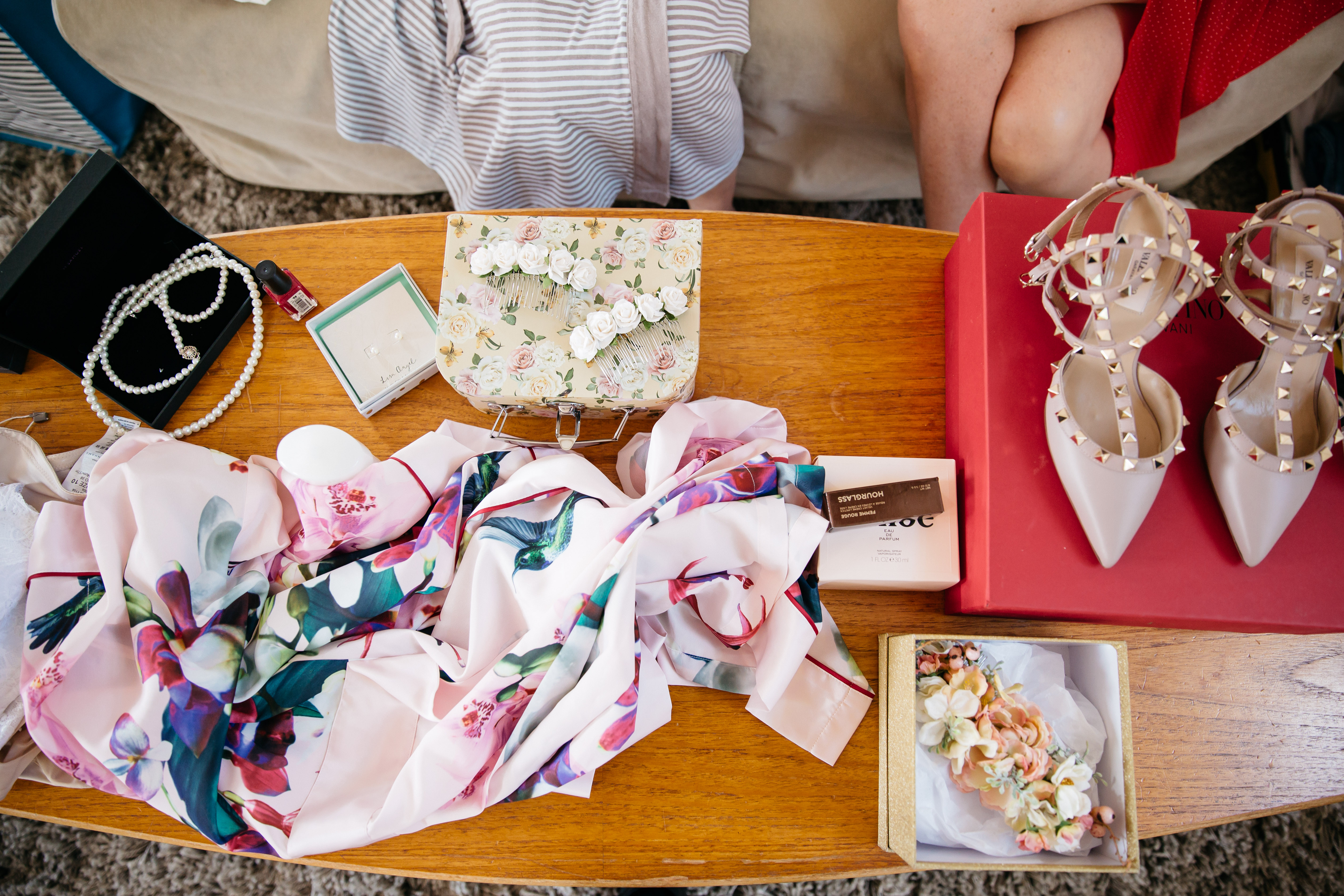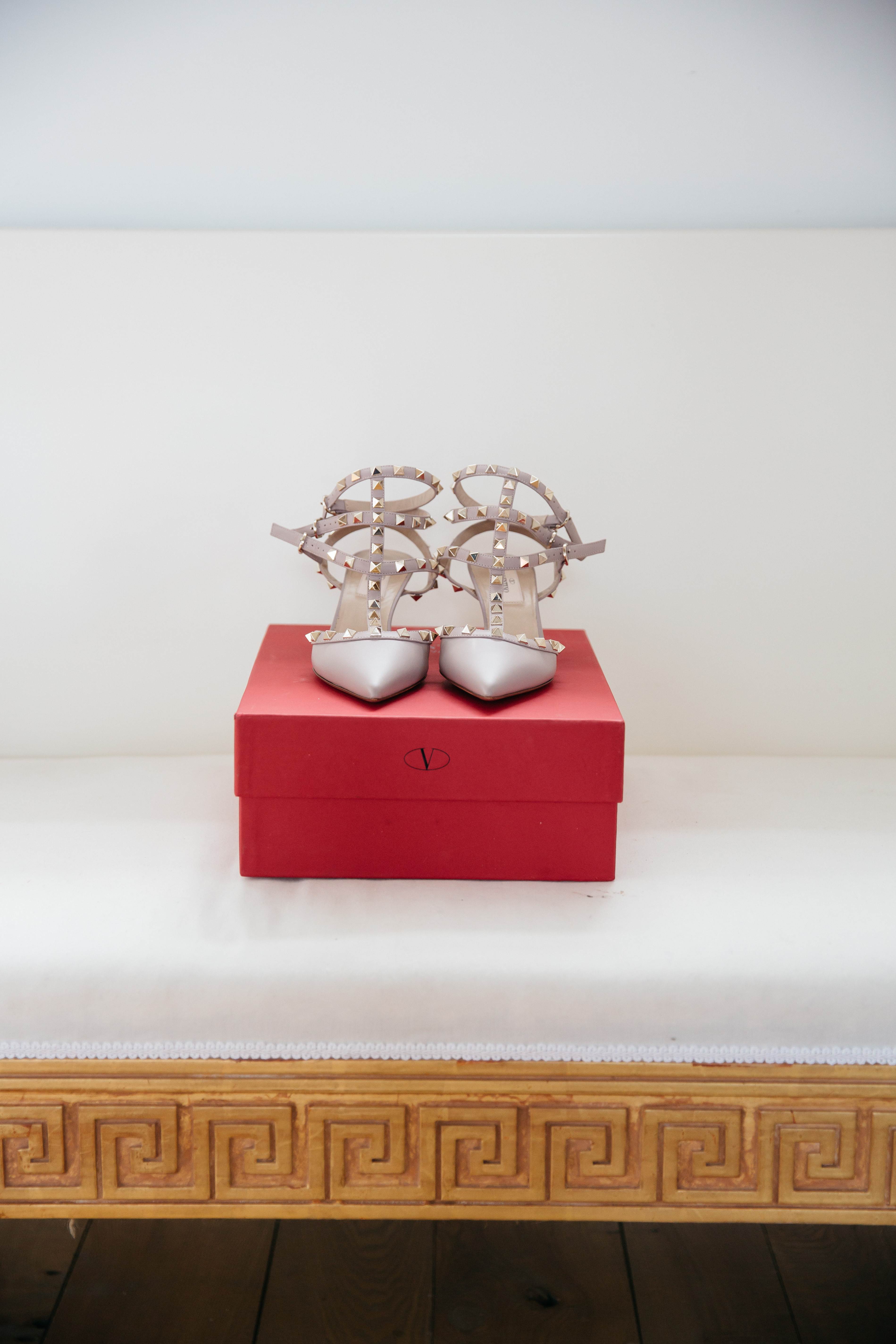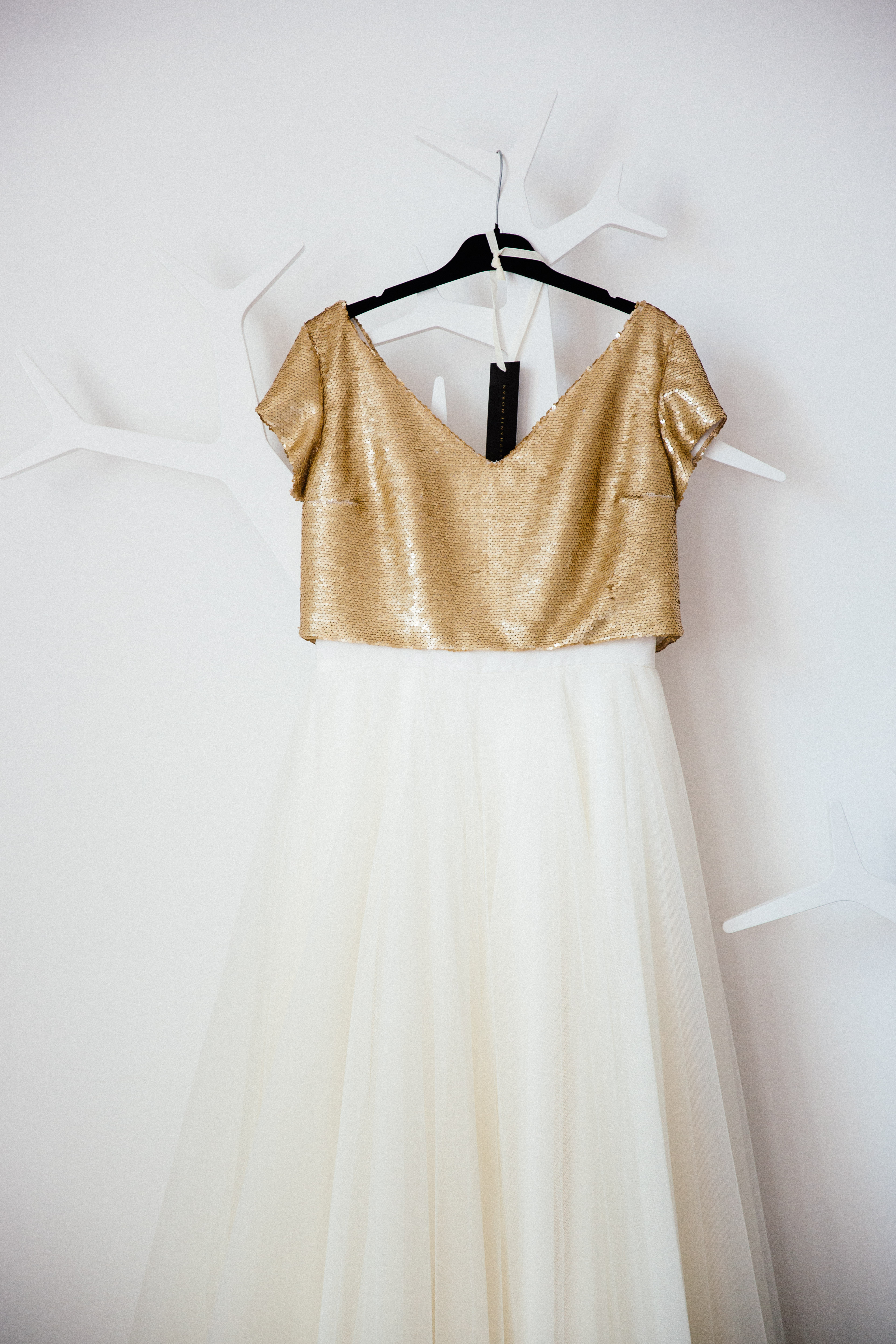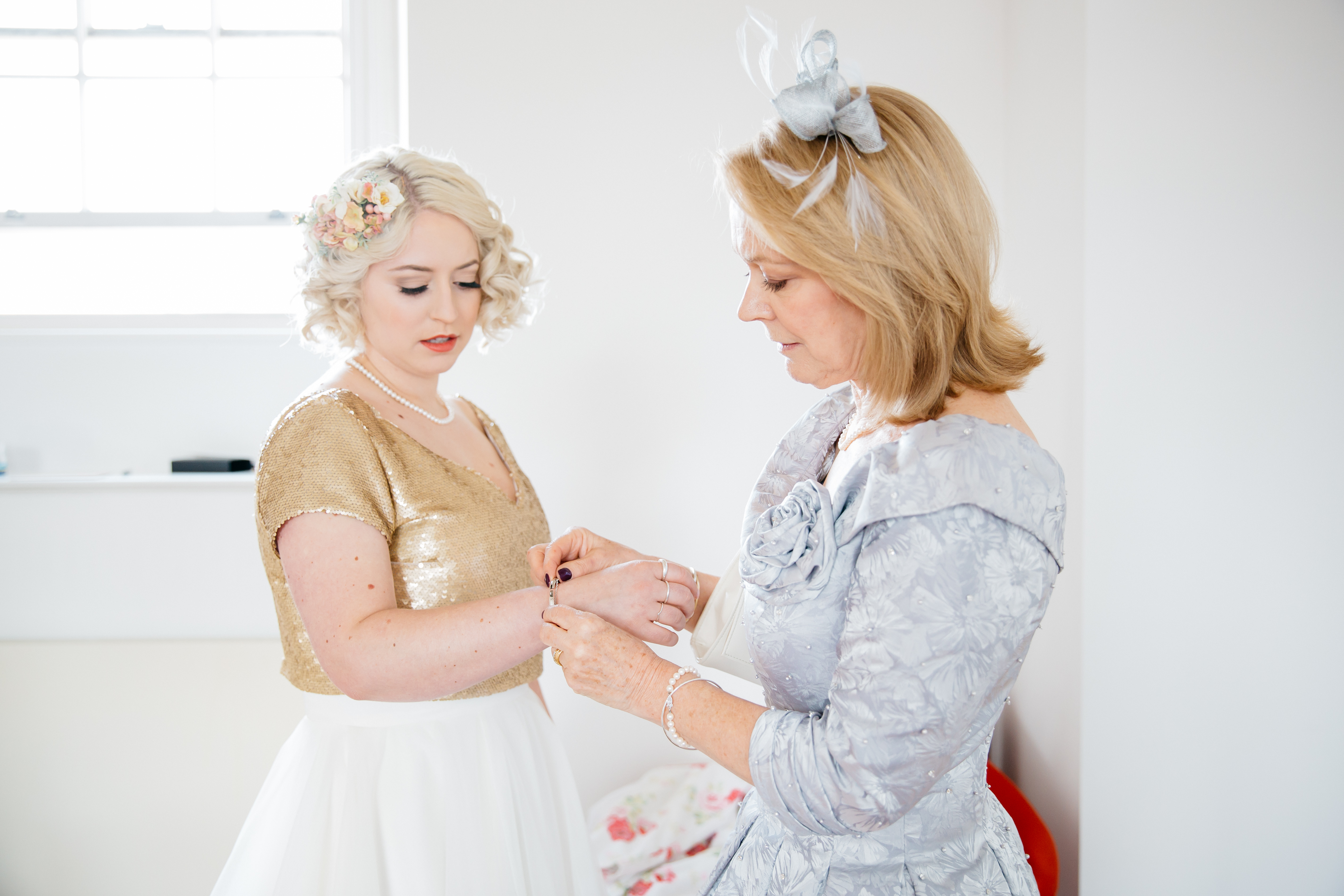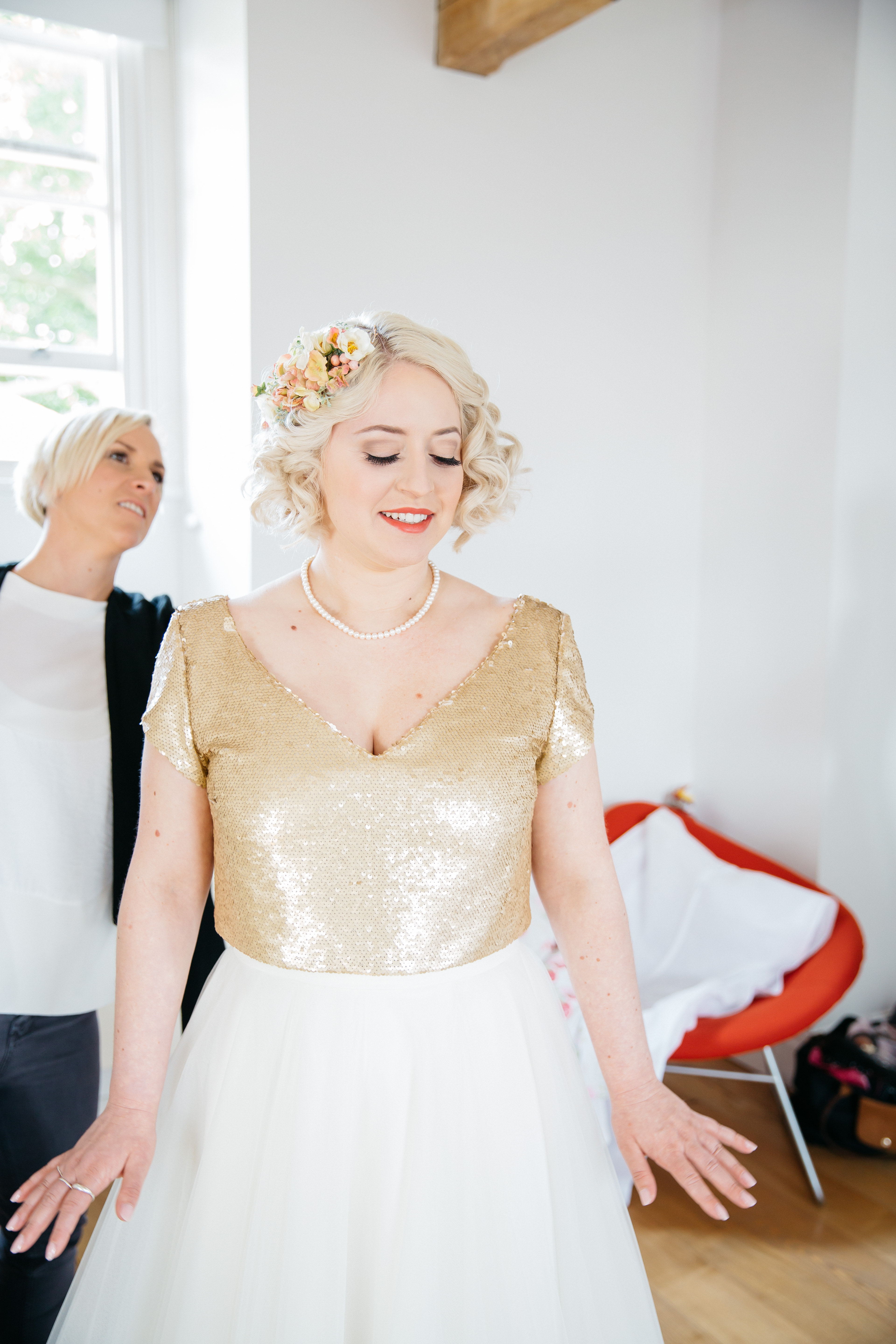 The Proposal
"Adam has a history of getting excellent birthday presents; my 27th being my favourite (a dog) but the boy did good on my 28th…a trip to New York! All my friends were convinced there would be a proposal, I however was not convinced. We went for 5 days and through the first 3 Adam had been a bit of a downer on all things marriage related, even going as far as saying "you're not that bothered about getting married, are you?" On the fourth day we took a trip to see Central Park, we sat on a fountain and talked about what an excellent trip we'd had. Adam asked if anything would make it better and I said no. He whipped out a small ring box and said "what about this?" On opening the box he produced a ring that couldn't have been further from what I would have picked, but happy that this was a proposal I promised that I would wear it despite it not being what I would have picked myself. He let it hang in the air for a while, then started laughing… This was a £20 ring from Argos he stated and that we had an appointment booked at Tiffany & Co in an hour, I was over the moon!!"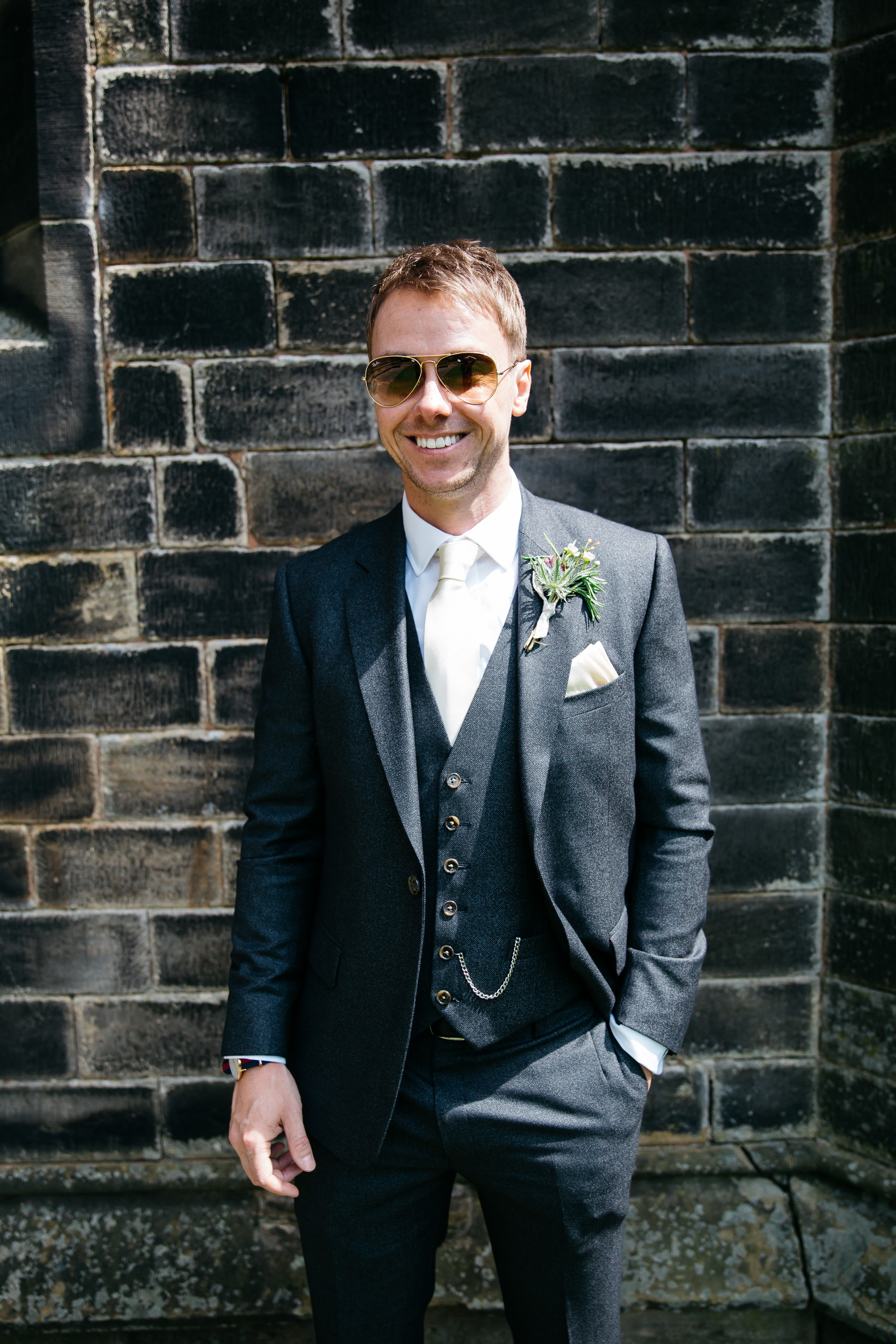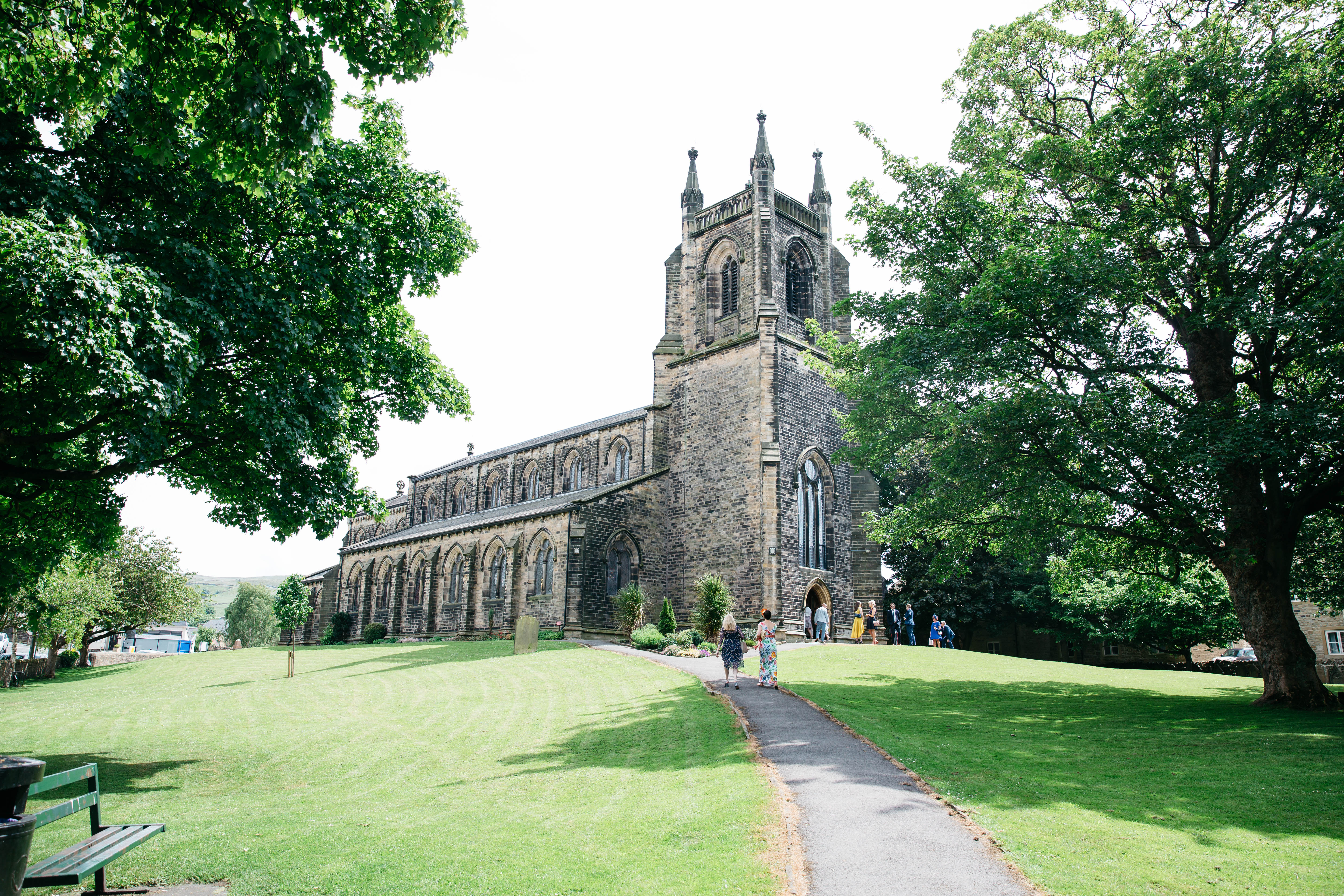 The Location
"Broughton Hall wasn't our first choice, we had a whole wedding booked at another venue and had gone as far as having save the dates printed and delivered. We got a call one day saying our original venue could not cater for a marquee with music having to be stopped at 9pm (not exactly ideal for a party). We had a lunchtime dash around some sites in the area that could cater for our numbers and a marquee, Broughton Hall was the last place on our 4 hour lunchtime dash and we were stressed to say the least. We saw Eden for approximately 10 minutes and decided this was the place for us, and what an excellent decision that was."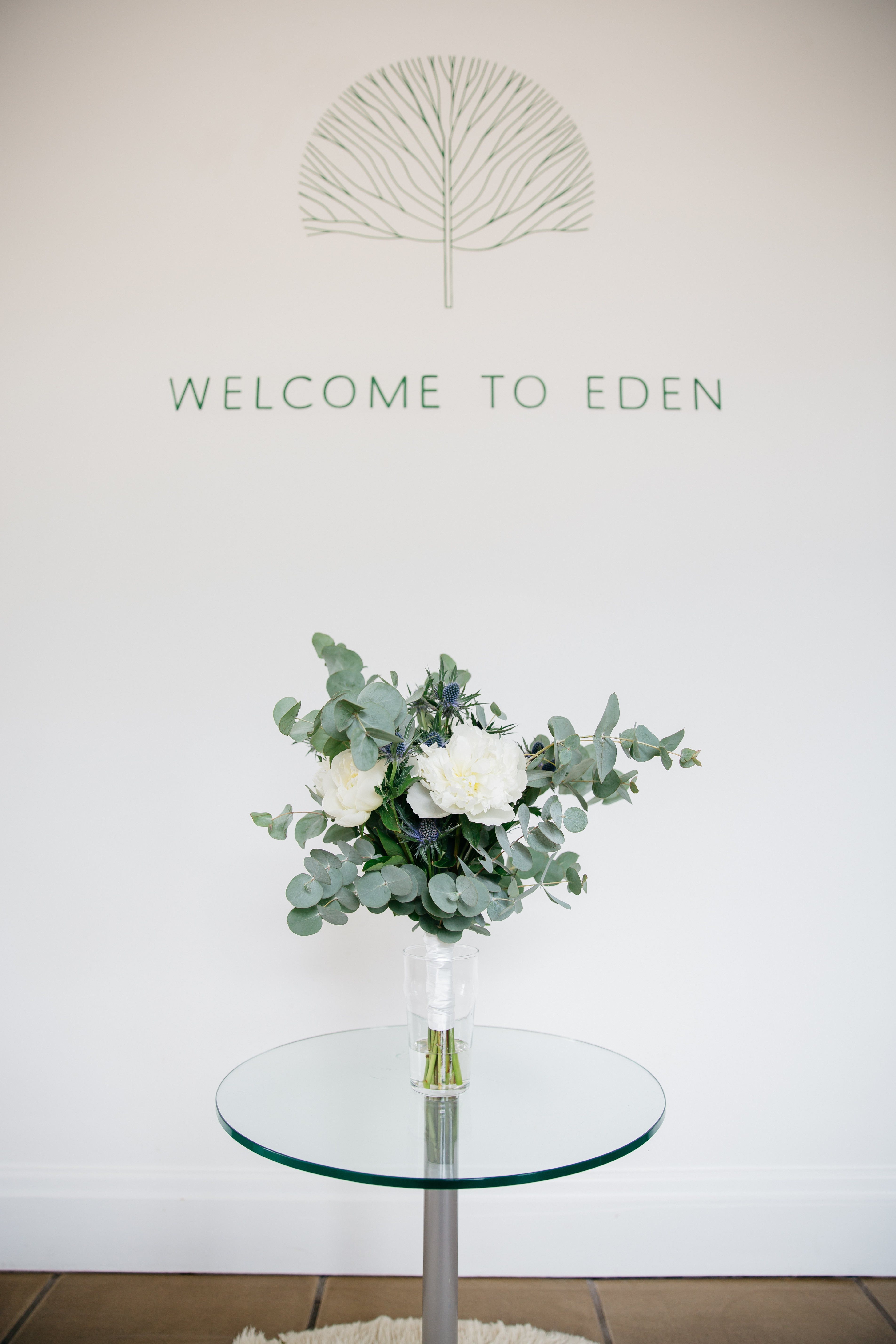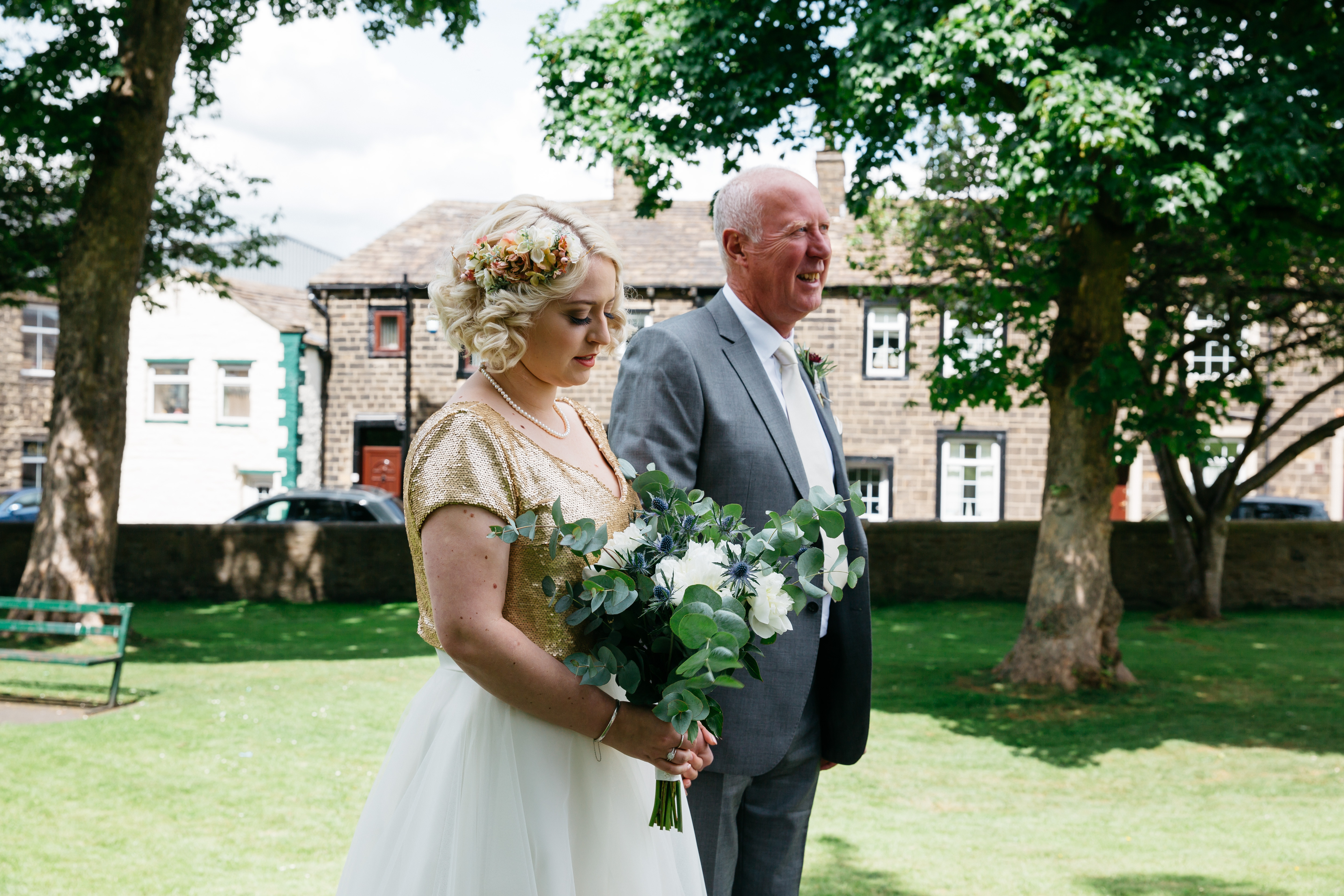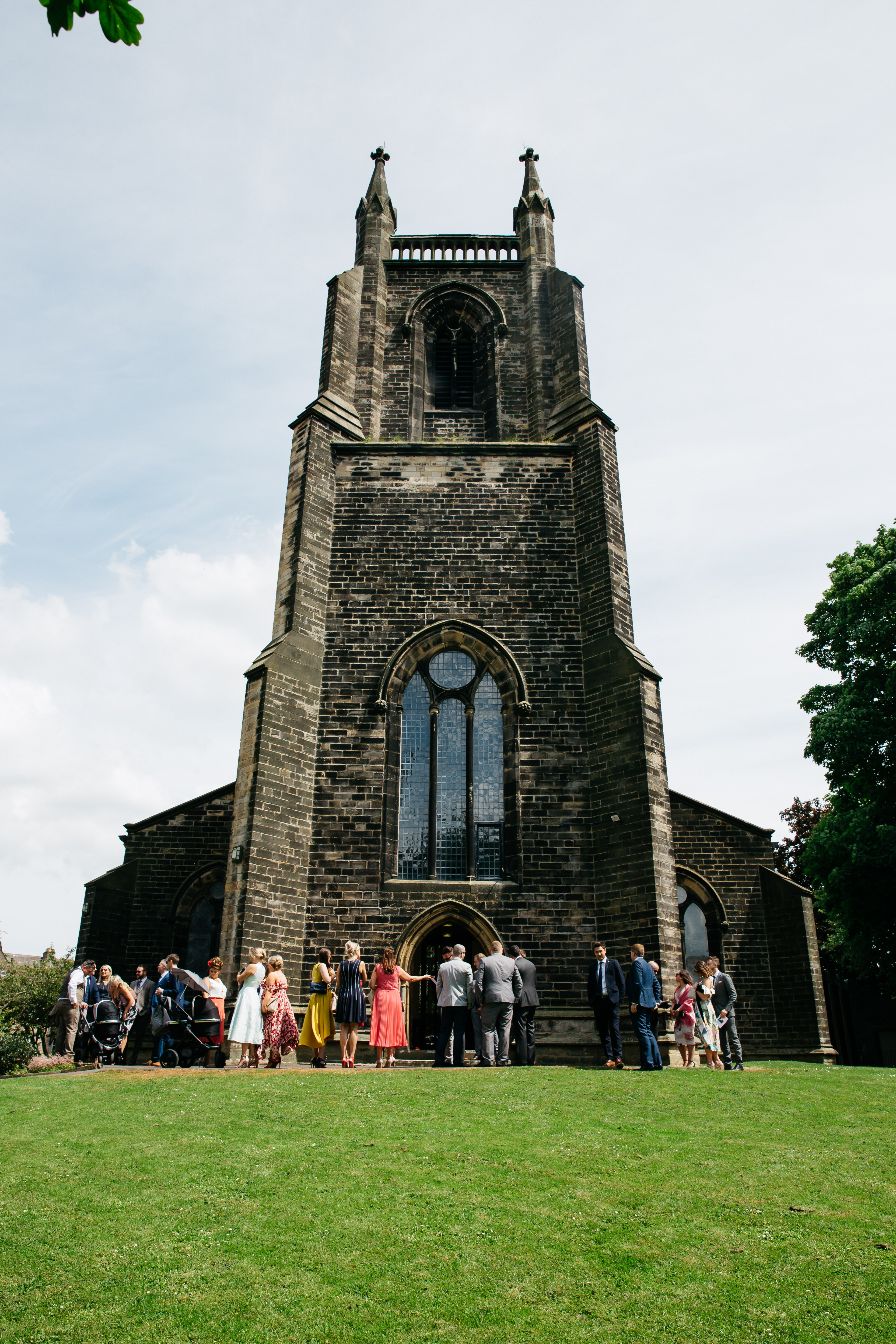 "We had the whole house and the grounds for a full week, the house had 6 bedrooms which enabled our immediate family to stay including kids. The time we got to spend before the wedding is one of my happiest times and I couldn't be more thankful that the original venue cancelled, although not at the time as I hit the roof in a big way!"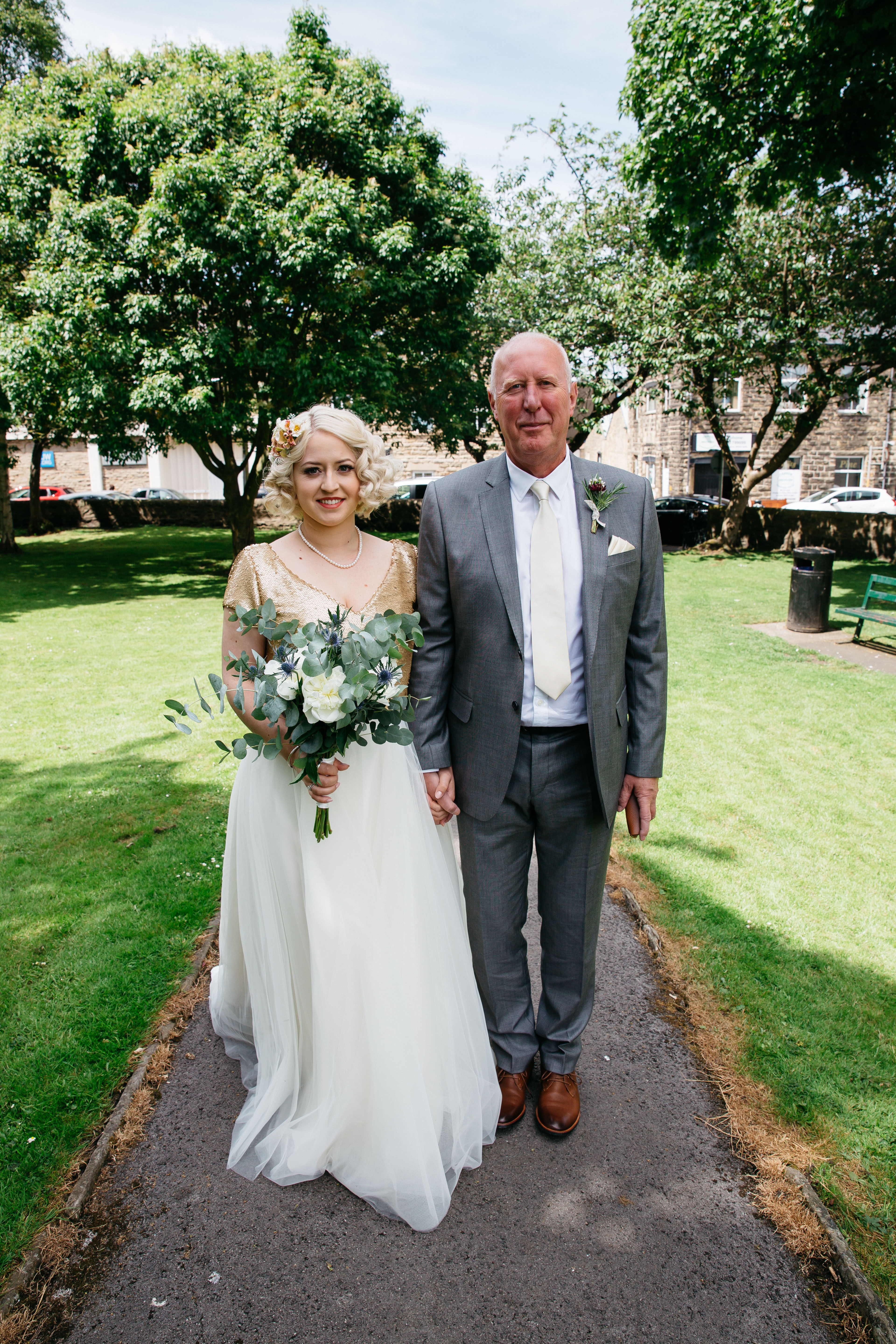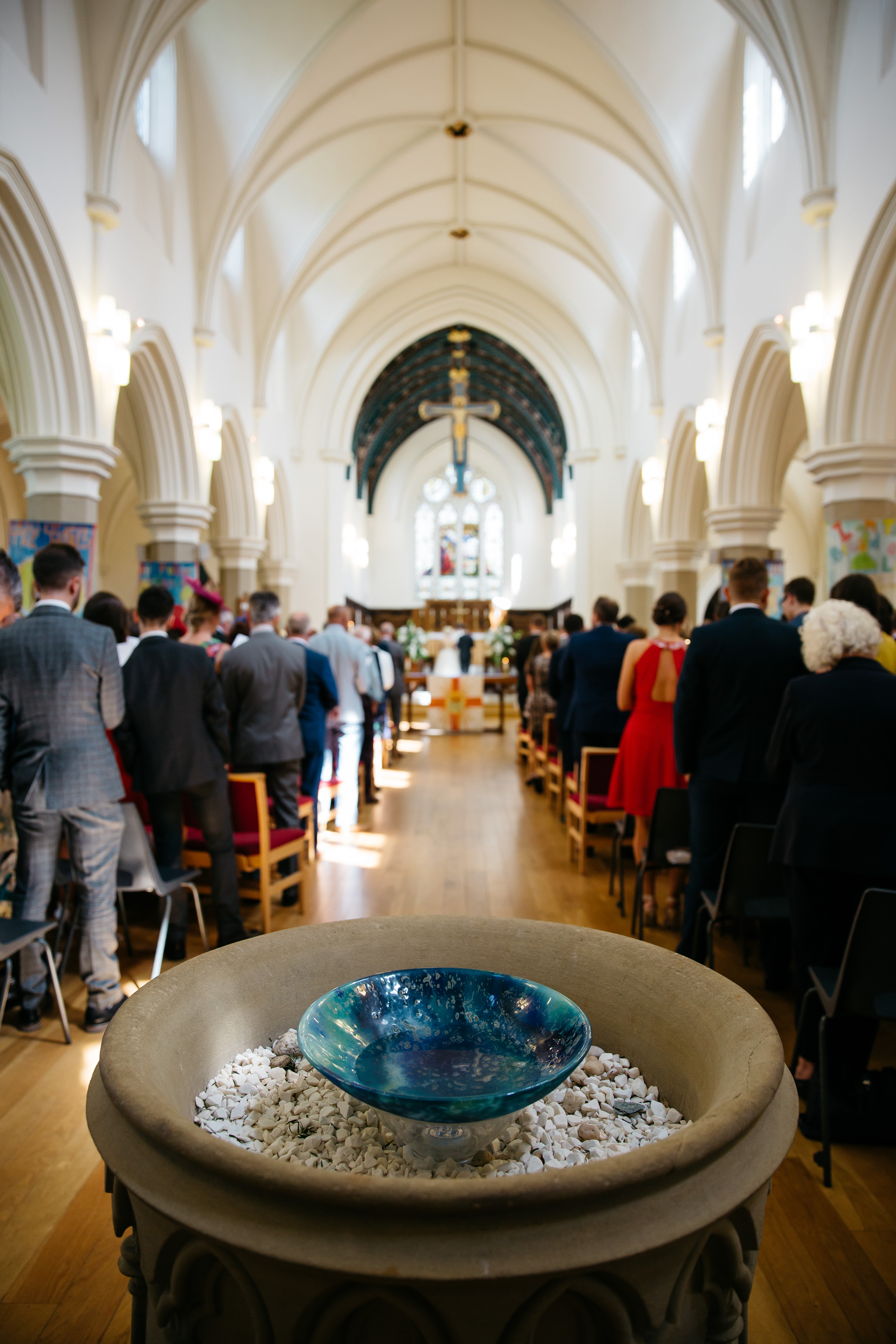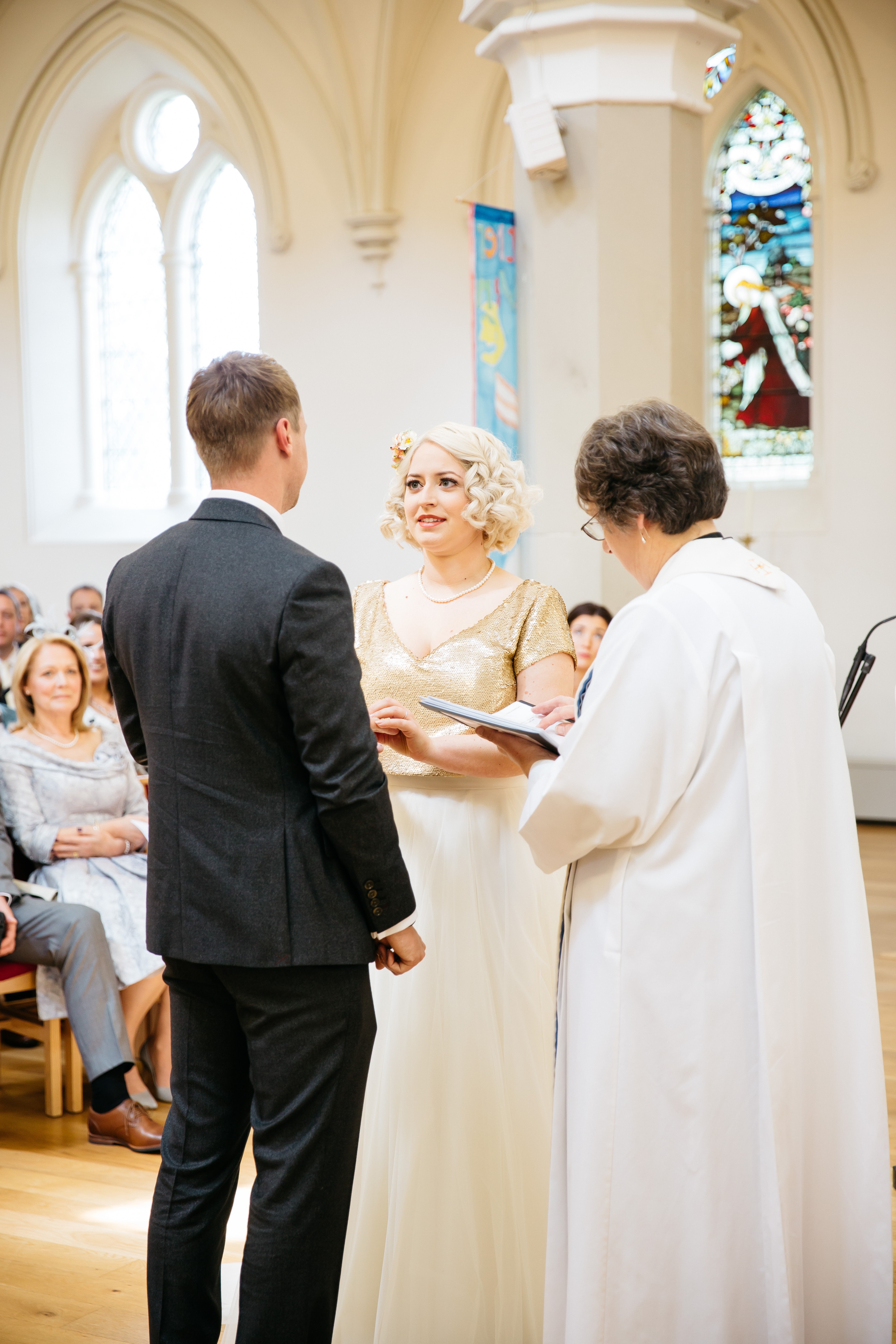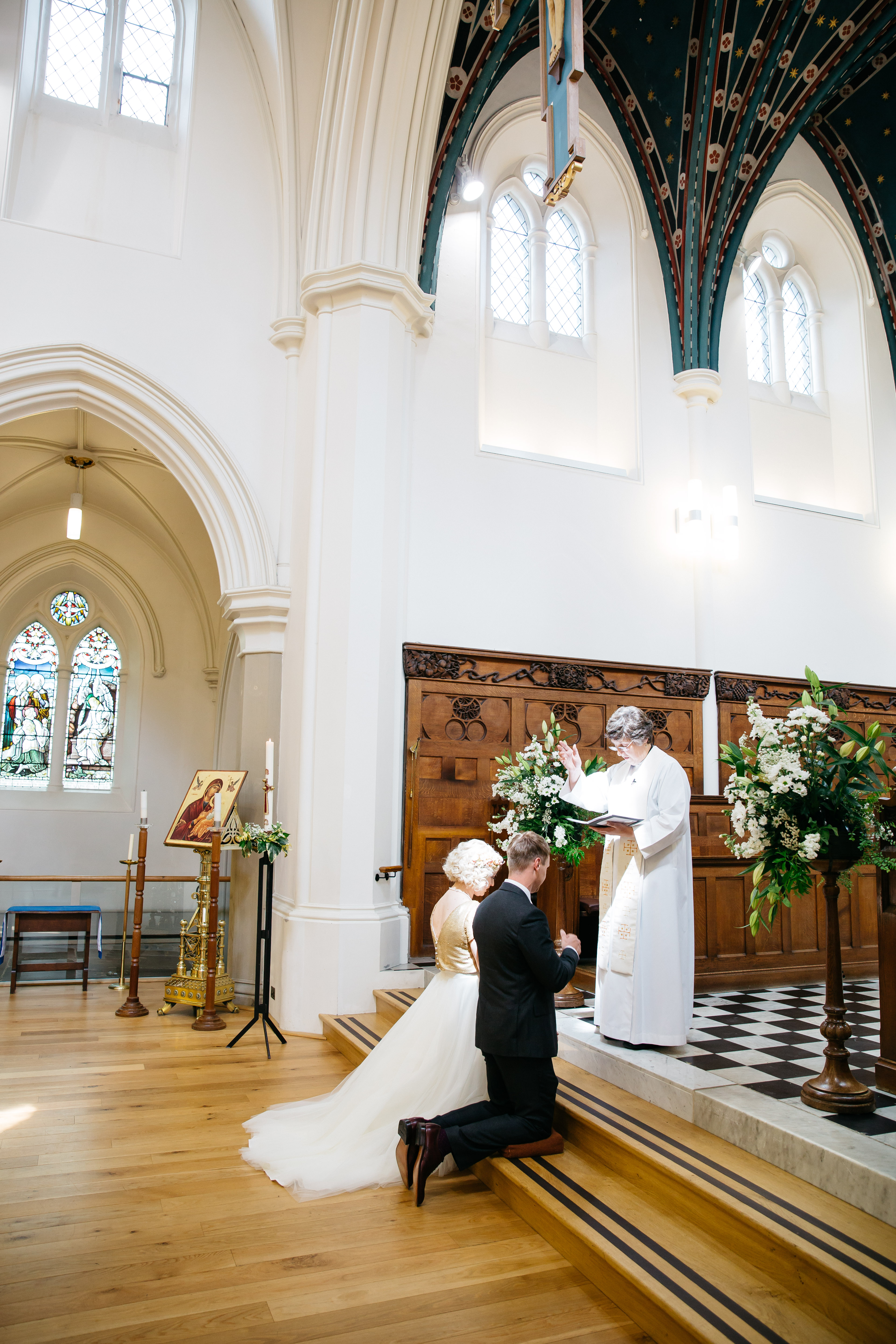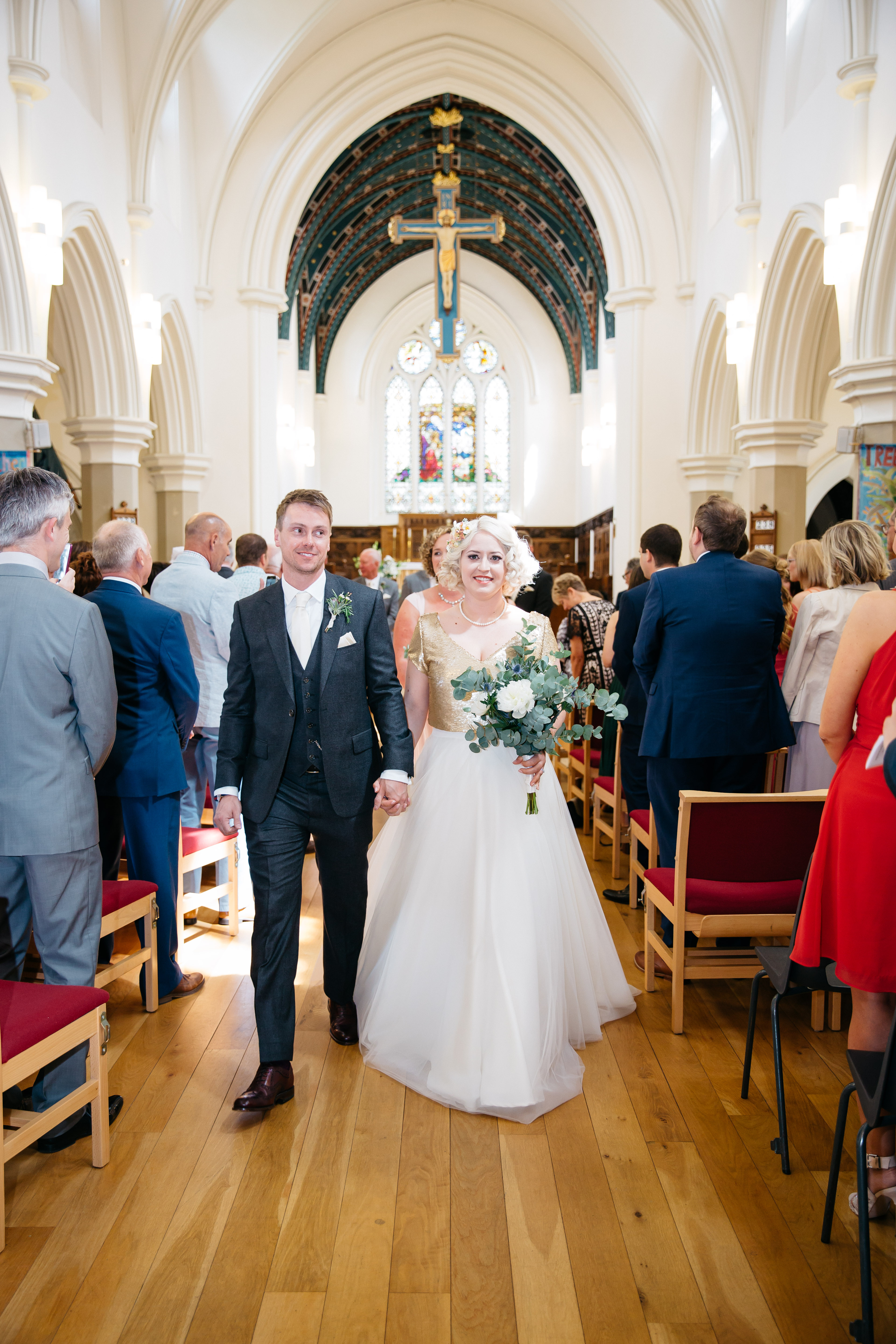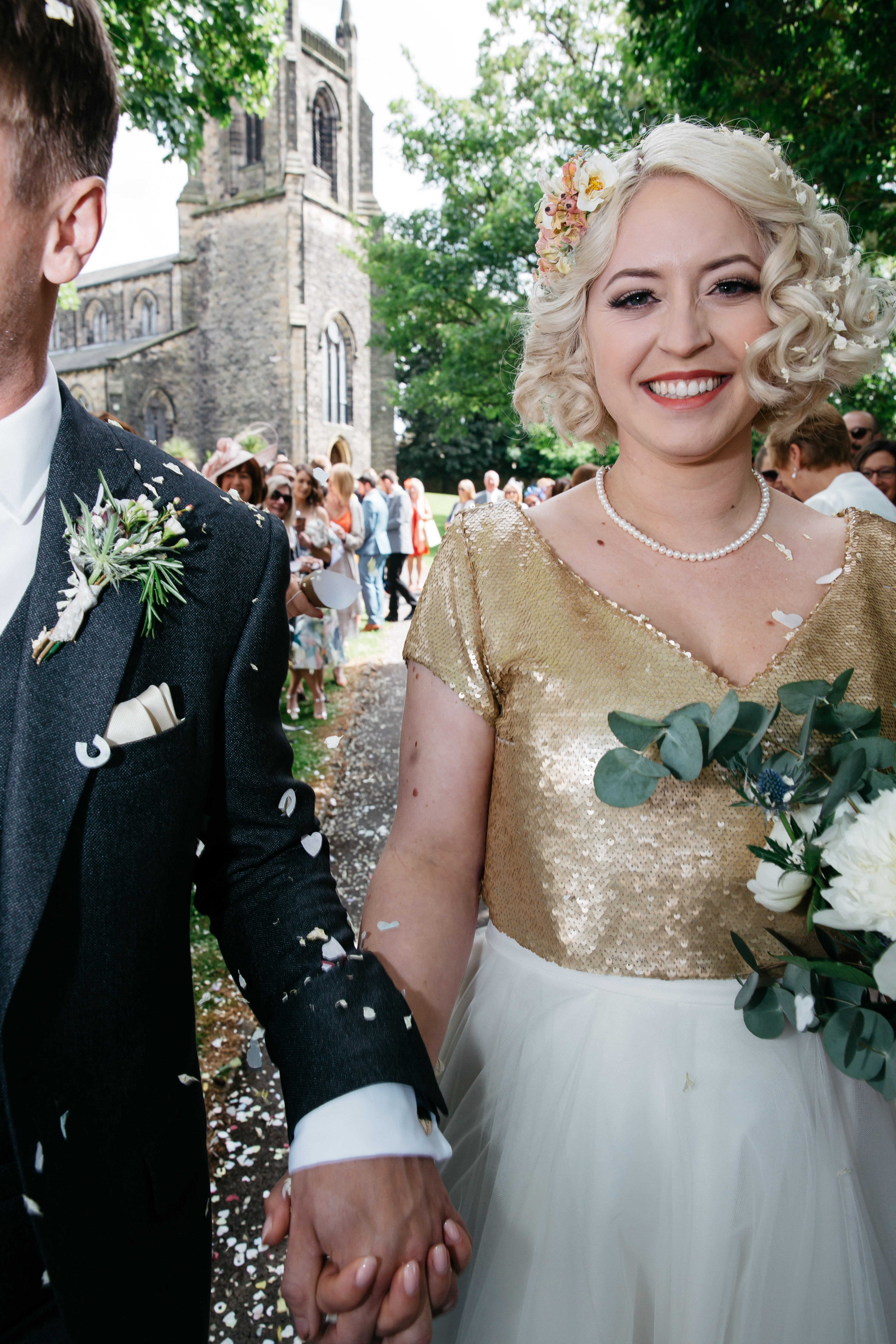 The Dress
"I fell in love with a dress I had seen online, the designer was based in NY and made wedding dresses to order. I was all set to take the plunge and send my measurements and to deal with whatever dress came back, but luckily my Mum talked me out of this and we went to the local wedding dress shop in Leeds that offered pre made gowns and a bespoke service. Here I met with Stephanie, who helped me to design and make my dress, I've never been one for a "dream dress" so it took several meetings to get our ideas in order at one point a complete re-design. We settled on a gold sequin body with an ivory tulle full skirt with a small train, it was perfect. Stephanie was working at Bridal Emporium in the Grand Arcade in Leeds, she has since set up her own boutique in Tadcaster – Stephanie Moran Couture."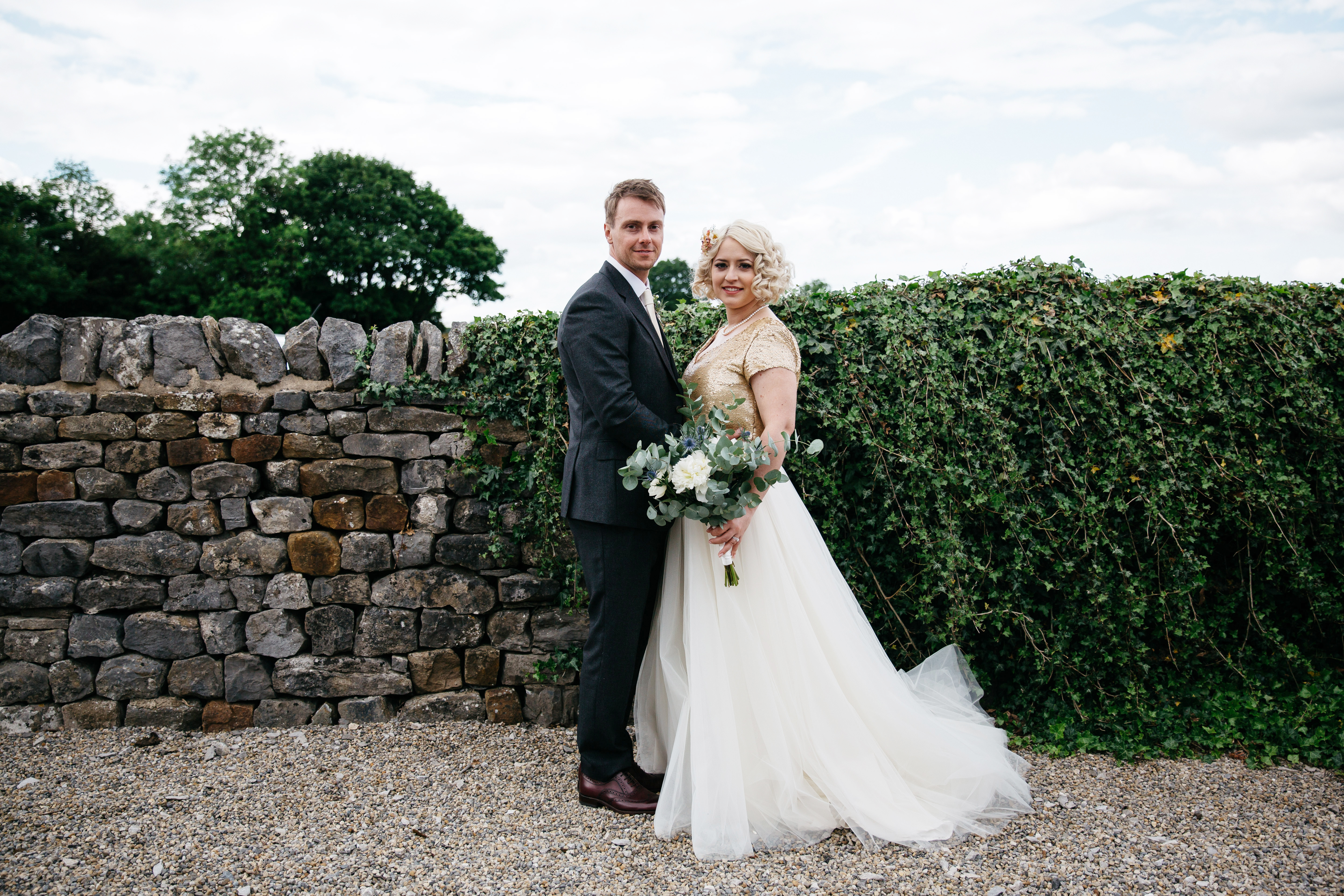 The Suit
Adam had always wanted a tailor made suit and if you can't have one on your wedding day when can you! He went to Reiss on Oxford Street and had a fitting, I have never seen anymore have their body measured in so many different ways. All the measuring, agonising over fabrics and trims and buttons paid off though as he looked great…although I am biased.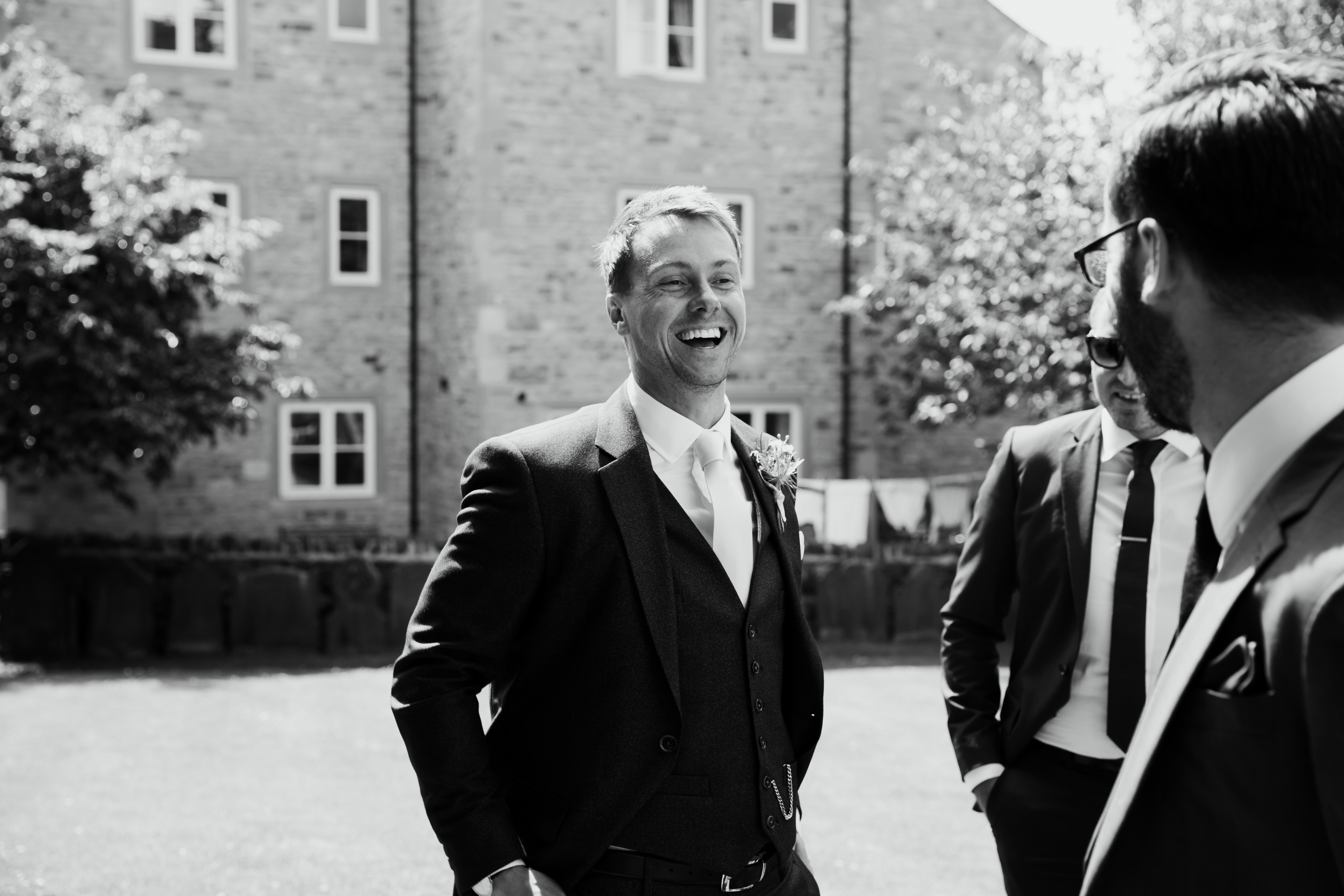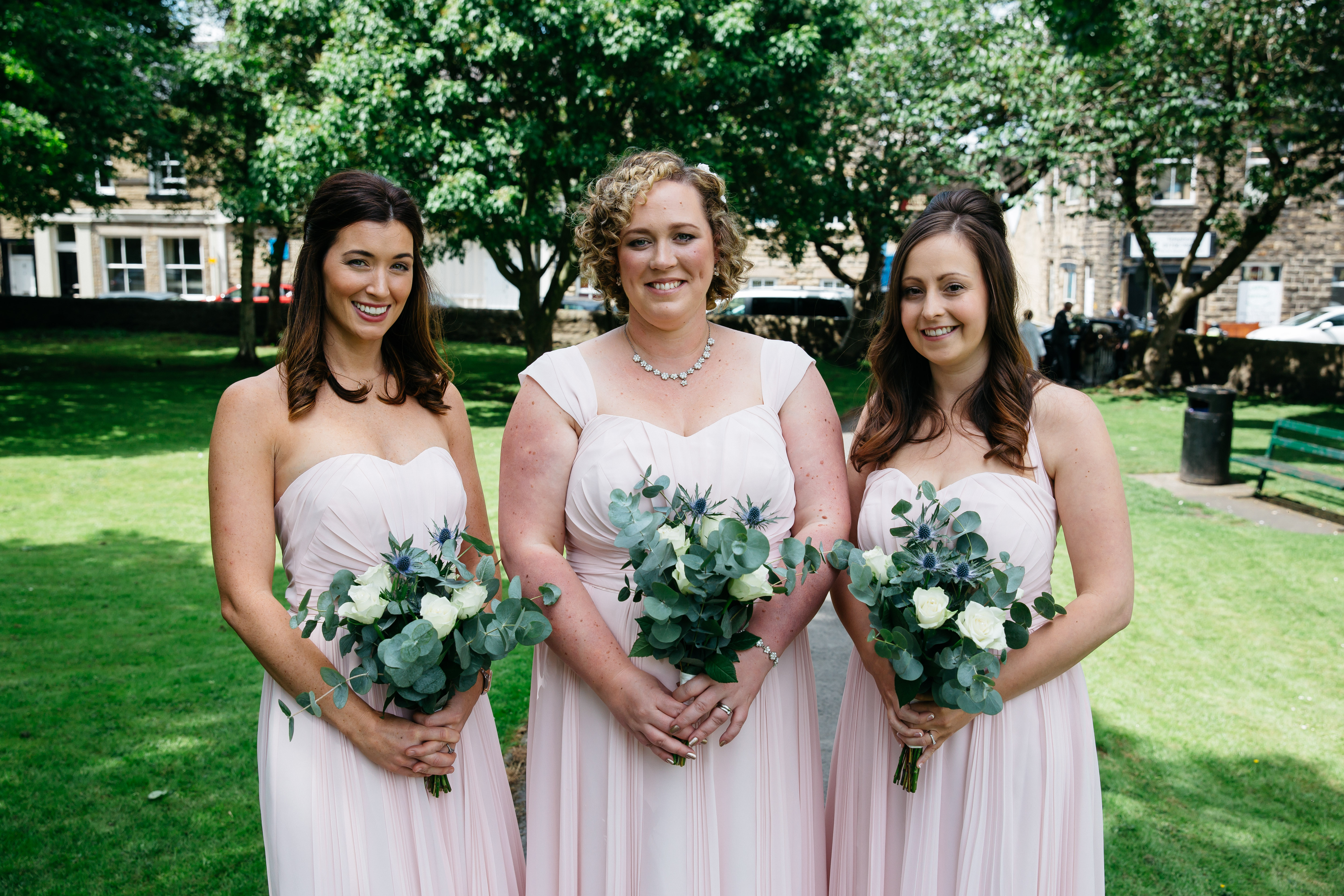 The Bridesmaids
"The bridesmaids were my best friend, my sister and my soon to be sister in law, I had originally wanted them to be in ivory with all different designs that suited each one of them. However this was a hard challenge and proved to be quite impossible, as the date got ever nearer we went with Dorothy Perkins bridesmaid range in a blush pink.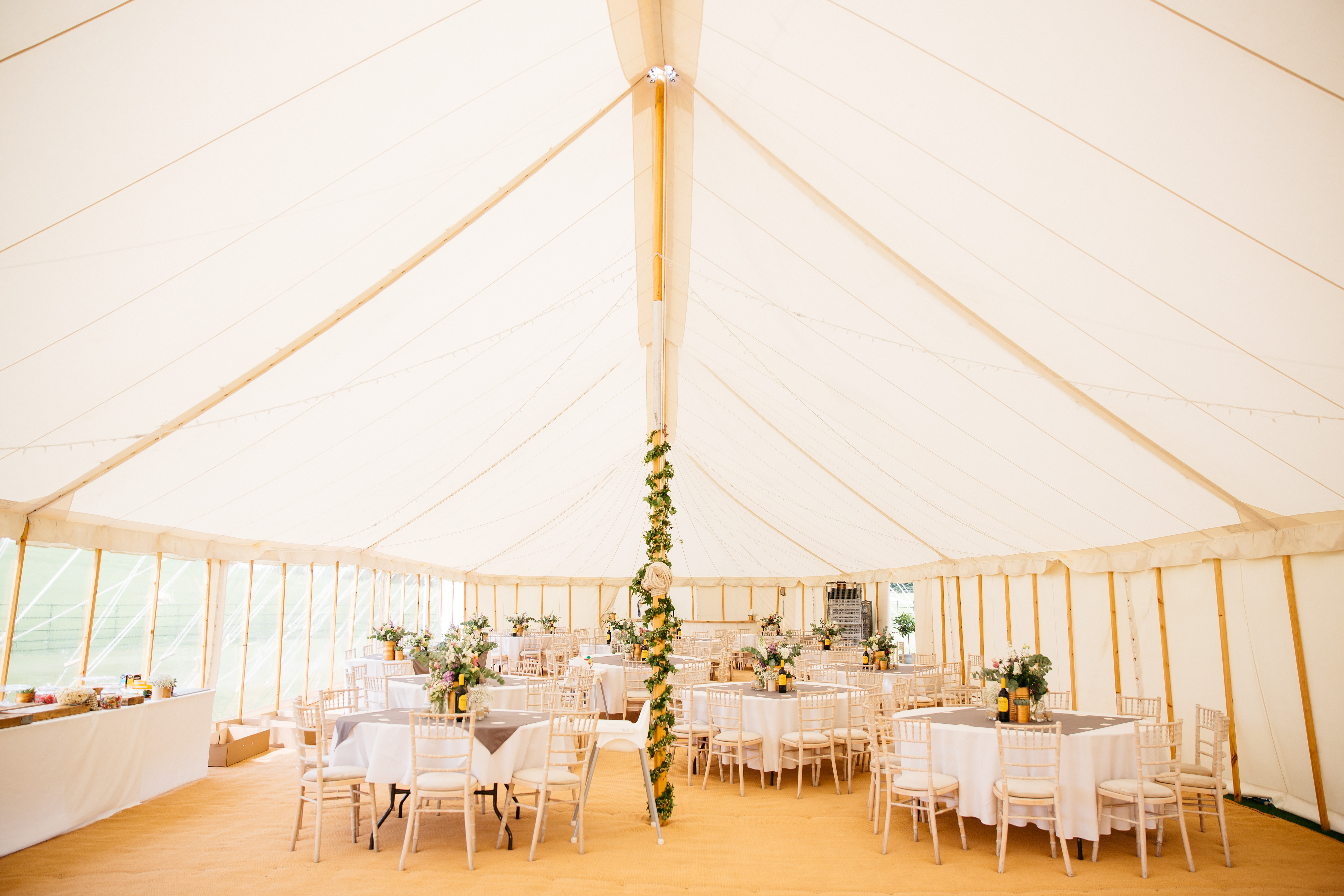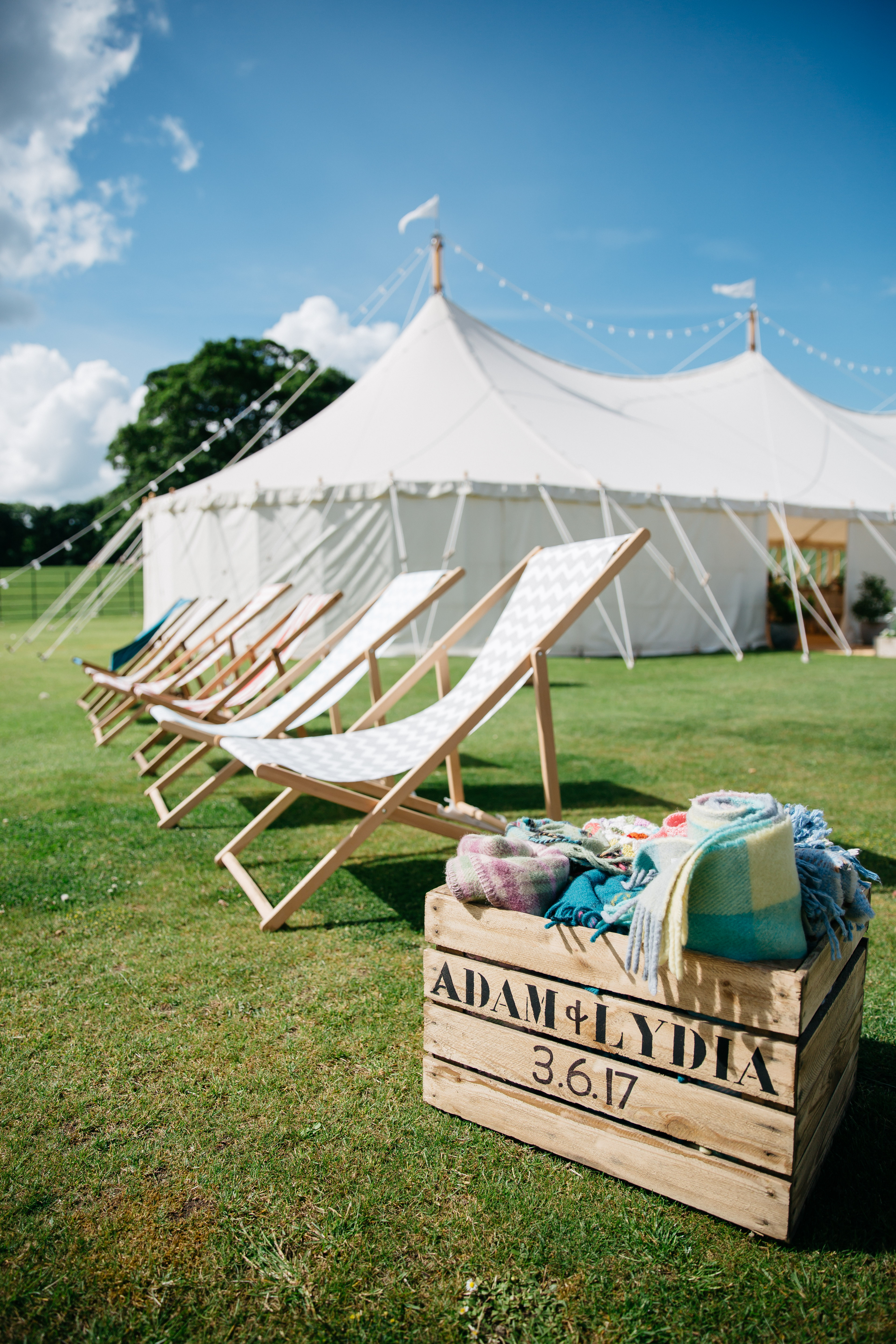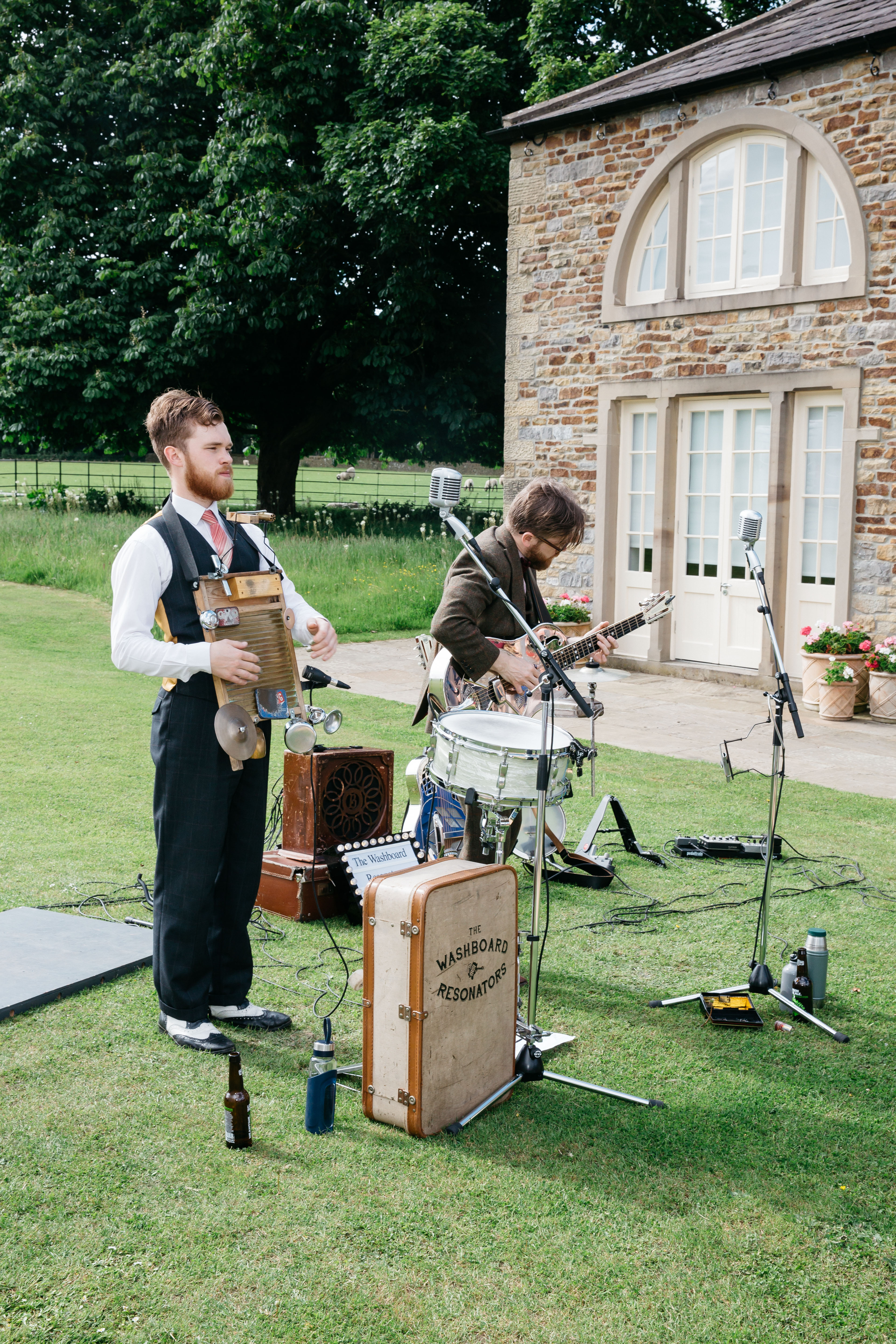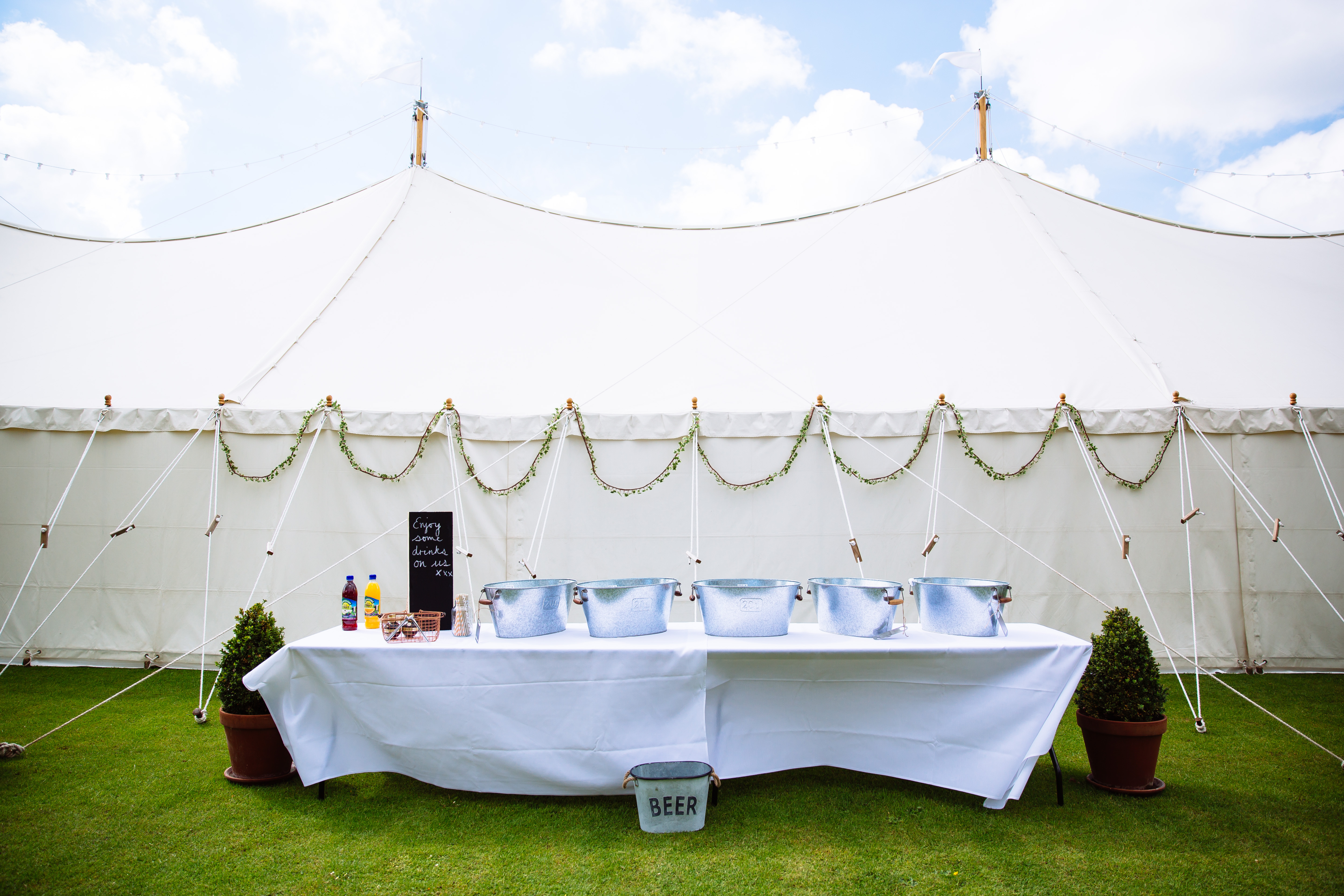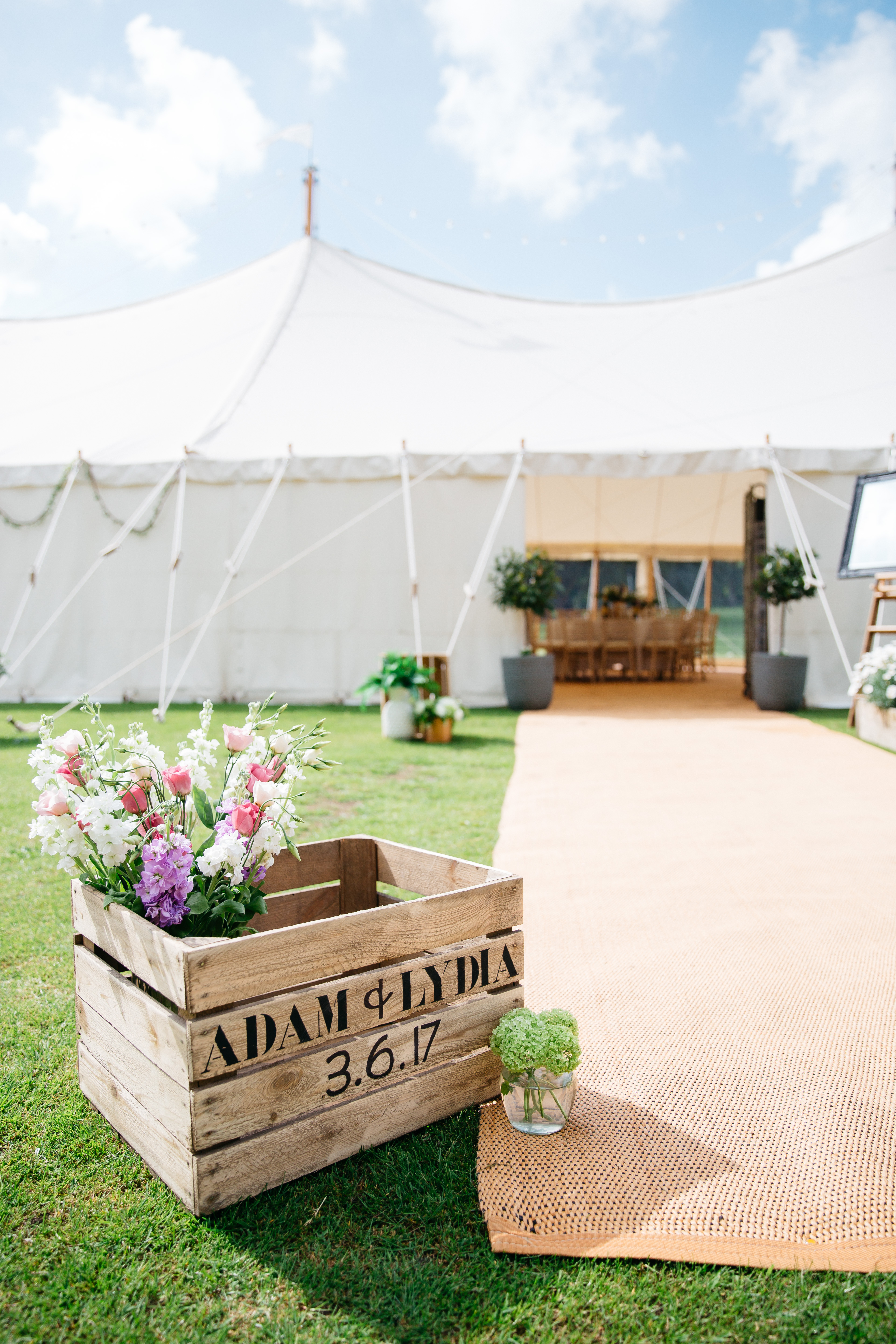 Cake and Florals
"I wanted to do a lot of the wedding myself, and when I say myself, I meant my Mum! I'm all about thinking of the ideas and then passing that to my Mum for her to bring them to life. I knew I wanted a lot of flowers but wasn't too fussy about floral arrangements, we went to an online wholesale flower shop and ordered £500 of all different flowers – that is a lot of flowers! We sourced some large tinned tomato cans and sprayed them copper and some smaller ones which were sprayed cream then just filled them with flowers! I loved planning the flowers with my Mum, it made the it extra special."
"As a cake maker I didn't want to make my own cake, I also didn't want to hand that challenge to any of the girls working for us! We decided on a cake table consisting of a few round cakes, several hundred traybakes, doughnuts and a M & S Connie and Colin the caterpillars, our bakery produced everything but the caterpillars!"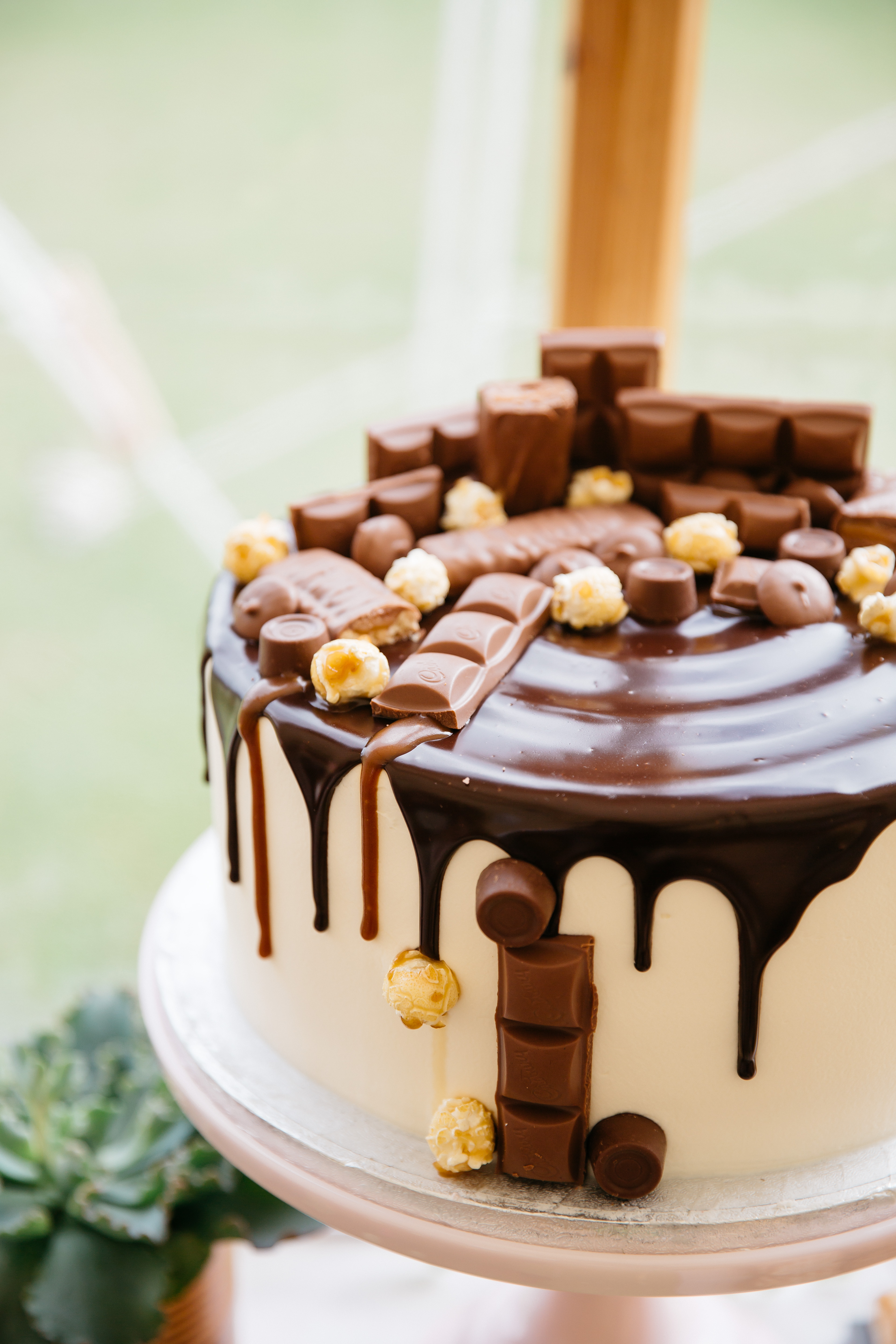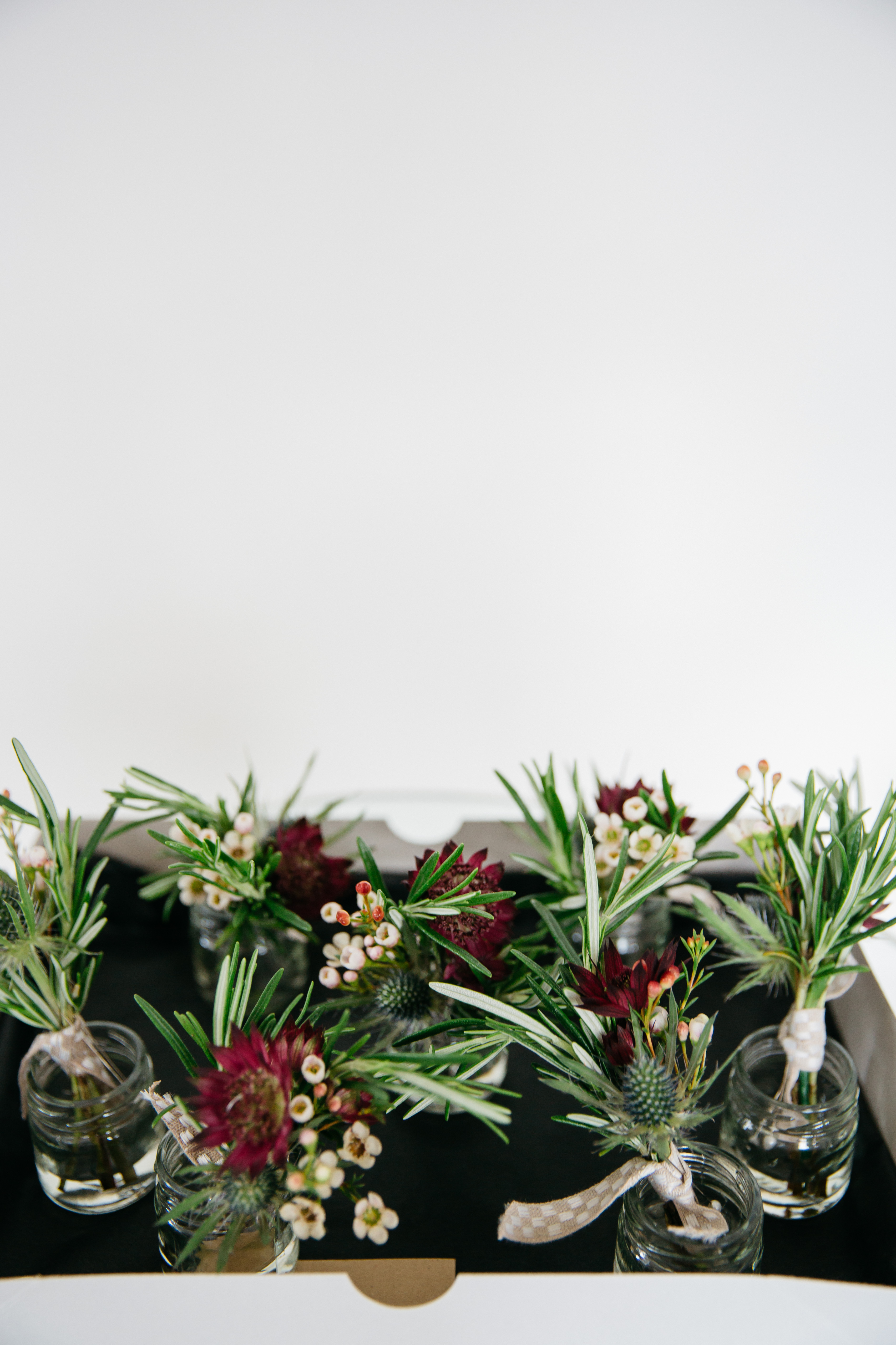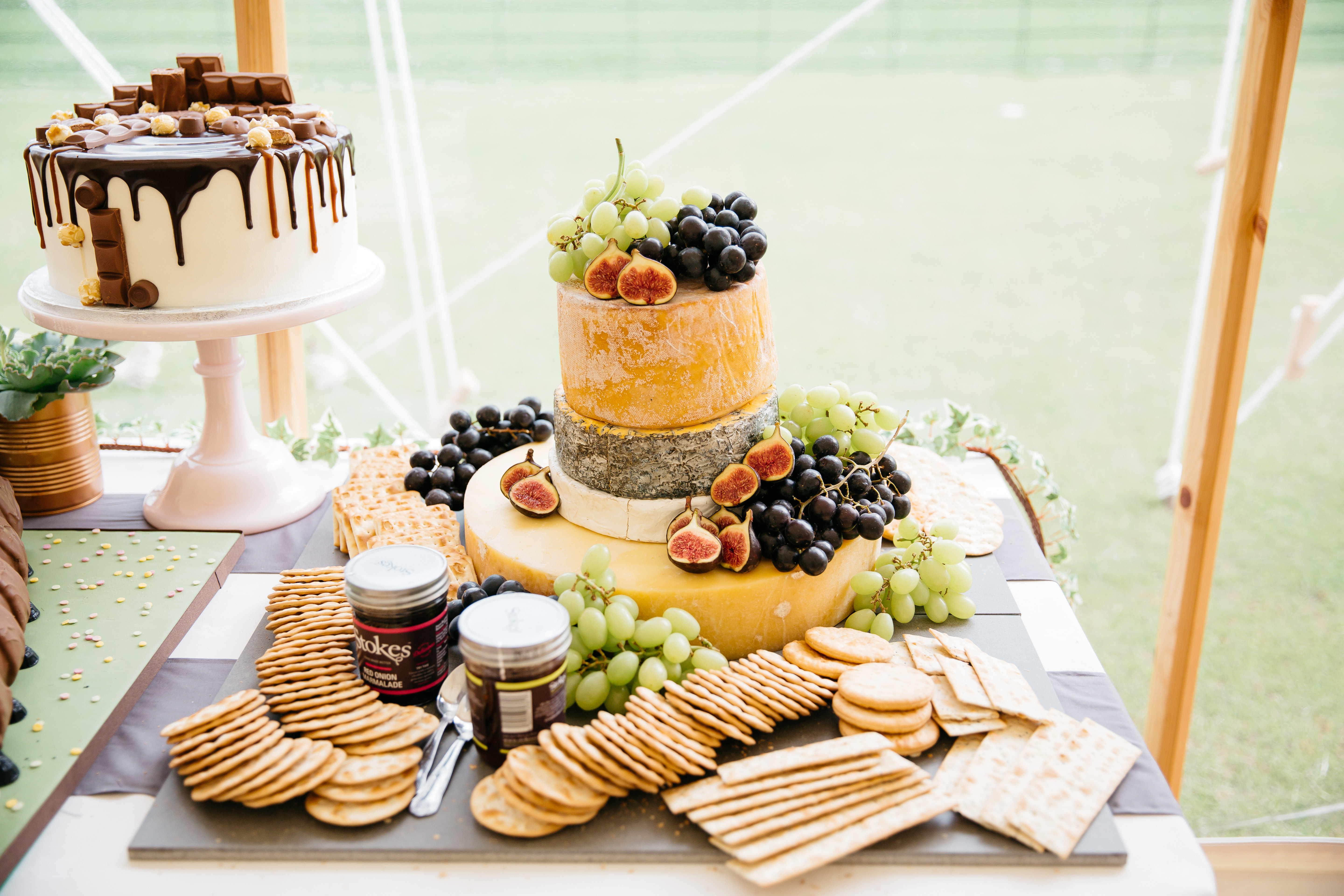 Shoes and Accessories
"My shoes were from Valentino Rock Studs in Poudre; I loved them long before we were getting married and this was the perfect excuse to treat myself. I scuffed them on a patio slab at the house and I haven't been able to look at them since."
"Accessories were kept quite simple, I wore some pearl Tiffany earrings which were a gift from Adam on the morning of the wedding. A bracelet from my Mum which covered the something borrowed and something old and a pearl necklace."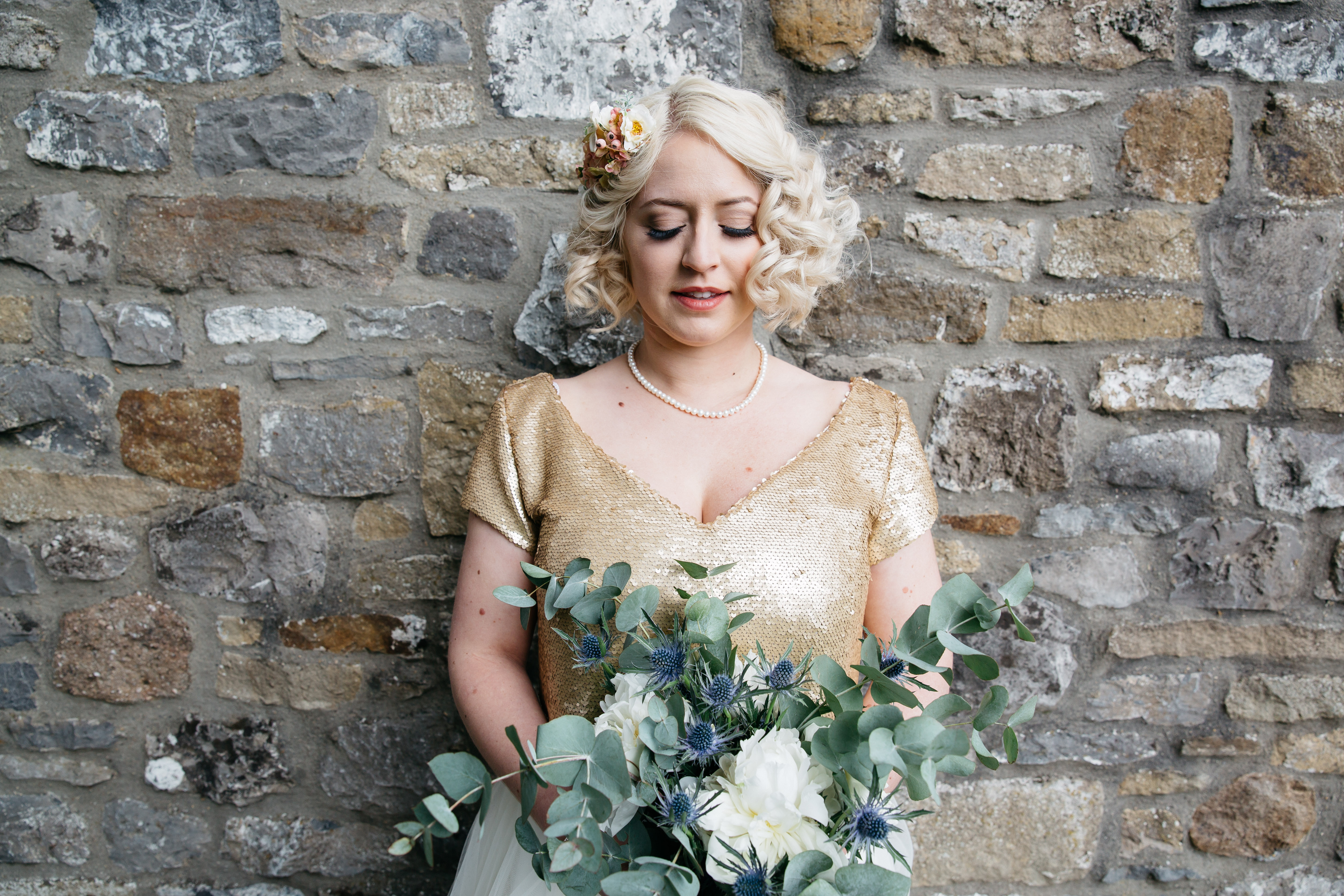 Make up/Hair
"Hair and make up was by Catherine Elizabeth, her and her team came to the venue and did myself, the bridesmaids and my mother in law. I loved the whole experience, they made the whole morning very relaxed and I only wish they would come and get me ready everyday."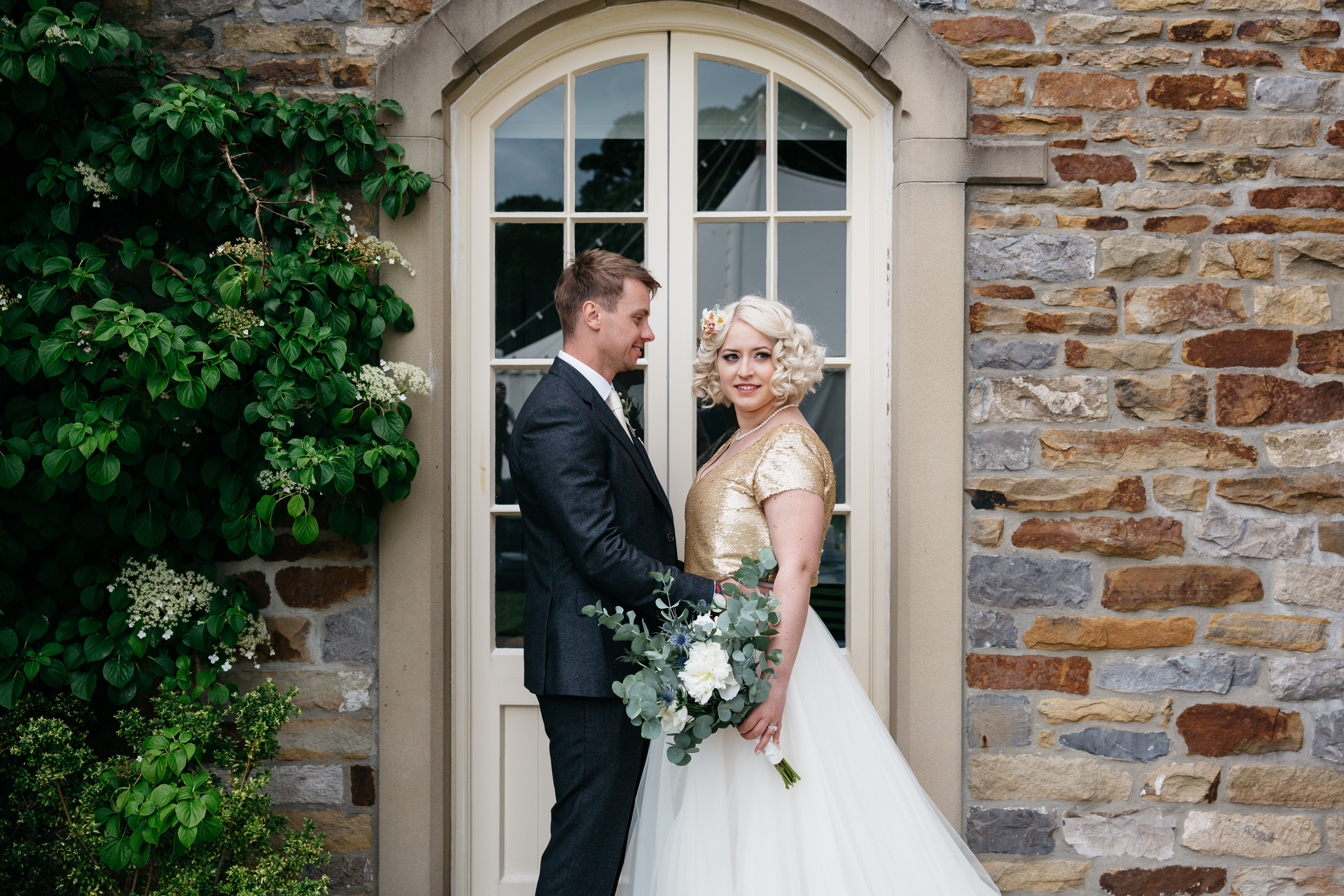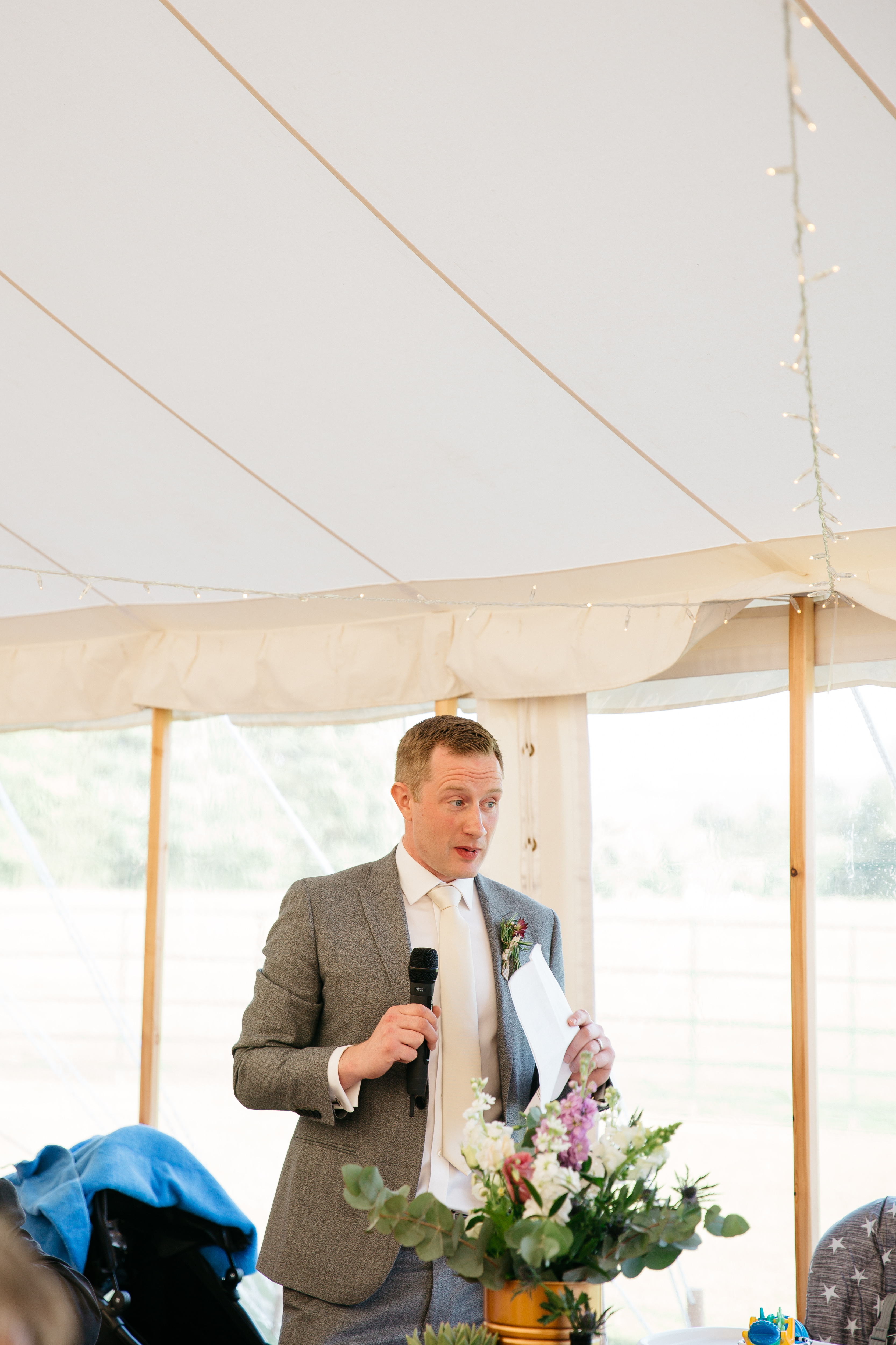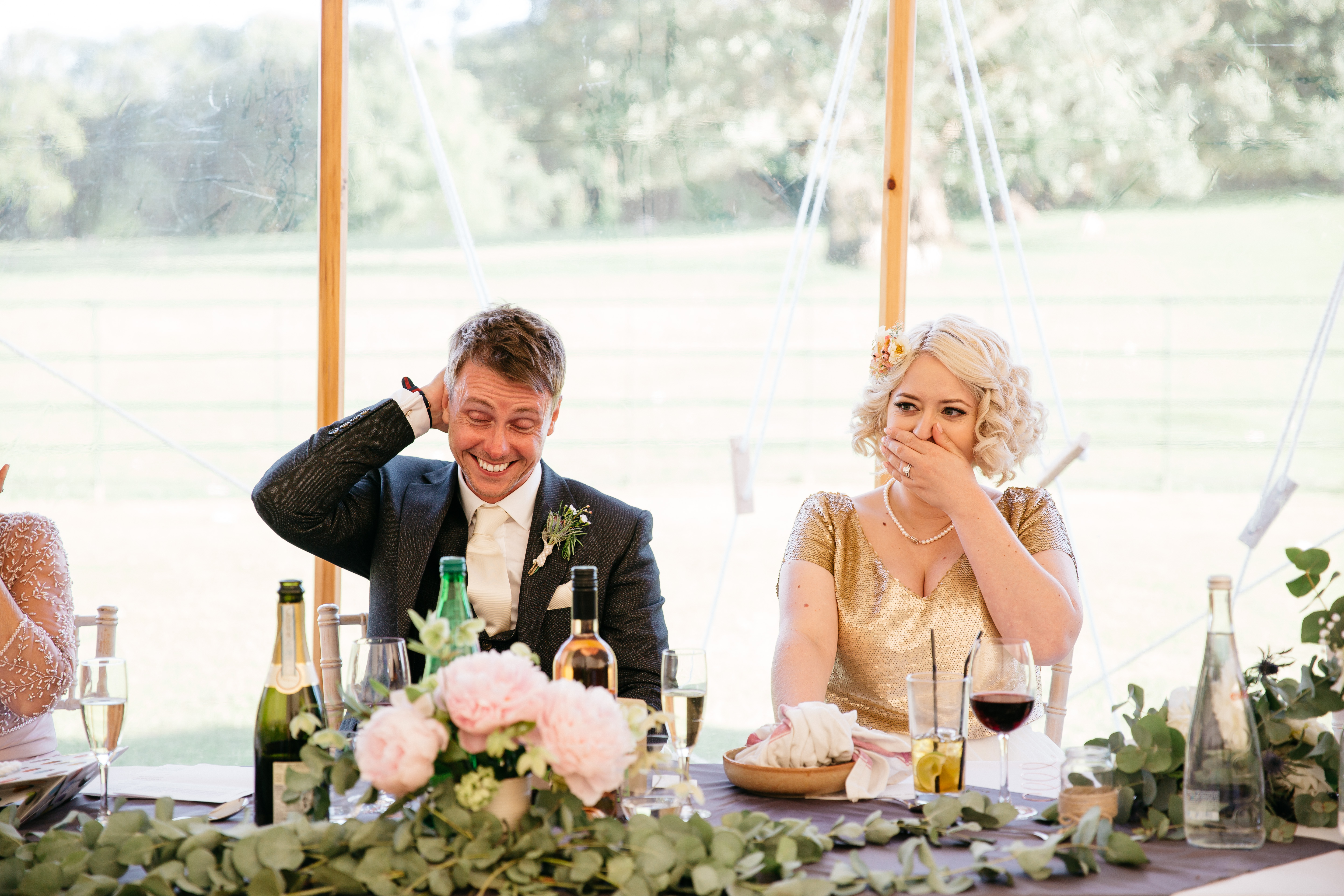 Photographer
"Adam and I weren't the easiest of clients, neither of us like having our pictures taken and took some persuasion to pose for pictures. One of my favourite snaps is during a negotiation Victoria and I were having about how many more pictures there were to take. I'm so glad she persisted as we have some great shots!"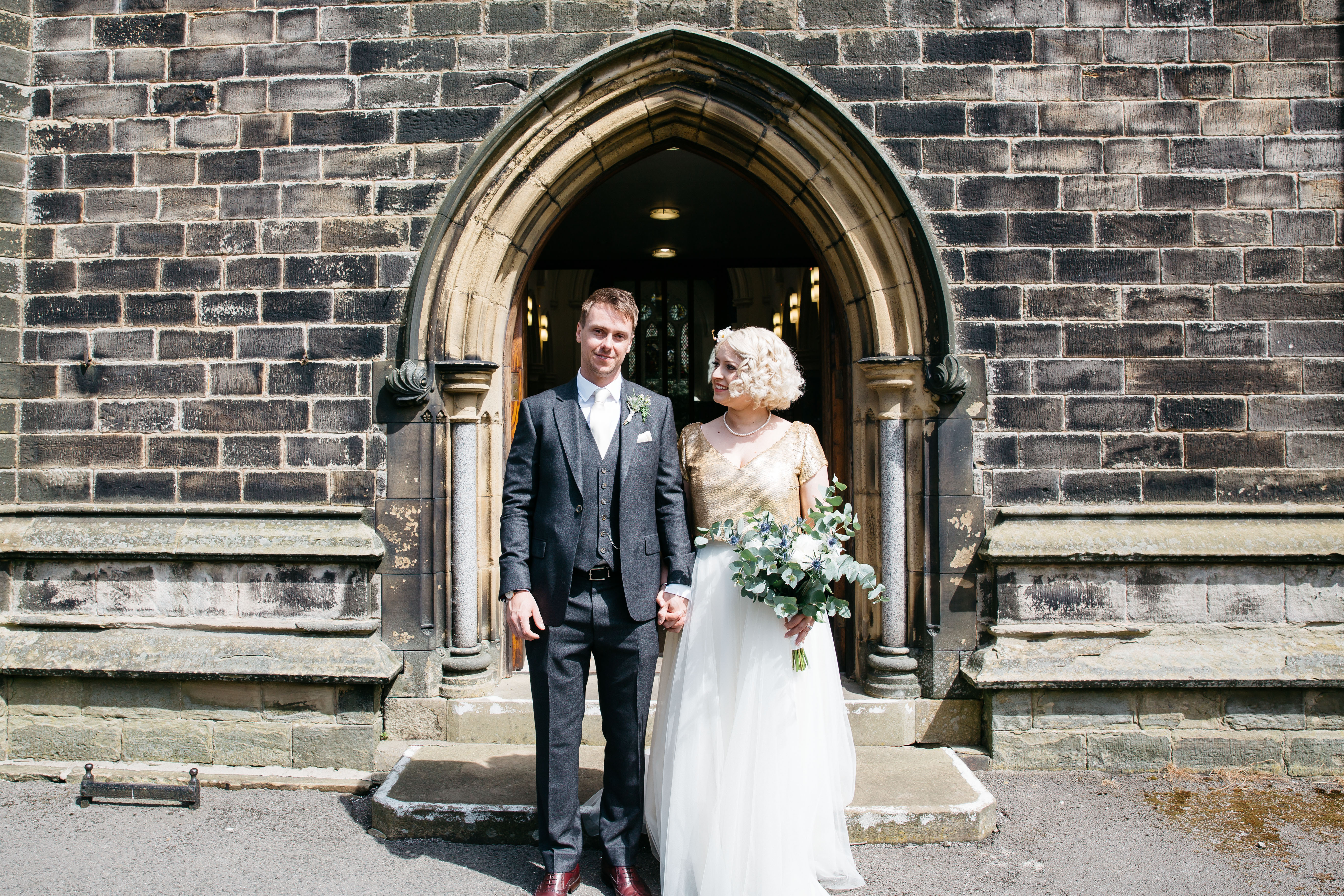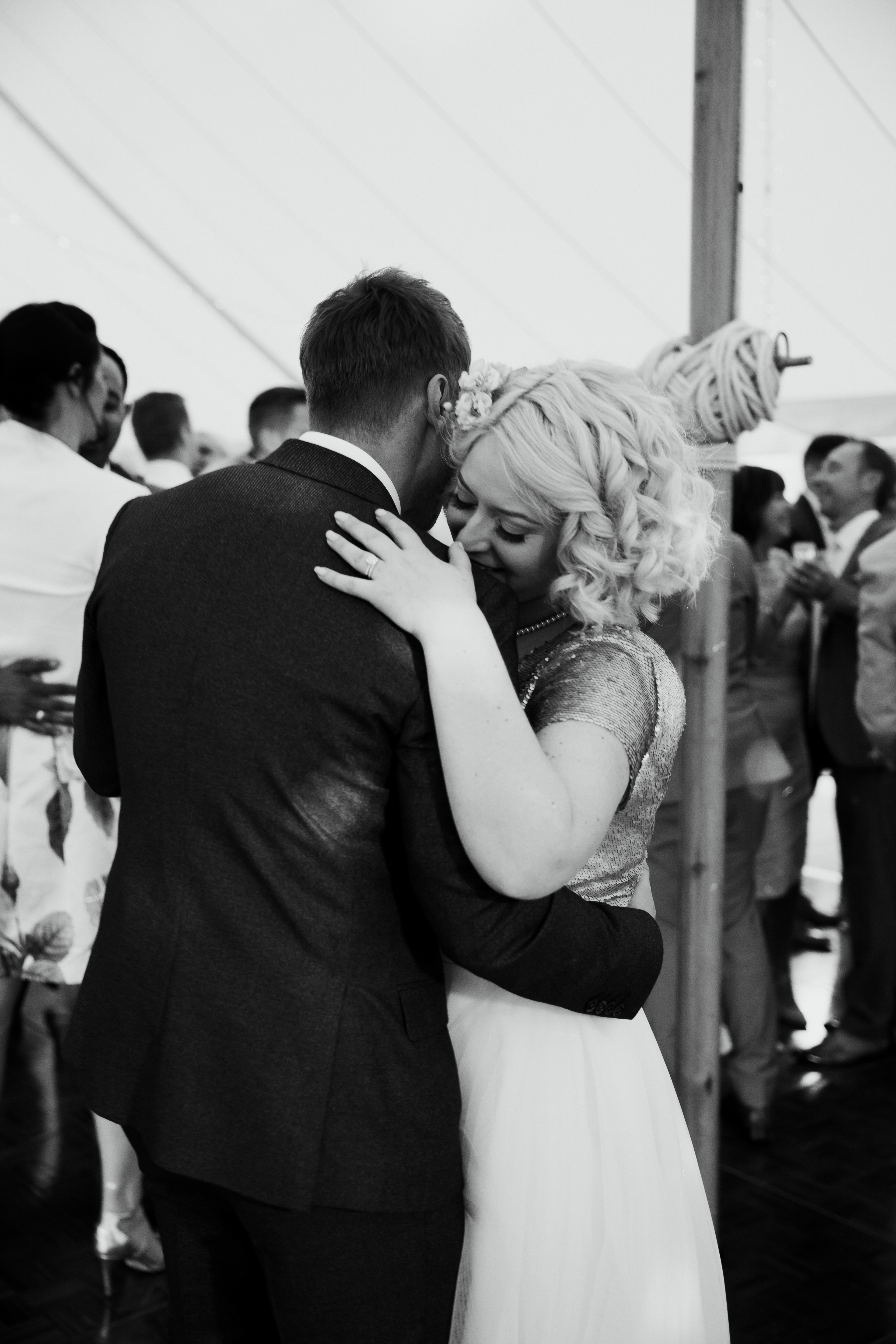 The best part of the day and words of wisdom
"The best bit was arriving at the venue after the ceremony before all the guests arrived and having that little calm with Adam before everyone pulled up in the vintage bus."
"Don't let the planning stress you out and stick to what you want, it's your wedding after all!"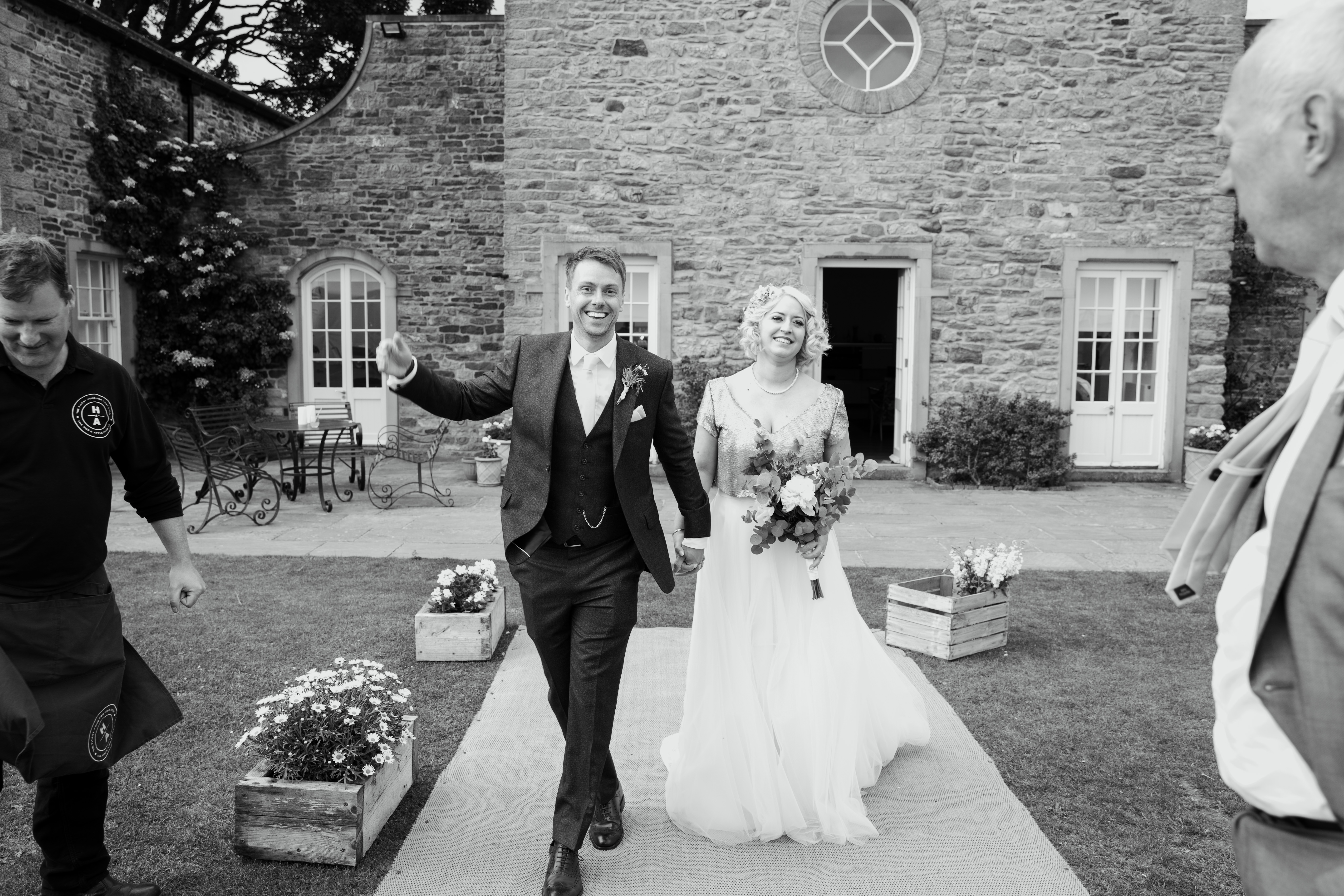 Suppliers –
Venue – Eden at Broughton Hall
Photographer – Victoria Baker Weddings
Hair and Make up – Catherine Elizabeth
Dress – Stephanie Moran Couture
Music entertainment – Washboard Resonators
Marquee, bar and furniture – Wills Marquees
Food – Hog and Apple
Cake table/dessert – Love Rouge Bakery
Want more real wedding loveliness? Check out A Wonderful Military Wedding with Relaxed Wedfest Vibes