We always imagine sunshine on our wedding day don't we? Well as we live in the UK, that cannot be guaranteed but we must not let it worry us (I spent months worrying in 2012 when it rained every day for months, before my outdoor wedding – I wish I hadn't wasted all this negative energy as when the day came I didn't care a bit about raindrops!)
One way to strike it off the list, especially if you are having an outdoor wedding is to hire matching brollies that tie in with your colour scheme. Display them nicely with a cute note for your guests to use one if they need to and then stop worrying about the weather.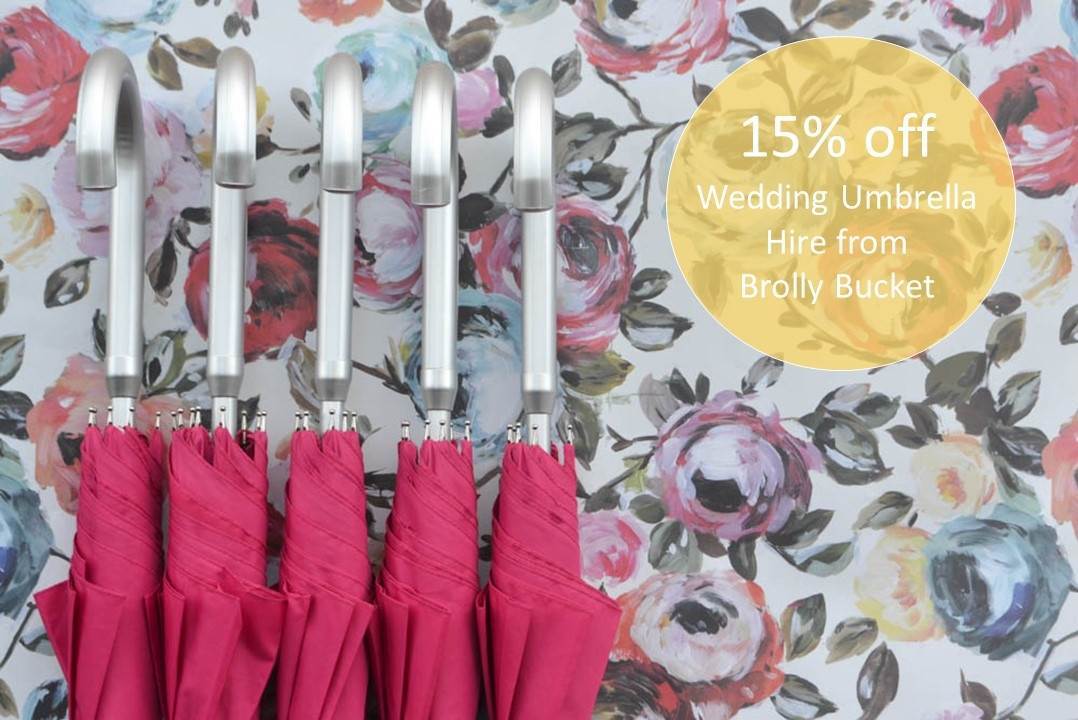 For our Unique Bride Club couples, we have teamed up with Brolly Bucket who are offering you a discount off their umbrella hire. They have brollies in every colour as well as vintage inspired ones similar to the styles used in Edwardian times.
I caught up with Rosie to find out more about the business
"Our wedding was in mid-April in the lovely town of St Andrews in Scotland, but the weather in the month leading up to the wedding, was just constant, unrelenting rain so I embarked on the mission to provide lots and lots of lovely, plain white umbrellas for my guests and bridal party to use, should the weather continue to downpour on the day. I struggled to find anything, in fact I failed to find what I wanted, so I made it myself (my creative side would not be beaten!)
I purchased boxes upon boxes of brollies and importantly, I designed beautiful acrylic umbrella stands for the white umbrellas to be displayed in at the church and reception venue entrance… this stand was later to be known as the 'brollybucket' and of course, my new found business had to be called after our signature product!
Now, 5 years on, we work from a lovely, newly renovated rural studio, handpicking every brolly hire order, ready to send to weddings nationwide. Our range now includes more than 15 beautiful umbrella colours to choose from and we have a small but perfect range of wedding umbrellas and lace parasols which are perfect for any vintage inspired bride. We stock a variety of umbrella stands, also available to hire, which of course includes our elegant 'brollybucket' acrylic stand!"
The Offer
Brolly Bucket are offering you 15% off brolly hire valid for the next year. Simply quote uniquebride15 on checkout.
Terms and Conditions
Applicable to orders over £50 (excluding delivery and collection cost)
No cash equivalent or refund available
Cannot be used against any other offer or discount.
Valid 1st Jan 2016 – 1st Jan 2017
Enter uniquebride15 to claim your discount,
Can only be redeemed against online orders and cannot be redeemed on last minute orders* (*orders placed within 7 working days of event)
Stock is available on a first come first serve basis and stock cannot be placed on reserve.
For all other T&C's regarding our umbrella hire, please visit our website, www.brollybucket.co.uk