Are you searching for the perfect wedding ring for your upcoming ceremony? If you are, then you have likely run into hundreds of different options. The challenge becomes choosing the right type of ring that suits your personal style and will remain timeless for years to come. The great thing about searching for wedding rings right now is that there is a lot of flexibility when it comes to following trends. Now more than ever, trends come and go at a rapid pace. Since trends are moving so quickly there is a good chance that whichever style you choose is currently in fashion or will come into fashion in the very near future.
While choosing the perfect wedding ring is a top priority for any engaged couple, don't forget about the importance of wedding entertainment. Your big day should be a celebration to remember, and the right entertainment can help make that happen. From live bands and DJs to magicians and caricature artists, there are countless wedding entertainment ideas to choose from. Don't be afraid to get creative and tailor your entertainment to your personalities and interests. With the right wedding entertainment, you can keep your guests engaged and entertained throughout the entire celebration. So, when selecting your wedding ring, keep in mind the importance of entertainment and explore the various options available to create a truly memorable experience.
Today, we're going over some of the top trends in wedding ring design to help you narrow down the different styles that speak to you and your future spouse. From there you can research different styles online or even visit a jewellery store to see how the designs look in person!
What is a Wedding Ring?
Wedding bands tend to be more simple and understated than engagement rings.
Wedding rings should complement engagement rings and tell a complete story.
Even though it is safe to say that everyone knows what a wedding ring is, many aren't sure of the difference between a wedding ring and an engagement ring. For starters, engagement rings tend to be a lot more extravagant than wedding rings. Engagement rings are all about bringing that "wow" factor and showing off your love for your spouse. On the other hand, wedding rings tend to be much more simple and understated. A lot of times, wedding rings are designed specifically to complement the flashier engagement ring. With that said, this article will focus on choosing styles for the more understated wedding rings and why these designs are gaining popularity with soon-to-be-married couples.
Sustainable Wedding Rings
Couples are searching for ethical ways to exchange their vows without causing any environmental harm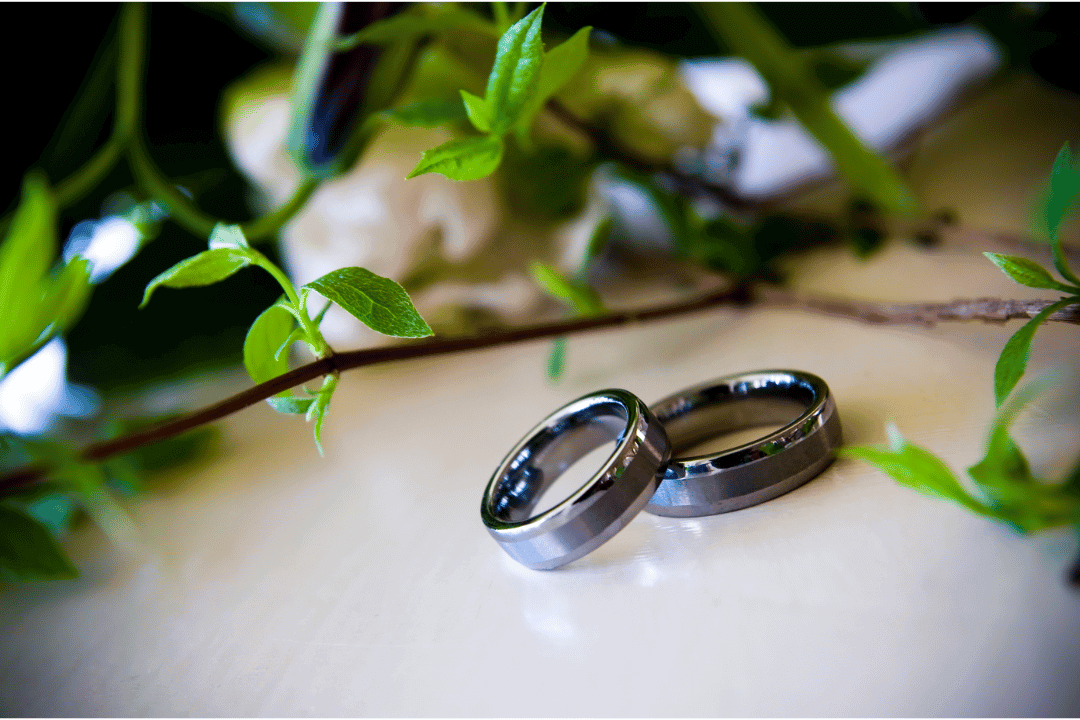 Precious metals like silver and gold can be recycled into new pieces of jewellery.
When you purchase a sustainable wedding band, you're choosing a ring that looks at the ethics of how it is produced and the environmental impact. This means that your wedding ring will be made from eco-friendly materials like man-made diamonds, fair-mined diamonds, and vintage & recycled materials. There are strict regulations in place that decide whether or not diamonds and other precious stones quality as fair-mined. When it comes to man-made diamonds, we now have a way to create diamonds in a lab as opposed to mining for them. Since mining is such a dangerous profession, this is preferable for the environment and for human safety. Because we've begun producing man-made diamonds we don't have as high of a need to dig for more. Plus, there is enough gold and silver circulating that we can easily recycle them to create new jewelry. When old jewelry is no longer in use, it can be sold and then transformed into a brand new piece of jewellery. This process is far more sustainable than getting a new wedding ring outright since no new material is required. In practice, jewellery recycling functions in a very similar manner to how we recycle paper and plastics.
Keep it Simple
Not sure where to start looking for wedding rings? Make sure you start with something as simple as possible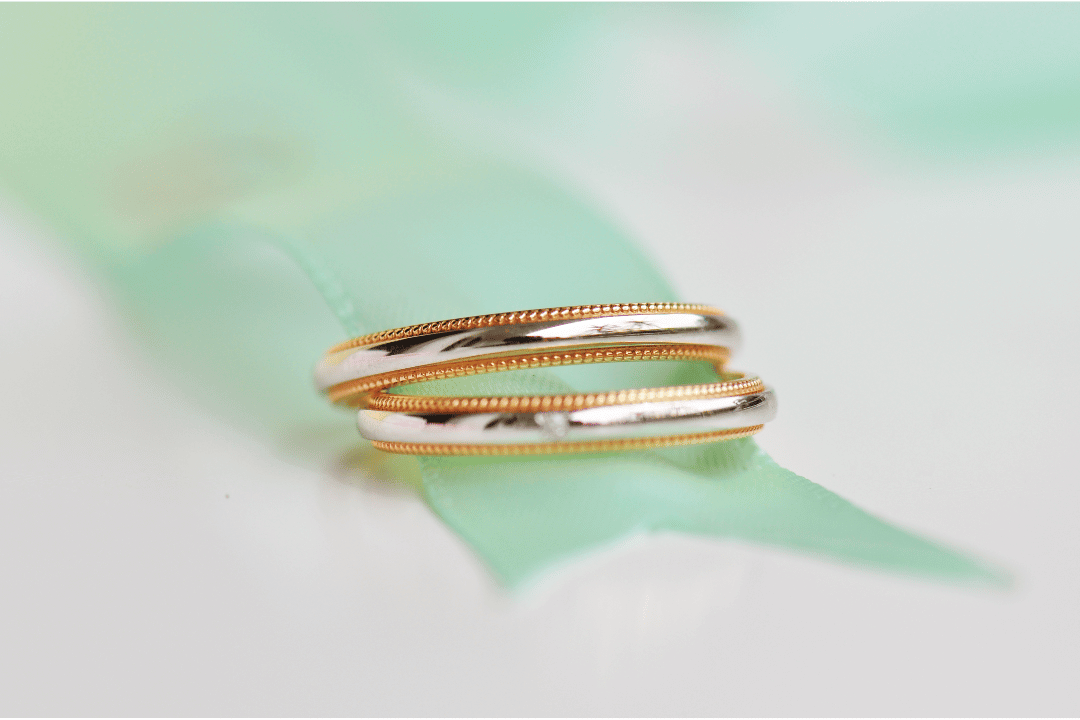 Your engagement ring should be the star of the show!
As we mentioned before, wedding rings are not meant to be as flashy as engagement rings. Additionally, there are a lot of couples that prioritise simplicity when it comes to wearing jewellery in general. That's why we recommend finding some very simple wedding ring styles and working from there.
The first thing you want to decide is whether or not you want a jewel as a part of a wedding ring. While it is very common for a wedding ring to have a diamond or a series of diamonds, it is not necessarily required. For a lot of couples, having a wedding band without any additional jewels is enough to signify an everlasting bond. Not to mention, for a lot of tastes simplicity can sometimes be more elegant than a more complex design.
Baguette Band Wedding Rings
If you are looking for a wedding ring with a bit more visual interest, then a baguette band may be the perfect choice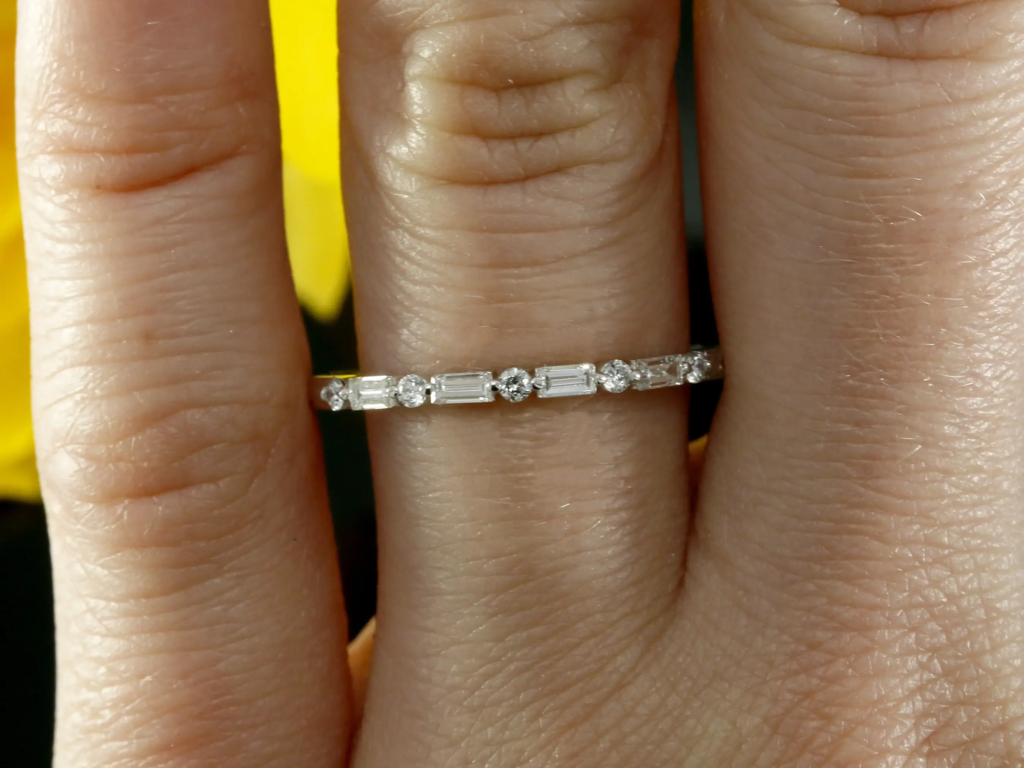 The rectangular stones are called "baguettes." Image courtesy of Etsy.
If you're looking for a wedding ring that's a little more eye-catching, then you might want to consider a baguette band. A baguette band is a style that features at least one baguette diamond or gemstone, which can be long and rectangular-shaped or tapered. The cut originated in the 1920s and was named for its elongated rectangular shape—which resembles a French baguette.
A baguette is a timeless diamond cut that is unlikely to ever go out of style. And while they come in a variety of styles and shapes—from eternity bands with a single row of baguettes to bands with alternating stone shapes like the one pictured above —they're undoubtedly showstopping.
The intensity of these statement pieces may prove to be too overwhelming for some brides' everyday style— especially when paired with an engagement ring. When put together, the two rings can exude an excessive amount of sparkle. If you want something really simple, then you might want to skip this option. However, if you want a wedding band that stands out on its own, a baguette band could be the right option for you. Abelini holds a great standing in the global diamond industry and has supplies extending to a range of well-known high street stores.
Bold Gem Colours
Diamonds aren't for everyone! If you want to choose a different type of stone for your wedding ring—go ahead!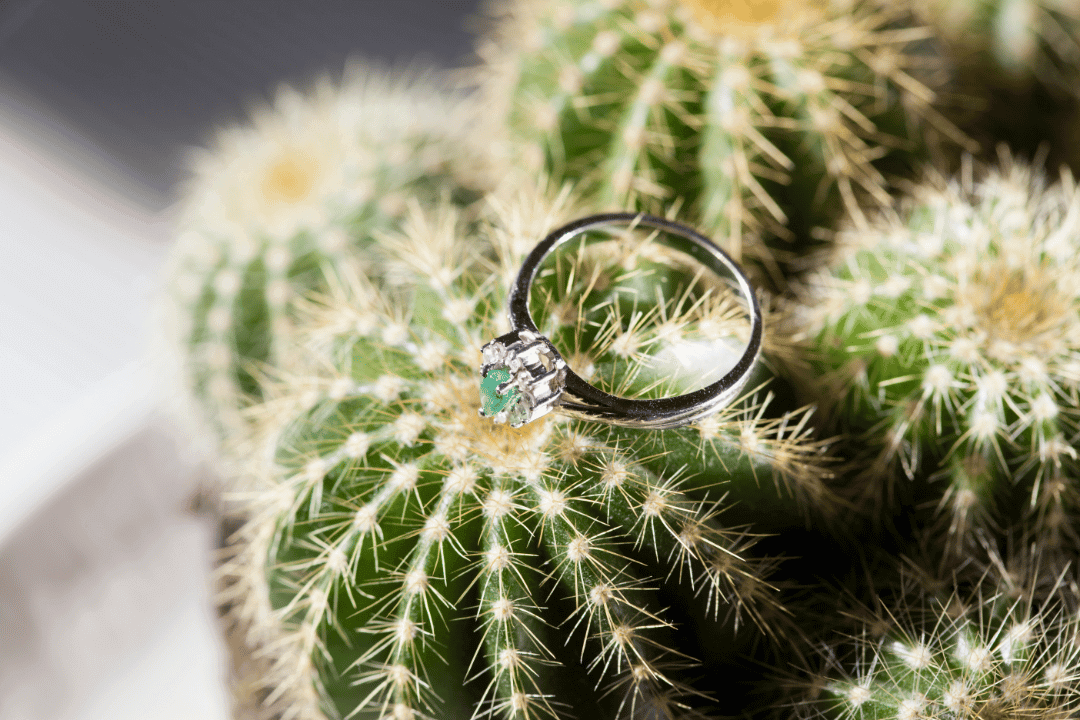 Match your wedding band to your wedding theme!
Though wedding rings are most often associated with diamonds, couples are choosing to ditch tradition in favor of something more colourful. Coloured stones in wedding rings are one of the top trends right now because they add an element of uniqueness to a wedding ring that wasn't seen much in the past. People are also becoming increasingly fascinated with the other types of gemstones that are available to them. You could choose your favourite gemstone, a gem that goes with your wedding theme, or your spouse's birthstone—the options for coloured gemstones are unlimited. For example, two of the top gemstones that are being used in place of diamonds are Onyx and Emerald. As the strict traditional rules surrounding wedding ceremonies begin to fade away, you can expect more creative gemstone choices in the future as well.
Contoured Ring Stacks
Choose a ring that is both beautiful on its own and complimentary to your engagement ring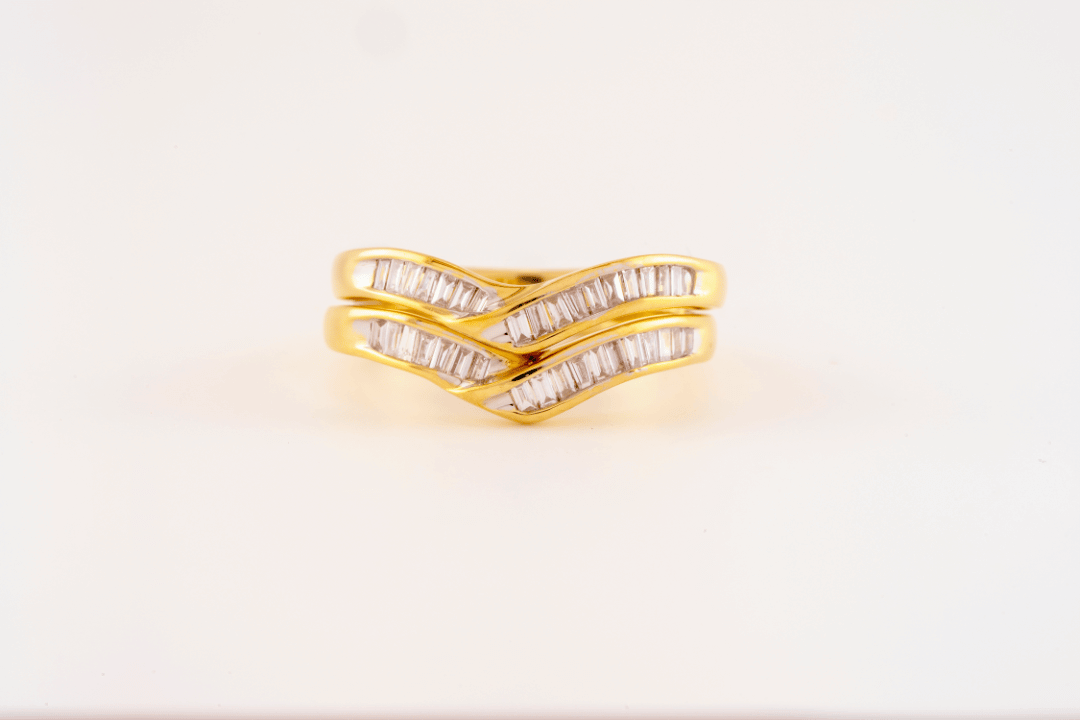 An example of a contoured wedding ring design.
Though stacking engagement and wedding rings isn't necessarily a new trend, it has seen a resurgence in the last year or so. Since both the wedding and rings are commonly worn on the same finger, it just makes sense that they complement each other visually and practically. The contours of the ring can be designed to fit perfectly with your engagement ring in a way that highlights the best features of both rings. The visual of both rings together can create a classic style, even if the individual rings are modern styles. There is even the opportunity to add another ring to the stack to celebrate major anniversaries!
Choosing a wedding ring that works with an engagement ring isn't an easy decision! Sometimes the pressure of making a decision to represent your love for your future spouse can be overwhelming. That's why we recommend doing your research and trying out several different wedding ring styles before making a final decision. In many cases, your engagement ring will inform the type of wedding ring you want to exchange on your wedding day. By taking the current trends into consideration as well as your personal taste, you'll be sure to find a ring that is worthy of the big day.
IF FOUND THIS USEFUL WHY NOT PIN IT?