Whilst we are all loving or hating these arctic conditions (depending on your love or hatred of the white stuff!) we thought it would be a great time to talk about how you might prepare for adverse weather conditions at your outdoor wedding and how you can turn them into a positive.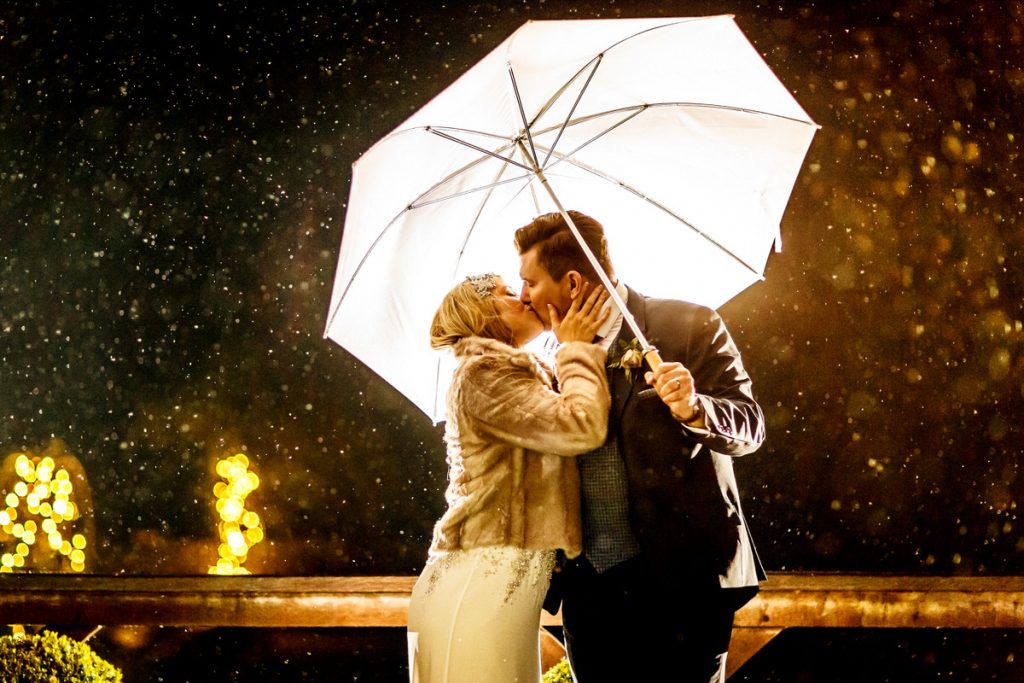 Today's blog comes to you from the team at RandFWeddings who have been planning outdoor weddings since 2004 and who have experienced every weather imaginable on a wedding day. They've had to revise plans, make last minute amendments to tent structures and even give guests piggy backs!
The week before your wedding always keep an eye on the weather forecast – here's our Top Ten tips for ensuring your day goes without a hitch come rain, shine or 2ft snow drifts …
The Ceremony
If it looks like you are going to experience a heatwave with an outdoor wedding ceremony then make sure you have white umbrellas or sun parasols on hand to keep your guests cool so that they can keep in the shade whilst you take your vows. ALWAYS make sure you have iced cold water available (this also helps with the alcohol consumption and risk of heat stroke on a hot day). If on the other hand it looks like your outdoor ceremony is going to be wash out, make sure you have a Plan B that fits all of your guests, bridal party and celebrant! Can you make space in your marquee or tipi – can you have an alternative structure for the ceremony if it rains or one that provides shade if it is simply too hot? Don't forget your sunglasses too – and maybe get some for the guests such as these by SmartBuyGlasses UK.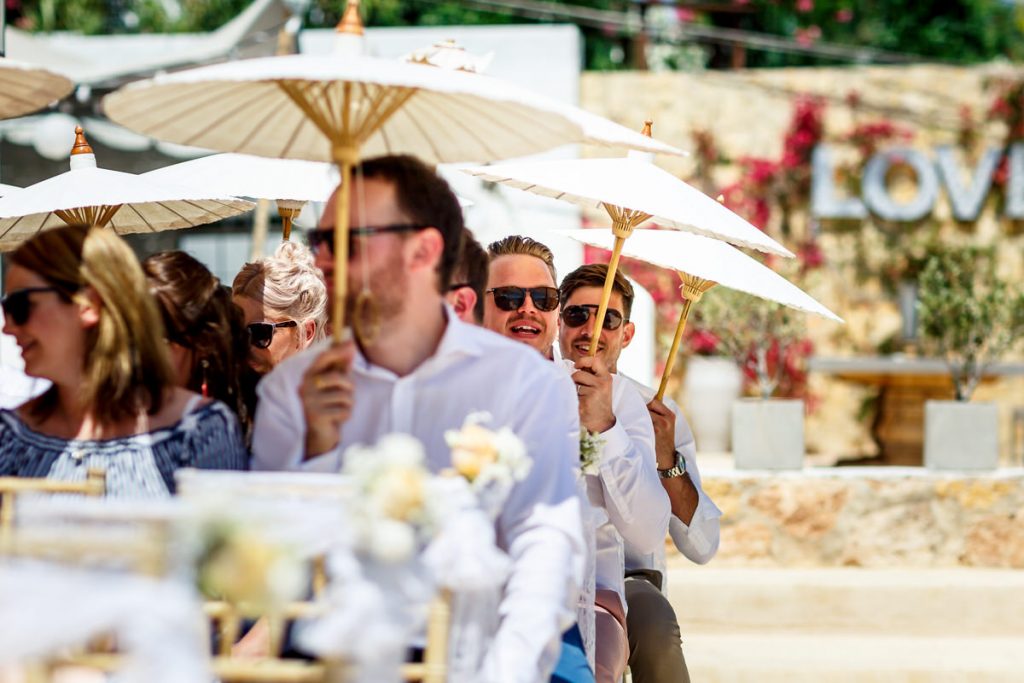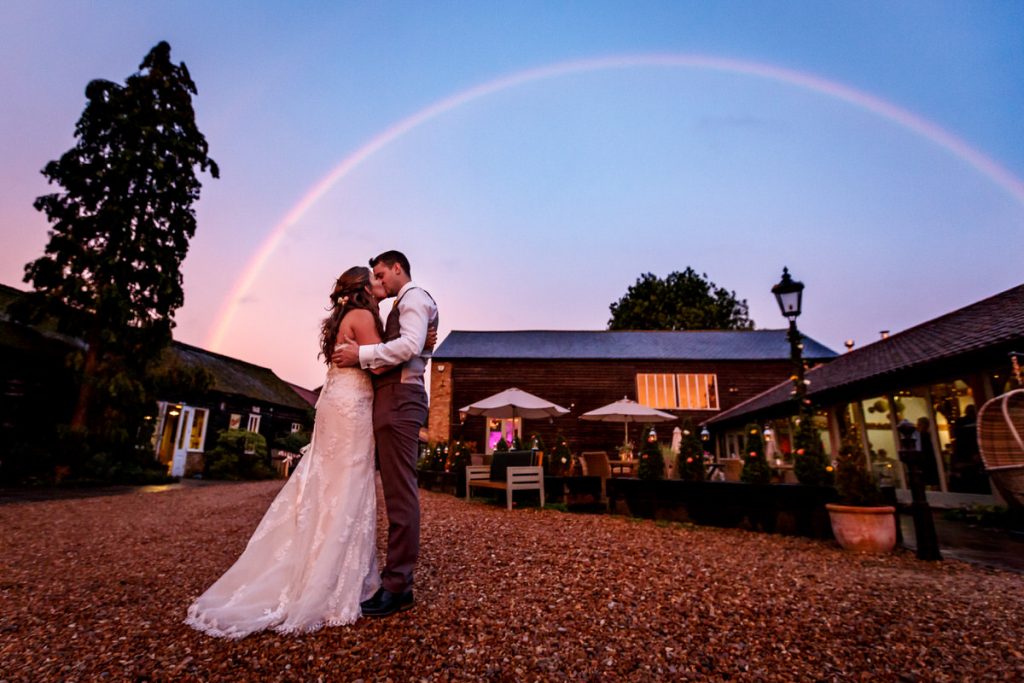 The Tent
On a hot summers day there's nothing more fabulous than a light breeze cooling you and your guests and the feeling of the open air with an open sided tipi or marquee. Make sure you can lift all the sides so that the breeze can circulate through. Make sure you ask your tipi contractor to show you how to open and close the sides in case it gets too cold in the evening or the breeze gets to draughty! With a tipi, it has to be built with the weather conditions in mind – once its built you cannot change the openings! Be prepared to change your tipi build last minute or ask about clear side walls that can be opened.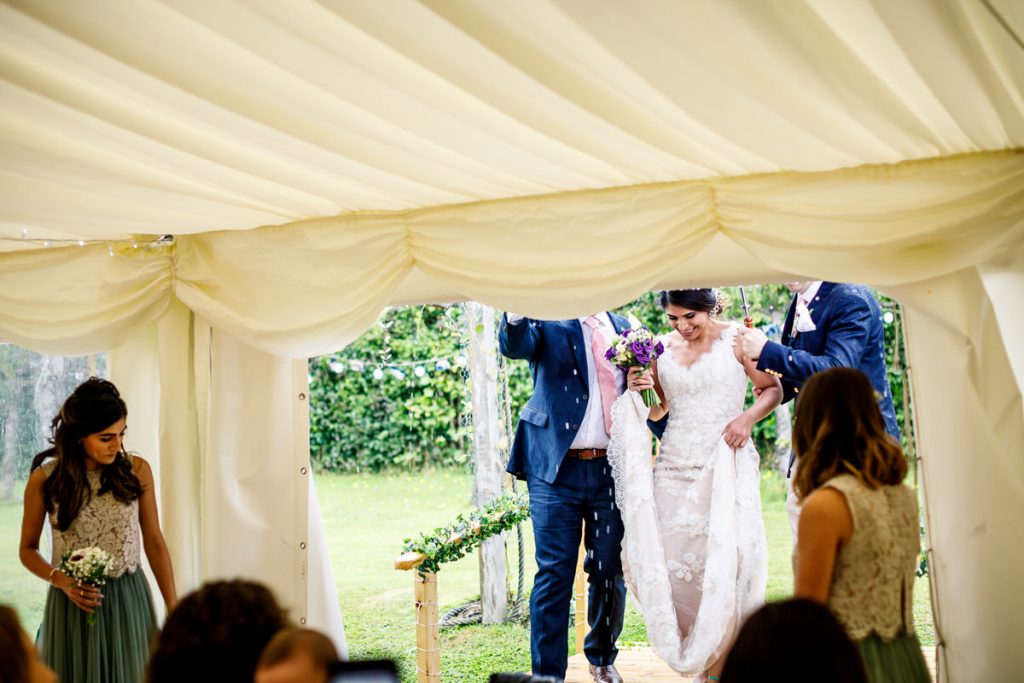 The Drinks Reception
With a typical drinks reception lasting 90 minutes it's important to ensure that if you are having this outside you provide sun parasols or pagodas or umbrellas for shade – not everyone loves the sun and having their make-up slide off their face! Do you have space for a witch's hat tipi or an open sided marquee – just big enough for all your guests if there should be a sudden summer downpour? Cool your guests down with ice cream or Prosecco ice popsicles and always have sun cream available!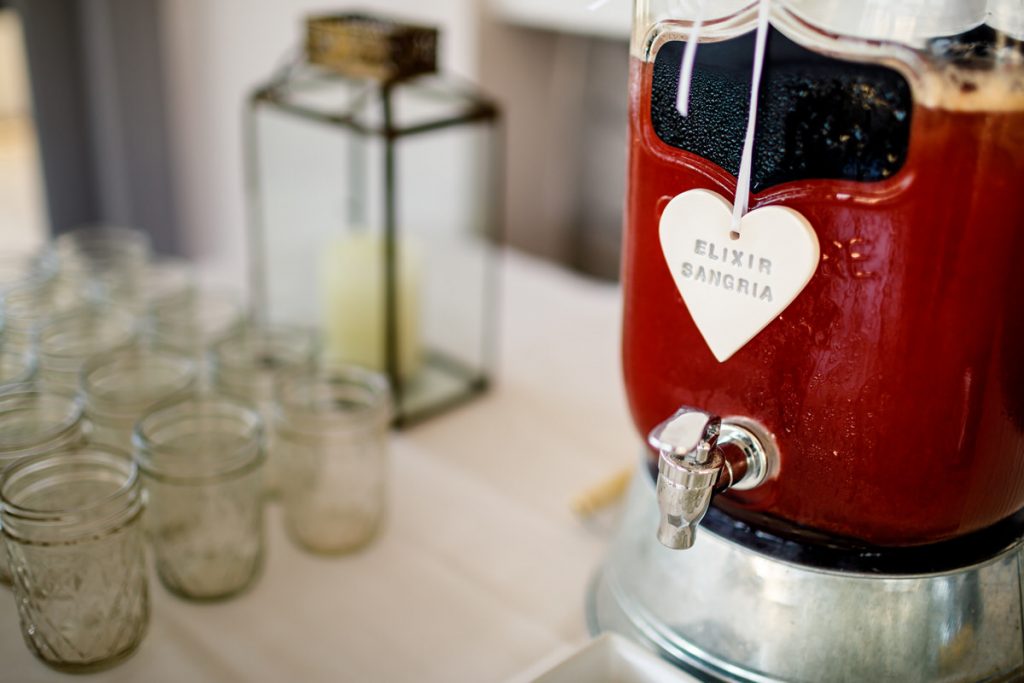 Wedding Day Rain
OK so we live in the UK and that means there is always a fairly good chance it could rain on your wedding day no matter what the time of year! Before you book your photographer it may be worthwhile asking them how they handle a rainy day? Ask to see some of their previous 'rain' images. With the right photographer and the willingness to go outside in it you can achieve some amazing images that other brides might not be lucky enough to get! Rain gets a photographer's creative juices flowing so trust them and brave the rain and get out there for 'the' shot of the day!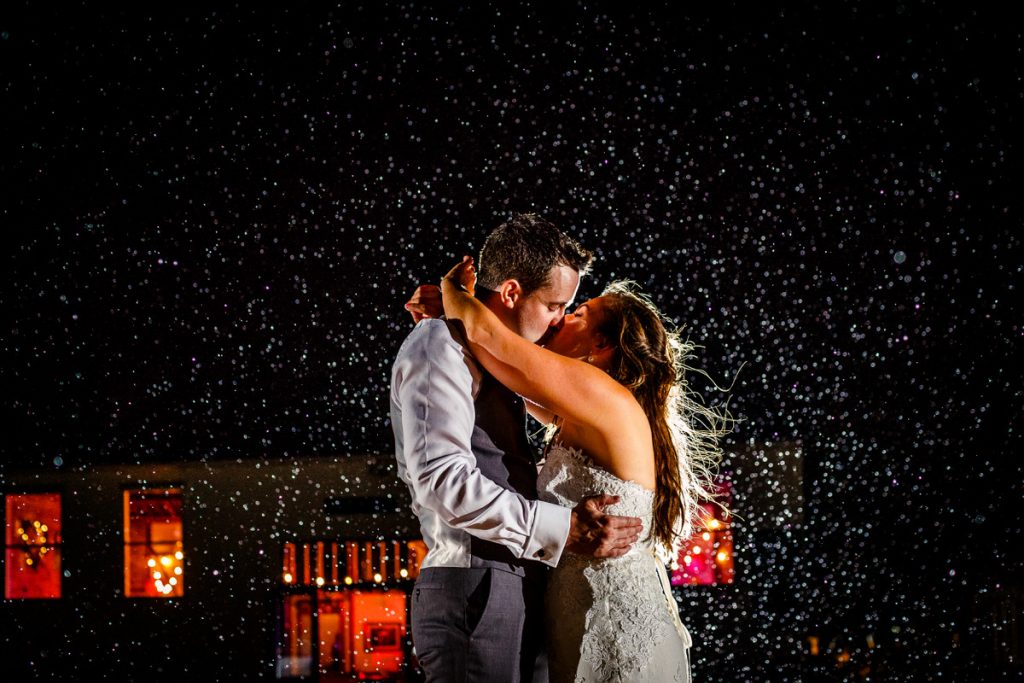 Wedding Day Snow
Love it or hate it, snow on your wedding day makes a pretty amazing backdrop and one that many would love but sadly do not get. Snow can again present some fantastic photo opportunities and who doesn't love a white wedding with roaring log fires? Keep a check on the weather forecast and see if your guests can travel a day early, think about a coach to help transport your guests between your venues and break out the hot chocolate and marshmallows/s'mores for the drinks reception. Church's in the winter even with heating are cold – raid the charity shops and have a box of blankets for guests to use in the church and greet them with hot drinks and canapes as well as alcohol (nothing warms you up like a couple of glasses of fizz!)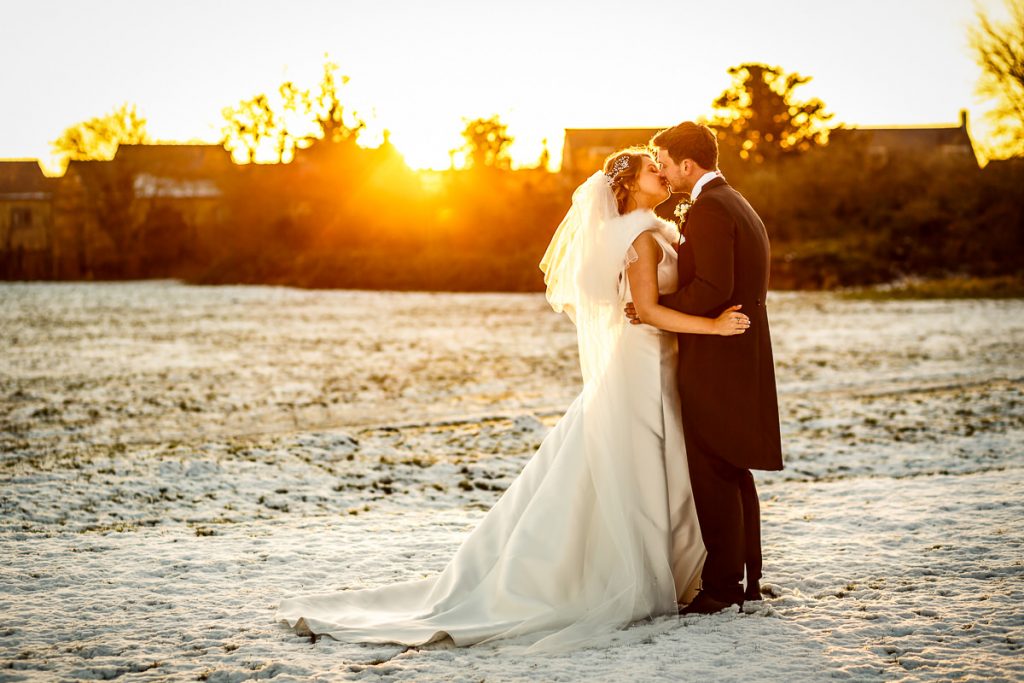 Heating + Blankets!
Yes, it might be the middle of summer and you might think your wedding planner is crazy for advising a heater be installed in your tipi or marquee but go with it! Even on the hottest of summer days as the night draws in things can cool dramatically and elderly grandparents will thank you for having that heater on standby and blankets to throw around your shoulders.
The Timings
The best weddings are fun and relaxed affairs and in the background your wedding planner will be ensuring everything is going exactly according to the wedding day itinerary, if the weather is dubious consider how this might affect your timings and have a bad weather alternative that keeps the overall day on track.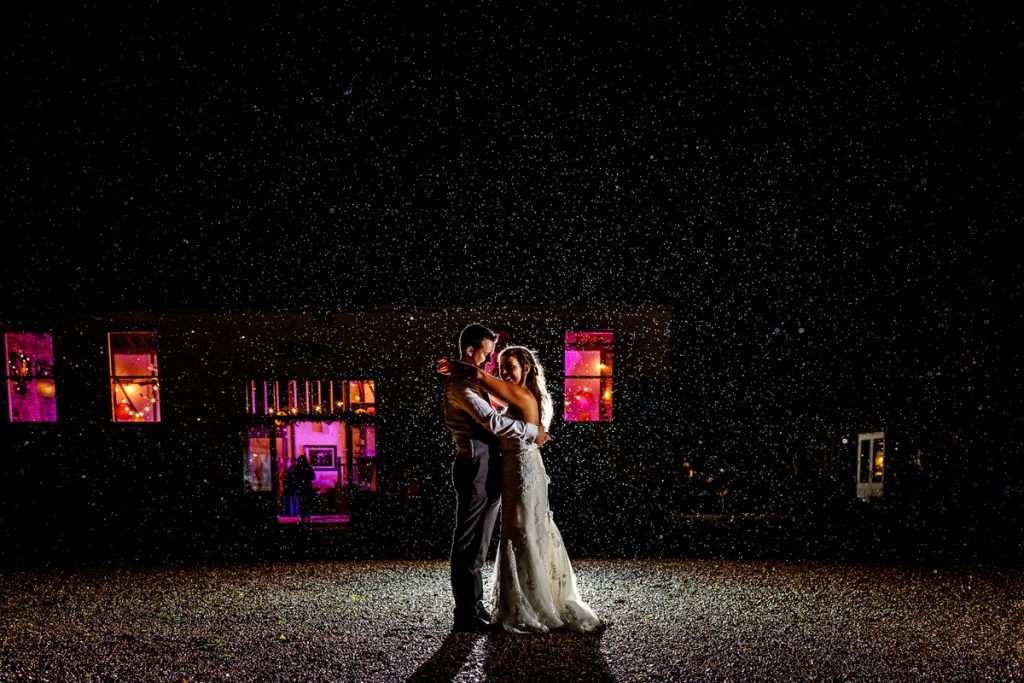 The Cars
Unless your wedding car is a Range Rover this is one area you really need a plan B, all those open top and vintage wedding cars look great on a summer's day but any vintage car is prone to breakdown especially in bad weather – ask your wedding car supplier if they have a breakdown or bad weather policy and be prepared to have friends and relatives on hand to assist with car travel should it be needed, nobody likes a bride late to the church!
The Footwear
For any outdoor wedding footwear can be a problem, a wedding is the ideal opportunity to air those new Valentino, Prada or Louboutin high heels, that said if you know there's a chance it could be wet and your venue is a tipi or Marquee then advise your guests to wear appropriate footwear, we often see couples providing flip flops for the dance floor but for an outdoor wedding, again raid the charity shops and have wellies on standby or ask guests to bring their wellies and raincoats!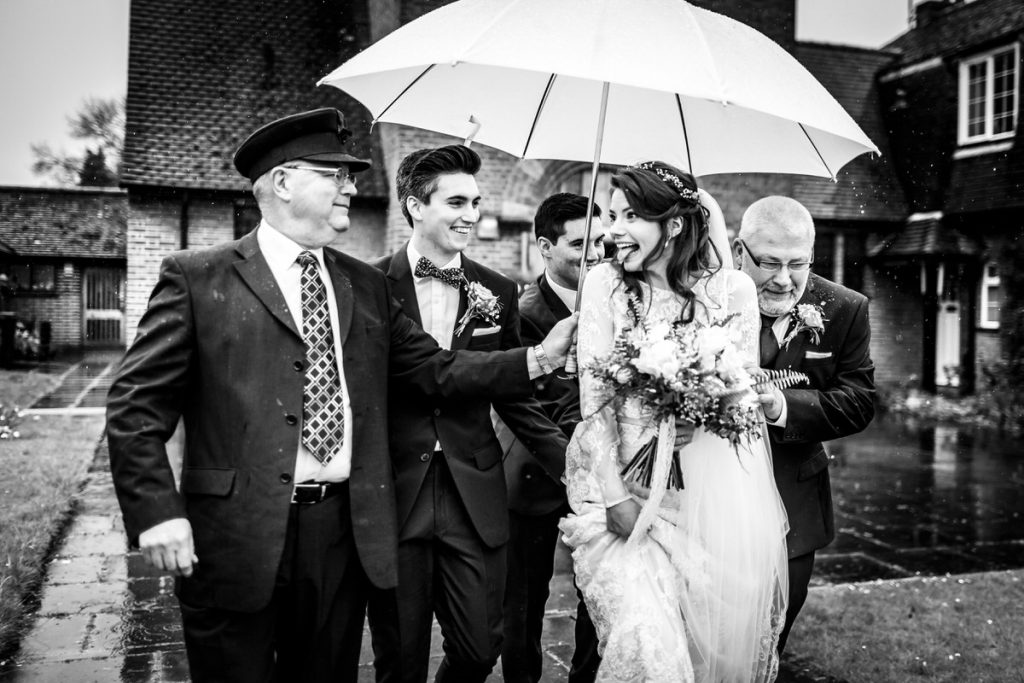 BE PREPARED!
Our key message is always BE PREPARED whether that's for a summer heat wave or winter snow fall – always make sure you have a back-up plan and if you have a tent structure for your outdoor wedding, always make sure you have somebody onsite to manage supplier deliveries and set up and if necessary the evacuation of water from the tents!! In torrential rain tent structures by their nature are prone to leaks and you don't want to arrive at your reception to find various areas of your tent flooded.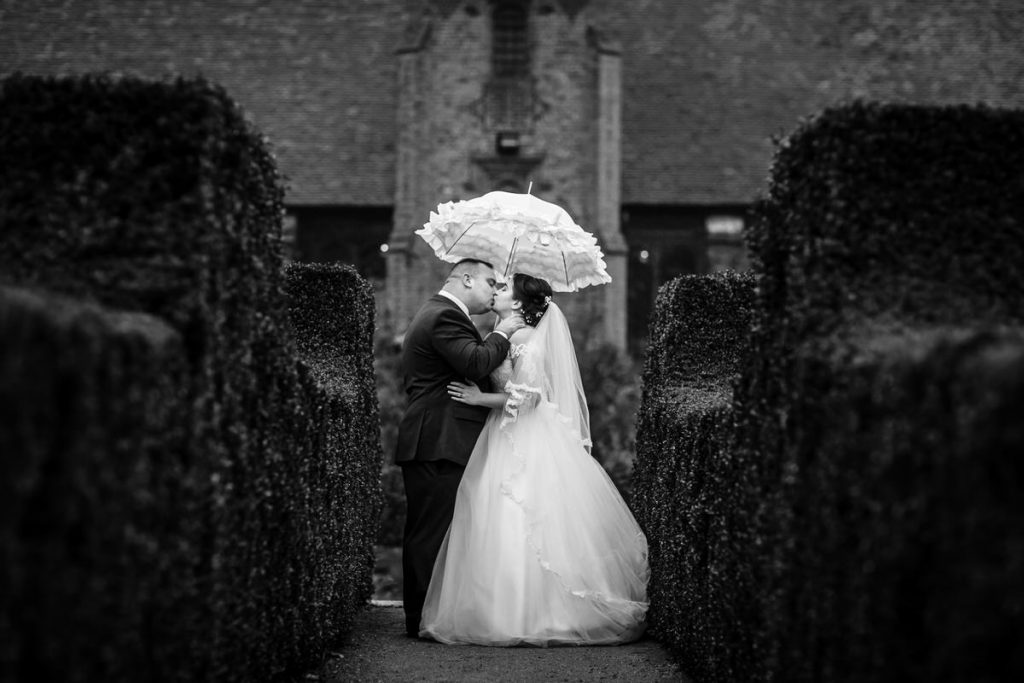 Whilst this is a top ten list we couldn't end it without simply saying that it's how you handle bad weather that makes all the difference. Above all its your wedding day, have fun and trust your photographer and if they ask you to brave the rain, cold or snow – do it! You only get the one chance to create memories to last a lifetime – if you embrace the British weather so will your guests – some of our most memorable weddings have been the ones with the most adverse weather!
If you would like to learn a little more about Vanessa or her wedding planning including past weddings, advice and services offered then head on over to www.rocksandfrocks.co.uk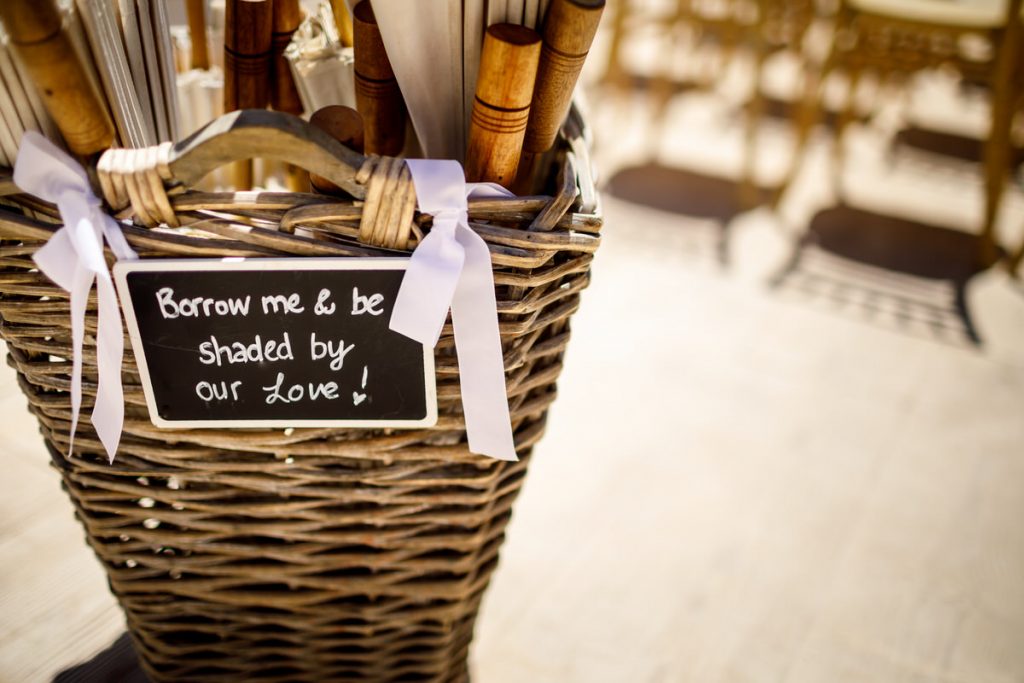 All photos by Lina and Tom who give this extra piece of advice for weather at an outdoor wedding. Our biggest piece of advice from a photographers point of view is that getting married in the UK means you can't guarantee the weather, so concentrate on having fun on your wedding day. If you're getting married it winter, it's especially important to choose a photographer who works in the season, and can show you a selection of work based on how they get on in all weathers and fading light etc. Most importantly though, you have to let go and not worry about getting your dress dirty, it's just a dress that can be cleaned, you won't have a second chance on enjoying your wedding day.