Today's styled shoot is just what we need. As the UK has ground to halt under so much snow, a touch of floral styling with a real springtime wedding feel, brings me hope of warmer days, more light and a plethora of pretty flowers. I also love how the bride isn't wearing a traditional dress, but still looks perfect with her flower crown and bouquet.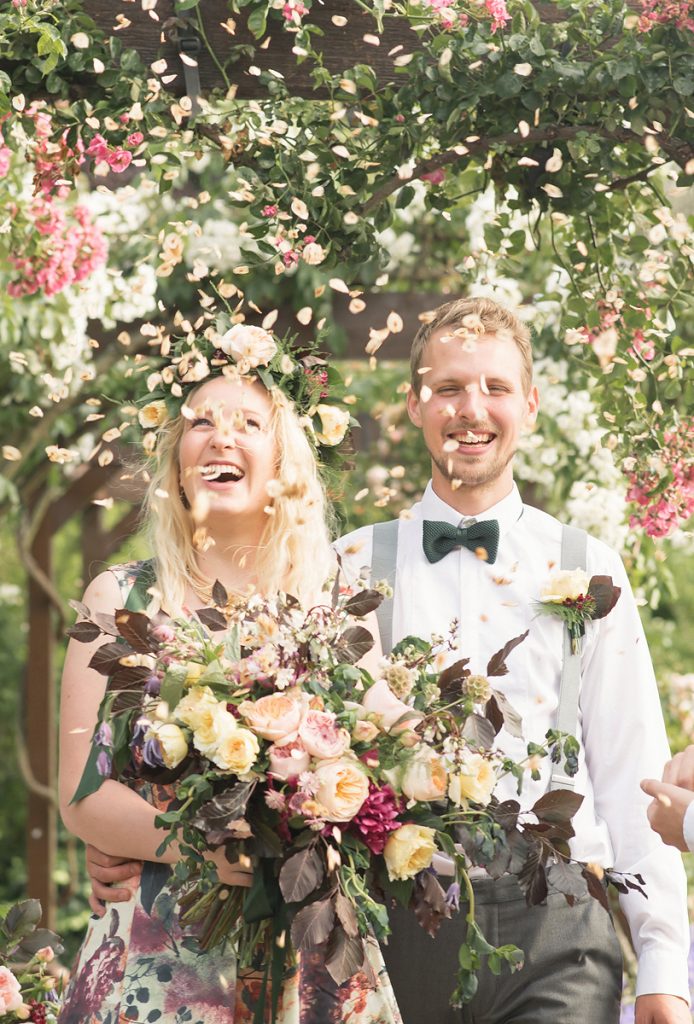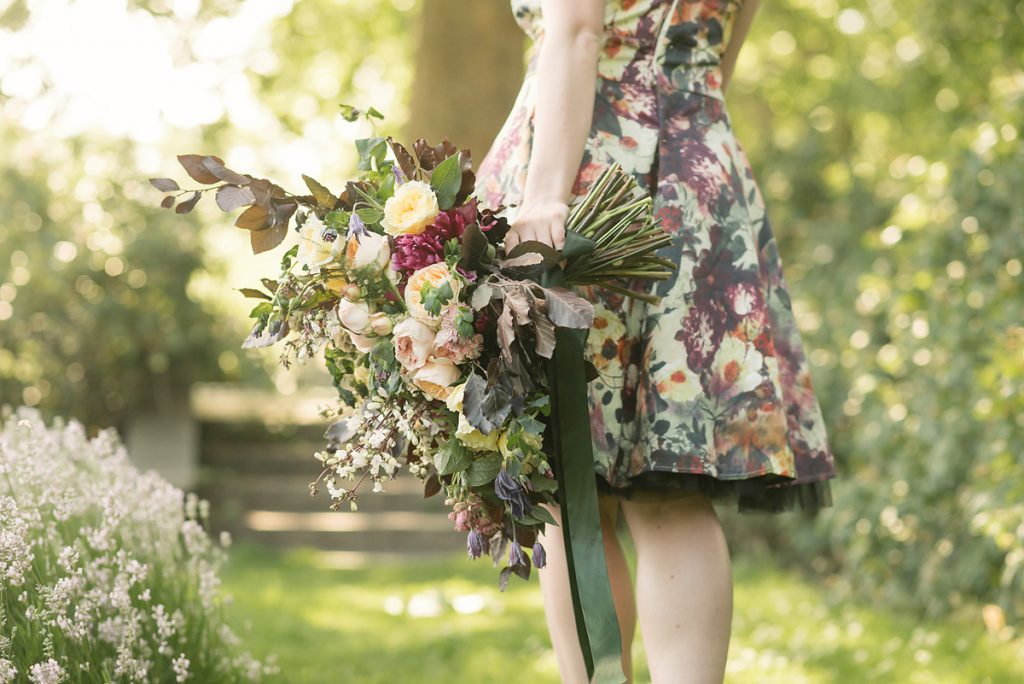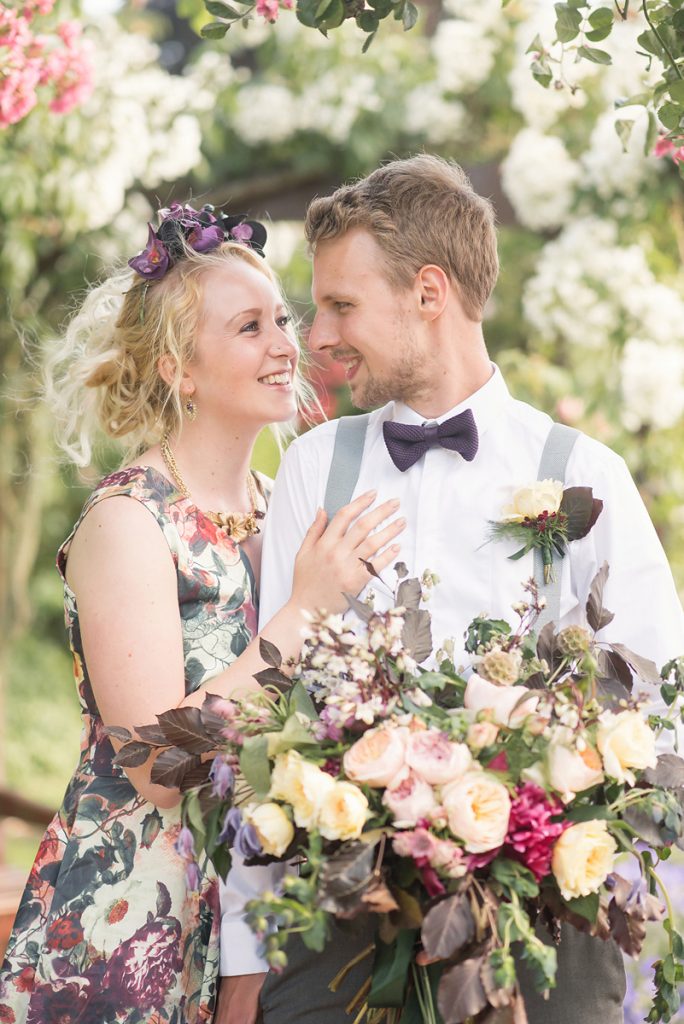 The shoot was organised by the photographer, Lily Sawyer who has shared some of the inspiration as well as why she feels the suppliers are great ambassadors for this look.
"Your wedding does not have to cost the earth. What is important is that your wedding scheme and styling reflect your values and personality and must be something you love. Don't be afraid to really accentuate what makes you happy be that colour, flowers, jewellery, dress etc. The trick is to prioritise a few things, the stars of the wedding theme if you like, that would "make" the wedding really you. The rest can be supporting cast which can easily be achieved with some creativity and DIY."
"The theme for this wedding is Vintage Floral Maximal style, overdosing on flowers and rich colours which were based on the vintage style short floral dress the bride is wearing. I think there's no such thing as over the top when it comes to weddings. Brides and Grooms are free to express their personalities and celebrate the things they love. There is no reason why a bride should stick to a white traditional dress, for example, or why she shouldn't have a big statement bouquet and a flower crown together! This wedding wants to celebrate colour, expression and freedom of style."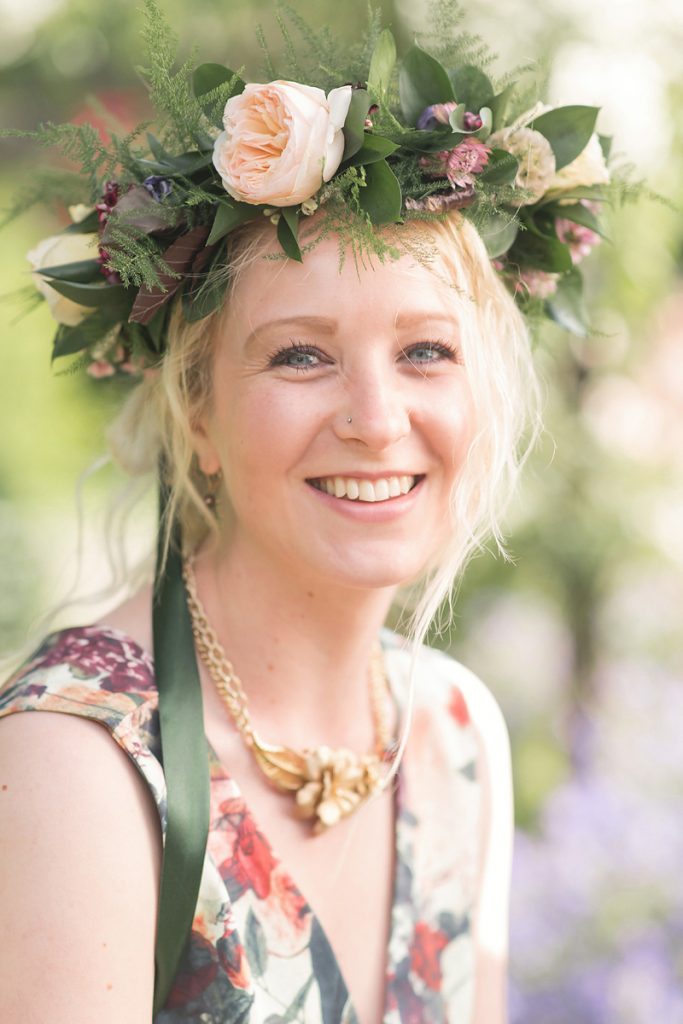 Planner and Stylist
"Johanna was my secret weapon to getting everything sorted well and on time. Her super organised mind meant that she was able to ensure we had what we needed and when we needed them. She is an organiser and declutterer with a great eye for style and design which is a massive bonus. Her attention to detail was exemplary and I highly valued her suggestions."
The Dress
"This stunning dress the bride is wearing is from Joe Browns and is stocked by Simply Be where you can find outfits for all occasions and more importantly all sizes and shapes. Simply Be are the ultimate stockists of so many amazing brands, one is spoilt for choice. The bridesmaid's mauve dress is also from them".
The headpiece
"Glam Hatters are fast taking over the hen party industry all over the country. The incredible Janie Lawson, a milliner by trade, set up Glam Hatters a few years ago and, with her glam hatter girls, she provides fascinator-making workshops over afternoon tea. This is super popular for hen dos: the girls do something really creative that they can use for dressy occasions and weddings and enjoy a good natter over some lovely cream cakes and English tea. That is my idea of a fun girly afternoon. Janie also does workshops at the National Gallery and offer private event workshops for any occasion."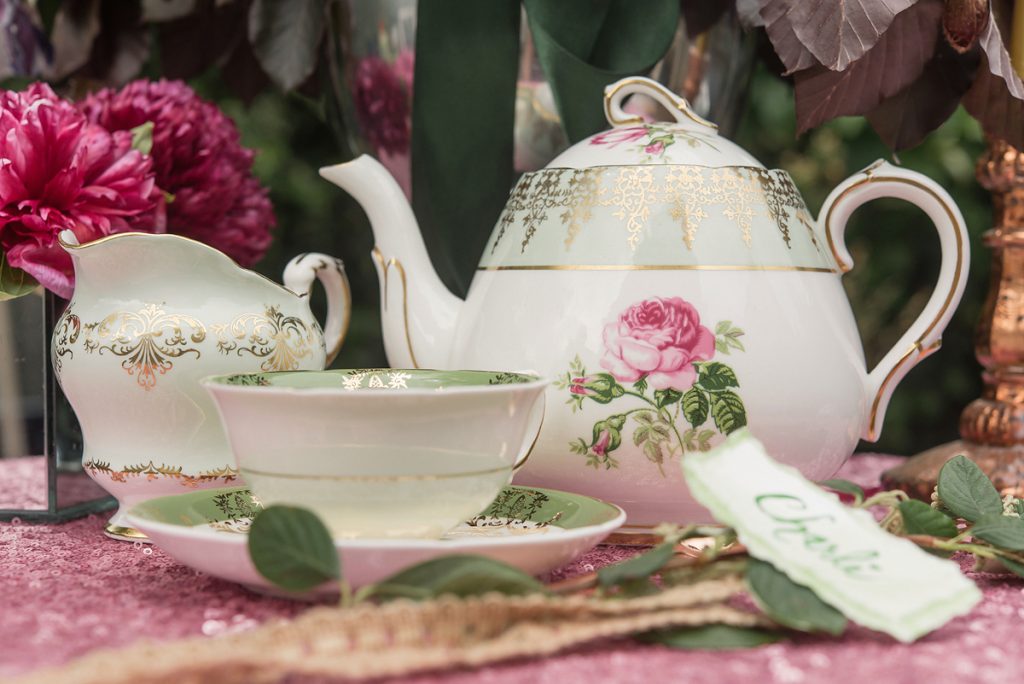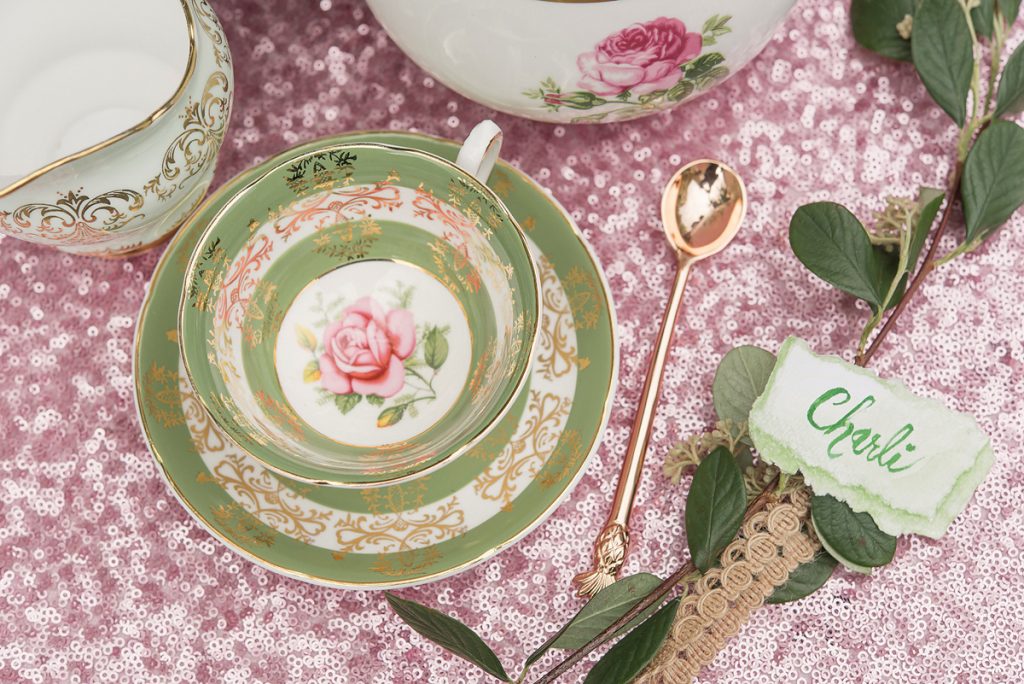 Vintage china
"Vintage Flair's crockery pieces, especially mismatched ones, are my jam, I have to say. They stock all sorts of colours and styles. I love their crockery – I chose these pastel and brightly colours ones as they were gilded yet had that fresh vintage feel; they add that nostalgic touch to tea and dining experience whilst being light-hearted and super classy. Run by two uber-efficient Mums Ellen and Elizabeth, Vintage Flair has sent hundreds of these beauties to the most amazing events and locations in London and beyond."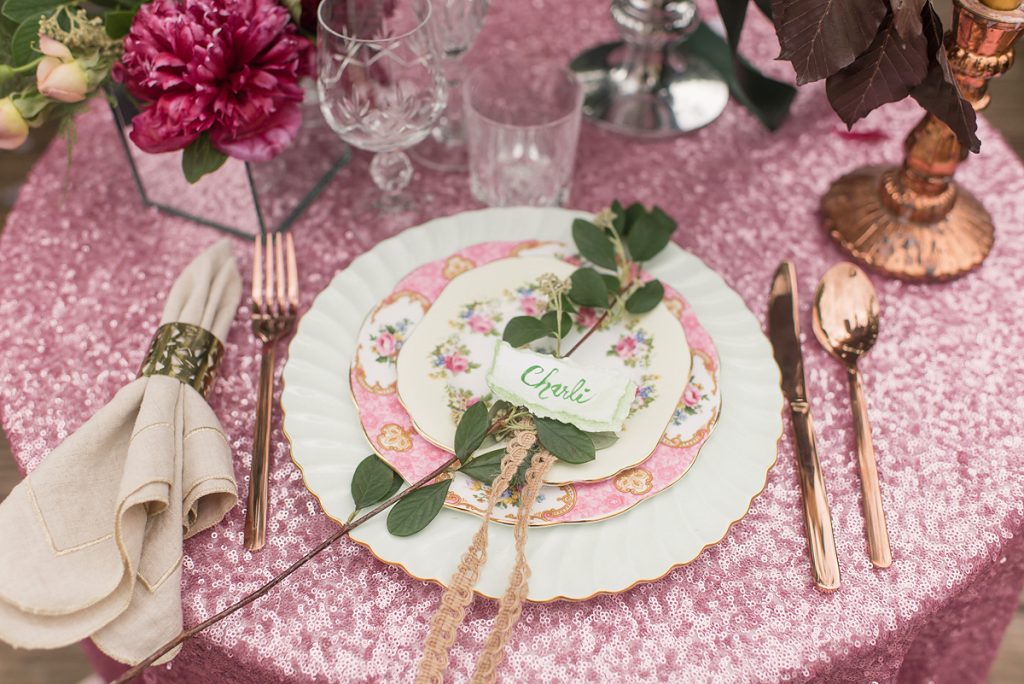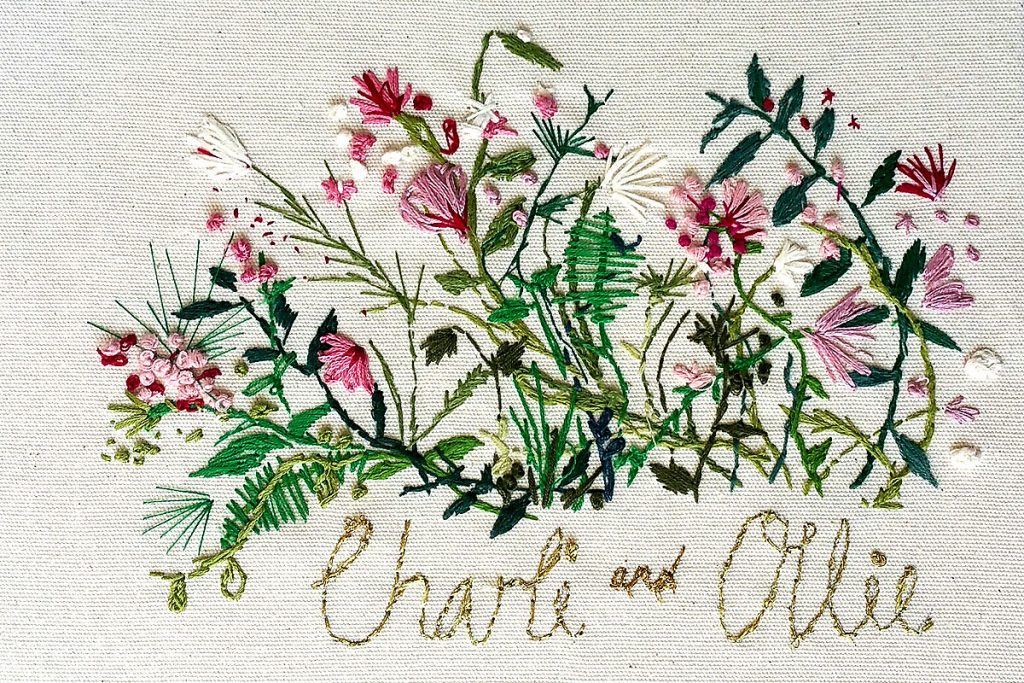 Embroidery
"Chloe is my favourite embroidery artist and her works sings 'happy, fun and colourful'. I asked her to come up with a monogram piece for the couple as a memento for their wedding and she came up with this gorgeous piece. What a wonderful way to remember your wedding; a traditional craft with a modern take. So special."
The Location
"If there is a hidden gem in E15, it's not the Olympic Park, nor Westfield, it's the stunning West Ham Park. Nestled quietly in the heart of Stratford village and what used to be the grounds of an old mansion, West Ham Park is run by the City of London Park and provides wonderful outdoor spaces for a range of activities from tennis, cricket, track races, football, a walking trail, outdoor exercises, a playground including a summer splash pool, a bandstand available to hire for parties and also the site of summer magic activities and concerts, but above of all, the most beautifully landscaped and tended ornamental gardens in the area; nothing compares to it around here. If you haven't been, you are missing out!"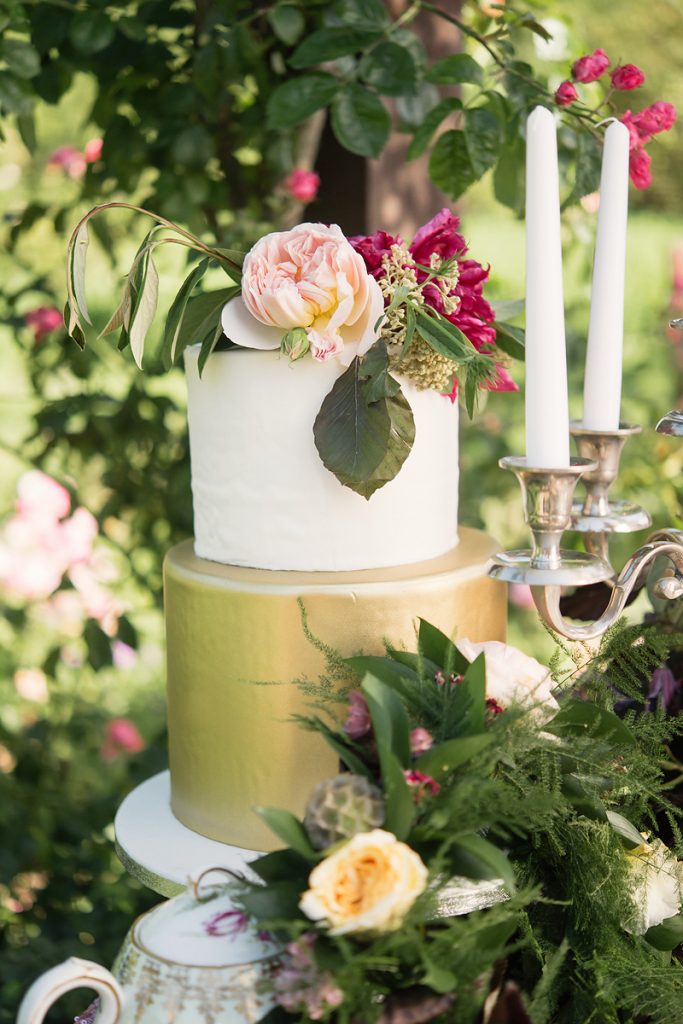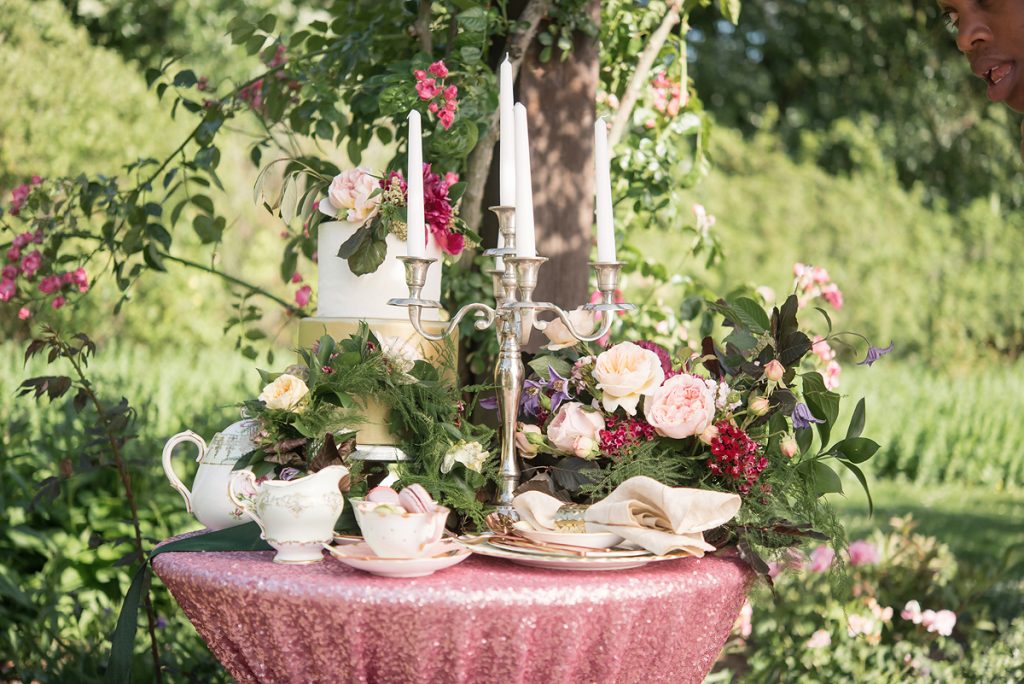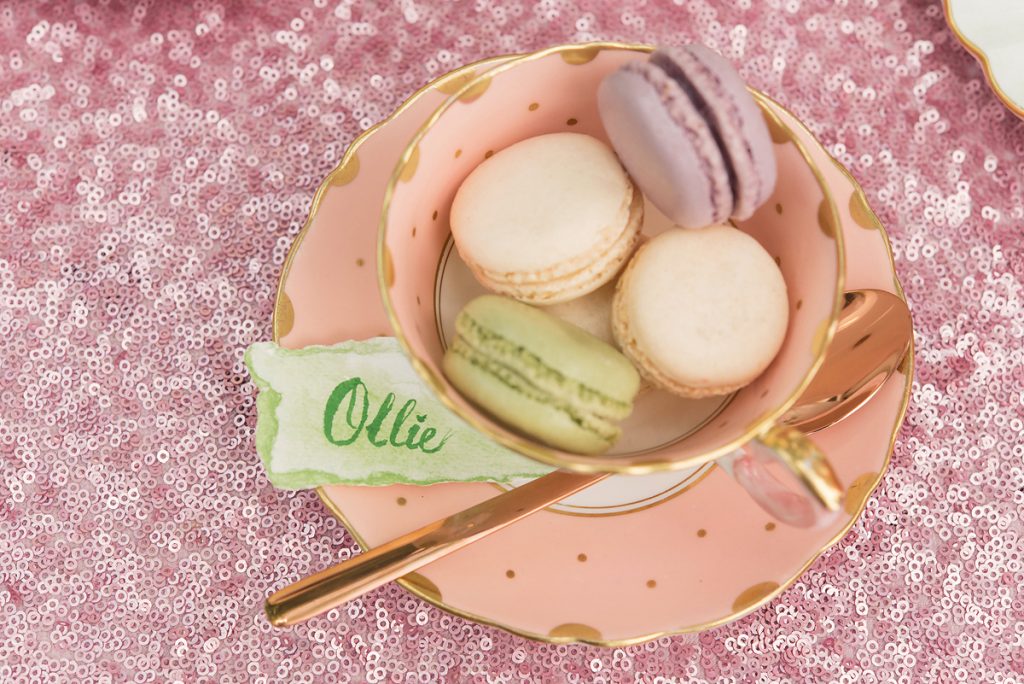 The Cake
"I absolutely love the elegance and simplicity of this cake accentuated only by the beautiful fresh flowers. Gold adds that warm glow to anything and most importantly a touch of glamour. Charles and Katisha have a cake shop called Your Treats Bakery and I promise you they can make anything from icing! Have a look at their site and you will see what these two get up to in their cake-making adventures. Their cakes are not only amazing to look at, they are absolutely delicious too. I especially appreciated Katisha's professionalism when she busted out little plastic spiky tubes that I'd never before seen in my life, those and a box full of ribbons and tape and all sorts of cake decorating paraphernalia. Well, those spiky tubes were to hold each flower and leaf by the stem so we could position them perfectly on the cake and they were there to stay…until it was time to eat the cake of course.!"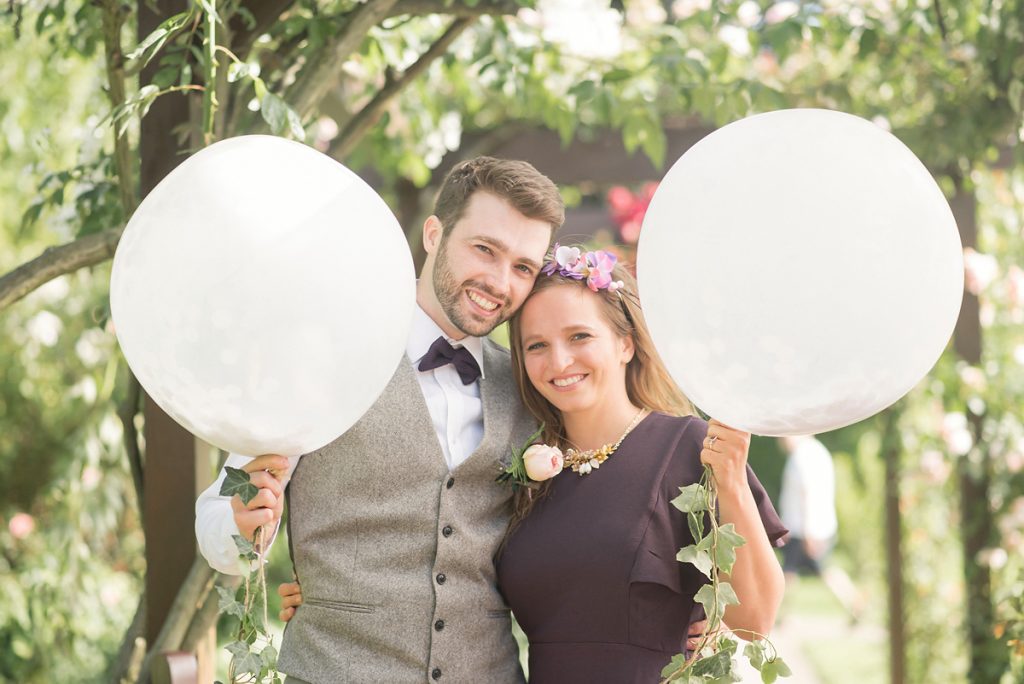 The Flowers
"Undeniably one of the biggest stars of the show are Eileen's beautiful floral creations. I love Eileen's style because they are far from uptight. Instead, she delivers beautiful explosions of colour and floral scents with special surprises, unexpected touches such as mint or some wild foliage or berries or a sprig of some sort. And everything looks so marvellous. She is fearless in her combination and juxtaposition of blooms and colour and is not afraid to do the unconventional. I asked her for a sprawling bouquet using the bold colour schemes of the wedding style and she delivered the perfect arrangement. They smelled so good I kept them at home for days even when they were past their best, just for the scent.
The piece that made my heart flutter every time during the shoot and afterwards was the floral crown. I loved the beautiful balance of big David Austin roses, rich foliage and small sweet william bunches. A brave arrangement, lush and a real show stopper, yet so elegant at the same time. I have worked with Eileen on several weddings over the past few and she delivers quality every time. A sprawling bouquet such as the one on this shoot starts at £150 and the floral crown at £75. Eileen goes to market at 4am to ensure she gets the very best pick from her suppliers and she works tirelessly to give you the most stunning arrangement."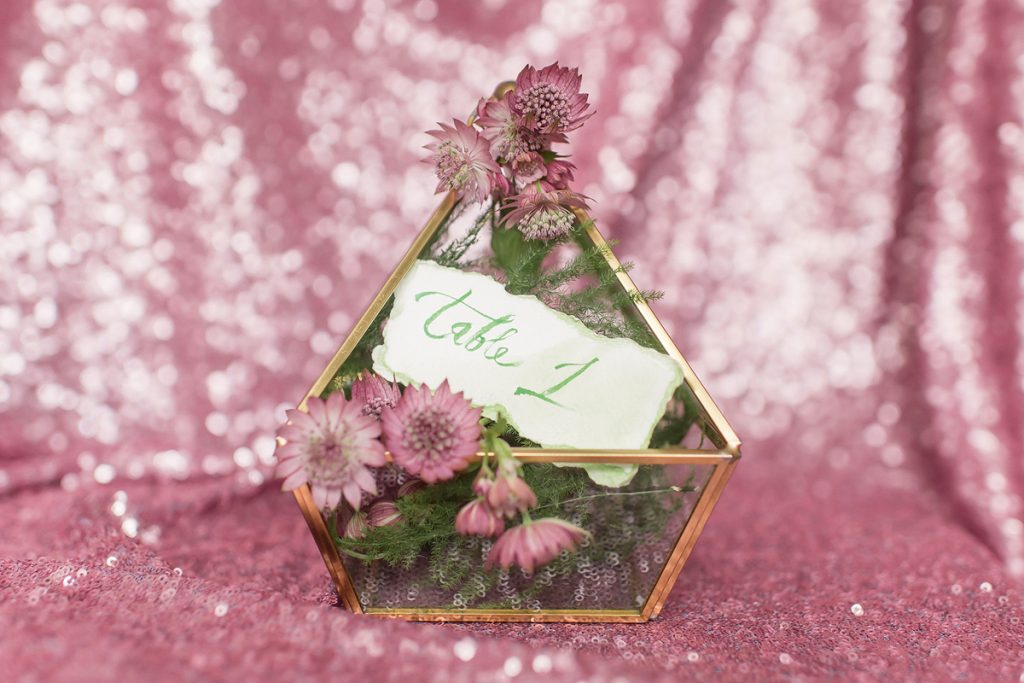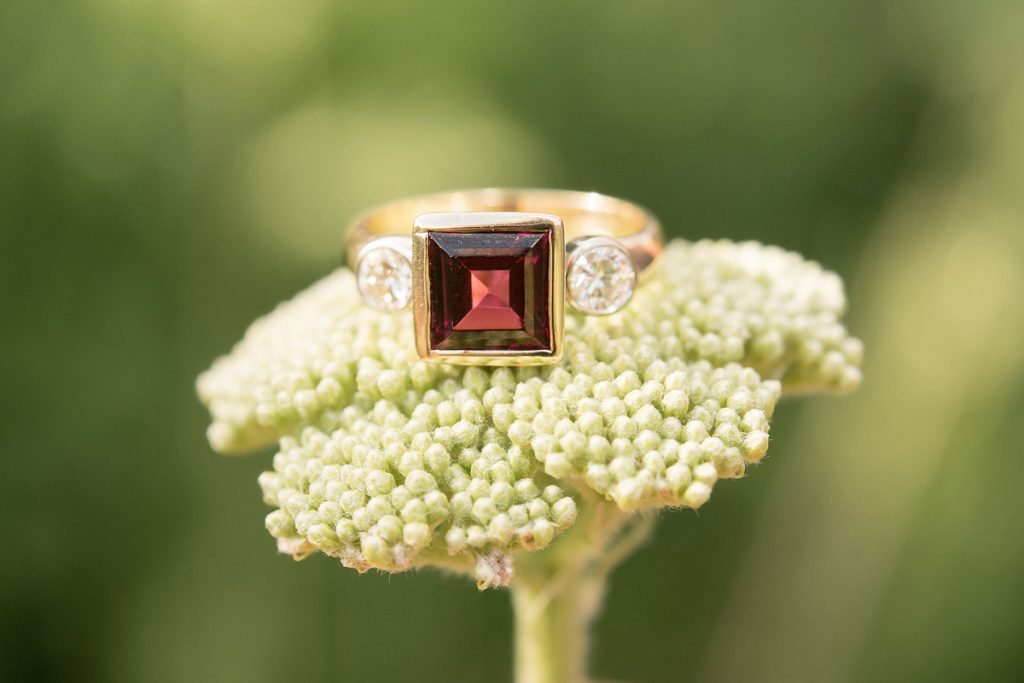 Hair and Makeup
"Laura and Renas worked their magic on the preparations, assisting and styling during the shoot. They were on hand to offer assistance at all times, even without being asked. Laura concentrated on the make-up using her really awesome Arbonne products which are all natural, safe and pure. In fact, I did not do any special edits to the skin. We decided that make-up that looks natural and gives a healthy glow to the bride is the way to go and she did that perfectly. After all, her mantra is 'helping you look and feel your best'. It's all about beauty and health inside and out. The make-up performed really well in the heat and wind and I cannot recommend Laura highly enough."
Vintage Jewellery
"All of Michelle Krausz's creations are one-offs and bespoke! She crafts a new modern piece of jewellery from genuine vintage finds. Michelle's work is amazing and utterly beautiful – I cannot stop looking at them. Michelle makes earrings, rings, necklaces and the most exquisite bejewelled vintage head pieces."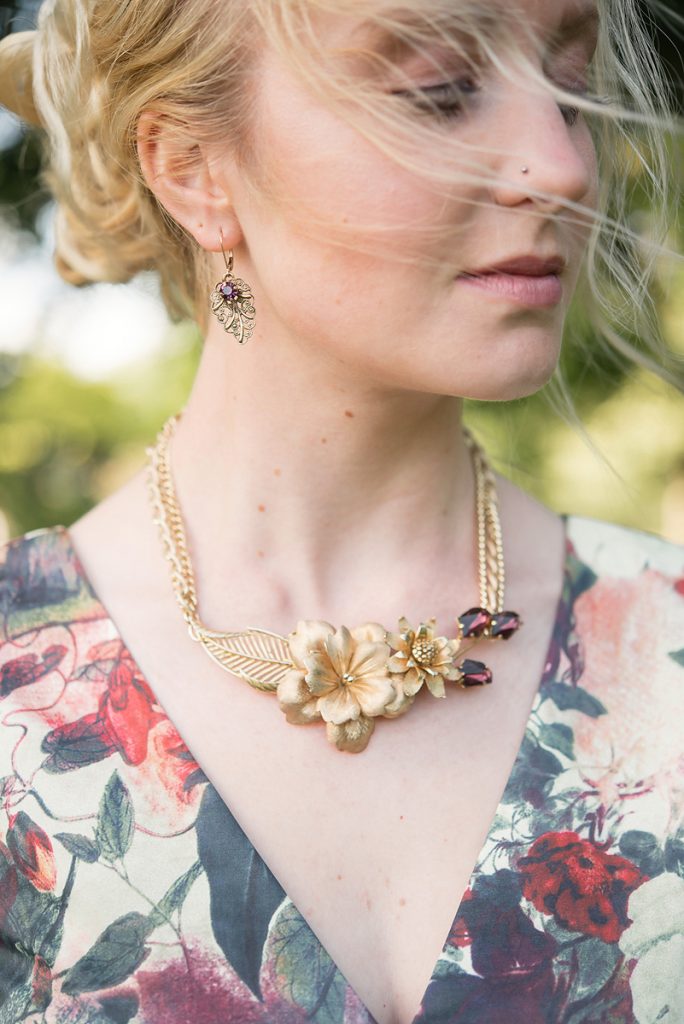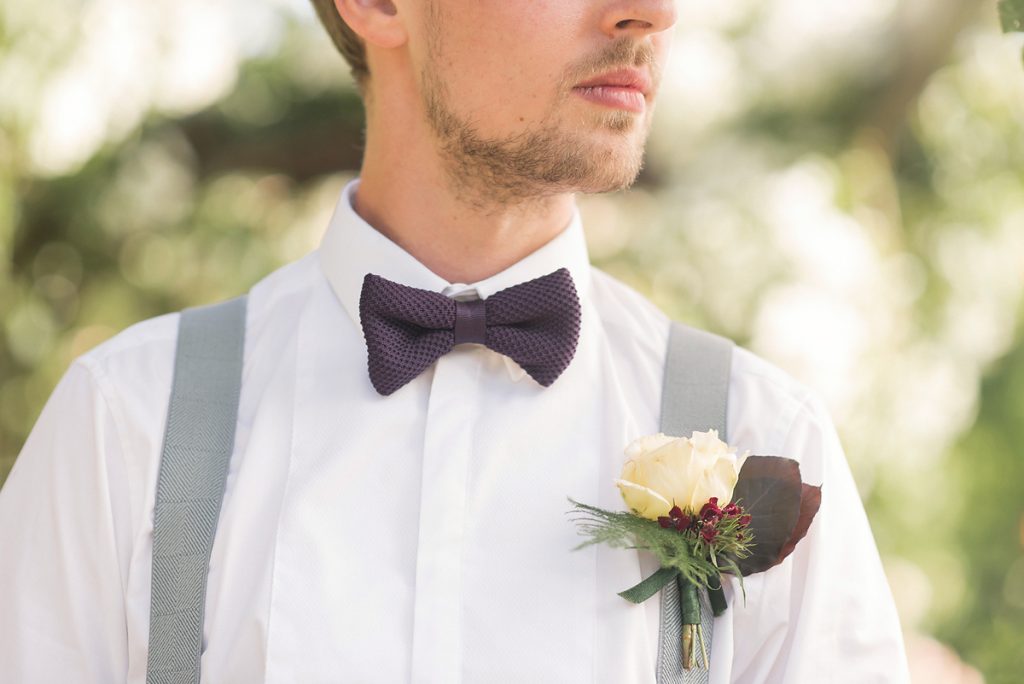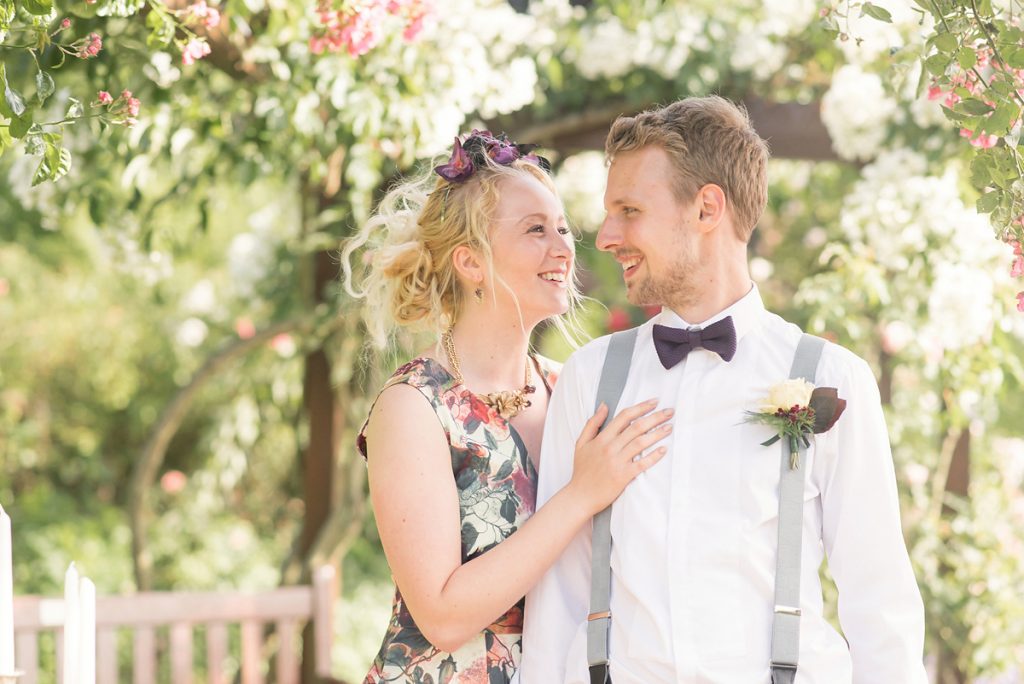 "I had the privilege of collaborating with amazing wedding suppliers on this modern vintage springtime wedding styled photoshoot. Months of planning have gone into this but the team of creatives were so wonderful to work with and it has really been an honour. If you are about to get married or know someone who is, check out these phenomenally talented creatives to help take the stress out of your wedding planning big time!"
The Team