BOND Bride Magazine, Issue 6 – our creative, contemporary and eco wedding magazine, is out now; the digital magazine from the team behind the creative blog and show – Magpie Wedding.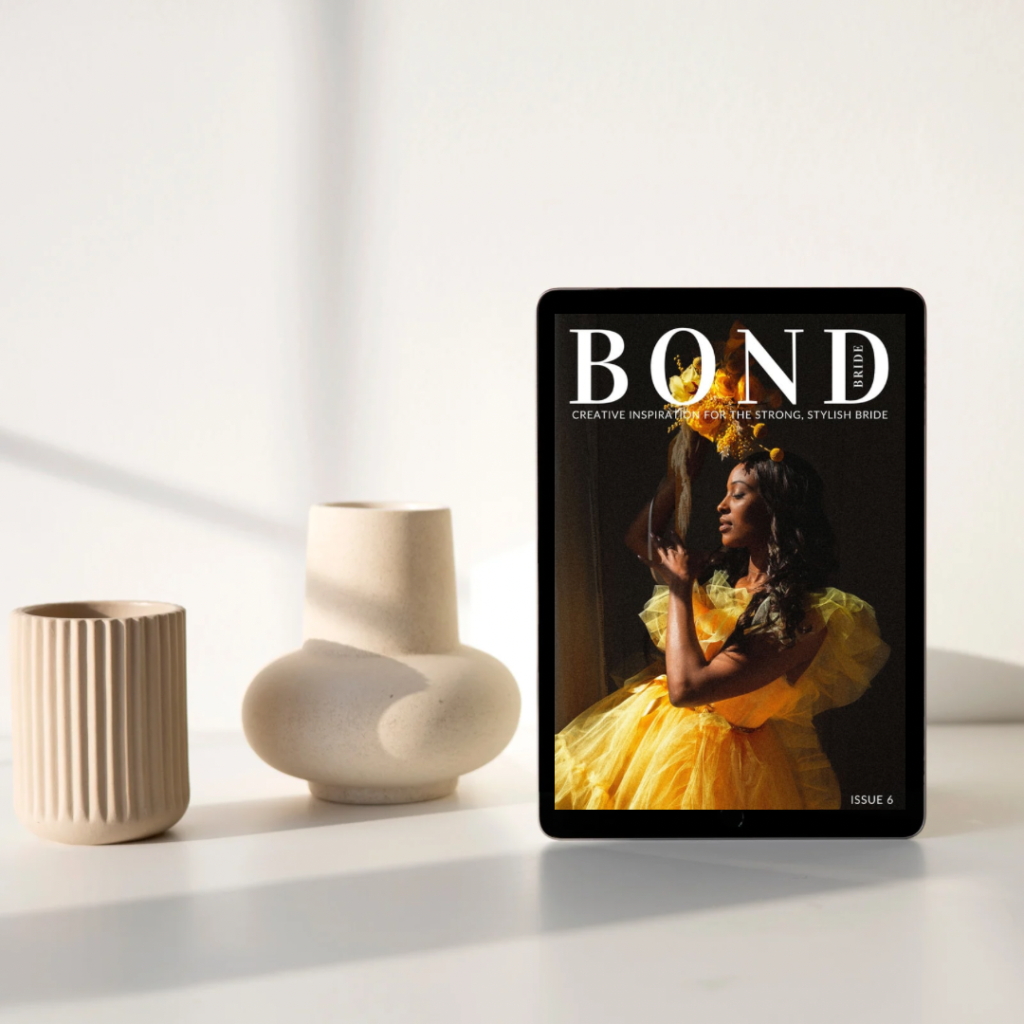 This creative, eco-wedding magazine issue is packed full of real weddings and inspiration, focused around our core ethos of inclusivity, being ethically minded, well-being over weight-loss, supporting UK indie businesses, while remembering your wedding is wonderful but your marriage matters!
Inside you will find real weddings and styled shoots including a floral delight, a boho ethereal outdoor wedding, a vintage fusion wedding plus the best yellow wedding dress ever! So much inspiration!
There are trend pieces featuring some of our favourite looks for 2023 and 2024; including cakes, beauty tips and dress details.
There is a Wedding Wellbeing section with articles on using yoga to help your mood plus articles on sustainability and relationship advice.
All this is across 132  pages.
Here is a sneaky look at a few pages…
More about BOND Bride Magazine:
It is a digital magazine aimed at the strong and stylish bride, providing inspiration and wedding advice to make the planning process better, run smoothly and fun!
In every issue you will find:
Real Weddings both here in the UK and abroad too. The aim is to show you beautiful days with ethical and alternative touches with a sense of creativity and a bit of luxury thrown in! So far we are proud to have featured couples who have created a day that reflects them as well as couples that are often under represented in the wedding world – including older couples, couples with disabilities and LGBTQ+ couples too. BOND Bride is for everyone and we are keen to represent fully.
Fashion Editorials featuring UK suppliers who pride themselves on their sustainable values and their creative ethos. Trend-focused, with styling tips to accompany – from key looks for that season to makeup tutorials to how to dress a wedding table. Each one will have a real Magpie feel to it – think dark and moody, with beautiful touches.
Wedding Wellbeing articles throughout our alternative ethical magazine, giving advice to de-stress and to look after your mental and physical health. The wedding industry so often focuses on weight loss which was want to call time on. Instead, we will offer you advice such as breathing techniques, using fragrance to calm yourself as well as tips for your less abled guests. You matter, they matter – as they are. No one should feel that they have to change for their wedding day.
Must-Have items from vegan beauty products to British booze – all with an ethical or local emphasis. Again you can click from our alternative ethical wedding magazine straight through to their shops to try for yourself.
Eco  Ideas and Information – from how to have a plastic-free day to whether you need to give up your surname.
You can also get your hands on Issue 1 and Issue 2 , Issue 3, Issue 4 and Issue 5.