Although rather a bold look, a red lipstick can suit everyone, no matter what skin tone or hair colour. If you're tying the knot around Valentine's Day, you may want to turn up the colour with a splash of juicy red.
Some people tend to shy away from red lips, worrying that their teeth will look yellow, that it may smudge or that it just doesn't look "quite right". I am here to help allay your fears and to give you the low-down on the perfect, long-lasting red pout.
What colour red lipstick should I go for?
Finding the perfect colour starts with identifying your undertone. To do this, simply check the inside of your wrist. If your veins appear purple, you have cool undertones. If your veins look greener, you have warm undertones. Like skin, lipstick also has undertones. Warm red lipstick usually comes in an orange-based undertone, whereas cooler red lipstick is blue-based. If you want a red lipstick that really makes a statement, go for a lipstick which is the opposite of your skin's undertones. Want something a little more subtle? Match the lipstick to your undertones.
Don't buy the first one you try – shop around until you're certain. Otherwise, have your wedding makeup artist try a few on you at your trial. Make sure you're happy with the finish too – are you looking for a matte, or more of a glossy look?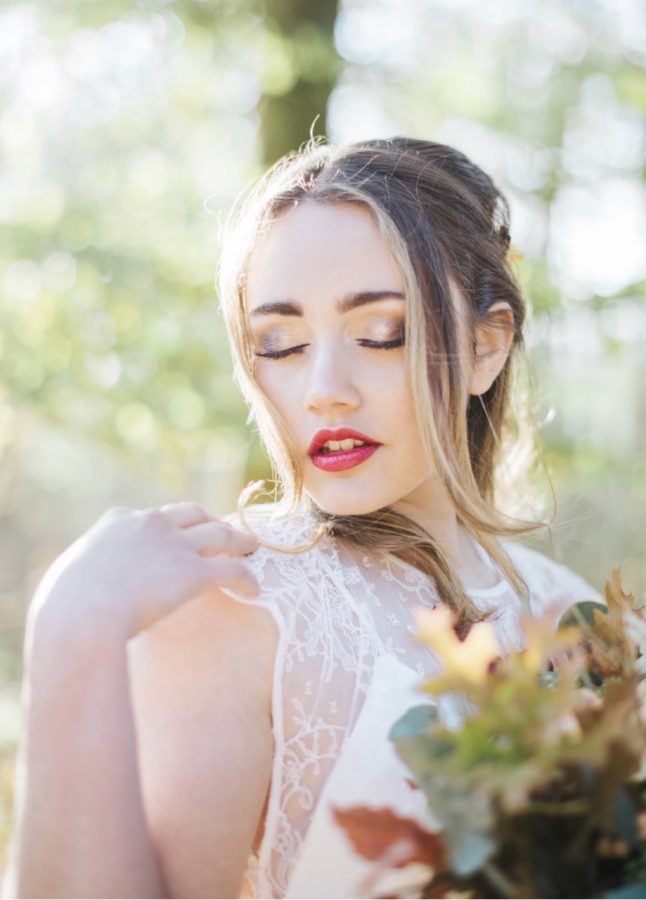 How to make your red lipstick last
Makeup is only as good as the base it sits on. Make sure your lips are beautifully smooth and moisturised, by using a lip primer such as Too Faced Lip Insurance Primer and following up with a moisturiser such as a Burt's Bees 100% Natural Lip Balm. However, concealer will work just as well to neutralise the lip and make a lipstick pop.
Line the outer edges of your lips in a similar shade to the chosen rep lipstick, then fill in the entire lip. This will ensure you get longer-lasting colour all over.
Go in with the lipstick bullet to swipe the colour on, then blot and repeat, to make sure the colour gets into every crease of your lips.
Using a translucent powder, such as Laura Mercier Translucent Setting Powder, gently add a very light dusting over your lips. It will make sure your lipstick will stay put!
Don't forget: you don't need to say your vows wearing your red lip. How about changing up your look for your evening reception? A bold statement lip, crossed with your delicate white wedding dress will add a modern twist and a touch of glamour.
Read more of my makeup tips in the Beauty Edit.
Photo credits
Photography: Nikki's Moments
Makeup: Cambridge Makeup Artist
Dress: Lisa Lyons Bridal
Accessories: Rachel Sokhal Bridal
Flowers: Flowers by Suzanne