When you think of an autumnal wedding, you picture tones of rust, browns and ambers, captured in the décor, cake, and flowers. How about adding these colours to the accessories by adding texture with dramatic feathers or even adding a tweed jacket to capture a Vivienne Westwood inspired look. Here a vintage 1950s wedding dress has been "punked" up to create an edgy bridal look perfect for the season.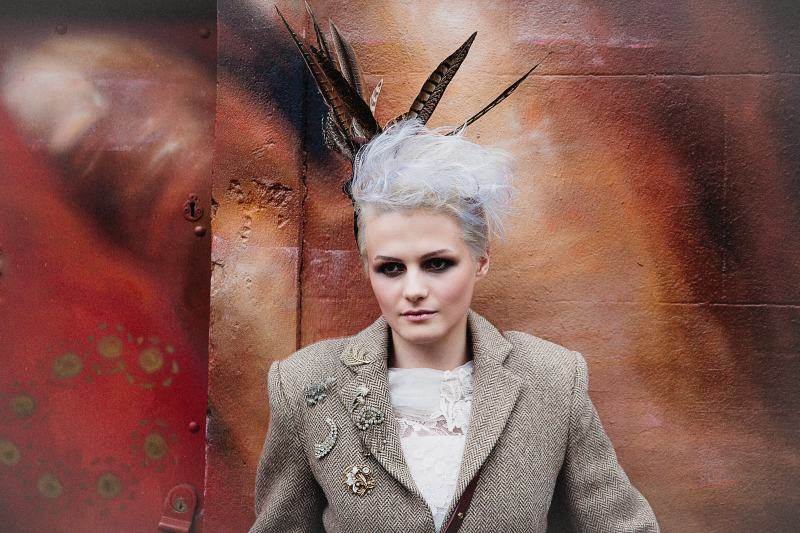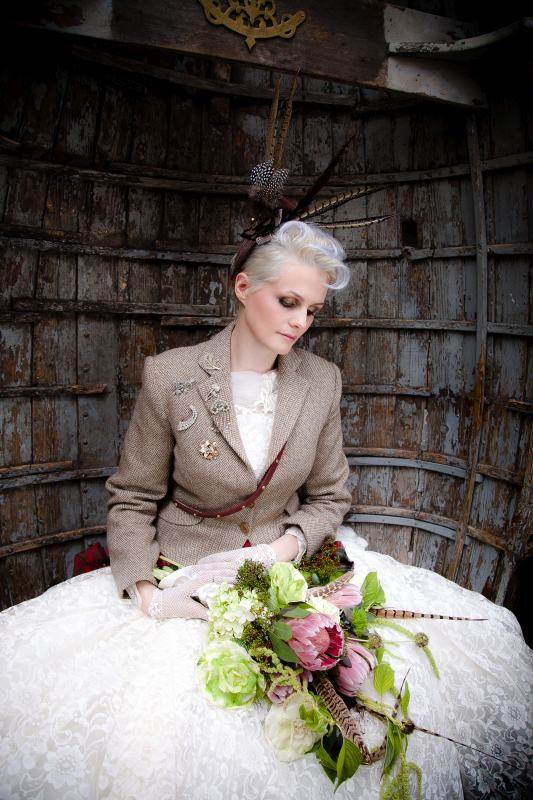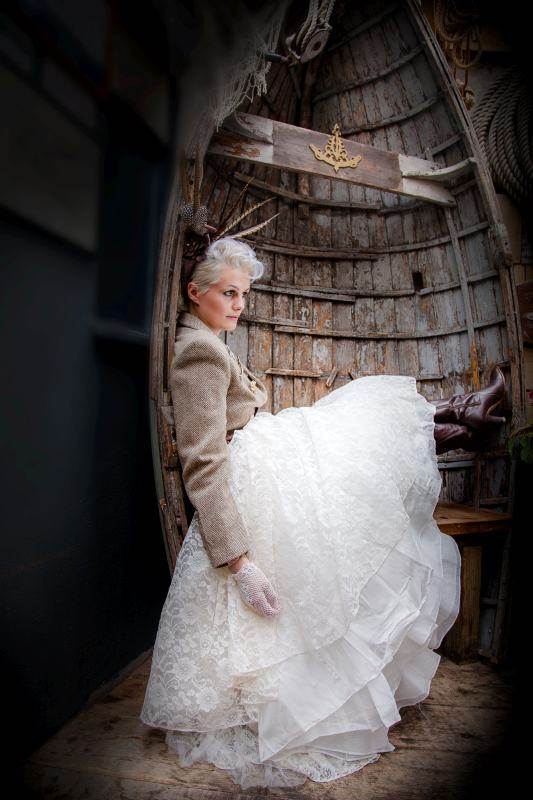 Kate Ashwell from Heartfelt Vintage who styled the shoot shares the inspiration behind it.
"I have been a fan of Vivienne Westwood as long as I can remember. I love everything about her, I love the way her fashion was born out of the politics of the 1970s, I love the way she uses her clothes to make a statement and I love the way she celebrates the female form. She pushed the boundaries back then and she continues to do so now. I would have sold my granny to own a pair of her pirate boots back in the noughties."
"As a result, when I decided I wanted to do a punk inspired bridal shoot, Viv was the first port of call for inspiration. I knew that aesthetic would work well with my vintage dresses and the look came together very easily after that. I was also inspired by one of our brides who got married in Dublin last year. She bought a beautiful 1950s lace and tulle wedding dress from me and then paired in with a tweed riding jacket. I loved the look and stored it in the back of my head for use at a later date. The final look for the shoot draws on Westwood's punk designs but is also inspired by her heritage vibe. The addition of tweed and tartan to the look was a nod to British fashion."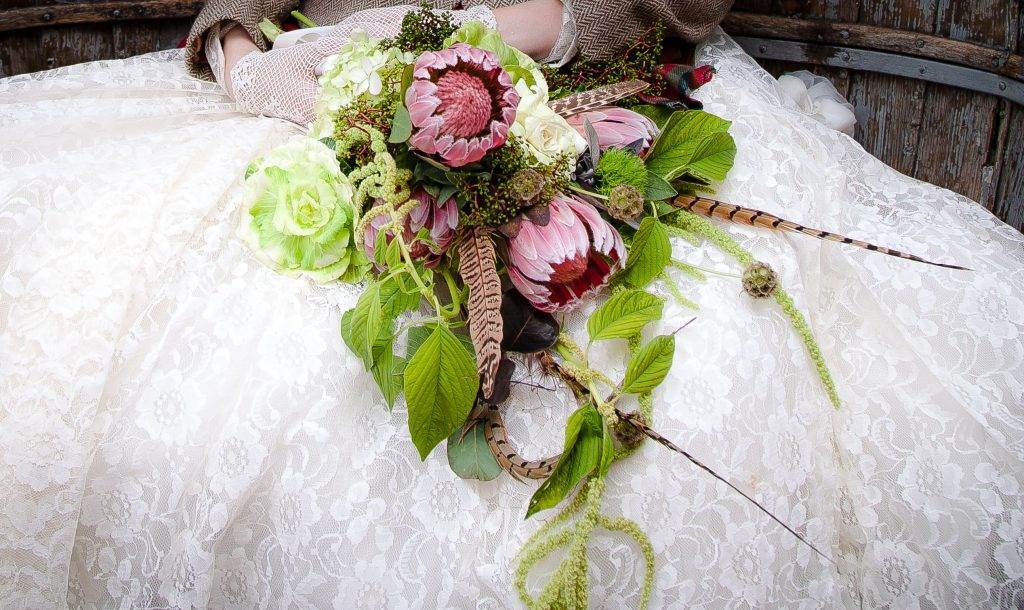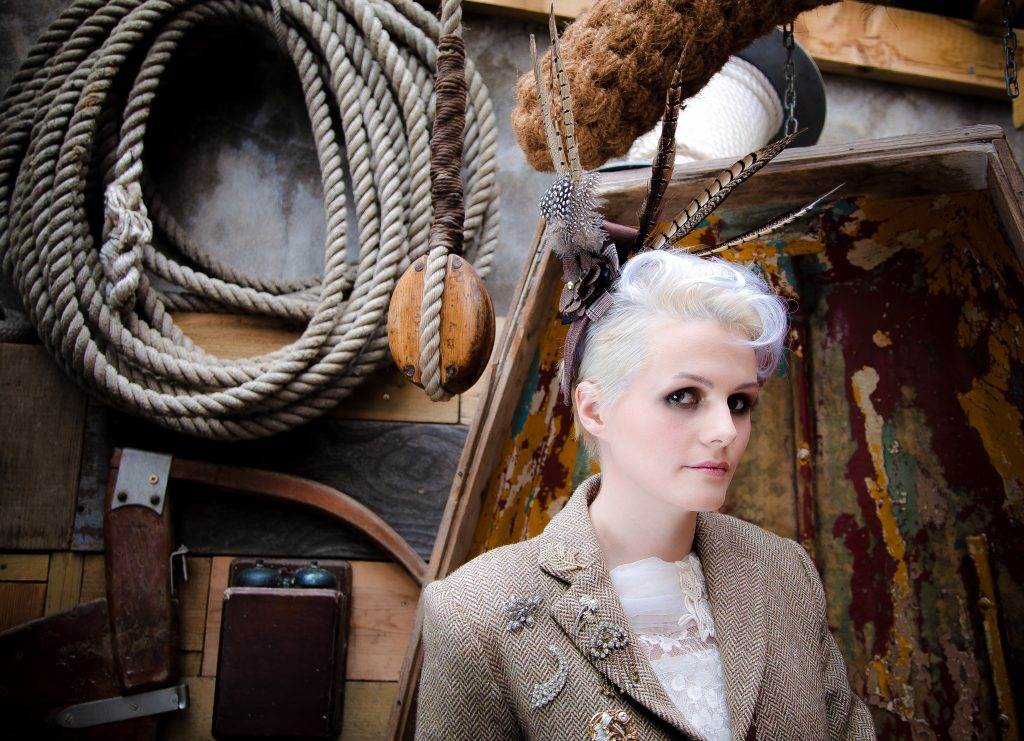 "I also love to mix eras to create unique looks. Despite the punk theme there are items in the shoot that span 70 years. I rarely wear a head to toe vintage look myself and this translates into my photo shoots. Every era draws inspiration from previous eras anyway and I enjoy throwing it all together and seeing what emerges!"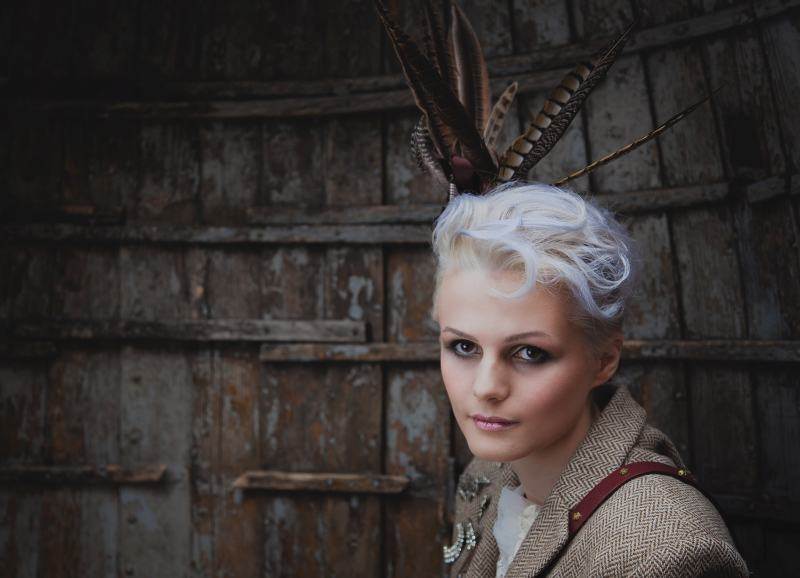 "The Old Bookshop was the perfect venue for this shoot, it's packed with curios, antiques and flea market finds that have all been carefully curated by owner Ben. We loved working in this space and were hugely inspired by it.
We wanted the hair and makeup to be a sophisticated take on the punk theme. A subtle quiff, hinting at a mowhawk and darker eyes give the essence of the theme without being over the top. The colours used in the makeup were also mirrored in the flowers. Soft pinks, browns and greens topped off with the feather headpiece completed the look and added to the heritage vibe."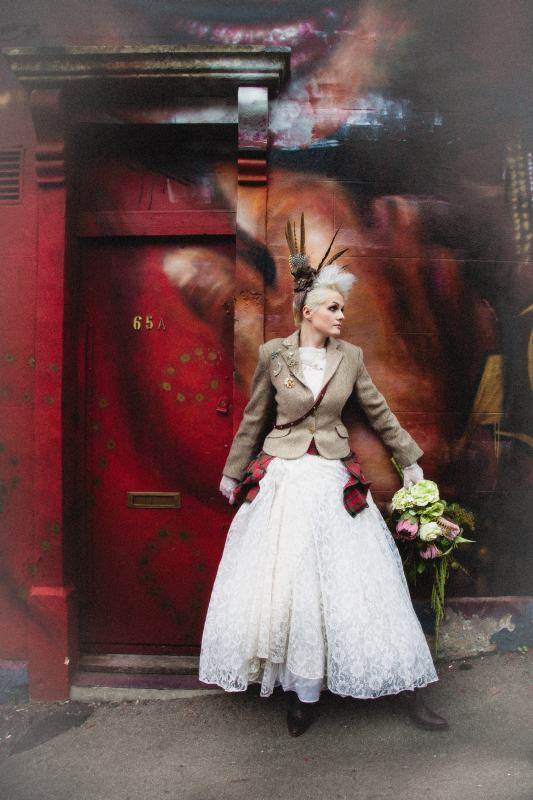 This look works so well for a rock n roll, punk wedding as well as an autumnal wedding – the colours and tones remind me of this time of year. Take inspiration from this shoot – learn that you can mix eras, that feathers work so well even in your flowers and have fun with your wedding look.
Heartfelt Vintage – Couture Punk Wedding Styled Shoot from McGill Sister Films on Vimeo.
CREDITS:
Art Direction & Styling | Kate Ashwell at Heartfelt Vintage
Photography | Su Barclay Photography
HMUA | Lou Mack Makeup & Hair
Flowers | Deni Maxa
Model | Imogen Oakes
Wedding Dress | 1950s customised lace dress by Pia Pispa and Kate Ashwell
Jacket, boots, gloves and brooches
Headpiece | Able Mabel
Videography | McGill Sisters Films
Assistant Stylist | Lizzie Williams
Location | The Old Bookshop, Bristol