This dreamy alternative classic rock wedding has us swooning over on the blog today, showing how two very different styles can be merged to create a wedding that has tons of personality and a unique vibe. We hear from shoot coordinator Rosie of Rose Decor Styling and the rest of the team on how this classic rock wedding was created!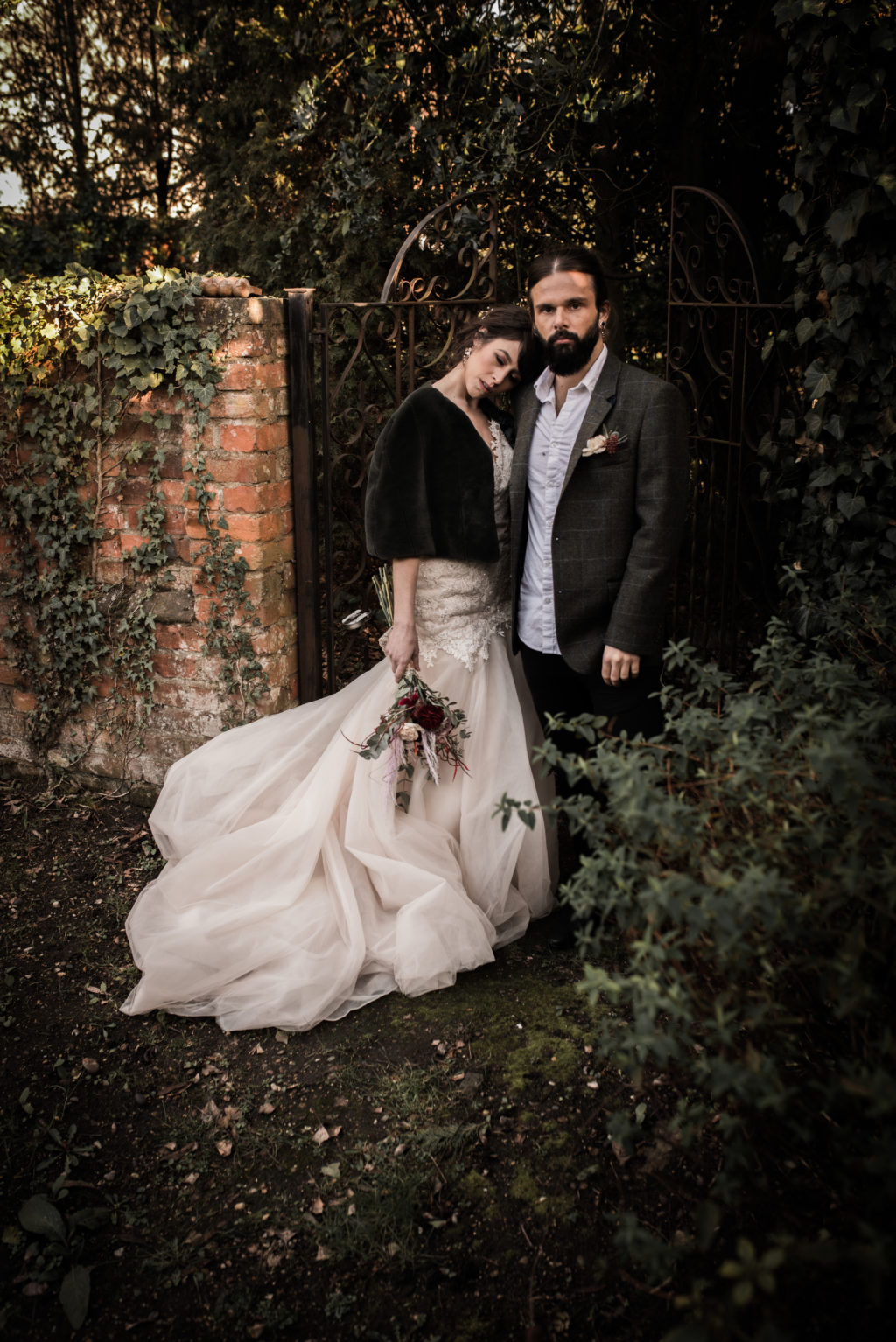 "This classic rock wedding shoot is about combining two personal styles and bringing them together to create an alternative, unique theme. I wanted to portray that differences of styles can be incorporated and work well together. You can see a combination of the two personalities in all of the decor and details, which have been split to showcase 'Elegant and pretty' and 'Dark and unconventional'."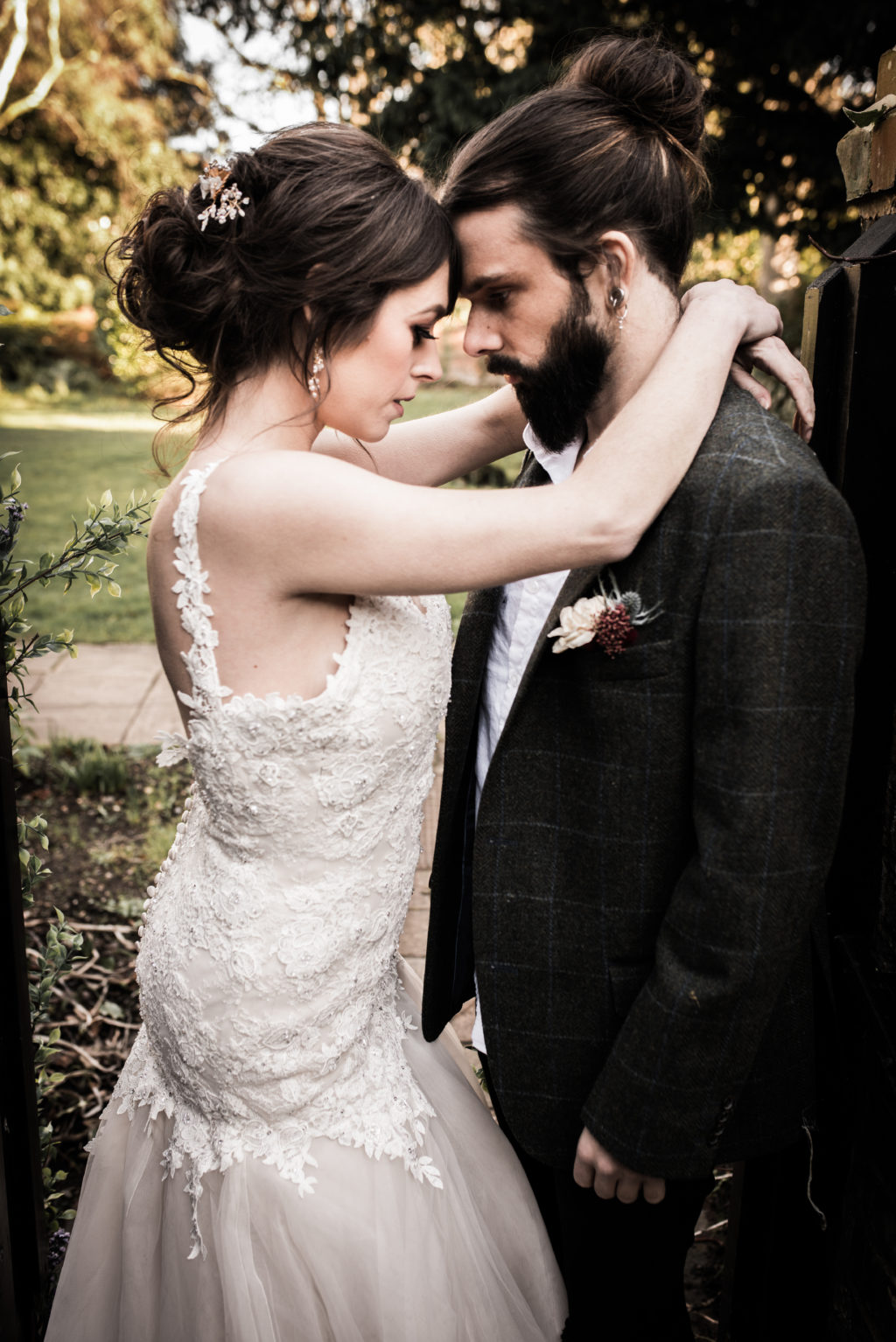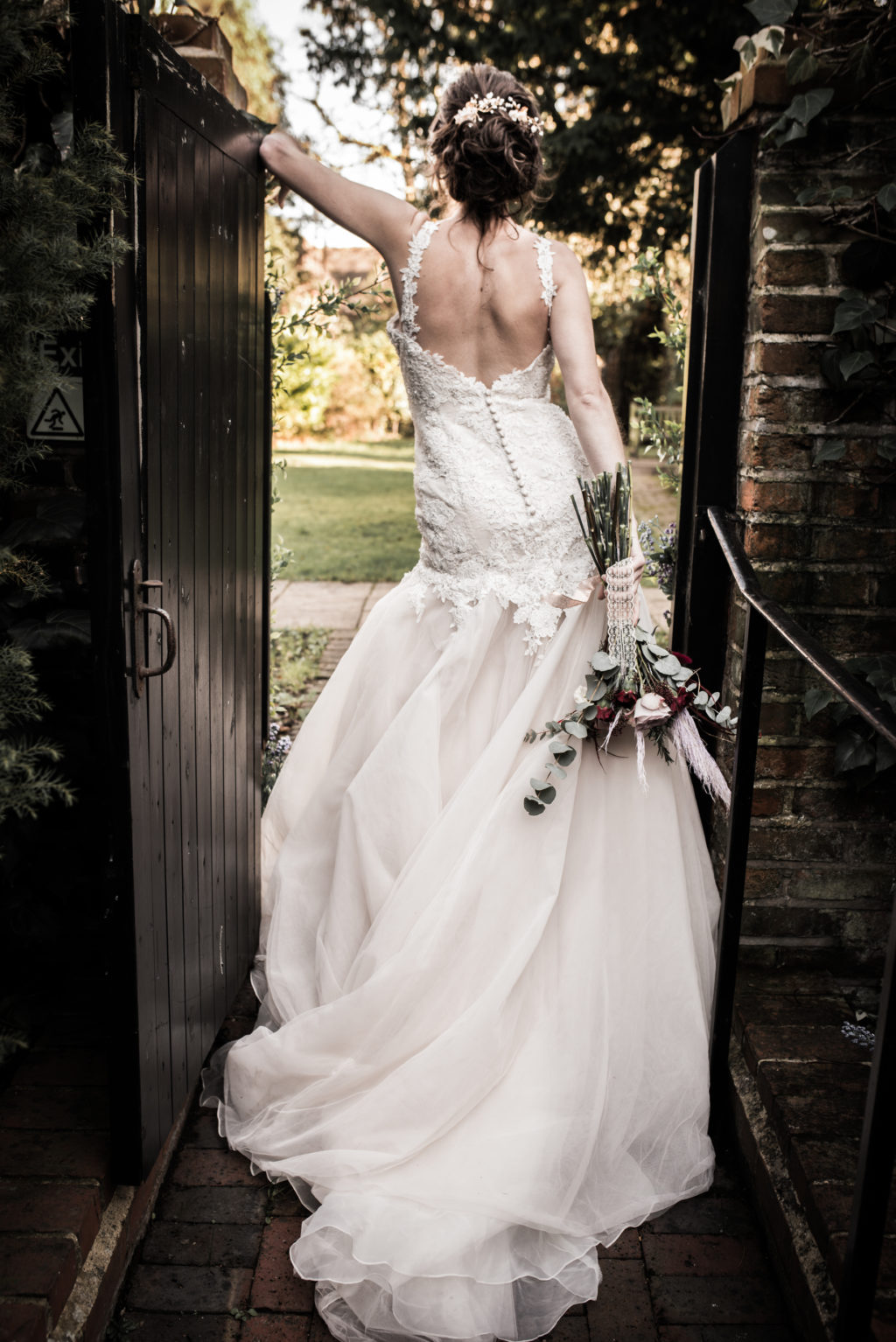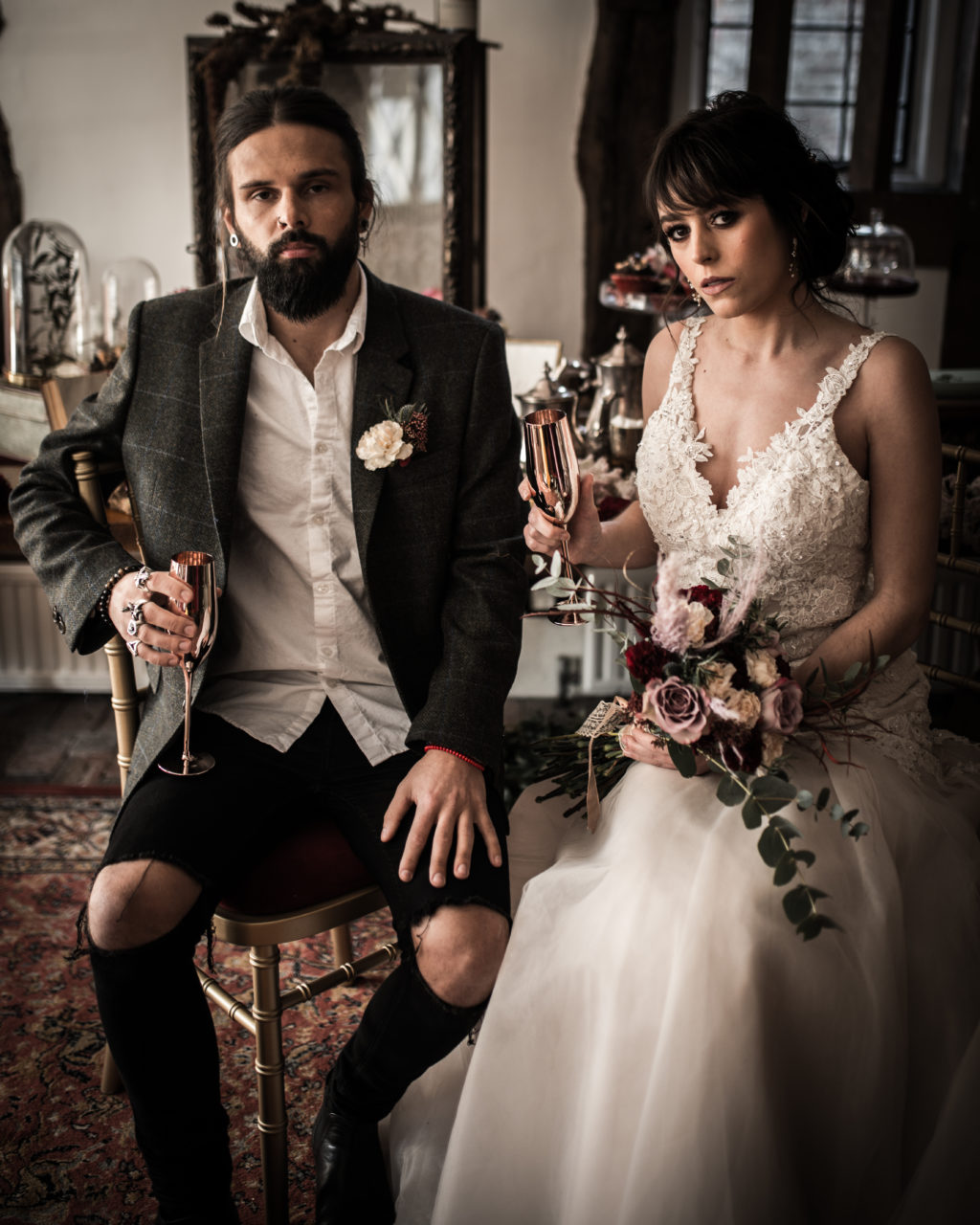 "This shoot was actually influenced by my friend who is getting married next year. She is, very much like the bride in this shoot is very pretty with an elegant style, whereas her groom's style is completely the opposite, and he would absolutely get married in ripped jeans if she would let him! I wanted to help them visualize that both of their styles can be incorporated to create one amazing and unique style to them if (the bride) was prepared to allow more of the grooms style to feature. Needless to say, he wont be in ripped jeans, but after taking inspiration from this shoot, more of his individual style is being incorporated."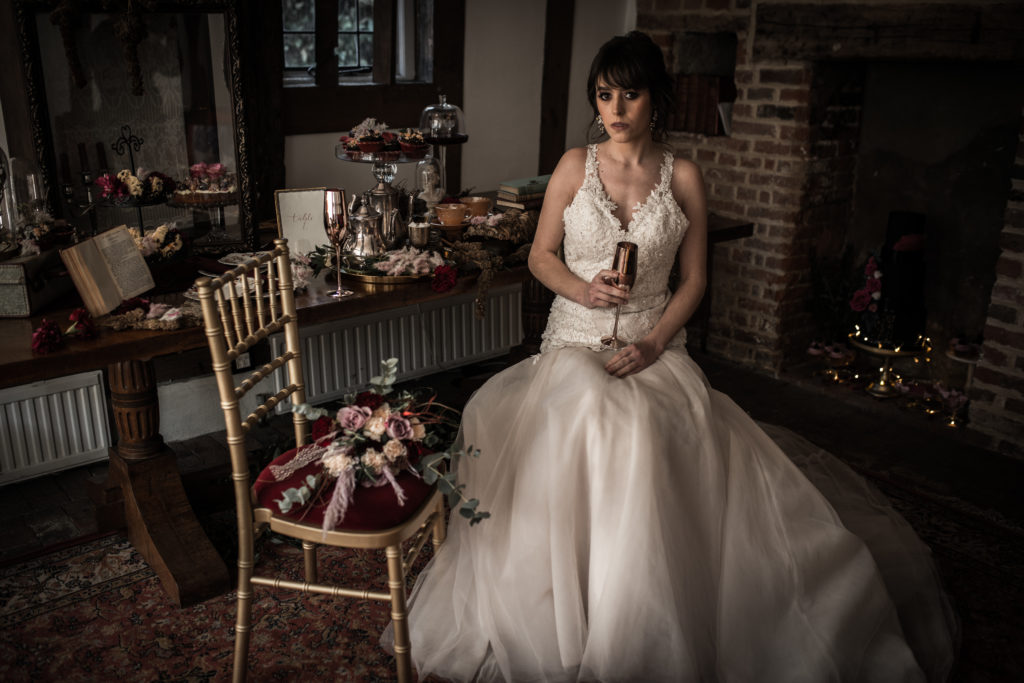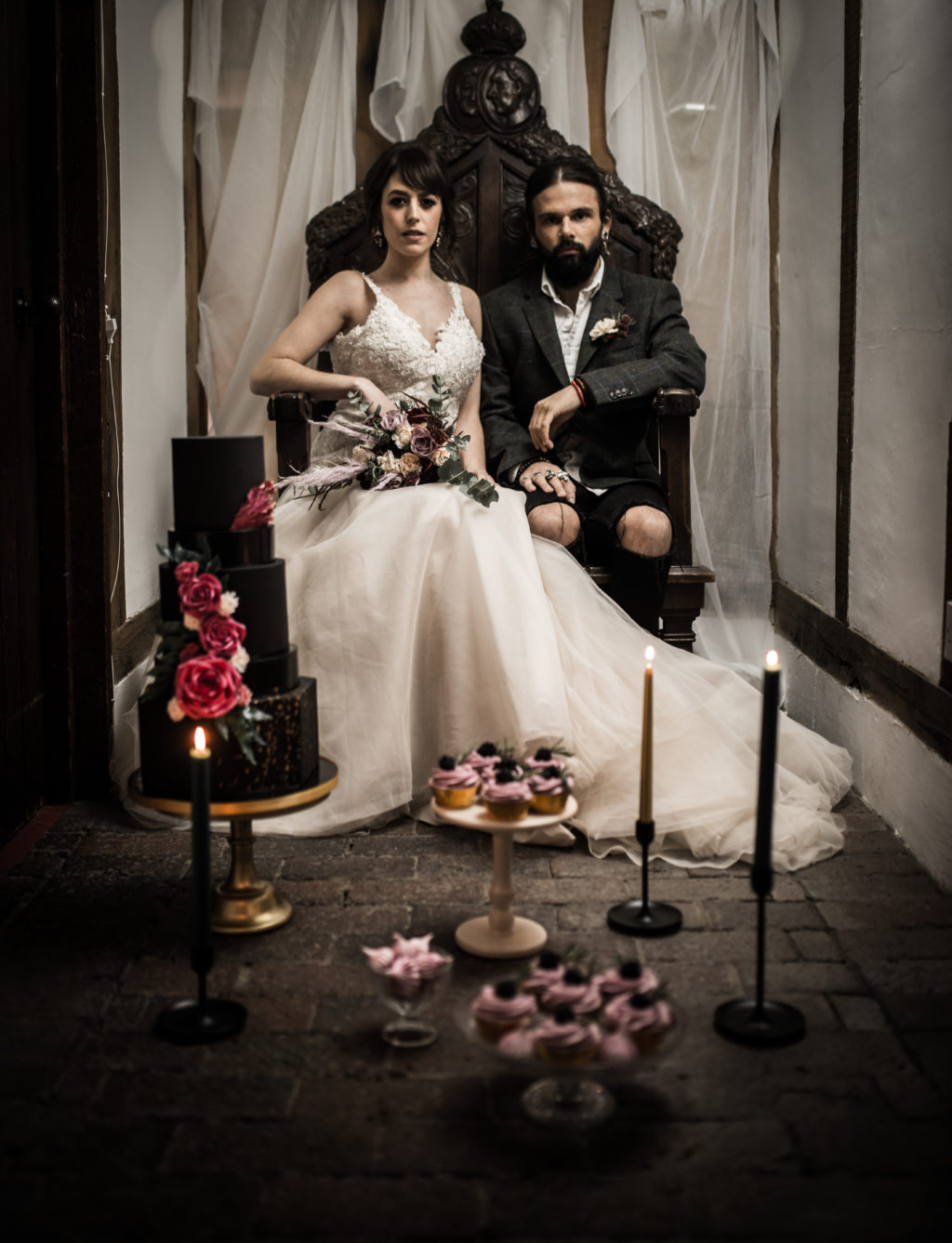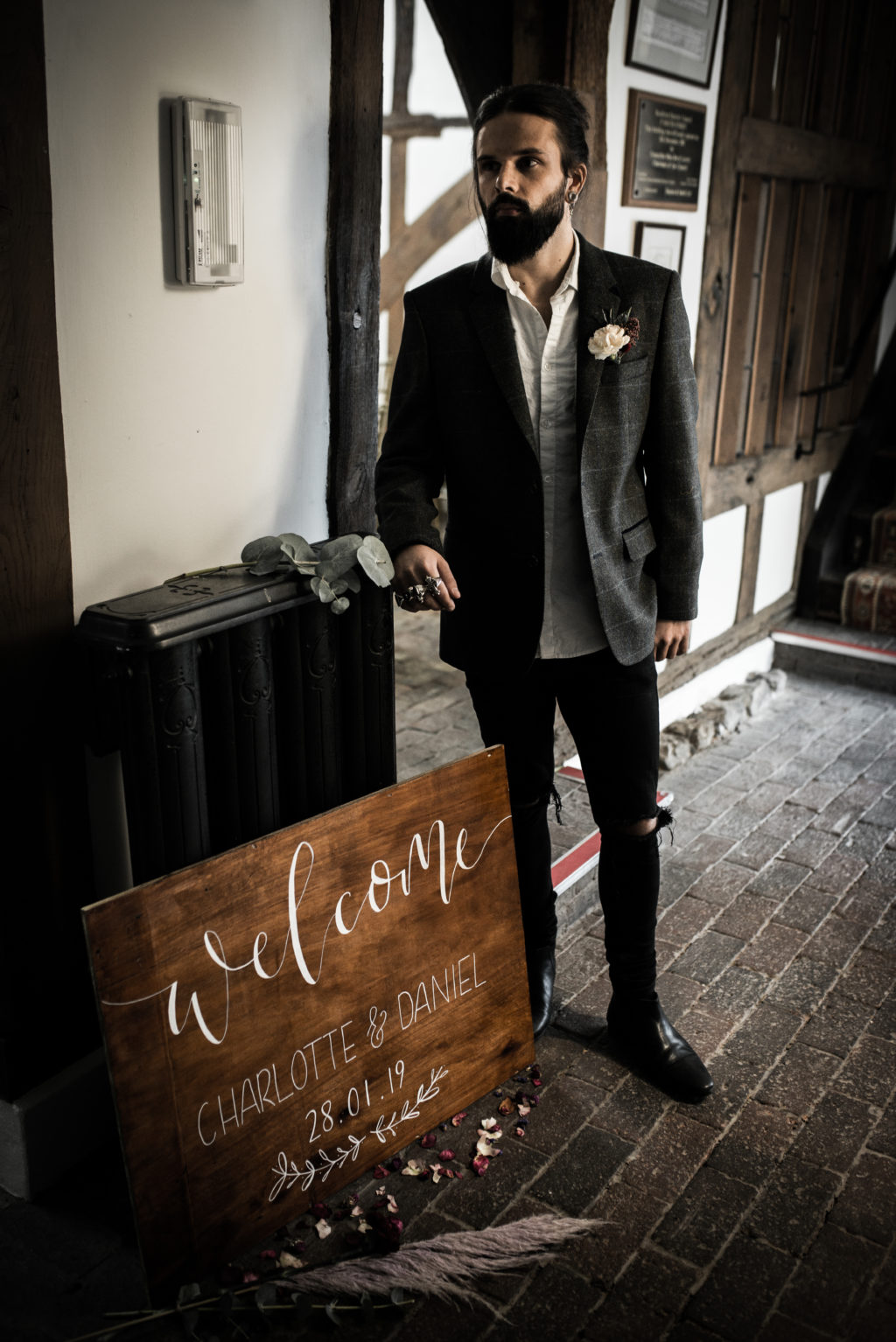 "A wedding should be a complete reflection on the couple, no-one should feel as though they are following a certain theme or style because they think that's expected of them. Be yourselves and be unique."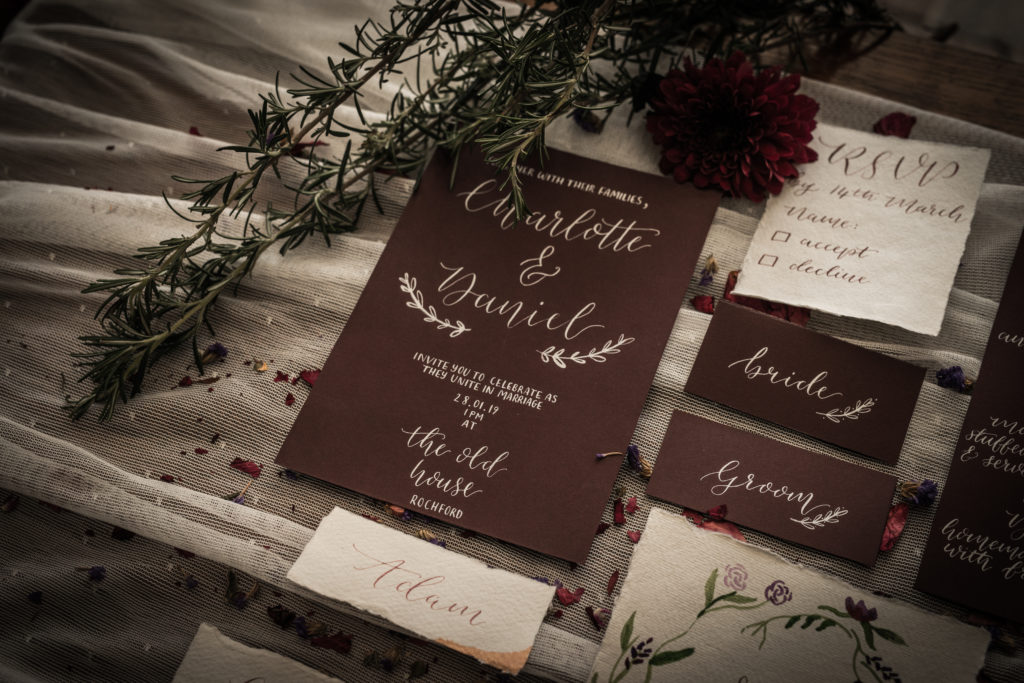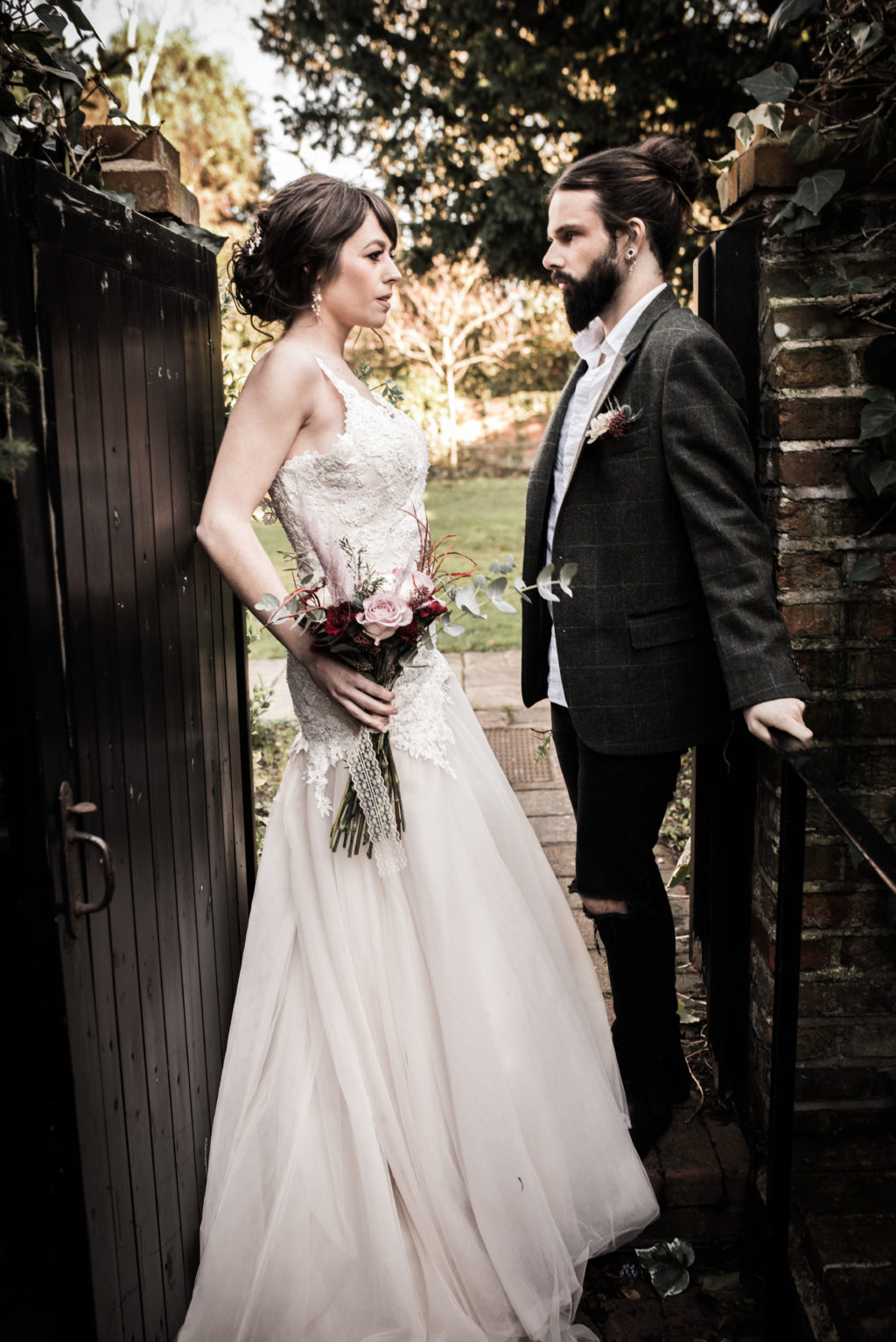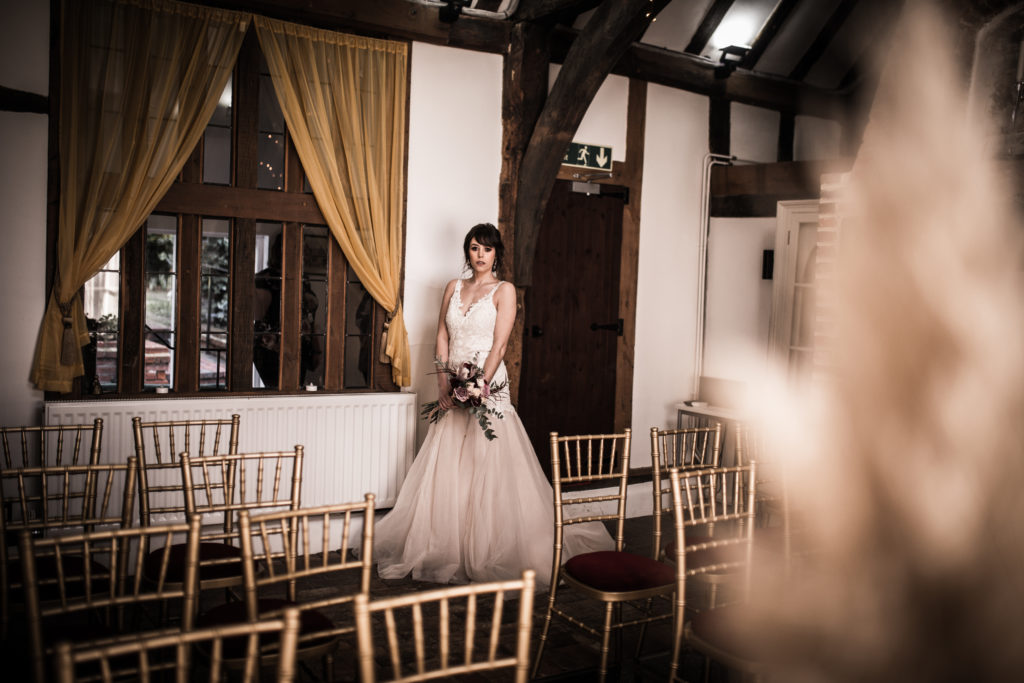 "The Old House is a stunning, quaint venue in Rochford, Essex. It is full of characteristic features from old fireplaces, brick floors and exposed wood beams. It is the perfect location for an intimate wedding, with lots of photo opportunities and beautiful gardens."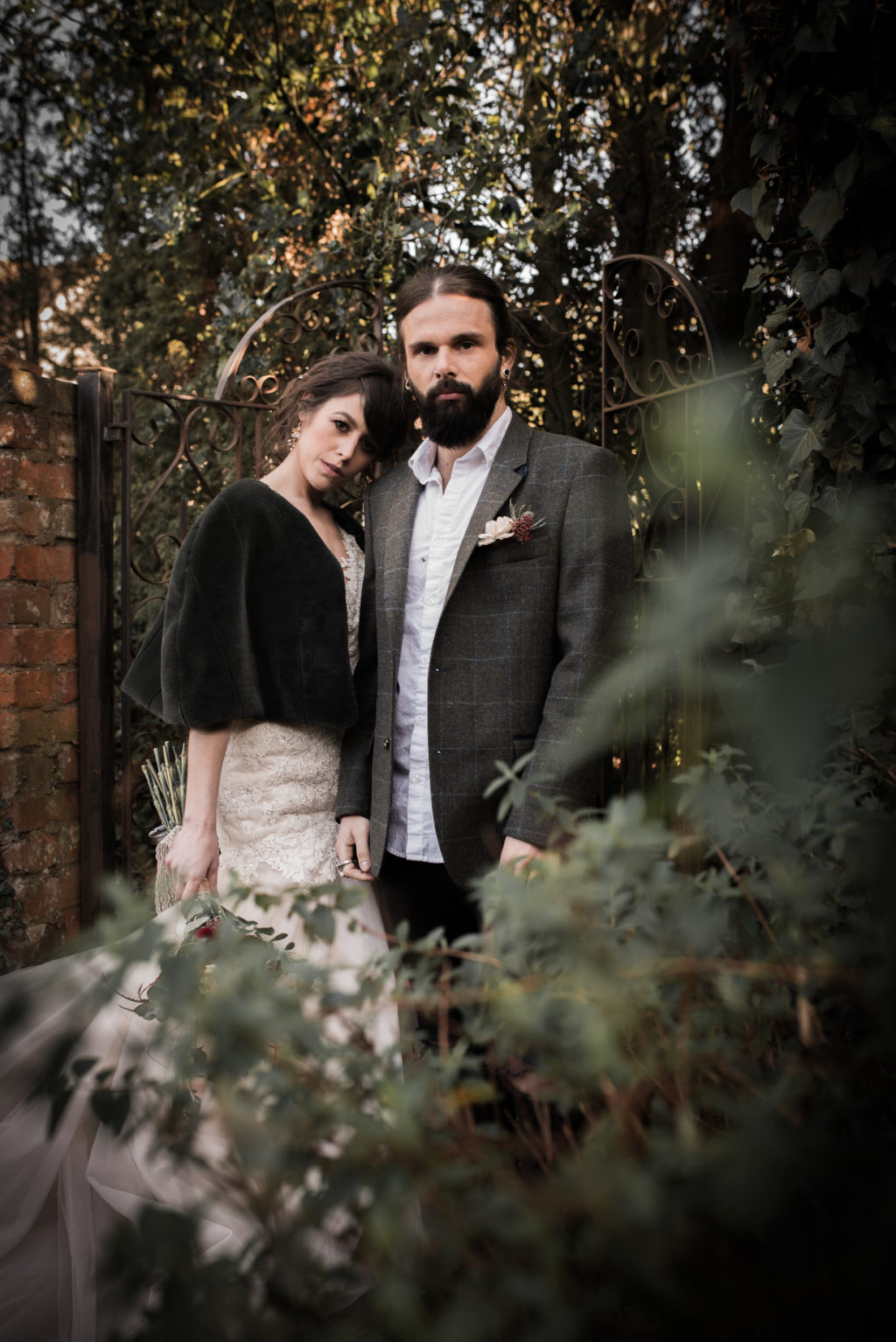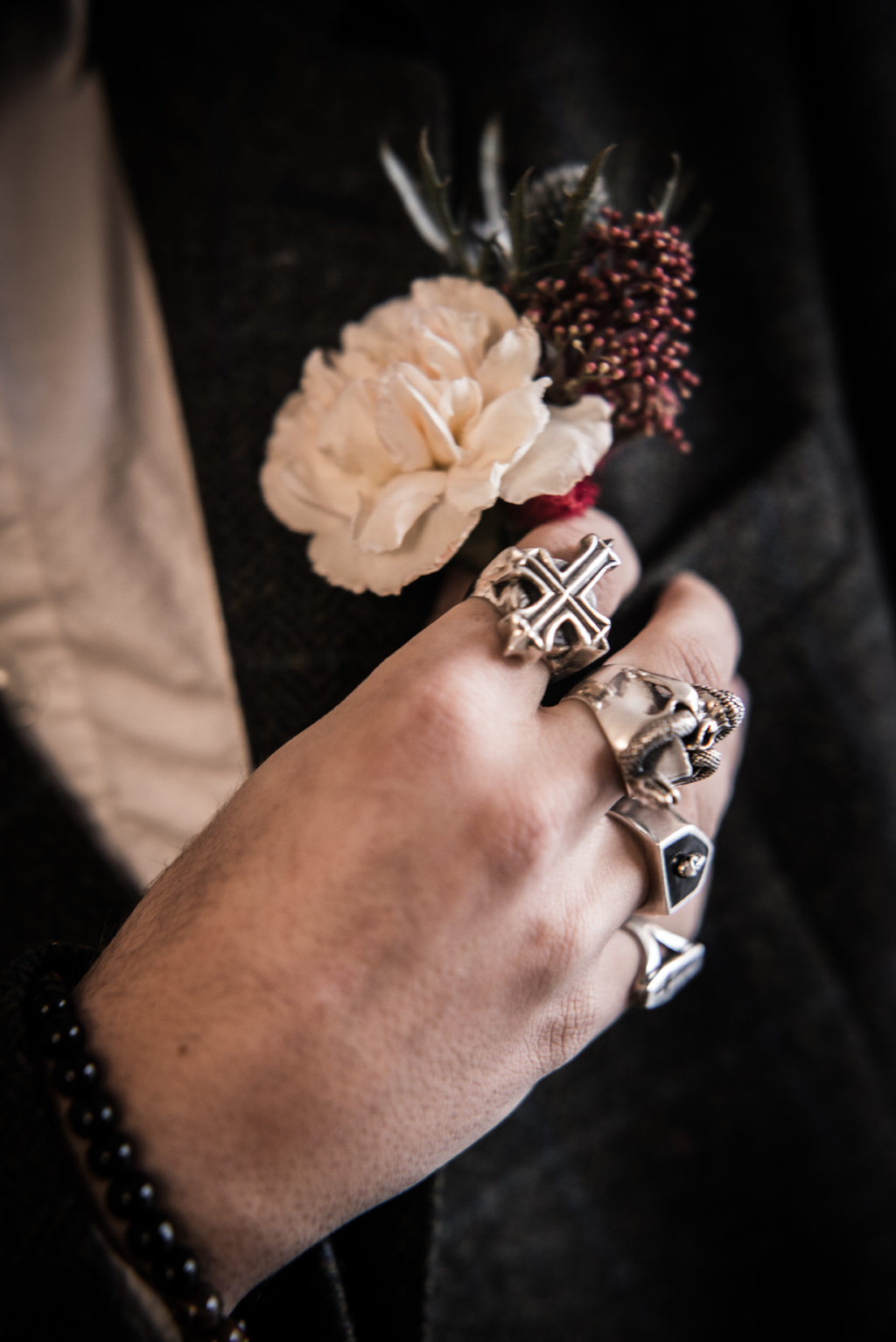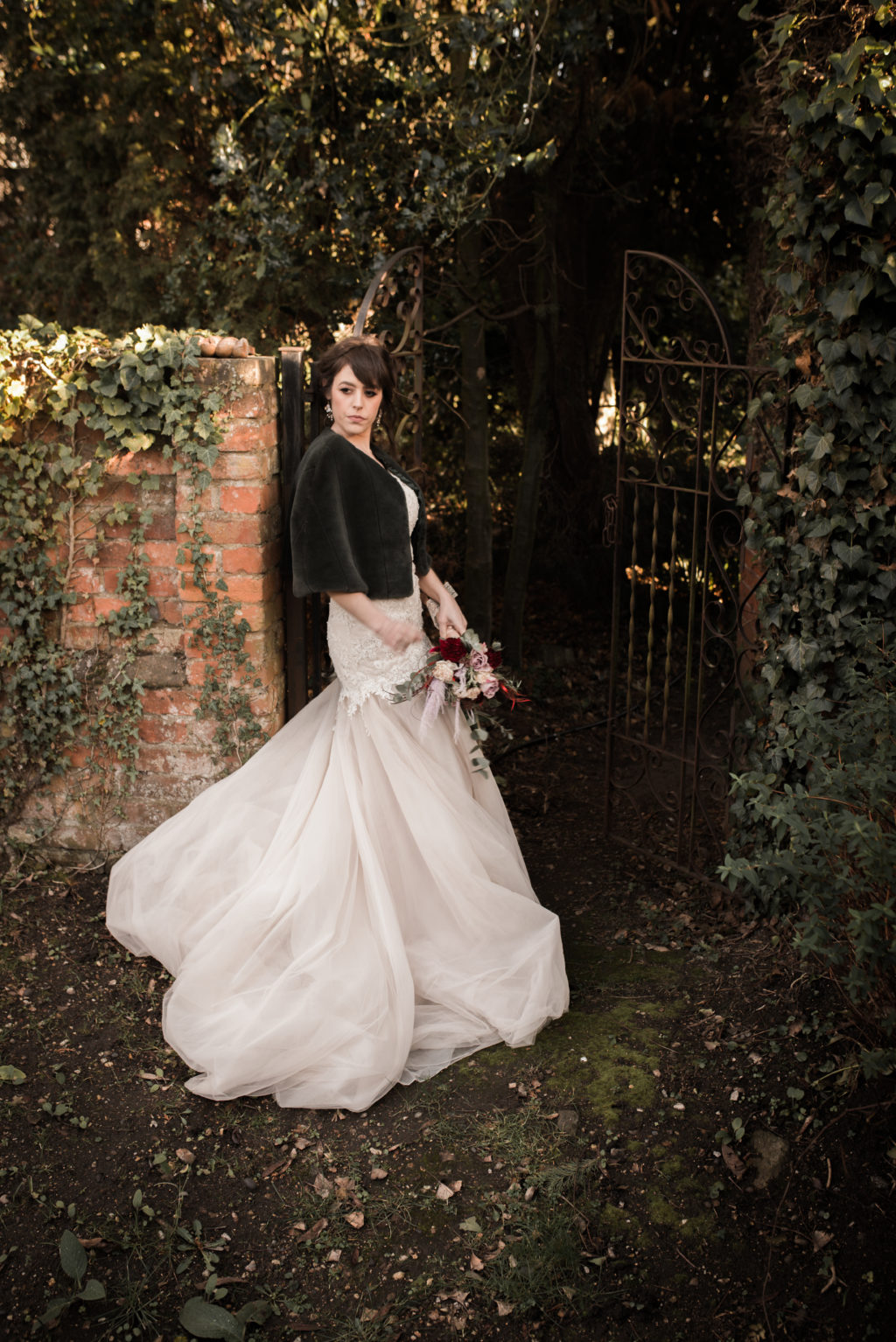 Styling – Rose Decor Styling
"The room was already the perfect set up and didn't require too many additional props as I think they would have overcrowded the intimate space, and diverted the focus from the old charm. I added a floral centerpiece to the registrar table and pampas grass to either side of the table. I love pampas grass and its becoming increasing popular with brides!"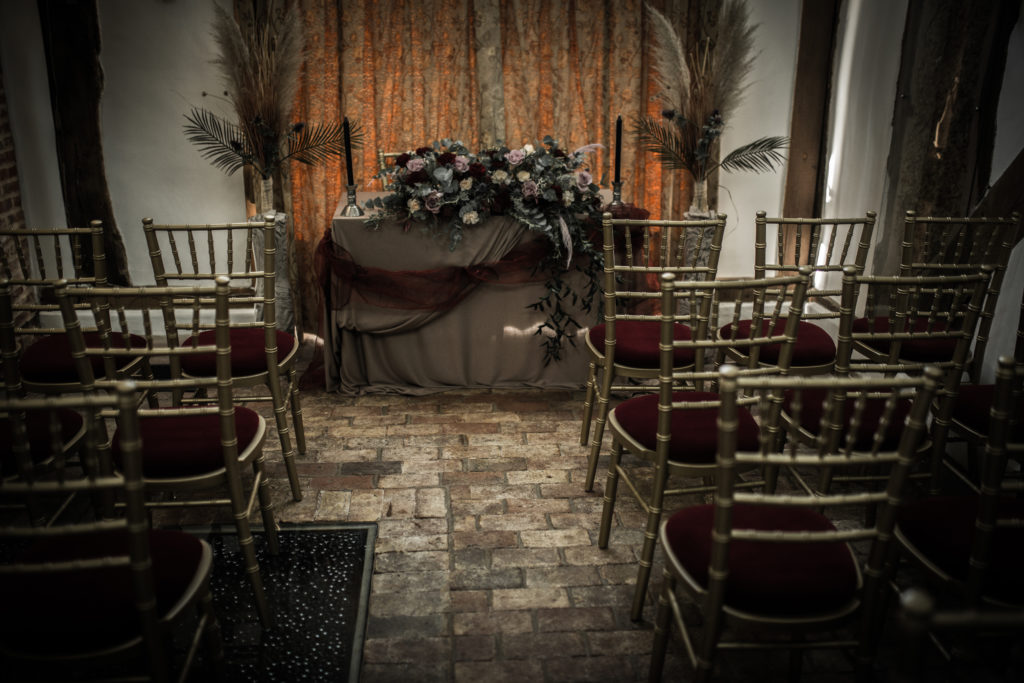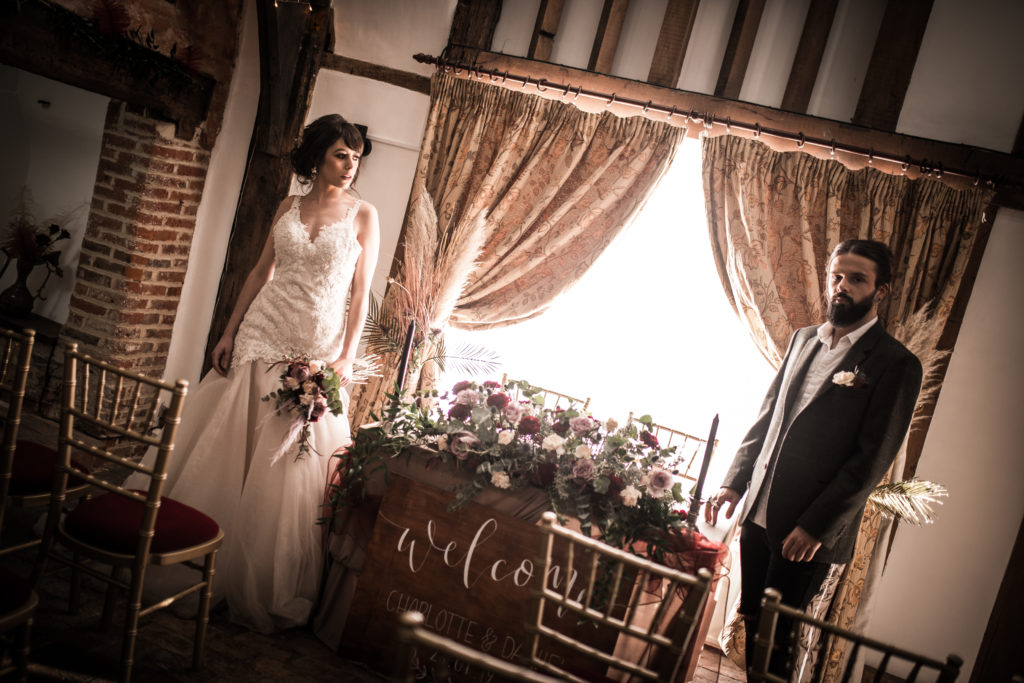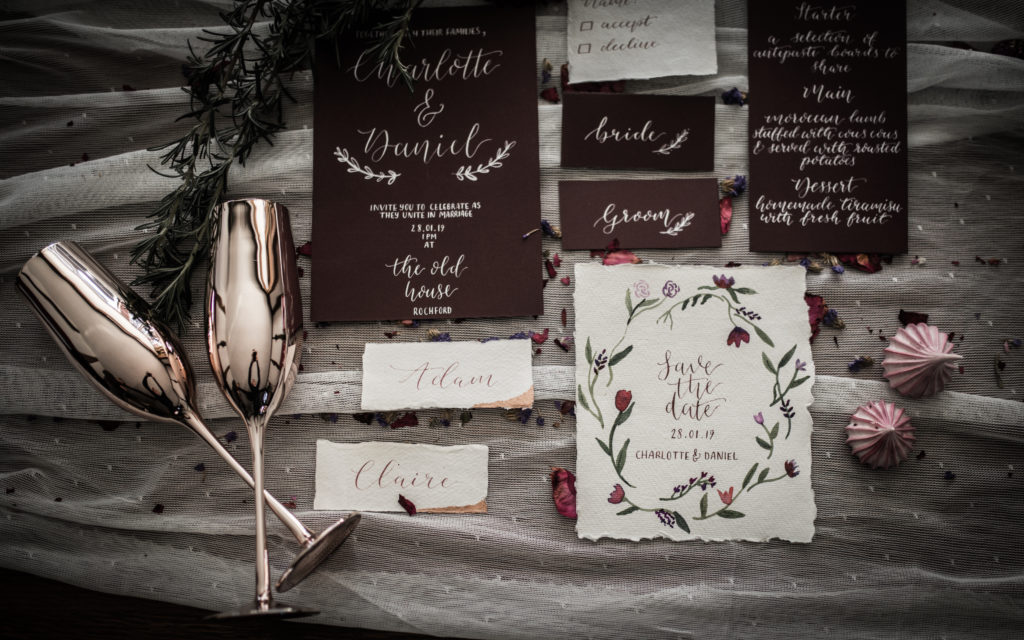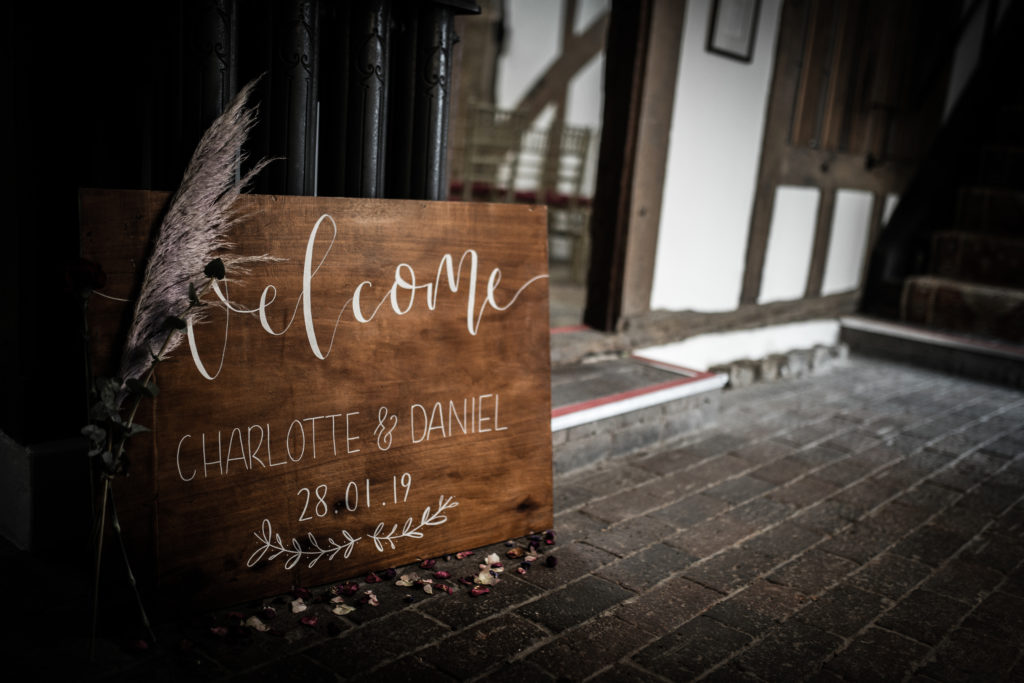 "The colour of the linen chosen complemented the colour scheme of the room, and was a contrast to the chairs and delicate burgundy material that was draped across the table in addition to the linen. The burgundy material was the similar colour to the carnations used within the floral design. The curtains in place were a light but patterned material, and therefore the table linen needed to be a colour that didn't clash with the curtains."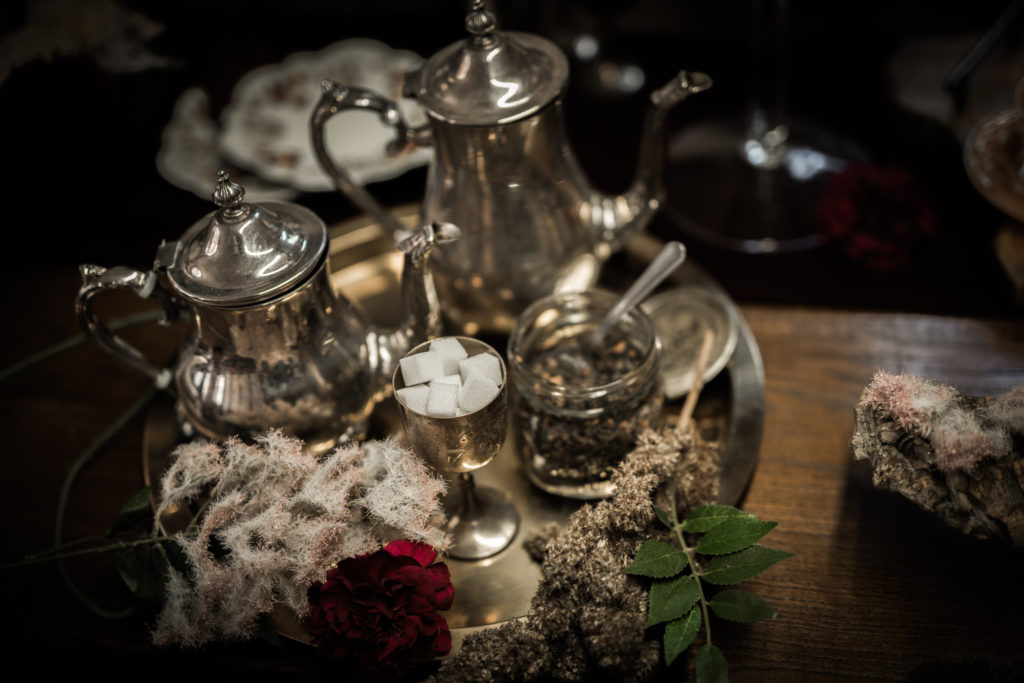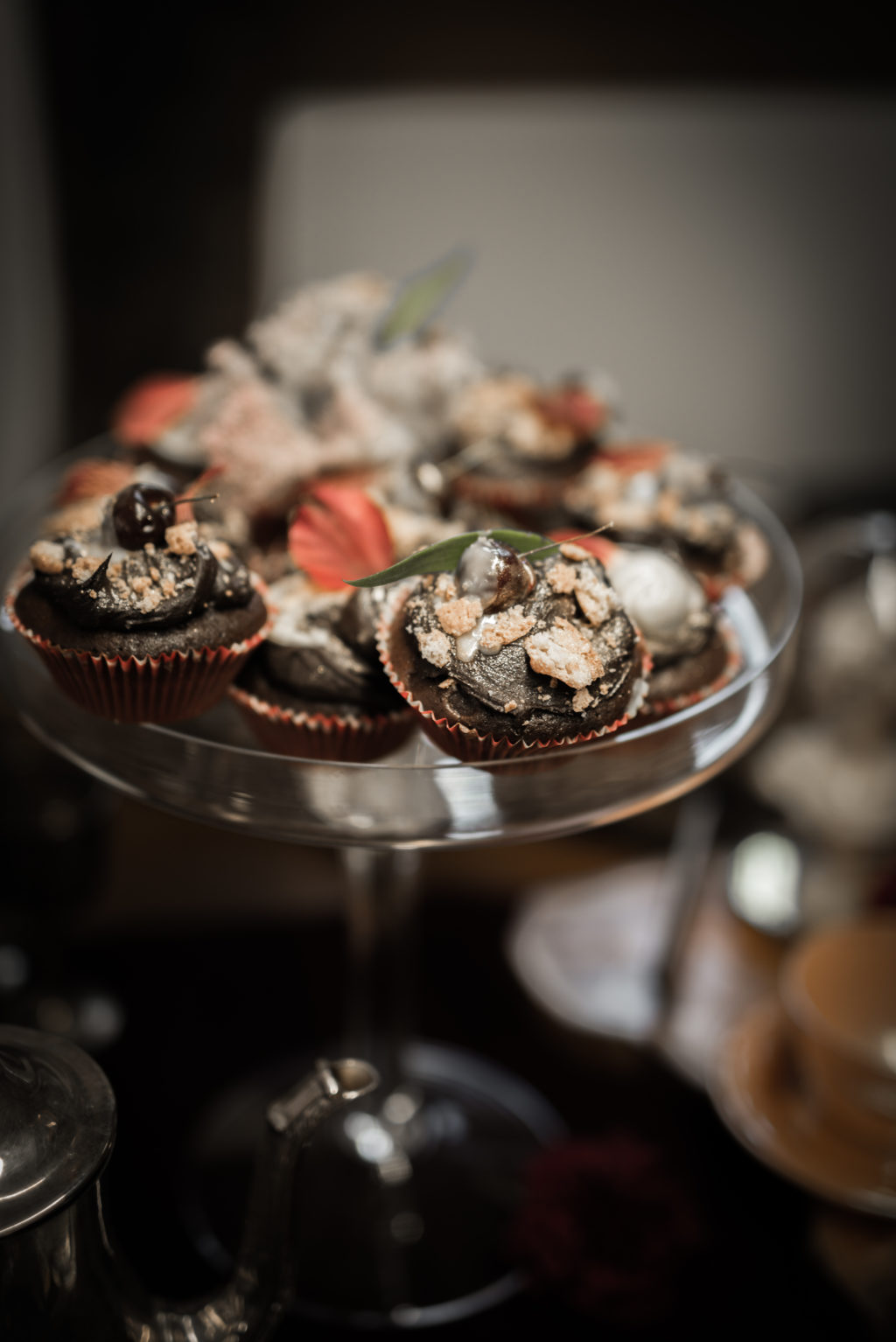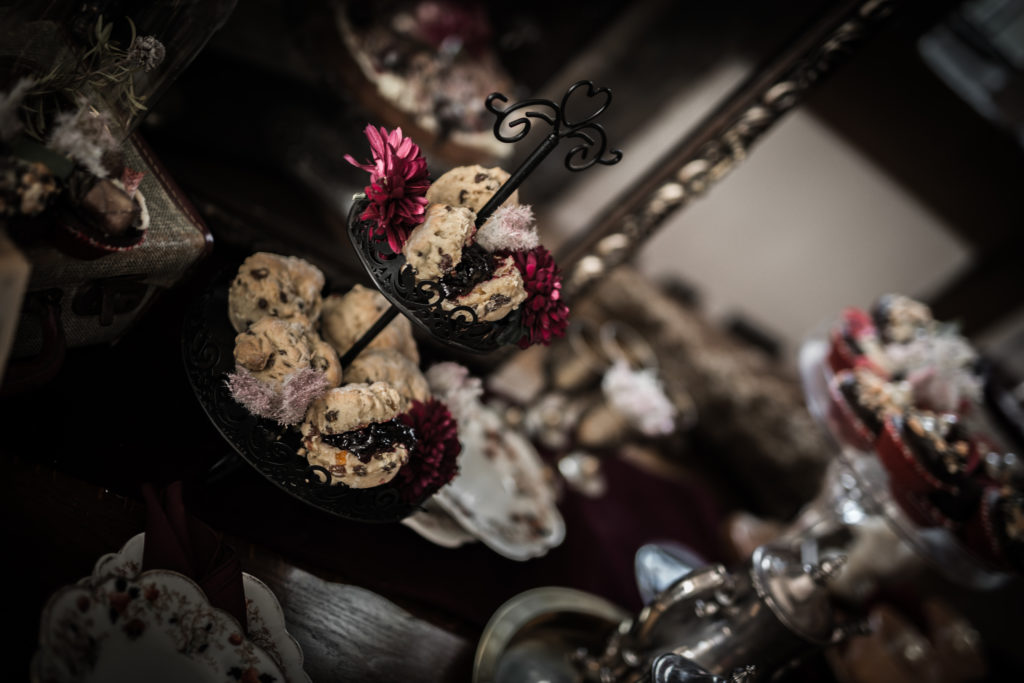 Afternoon Tea Styling – Sugarlumplane
"I decided to get involved in the shoot mainly due to the location, seeped in history it lent itself to a fantastic backdrop for something a little different! Hand picking the colours and overall feel for our Afternoon Tea stemmed from not only the creative mood board from Rosie, but the surroundings as well – rich, deep textures with darker China worked perfectly. Even down to the decadent icing and richness of the deep plum jam for the scones. Our vintage touches within the Afternoon Tea, especially the old books, helped set the scene and tell the story of our star crossed lovers. This look coerces itself to the modern couple not afraid to take a walk on the dark side"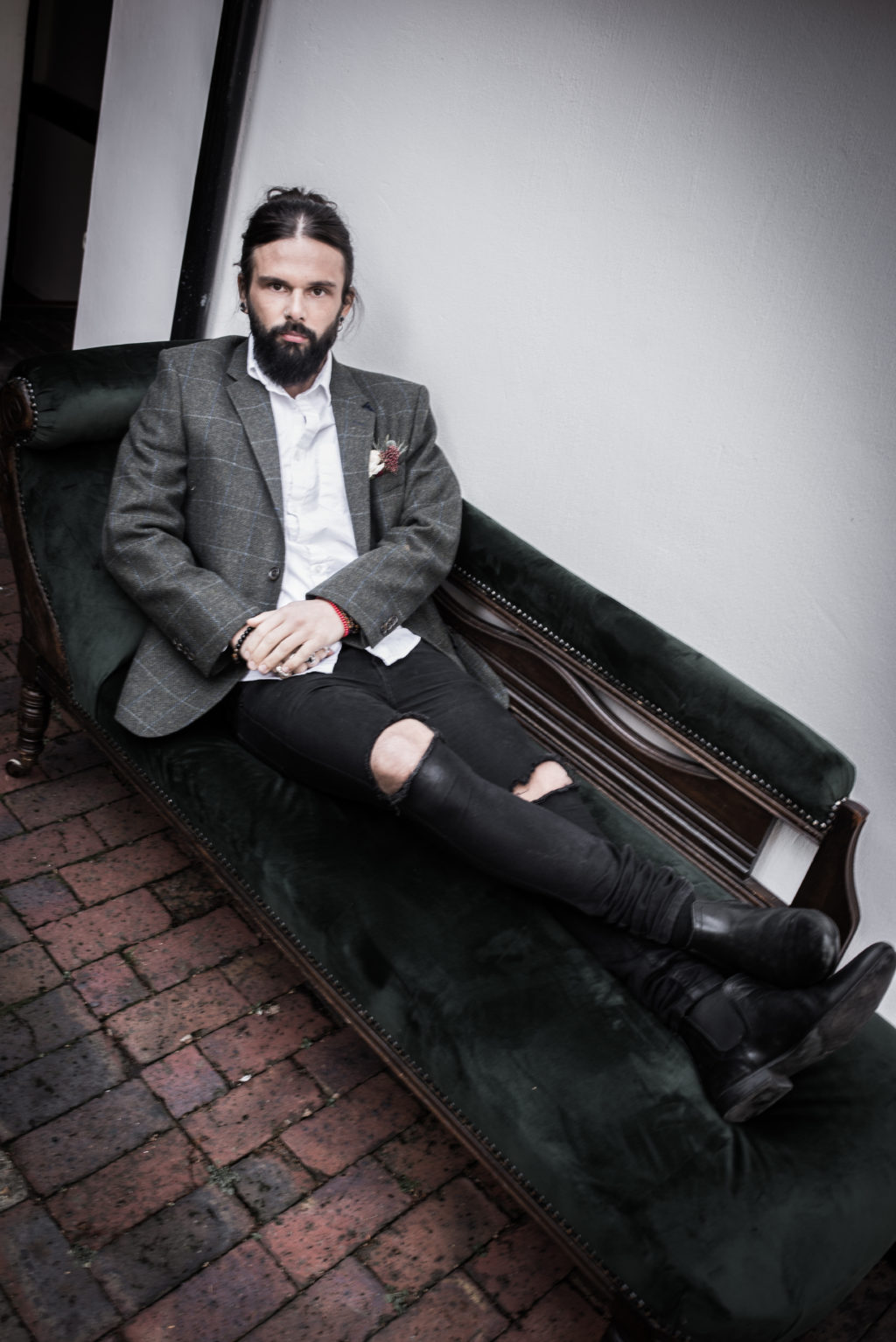 Photography – The Menagerie Lifestyle
"The concept for this shoot was right up my street. I live for unusual, quirky and interesting, and this shoot certainly delivered. I absolutely loved the fact that Rosie was inspired by her friend, and I couldn't wait to start editing the images. I would say my style is alternative and whimsical, I like a mix of natural and posed shots. I think the key to picking a photographer is matching their style to your personalities and style. This is 100% my style, whereas a light and airy photography wouldn't have been the best fit."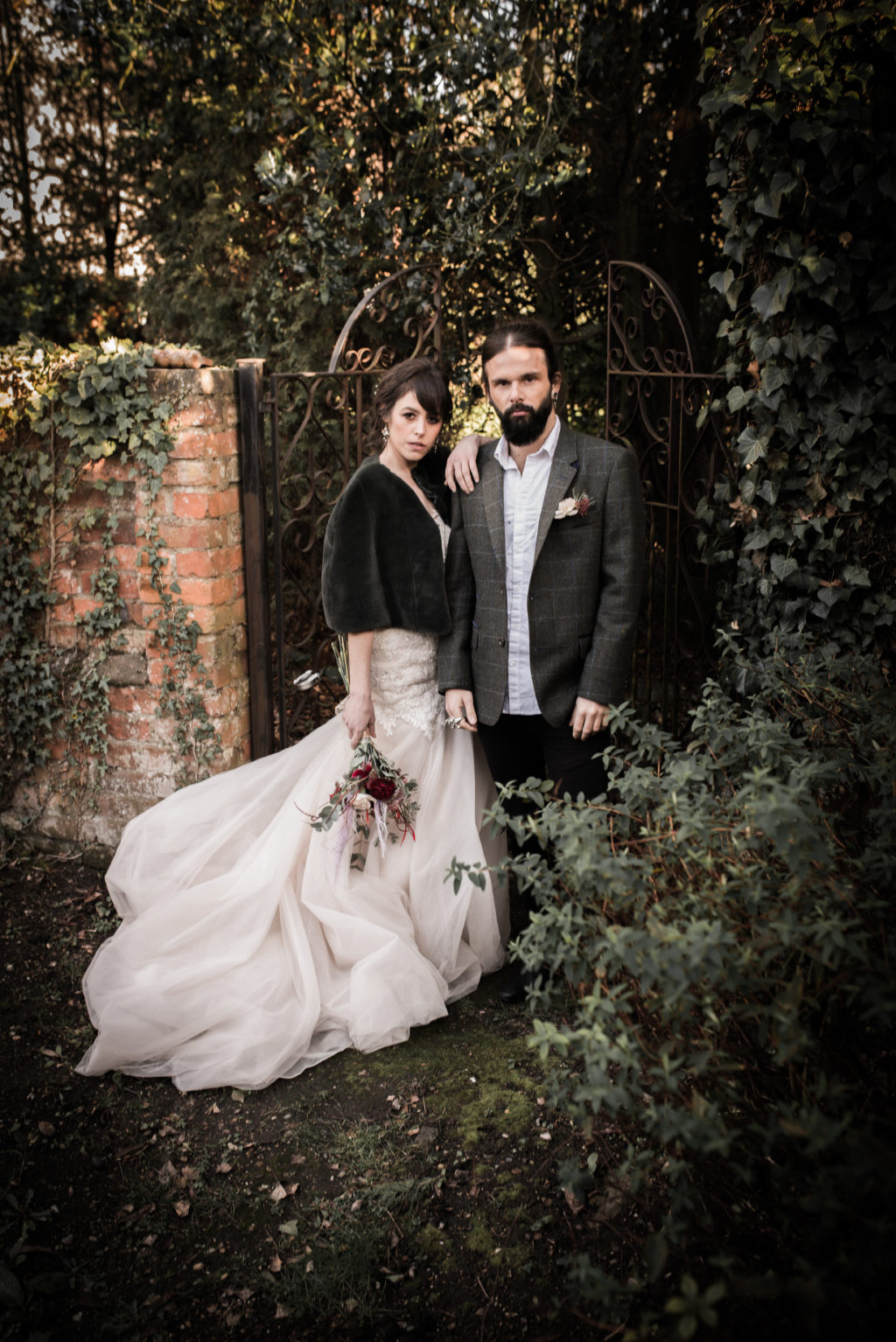 Bridal – Bridal Reloved Maldon
"I knew that I wanted a fitted lace dress to compliment the petiteness and again stay in them with the elegance of the bride. I think the lace compliments both styles perfectly. Remember to pick a dress which not only suits you, but the overall style of your wedding too. This dress is by Mark Lesley."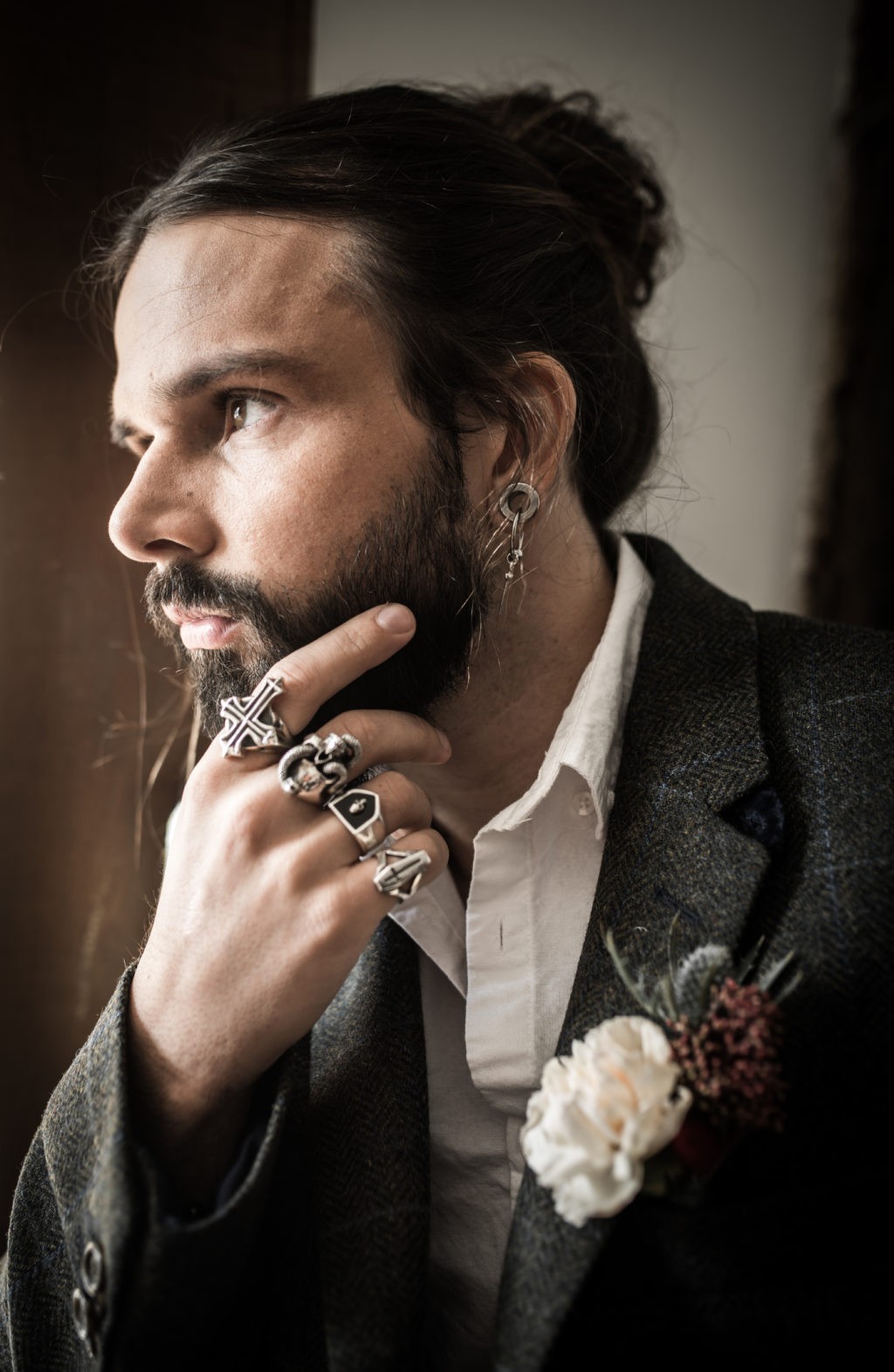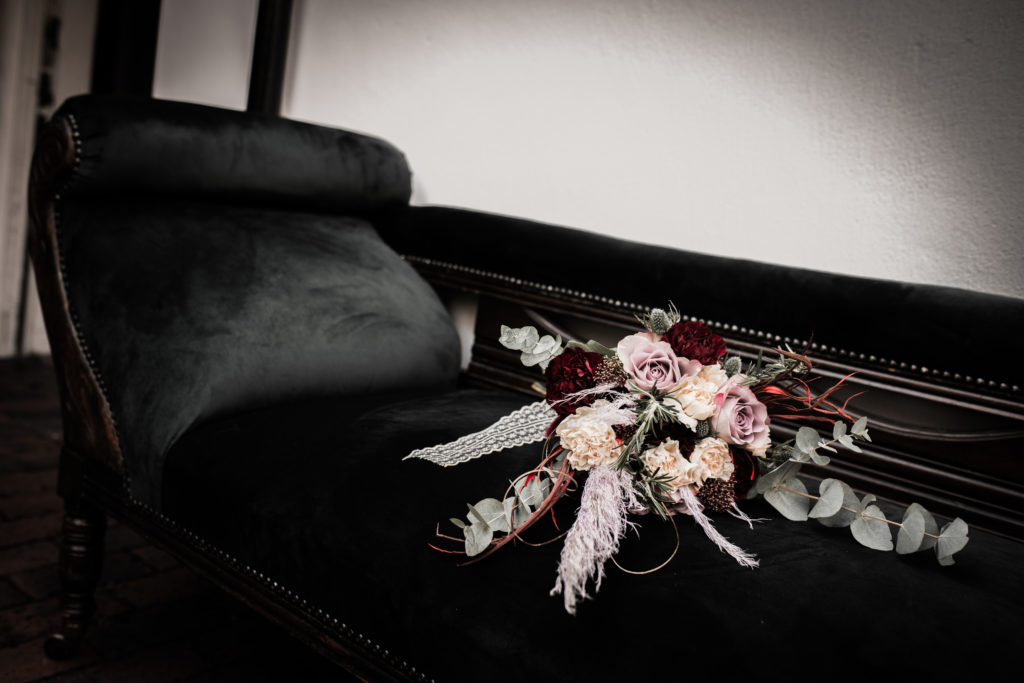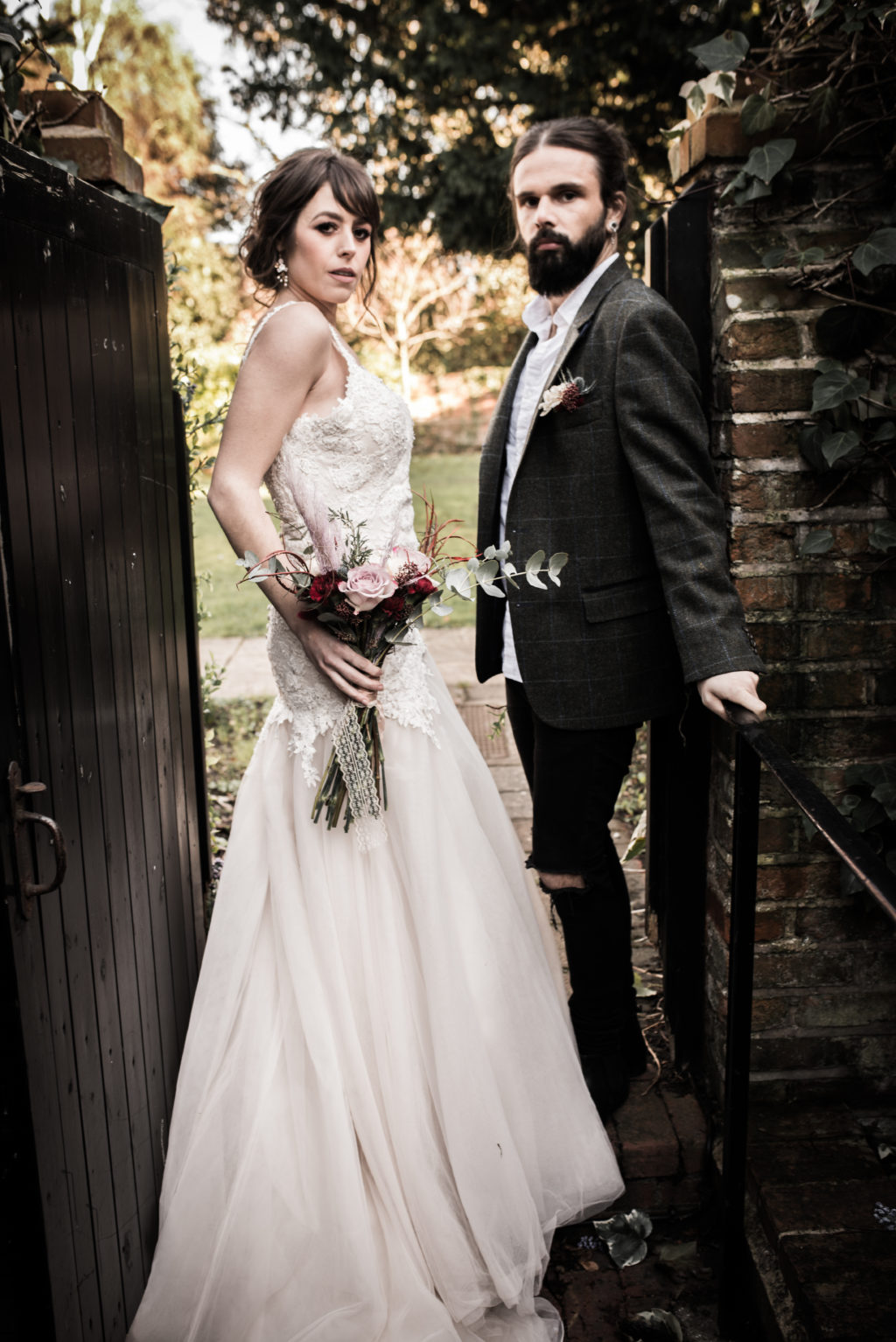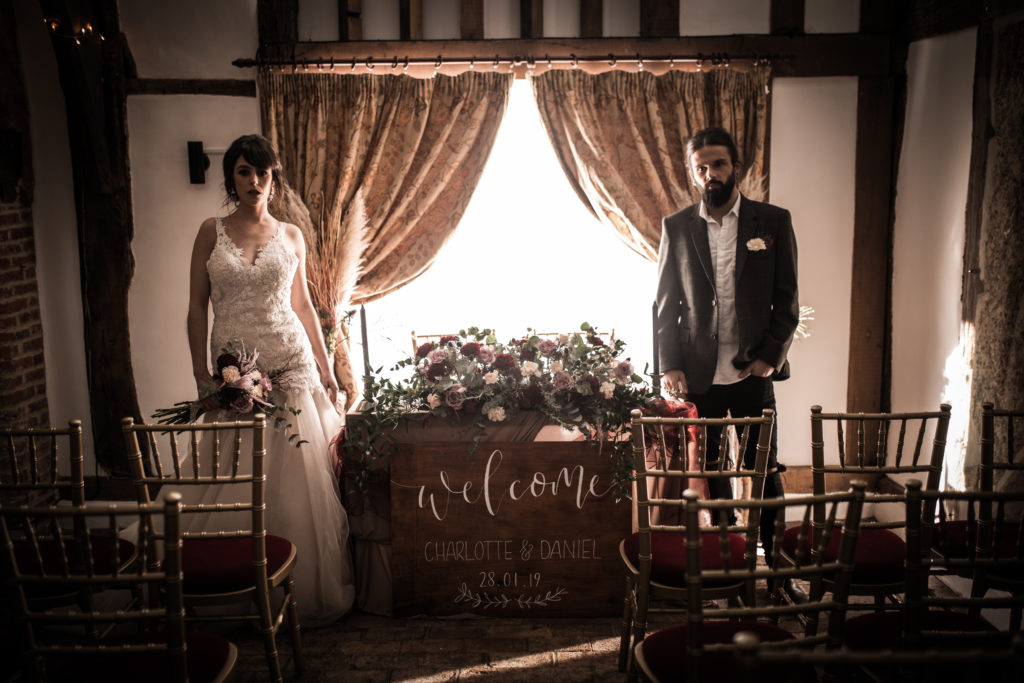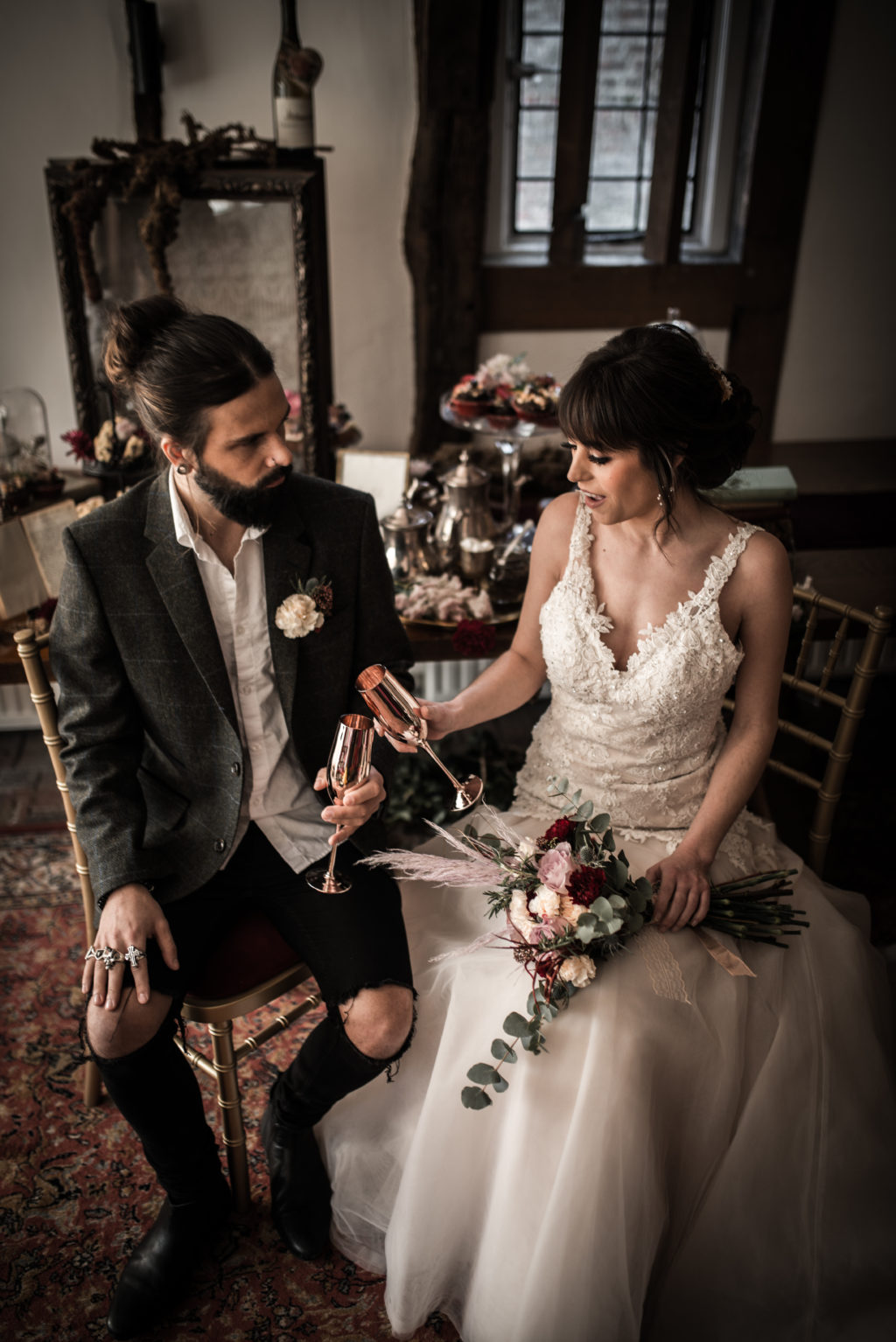 Flowers – Rose Decor Styling
"The flowers I used to create the registrar centerpiece and the bouquet were memory lane roses, a mixture of cream and deep Burgundy carnations, blue thistle, red scamia, waxflower, eucalyptus and other foliage. Flowers are always a thing of beauty, however with these designs I didn't want them just to look pretty. I wanted them to provide a deeper feeling than that, I wanted them to feel wild, whimsical and bold. I think the colours of flowers stand out, and fit the theme perfectly. I included some lilac spray painted pampas grass within the design, coupled with the roses provided an extra delicate and prettiness. It also showed the ability to be a little different, and make the use of spray paint, and the wonderful variation of colours available to be used specially on flowers."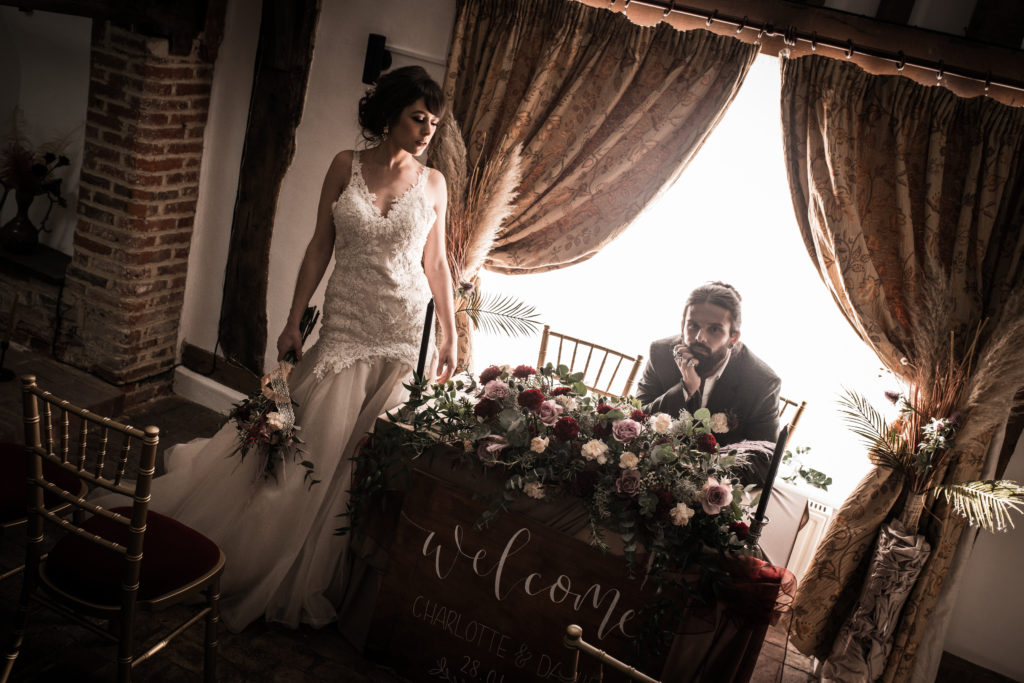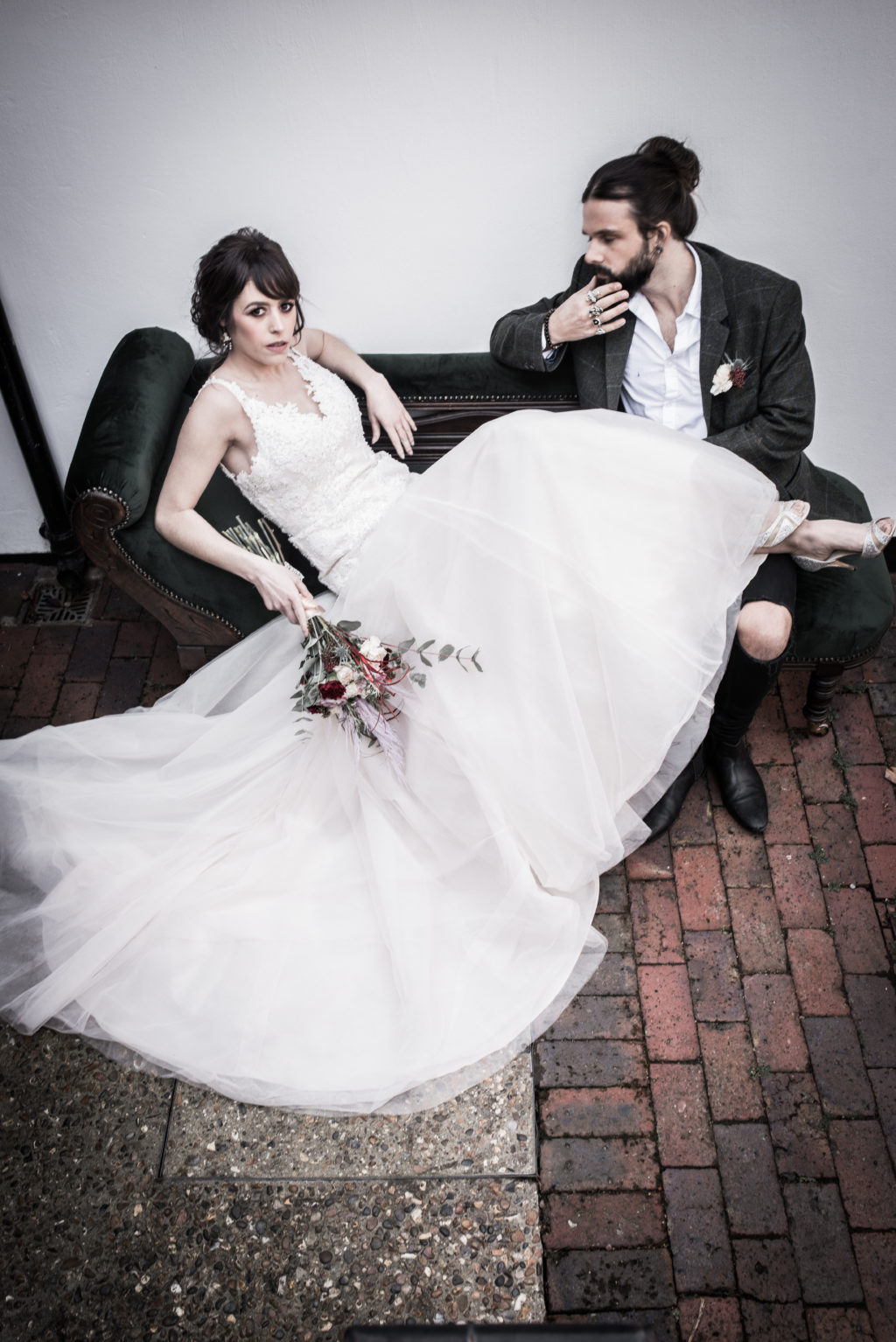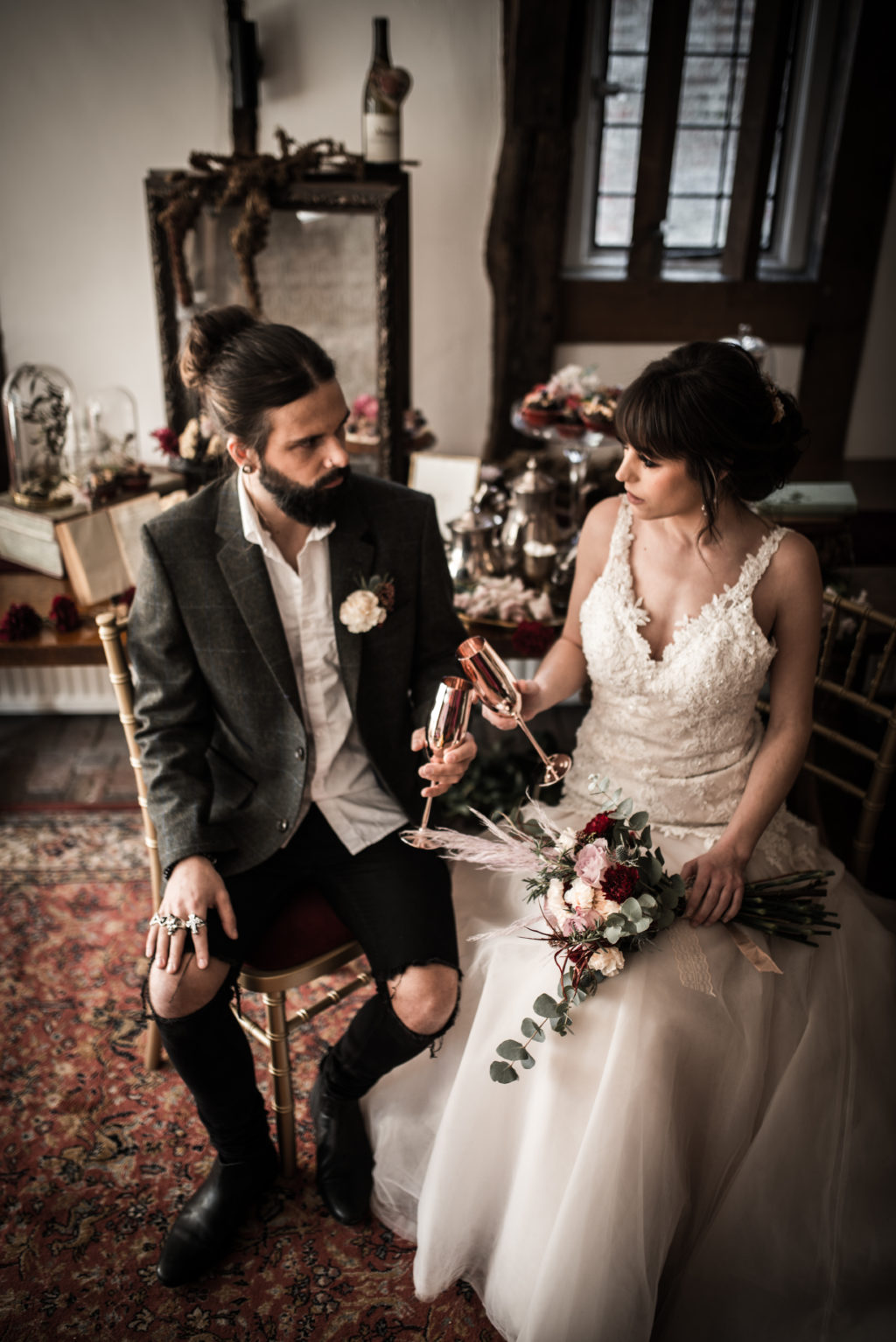 Cake – The Honey Bee Wedding Cake Company
"A black cake is a very bold look, perfect for a slightly alternative wedding. If you like the idea of an alternative wedding cake but are scared to have a full on colour, additional colours can be incorporated by using sugar flowers. This cake was softened by the brightly coloured sugar flowers. We loved the idea of a hexagonal bottom tier to add extra interest, the two glossy separator tiers not only added texture but also height. If you want a taller cake for impact but don't need more portions, these separator tiers are a great thing to ask your cake maker for – they can be made from polystyrene but covered in sugarpaste to look the same as the rest of the cake. The gold splatters and fairy lights gave it a pretty edge."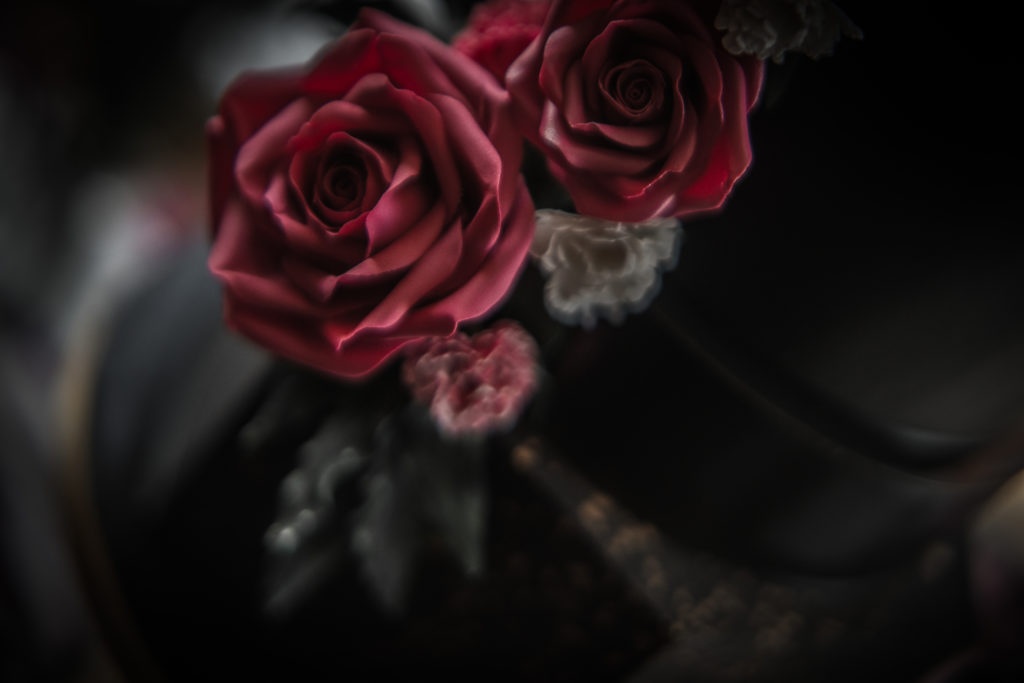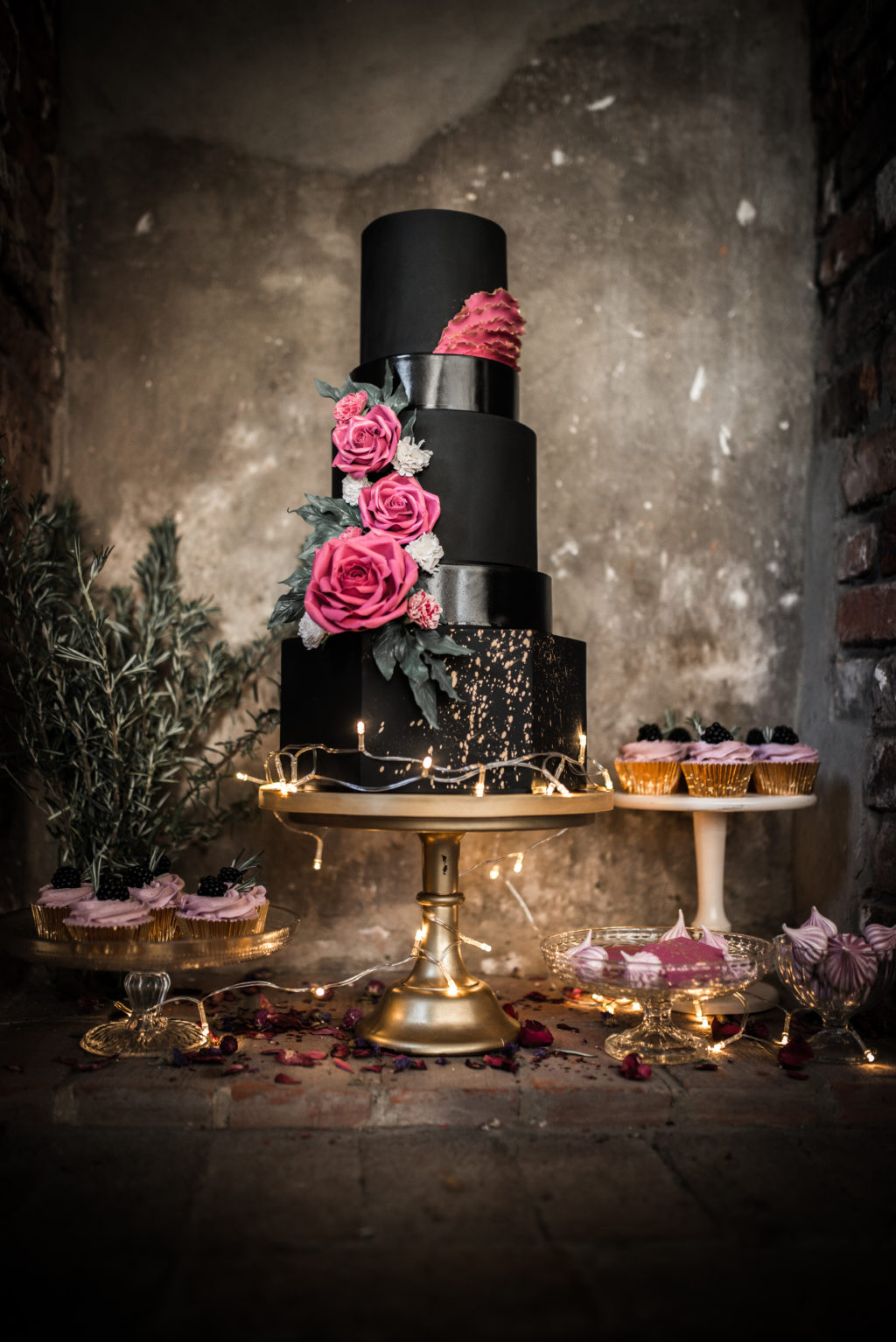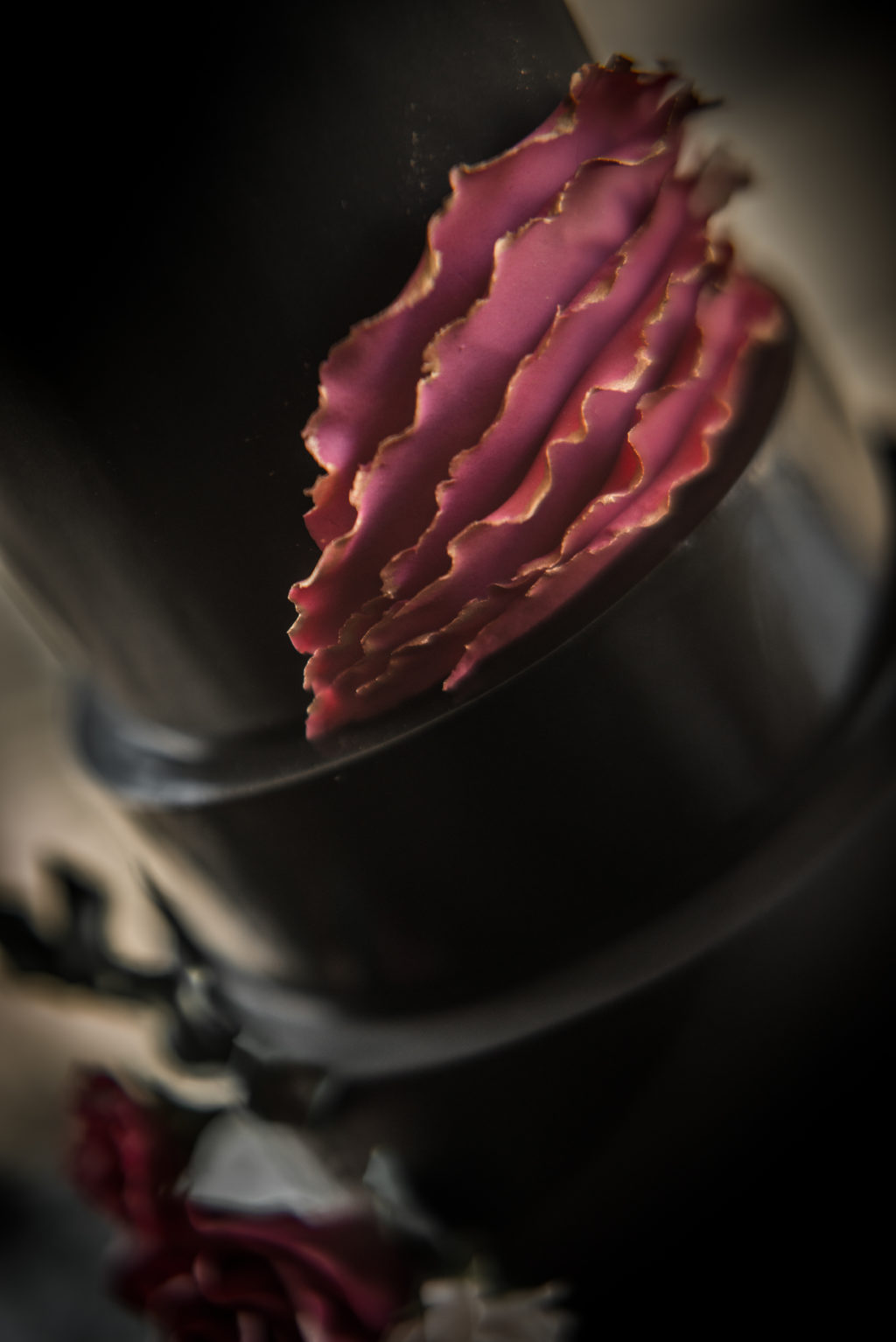 Hair – Bridal Hair By Jennie
"For our model I drew the inspiration from the innocence of the beaded fitted lace dress. I wanted to give her a soft pretty romantic look .I went for a natural textured up-do with tendrils to frame her face. I created this look by prepping salt texture spray by indola rough drying through. Then creating soft curls using babyliss wand.Then twisting and pinned up , finishing with Dry texture spray Kenra professional I didn't want her to look too perfect I wanted to capture this prim and proper girls inner wildness since meeting her soulmate."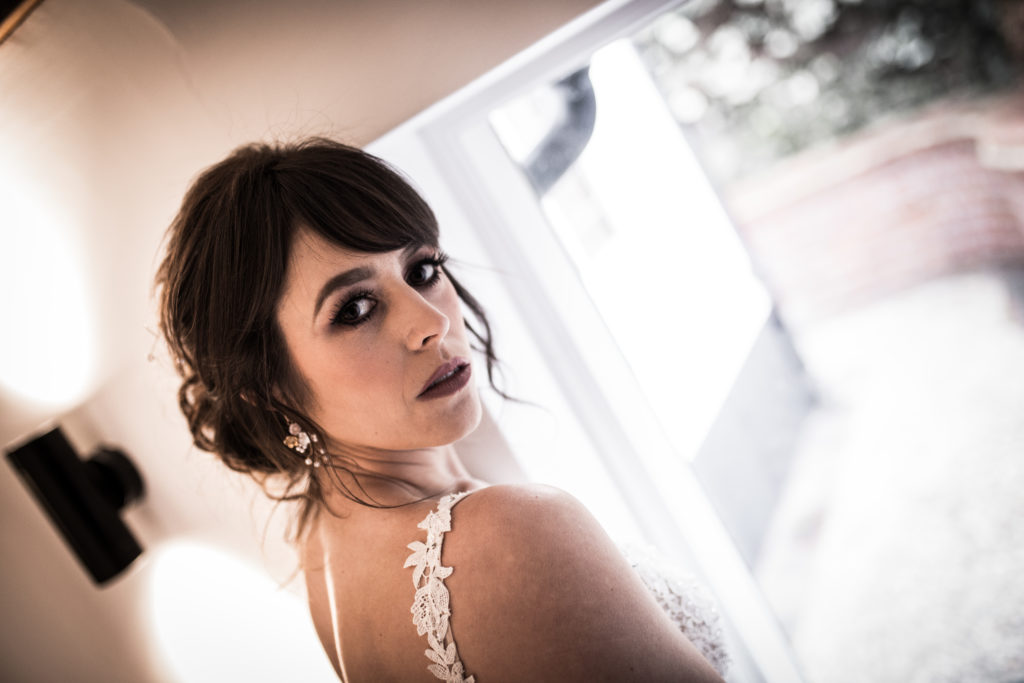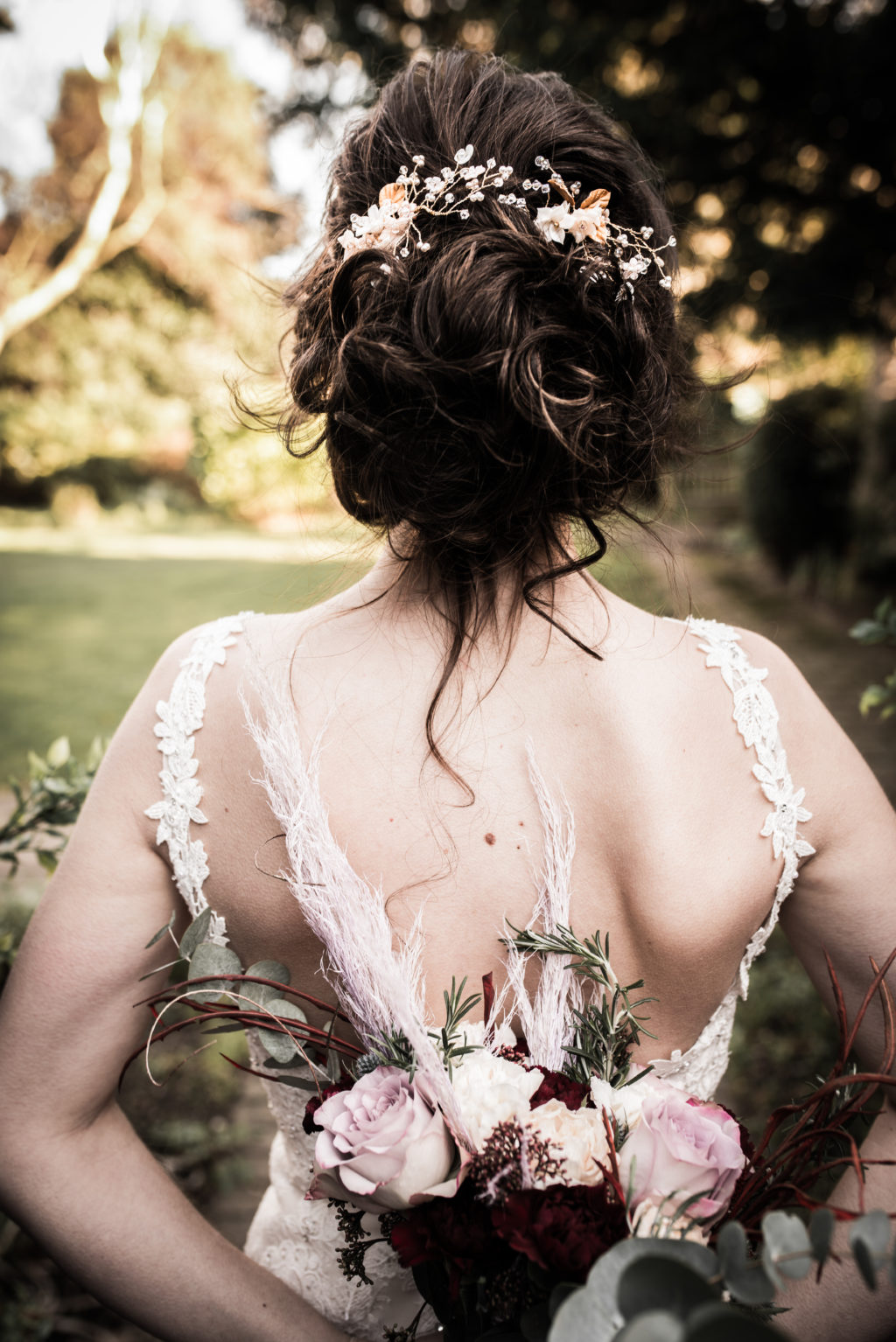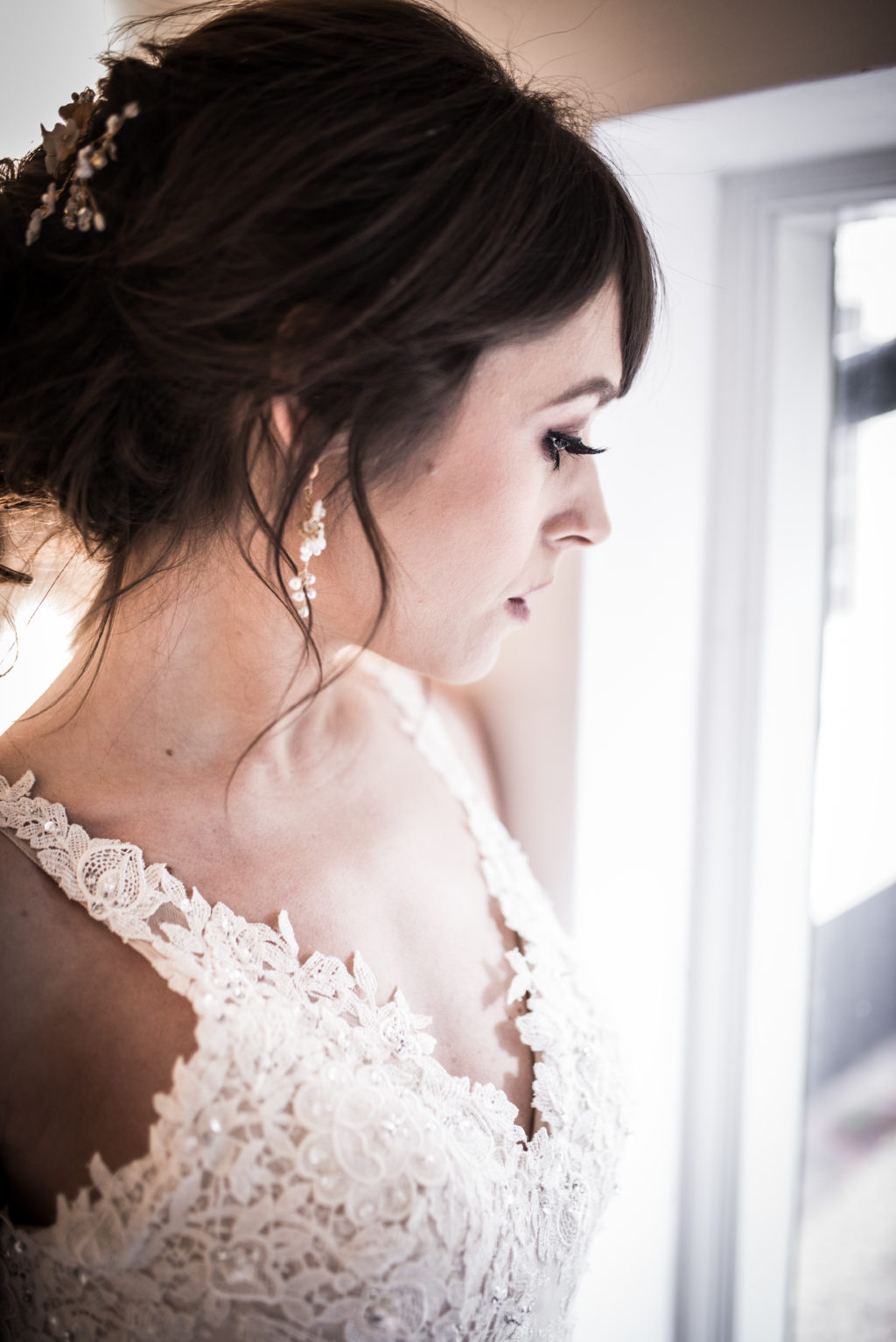 Makeup – Elaine Marie Make up Artist
"The inspiration for makeup on this styled shoot was to implement a deep romantic feel. I used Matt eye shadows of the Mac warm palette and the Mac burgundy times nine palette, finishing the look with a loose pigment in pink champagne to add a glow to the eyes. Eyeliner was used as a frame using Dior waterproof pencil & black Illamasqa gel eyeliner with an application of precision to add depth to the colour of the frame.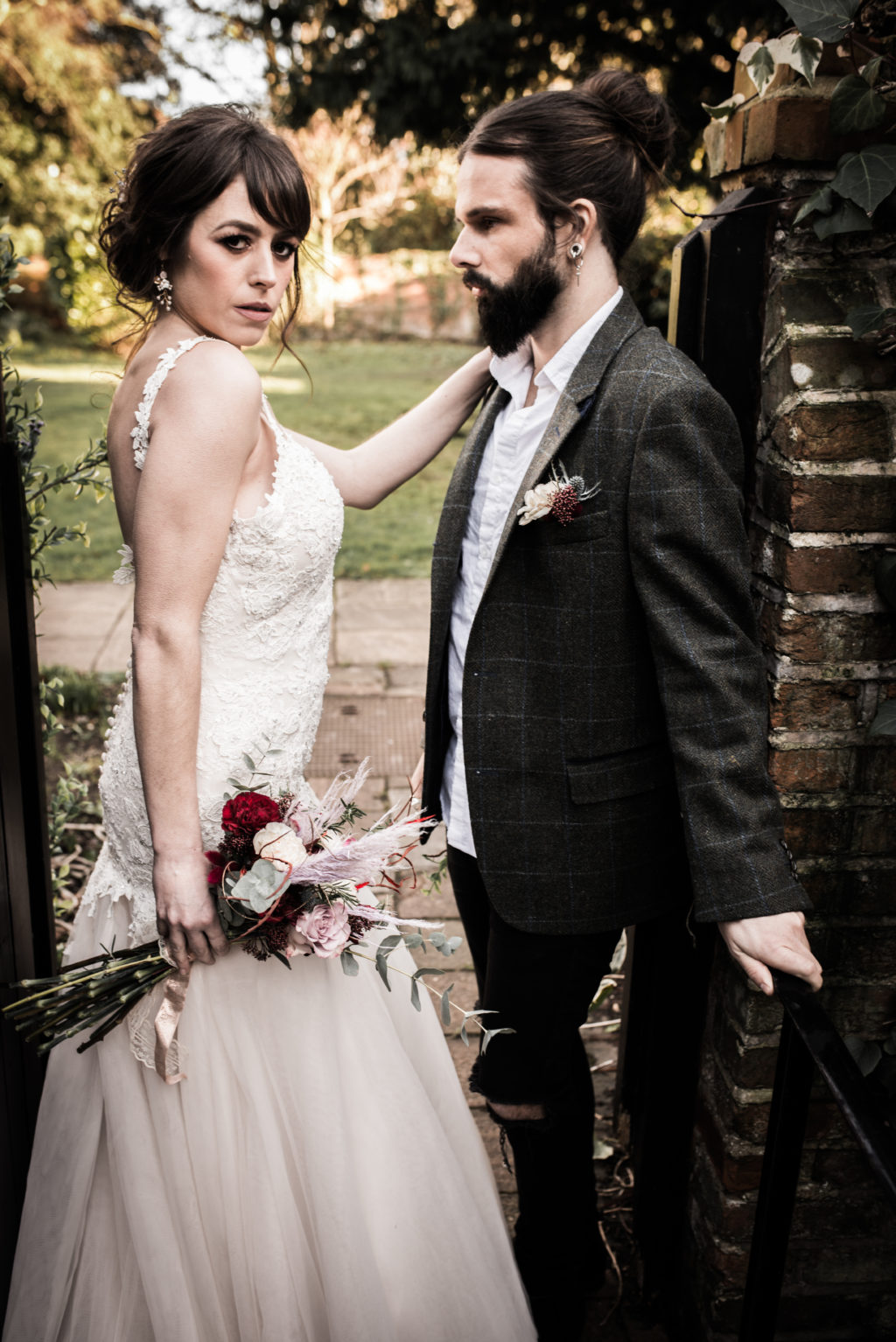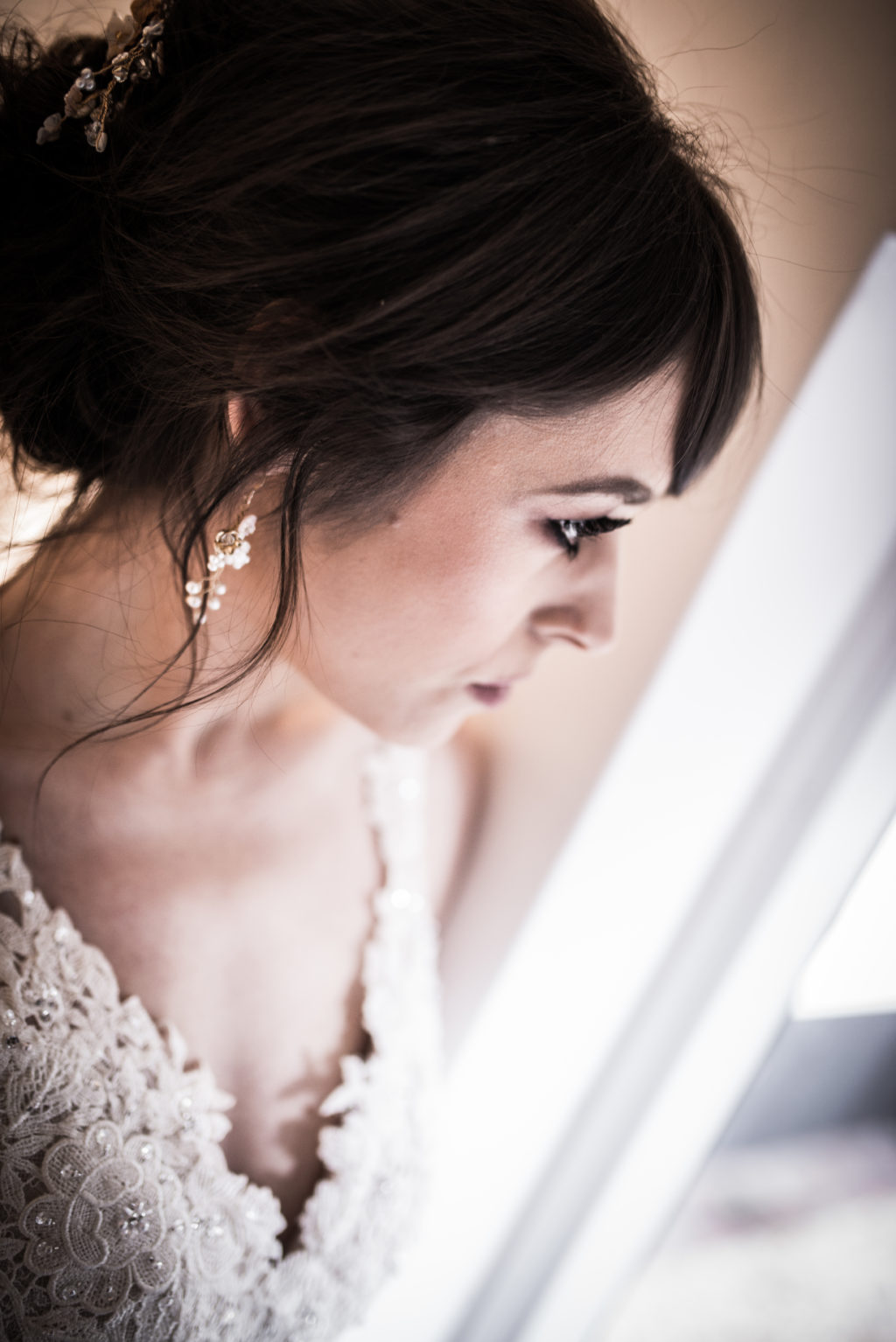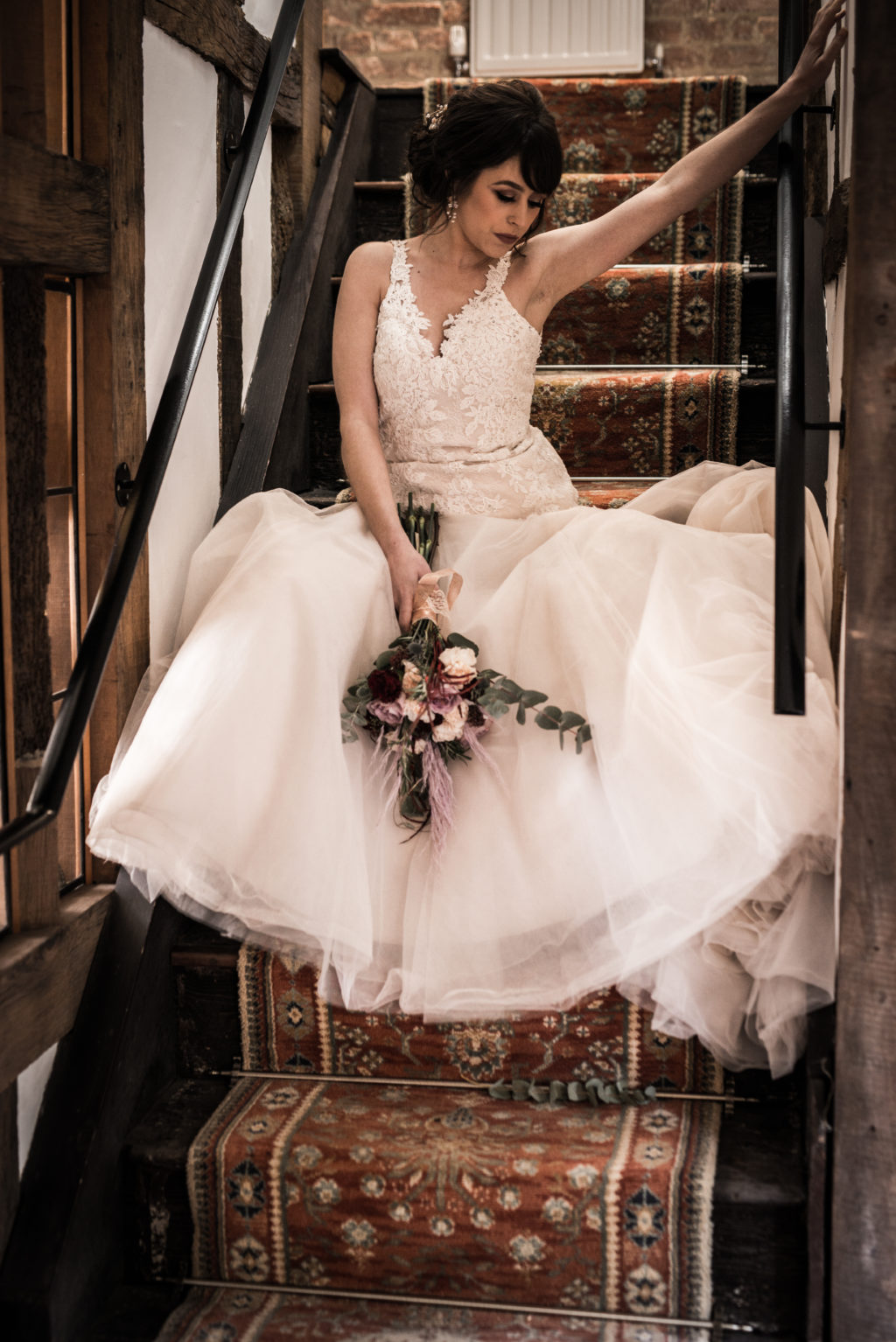 "I added Ardell Demi whispy lashes which are a beautiful enhancement & finish to the eyes.The Base was flawless using @mac studio fix fluid foundation in C4 & NC25. Lipstick in illamasqua shard added a deeper balance to the look which complimented the deeper floral tones and the dark wild side. Highlighter in Mac gentle light was used & Charlotte tilbury contour palette was applied under the cheek bone to add depth & sculpture to the features."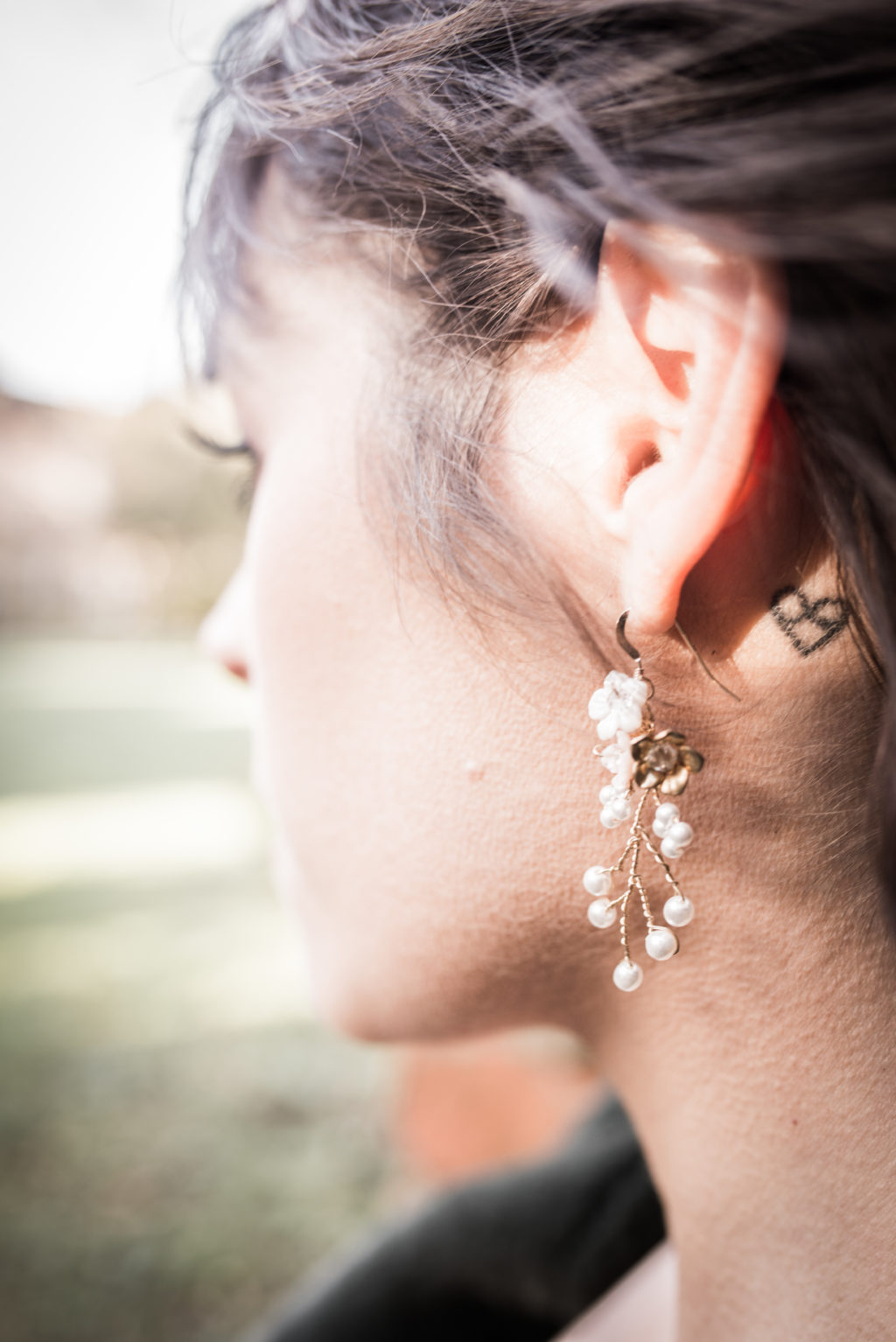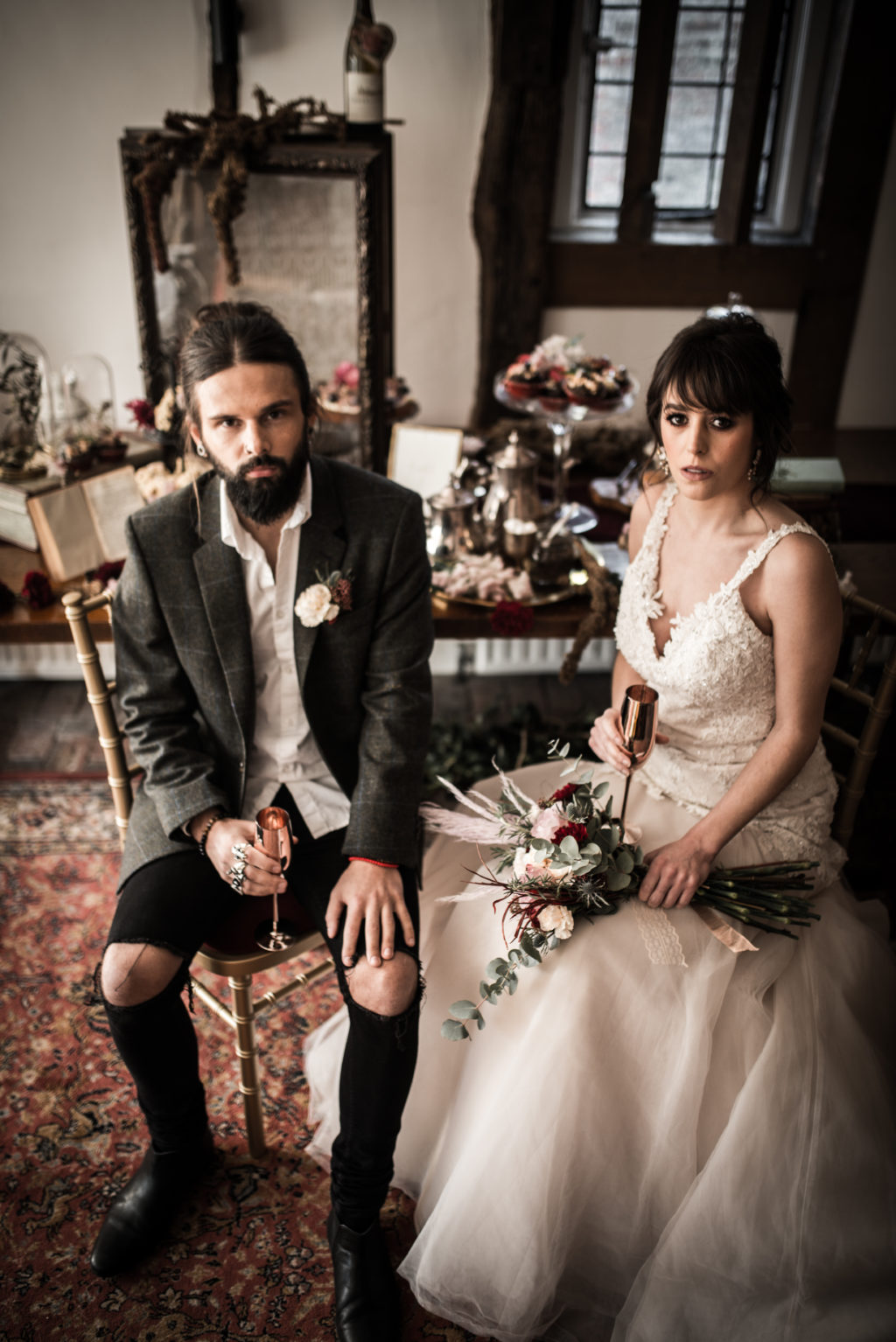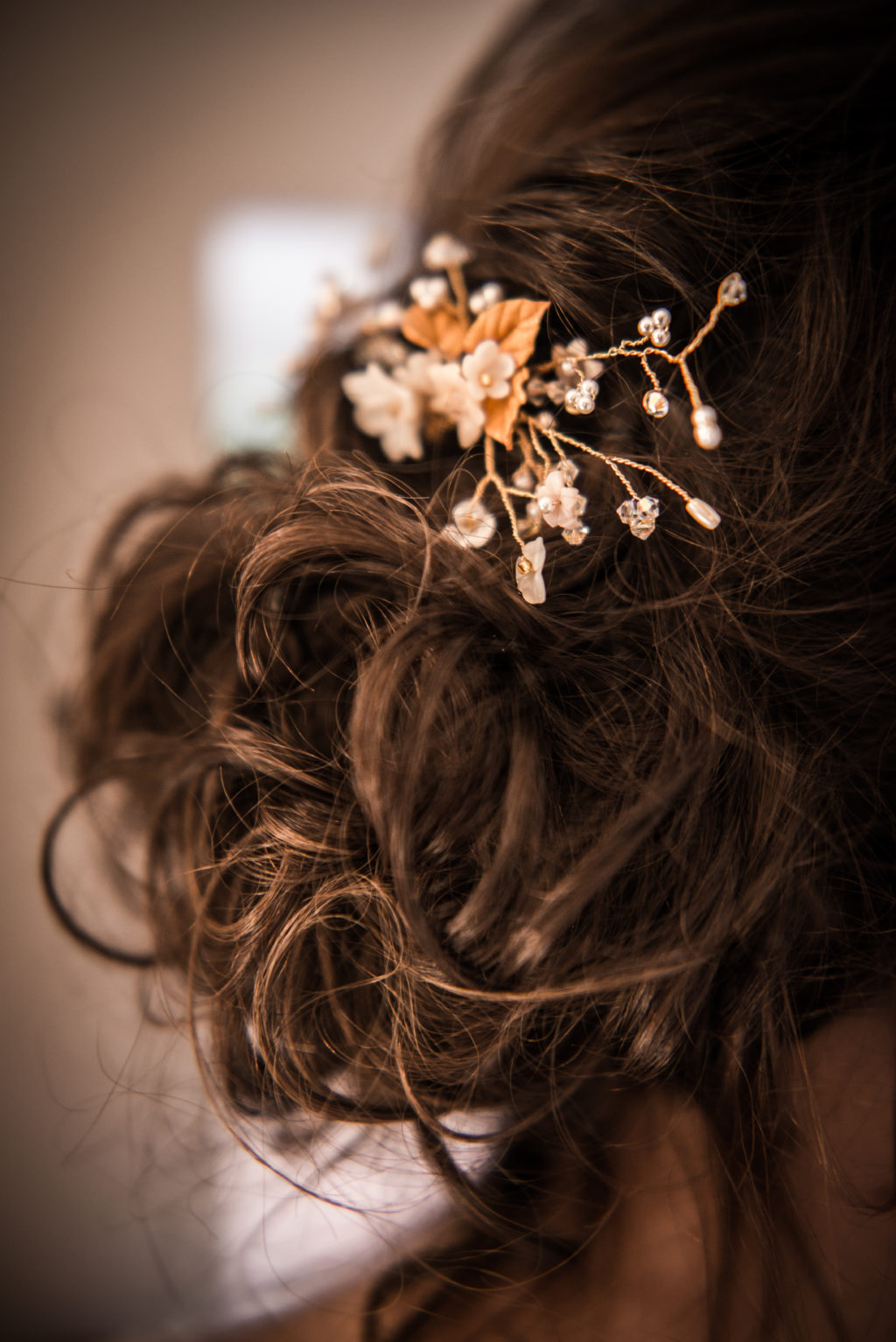 Accessories – PS With Love
"I wanted the jewellery to follow the brides personality of being pretty and elegant and therefore timelessly pretty matching earrings a hairpiece were selected to accompany the stunning lace bridal dress. I would suggest its important to leave accessories to last so that compliment your dress perfectly. Its also important to decide if you will be adding a veil or hairpiece ti your hair in order to let the hairstylist know before your hair trial."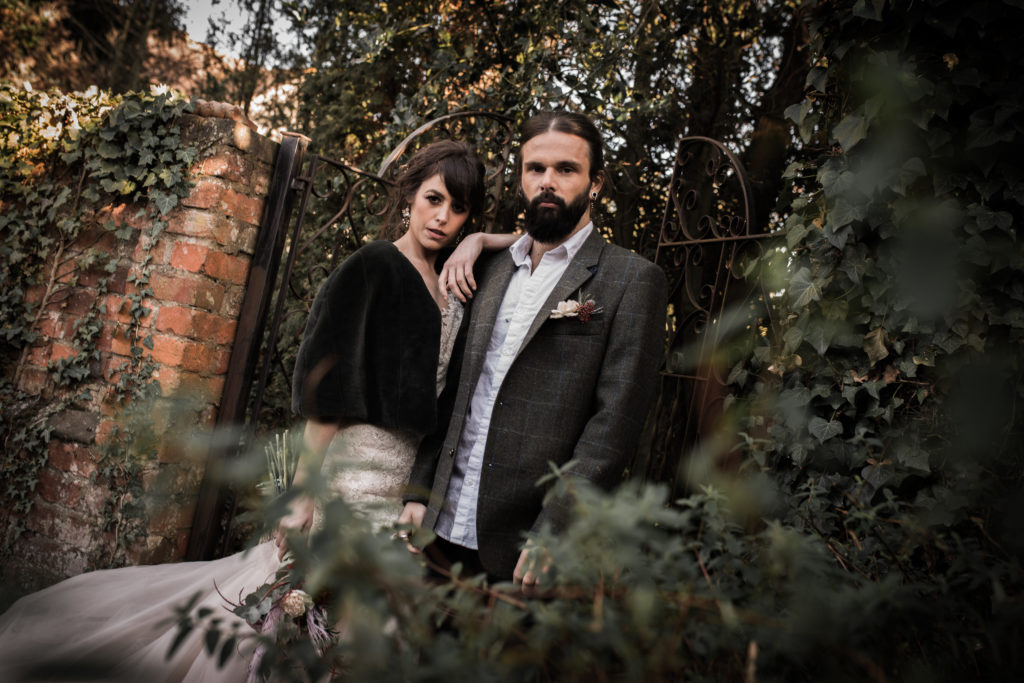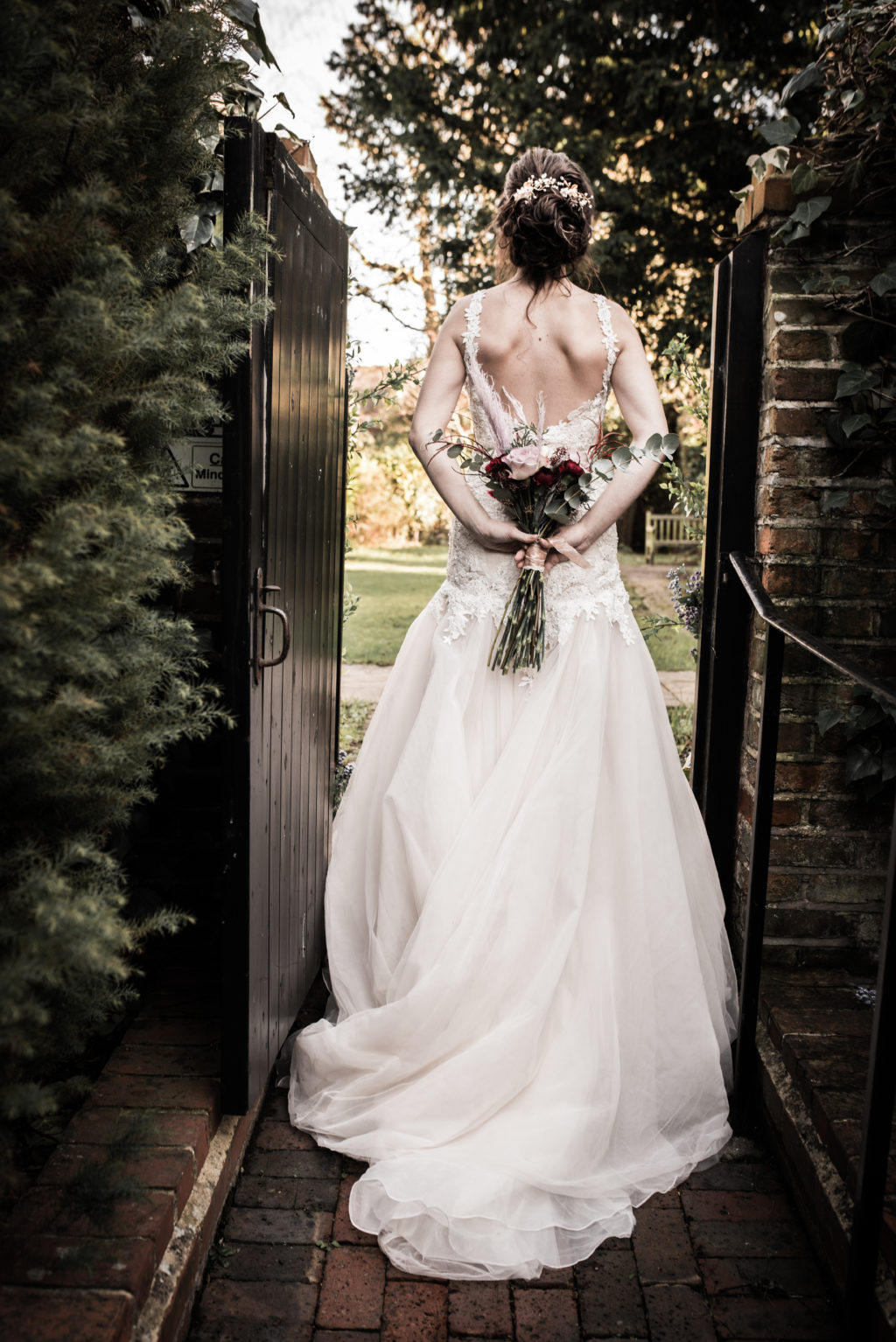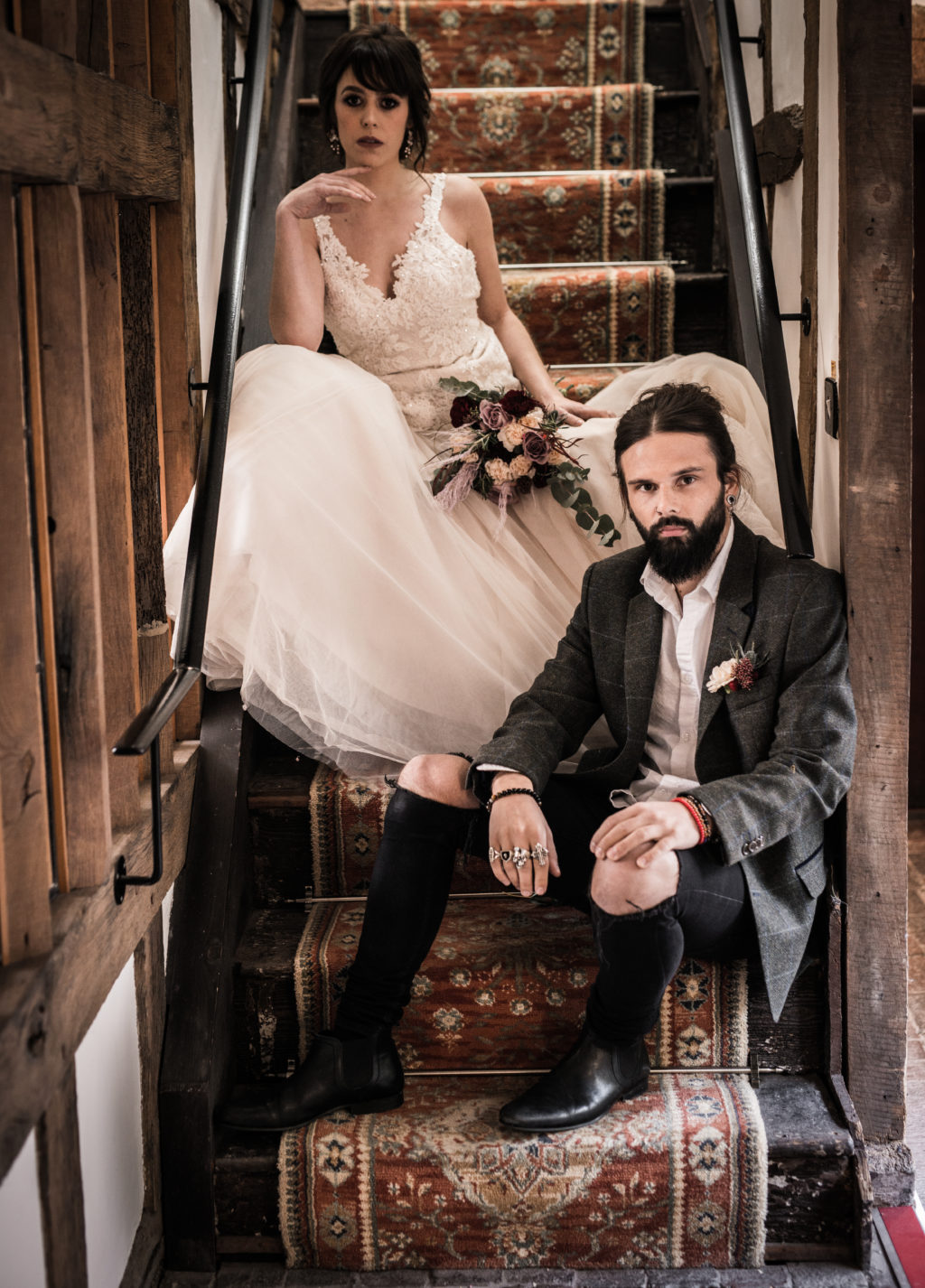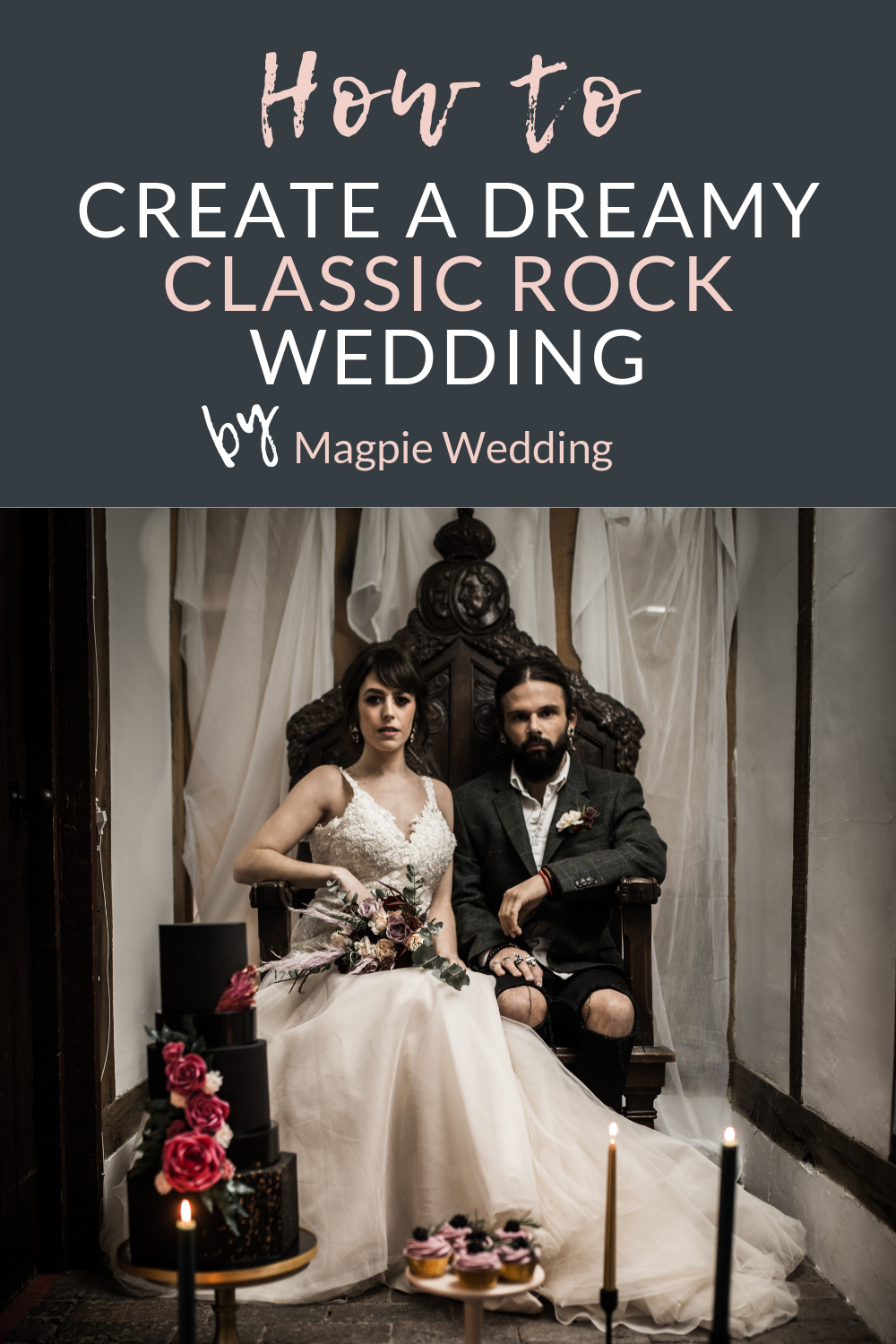 The Team – Classic Rock Wedding with Black Wedding Cake and Alternative Groom Style
Planner/Stylist and floral design – Rose Decor Styling @rosedecorstyling
Photographer – The Menagerie Lifestyle Photos @themenagerielifestylephotography
Hair – Bridal Hair By Jennie @bridalhairbyjennie
Make up – Elaine Marie Make up Artist @elainemarie.makeup
Models – @carla_north08 & @nile.shephard
Cake – The Honey Bee Wedding Cake Company @thehoneybeeweddingcakeco
Afternoon Tea Setup – Sugar Lump Lane @sugarlumplane
Stationery – Leigh Calligraphy @leigh_calligraphy
Jewellery – PS With Love @pswithlov3
Personalised top & champagne flutes- Personal Little Touch @personallittletouch
Bridal dress – Bridal Loved Maldon @bridalrelovedmaldon
Grooms attire – Fields Menswear
Love this Classic Rock Wedding and want more inspiration for your big day? Check out our online magazine BOND BRIDE or come and join us at our Manchester Victoria Baths Wedding Fair October 13th…
Book Your Tickets Here…