An intimate soiree amongst nature is the order of the day with this beautiful wedding at Sandon Manor in Hertfordshire. With delicate rustic styling and little touches of luxury, it's ther perfect inspiration if you're planning a small wedding. Shoot coordinator and florist Ellie from Wilt Studio took inspiration from the picturesque setting and the beautiful Georgian venue that has recently opened as a wedding venue. We hear from her and the rest of the team about how this Sandon Manor inspiration was created…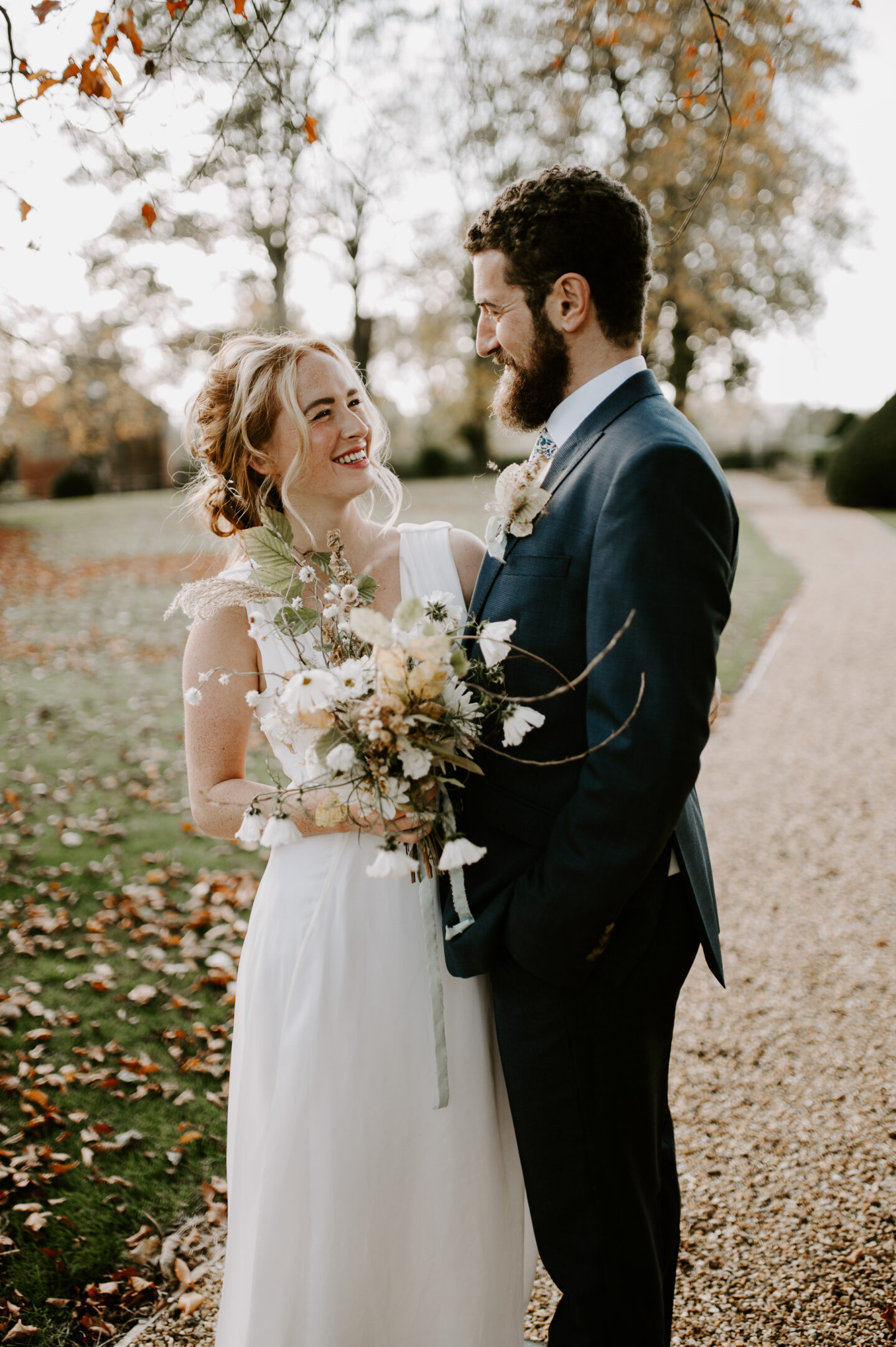 Inspiration
"Turning onto the gravel driveway to Sandon Estate you can't help but be taken by the impressive Georgian frontage of Sandon Manor and its beautiful formal gardens. As I walked around the house for the first time I could see a series of tableaux, images of a bride and groom coming together on their wedding day; light bathing a bride as she buckled her shoes, the huge Georgian windows framing an embrace, the table laid with flowers and foods. Each room lends itself so well to a part of the story. I took inspiration from the details of the house and all its treasured artworks. The table was laid like that of a still life painting by the great masters, the cake stood like a modern sculpture, the floral displays took sculptural forms and celebrated the features of the house, the hairpieces were little artworks themselves and the stationary carried a firm nod to the work of Matisse. Shots were set up to mimic well-known artworks and place our couple at the centre of their own work of art."
"When planning your day it's so important to take time and really look at your wedding venue and envisage your day, be it a house, barn or gardens, pick out your key locations as you walk around, ask what areas are accessible to you on your wedding day and where you might be able to get those precious couples shots. Give your suppliers an idea of what other suppliers are creating for you, sending out the same mood board or Pinterest board to all your suppliers will help your vision be carried across each element of your day."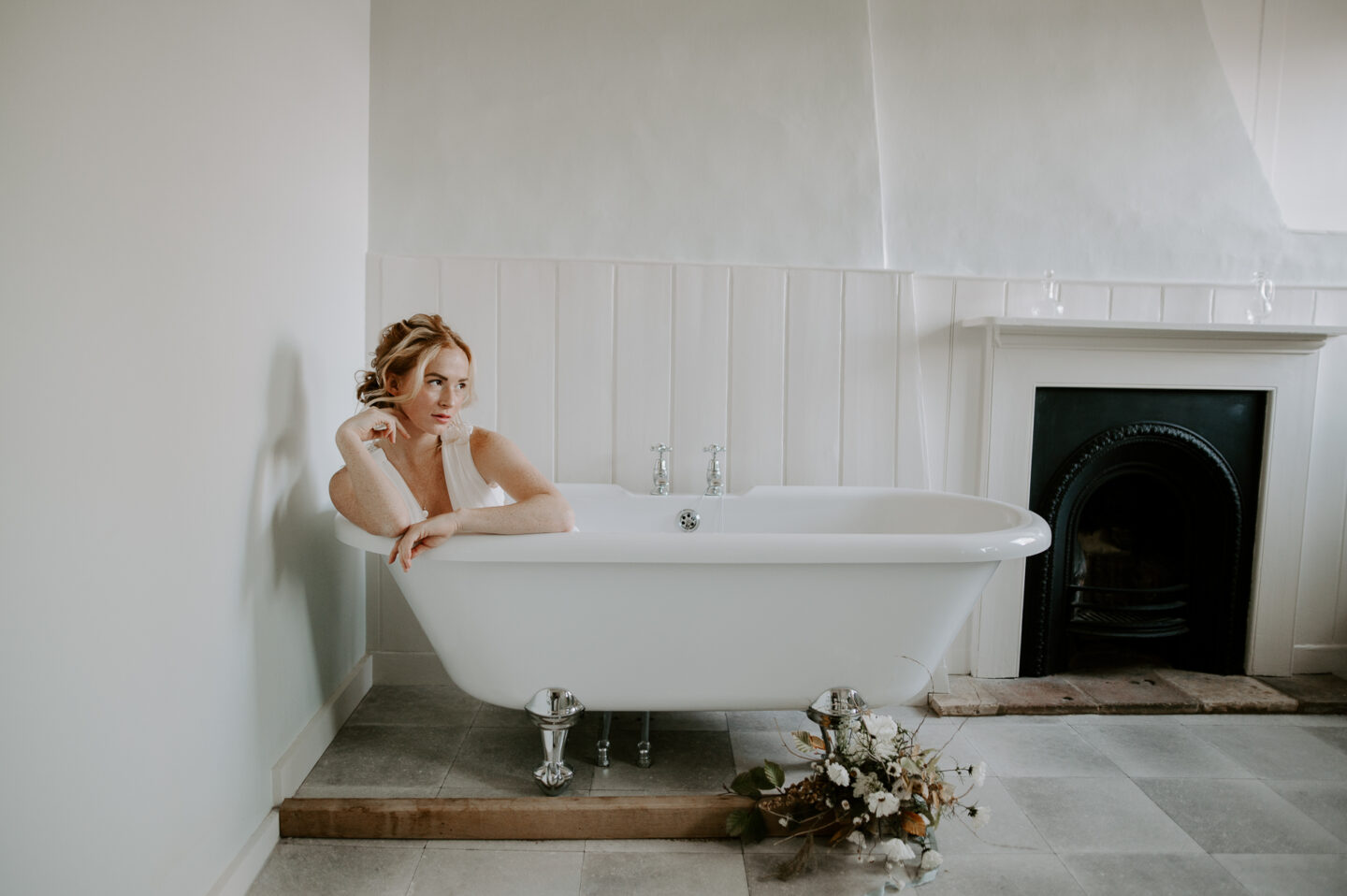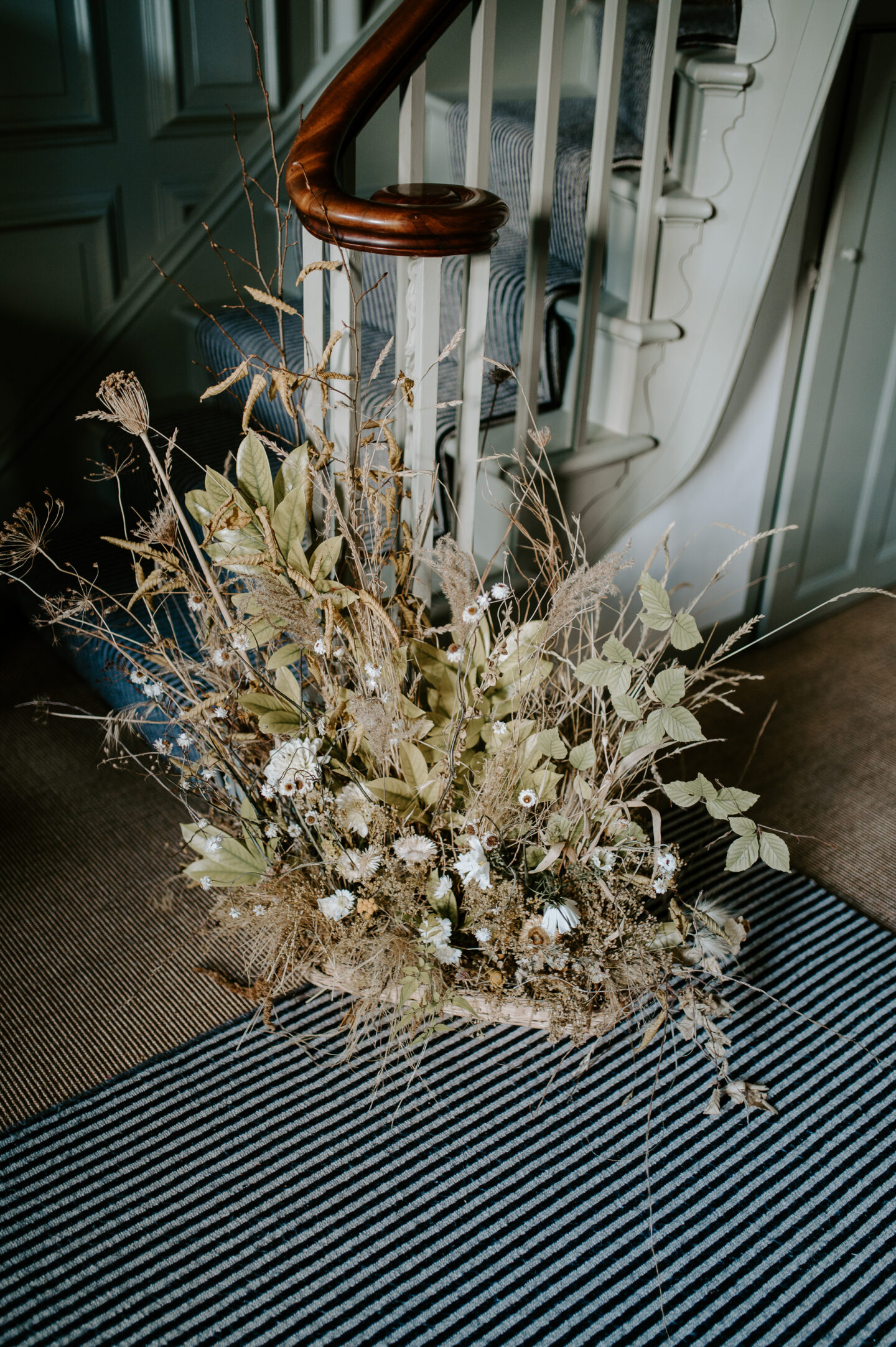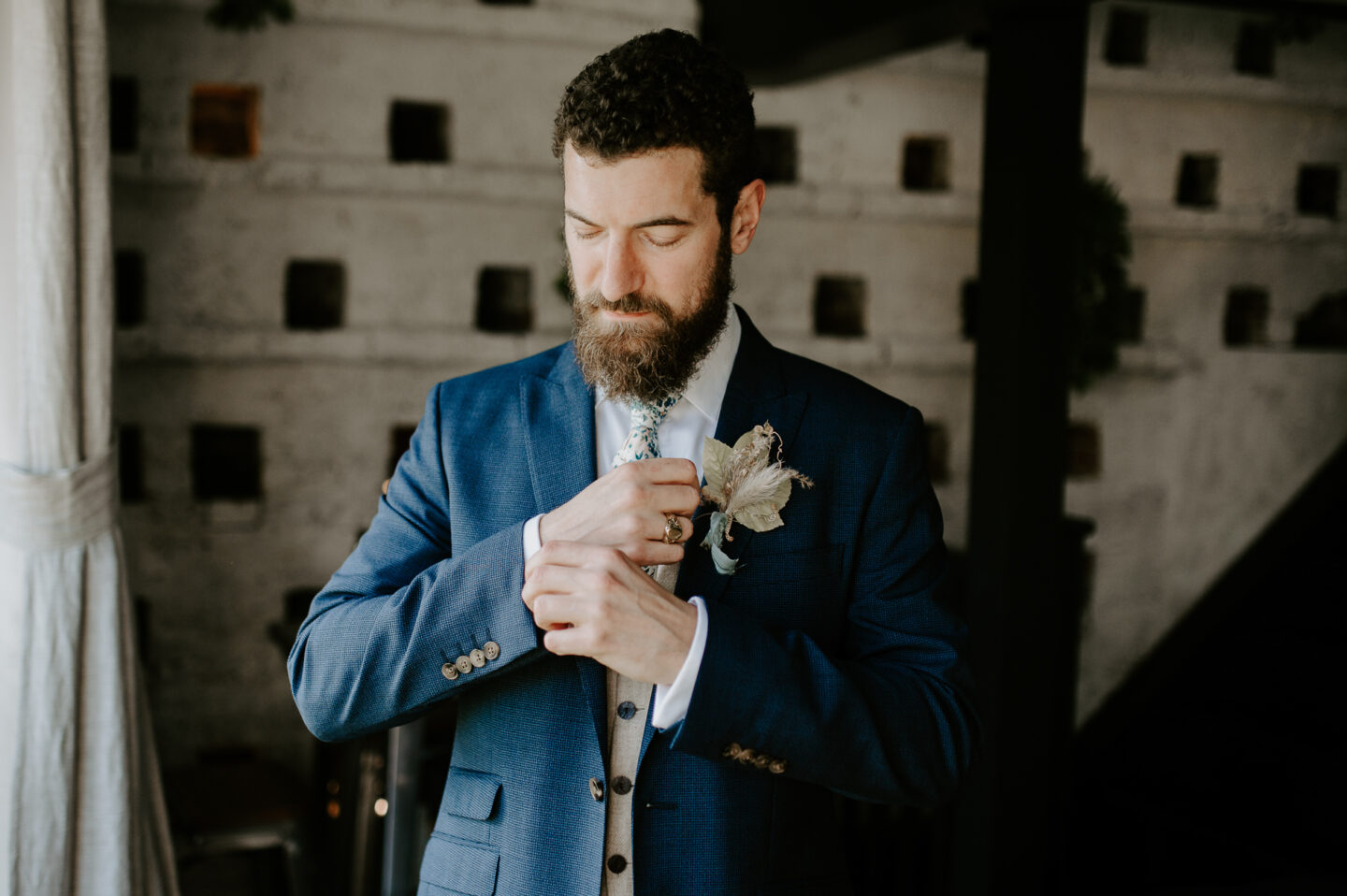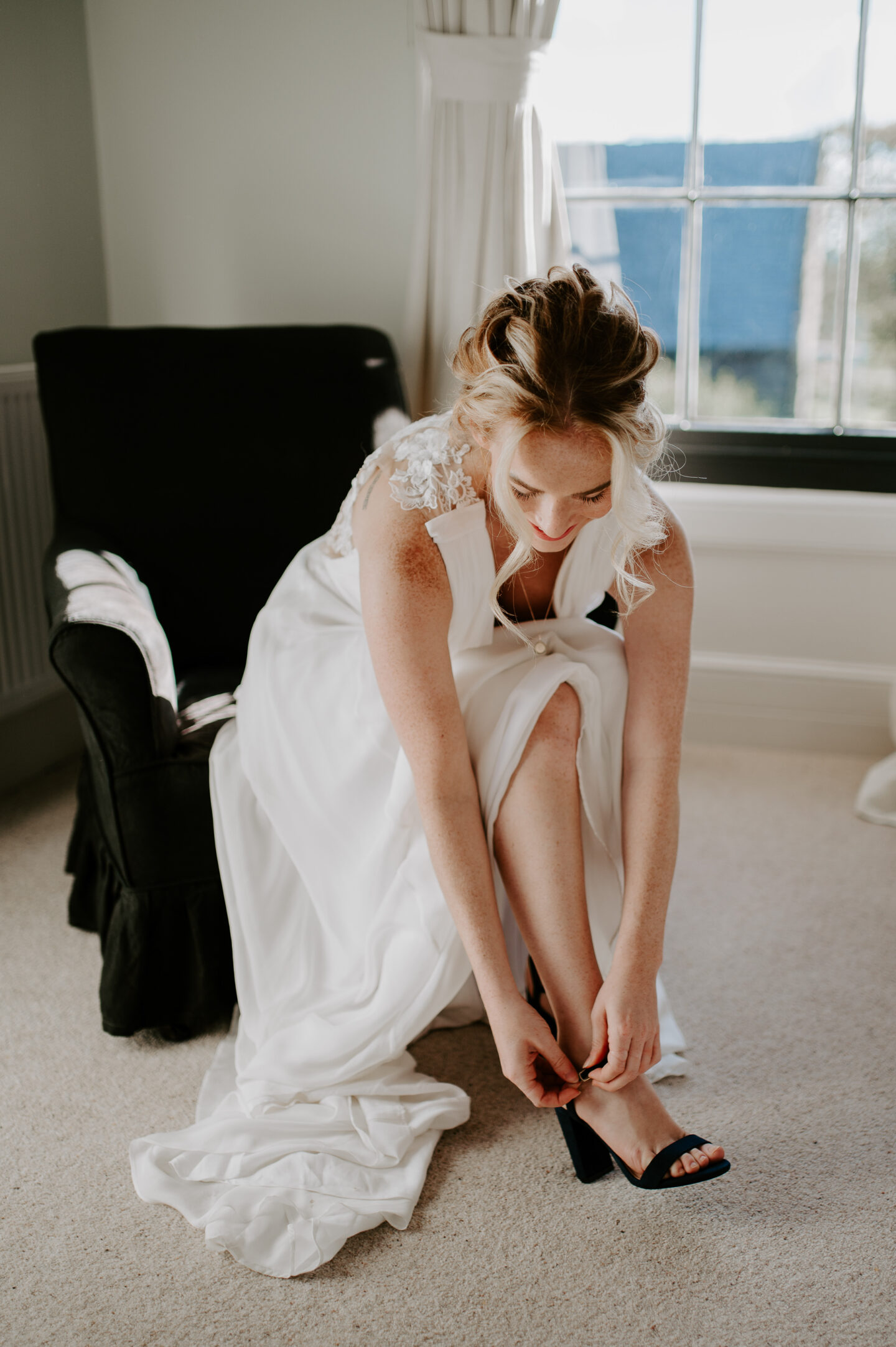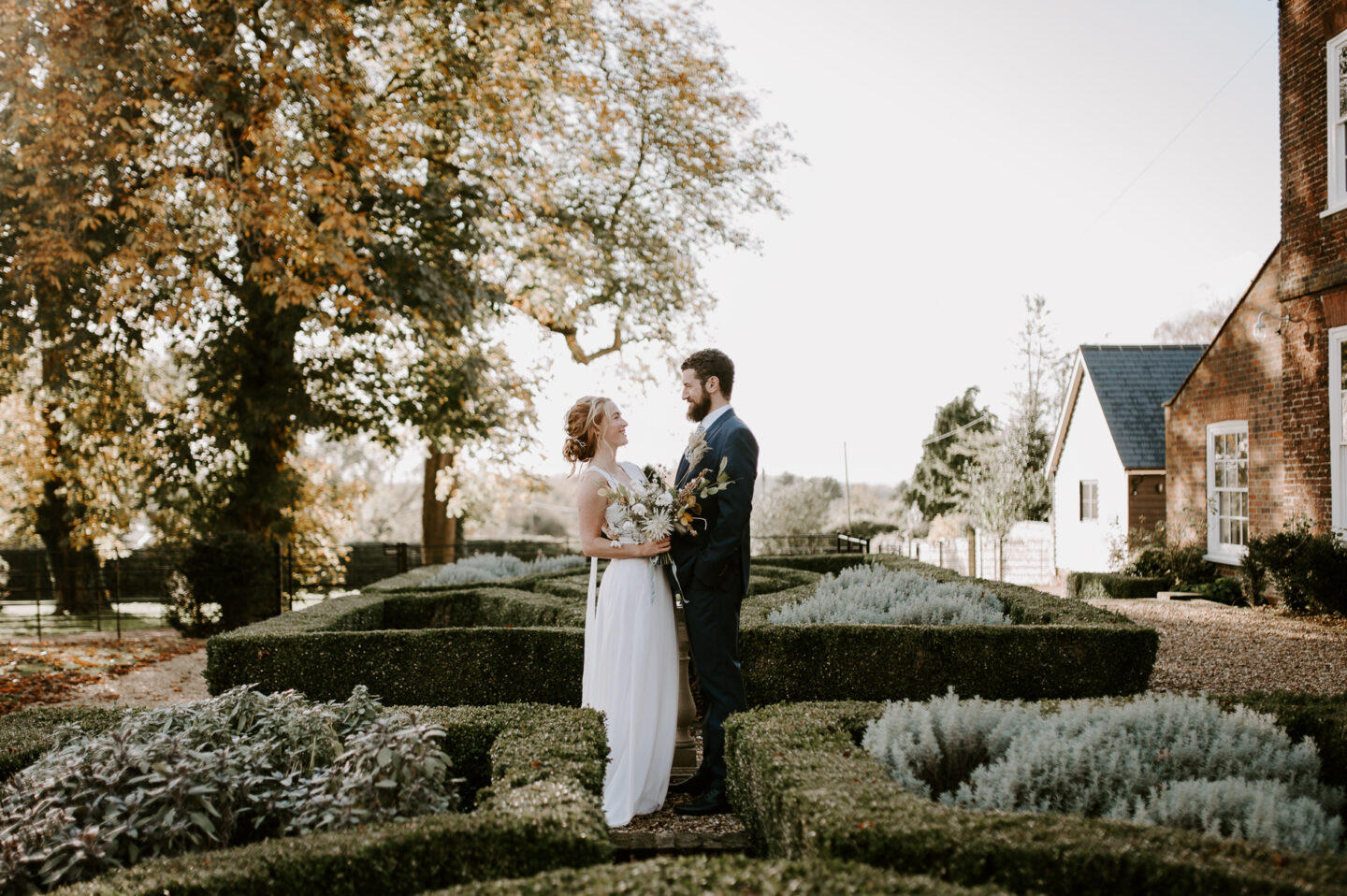 Venue – Sandon Manor
"We were so excited to work with all these wonderful skilled local suppliers to create the dream wedding shoot. We have only just launched and it was wonderful to showcase Sandon Manor as the backdrop to so many stunning wedding suppliers. We recently renovated Sandon Manor using natural understated colours to accentuate the stunning historic features of the Manor within the wild nature reserve of Sandon Estate. The understated beauty of the shoot with everyone involved created a luxurious, natural feel which is exactly what we offer with Sandon Estate weddings." Chimney formal menswear "A classic lightweight navy suit with a muted check was the ideal style to contrast with the natural colours of a textured oatmeal wool waistcoat and a gentle blue and lemon watercolour tie. This whole look worked well with the naturalistic styling of the foliage and florals and the overall venue." Arthouse ceremonies "Holly Darton is a wedding celebrant based in North Hertfordshire who creates artistic, meaningful and fun ceremonies to celebrate your unity your way."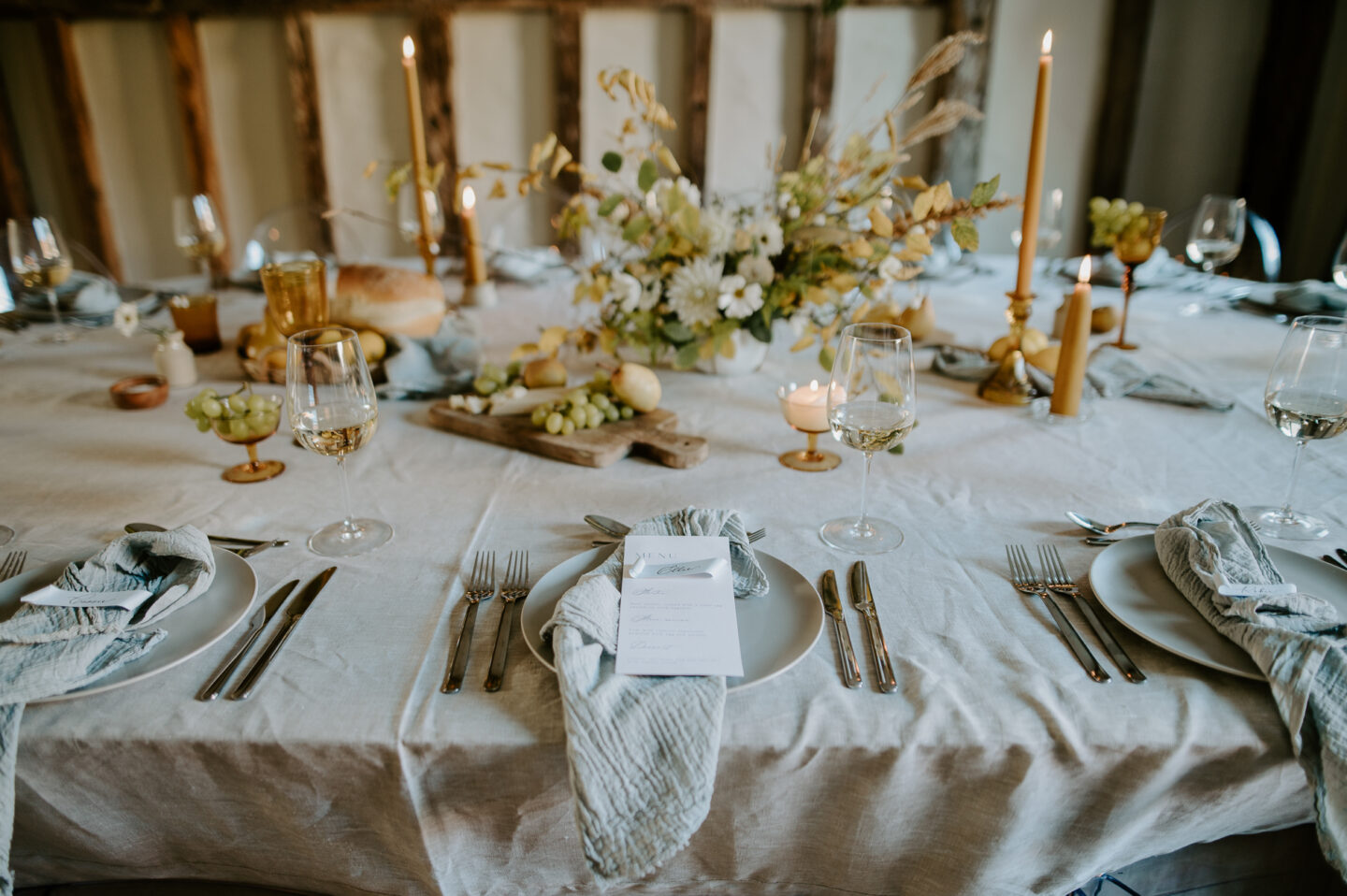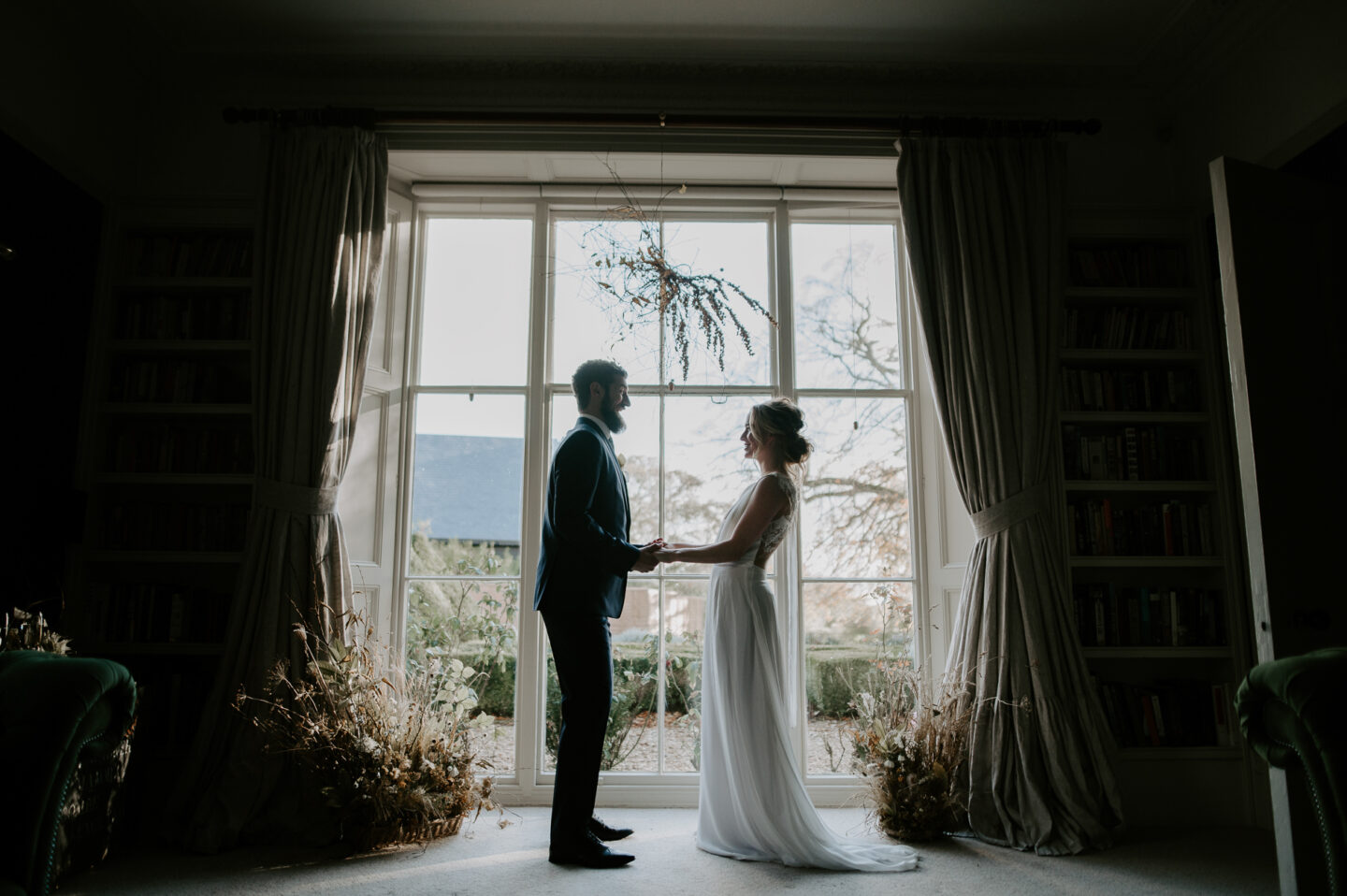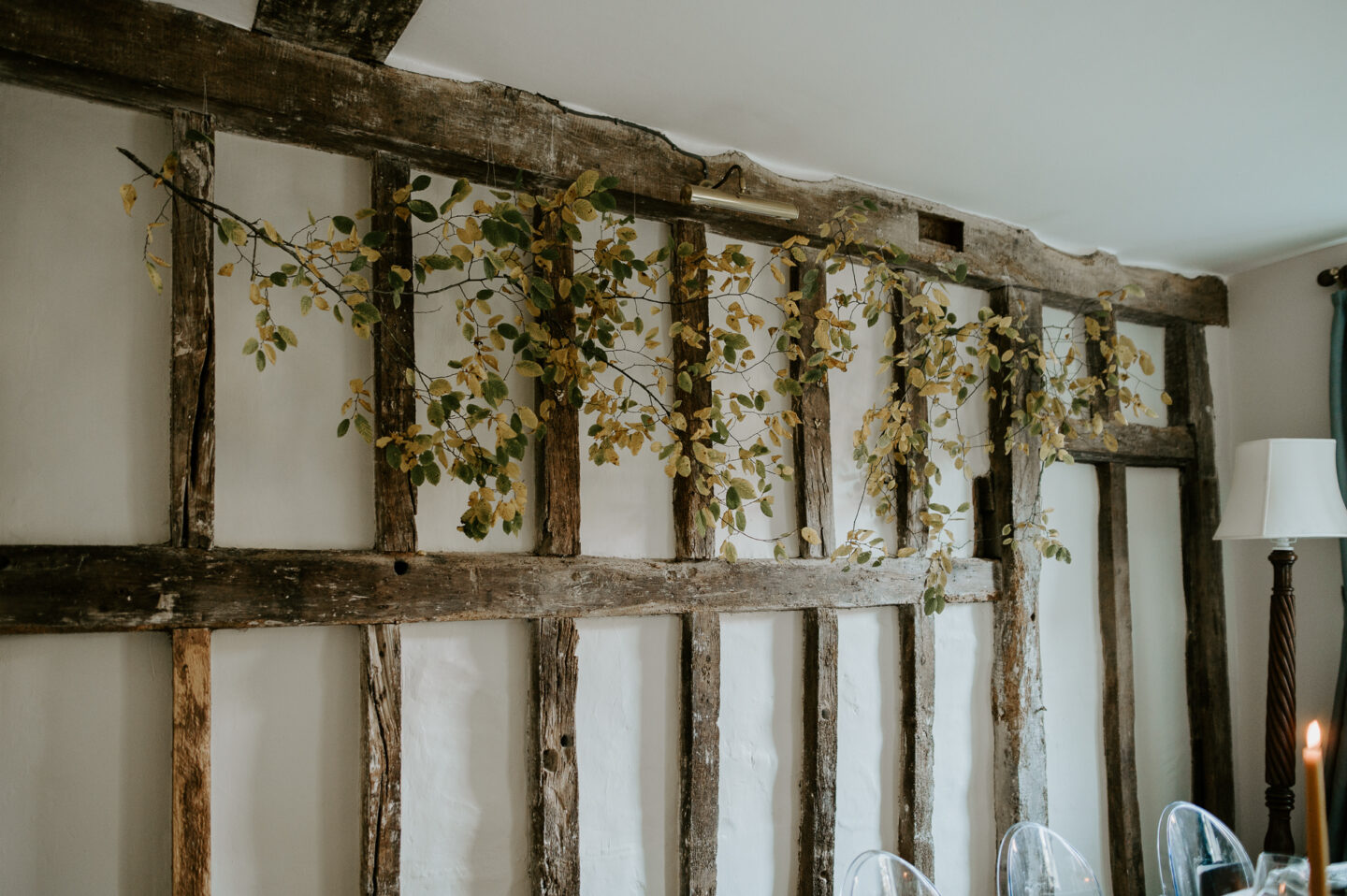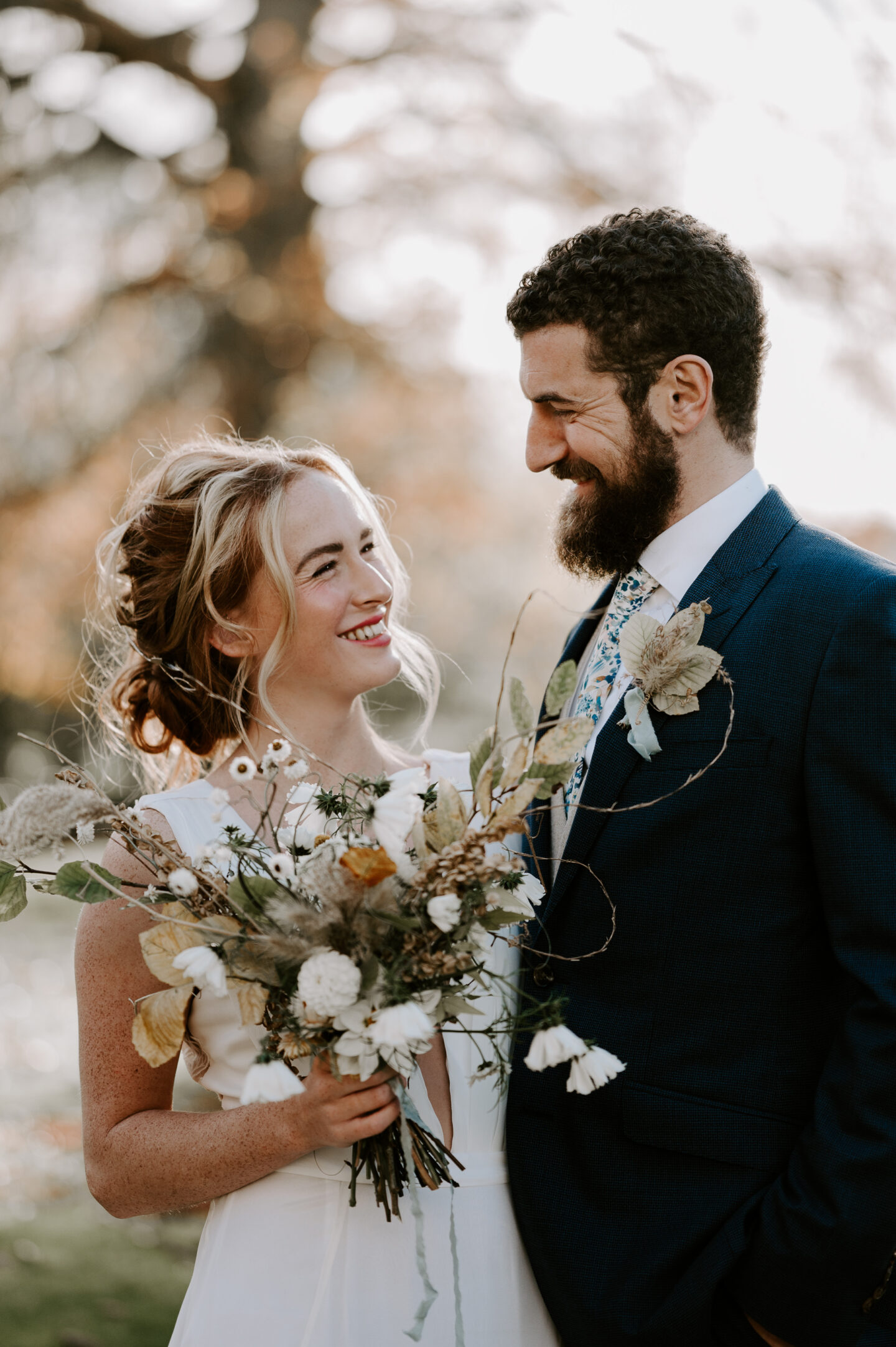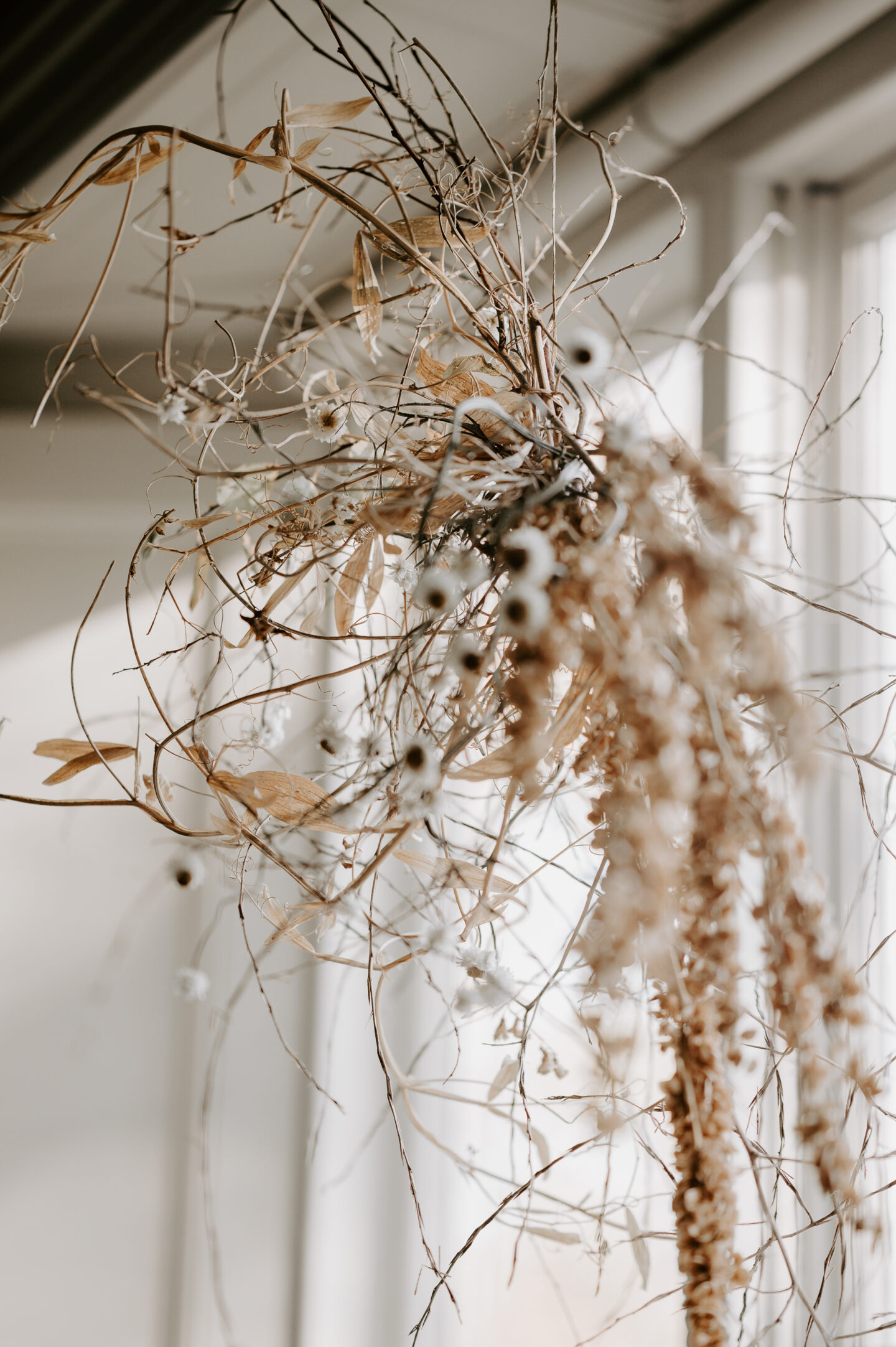 Styling Advice
"As you walk around your venue think about details- what would complement the space you're in to make the most of both the space and your budget. Key visuals in key locations will go much further than bits and bobs everywhere. Can decor items be moved from the ceremony space to the wedding breakfast as your guests move through the day to make the most of each element. Always think outside the box and take inspiration from what you love which will remain timeless and not necessarily wedding trends that may be fleeting. For this shoot we wanted the decor to really show off what the venue was capable of.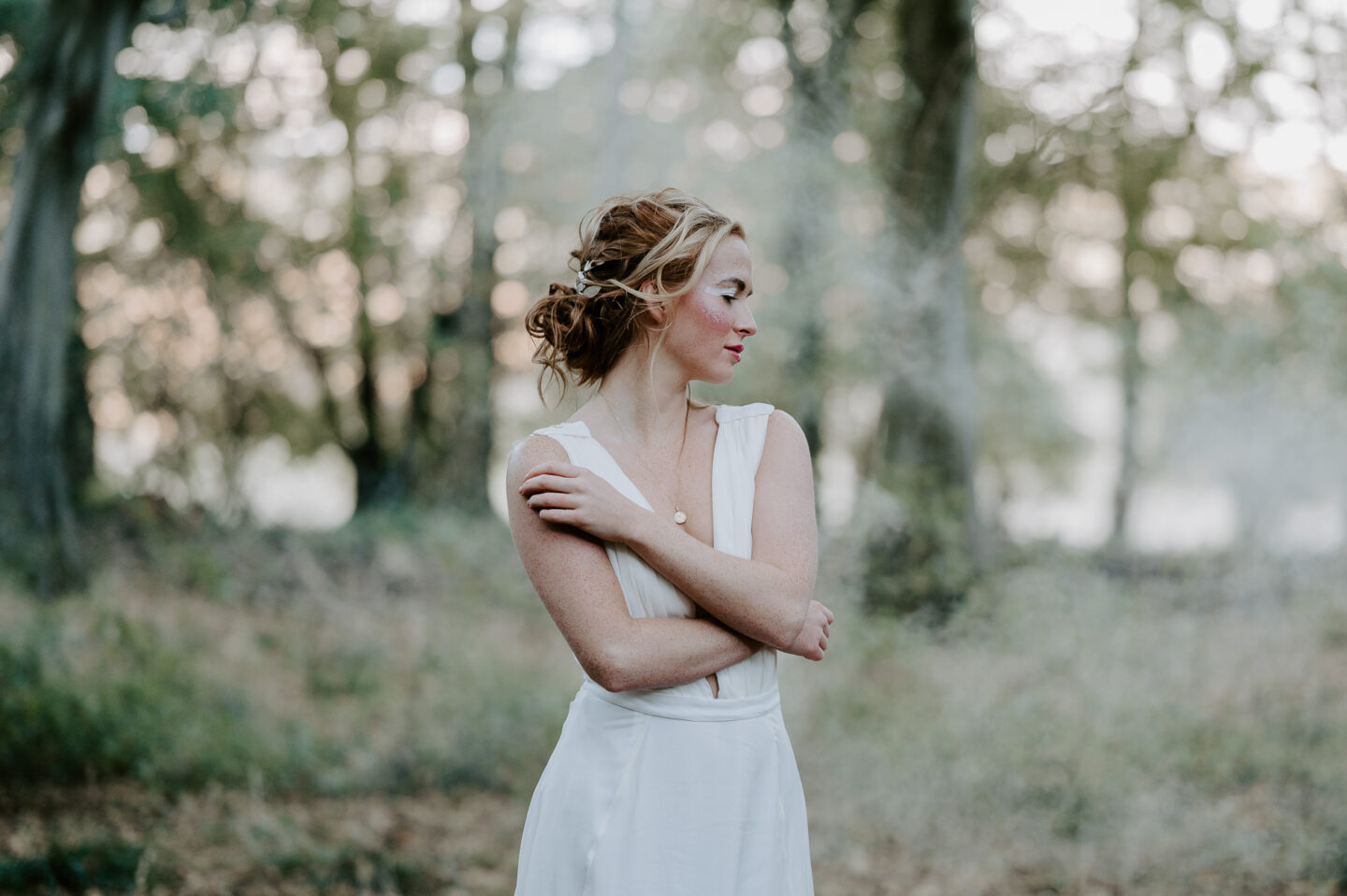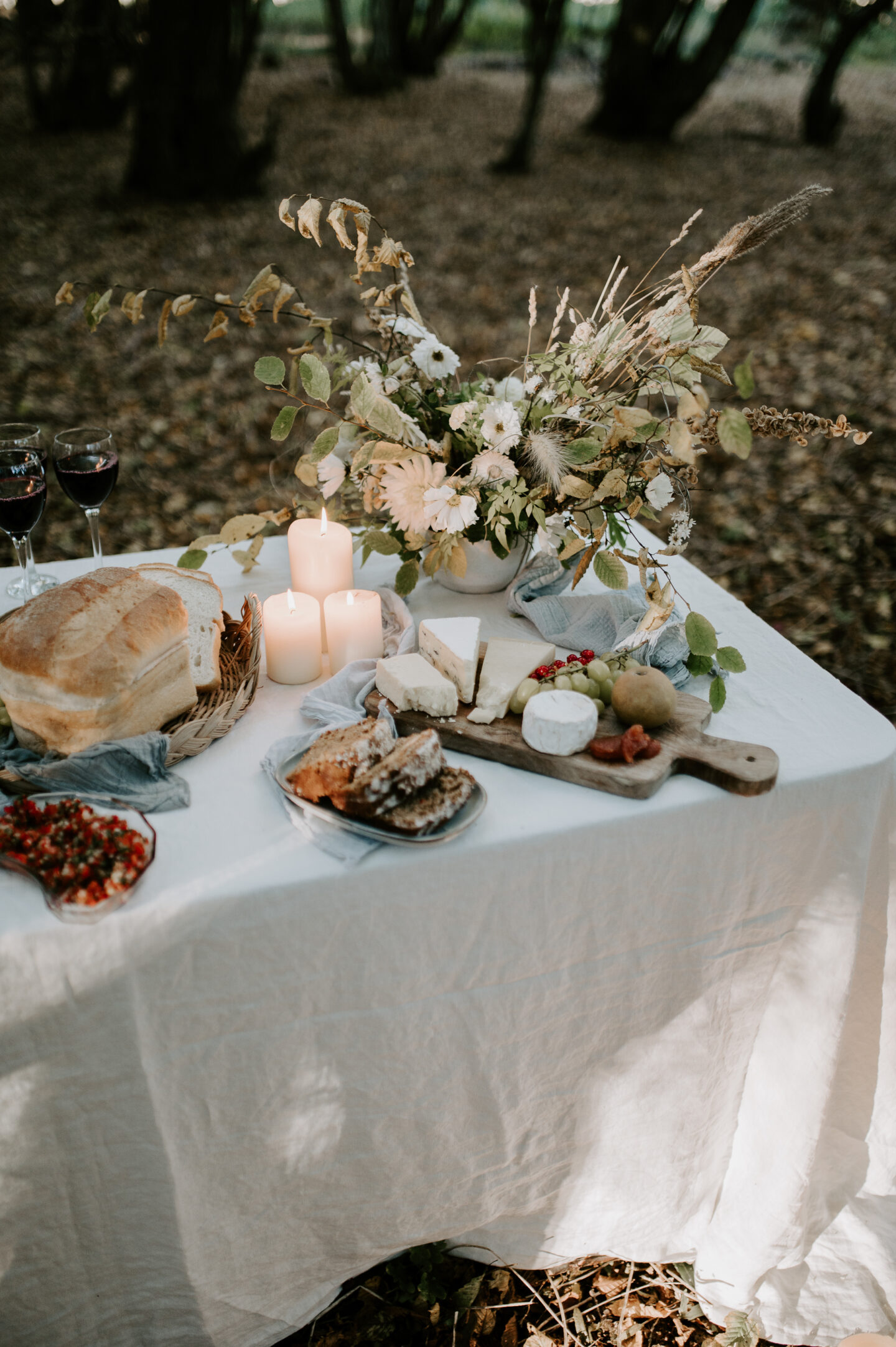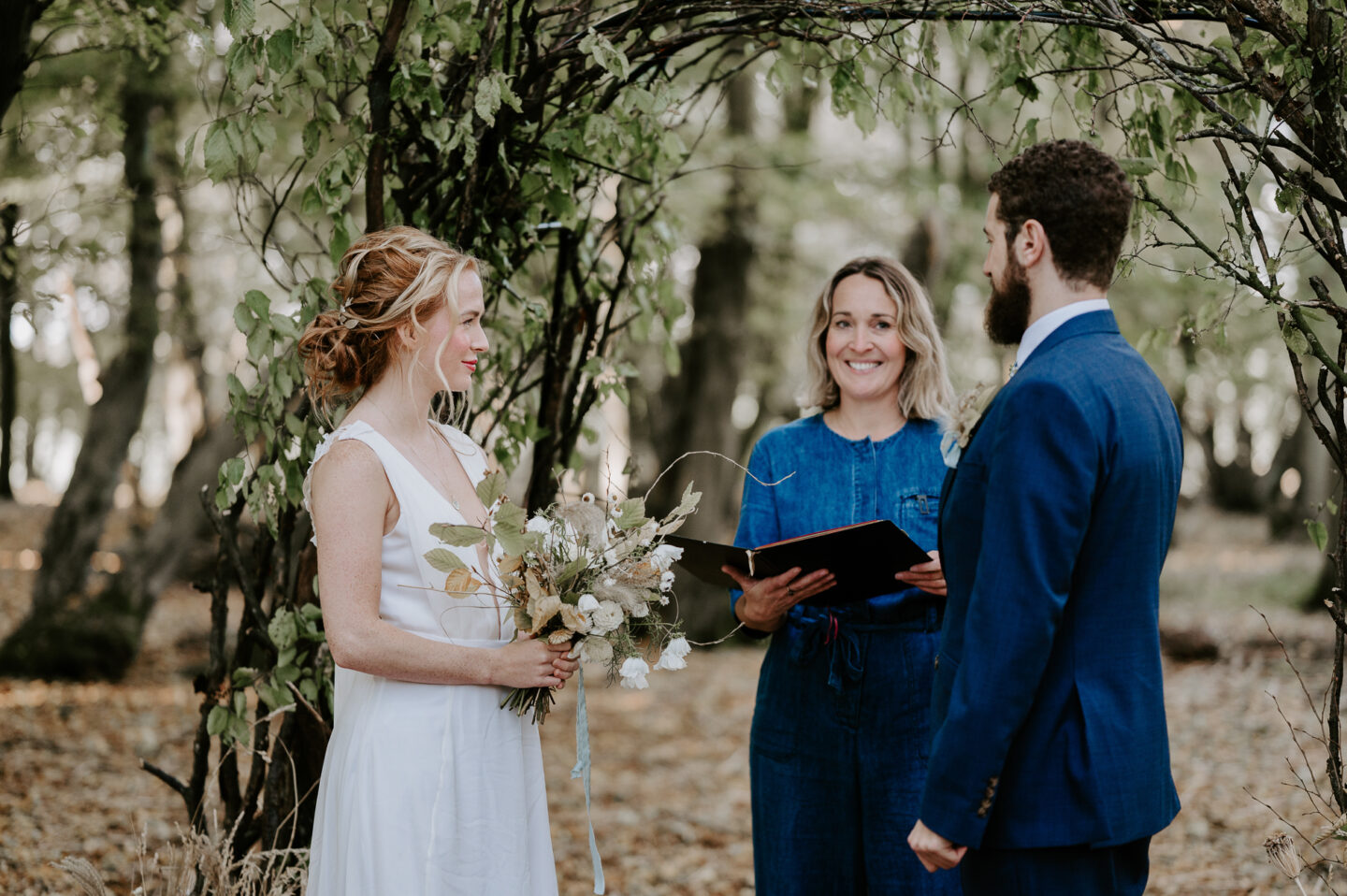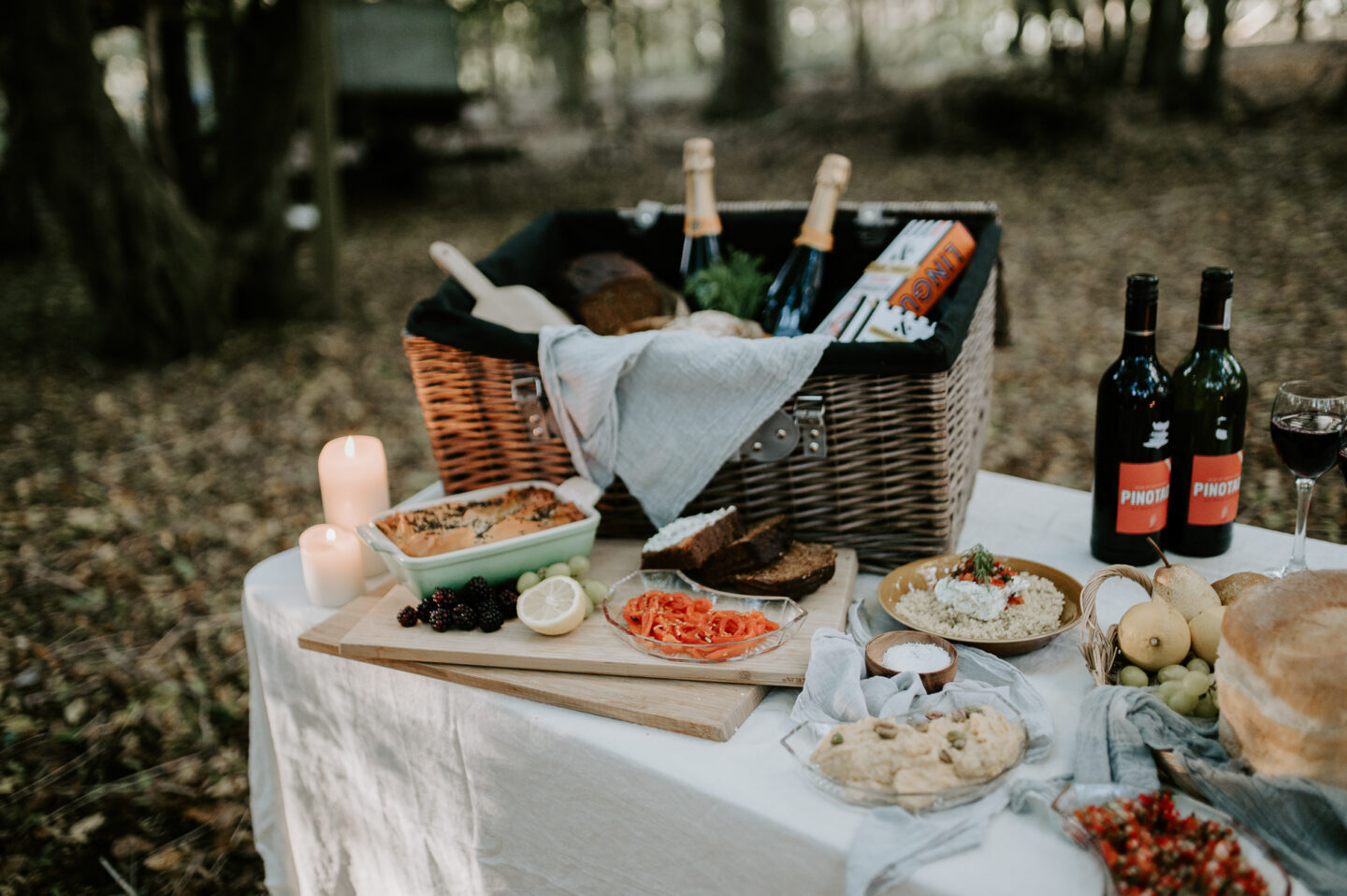 Photography – Laura Williams Weddings
"Ellie's vision at the gorgeous Sandon Manor was an absolute dream to photograph and everything came together perfectly. Set in rural Hertfordshire, Sandon Estate feels like a wonderful and romantic escape, the perfect place for an intimate wedding with your nearest and dearest. As a predominately natural light photographer, this venue instantly became an inspiration to me as the natural light pouring through the huge Georgian windows of the manor house was perfect and made for perfect Bridal shots (and yes beautiful bathtub shots of course too!). The warm autumnal afternoon light flooding the gardens complimented the wild florals with yellow and green accents which made for some stunning portraits of our models. We later headed to the woodlands for an intimate woodland styled ceremony (which contrasts so nicely with the intimate ceremony at the house), followed by a grazing table, wine and a campfire for all the cosy vibes!"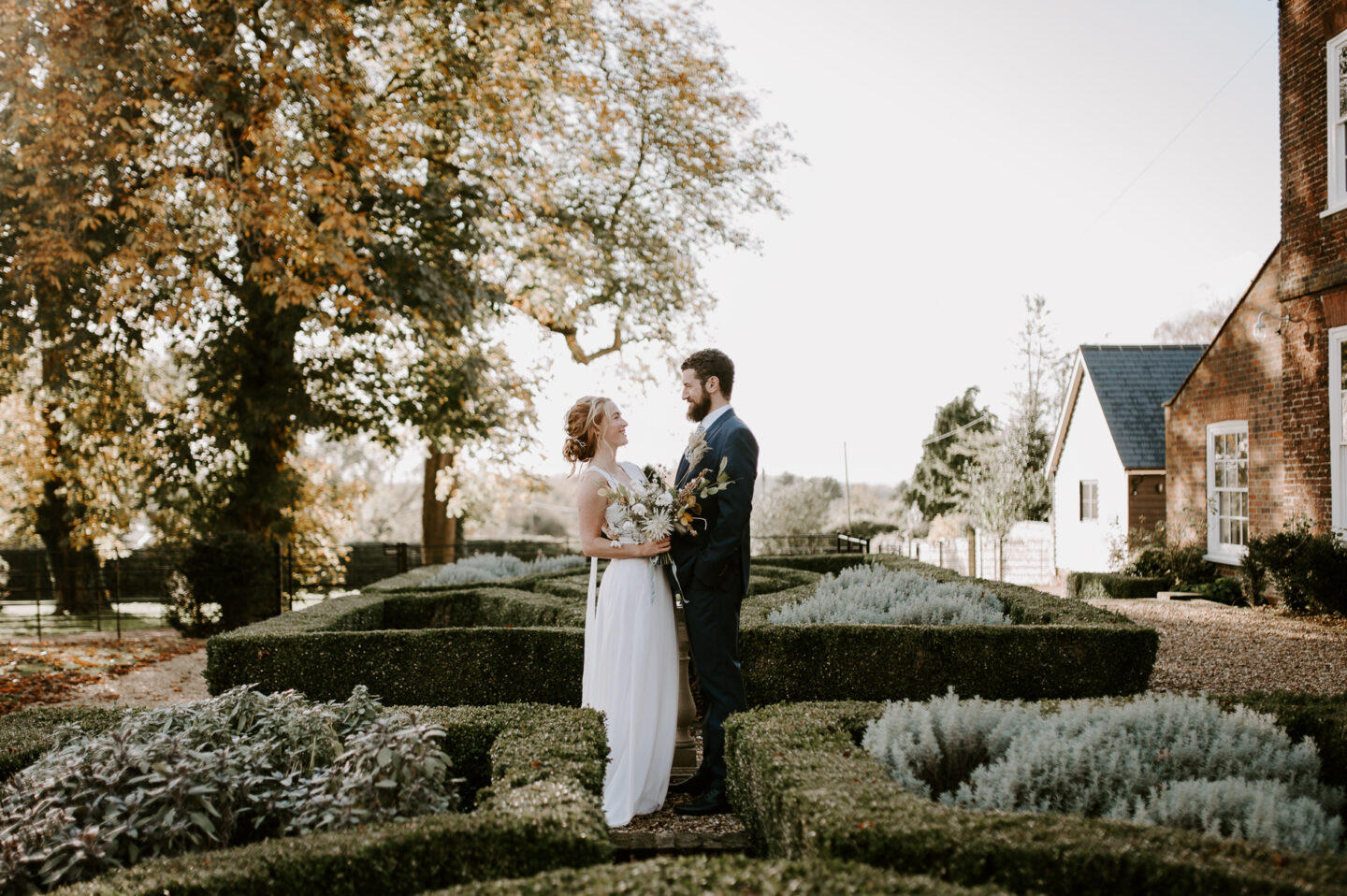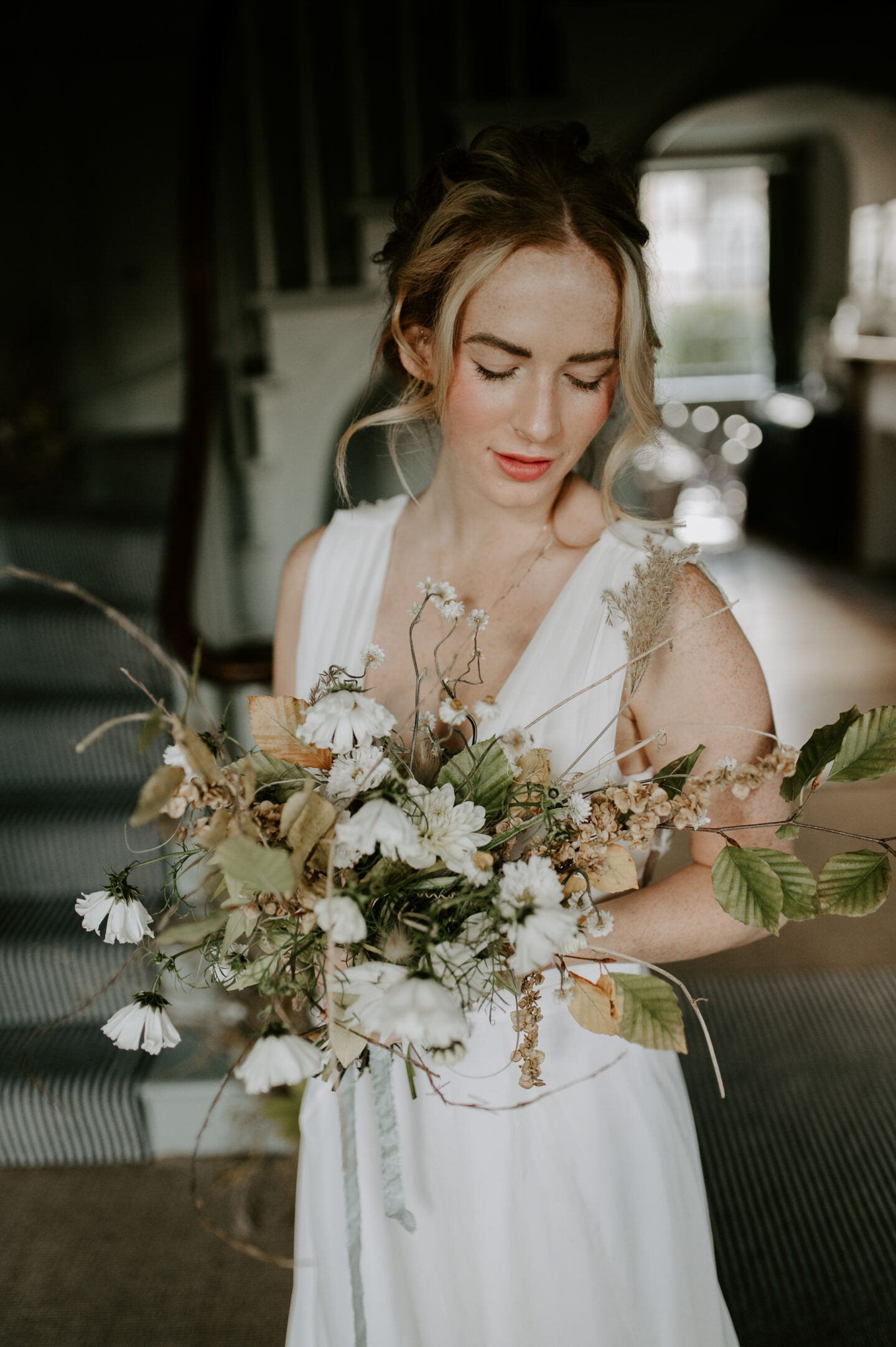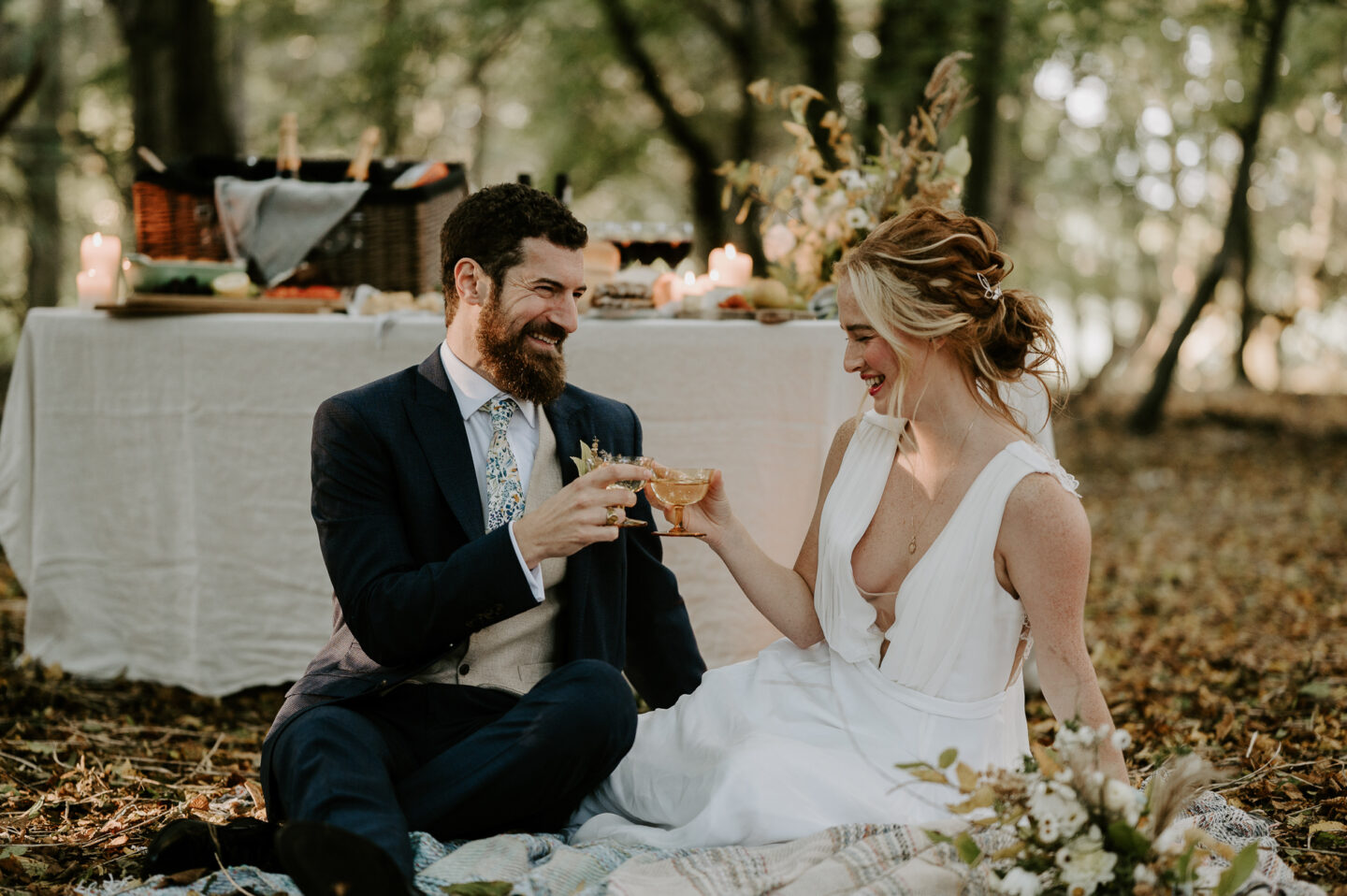 The Bride
The Dress – Jess Turner Designs
"Using a dress designer/maker instead of buying from a large company gives you the option of asking your designer to personalise your dress to give you a wonderful connection knowing you are wearing a real one-off design made for you. Look for a designer who uses sustainable earth-friendly materials and be confident your dress has made a positive impact not on just yourself but a small business owner and the environment, wins all round! A sustainable dress called 'Freesia" was used for the shoot, an elegant design, with ethereal elements which suited the modern venue and wild woodland estate. The dress, the top layer is made from a peace silk chiffon, this is silk that when produced, doesn't hurt the silkworm, and creates a soft, romantic feel. The back of the dress was designed to suit the wild forest setting with floral lace details and leaves akin to the trees."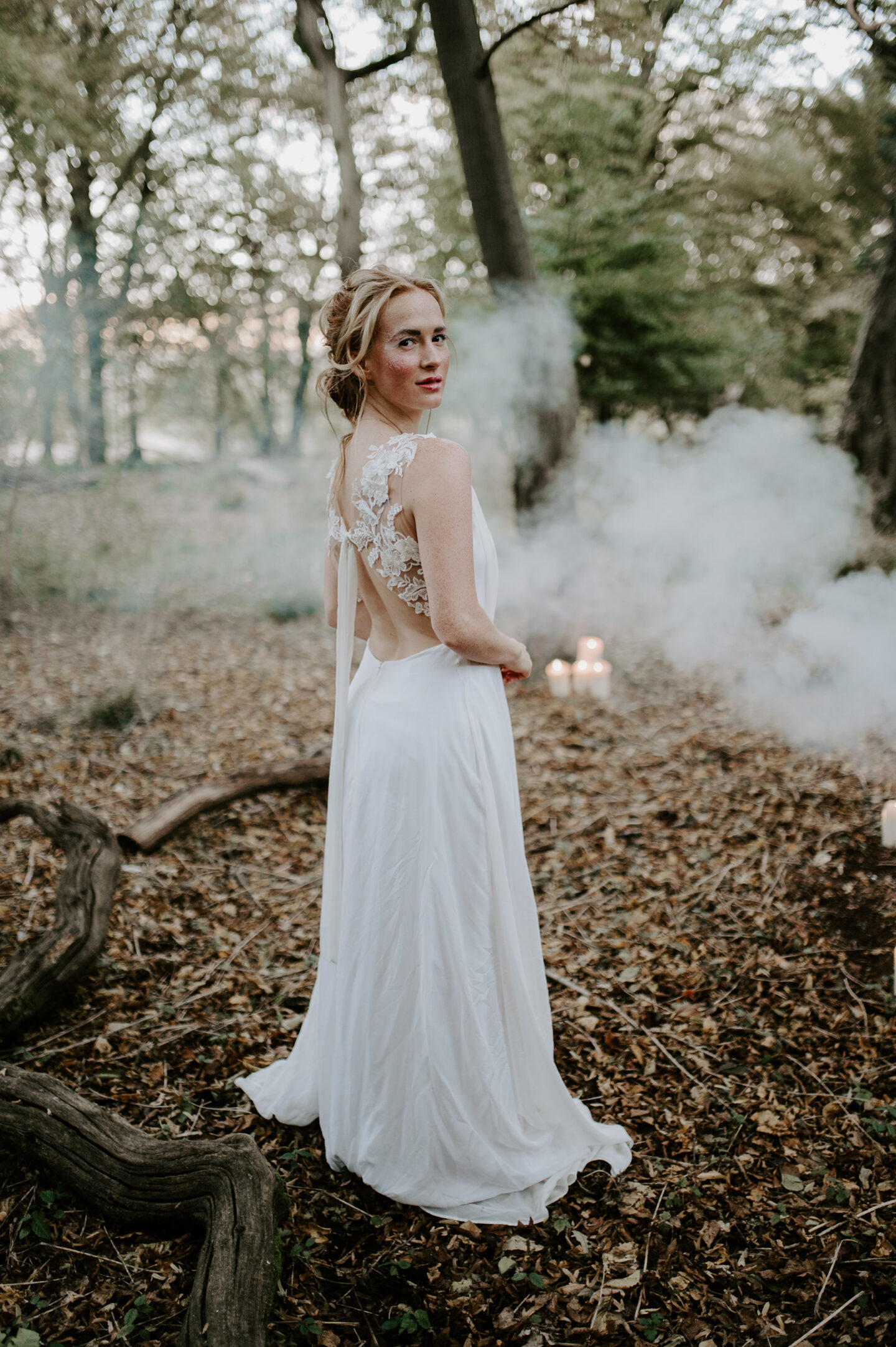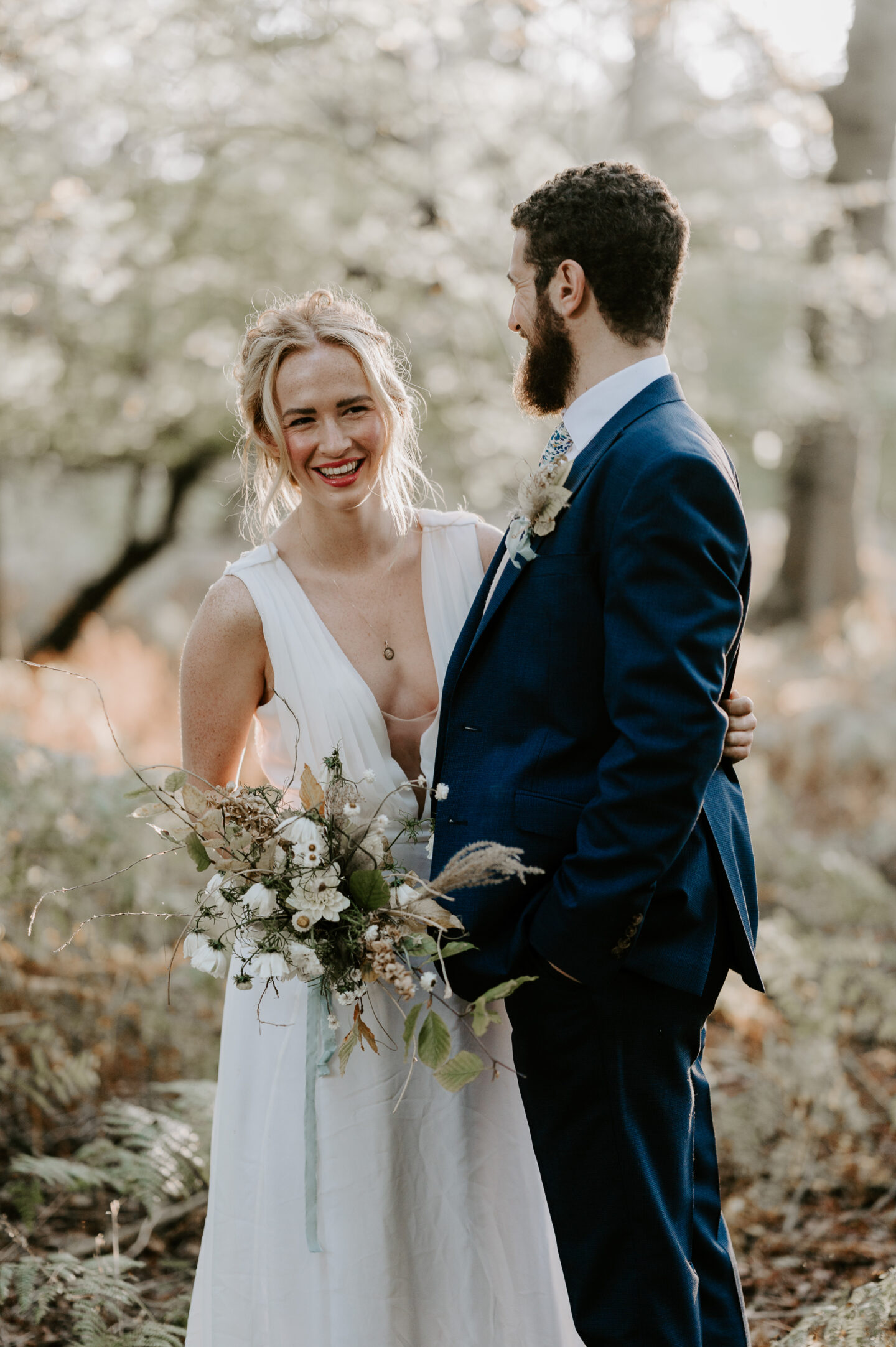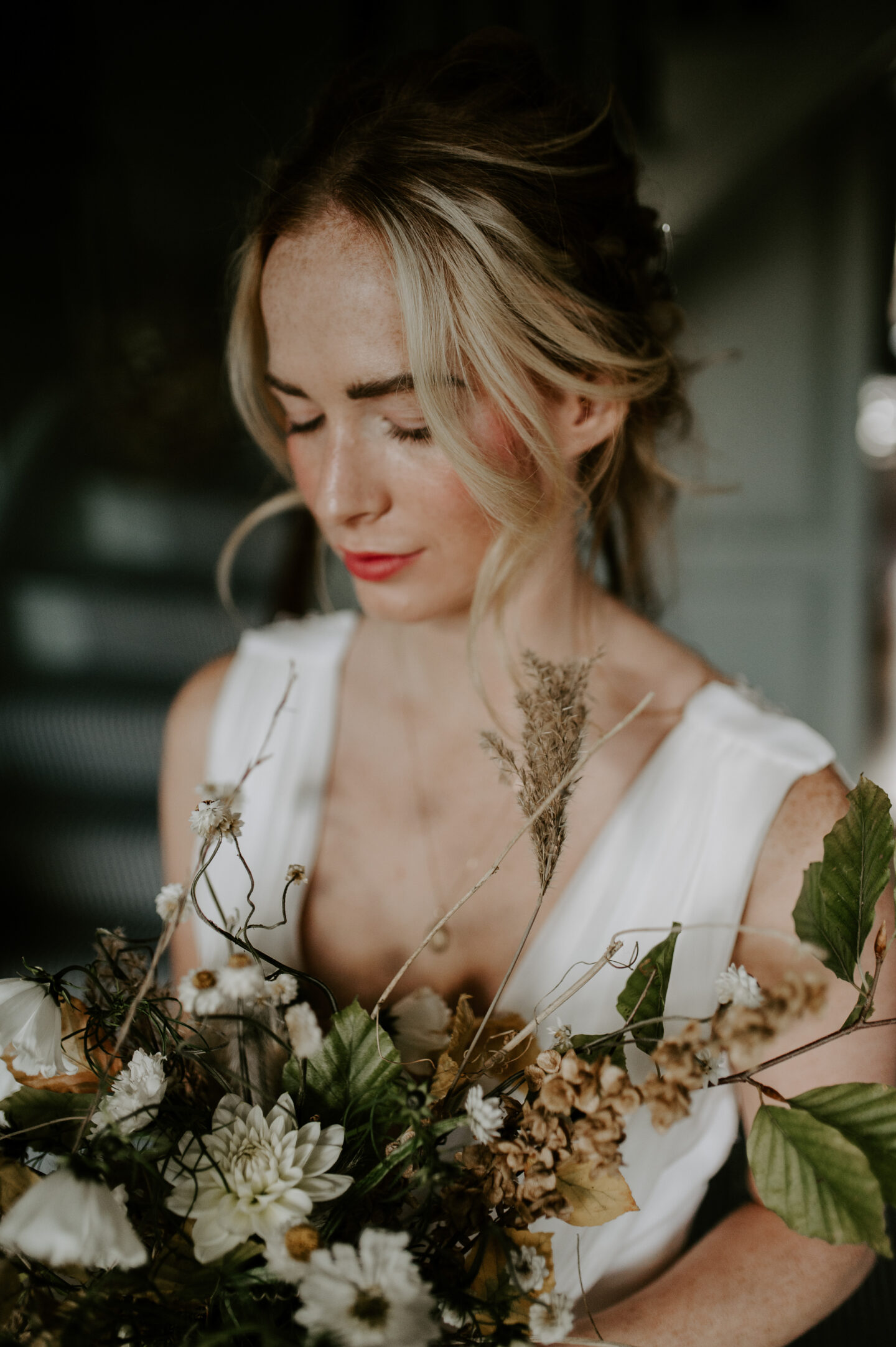 Hair and Makeup – Hair Barberella Bridal
"I loved the brief and mood board that was put together for this shoot, it made it easy to choose a loose romantic updo. With slightly textured curls to give it a bit of an editorial vibe while still keeping it a wearable wedding style. The Makeup was kept really fresh with a soft pink glow for the cheeks using a clean brand of makeup called Westman Atelier, the location and shoot theme had muted colours so kept the lip colour within this palette, Opening up the eyes with a good mascara and lash inserts. Later we switched up the make-up to reflect the art collection in Sandon Estate, by adding swipes of white on the lid or more of an edgy look."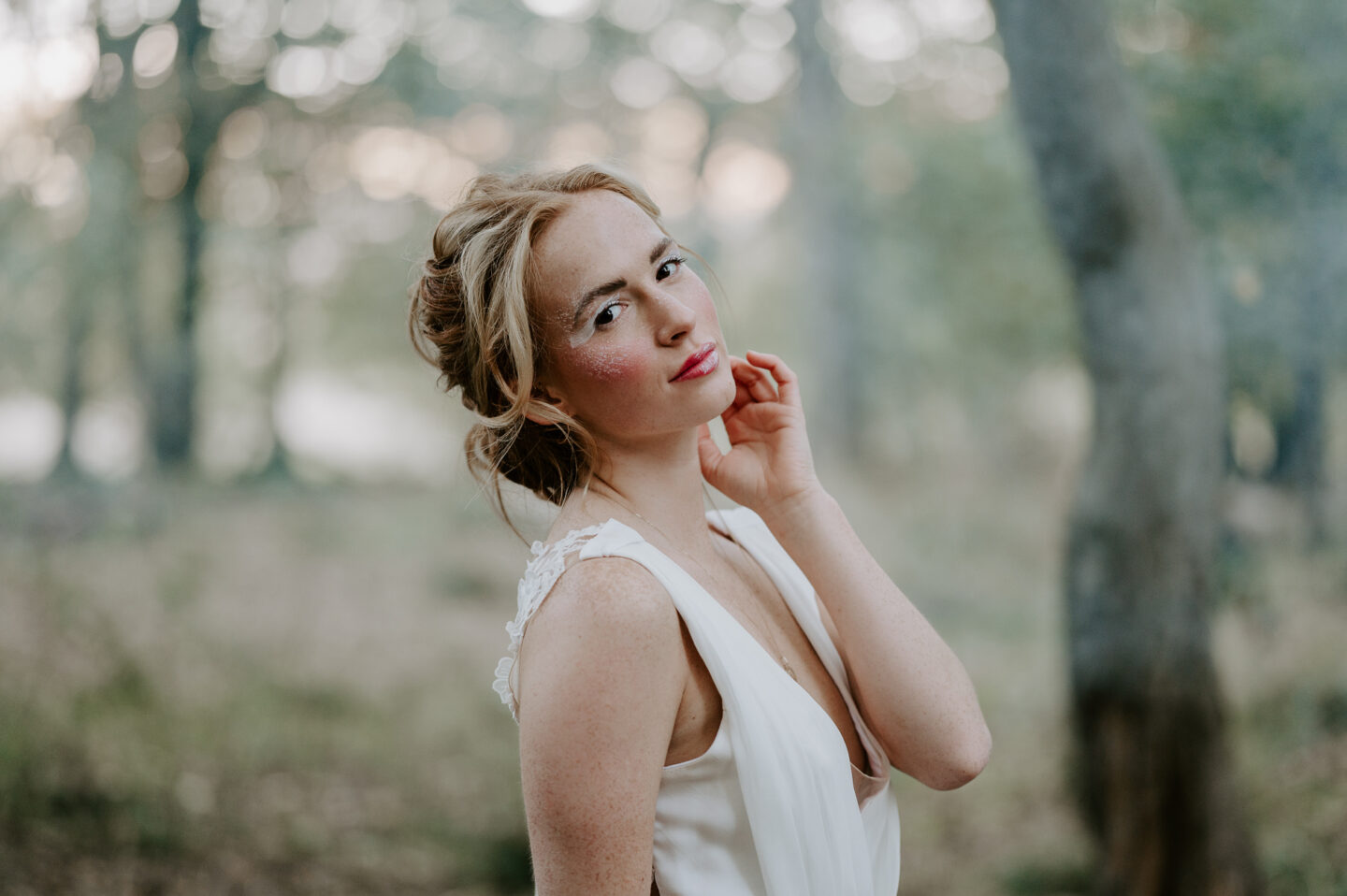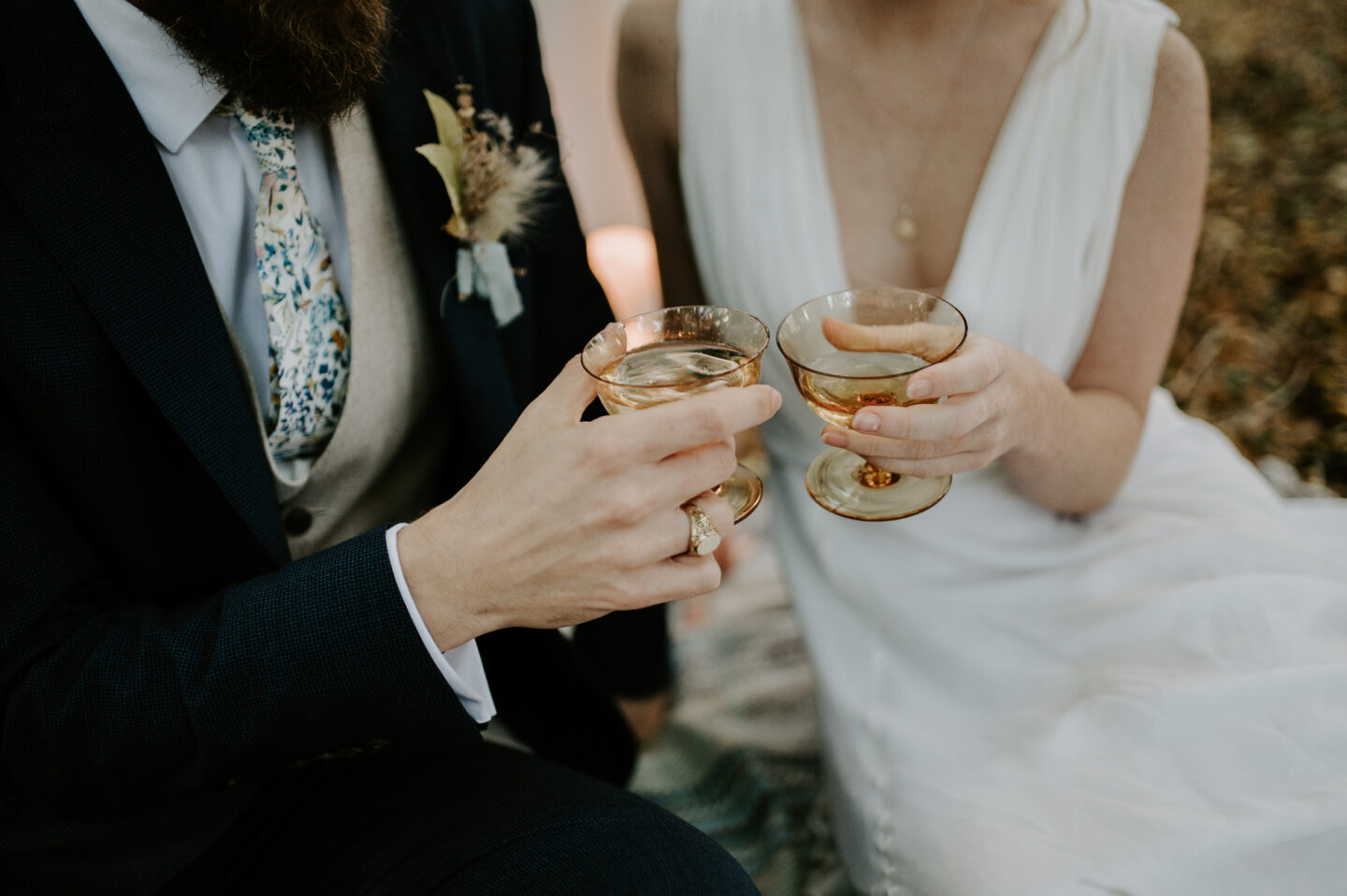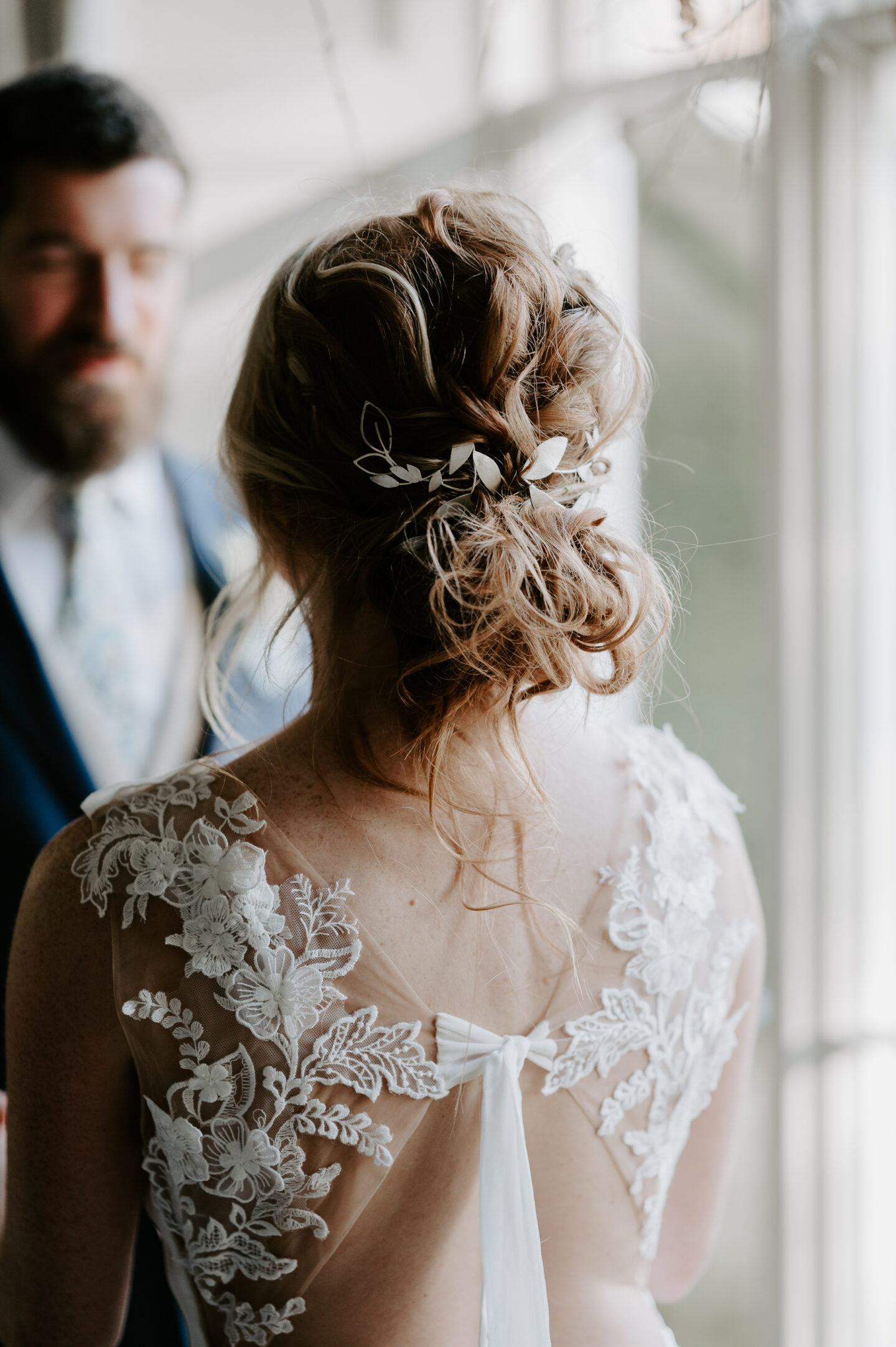 The Details
Flowers – Wilt Studio
"We work with British seasonal flowers, this shoot showed that even as winter begins there is still floral treasure to be found. I would recommend asking your florist if they will use locally grown British flowers, there is so much more variety and each stem is packed full of character unlike the mass-produced stems bought in from places like Ecuador, South Africa, and across Europe making each flowers carbon footprint huge. These flowers are often grown with harmful pesticides which stay on the stems. There are a huge number of flower farms all over the country. Consider having your wedding during the months you see the flowers you love growing in your garden, a spring wedding full of tulips, wildflowers and garden roses in the summer, huge dahlias and golden foliage in autumn or a winter wedding full of lush evergreens or make the most of the huge array of dried flowers and seed pods for your winter wedding or any time of year!"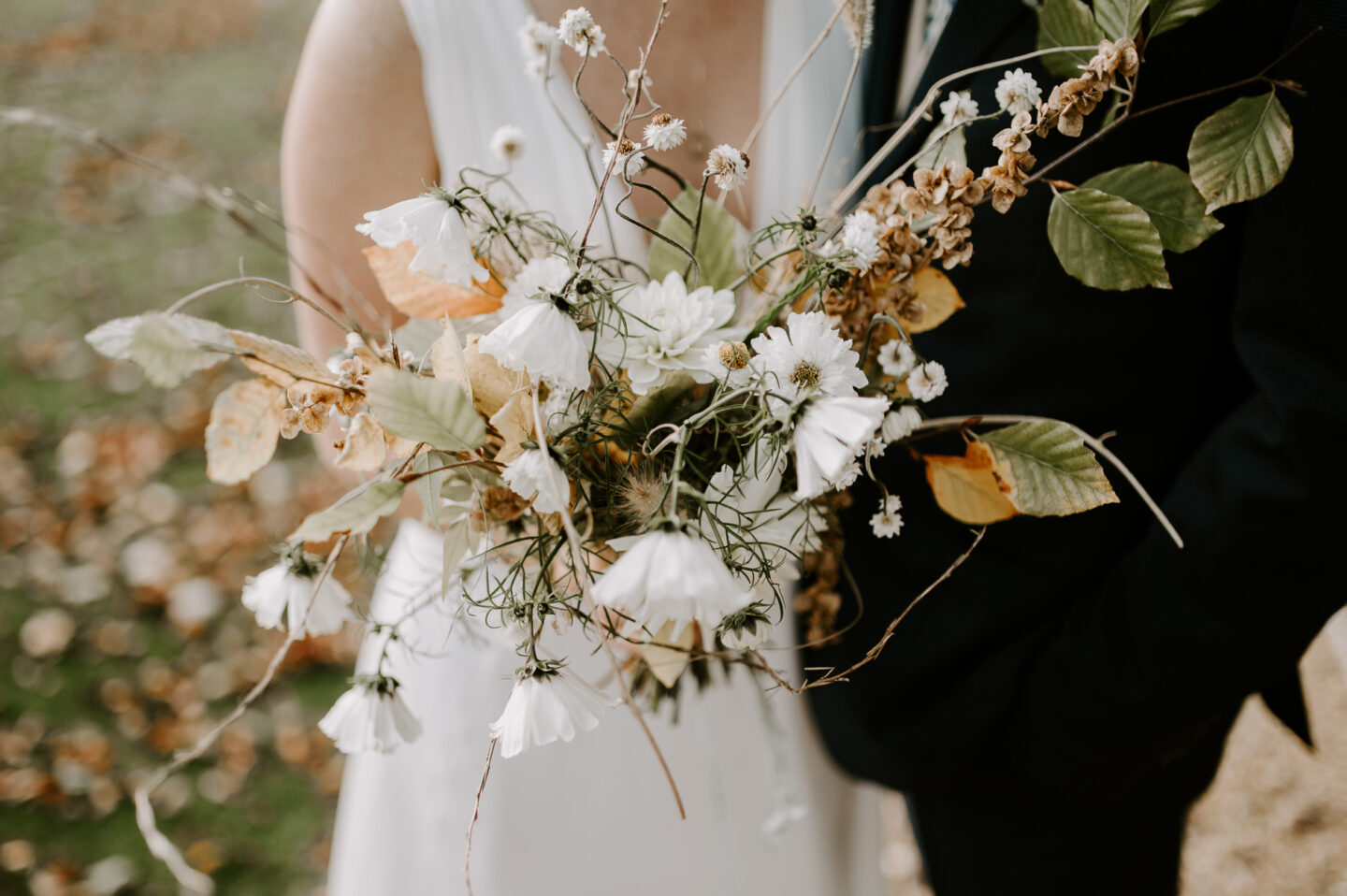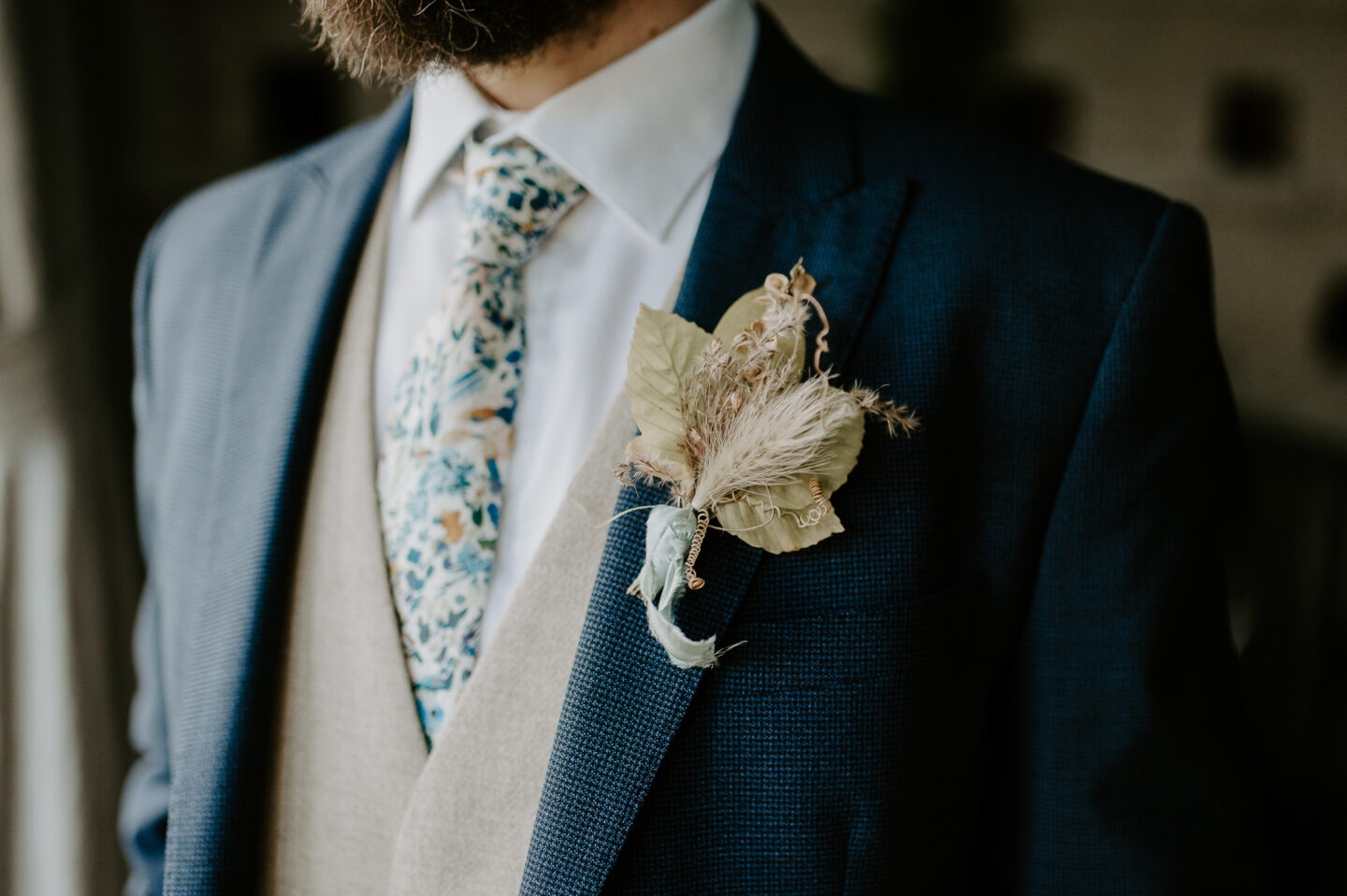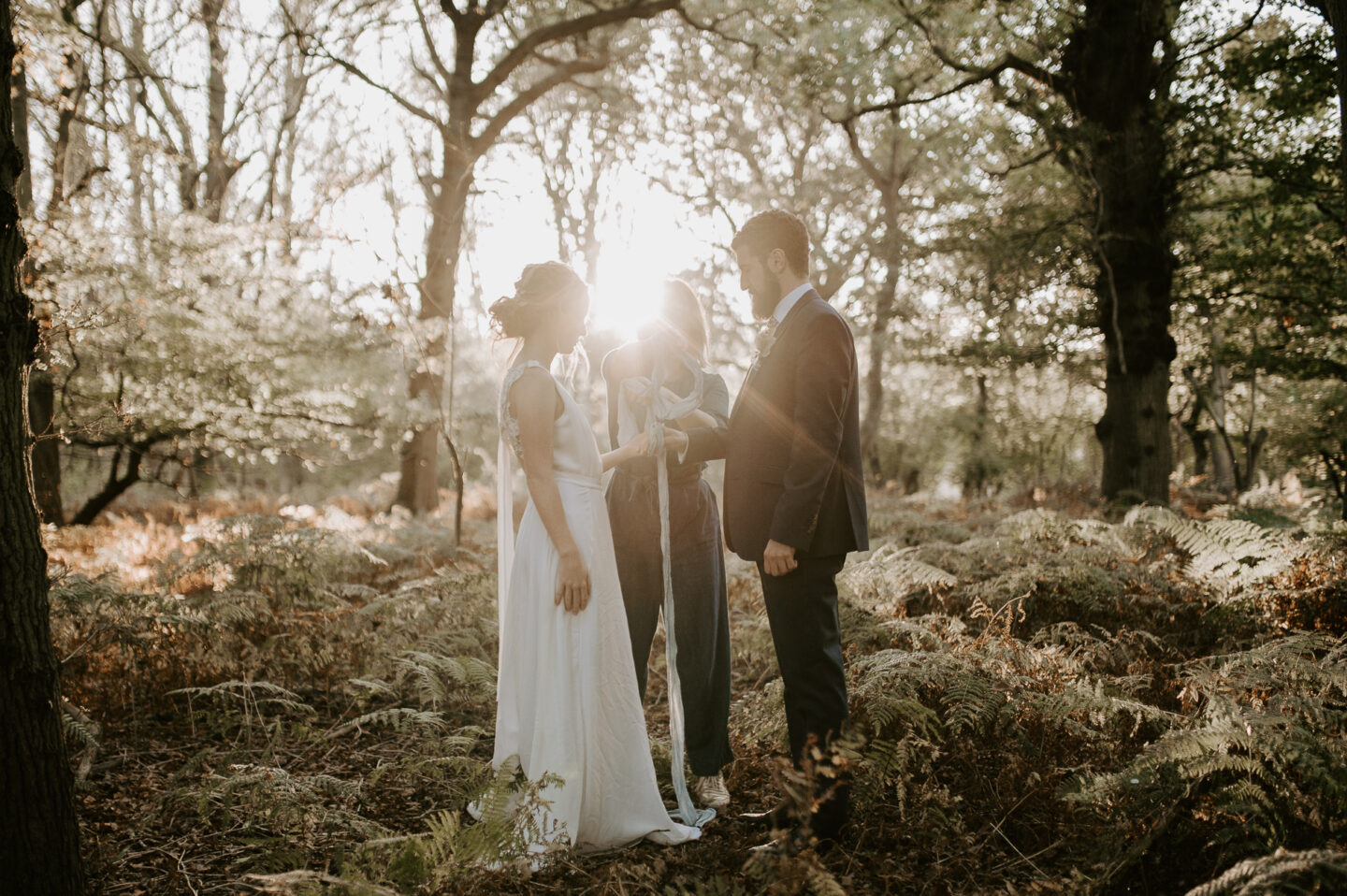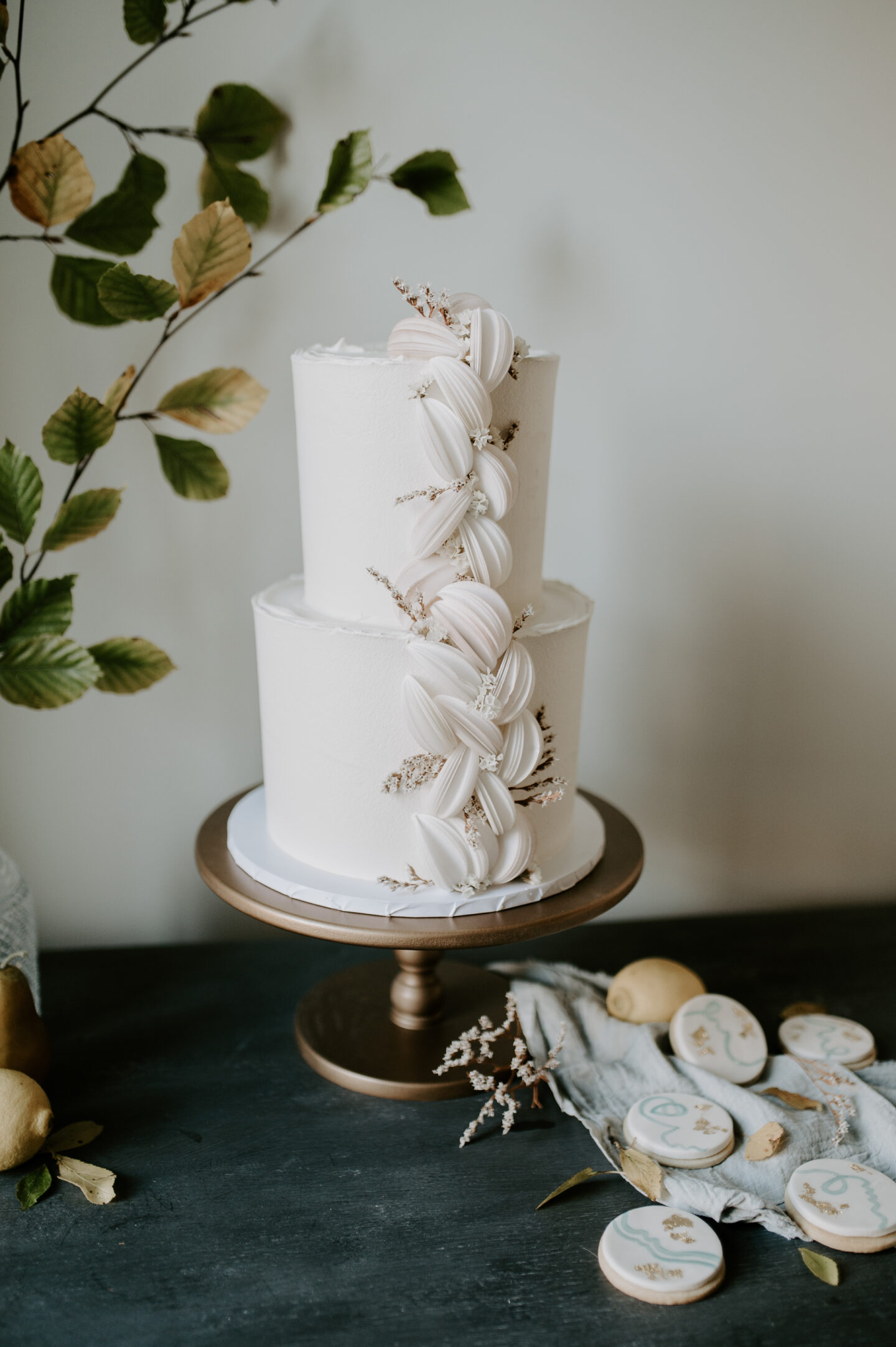 Cake – Butter and Boo
"The venue had a beautifully intimate setting so I wanted to showcase how a smaller wedding cake can still pack a punch and create a wow factor. My inspiration for this cake came from the sculptural and architectural aspects of the flowers and foliage installations. I wanted to make a soft and feminine cake but with architectural elements. This was created using layers of rice paper softened with the dried flowers, all in a muted colour pallet. My top tip for choosing a wedding cake design Is to make sure it truly reflects you as a couple, always try to add those little touches that make it personal to you.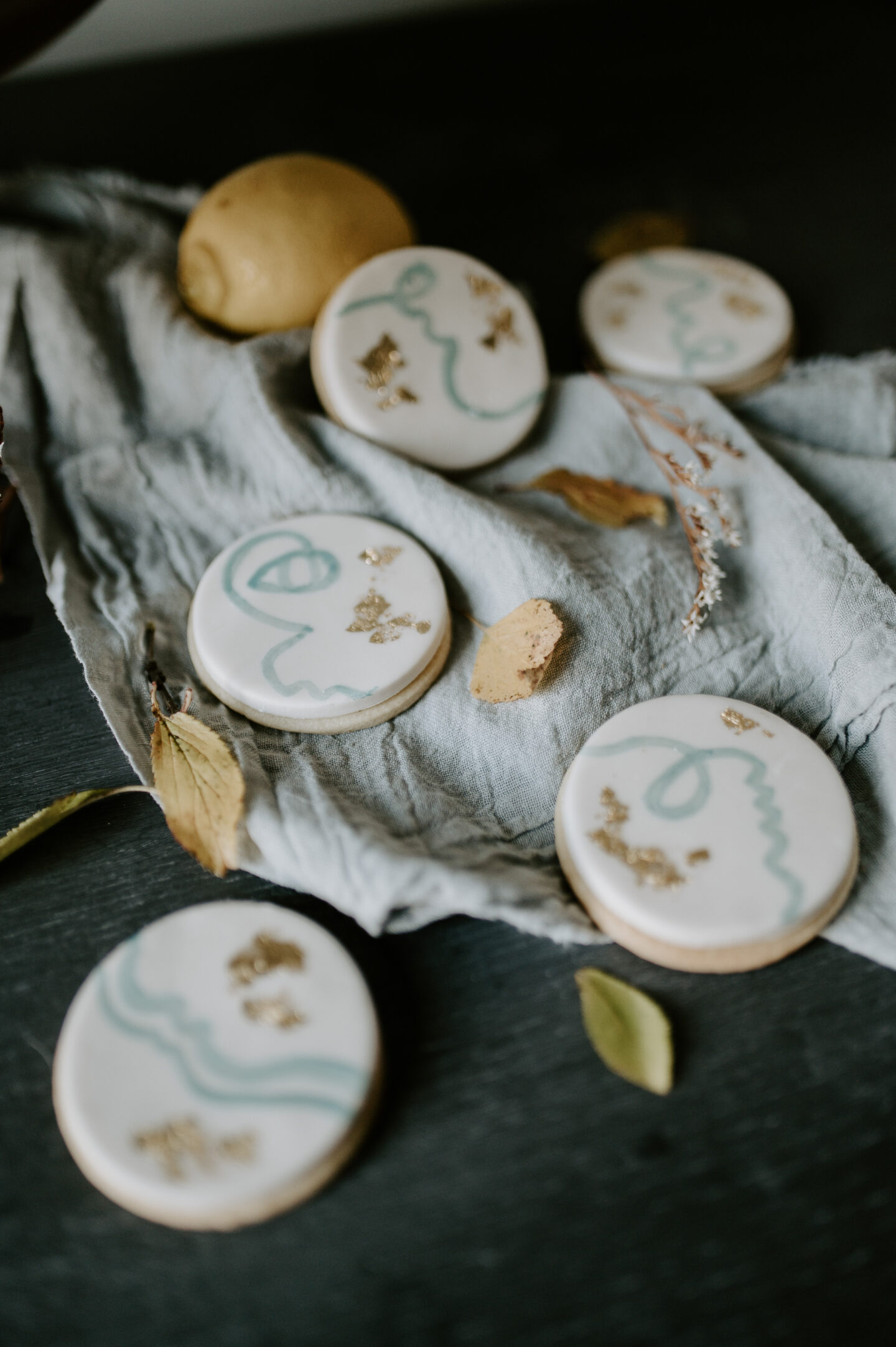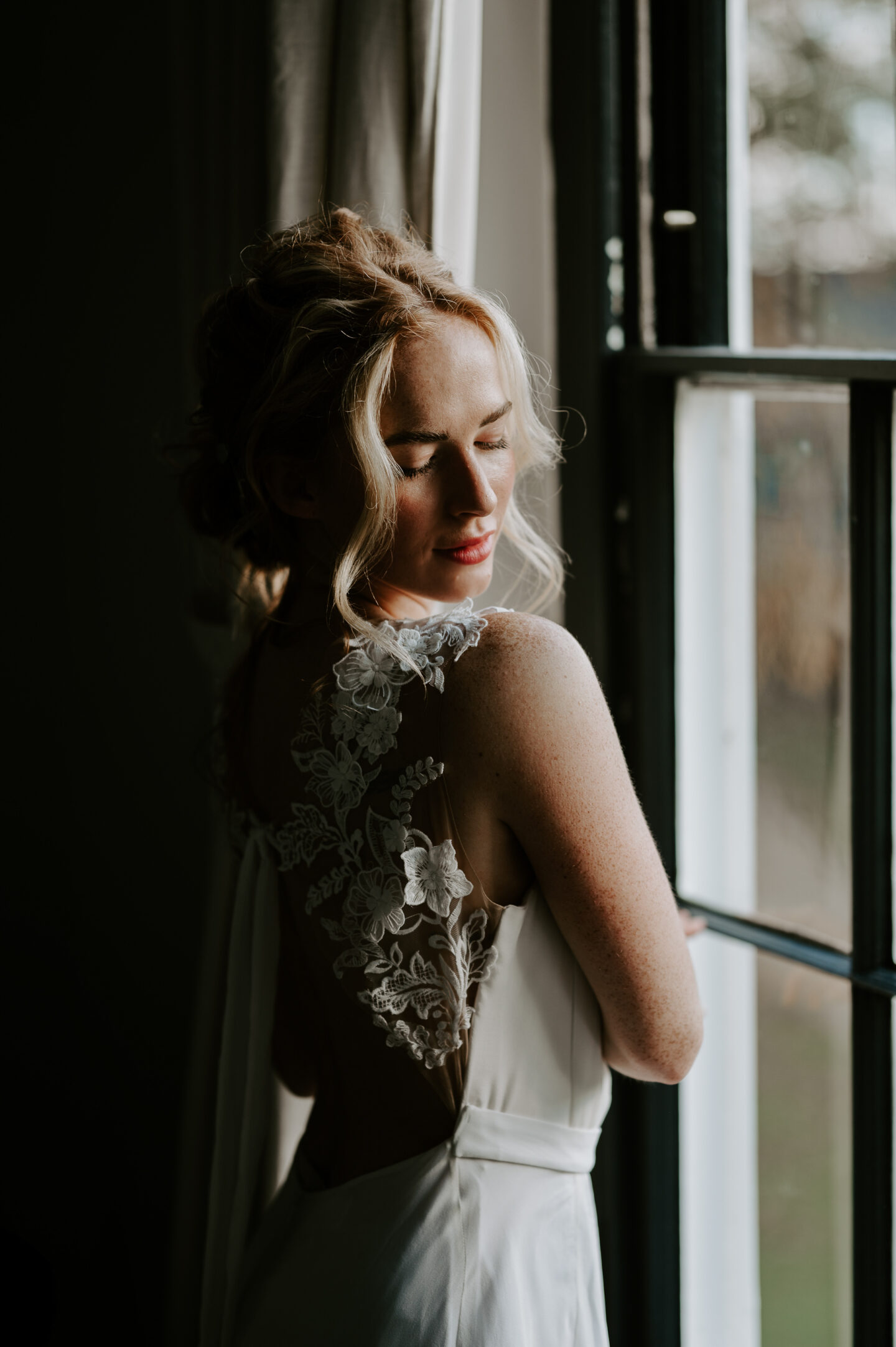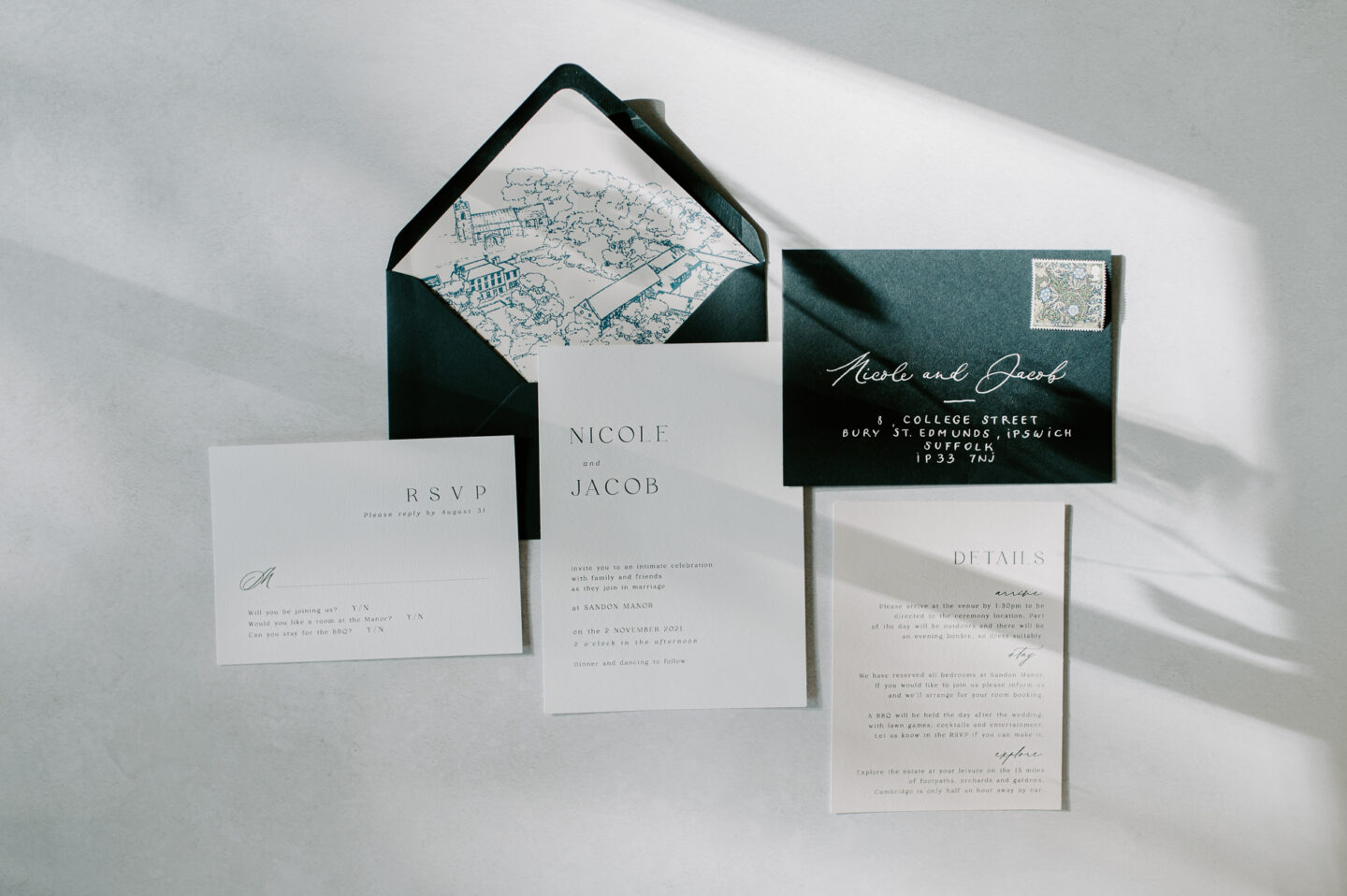 Stationery – Velvet May Designs
"Stationers will often have a few sets of stationery you can choose between, then these designs can be customised with your choice of paper, envelope and your own names! Some designs can be personalised further or you could ask if your stationer offers a bespoke design service. Your stationer may also offer additional services such as place names and hand lettering. For this shoot, a bespoke set was created inspired by the work of Matisse. The paper chosen was a luxurious thick matt textured paper to mimic the heavy linen textures throughout the venue. Place name Scrolls were created for the table with calligraphy lettering setting off the place settings perfectly."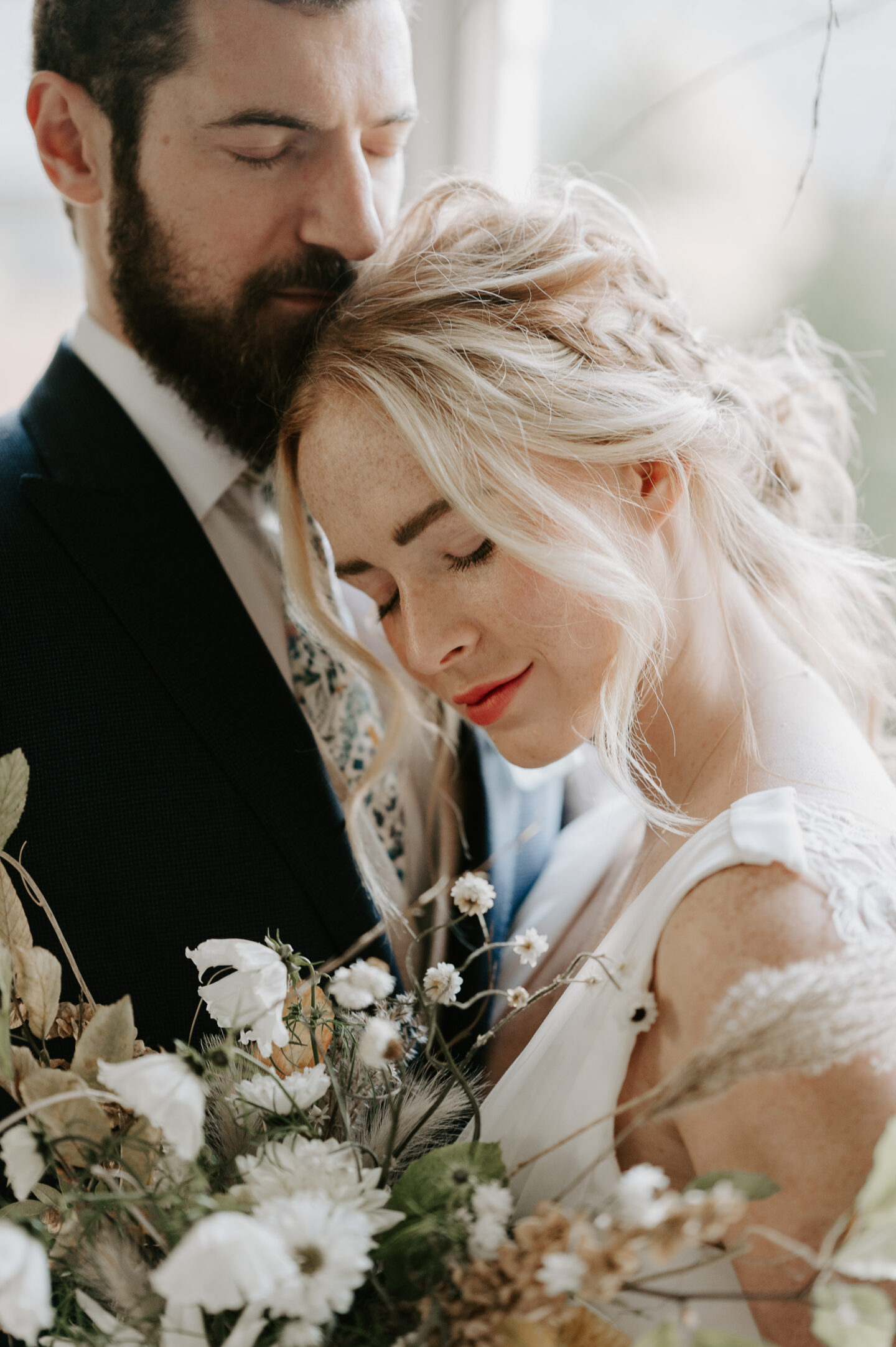 Videography – Creative Spark Films
"I was honoured to be a part of the winter shoot at Sandon Manor. The venue was very local to me and looked incredible so I was keen to be involved with filming the day to showcase all of the suppliers involved (many of whom I've worked with before and love their work!). Most of the shoots I've done previously have been during summer so this was a perfect opportunity to explore and experiment with whatever light and weather November was going to give us. Luckily we had a beautiful crisp morning and some beautiful winter light that helped to create a stunning piece of film. I stuck to a very linear and story-based piece in order to best reflect an actual wedding day at Sandon Estate, which I know now from my experience on the day would be stunning!"
The Team – Intimate Wedding At Sandon Manor Hertfordshire
Photographer Laura Williams Weddings @laurawilliamsweddings
Venue Sandon Manor @sandonmanor / Dress, shoes and accessories Jess Turner Designs @jessturnerdesigns /Accessories Clare Lloyd Bridal Accessories @clarelloydaccessories / Groom suit and accessories Chimney Formal Menswear @chimneyformalmenswear / Styling Mother Wild @mother_wild / Florist Wilt Studio @wilt_studio / Hair and Makeup Hair Barberella Bridal @clairebarberella / Make up Flash Kate @flashkatemua / Cake Butter and Boo @butter_and_boo / Videographer Creative Spark Films @creativesparkfilms / Celebrant Art House Ceremonies @arthouseceremonies / Stationery Velvet May Designs @velvetmaydesigns / Catering The Modern Table @the_modern_table Models @joshastrop @lillygraham
IF YOU LOVED THIS INTIMATE WEDDING AT SANDON MANOR PIN IT TO YOUR WEDDING BOARDS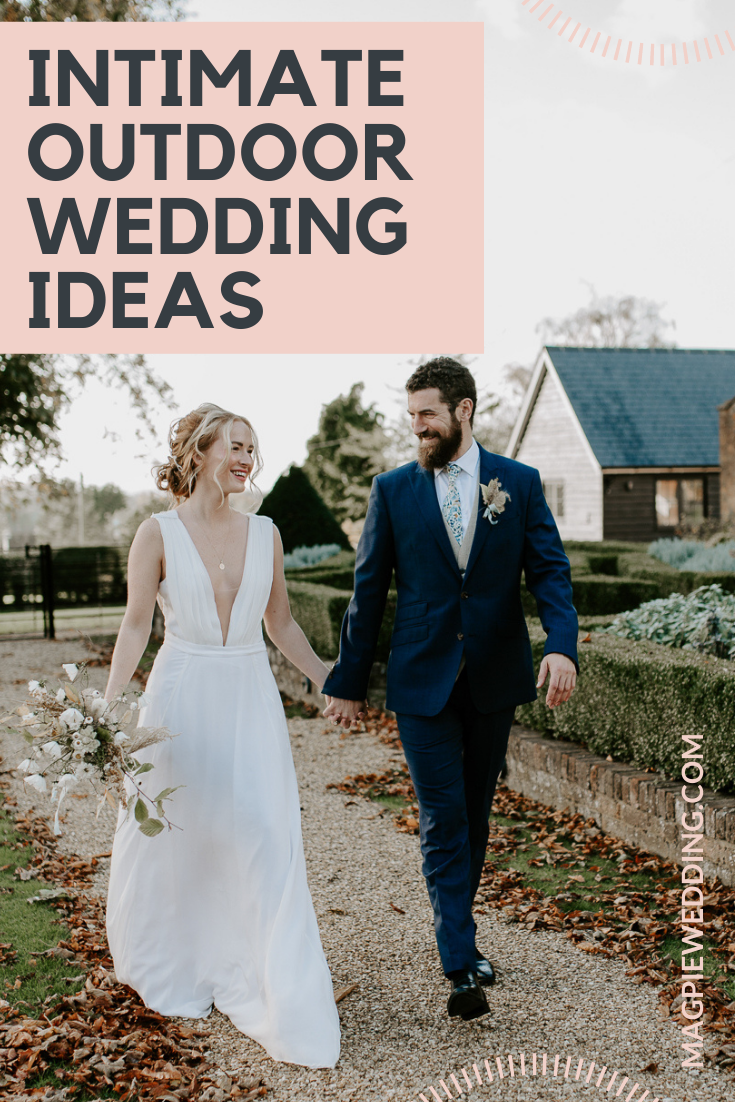 If you loved this wedding at Sandon Manor you may also like;
Rustic Eco Intimate Wedding With Romantic Vibes at Findon Manor
Intimate Wedding With Gold and Green Luxury Styling At Hendall Manor Barns, Sussex