For me when I am choosing dresses for the boutique I try to not follow 'trends' but source dresses which have interesting elements which are modern and that you haven't seen in other boutiques. Let's face it, you want to have a wedding dress that your guests will remember and have not seen before, right? You also want to look cool and beautiful and also have a look which suits your wedding venue and wedding vision. Here are just some 2021 bridal trends of what you can expect with us:
Splits
Side Splits, Centre Splits, Thigh High Splits – if you have great pins…. get them out! A leg split can add a bit of sexiness whilst still being beautiful.
Leg splits also make walking in wedding dresses SUPER easy!
Here are my fave dresses which I have in the boutique which have splits
Francis by Studio Levana – who said curvy girls don't have sexy legs – this simple off-the-shoulder crepe dress has been designed with your curves in mind. The centre split has been added to make it ultra-modern and cool.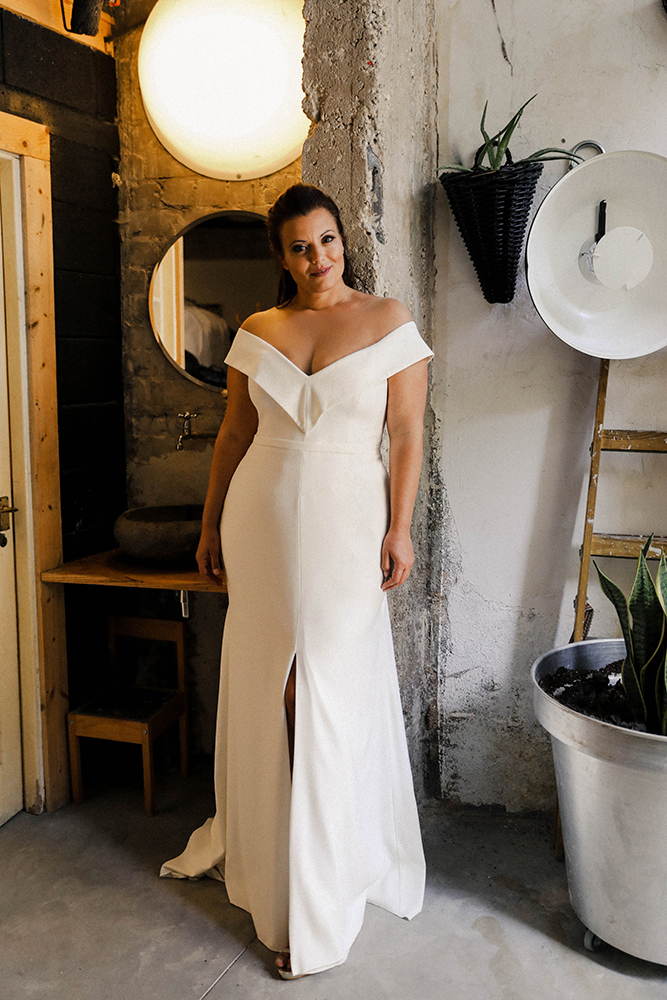 Sansa Skirt by Otaduy – this simple and modern skirt has a thigh-high split and a long train which makes it the perfect effortless dress perfect for a city centre wedding
Buttons
I LOVE BUTTONS!!!! And with this, why have buttons on the back where you cannot see when you can have them on the front or side?!?
Here are some super cute dresses which have buttons everywhere but the back!
Flynn by Leanne Marshall – this youthful, silk chiffon dress has a v-neck with buttons down the front to its front middle split. This dress is the perfect dress for dancing the night away or if you are planning a Ceilidh.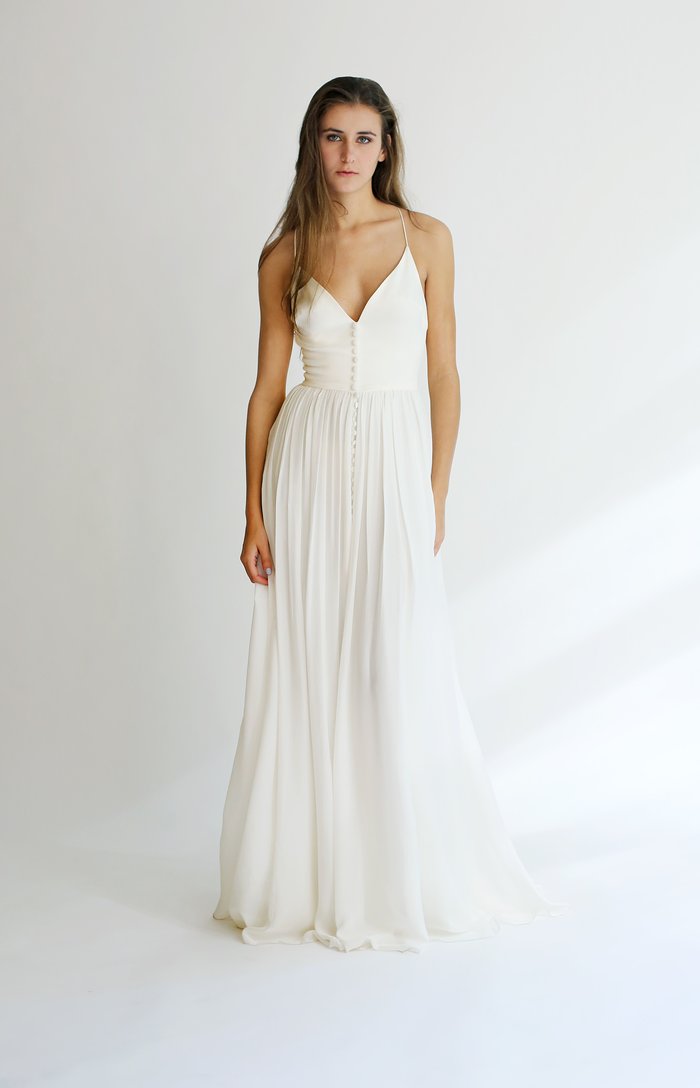 Cassis Top with Stix Skirt by Otaduy – this is a simple two-piece that is so modern and cool. The button details are down the side of the cross back top and down the front of the skirt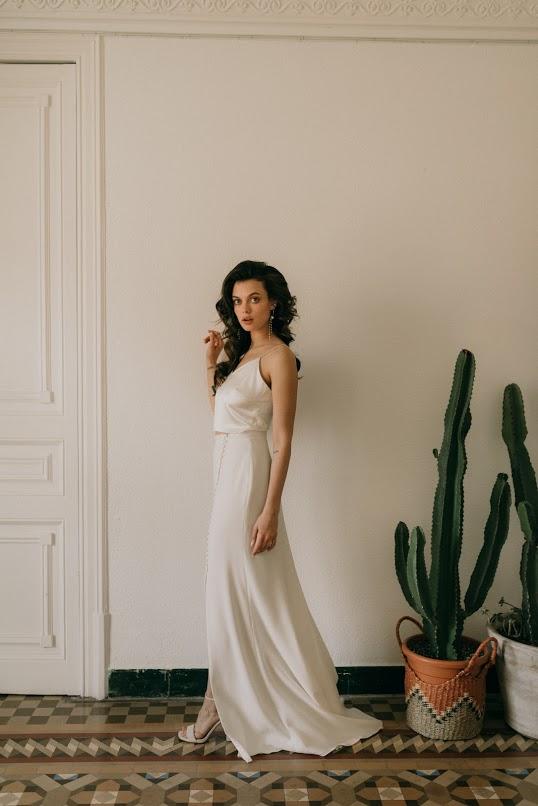 Nix Dress by Otaduy – This dress is the ultimate dress with buttons – not only does this dress button up the front but the sleeves also have buttons down them too! This dress also has a huge train and a HOOD… yes you have heard me correctly… A HOOD!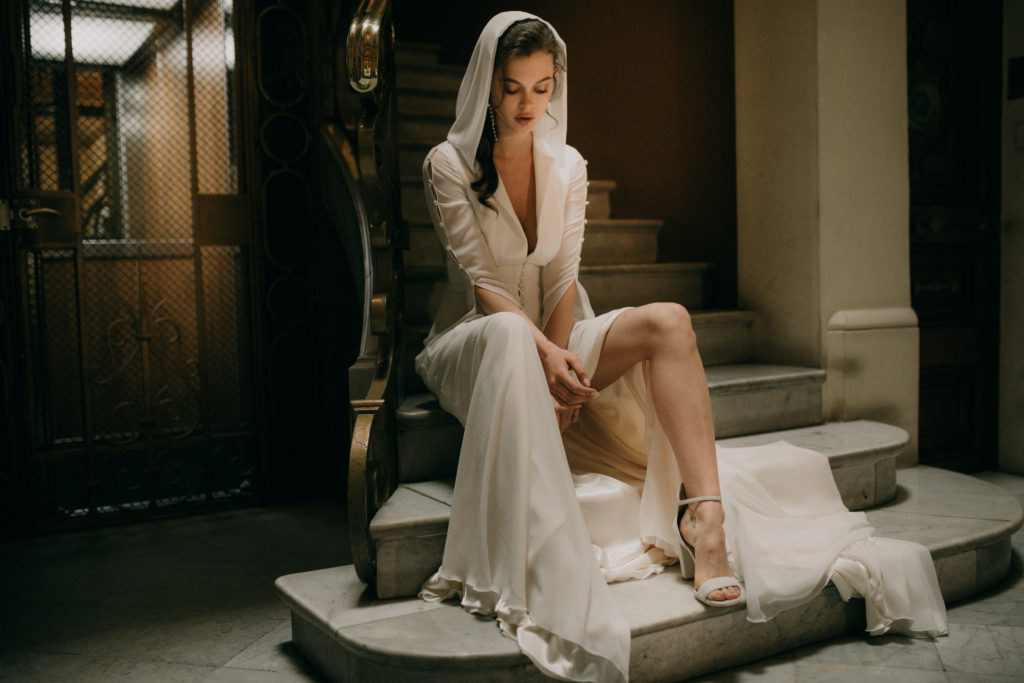 Layering – 2 in 1 looks
Why have one bridal look when you can have 2?
The simple way to gain this is by having a base dress with a fun topper over the top. This means that you can wear your topper over the top in the day and you can whip it off in the evening to have a totally different look.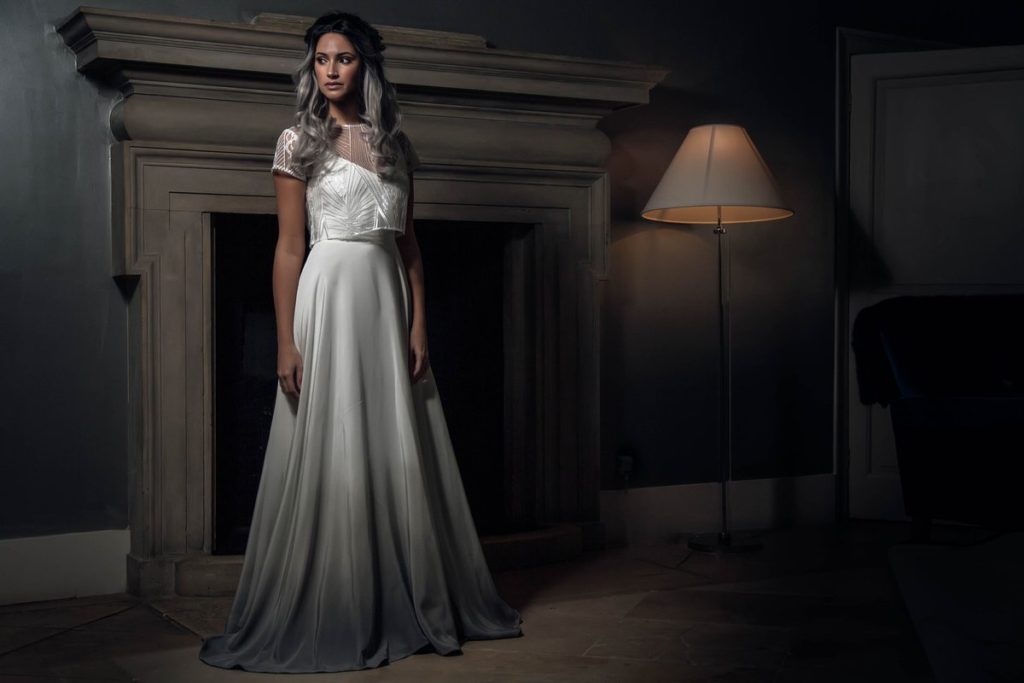 Here are some examples of dresses which have the 2-in-1 look:
Pulp Fiction by Lucy Can't Dance – This dress has a HUGE silk skirt which is available to be dip-dyed in ANY colour – there is also a range of toppers which are available with this dress. My personal favourite is Galactic Blue or Labyrinth.
Darwin dress with Tavios Top or Dionne top – this dress has layers of chiffon which makes it super floaty and it has a high back so you can wear a bra. These toppers offer different looks either Bell Sleeves with pearls or polka dot puff sleeves – both these top options add fun to your beautiful base wedding dress.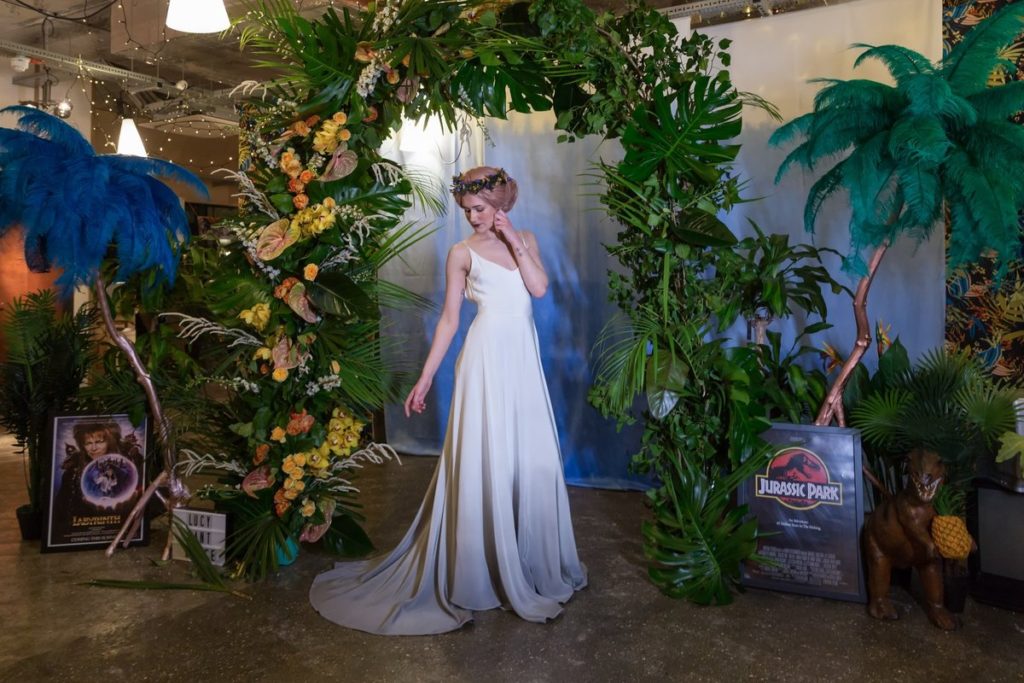 I hope you enjoy these pieces and see that there are more options available to you outside the NORM. I also think there will be some elements from these pieces which other designers will bring out.
Book in if there is anything here that you fancy and you can try them on in Real Life!
Helen xx
IF YOU LOVED THESE 2021 BRIDAL TRENDS, WHY NOT PIN THEM TO YOUR DRESS BOARD?