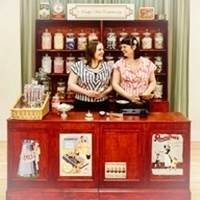 COMPANY OVERVIEW
Get that 'Kid in a Candy Store Feeling' for all your guests with Emily's Best Travelling Traditional Sweet Shop. Your very own vintage sweet emporium will appear at your wedding, serving unlimited sweeties to you and your guests with a real WOW factor! With our Golden Tickets, it makes the perfect wedding favour too.
DESCRIPTION
The sweet shop of your dreams. Just imagine; an entire old fashioned sweet shop of your very own magically appearing at your wedding...
Emily's Best Travelling Traditional Sweet Shop is a magical glimpse into the past, sure to delight your friends and family of all ages. Our pop-up sweet shop comes complete with brass bell and scales measuring in ounces and is fully stocked with 30 varieties of old fashioned sweets in big glass jars (sherbet lemons, rhubarb and custard, all the old favourites) and more treats on the counter too (sugar mice are always popular...) The shop packs flat so can appear at any venue, inside or out, and is staffed by two of us at Emily's Best, serving joy wrapped up in stripy paper bags.
The shop can be personalised for your big day, with bespoke signage, sweeties with your names and wedding dates on and personalised bags that match your colour scheme. And if you have any particular favourite sweets that we don't already stock, we'll get them for you - we've never yet been asked for something we can't source! Emily's Best can cater for special dietary requirements including vegetarian, vegan, nut, wheat and dairy free, diabetic and halal diets, so there truly is something for everyone.
Your guests can visit the shop as many times as they like, and brides and grooms can take advantage of a most unusual photo opportunity. You can be sure your wedding sweet shop will be remembered by everyone for years to come!
Send Message to listing owner