If you're looking for a modern DIY wedding with a beautiful love story then look no further. Gemma and Jo's wedding a Theobalds Estate was the perfect mix of modern meets art deco and tons of personal DIY touches! You can feel the love in the beautiful photography by Rafe Abrook and the action shots are proof of how much love was in the day! Here we catch up with Gemma, who tells us all about her an Jo's Modern DIY Wedding…
Modern DIY Wedding at Theobolds Estate with a Touch of Vintage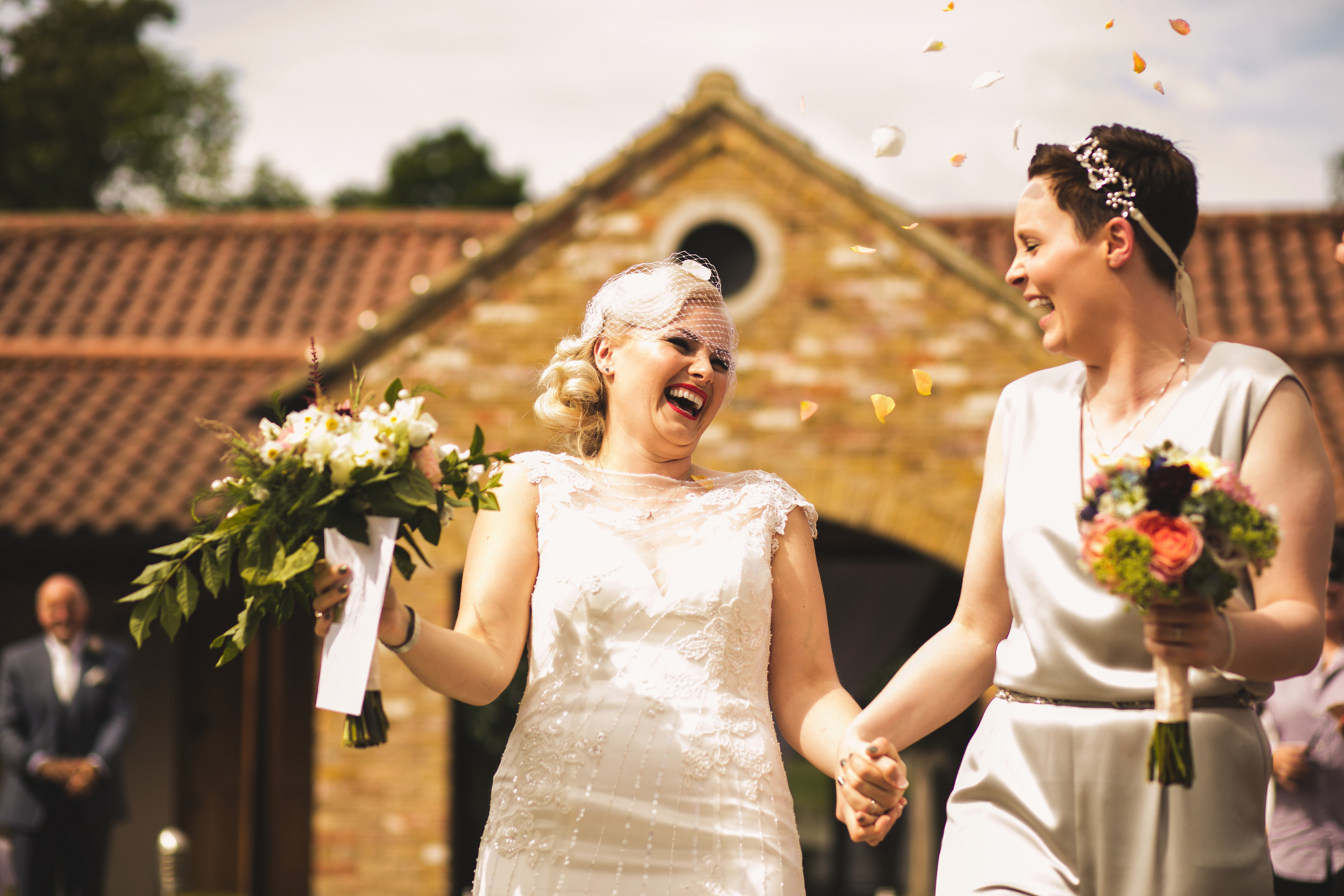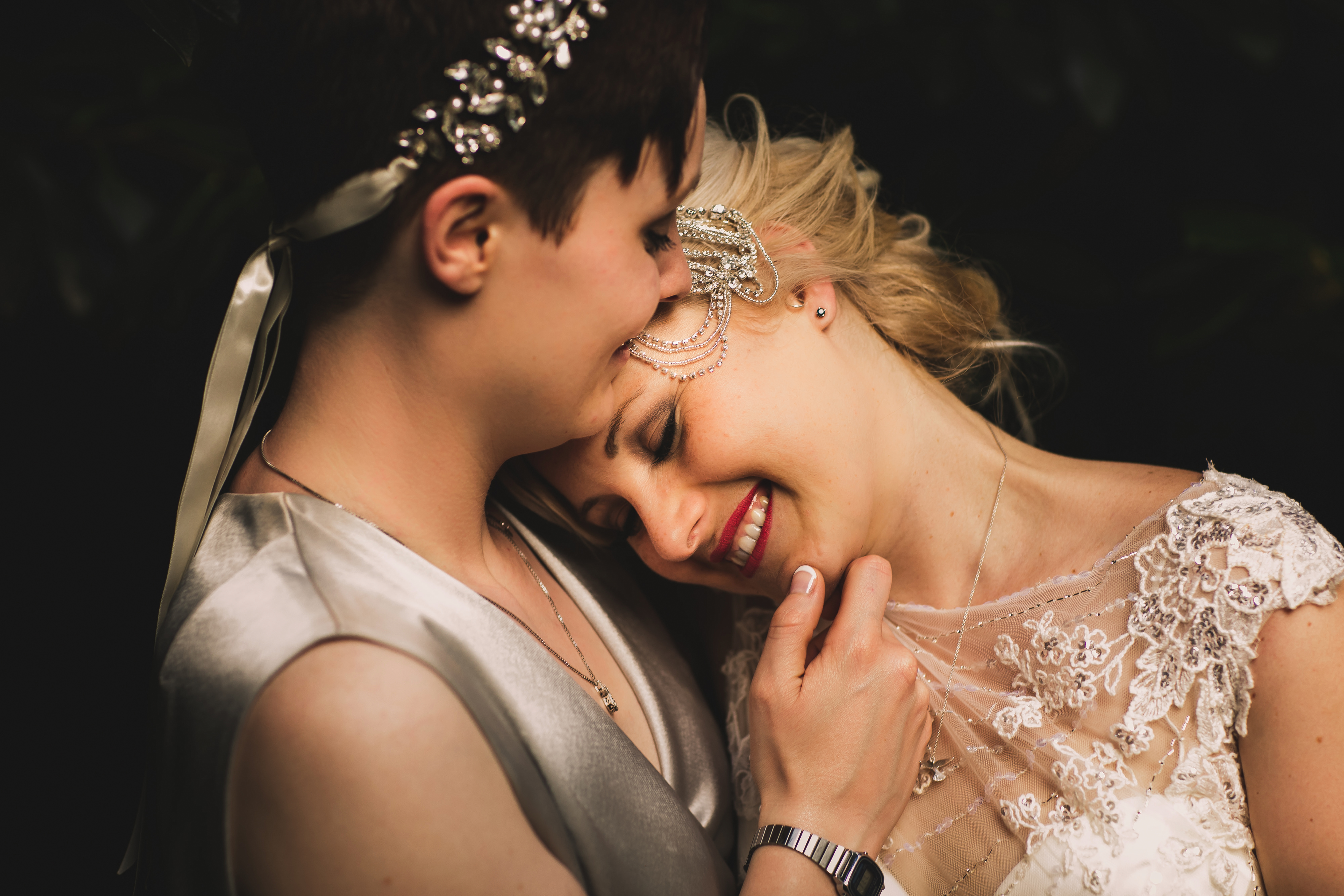 How did you and Jo meet?
"I (Gemma) was Jos boss! I was working for a fundraising agency in Archway, London and we were recruiting for a temp to help support myself and the team, and that's Jo walked in.We clicked straight away and fell for each other pretty fast! We tried to keep our relationship a secret (which we thought we had pulled off) until I found a different job, but apparently it was obvious to everyone from the start – we were (and still are) inseparable."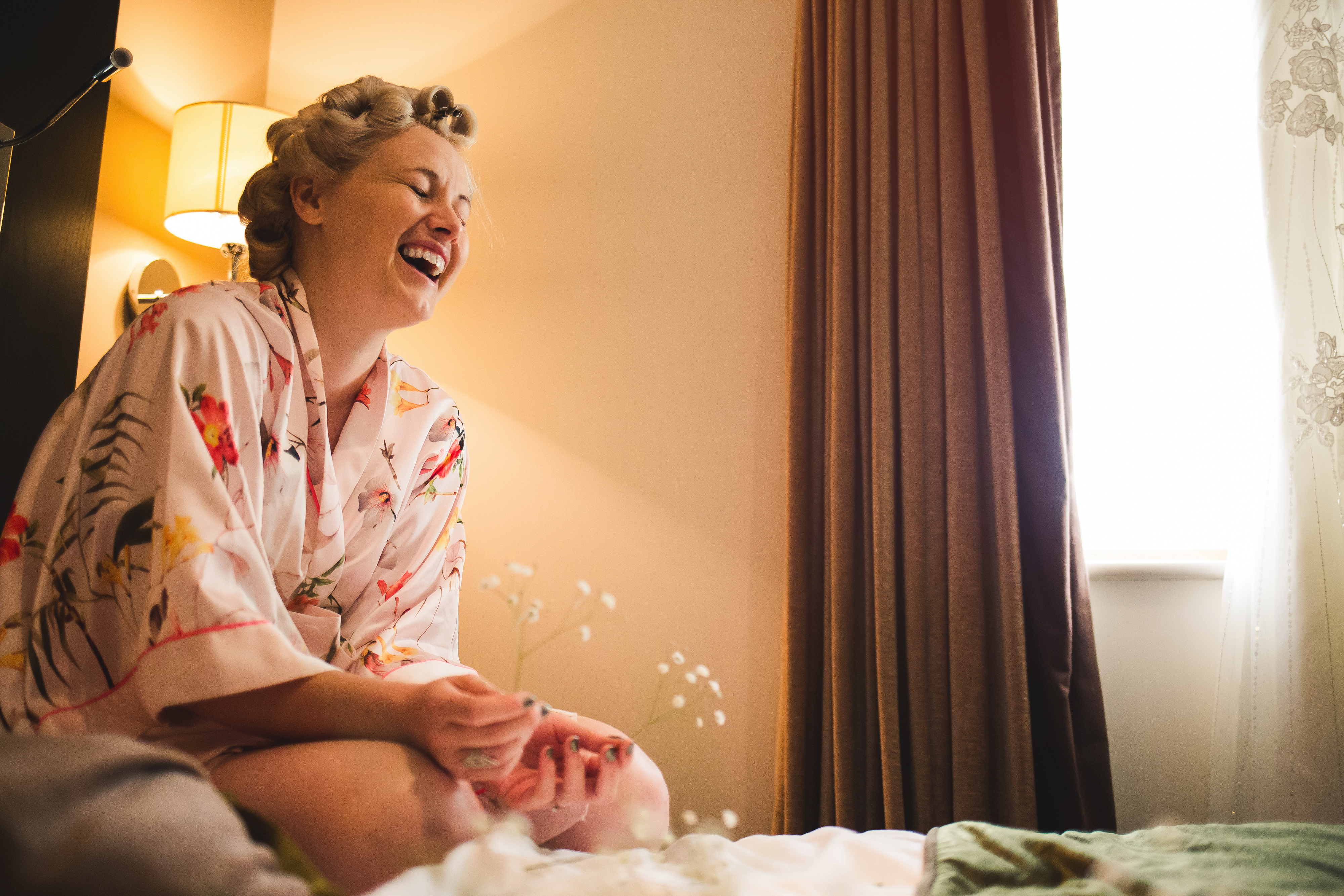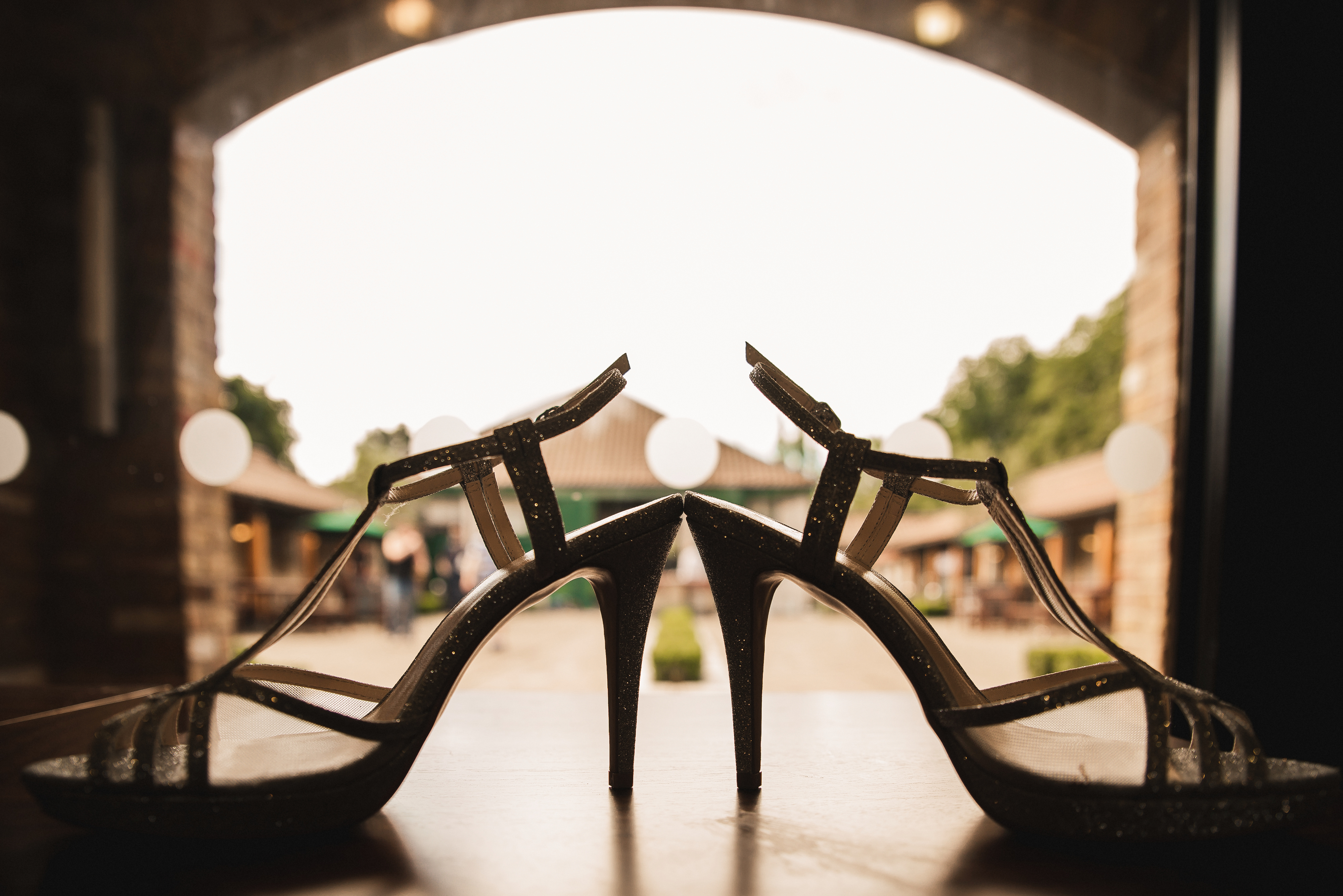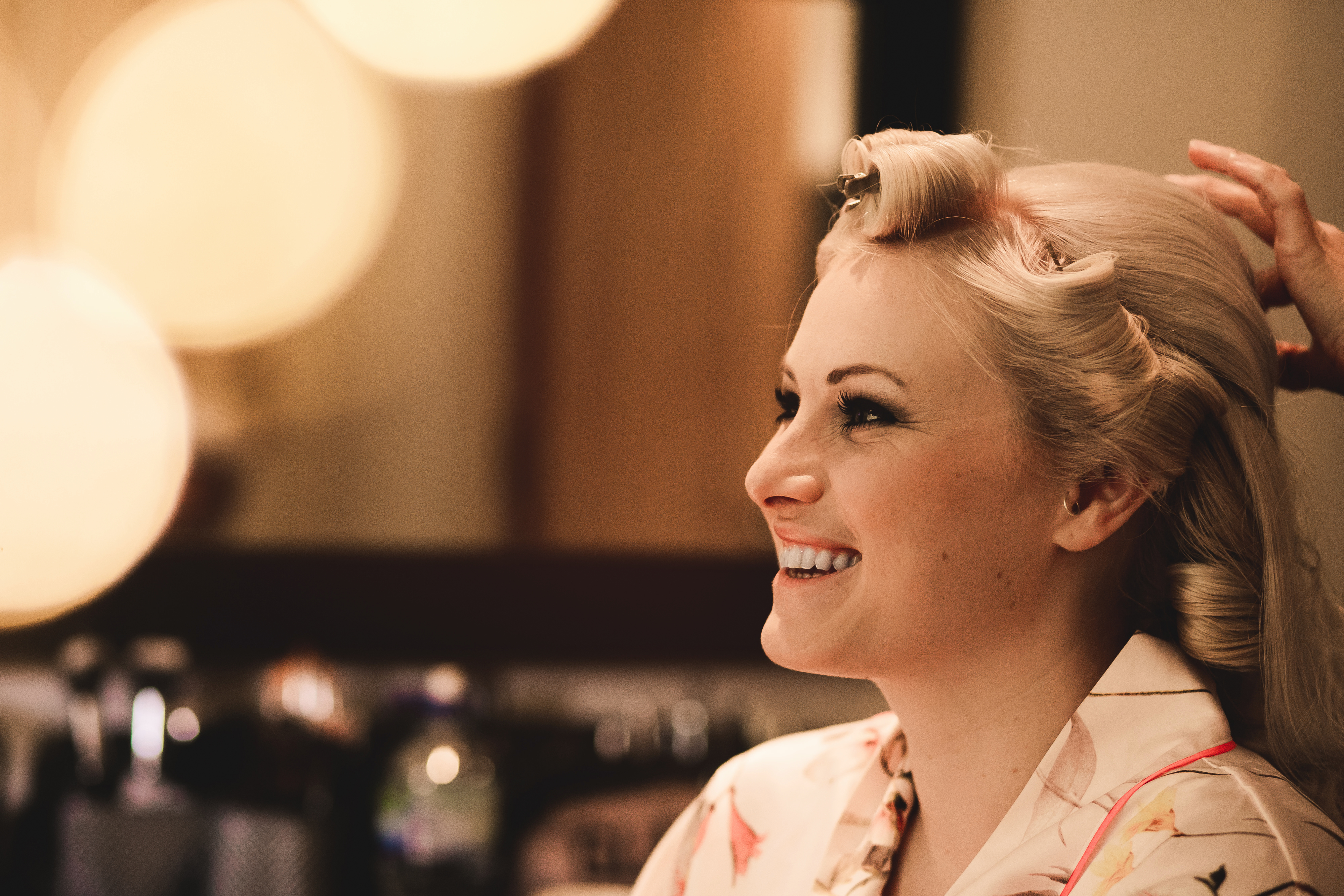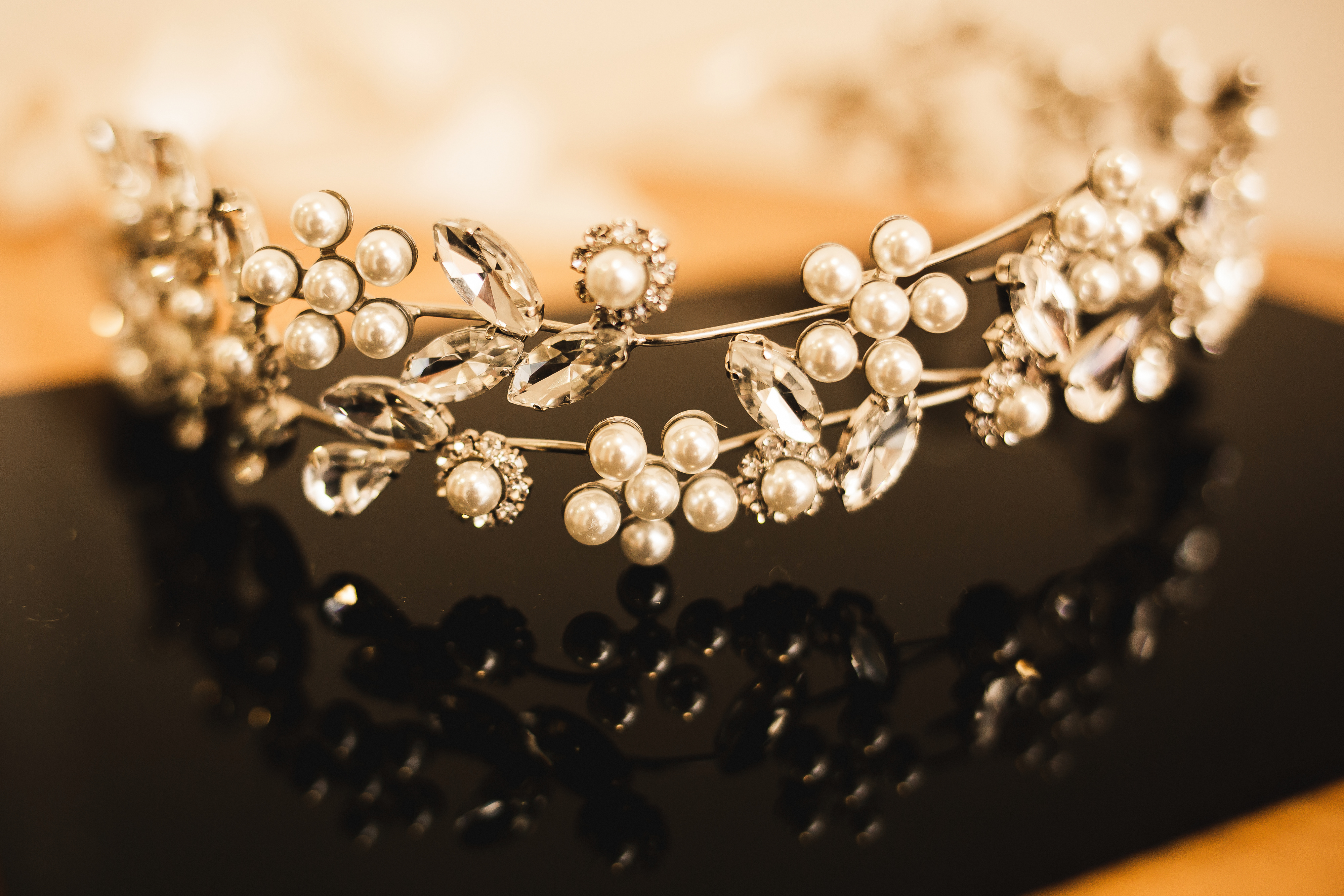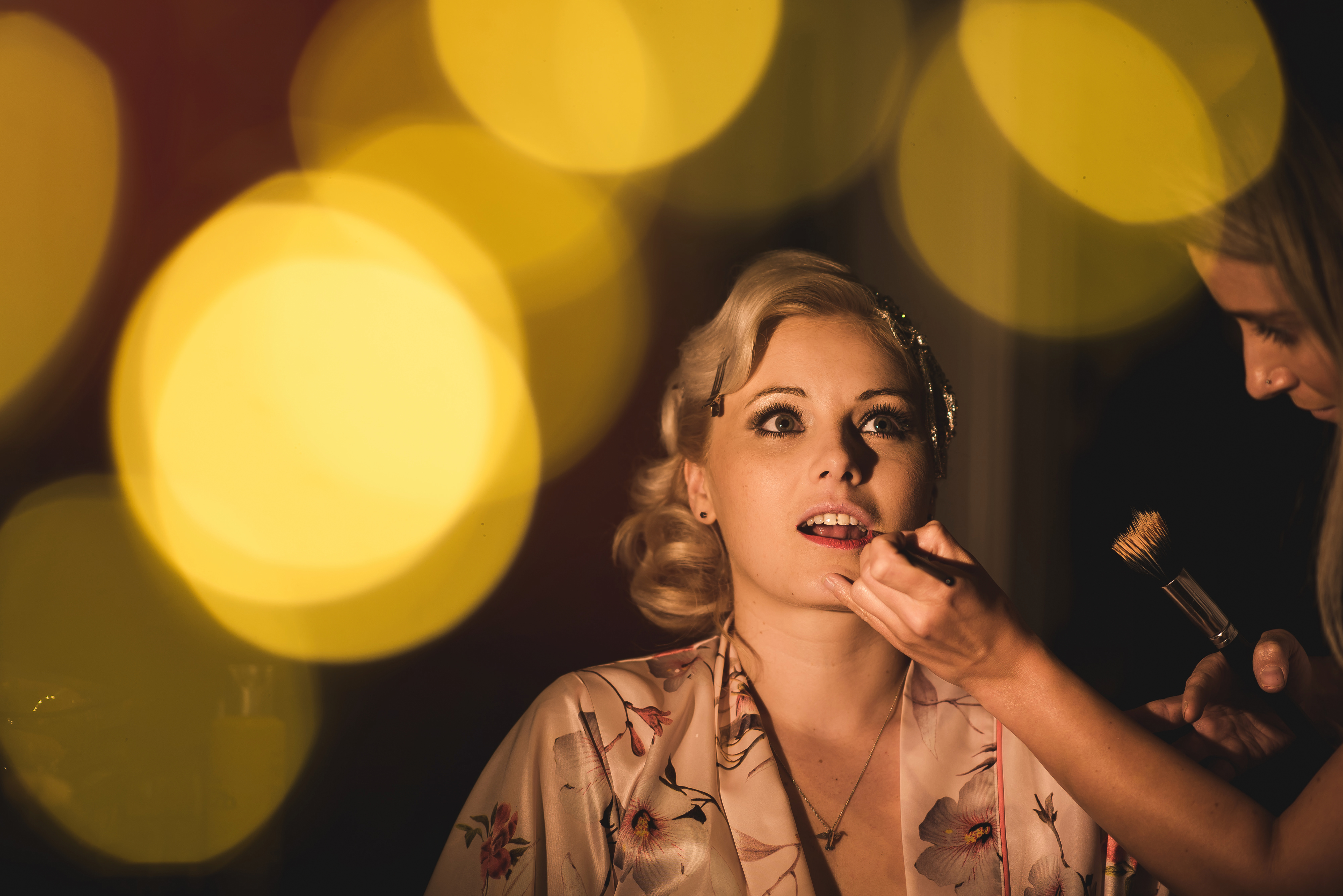 The Proposal
"Jo planned a week away for us in St Ives. On the holiday Jo was being weird with her phone and wouldn't let me look at it. I didn't think too much of it and then on Monday morning she told me the reason I couldn't look at her phone was because she'd booked a surprise spa morning for us. After the spa we went to the supermarket, and my favourite champagne was on special, so Jo said we should make a day of it and get a bottle, find a nice spot on the cliffs along the coast and get sozzled, which we did!"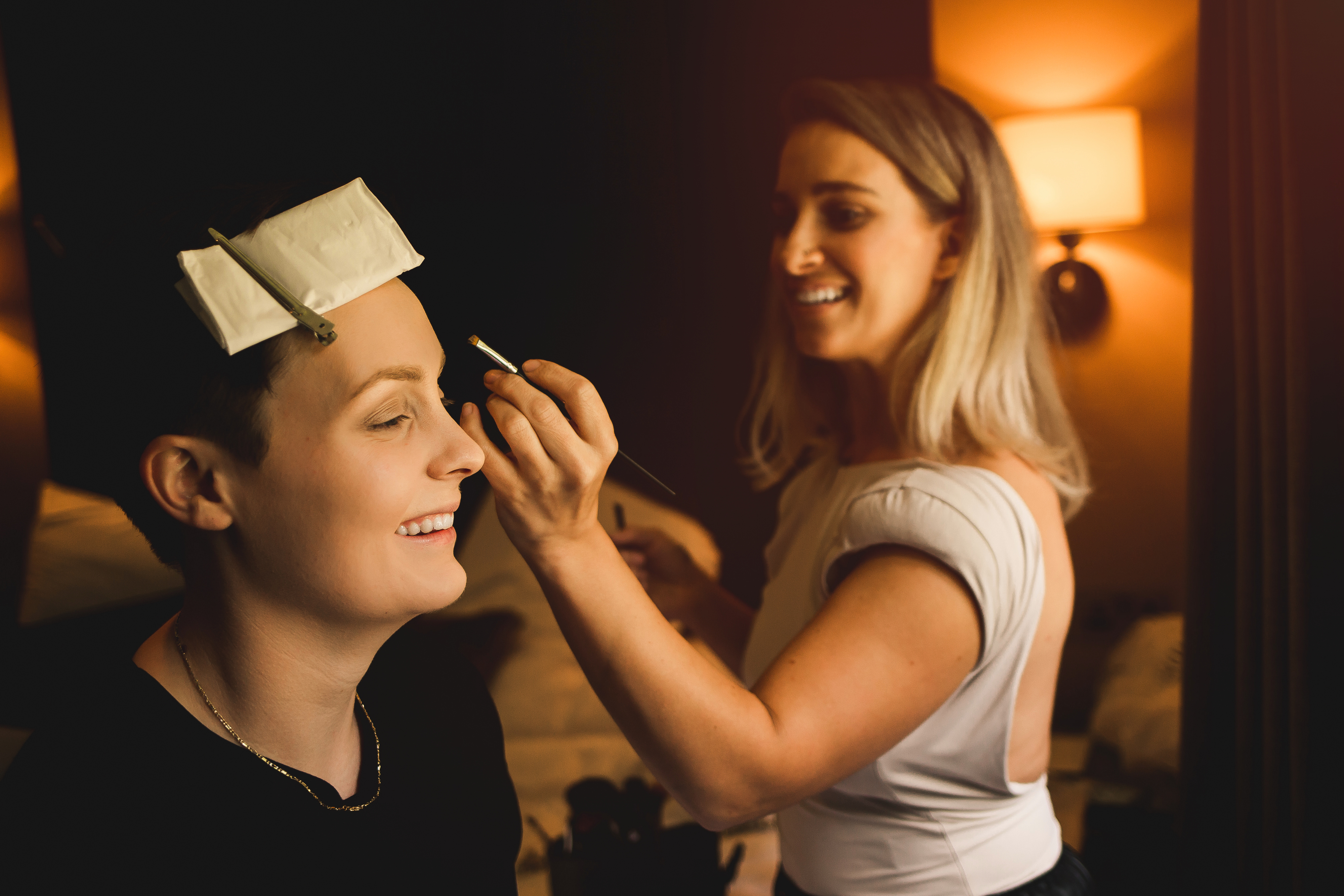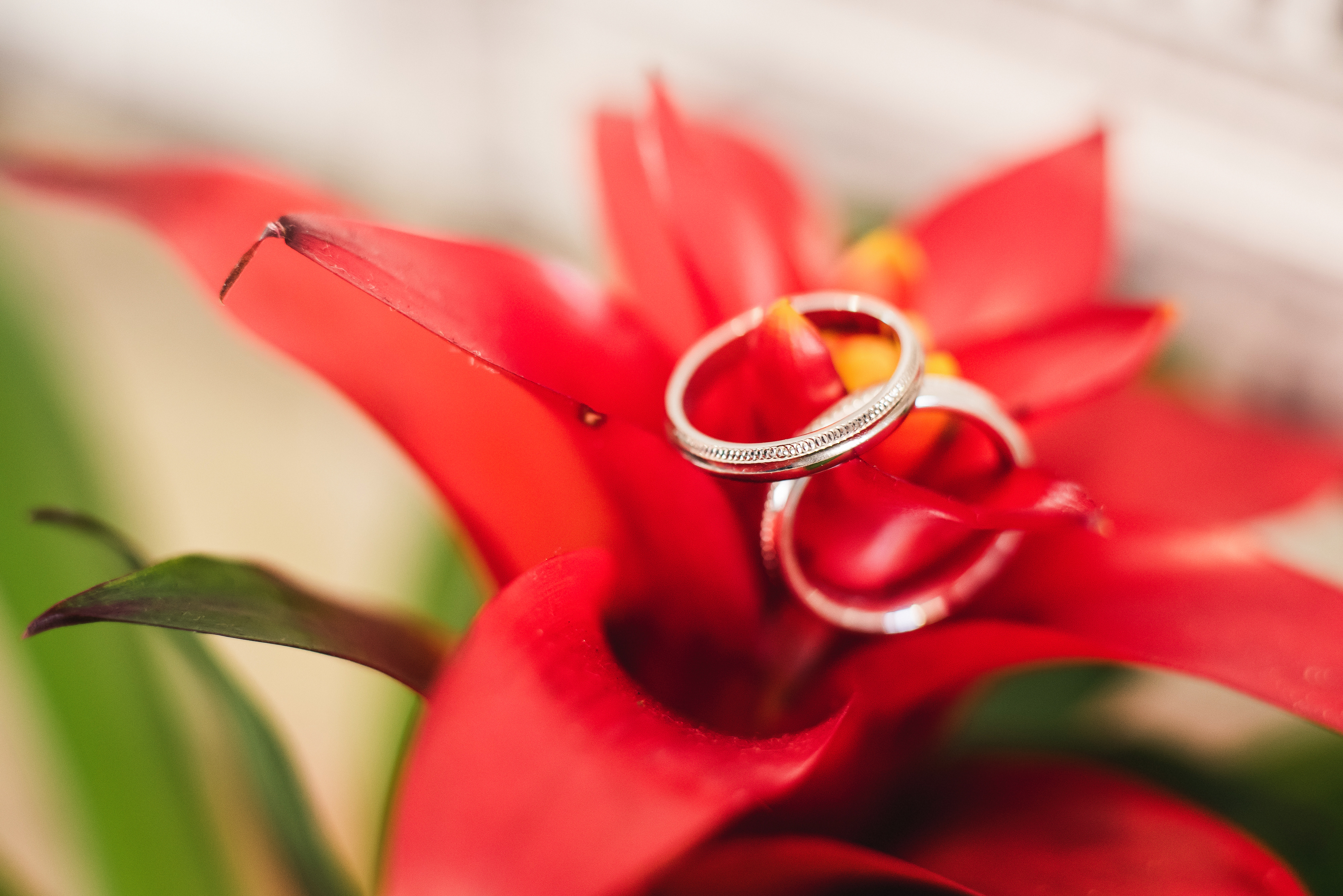 "I was completely oblivious, I had absolutely no idea she was going to propose until we were walking along the coastline looking for somewhere to crack the champers open. There were 2 hikers in the distance and Jo was freaking out, complaining that it was too busy!"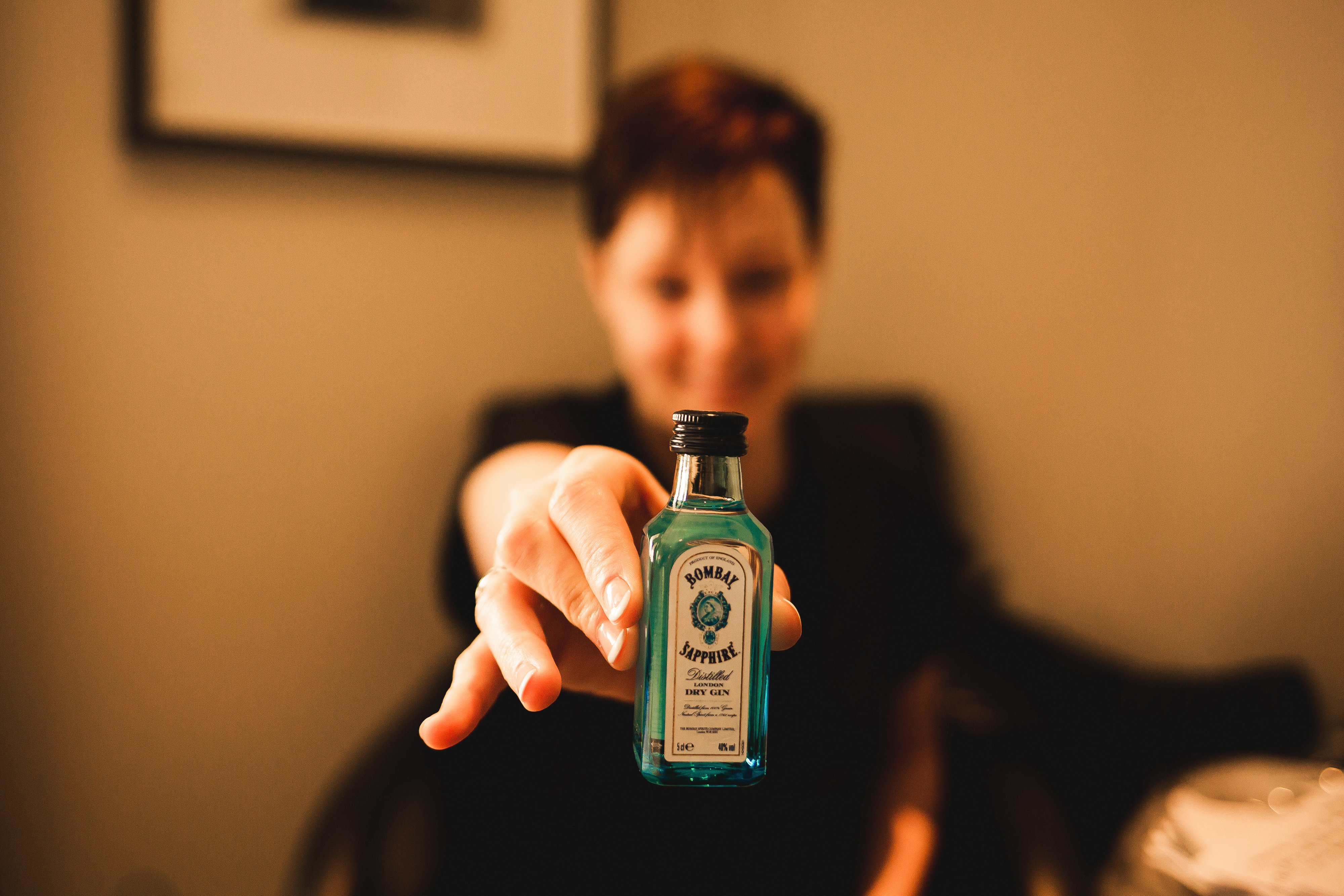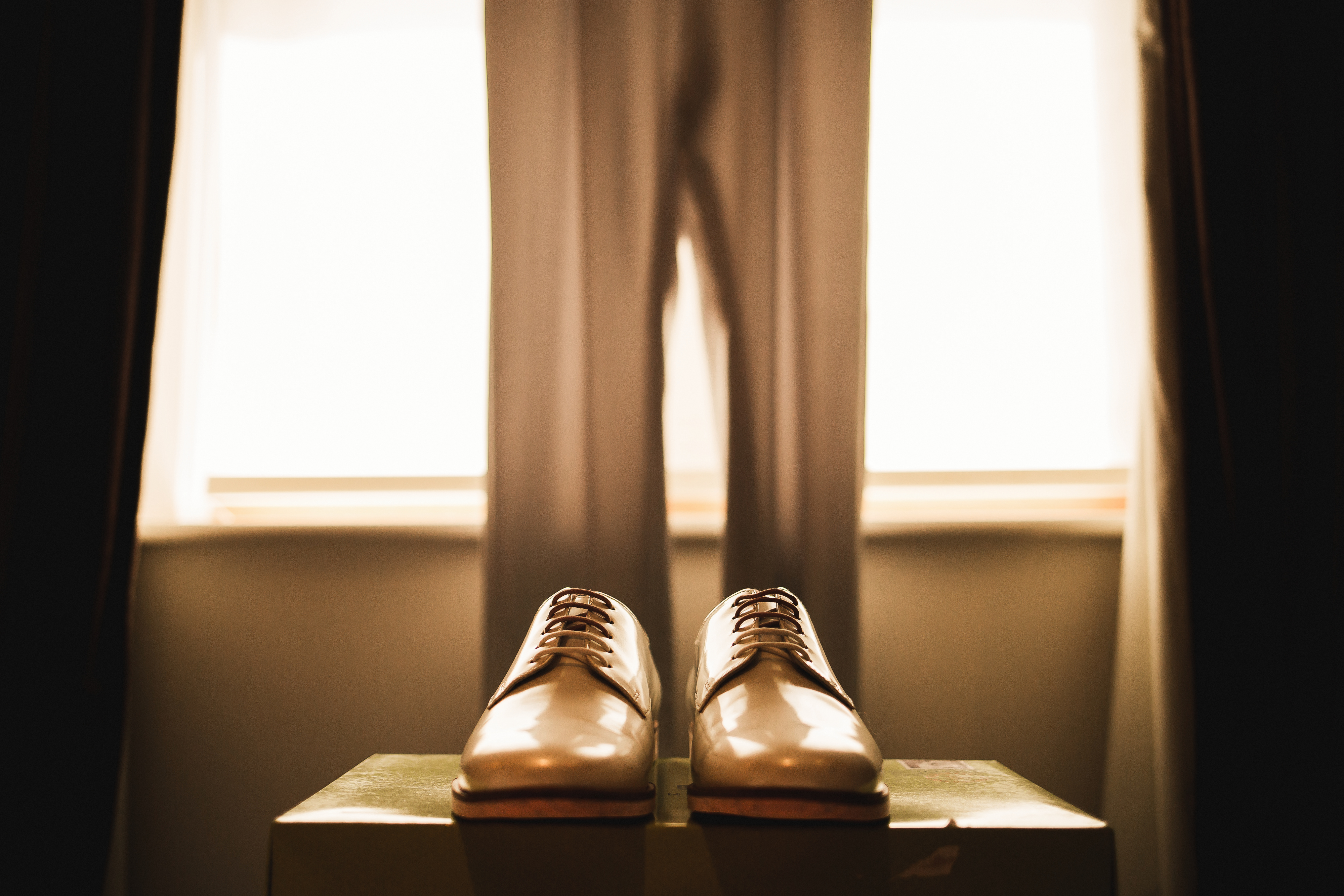 "Anyway, we found a spot, and opened the champagne – she started saying some lovely stuff about me. Out comes a box and she asked me to marry her! After the shock, and me telling her to f**k off several times, I said yes! We had the BEST holiday and then the wedding madness started!"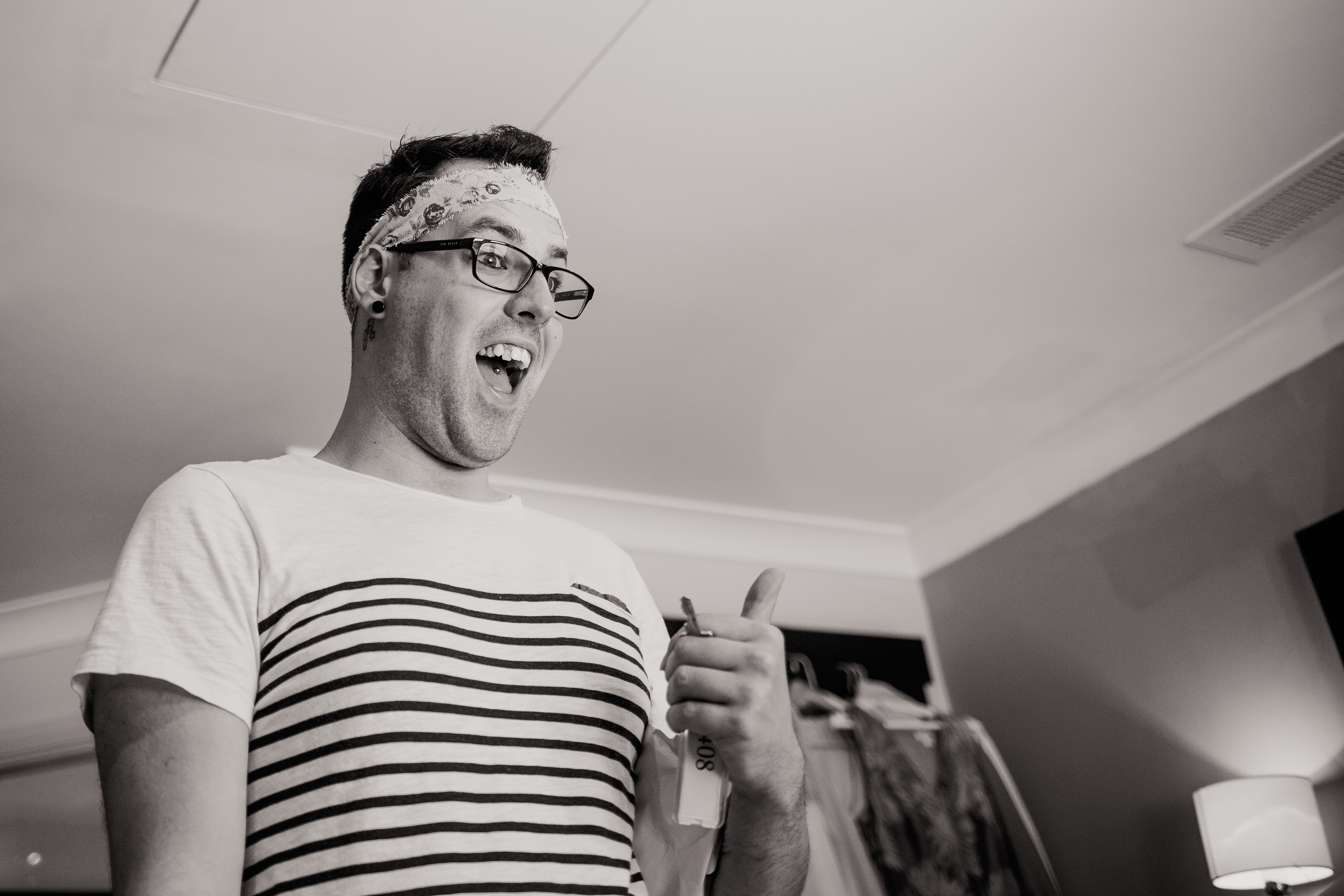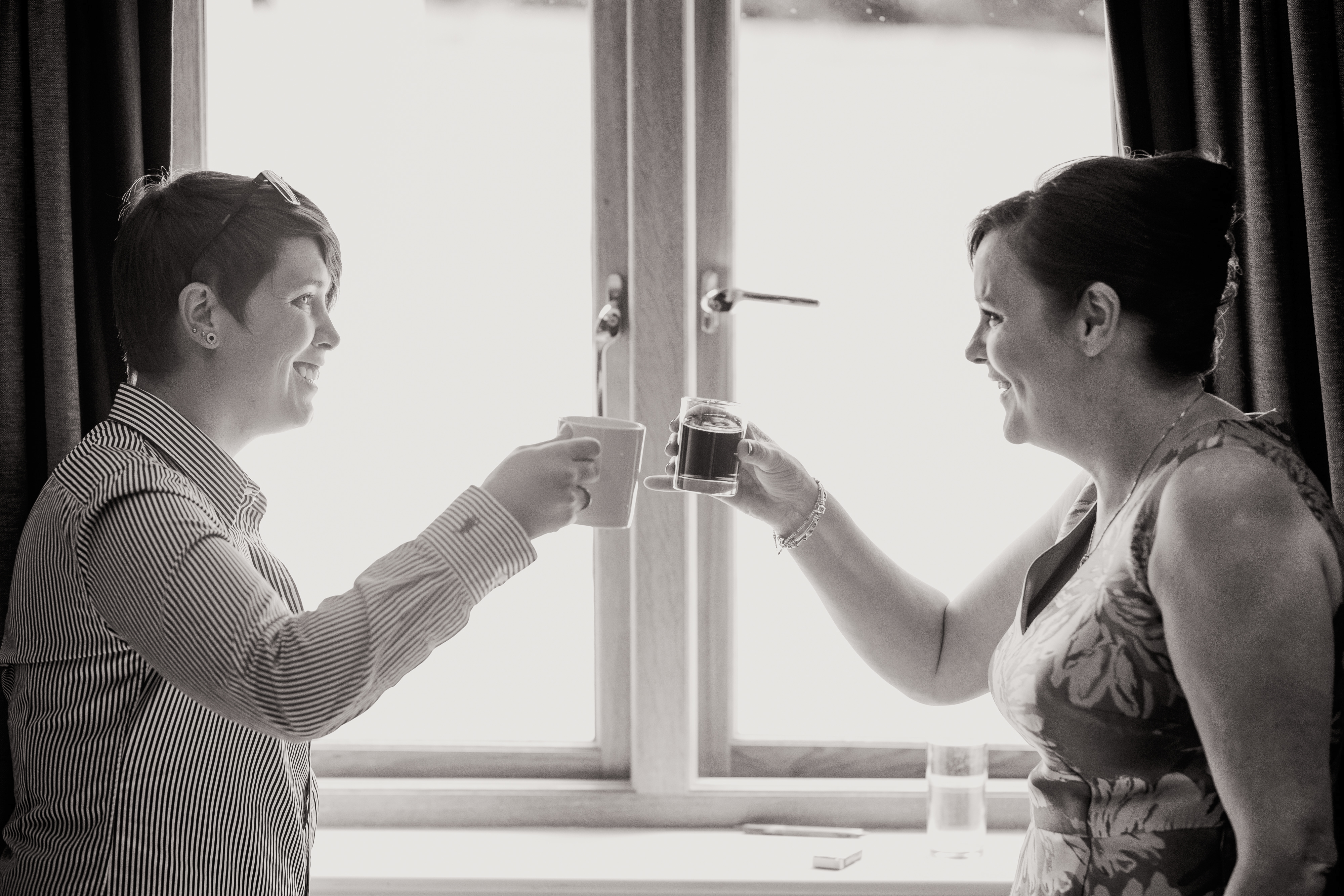 Planning the wedding
"After being on a high for a month and finally deciding when we were going to get married, we had 8 months to plan it! It was important to us that Jo's Auntie, Uncle and Cousin (who live in Australia) could be there and they were coming to the UK in July 2016 so we planned it for then. To me, the planning wasn't too stressful, it was exciting and such a great thing to do together, finding suppliers you both love, visiting venues, hair and makeup trials, shopping for rings – once the main things were booked, everything else fell into place."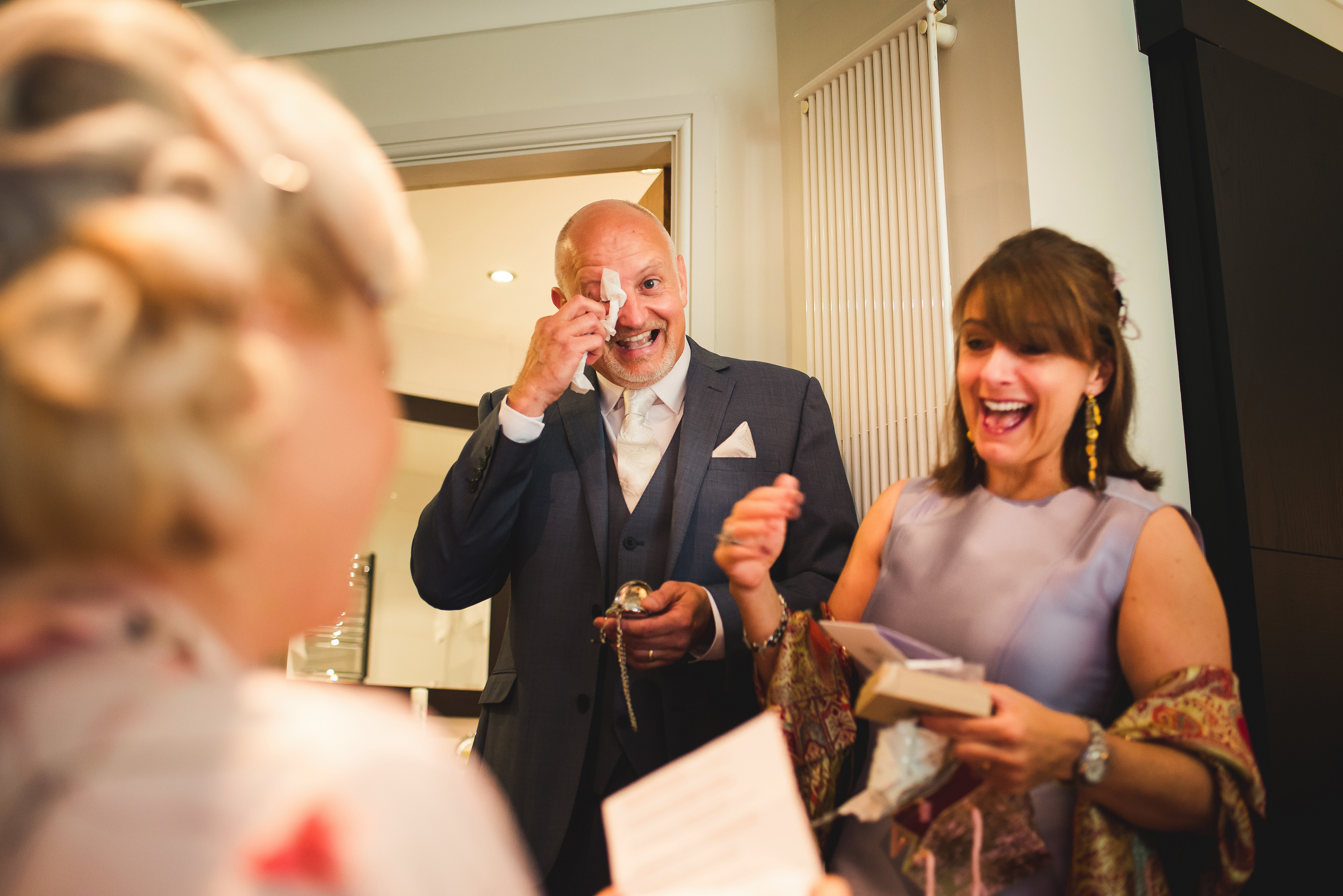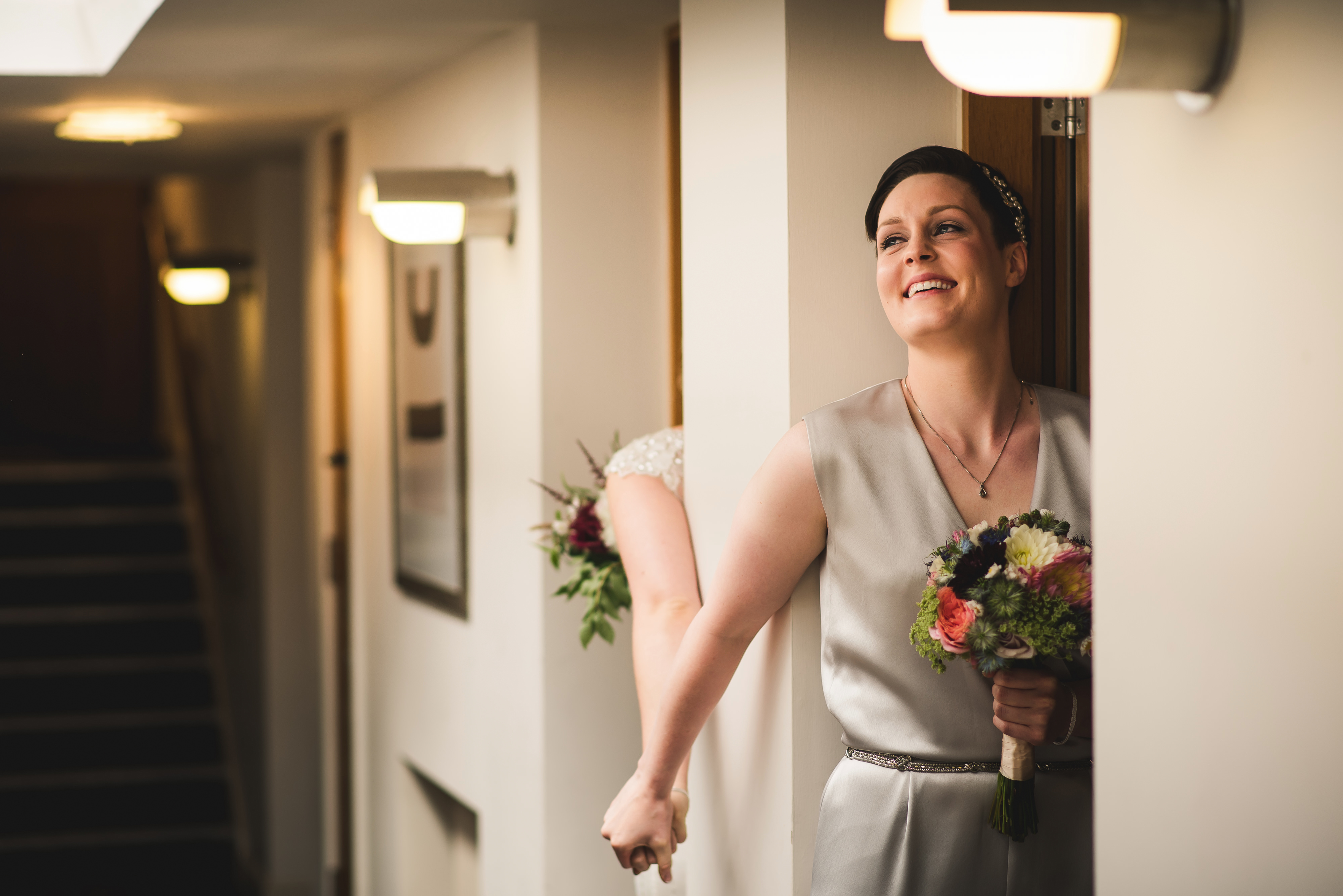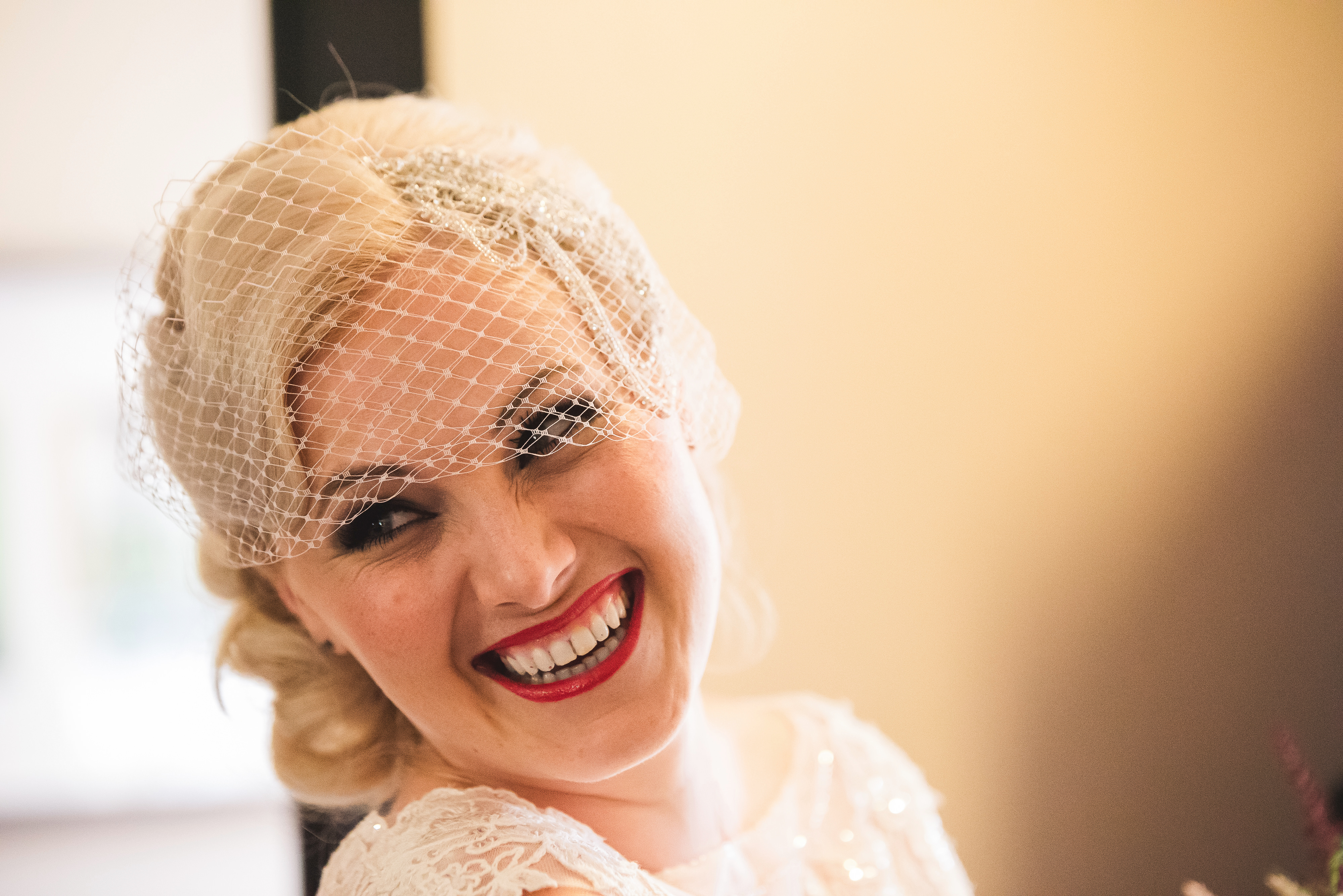 "We made as much as we could ourselves, from our save the dates, to invites to centerpieces to favours, to our table plan (which Jo stood on and broke the night before the wedding!!) For 8 months our 1 bedroom flat looked like Hobbycraft had exploded in it and I still have scars from molten glue from the glue gun :/ It was totally worth it though, and it made our wedding ours. We were lucky to have family and friends on hand to help, especially with making a new table plan and stuffing favour bags at the venue at 1am on the day of the wedding!"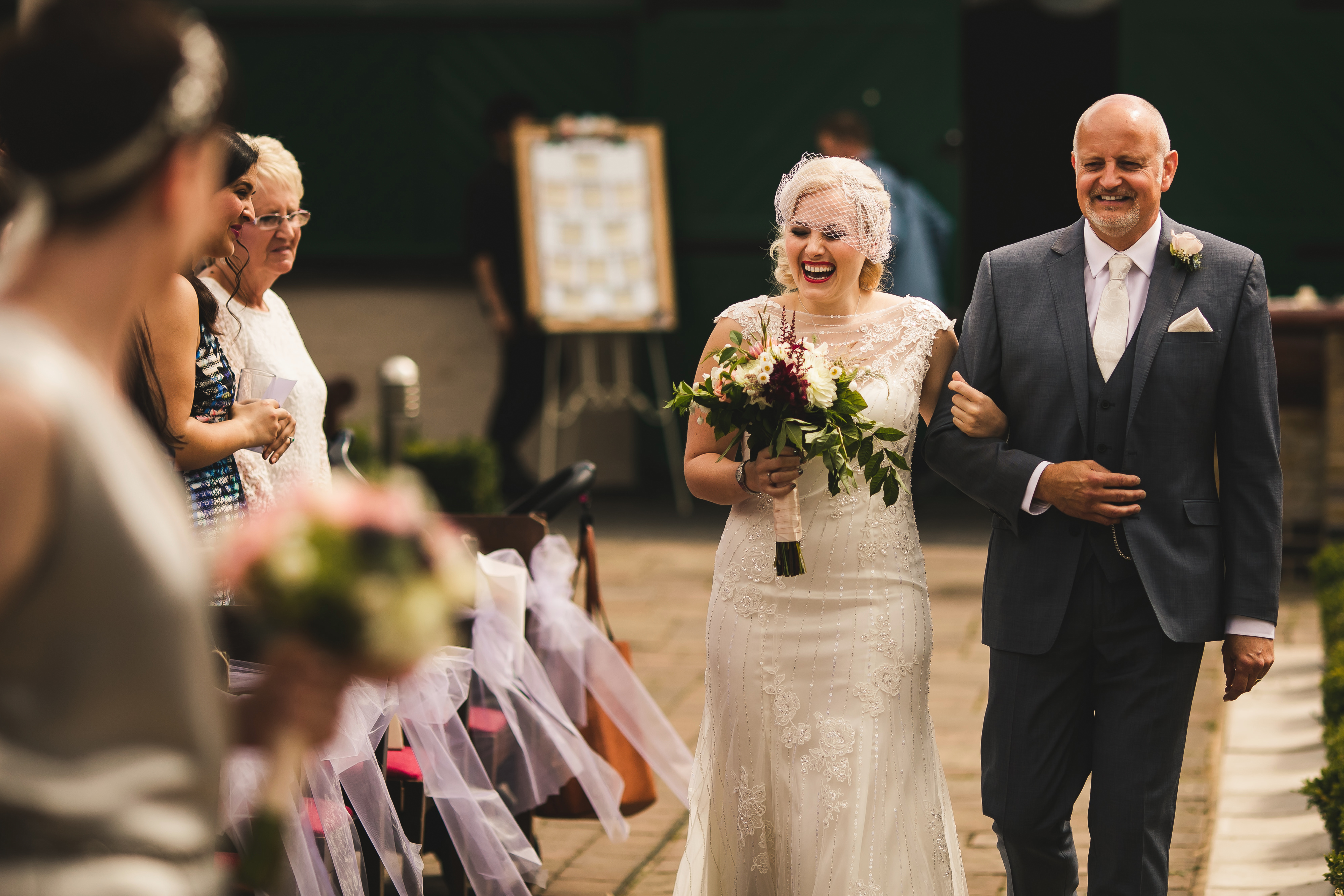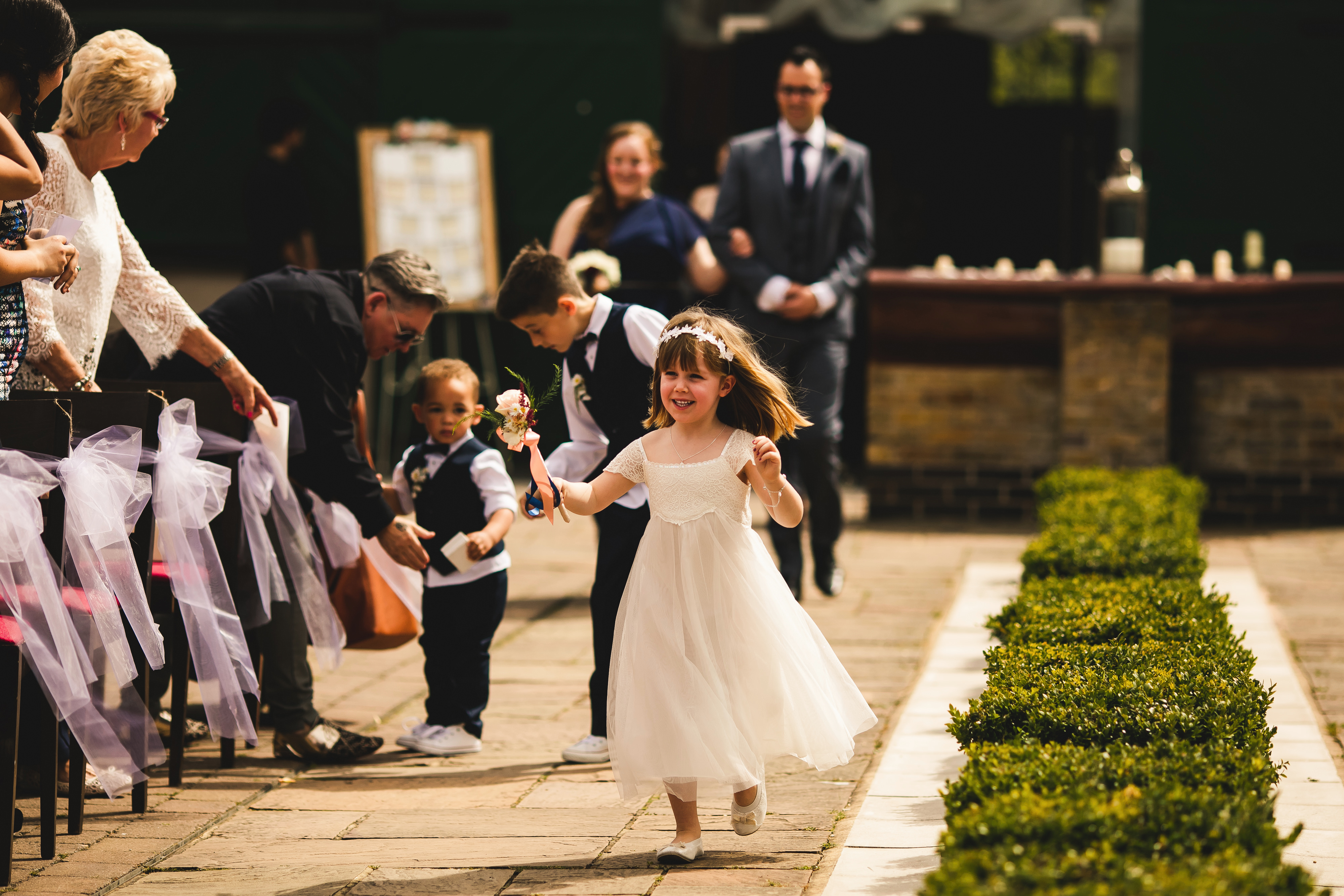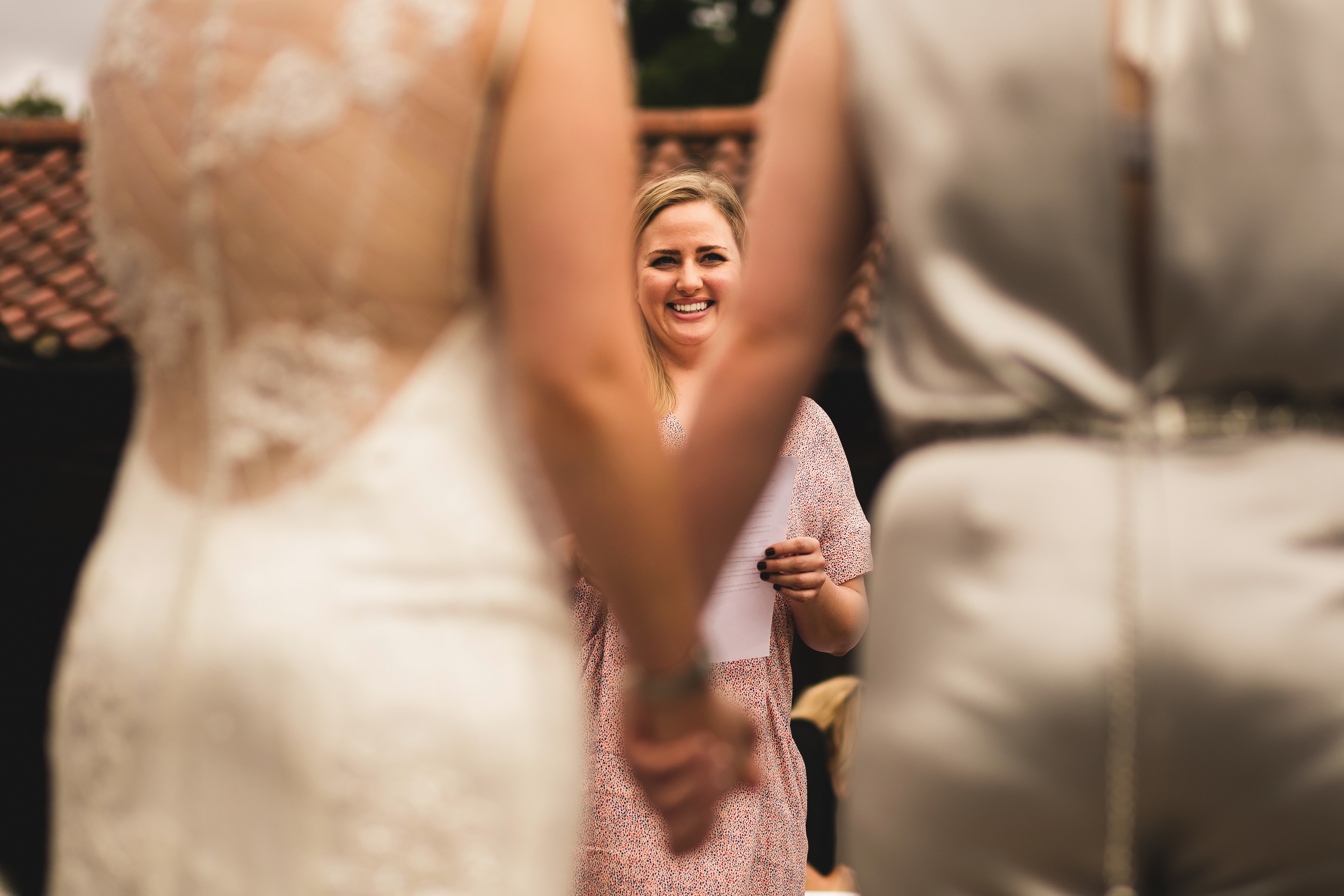 The Location
"We had our heart set on getting married outside, but with the British weather being unpredictable we needed a backup in case it tipped it down. We initially looked at hiring land and a marquees, but the cost got pretty steep and we didn't have time to choose the style of portaloos we wanted :/ So to save time and a bit of money we went for somewhere that catered for weddings, this ended up being Theobalds Estate in Cheshunt."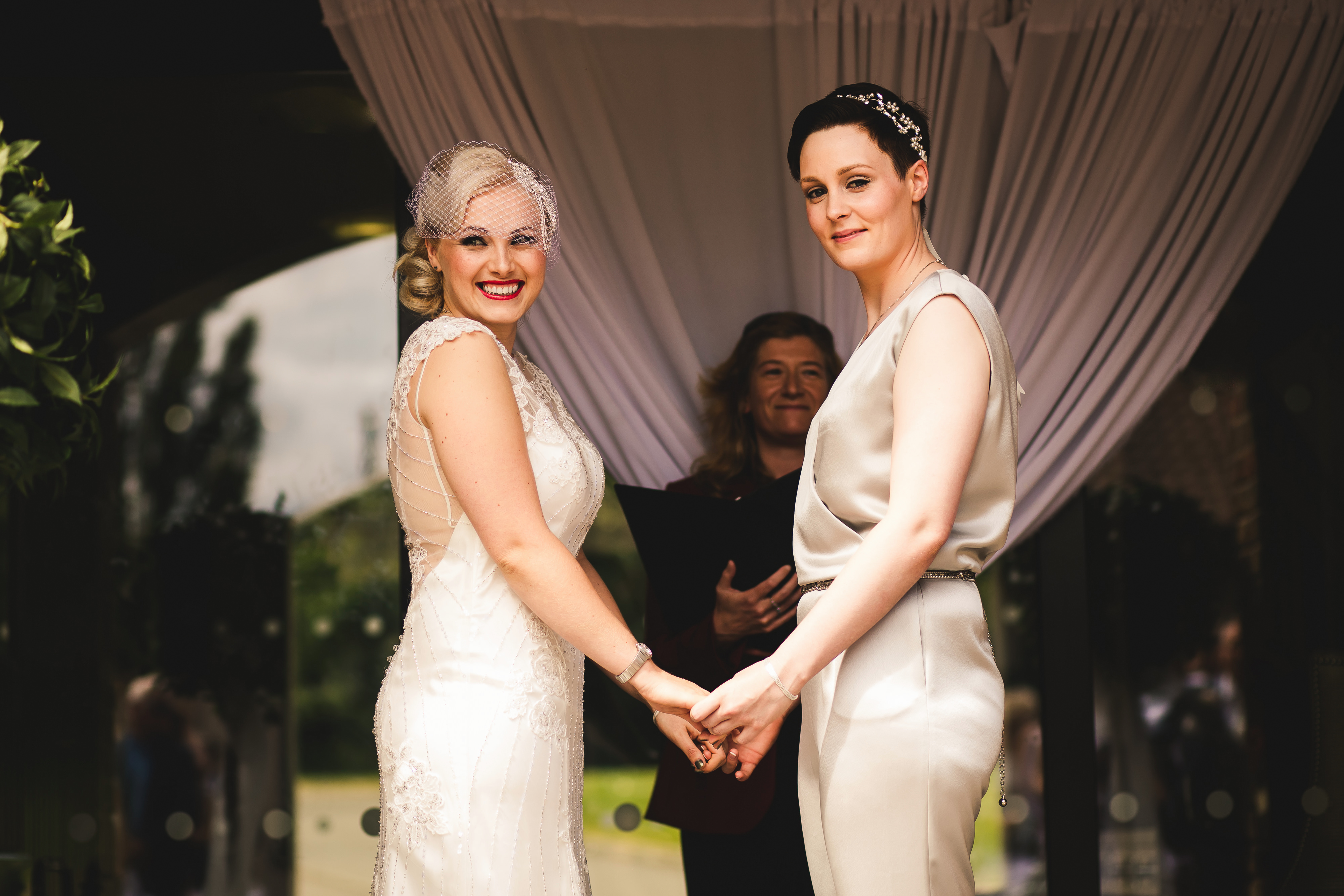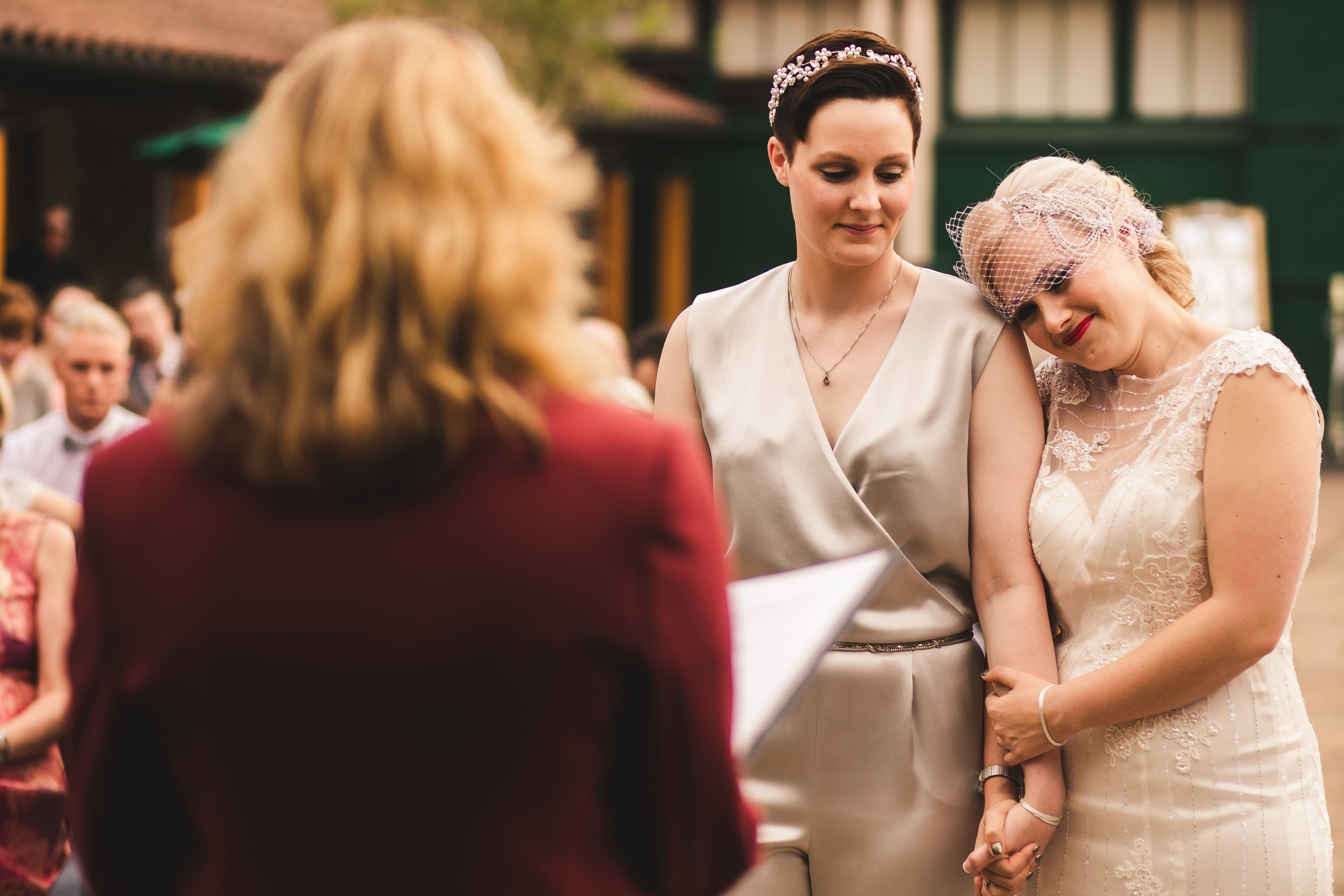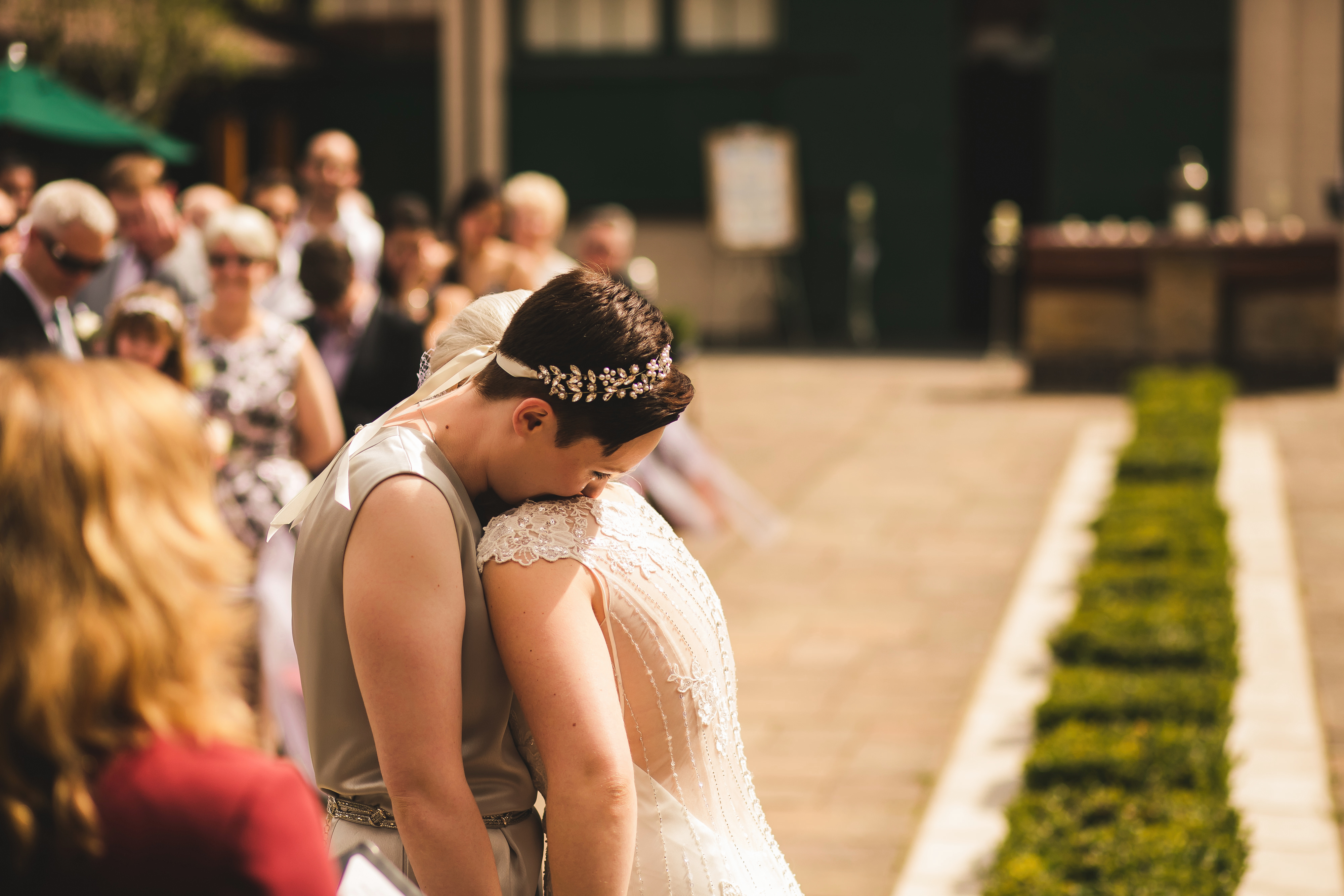 "Our section of the venue was separate from the main Hotel, we had a beautiful uncovered courtyard where we had our ceremony (this was surrounded by rooms which was great for guest accommodation), and it backed onto a barn style room where we held the reception."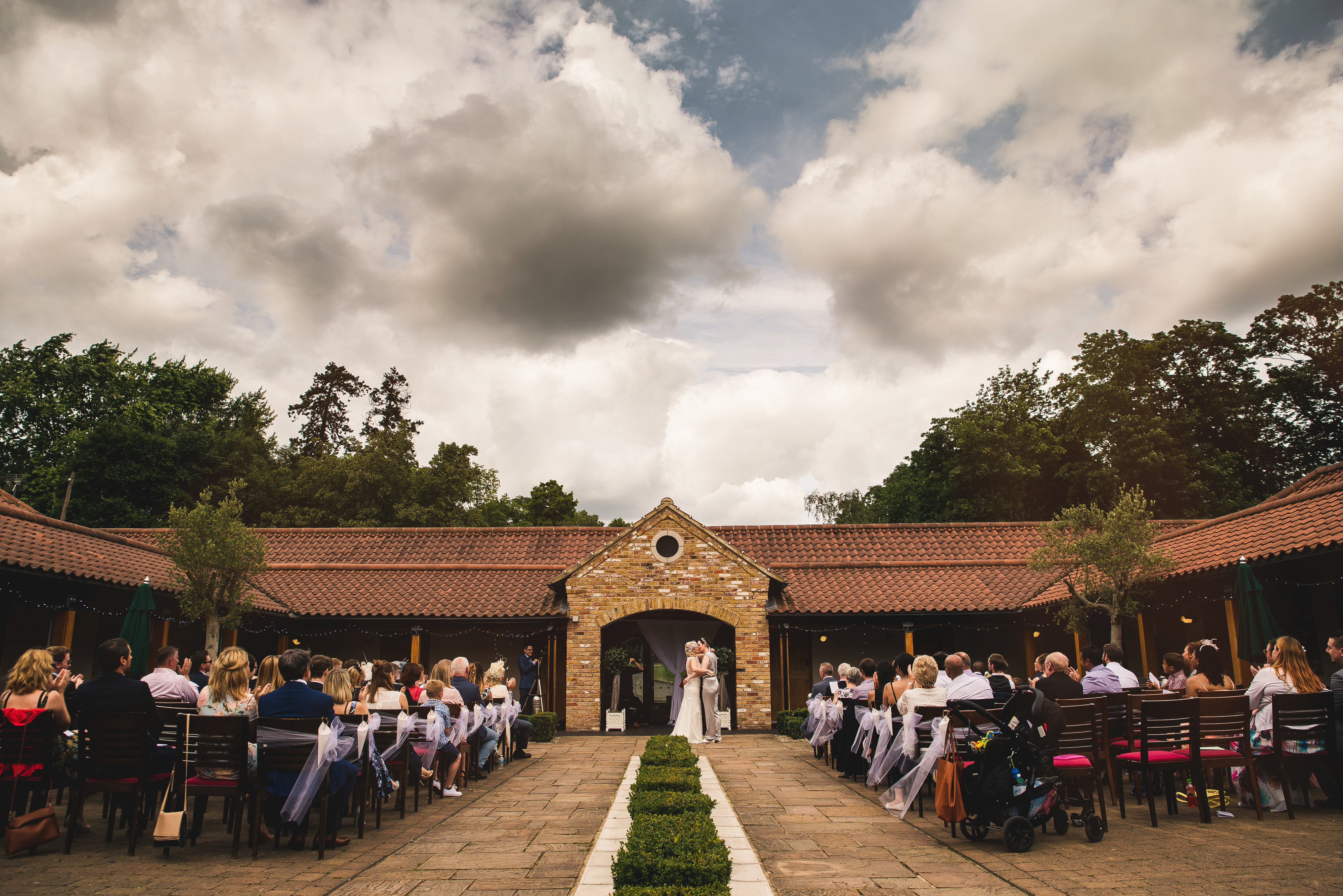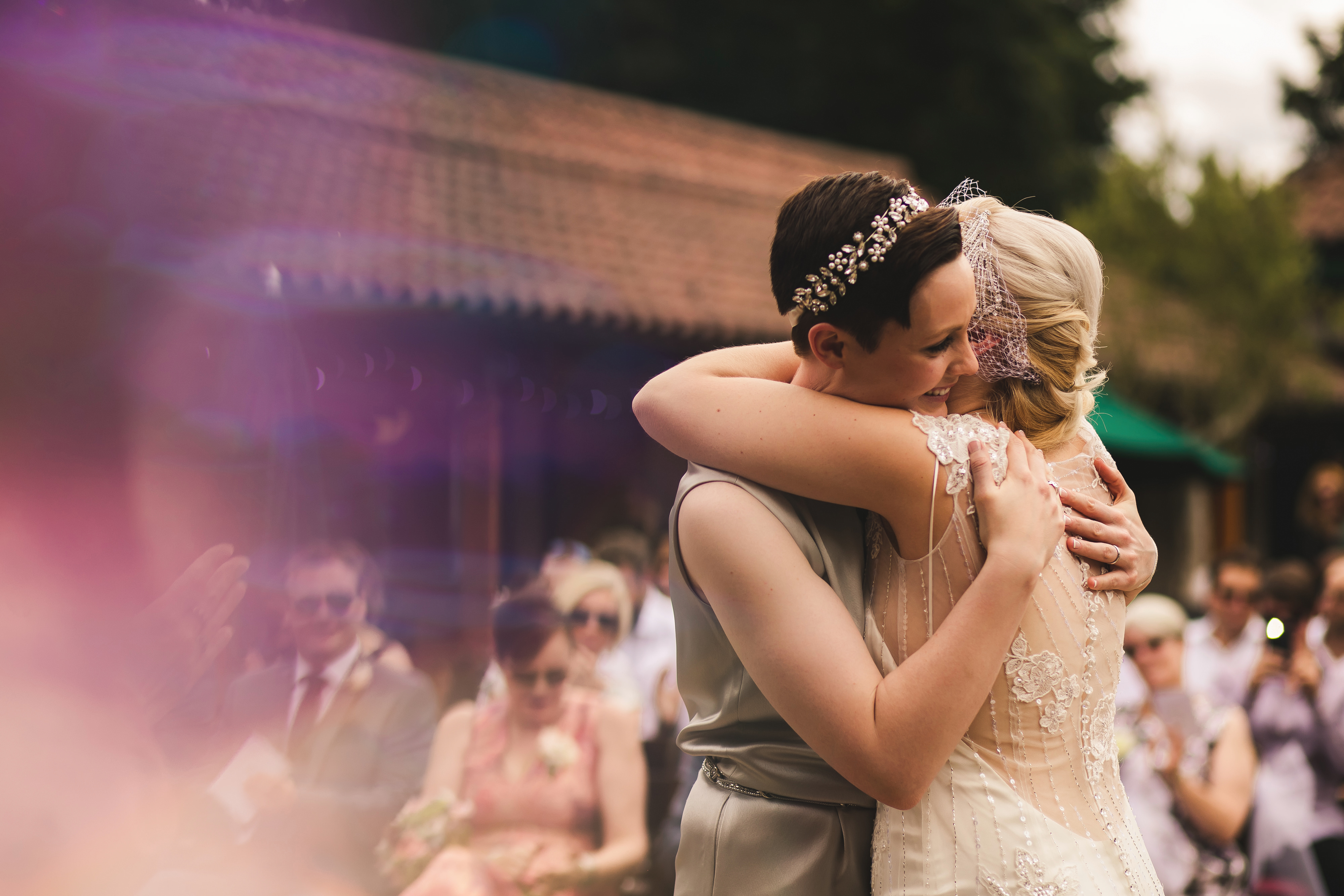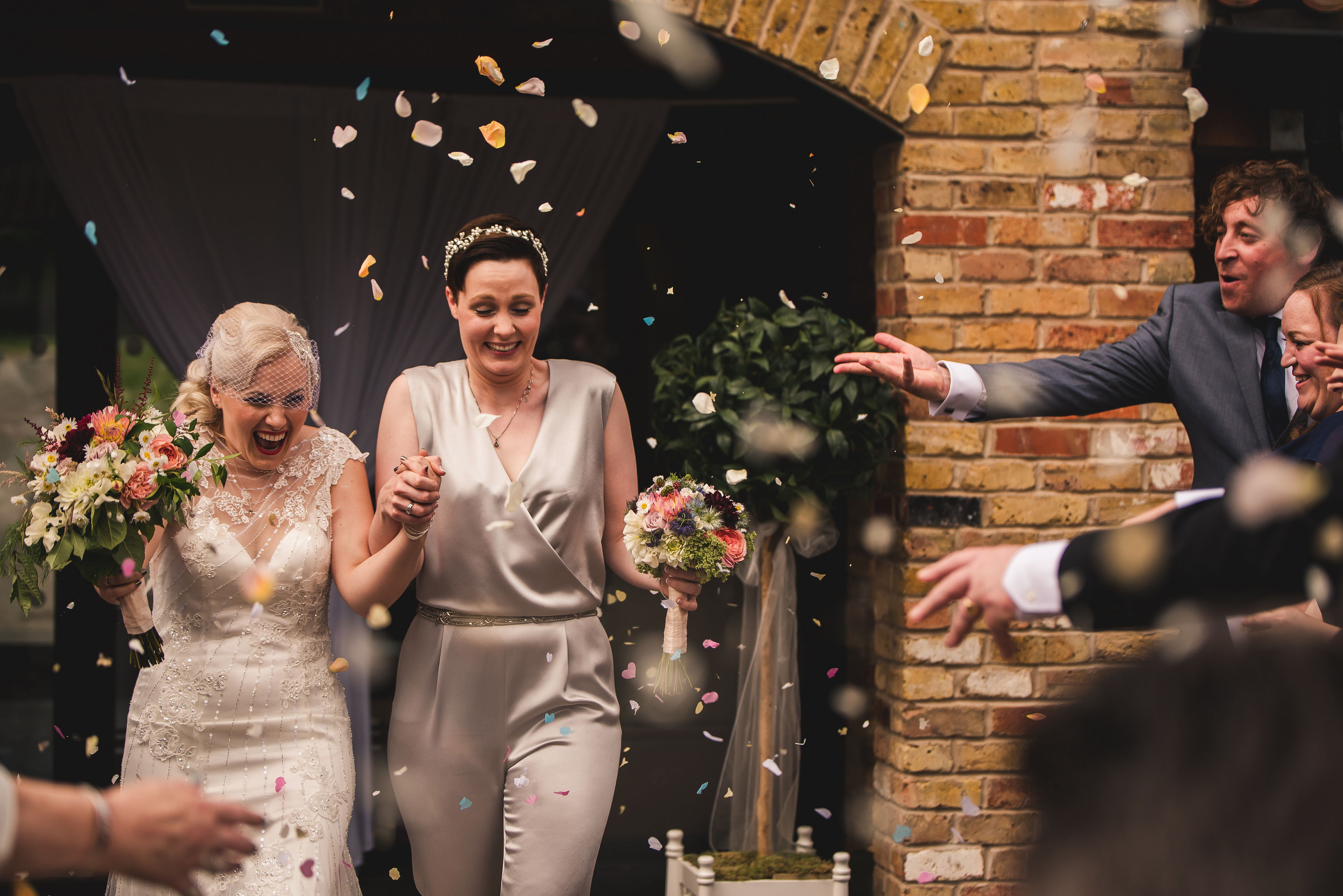 The Dress
"I can't speak for other brides but this seemed really daunting to me, I knew what I didn't want (princess, meringue etc), but I had no idea what I wanted to wear apart from it being a little vintage inspired. My mum, sister, nana and I, all went to Leeds to try and get some inspiration. We walked into a bridal shop hoping we could just look at some dresses but they had a free appointment so I ended up trying some on.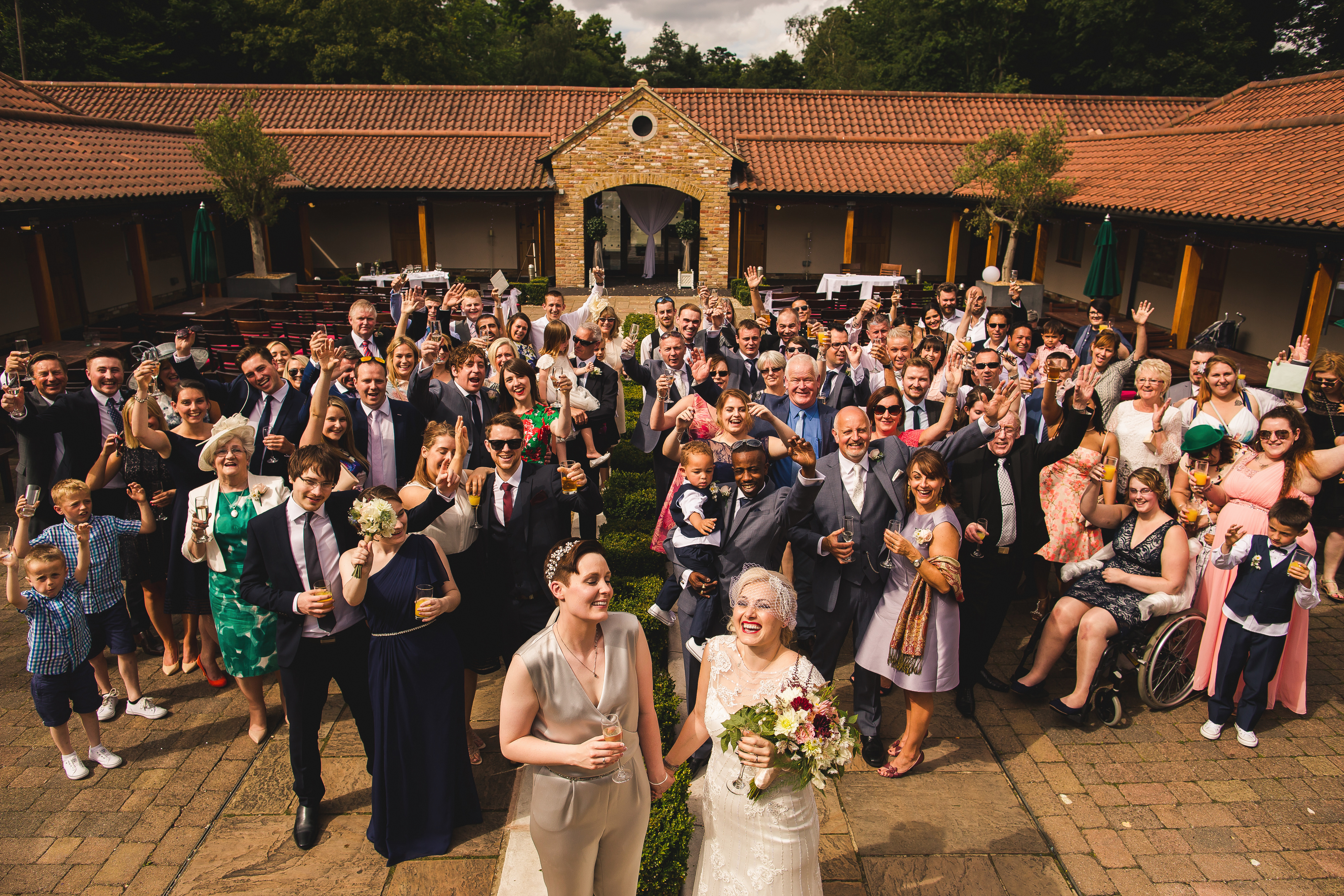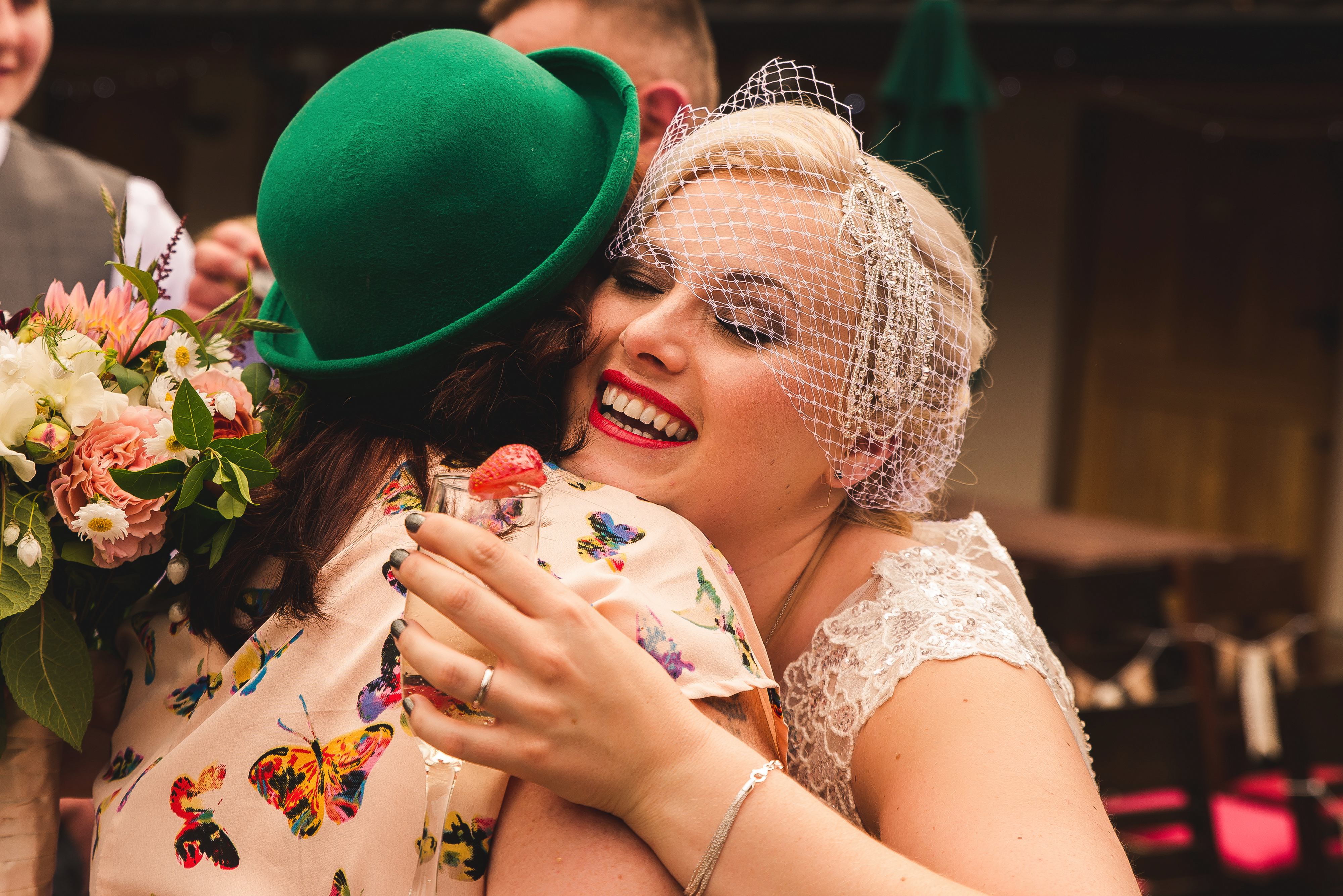 "Nothing was speaking to me and after looking through loads of dresses, I just grabbed 3 to try on for the sake of it. As I was walking to the fitting rooms, in the corner of my eye I saw some silvery sparkles and grabbed that dress too. The first 3 were absolutely horrendous, I felt like one of cinderella's ugly sisters, but the fourth was perfect! When I walked out to show everyone, it was like out of a film, everyone cried, and that was it. So the first shop and fourth dress in, wedding dress DONE!"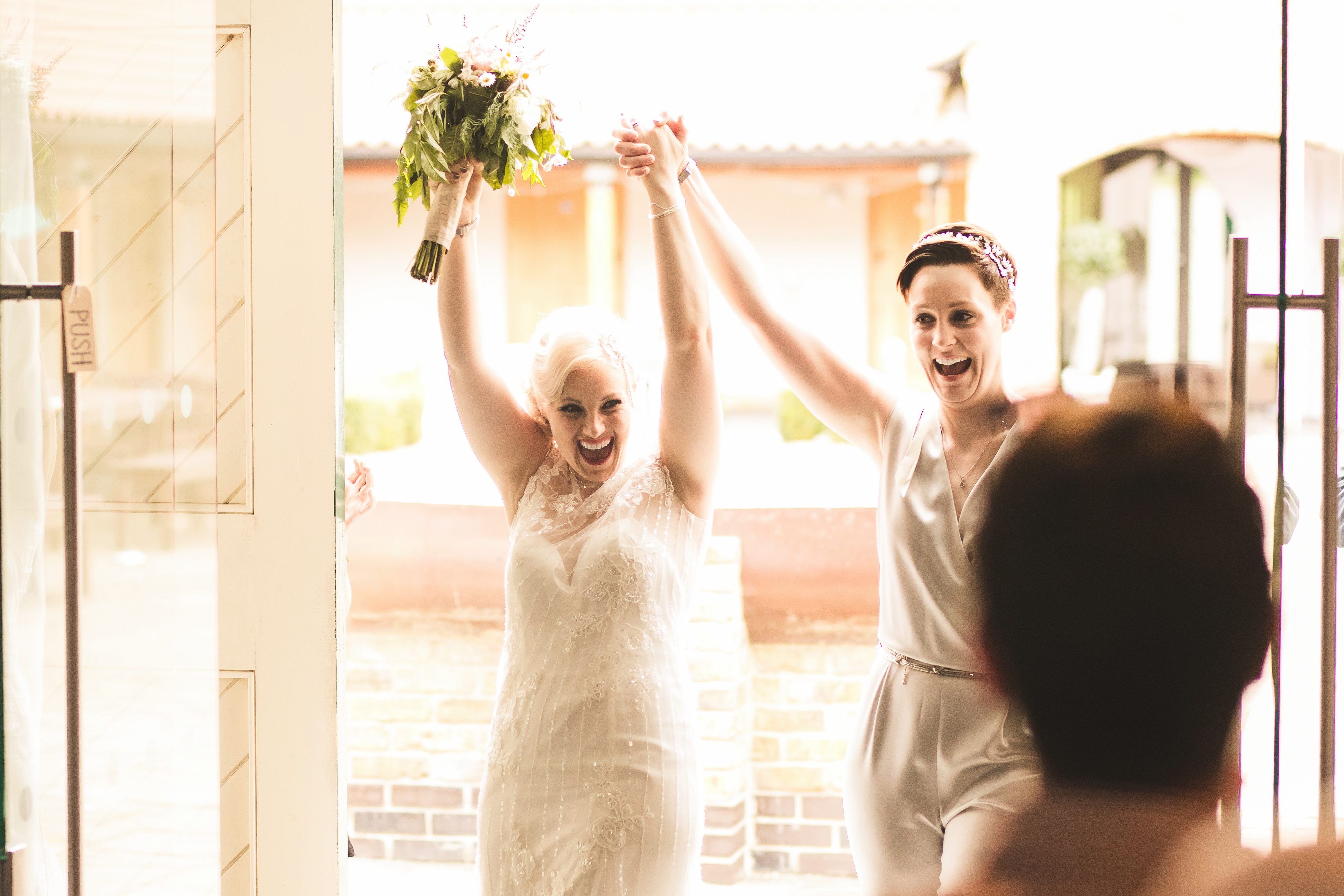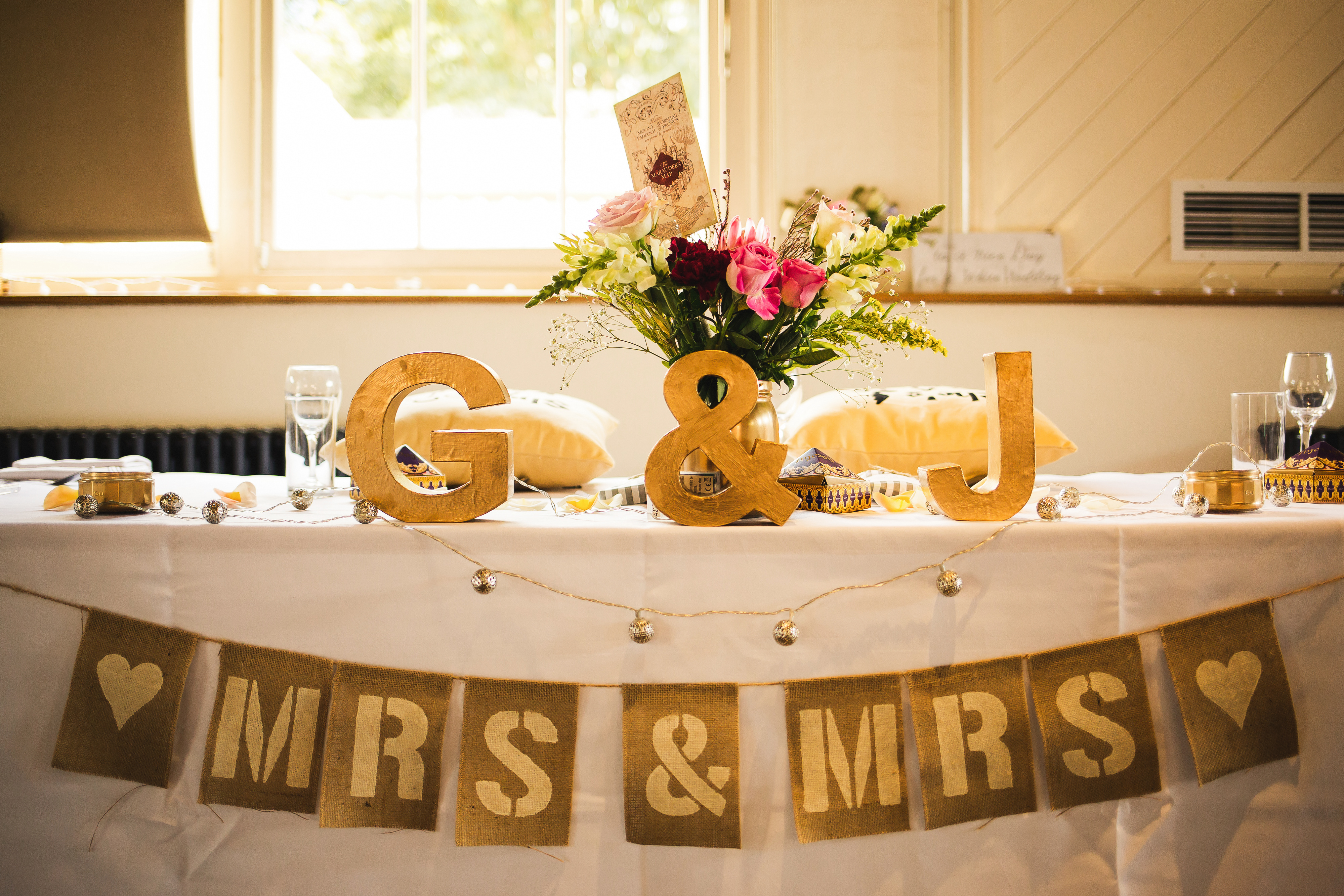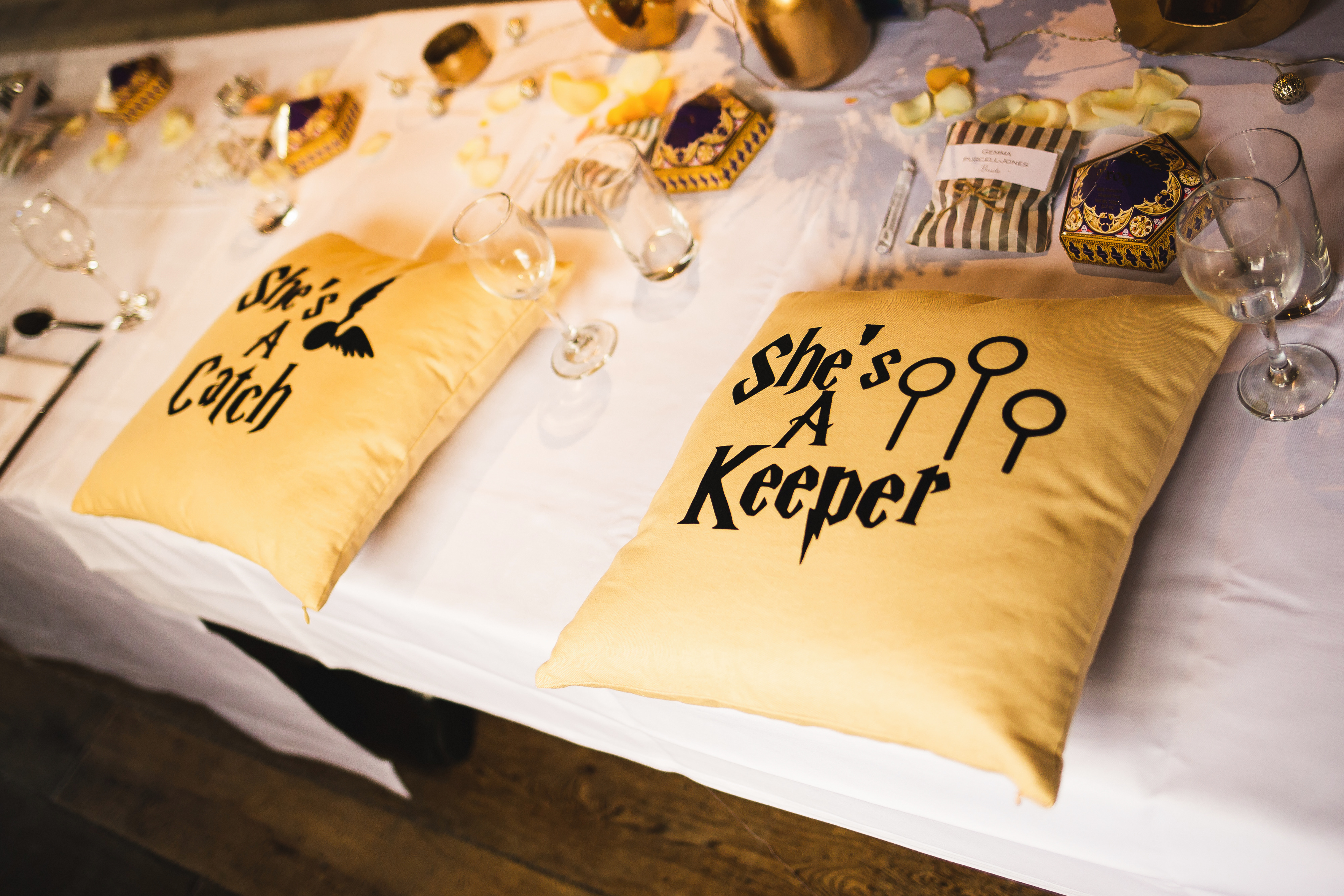 The Jumpsuit
"Jo unfortunately didn't find her outfit as easily as I did, it took her a while to find her dream outfit. In the 7 years we've been together, I've only ever seen Jo in a dress once, needless to say she probably wasn't going to wear one on our wedding day. She's not super masculine either, so a suit wasn't going to work! As the wedding industry is so heavily tailored to hetero couples, finding the perfect bridal outfit, that wasn't a dress and not a suit was quite difficult. In the end, Jo was with her mum having to try on white suits (which were horrendous) when her mum found her the beautiful silvery silk jumpsuit which she fell in love with."
The Bridesmaids
"I had some kind of idea of what I wanted them in – floor length, navy dresses with maybe a bit of sparkle to match my dress but we also wanted to make sure they all felt comfortable and happy in their dresses so we knew we might have to make a few compromises. We ended up with 2 bridesmaids in one style and 2 in another but both by the same designer and colour. We were lucky enough that one of the bridesmaids was a dab hand with a sewing needle, so she was able to adorn extra beading to make the 4 dresses match each other.
The Details
"We asked all our friends who were bakers to make one small cake to contribute to our cake table and we bought the main 3-tier stacked wedding cake from Crumbs and Doilies, topped with little bride ducks! We had everything from chocolate Guinness cakes, rainbow cakes to banana bread."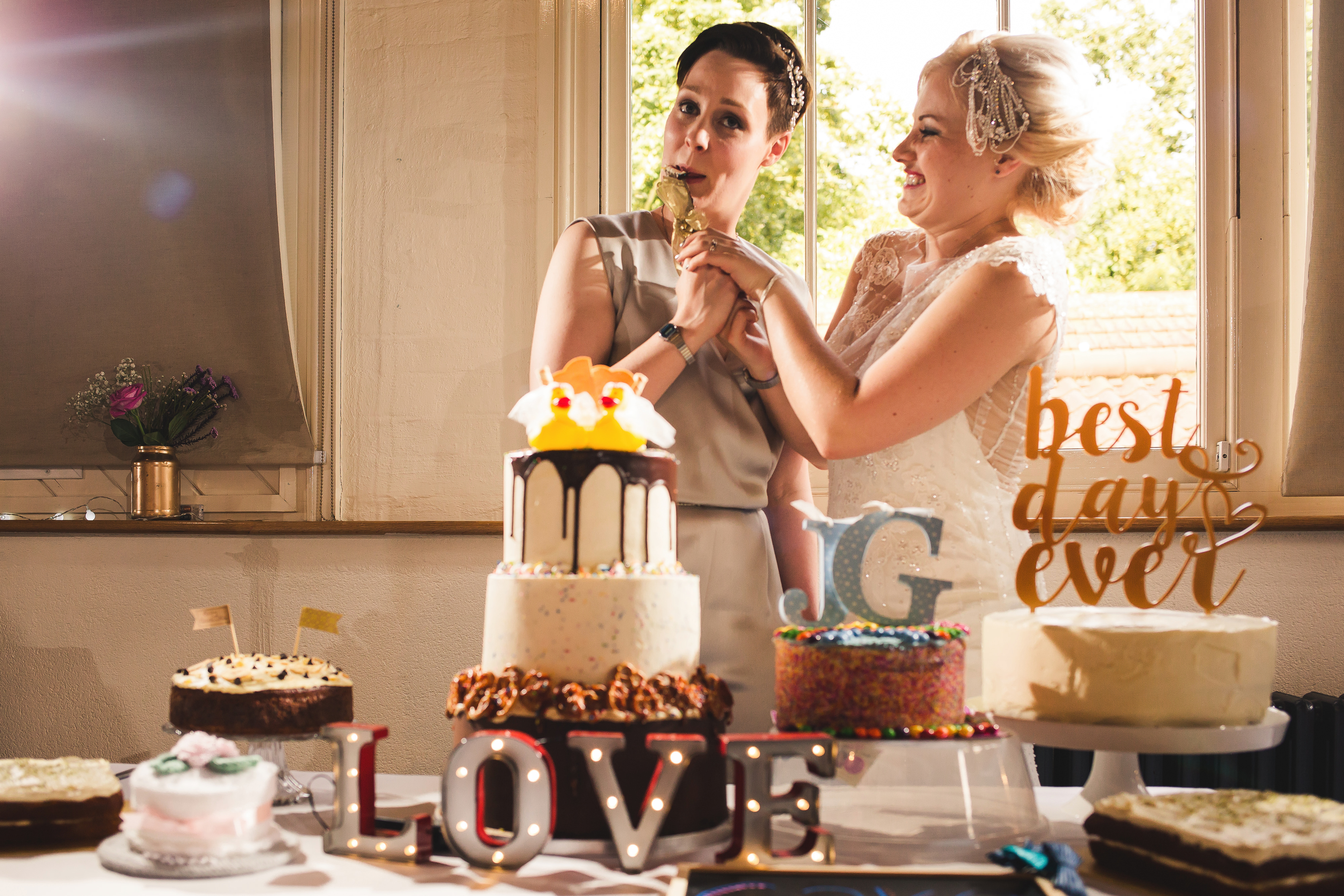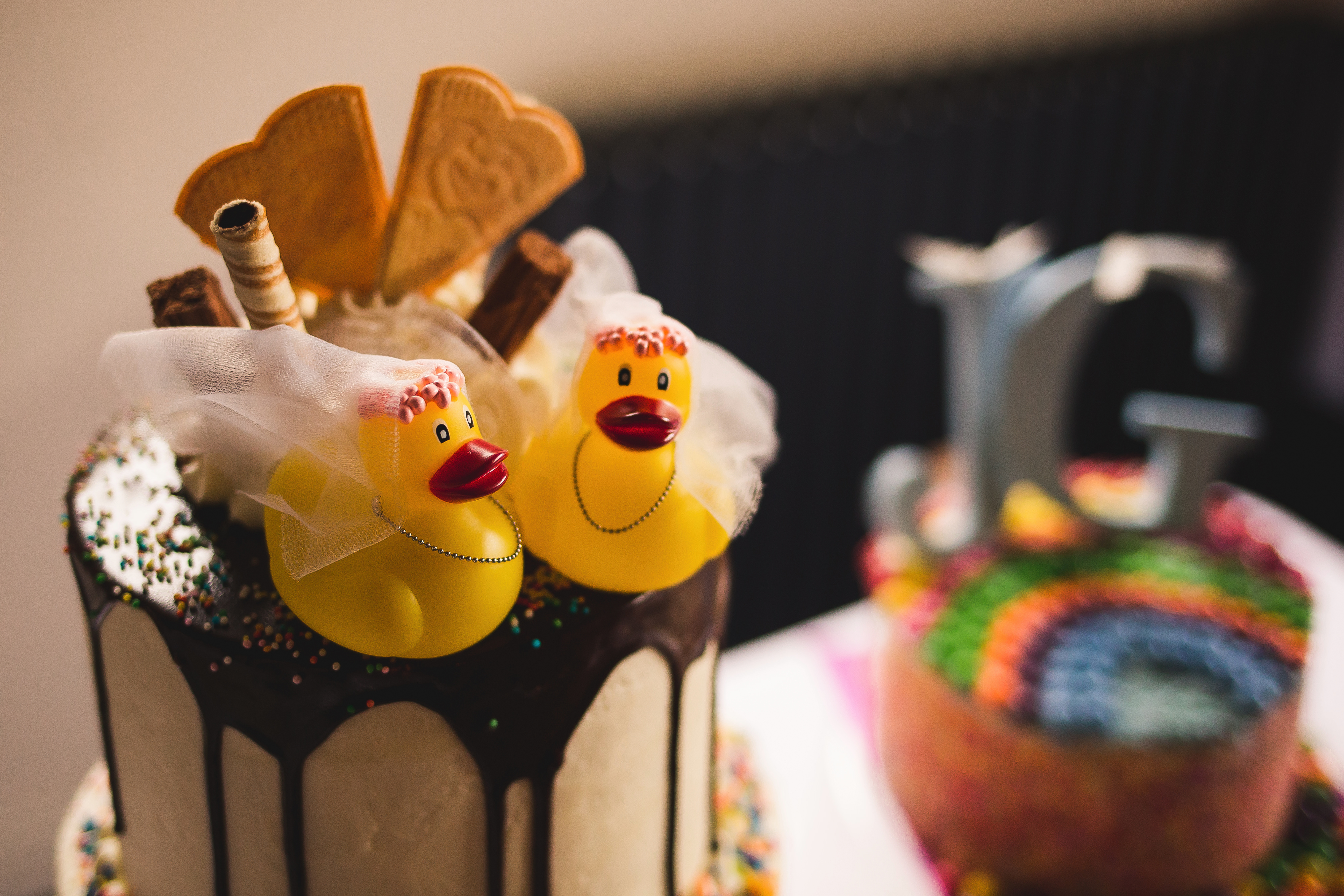 "Our bridal flowers were created by two ladies from Passiflora Studios and they were one of the only things which we didn't see until the day of the wedding. We let them know what flowers and colours we liked and then left it up to them to work their magic. This was one of the best things we did, they were so so special and to have such an amazing surprise on the day was wonderful and brought me to tears when I saw them all."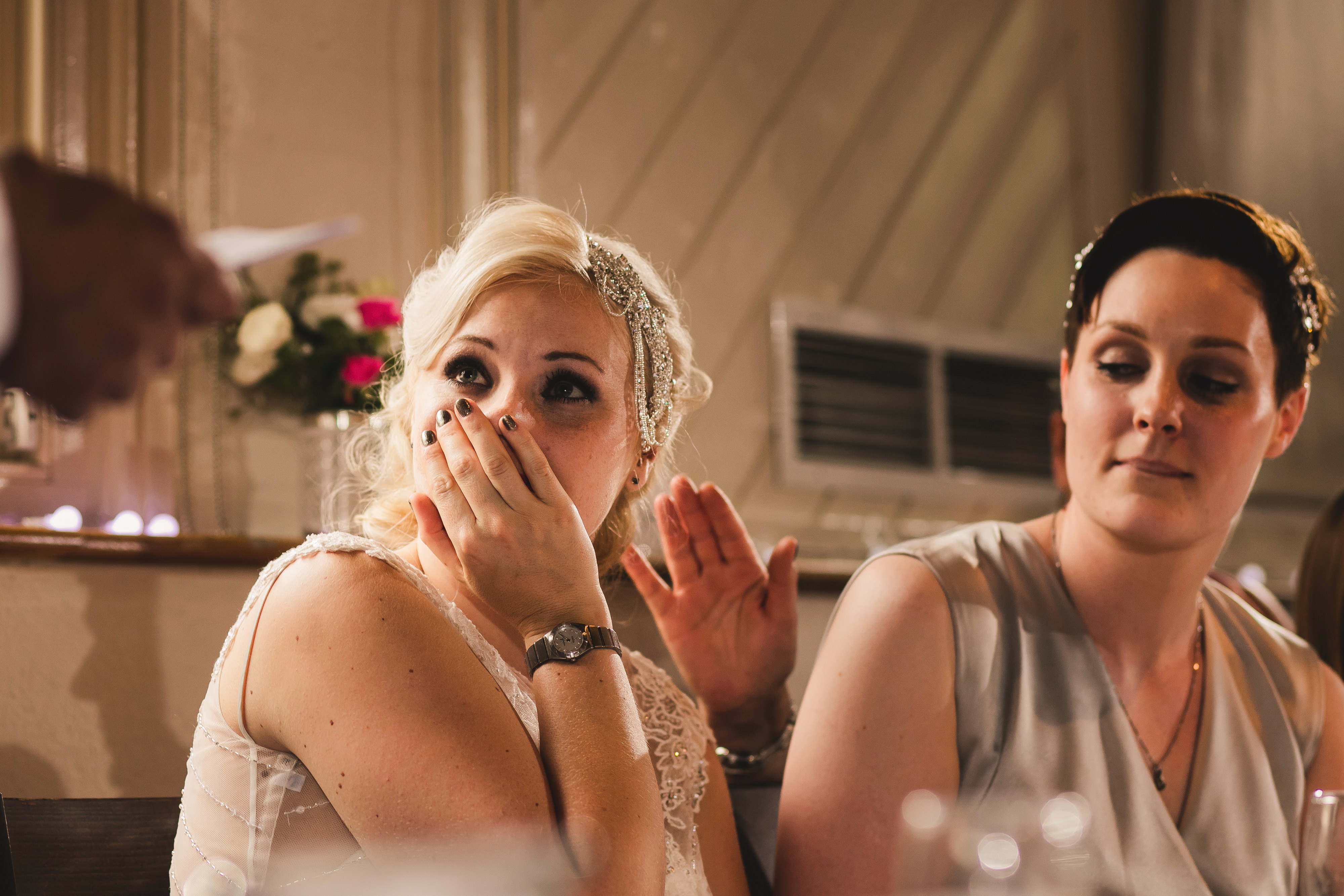 The Suprises
"One of the best things of the evening is that one of our Bridesmen had written and recorded a song for us and played it during the evening reception! It was completely unexpected and was absolutely amazing! He got members of the bridal party to sing on it too which made it even more special!"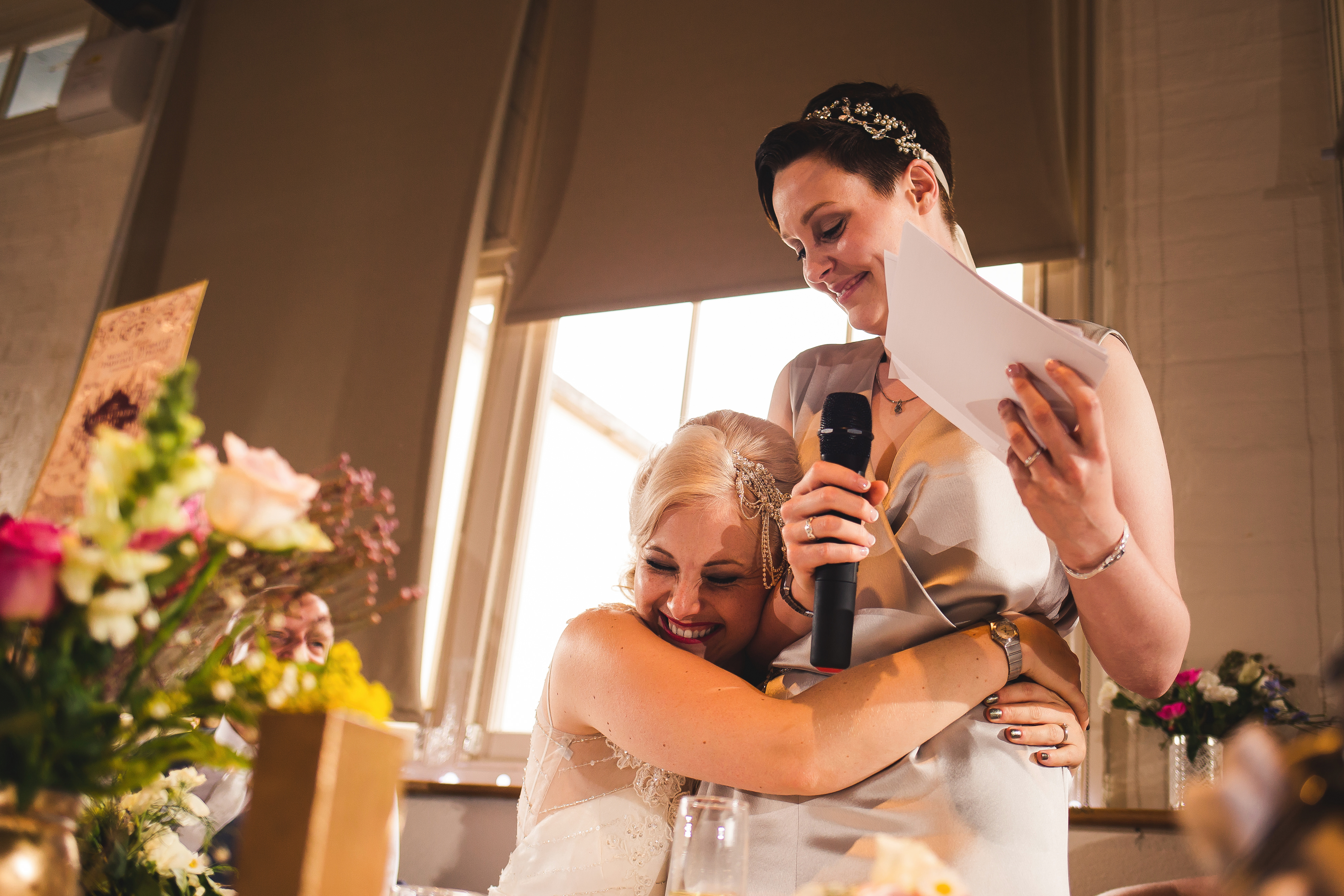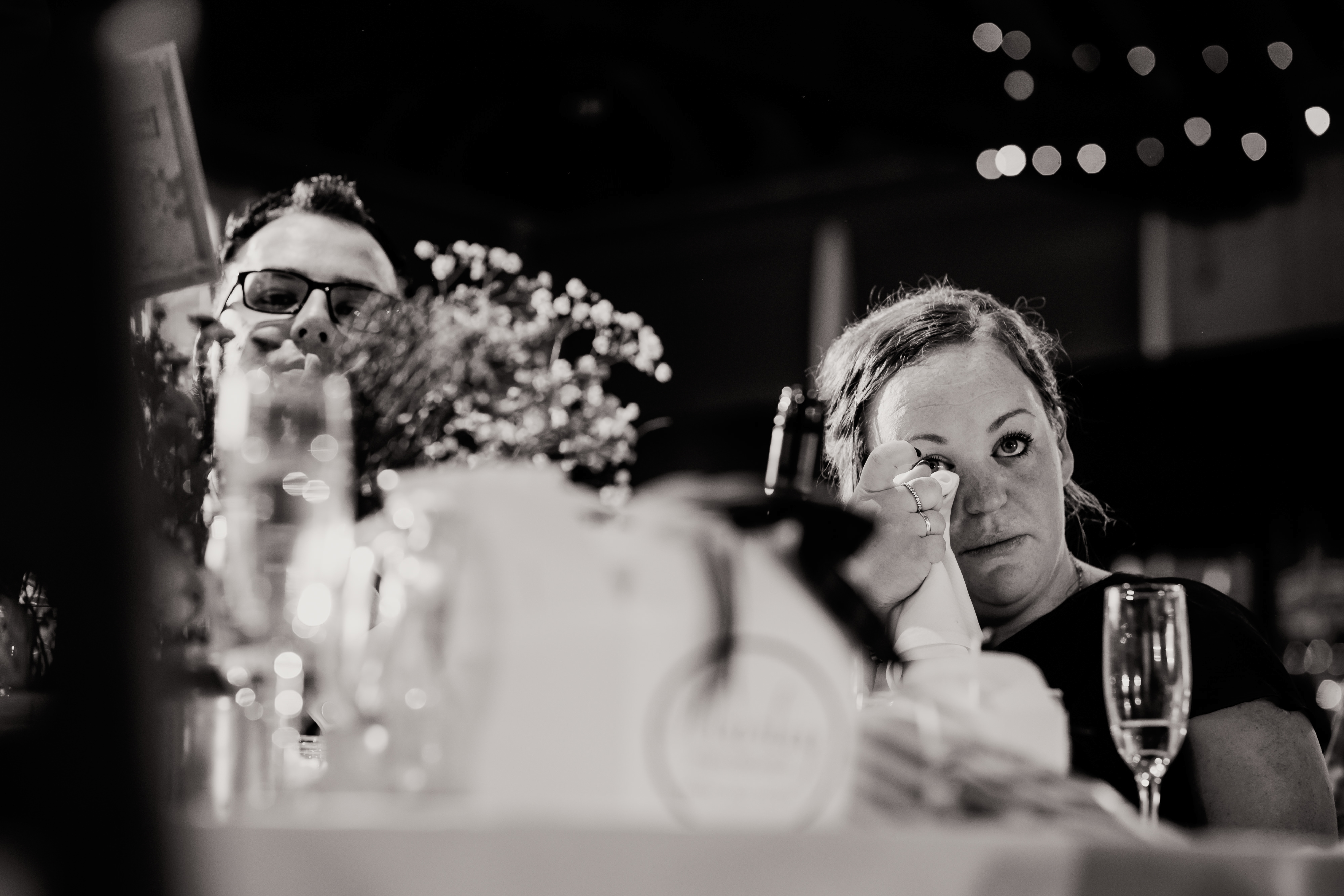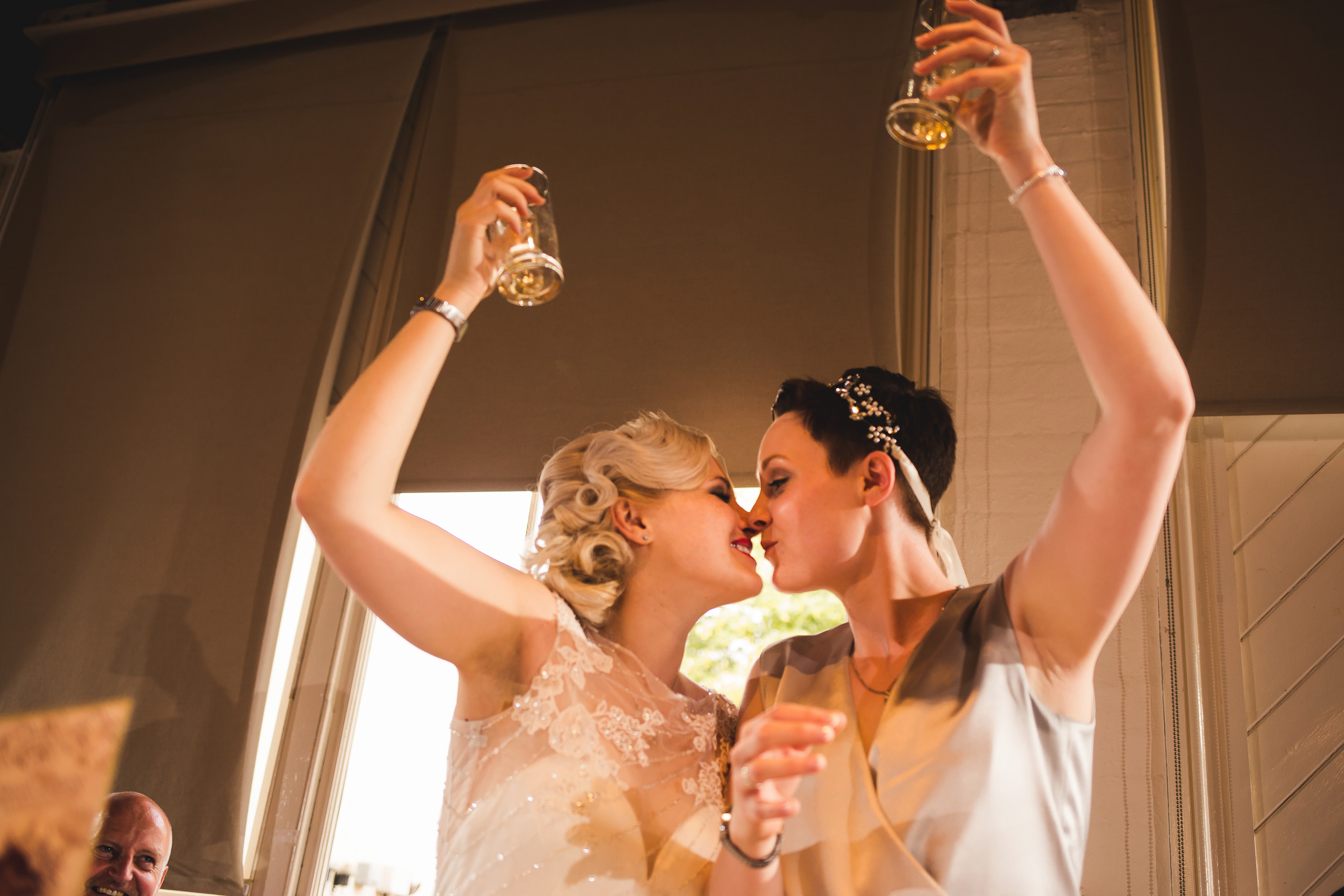 "Jo and I jointly planned the whole wedding apart from one bit which I kept a secret, I knew I wanted to try and book a surprise band for her. Having a band wasn't in our budget, but I wanted to do something special for her so I secretly booked a band who we saw when we first got together. At the gig, she said to me "Wouldn't it be amazing to have them play at our wedding if we ever get married". I held onto that comment and straight after she proposed I emailed the band to see if they could play at our wedding, and I actually pulled it off! She had no idea until we were led to the stage and CASH were their with their backs to us ready to play!"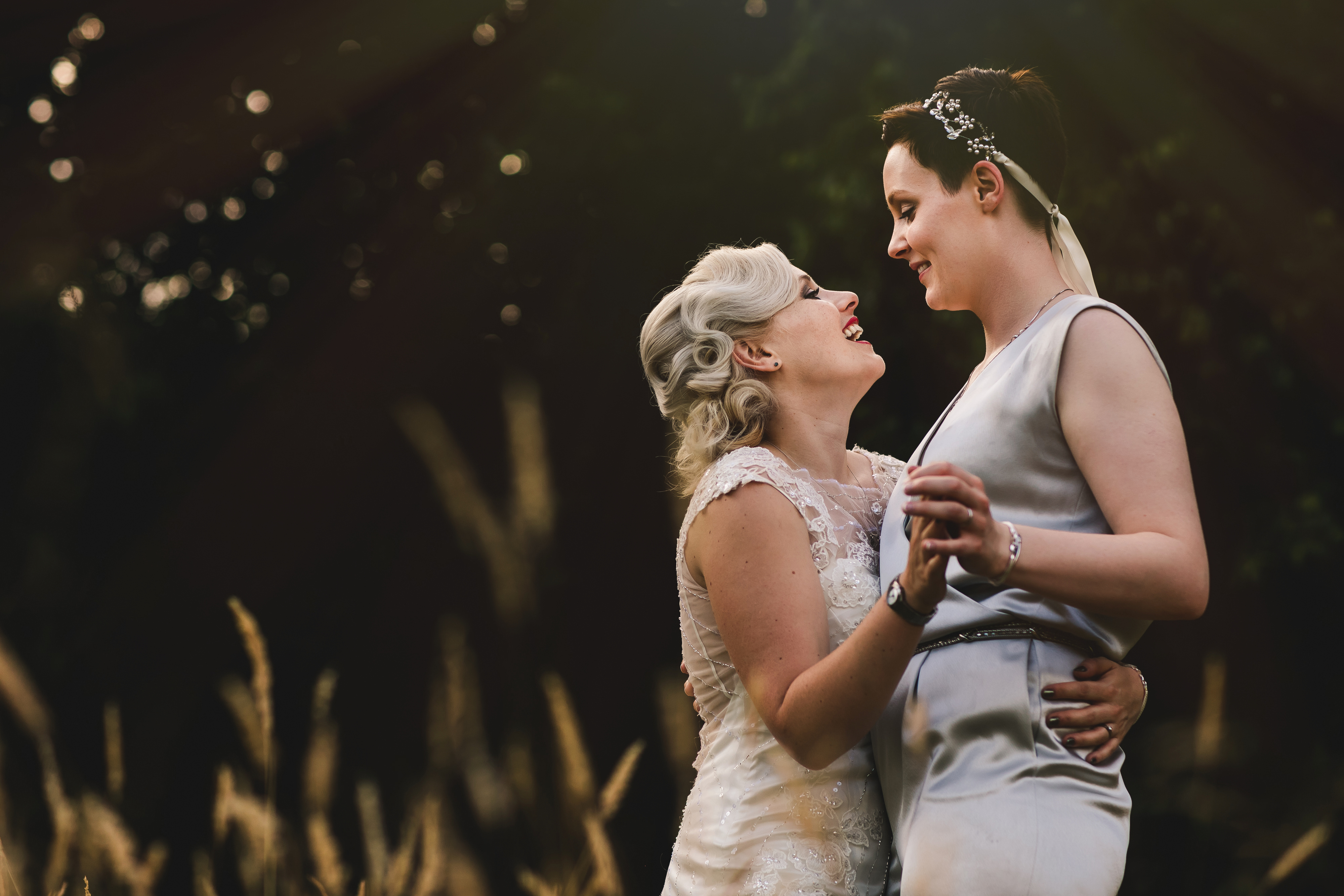 The Best Part of the day
"I honestly couldn't choose, every single aspect was so amazing in its own way. From passing each other notes in between our rooms in the morning, to my dad seeing me all done up for the 1st time, to walking down the aisle and seeing Jo looking so so beautiful, to Jo wiping lipstick off my teeth when we were signing the registrar, to seeing all our loved ones so happy for us, to the speeches, seeing Jo's face when she recognised the surprise band, to our Bridesman's song, to the 1st and last dance, to our photographer fireman's lifting me to a photoshoot location, to our friends turning up at our room at 3 in the morning with champagne. Literally, everything was the best."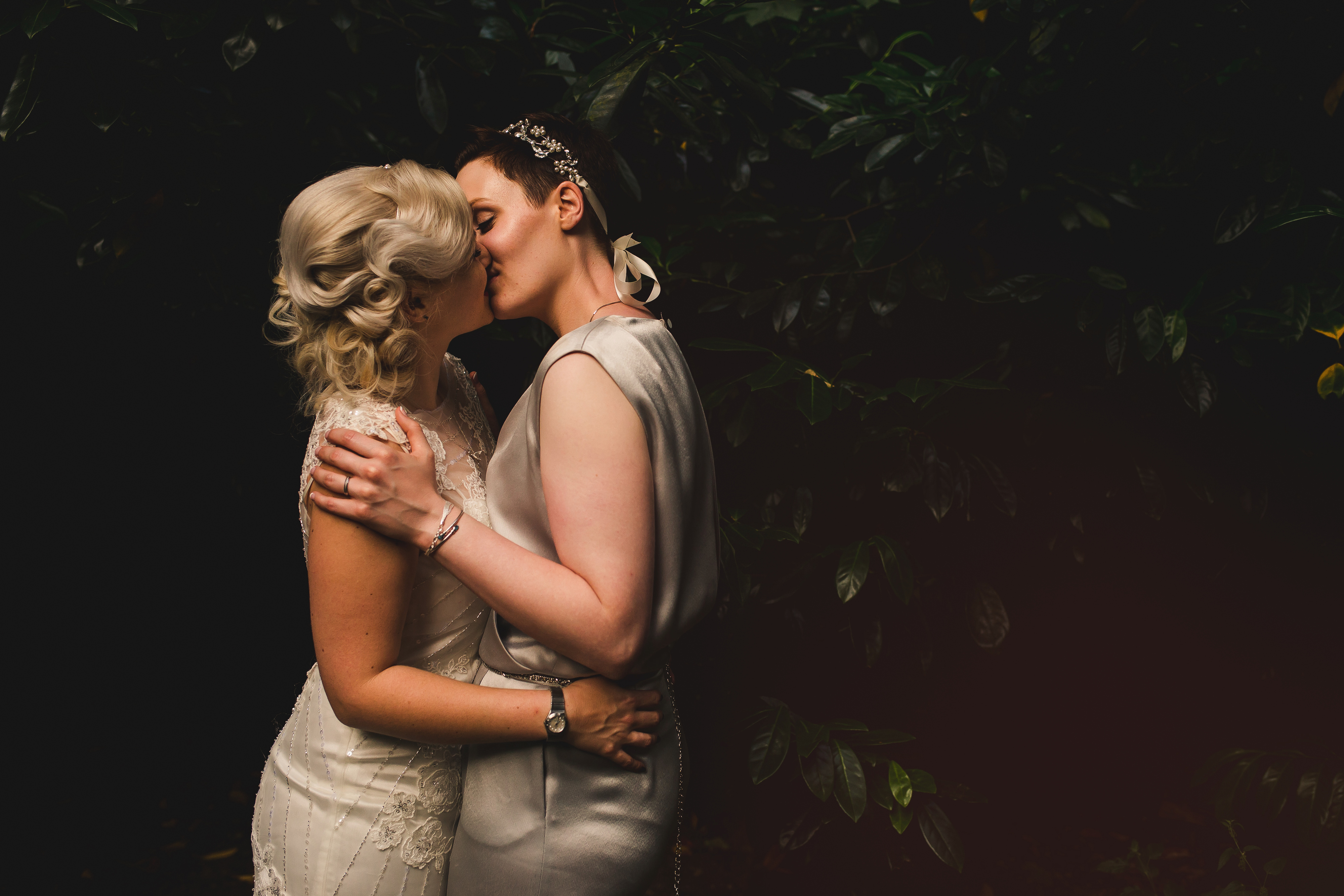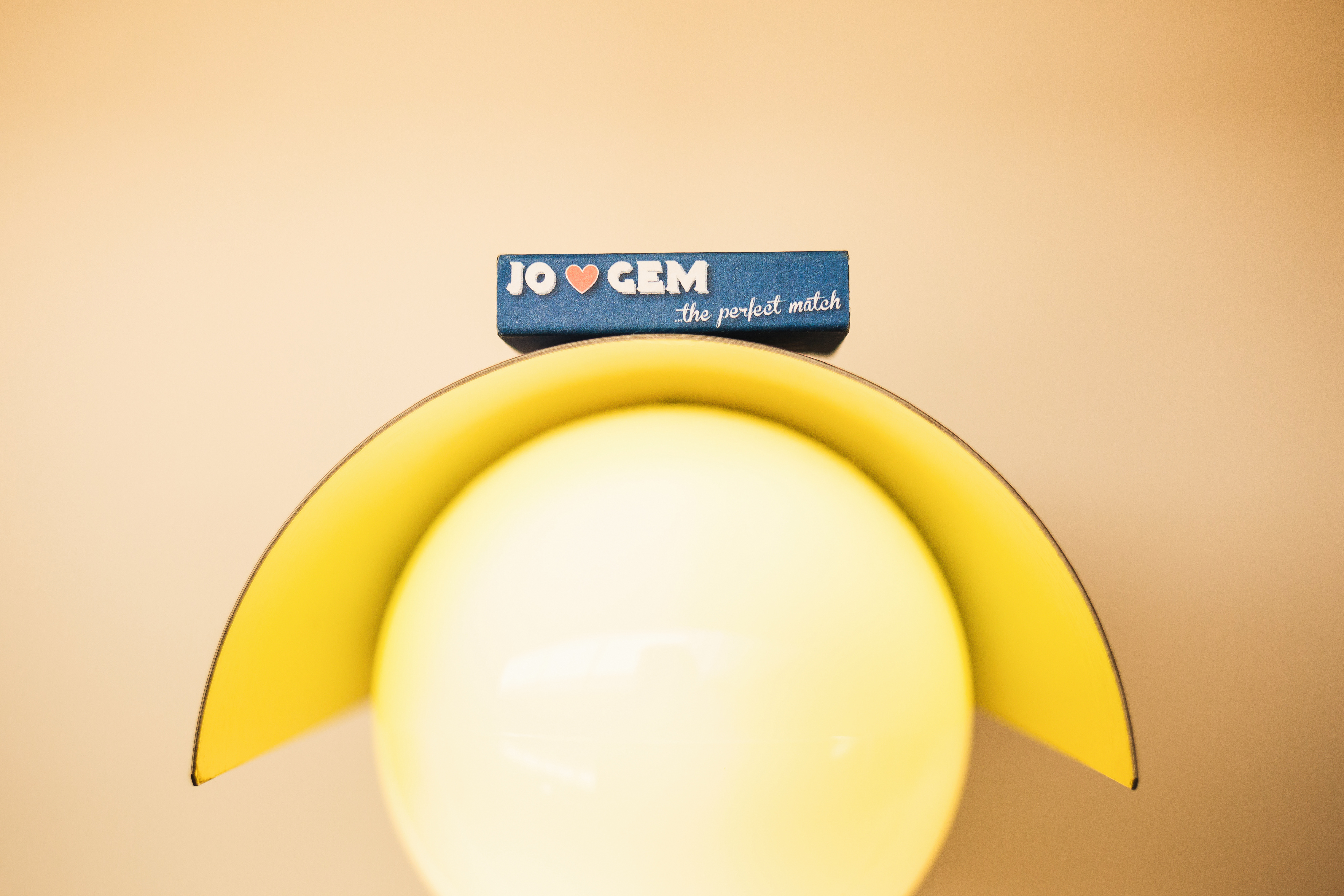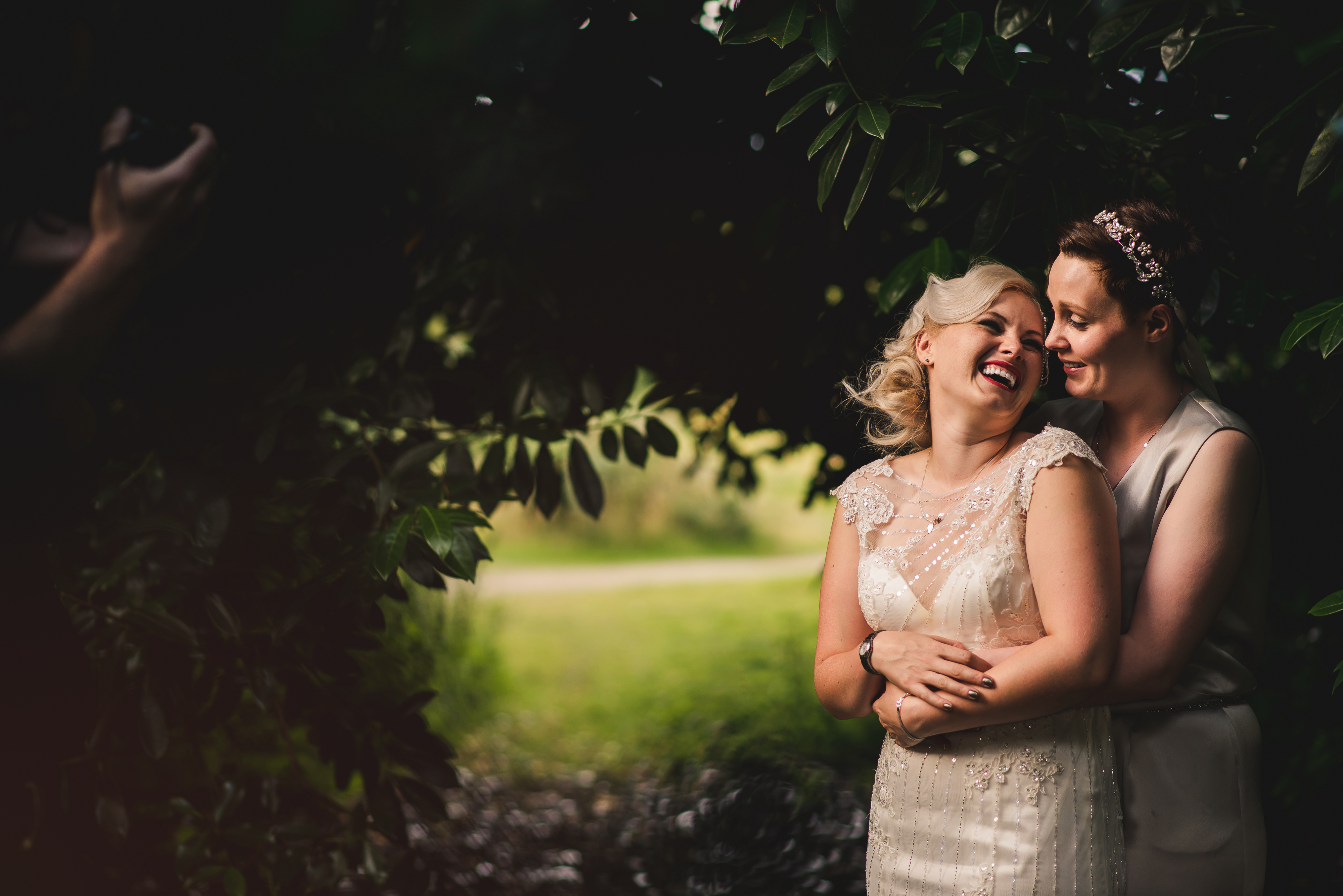 Words of wisdom
"The one thing people said to us is that our wedding felt so much like us as a couple and there was so much love throughout the whole day. I think creating personal touches make a massive difference and helped make our wedding ours and not just a 'package wedding'. Make sure you and your partner are the only ones who have an influence on your day, don't feel bad for not inviting your aunties mate and don't make decisions to please anyone other than you two."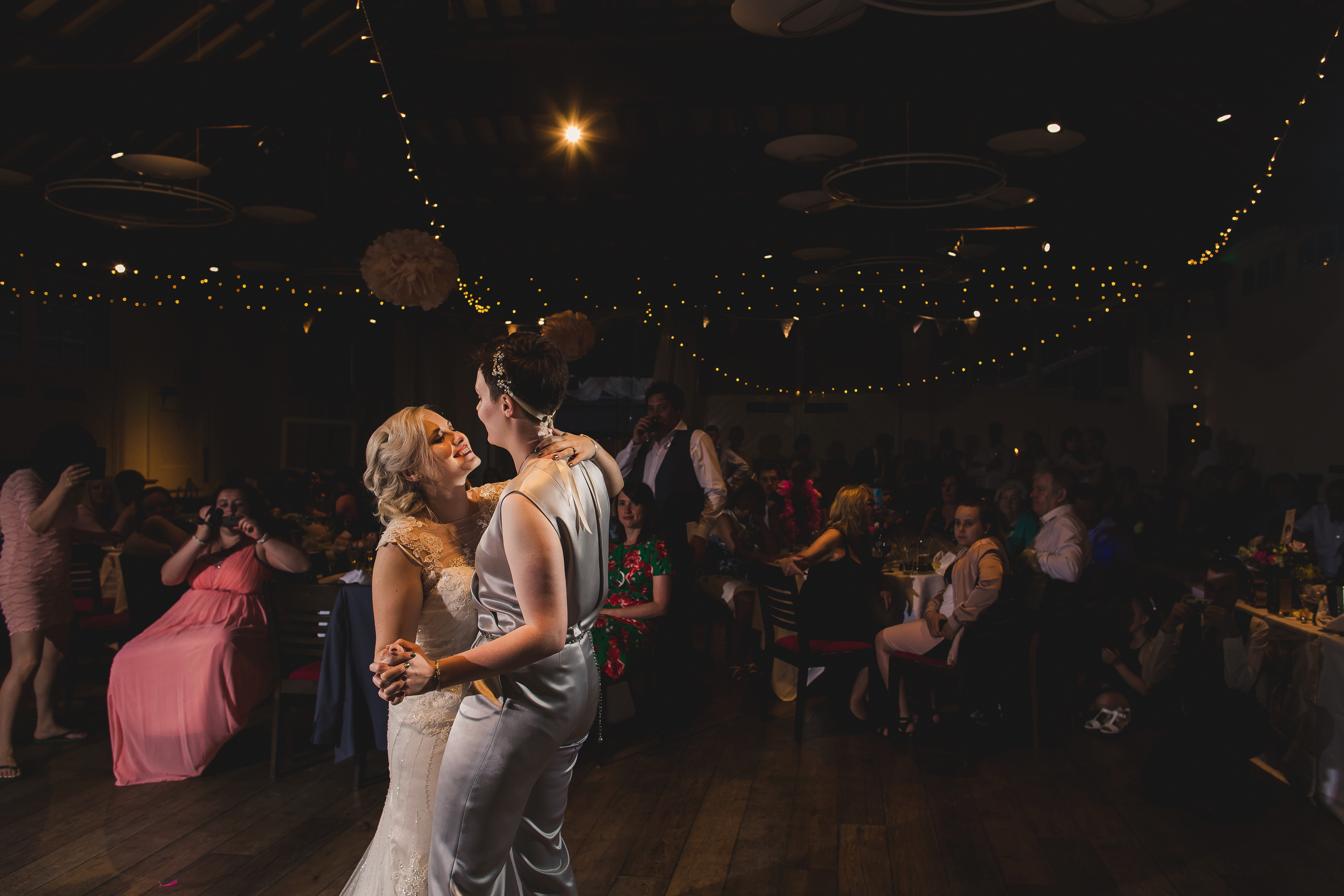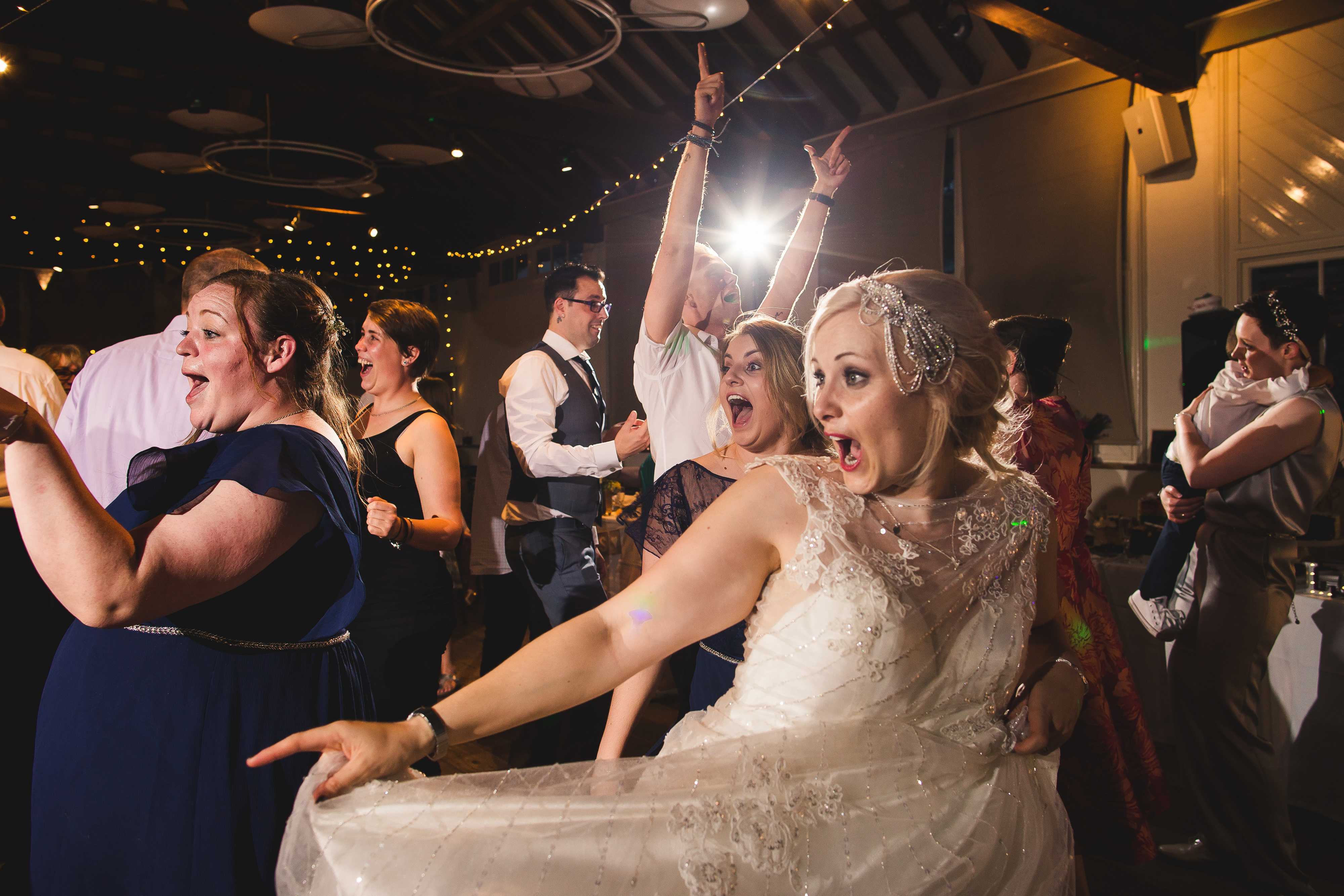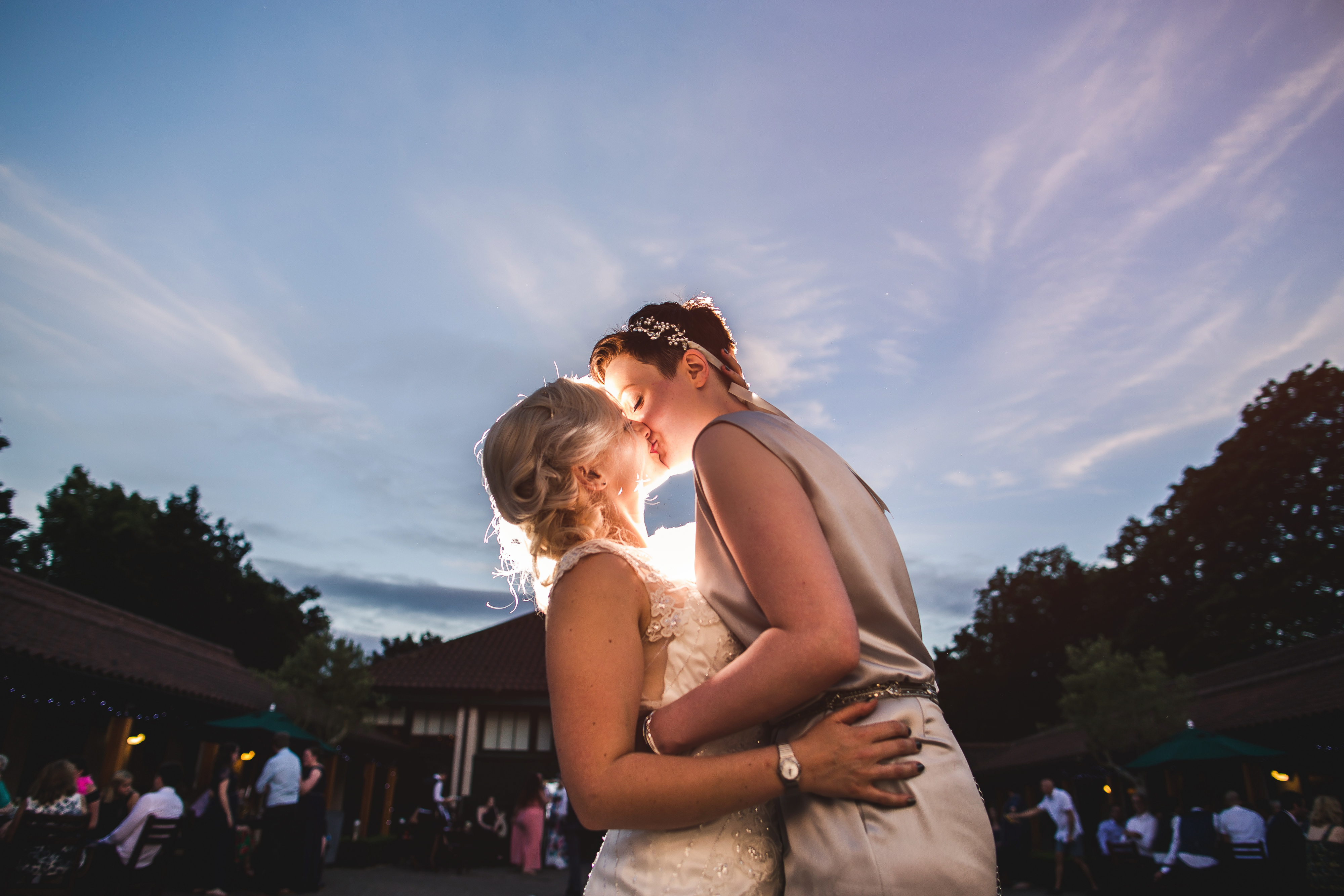 "Film Film Film! If you can, get someone either a professional or one of your mates to film as much of the day as you can – We had an old video camera my dad gave us, so I bought a tripod and asked some friends to film important sections of the day (walking down the aisle, 1st dance, speeches ect) To be able to have access to a video of you and your wedding party walking down the aisle was amazing, and the additional candid footage they got was BRILLIANT!"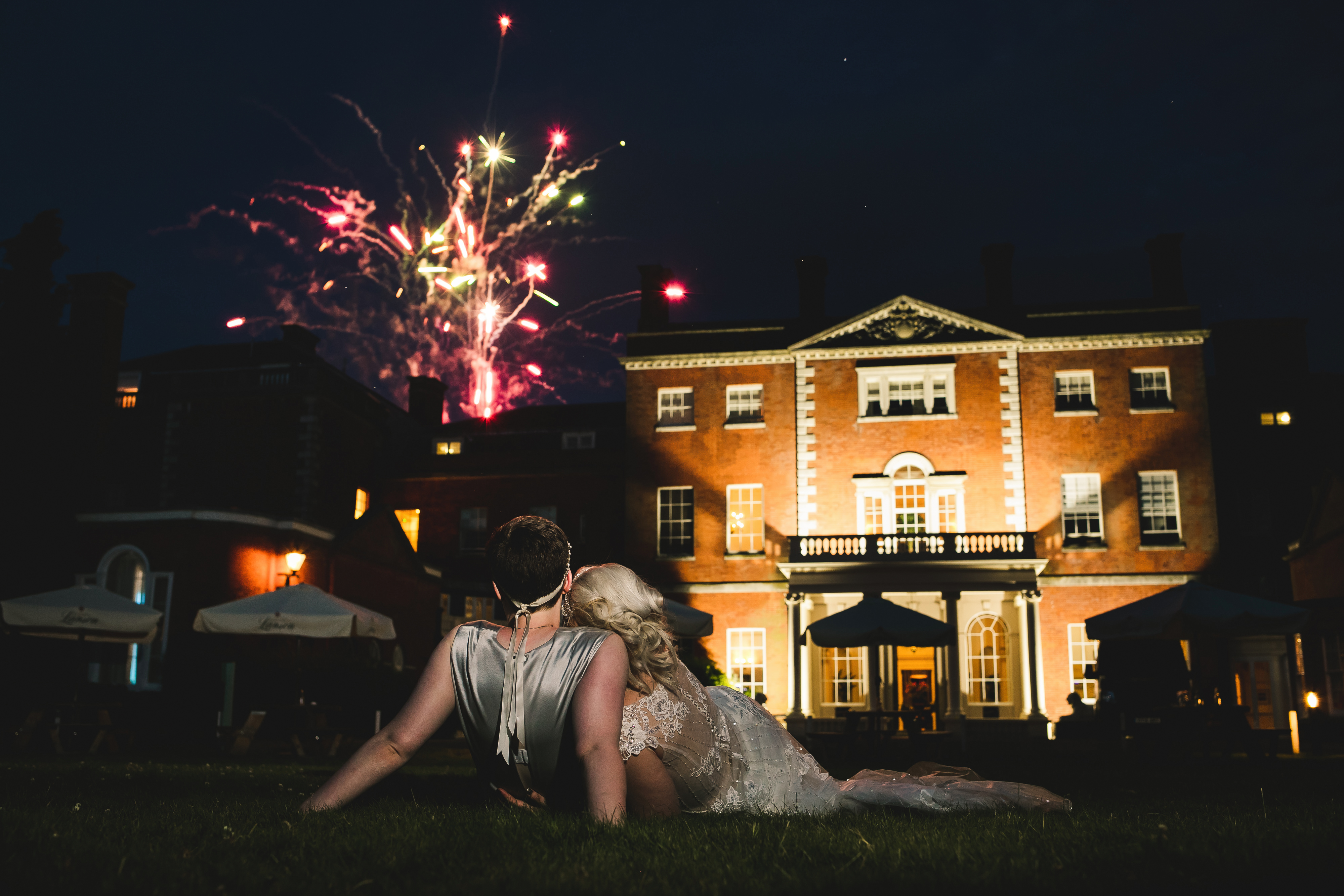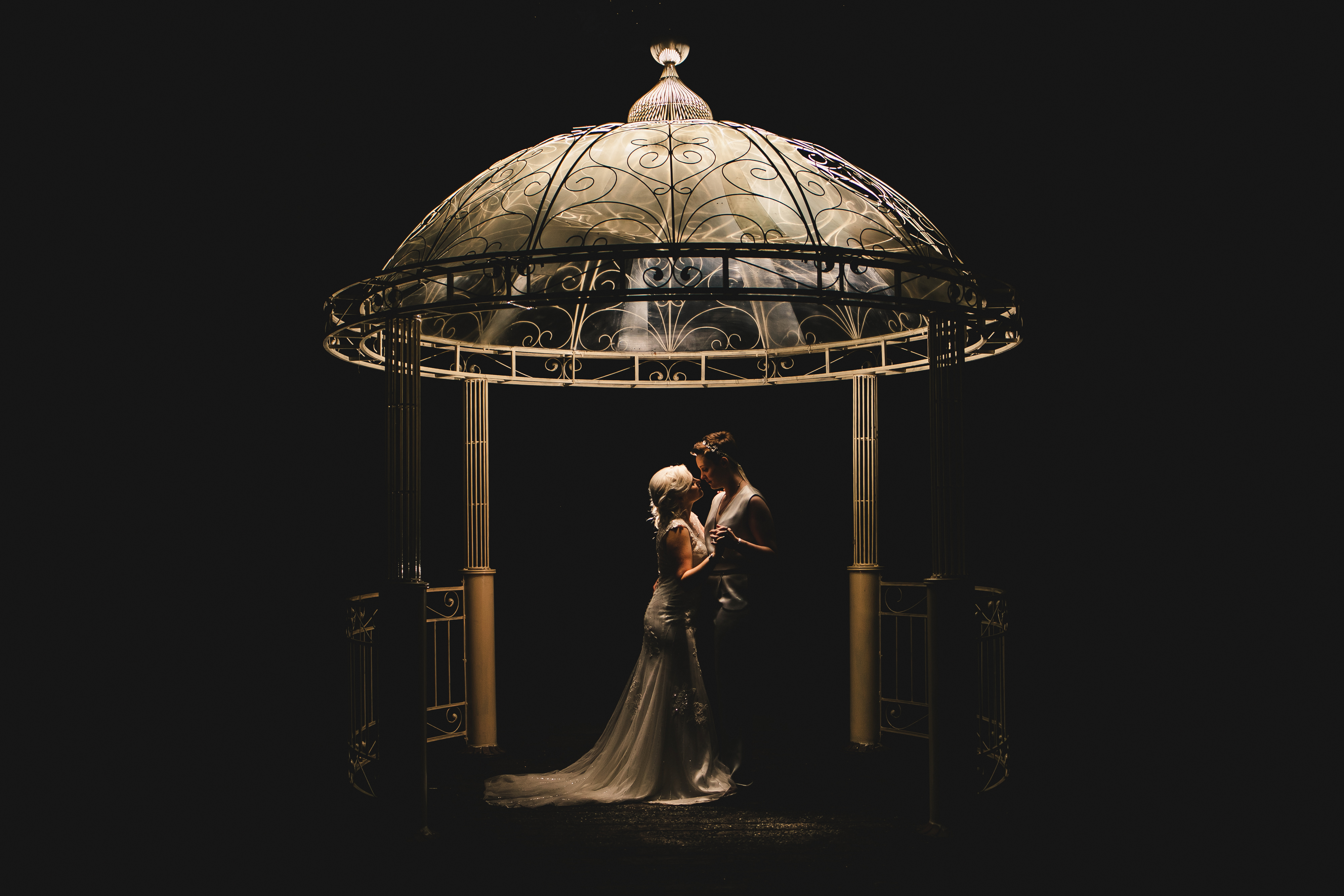 If you fill your wedding with love and happiness it will be the best day ever no matter what! It goes so so so quickly so cherish every second.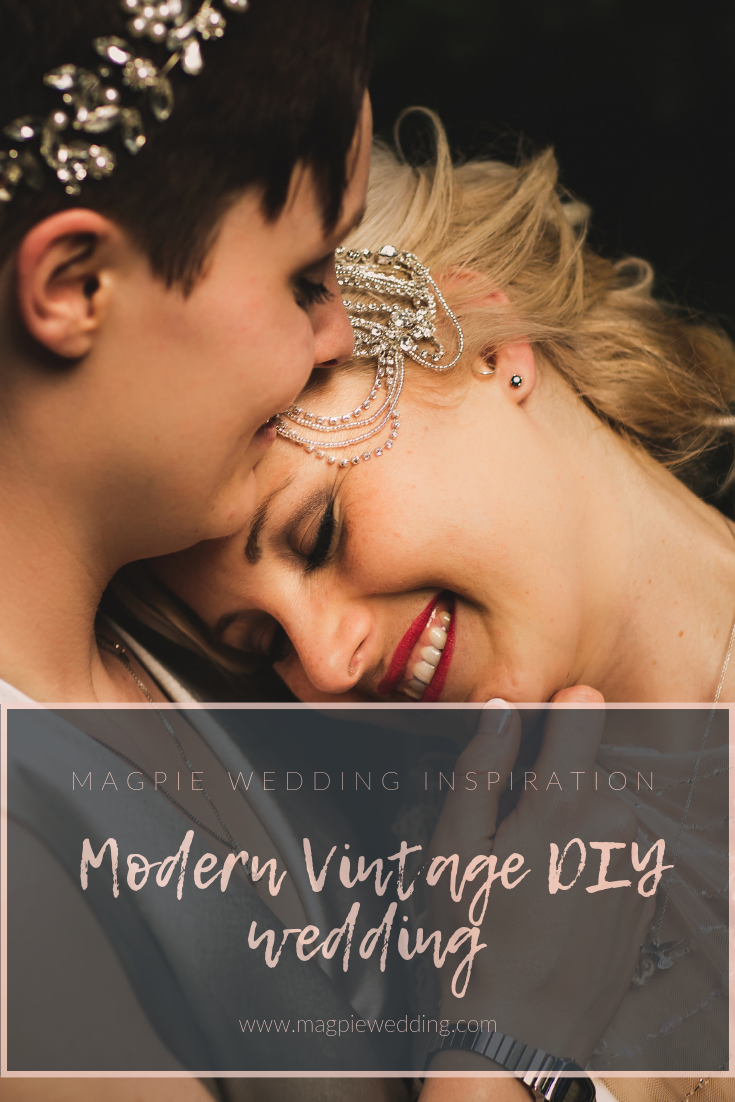 The Team: Modern DIY Wedding at Theobalds Estate with a touch of vintage
Photographer: Rafe Abrook Photography
Dress: Maggie Sottero, Savannah Marie from Abigail's Bridal
Jumpsuit: Harvey Nichols
Shoes: Jenny Packham and Ted Baker
Accessories: Bracelets – Links of London Hair pieces – Abigails Bridal and
Davids Bridal
Bouquet: Passiflora Studios London
Make up/Hair: Natalie Danielle
Bridesmaid dresses: Jenny Packham Wonder range from Davids Bridal
Venue: The Stables, De Vere, Theobalds Estate,Theobalds Park, Cheshunt
Stylists: Hired decor from Wedding Day Hire Hired Light up Letters from MFent
Band: CASH – our amazing Johnny Cash Tribute Band!
Looking for more real wedding inspo? Check out AN 1920'S ART DECO WEDDING AT HEDINGHAM CASTLE