In todays real wedding blog we get the chance to share the fantastic vintage wedding of Eilis and Mike, school teachers from Birmingham.
NVWF: Tell us about yourselves? How long have you know each other?
I was born and brought up in Birmingham by my Dublin born parents but Mike is a country bumpkin who moved here from his folks' North Staffordshire dairy farm when he started teaching. We met in January 2003 when I was a 19 year old teaching assistant and he, a 22 year old newly qualified teacher. Ten years on, after sharing many cocktails, beers, meals, taxis, kebabs, parties, train rides, short plane journeys, long plane journeys, treks, walks, climbs, tours, tents, cabins, hammocks, towels, laughs and homes, we got married.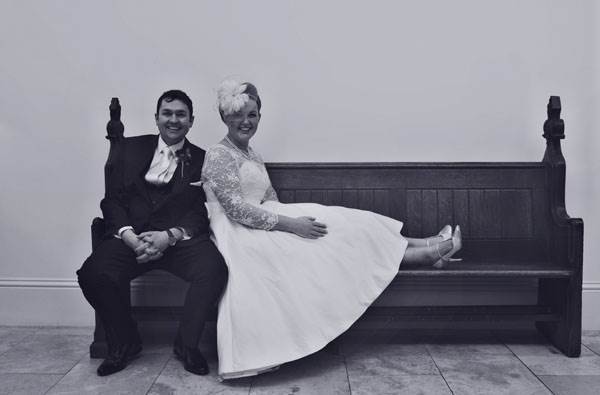 NVWF: When did you get engaged and then when did you marry?
Mike popped the question in August 2012 on a beautiful secluded beach on Gili Air, one of the tiny islands between Bali and Lombock in Indonesia. It was around 40 degrees, we had arrived on a fishing boat that anchored a little way out from the shore so that we had to carry our bags above our heads and walk through the ocean to get to the beach. I'd never been anywhere like it; crystal clear ocean and white sand – it was perfect. We were married six months later on Friday 5th April 2013.
NVWF: What was your vision for your wedding ?
We weren't too fussed on all of the wedding traditions but being Catholic, we wanted a mass to celebrate our marriage and then, a big party with good music, good food and all our friends and family. We were married in my family parish church, St Ambrose Barlow which is not always heralded as being very aesthetically pleasing but, it is where I've grown up and the community we're part of so it was important. Amy, our photographer, managed to get some great snaps inside and made it look quite beautiful.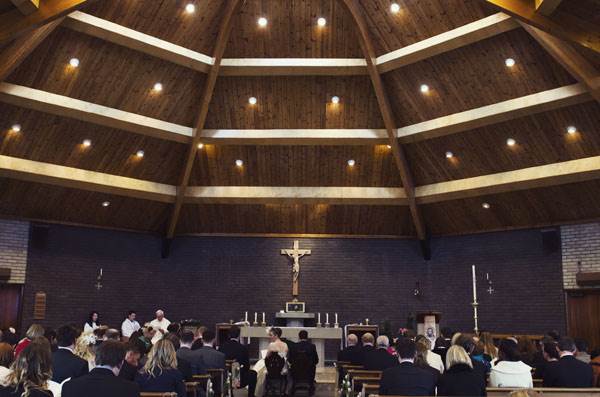 NVWF: Why did you want a vintage wedding and what elements were vintage?
We wanted people to come to our wedding and say 'It was very you'. I use the royal 'we' here as Mike entrusted me with all things artistic. We created a collage made up of maps and loads of our ticket stubs for gigs, flights, shows and games then we had it made up as a postcard sized invitation with all the details on the back. We then ordered a load of vintage looking 'Y' and 'N' scrabble pieces for people to attach to a luggage tag and send back to us as an RSVP. I am yet to fashion these into a brilliantly creative piece of art but it will happen. The maps were for Mike who is a Geographarian and the scrabble pieces were for me, an English teacher – the rest was everything we'd done together since we met.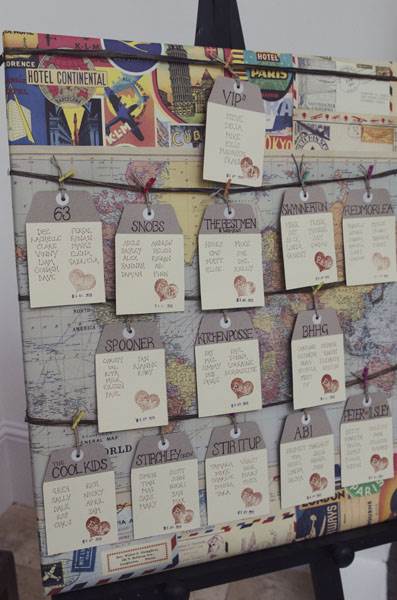 NVWF: How did you choose your dress?
I sketched the dress I wanted as soon as Mike had proposed but I couldn't find it anywhere. It was a kind of 50's style, three quarter length ivory dress with lace three quarter length sleeves. I tried a couple of others on but they just weren't right. I searched the internet and had my mom and three sisters doing the same and eventually three weeks before the wedding, I found it, it looked perfect. My sister measured every inch of me and sure enough the dress was made and arrived about a week before the wedding and I loved it. The boning was fabulous the skirt was beautiful the bodice was the perfect fit…but, the lace of the top and arms was really poor quality. I was gutted. My mom came to the rescue; we went to The Fancy Silk shop by Birmingham markets and bought a beautiful piece of lace then she got in touch with a fabulous dress maker she had known years ago, Eileen. Eileen couldn't quite believe how calm I was, not having a wedding dress less than 7 days before the big day, but she took the challenge on and amazingly altered the dress using the new lace in just a few days. Mom and I were over the moon and my perfect dress was complete.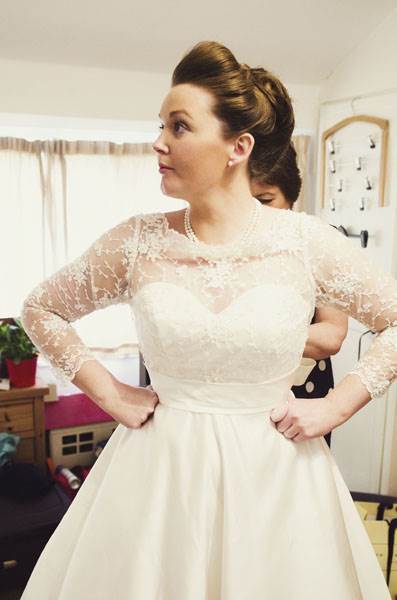 NVWF: Did you have bridesmaids and what did they wear?
My bridesmaids were my three sisters, Clare, Oonagh and Adele; they were pretty much like me in terms of getting organised. I absolutely didn't mind what they wore so long as they felt comfortable. We eventually found a dress they'd all like to wear online but when all three arrived in a packet that was small enough to be posted through my letterbox, we were sceptical to say the least. Adele had the answer though and swiftly went about ordering three fabulous ivory underskirts which created the perfect look. A ribbon around the waist and a fascinator for everyone, perfect.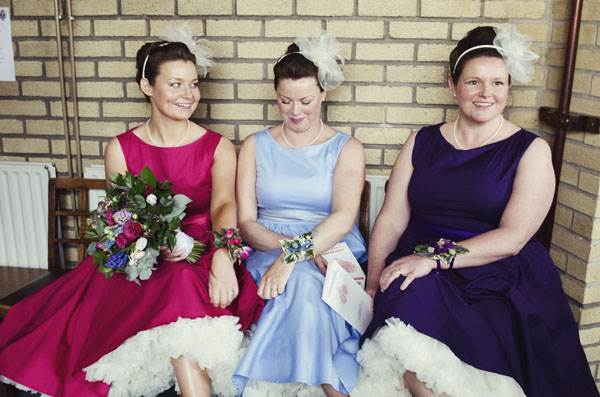 NVWF: Tell us about your reception?
We chose our venue, Fazeley Studios after going through a number of different ideas from fields to church halls. Eventually, we thought about how we love living in Birmingham and how we wanted everyone to be able to get to and from the venue with ease and little expense so started looking close to home. We love the (former Birds) Custard Factory venue but we discovered that it was too small for our party and looked at Fazeley, the converted 1870's chapel now part of it. It was perfect – it really is a hidden gem. Situated in the middle of Digbeth, which is close to our hearts as the central hub of the Irish community but also as the ever growing music, art and fashion centre of Birmingham. It was perfect for us; a beautiful, light and airy reception room with fantastic period features and exquisite furniture for all of our guests to lounge on and sip their flutes of fizz, plus a gorgeous court yard for our late night BBQ and the rebels to smoke in, a marble floor in the indoor garden which provided the perfect dance floor for the ravers and a bar that delivered a great atmosphere and ample seating for both the hard-core drinkers and the sit and chat types alike.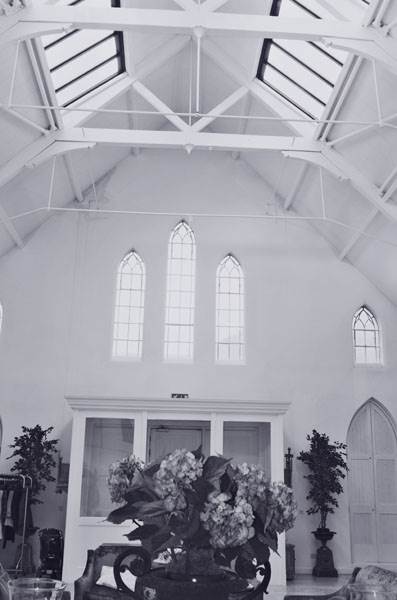 NVWF: What was your entertainment like?
My dad, Frank pounced on the opportunity to test the acoustics of Fazely Studios . He entertained us singing a collection of songs that are special to our family. This was a surprise but what we've come to expect from our am-dram loving father, however, when my mom, Maureen joined in on the last number we were blown away! Married for 40 years, they're an inspiration to us.
NVWF: Are there things you'd still like to do now the wedding is over?
We had a brilliant day and we know everyone else did too. It'll be a year ago next weekend and we might finally get our wonderful photographs made into an album and some prints for our walls but thankfully, in this day and age we can look at them whenever we want to online and now on this blog!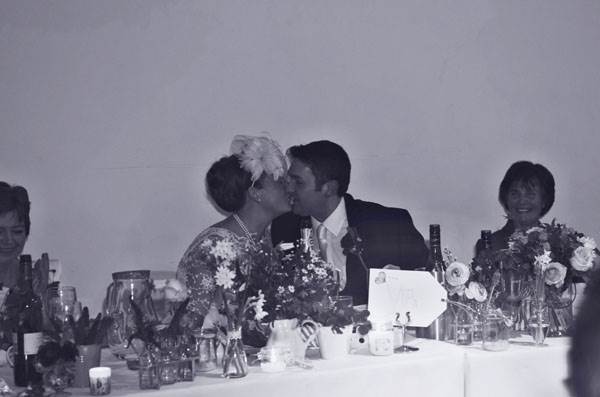 NVWF: And finally, what advice would you give to anyone planning their wedding?
My advice would be to do it quick, don't put yourself through the pressure of a long engagement, enjoy every minute of planning and organising, do it yourself, make it you. And on marriage itself? The greatest gift you'll ever learn, is just to love and be loved in return.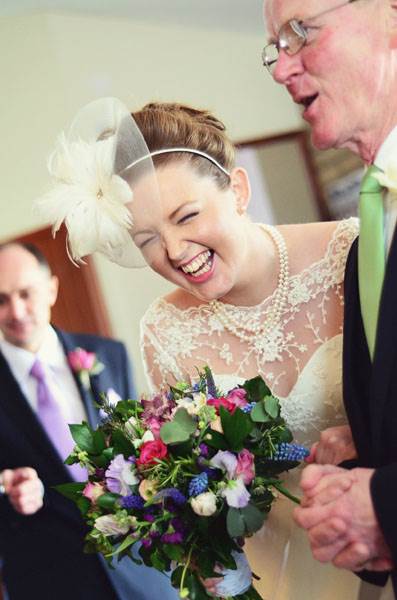 Photo Gallery –
Credits –
Dress: Online/handmade, the Fancy silk shop Birmingham
Bridesmaid dresses: Online
Venue: Ceremony: St Ambrose Barlow church, Reception: Fazely Studios, Digbeth
Photographer: Amy Radcliffe
Unless stated otherwise all photography : Amy Radcliffe Photography
Are you going to be a vintage bride soon? For ideas and inspiration join our mailing list for details of our upcoming events.
Written by Sarah Gorlov.