In todays real weddings blog we get the chance to see the fantastic June wedding of Laura Jones and Jimmy Adams in Ripon, North Yorkshire. Incorporating a rustic relaxed feel with cool retro vibes this wedding is a really wonderful quirky mix.
NVWF: Tell us about yourselves? How long have you know each other? When did you get engaged and then when did you marry?
I'm Laura Jones, an office Manager and vintage lover and my husband is James Adams a design manager. We met via online dating – Jimmy's online profile said he wouldn't date someone outside his 25 mile radius but for me he bent the rules! Initially I had no idea Jimmy was going to propose, but then he went and left a ring sized chart on the coffee table (he has a habit of emptying his pockets around the house!). Subtlety isn't my strong point and I immediately quizzed him. In between his girlish giggles, and lack of words I quickly realised a proposal was on the cards. This duly happened at 5.15am in the departures cafe at Leeds/Bradford Airport on our way to the Canary Islands over a hot chocolate. Gobsmacked, delighted, shattered but not shocked, I said yes. He proposed with my nana's vintage engagement ring so had to ask my parents beforehand. He'd taken the diamond out (originates from Antwerp) and had it reset into another ring he'd designed with an engraved message inside.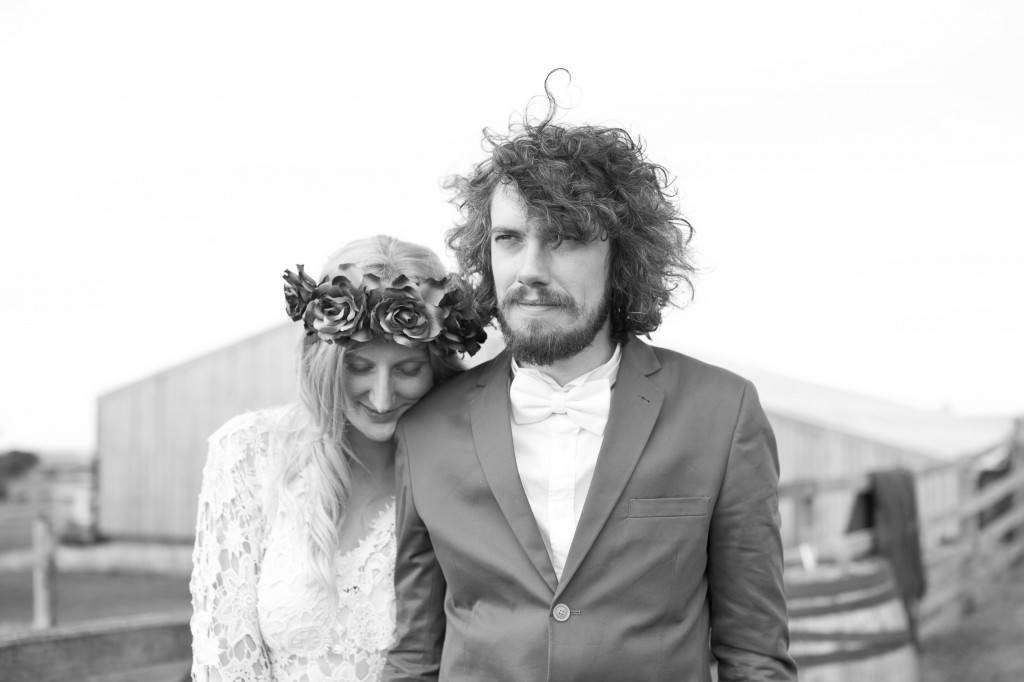 NVWF: What was your vision for your wedding when you were growing up a was it vintage or more traditional?
Definitely not traditional! We really wanted to get involved in creating our wedding as much as possible – Jimmy's a graphic designer which was a massive advantage as we could design everything from the invites down to the wooden signage at the reception. We're also starting up a vintage clothing company so had a lot of vintage china, props and furniture which we could throw at it, along with lots of enthusiasm and creativity. We used a colour palate of red, orange, sky blue, cream and lemon and our theme was based around a circus inspired vintage wedding. We watched 1930's set 'Water for Elephants' after deciding on the circus theme and our imaginations went wild!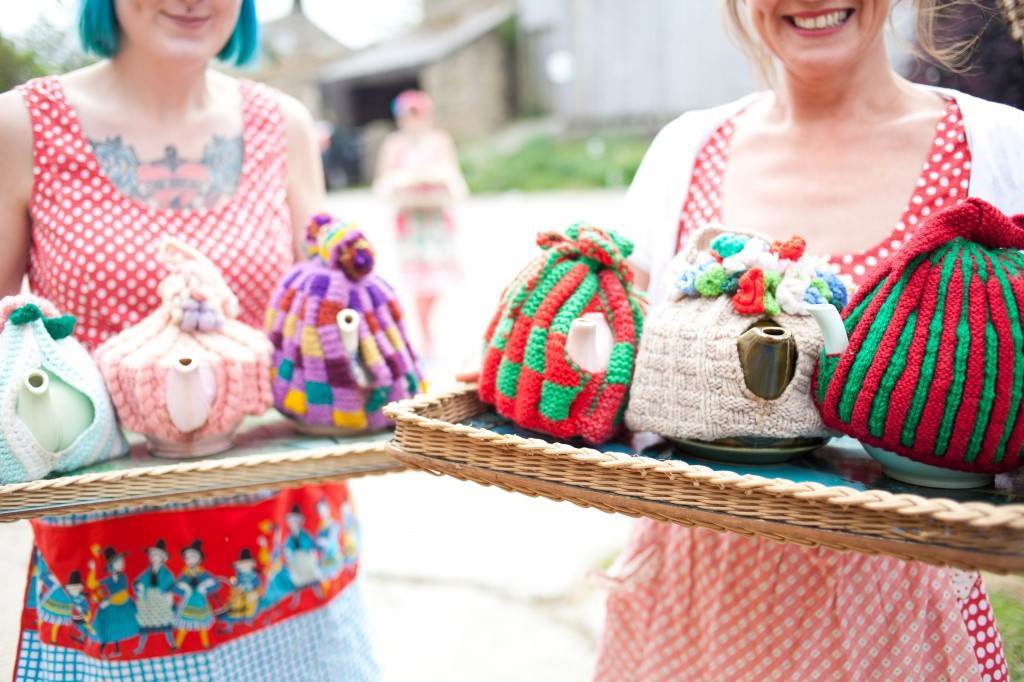 NVWF: With it being an rustic wedding was there are lot of flowers?
Our florists were wonderful – full of ideas but willing to work with us on our own. The brief I provided was fairly open 'rustic, rustic, rustic with lots of colour and textures. My bouquet was a rustic hand tied groups of Sunflowers, Gyp, Blue Gentia, Orange Asclapia, Tansy Daisies, big leaves and bound with string. The bridesmaids had smaller bouquets in the same flower arrangements created, with each one looking slightly different which was great.
During the ceremony, we had whimsical, Summery arrangements including sunflowers on white wooden stands on either side of table. These were later taken to Hill Top Farm. Sunflowers and gyp were used the most, alongside peonies, snapdragons, gerberas, alchemila mollis, orange spray roses, delphinium, spray chrysanths and tansy daisies. These were all provided by the stem, and we arranged them in vintage tins and bottles, vases and wonderful customised jars throughout Hill Top Farm, our reception venue.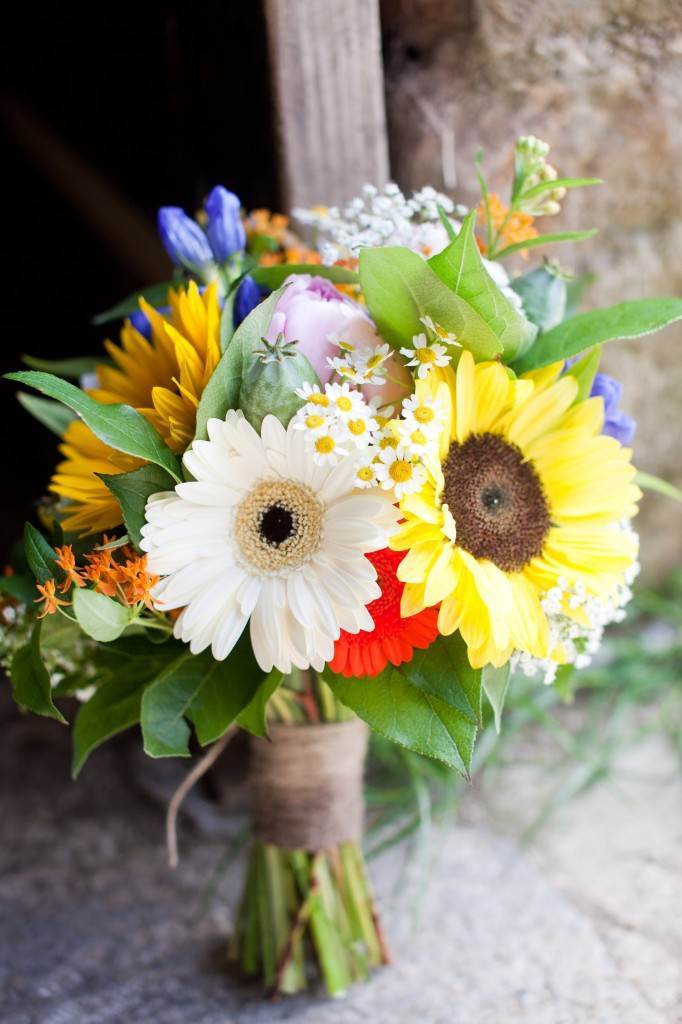 NVWF: How did you choose your venue?
We only looked at one venue which was Hill Top Farm as we immediately fell in love with the blank canvas it offered us and its stunning surroundings. The owners (the fabulous Laura and Rob) did mention that the main reason people back away from using the venue is simply the sheer scale of the task when faced with the brief 'you can do whatever you want.' We could plan our day just the way we wanted and lessen some of the more traditional formalities. A massive benefit was we could occupy the site from the Wednesday until Sunday with camping free for all. Our wedding went from being a one day event, to a mini festival overnight, where lots of our guests contributed to dressing up the barn and more importantly were given the opportunity to make new friends as they spent time amongst the wedding party before the big day.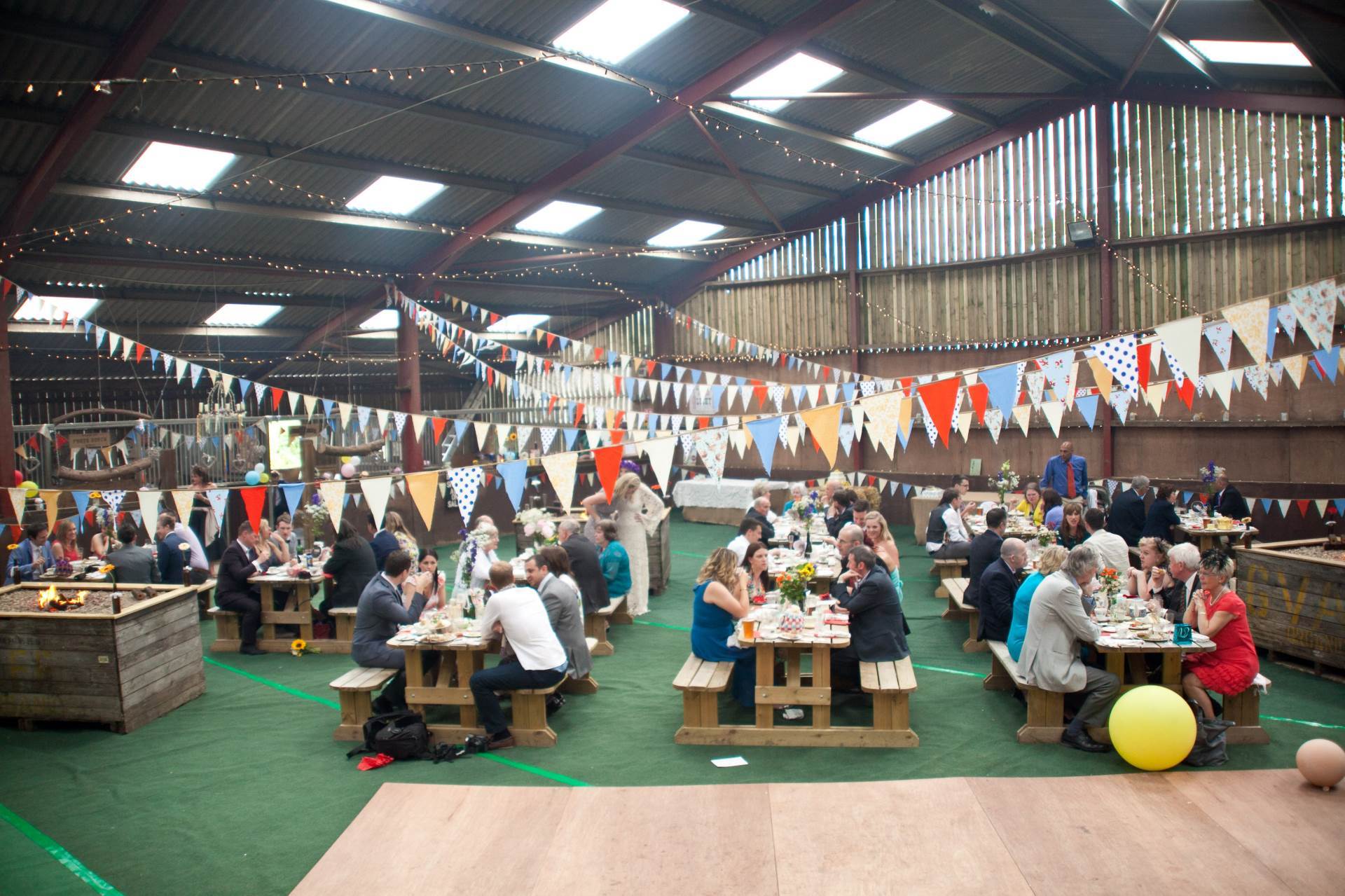 We chose Swinton Park for the ceremony purely because it was 2 miles away from Hill Top Farm. We actually booked Swinton before we even looked round as we were so certain about Hill Top! Having viewed it finally, we couldn't believe our luck as it was going to appeal to the more conservative guests attending the wedding. We had amazing photo opportunities, and having two completely different venues made the day a fascinating spectacle for all. There was always something to marvel at – this is what we wanted to create!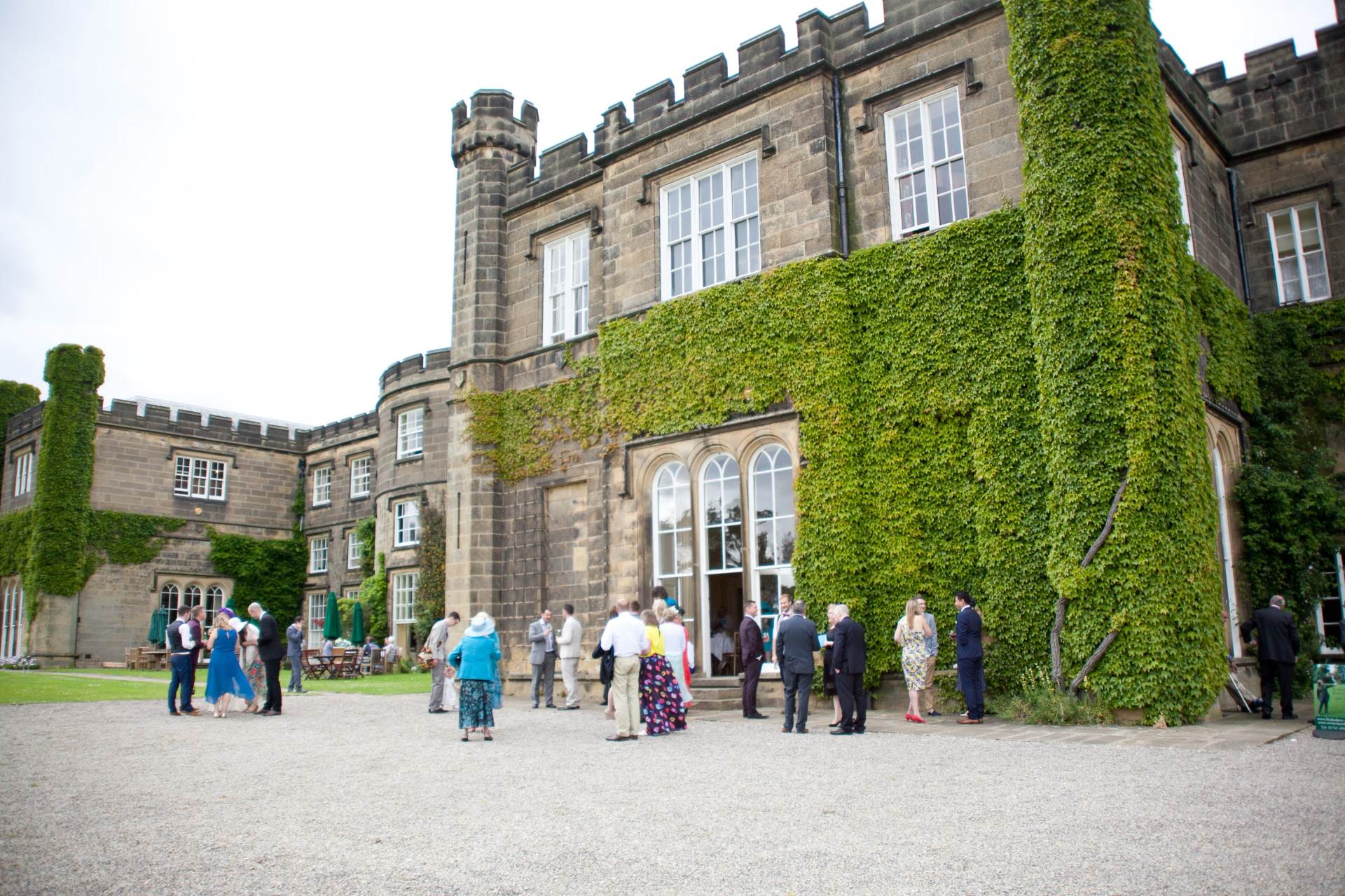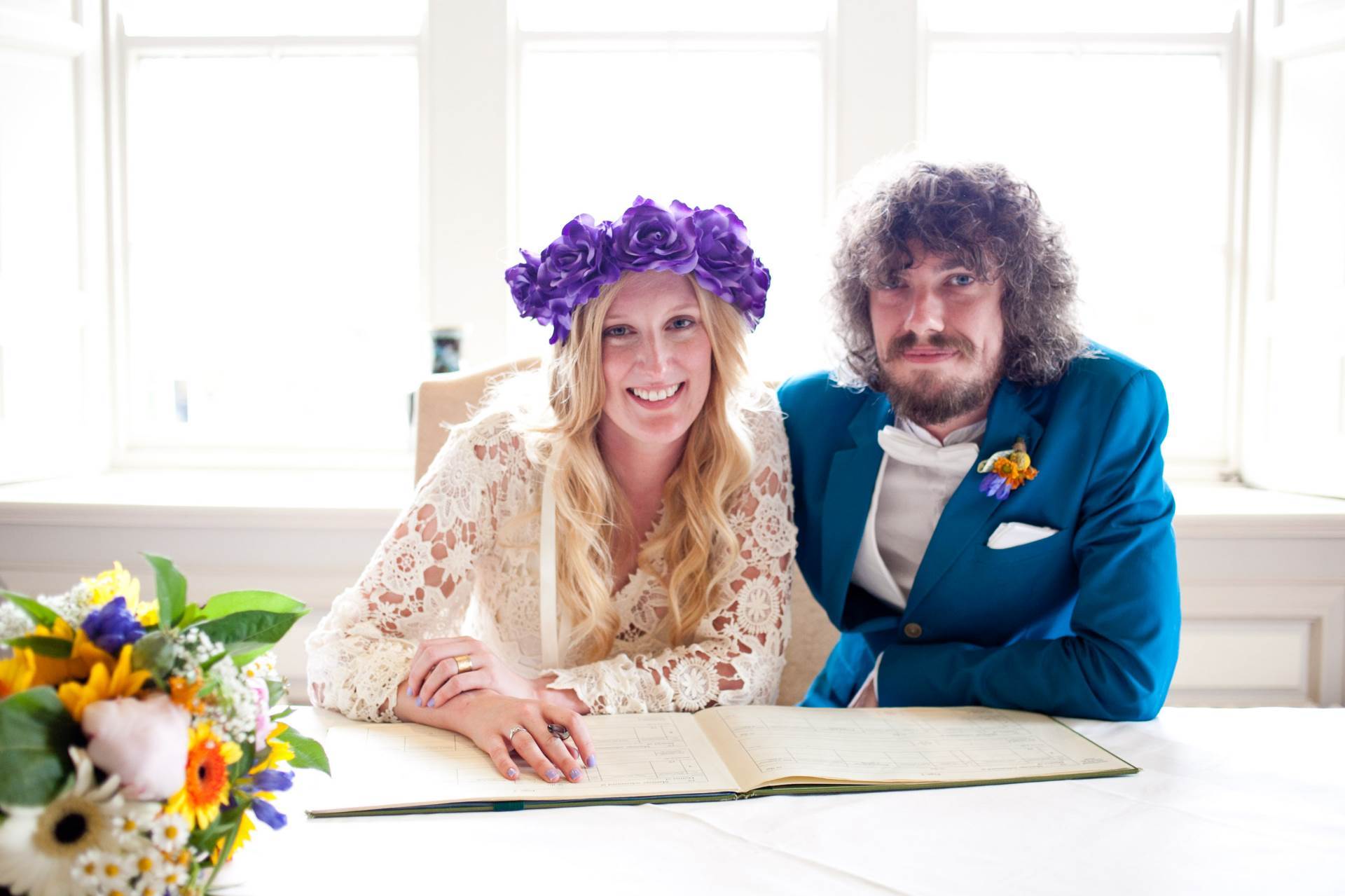 NVWF: How did you choose your dress?
I ended up buying two dresses having got cold feet about the first one. I finally decided on an ivory 1970s inspired lace crocheted full length dress with gorgeous bell sleeves from an Etsy store – DreamersLA. The idea was based on Jenny's dress in Forrest Gump – I wanted something free flowing which wouldn't hinder my enjoyment! I also wore a huge purple flower crown from ASOS Marketplace.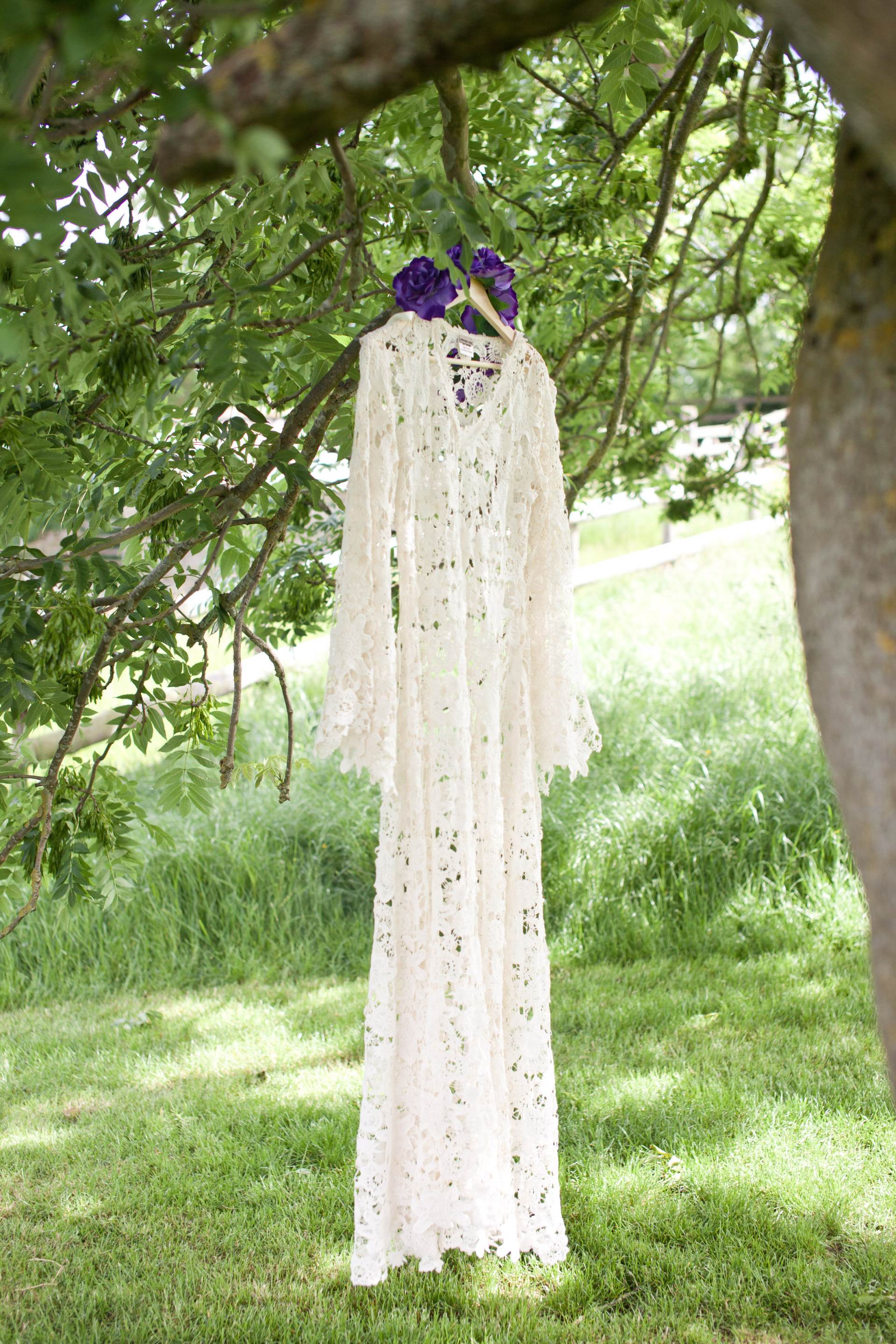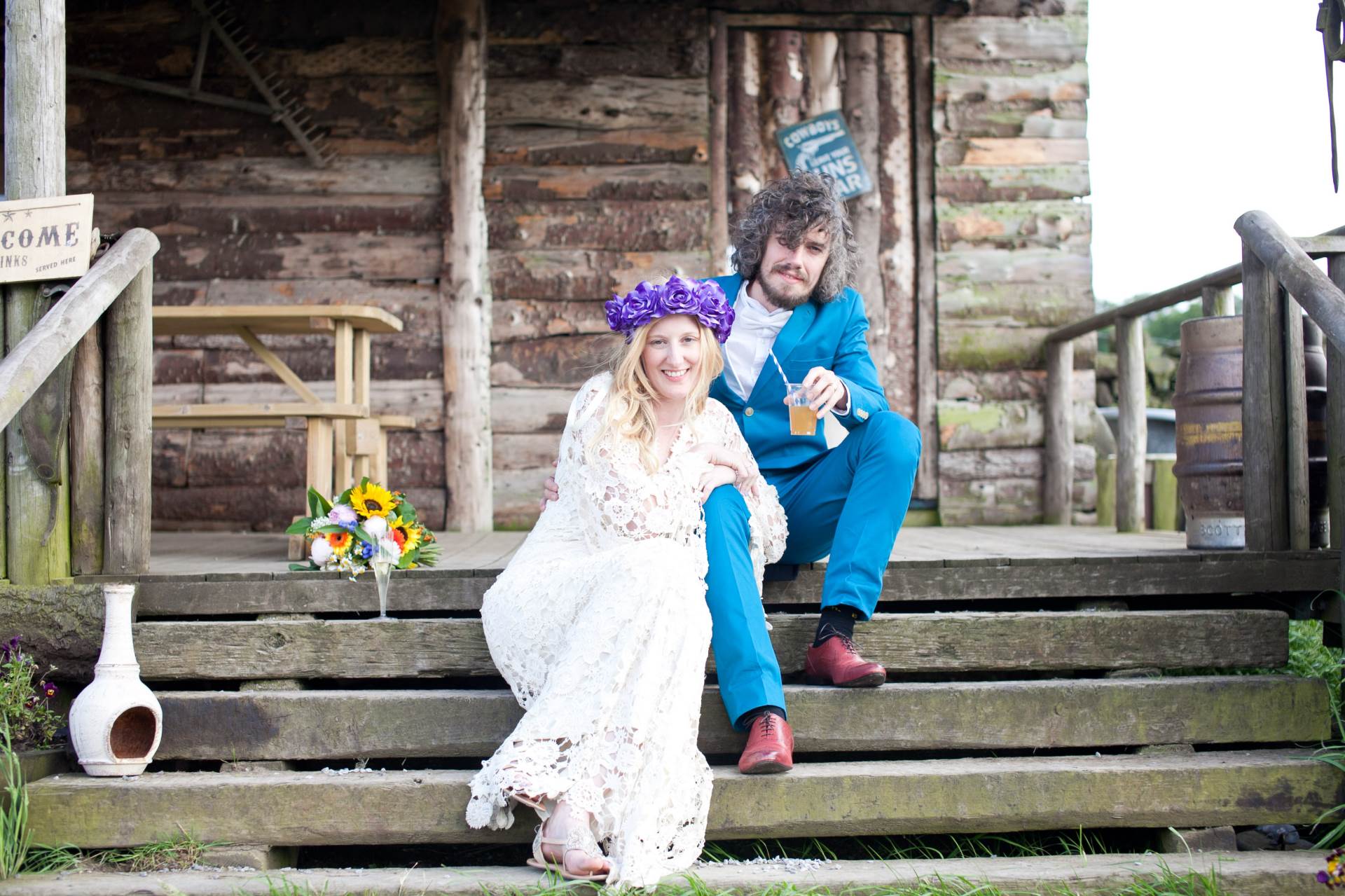 NVWF: Did you have bridesmaids. What did they wear?
I wanted my bridesmaids to all wear something they loved. I wasn't bothered about them matching at all, in fact I wanted them to show their personalities through their dress choices and ensure they were all comfortable. We both had best men so it was going to be unconventional from the start setting the precedence for all the outfits.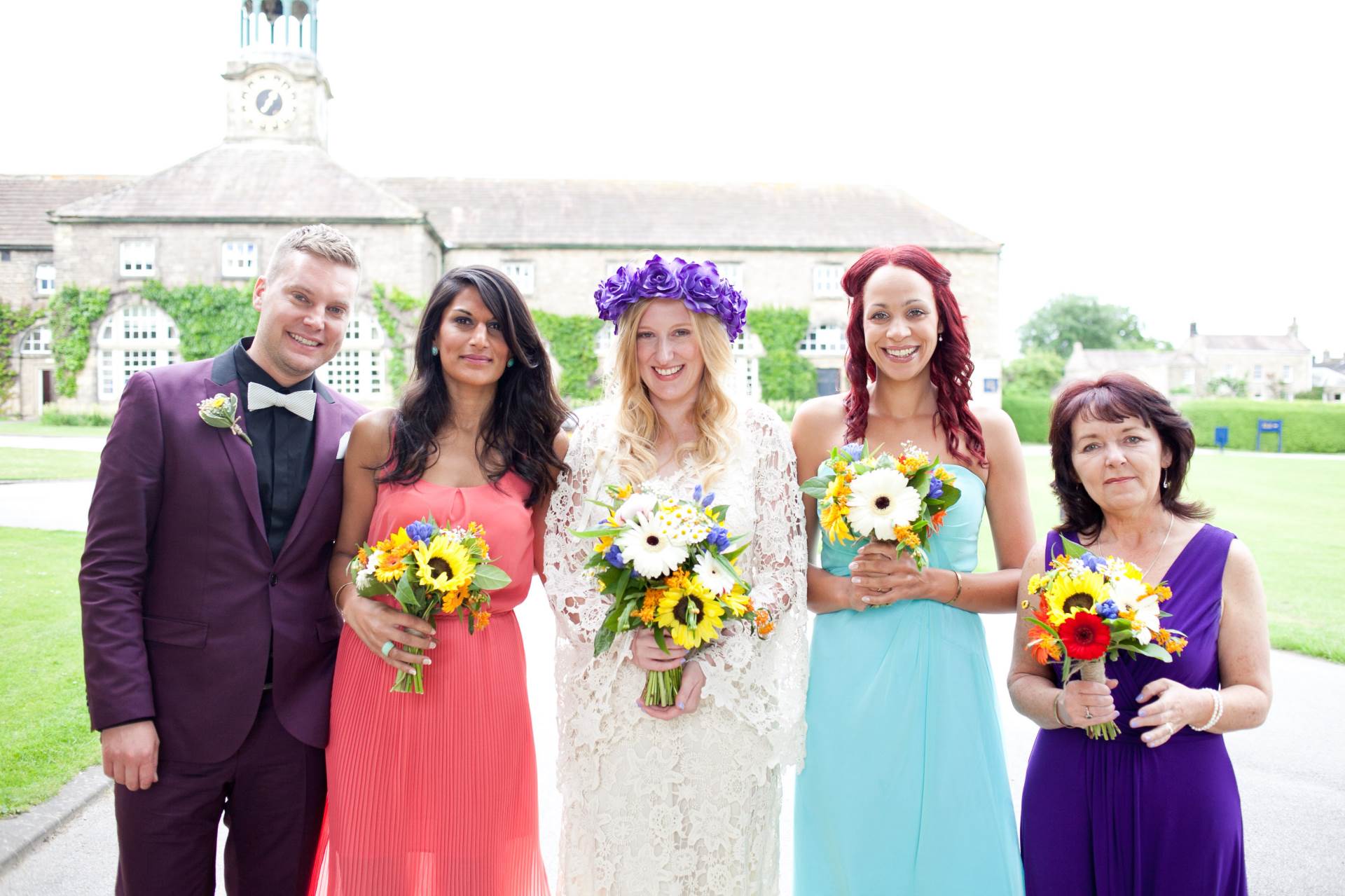 NVWF: And what about the groom?
Jimmy wore a brightly coloured teal suit from Topman, with red leather shoes. He loosely modelled himself on the lead character from the film 'Django Unchained' with a white shirt, waistcoat and bow tie. The groomsmen wore whatever they liked in same theme as bridesmaids.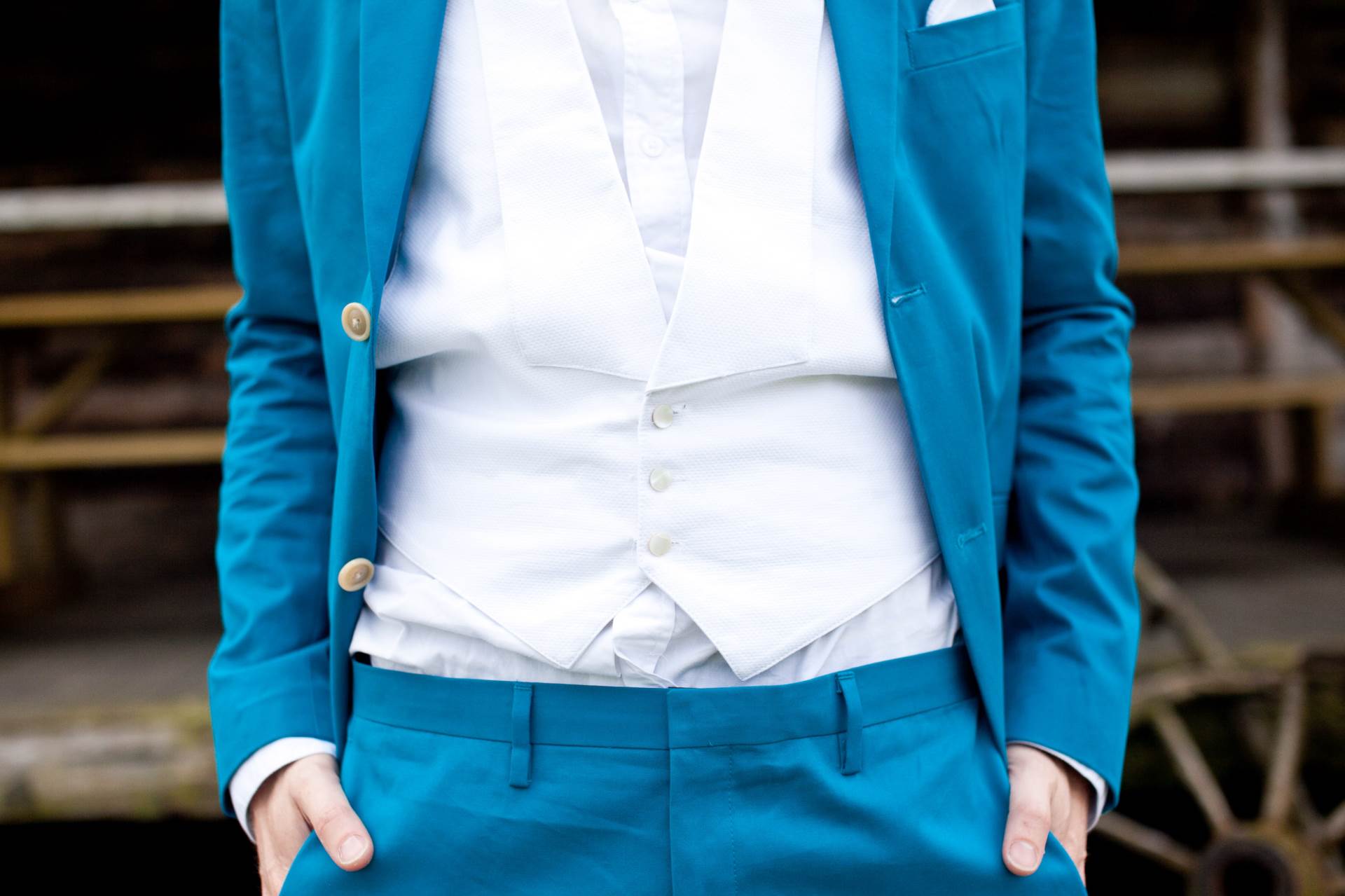 NVWF: How did you choose your photographer?
I was introduced to Natasha by a mutual friend, as she was photographing their wedding day. We instantly clicked and have become great friends – it was an easy choice asking Natasha to document our day.
NVWF: How did the day of the wedding work?
It had rained every day the week prior to the wedding, so we were delighted with a sunny morning, followed by some cloud in the afternoon/evening. A massive benefit of using Hill Top Farm was we could occupy the site from the Wednesday until Sunday with camping free for all. Our wedding went from being a 1 day event, to a mini festival overnight, where lots of our guests contributed to dressing up the barn and more importantly were given the opportunity to make new friends as they spent time amongst the wedding party before the big day. We had 70 day guests and 30 extra for the evening do – weddings can be expensive for guests too and we were adamant this wasn't going to cost an arm and a leg for them so we laid on free camping, kept bar prices to a minimum and arranged a BBQ of thanks for all to enjoy, the night before.
One of our best friends, Spike has a gift for all things musical and he was honoured to provide some of the evening entertainment. He brought a music system, drums and guitars over from Ireland in his little van, and set up on the farm's trailer stage. He also played our first song which was Jackson by Johnny Cash and performed with many guests throughout the evening. We mixed this up with our own itunes playlist which featured vintage tea party music in the day followed by party tunes in the evening.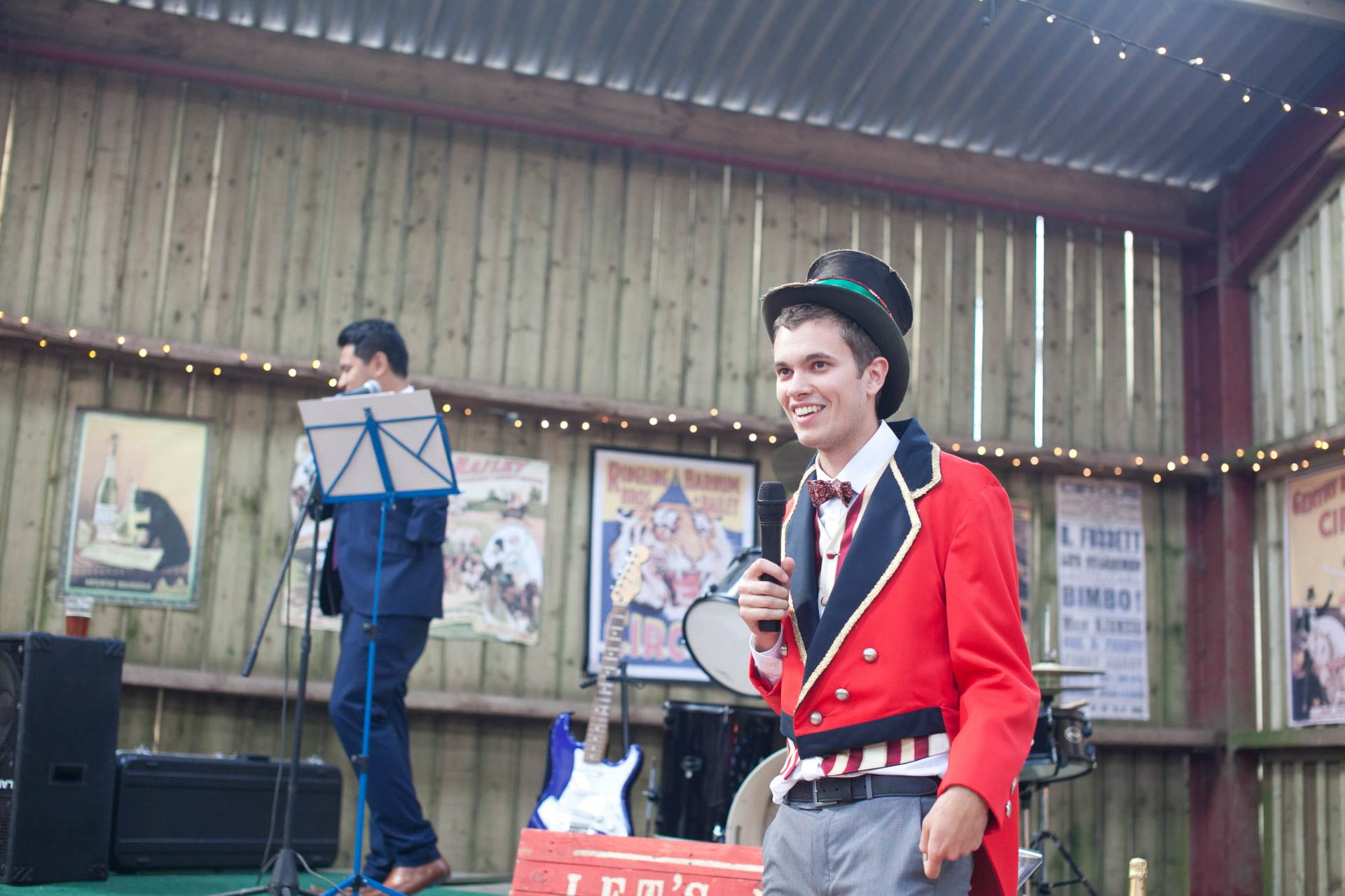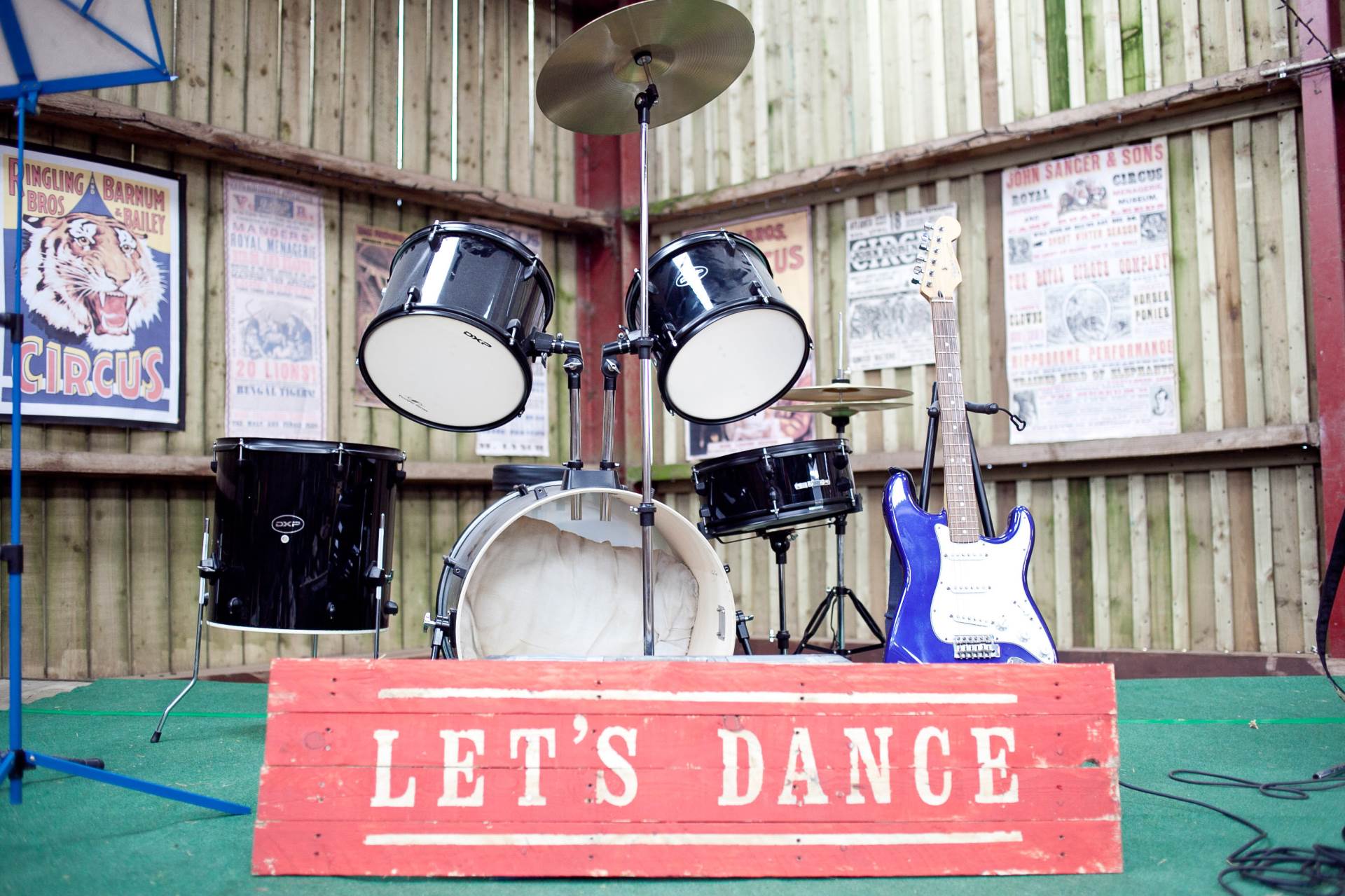 NVWF: Tell us about some of the details you used on the day?
We used a real mix of decorations including around 250metres of homemade bunting, vintage circus posters, homemade pallet wood signs, helium balloons, hanging lampshades, haybale sofas, homemade wooden candelabras, a decorated chandelier and around 150 candle jars.
For the seating plan every guest had a cigarette card style name card with their photo on one side and a poem on the back. A personalised rhyme for all 70 guests was created which led them to their seat. They took days to produce but all our guests still have them which is lovely. We had table names ranging from circus themed such as 'The Bradfordian Family Circus,' and 'The Stars of the Show' to more family themed 'The Relative Knowns,' 'Freya's Fancies' and 'Betty's Batallion.
We also transformed 4 stables into a backstage circus room, a sweet shop, a photo-booth and a memories room. The memories room featured weddings within the family back to our grandparents. We also placed pictures of people that couldn't make it in 26 beautiful hand crafted frames. As favours we had a tea towel screen printed for every guest featuring everyone's names thanking them for their love and support.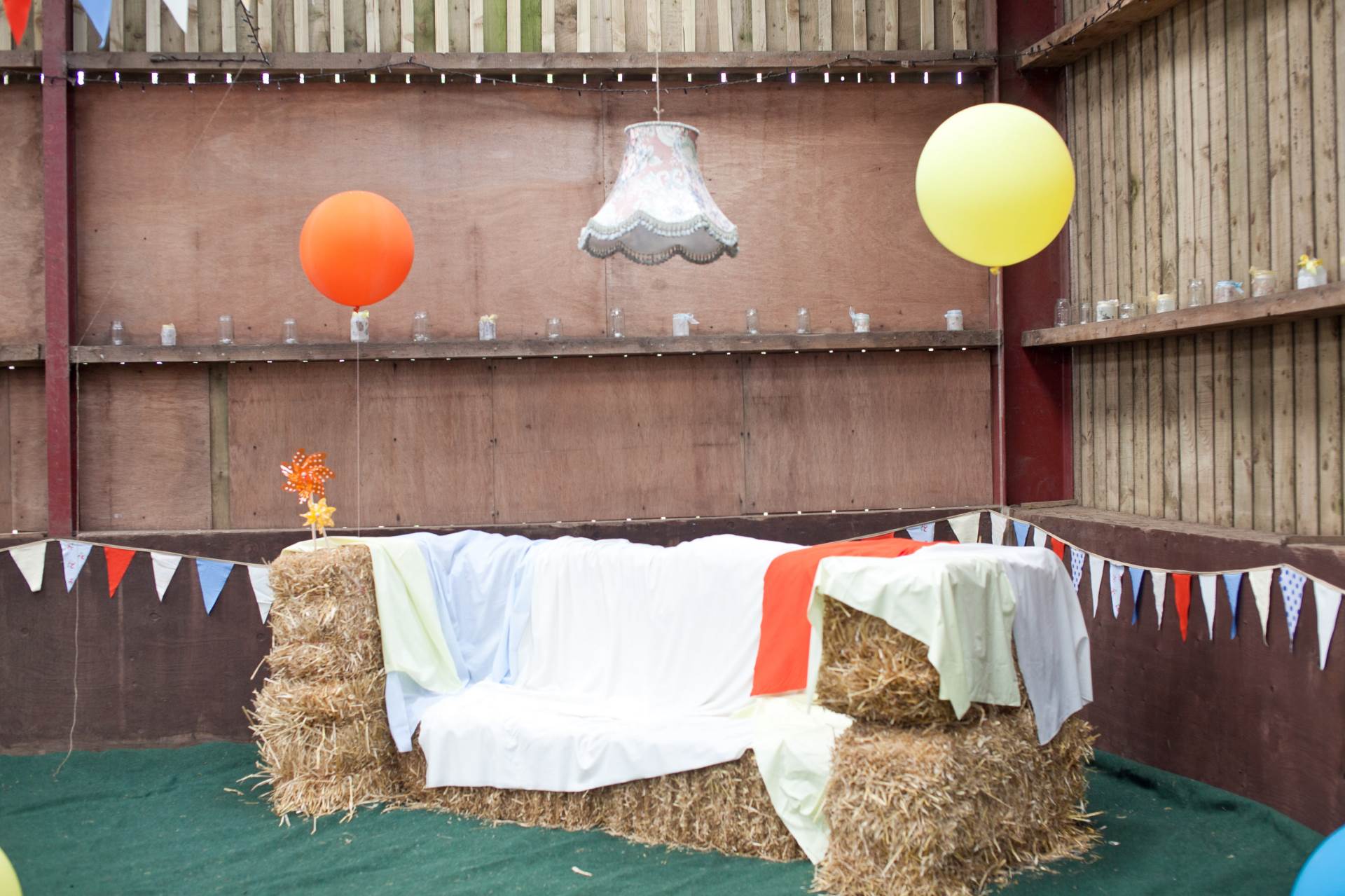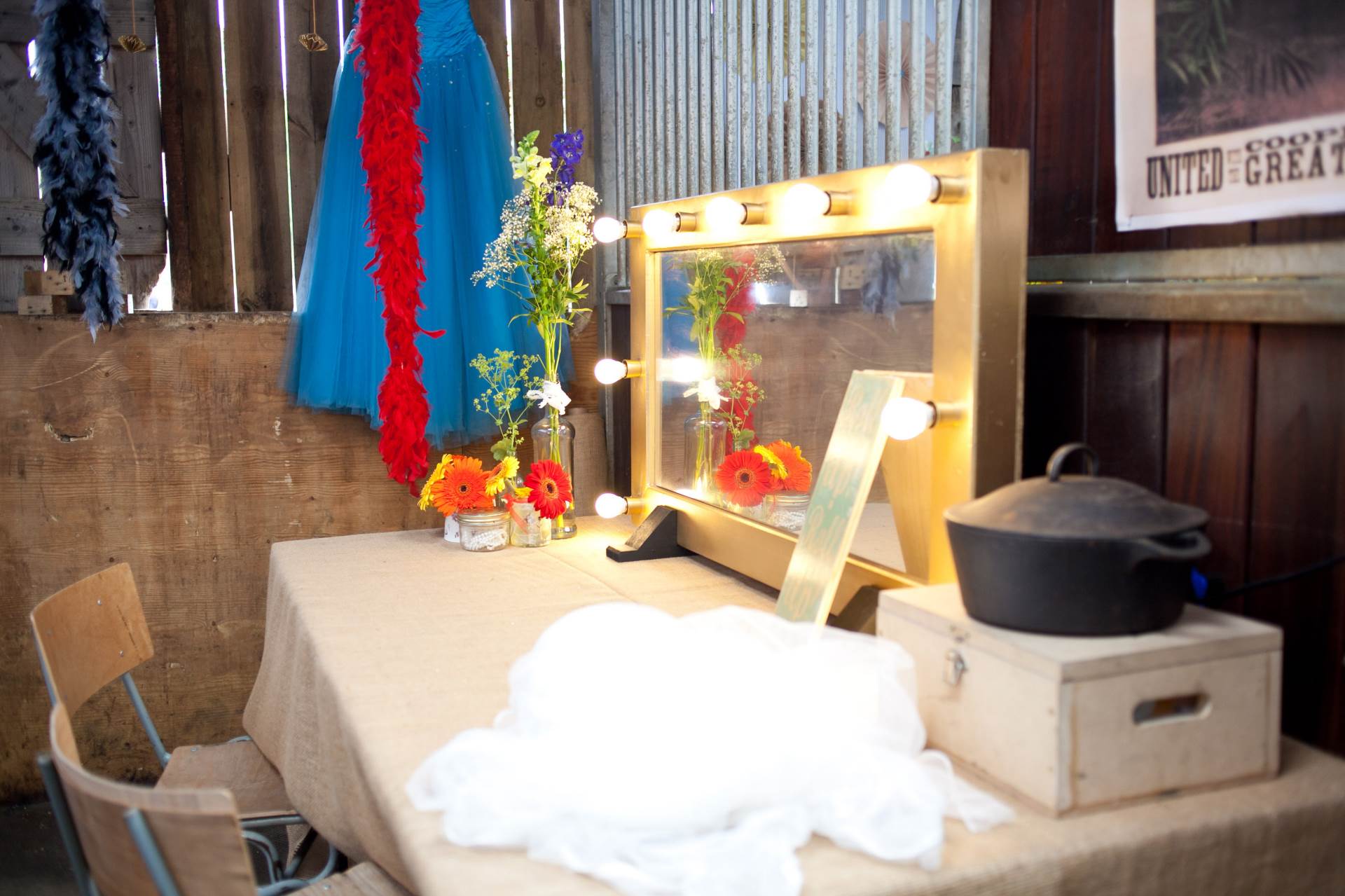 NVWF: What was the best part of the day?
One of my personal highlights was when my dad got a picture of my Grandma out on her wedding day and told me she was with us just before we set off to the ceremony – there were lots of happy tears. The ceremony was the most exciting part – it was so genuine and carefree filled with lots of love and this continued on the journey from Swinton Park to Hill Top in a convertible car which belted out 'Big Country' – an operatic tune which was the perfect soundtrack to the beginning of our new life together. For Jimmy it was probably his sister debuting on the drums at 32 years old! Jim's jaw was dragging on the floor such was his shock – having never played the drums before she was a real natural. One of the biggest joys was watching our guests flutter from stable to stable taking in all the weird and wonderful things that each room provided. Everyone loved the photo booth room which included clown collars and outfits, red noses and even an authentic WW2 helmet. People who we may have wrongly prejudged to not get involved were in the middle of the action and it was a pleasure to see people enjoying the day as much as you!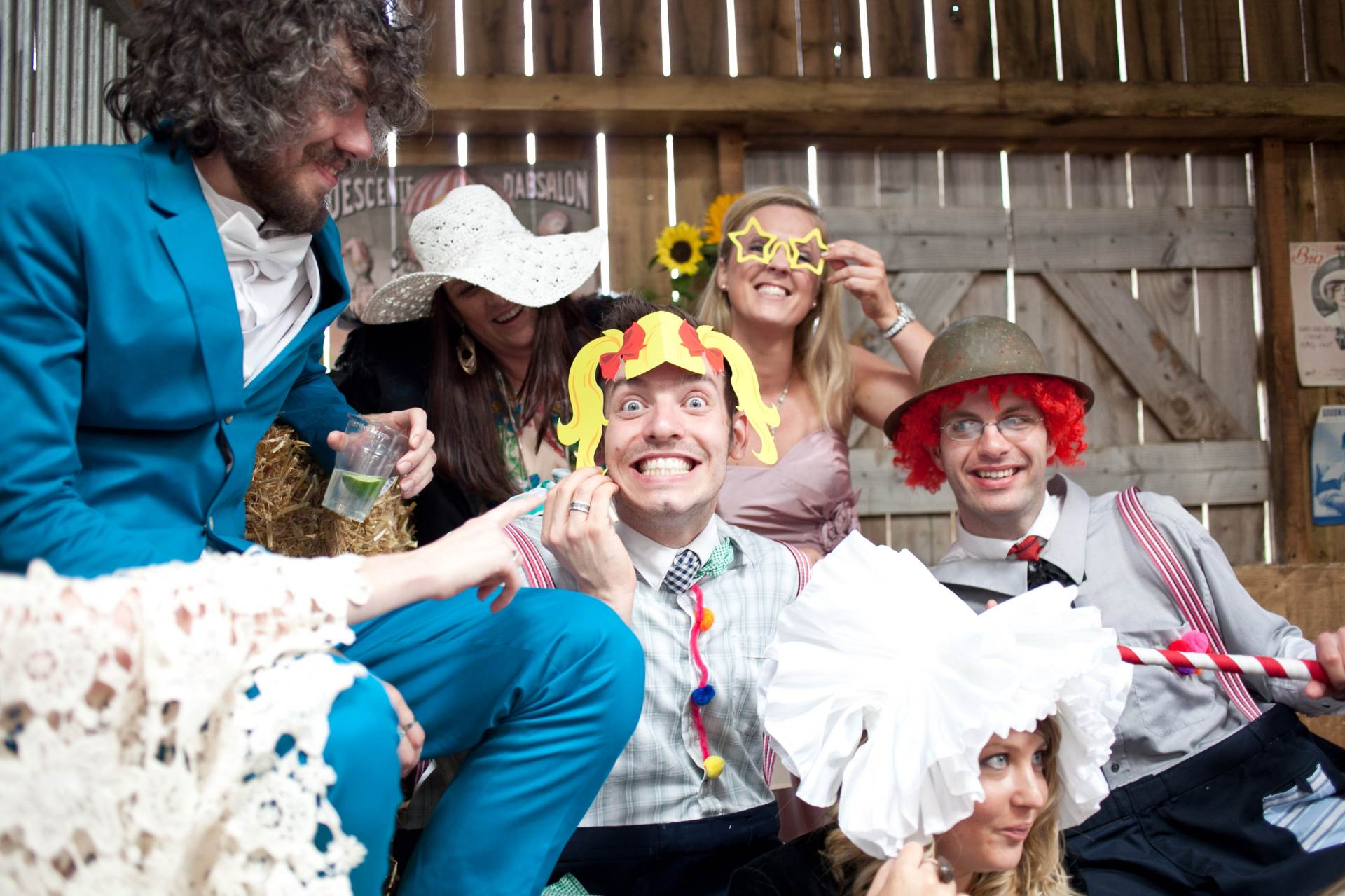 NVWF: And finally what advice would you give other brides?
Marry the person who makes you want to be a better person and who loves you for you – if you share a vision, the planning is so much easier and enjoyable. Use your imagination to the max and let your personalities shine through. The best advice I got before the wedding was 'I woke up feeling calm – all the worrying before the day was for nothing.' Sounds silly but I'd not really thought much about my actual enjoyment of the day leading up to it as I was so busy sorting out all the details. In the end you really really LOVE your wedding day – what a revelation!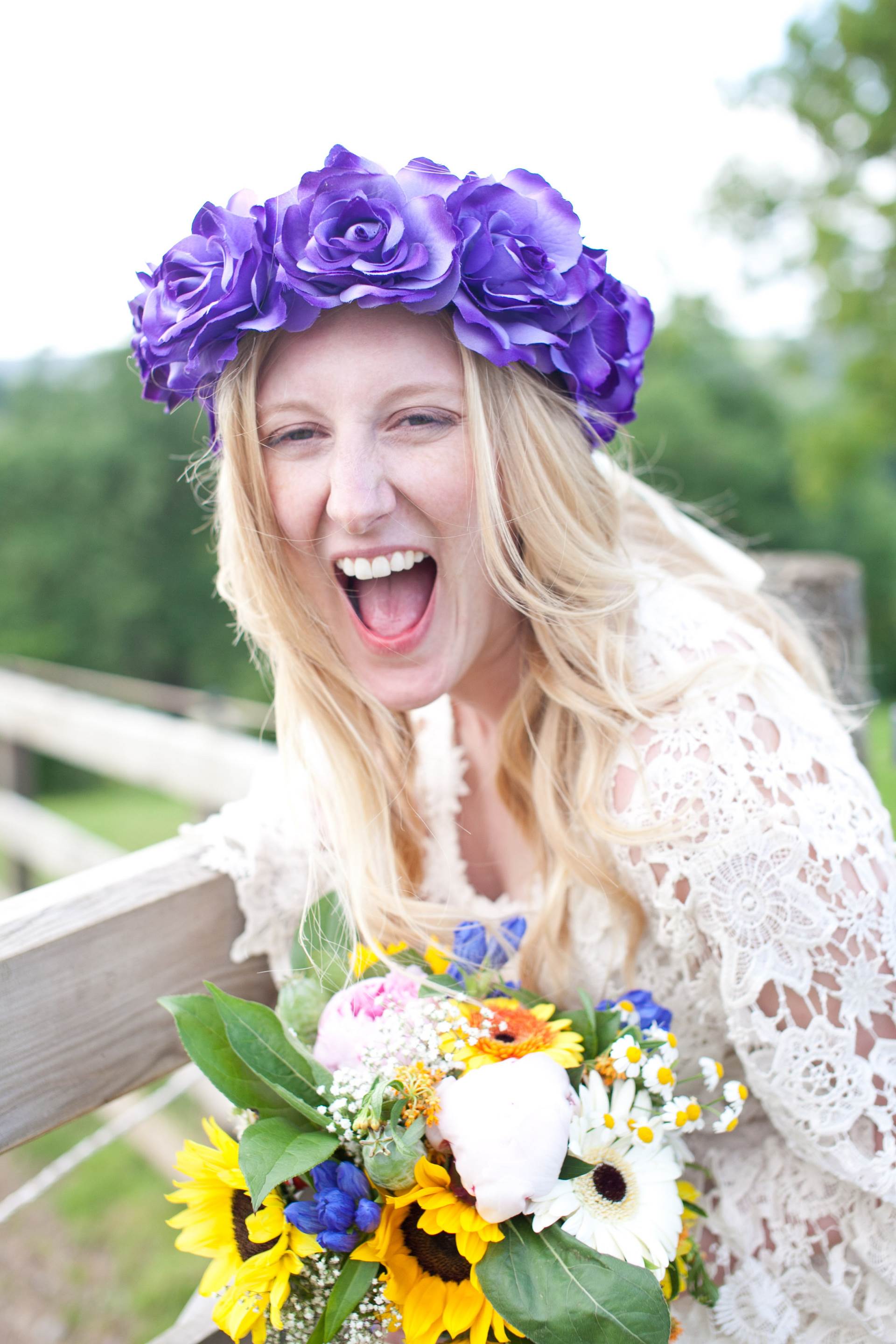 Photo Gallery –
Credits –
Unless stated otherwise all photography : Natasha Cadman
Are you going to be a vintage bride soon? For ideas and inspiration join our mailing list for details of our upcoming events.
Written by Sarah Gorlov