I love a wedding especially one with a genuine vintage gown, so this month I am excited to share the wedding of Sara and Christopher Pateman, from Halifax, UK. They got married in Yorkshire Sculpture Park, Bretton with Sara wearing a full length 1950s dress.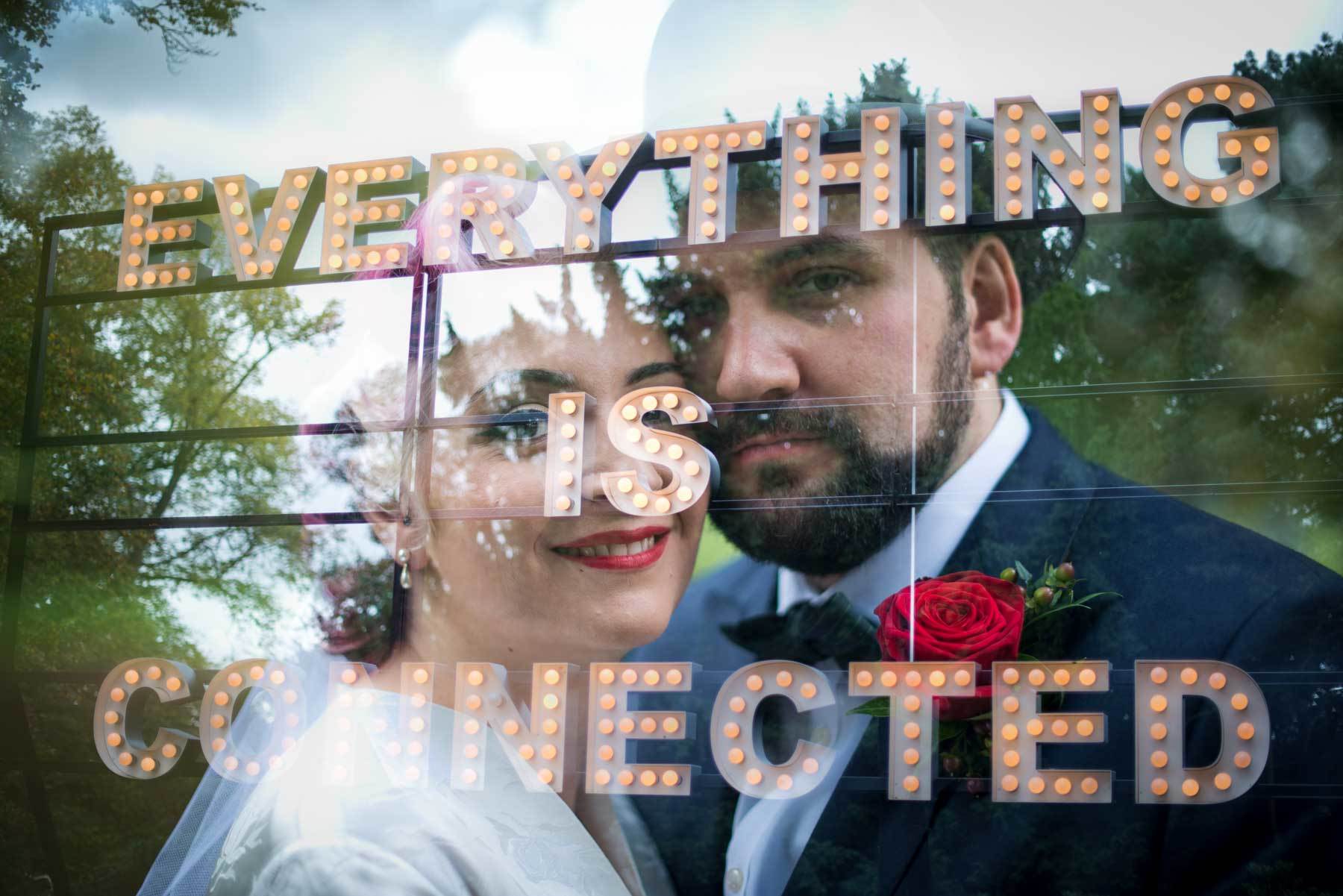 The Proposal
They met at Huddersfield New College when they were both 16. They were living in Barnsley when they got engaged, near the Yorkshire Sculpture Park. They'd visited a few months previous and had a lovely day taking photos of the sculptures and each other. Chris asked her when she'd last felt like she'd had a "swept off her feet" moment and she replied that it was when we they were in the Camellia House and he took a picture of her.
"Chris loves film photography and was playing about with one of his cameras, the flowers were out and it was really beautiful. On our 9 year wedding anniversary he suggested we went back for a visit and whilst in the Camellia House and he asked me to marry him! I'd seen the ring in a shop in Leeds 3 years before and sent Chris a picture, I was heartbroken when I next passed and realised it had gone. It turned out he'd bought it and had hidden it in a watch box all that time! We'd moved house whilst he had it and I never found it!" Sara laughs.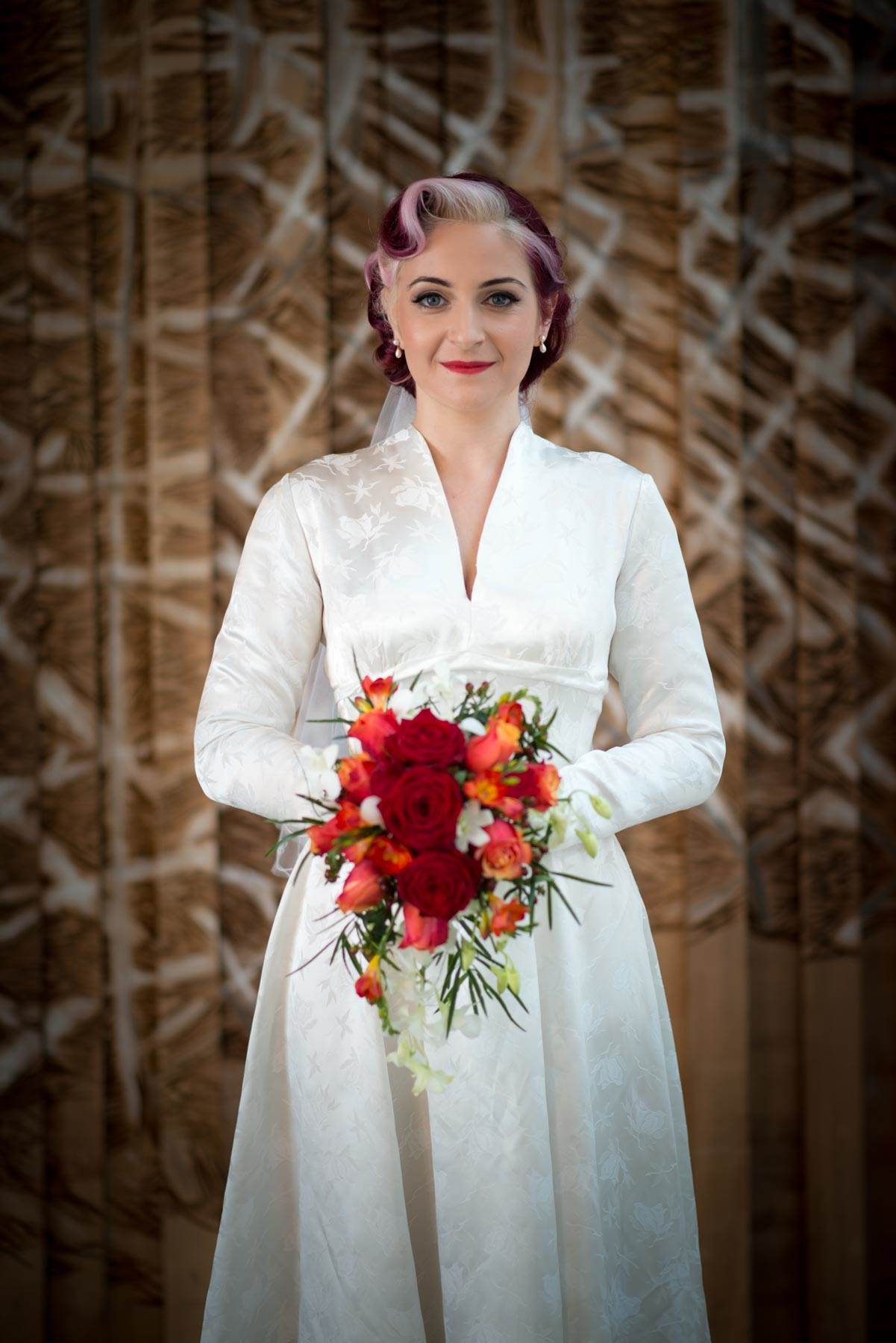 The Dress
The wedding dress was an original 1950's gown from Glory Days in York. "I could never see myself in a new dress, I loved that it was vintage and someone else had worn it before me. Although I can never see myself parting with it I think it's amazing that one day someone else might wear it too." The bridesmaid dresses were from Tatyana and they were simple navy blue swing dresses but looked beautiful on each of the girls who each had their hair and make-up done to complement each of them and their different styles.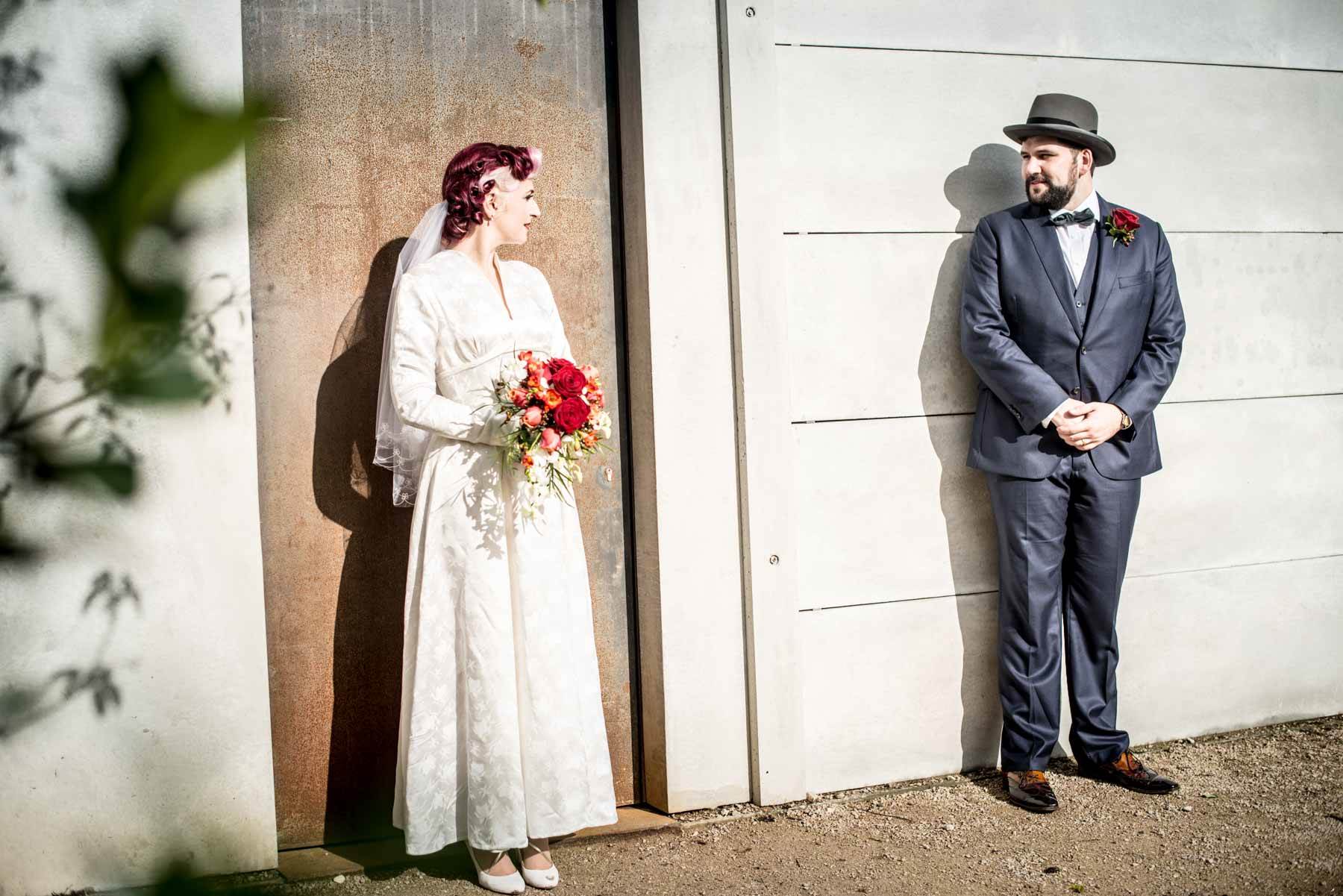 The Suit
Chris has his suit made by Owen Scott in their home town of Huddersfield. "Huddersfield used to be the centre of the woollen tailoring industry so we chose a fabric which was made there" Sara explains. Chris's hat was a 1950's Knox of New York Homburg he found in its original box from someone in the USA which he bought and had sent over. Sara also bought Chris a 1950's Smiths Astral watch with quite a rare dial which he wore on the day.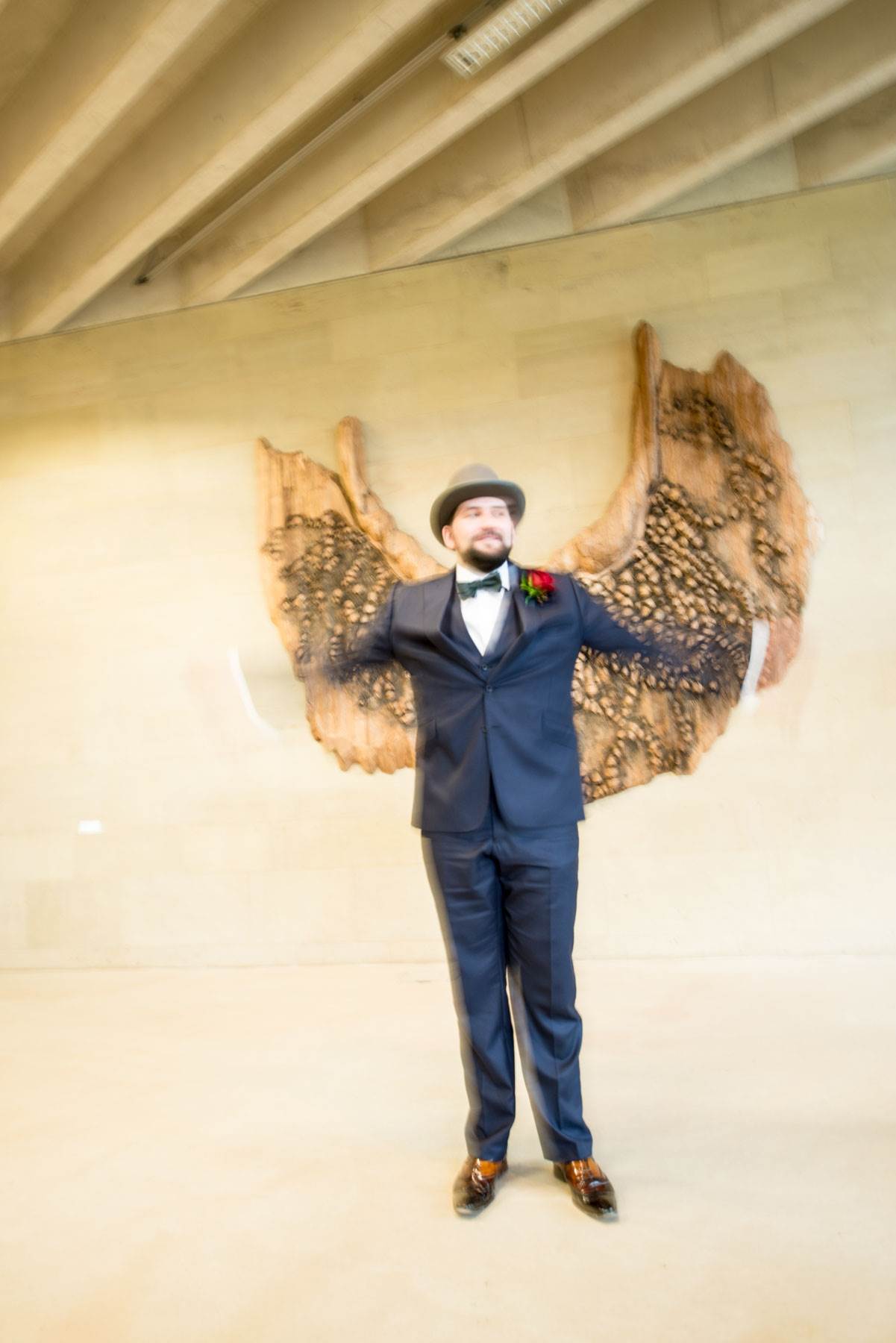 The Details
They did all the planning themselves and tried to make a lot of the things they needed for the day. They designed and made the invitations with a booklet based on the booklets given out when attending Goodwood Revival with pictures suggestions of clothes for their guests to wear.
"We both love the fashions of the 1940's and 1950's and dressing up for events such as Goodwood Revival, so decided to go with a 50's theme for the wedding and encouraged our guests to join in with a best dressed competition! We also enjoyed watching film noir films and MadMen so decided instead of a photo booth we would make a "scene" in the theme of a detective offices using Howard Hawks "The Big Sleep" for inspiration. We also had the film playing on a television next to the scene area, the pictures were amazing and everyone really got in the spirit of it!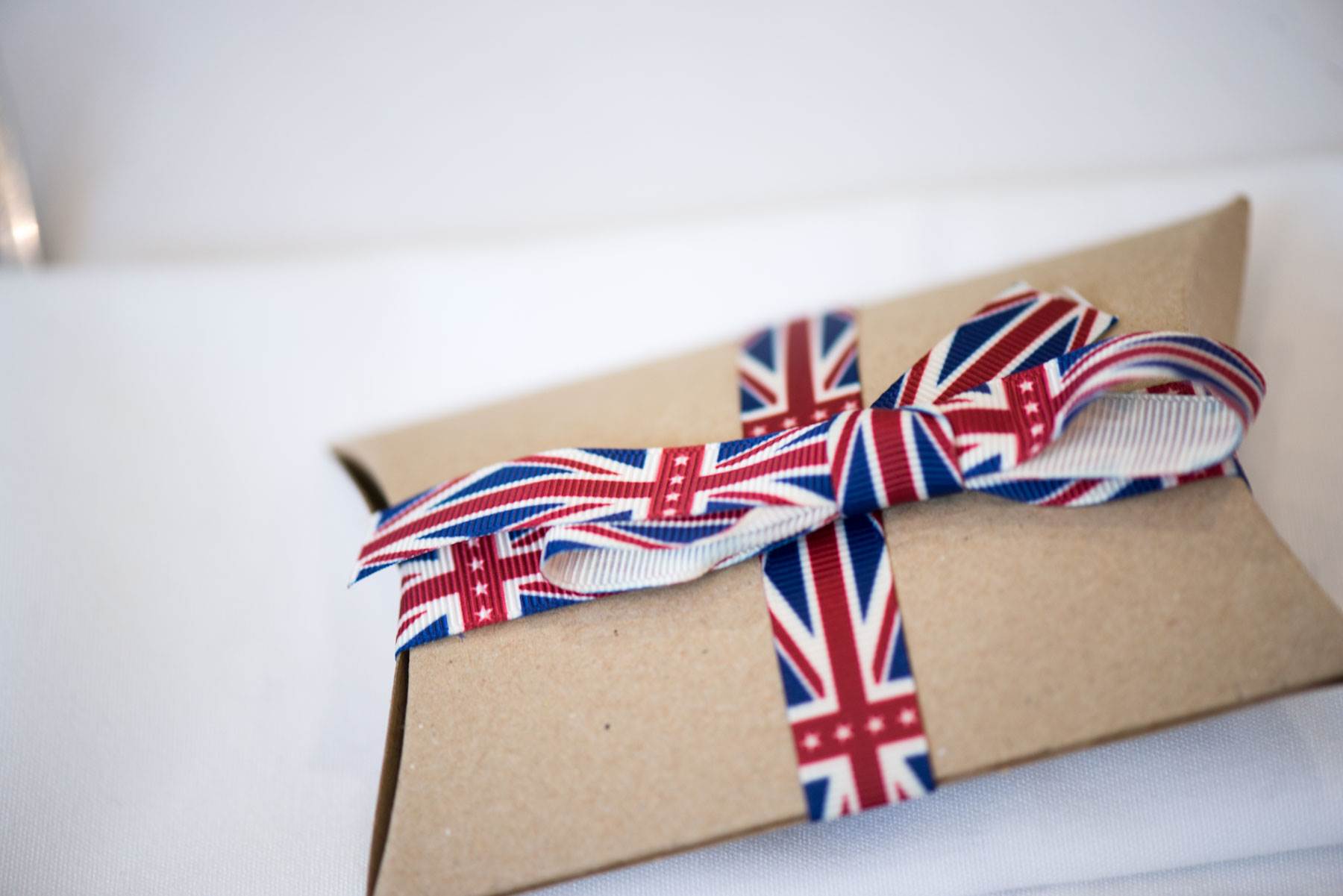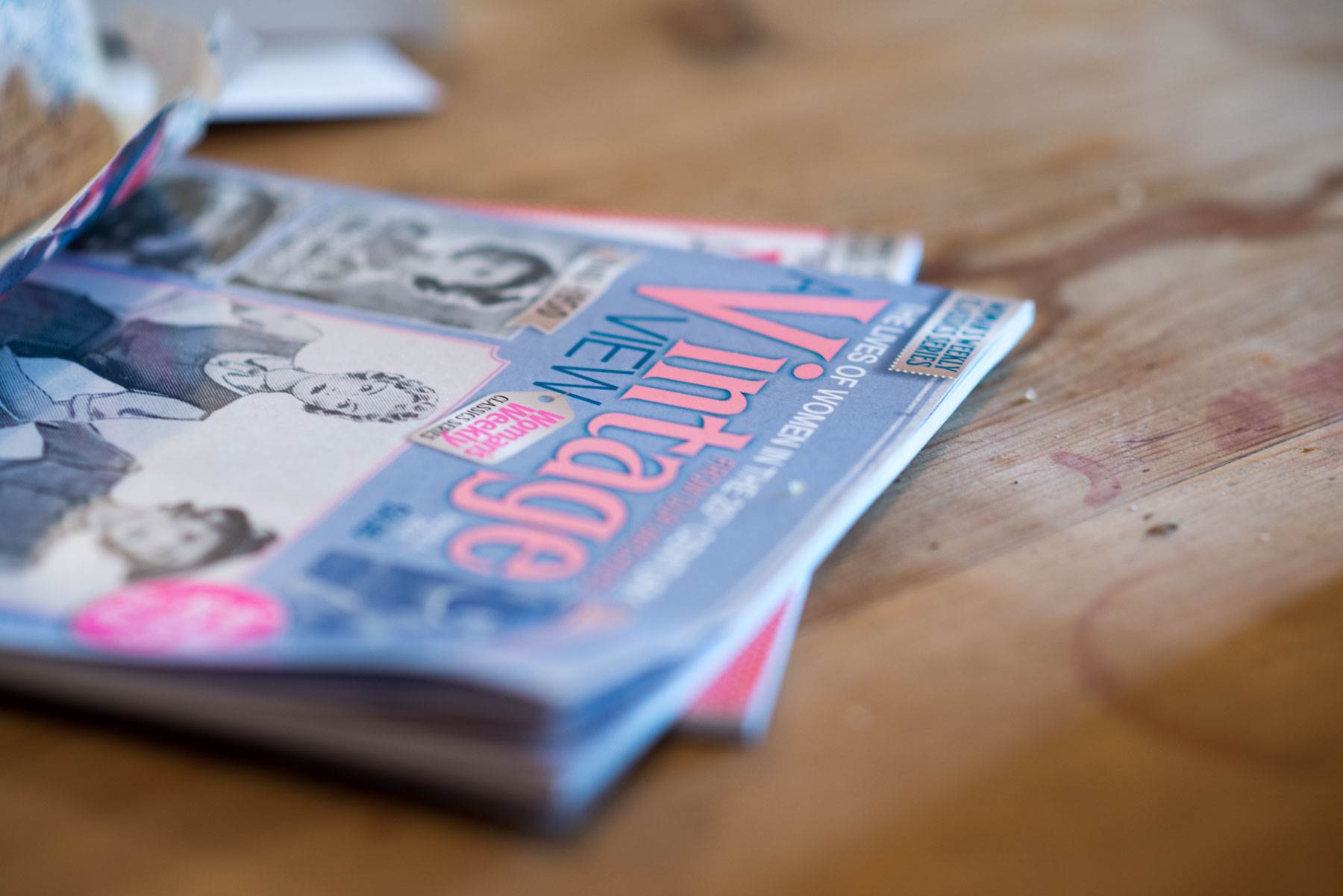 They had 9 wedding cakes, all made and decorated by Sara. As it was autumn the flowers carried by the wedding party were in browns, reds and oranges such as cherry brandy roses, red roses, berries and freesias, and topped each of the cakes.
Sara explains why they chose vintage. "Vintage is a fantastic theme for a wedding as you can tailor it to exactly what you like about vintage style, such as a tea party, art deco, mod etc. The styles are so nostalgic and flattering for everyone, so even such as at our wedding where we asked everyone to dress up, nobody felt out of place or uncomfortable. It also makes it particularly memorable for your guests too as each person's interpretation is completely different and they can really feel that they own a part of the day as well. There were some fantastic outfits and the competition was really fun to reward to those that put so much effort into theirs!"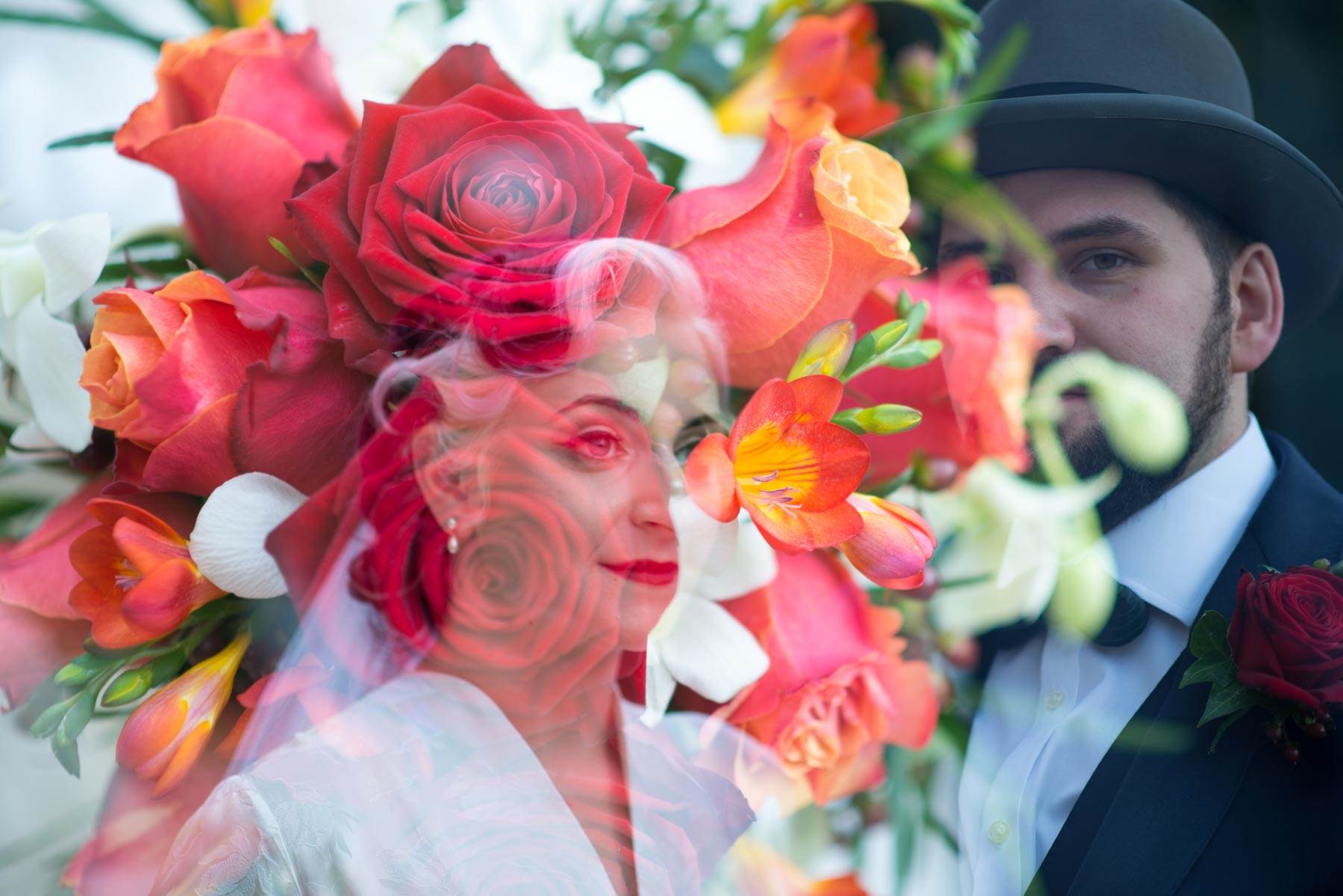 Photo Credits: Tim Simpson Photography