Vintage and Hawaii often go together in the vintage scene but we don't often see it for weddings here in the UK. This wonderful, real wedding, truly shows that you can combine even the most out there pairings to make your day perfect for you. Marie and Nigel had an alternative vision and inspiration to make their day unique to them. It all started with a flamingo bag and a love of outdoors, with many DIY wedding elements added in to make their vision a reality. Here we chat to Marie who tells all about how they met, the proposal, and the big day itself! And how she made her own wedding dress!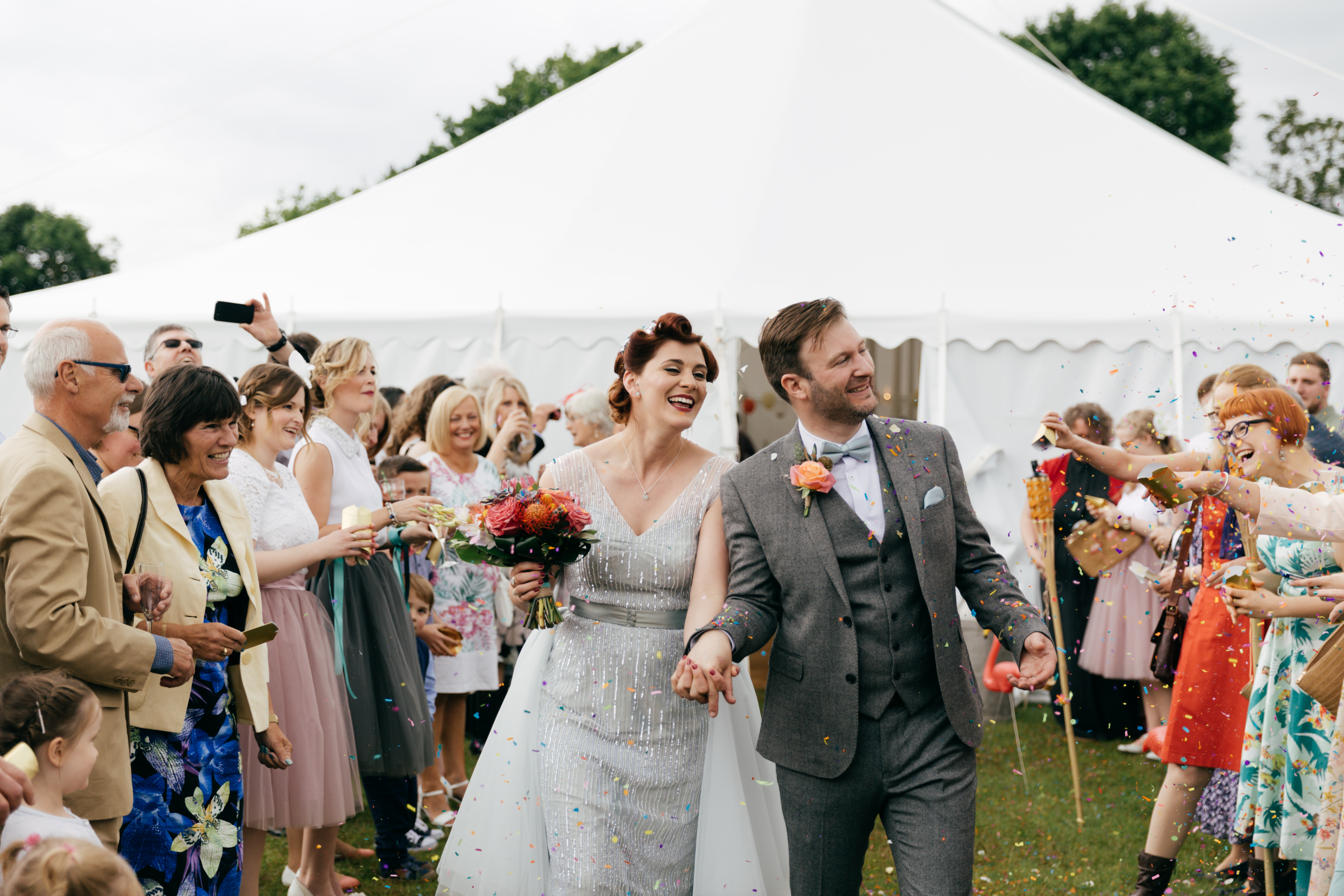 "We first met at a Halloween party at Madame Tussauds London, I used to work there and Nigel had been invited by my work colleagues who'd met him via mutual friends. We got chatting; however I had a boyfriend so brushed off his invite out for a drink…We met again the following May once again at a fancy dress party (he was a Lego Man and I was Wilma Flintstone), this time I was single so agreed to a date."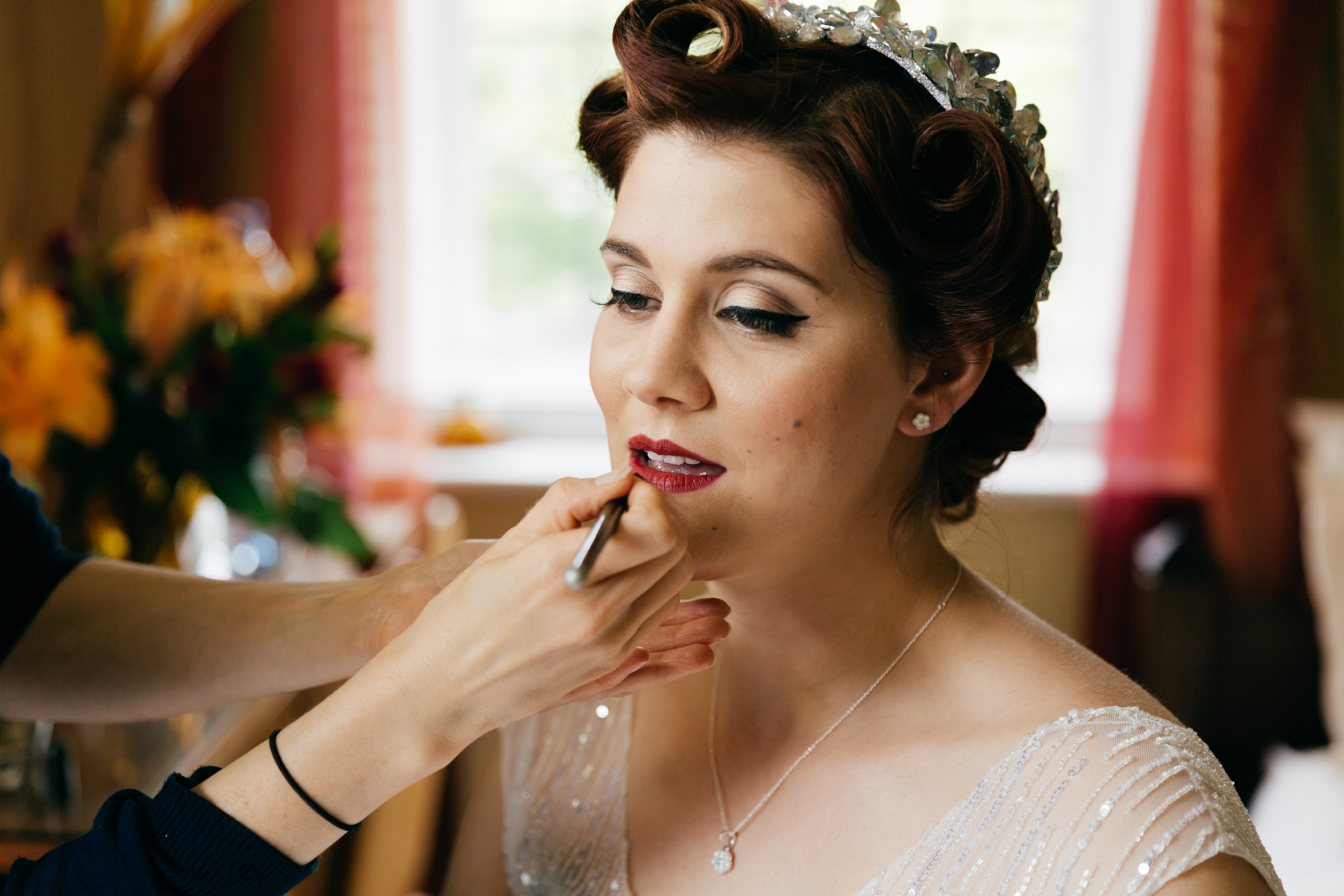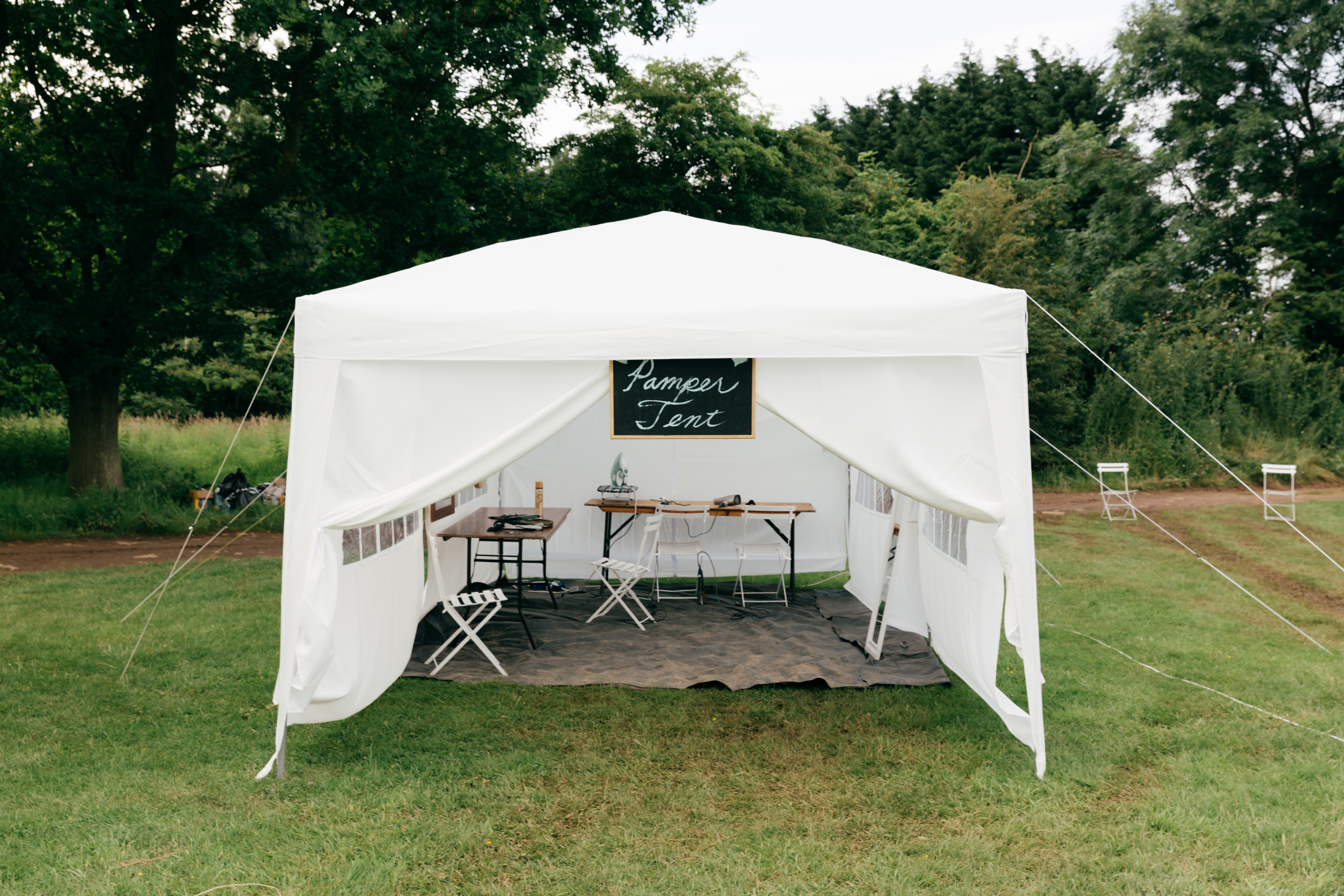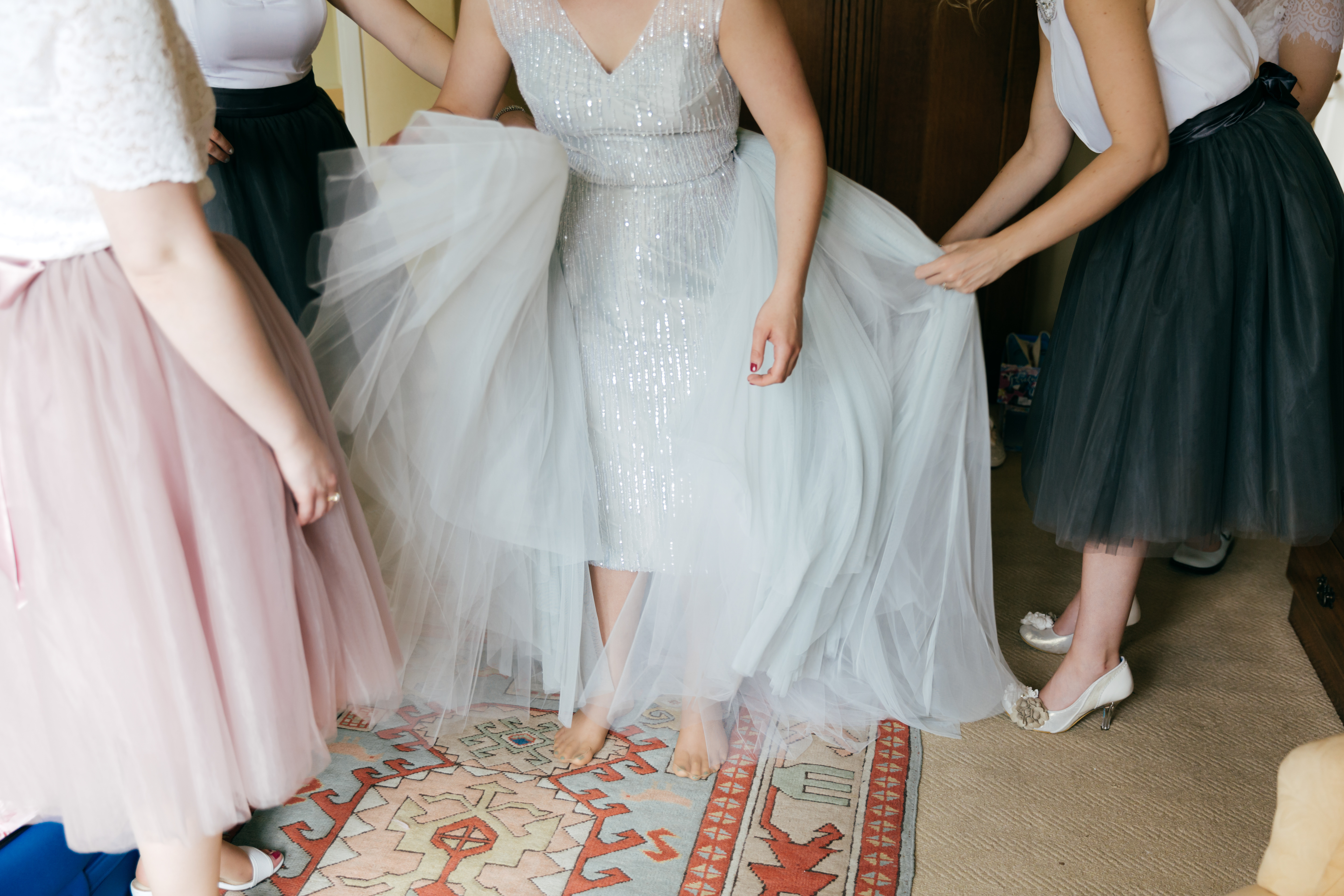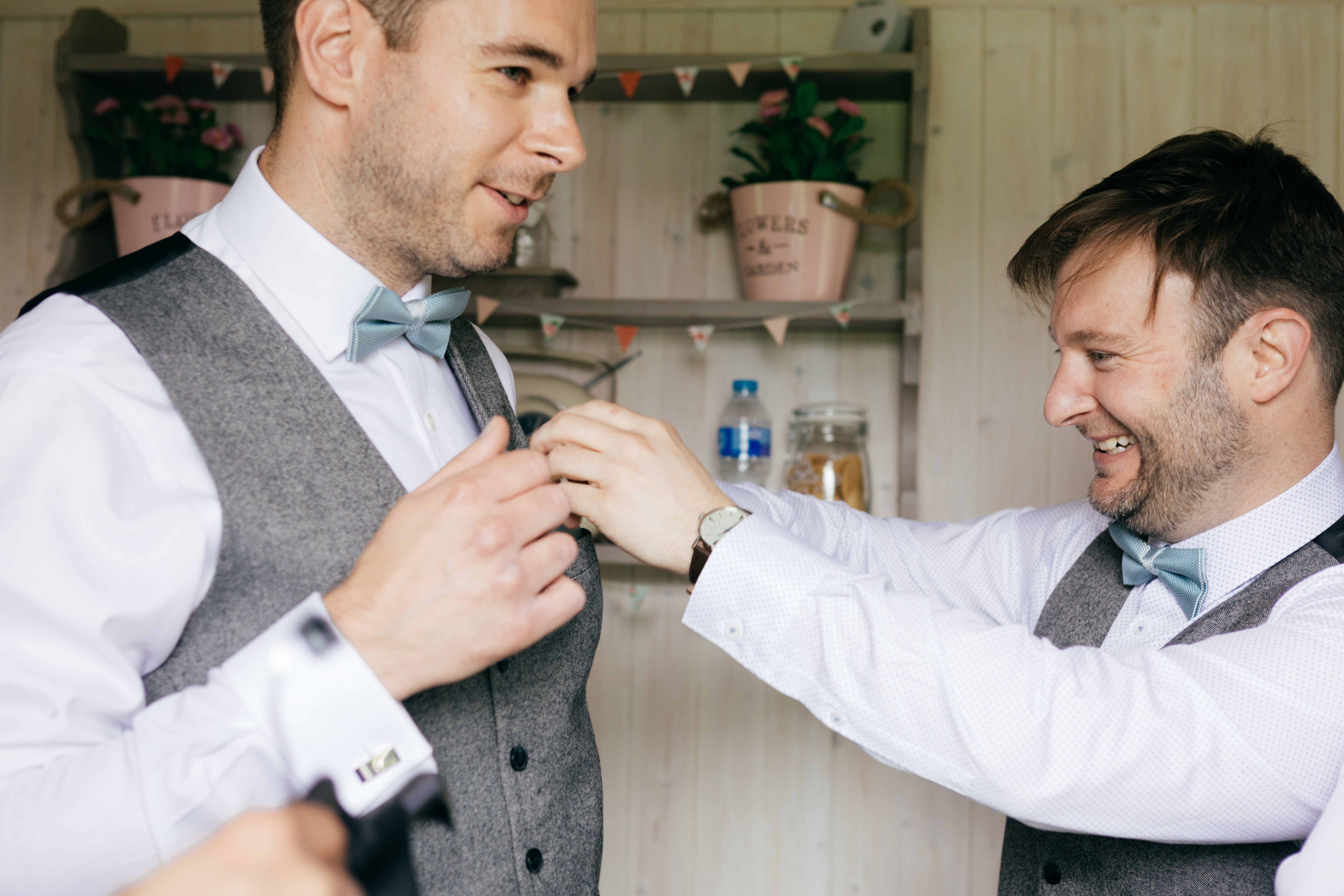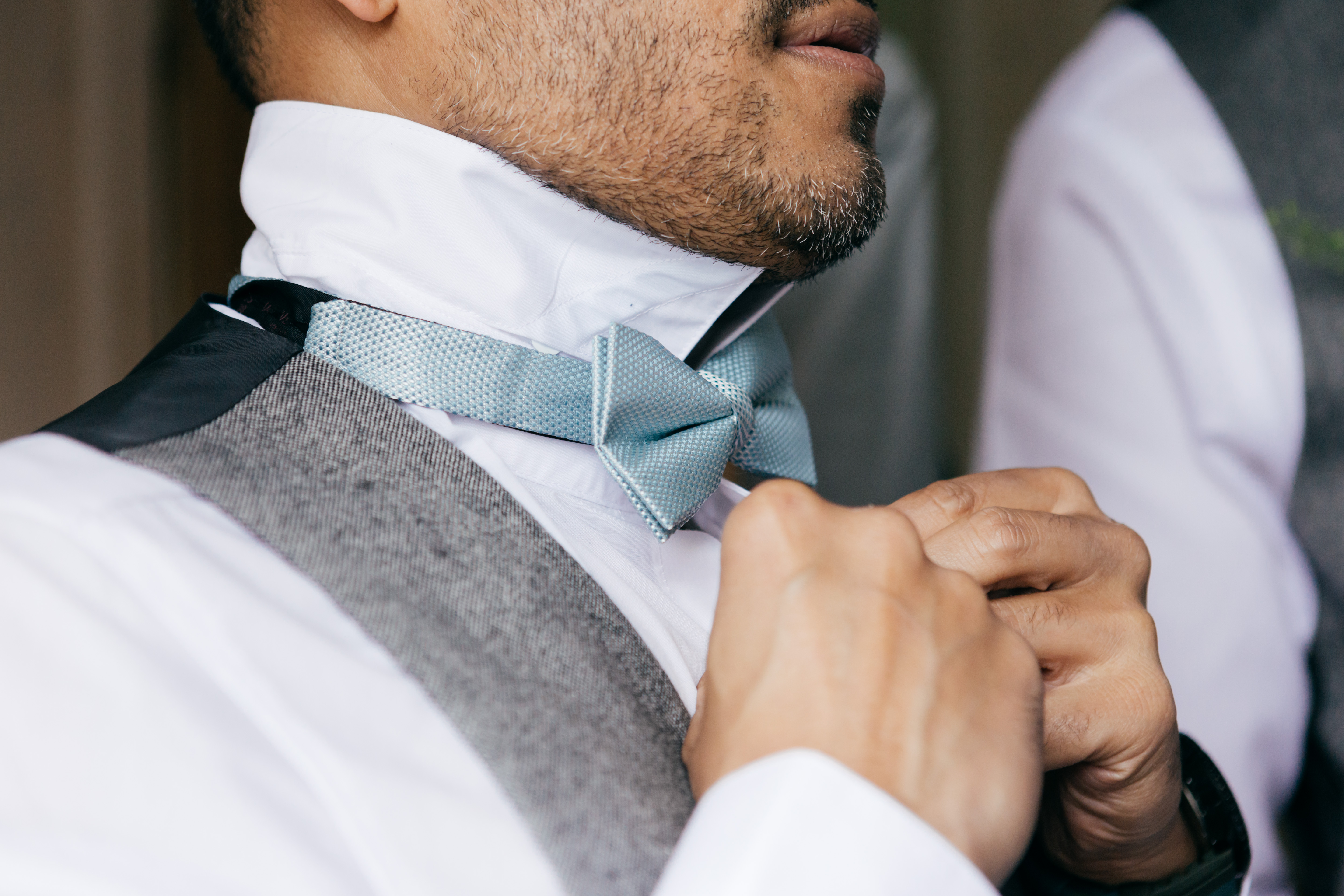 "Our proposal story still makes me chuckle. We planned an amazing trip to Rome and Tuscany in May 2015. I suspected he'd propose especially with it being our 5 year anniversary. We were staying about 6 miles outside of town and decided to walk to the centre through vineyards and fields as this route was much quicker. Unfortunately somewhere we took a wrong turn. After trekking through fields of snakes and nettles we eventually made it sweaty and itchy to the town centre. We then spent the day visiting a torture museum, drinking wine and going down the same little alley about four times which opened into a beautiful courtyard with views overlooking the Tuscany countryside (apparently looking for the best light for his photos). I thought, 'oh no, not today, really? I'm sweaty and haven't done my hair or make up'. However he'd been plucking up the courage to do it all day and eventually on our 5th trip down to the little courtyard he asked me to marry him."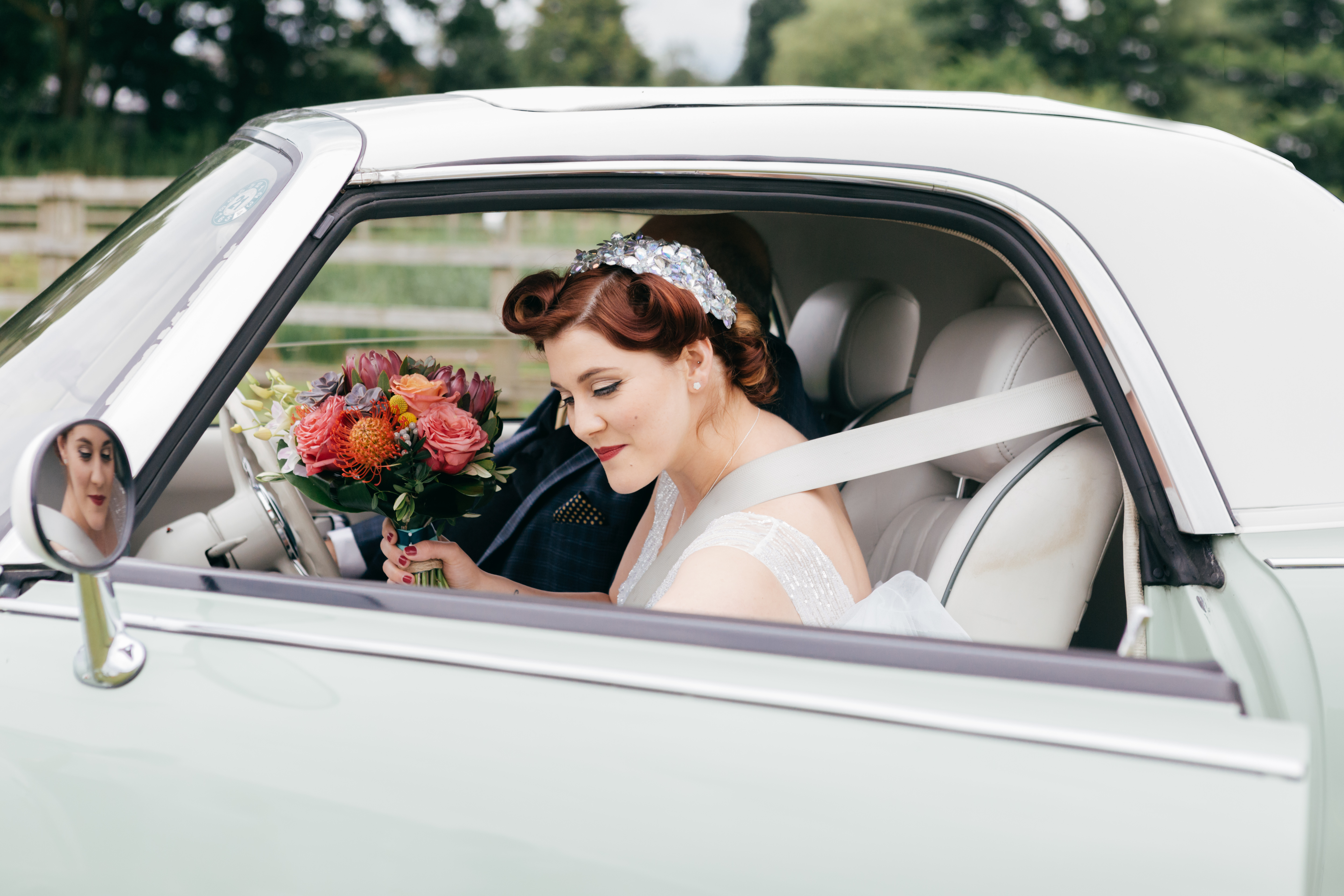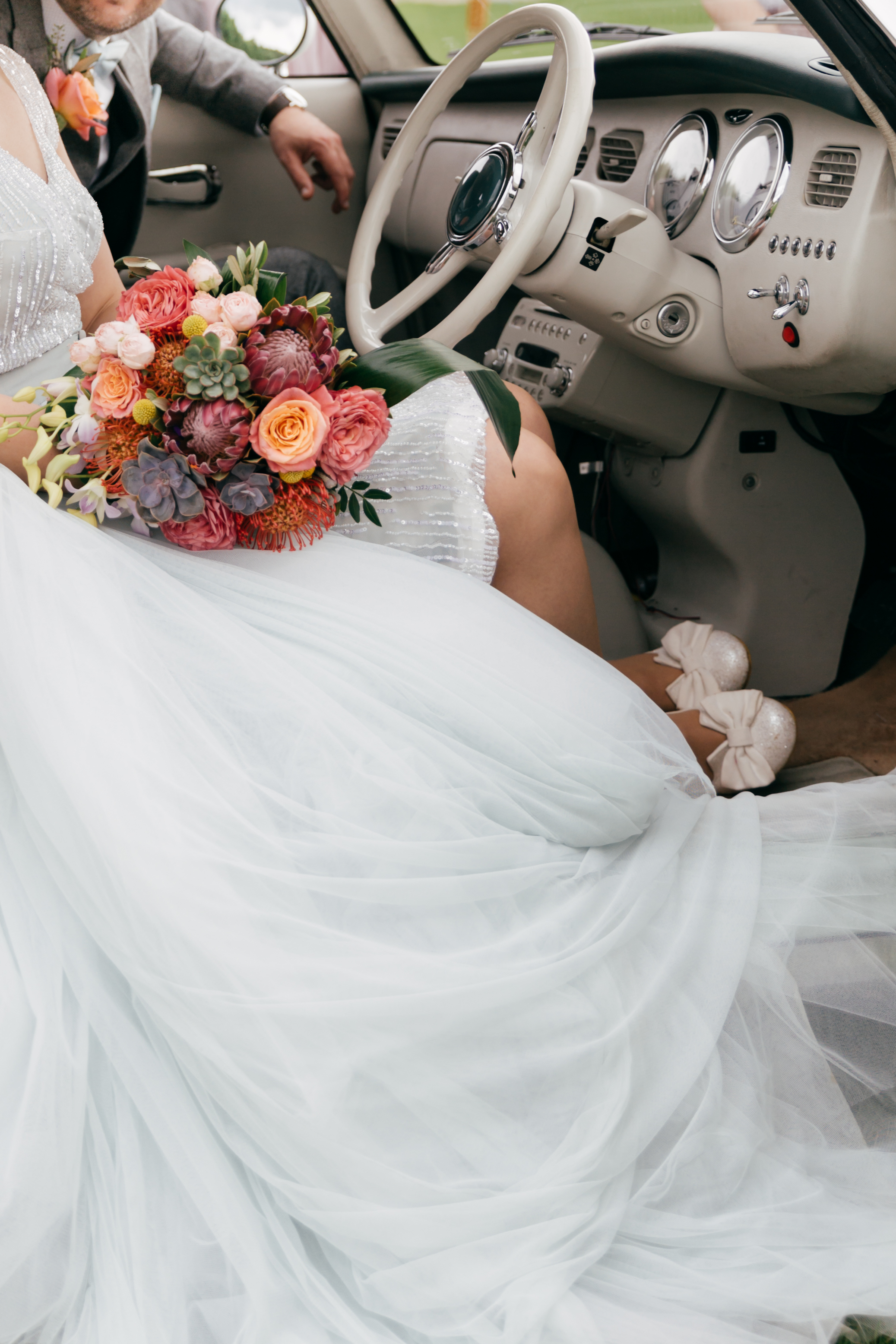 "We had discussed long before the proposal that neither of us wanted a traditional wedding and wanted an outdoor wedding with a marquee and camping. We stuck to that decision and luckily all our family and friends were on board. We planned everything ourselves, sharing the responsibility 50/50. We started off well, but as with the way life goes sometimes a lot of things went awry. We're lucky to have a number of fantastically talented friends who helped to bring everything together and make a truly memorable day."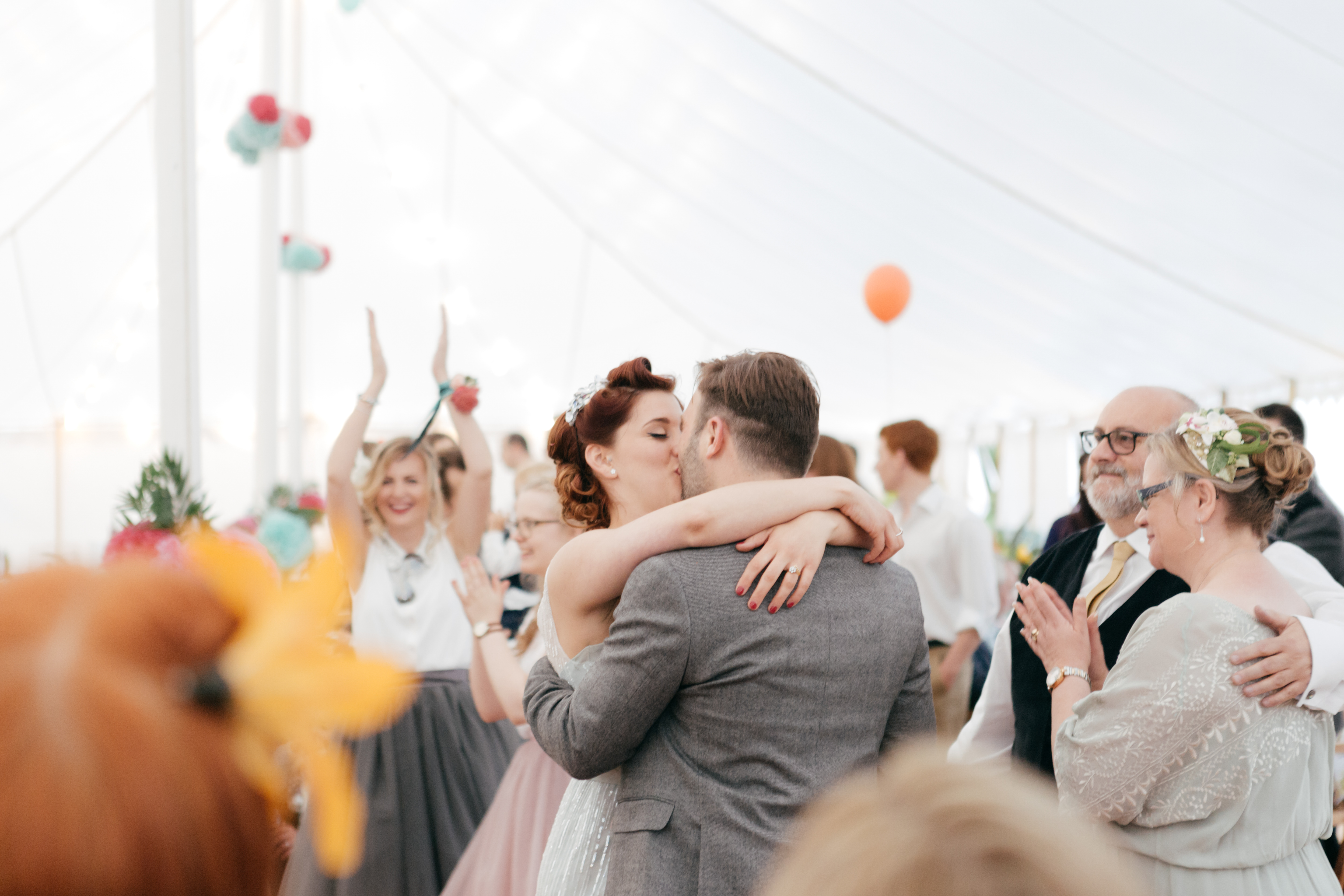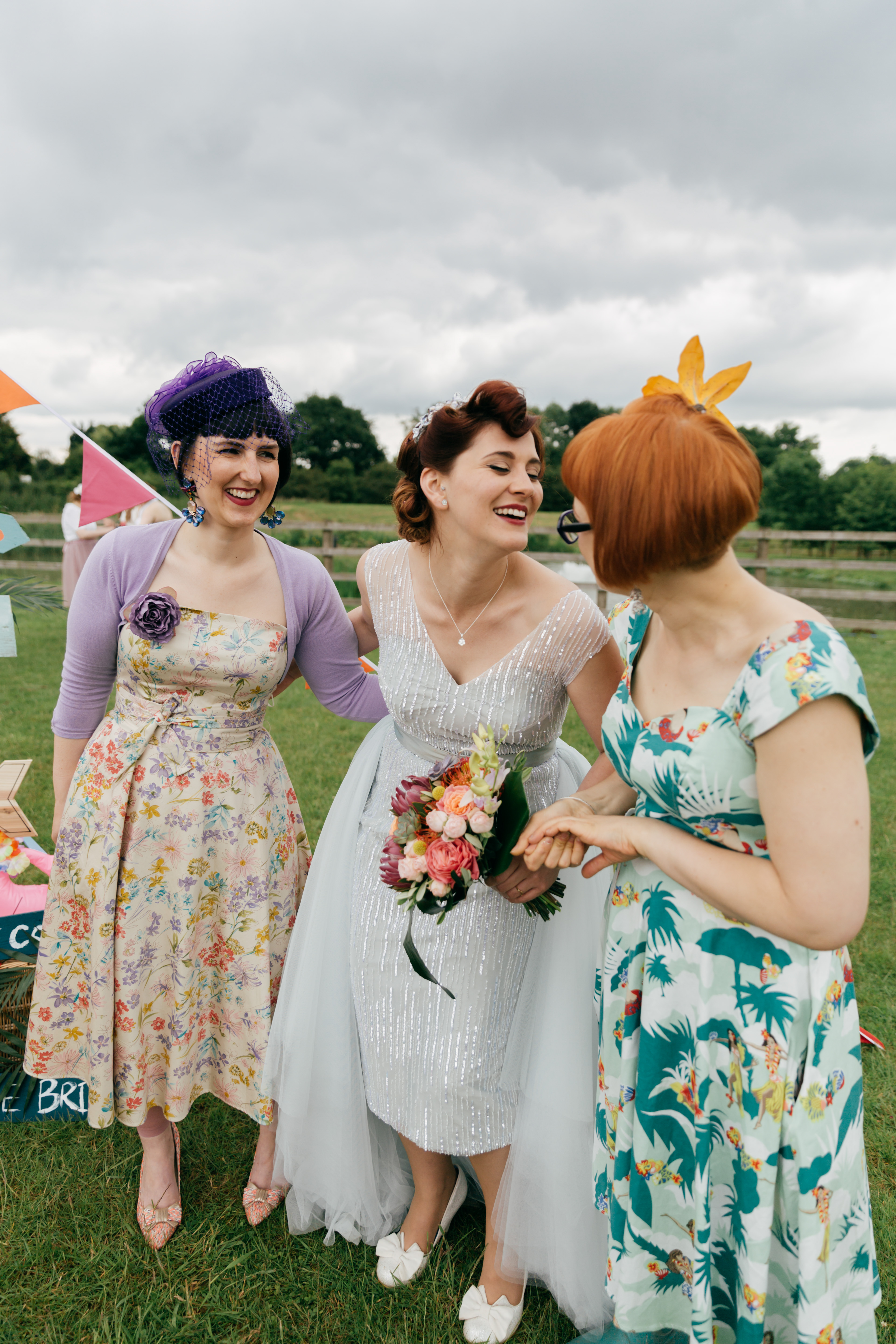 "The theme of the wedding started off with an amazing Flamingo bag by Kate Spade. As the planning went on it developed into a Vintage Hawaii theme as we'd booked to go there for part of our honeymoon. I bought some Vintage postcards from Hawaii to use for the seating plan and all our flowers were bright, tropical and stunning. My husband built the bars himself and we painted bright and bold signs to go around the site with flamingos dotted here and there."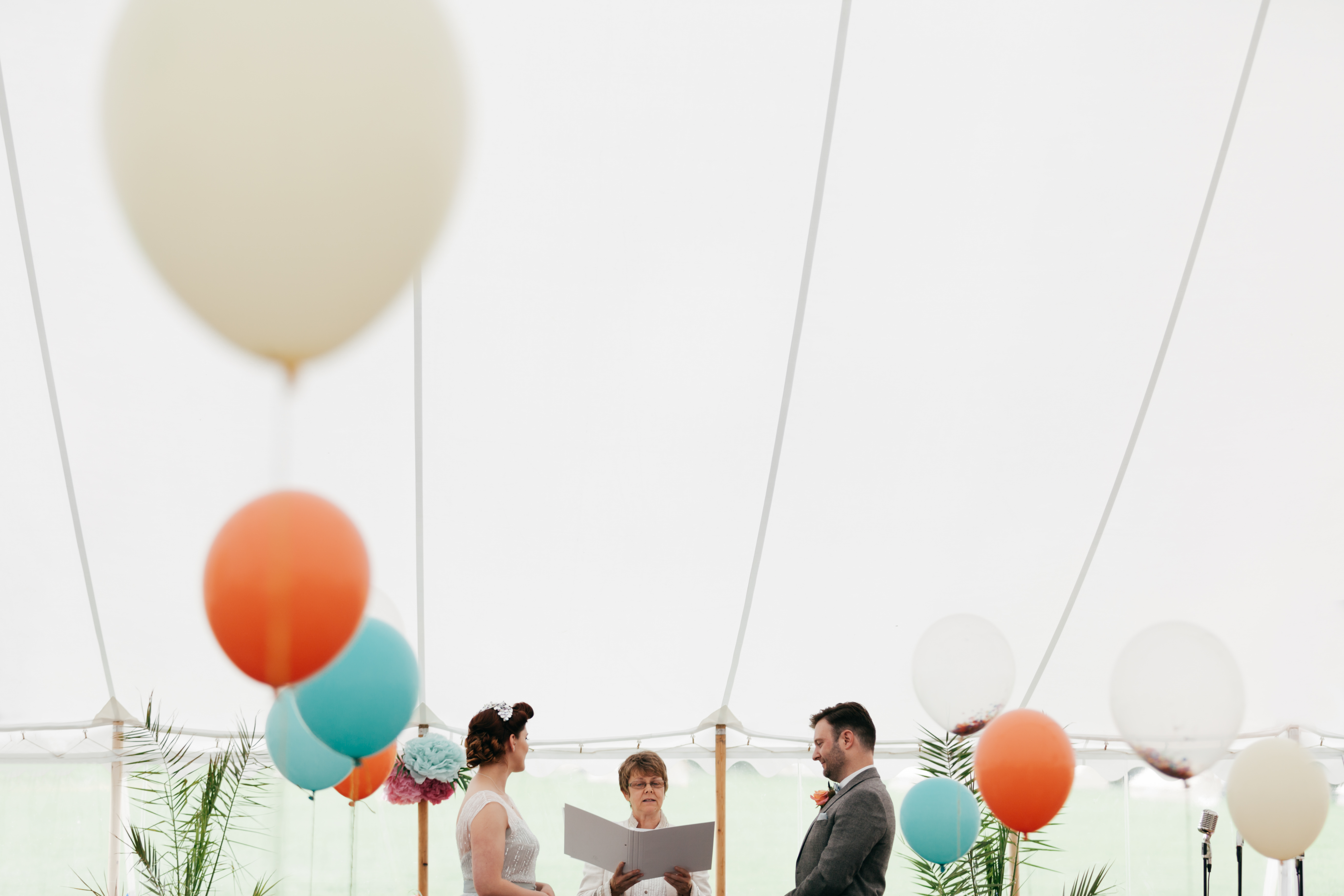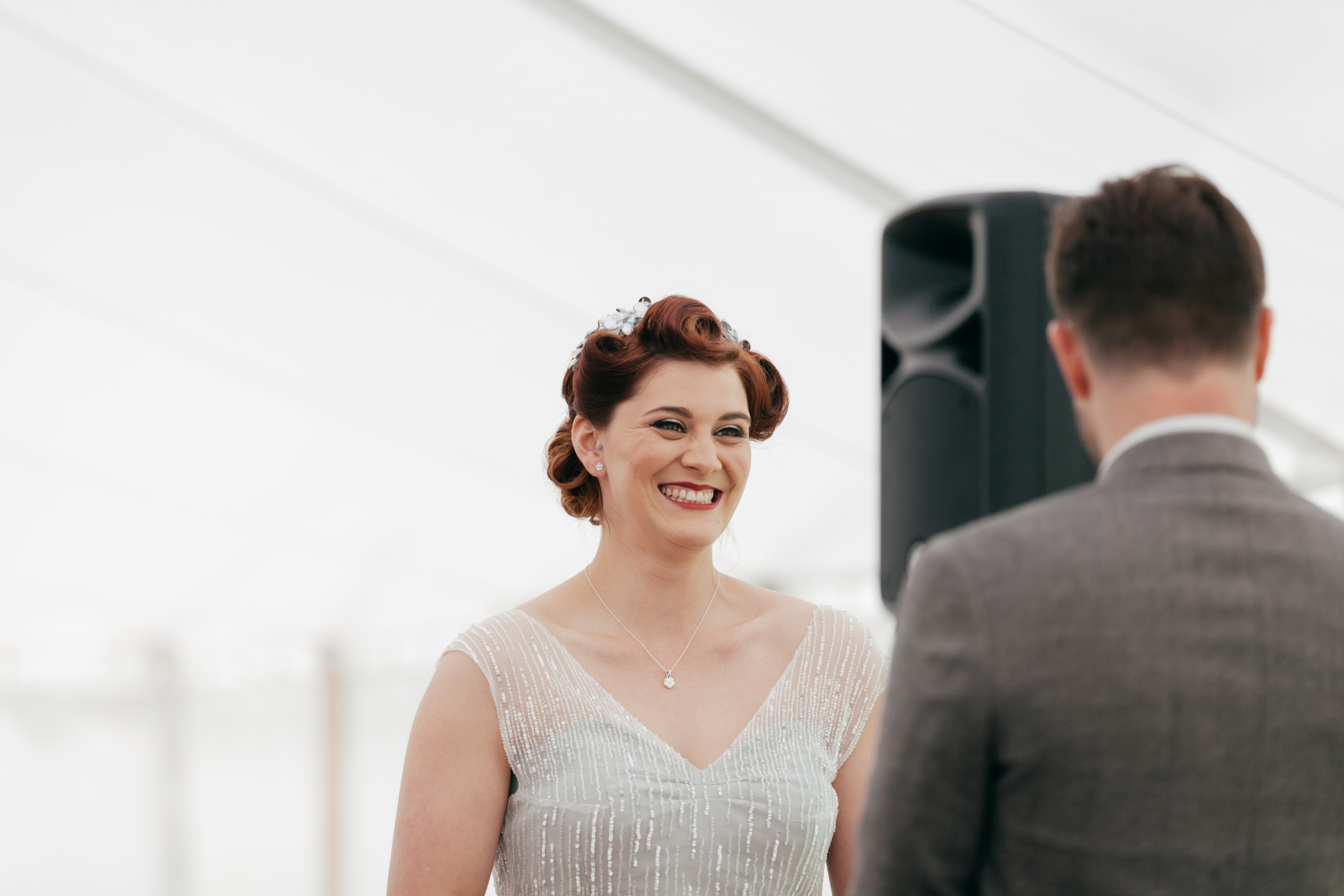 "We didn't want a venue that had any restrictions on finish time or food and drinks so we choose to hire a field just south of Oxford. Cortina who owned Springfield Lake was so lovely and excited about our wedding that she won me over and we booked the venue. The site was amazing and offered a Shepherds Hut as the Bridal Suite. Unfortunately two days before we were due to install the marquee we had torrential rain and the whole site was flooded (something Cortina hadn't seen in the years she'd owned the property). Luckily we got the marquee up but it was full of massive puddles and the Shepherd Hut had to be moved because it was sinking in the mud! It proved a bit of a nightmare for theming, que me being super stressed and having to change the whole seating plan 2 days before the wedding…Fortunately we have amazing friends and family and everyone who'd booked camping, chipped in and helped us make sure everything was ready in time."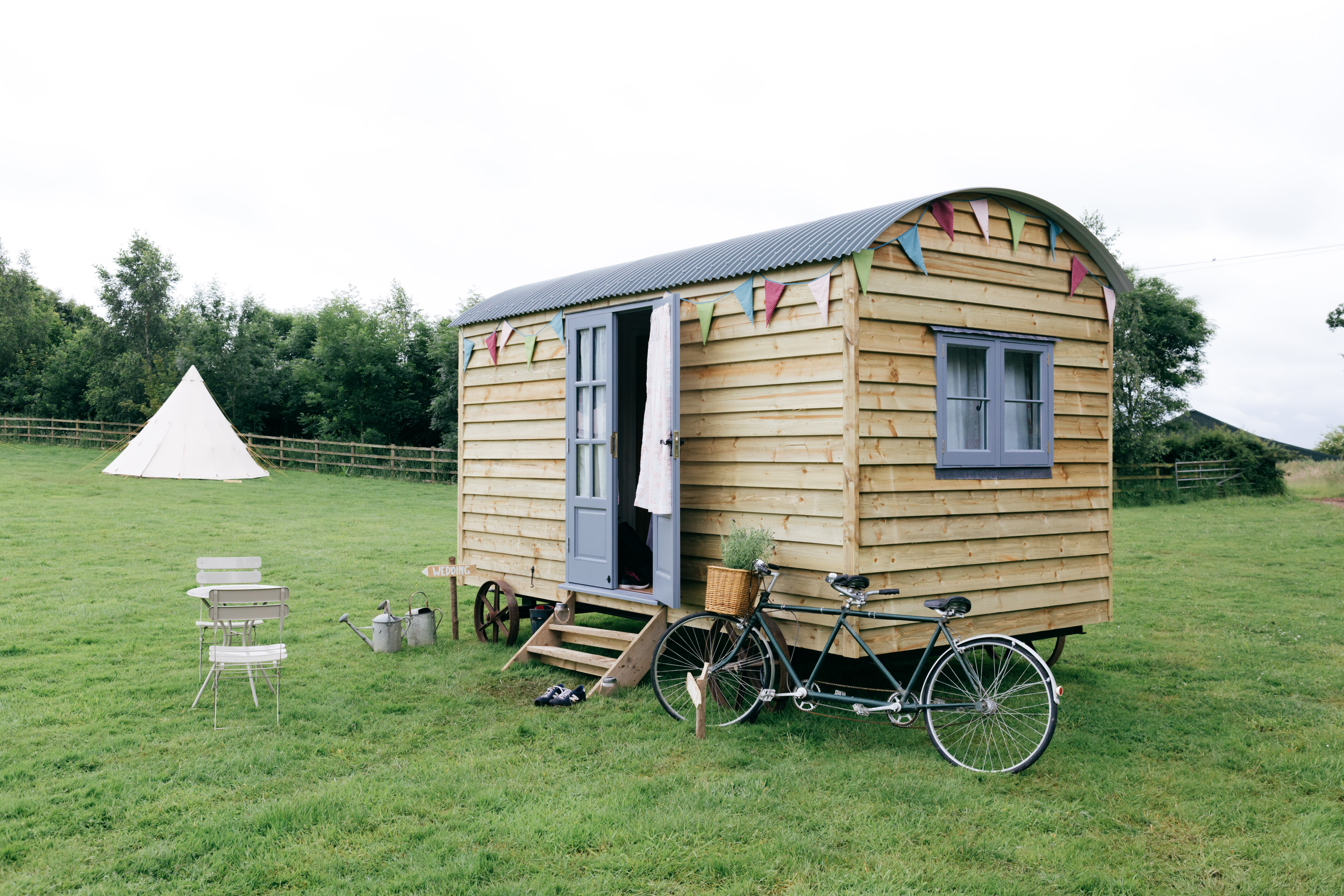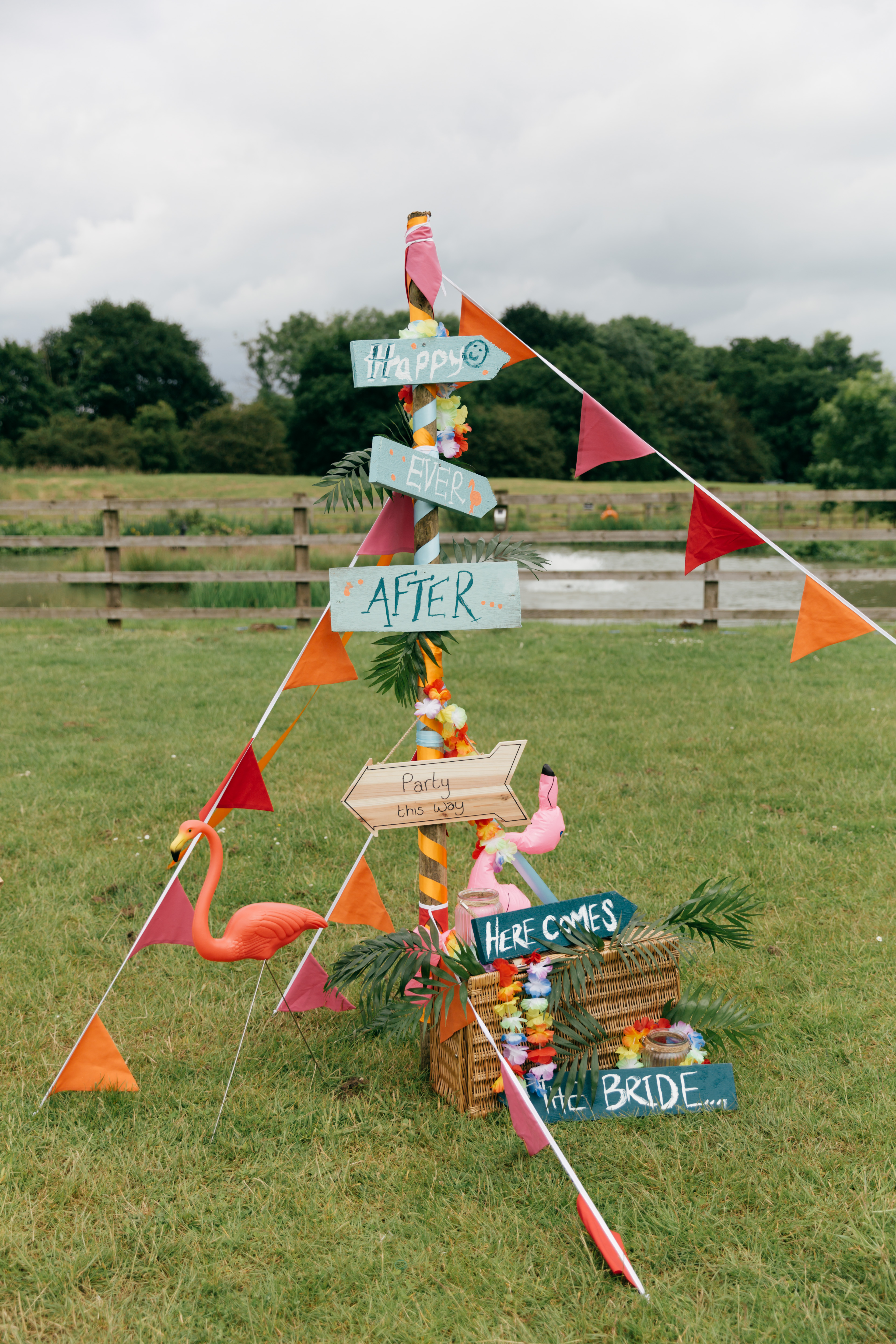 "I've made Costumes and Bridal Wear for over 10 years and knew it was going to be a challenge to find a dress for my budget that I was happy with (I really didn't want to wear white)! The only way I was going to get what I wanted was to make my own. After spending hours in a London silk shop pinning fabric around myself I finally found the fabric. I designed the dress with food and dancing in mind. It was comfortable and the train at the back could be removed so I wasn't tripping over it whilst boogying to the Polkadots."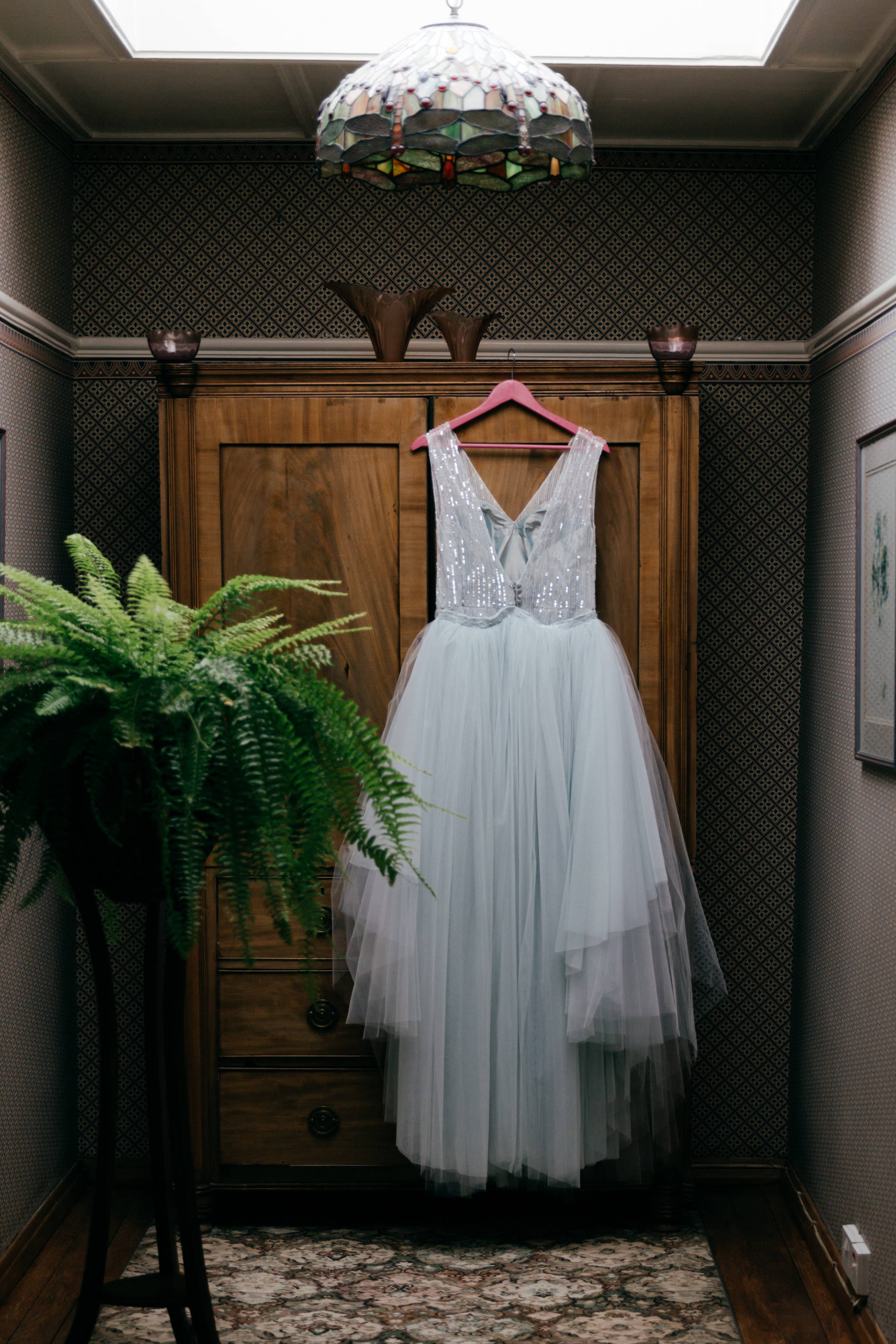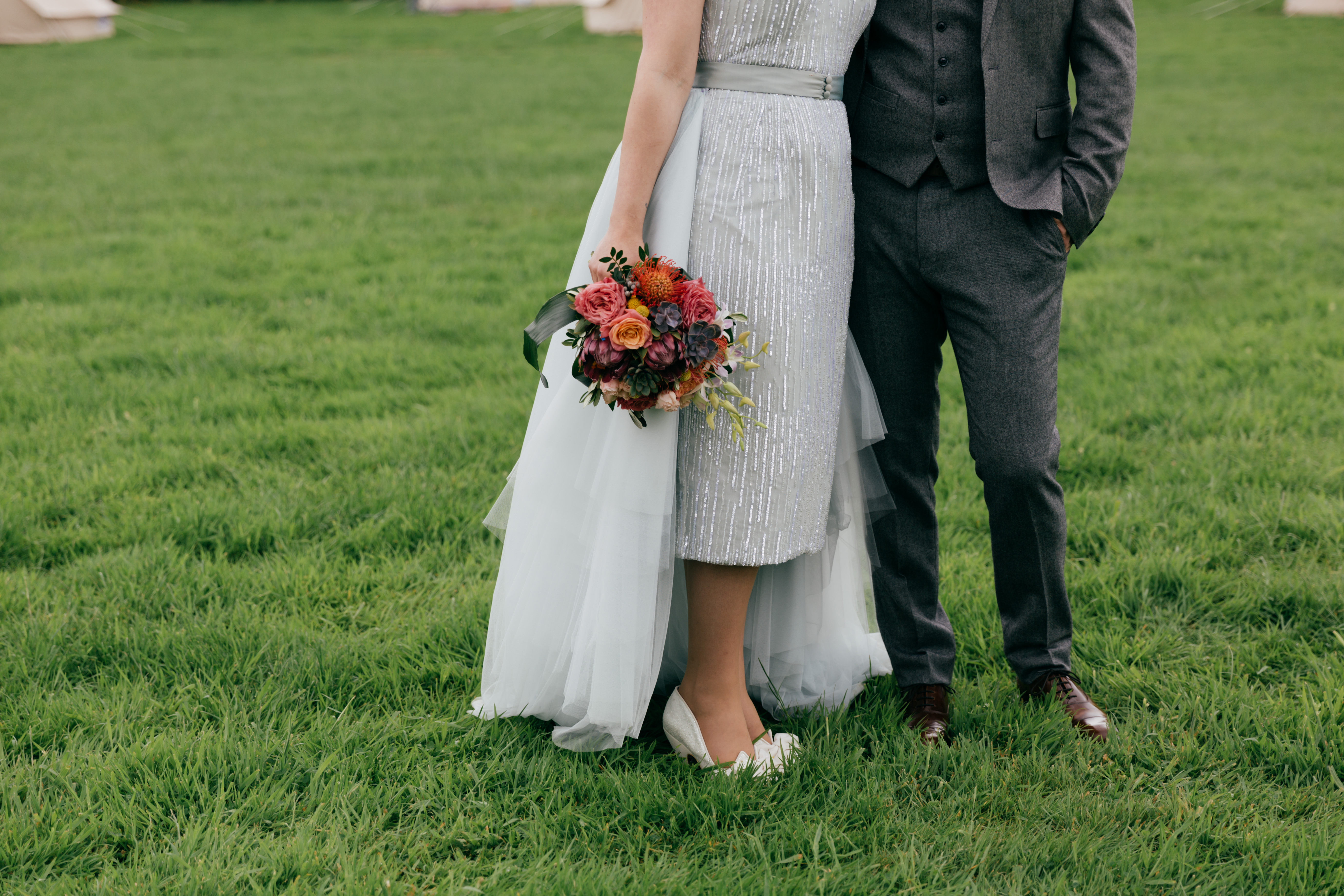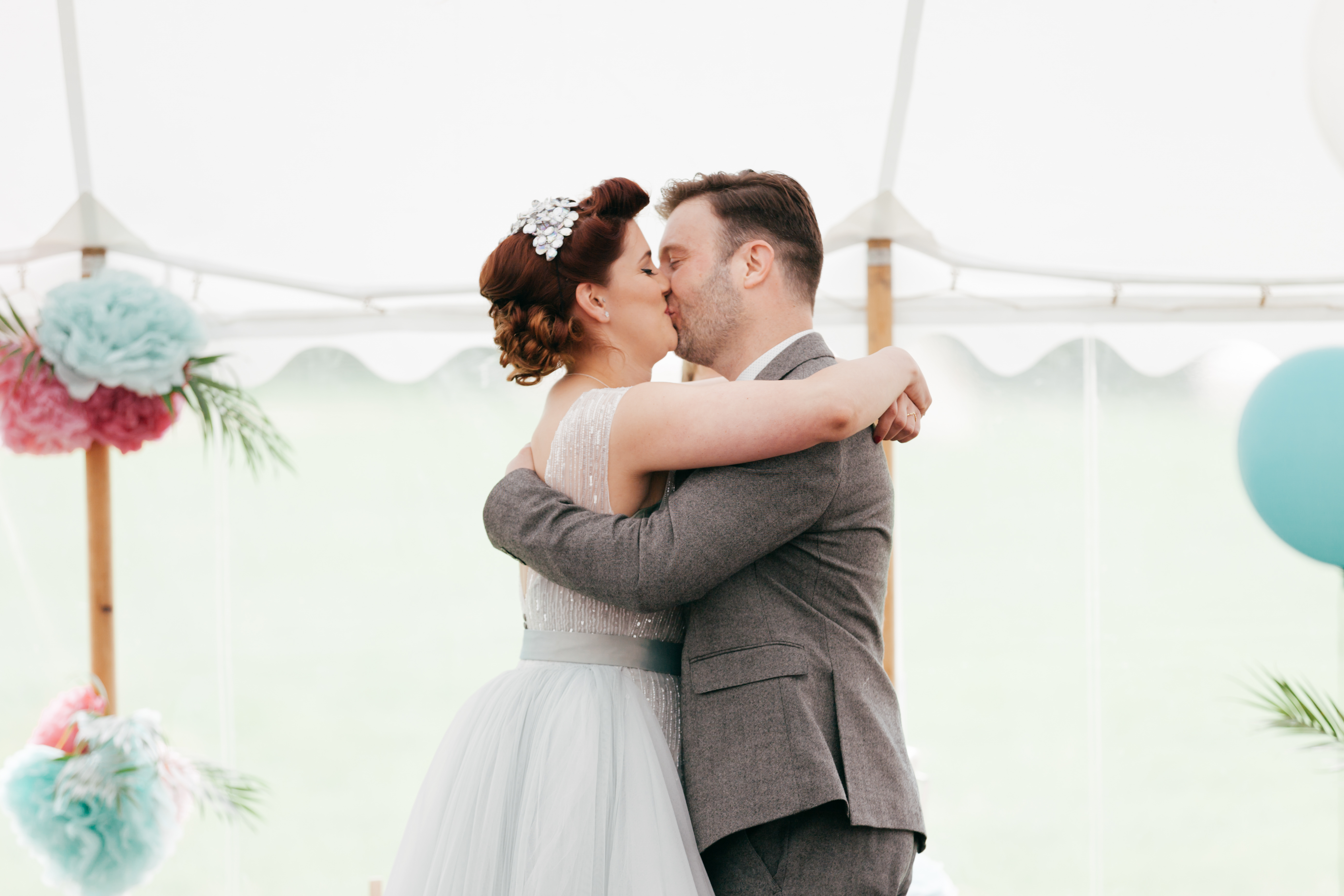 "Nigel wears a suit for work every day so wanted to find something a bit different. We bought it about two weeks before the wedding (gulp) because he couldn't find anything unique that he liked, we finally found a 3 piece in Marks and Spencers. I bought him some Hugo Boss cuff links as a wedding gift. His groomsmen wore matching bow ties and waistcoats.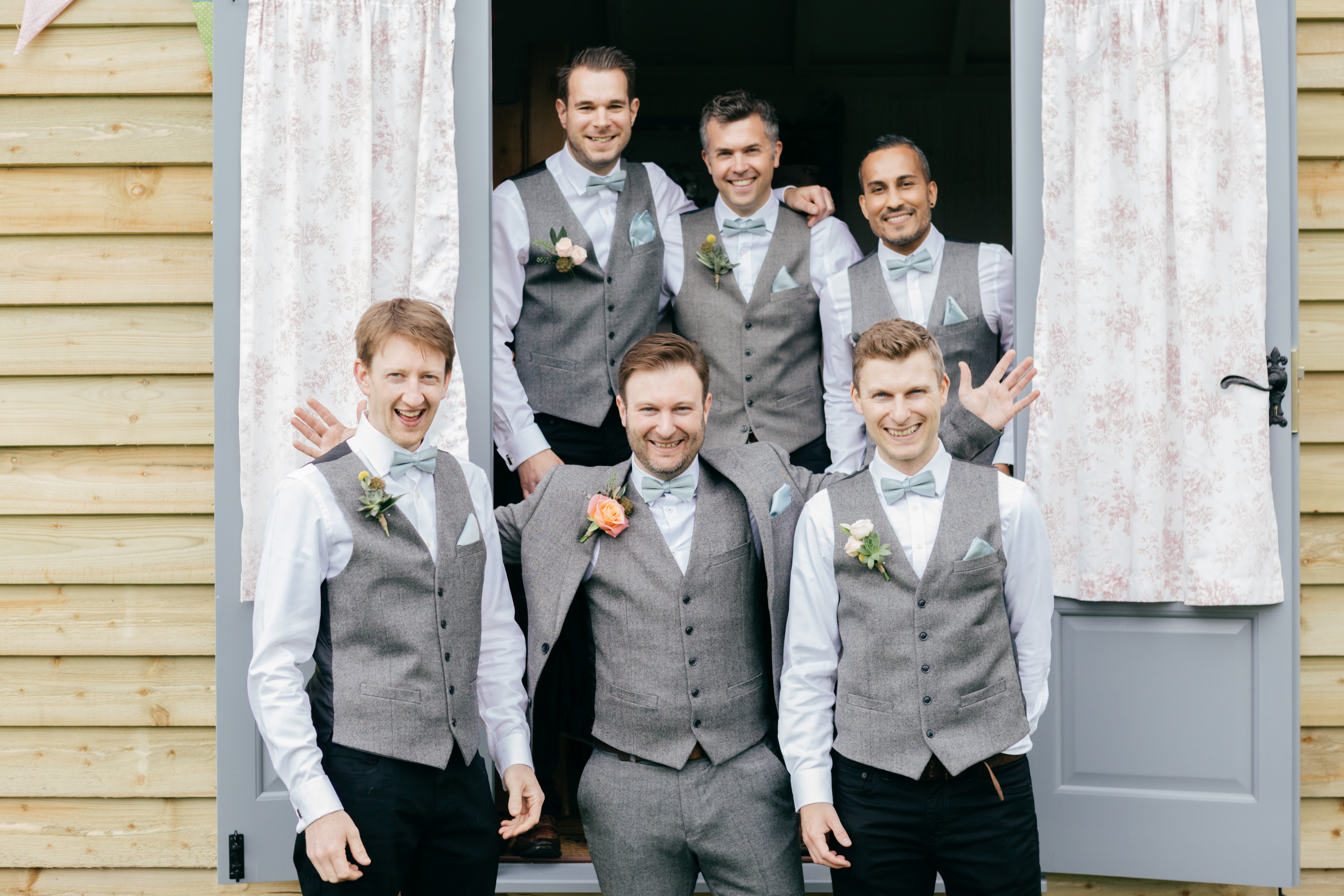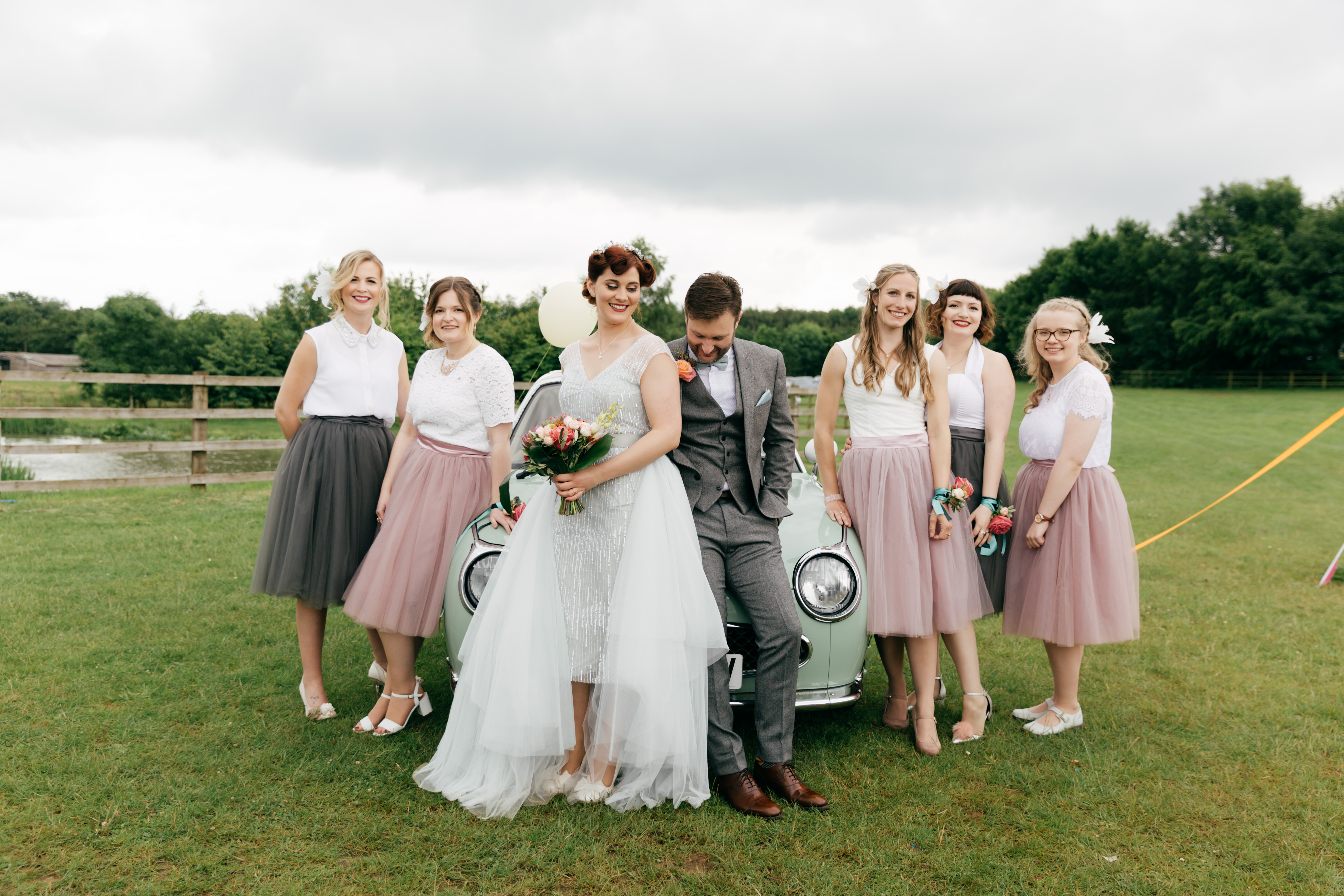 "I really wanted to make sure the bridesmaids were all comfortable and happy in what they were wearing and checked with them every step of the way. I choose two different coloured tulle skirts and asked them to choose their own tops. Their hair accessories were made my talented friend Stacey who also made my Vegas headpiece and my mums hair clip and they wore wrist corsages instead of carrying bouquets. "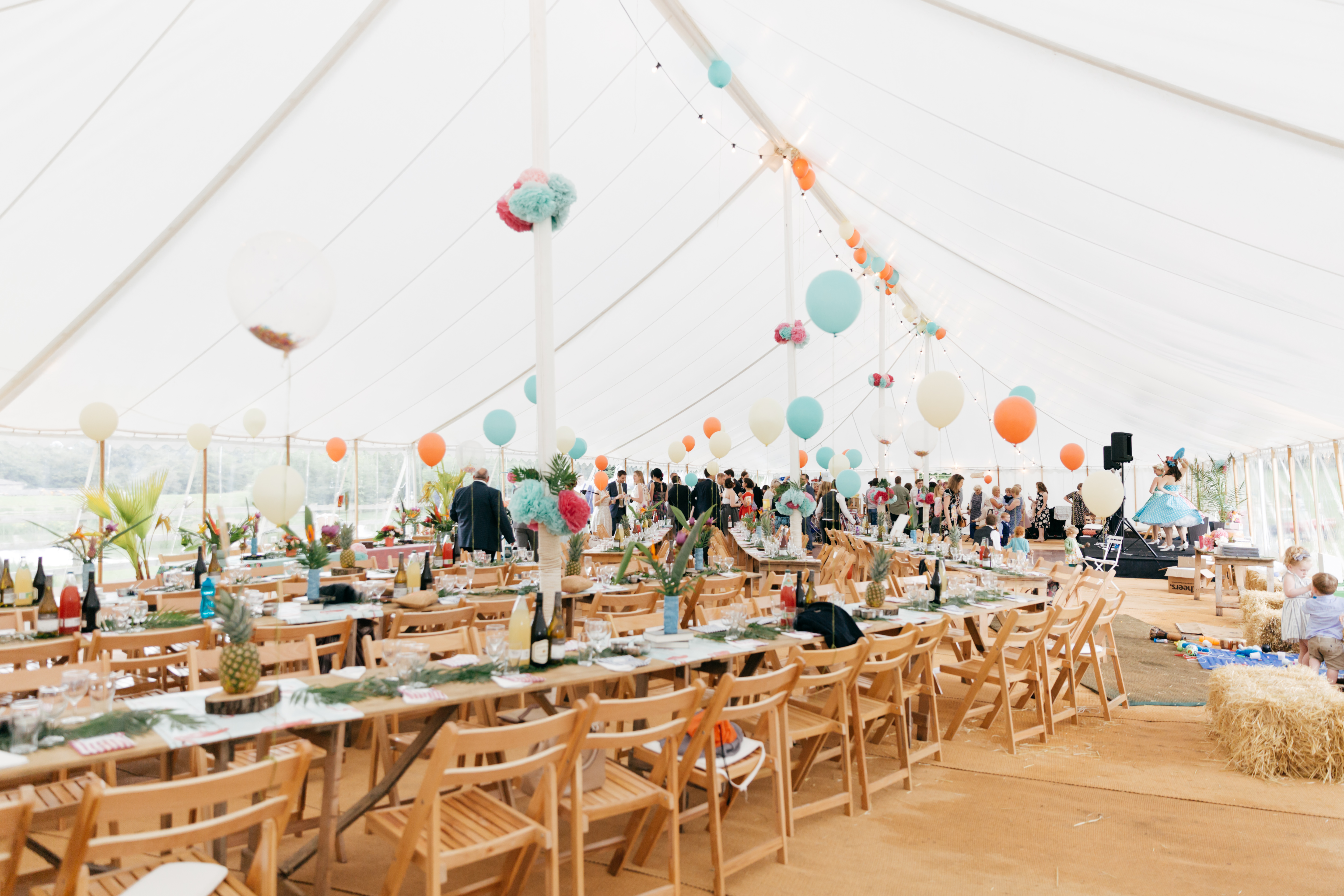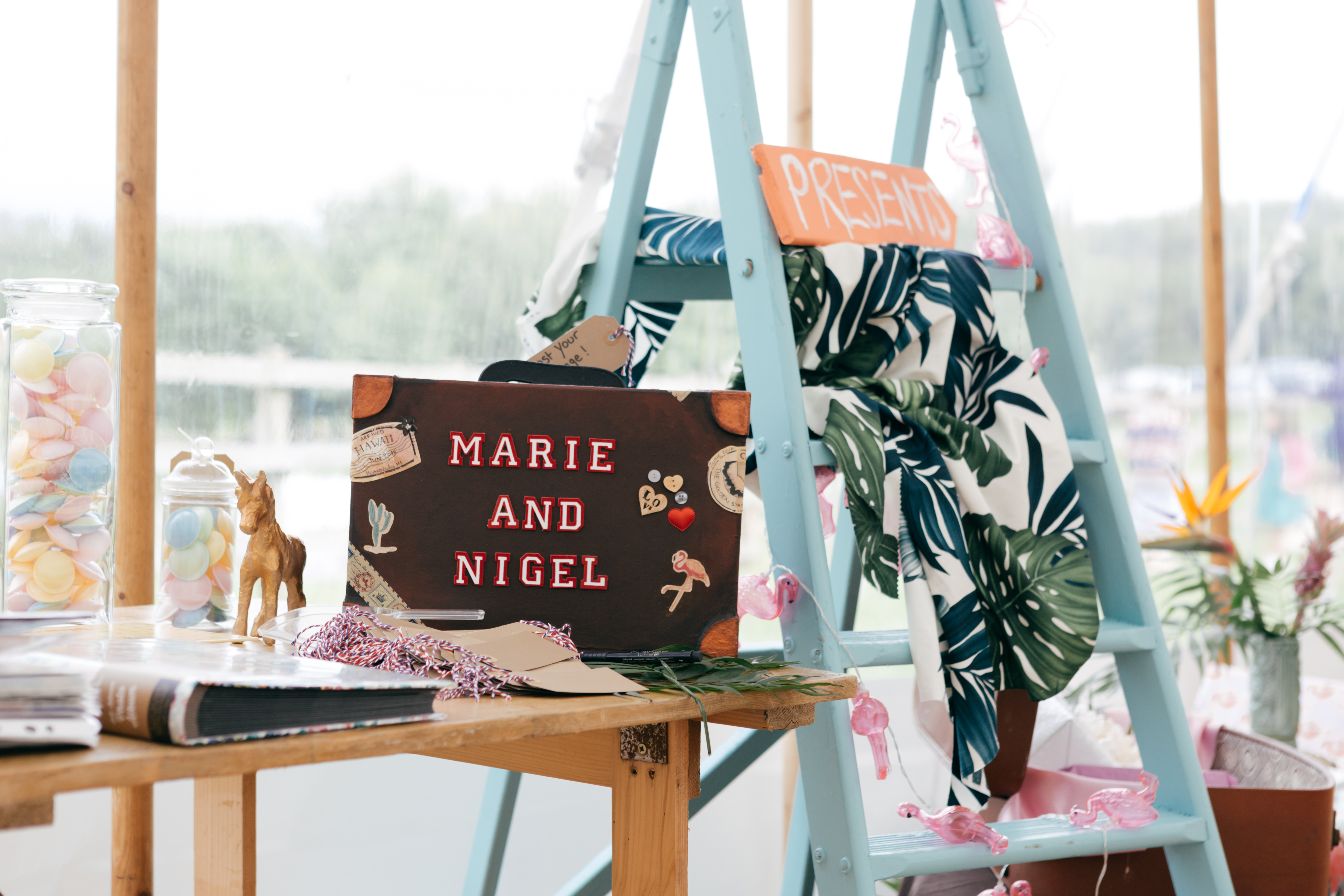 "Every little detail was DIY, it was fun and completely exhausting at the same time. We had to much support from talented friends and family that really made the whole day totally special.
The flowers were partly from a lovely flower shop in Reading and the rest I bought online from a wholesaler a few days before the wedding. My mum them spent the lead up to the wedding tending to them. I bought beautiful pink pineapple flowers and Birds of Paradise, along with bouquets of stunning tropical flowers."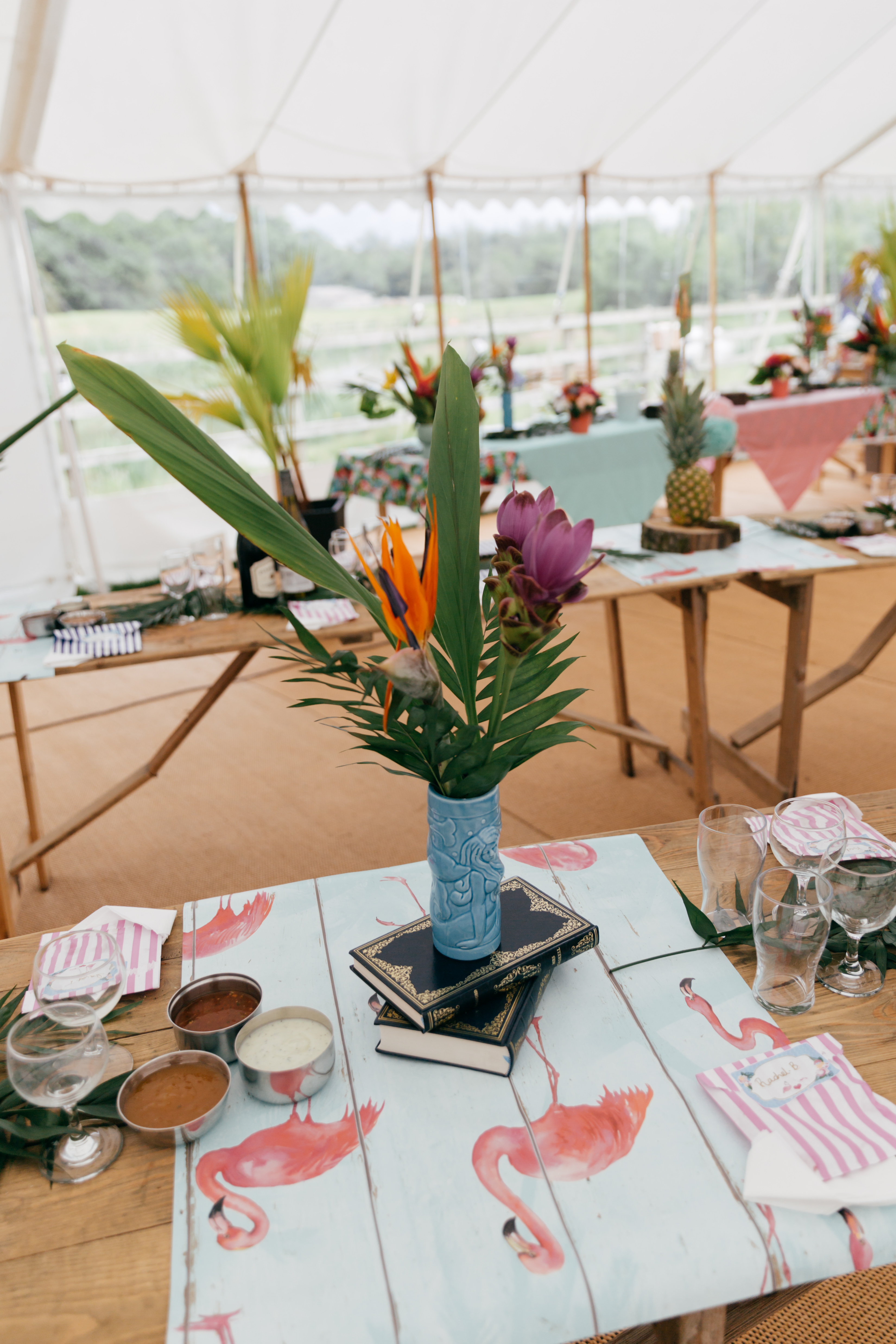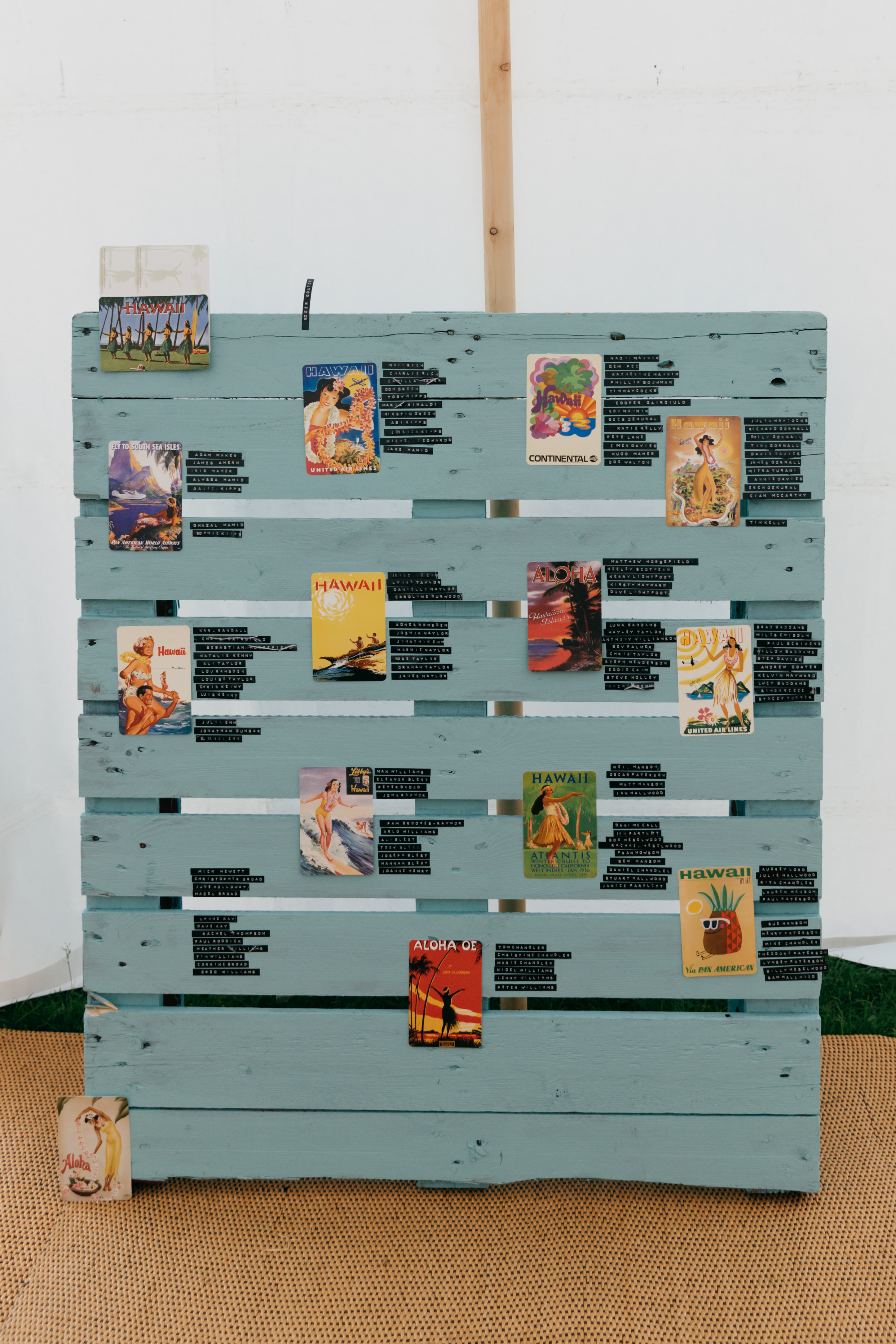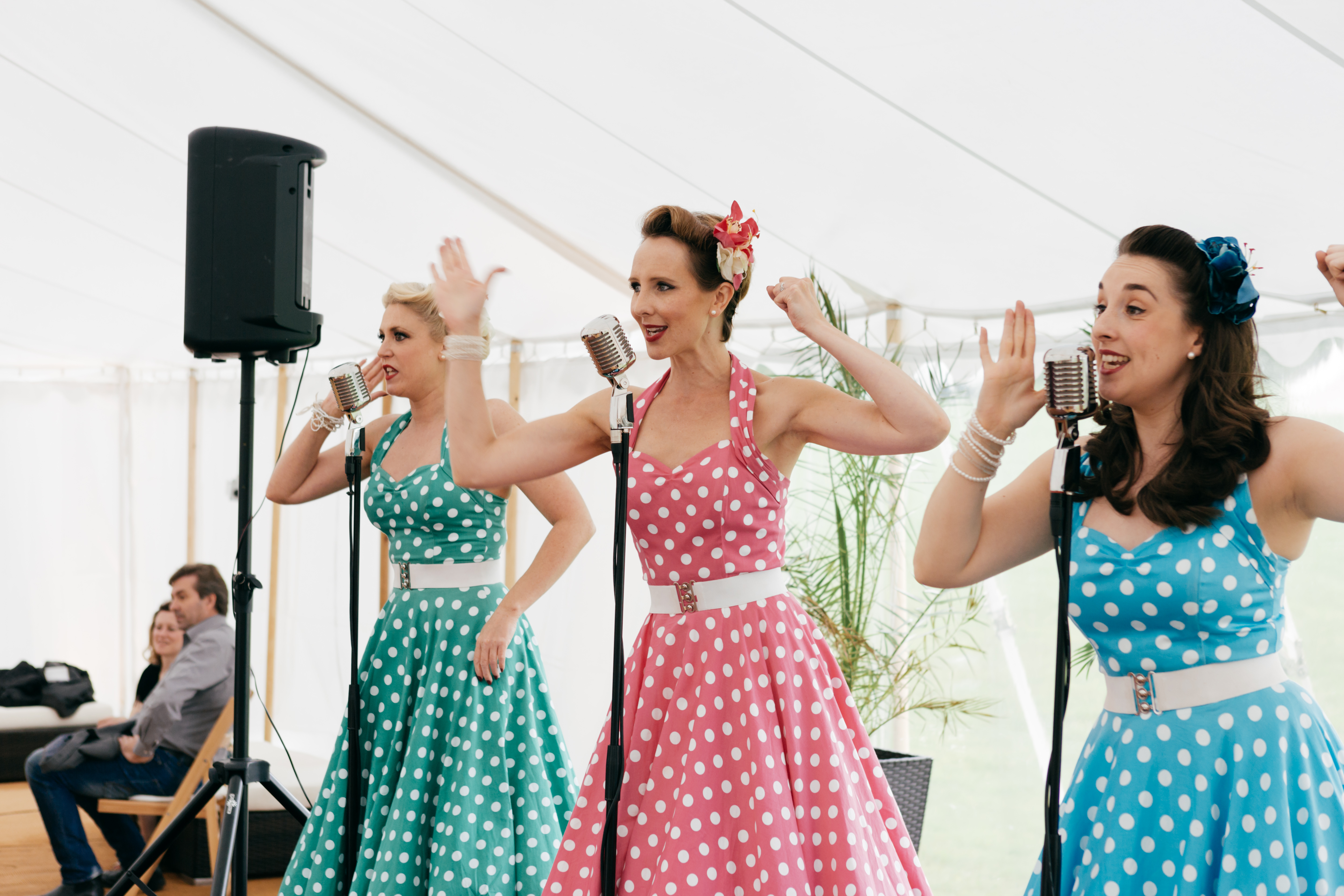 "The cake was made as a gift by my friends Mum and the cake toppers (Legoman and Wilma) by a friend of mine who works at Madame Tussauds. My beautiful wedding ring was custom made by Bloody Mary Metal and spells out 'REGARDS' in jewels (Ruby, Emerald, Garment, Amethyst, Ruby, Diamond, Sapphire) and is based on a Victorian tradition.
My amazing hair and make up was a wedding present from my friend Gemma which was an unbelievably generous gift!"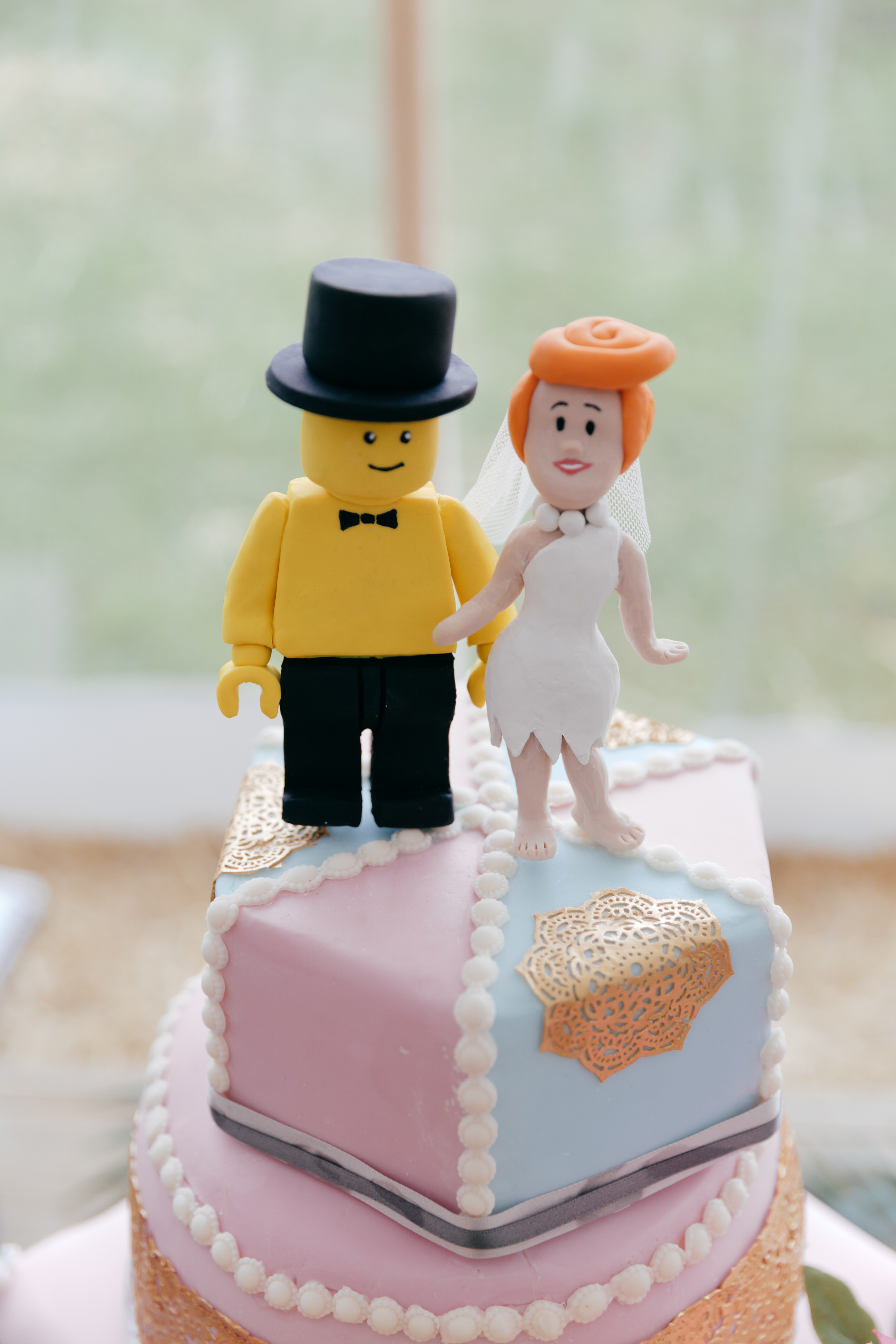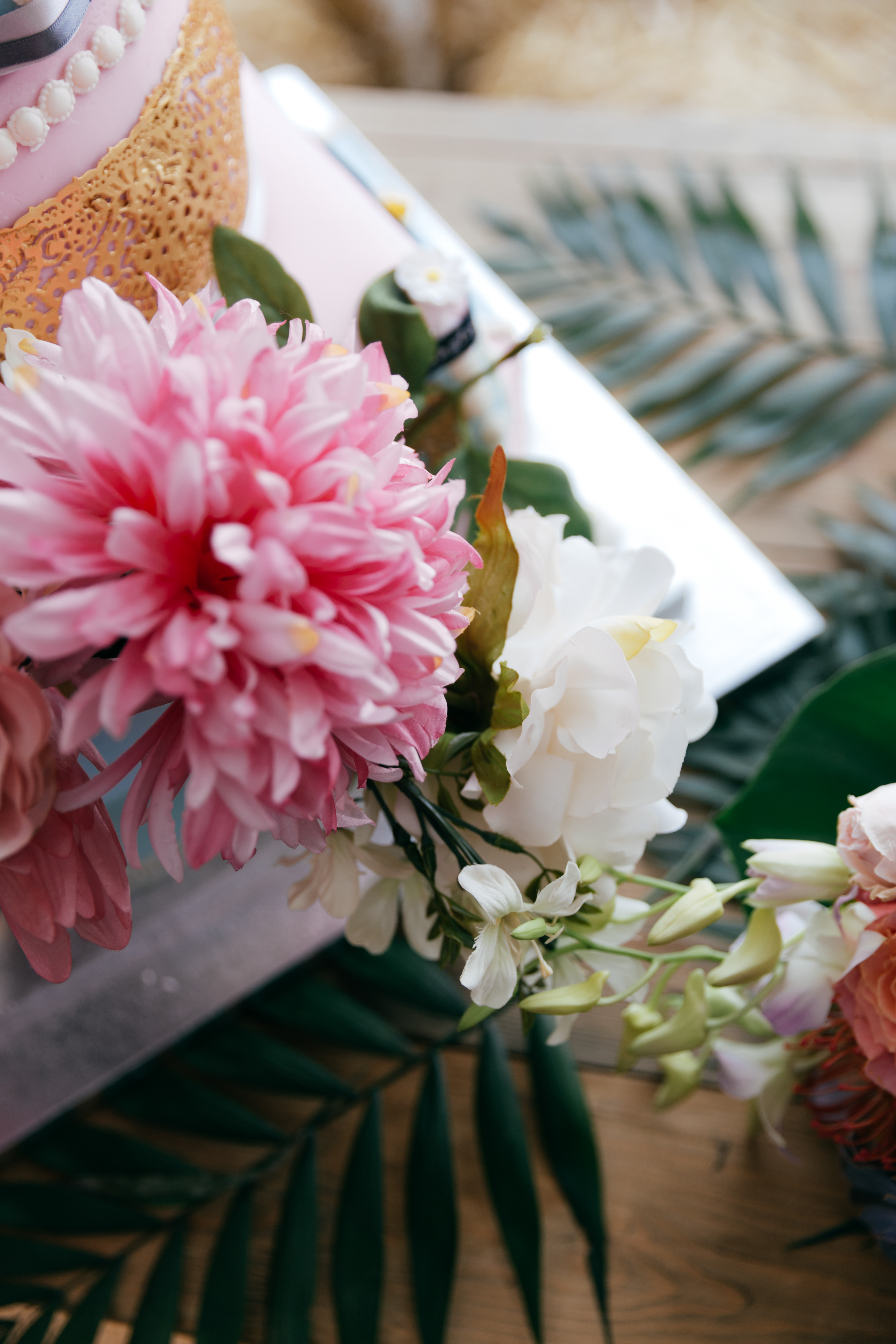 "The best part of the day was having so many of our friends and family come together. I loved looking back at the photos and our brilliantly hilarious wedding video and seeing our friends meeting for the first time and all getting on like a house on fire. The icing on the cake was that my Nanna and Gran both made it down, my family live over 200 miles away from the venue and they were both struggling with ill health at the time. They're such strong and inspiring women, one of my favourite photos from the day is a stunning black and white photo that Amber took of the three of us."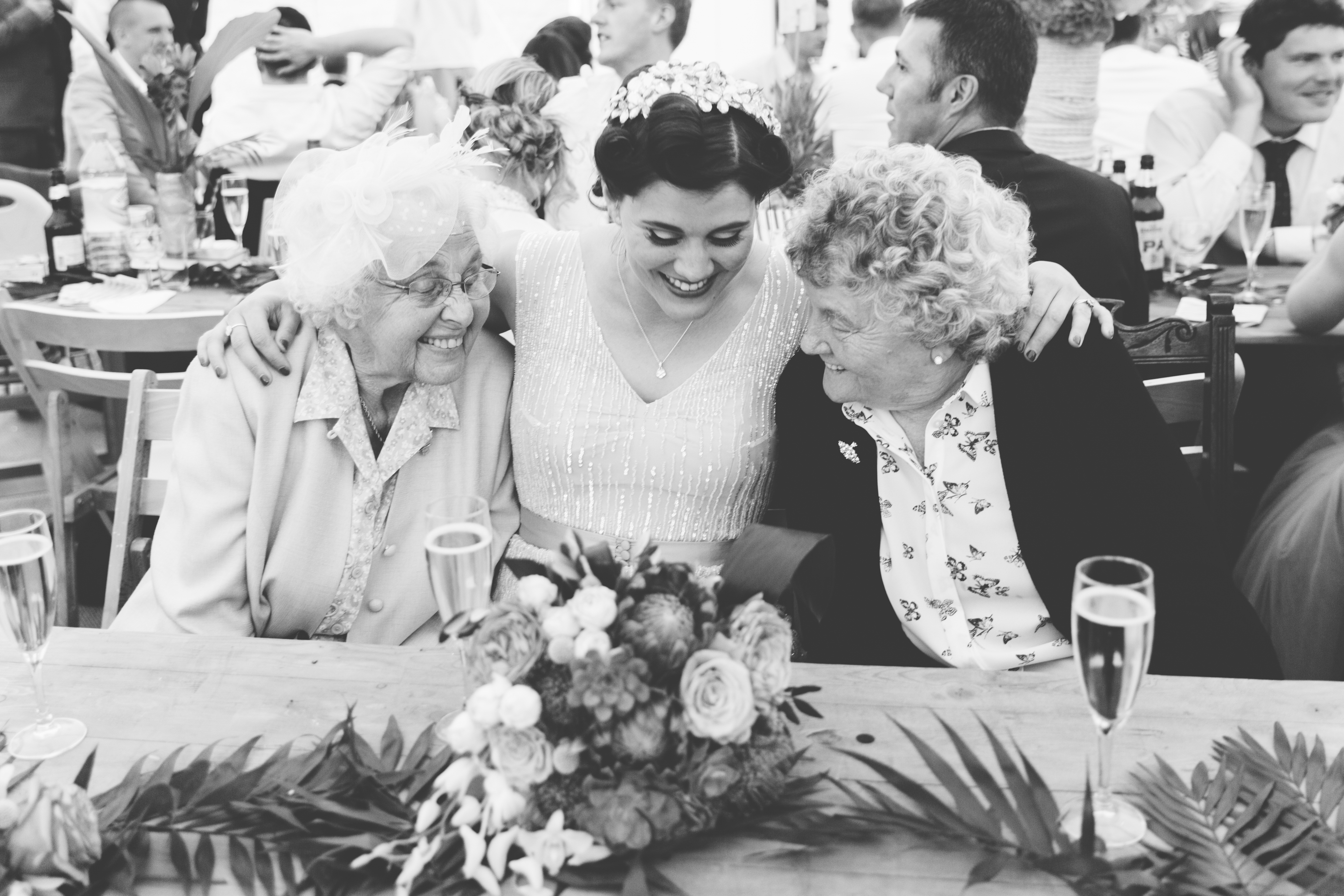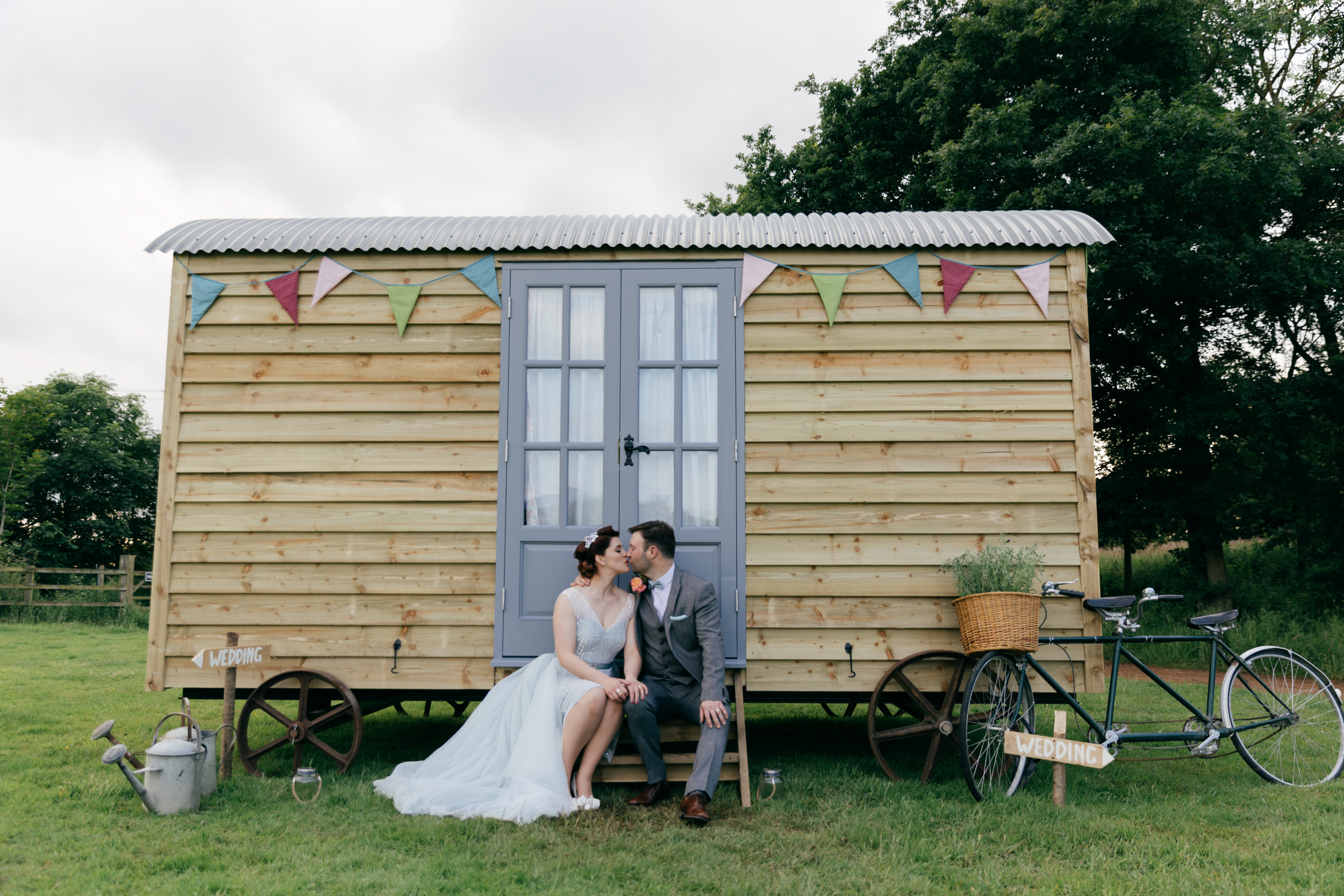 "Don't feel that you have to stick to traditions. Have male 'bridesmaids' if you have a guy best friend or female 'groomsmen' or don't have any at all! If you hate dancing, don't do a first dance (I wish we hadn't!). Do a speech together. Walk down the aisle on your own if you want (or walk together). So many people feel pressure to stick to wedding traditions but it's so important to just be happy and enjoy every minute of your day together."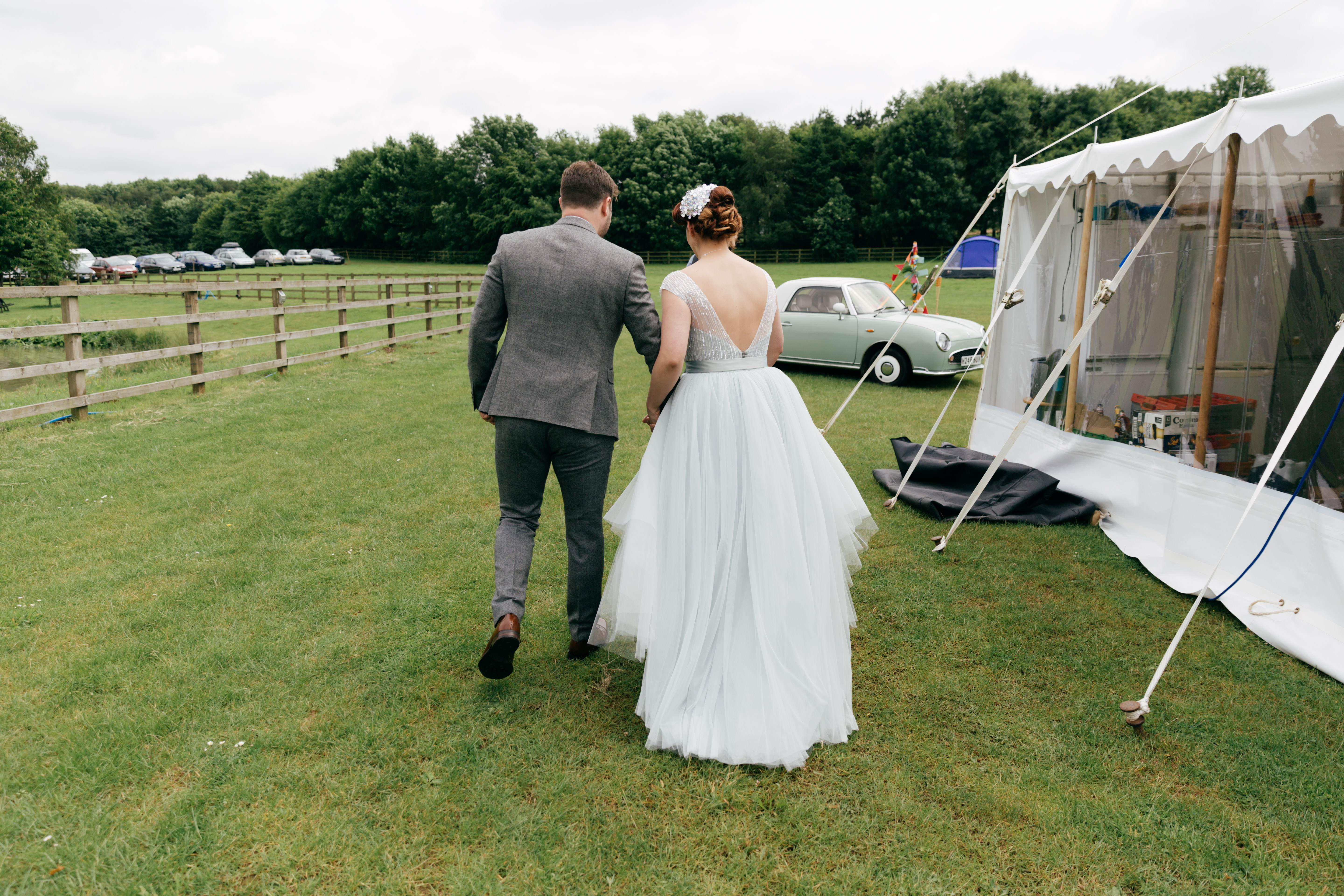 Suppliers:
Dress: Marie Chandler
Shoes: Irregular Choice
Accessories: Pearls and Wine
Bouquet: Sonning Flowers
Make up/Hair : Gem's Bridal Make Up
Grooms suit: Marks and Spencer
Bridesmaid dresses: Elsie's Attic
Venue: Springfield Lake Oxford
Photographer: Amber Marie Photography
Band: Polkadots
DJ: Mr Tunes Vintage DJ
Looking for more Vintage Wedding Inspiration? Check out our 1940's Vintage Tea Party Wedding