Intimate micro wedding vibes with today's couple Doctors Rob and Charli, with what would have originally have been a 100+ wedding and with challenge after challenge, ultimately ended with the day they wanted surrounded by their 'ride or die' loved ones! They married at Cambridge Register Office in September 2020, and held their socially distanced reception in the beautiful Cambridge University Arms Hotel. We catch up with Charli to find out about the beach proposal, planning a restricted micro wedding, and hear about their favourite moments of the big day…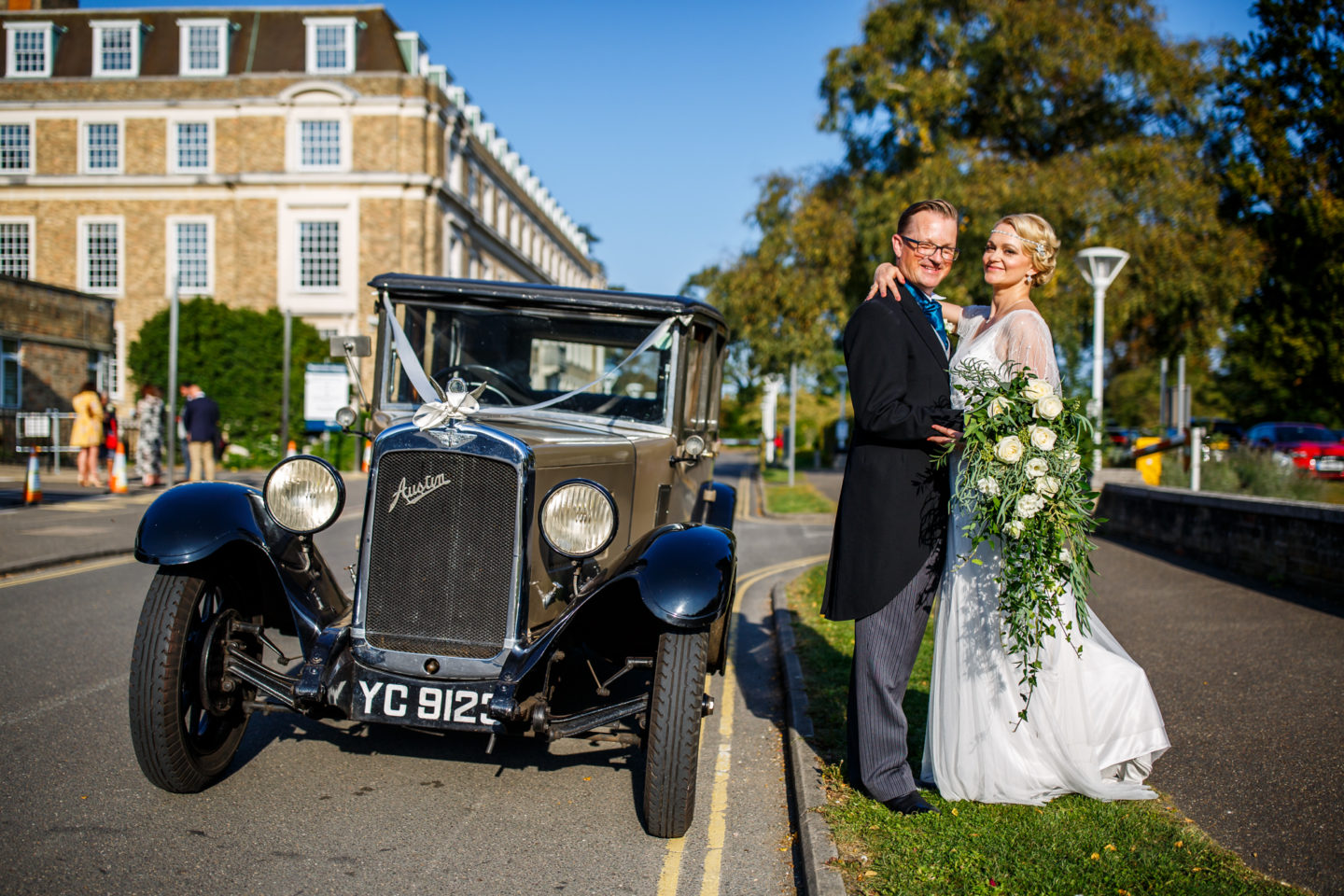 How Did You Meet?
"We met while working at a start-up company in Cambridge. The late nights and shared focus kindled more than a successful business!"
The Proposal
"We were in the Maldives, it was my birthday so we booked a private Manta Ray snorkling tour, followed by lunch on a private island. When we got to the island, I was setting up lunch and Rob was on the other side of the island scratching something in the sand. Then I heard music, and he called me over. He had written WILL YOU MARRY ME? In the sand, and the dot on the ? was a speaker playing our song, with my engagement ring (that I thought was in my drawer at home, as we had bought it before) on top of the speaker. So with the sun beating down, and the sound of the waves, I said Yes to the rest of my life"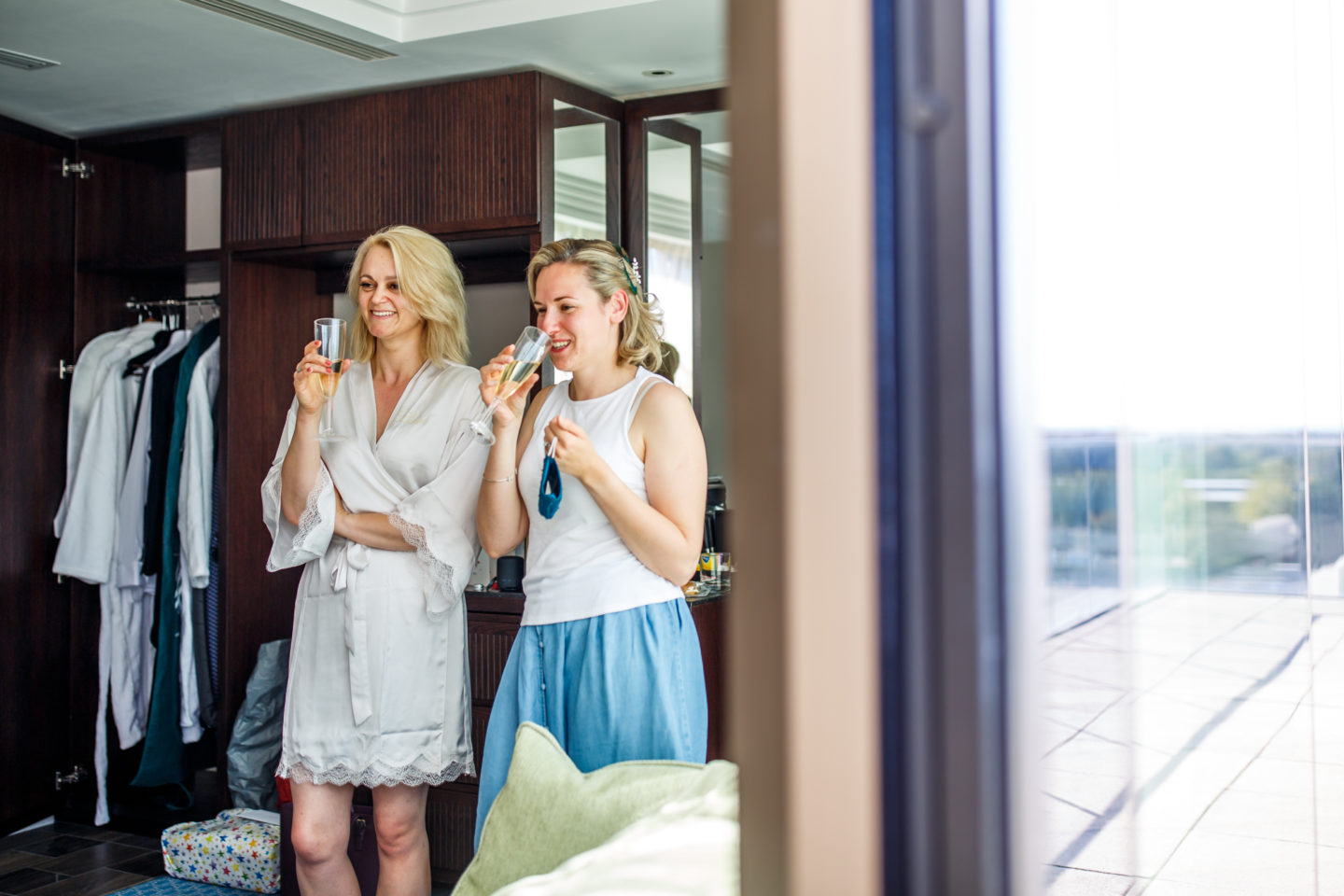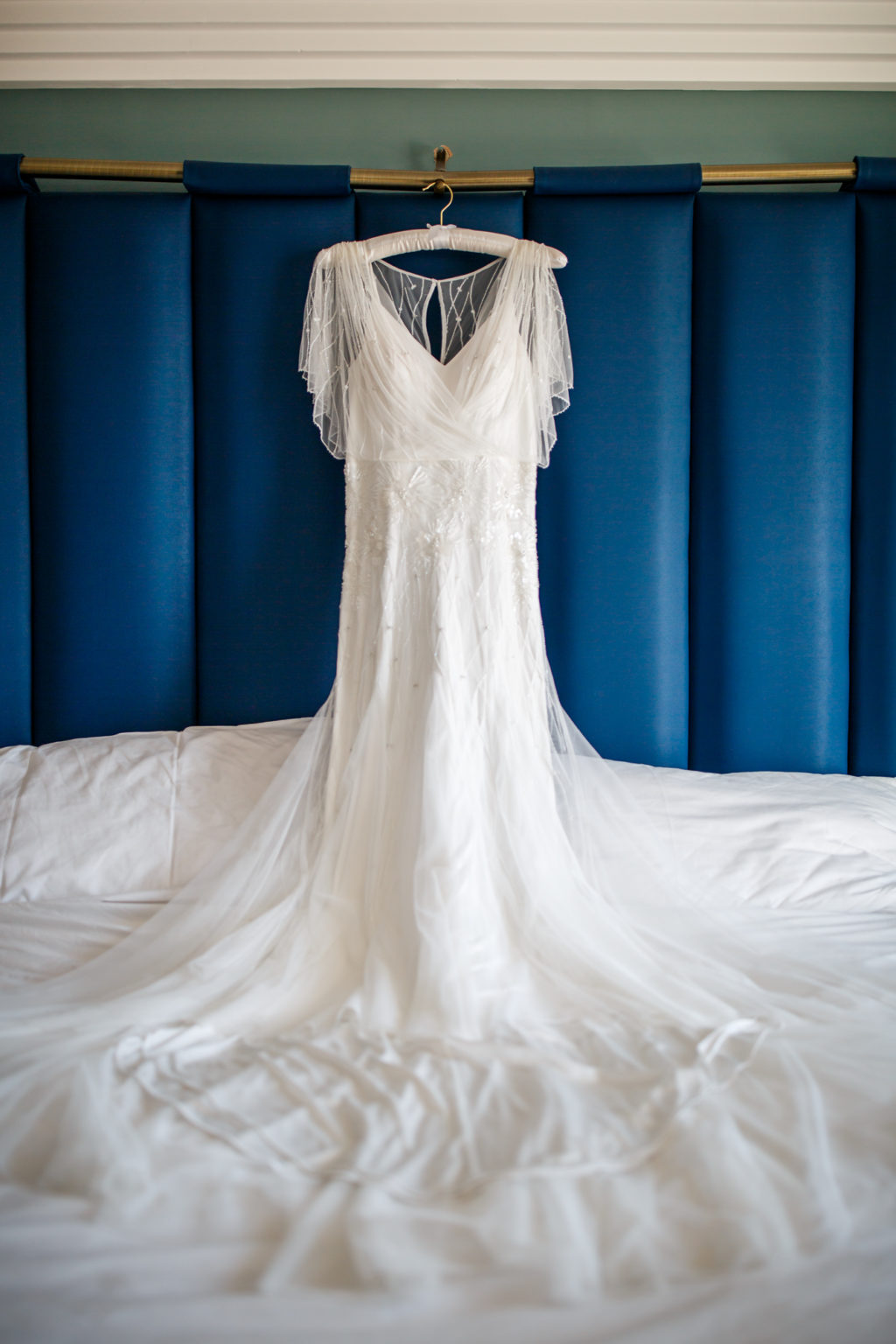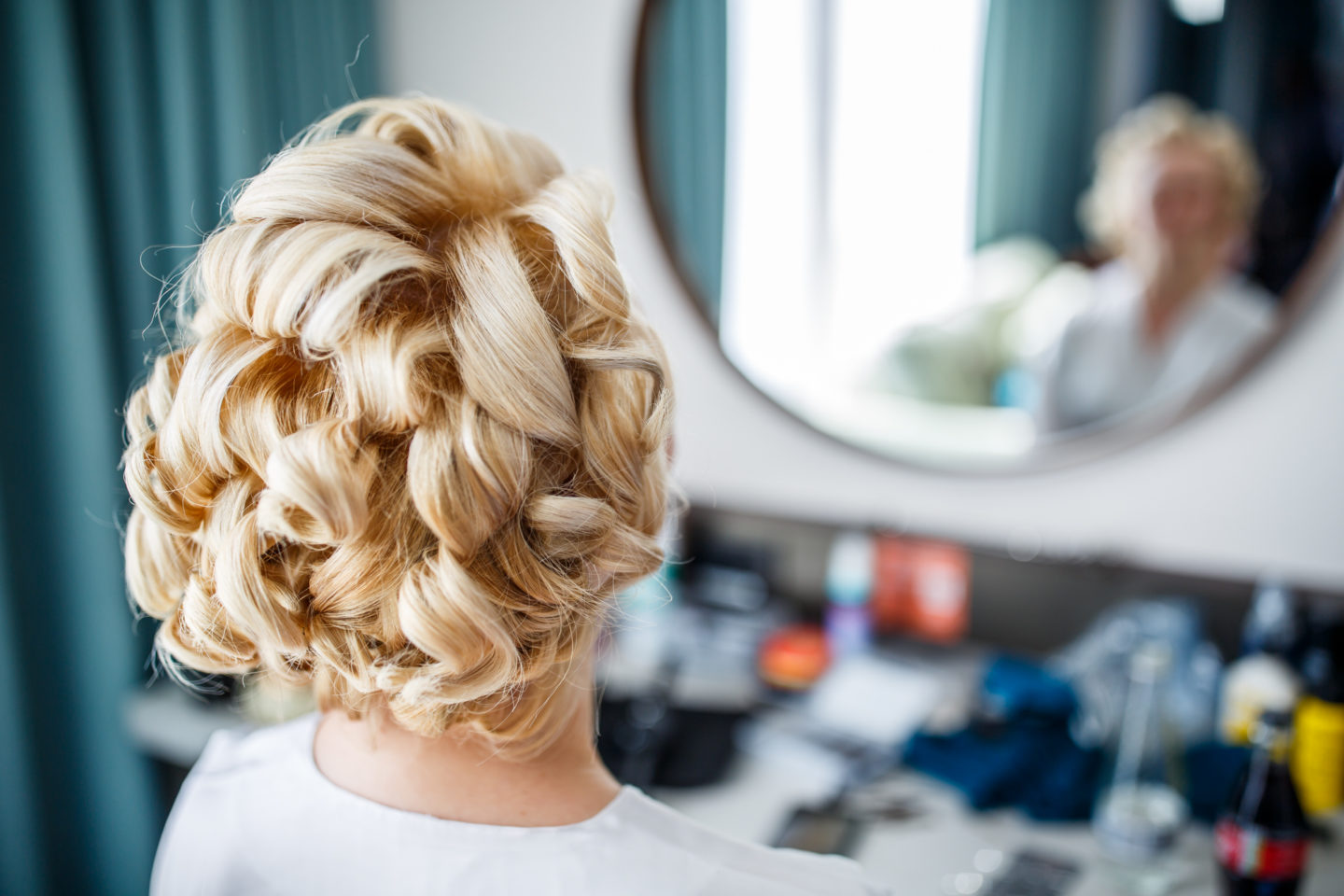 Planning the Wedding
"We had quite a few challenges! The original plan was small but soon, with parental input, became 115 people. We had a venue booked, then they called and said they were splitting the venue in 2 and so we could now only have half the space for the same price – so we said No. That was less than a year until the wedding! This made us have to re-evaluate, and we cut the numbers back to 80 and had a smaller venue. When COVID struck, that venue closed and we were left with 30 people to choose. It was actually really easy. Who were our 'Ride or Die' friends and closest family. COVID was actually an easy reason to tell people that we had to cut back – and everyone understood. It was actually nicer as we got to speak to everyone-instead of missing people."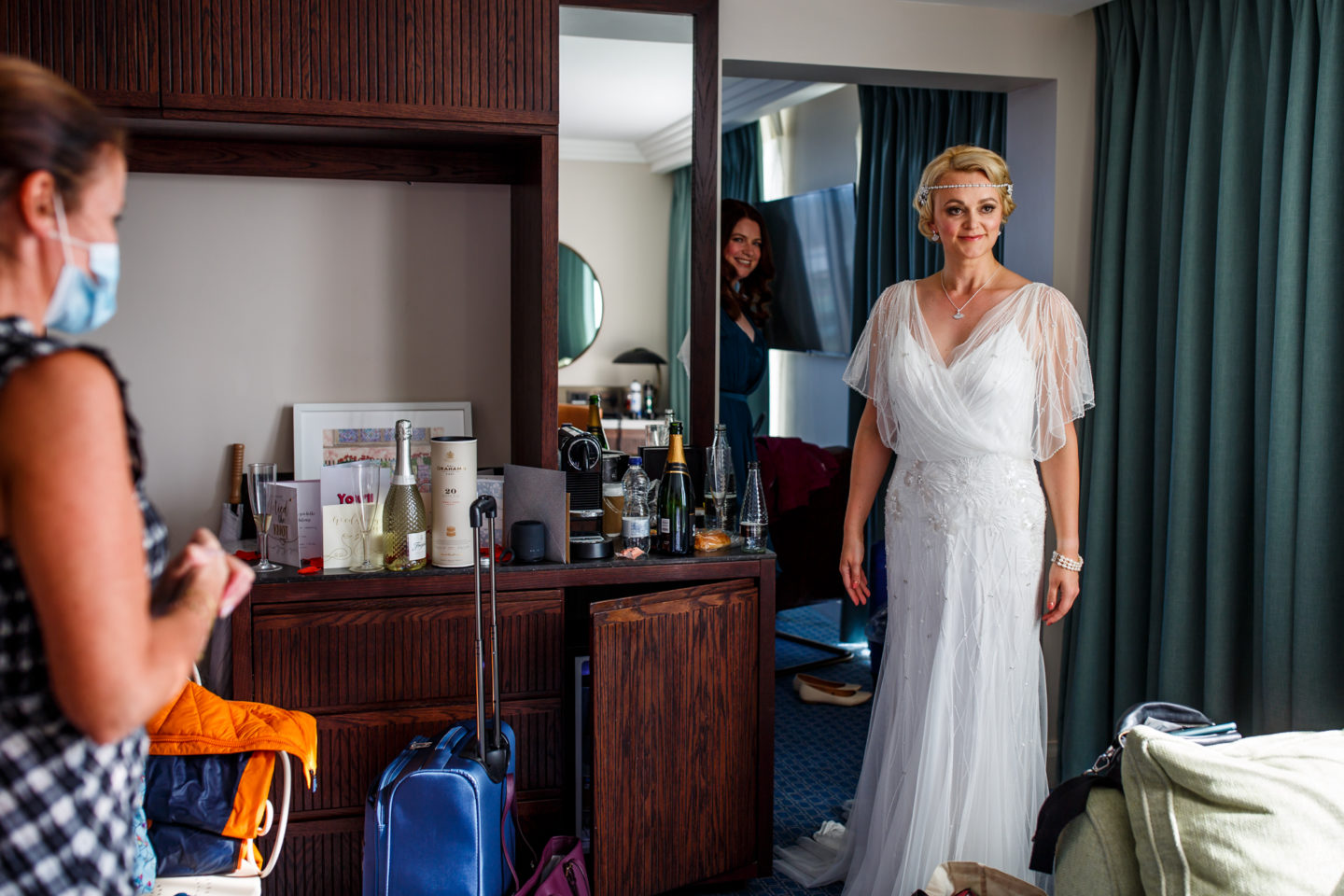 The Location
"Cambridge University Arms is a Cambridge institution, and as Rob had attended Uni here, it was important to us that the family coming from all over the country got to see a little bit of history. Built 175 years ago but having had an update recently, they have accented the 1920's features and it really fit with the theme we were going for. The Ballroom, would normally hold 200 people but with social distancing, had 30 of us in."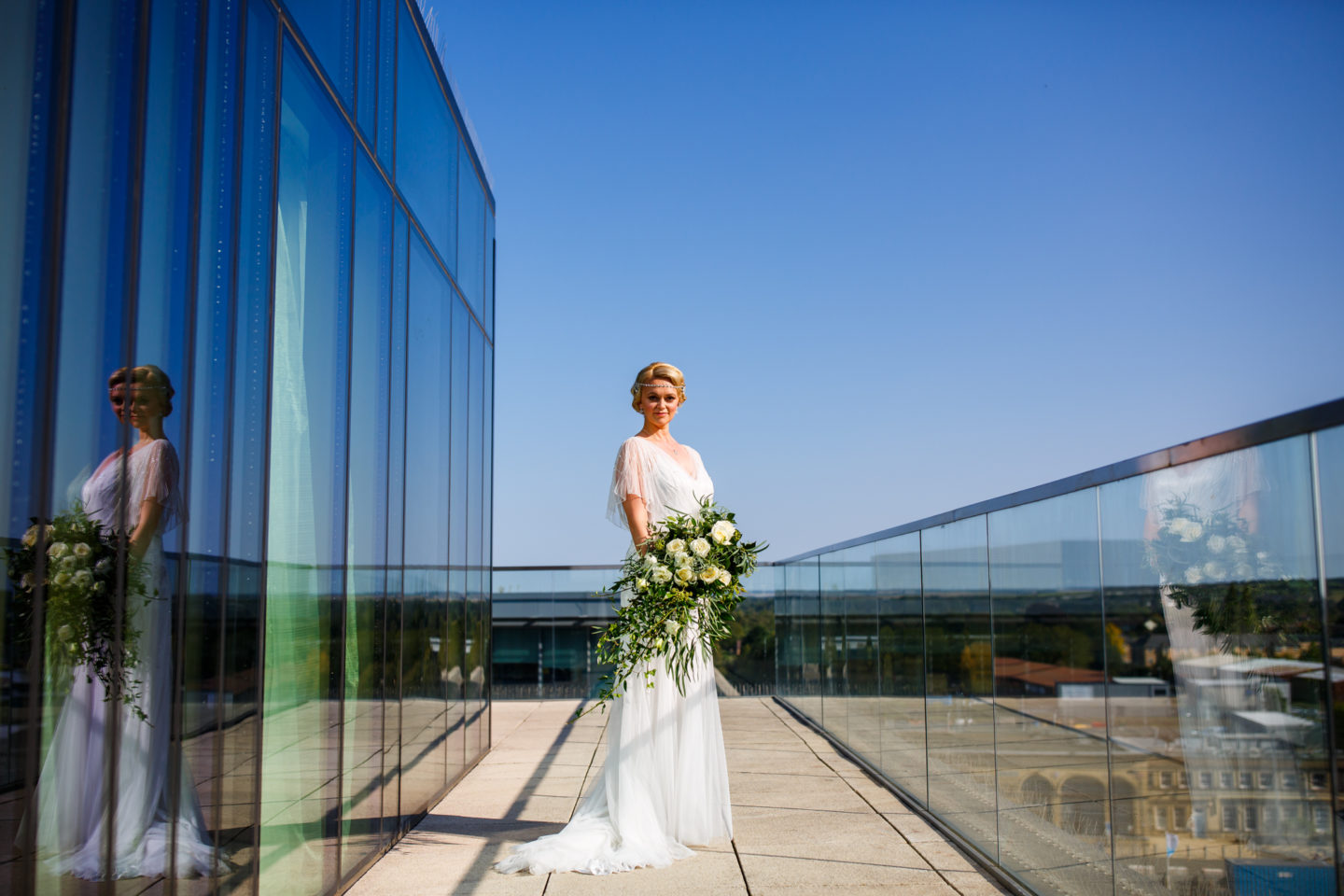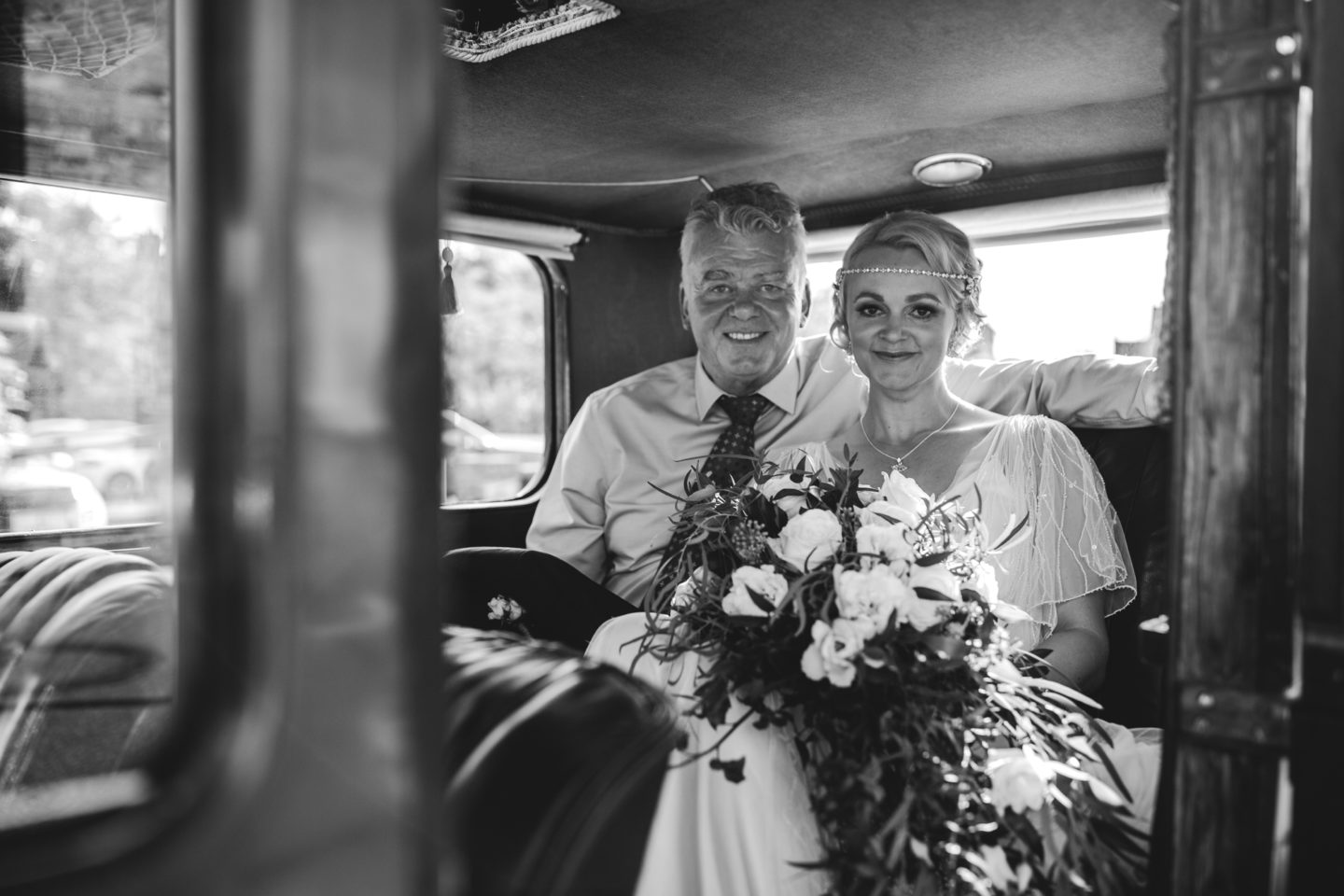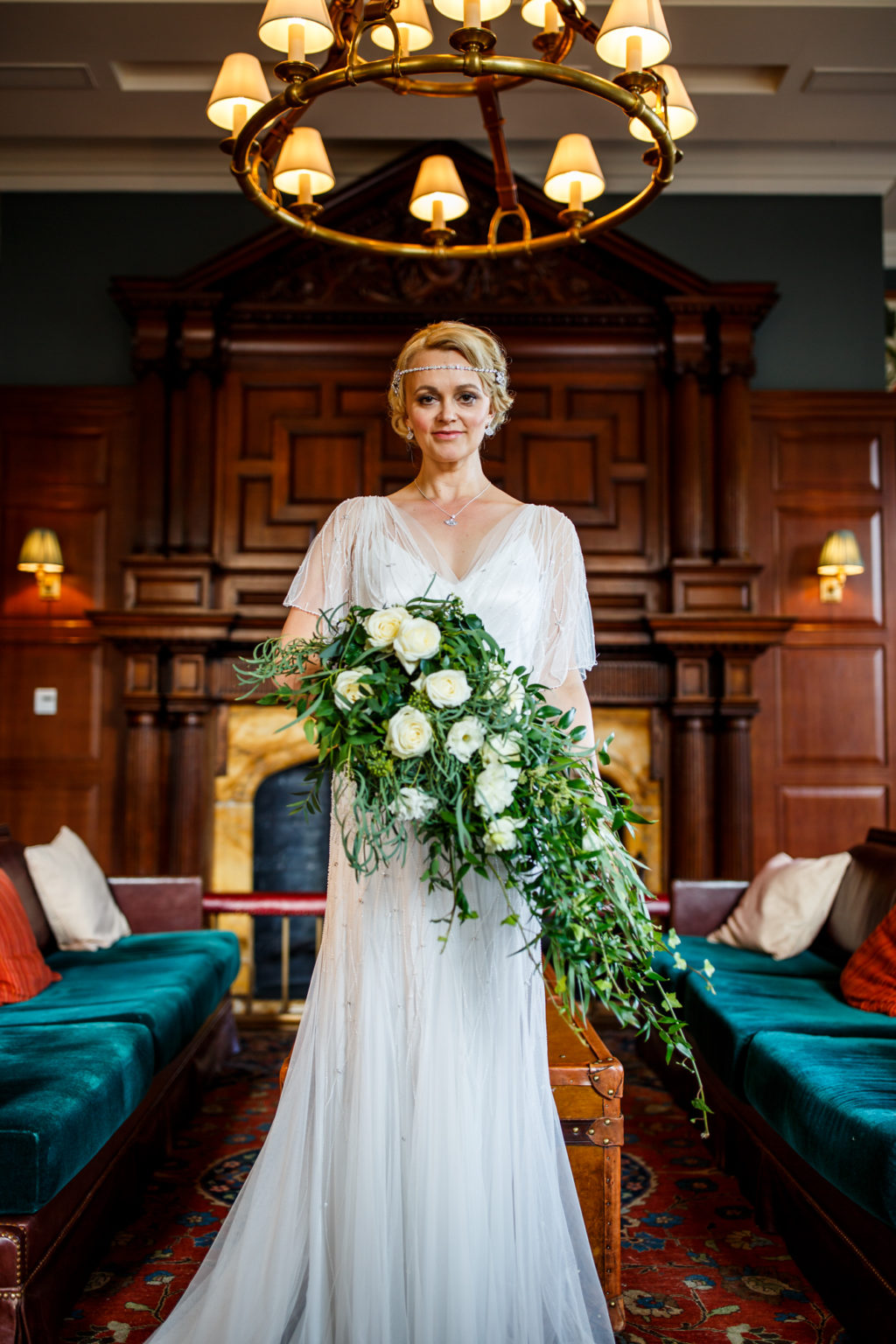 The Dress
"My dress was Clara By Eliza Jane Howell. An amazing 1920's style, beaded and slight a-line with bat-wing sleeves. I tried on loads of dresses, but this was the one that I could not forget! It helped that it was an ex display so reduced to £600!"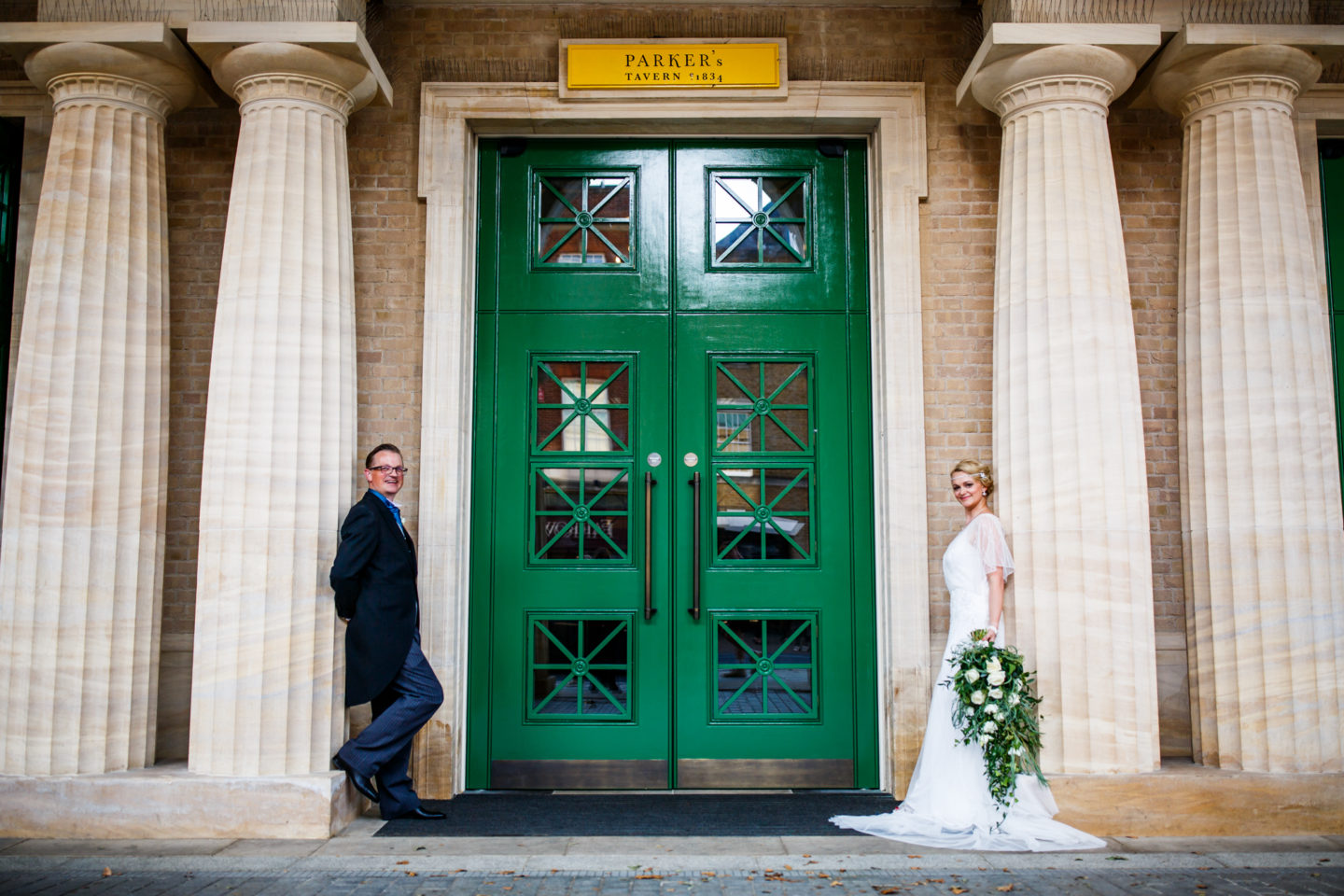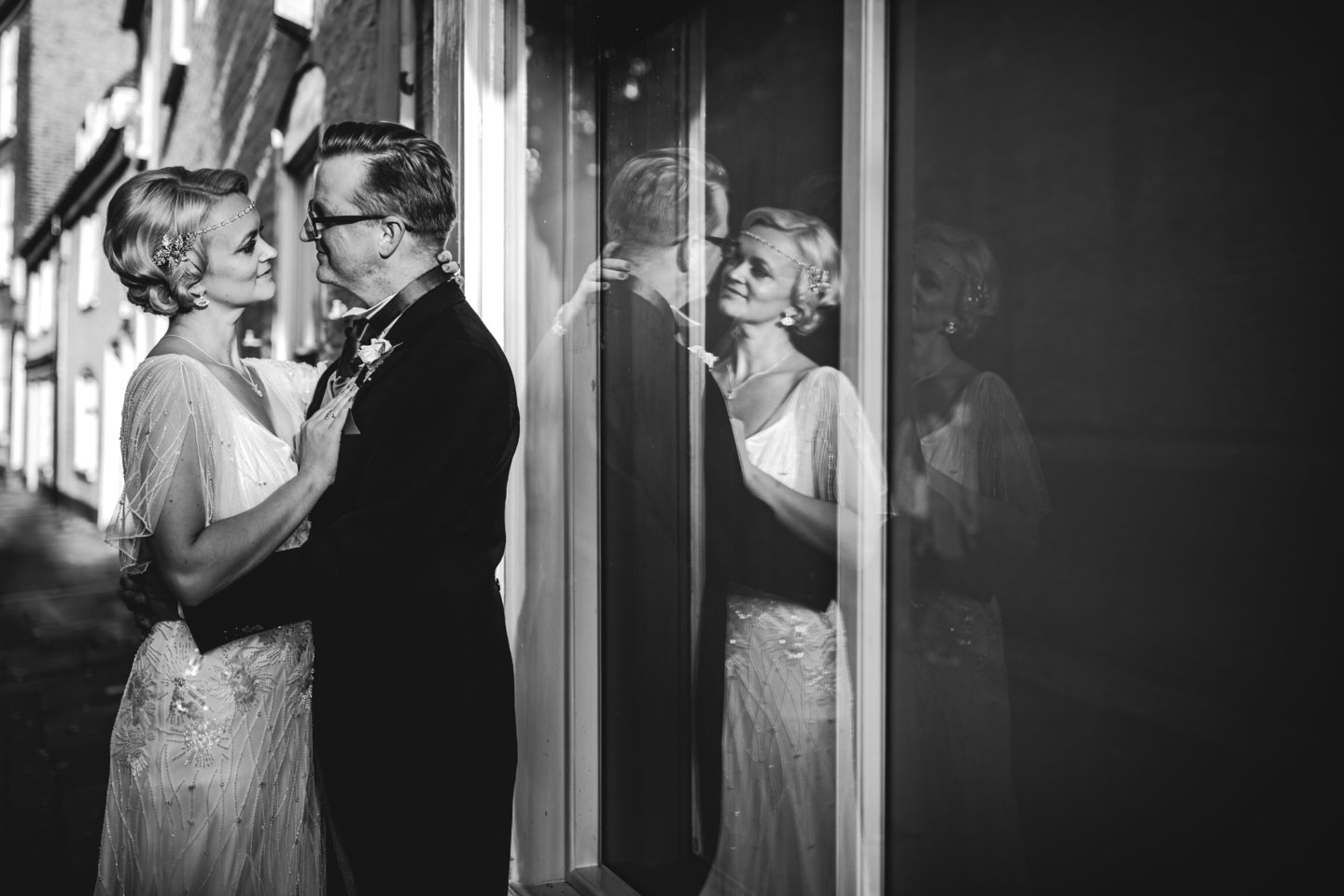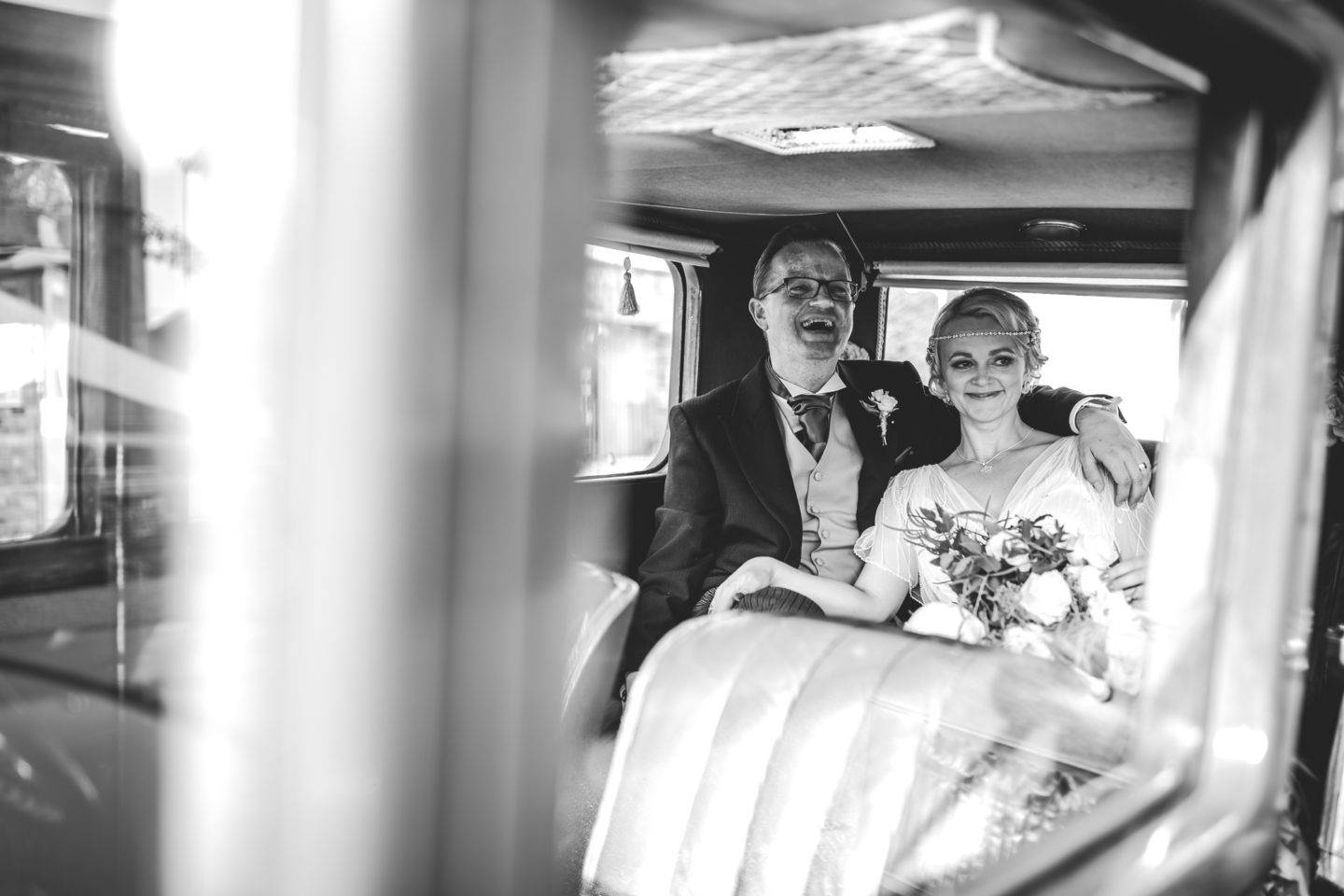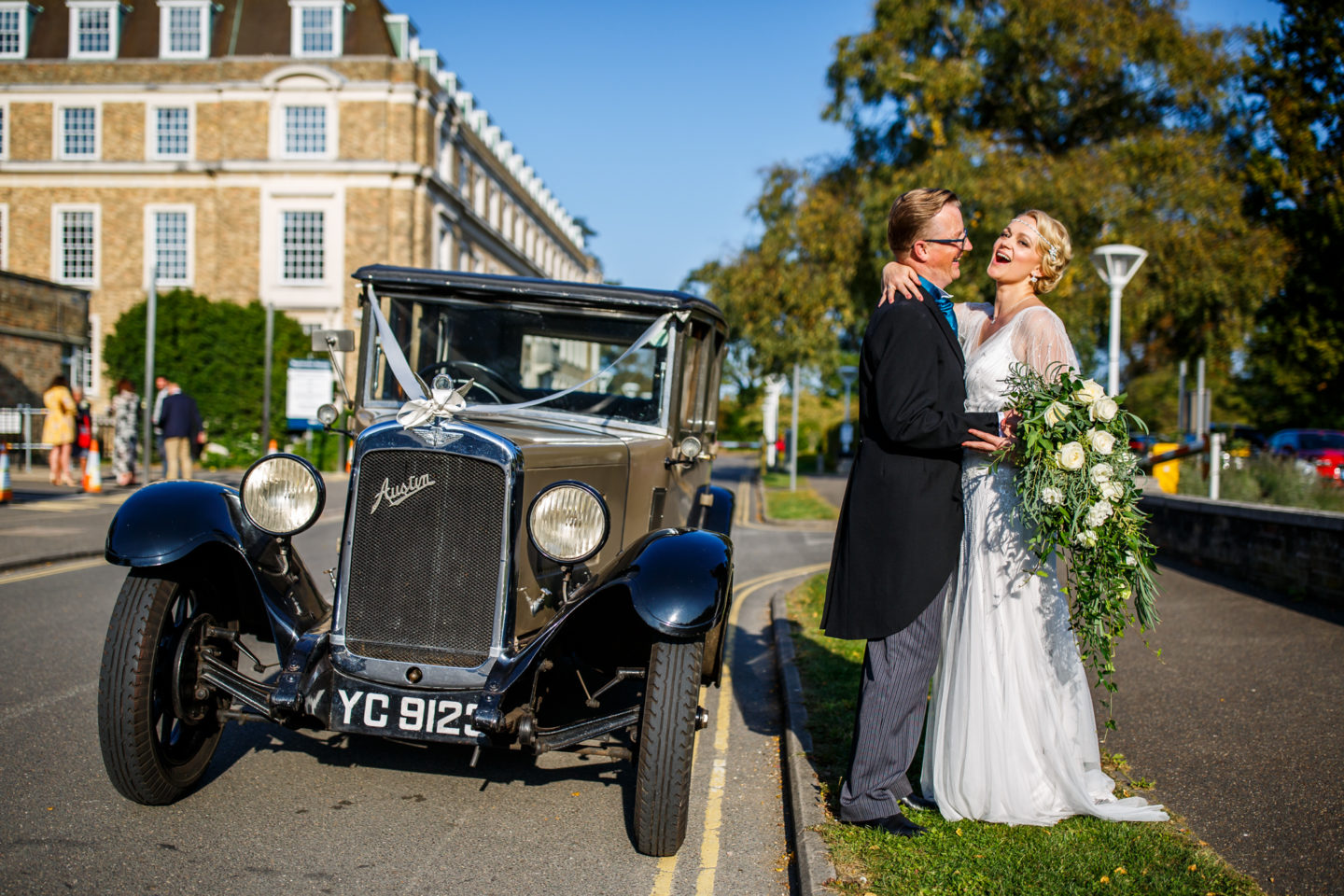 The Suit
"Rob wore a suit from Cheltenham Tails with a cravat to match the bridesmaids dresses and a silver waistcoat.
The Bridesmaids
"My Bestie Jane was my Maid of Honour. She has known Rob and I for the entirety of our relationship and I could not ask for a better friend. Sara and I met at university, she was a bridesmaid at my first wedding, which she made much fun of in the girls speech, and I was a bridesmaid for her too. Rachel is a more recent friend but no less dear. All the girls were in emerald green with a sweetheart neckline. I got them all matching jewellery of fan earrings and matching necklace, and pearl bracelets. They all had matching beaded masks made out of a spare dress material"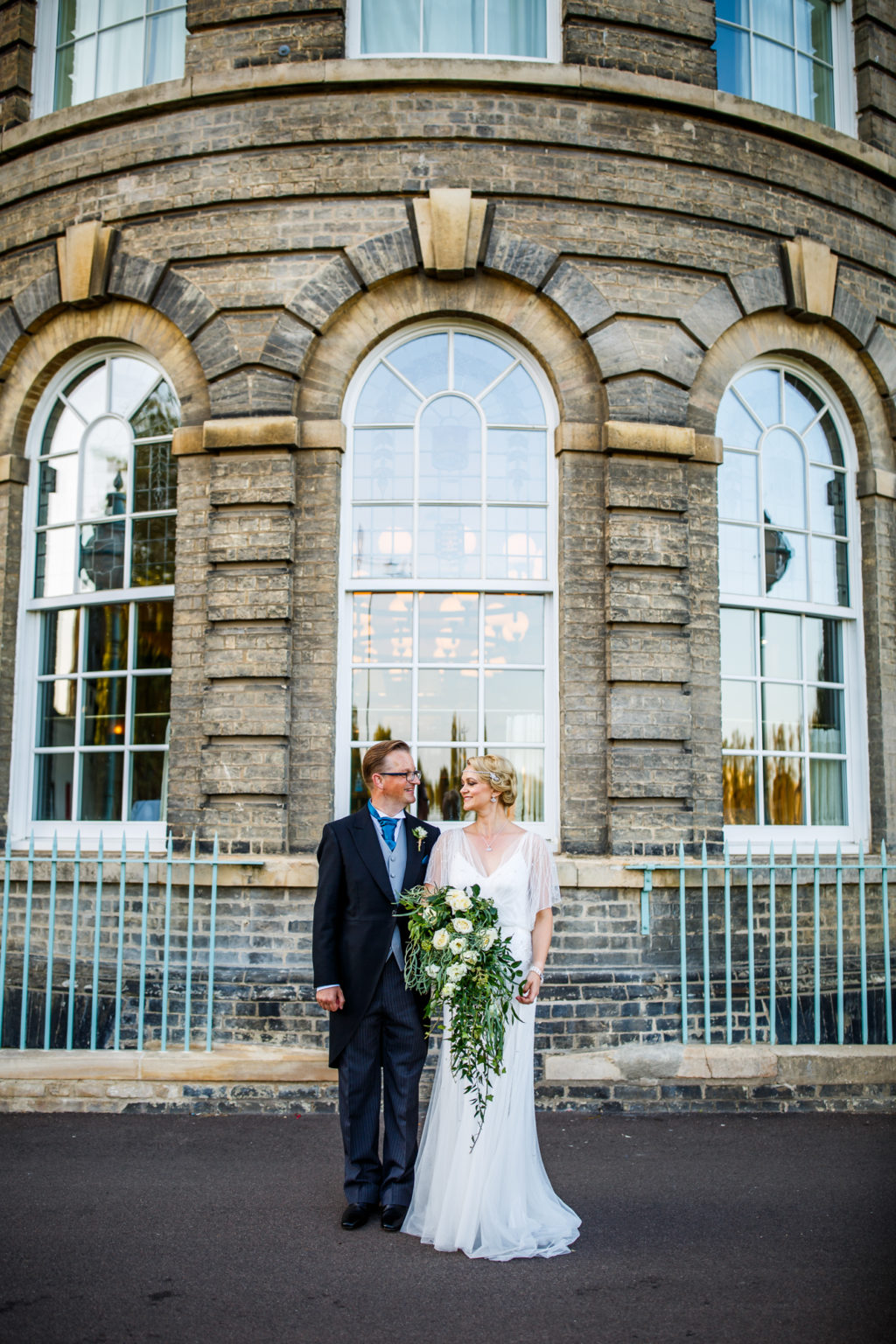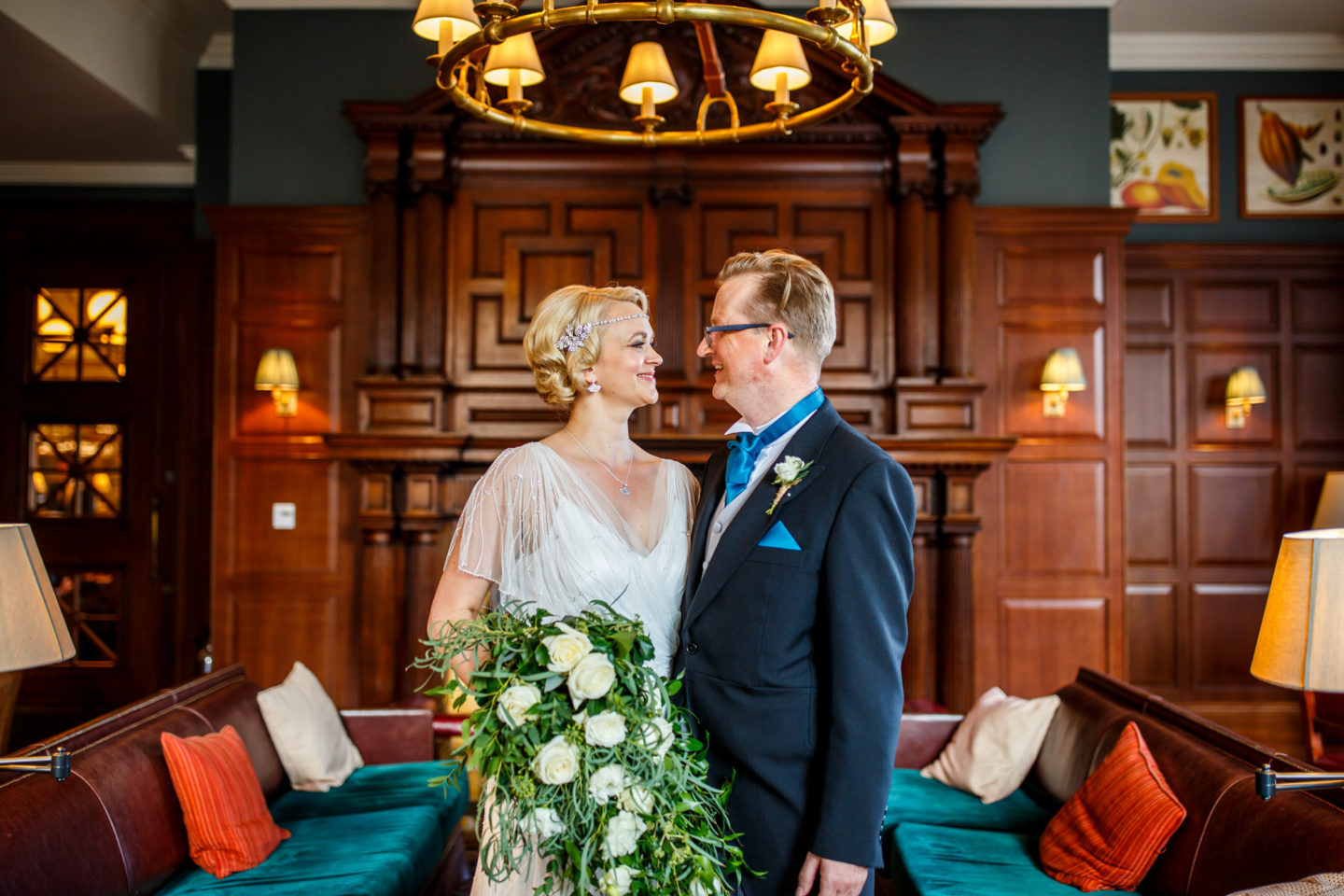 The Details
The cake was decorated with art deco fans in our colours of navy and gold and we had gluten free cupcakes for our coeliac guests. The flowers were a trailing bouquet of mostly green, eucalyptus, ivy with white roses and smaller bud roses as I had researched that this would fit the theme. On the tables we had displays like the bridesmaids flowers, with some peacock feathers in. The bridesmaids had similar flowers in traditional hand tied bouquets, and the gents pins in the same for their lapels."
"The hairdresser and makeup artist were chosen for their specific vintage experience and were fabulous! The car was an original 1920's Austin to make sure everything was on point! We even had hand sanitiser in geometric glass hand soap pumps so nothing was left to chance!"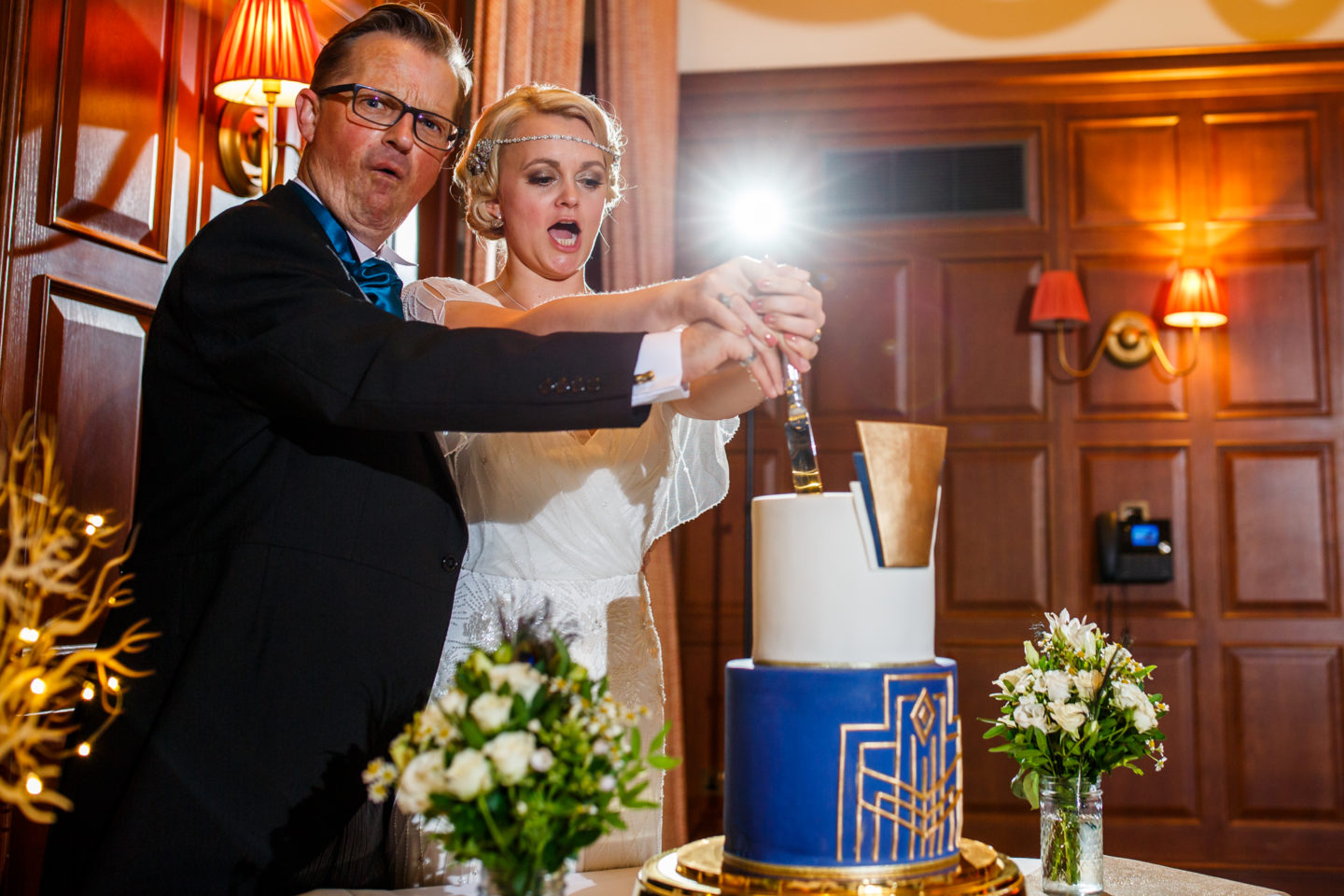 The Best Part of the day
"We had two favourite moments, the first was that we zoom linked the wedding for everyone that could not be there, and the venue beamed it onto a screen for the guests, as we could only have 6 at the ceremony (both sets of parents). Knowing that worked made our day that everyone could be involved that we love!"
"The other one was sitting in the back of the car, going from the registry office to the wedding venue, we enjoyed the quiet time and waved at people. Everyone was so happy in this time to see us and it was great to know we were bringing everyone joy."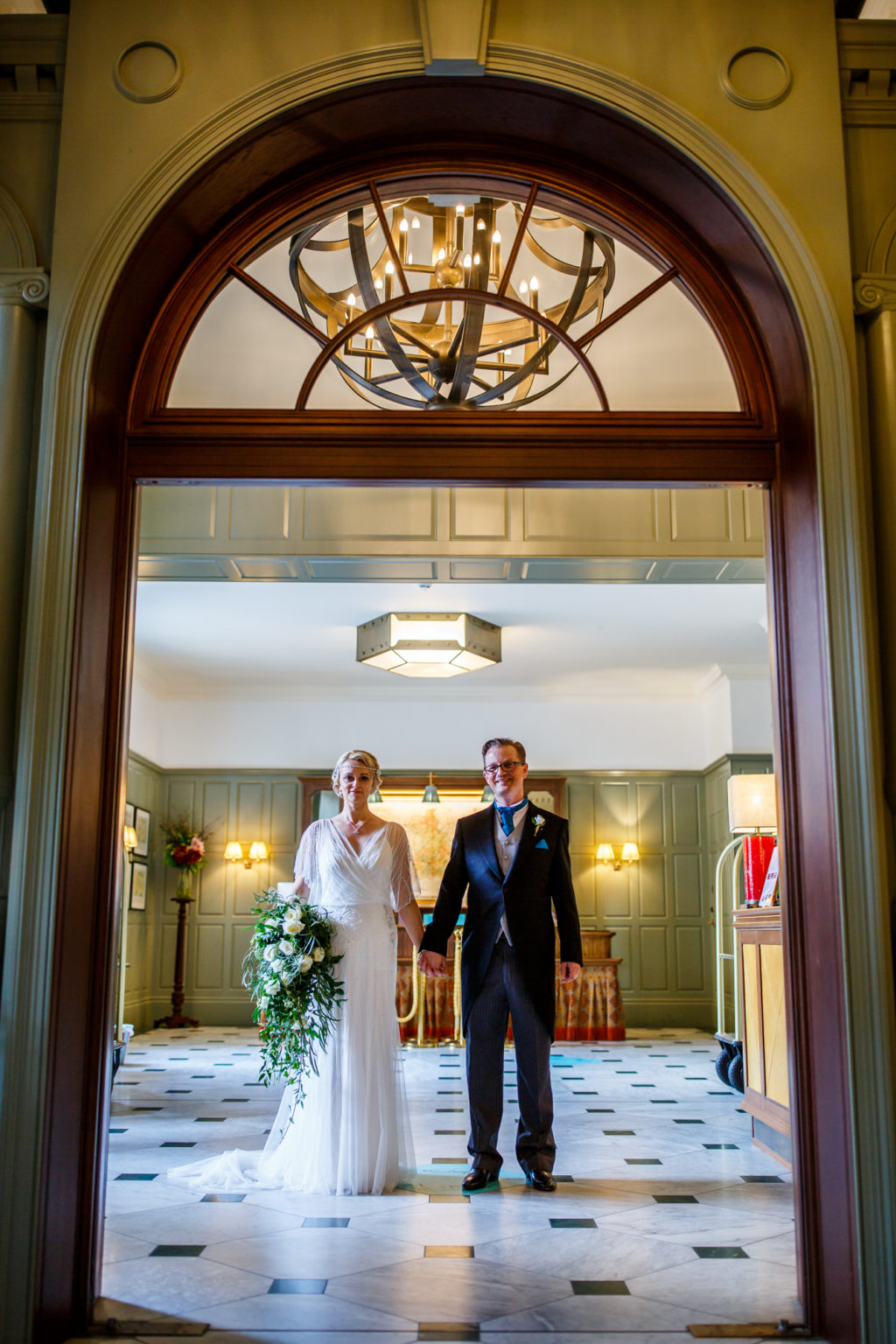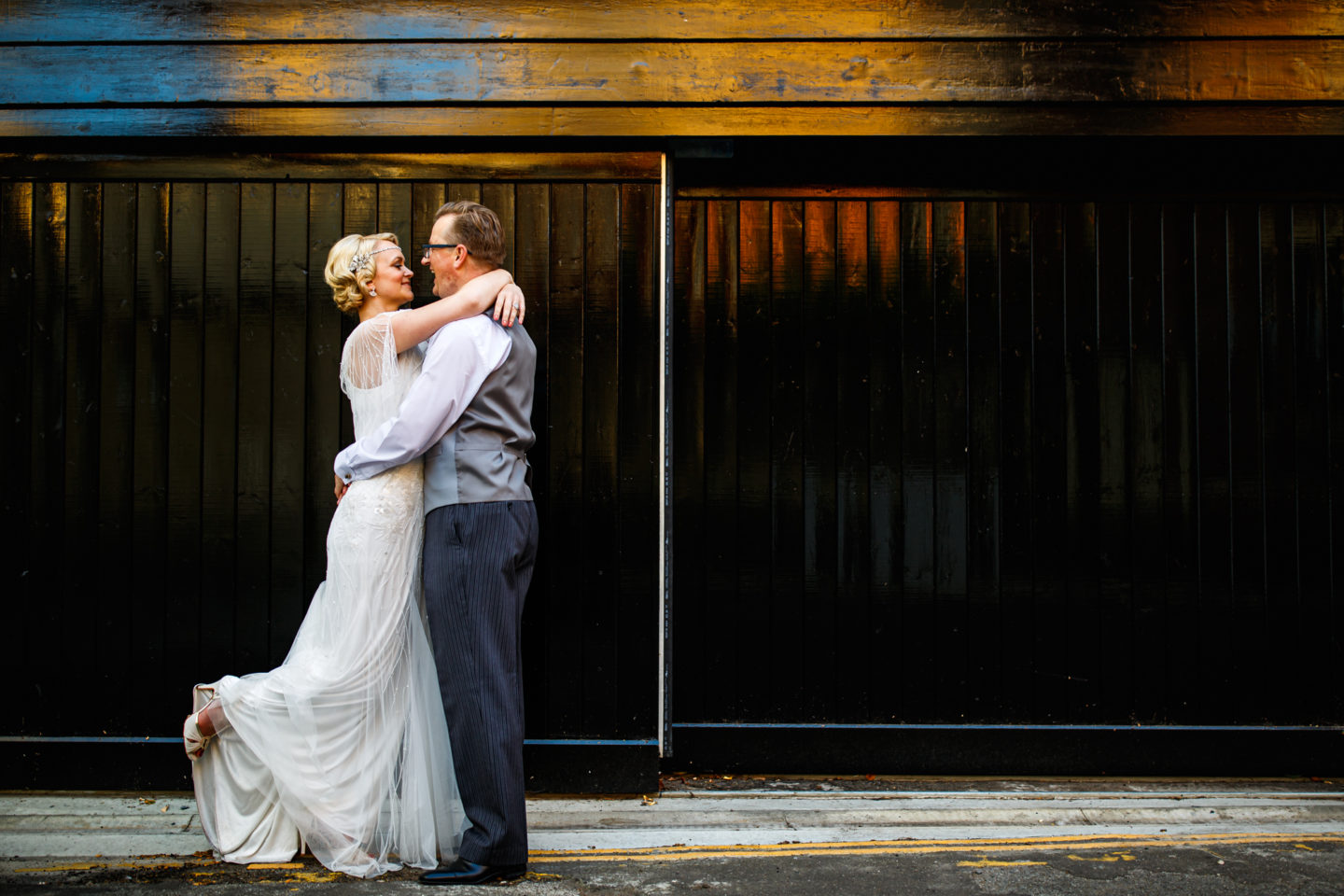 Why Choose Vintage
"We love dressing up, and Jazz and my engagement ring is 1920's Art Deco – so all of that led to inspiration for otherwise non-creative people!"
Words of Wisdom
"It goes quick! Enjoy it! It is about you, so make sure you find some secret quiet moments alone as those will be the bits you remember and cherish the most."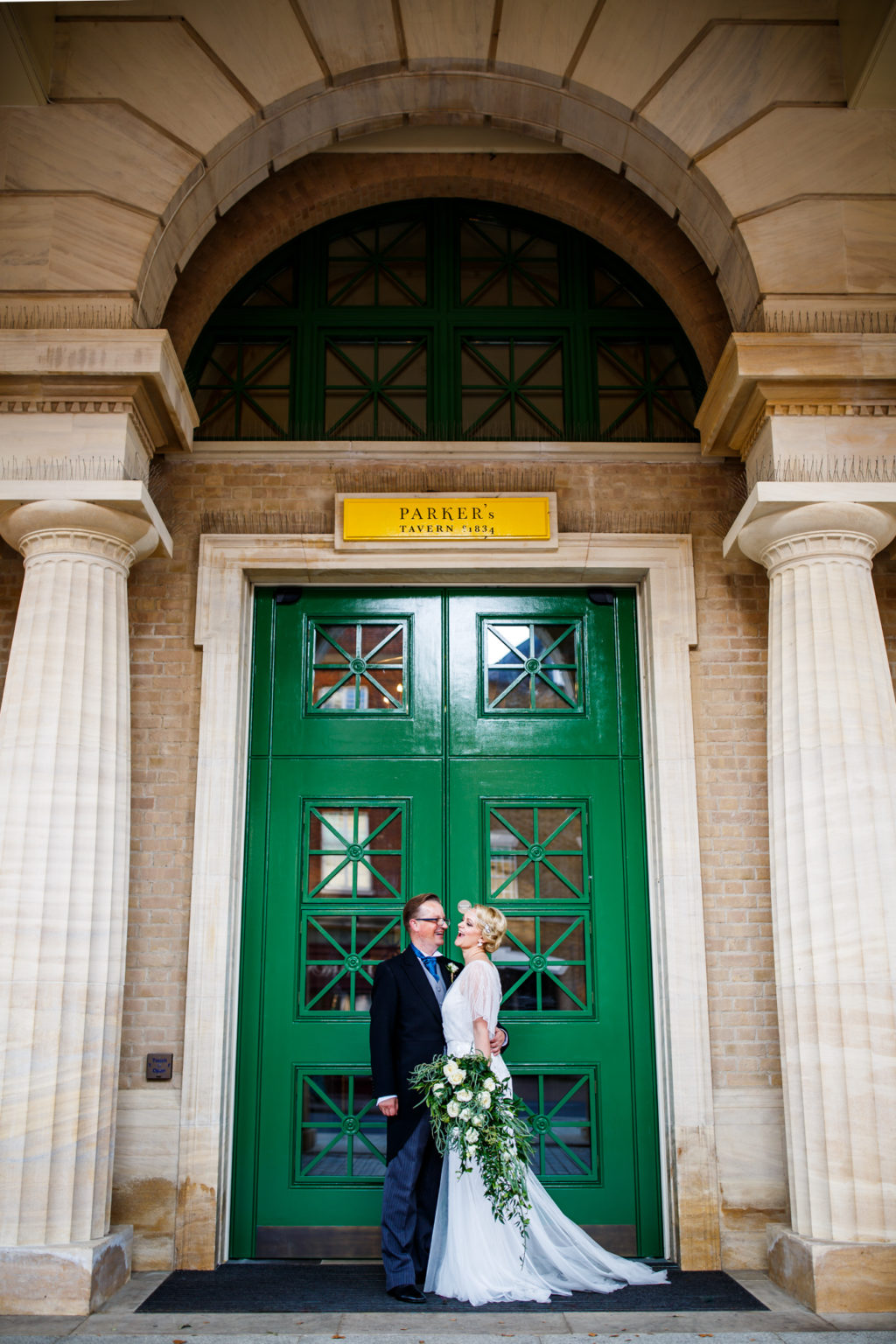 The Team – Intimate Micro Wedding At Cambridge Registry Office With 1920s Inspired Wedding Dress
IF YOU LOVED THIS INTIMATE MICRO WEDDING, LOOK PLEASE PIN IT TO YOUR PINTEREST BOARDS!