If you want some good outdoor fun at your wedding then this is the shoot to take inspiration from; with an alternative forest festival vibe, beautiful glamping tents and a bespoke ombre wedding dress, it's sure to inspire you for your own big day. Linzi Barford from that 'black and white cat' weddings created the shoot at new blank canvas wedding venue Meadow Vale Weddings in Nottinghamshire – it's full of lots of details and perfect for if you're planning a small wedding!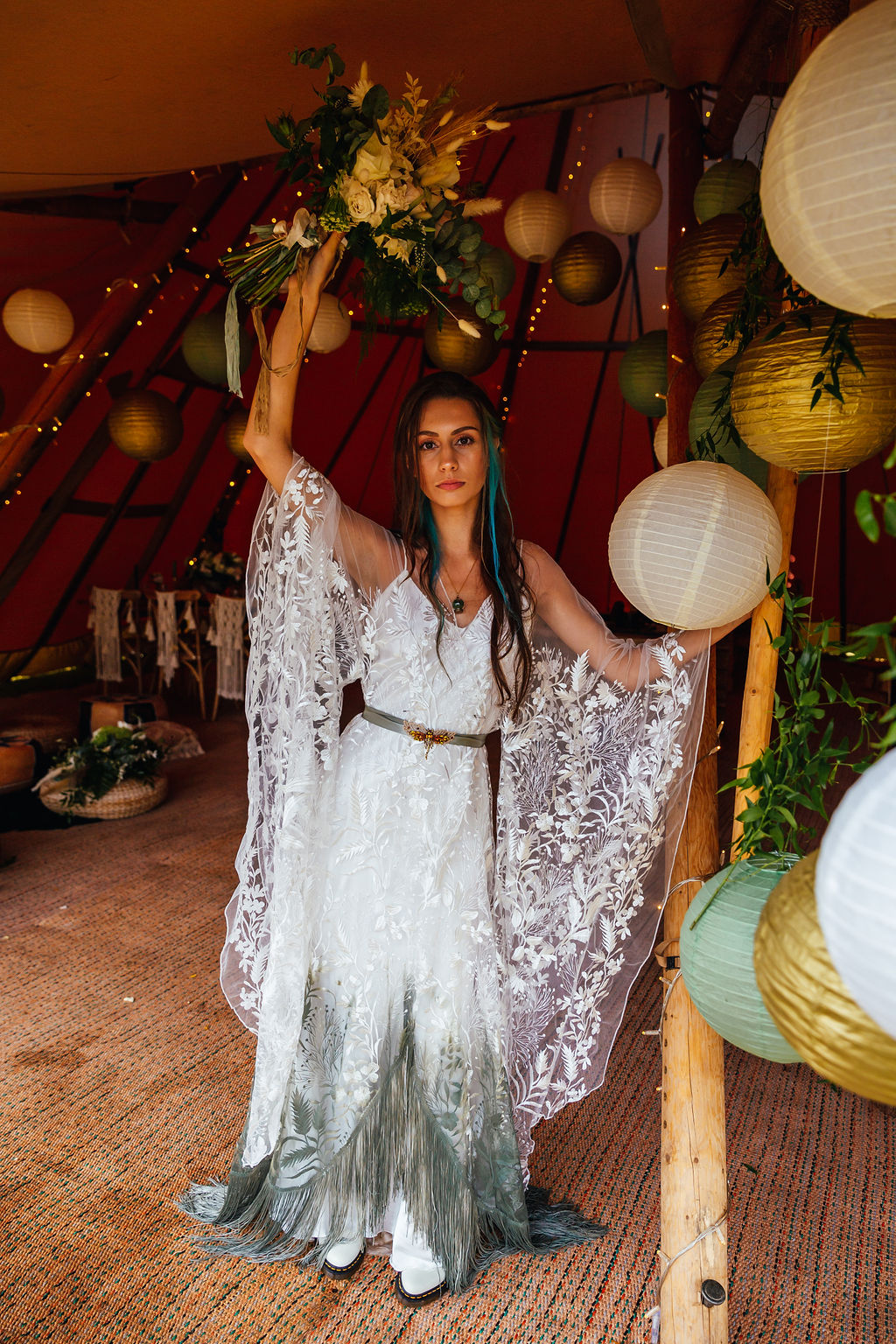 "We wanted to share this stunning outdoor wedding venue with couples planning their wedding day and show just what can be achieved with a blank canvas wedding venue, and to capture all the gorgeousness of outdoor weddings together, with a lush forest theme representing the countryside which surrounds Meadow Vale Weddings. We added lots of on trend boho influences and made sure the shoot had lots of FUN! Photographer, Kirsty Rockett caught every moment, came up with some great ideas for shots, and really helped us translate the FUN factor in her photos."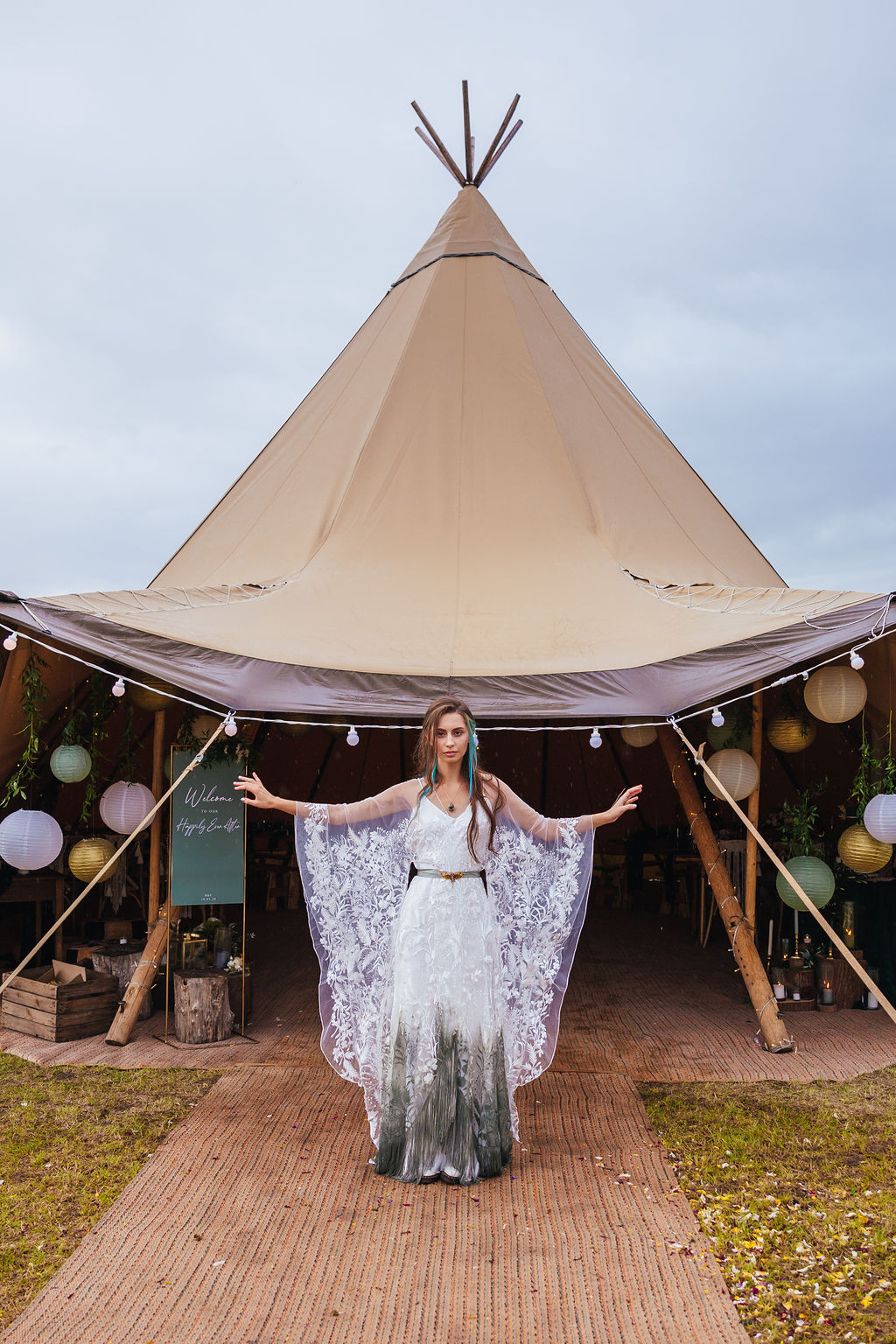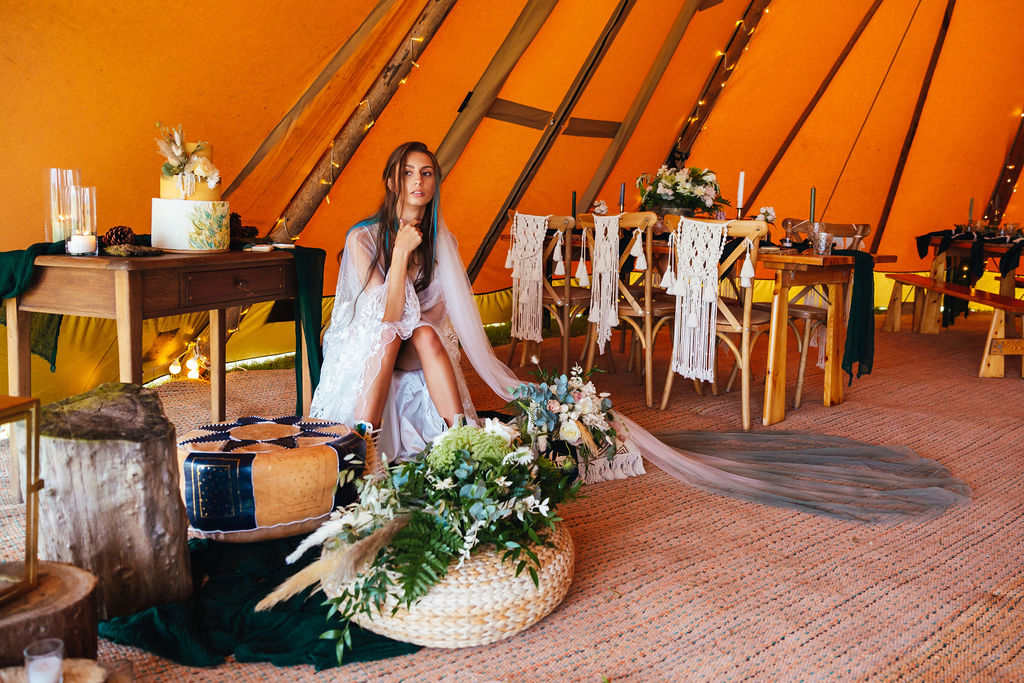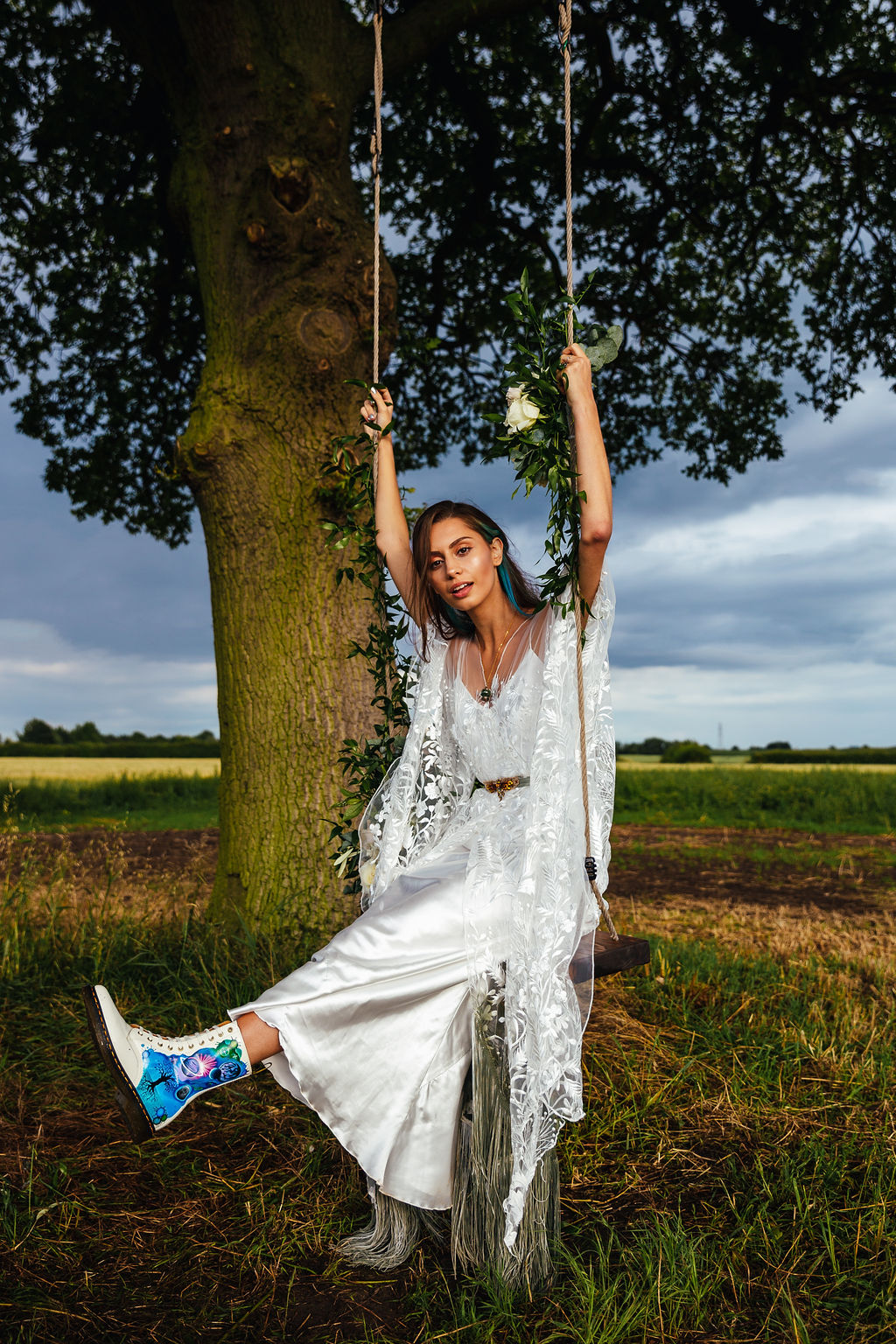 "This forest boho themed shoot embraces all the gorgeousness of outdoor weddings with a lush forest theme and boho touches throughout. It also has a lot of FUN! The venue Meadow Vale Weddings – is a new outdoor wedding venue set in the heart of the Nottinghamshire countryside. It has a selection of yurt glamping accommodation on site which we complimented with additional bell tents – the perfect accommodation for an outdoor wedding celebration."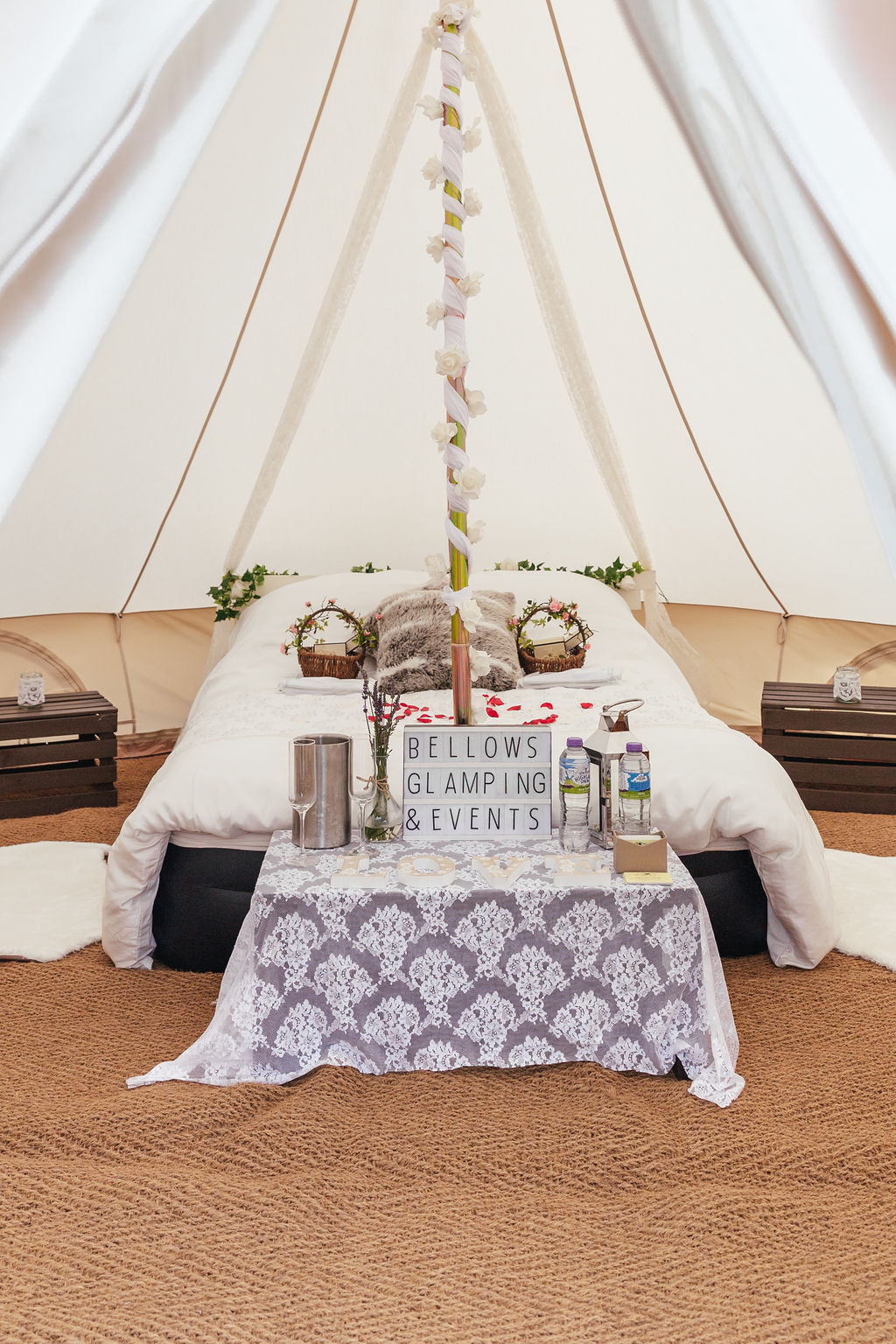 "The tipi was set up for an intimate micro wedding of up to 30 people with rustic chairs and tables all set around a warming log fire just in case the evening got a little chilly. A lush green colour palette connected the theme to the outdoors with natural & gold accents from the macramé, candlesticks, and styling details. Colour coordinated paper lanterns decorated the tipi entrance alongside a matching 'welcome to our wedding' sign. Some of our favourite touches were the handmade macramé chair backs which worked perfectly with the rustic cross back chairs. The handmade bespoke biscuits with gold lace overlay and the perfectly crafted, miniature cooper woodland animals for favours. A hand painted wedding cake matched perfectly with embossed leaves and macramé cake surround."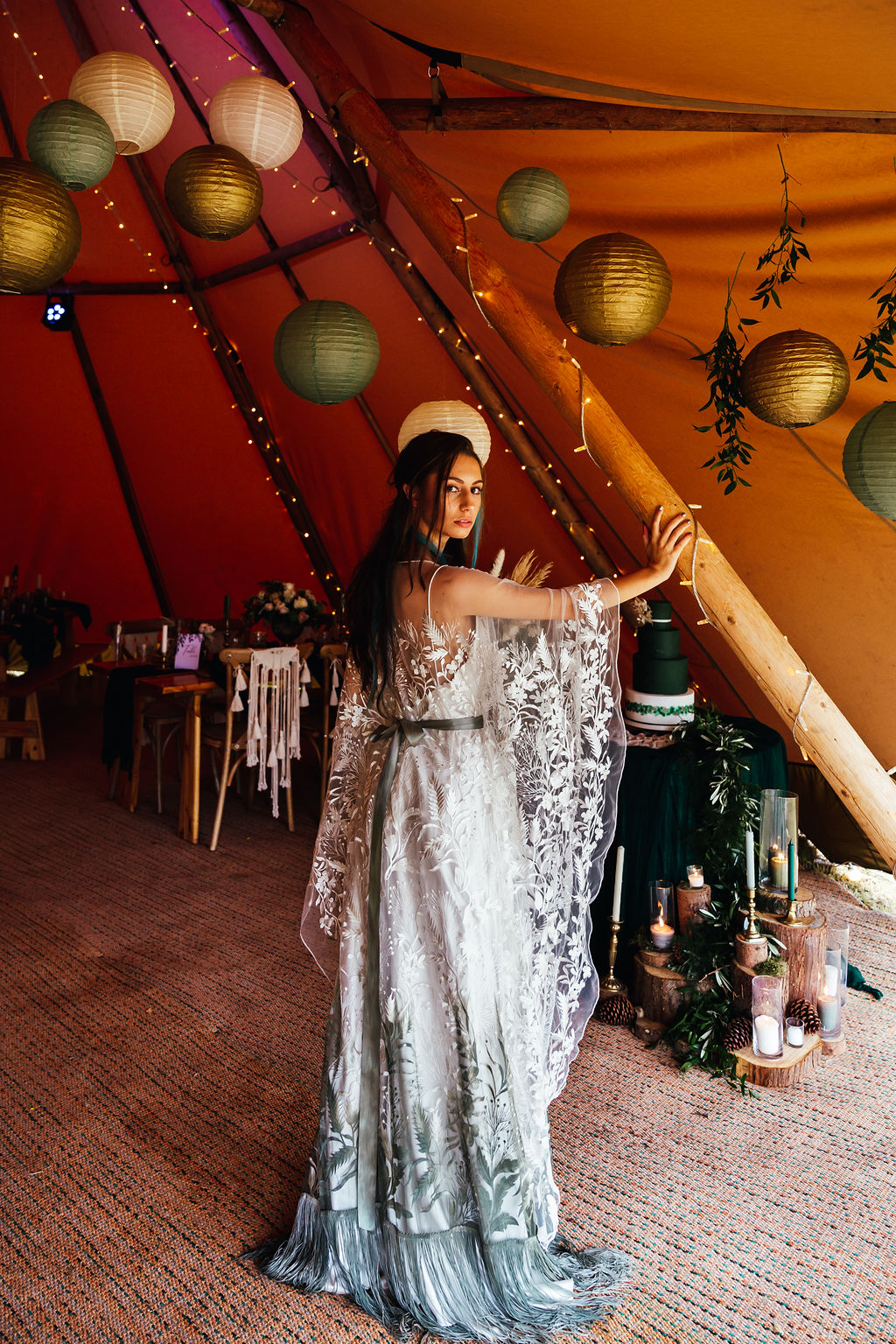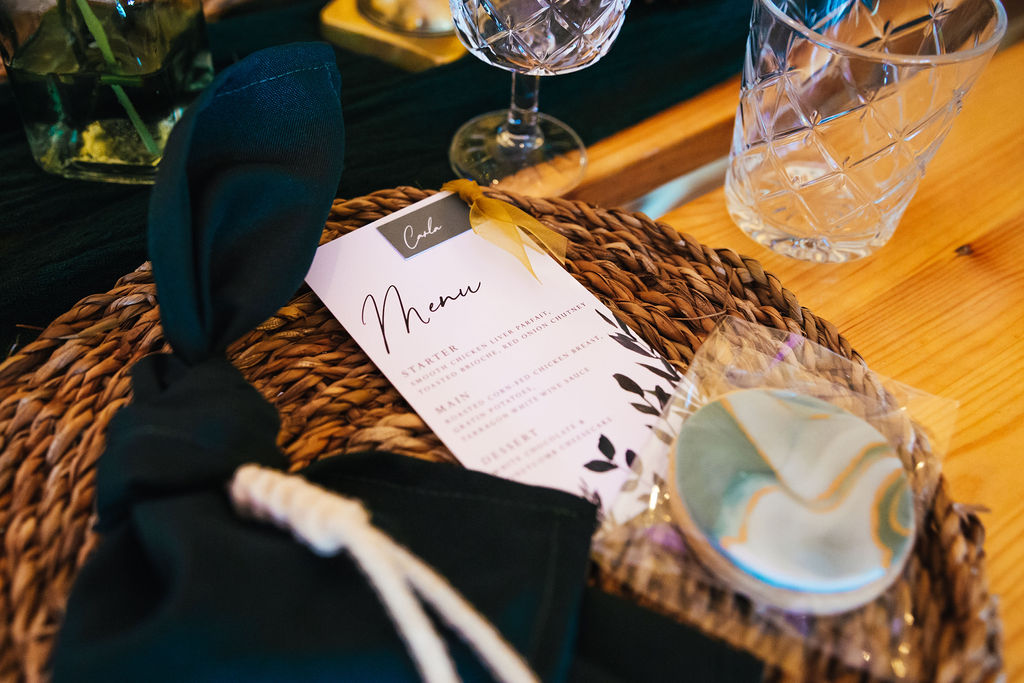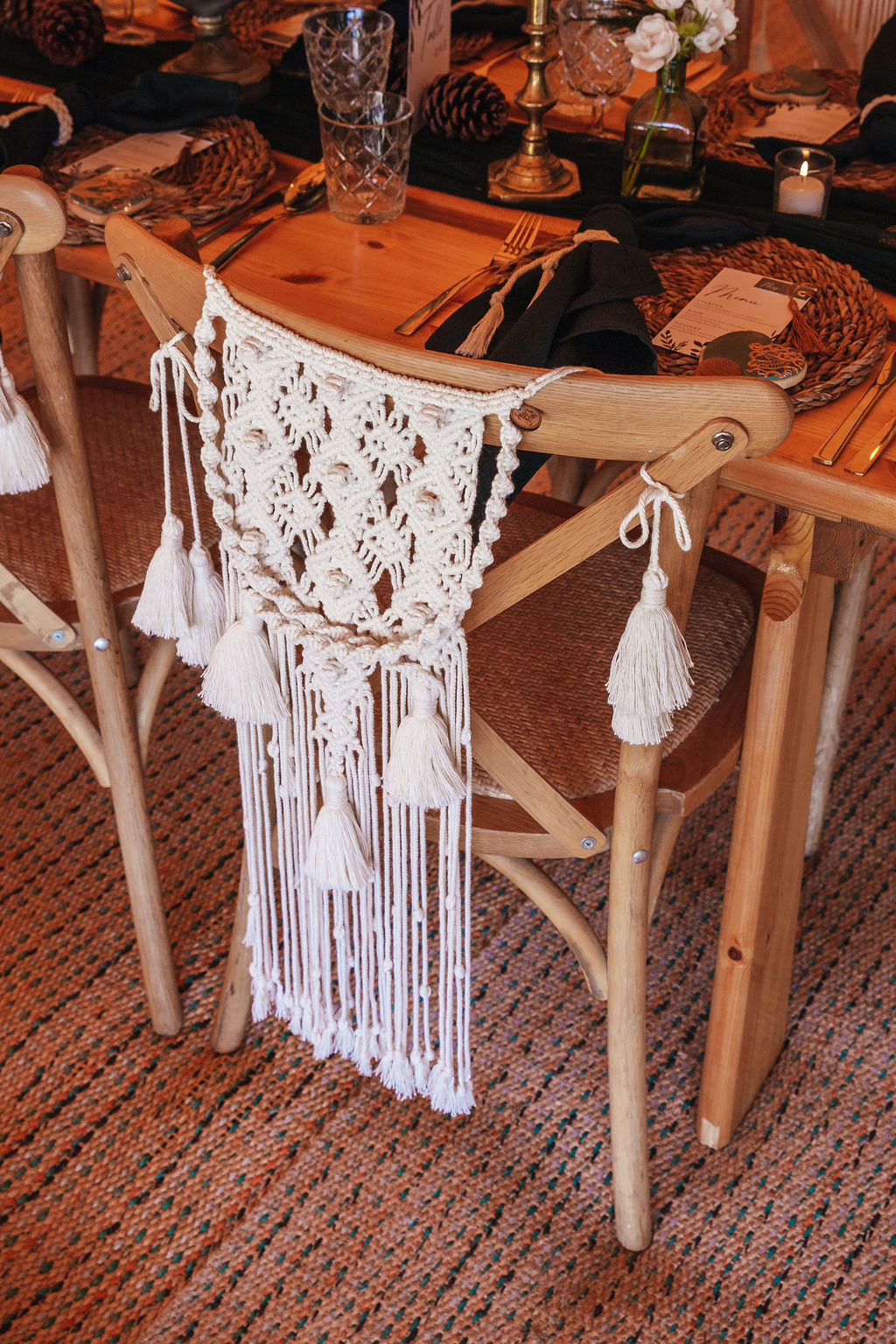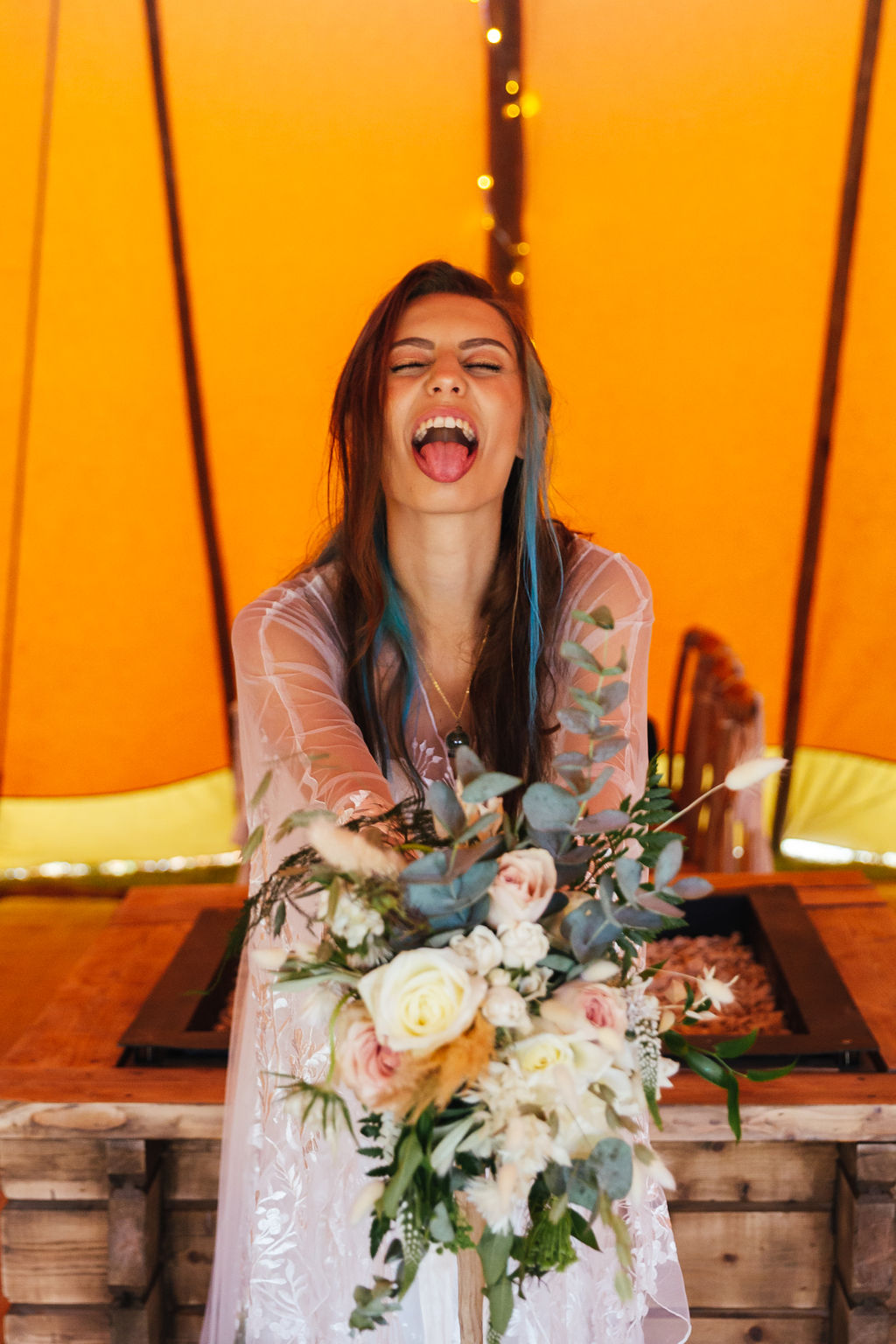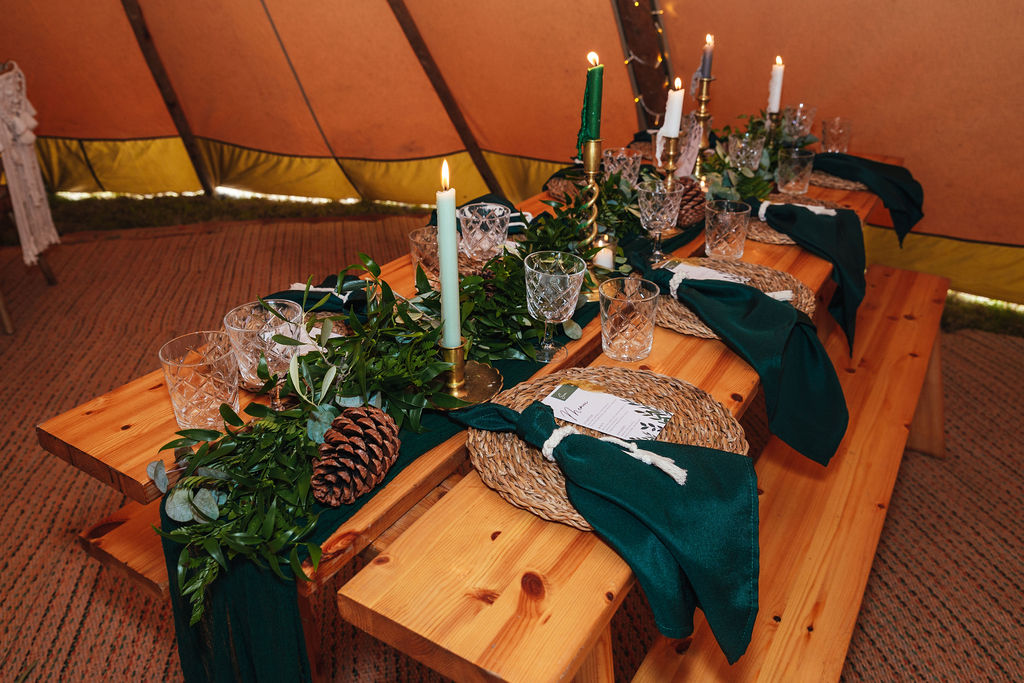 "The team from Sami Tipi provided a 'one hat' tipi for the day. Perfect for an intimate, micro wedding celebration of up to 40 people. We added an open fire, essential for the evening chill, and filled the space with fairy lights. The venue also has a selection of yurt glamping accommodation on site which were used as part of our shoot. We also added some extra glamping accommodation – perfect luxury bell tents, from Bellows Glamping. As well as a fully stocked gin bar, with lots of fizz, by Ginny Whinny Bar."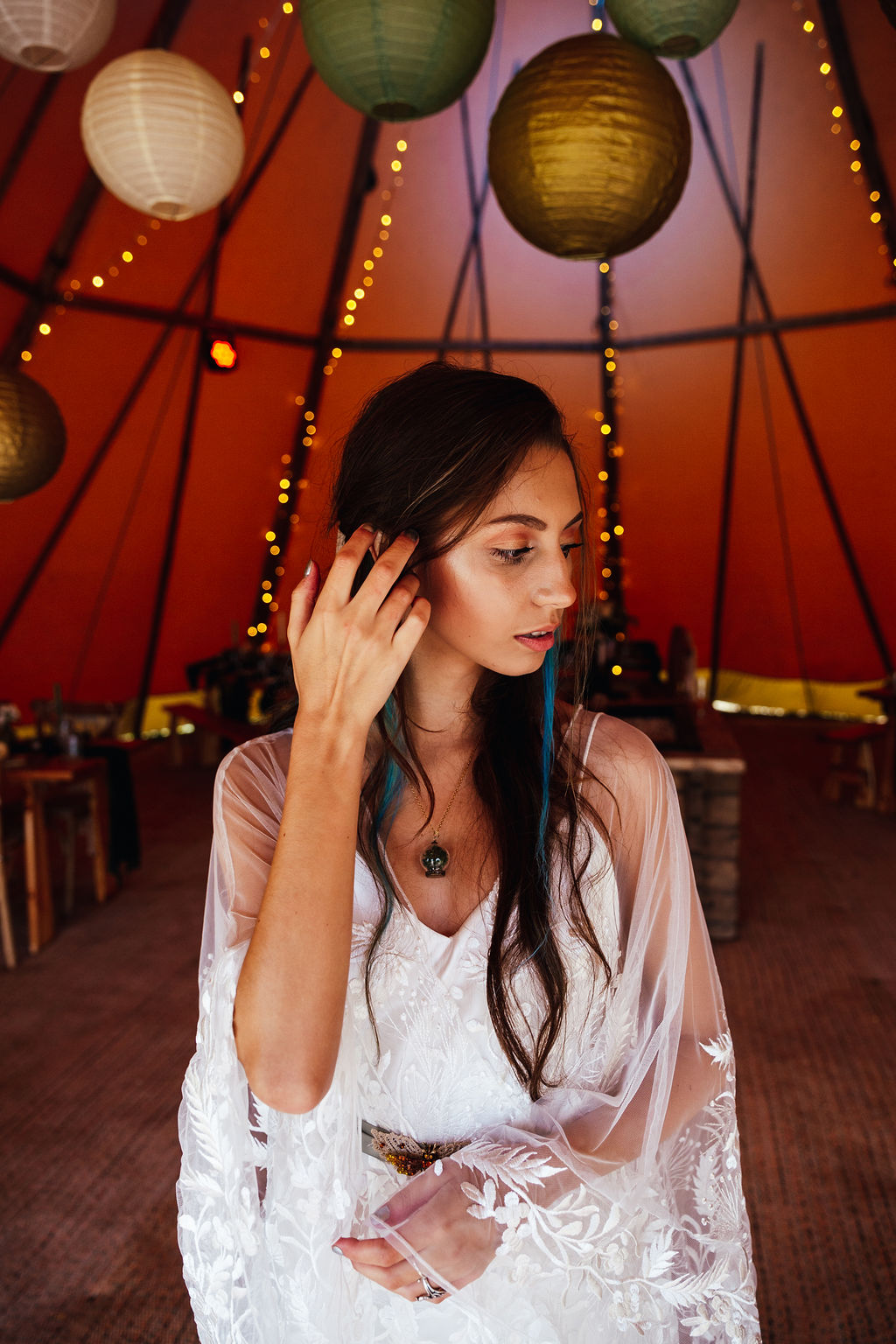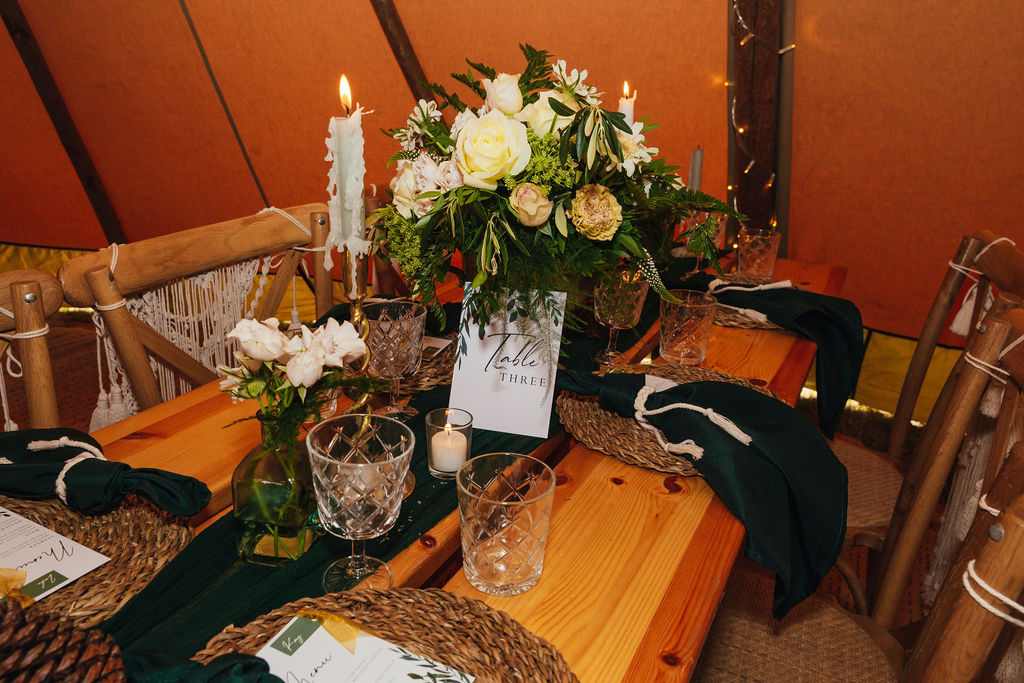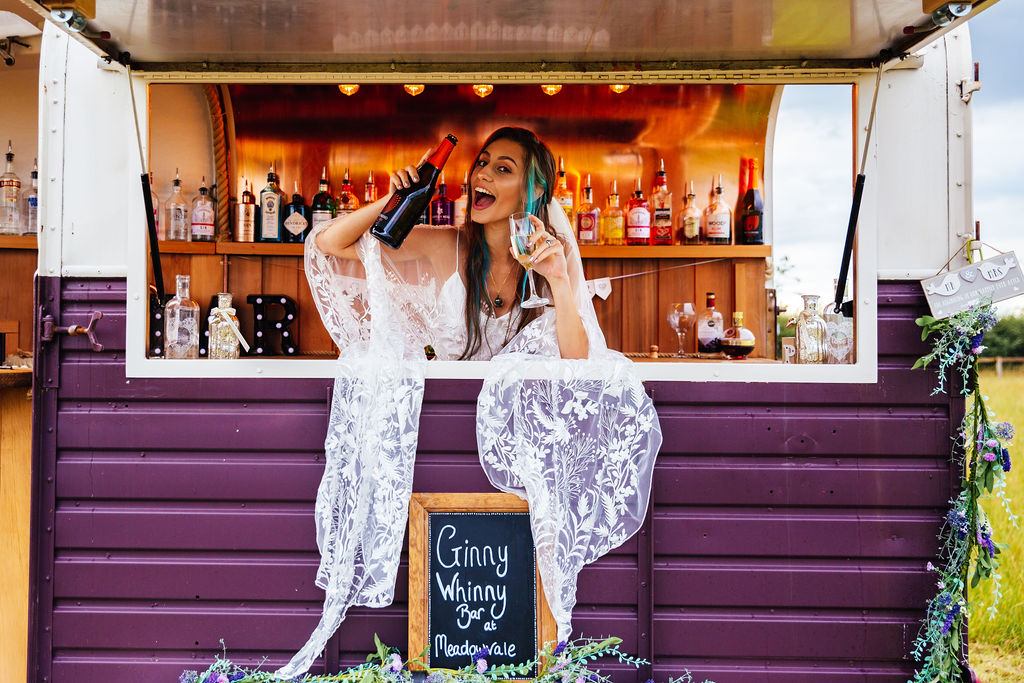 "The team from the The Rustic Wedding Company & Big Day Blooms and Cakes were the perfect fit for this outdoor, tipi style. We loved the earthy materials and natural tones which worked in harmony with the handmade macrame from Amber and Boheme which was featured throughout. The styling complimented the unique, hand painted design on the wedding cake. The tipi entrance was completed with paper lanterns in the matching colour palette and mini tipis topped with matching flowers. The wedding stationery set designed by Bluebell Press perfectly captured the outdoor, forest theme and was inspired by nature throughout. All finished with a hint of gold metallic ribbon – essential glam for your wedding day. We particularly loved the welcome sign which also doubled up as the seating plan."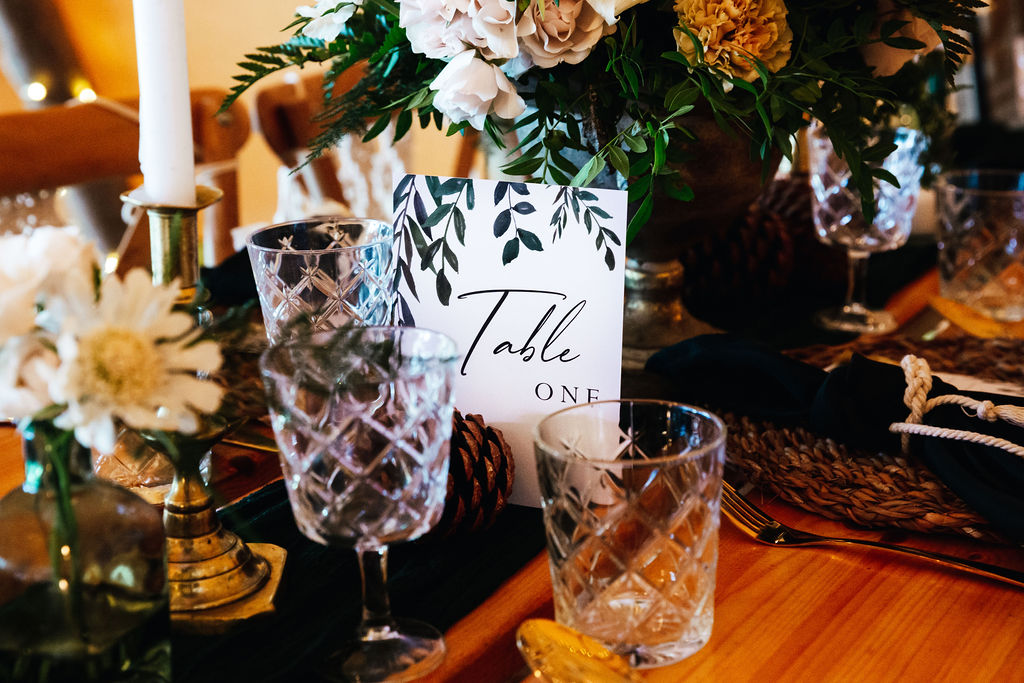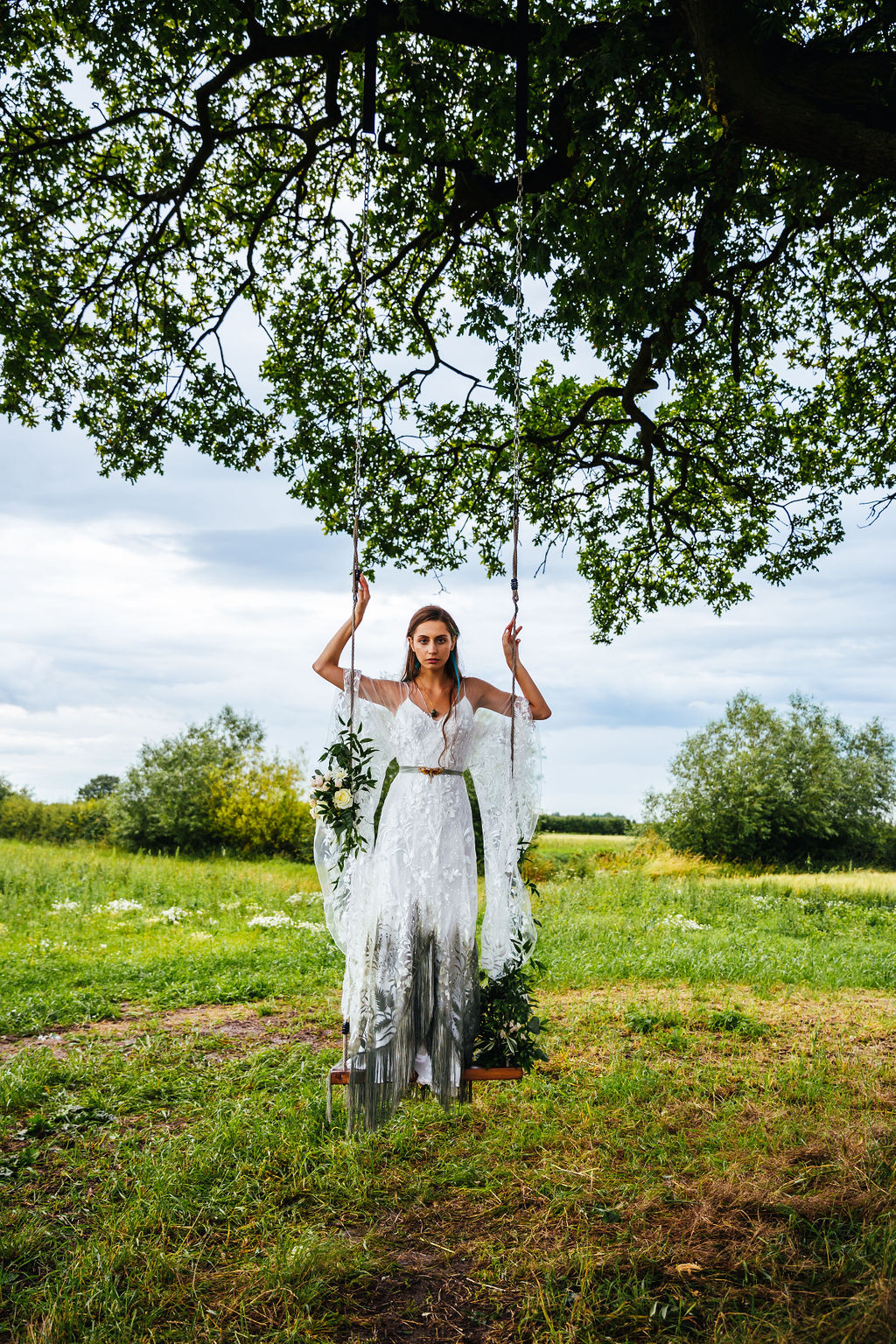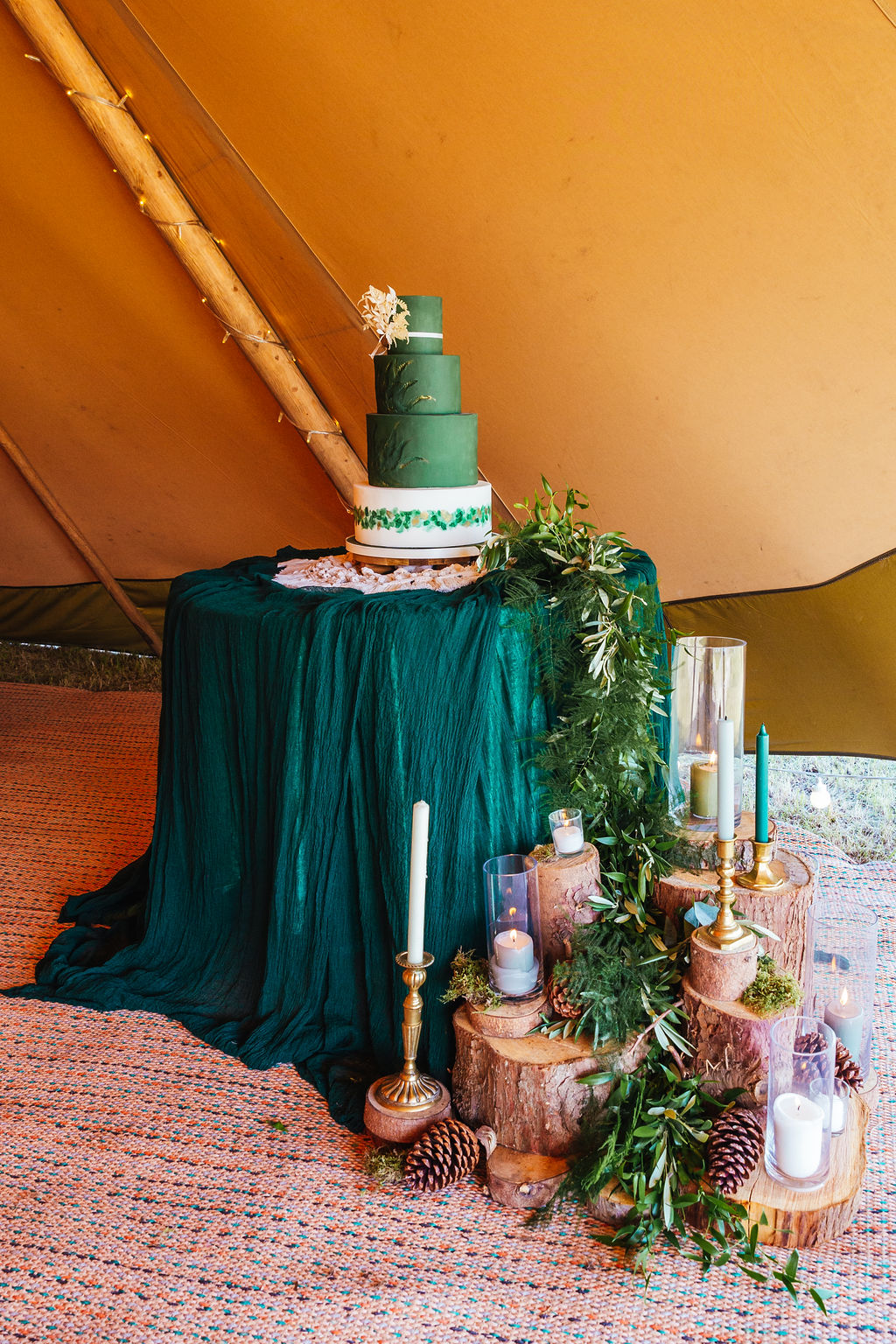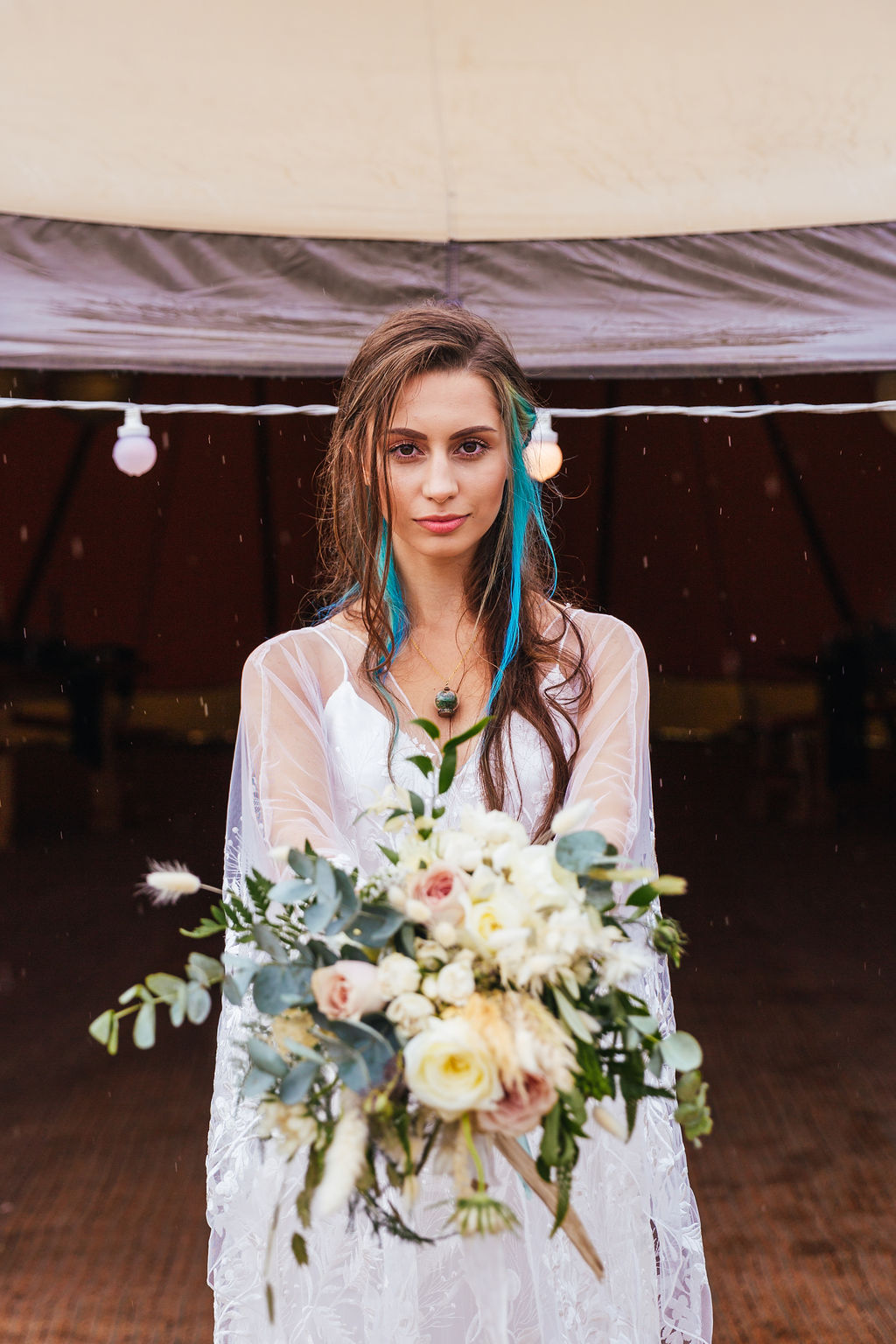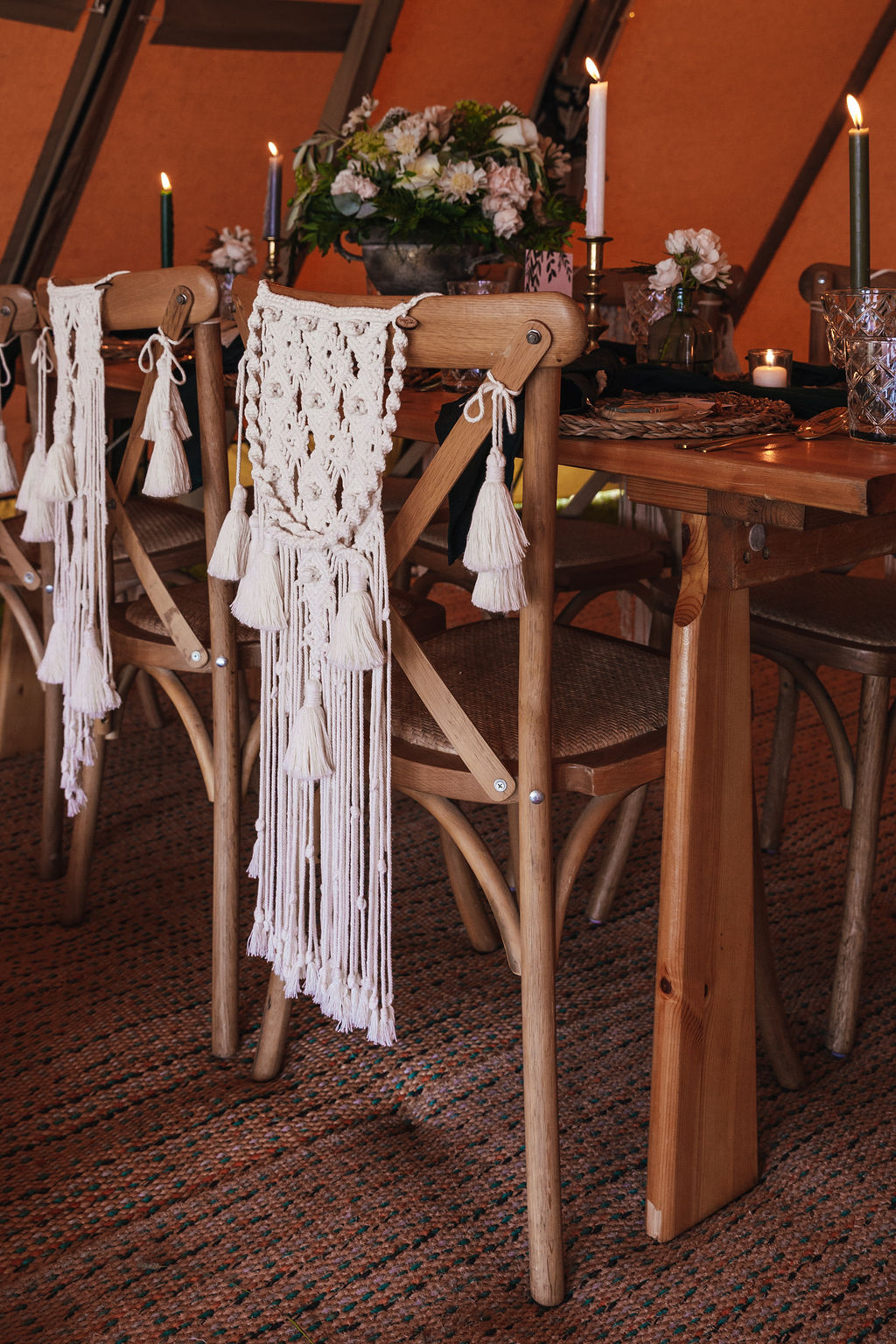 Our wedding dress was a bespoke design from BexBrides. We had two separate designs during the shoot. Firstly, the signature Rowan dress in an embroidered tulle with a botanical leaves and berries pattern and her her iconic ombre dress in green to match the theme, the perfect addition was the cathedral length veil with a matching ombre. For the sunset shots we switched to the Verity dress, in crochet style lace, perfect for swirling the night away on an outside dance floor! We could not resist adding a little twinkle with a sequin organza hooded cape, which picked up the sunset and evening fairy lights perfectly.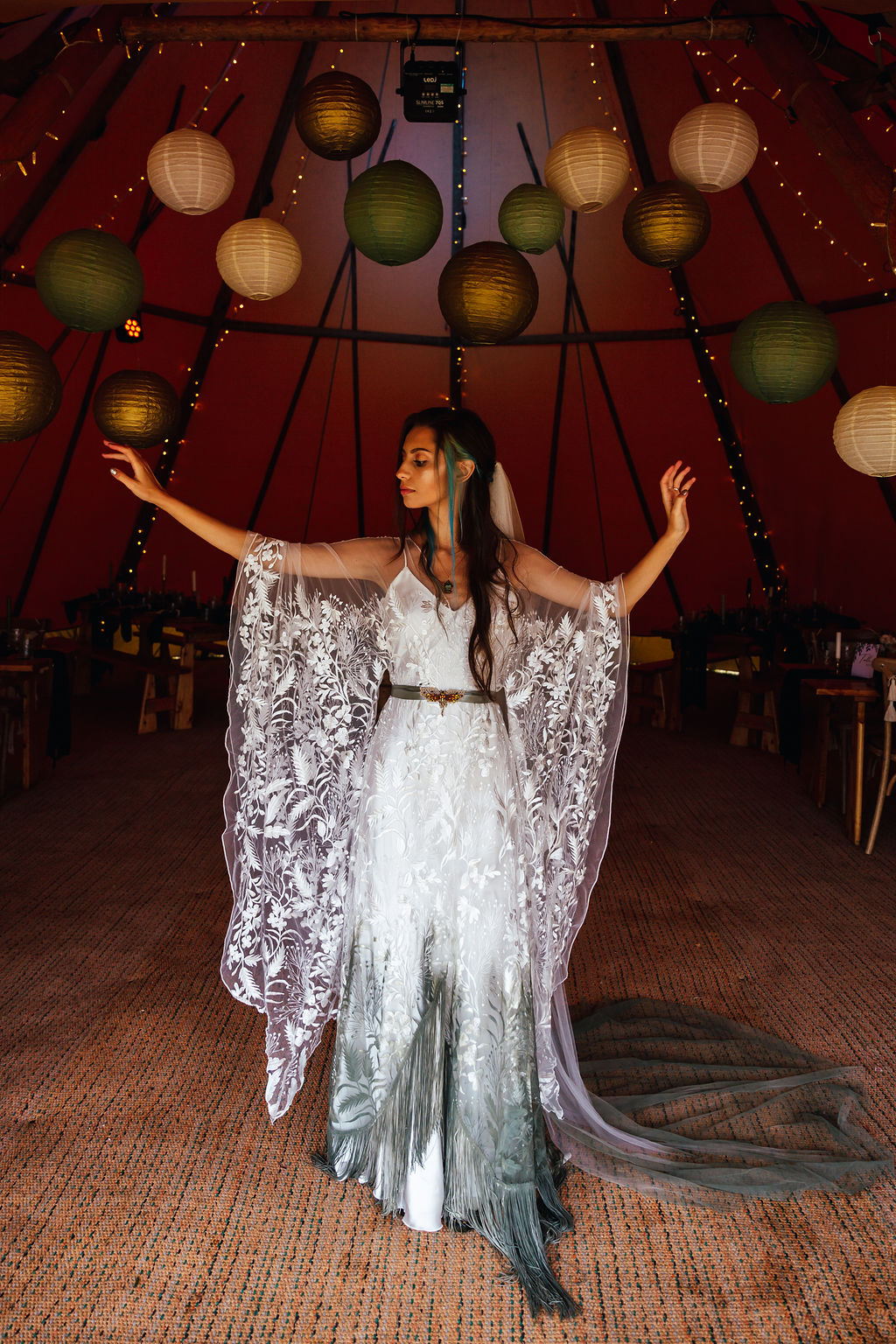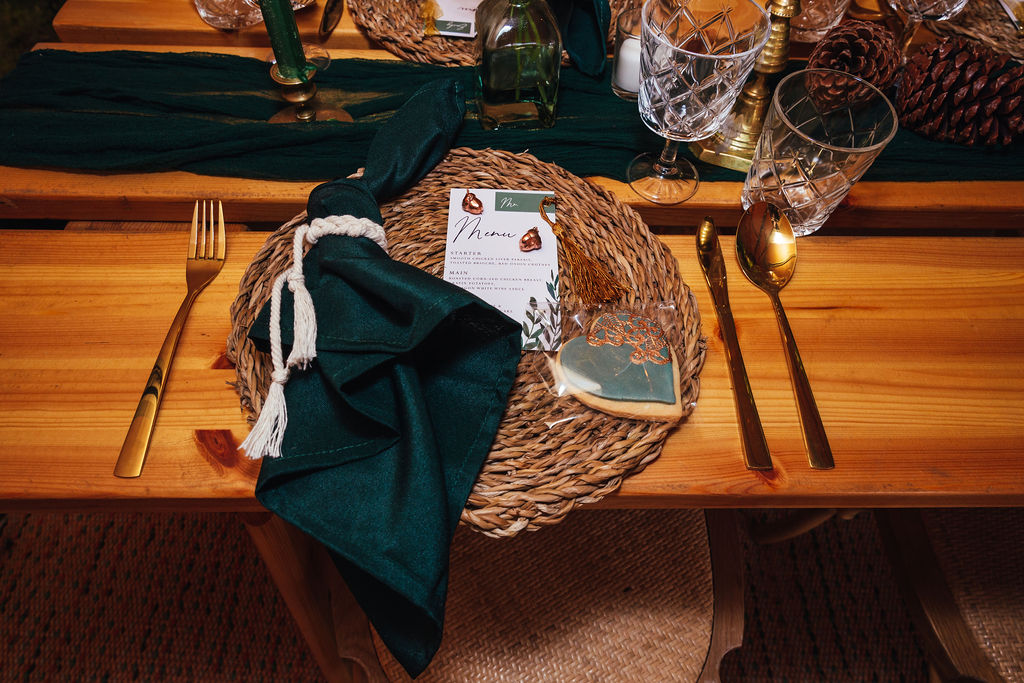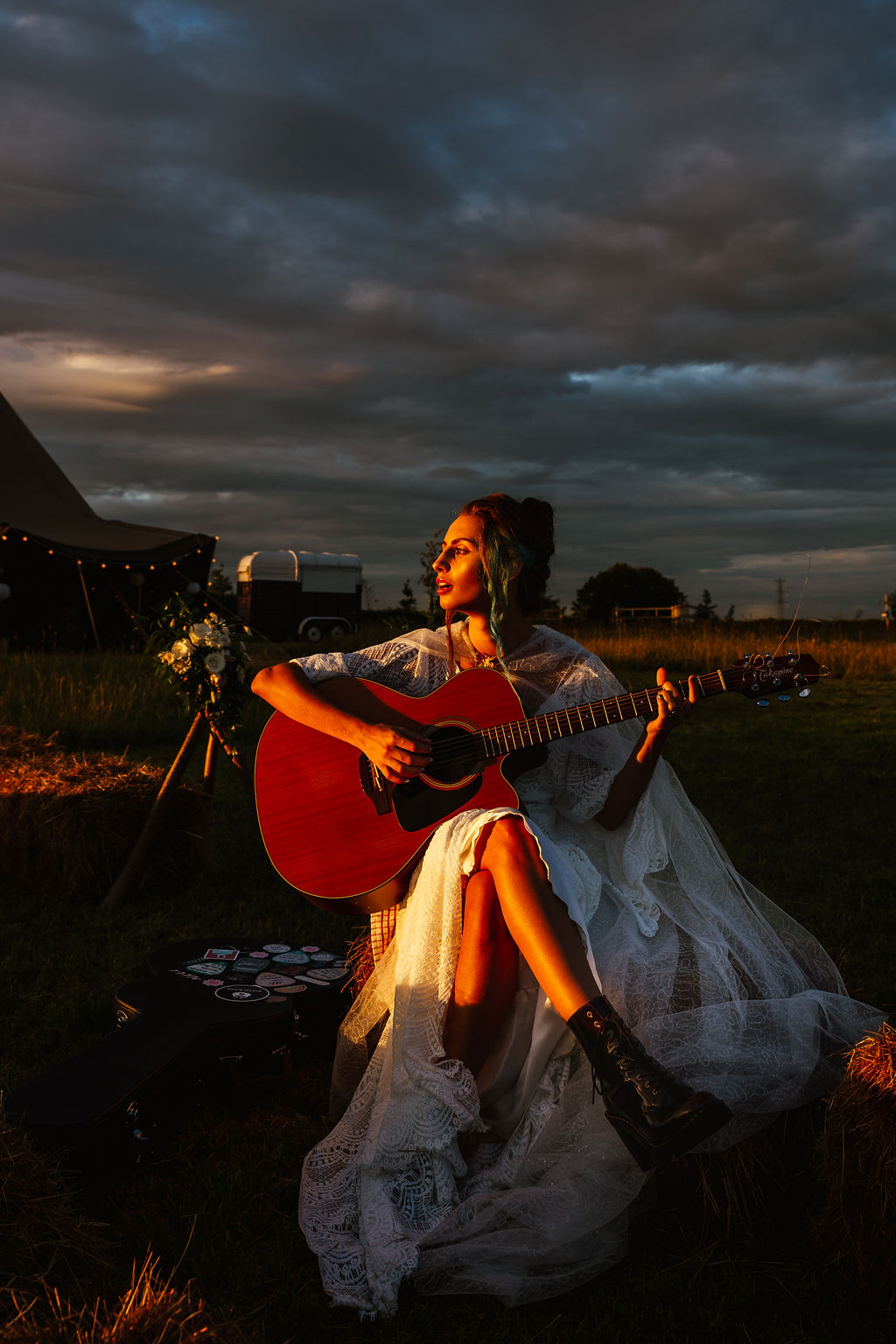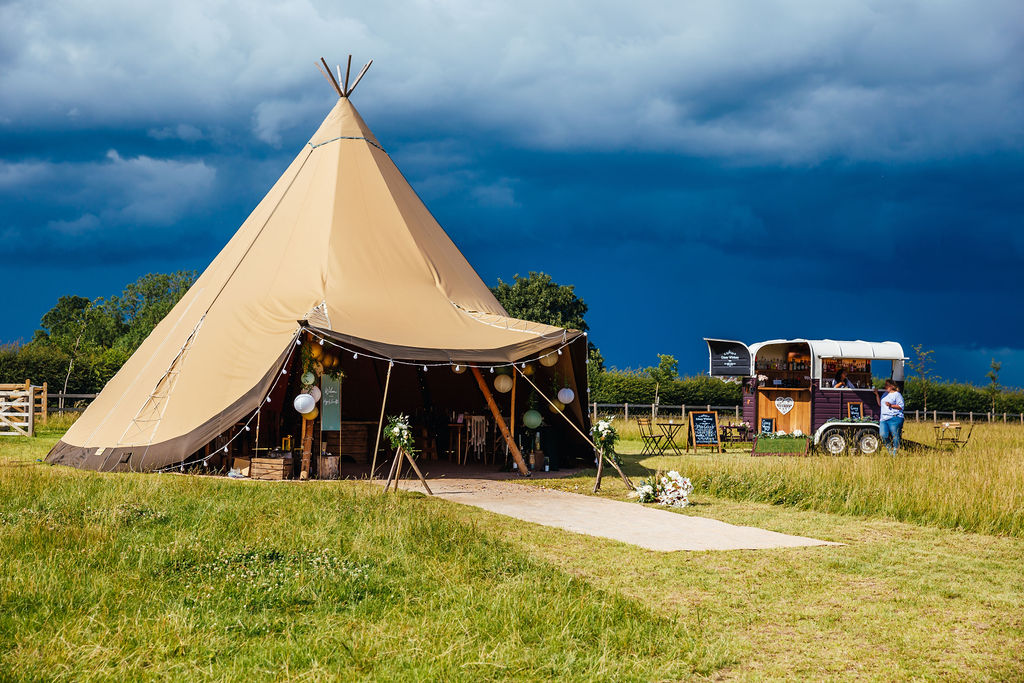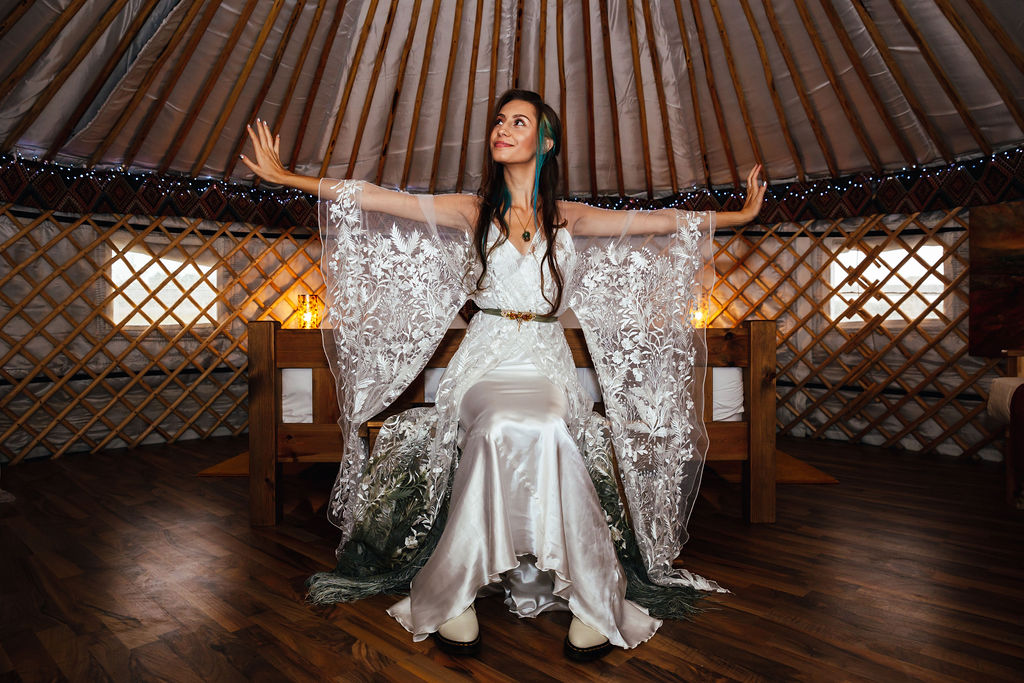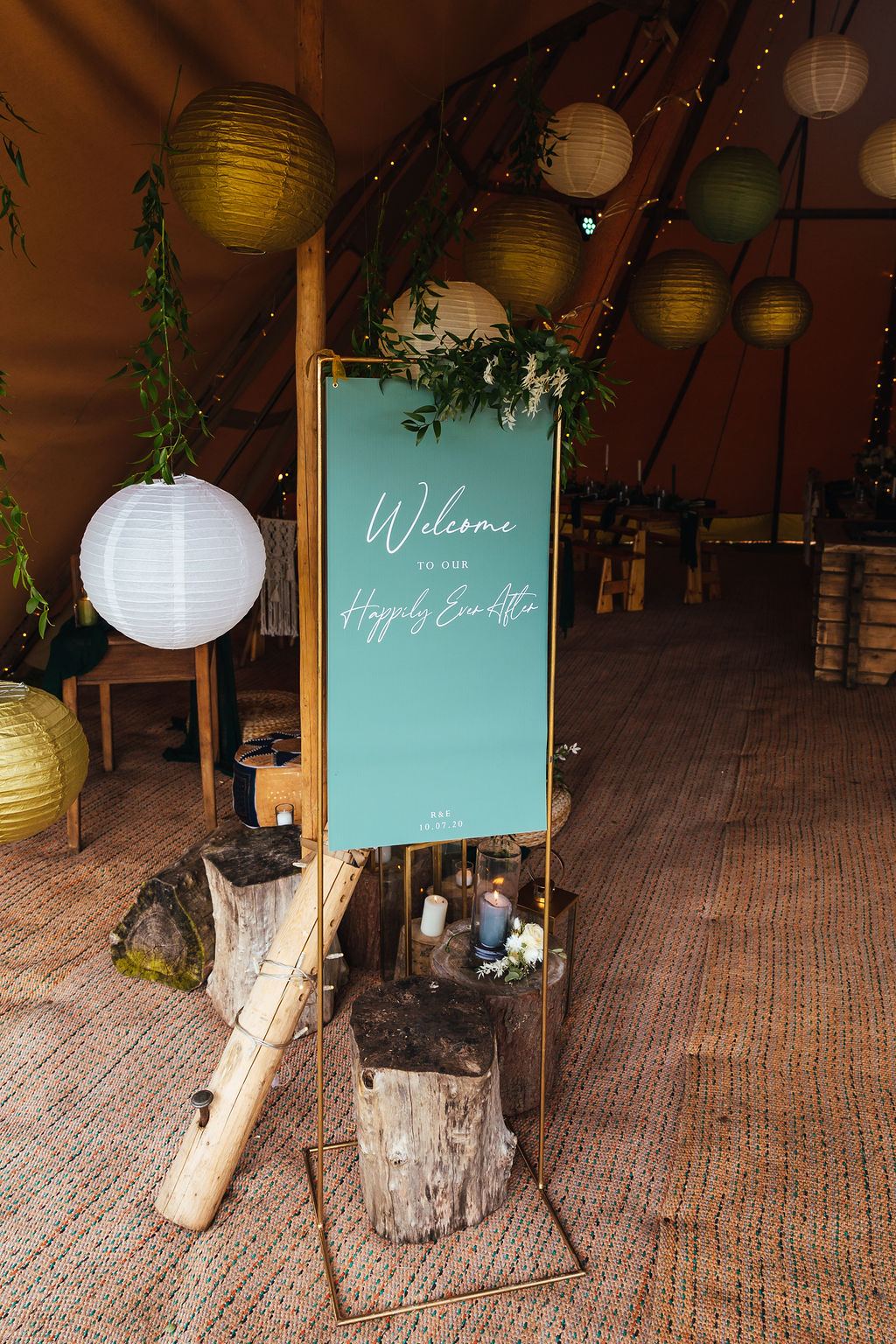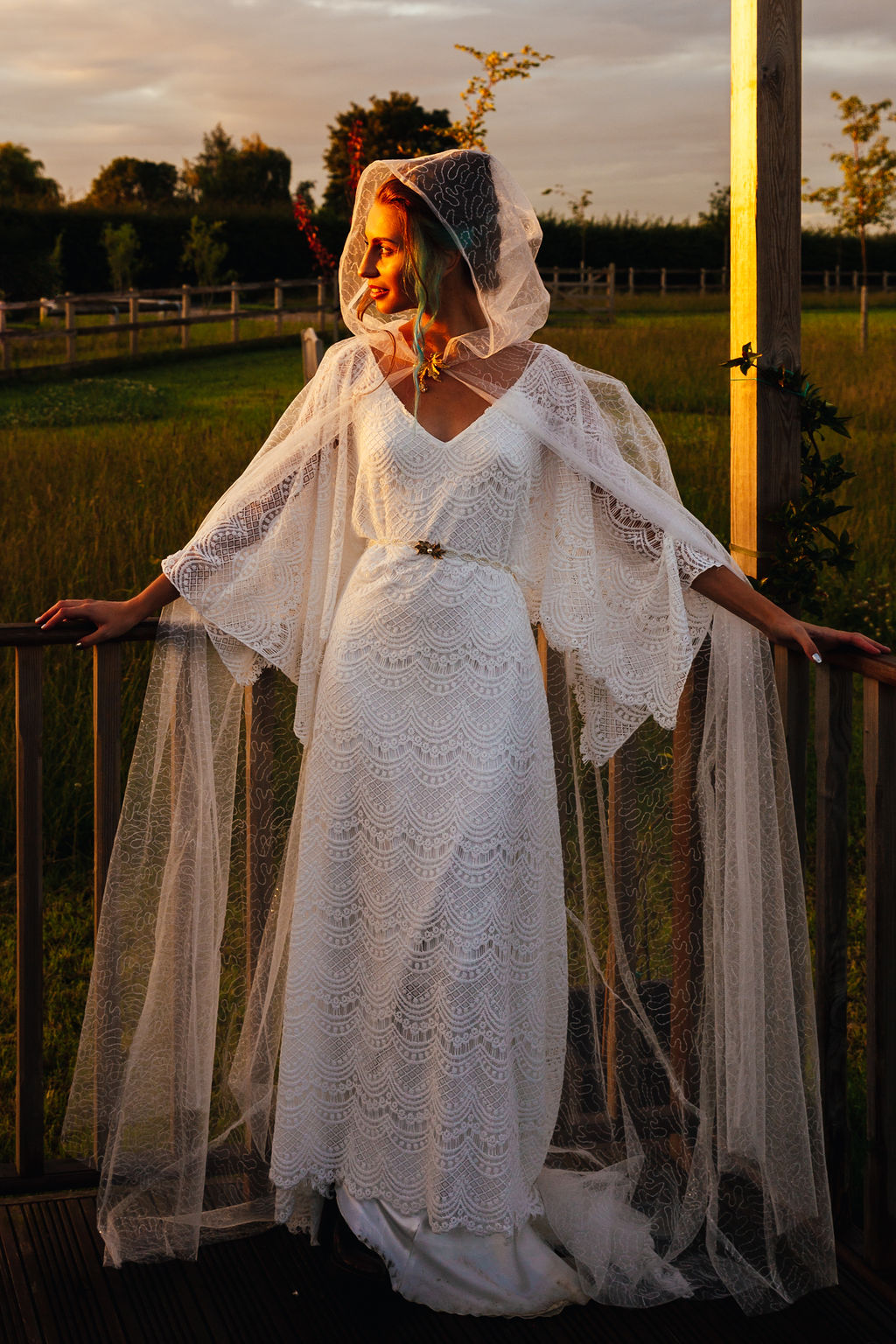 "We wanted to showcase a number of different options for couples planning their wedding day. The Biscuit Tin hand makes personalised, individually crafted, biscuits made with local produce (where possible). She made these to match the theme with green fondant icing and a lace effect painted with edible gold paint and gold sparkle dust to complete."
"Every forest requires its woodland animals. So, we were super excited when Silversmith Claire from CRZyBest offered to sculpt us a whole menagerie of tiny copper woodland creatures. They looked perfect on top of the wedding menus on each place setting. Claire also created a version of her honeybee bouquet wrapped in organic silk ribbons complete with tiny handcrafted bronze bees. The with Swarovski crystals looked amazing captured by Kirsty the photographer in the evening light."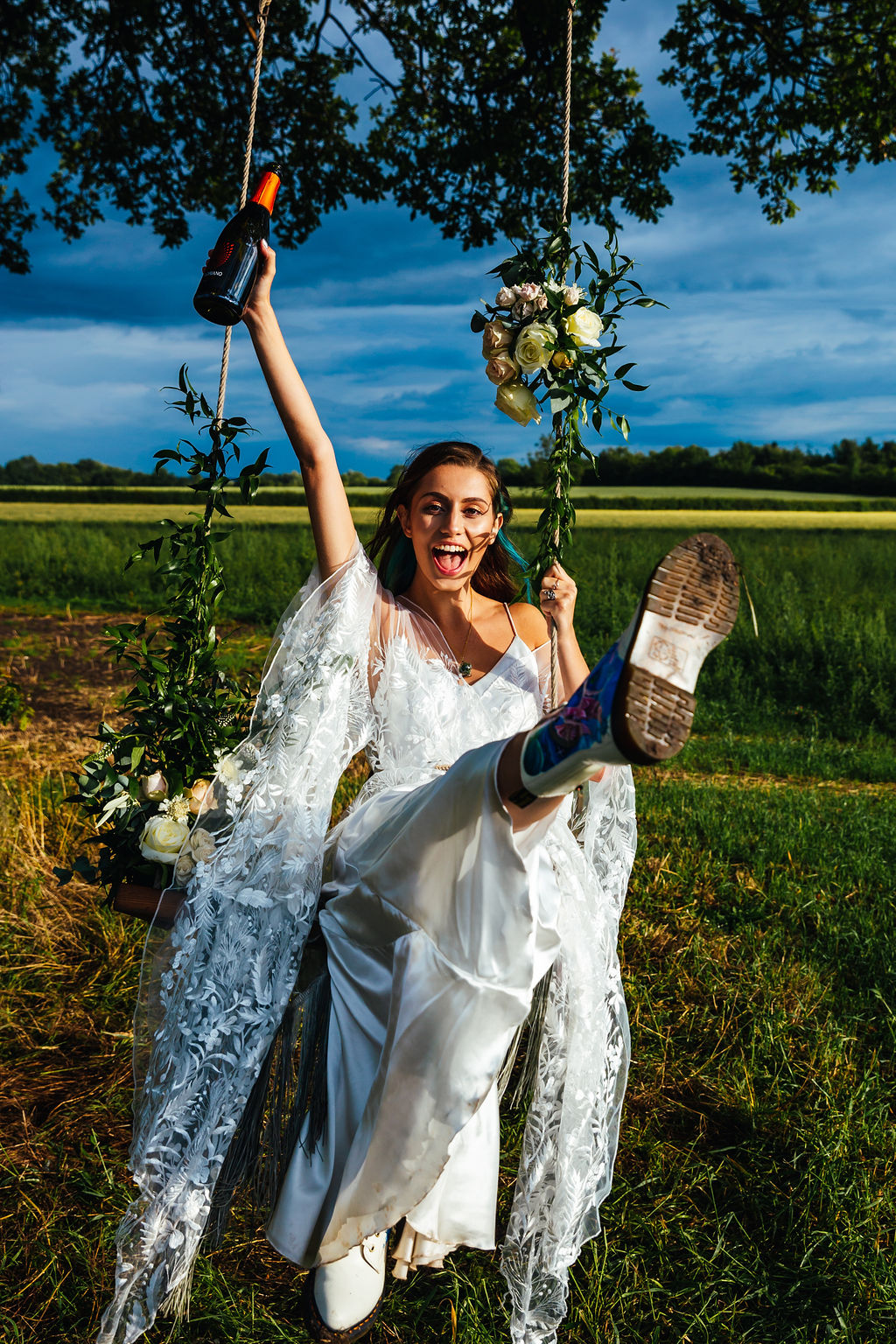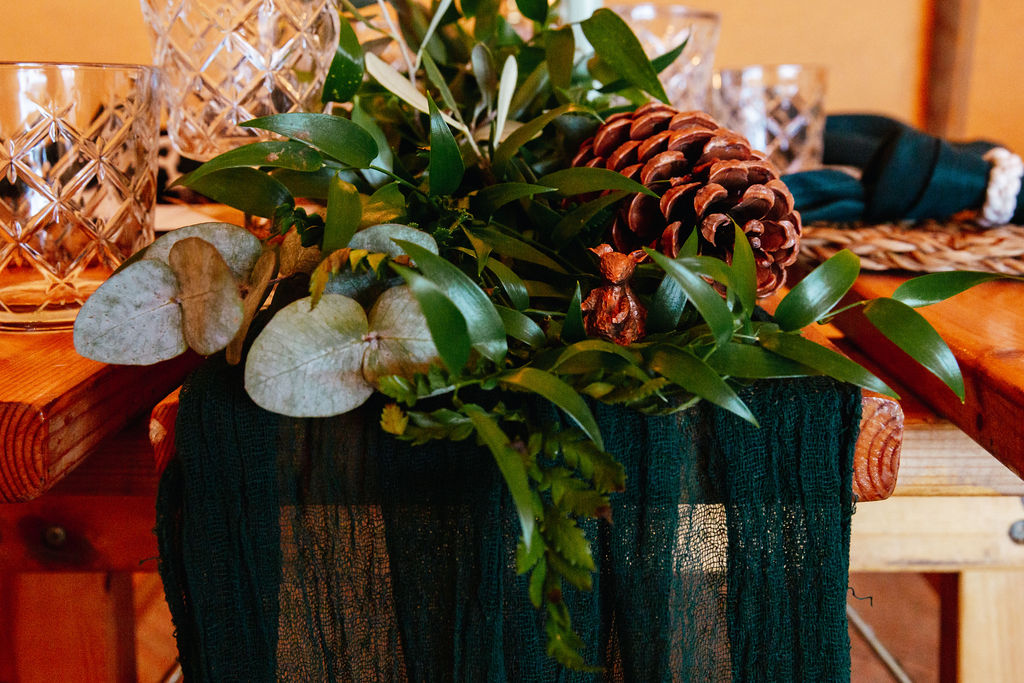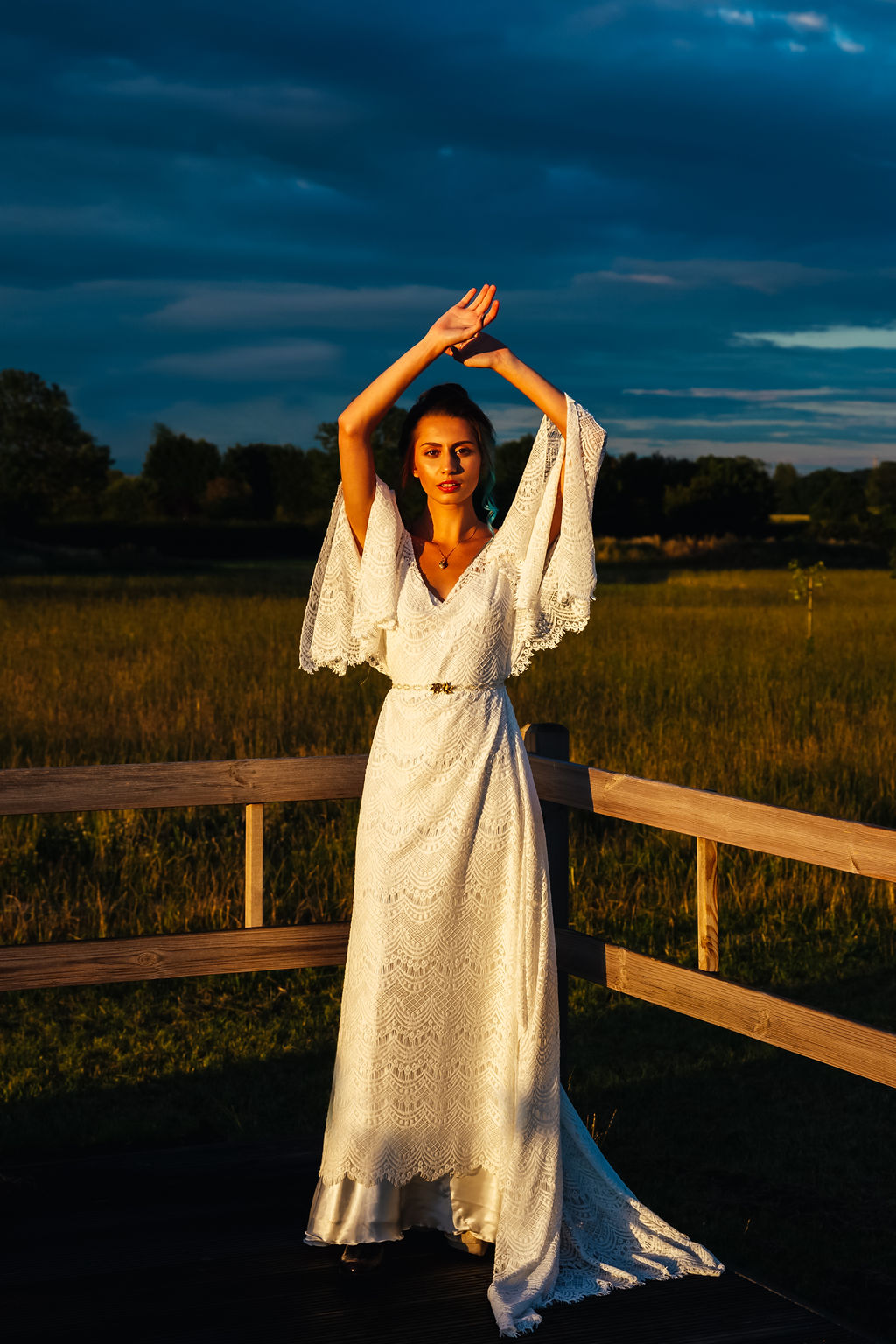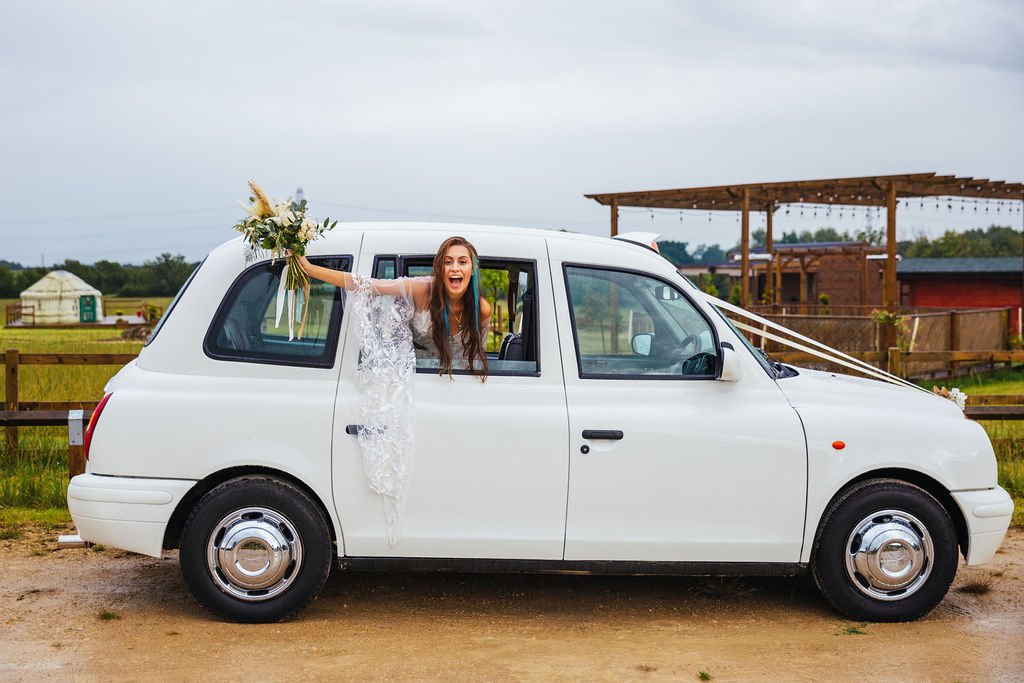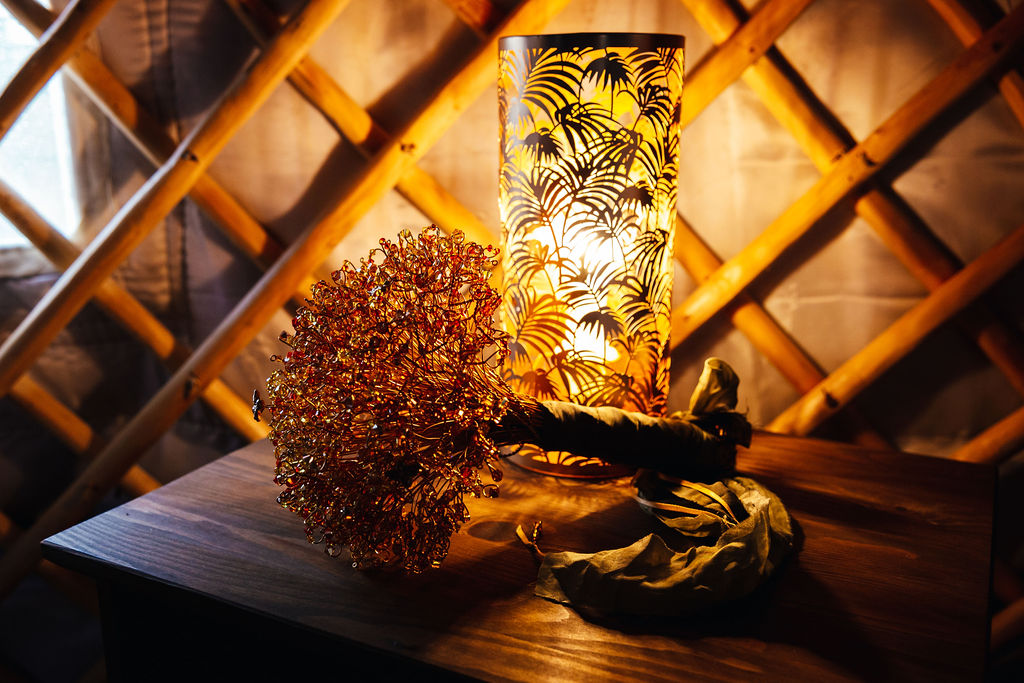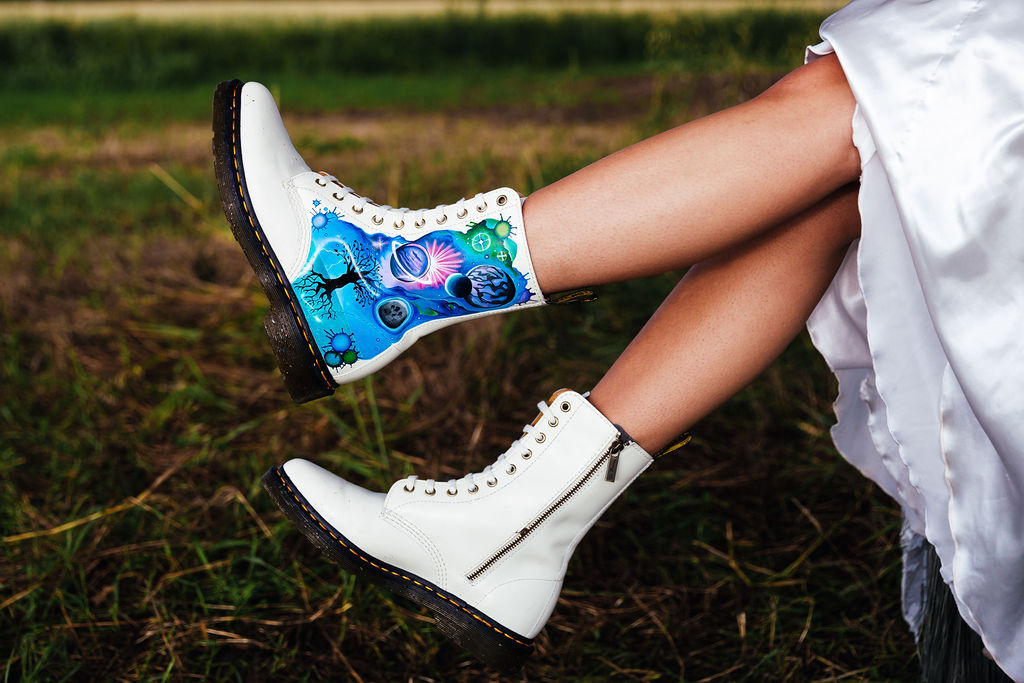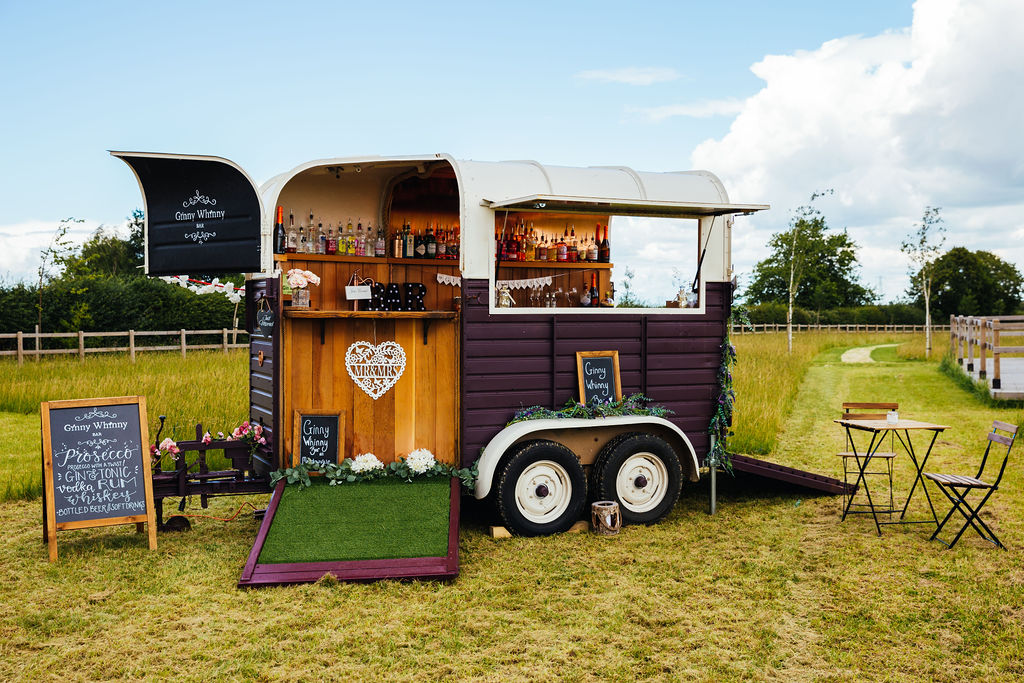 "We knew that we couldn't have bland wedding shoes on this shoot, so we got in touch with Inanna Bespoke Shoes to join our supplier team. Dr Martens are becoming an increasingly popular choice with brides for comfort and style, and of course, they had to be hand painted. They are also perfect for outdoor weddings where the ground can become wet under foot. We love how versatile and pretty a pair of hand painted Dr Martens can be to rock on your wedding day. Betty, the iconic London Taxi wedding car. She was perfect for the boho style of this photoshoot. We're not sure how many brides have hung out of Betty's windows though! It was a lot of fun!"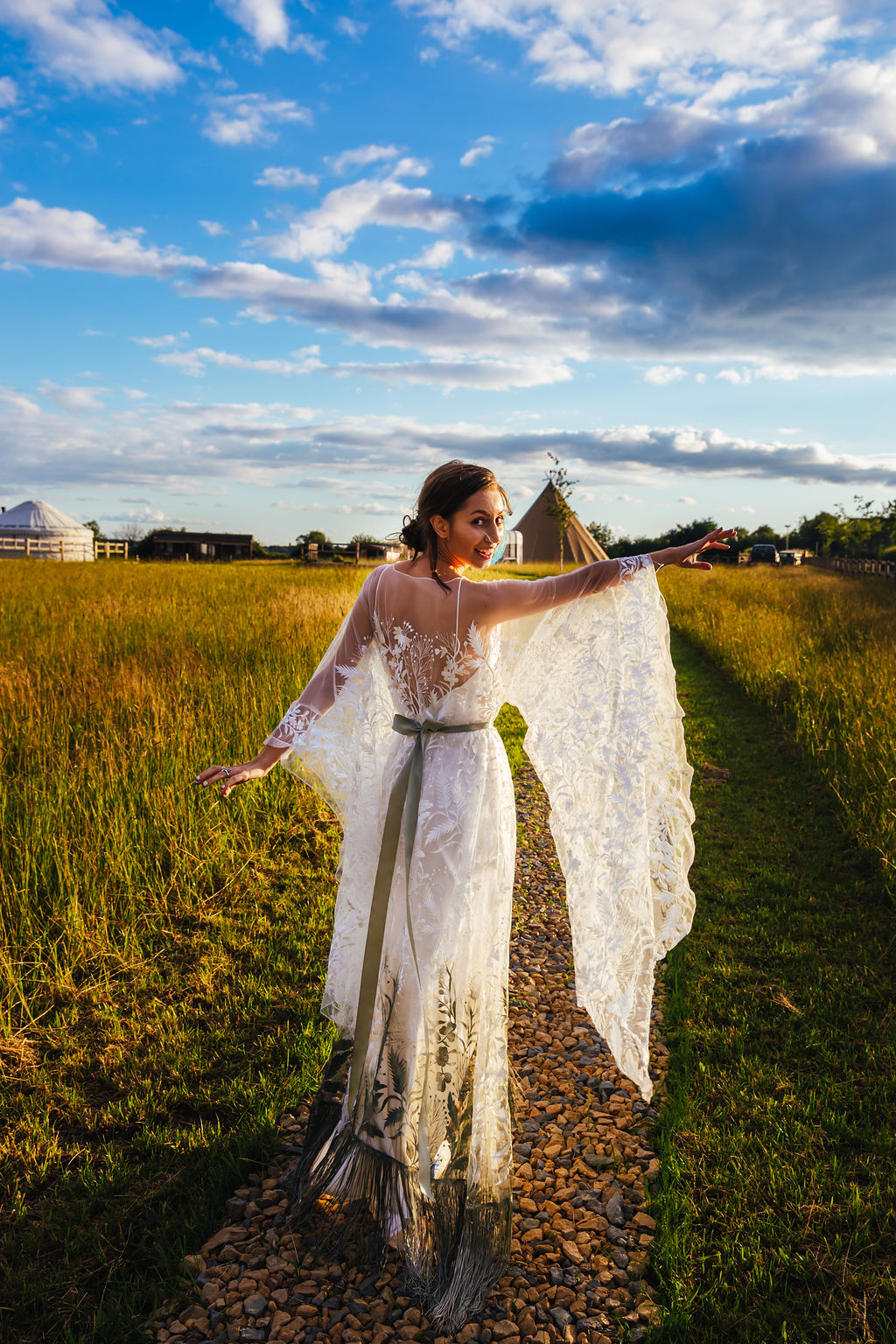 Photographer: Kirsty Rockett Photography @kirstyrockettphoto
Venue: Meadow Vale Weddings @meadowvaleweddings / Planner: Linzi from 'that black and white cat' weddings @thatblackandwhitecatweddings / Styling: The Rustic Wedding Company @therusticweddingcompany / Tipi: Sami Tipi @samitipi / Glamping set up: Bellows Glamping @bellowsglamping / Bridal wear: Bex from BexBrides @bexbrides / Flowers and Cake: Big Day Blooms and Cakes @bigdaybloomsandcakes / Macrame artist: Amber and Boheme @amberandboheme / Hair: Moira Borg Hair Artist @moiraborg / Model (and Make up): Tori Sheard @torisheardmusic / Stationery: Bluebell Press @bluebellpressuk / Bee bouquet: CRZyBest @crzybest / Transport: Betty from White Taxi Weddings @whitetaxiweddings / Horsebox Bar: Ginny Whinny Bar @ginnywhinnybar / Favours: Jessica from The Biscuit Tin @the.biscuittin / Shoes: Lou from Inanna Bespoke Shoes @inannabespokeshoes
IF YOU LOVED THIS WEDDING AT MEADOW VALE PLEASE PIN IT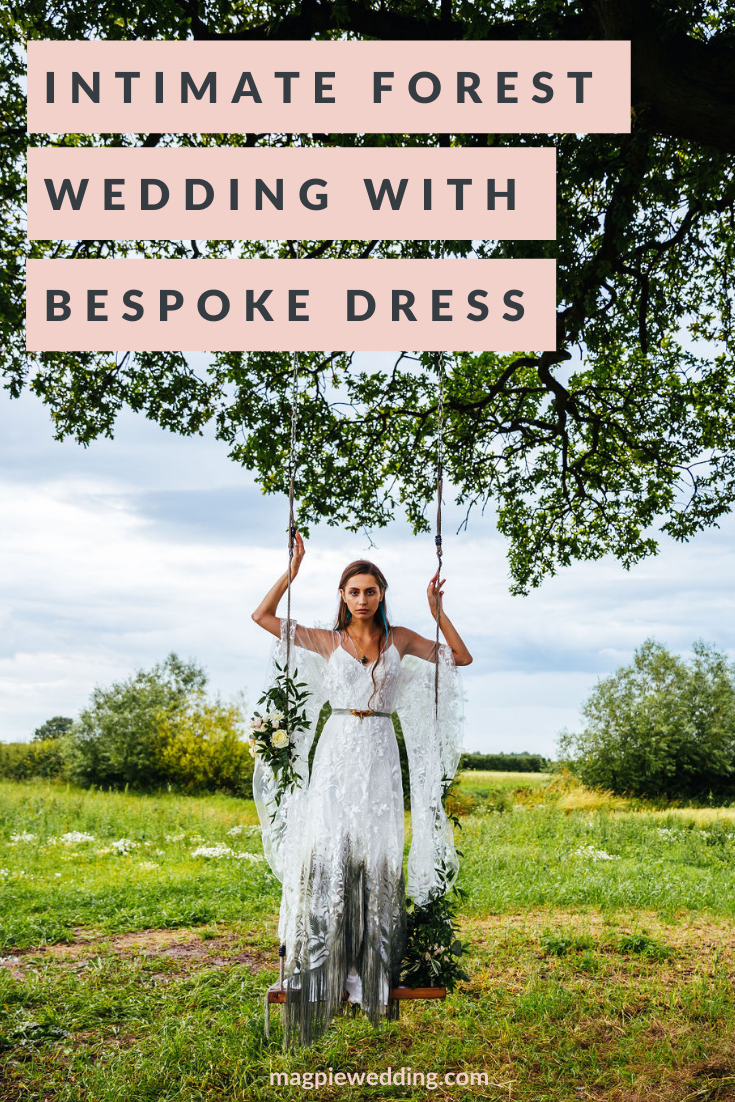 If you loved this Wedding at Meadow Vale you may also like;
Modern Luxe Outdoor Wedding With Bridal Suit at Once Upon a Woodland, Hurley
Magpie Wedding Show (And Tell) – Some Of Our Favourite Creative Wedding Suppliers
Beach Elopement Wedding With Dreamy Pastel Styling At East Mersea Island