It's all about the 1940's wedding inspiration today, an interesting decade for many reasons and one that isn't styled that often – mainly due to their being a war on and rationing of fabric until well into the 1950's. Here we talk to you about styles from the era and give you some perfect 1940's wedding inspiration, accessories ideas and styling for your 1940's wedding…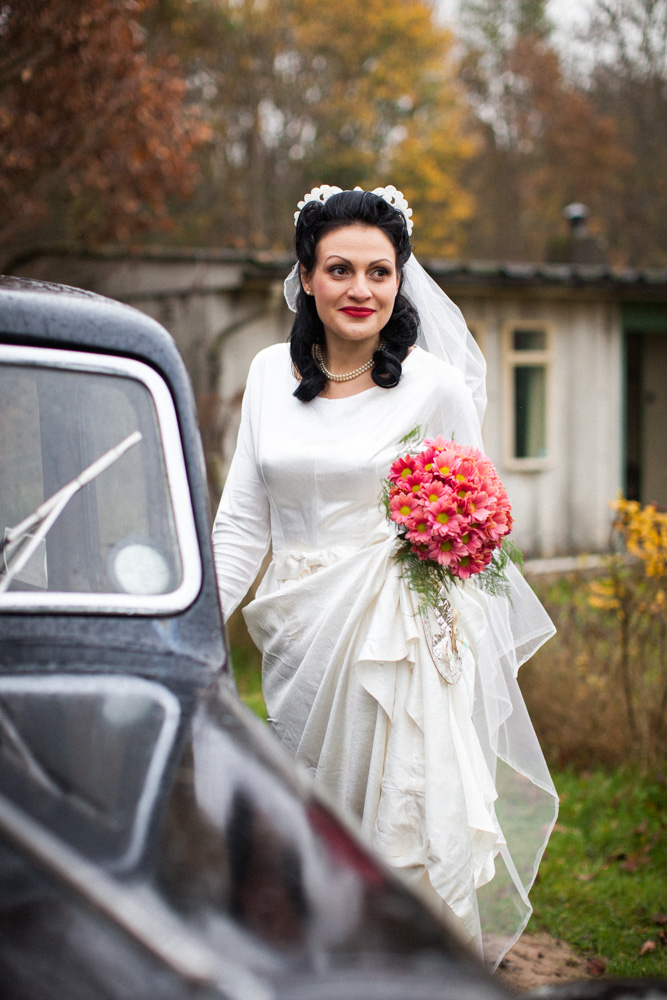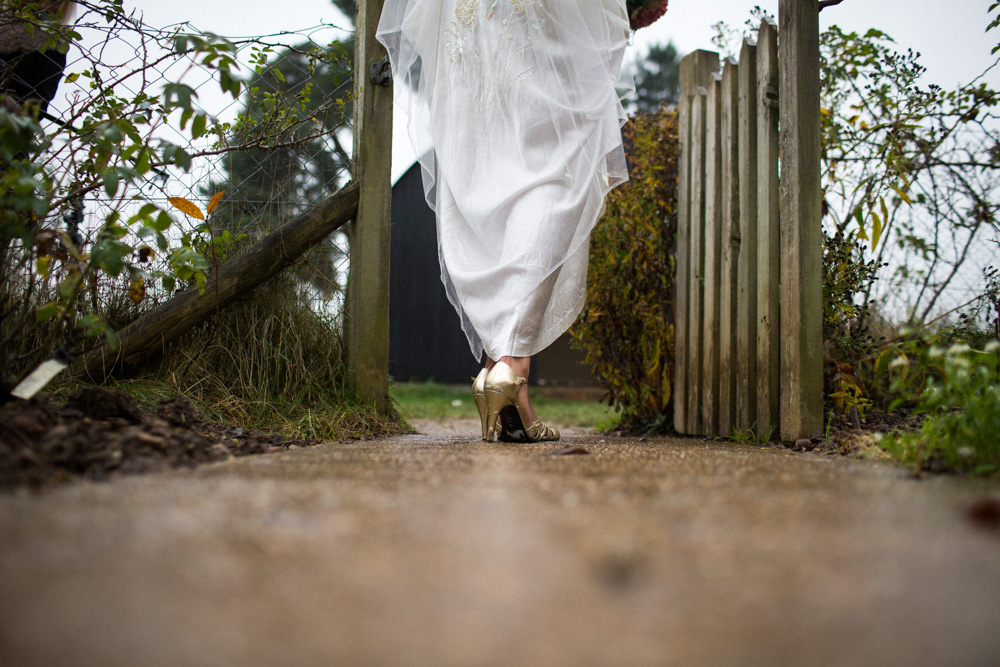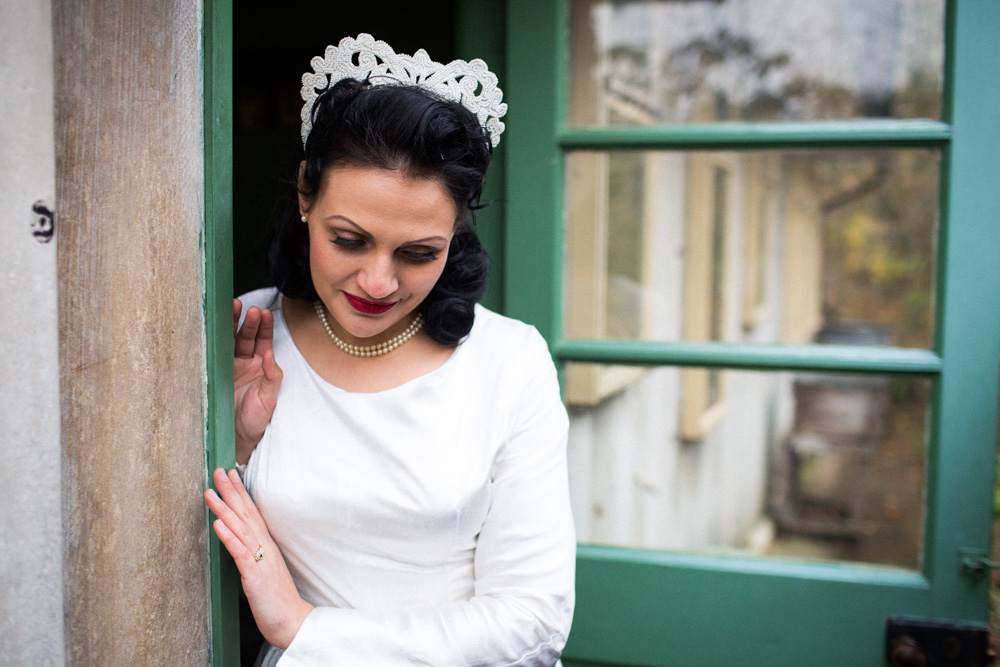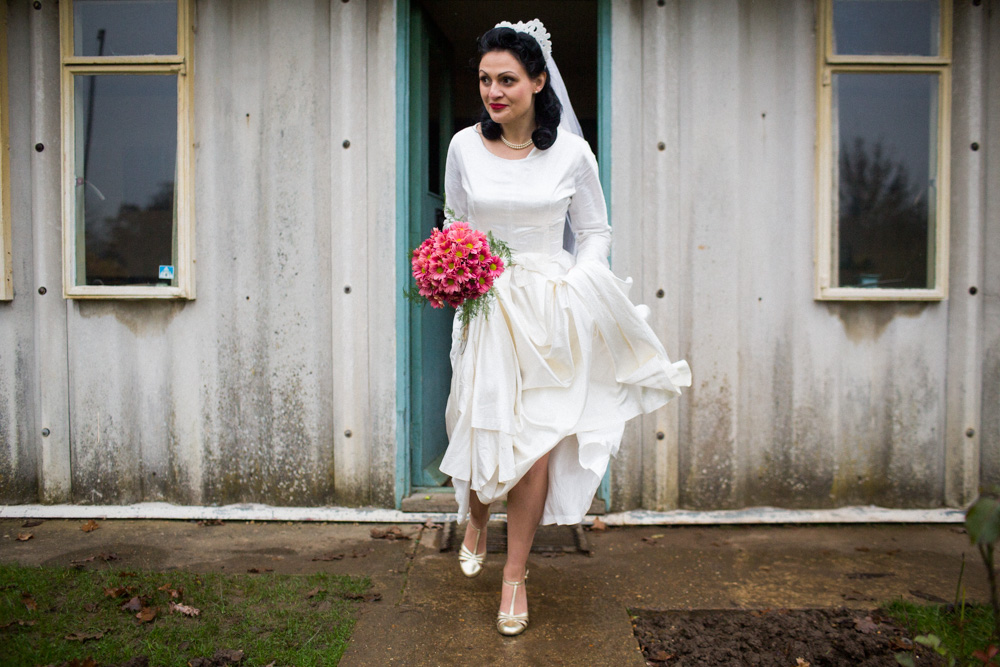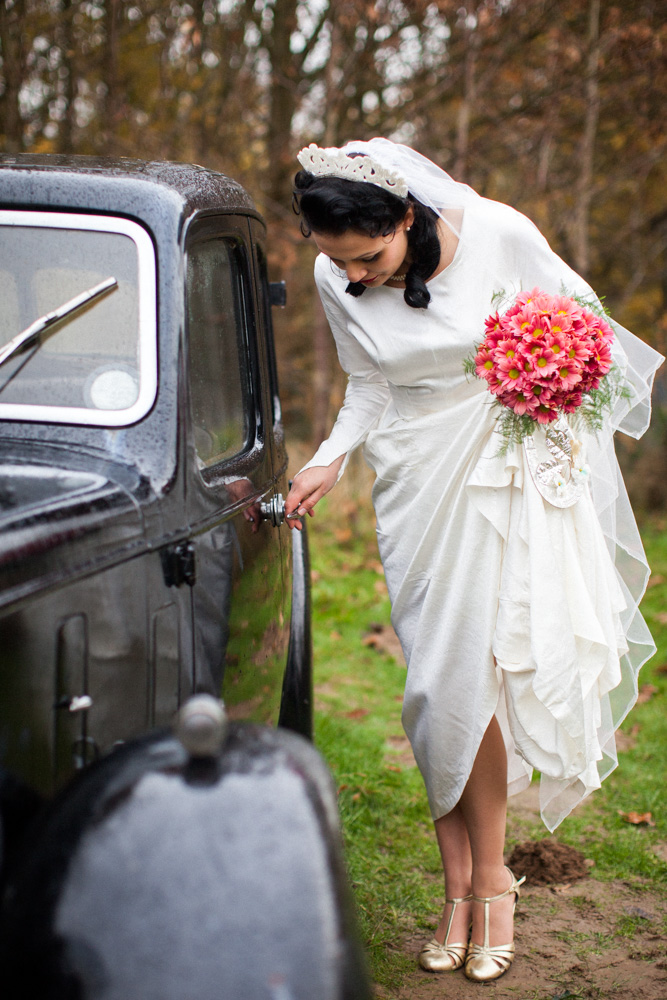 The 1940s wedding dress came in many forms during this decade. With the backdrop of war, austerity and of course rationing, a bride had to make do and mend for her big day, be it by borrowing, creating or by not wearing a wedding gown at all.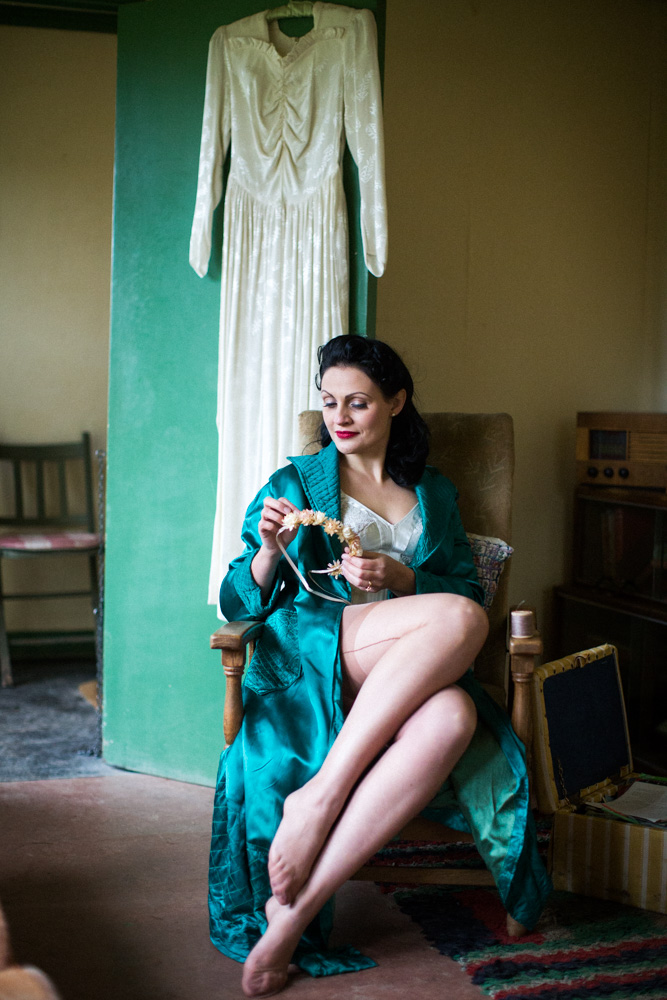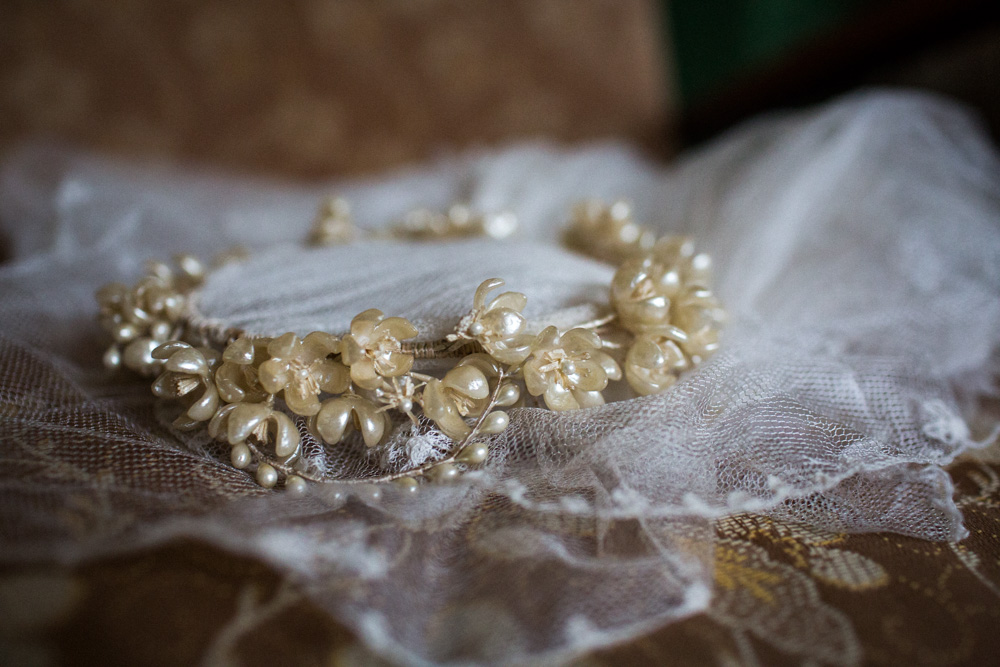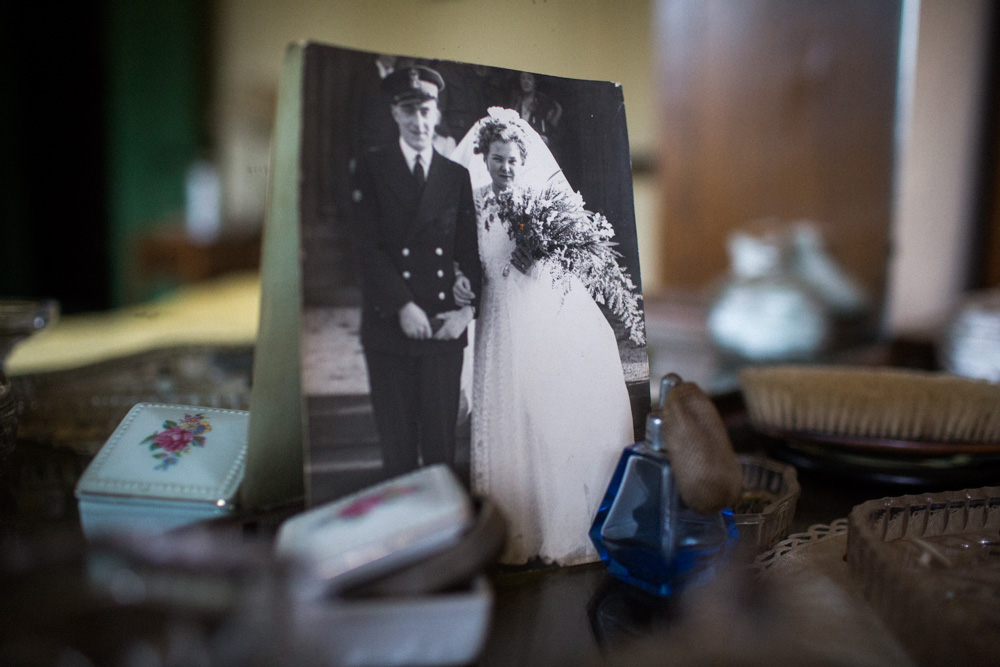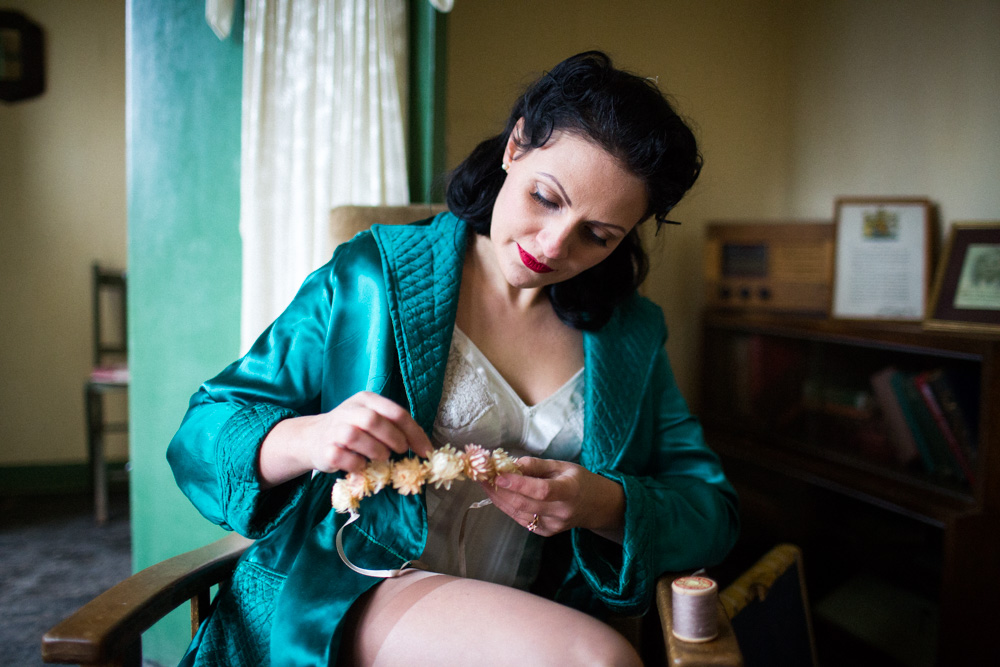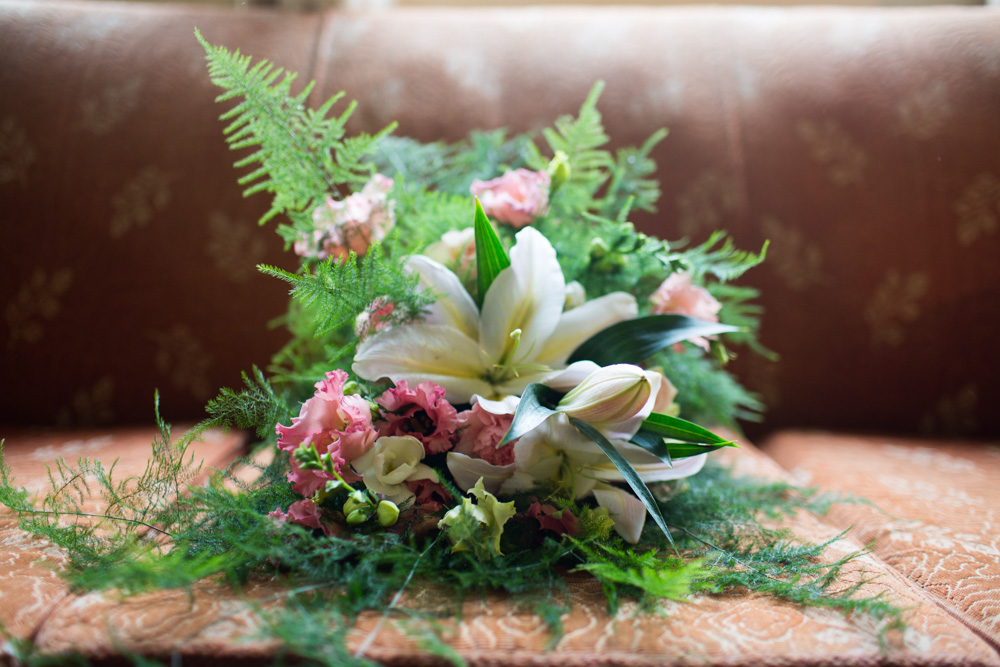 Often brides would borrow a dress that had been worn in the 1930s, which was elegant and close fitting. This was teamed with a borrowed head piece and a long veil although some managed to buy shorter, modern styles. As waiting lists for new dresses were months long, some brides had to make their own, sometimes from curtain fabric or parachute silk. However, many parachutes at the time were not made from silk at all, instead made from Ramex cotton and Dupont nylon.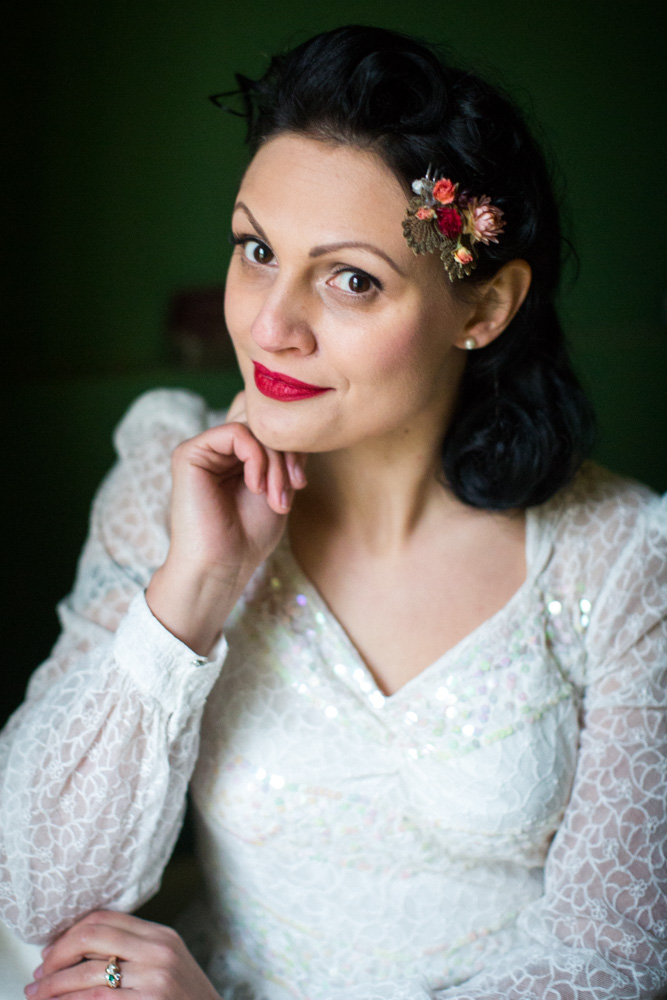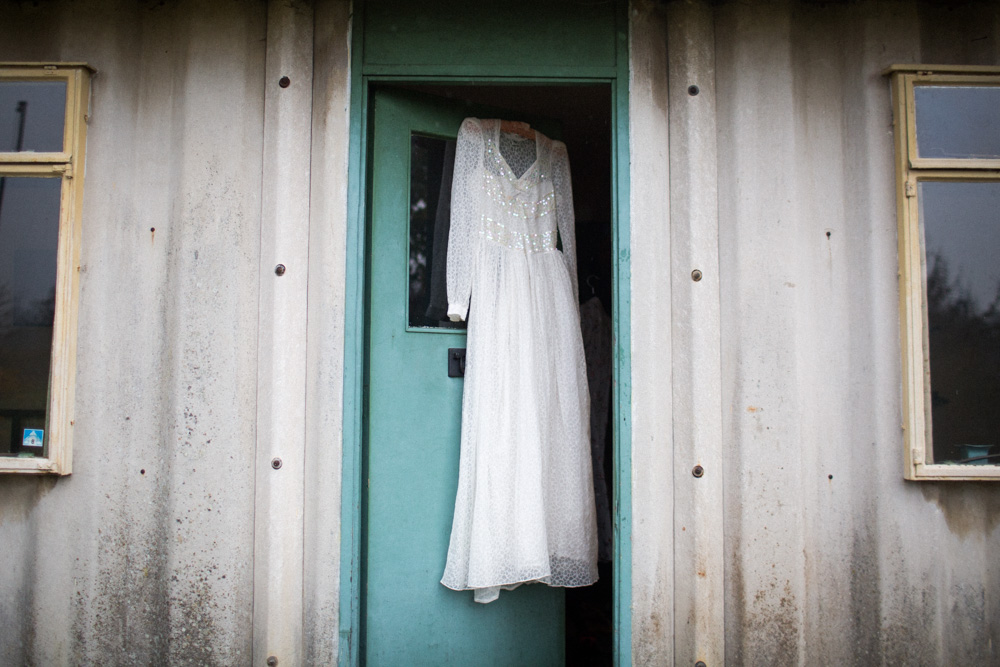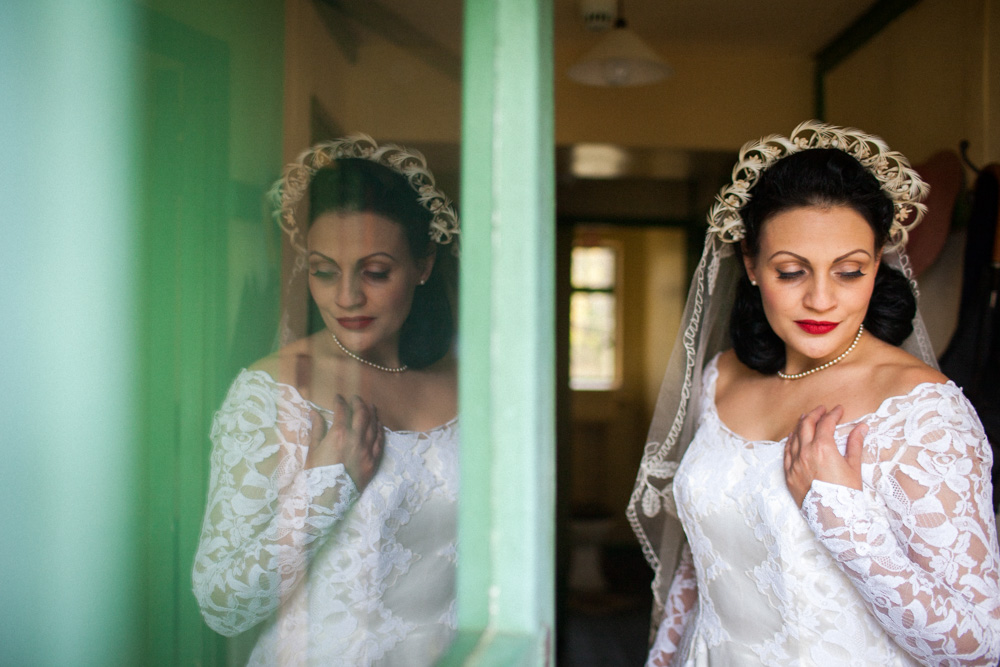 Erica Arnold from Real Green Dress describes, "In 1941 a German bomber crashed in a field near Birmingham and the injured wireless operator fled at the sight of the women from the local village approaching him with pitchforks, determined to recover his parachute. After the war illustrations started to appear in women's magazines showing how the thin triangular panels of a parachute could be best used for the complex laying out of pattern pieces for dressmaking."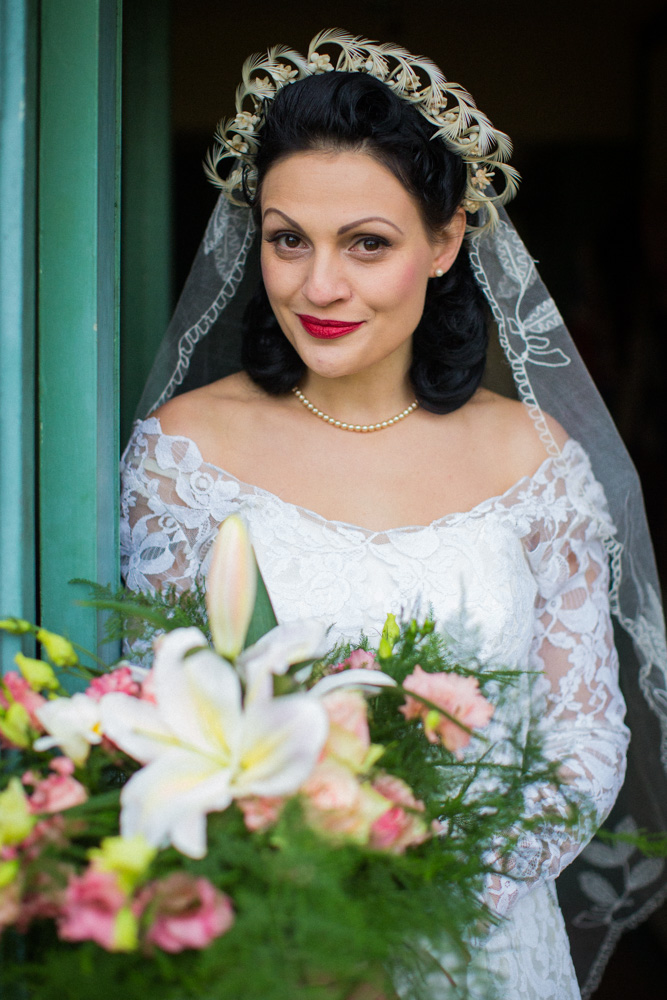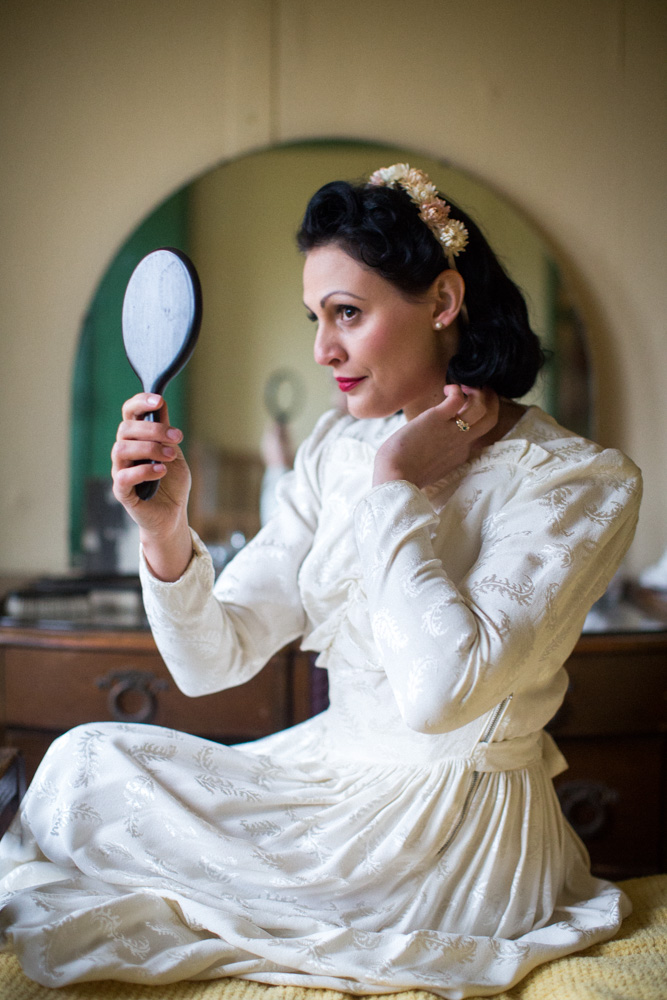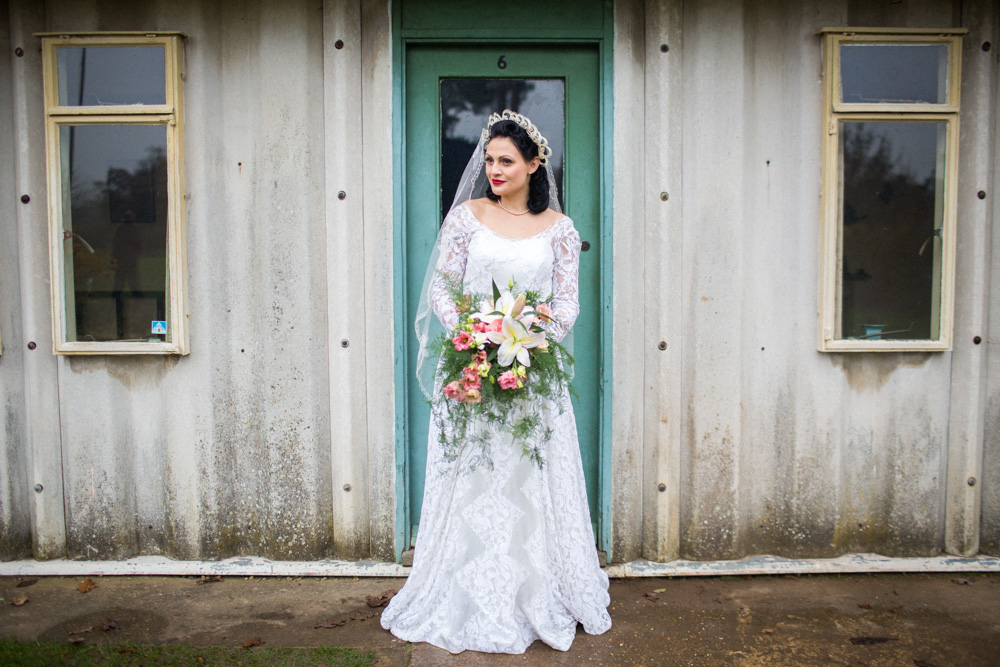 The style of these was quite simple as to the utility guidelines, with long sleeves, a sweet heart neckline and softly padded shoulders. During the war, fabric along with other materials was in short supply, but women sometimes still had a need for new clothes rather than always making and mending. To control manufacture, the government outlined exact styles that could be made using new material which were then stamped with a CC41 label. At this time "permitted luxury" was introduced for some wedding dresses and other high end clothing which was highlighted by the Double Elevens label; 2 straight lines either side of a circle. Here extra fabric that was not needed for the war effort were appliqued, such as sequins and lace.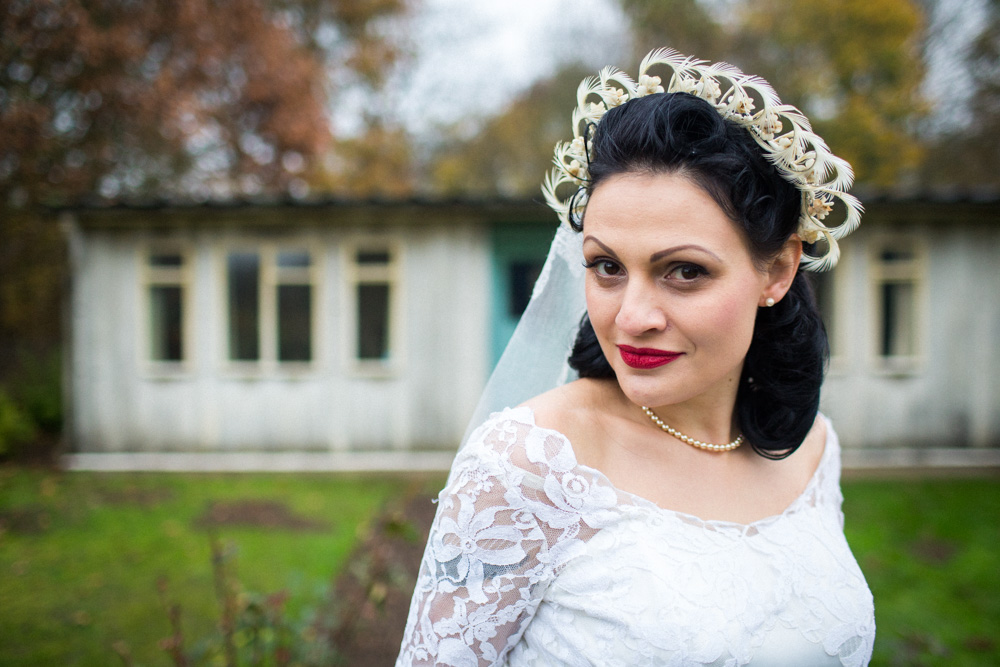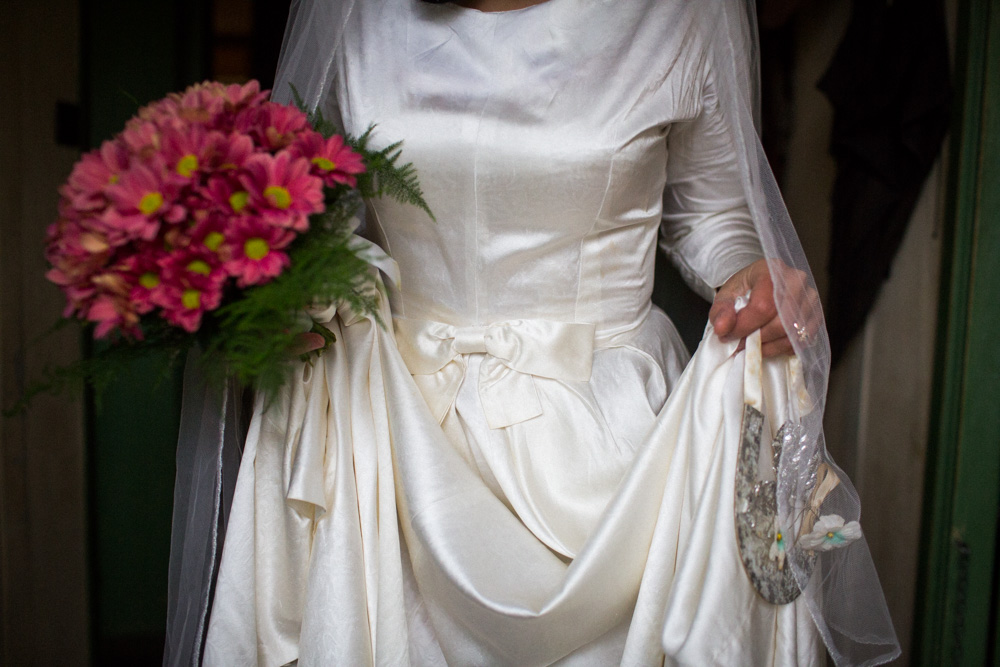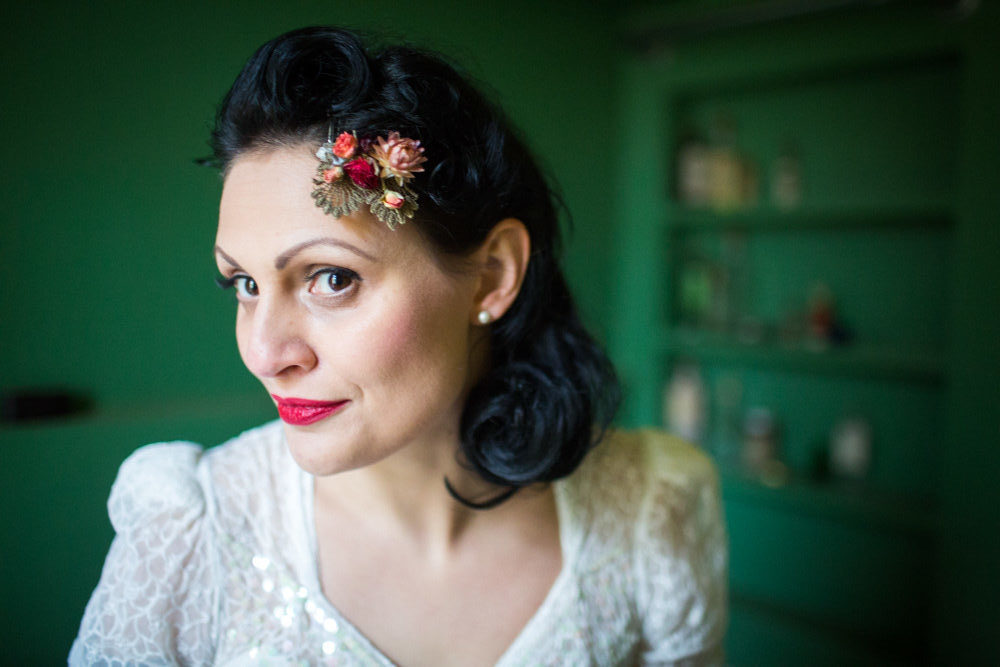 A
s many weddings were planned in a matter of days, due to a loved one going back to war, brides would simply wear their best suit teamed with a hat, a small bouquet, crochet gloves and a silver horse shoe.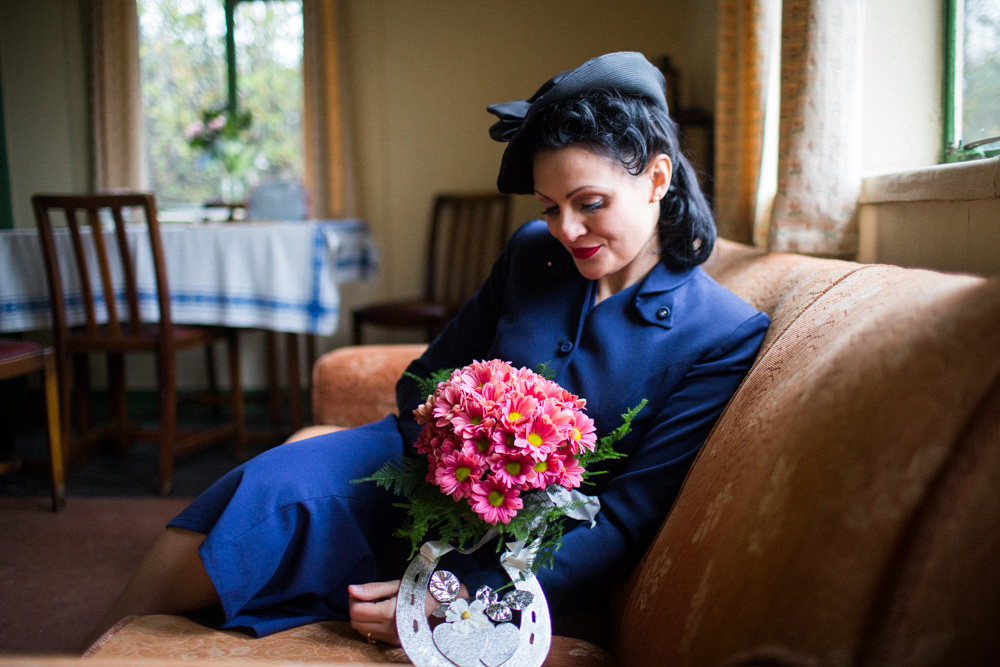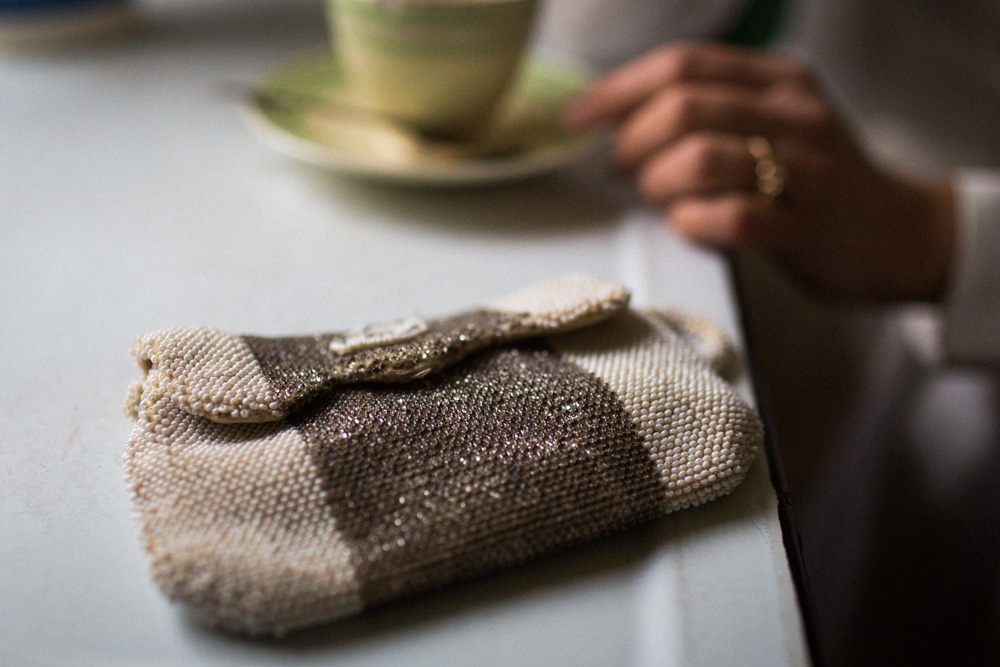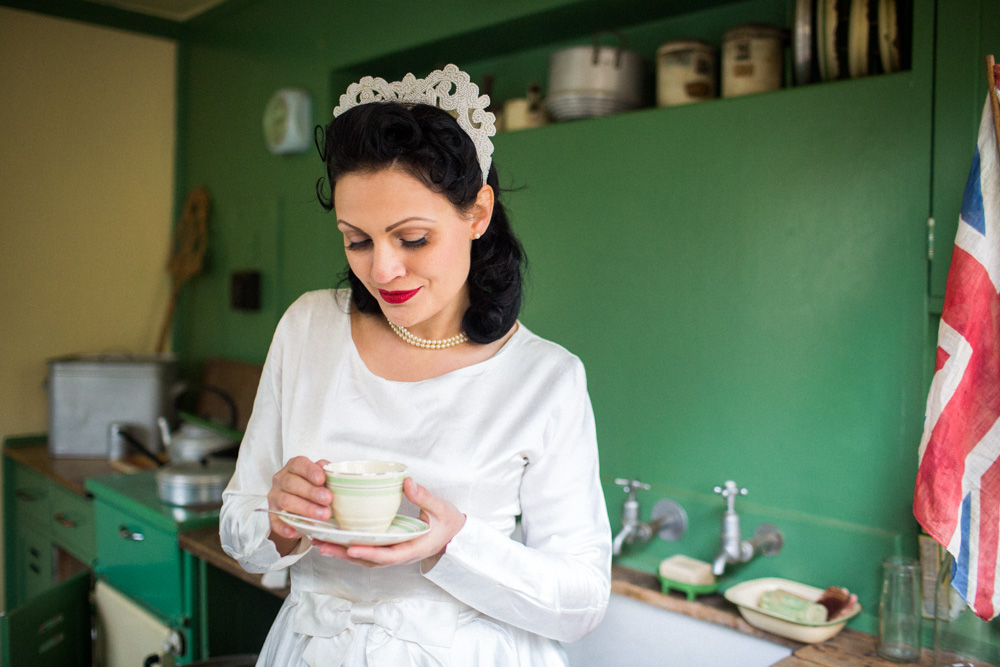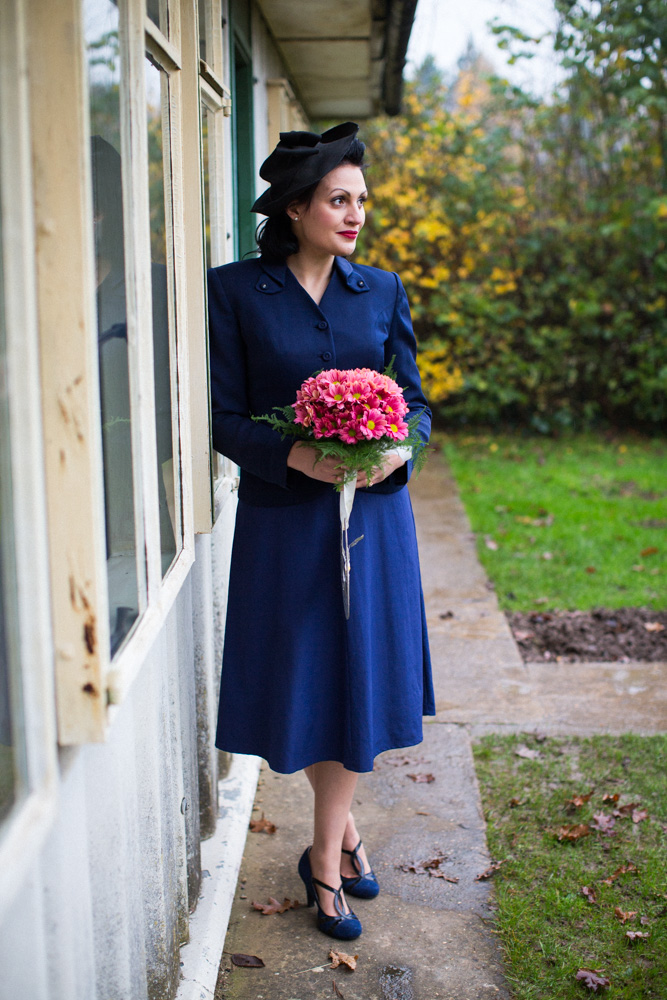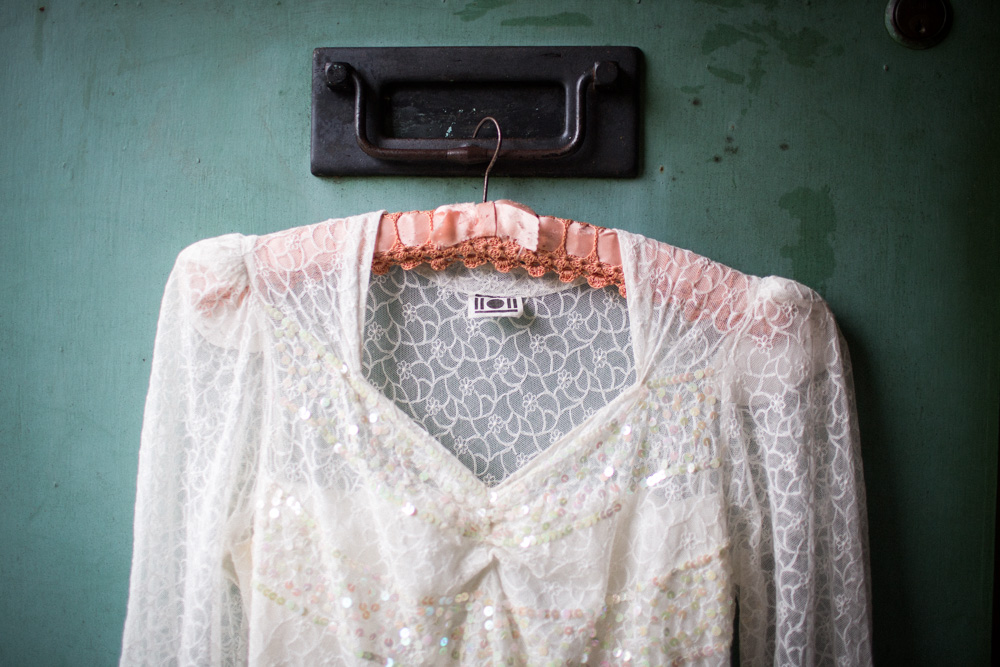 By the end of the 1940s, with the introduction of the New Look designed by Christian Dior, skirts became much fuller but were all still rationed. A few lucky brides would have been bought silk from their groom who had served overseas. When Queen Elizabeth married in 1947, she too had to use coupons to buy her dress with hundreds of brides offering up their own coupons for her to use. One thing that wasn't rationed was the traditional tiara worn by the Queen, sparking off a new bridal trend for the country.
It was a bitter sweet time however. Many got married quickly and many family members would have been missing on the big day, making a bride reflective yet still hopeful for a lifetime of love.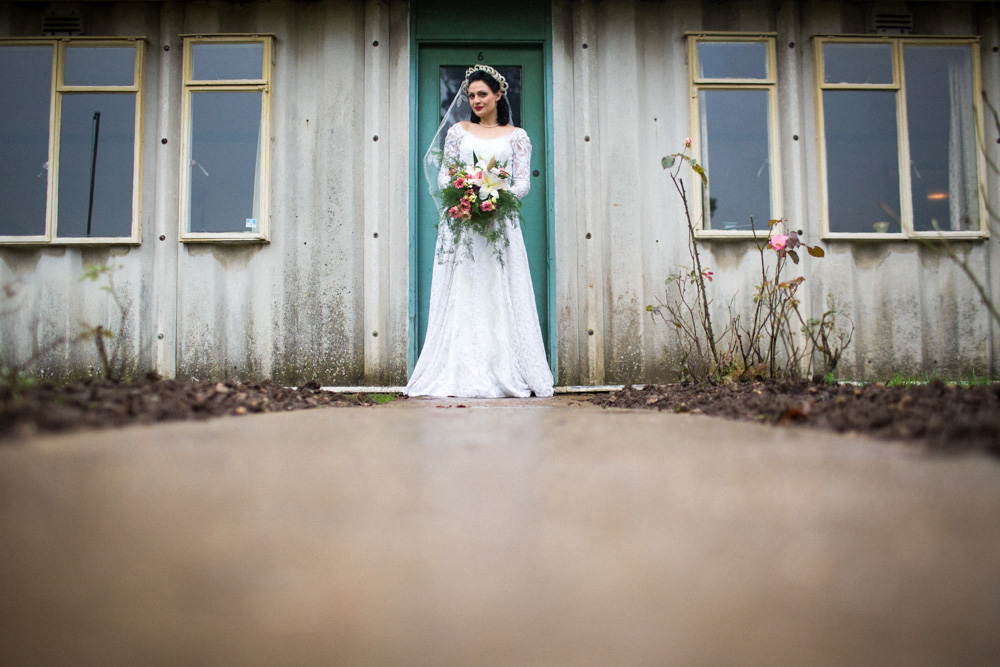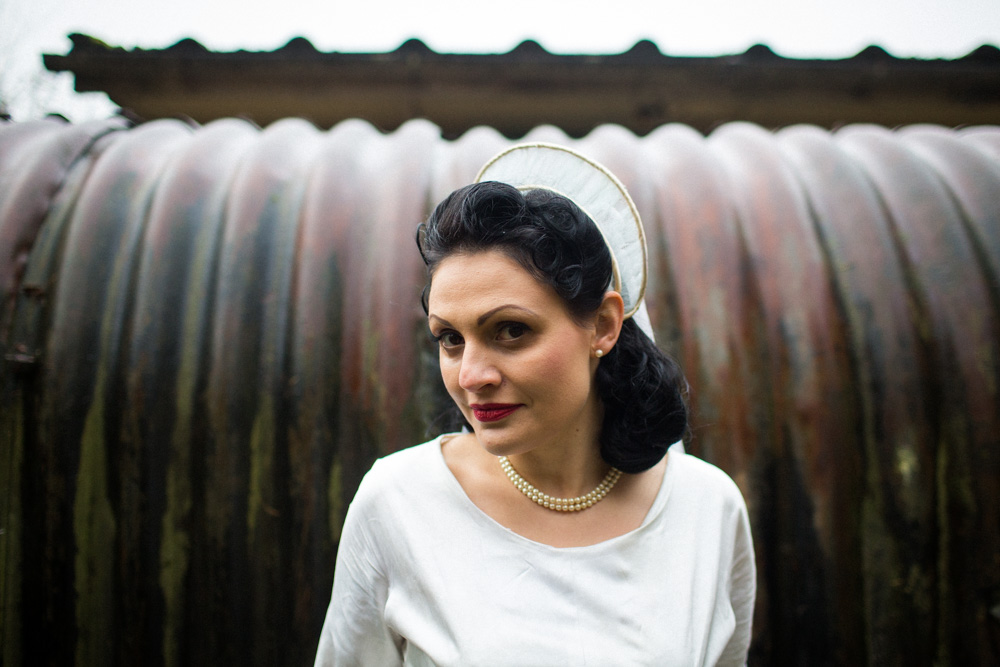 It was taken at a purpose built 1940s prefab at Chiltern Air Museum which has been used for many television shows including, Call The Midwife. It is perfectly set up as to the era, and has a lovely green colour running through the whole house. I wanted the mood of the photos to echo the mood of the time and to tell this story throughout. We see the bride getting ready for her big day, full of reflection mixed with excitement.
Firstly she is making her head pieces from dried flowers, sitting in her 1940s lingerie and gown in the living room. She then progresses to her bedroom to put her dress on which is a classic jacquard cream dress with lightly padded shoulders.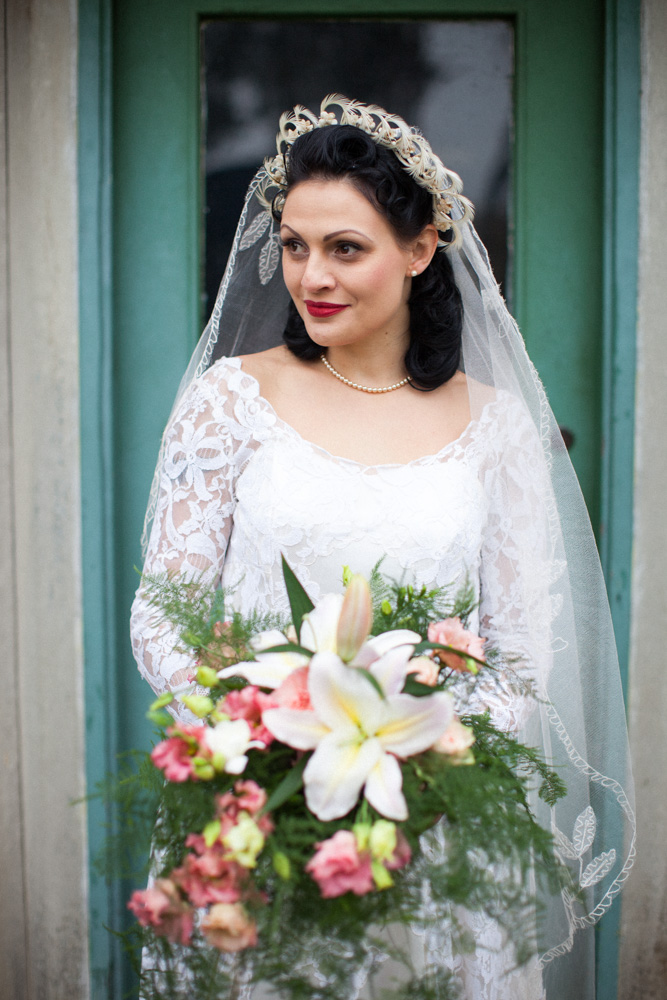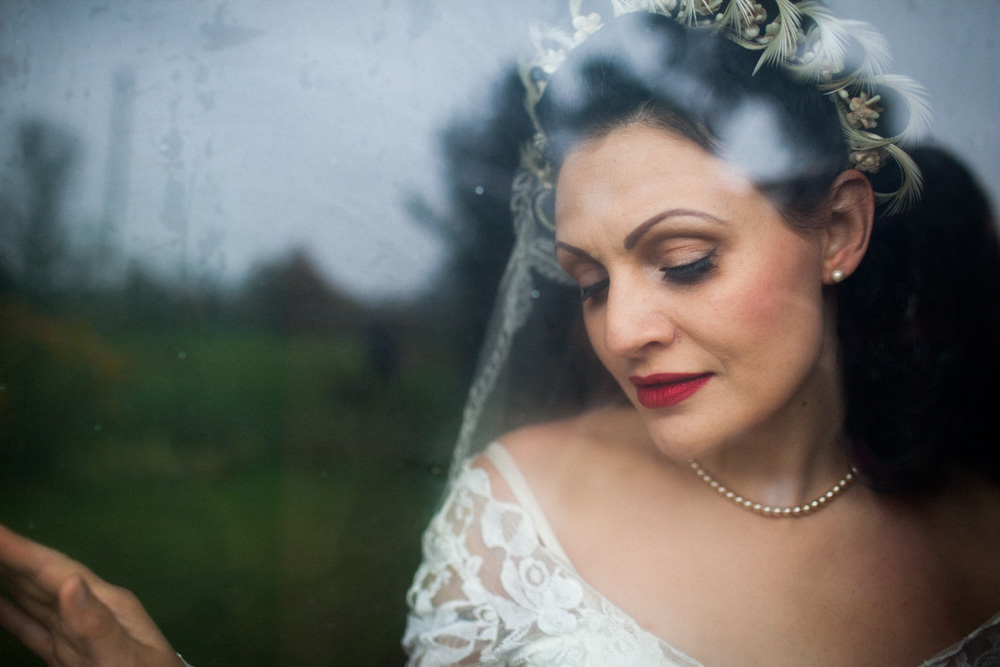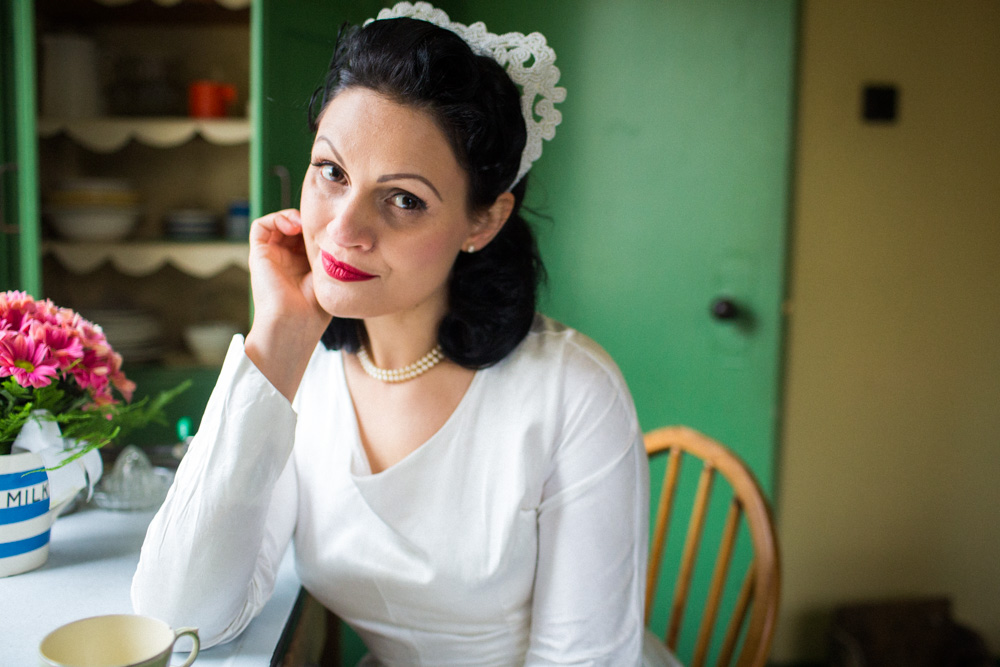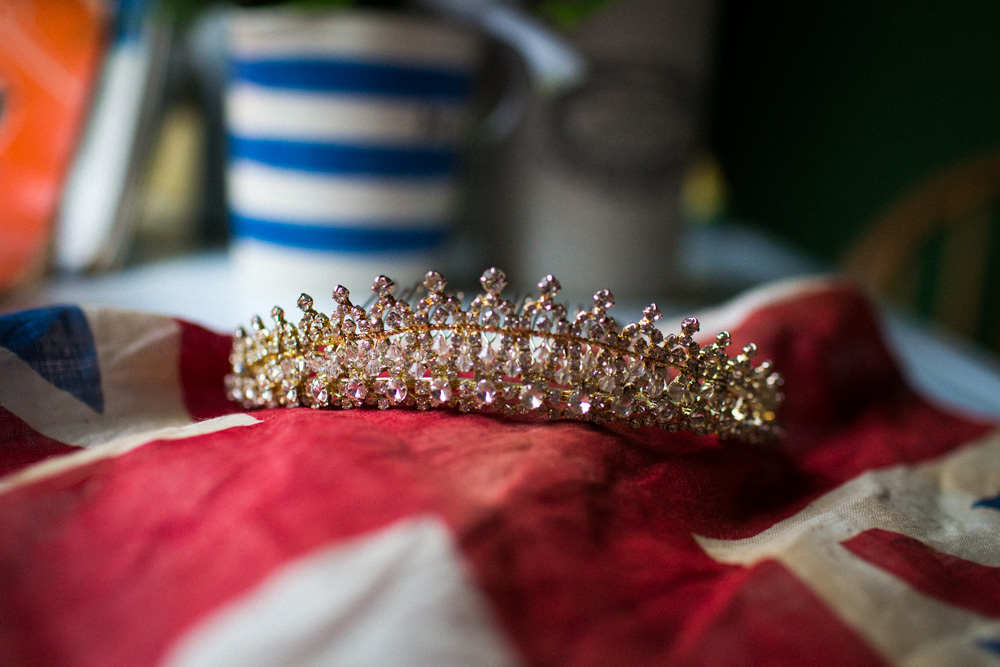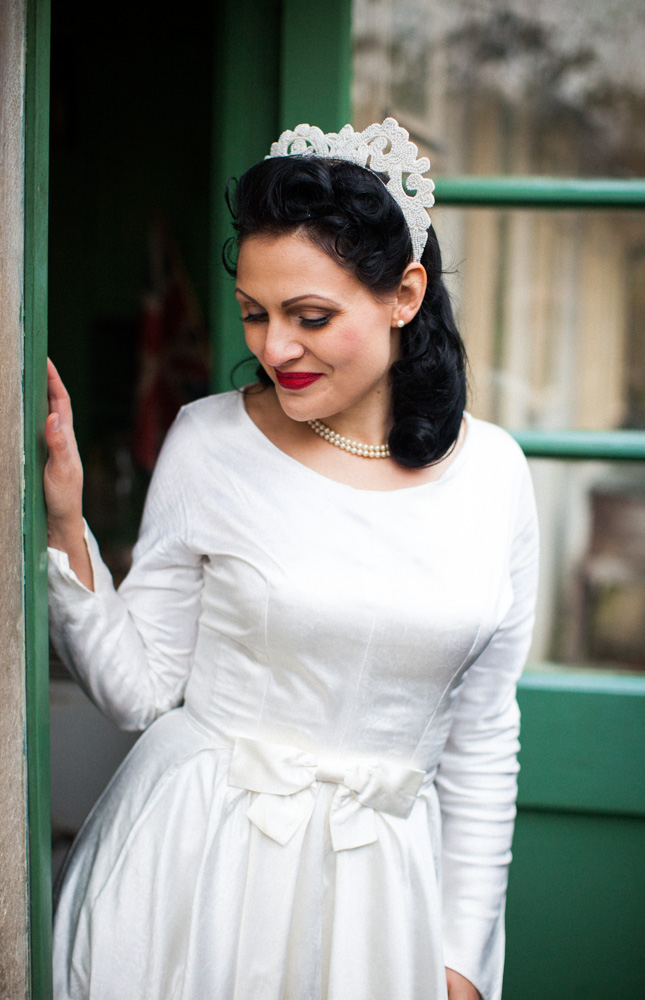 Next we see her in the bathroom with her makeup done, this time wearing a utility "Double Elevens" dress. Then she is in the kitchen waiting for the car to arrive. She is slightly melancholy here, maybe thinking about loved ones that are not here today. However, the mood brightens as she gets to the door for the classic full length shot. It starts to rain and she must run to the car, the mood has lifted as she giggles with anticipation.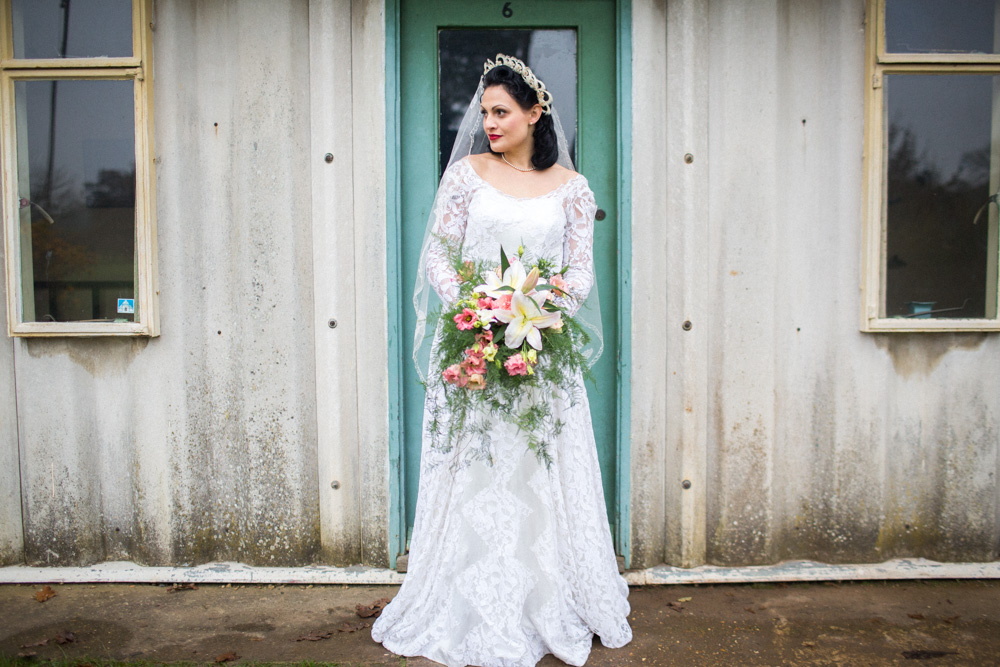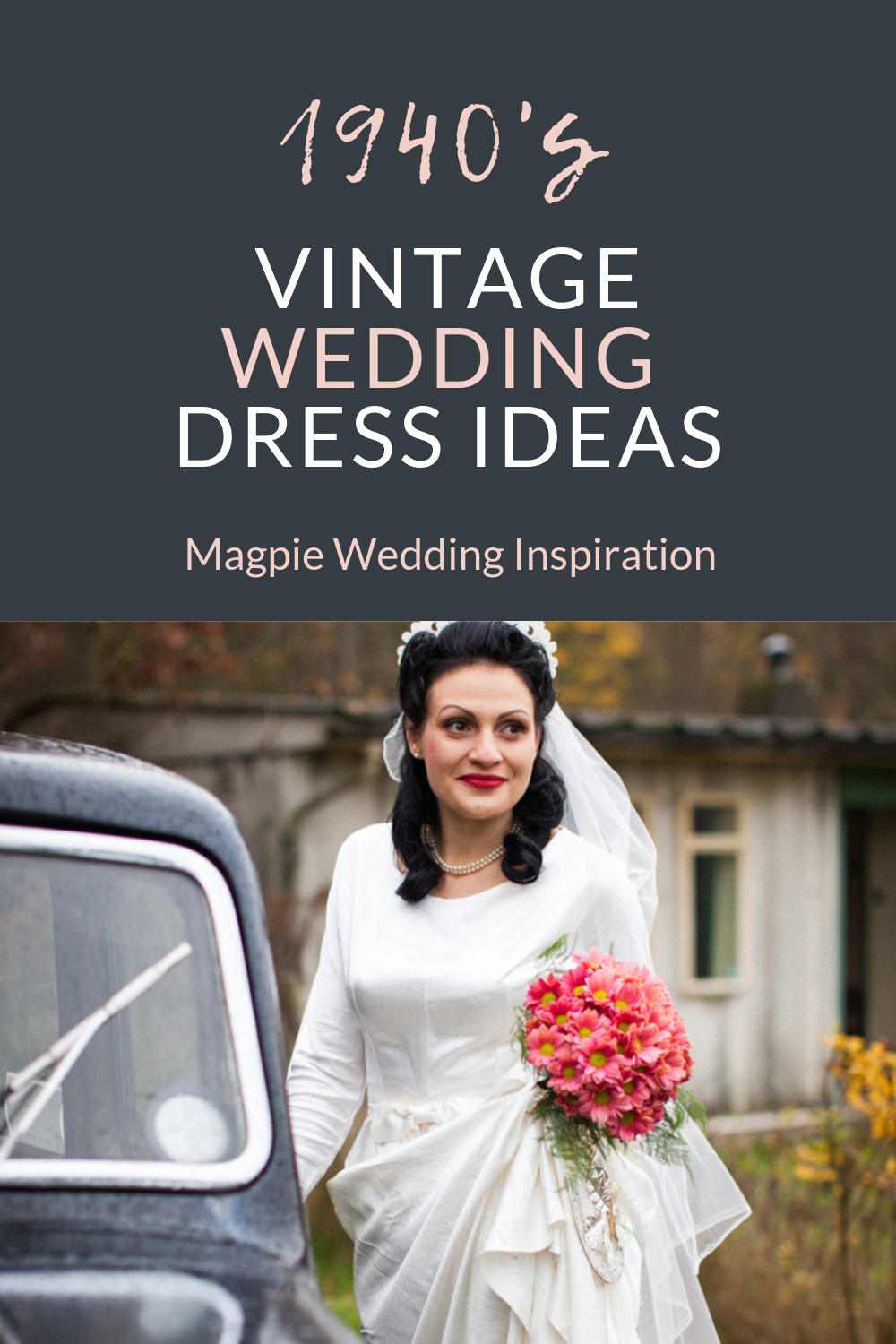 The Team – 1940's Wedding Inspiration With Regal Crowns and Vintage Styling
Photography: Sally Forder for Binky Nixon Photography
Model: Lillian Love
Styling: Kate Beavis
Location: Chiltern Air Museum
Special thanks to Erica from Real Green Dress for sharing her knowledge on the 1940s.
Dresses: Days of Grace, Real Green Dress, Your Vintage Life
Flowers: Water Baby Flowers
Suit, shoes, lingerie and hat: Models Own
Feather headpiece and veil: Days of Grace
Long sequined veil, beaded crown and horse shoes: Real Green Dress
Dried Flower crown and comb: Immortal Florals
Blue head piece: Bride to Bijoux
Wax Flower veil: Silk In Time
Tiara: Truly Vintage
Looking for more vintage wedding inspiration? Check out our online magazine BOND BRIDE