It's nearly three years since the last episode of Mad Men graced our TV screens. With polished vintage looks and dapper suiting, set in the 1960's, we saw oversized skirts, ruffled collars, gloves and pinstripe suits fashions which went on to inspire many an outfit. What was not to love about it?
Here we take a look at the latest styled shoot from the lovely Blusherettes who used the series as their inspiration; they chat to us about the why's, what's and where's, and how you can add some Mad Men glamour and dapper styling into your own big day!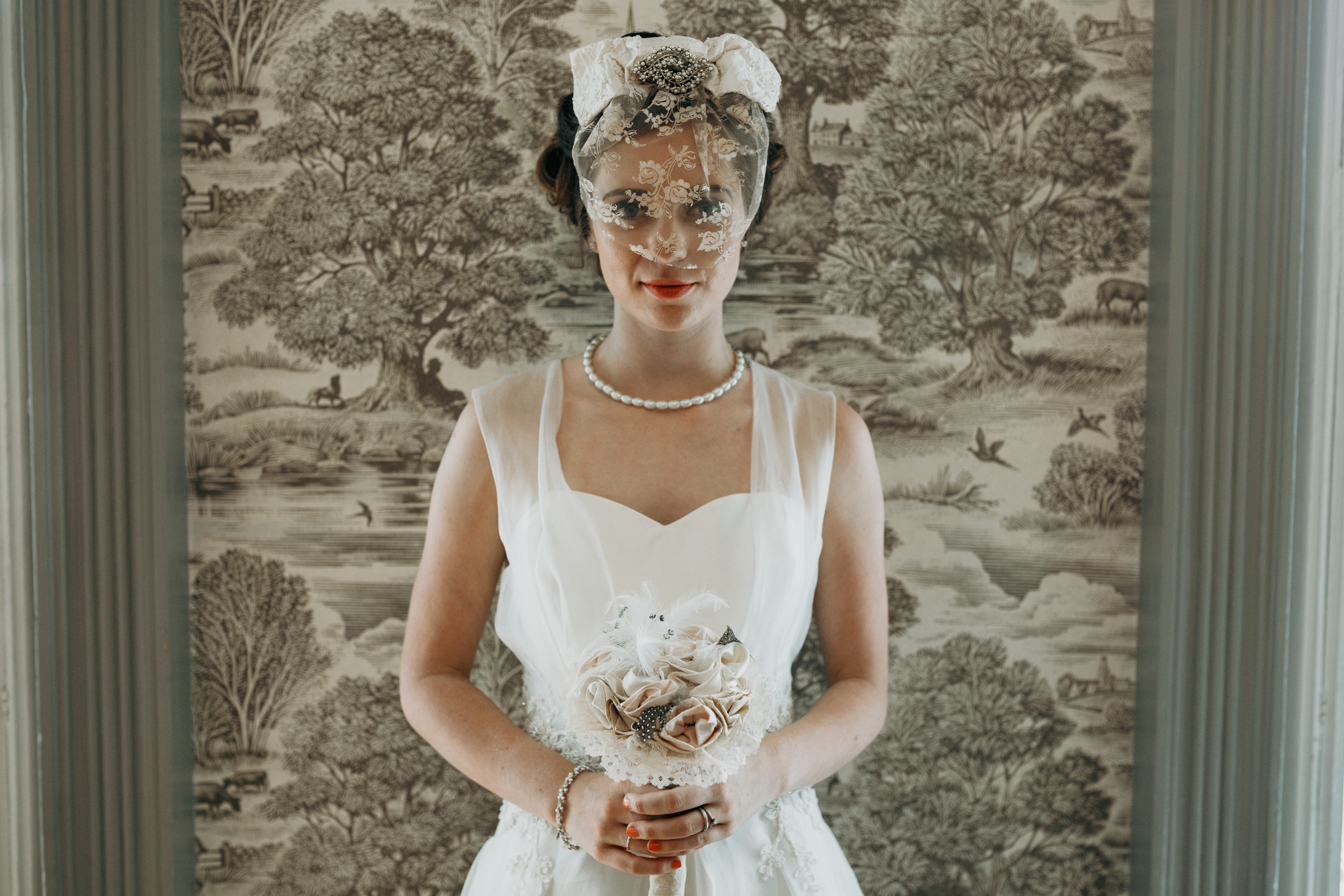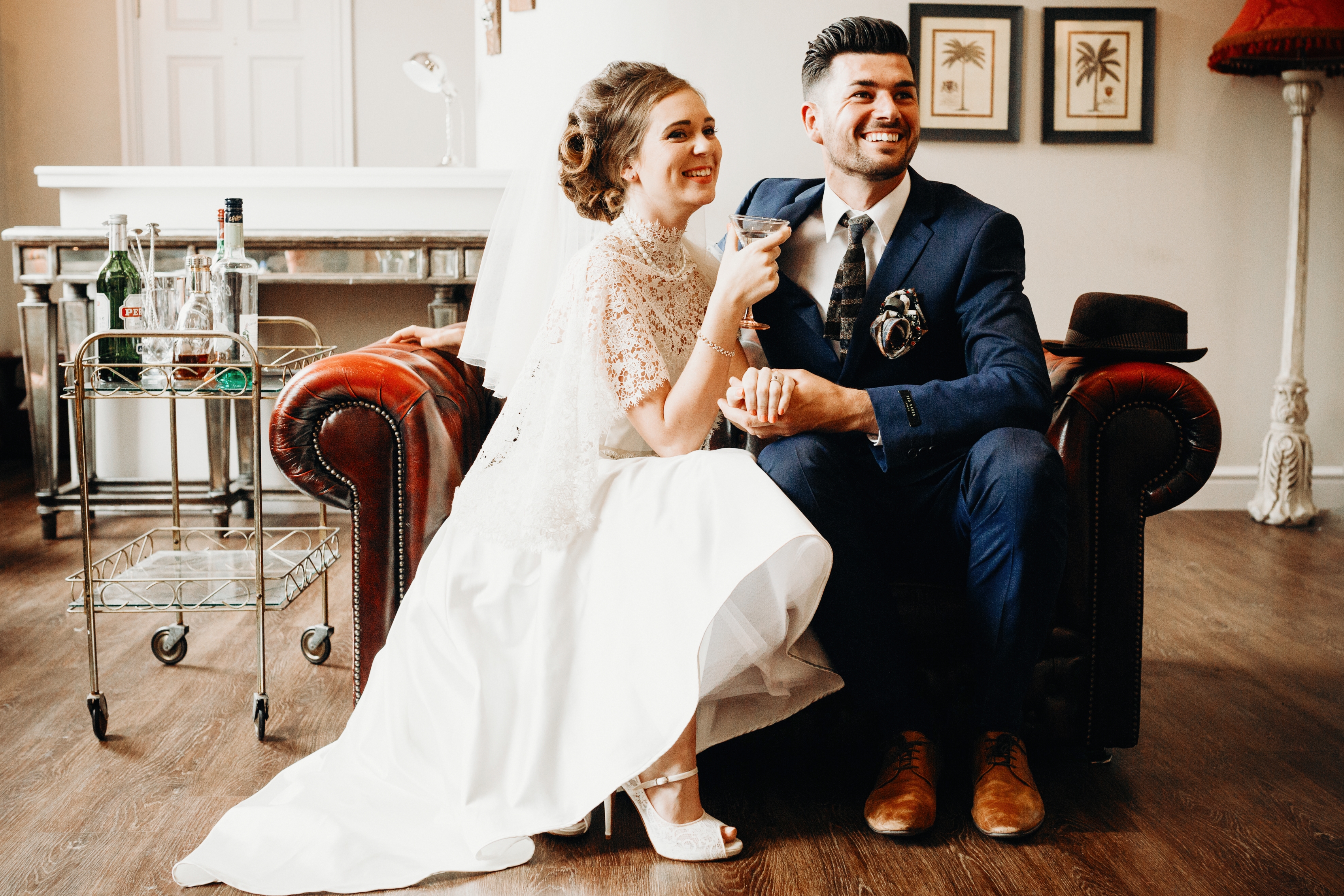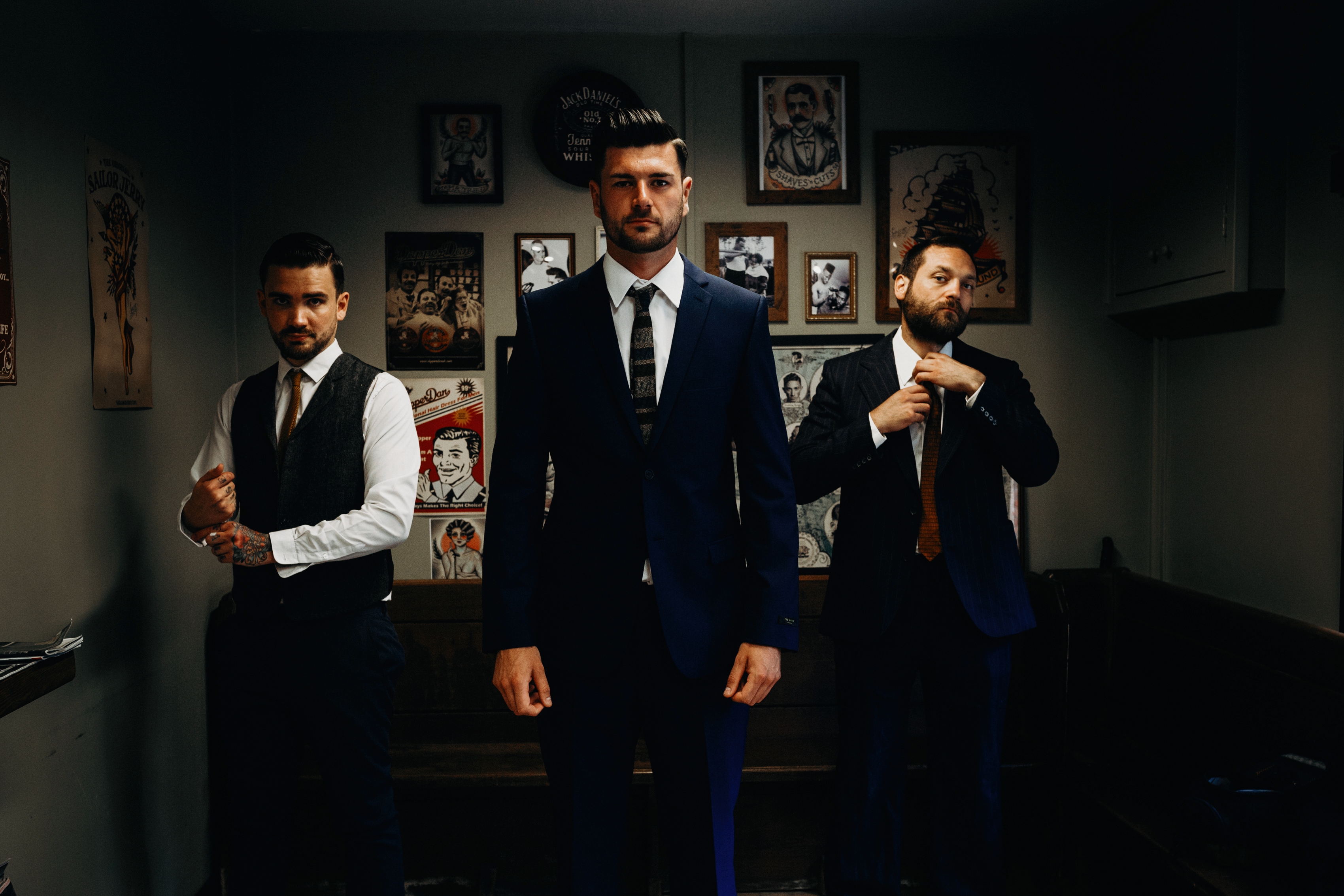 "As we specialise in vintage styling, we wanted to really showcase our skills, and highlight some of the fabulous local suppliers for brides who love their vintage and also to illustrate to
brides that might be a bit frightened of going for a retro look, that you can create a truly unique wedding without it looking too 'old fashioned' and 'second hand'."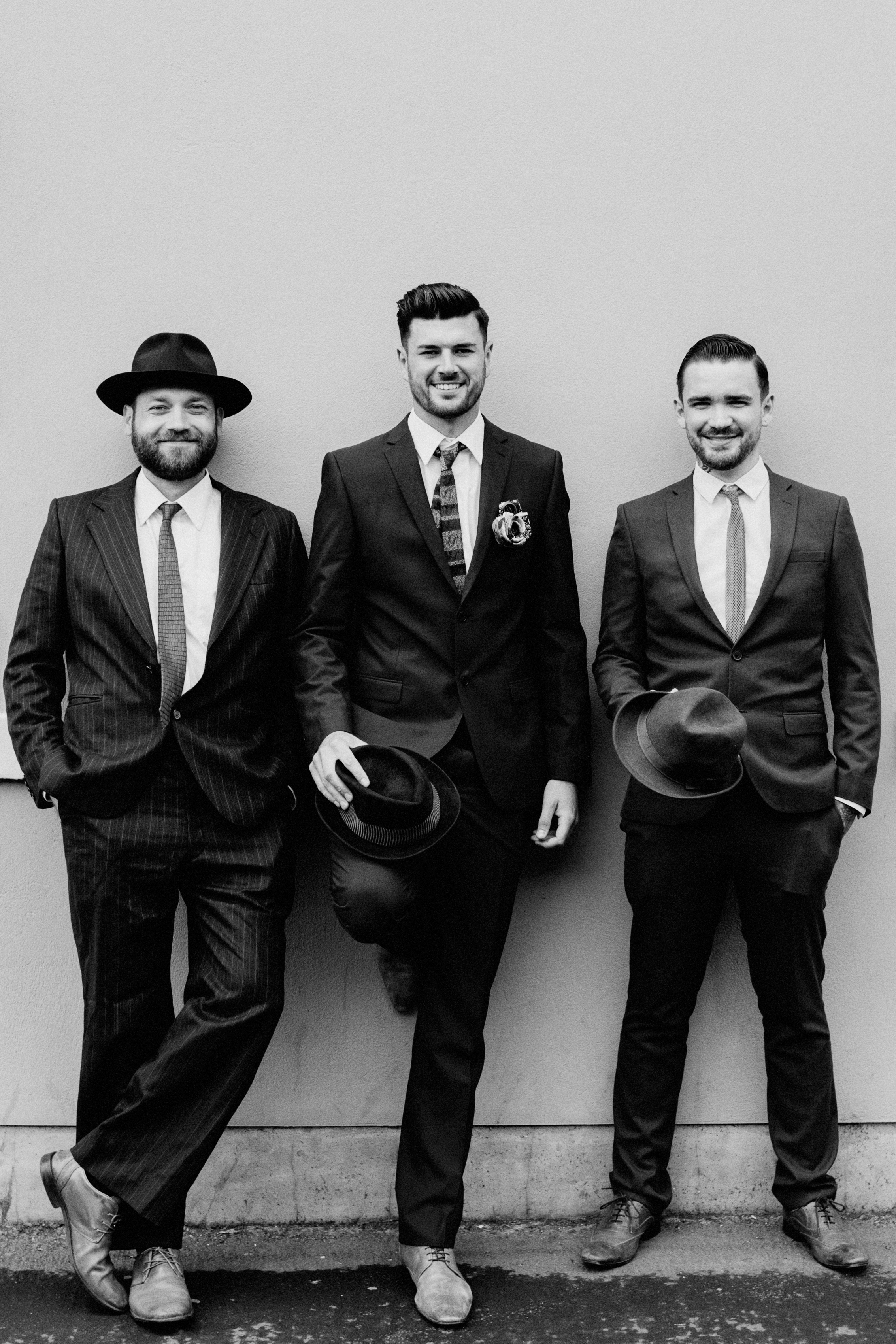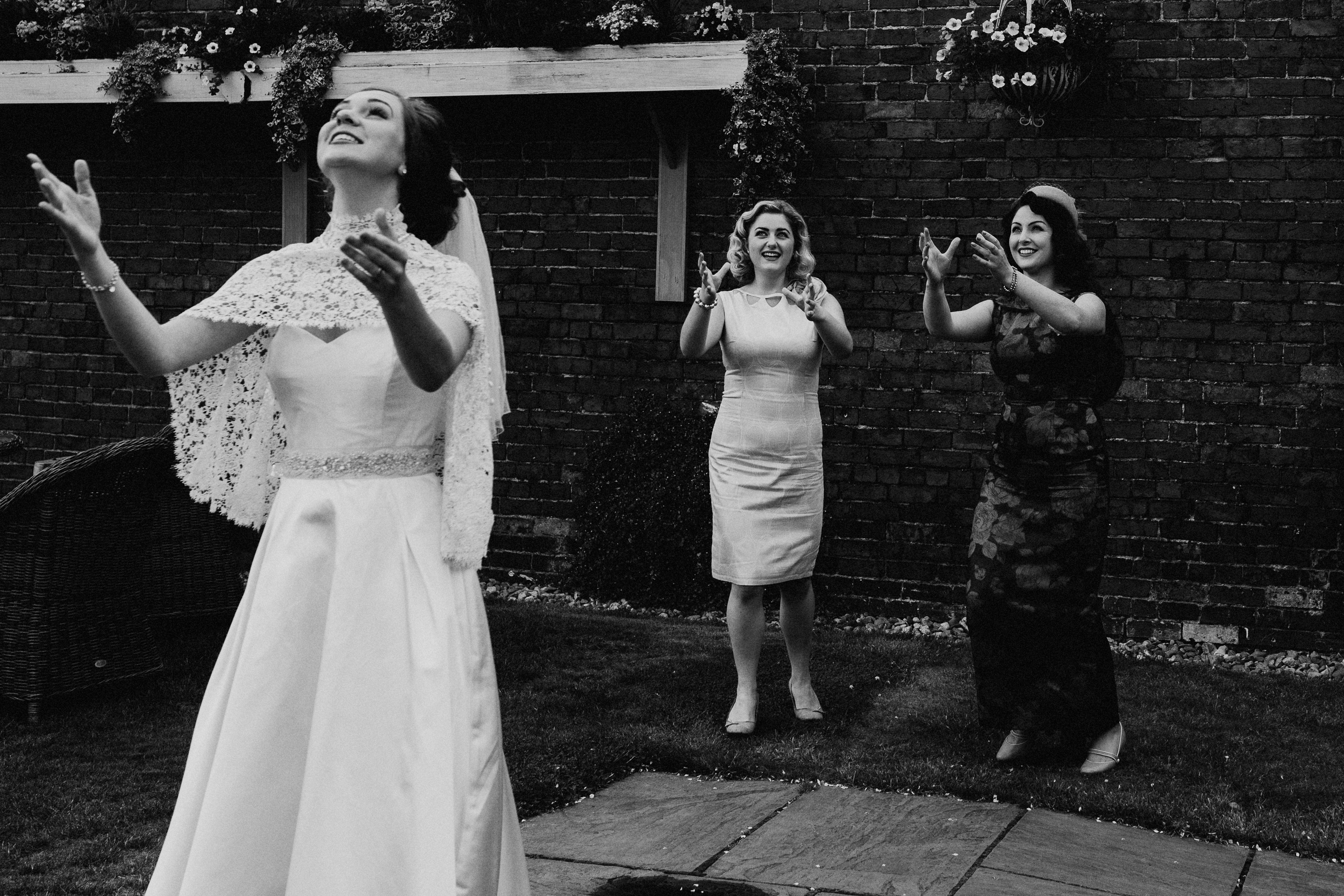 "We wanted to create a shoot with an authentic vintage style and feel, and love Mad Men, the cult AMC TV show set in the late 1950s and early 1960s."
"We asked Charlotte Preece of Indie Love to capture it for us, as she has such a unique way of telling a story through imagery as well as capturing those perfect moments using natural lighting and intuition! The idea was to create a narrative; from the groom starting his wedding day by literally being 'groomed' at the barbers with his friends before heading to the wedding to marry his bride."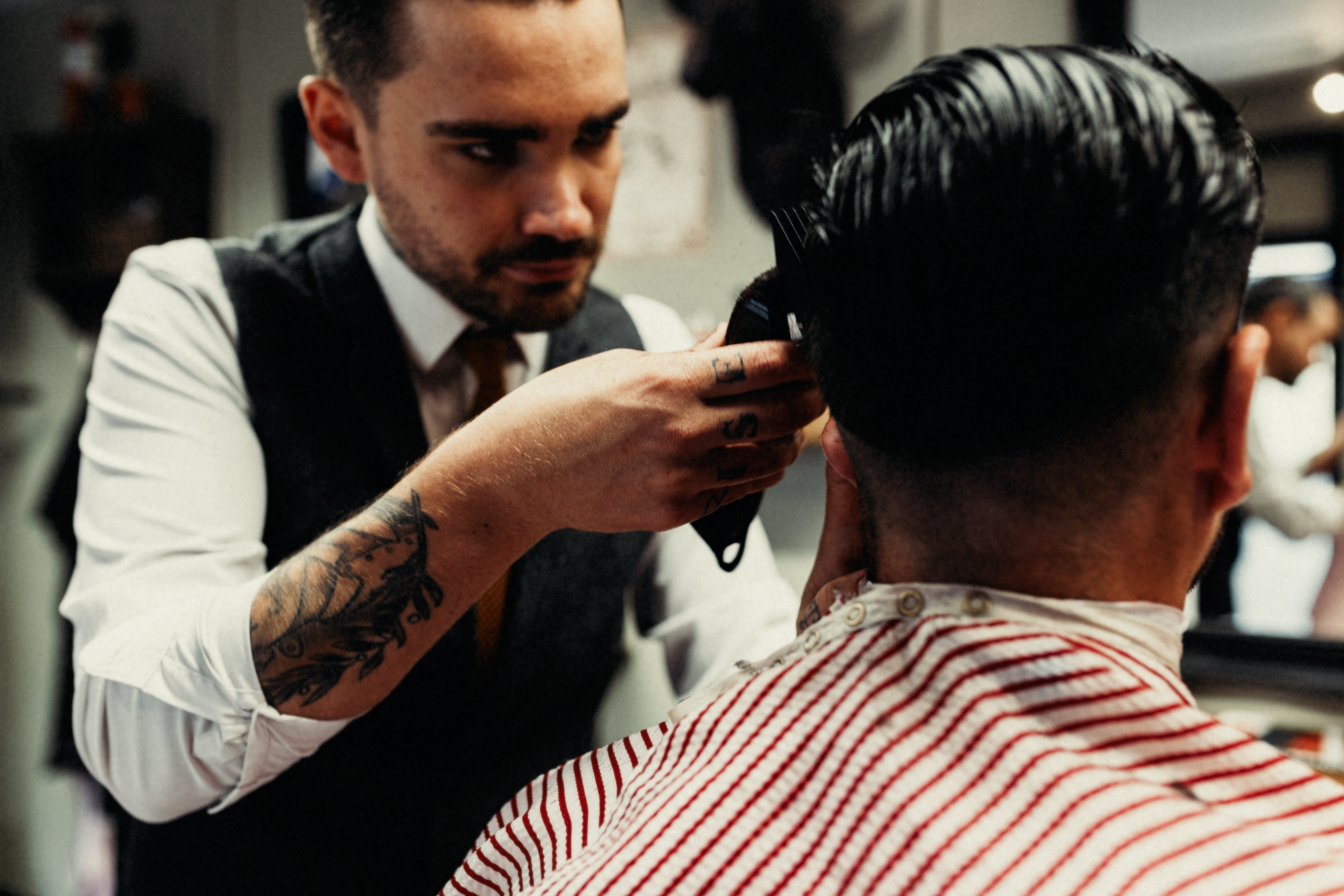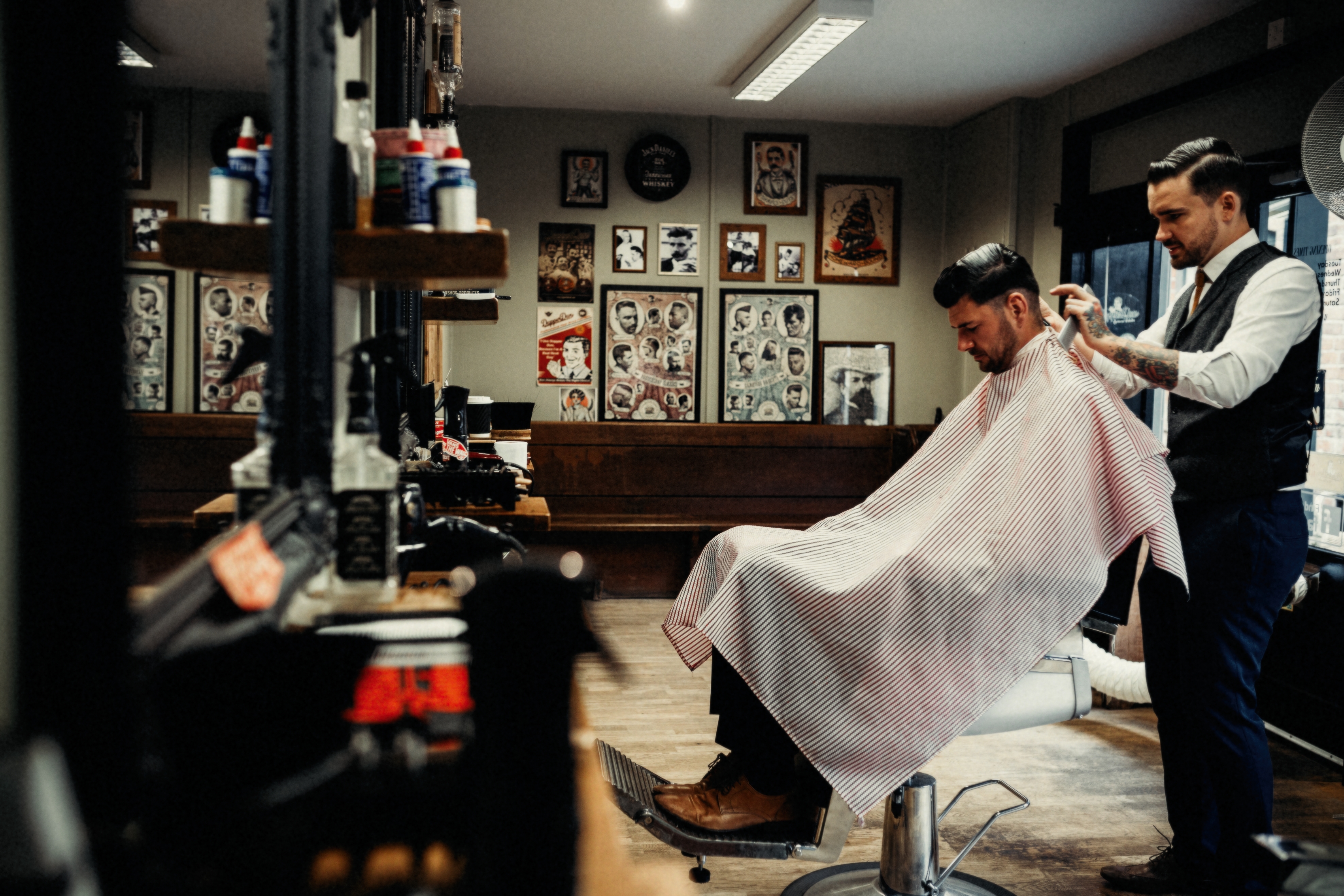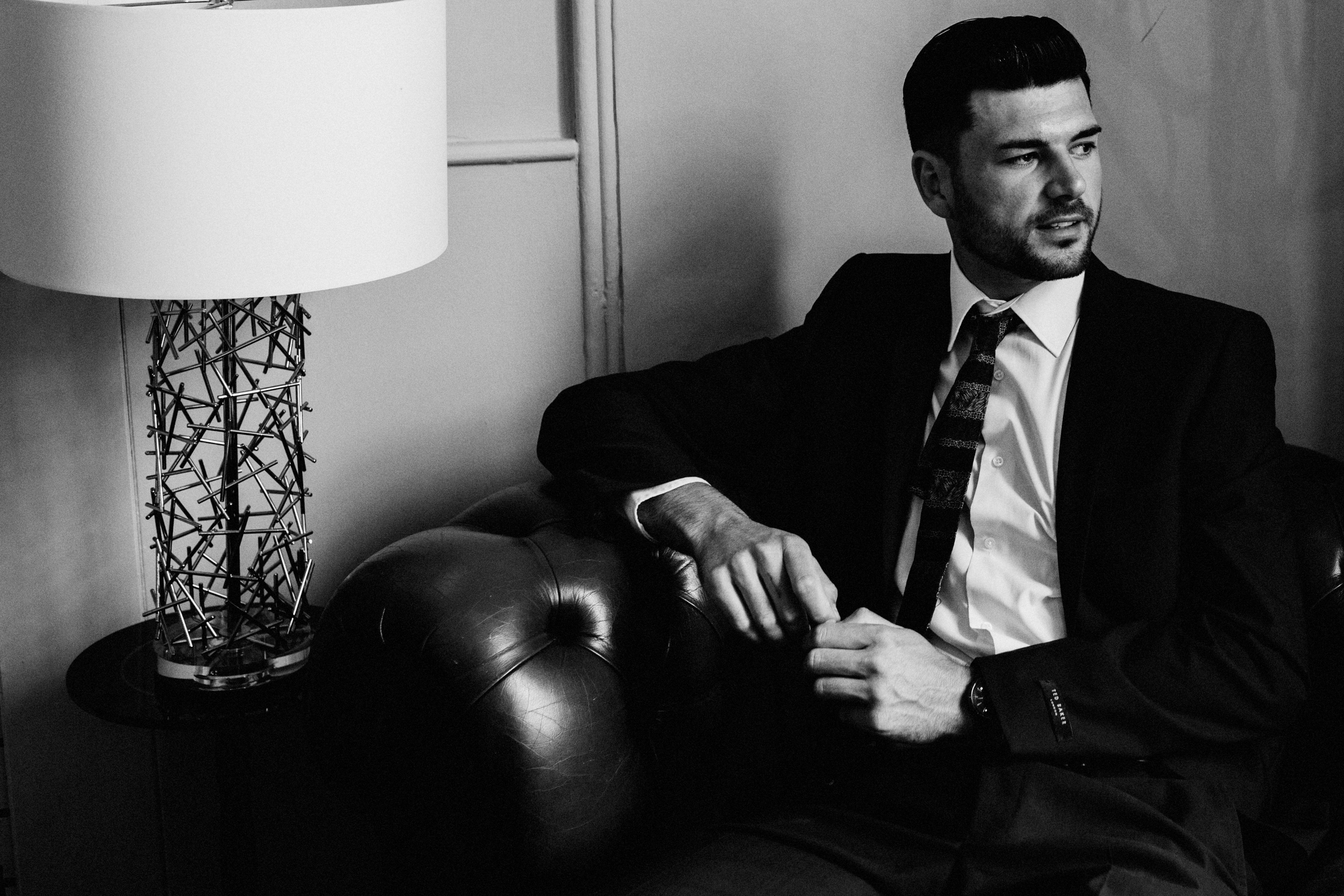 "We decided to shoot at two locations, Jones Barbers' salon in Oswestry, where the groom and his party were styled by Luke Ashton Jones, who also modelled for us, and it couldn't have been a better fit. Luke specialises in sharp vintage cuts, expert grooming, cut-throat shaves and that slick style of barbering from by-gone days, using Dapper Dan products to get a super-smart finish."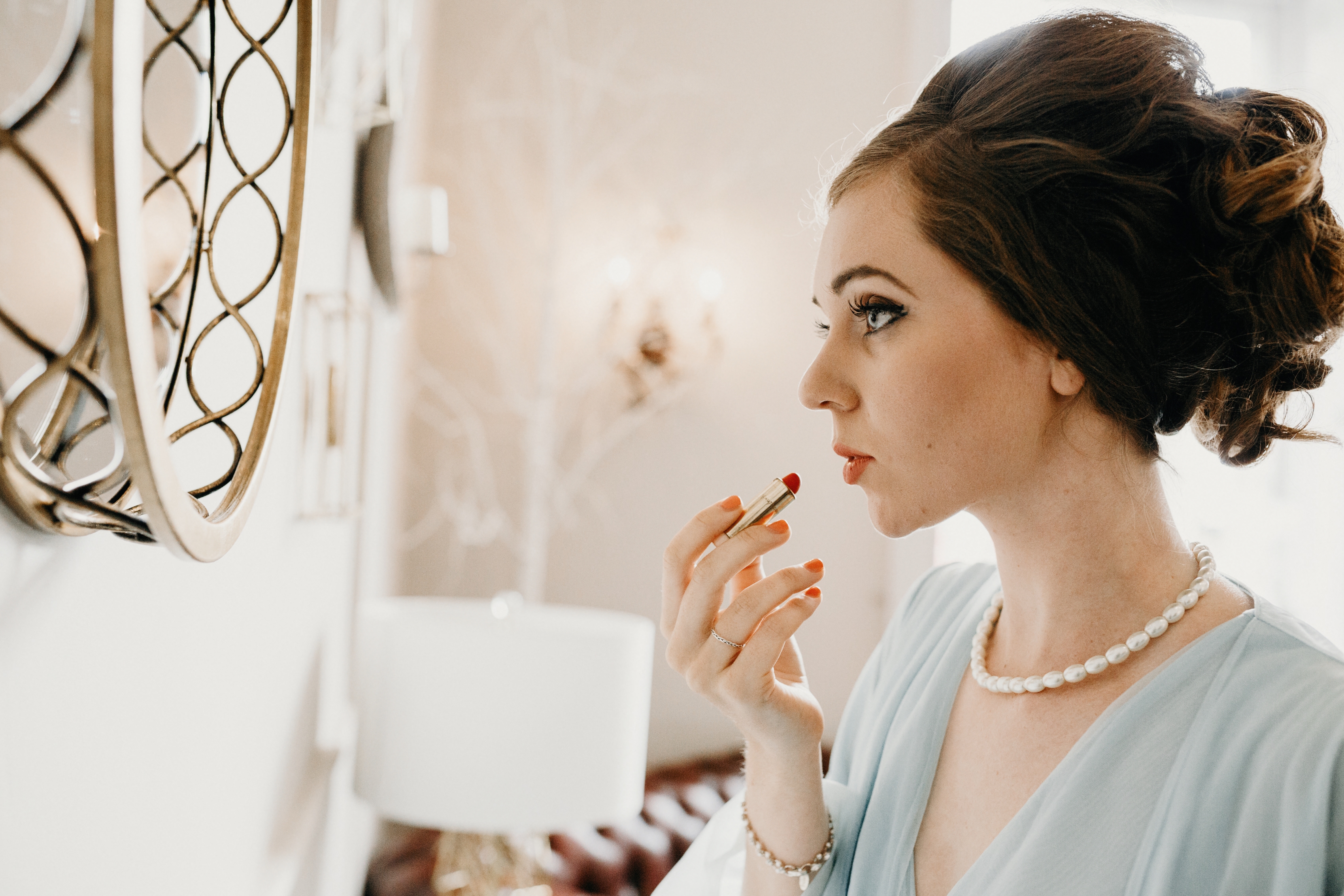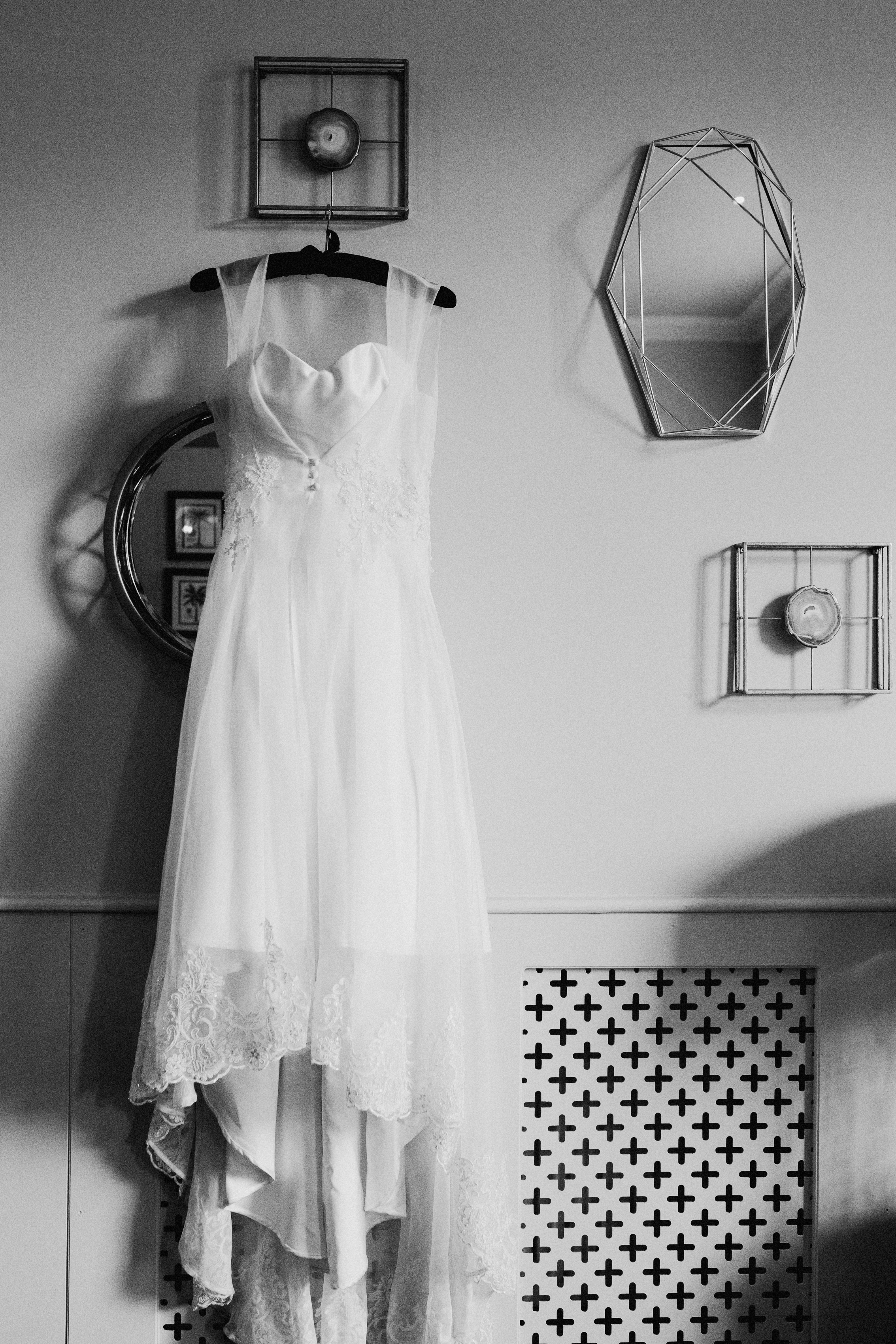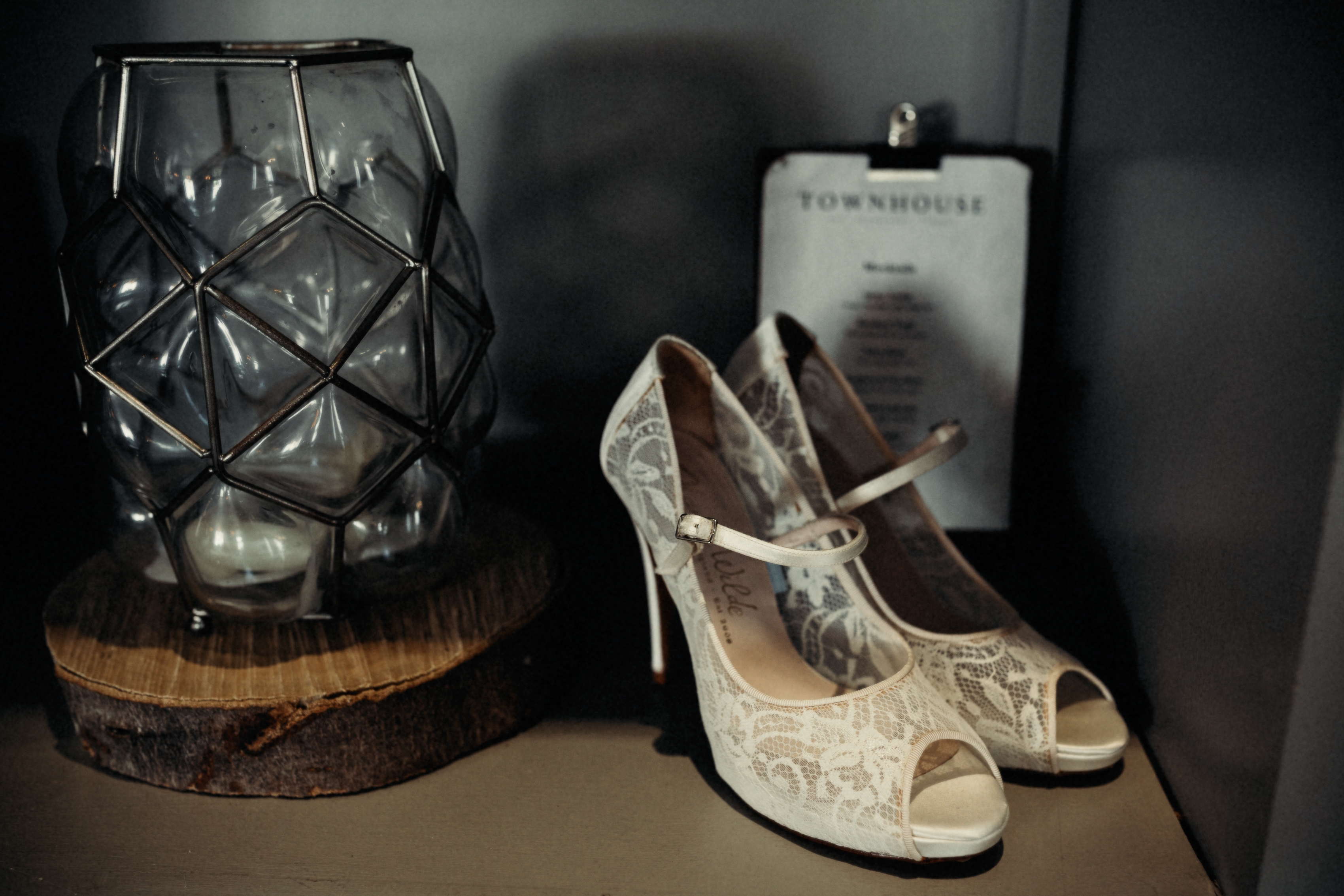 "The second location was The Townhouse in Oswestry which was chosen for its cool bar area, banquette seating and the interesting nooks and crannies that lent itself really well to the theme and the narrative. It was one big happy 1960s wedding day from start to finish!"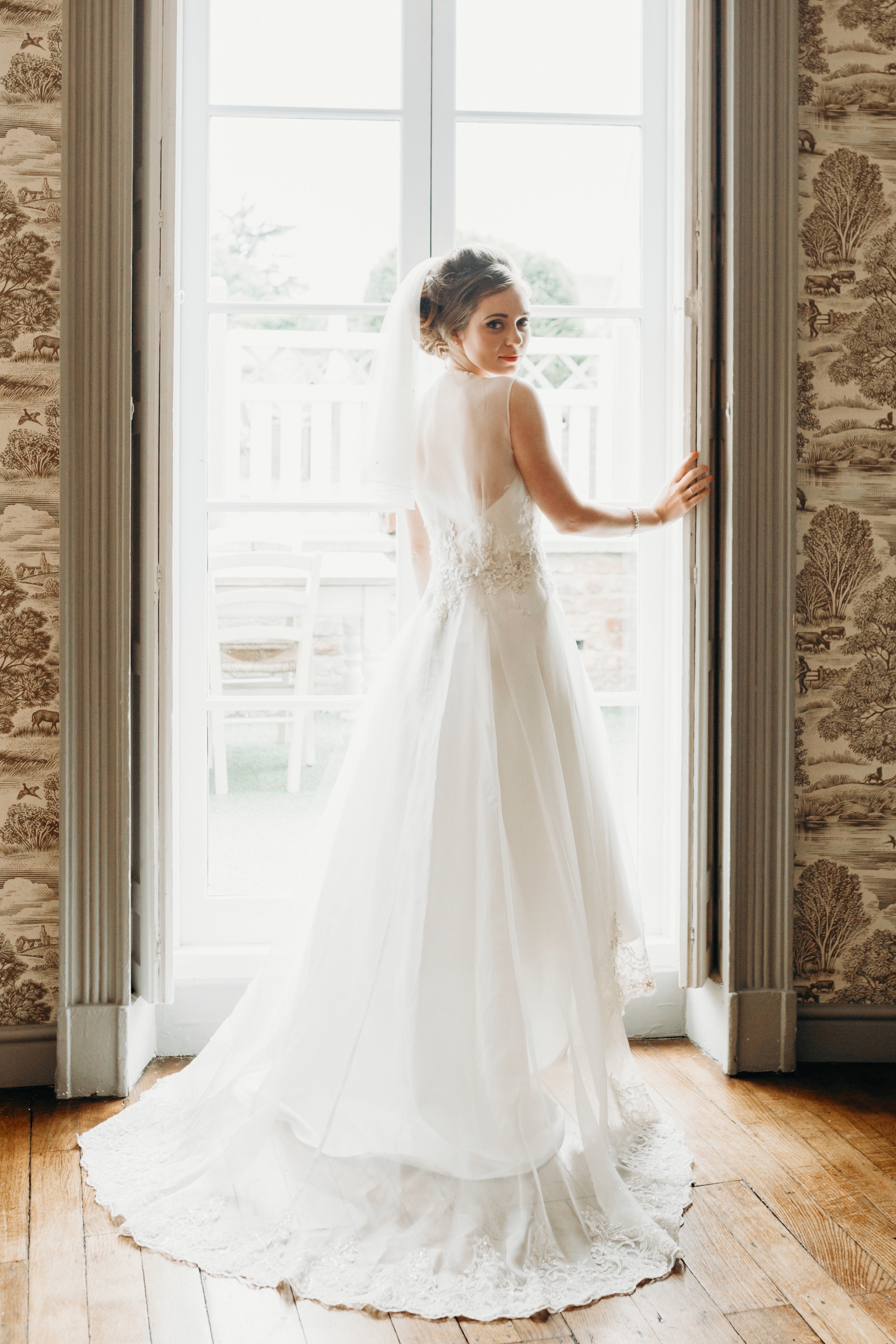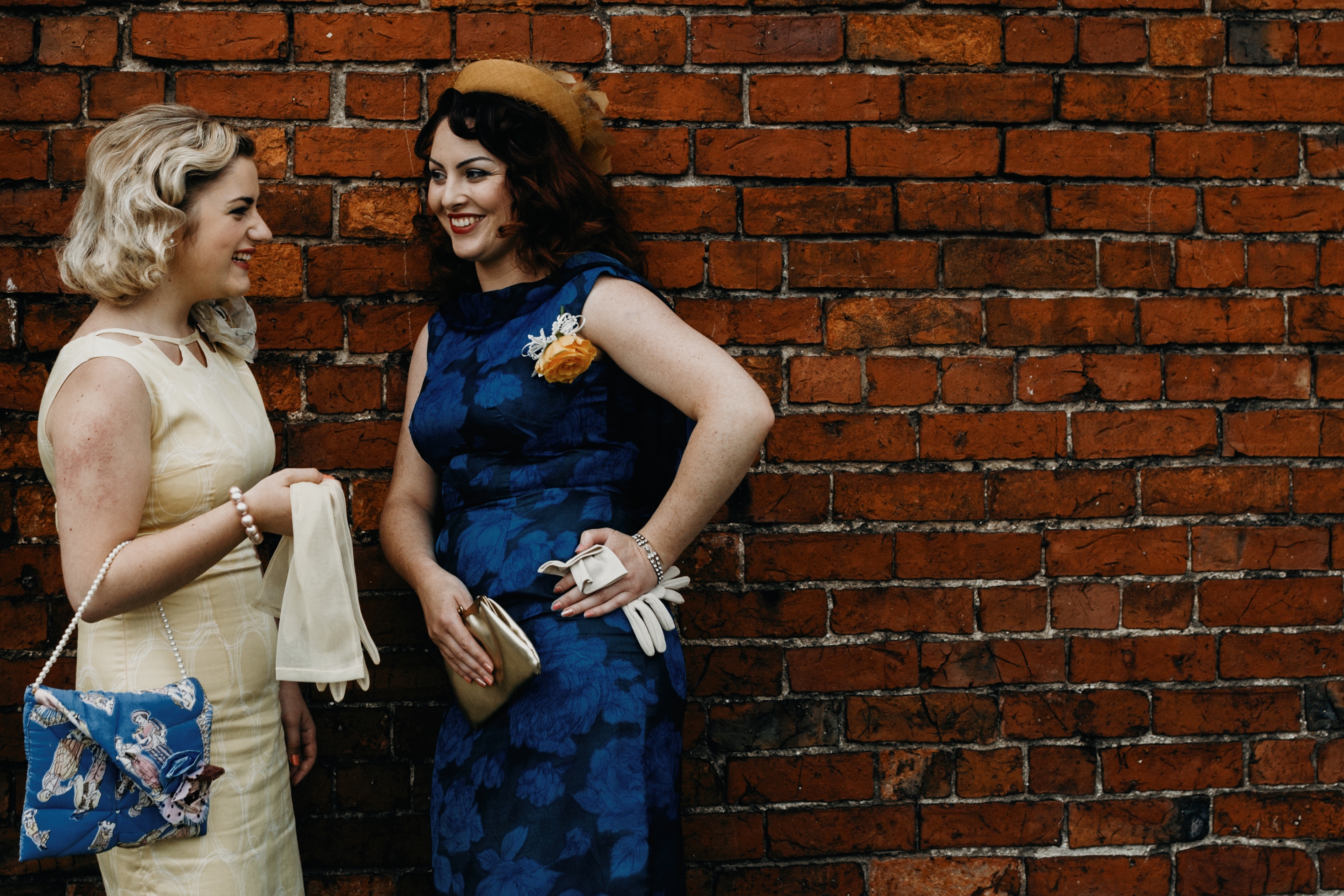 "We styled our blushing 'bride' Alana in a hand-made dress with a late 50s feel, and stunning lace 60s style caplet designed by Jen Bone from My Little Wedding Shop in Bridgnorth. Her two 'friends' Kerri and Amy wore authentic vintage dresses from the early 1960s while our
groom, usher and best man wore modern-vintage suits, with added touches such as the authentic vintage ties and trilbies from the early 1960s, plus a few accoutrements such as the cigar cases and corsages/buttonaires which were made from retro fabric(stitched by the talented Alison Moore of Hobbits Vintage) to add to the overall look. We chose a colour palette of yellow and blue and kept this at the front of our minds at every styling choice we made."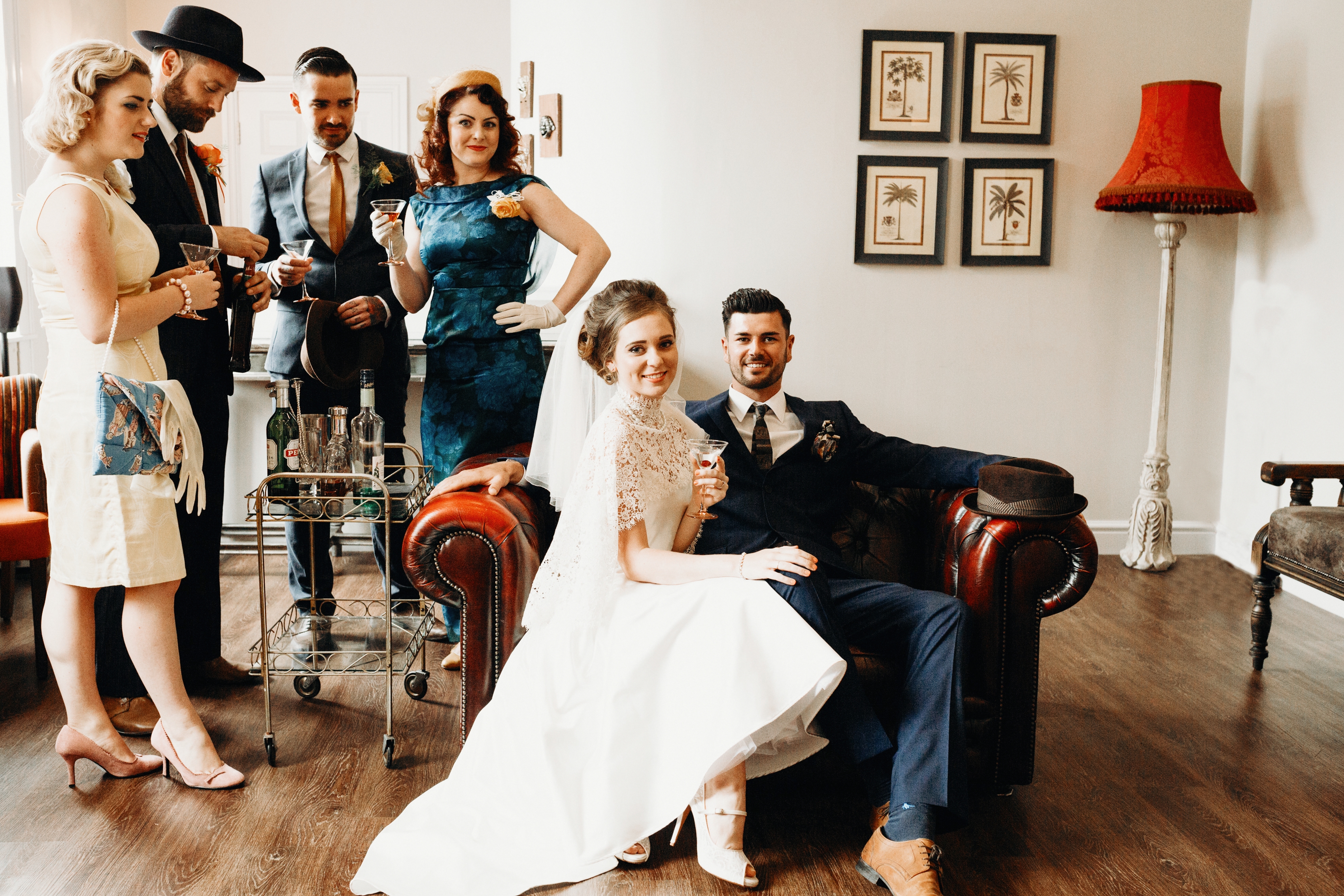 Photography
"As soon as the Blusherettes told me about their the Mad Men shoot I knew I had to be a part of it. Everyone involved worked really hard to create an authentic early 60s vibe which I wanted to replicate in the images, so I used a Kodachrome emulation to give the photographs a film like finish. I took inspiration from the TV show's promotional images when posing the groups, and combined this with my usual style of documentary photography to stay true to Verity and Charlotte's vision of creating an authentic looking wedding day."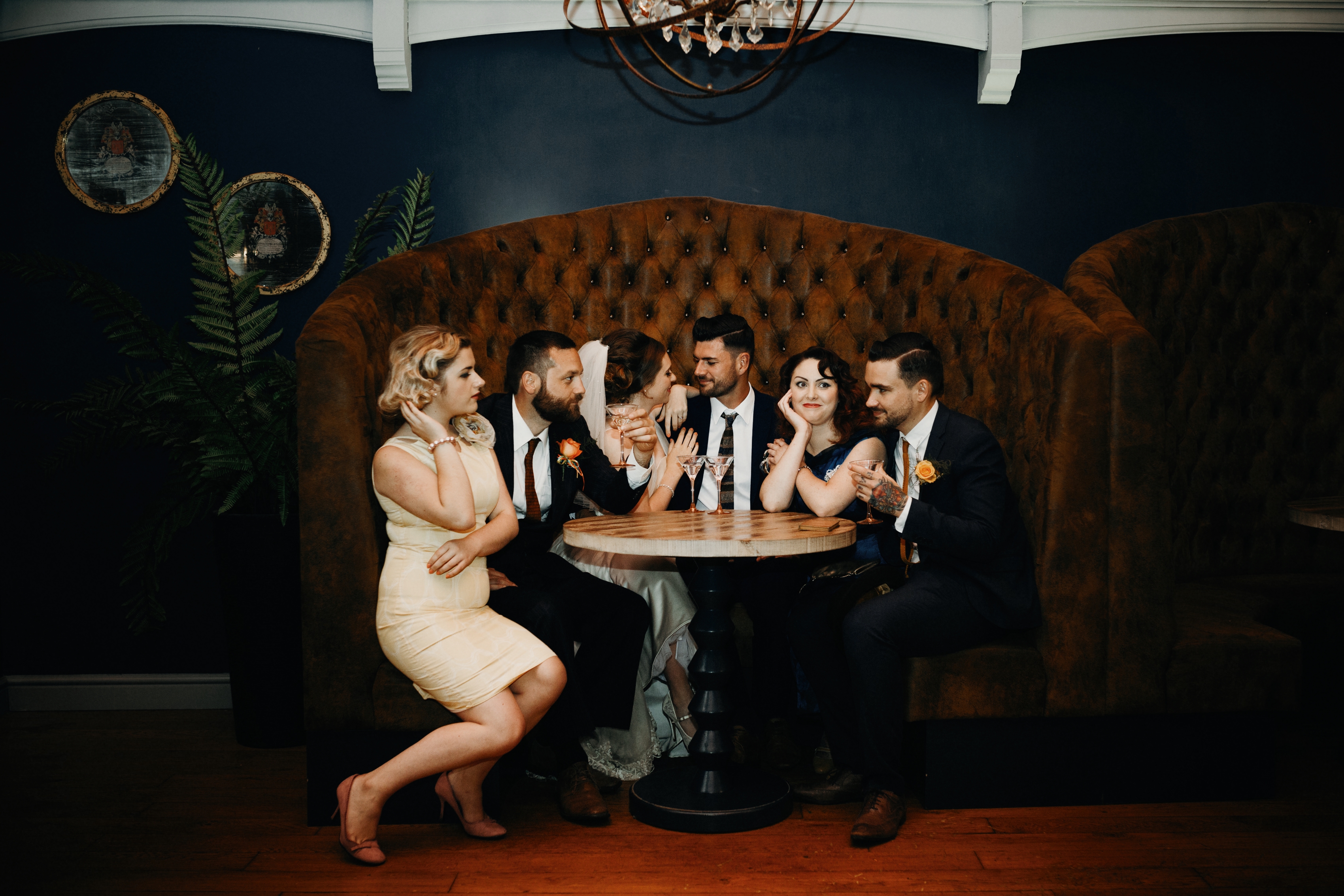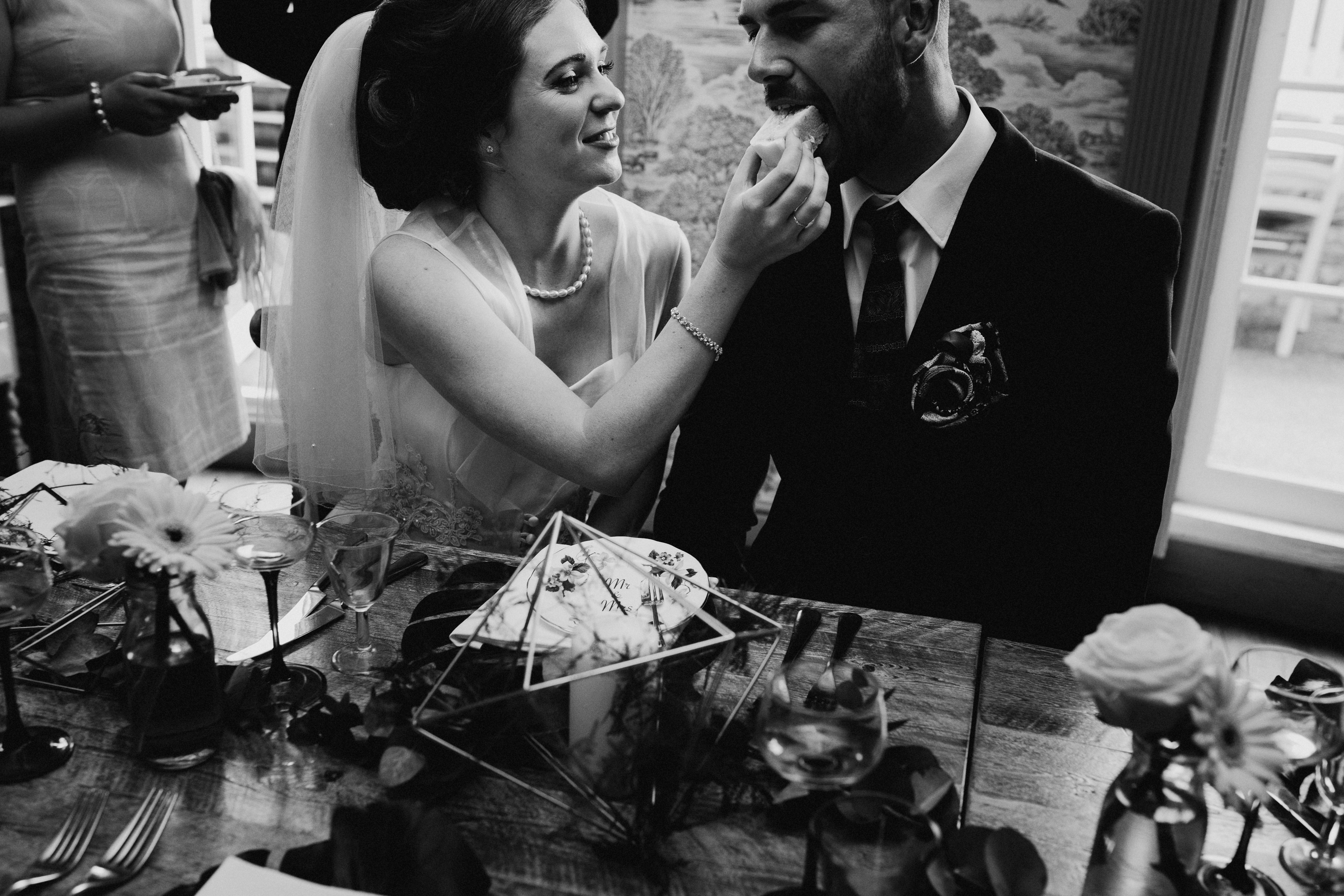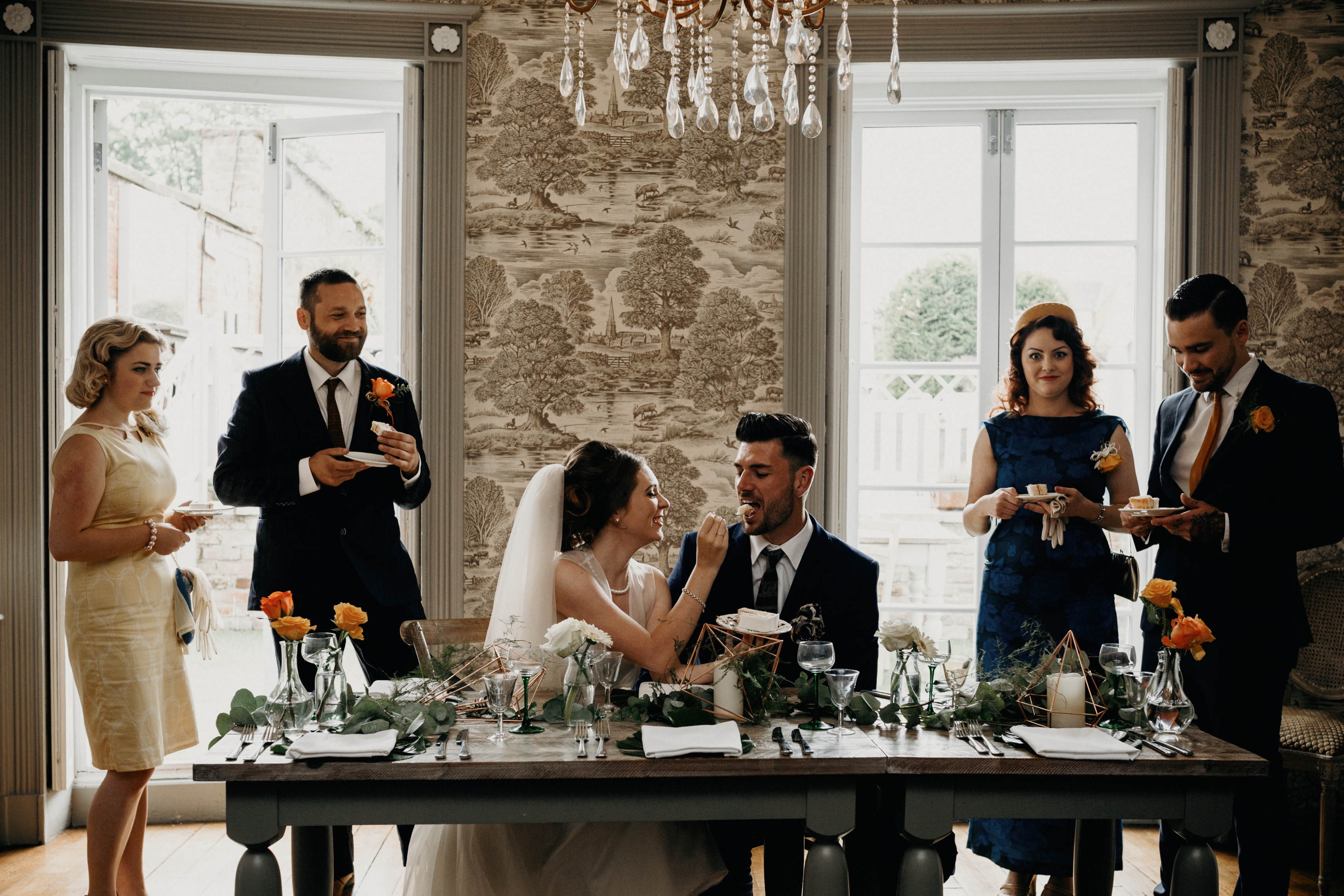 The Dress
"Our Gilded Grace gown was selected for this shoot as the silhouette reflects the styles of the late 1950s as Dior's 'New Look' softened towards the end of the decade. The focus of this gown is the detailing at the waist and hem which add a sense of decadence and grandeur to this twist on the 'vintage' gown. The simplicity of the tailored dress allow this gown to be transformed for the more 60s feel, adding the Guipure lace cape with high collar and
button detailing reflected the transformation of fashion into the 1960s. The curved hem allowed the bride to show off her statement Harriet Wilde shoes while retaining the train for the sense of occasion that every bridal gown should encapsulate."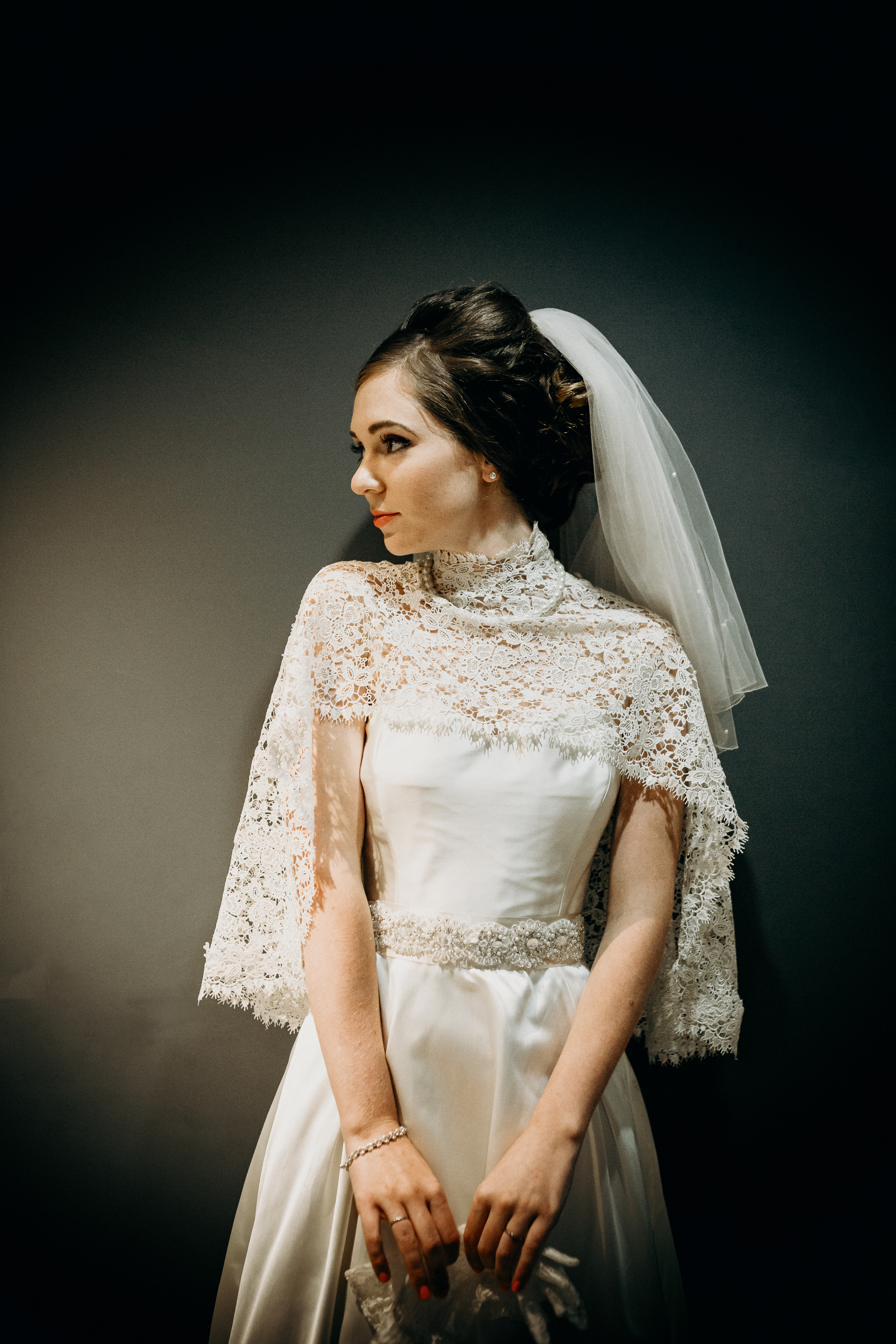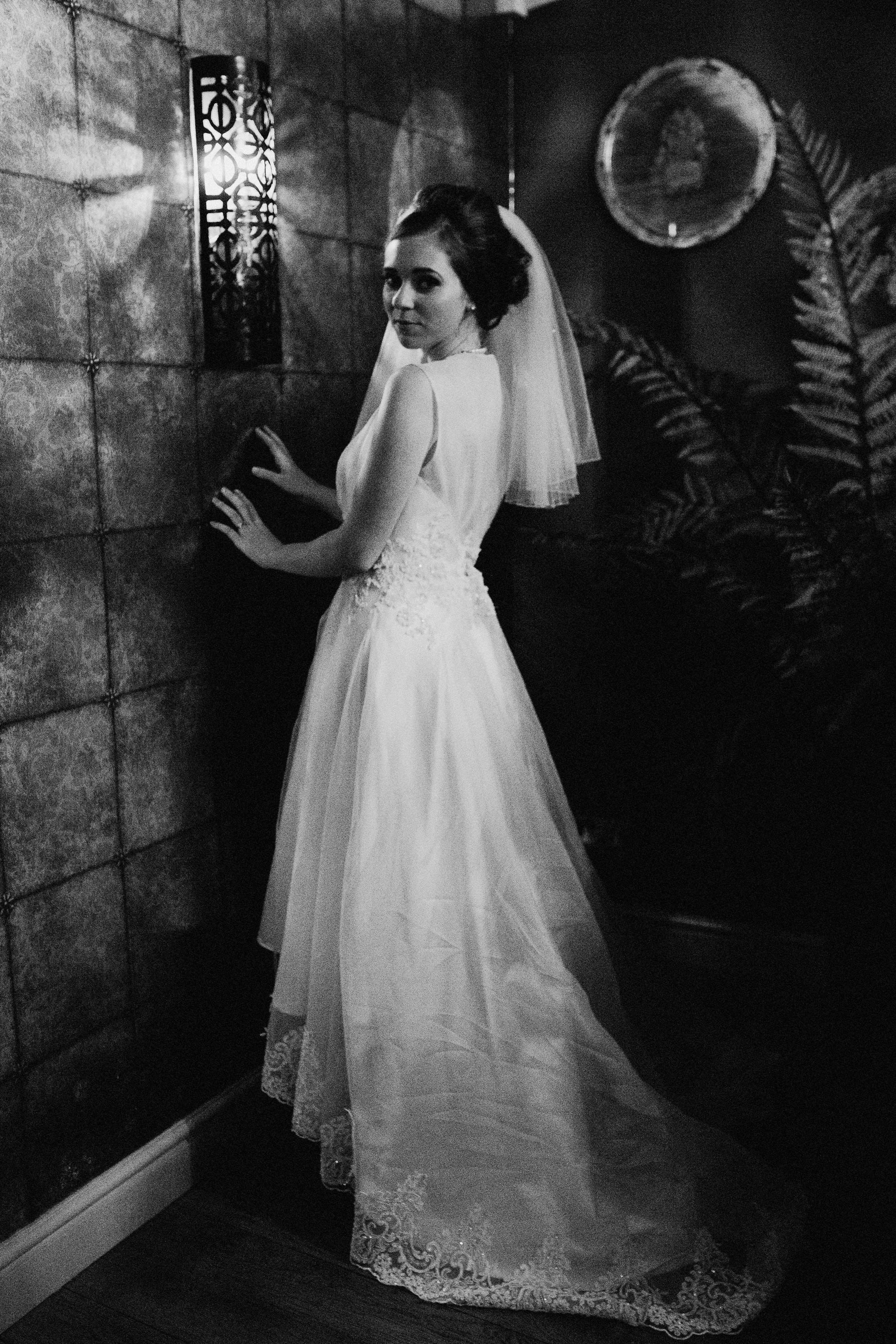 Flowers
"I chose giant monstera leaves as a place setting piece to bring a slight injection of colour to the tables whilst keeping the theme rather botanical looking, with small injections of colours coming through within the flowers in jars on the tables. Eucalyptus was placed in the table to create a greenery swag amongst geo symmetric metal shapes and candles. The bouquet featured lots of bright zingy colours. I used bright seasonal tulips and germinis in vibrant yellow and orange tones as well as large oversized hydrangeas and daffodils."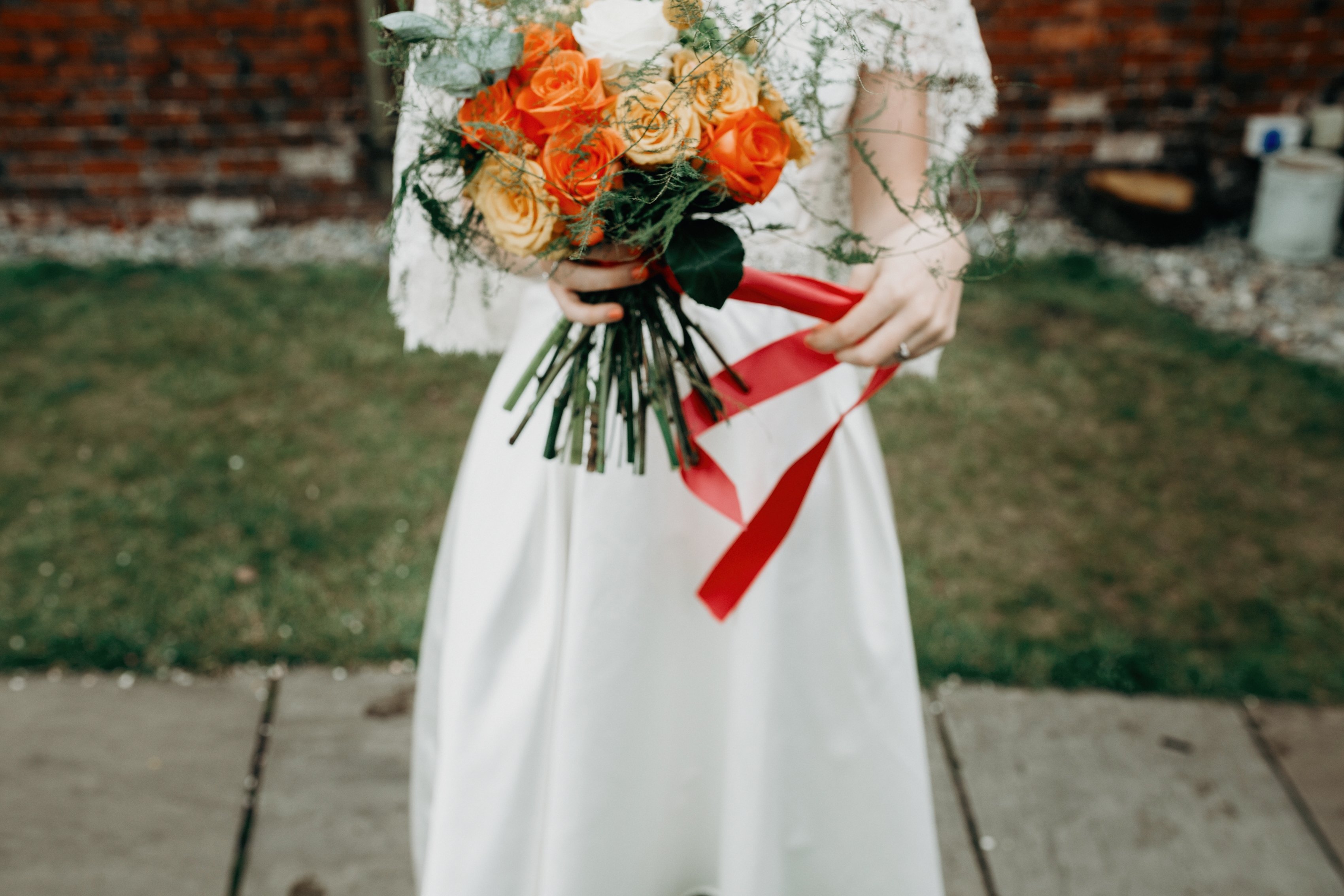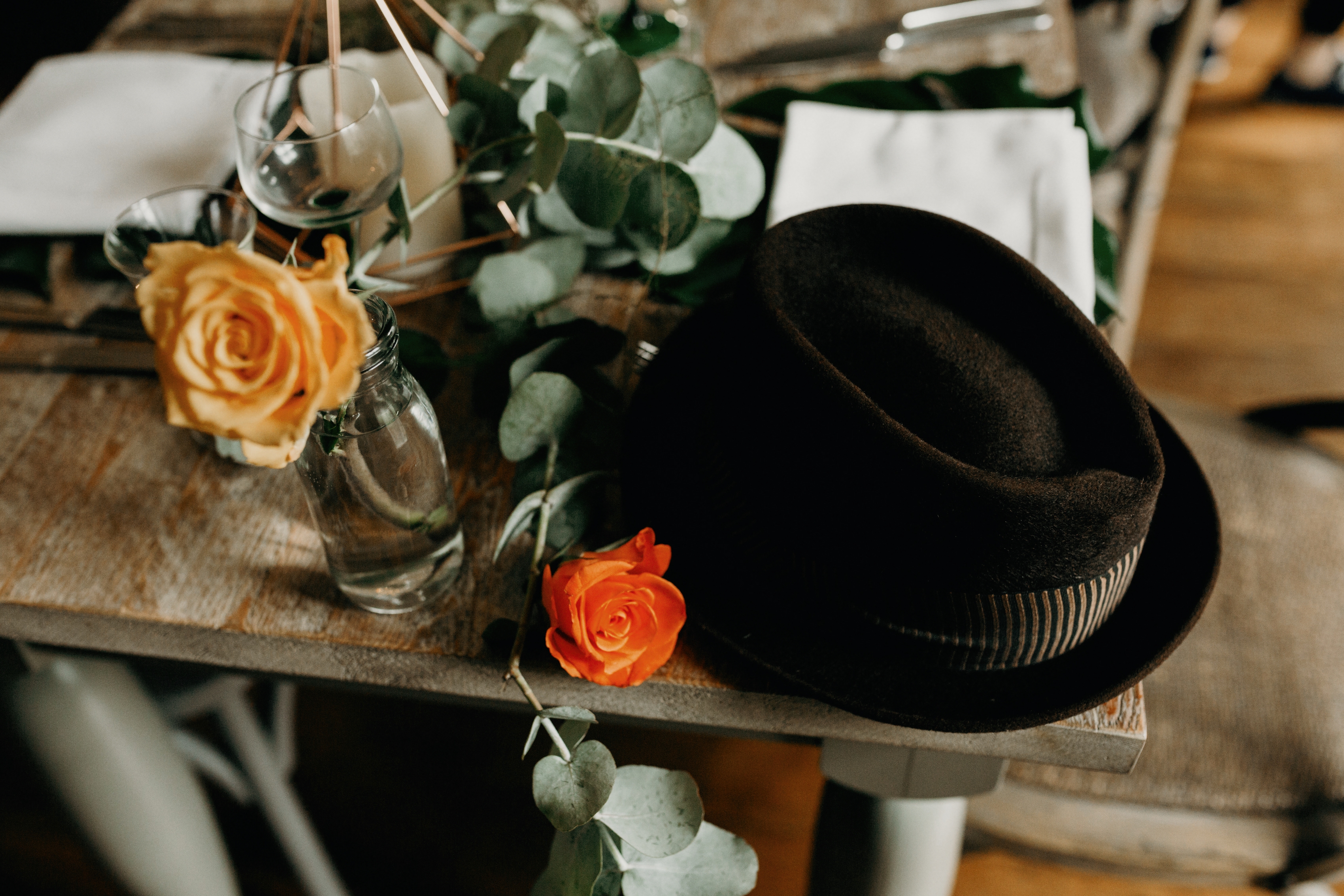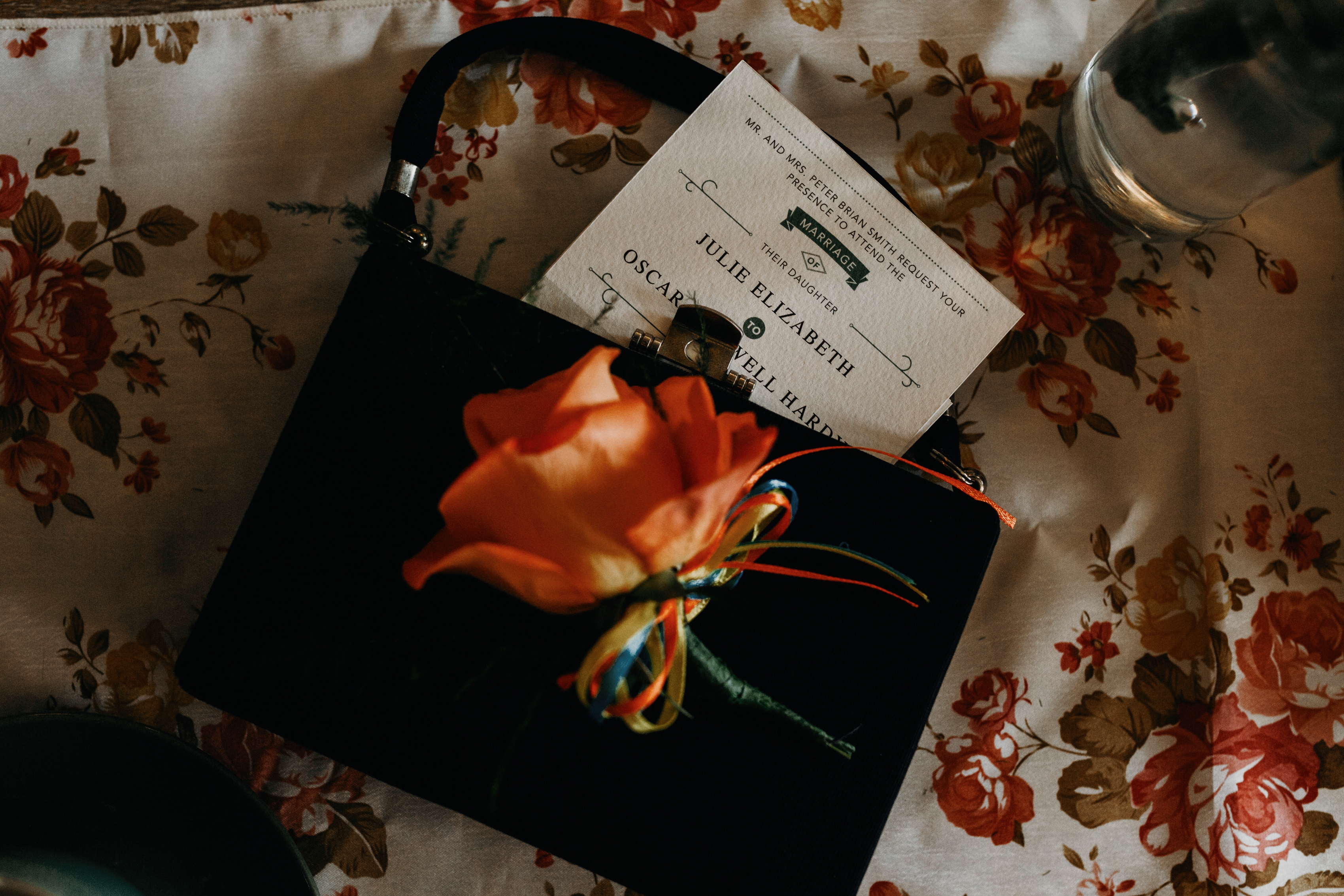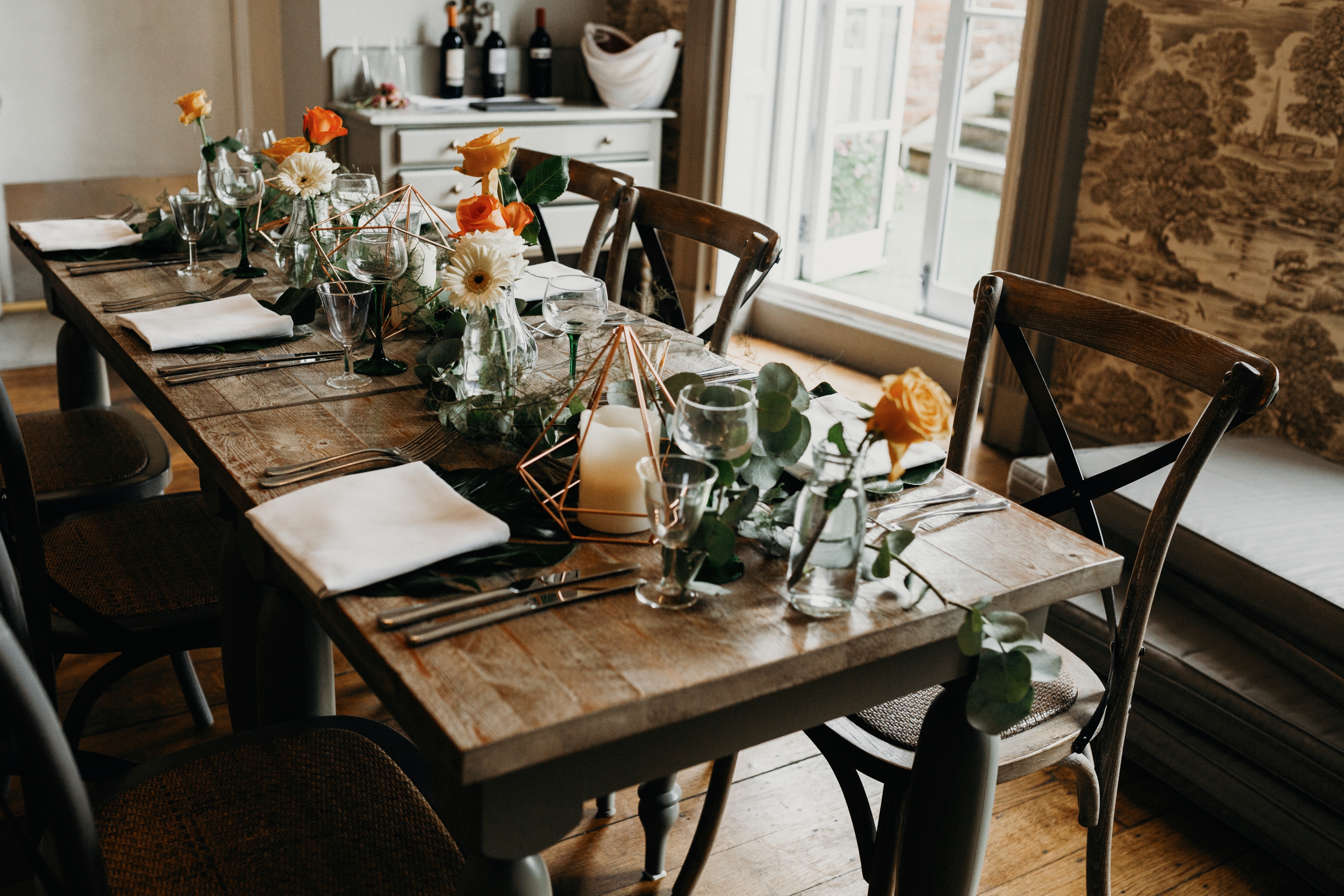 Hair and Make-up
"For the hair and makeup, Charlotte and I decided we wanted to create three different vintage looks to showcase our skills. It was a no brainer to go big for the bride (Alana's) hair. Charlotte began to hot set her hair to get a strong curl which could then be anchored and volume built-up from there. She drew inspiration from the Mad Men images we had collated, from the character of Megan Draper and Joan Holloway, as well as stars from the era like Priscilla Presley and Brigitte Bardot. Alana's makeup featured soft grey and peach colours on the lids with the ubiquitous 1960s dark socket line and heavy black liner flicks. We added a bold coral lip and matching blush to give that early 60s vibe.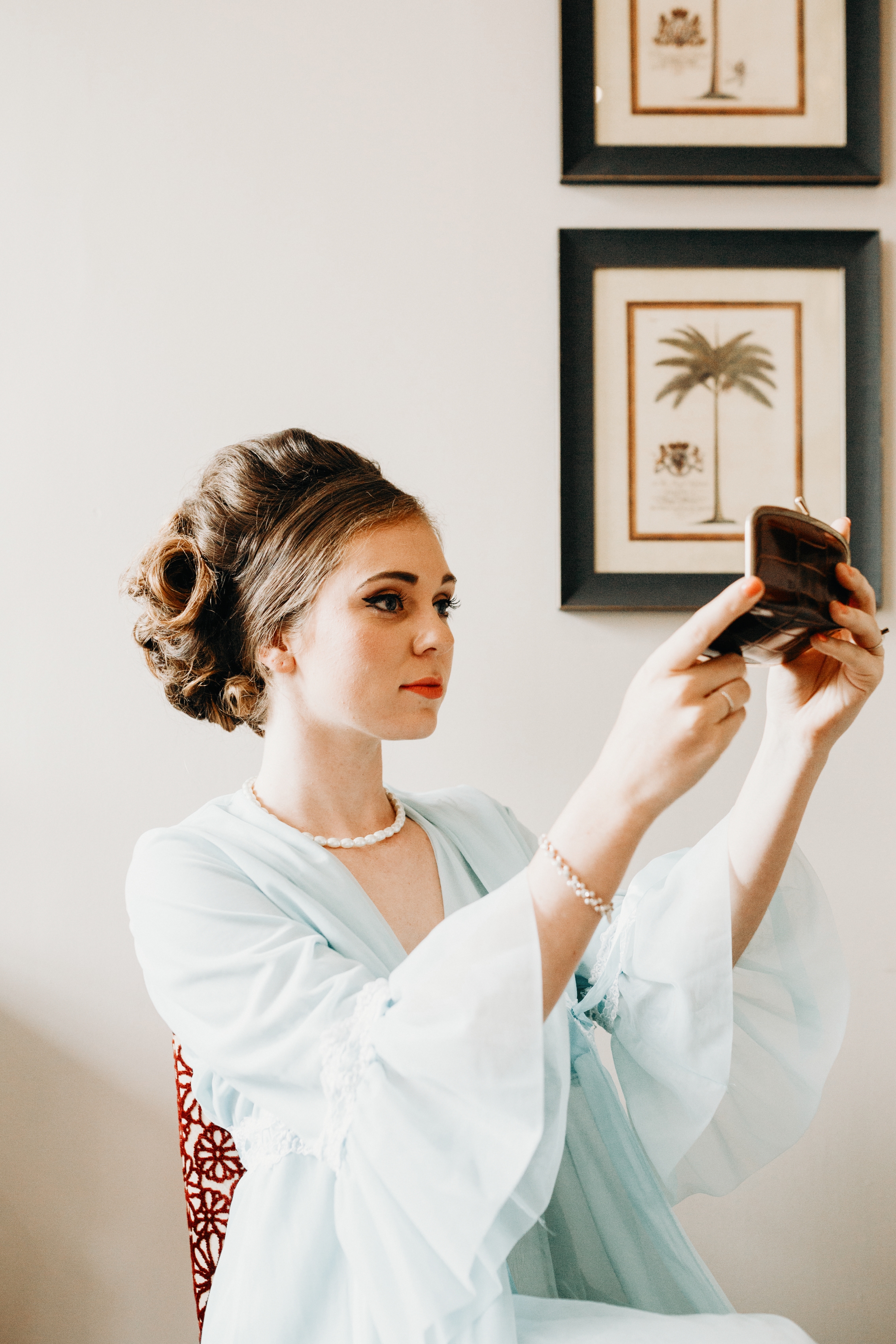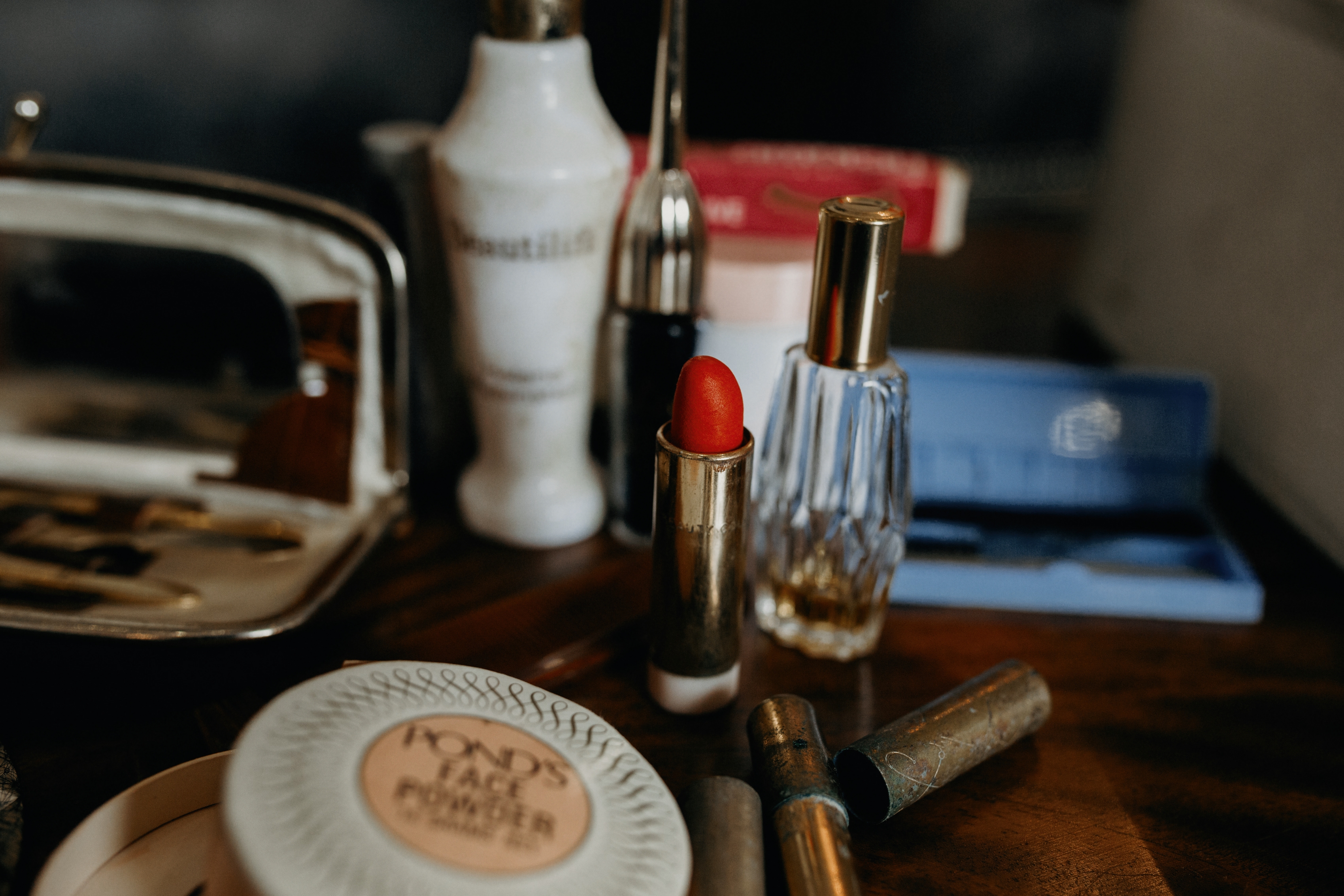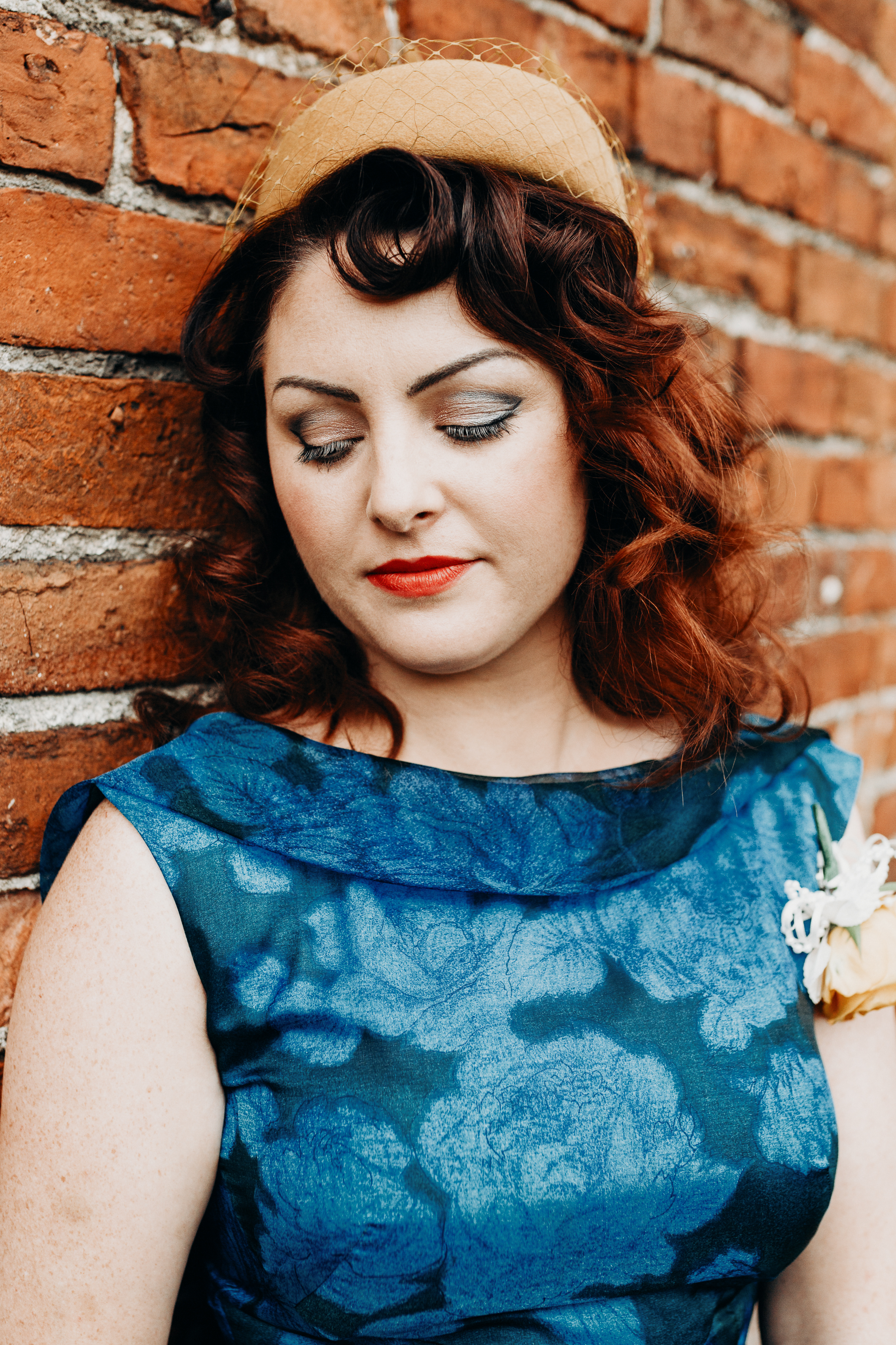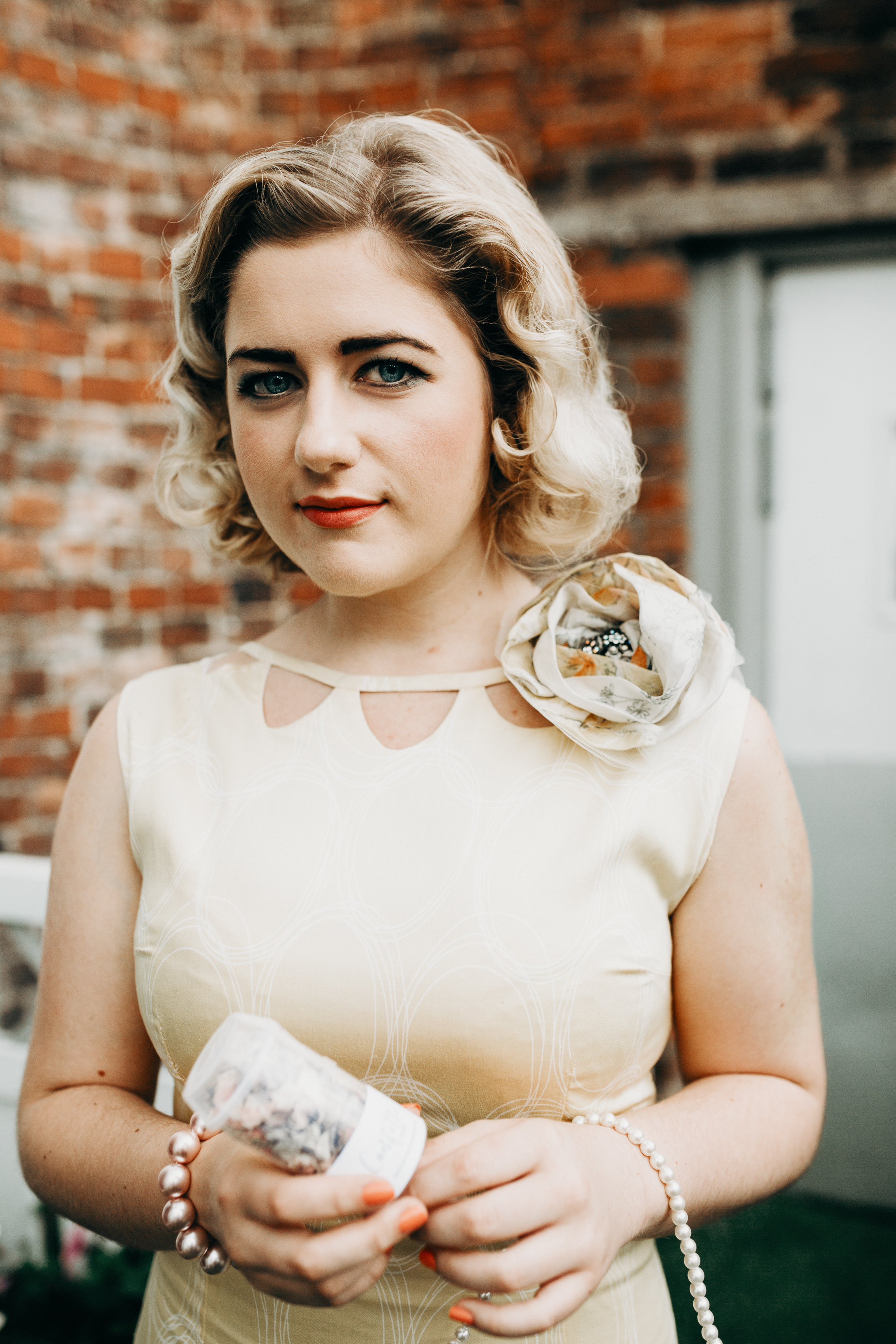 Kerri (brunette) was also set in rollers, and we added a large front curl to give a real 1950s vibe. He strong blue eye-makeup and cat-flicks,a peachy blush and a poppy red lip helped tie the look together. Amy (blonde) has striking blue eyes and we wanted to make them pop by using a bright green shadow, which was very on trend at the time. They loved bright eye makeup in the late 50s and it was all about matching your bag to your eye colour. So we added a pale pink lip to showcase another makeup style, a soft pink blush and lashings of liner and mascara."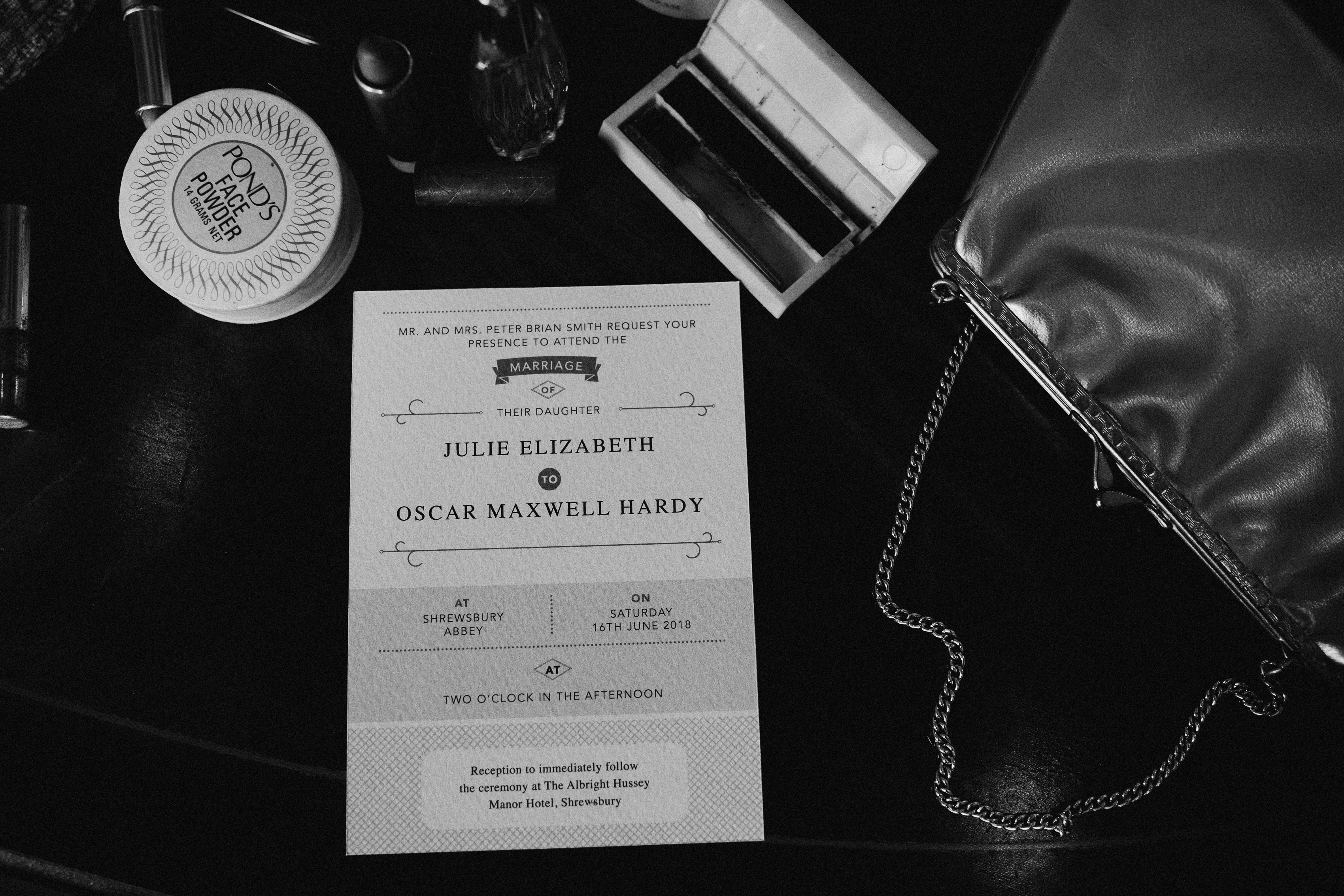 "Nia Banwell from Folded Paper Wedding Stationary provided us with wedding invitations and envelopes for some of the incidental images."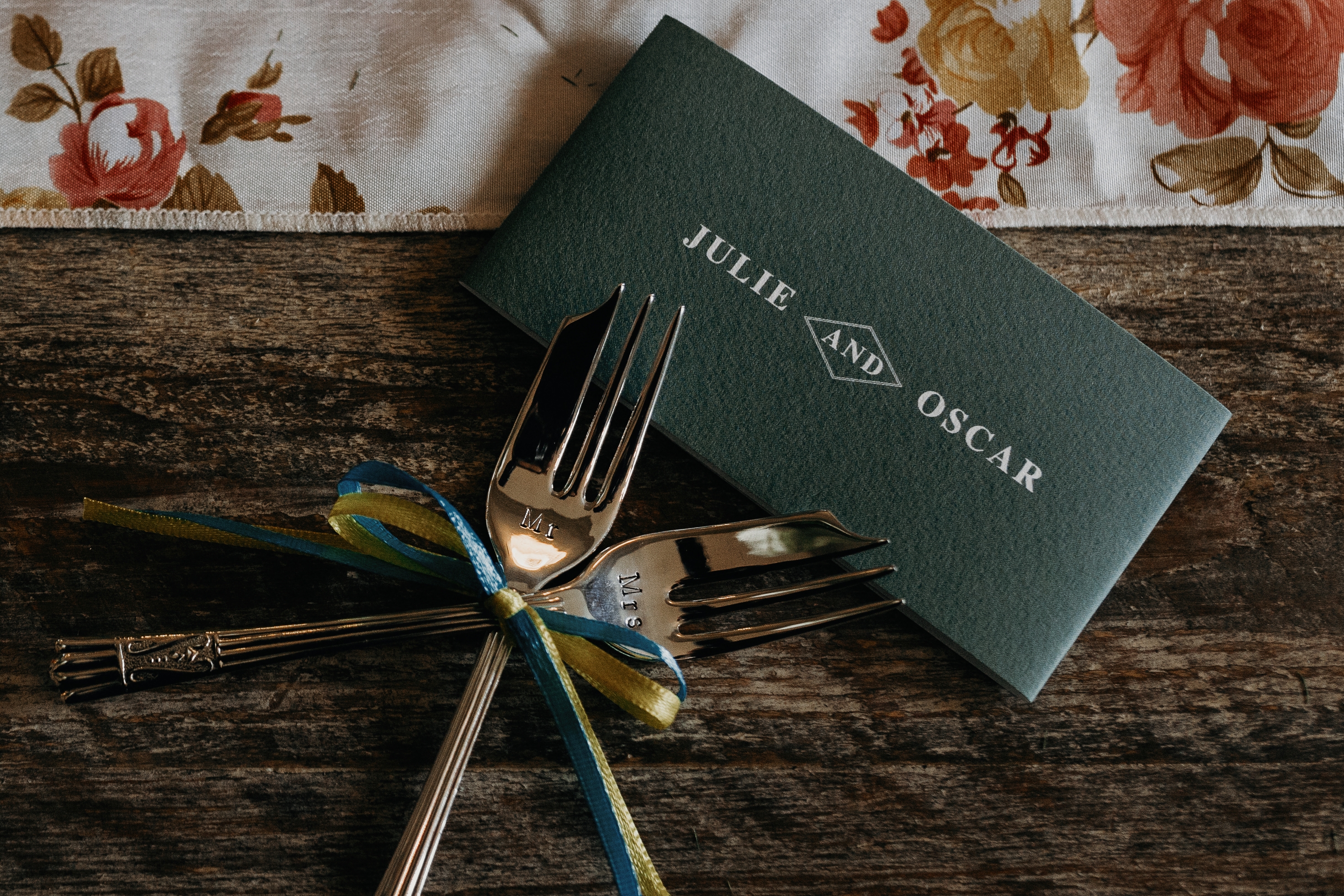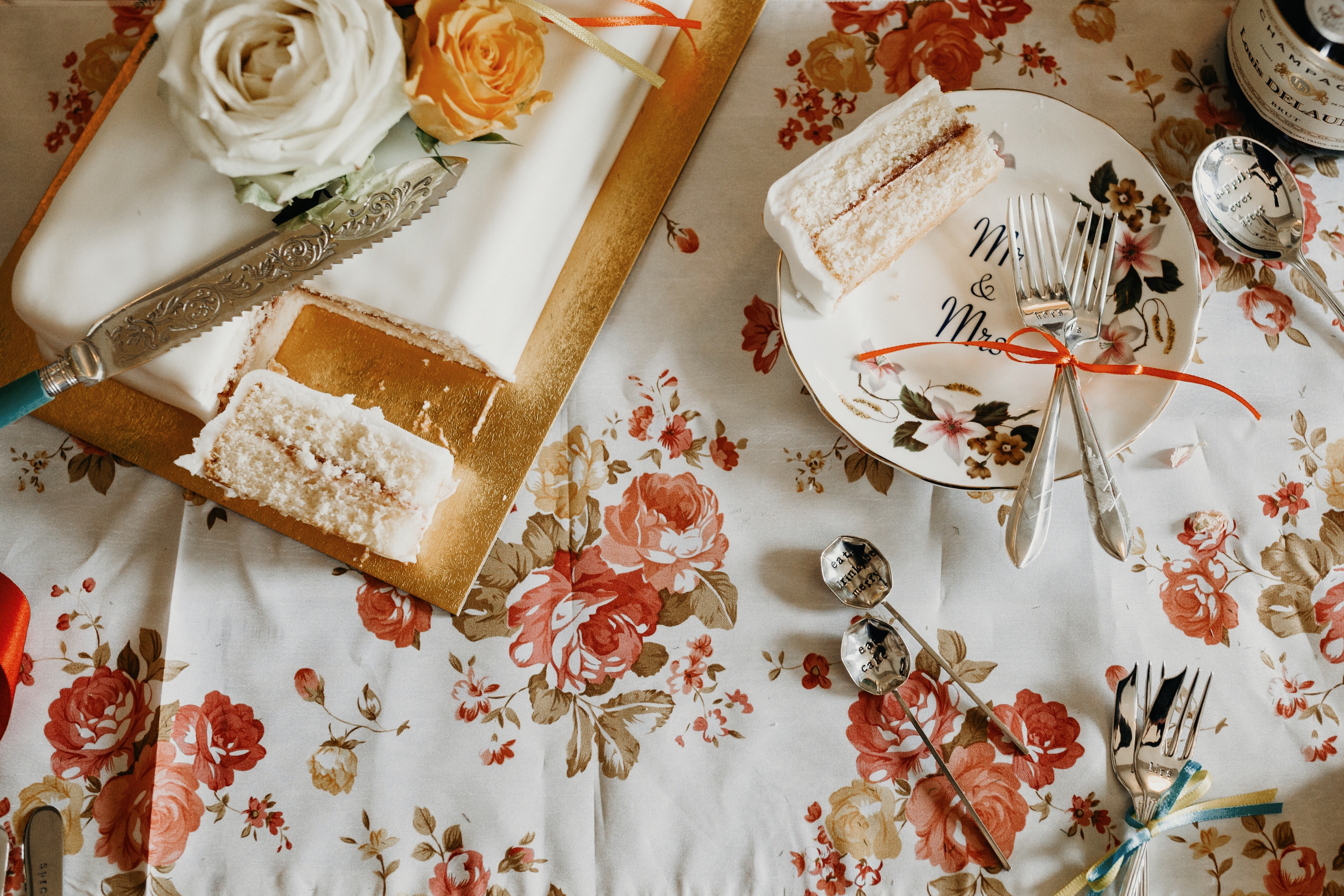 "One thing we did want to include was the very cute cake markers made specially for us by Rachel Barlow from Say in Silver. She creates vintage-inspired hand-stamped silverware that can be personalised. Not only do they feel perfectly retro and on-point for our time-period, but they are a quirky addition to any wedding table and make great favours too."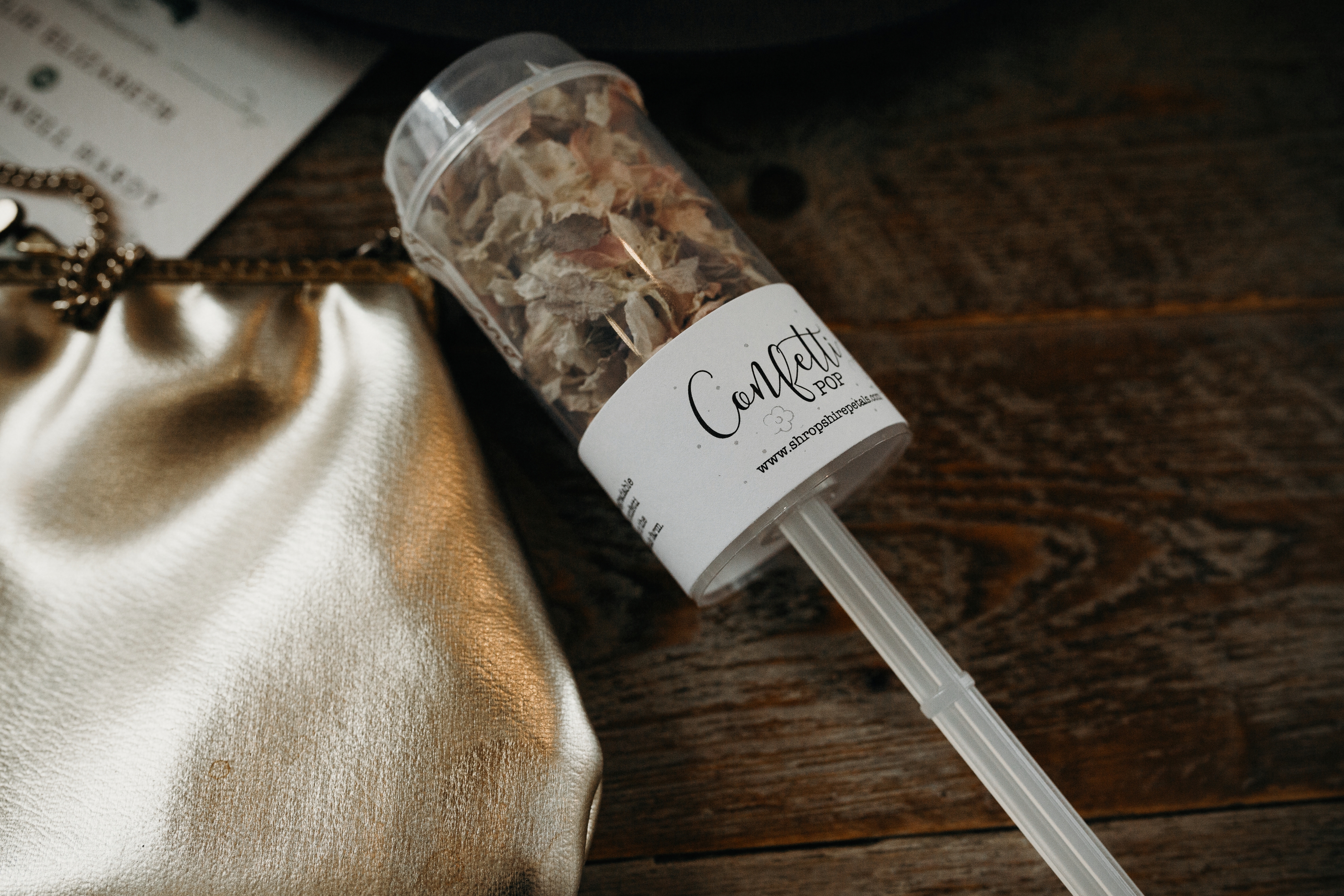 "We used the very cute confetti-pops and real flower confetti supplied by Shropshire Petals. They sent us two wonderful bright colour mixes called Vintage and Sunshine to match our palette picking up the yellows, blues and corals. They gave a sense of realism to the images and also a fun element!"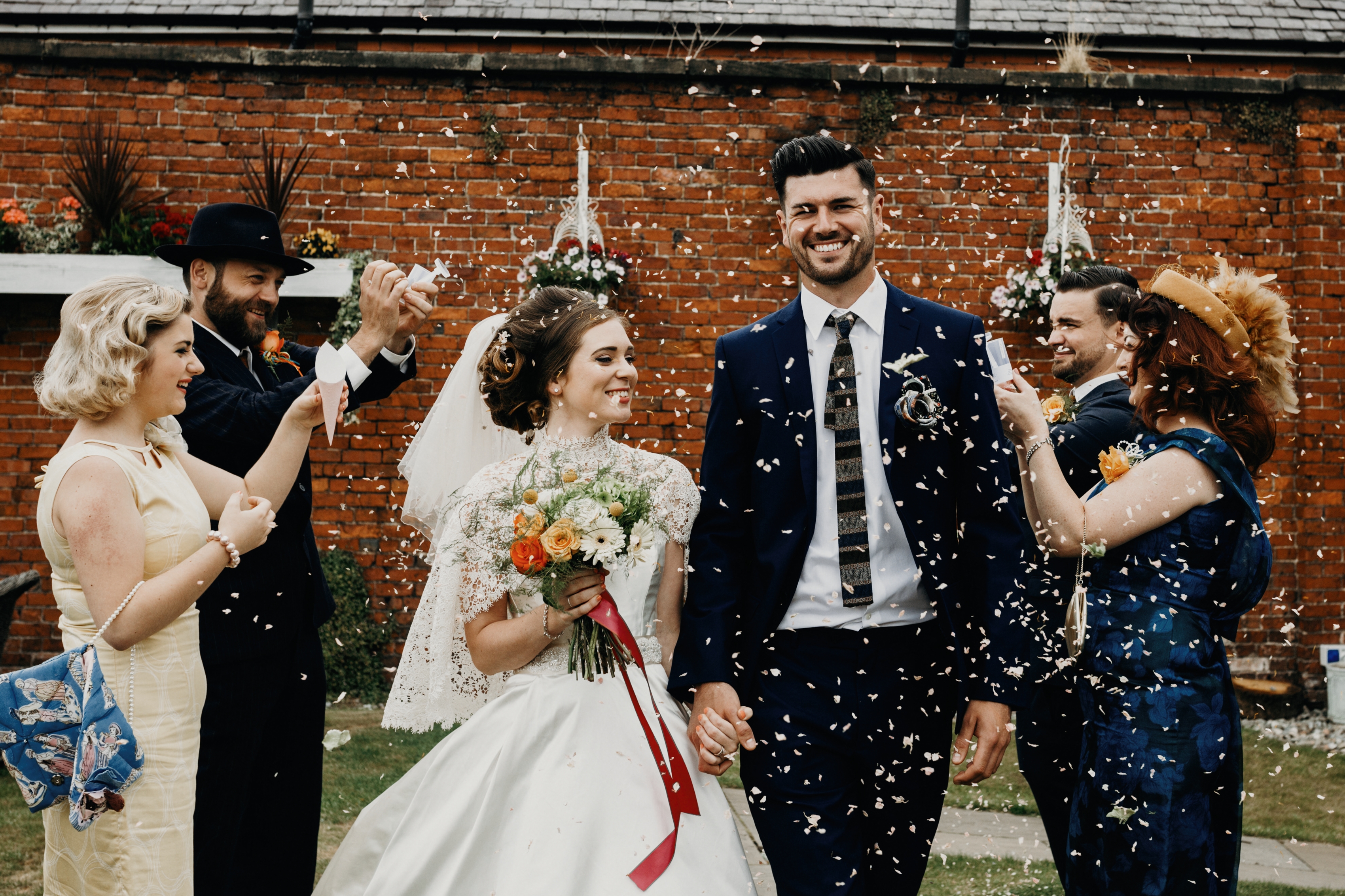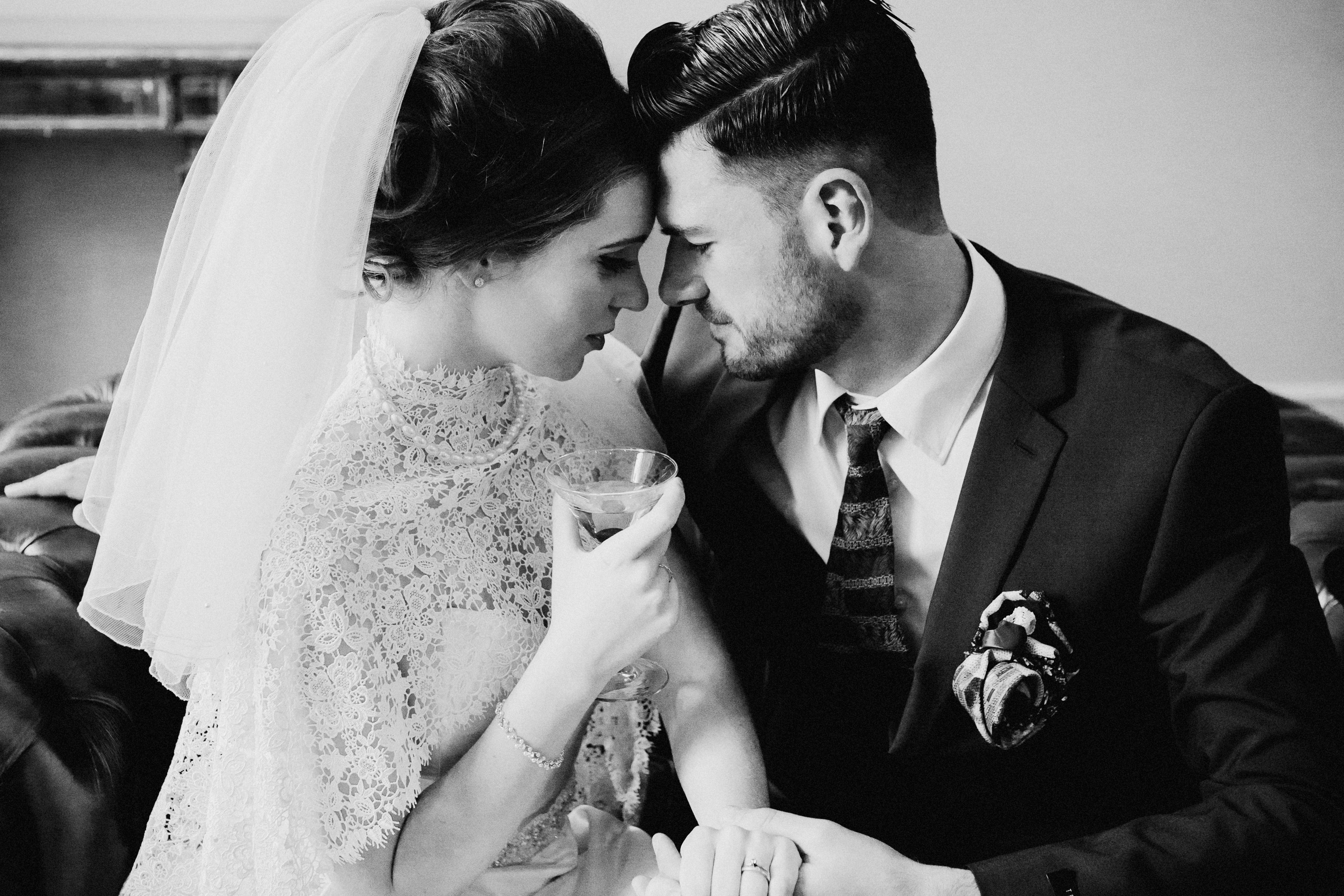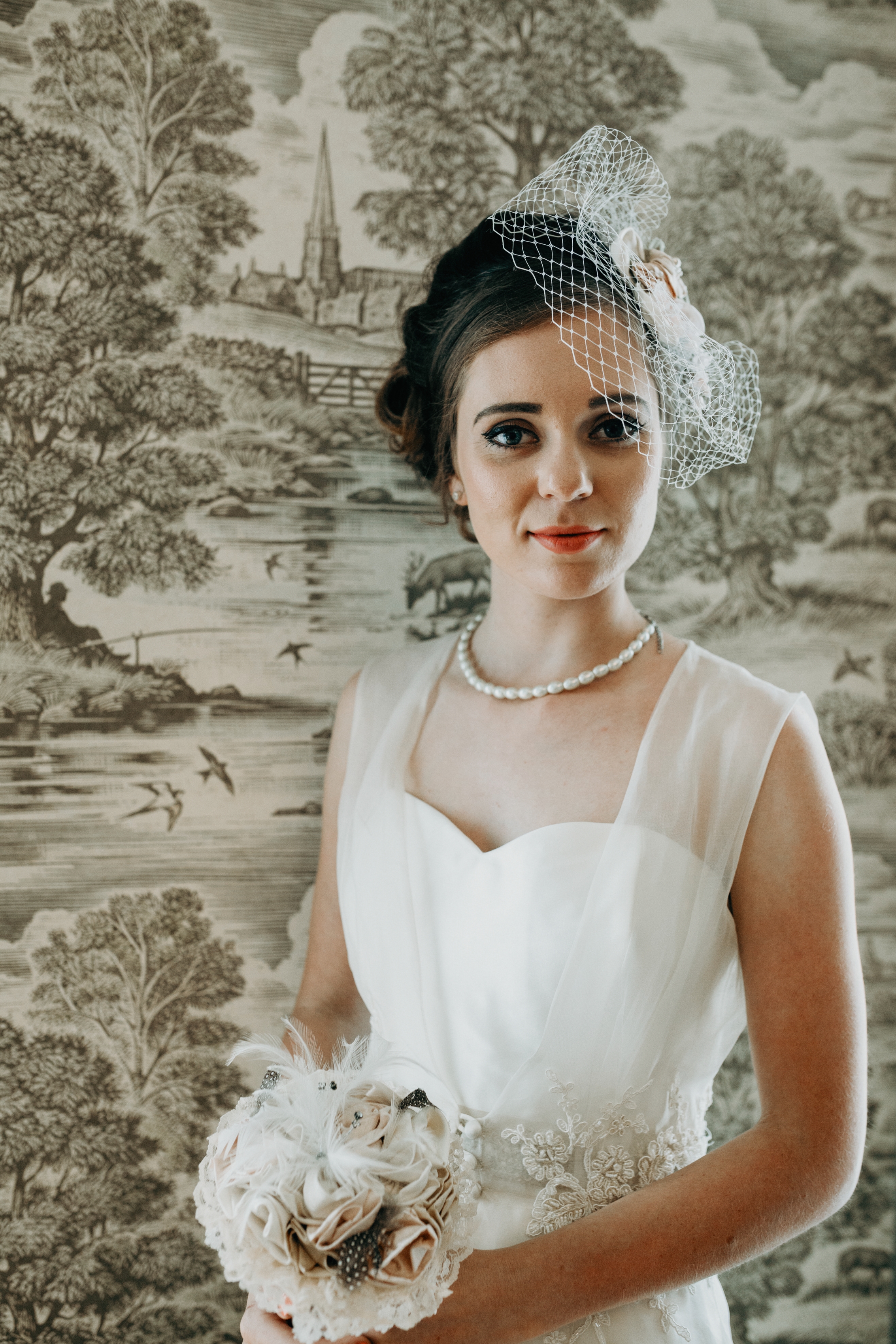 "Alison Moore of Hobbits Vintage Creations supplied the vintage suitcases, corsages, vintage gloves and handmade handbags which are used throughout the shoot. Alison uses original vintage lace and fabric to create her bespoke hand-stitched pieces and they brought another dimension to some of the bridal shots."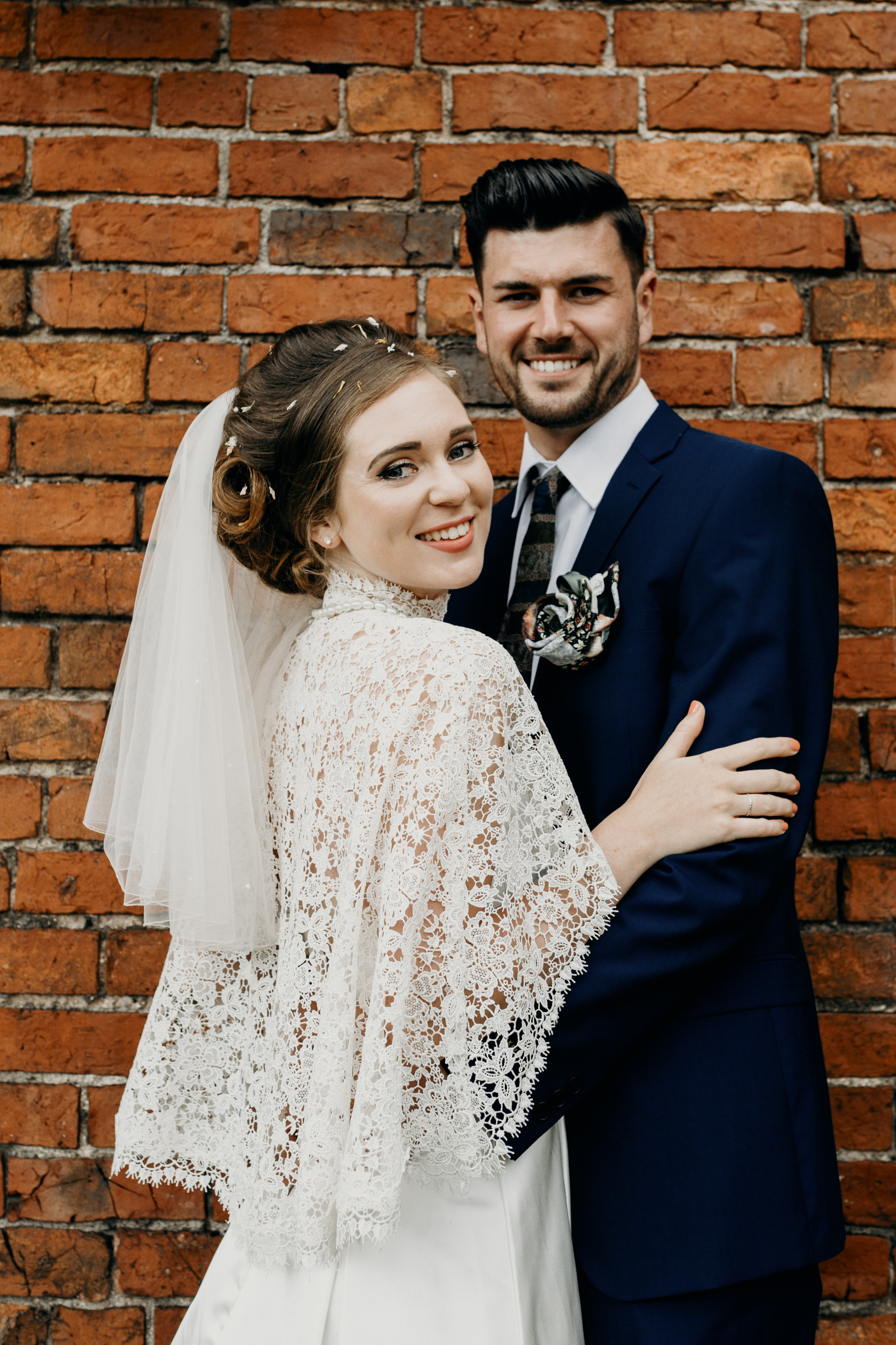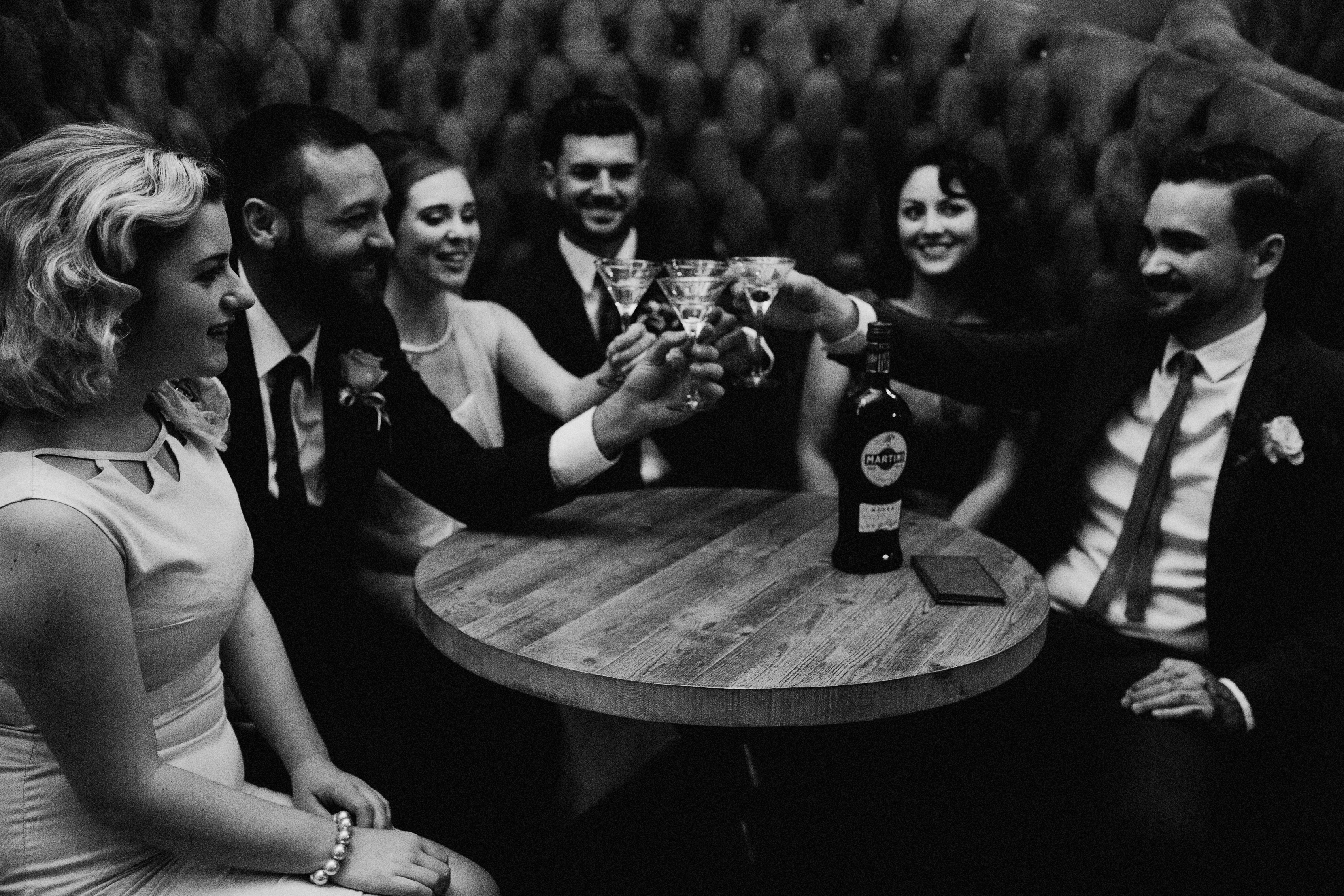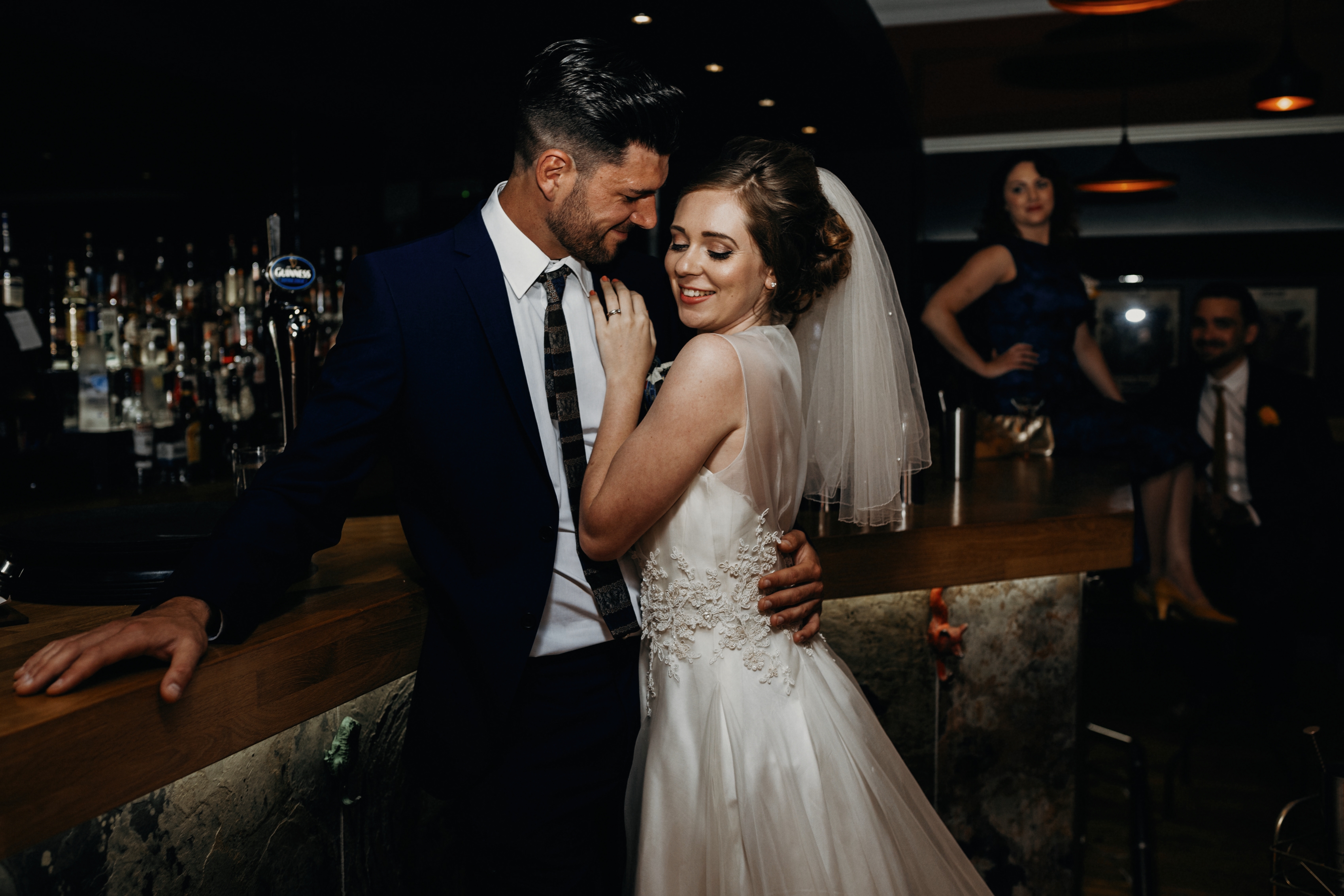 Suppliers-
Photography: Indie Love
Vintage hair, makeup and styling The Blusherettes (Verity Gough & Charlotte Mainwaring)
Men's grooming and barbering: Luke Ashton Jones, Jones Barbershop
Menswear: Ted Baker suits
Vintage clothes: Maggie Mae's Vintage
Vintage Accessories Hobbits Vintage
Bridal dress and accessories: My Little Wedding Shop
Flowers and table design: TMS Events
Stationery: Folded paper
Stamped Silverware: Say in Silver
Confetti: Shropshire Petals
The Models: Groom: Rob Hughes, Best Man: George Triggs, Usher: Luke Ashton Jones Bride: Alana Dean, Guests: Kerri Eastwood, Amy McCulloch
Love a 1960's vibe and want some more inspiration for your big day? Check out our Elvis and Priscilla Presley Styled 1960s wedding shoot