We happen to be huge fans of original vintage wedding dresses here at The National Vintage Wedding Fair. We know you are too, but which is your favourite era?
1930s
The 1930s wedding dress was often bias cut in silks and lace, which sat delicately over their curves, revealing a sensuous look in contrast to the boxy styles of the 1920s. Brides showed off the arms for the first time, covering their shoulders with fur and ostrich stoles. Veils were worn long and positioned at the top or back of the head revealing finger waves and often a rhinestone tiara, although some brides were still choosing wax flower headpieces which had been popular since Edwardian times.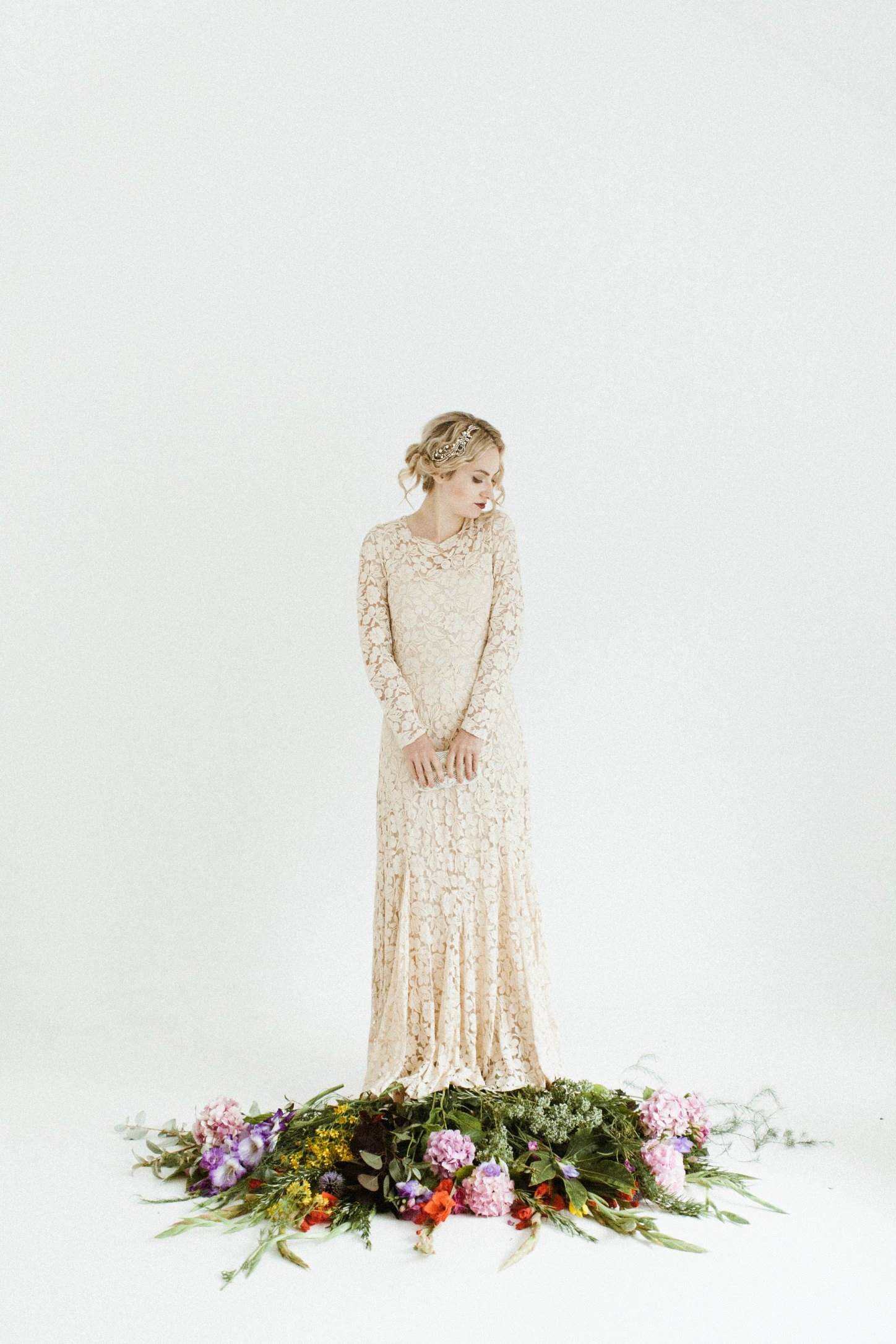 1940s
Often brides would borrow a dress that had been worn in the 1930s, which was elegant and close fitting. This was teamed with a borrowed head piece and a long veil although some managed to buy shorter, modern styles. As waiting lists for new dresses were months long, some brides had to make their own, sometimes from curtain fabric or parachute silk. They often had soft padding at the shoulder and matching belts. Weddings often happened in a rush, with brides wearing their best suit instead of a wedding gown.
1950s
The 1950s was a great decade for vintage wedding dresses with most brides choosing to wear a traditional long dress in silk and lace with long sleeves, fitted waists and full skirts to show off their hourglass figures. Tea length or ballerina gowns were influenced by Audrey Hepburn, but interestingly not fromher own wedding but from the 1957 film Funny Face where she wore the perfect short wedding dress, designed by Givenchy, teamed up with a short full veil, short gloves and a nosegay of flowers.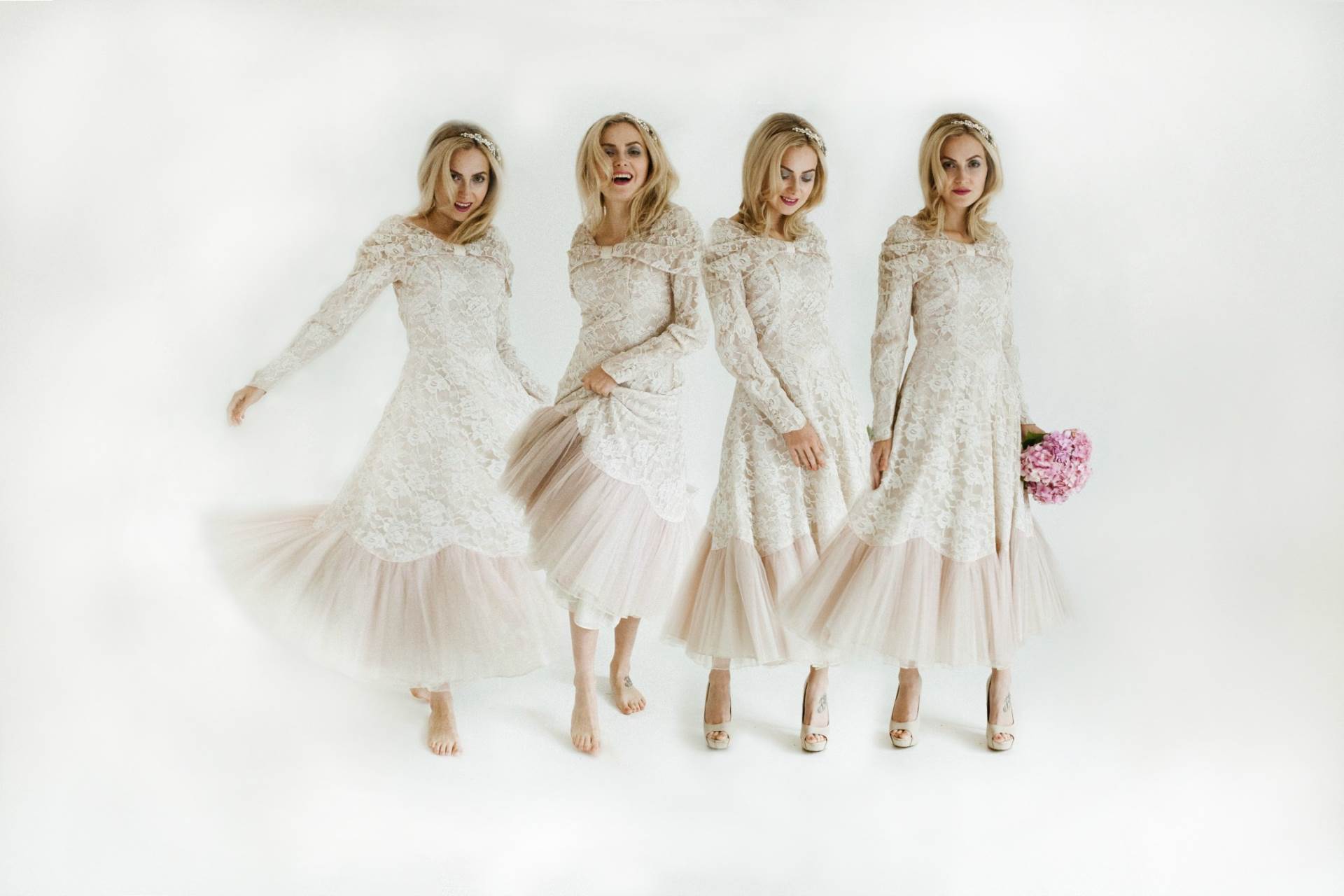 1960s
The 1960s brought about a shift in attitude towards fashion which included wedding dresses. Designers recognised that a bride wanted a dress that was fitting for a church service, yet one that was also youthful and fashionable. Designers such as Mary Quant and Bellville Sassoon created Ready to Wear dresses in the early 60s which were a shorter knee length yet still with the fit and flare shape from the 1950s. However, most brides still chose a full-length gown with a fitted bodice and A-line column skirt, feeling the need to play it safe.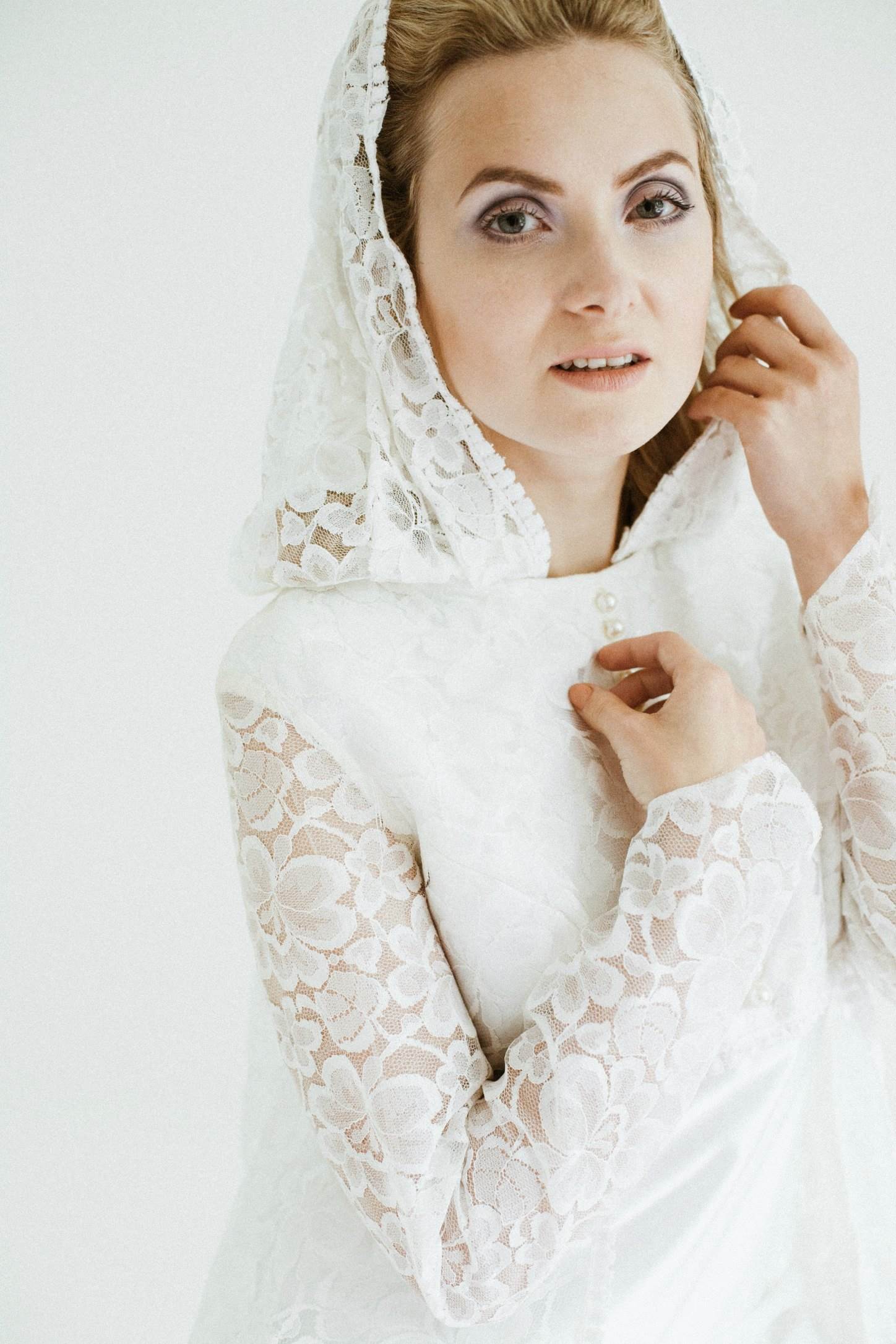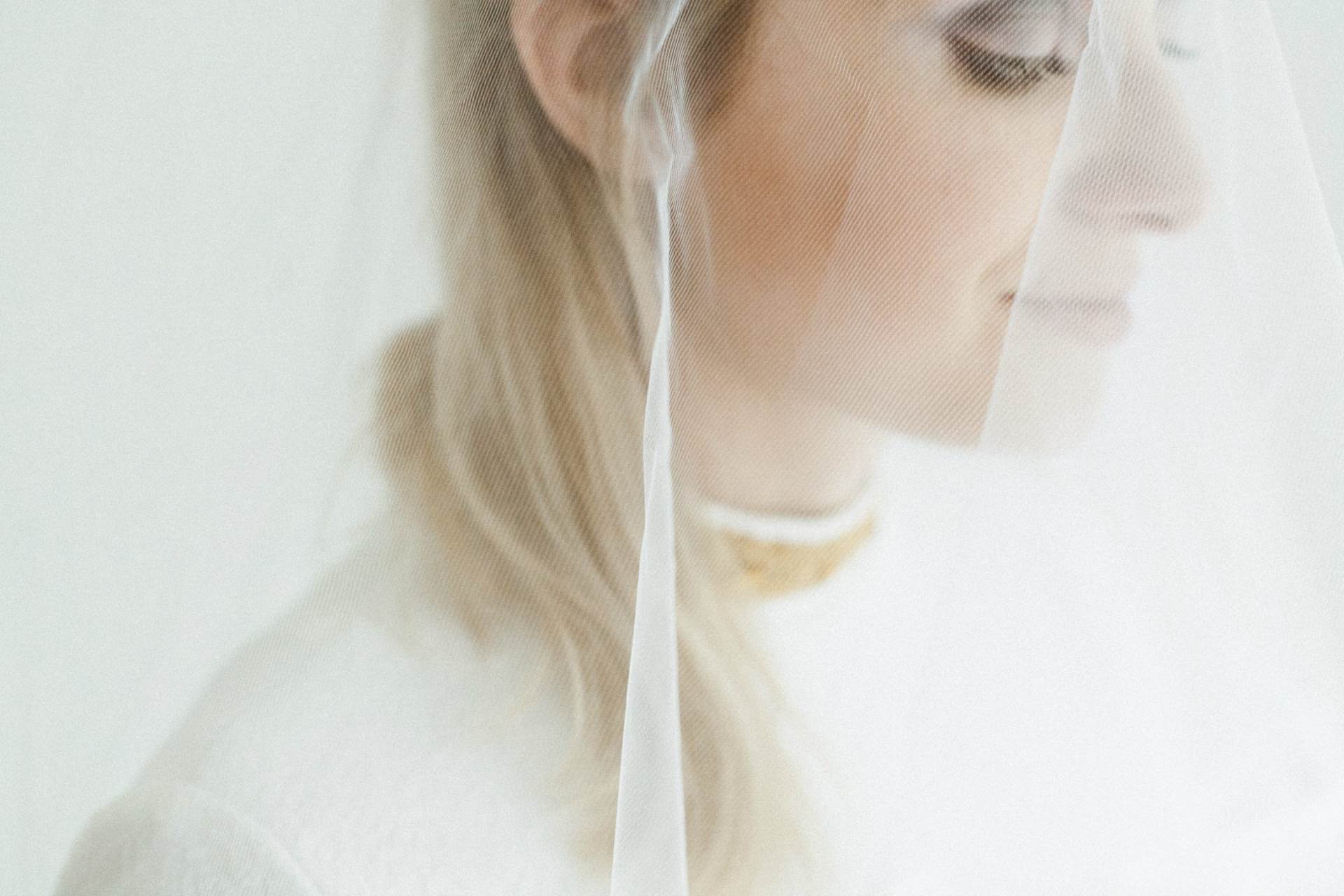 1970s
The 1970s wedding dress was long and floaty with wide romantic sleeves. The mood of the day was bohemian which continues to be a key trend today. Dresses were designed with layers of polyester chiffon, creating large capes and handkerchief edged details. They were generally high necked with front bibs, covering the bride's modesty to contrast with the sometimes sheer skirts and sleeves. Many chose to cover up completely choosing historical looks such as the Tudor maid.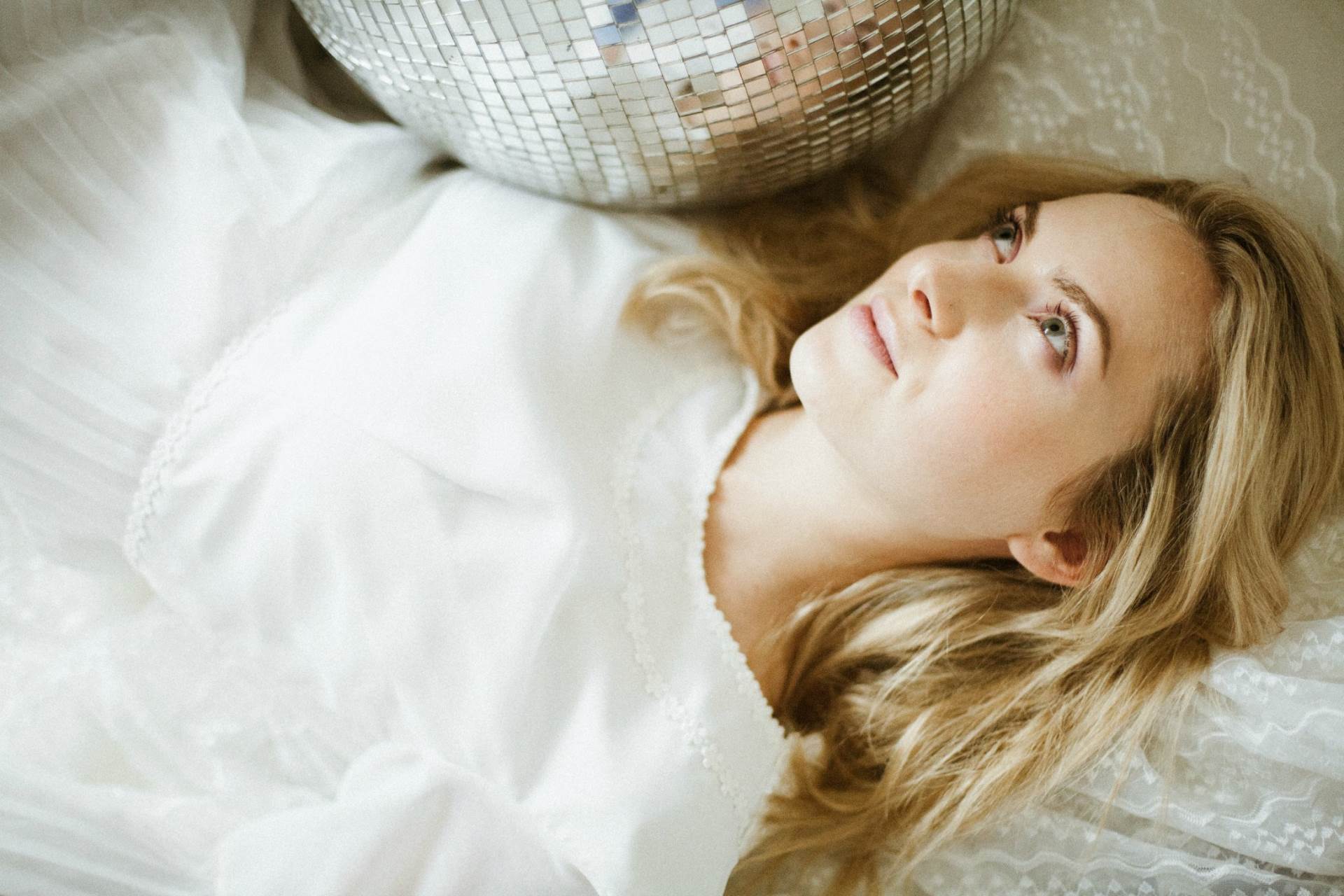 Photo Credits:
Photography: Claire Macintyre Photography
Styling and Dresses: Kate Beavis from The National Vintage Wedding Fair
Accessories: Cherished
Model: Dakota Hunt
Hair and Makeup: Sophie Murray