Every girl dreams of a big white wedding, right? Err….no, wrong. Not everyone wants a traditional, pastel hued celebration with many wanting a colourful wedding. The wedding world is a cookie cutter industry. But what if you don't want cookies? What if you want pizza? Or jelly? Or salted caramel chocolate cake? …Ok, now I'm hungry! What I'm trying to say is you don't have to do what everyone expects; after all, it is YOUR day. So if the thought of a giant white meringue of a dress fills you with dread, what do you do? The answer is simple – just be you.
There are endless ways in which you can personalise your celebration, packing your day with as much colour as your rainbow filled heart desires. It doesn't have to cost a fortune either. Colourful alternatives from unlikely sources can be cheaper as they haven't had the 'wedding tax' applied. Here are a few ideas to help you along the yellow brick road;
Shoes
If you want ruby slippers at your colourful wedding, have them! Zebra print high heels? Fine. Bright pink Doc Martins? Go for it. I was determined not to spend £100 on a pair of ivory silk wedding shoes I'd never wear again. So I opted for a glorious pair of super sparkly silver heels from Red or Dead. I managed to nab a matching pair for our Flower girl from Marks and Spencer's (£12, thank you very much.)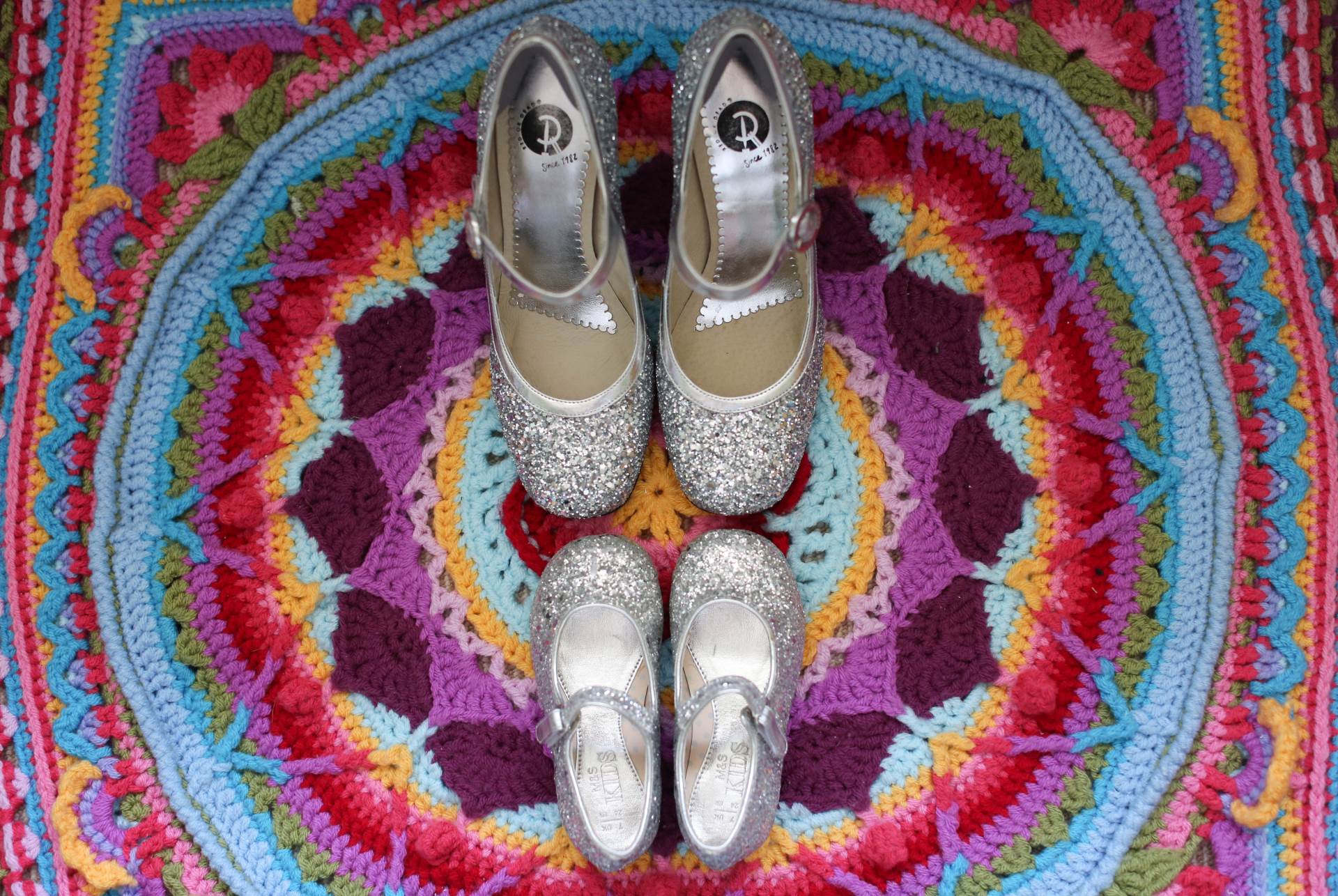 Underskirts
Fabulously full frillies are a brilliant way to add colour, whatever shade you opt for. They can give a cheeky flash under a knee length dress, or a riot of colour on full display. PTInterest is full ideas, and they look great as part of a 2 piece outfit. I have to admit I have an unhealthy number of them, in every colour way possible. You can pick them up from EBay in different lengths, for less than £20 but don't expect them to be super soft or high quality! For a more durable, comfortable option, take a look at the offerings from Mrs W Tutus.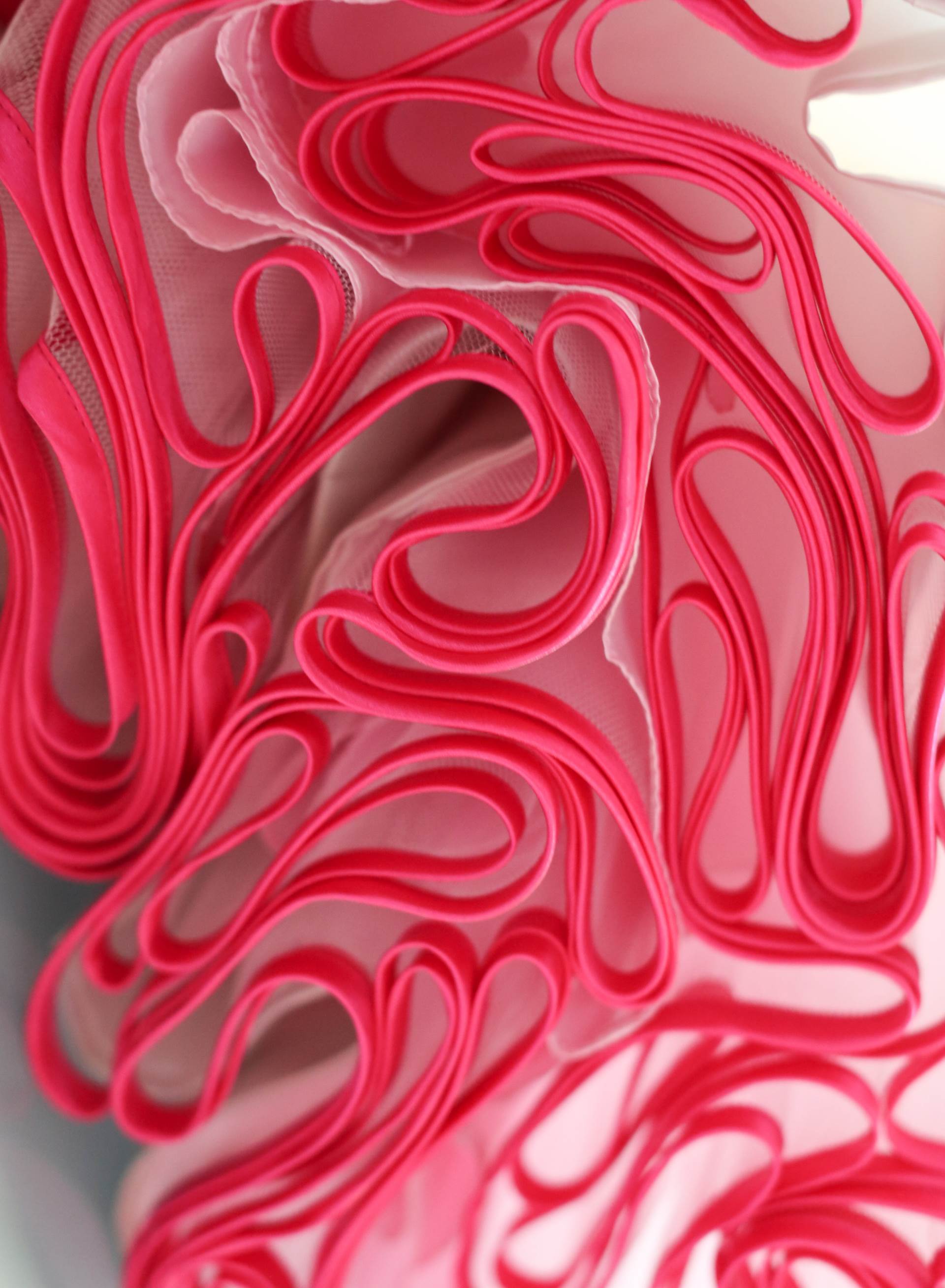 Accessories
Found a bargain white dress and want to jazz it up? Accessories can help you rock the frock and get the colourful wedding of your dreams! Felt flower belts can be real show stoppers, as can flower crowns and shoe clips. And don't forget the boys too; you don't have to have boring buttonholes. Let your fella add his stamp on proceedings by incorporating his interests – camper vans, Dr Who, football; the ideas are endless. Flower girls love a bit of sparkle, so let them pick their own accessories. The results may be non-traditional, but they'll make for great photos!
The bouquet
Think outside the flower box, and you can end up with some truly stunning results. Giant flowers, windmills, lollipops, kusadama (origami to you and me!) You can head to Hobbycraft and DIY, or find a designer who gets your ideas, and works with you to create something gorgeous. I love the idea of bouquets which will last forever rather than just for the day. Head over to the Flipside Bride site for some more examples.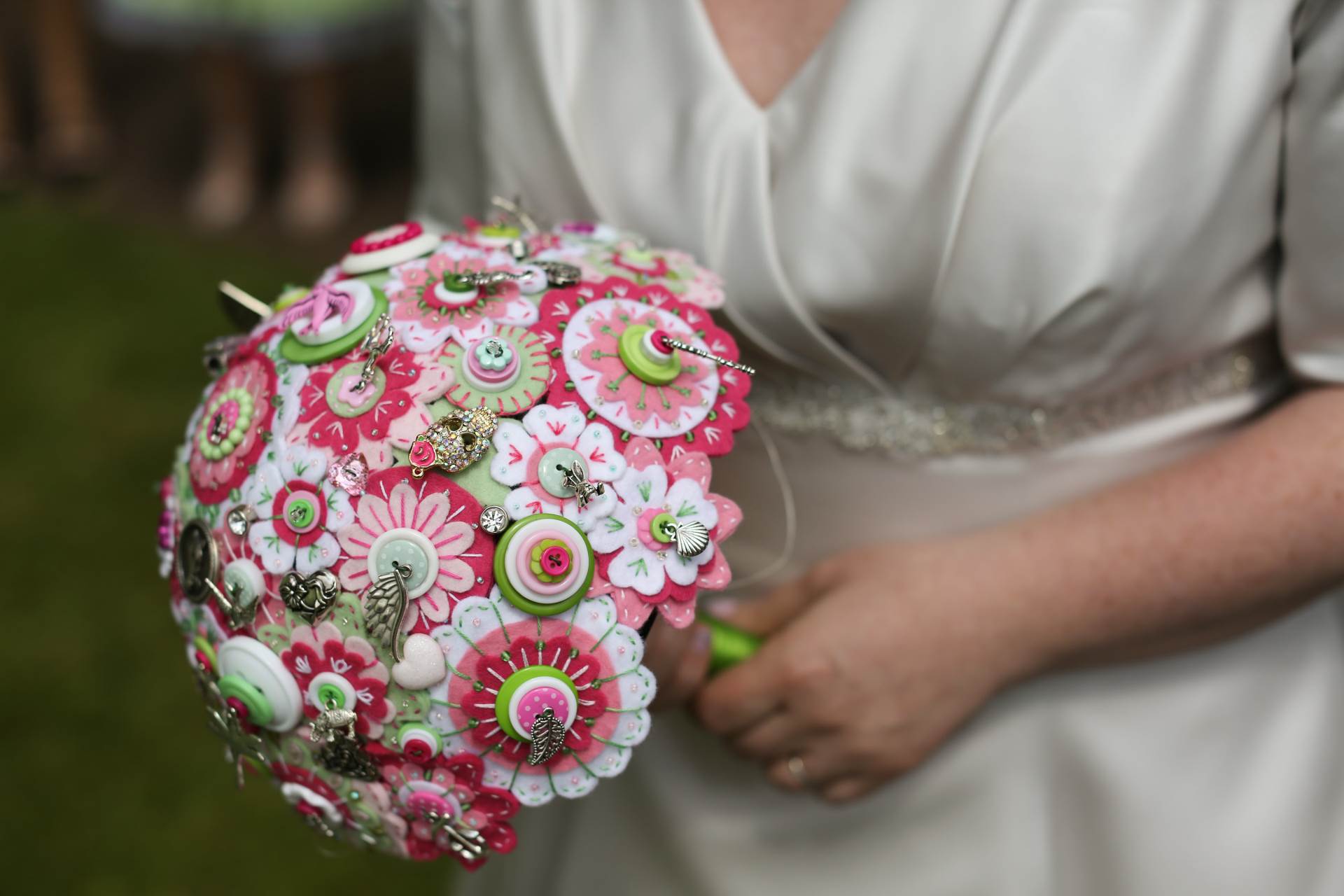 Centrepieces & Decorations
Now this really can be fun. Why pay for fresh flowers that will end up on the compost heap? Instead why not think of things which mean something to both of you that can double up as favours. Rummage about in your loft for childhood toys, embarrassing family photos or raid your Great Aunt's China tea cup collection. Lego figures, action man, gold dinosaurs, pink flamingos, swirly lollipops….ok, hungry again. Just don't go overboard. A simple, colourful centre piece with 3 or 4 elements can make a plain table setting look amazing. So nip to B&Q, nab yourself some gold spray paint and get creative!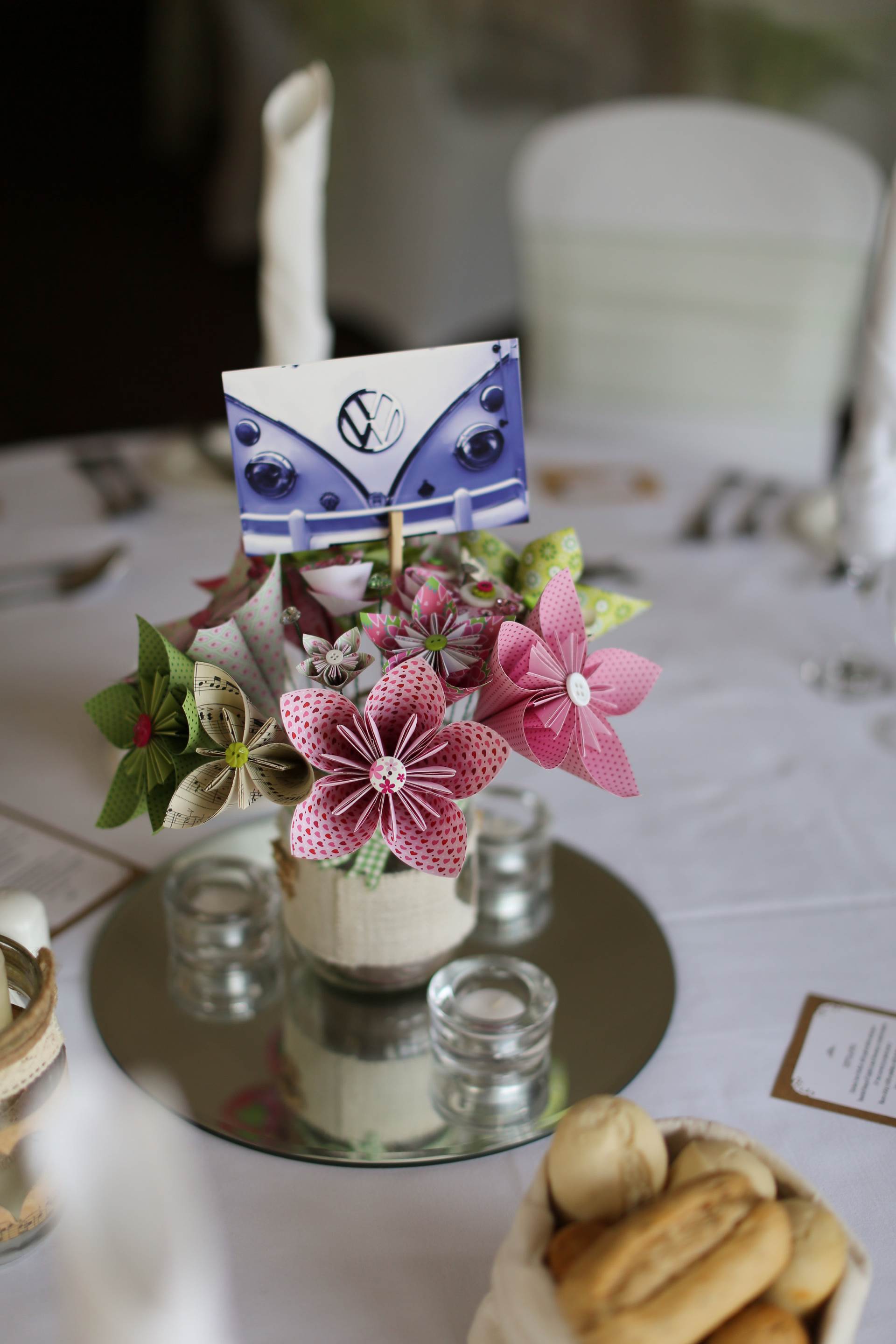 The cake
I had to include cake, right? I made my own 3 tier lushness, incorporating our pink and silver colour scheme. Blue Door Bakery runs classes to help you channel your inner Mary Berry, and have fun creating a truly scrummy show stopper. However, you don't have to be Paul Hollywood (but if you are, call me.) M&S do plain white cakes you can stack yourself, and then add all kinds of weird and wonderful accents. I'm a sucker for a sparkly cake topper. You can pick up a personalised one for around a tenner. Or keep it really easy and serve up a pile of brightly coloured Krispy Crème goodies.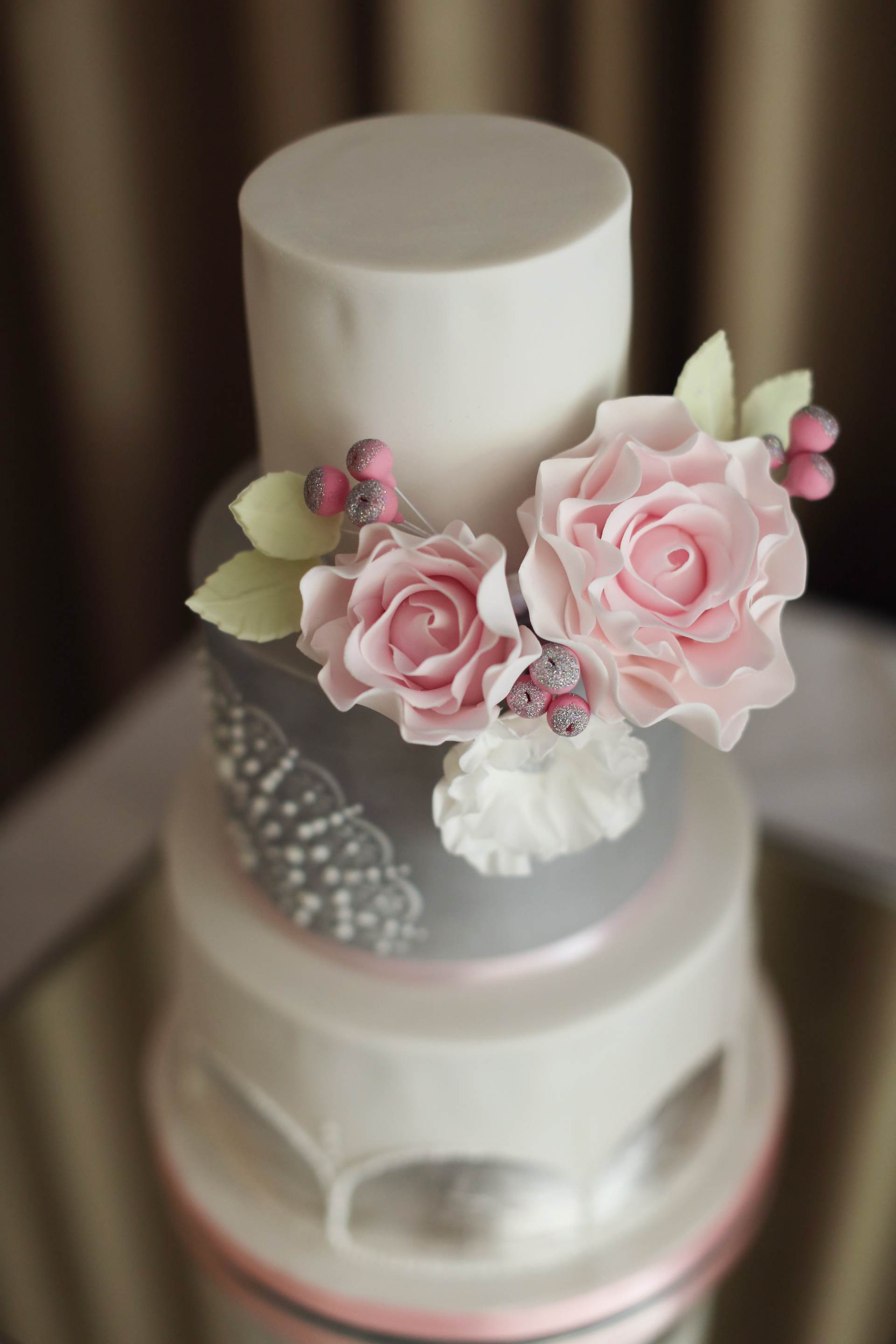 We are loving these colourful wedding ideas so a huge thanks to Kerri from Flipside Bride for today's blog.
Credits
Blog post by Kerri Williams, Flipside Bride
Photographs by Haywood Jones Photography