Set in the heart of Cornwall's wild and enchanting countryside this colourful meadow wedding is full of love and untamed charm! A small and intimate celebration that by no means lacks in boldness it's full of beautiful rustic details that will make you want to say 'I Do' amongst nature. Coordinated by stylist Becky Romanski of Ebb Flow and Grow and along with her chosen suppliers, it was created to show the diversity of the Kilminorth with its sprawling meadows, raw and rustic beauty and of course the beautiful Cornish landscape…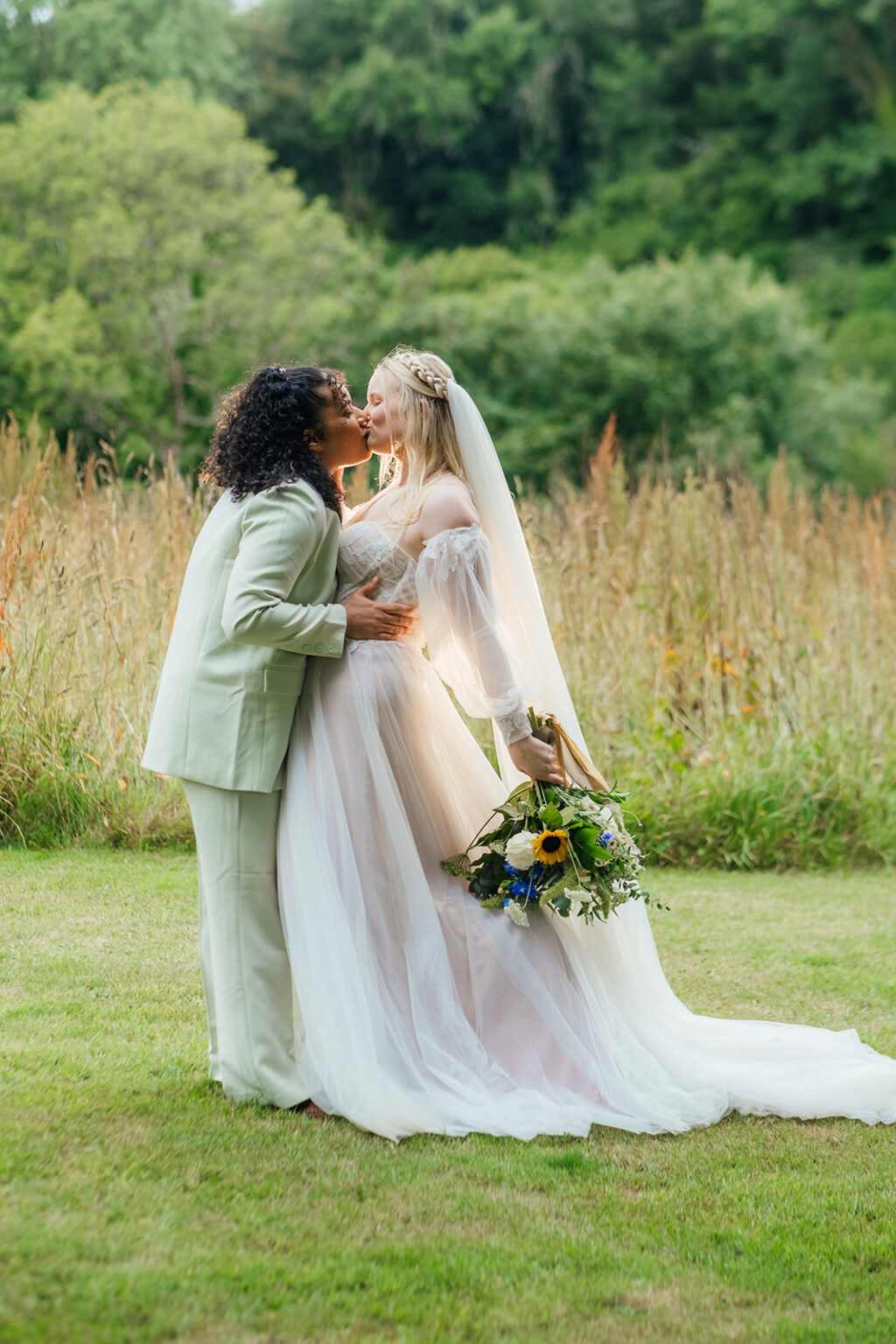 Inspiration
"The shoot was coordinated to highlight the venue's diversity, and how weddings can still be small, intimate and equally beautiful, even in a wild setting. The shoot shows the scenic, picturesque landscape that Kilminorth offers. Kilminorth is a fully inclusive venue and welcomes all celebrations of love. The shoot was inspired by the desire to capture the juxtaposition of the exquisite styling, complemented by a rugged Cornish backdrop.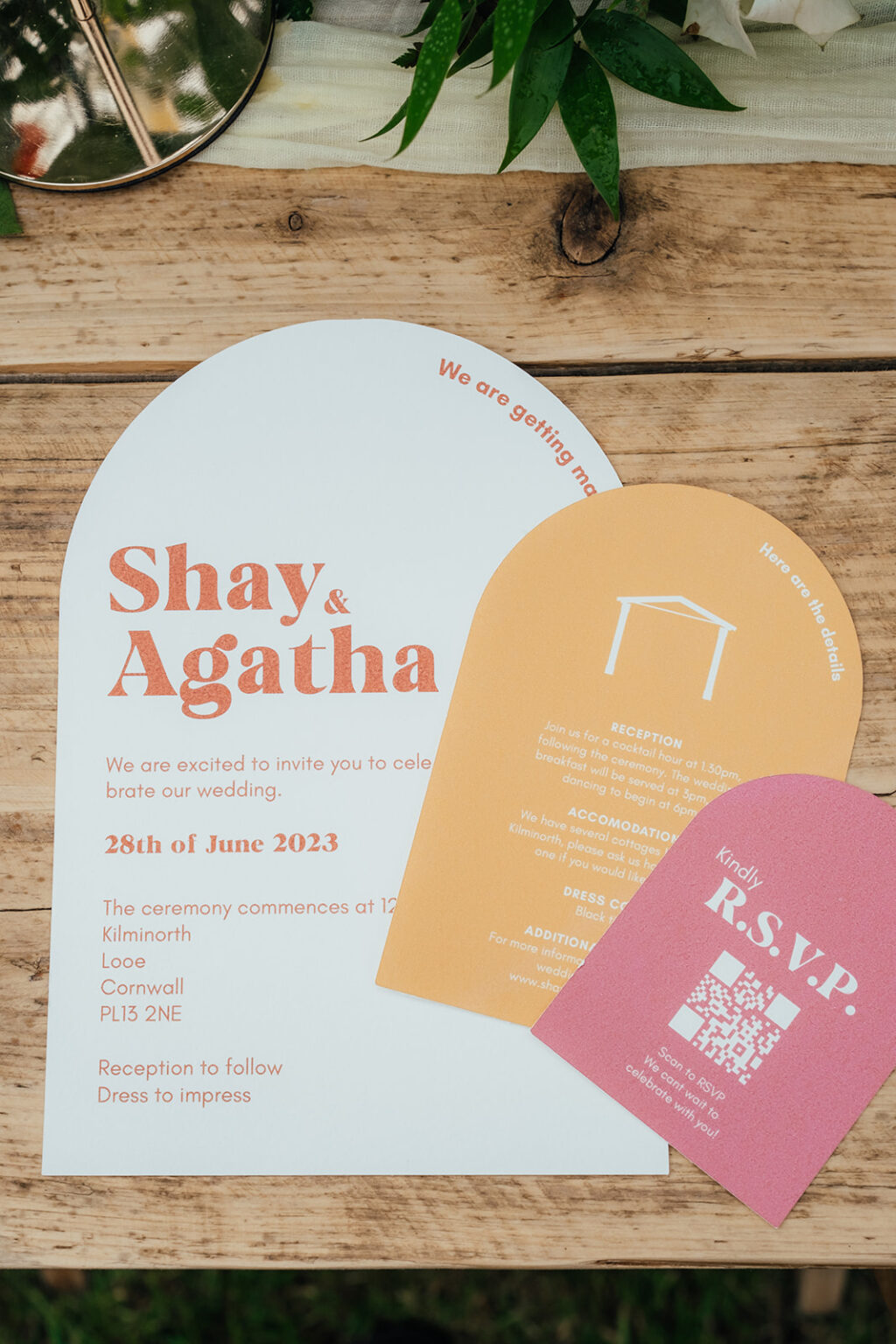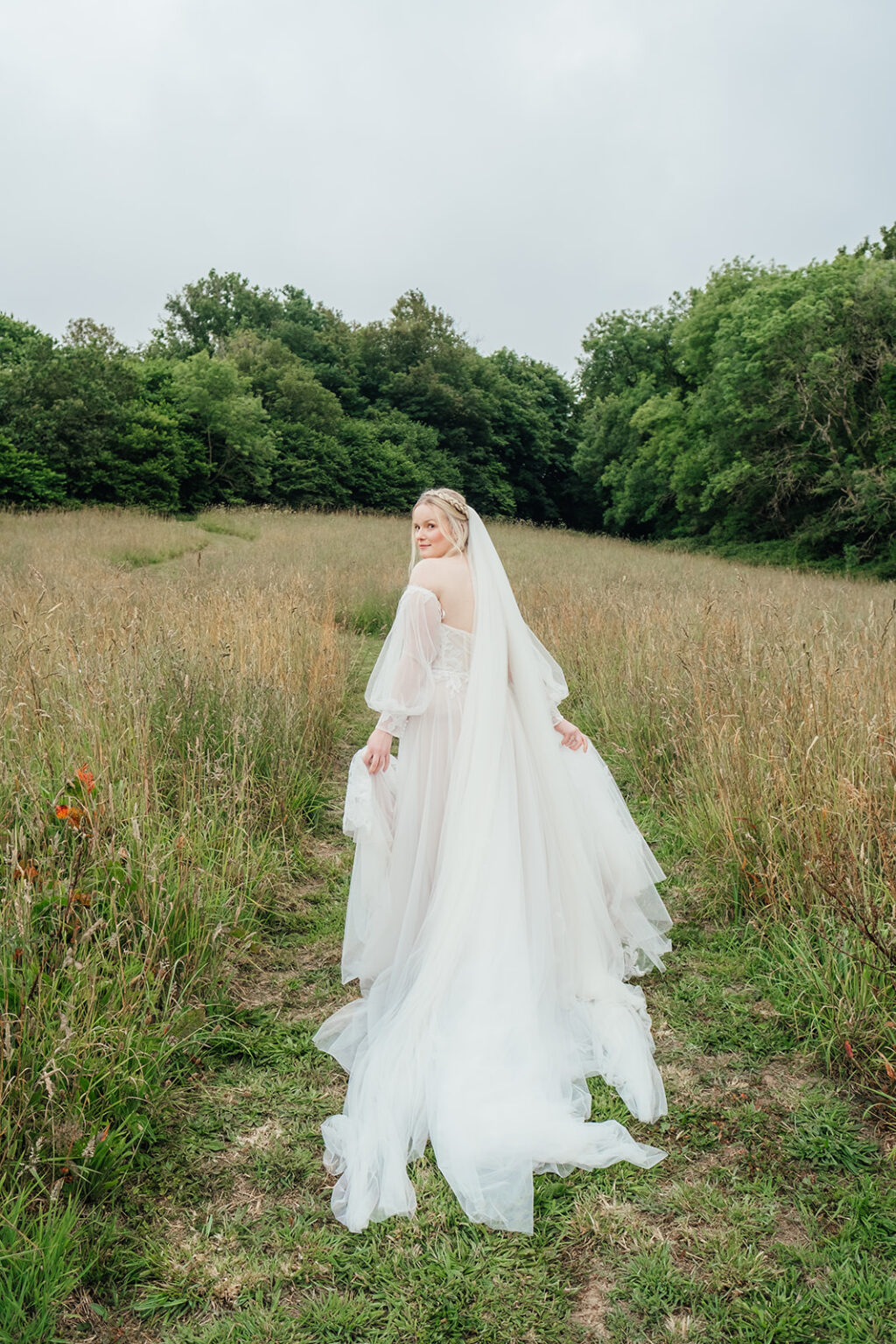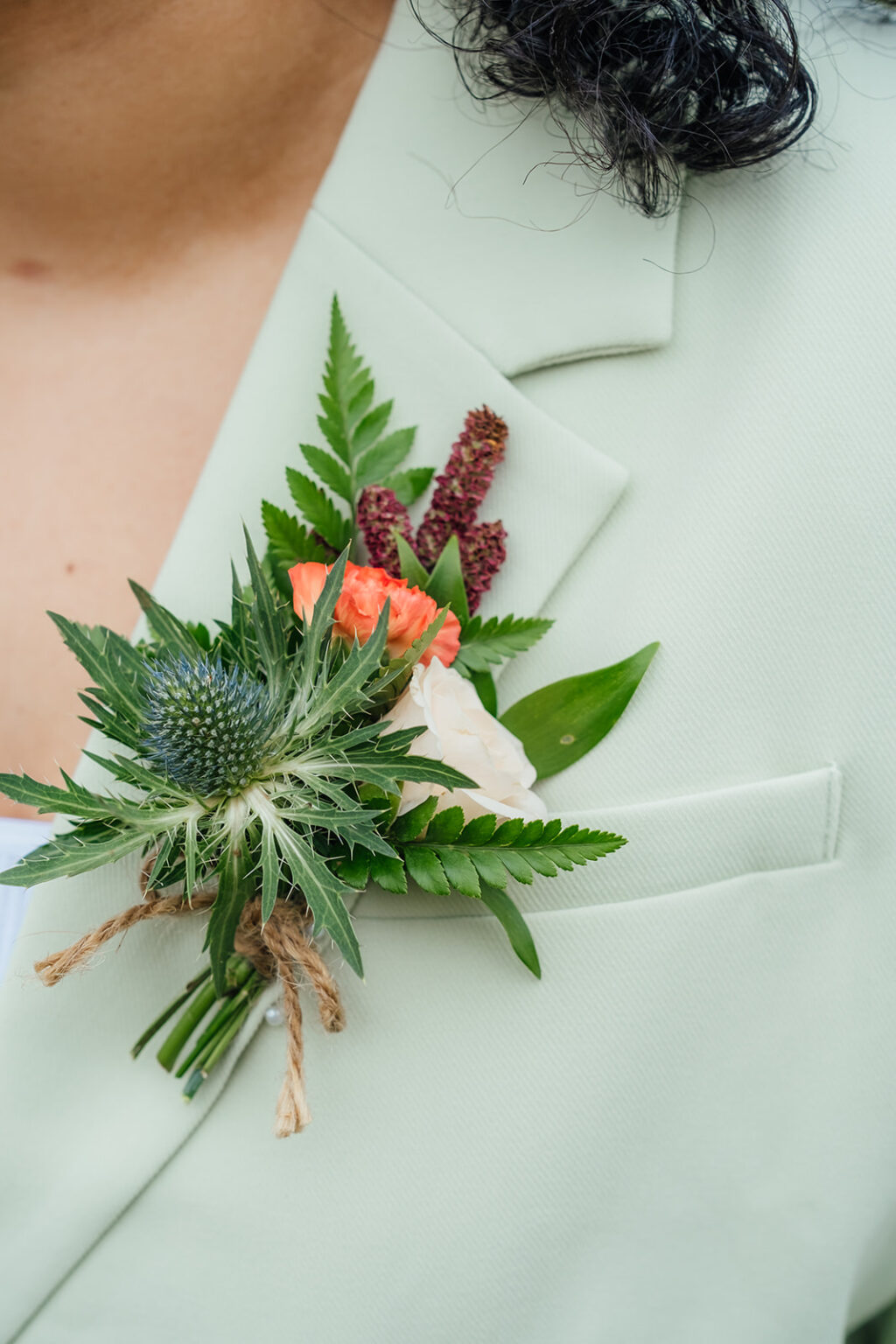 This shoot was brought together with easily accessible props and styling, on a low budget. We wanted to explore a route that wasn't extremely costly to bring together, making it a reachable reality for couples on a smaller budget, but still wanting their guests to experience gorgeous décor. Our tips for couples would be to think outside of the box, and if you are using one always reach out to your venue's events manager. They will have a wealth of experience and can guide you in the right direction."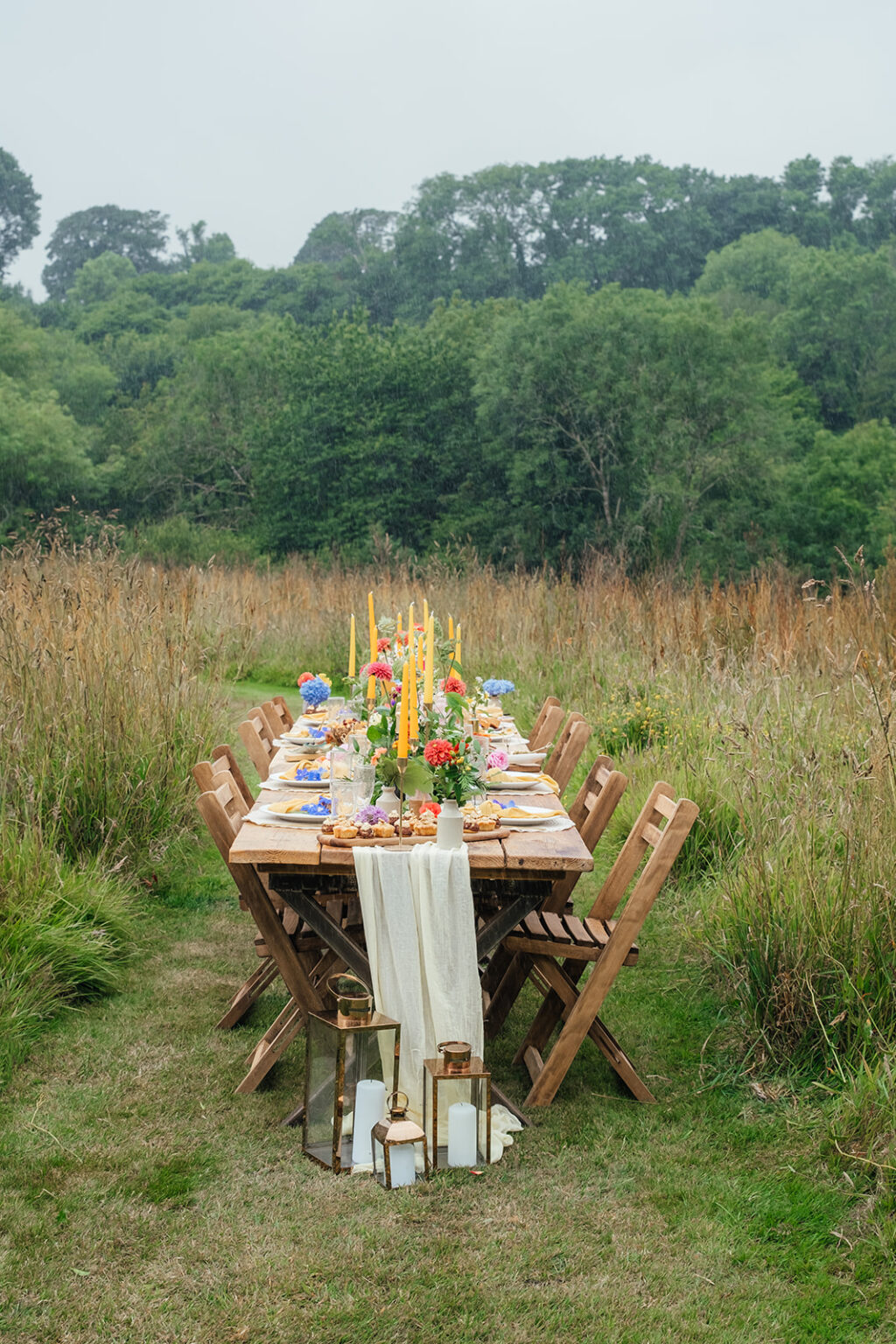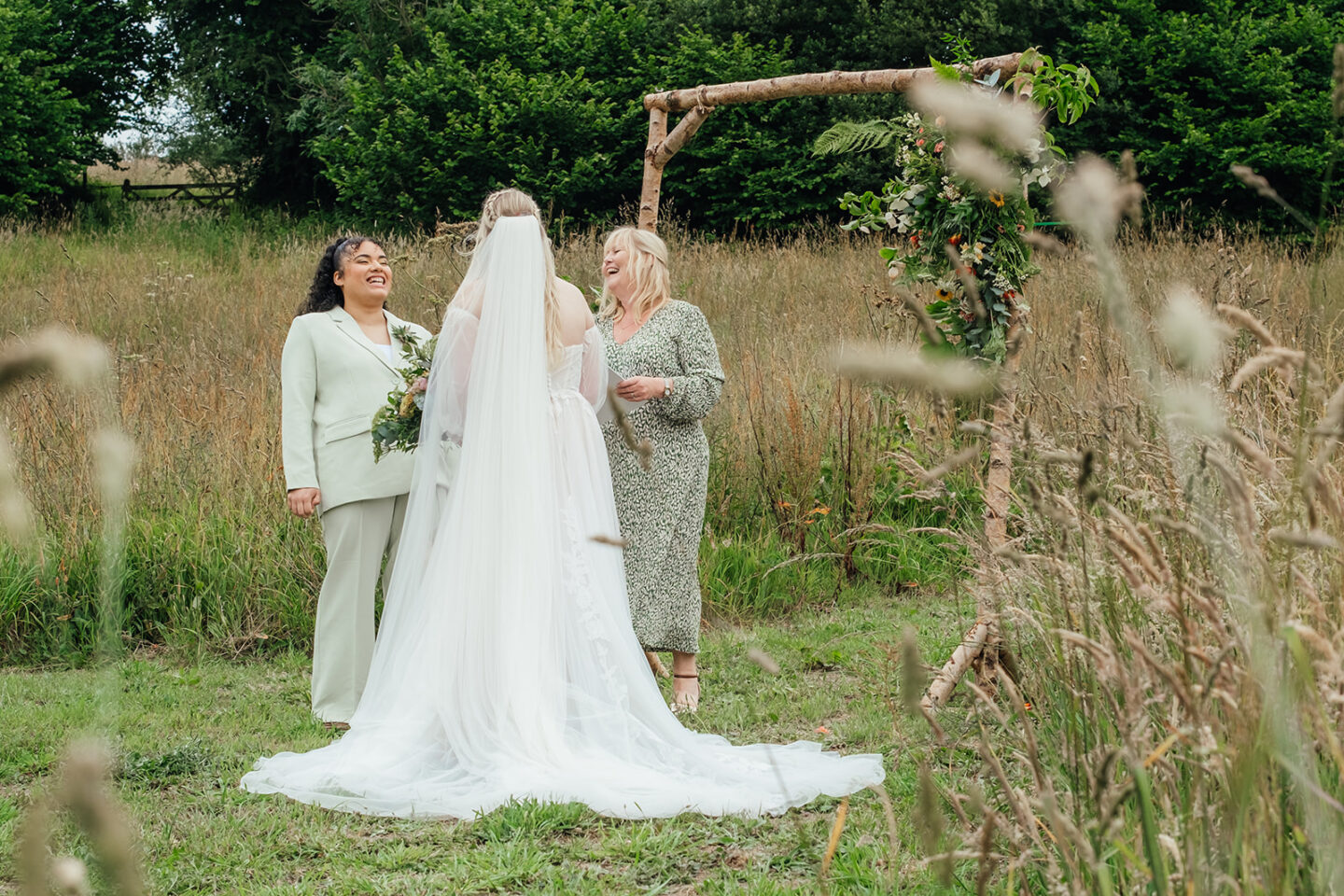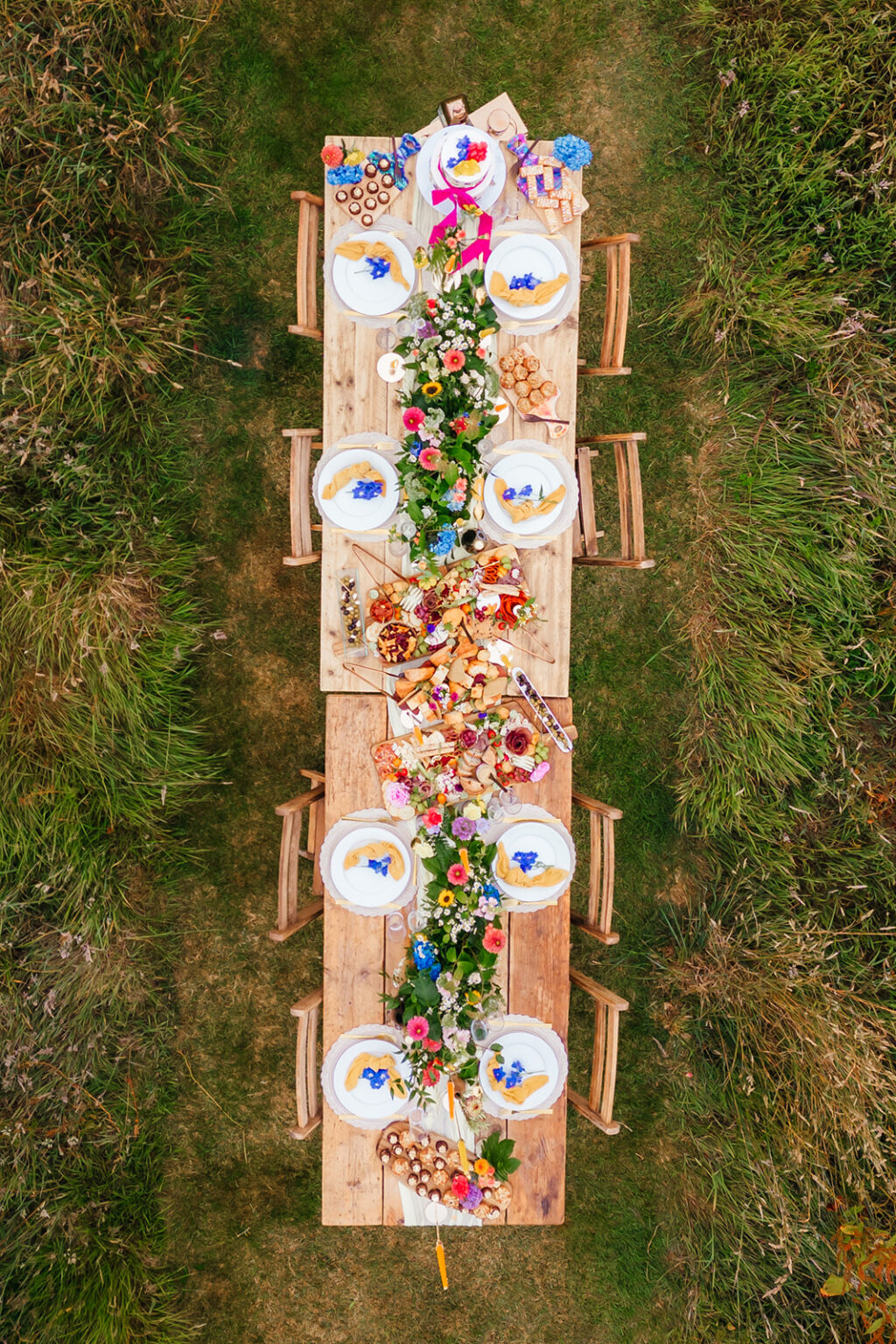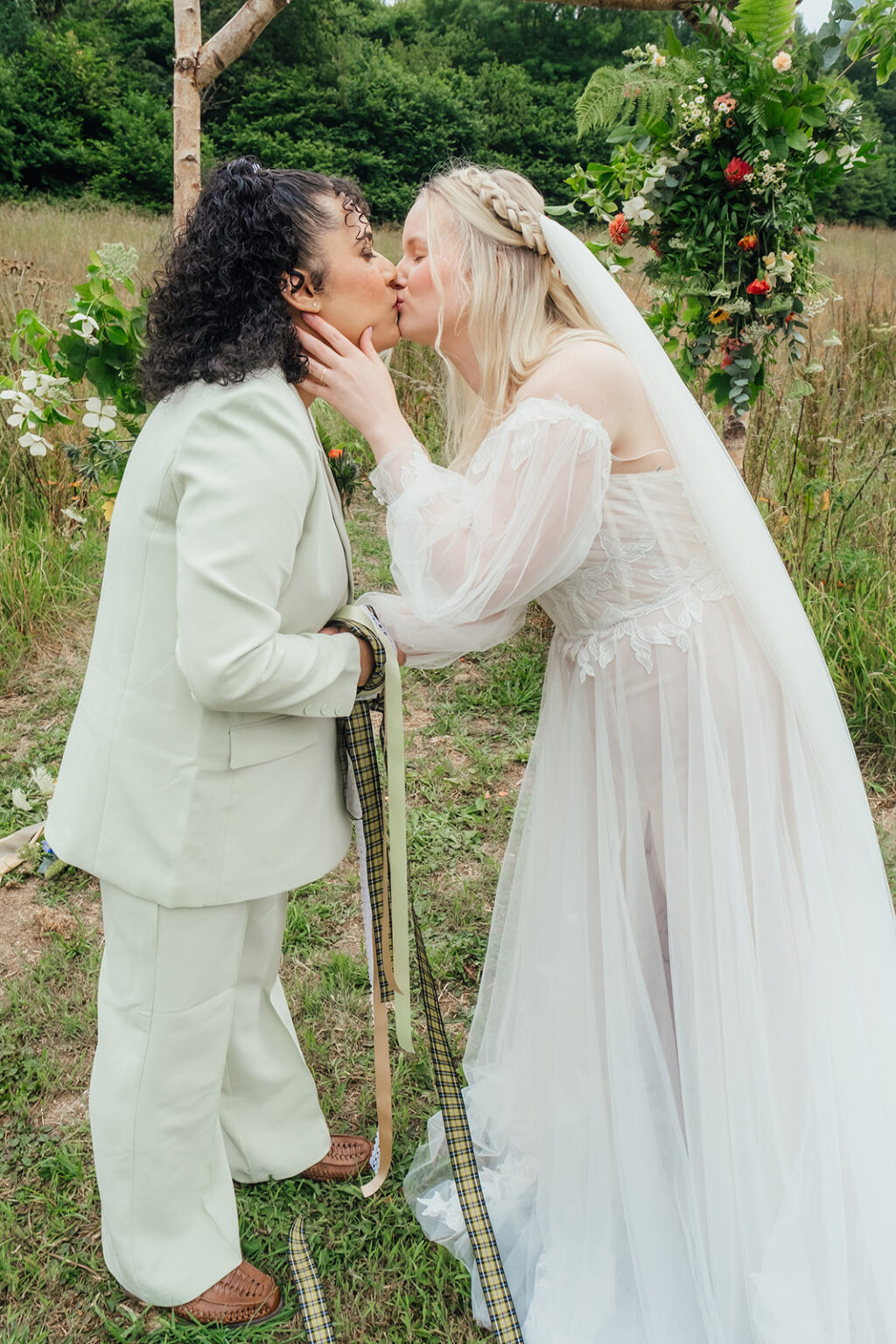 The Venue
"Kilminorth is a fully inclusive venue, offering weddings of all sizes, whether it be a three-day wedding extravaganza with up to 250 guests, a day-long celebration, or a dreamy elopement for just the two of you. It can accommodate bespoke plans, and very much encourage couples to create their own vision. Set within 32 acres of stunning grounds, you'll find an orchard, spectacular woodland, gorgeous wild meadows, a swimming pool, a tennis court and 14 dog-friendly cornish cottages all of which have been tastefully restored and some offer hot tubs with countryside views."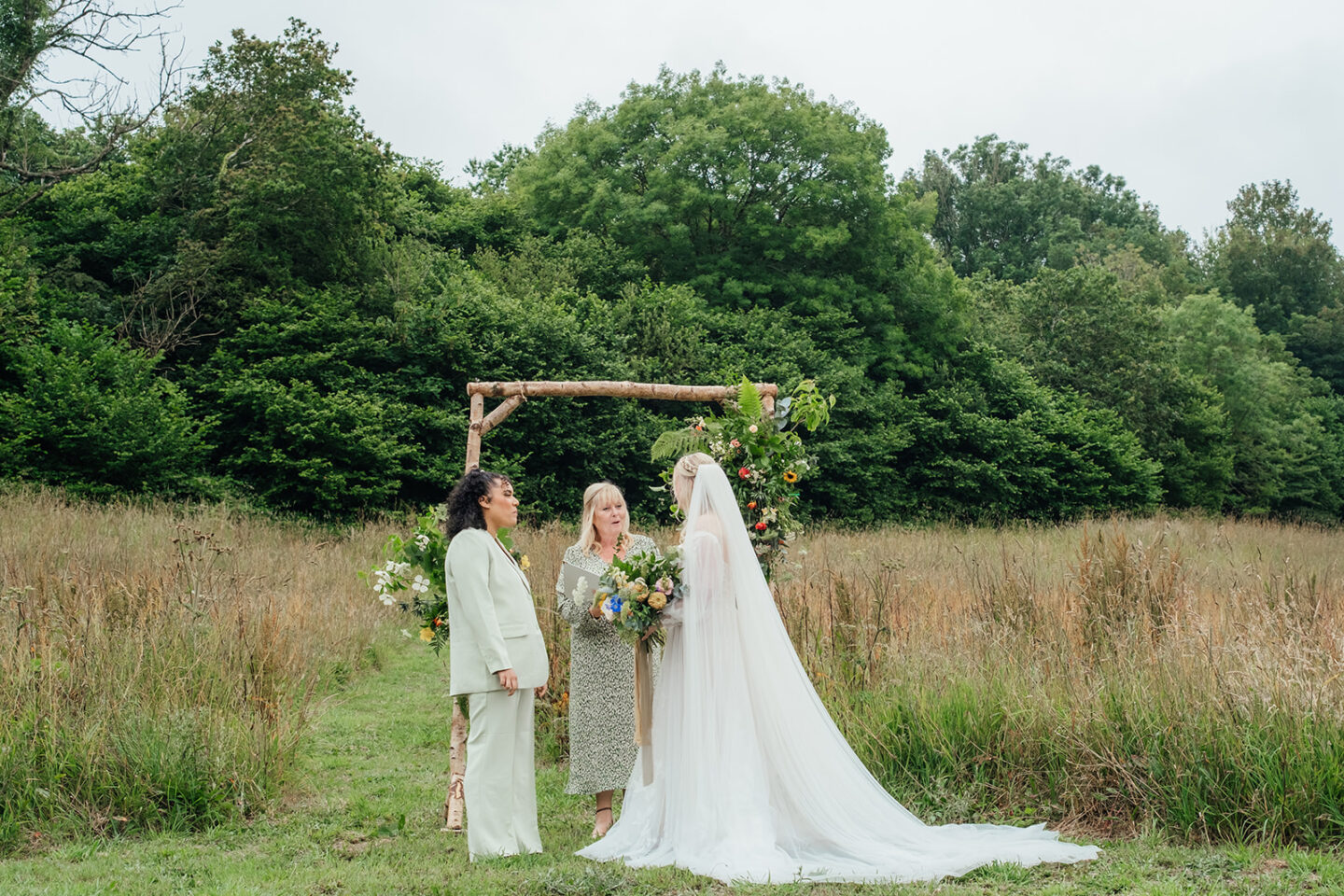 Styling and Photography
"The styling was inspired by autumnal colours, using natural textures and fibres to complement the artisan produce. The shoot fused together the natural aesthetic of the wild meadow interspersed with chic decor and carefully curated botanicals. Charlie Flounders Photography captured the bold aesthetics contrasting with the earthy tones of the wild meadow so beautifully. When picking your photographer ensure they understand your vision, and supply them with example shots so you get exactly what you envisioned when planning your day."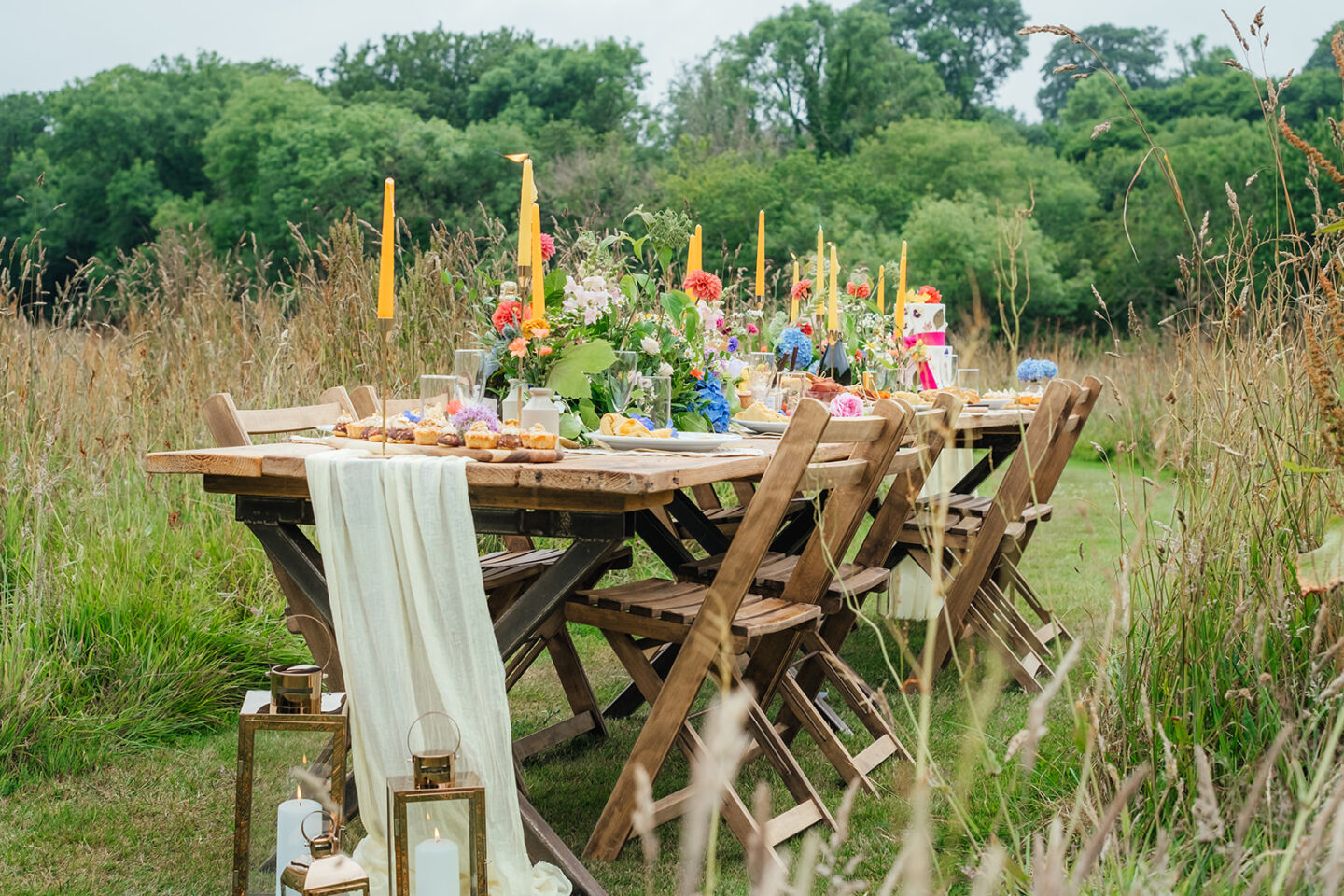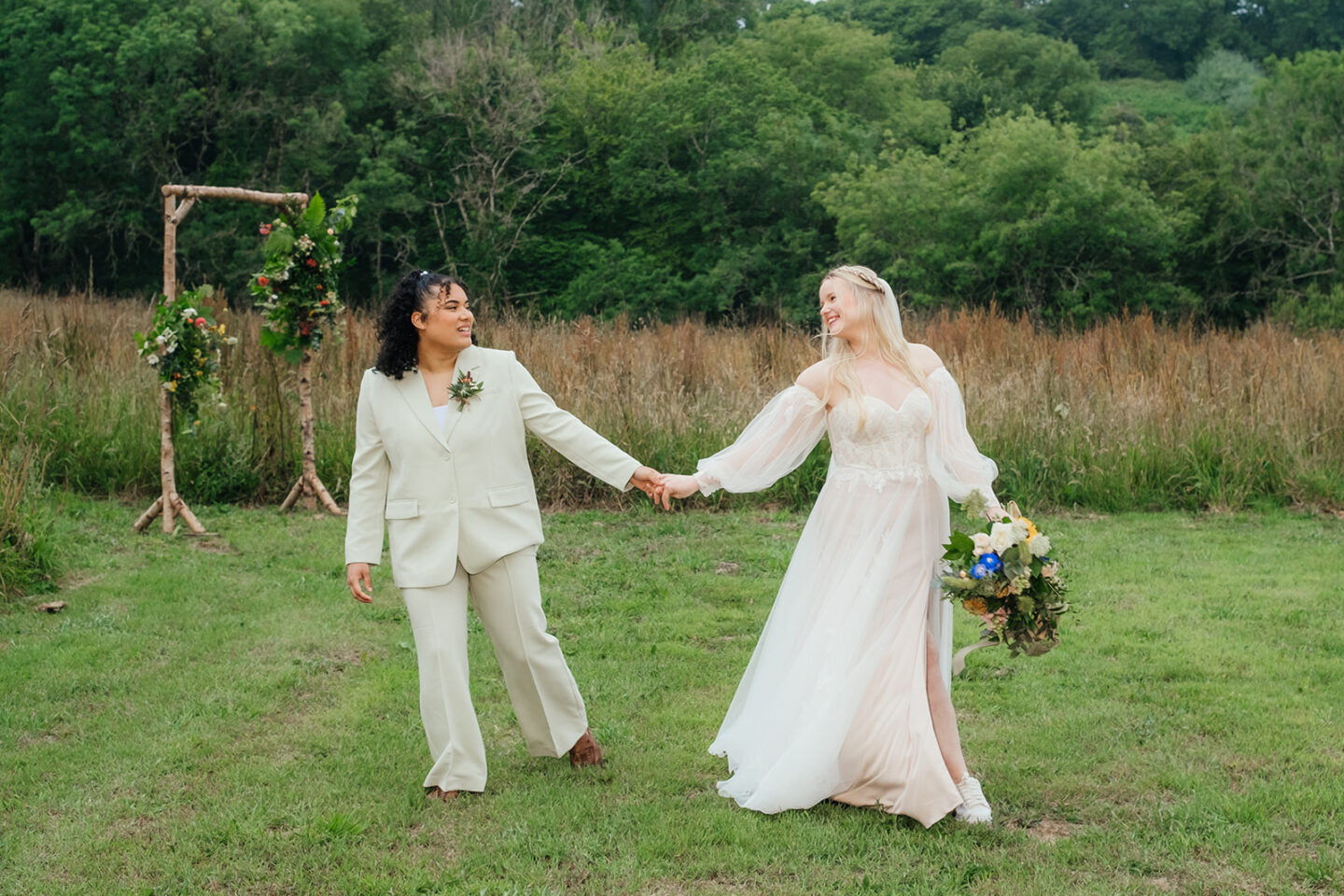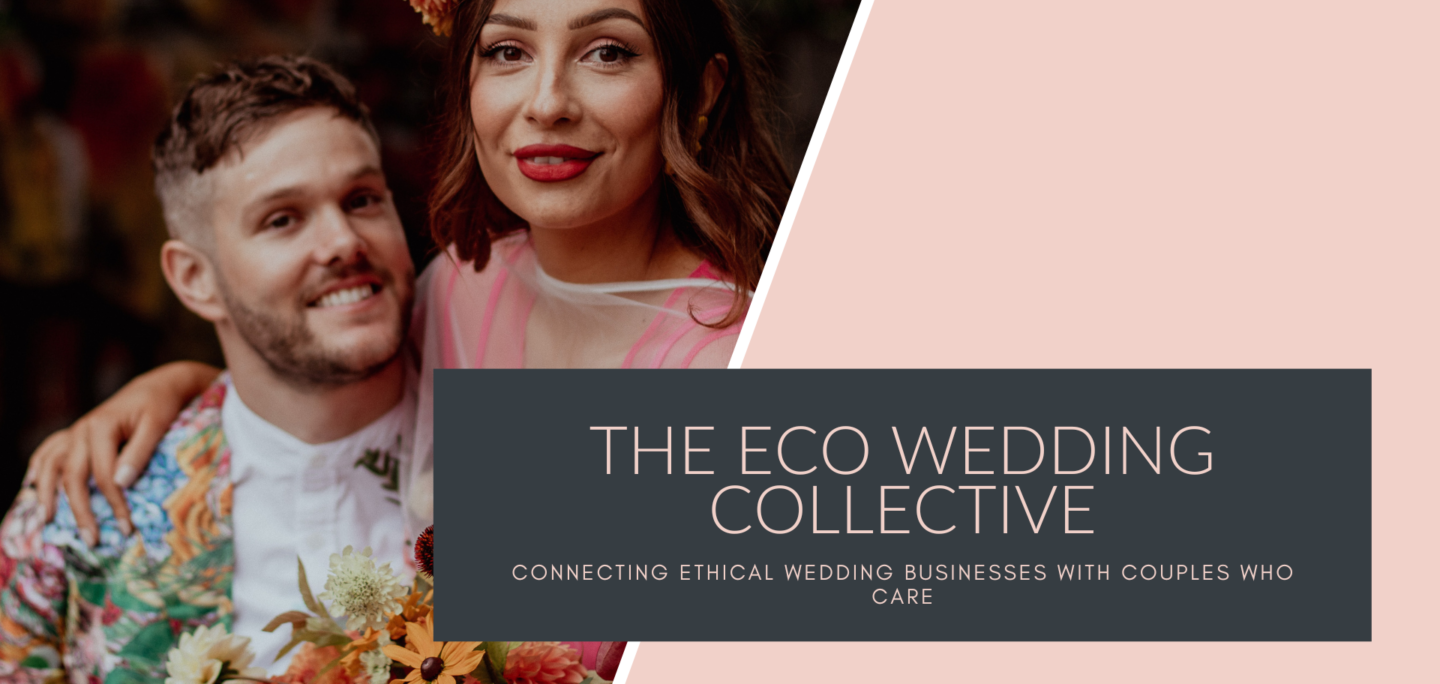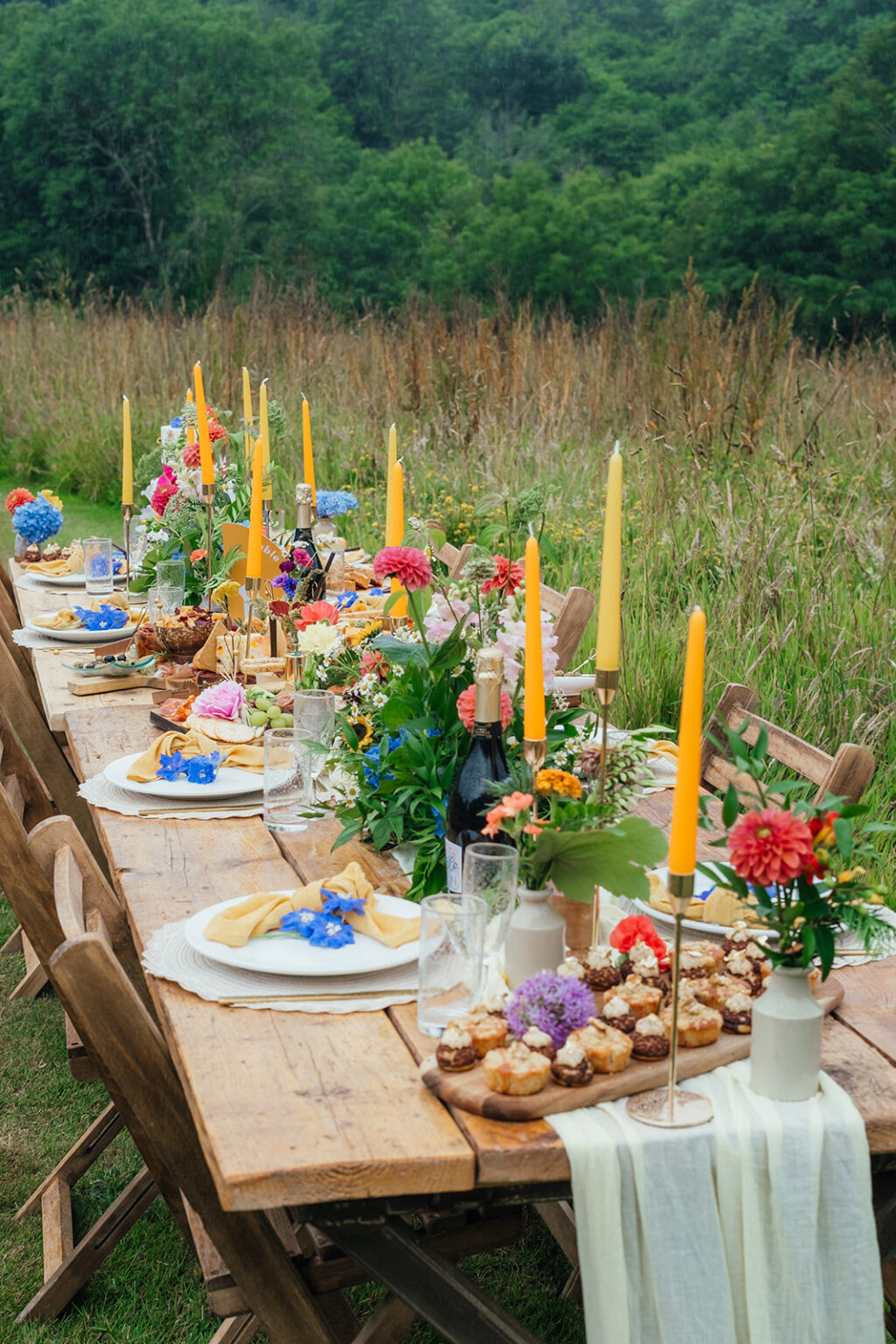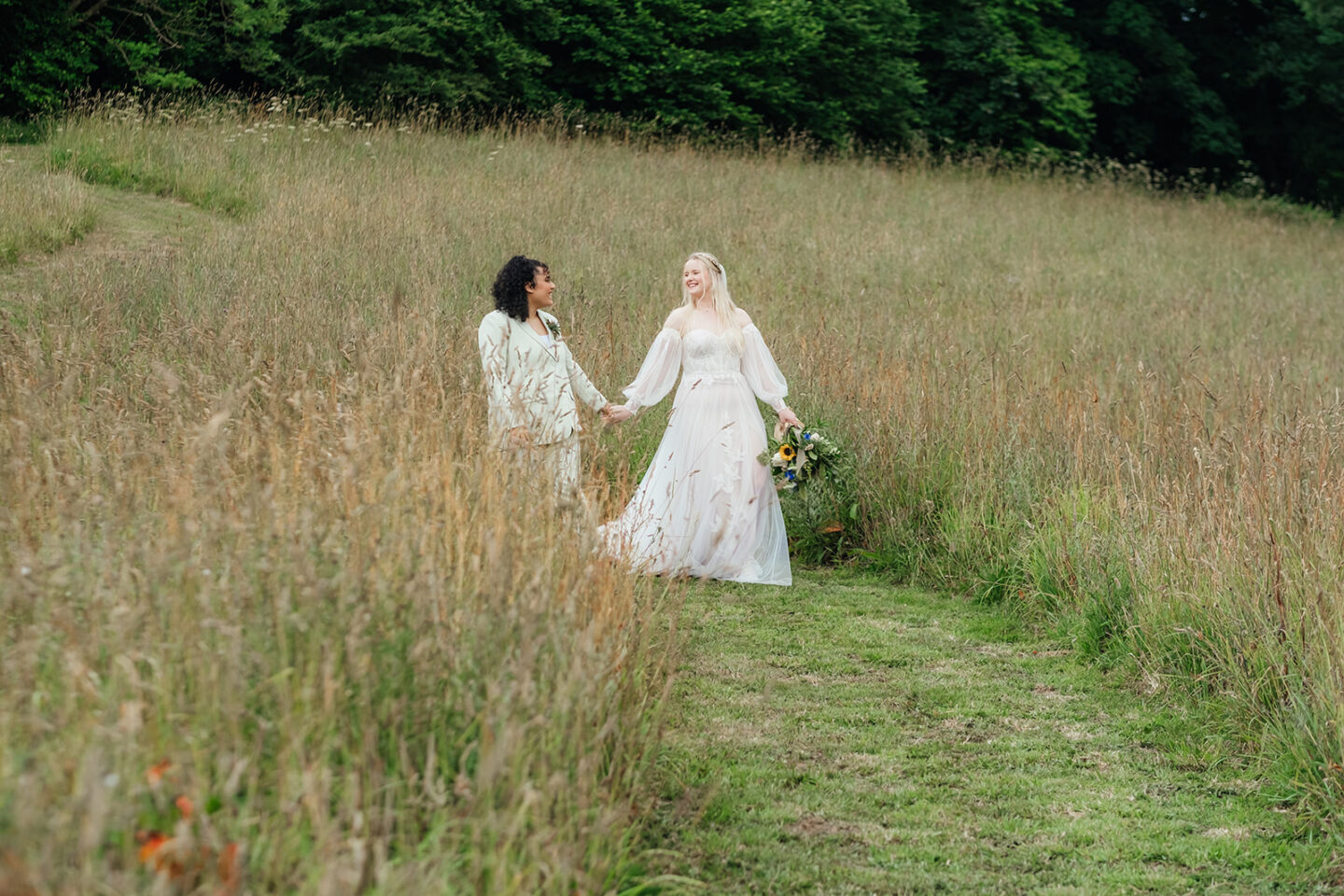 The Couple
"Aga wore an elegant boho-inspired dress from Prudence Gowns which compliments the backdrop and surroundings incredibly. Shay wore a gorgeous mint ASOS suit which was different from traditional bridal attire but stood out against the bold bright blooms and still looked incredible paired with Aga's dress which had a muted blush undertone."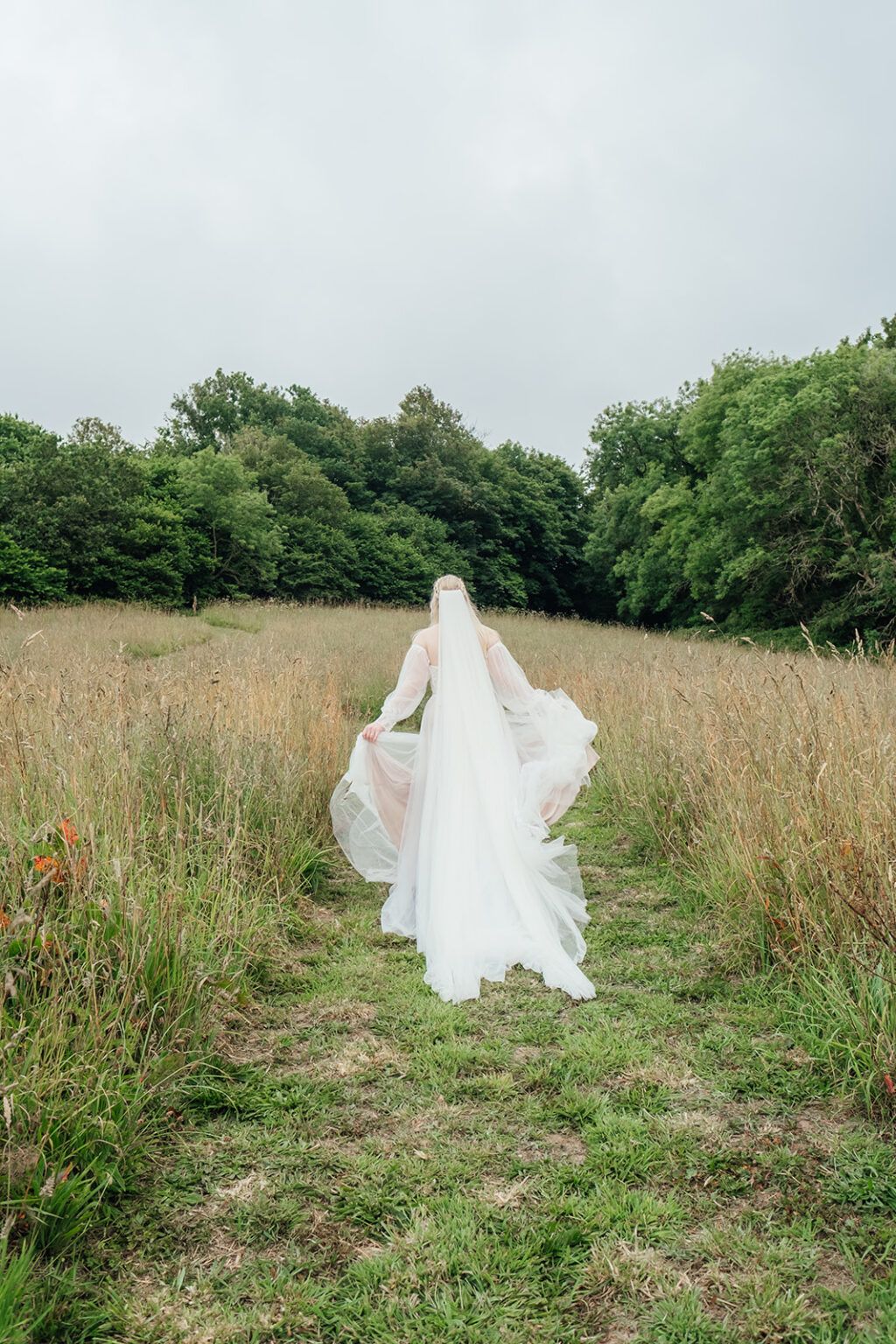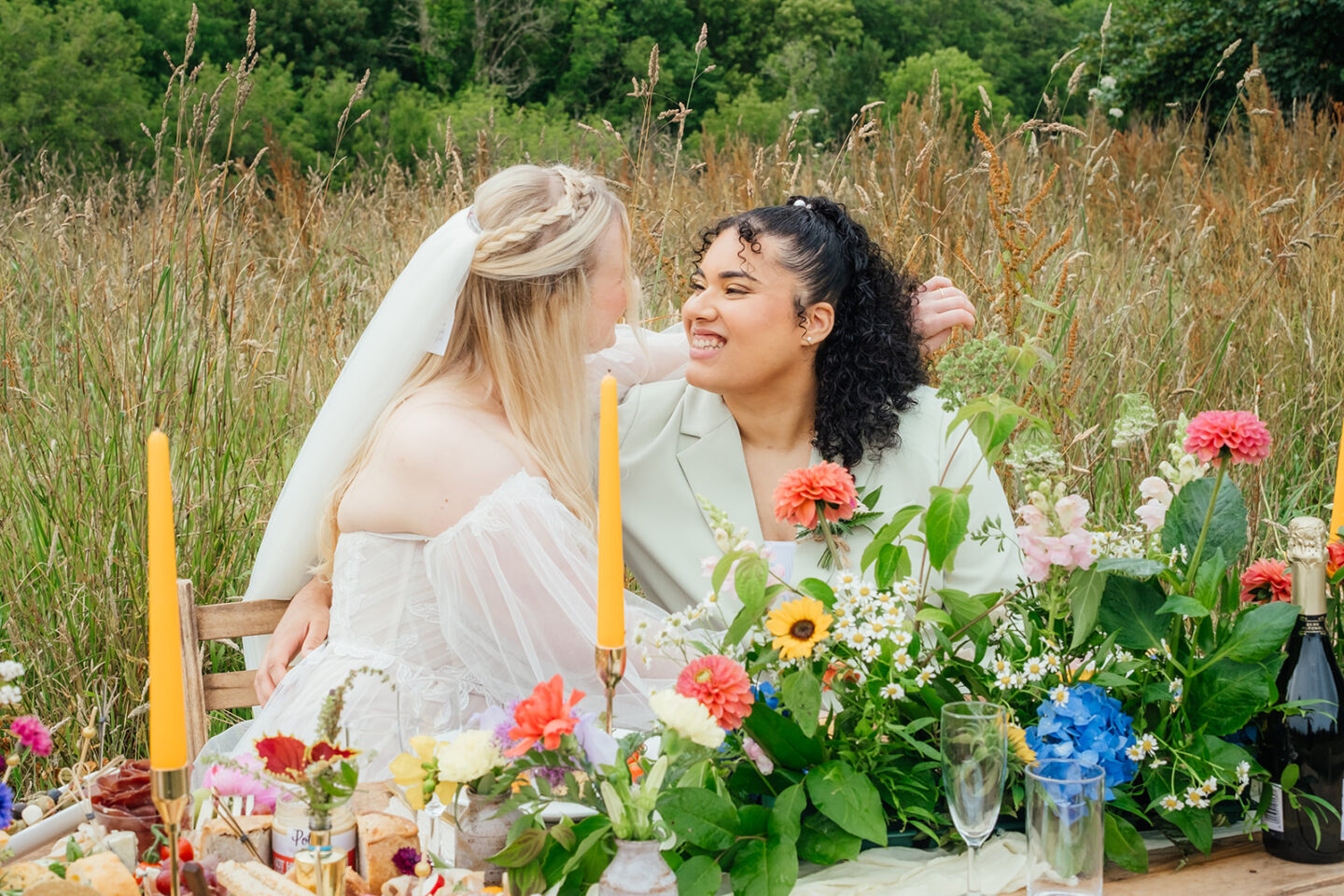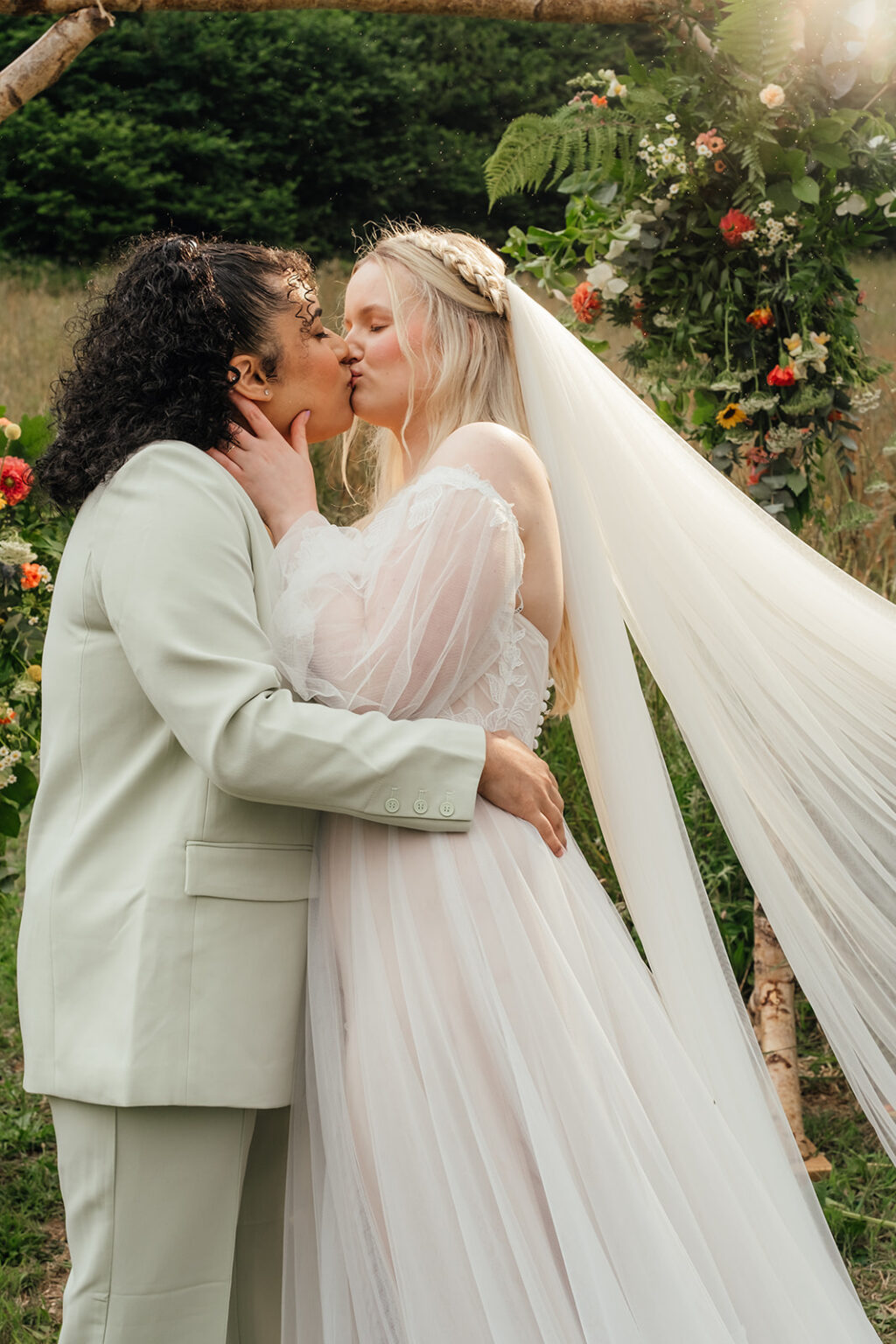 "Aga's make-up, inspired by the bold blush trend of 2023 was applied by the talented Laura from Dollface Makeup who also pulled together Shay's look, who wanted a muted and "less is more" approach. Meg Terry Hair created Aga's boho blonde curly look, enhanced with a braid, which was the perfect style for the wild meadow ceremony. Shay wanted her natural hair embraced, so opted for a slick look around the face and effortless curl. Meg opted to use a few pearls which sat beautifully as a contrast to Shay's dark hair."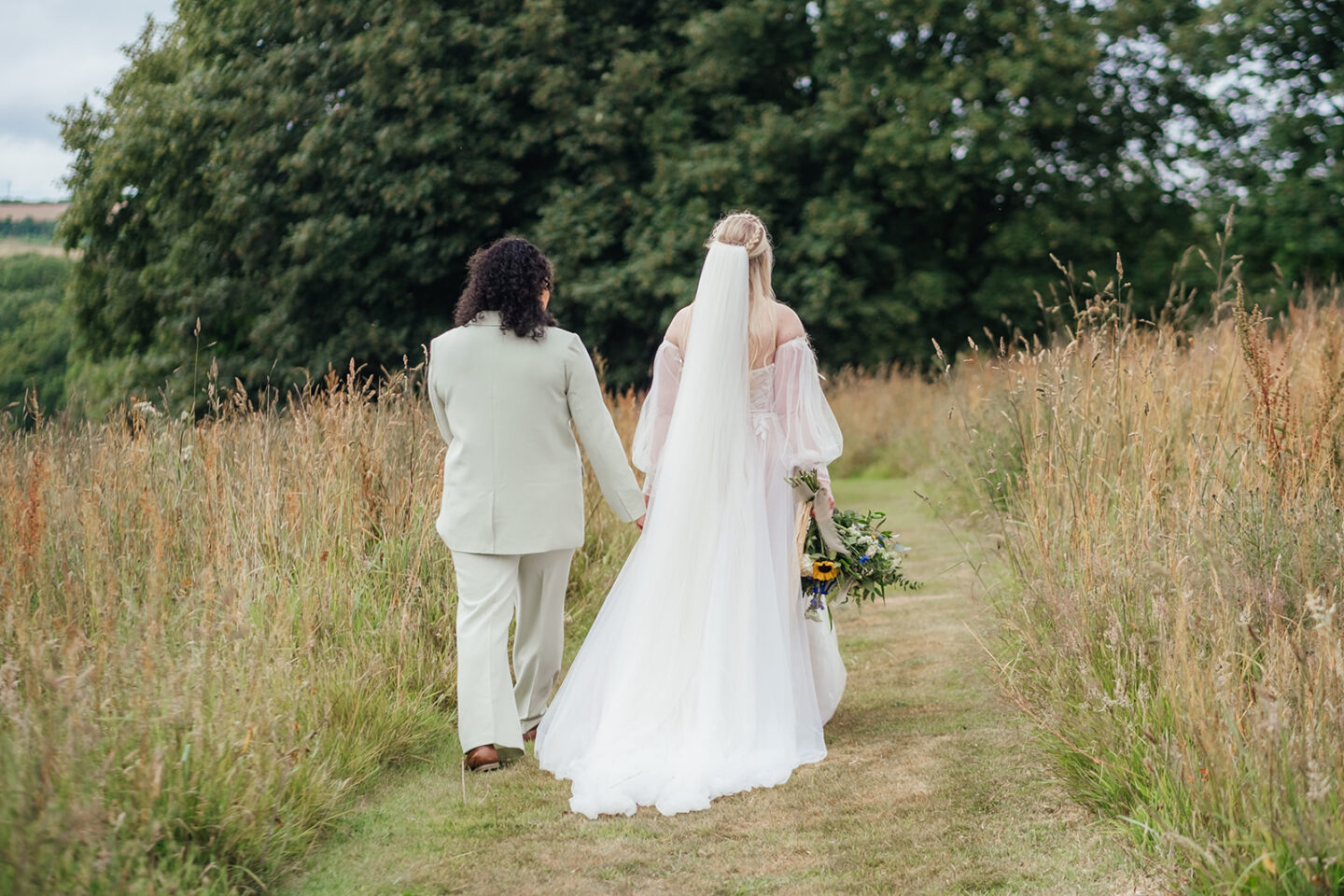 The Details
"Escential Blooms adorned the wooden archway with an array of wildflowers, framing the ceremony beautifully. A few centrepieces were eloquently placed through the middle of the banquet table, creating a bustling and vibrant atmosphere. Aga carried a delicate, yet expressive bridal bouquet which popped against the muted hues of her gown. The cake by Peboryon was a delectable two-tiered wedding cake, crafted with delicate pressed flowers. A simple yet striking pink ribbon finished off the aesthetic. Finally, Alba Studio created a complimentary suite of place settings, invitations, and table numbers to match the autumnal colour scheme with bold shades of pink, yellow, and orange."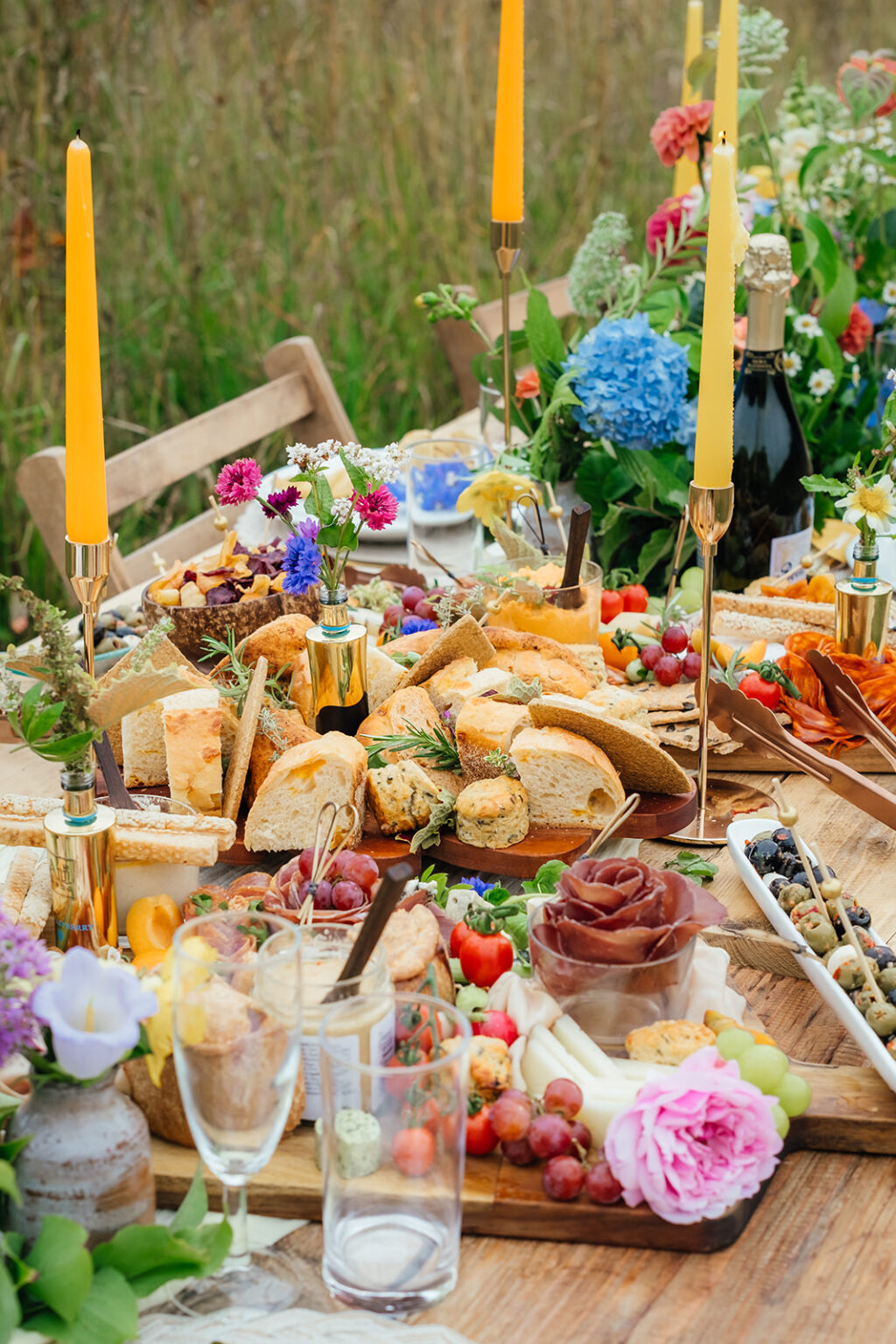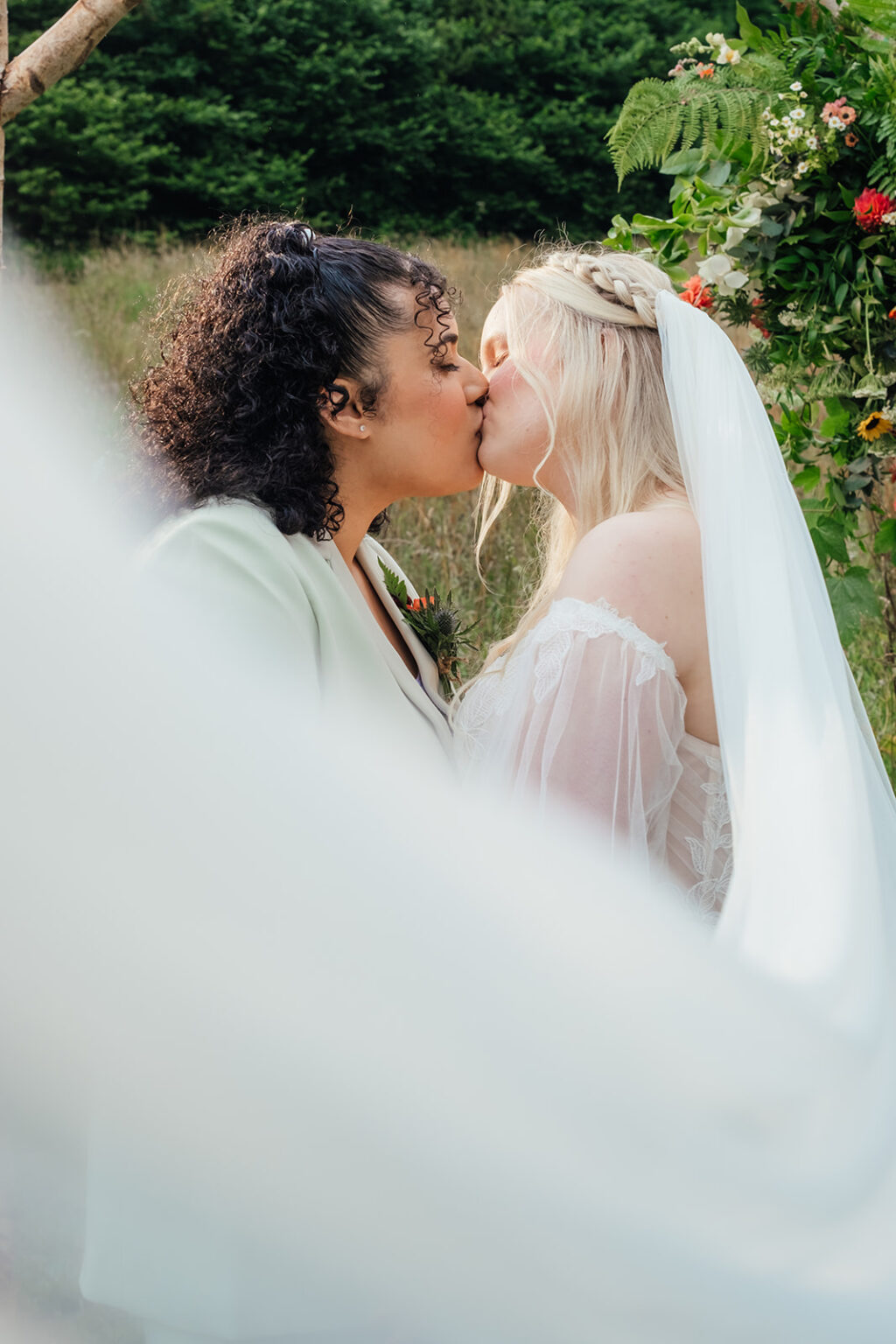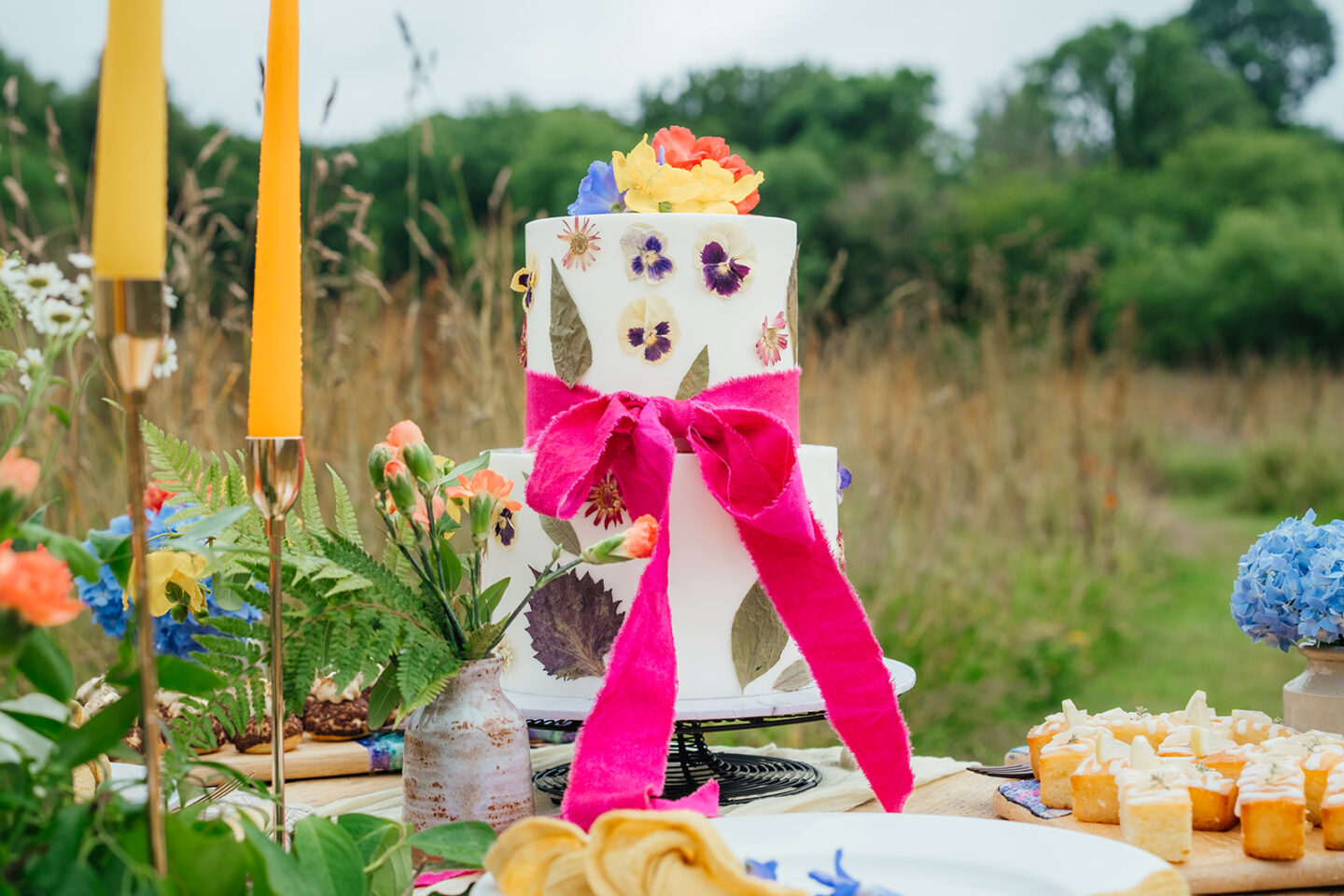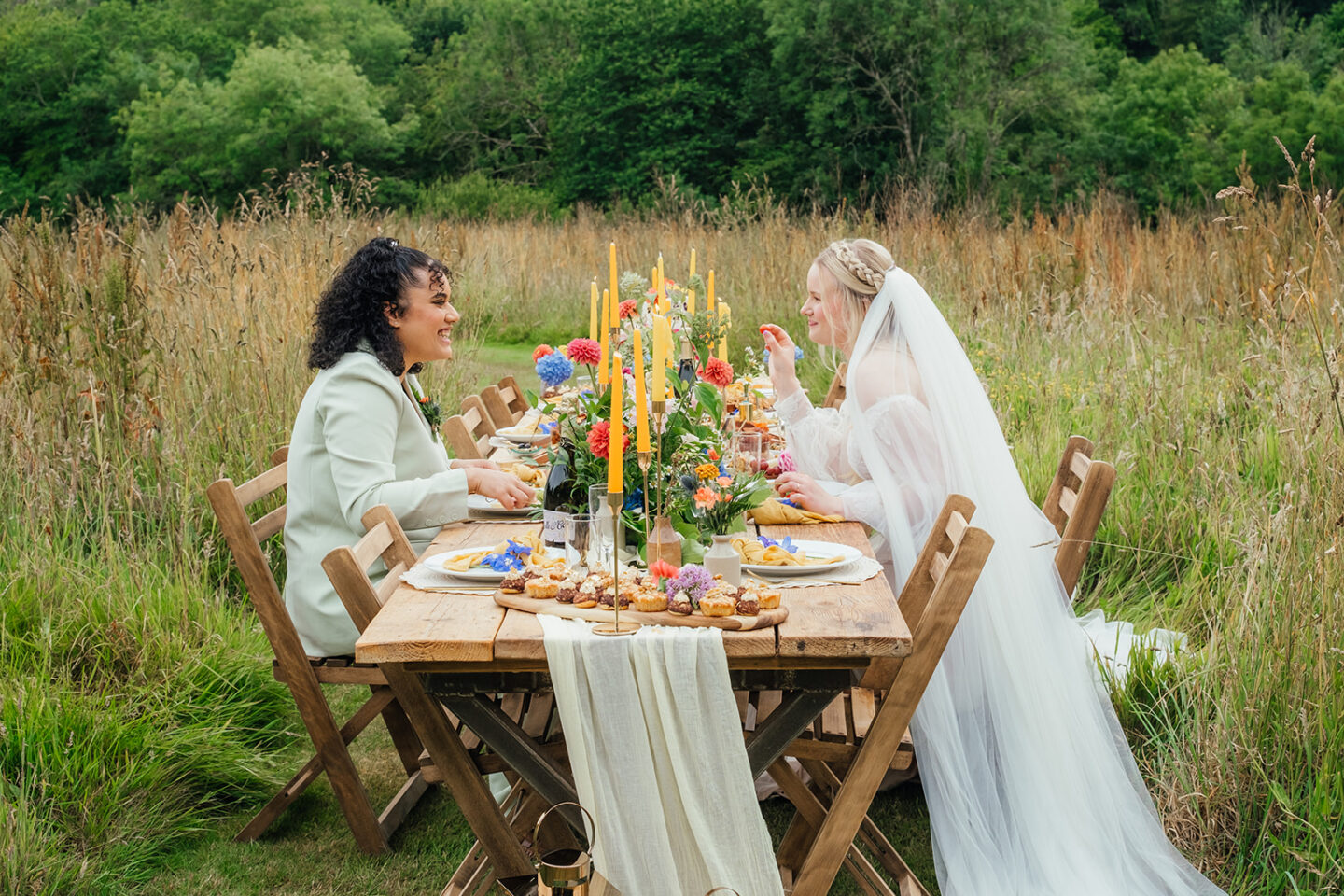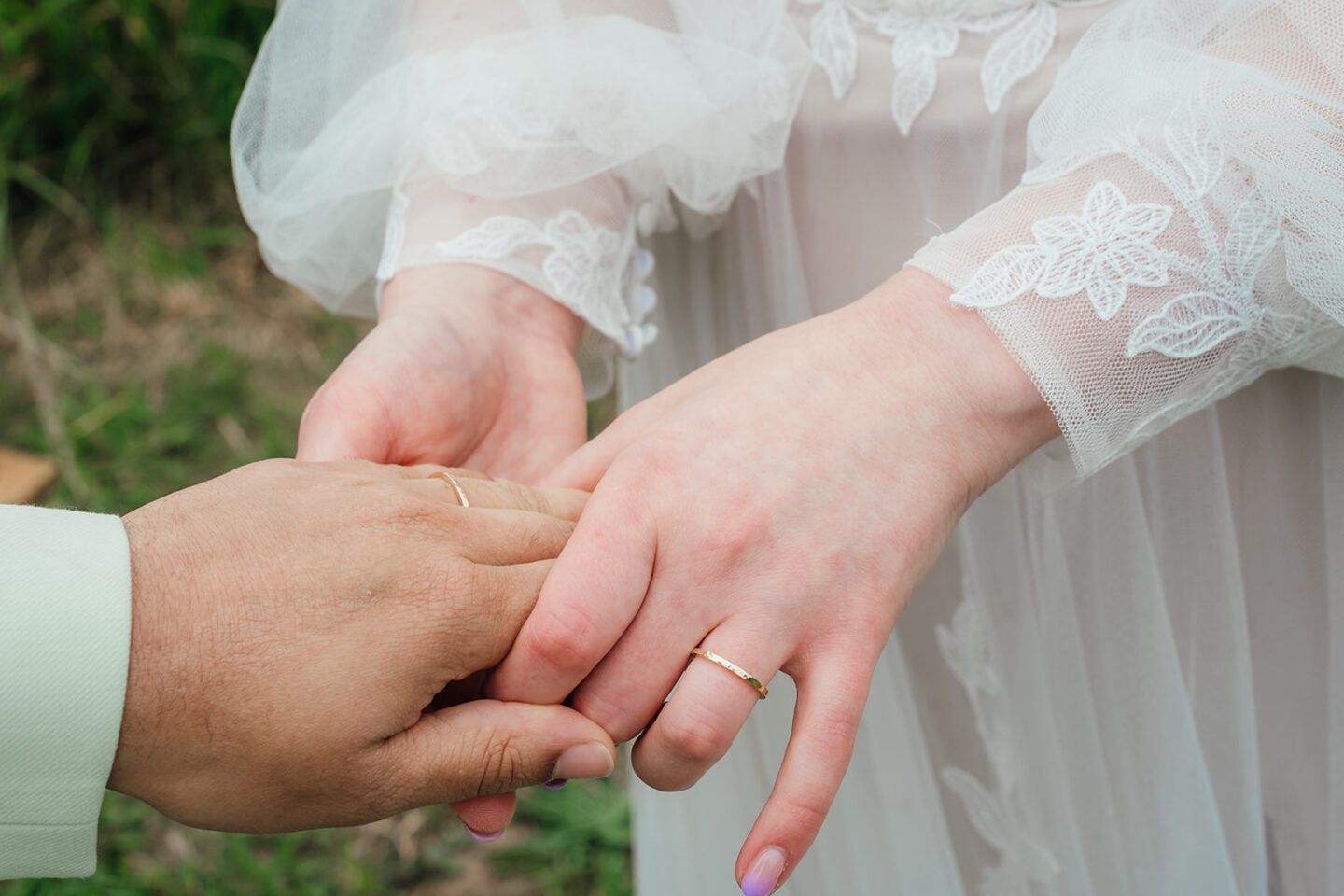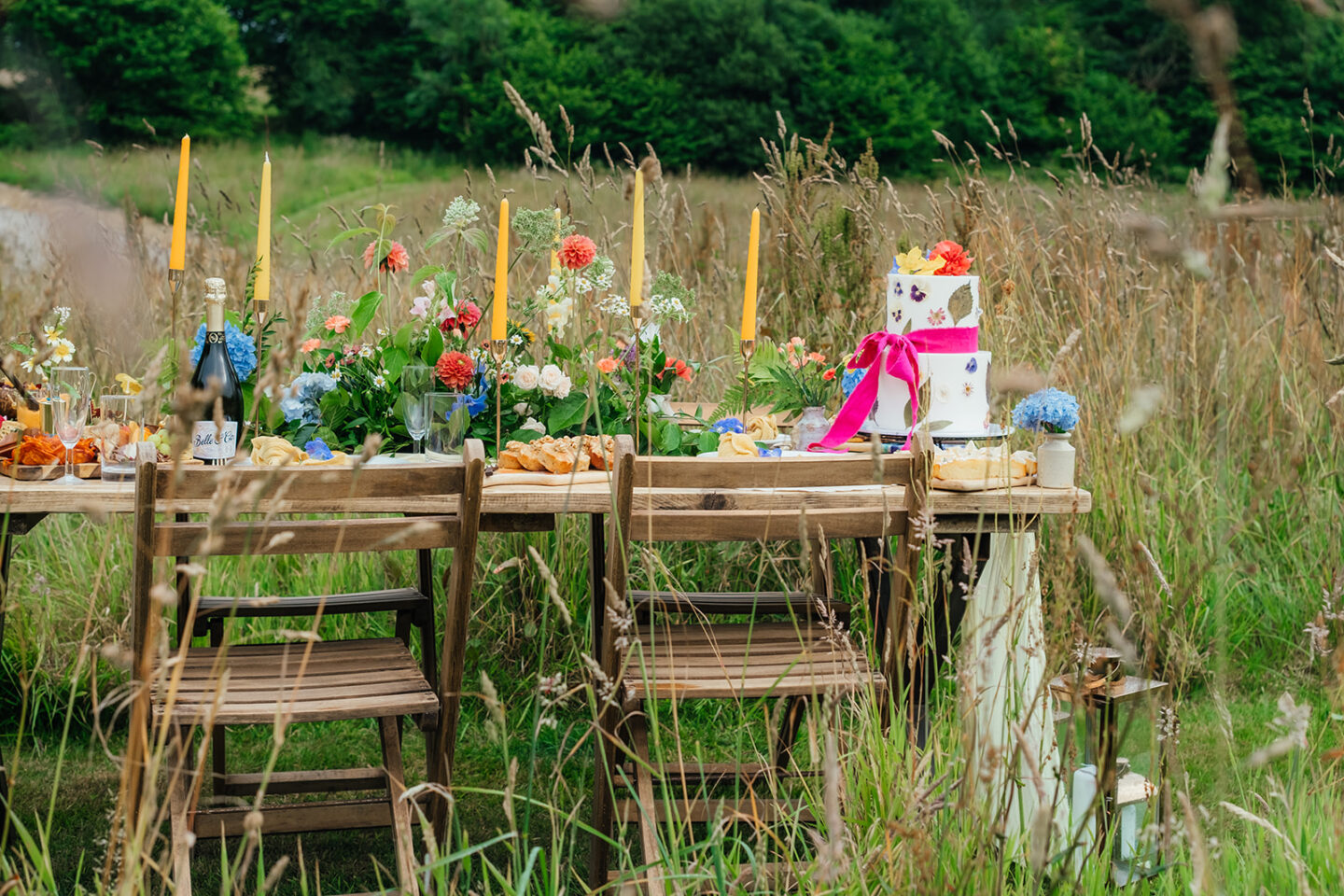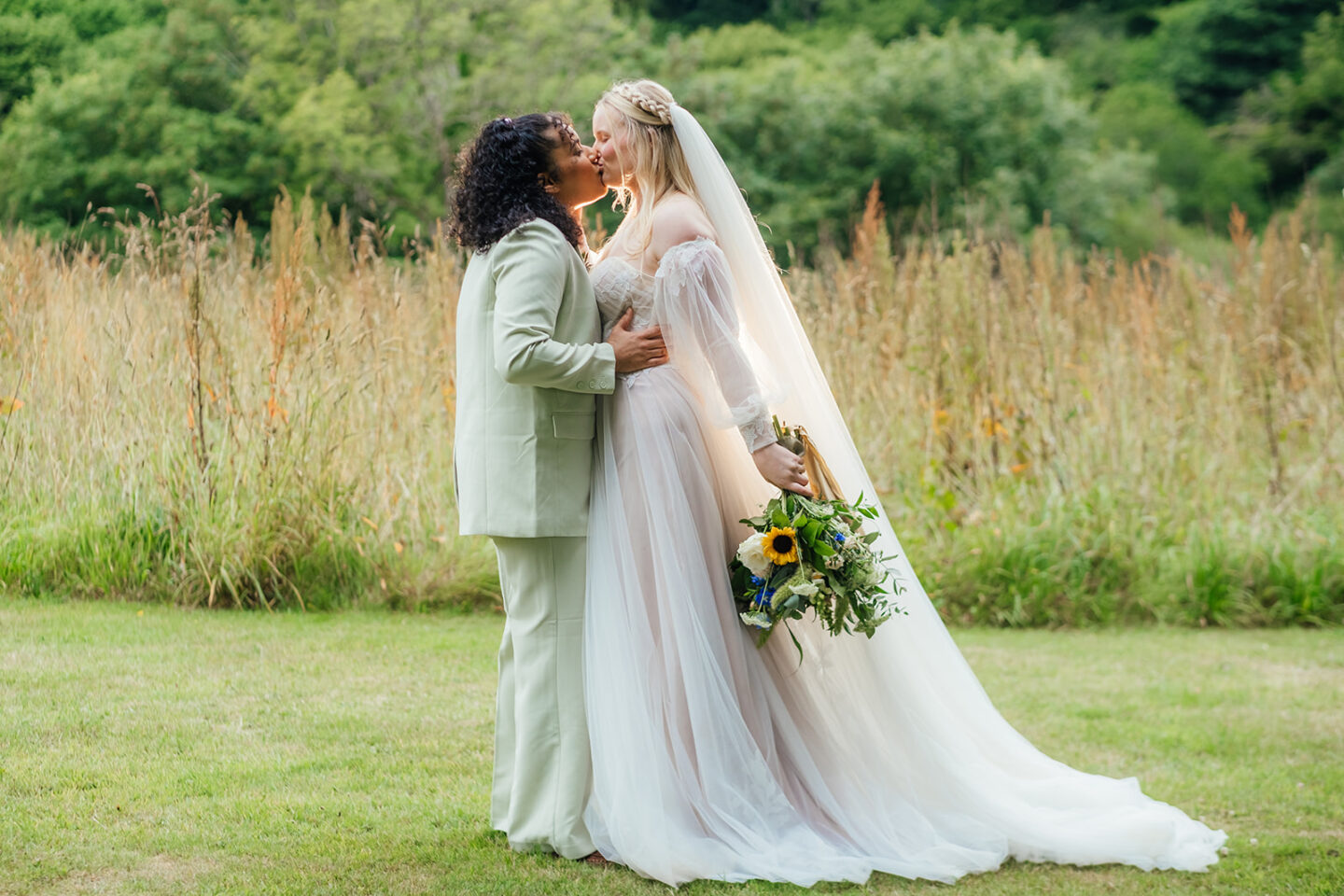 The Team – Colourful LGBTQ+ Meadow Wedding At Kilminorth Cornwall
Photographer Charlie Flounders Photography @charliefloundersphotography
Venue Kilminorth @kilminorthcottages / Dress Prudence Gowns @prudencegownsplymouth / Styling Ebb Flow and Grow @ebbflowandgrow / Florist Escential Blooms @escentialblooms / Hair – Meg Terry @megterryhair / Make up Dollface Makeup @dollface_mua_lnt / Cake Peboryon @peboryon / Rings and jewellery Hannah Louise Lamb @hannahlouiselamb / Celebrant Ceremonies by Amanda Southern @ceremoniesbyamandasouthern / Caterer & Feasting Table M2 Catering @m2_catering / Napkins & table runners The Knotted Napkin Company @theknottednapkinco / Props and Decor Rustic Love Hire @rusticlovehire / Models Shay and Aga @shay_and_aga
IF YOU LOVED THIS COLOURFUL MEADOW WEDDING, PIN IT!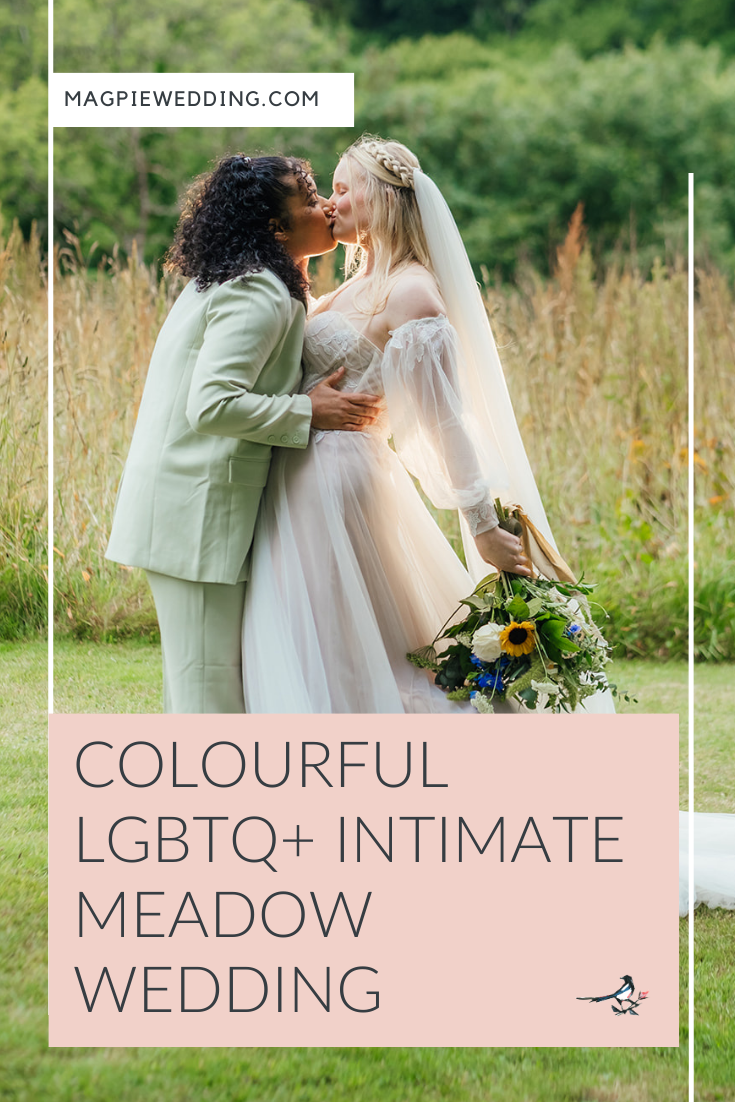 If you loved this intimate meadow wedding you may also like;
Modern Outdoor Wedding With Bold and Elegant Green and Yellow Styling
10 Weather Related Issues to Consider When Planning an Outdoor Wedding
Rustic Outdoor Wedding With Blue Tulle Wedding Dress and a Labrador