We head to Poland today for the rustic outdoor wedding of Agata & Adam, set at "Stary Młyn" a privately owned ranch, it's full of rustic styling and a relaxed natural photography. With a beautiful blue tulle wedding dress and a golden Labrador (with matching blue bow) you are sure to fall in love with it's intimate and fun vibe.
Here we catch up with Agata who tells us all about their childhood sweetheart love story, and planning the rustic outdoor wedding they envisaged…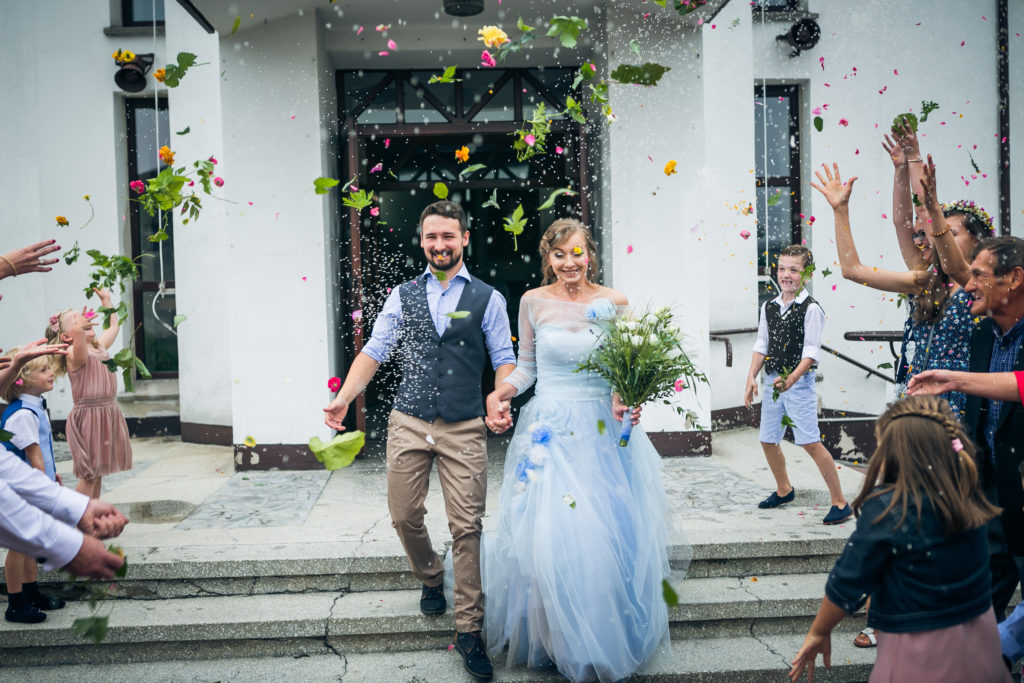 How you and Adam Meet?
"We are what's referred to as High-school Sweethearts. We met back in school and have been together ever since."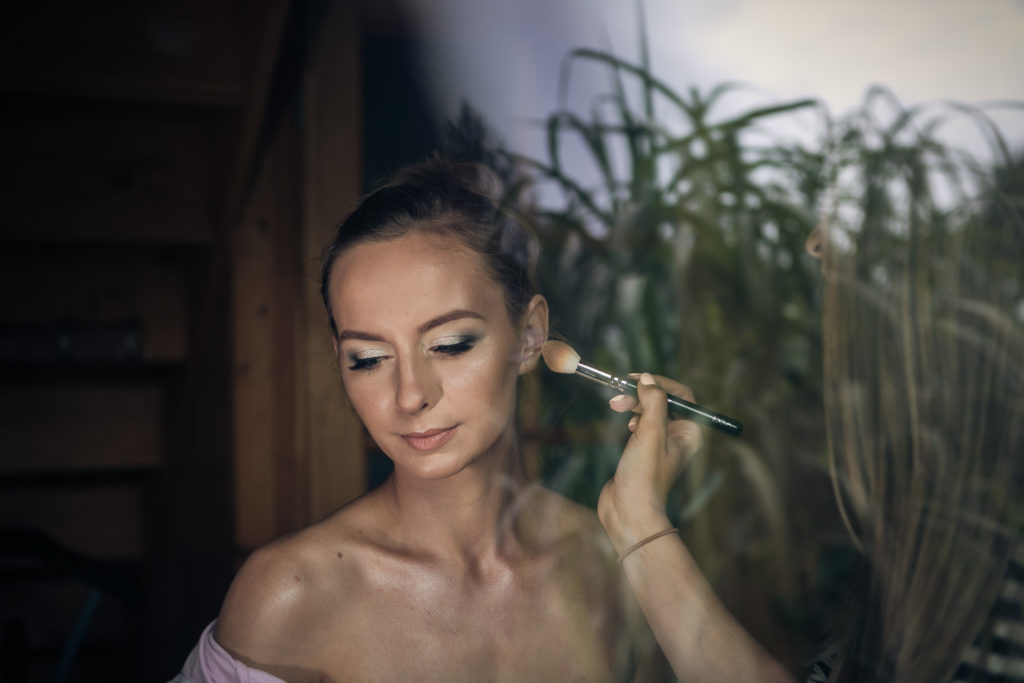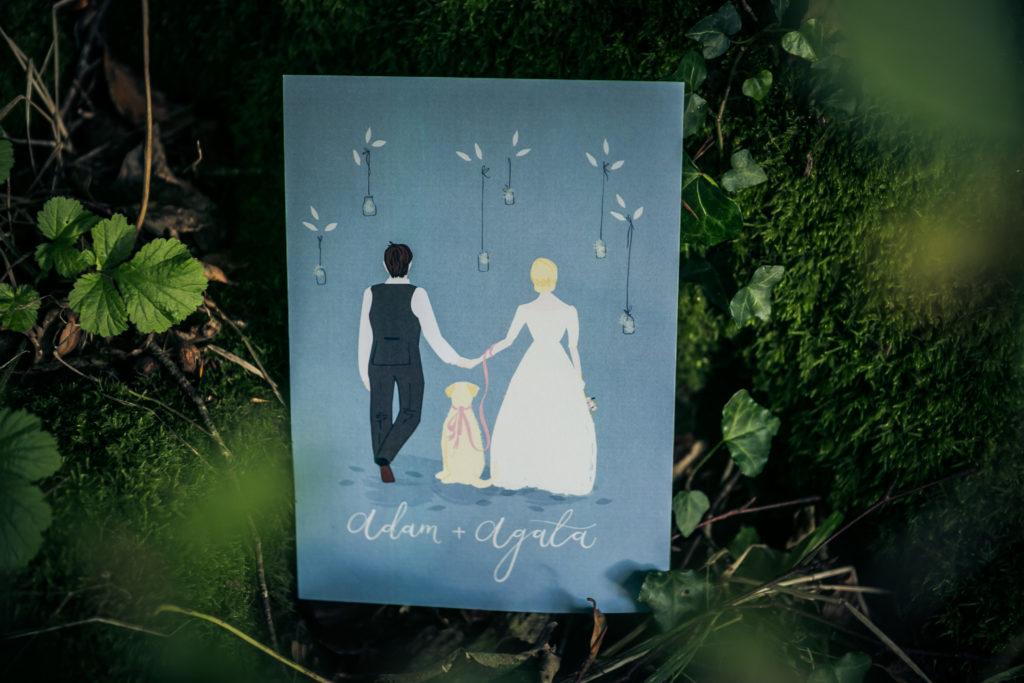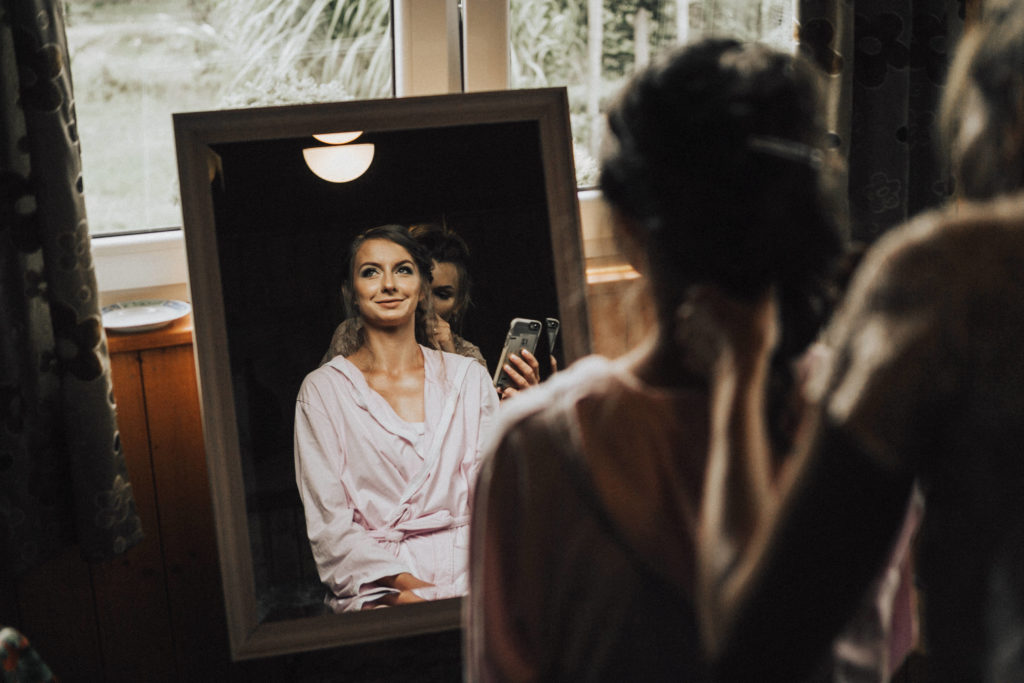 The Proposal
"Adam proposed on the last day of our holiday in Gran Canaria back in 2016. We have had a lovely time all week, and on the last day he arrange a hired car to go for a drive around the island and explore a little bit on our own. We went on a hike and climbed a hill. When we got to the very top, he proposed. It was lovely and the backdrop was amazing. He even tricked me into photographing my own engagement!"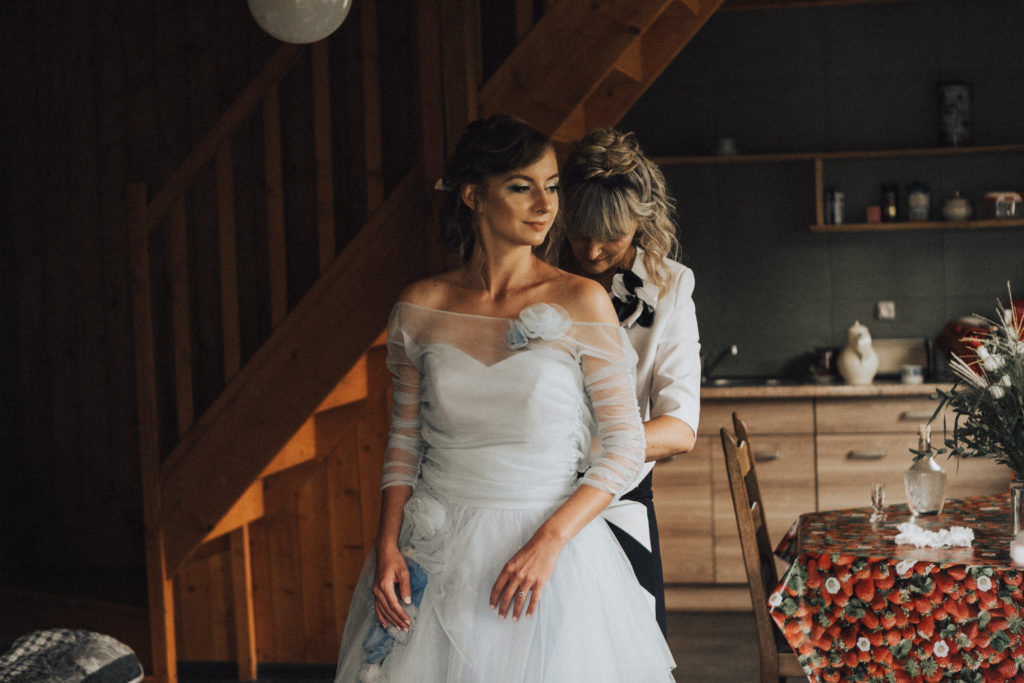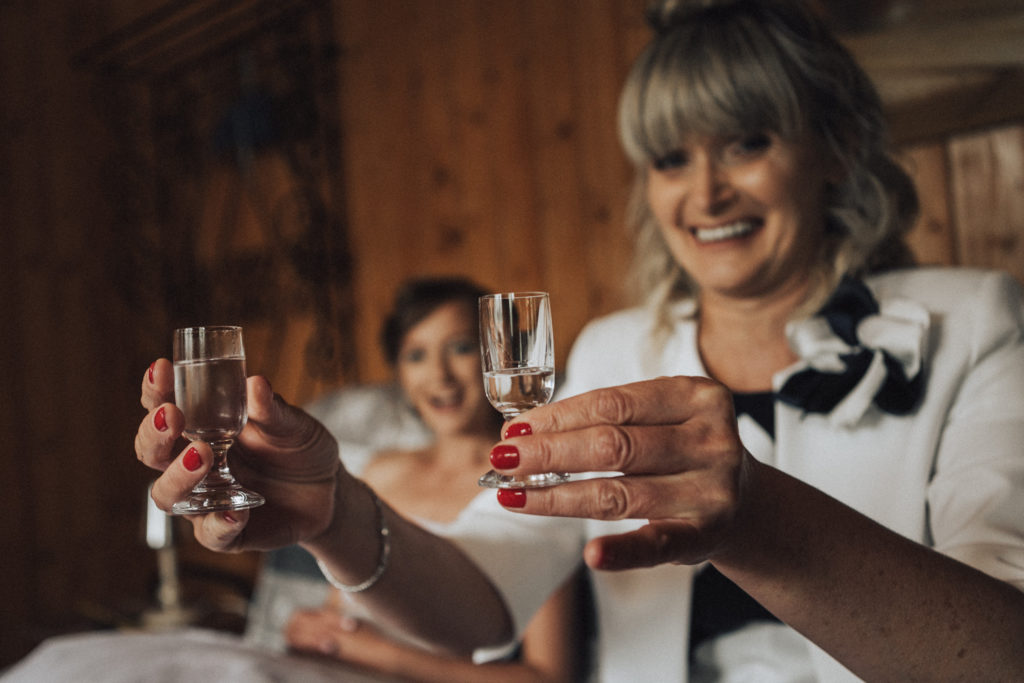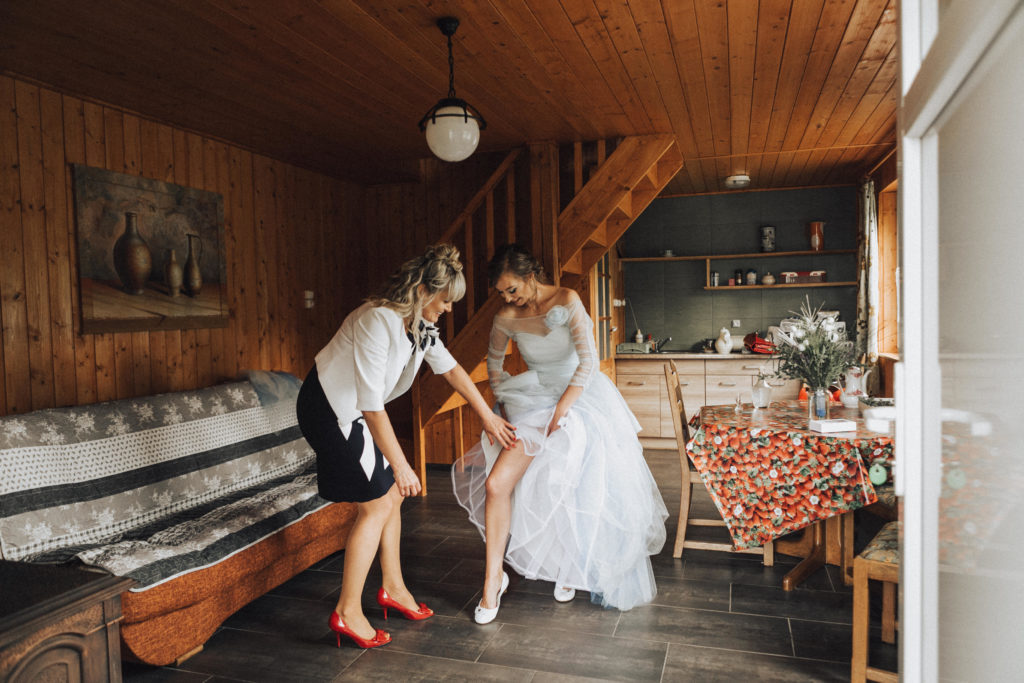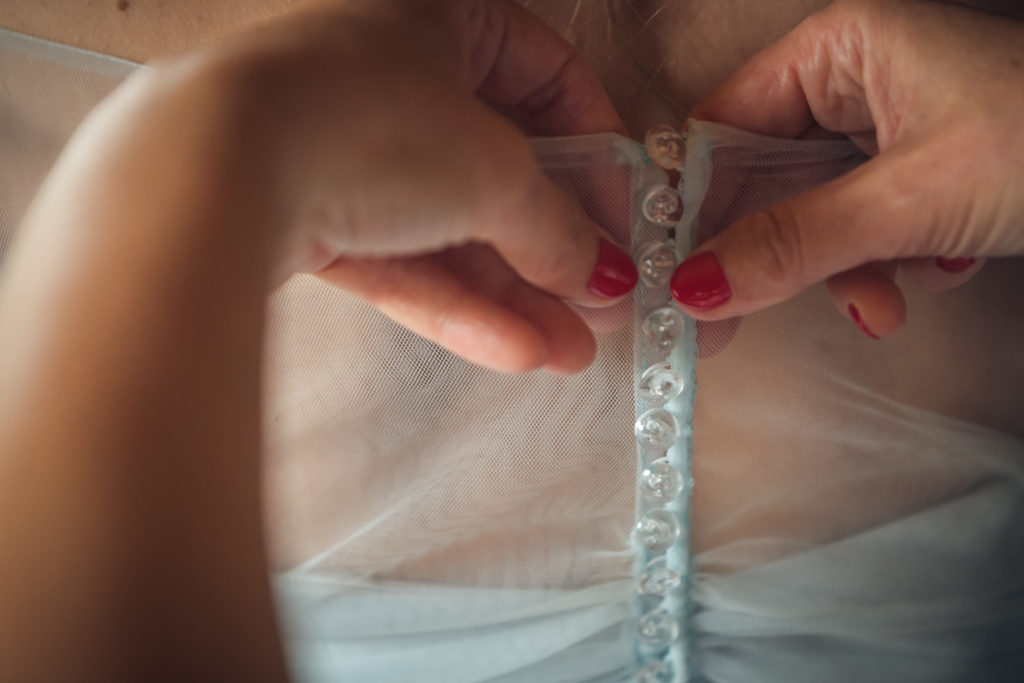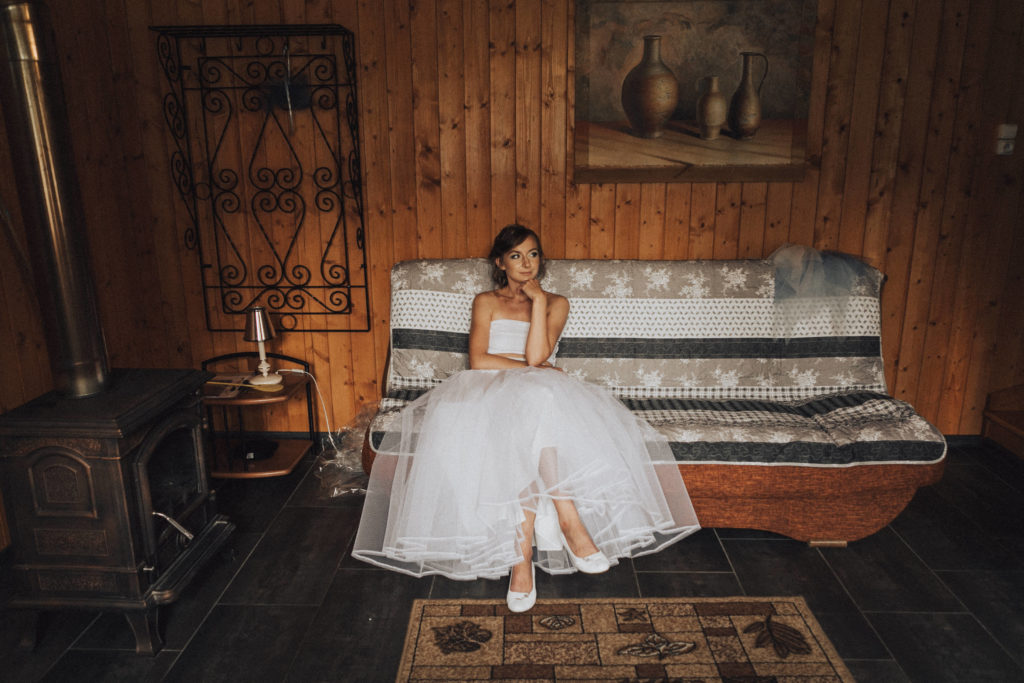 Planning The Wedding
"We always knew that we wanted a relaxed wedding, close to nature and as much DIY as possible. It was also very important to us that our dog; 8 years old Labrador called Dida would be present and involved in the day. I think in the end we built the whole day around her!"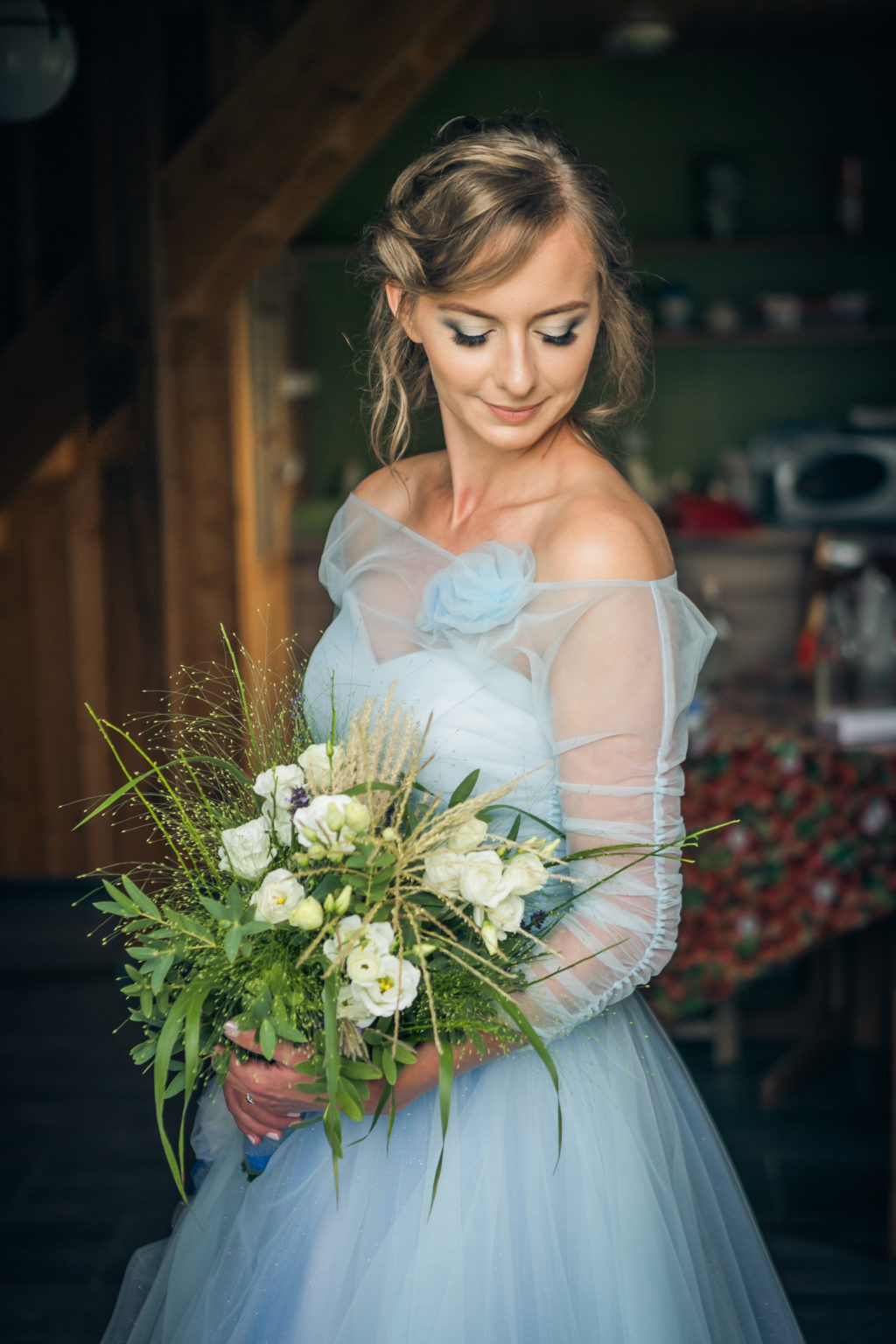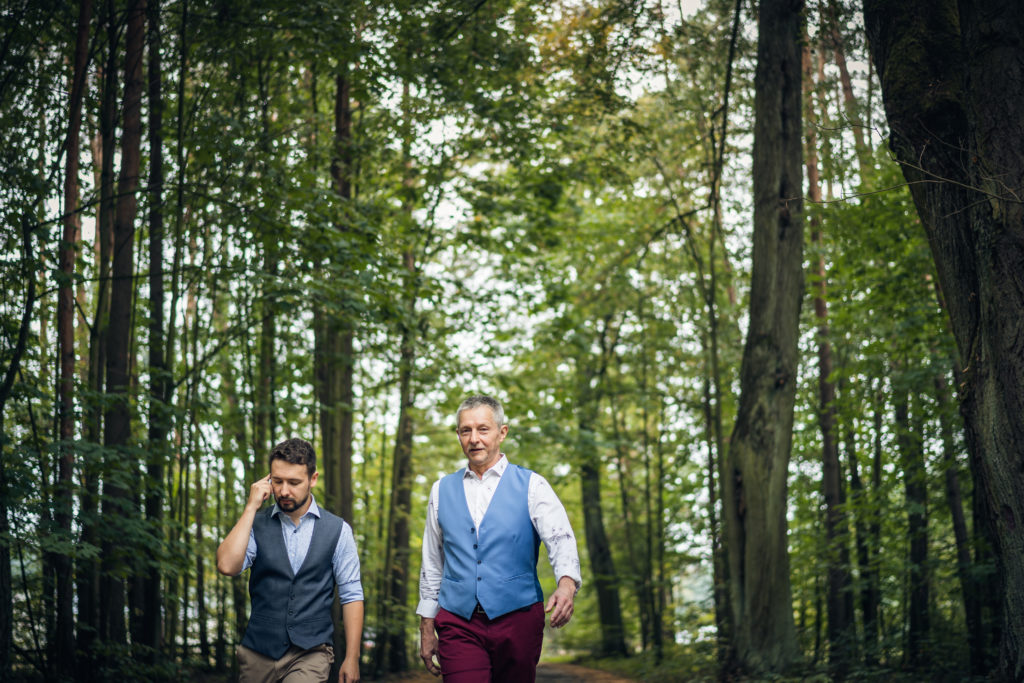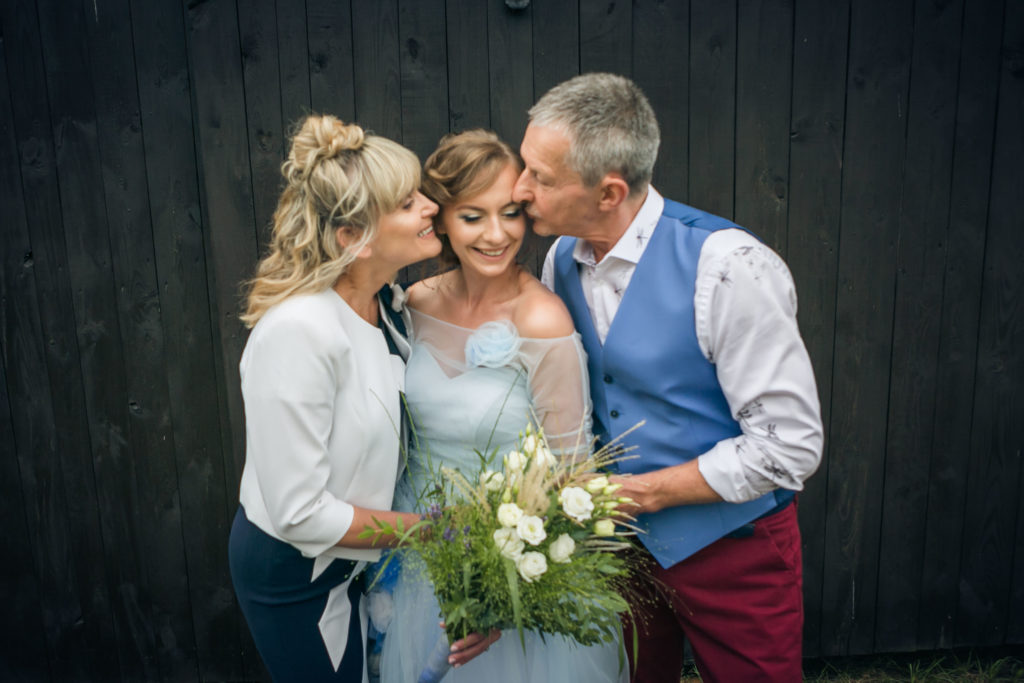 The Location
"From the very first time we visited our wedding venue, we knew it was a special place. It is a privately owned land with such a picturesque setting and soothing atmosphere. It is impossible not to slow down, relax and recharge your batteries when there. The owners are truly amazing people who cared and put so much effort into preparations, as if it was their own daughter getting married. The warmth of that place is something that will stay with us for a long time."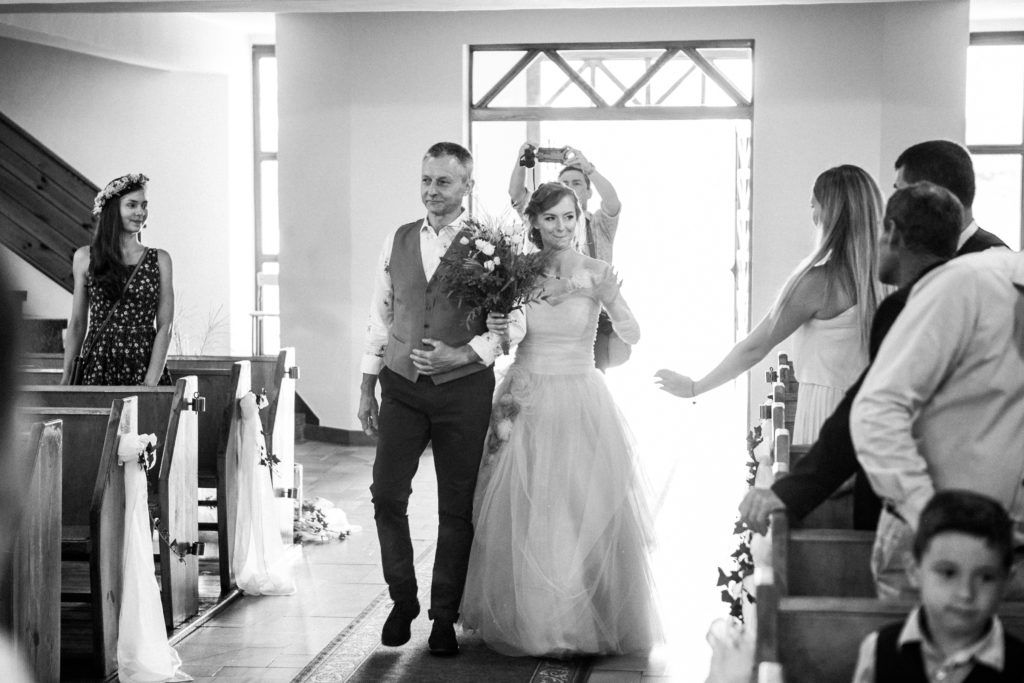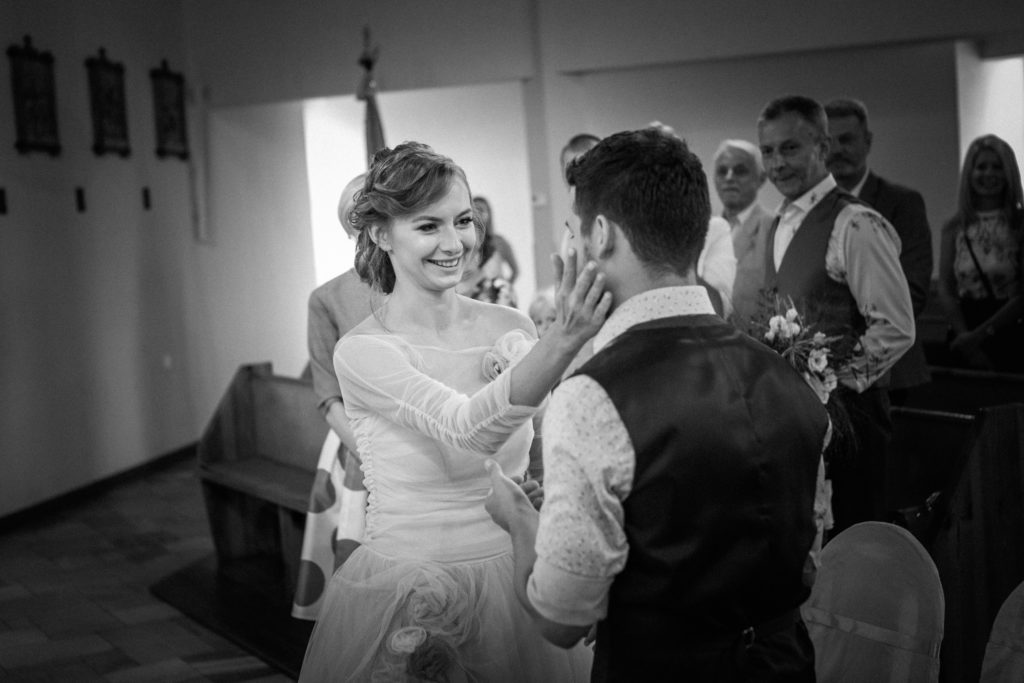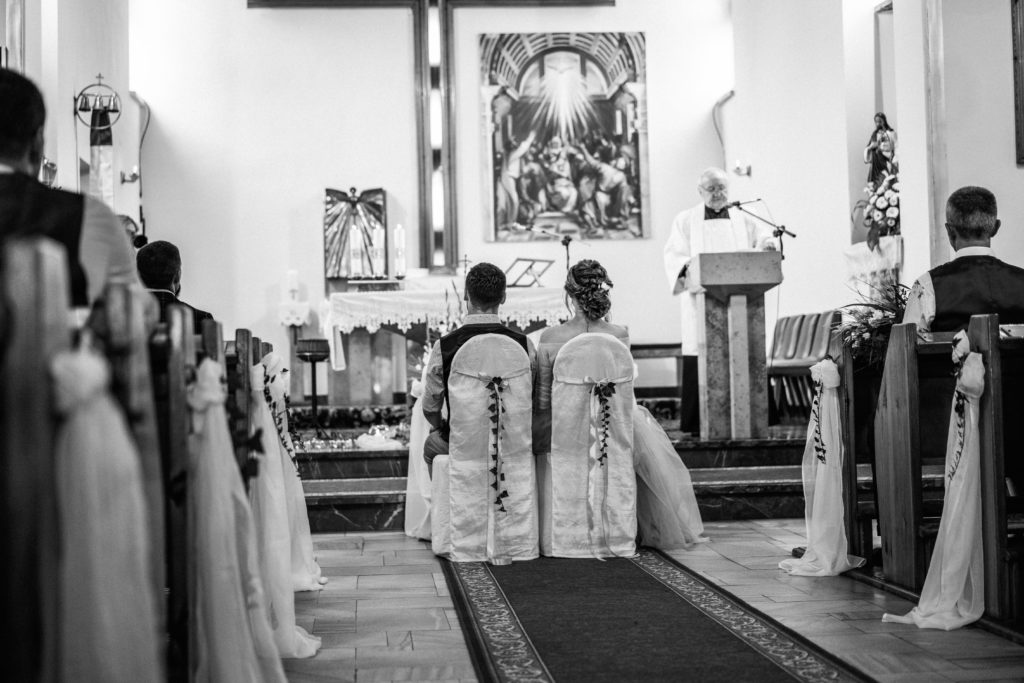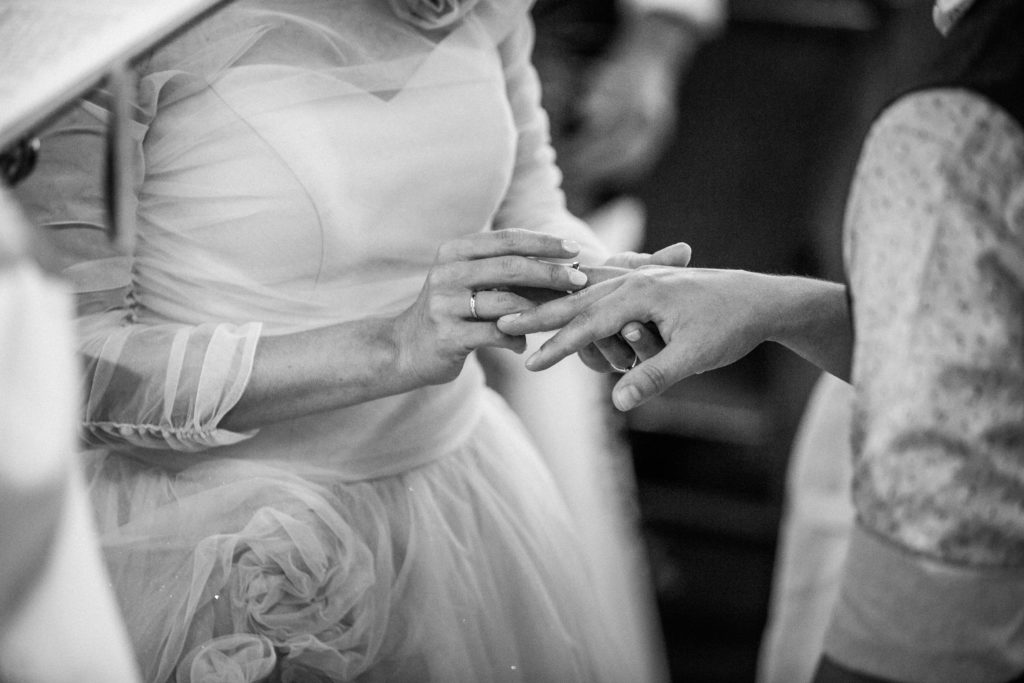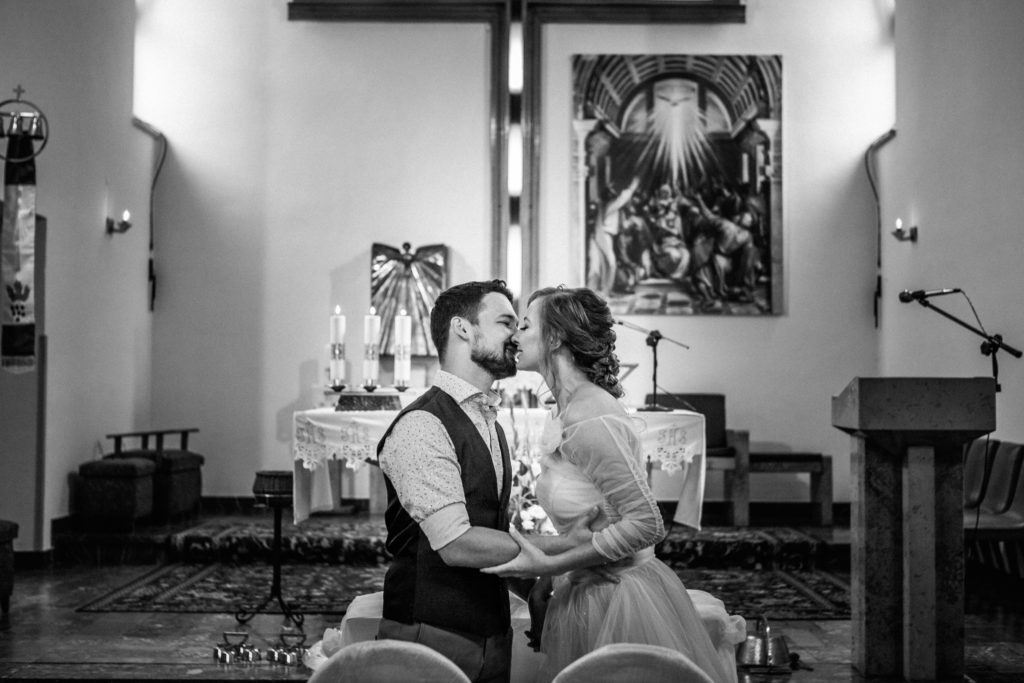 The Dress
"I never imagined that my wedding dress would look like it did. In my mind, I would wear a fitted, close to body, lace dress as always loved seeing those on other brides and thought it would be what I'd go for too. It was when I started trying on different dresses I realised that for whatever reason, that type of dress just didn't suit me. I then was lucky enough to find amazing seamstresses who produced my dress with such care and attention to details. My dress was ombre blue, with darker shed underneath and lighter toward the top. It behaved beautifully when I walked and danced. It had just enough sparkle to catch the light and a lovely swish to make you feel special on your big day! Love my dress!"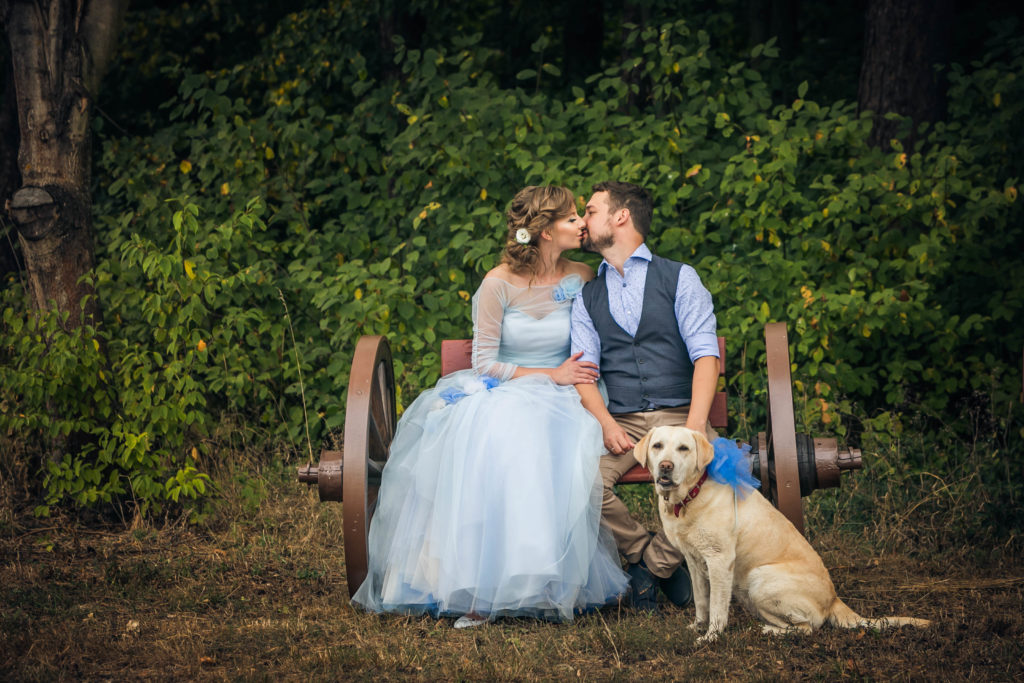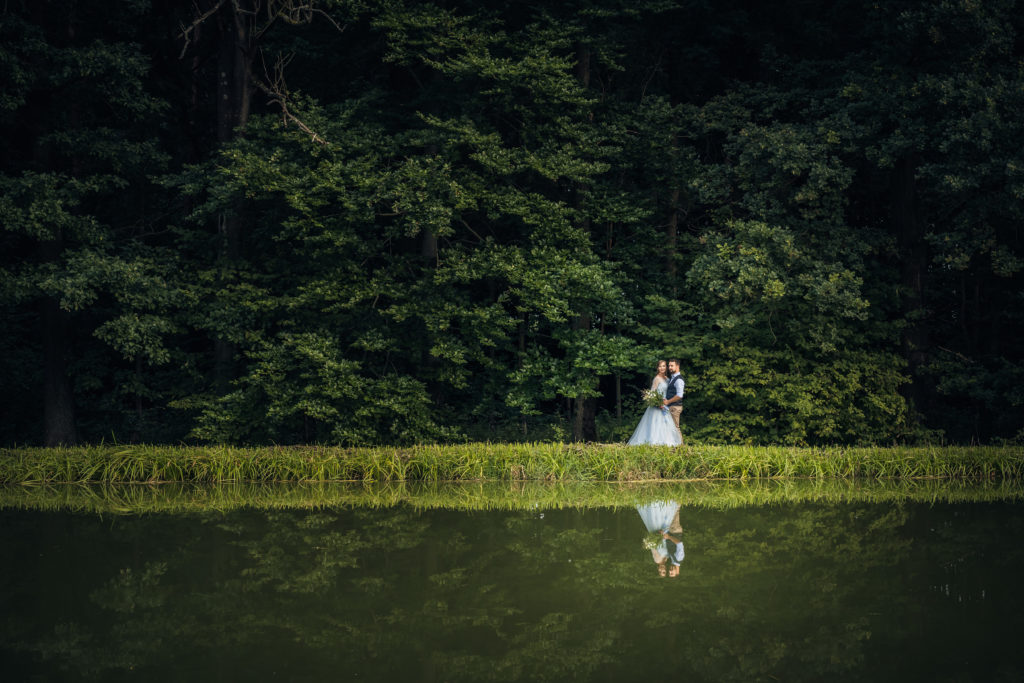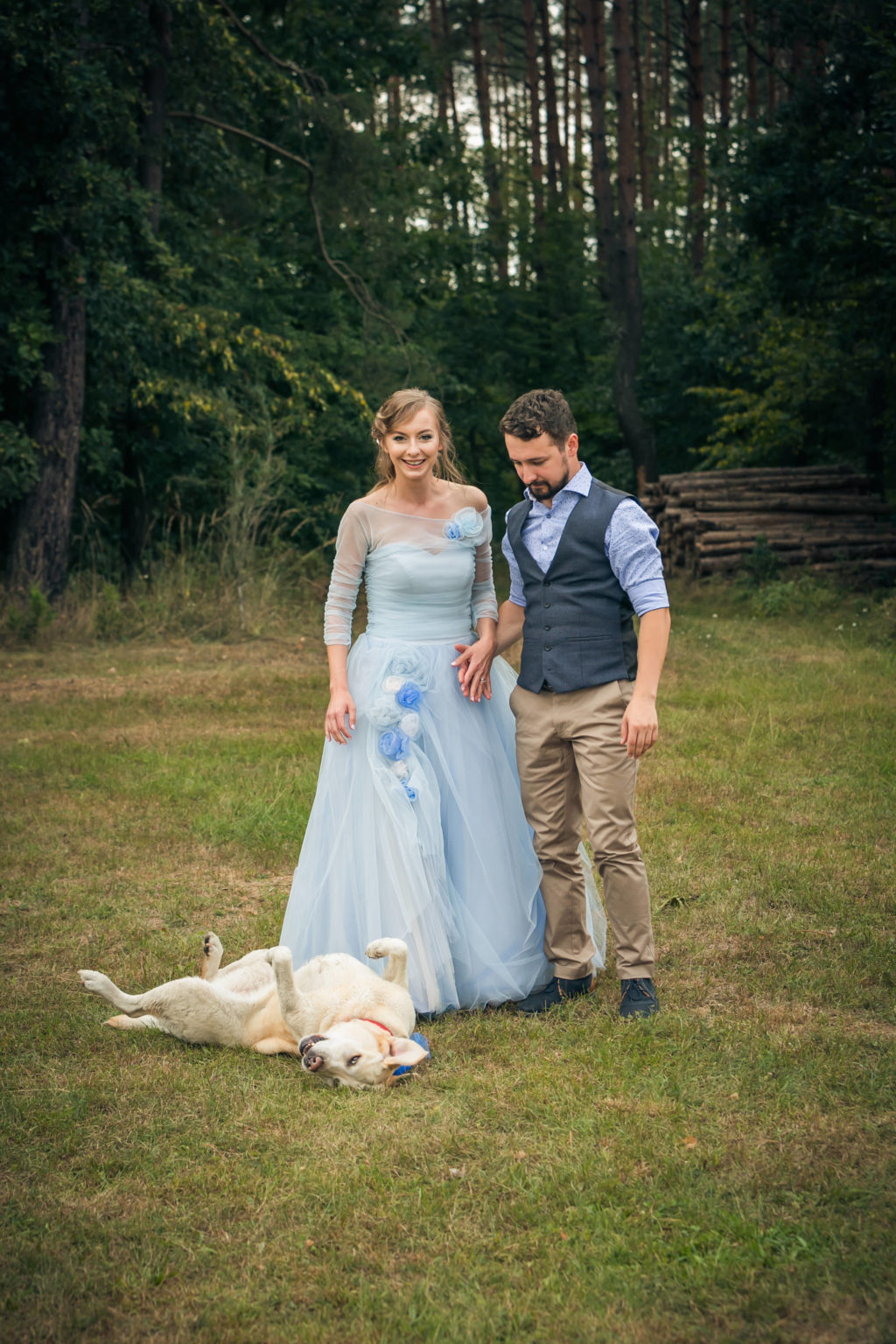 The Details
"We had a simple, naked cake, which I think suited the surroundings and running theme of the wedding. Flowers and foliage were picked the night before from the garden of the land owners. A local florist supplied a few more twigs and flower drops and helped arrange it all into bouquet."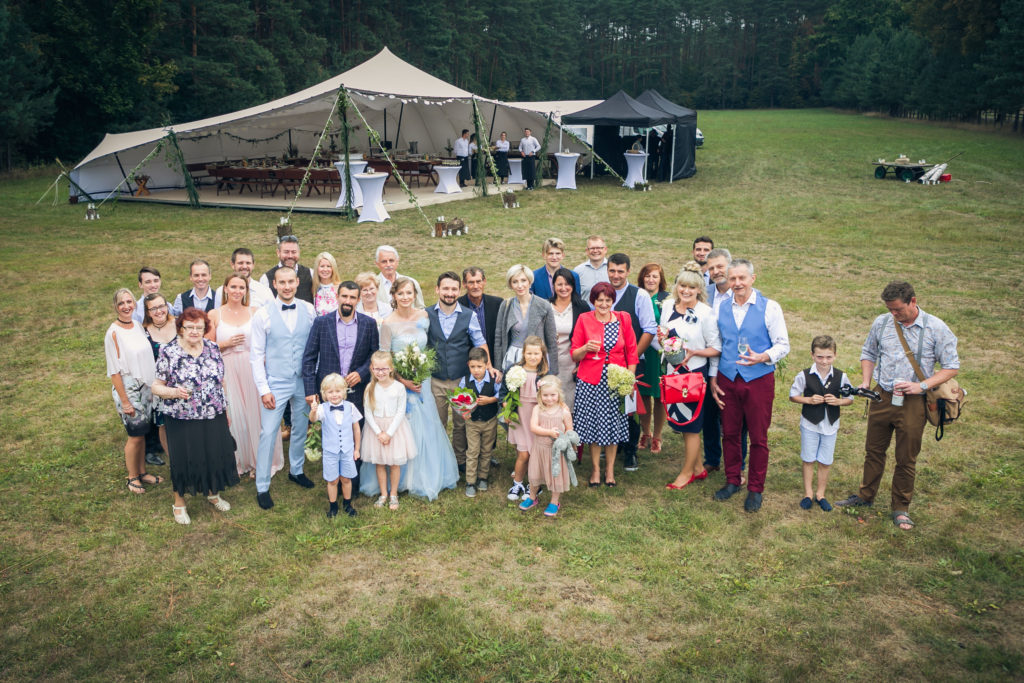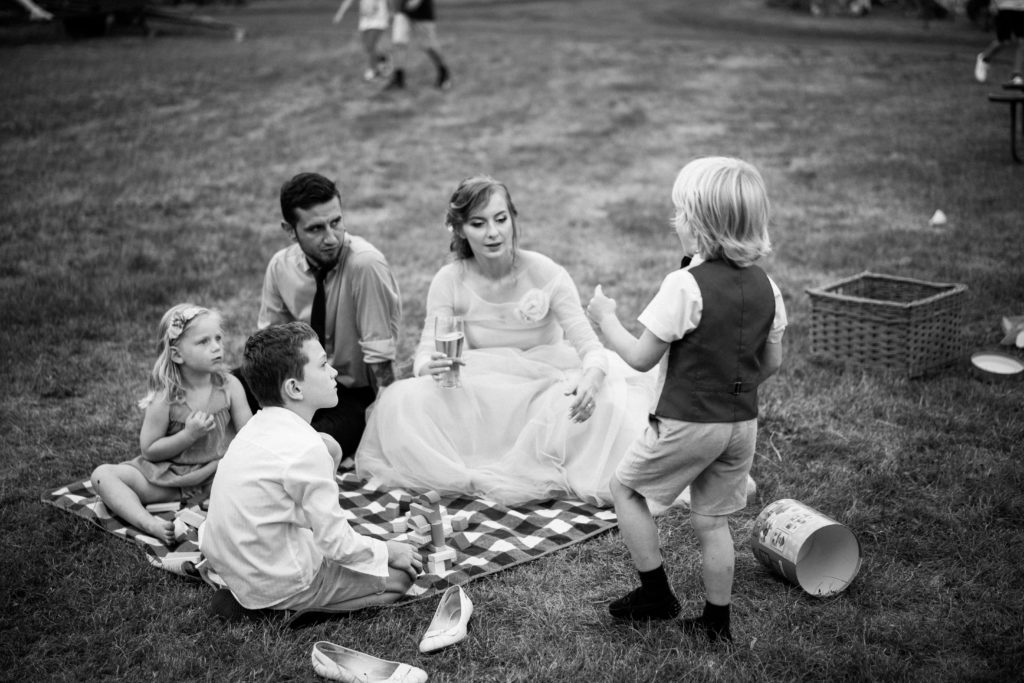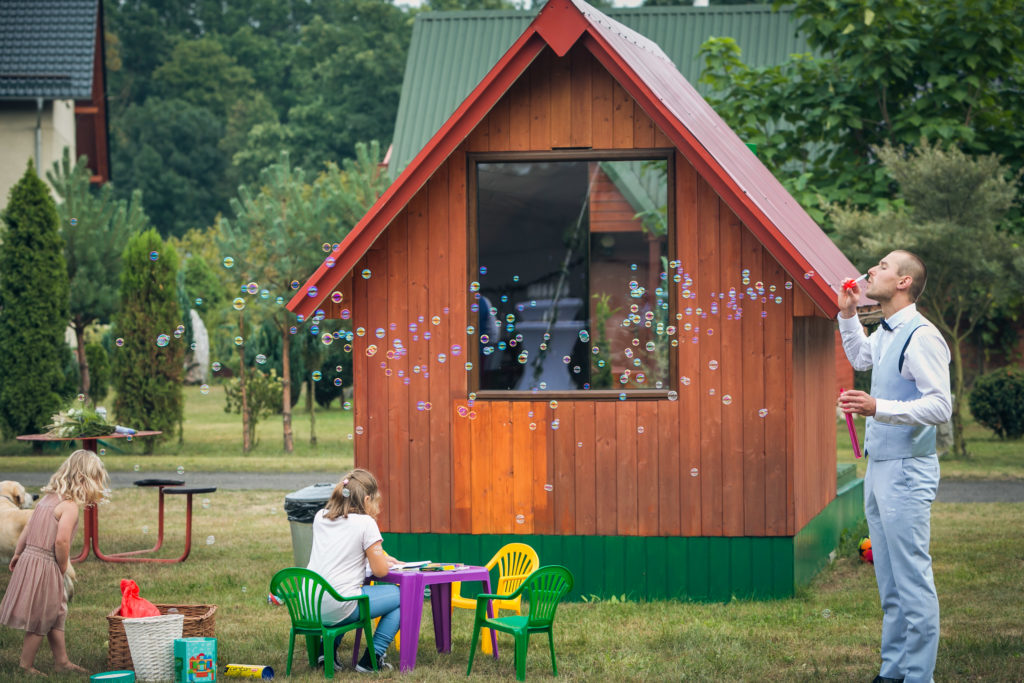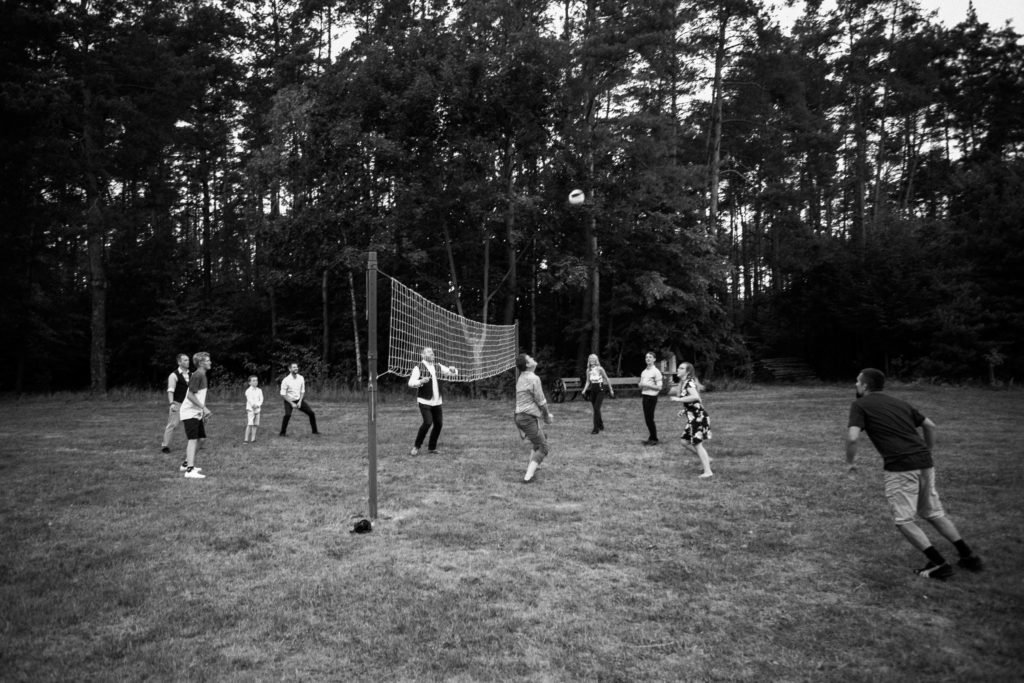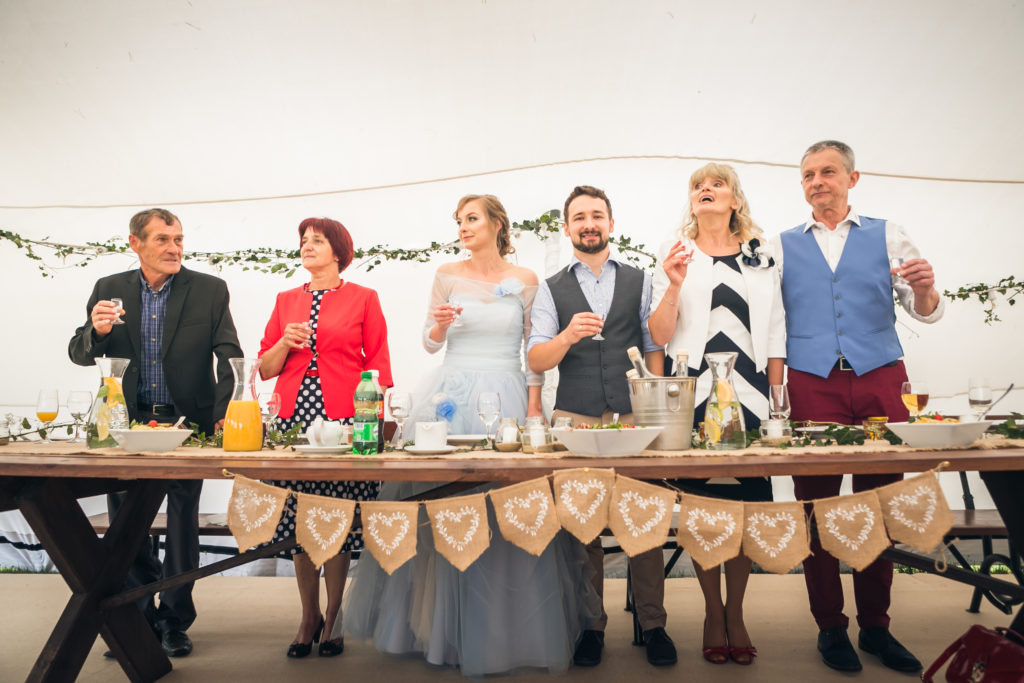 The Best Part of the Day
"For me personally the best part of the day was when almost all of our guests started playing a game of volleyball. There was plenty of outside space for different garden games and activities and at some point we had nearly entire wedding playing volleyball and as I stood there and watched it, I thought to myself; "This is perfect, everyone is having fun"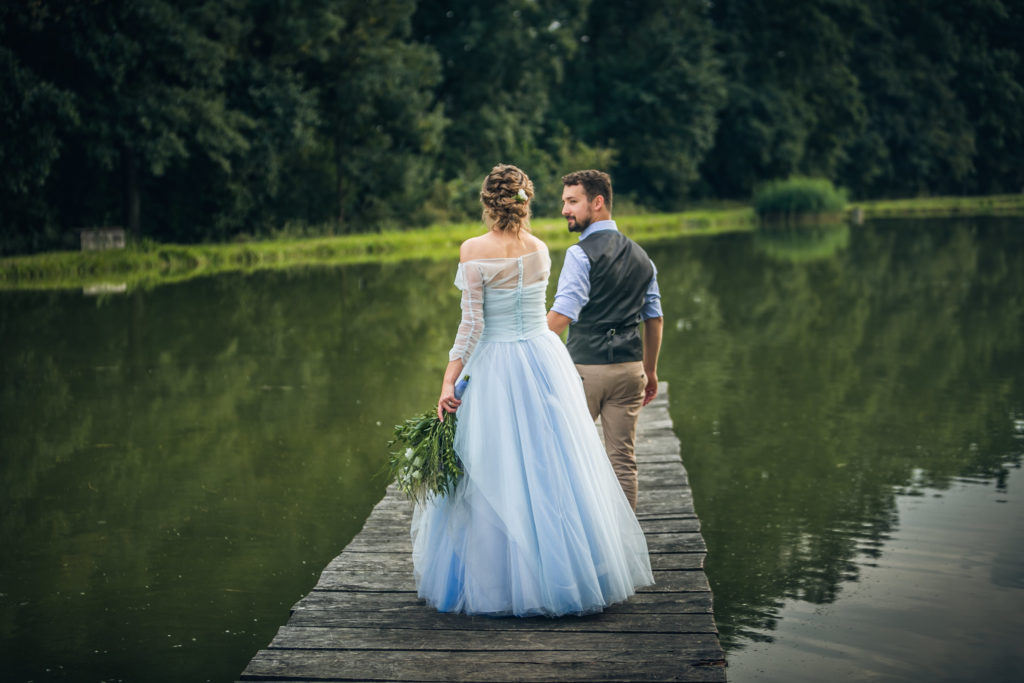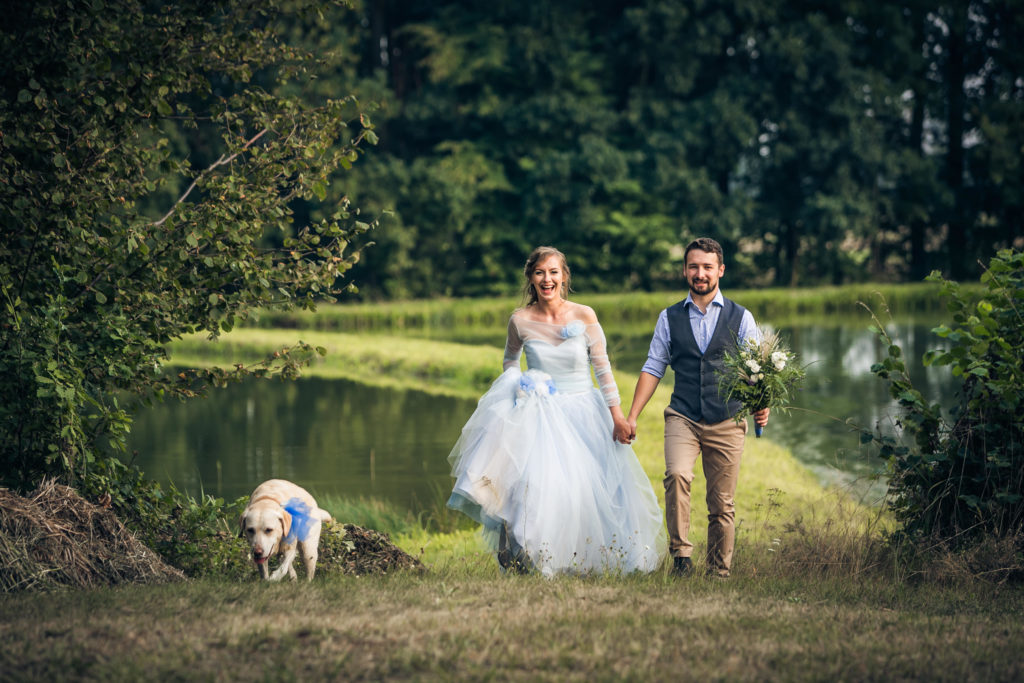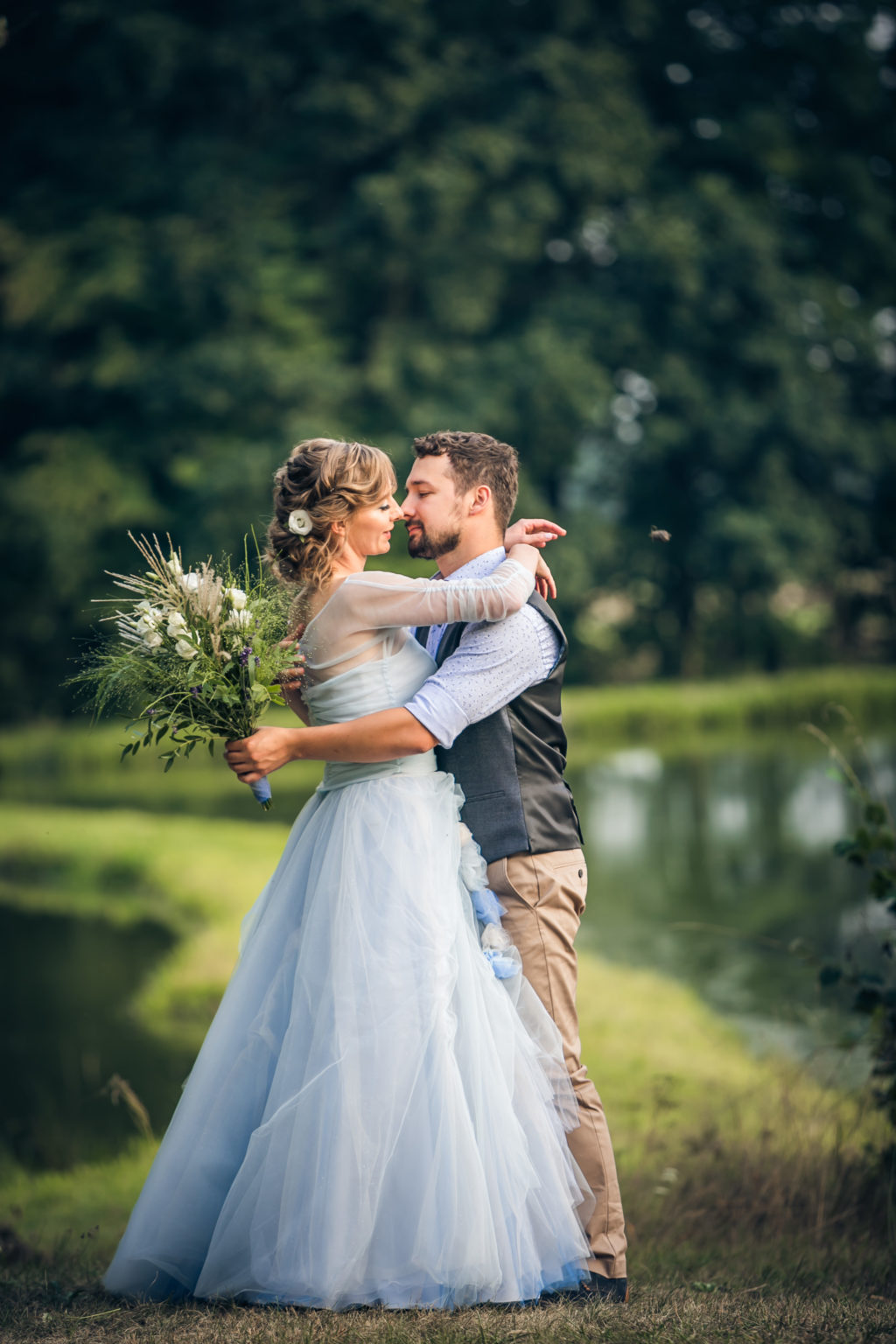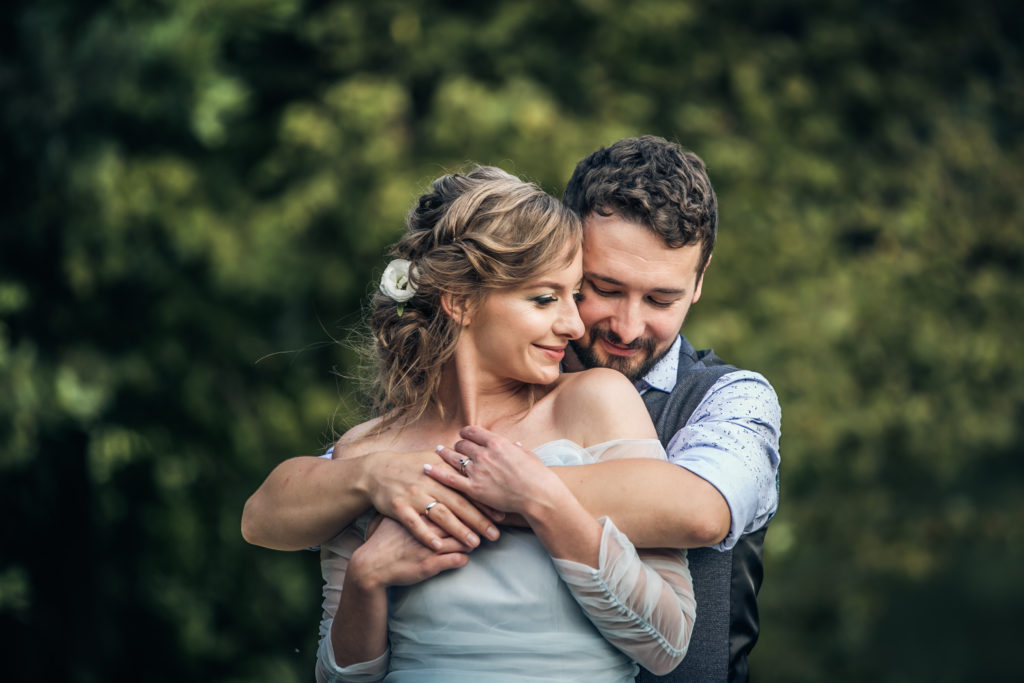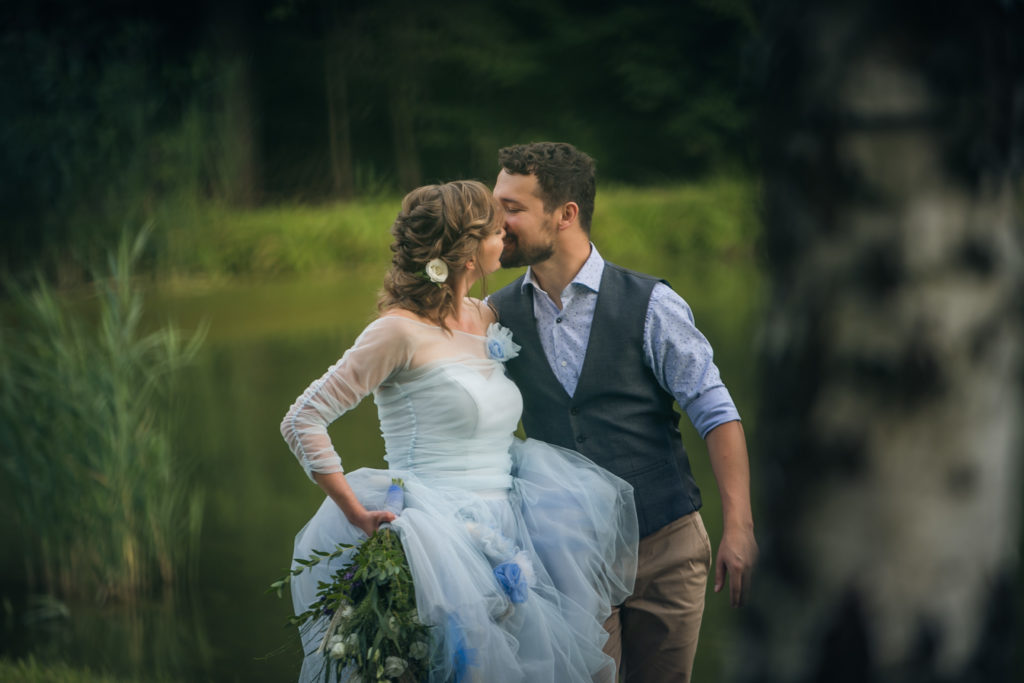 Words of Wisdom
"Plan your wedding morning preparations (hair, make-up etc) as if your ceremony was na hour earlier than it actually is. Things always take longer than anticipated, and this way you don't have to stress even if something is running late. Take your time to take things in – it goes so fast!"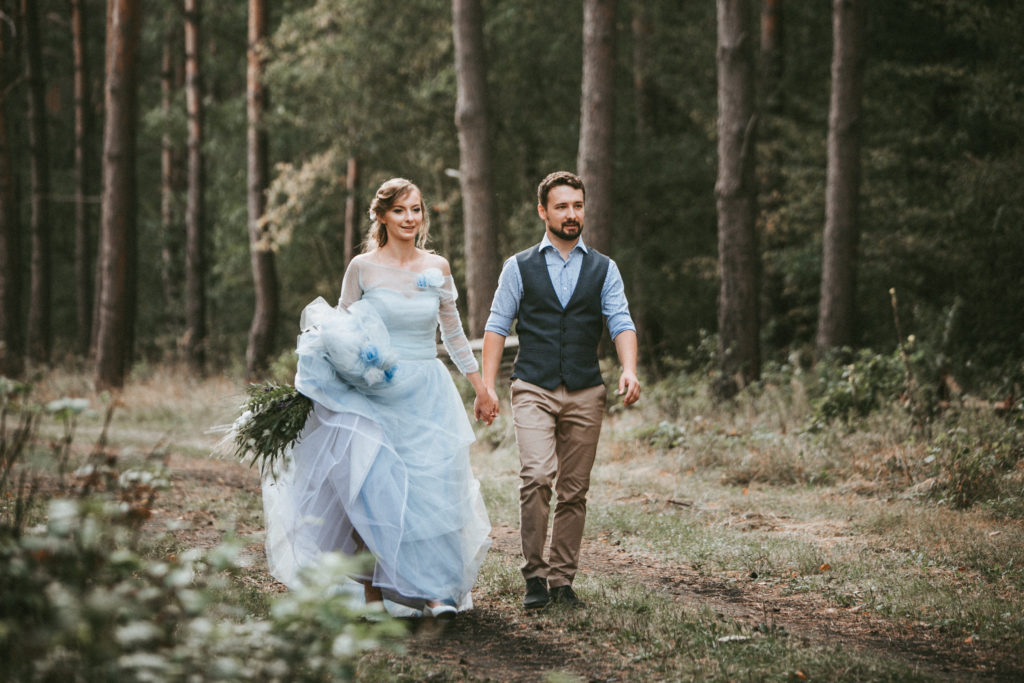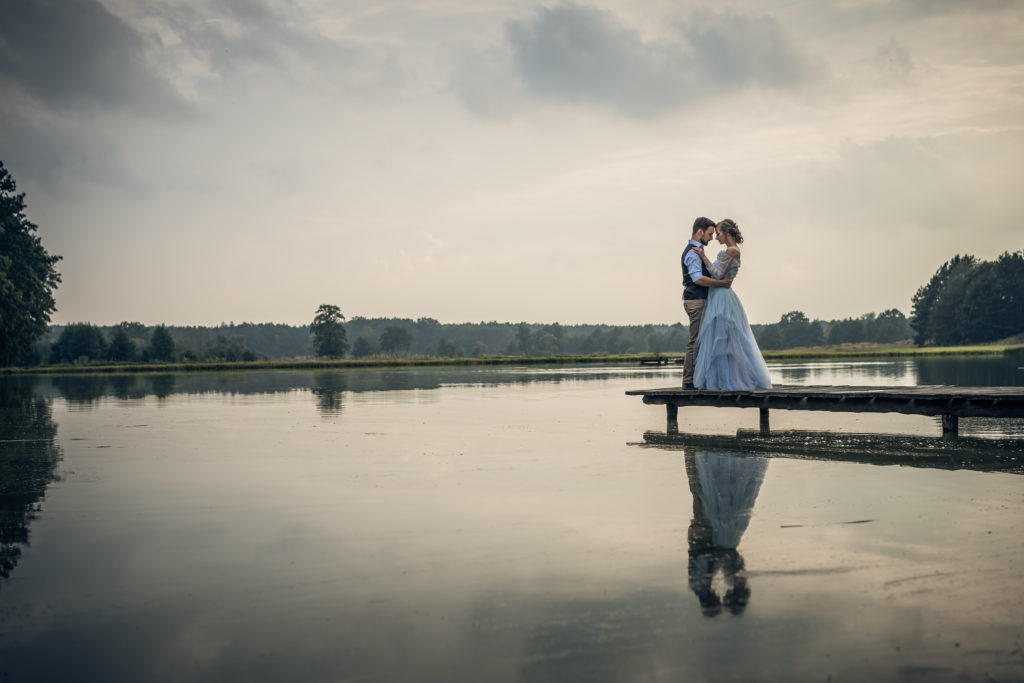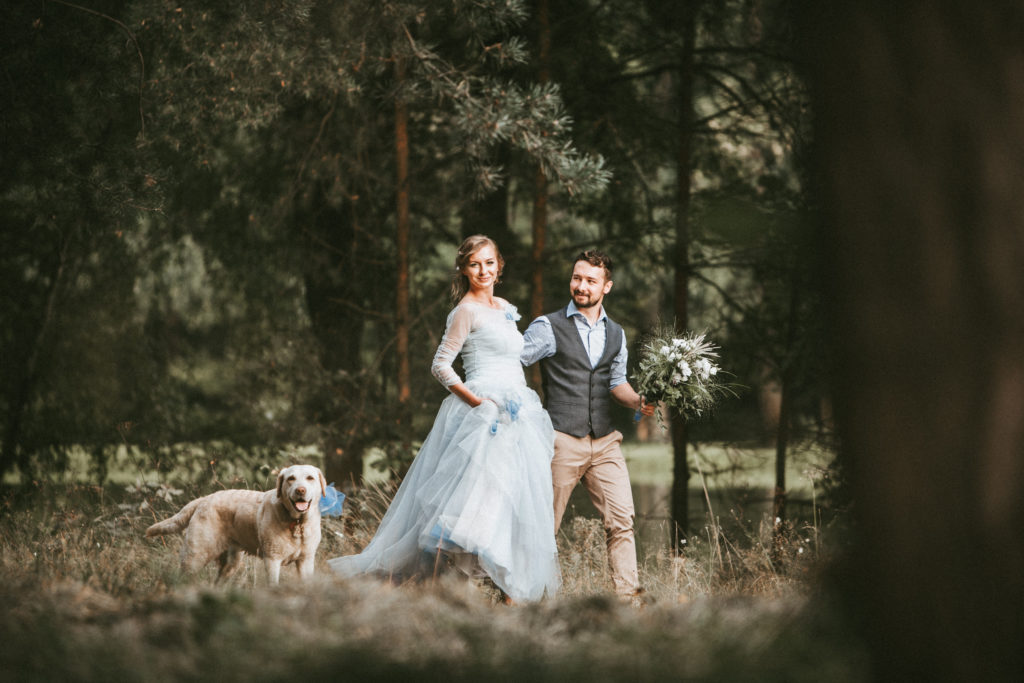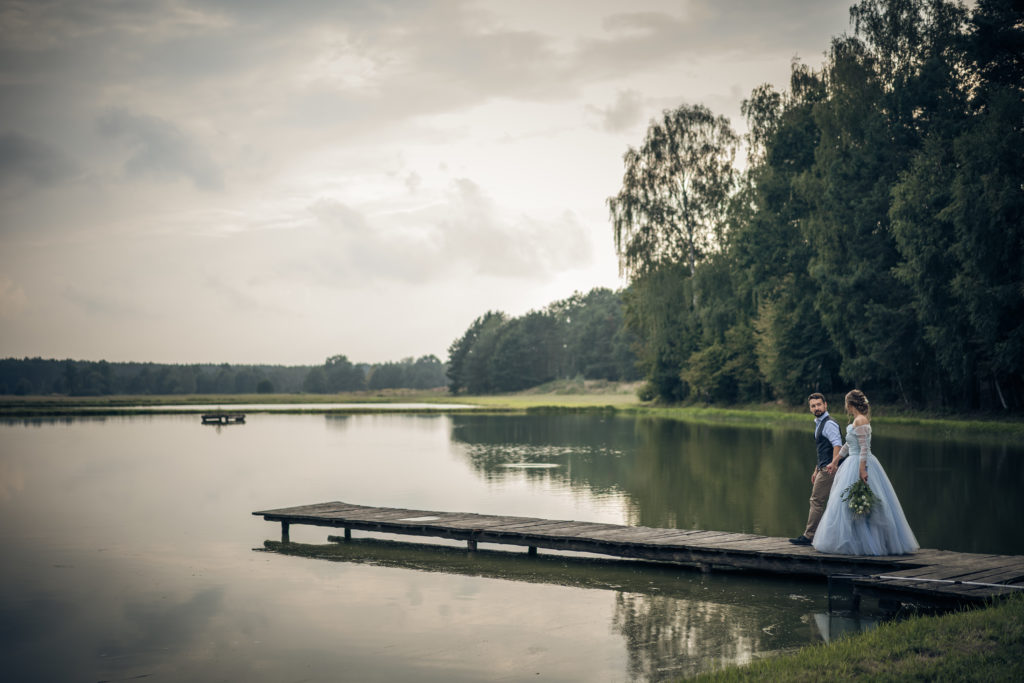 The Suppliers – Rustic Outdoor Wedding With Blue Tulle Wedding Dress and a Labrador
Dress- Suknie
Make up/Hair- KTyl Makeup
Venue- Stary-Młyn-Krasiejów
Photographer – Younger Photography
Caterers/Bars – Marciniak Catering
Stationery – Dearly Beloved Design
Stretch tent – Ewenta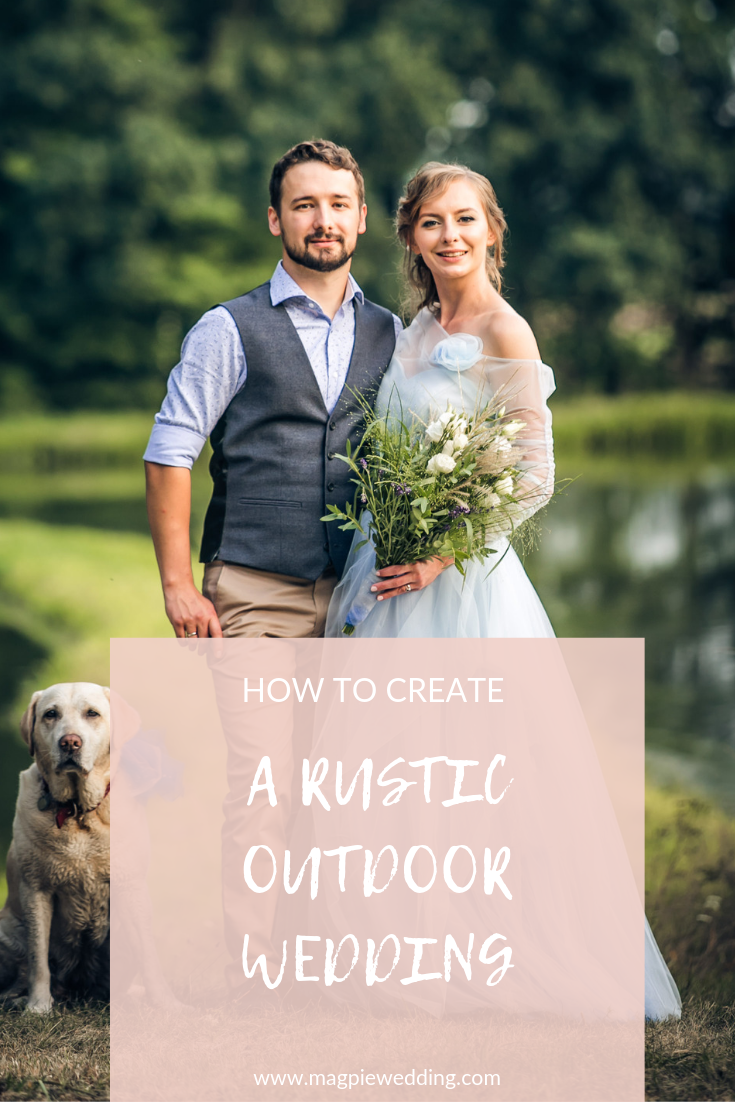 Love this rustic outdoor wedding and want more inspiration for your big day? Check out our online magazine BOND Bride
.