Heidi and Luke's, bright, bold and colourful wedding set in beautiful Belgium, tells a tale of true love from a chance meeting in Australia to a double celebration of a marriage and a baptism! We love it's simple style especially her short wedding dress!
Here we catch up with Heidi who tells us all about their love story, planning their wedding and the DIY elements she included on their big day!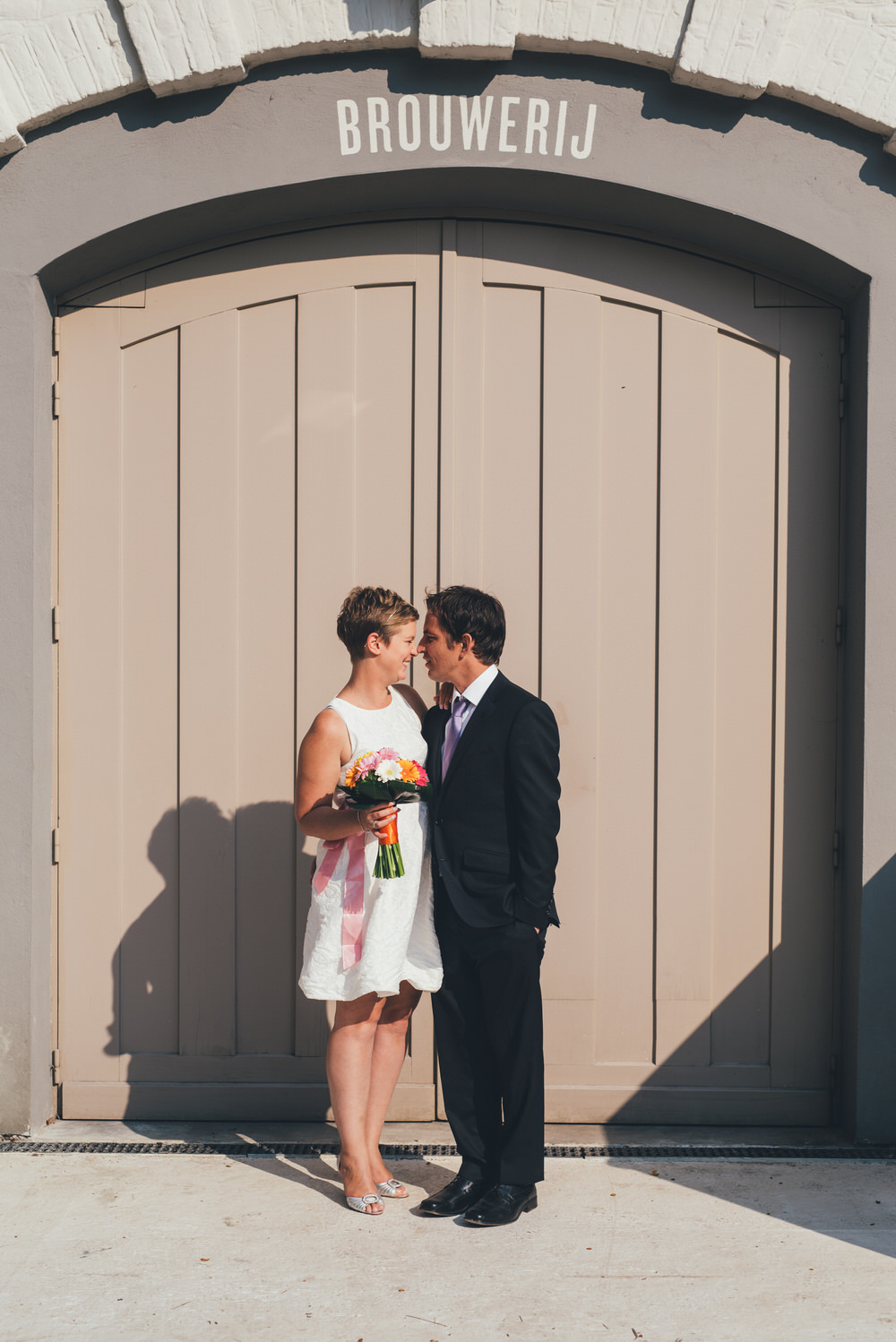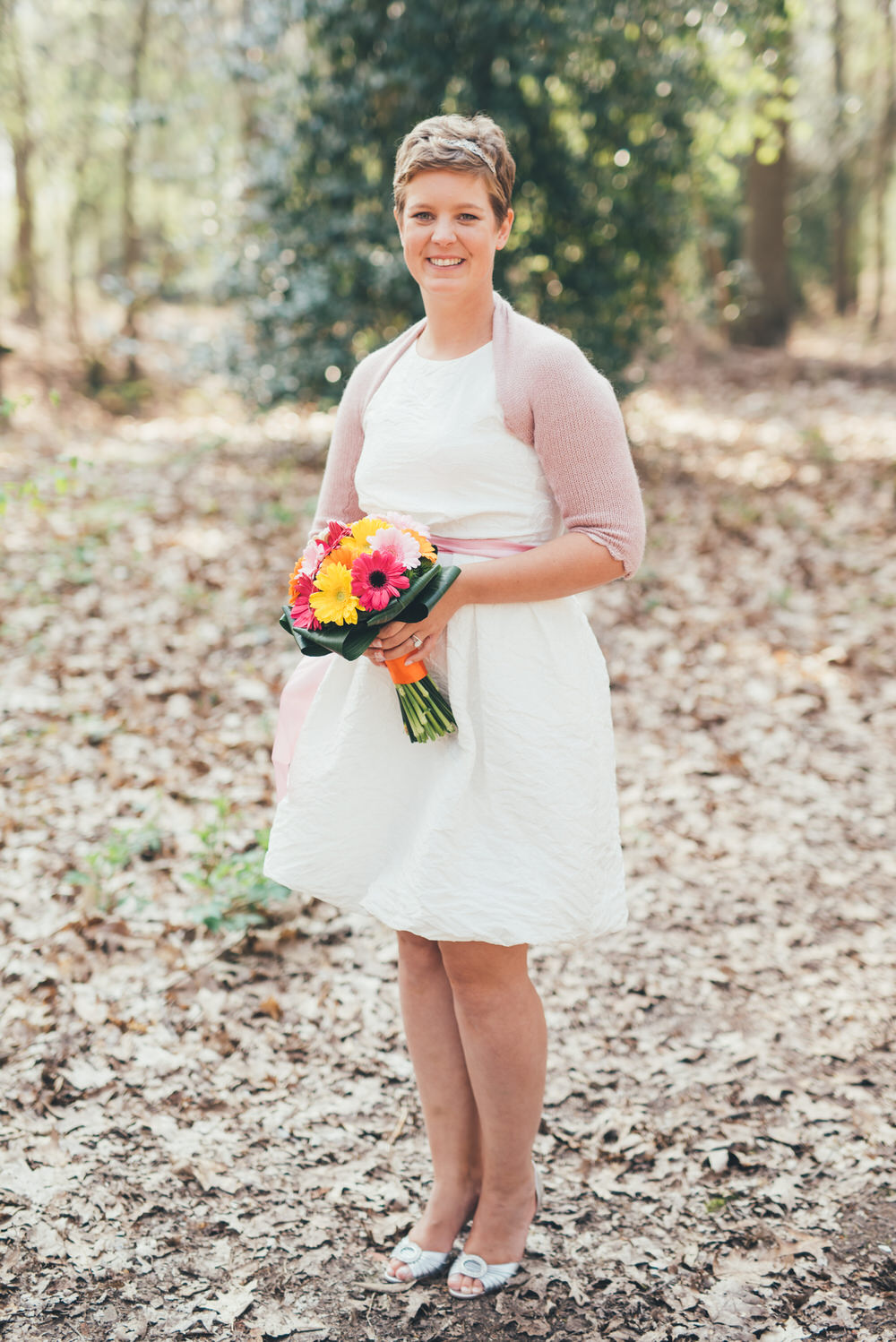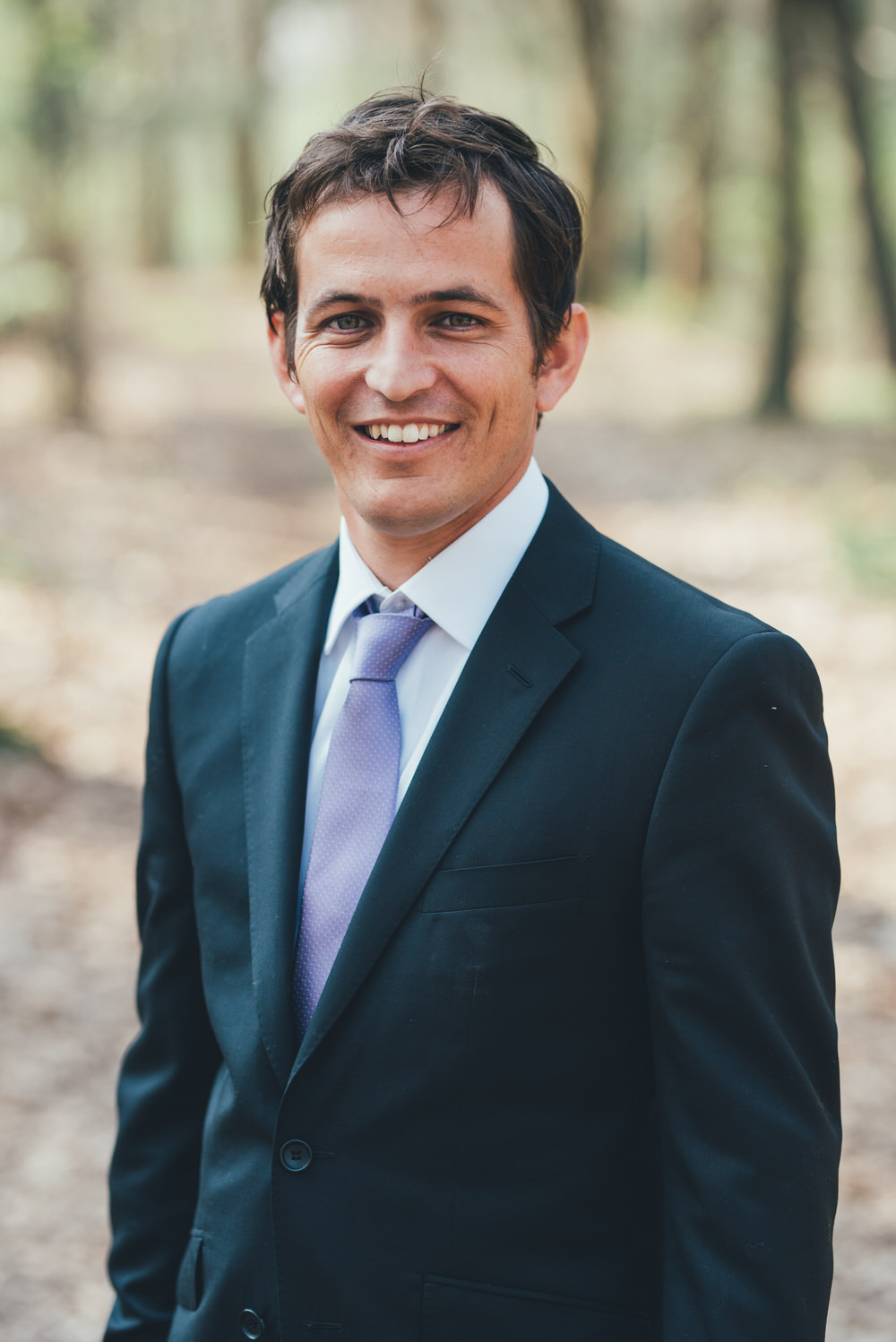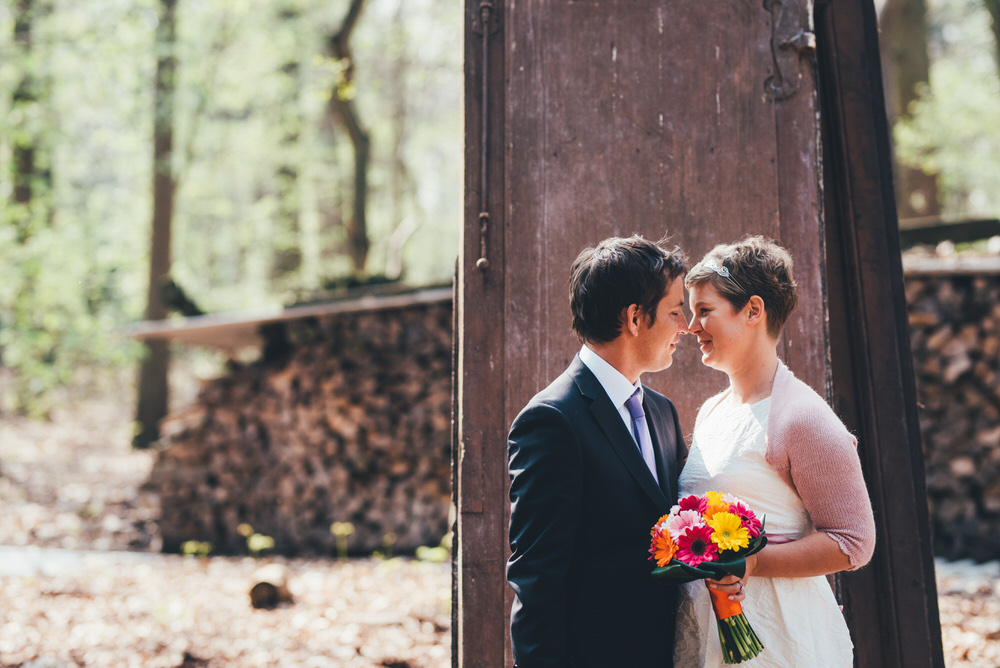 How did you and Luke meet?
"I came travelling in Australia for 6 months, staying in hostels. I started my Australian adventure in Perth. Luke was working in the mines in Western Australian on a FIFO basis and on his time off he stayed in hostels around Perth.
2 days after I arrived in Perth, Luke showed up in the same hostel as where I was staying.
The rest is history…"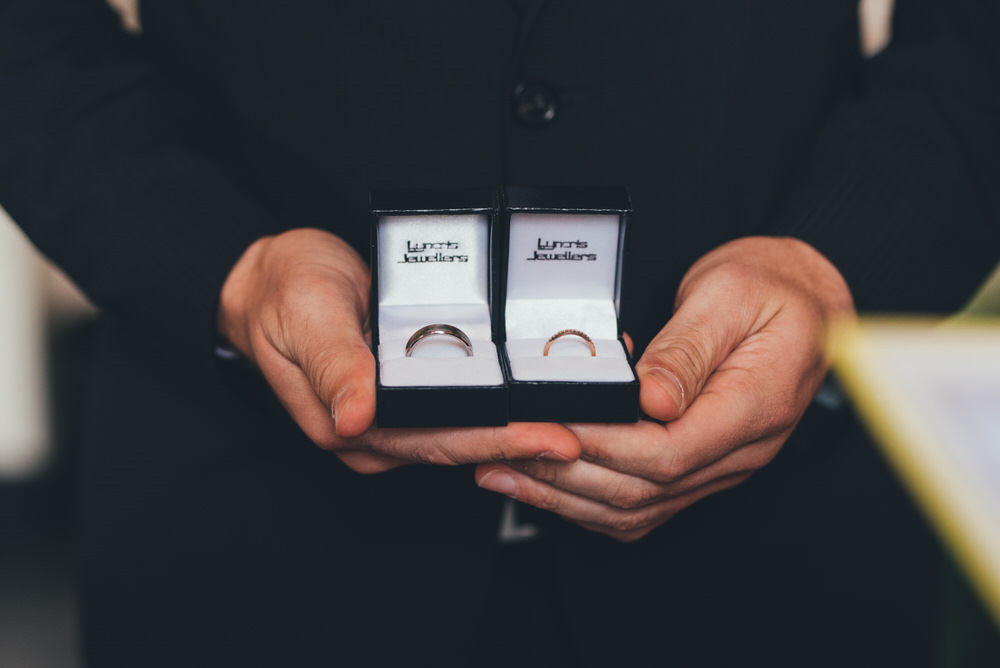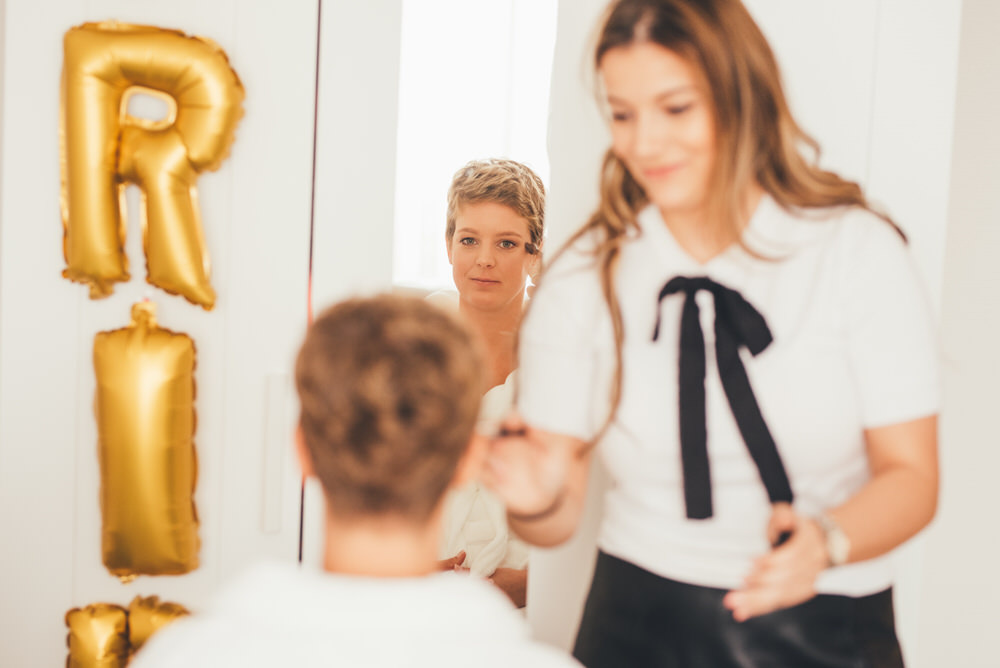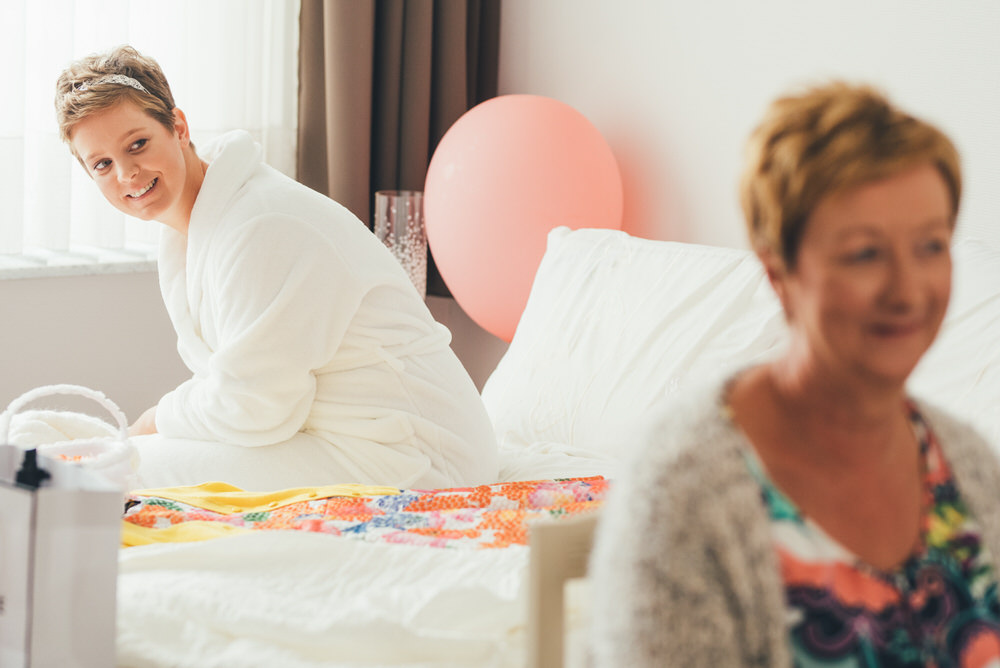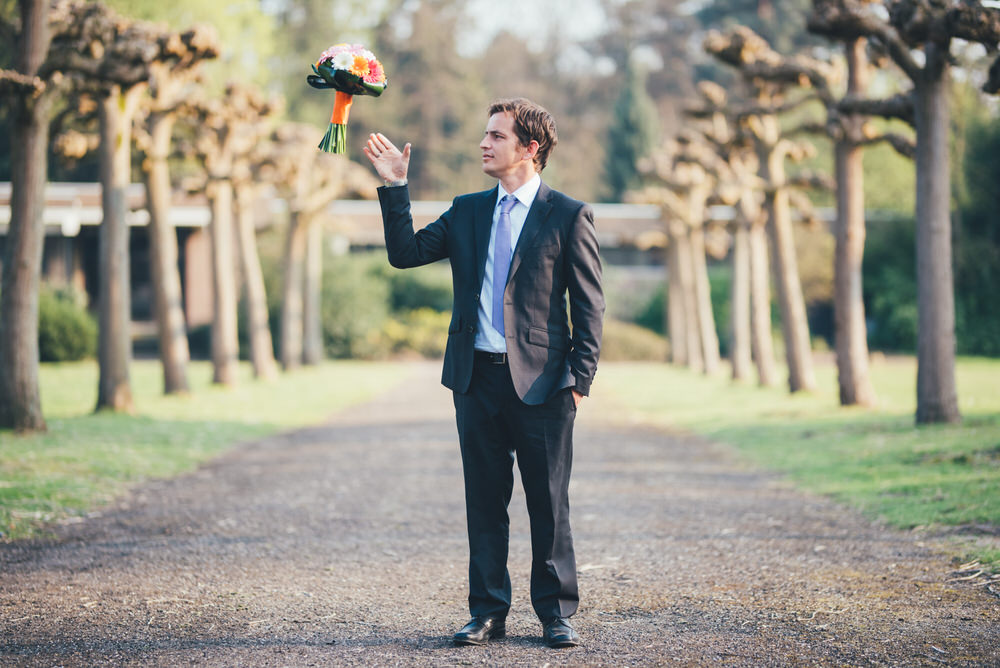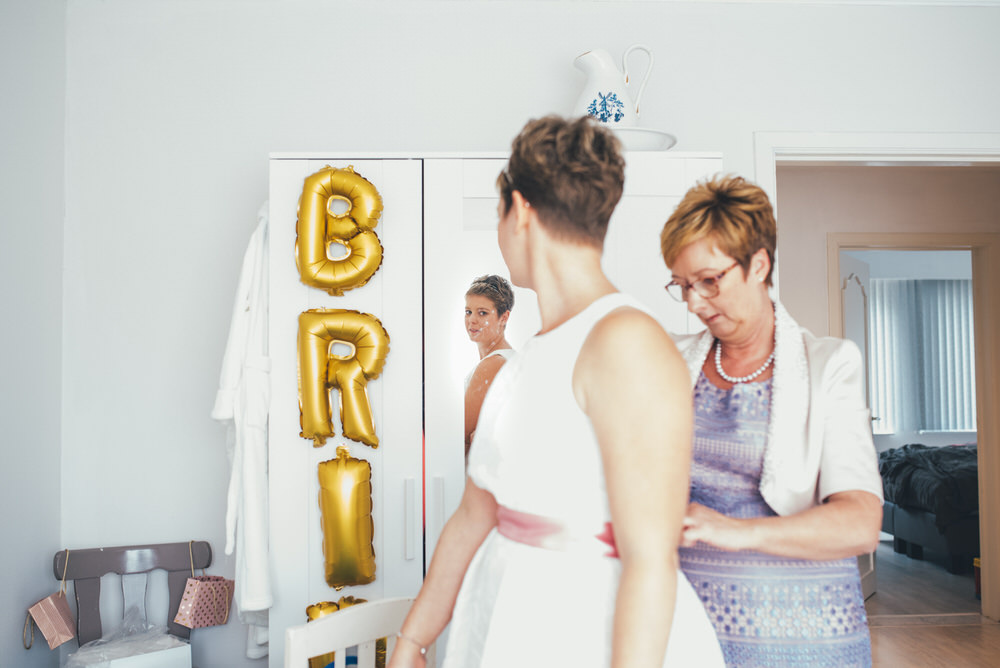 How did he propose?
"Our favourite weekend getaway was Gilgare Retreat in Margaret River.
A few weeks before we would be moving to Melbourne, he treated me to a few nights away here. We went on a beautiful nature walk which we would do every time we were there.
On a little bridge, he stopped me and proposed."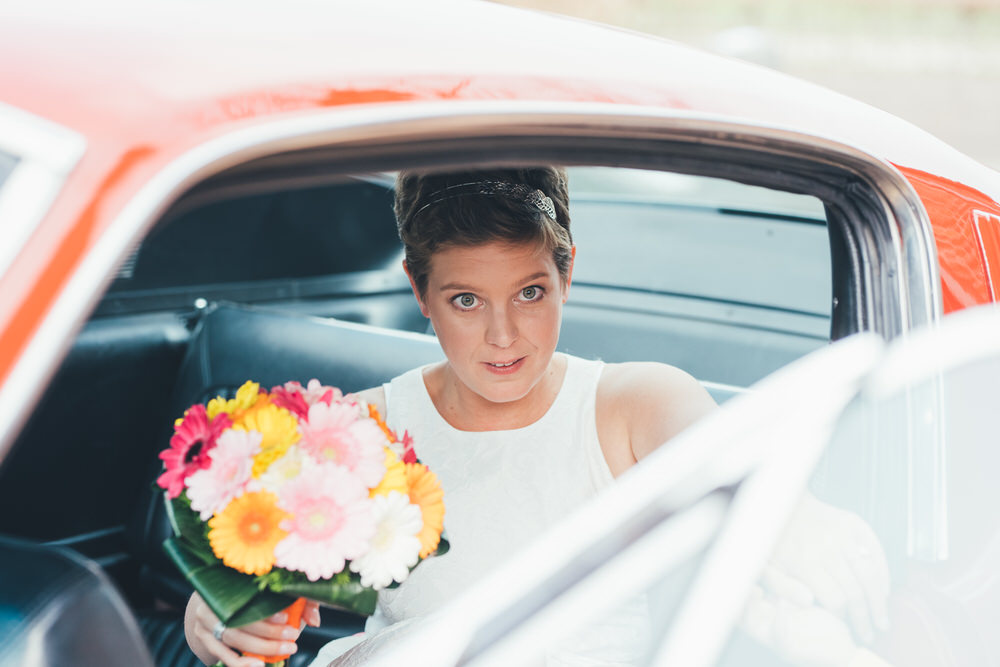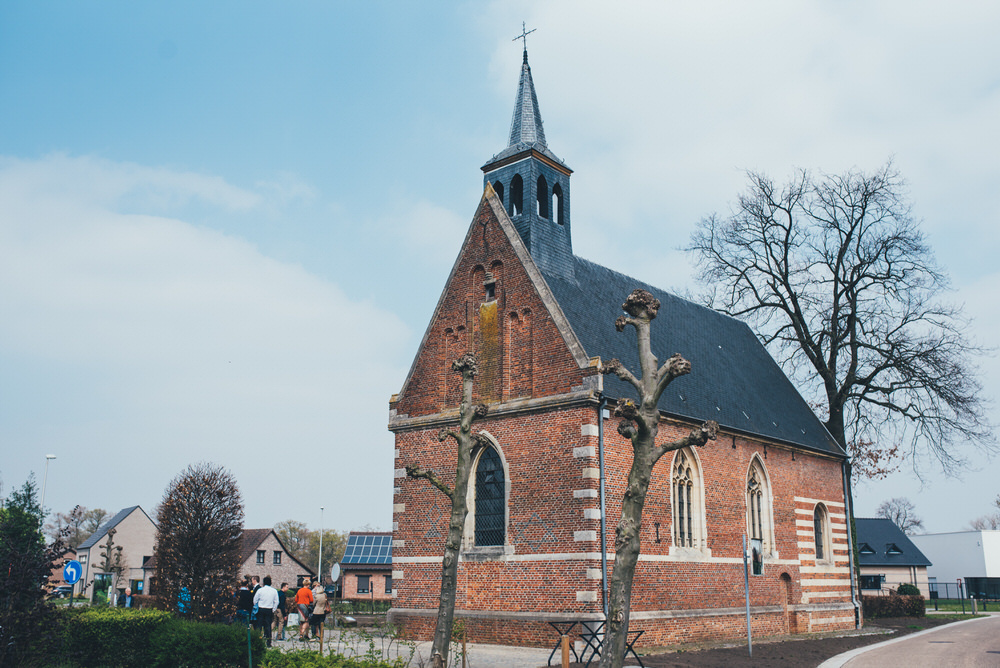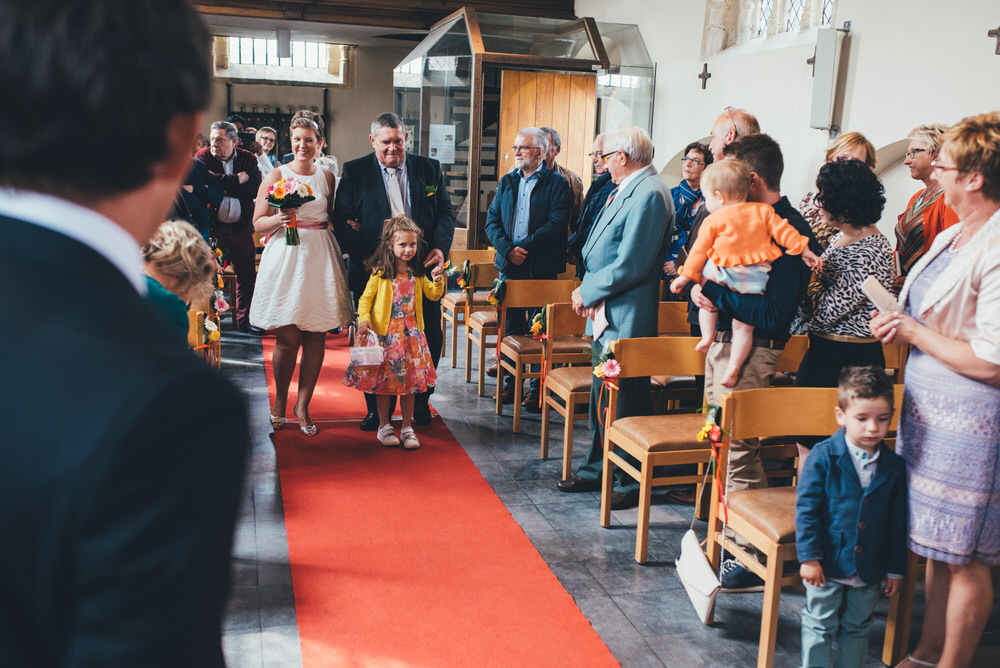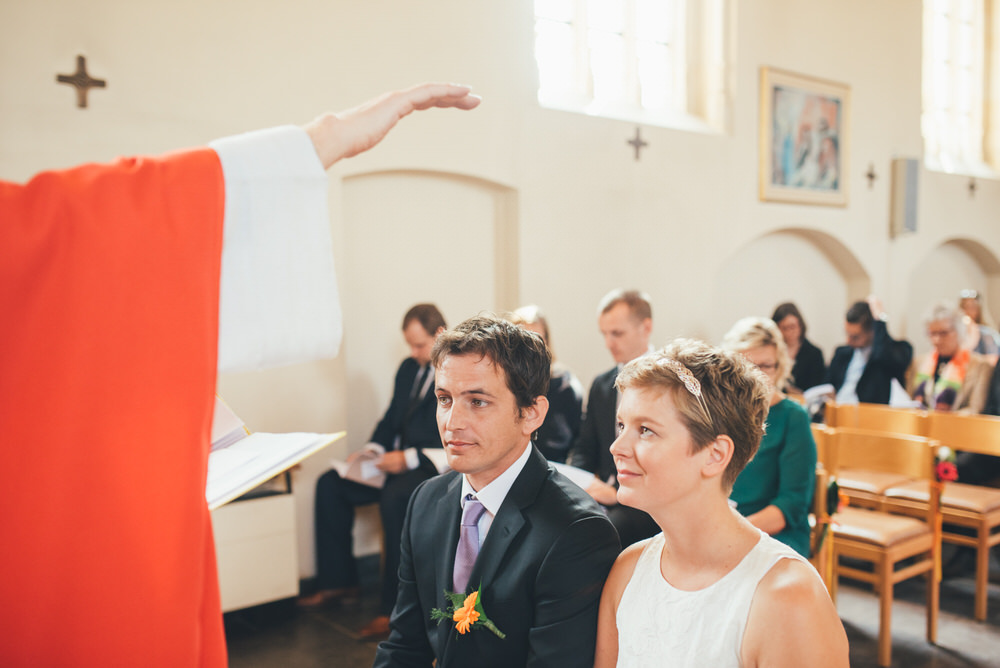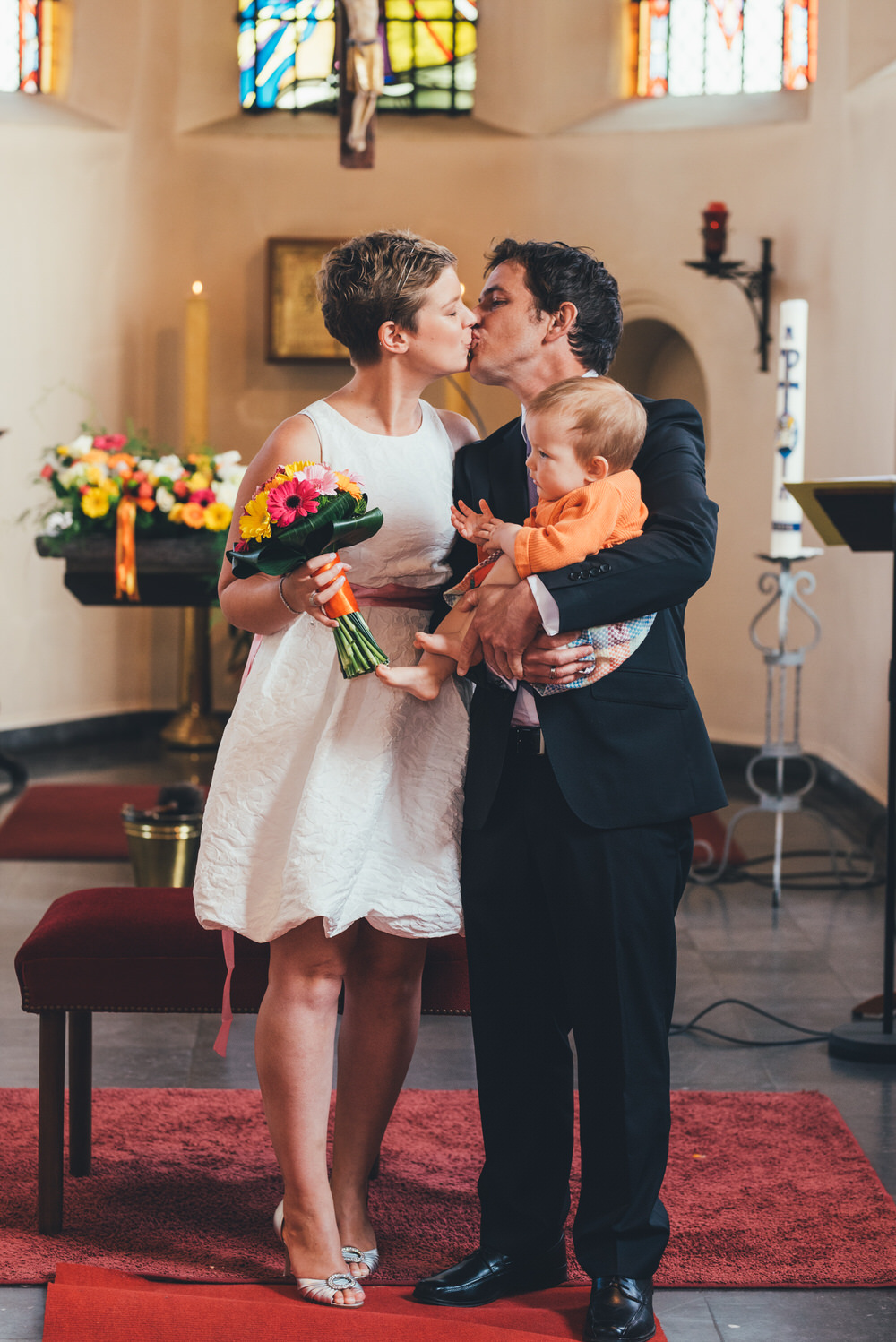 Tell us about your wedding gown?
"My wedding gown was actually a Christmas gift from Luke 3 years before we got married.
Around Christmas time 2014 we were doing our Christmas shopping. I tried on my wedding dress, but decided not to buy it because it was pricey and I wouldn't have many occasions wearing it. We went on buying another dress, but Luke went back and bought me the Carla Zampatti dress as a Christmas present. At the time of his proposal I hadn't had a chance to wear the dress yet, so I decided that this dress would become my wedding dress."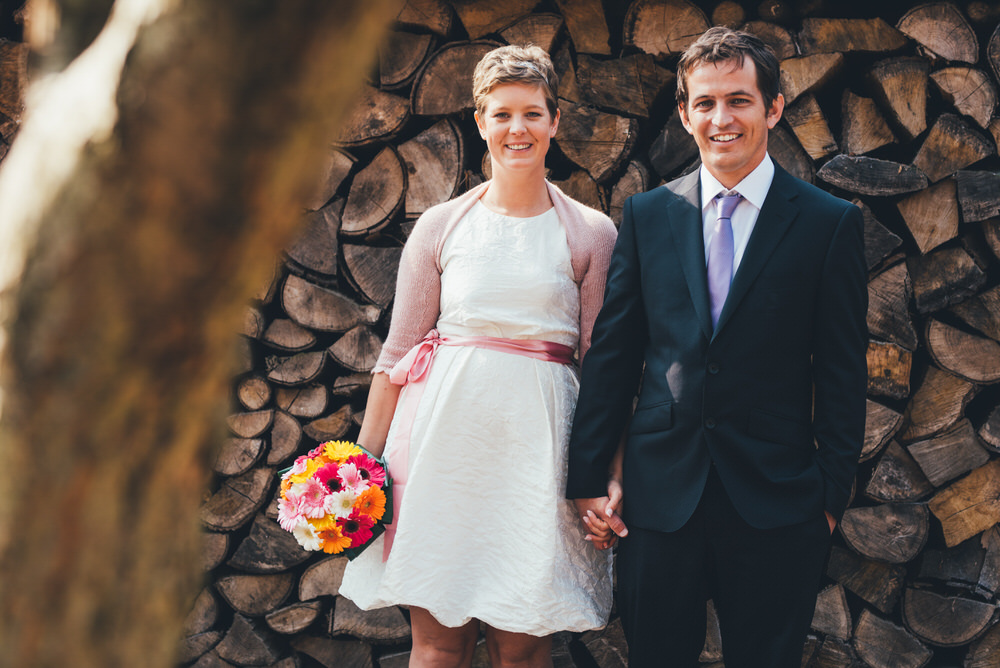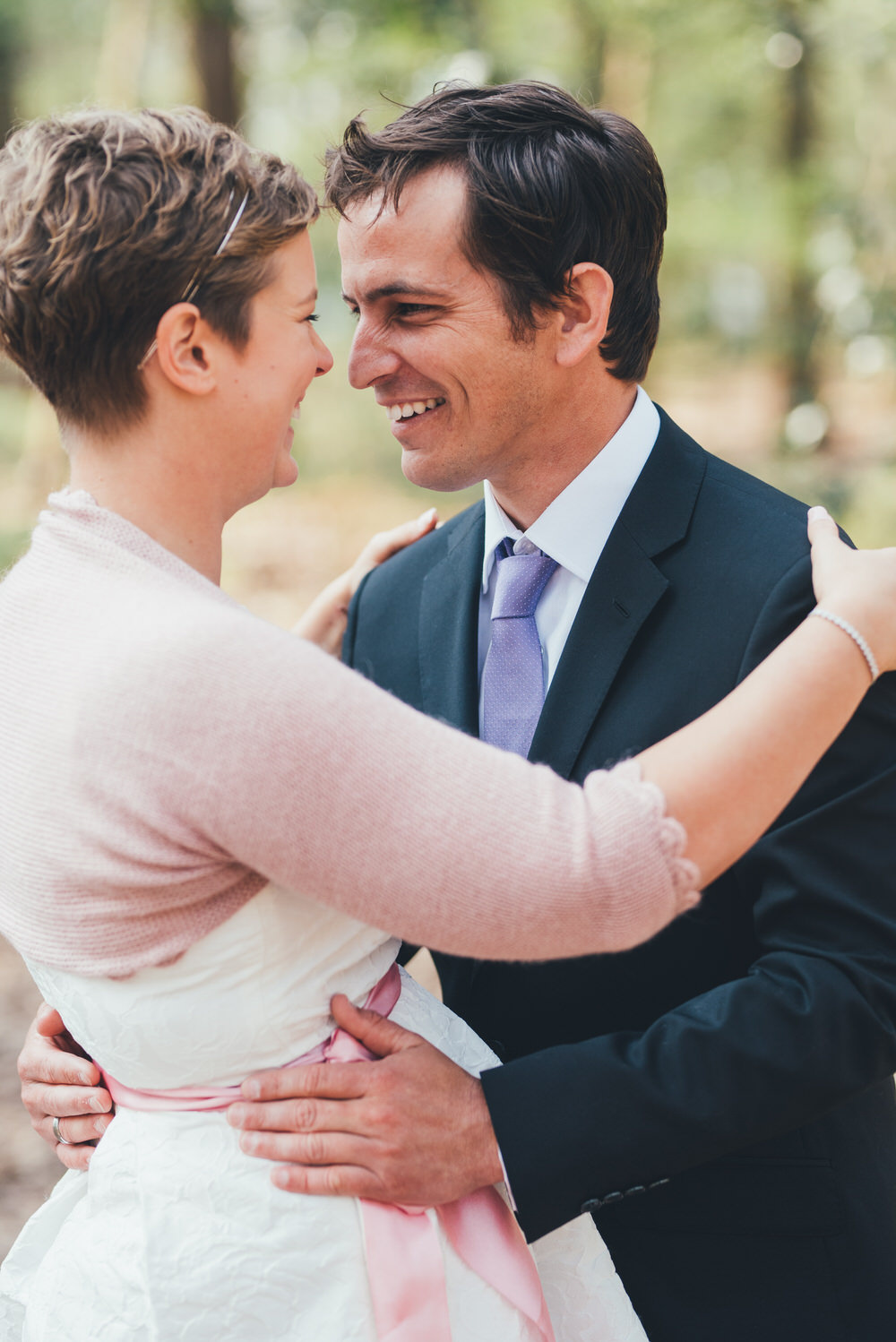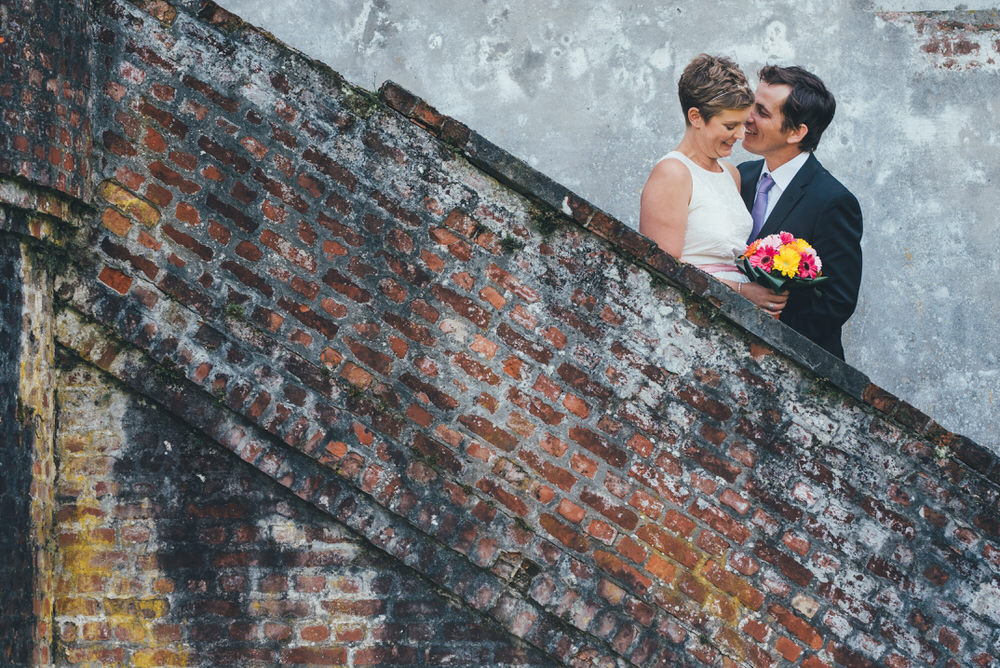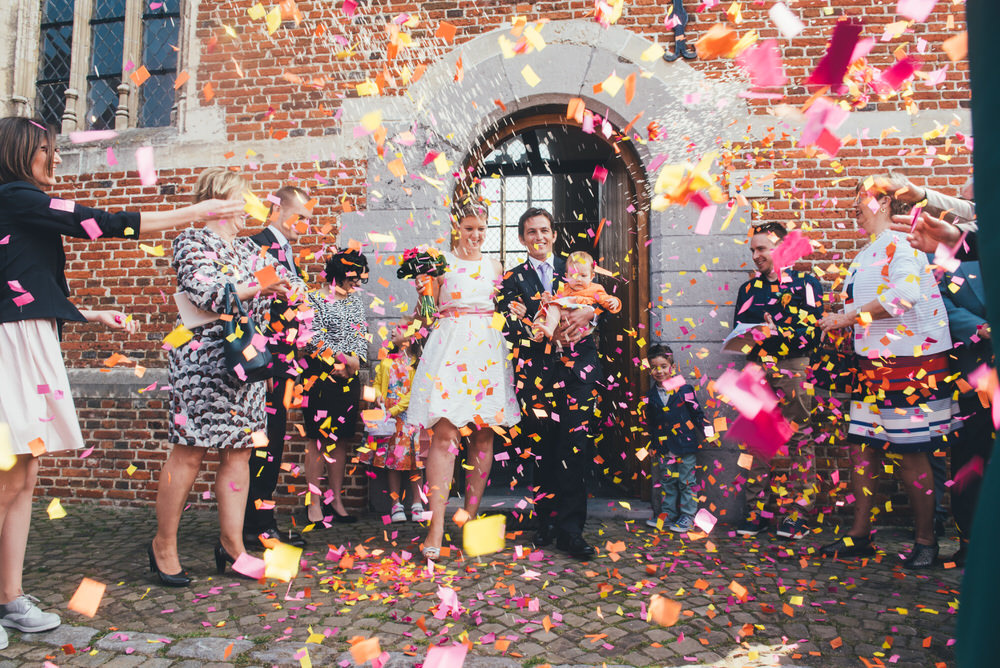 What was your favourite moment from the day?
We included our daughter Stella's baptism in the wedding ceremony. My favourite moment was seeing her in the cape that my grandmother made for my mum when she was baptised.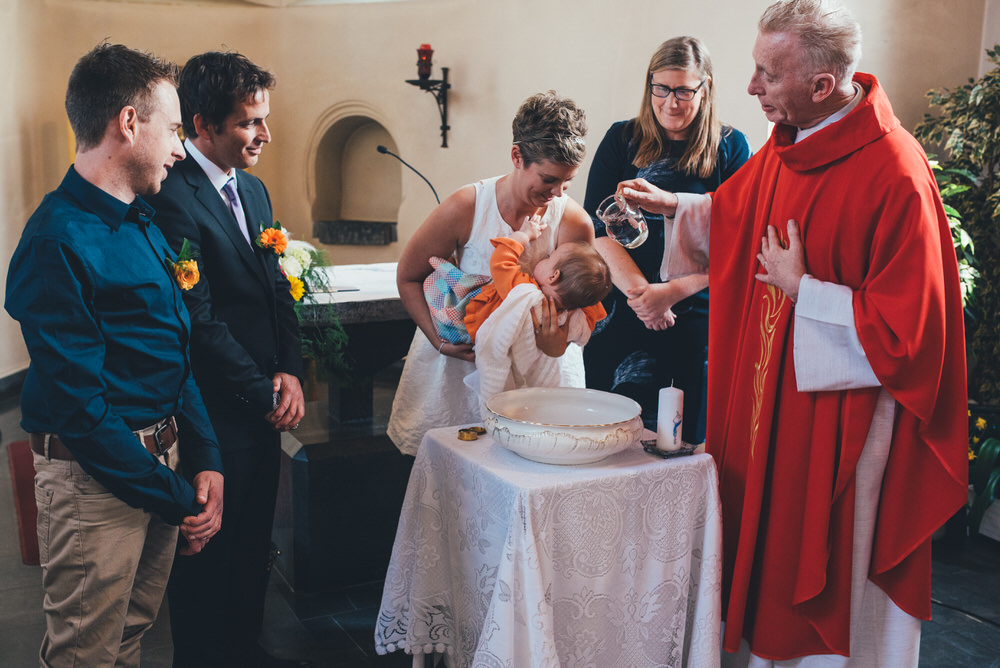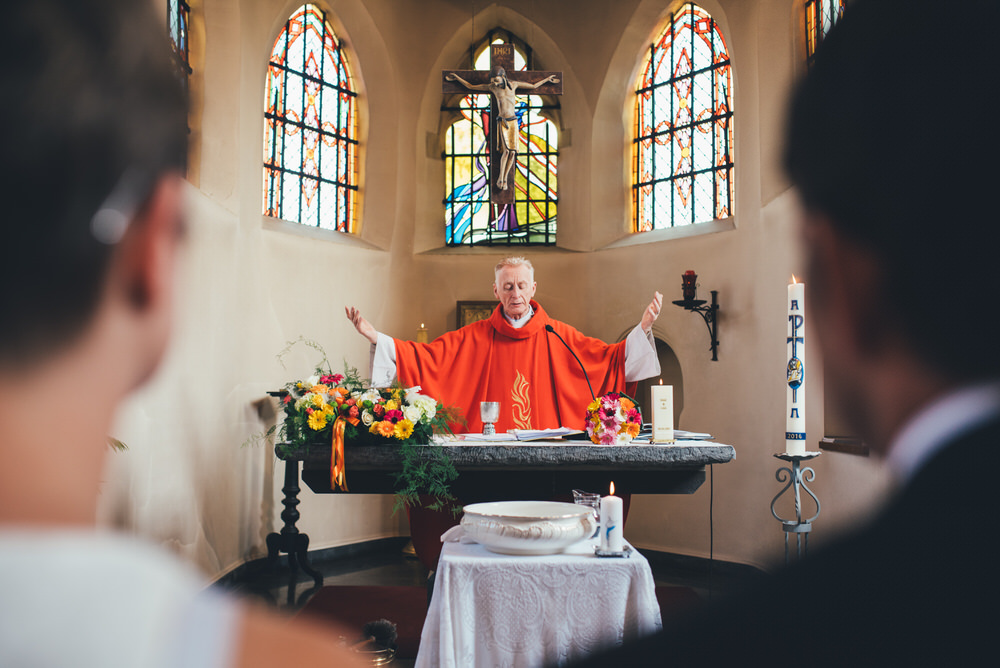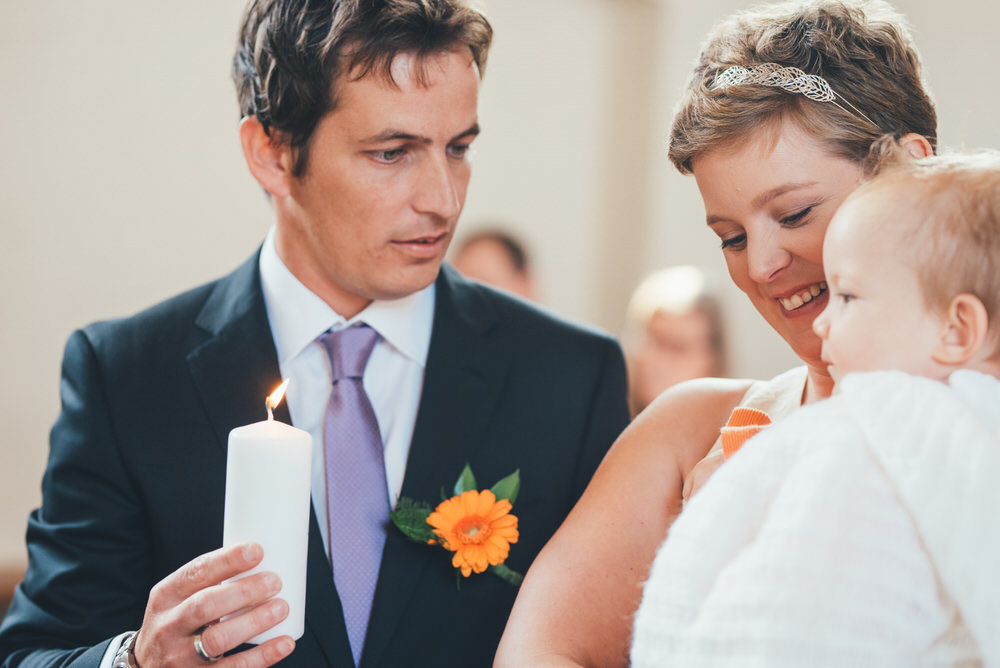 Any DIY décor elements?
"Instead of a traditional guest book, we enlarged a photo of our family (Luke, our daughter and me) on canvas and had people write a little message on this. The idea being that a traditional guestbook would rarely be looked at again, but the canvas photo is hanging in our living room and we can enjoy it every day"

"Little thank you presents for the guest. I bought little jam jars and filled them with corn for people to make pop-corn of. I attached a note to the jar saying "Thank you for popping by."

"The seating chart for the evening dinner"

"Bird cage for envelopes (we included a wishing well with our invitation)"

"At the entry of the evening venue, I put a frame with 2 half hearts. Each half of the heart was a map of the town where Luke and I grew up in."

"Flower arrangements and wedding bouquet were made by an aunt of mine"

"Table numbers: I used large jam jars filled with lollies. On the jam jar, I put the table numbers."

"I also wrote the entire Ceremony myself and made the booklet. Seeing the wedding was attended by both my family (Flemish) and my husband's family (English) I included the both languages in the booklet. (Hats off to the priest who fluently switched between Flemish and English sections)"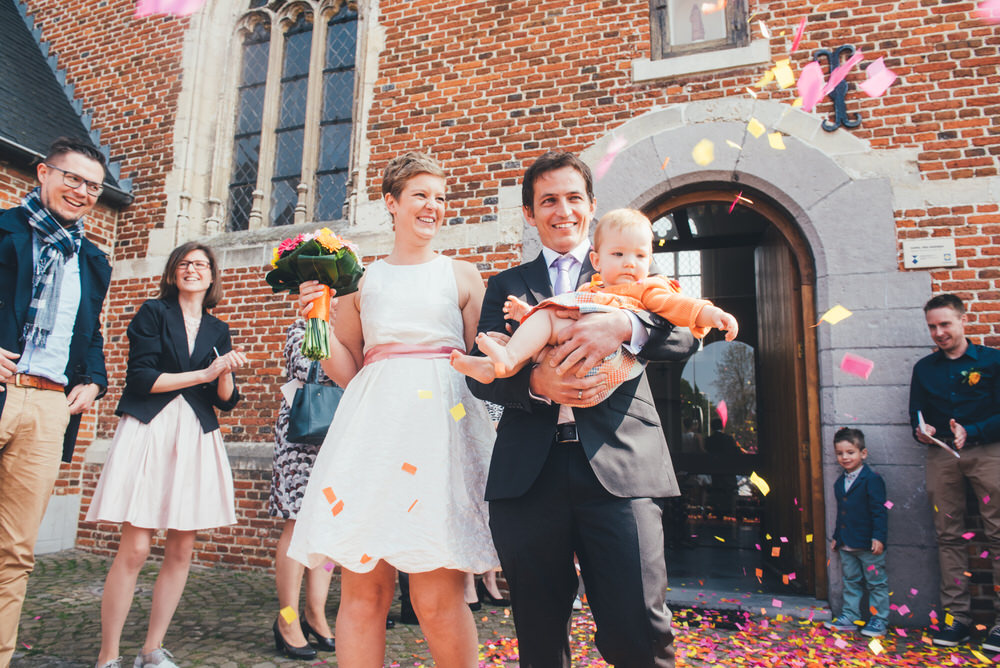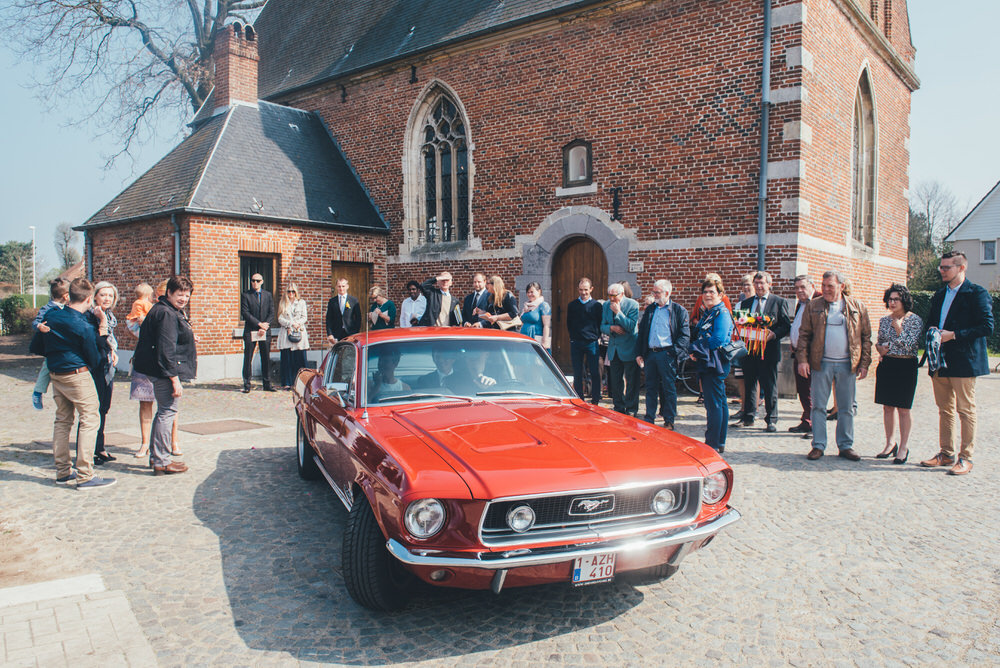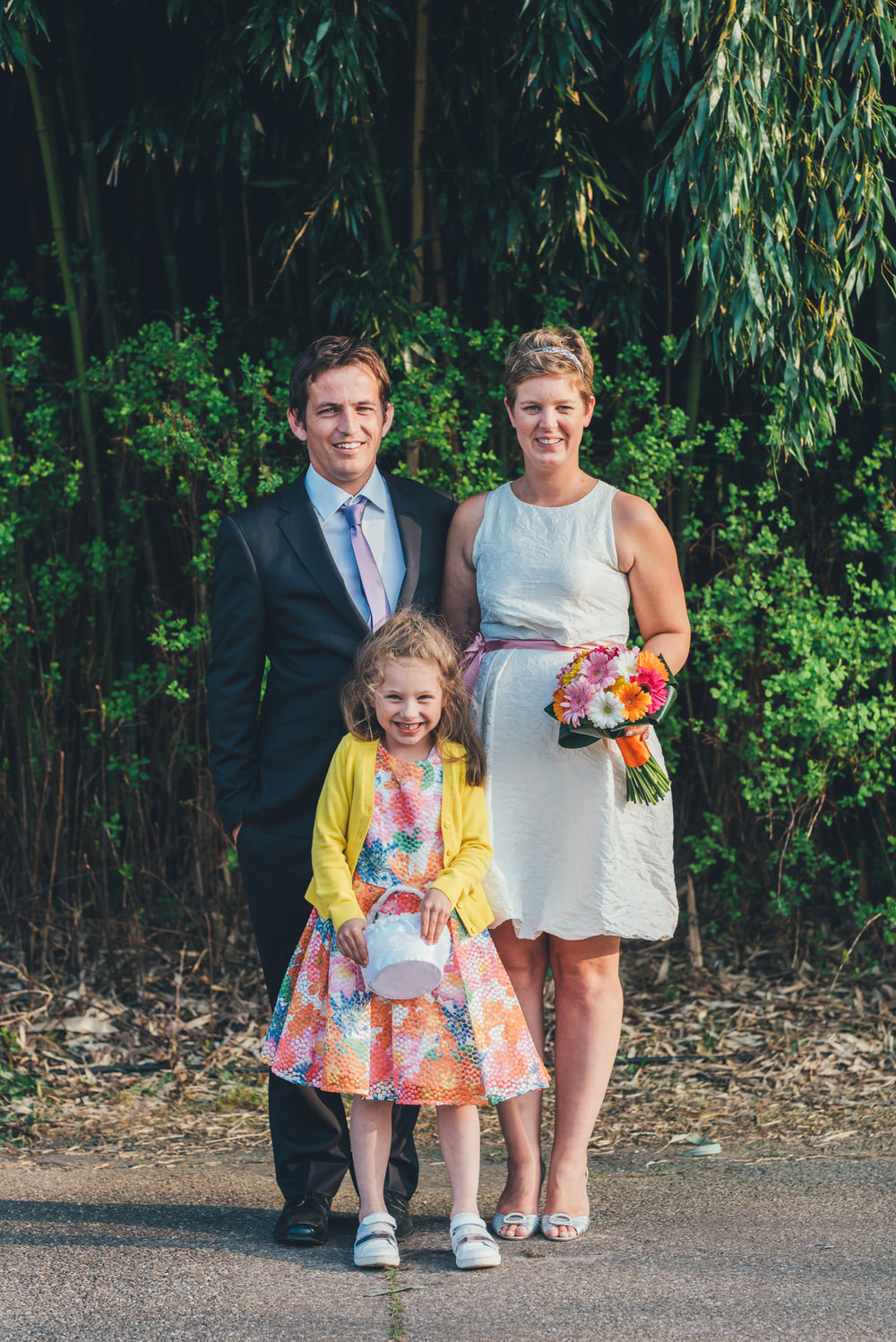 If you could do it all over again, what would you change?
"Honestly, nothing!"
Any tips that you can give to future brides?
"Delegate everything on the wedding day itself; ask bridesmaides, groomsmen or parents to look after a certain part of the day. Try to divide the day up between different people to keep it manageable for them.
Invest in a good photographer, it is the only memento of your wedding.
Ask advice to time the different parts of the day. Get a clear idea of how long the make-up/hair, ceremony, photos, etc will take so you can make a flowing day planning.
Sitting down during the ceremony (you'll be on your feet (bride in heels!!) most of the day)"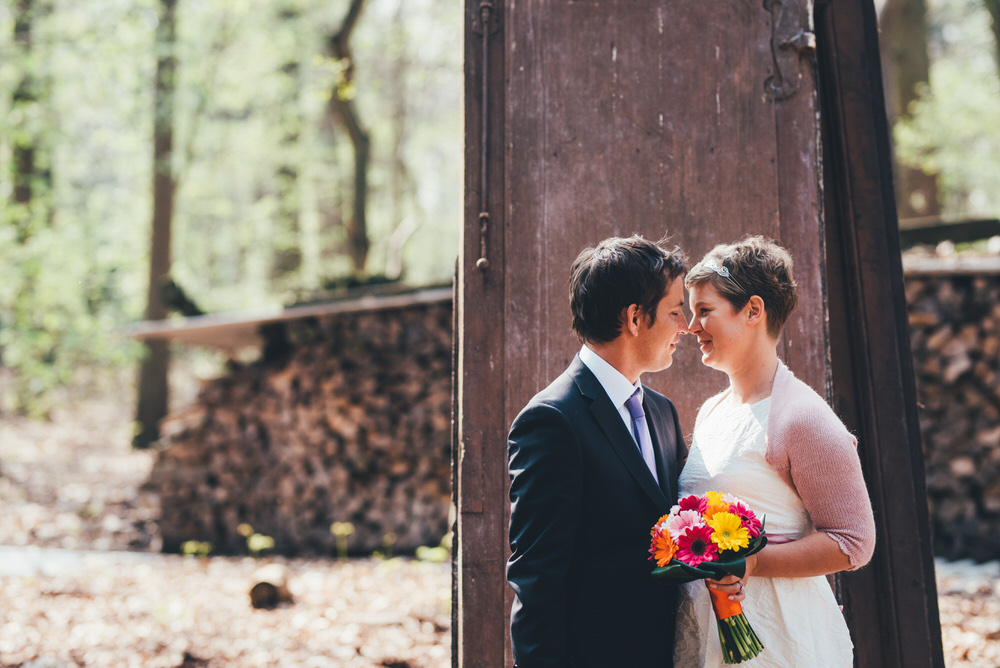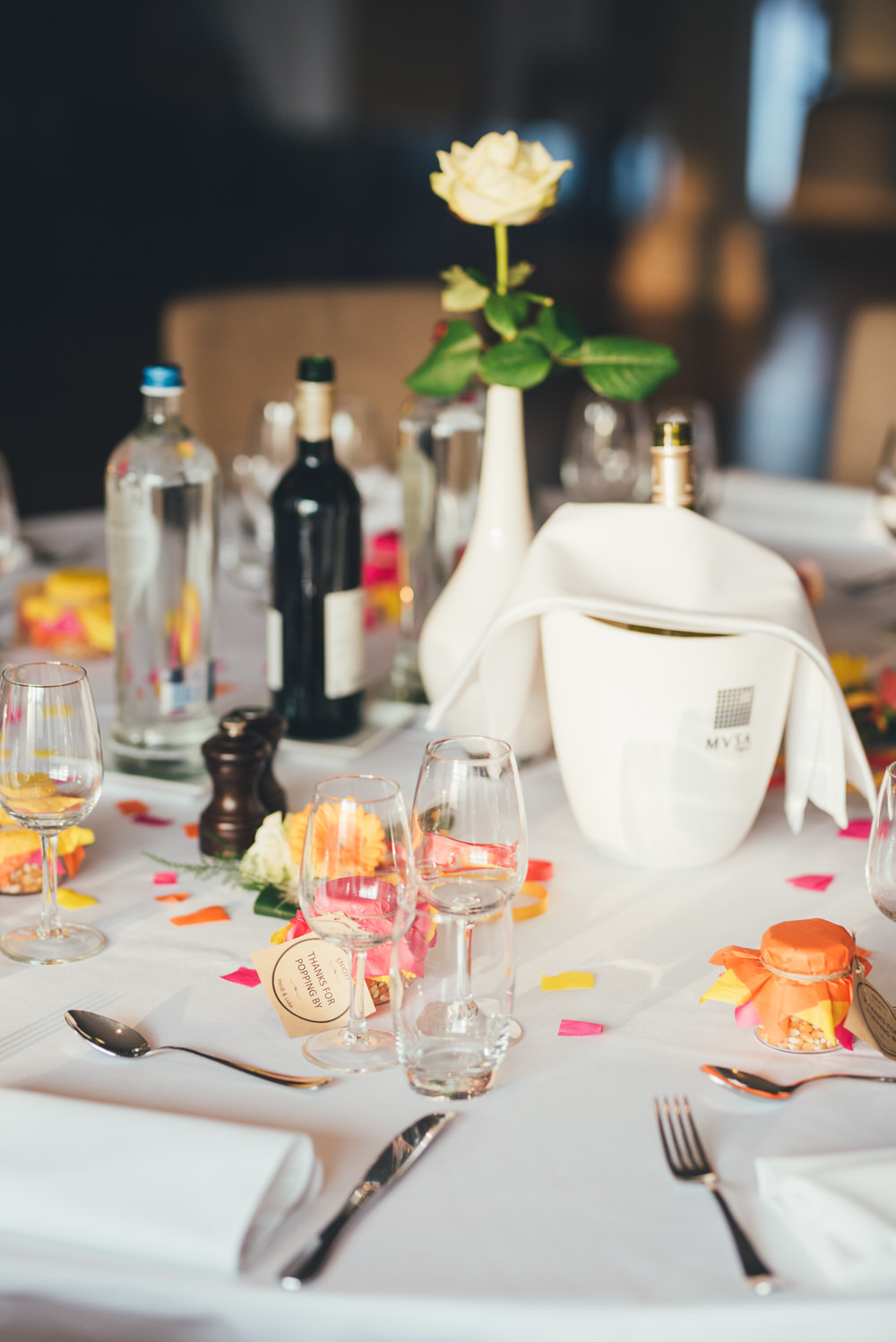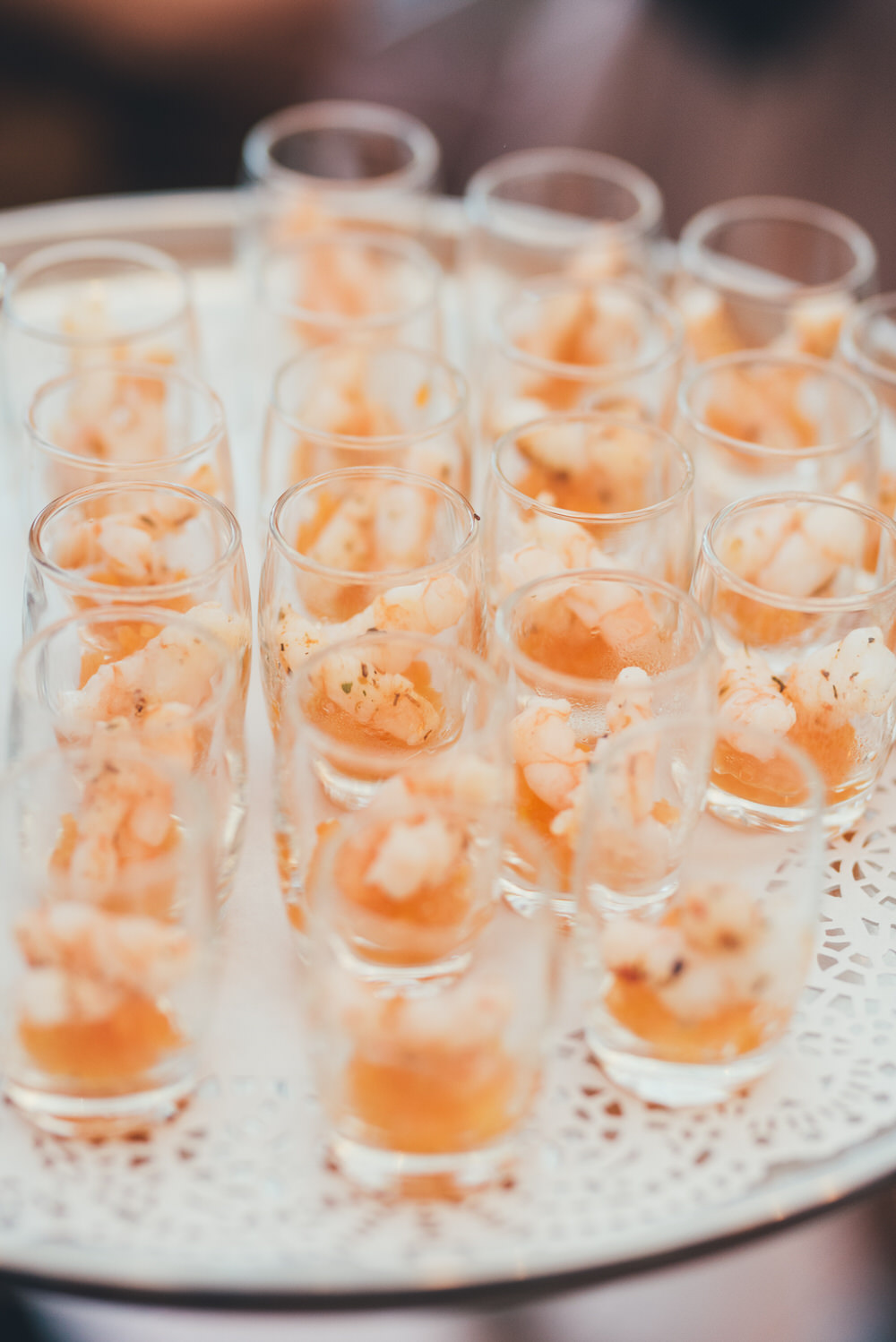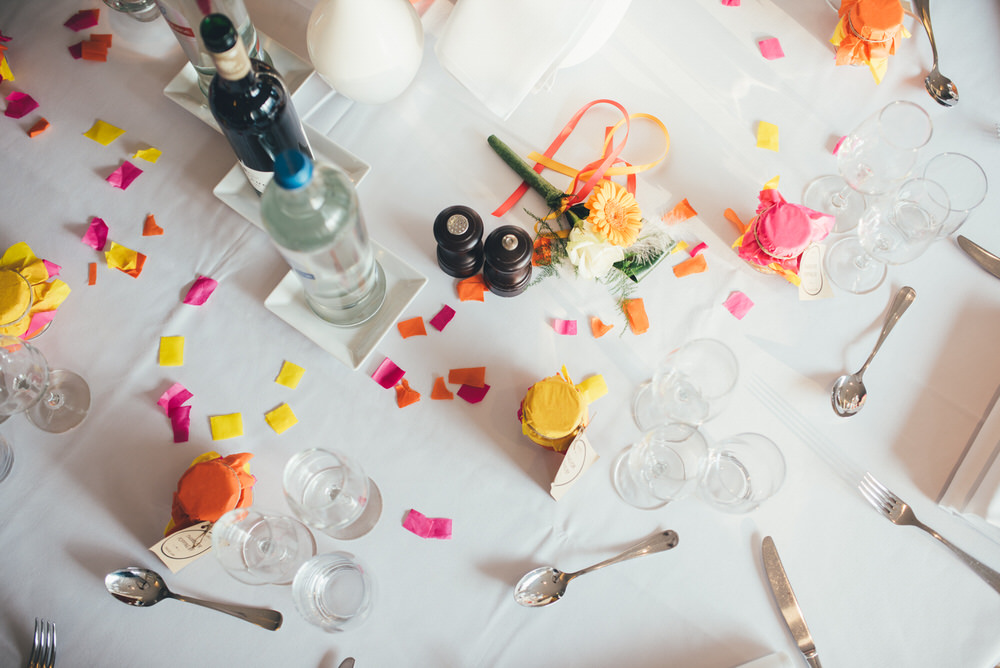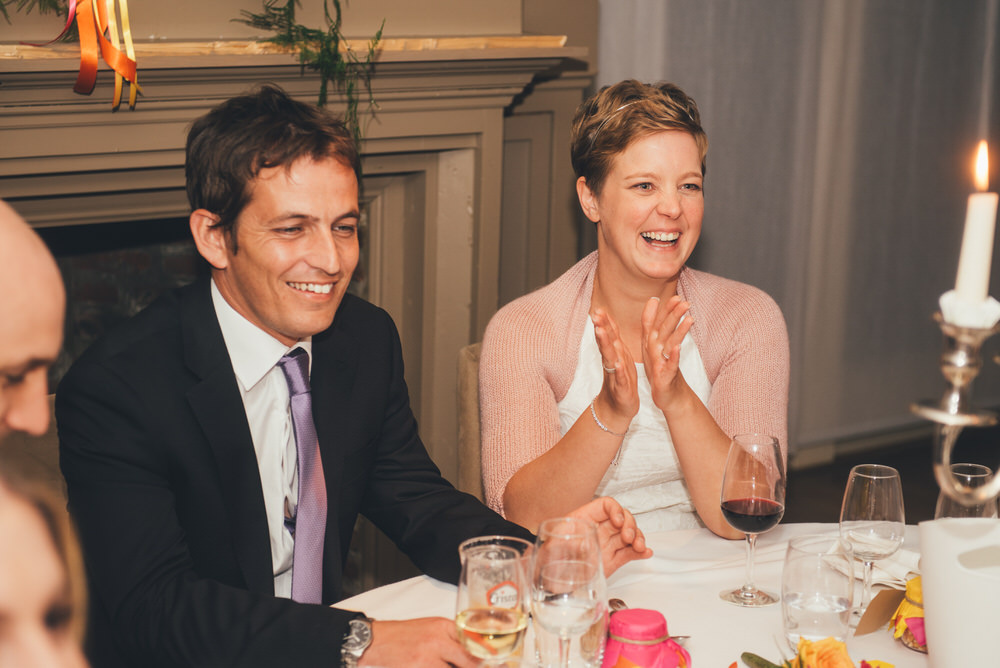 "I have to add the amazing surprise we had when arriving at our photo location/wedding night location. I booked to have our wedding night in a castle (Ter dolen, Helchteren, Belgium) where I used to work during my University days (The castle has a bed & breakfast, brewery and pub attached to it. I booked it early 2015 because our original wedding date was 24 September 2016. Due to medical reason, we had to postpone our wedding to 2017, so I notified the B&B owner. Arriving at the castle in the afternoon of 08/04/2017, the owner told me they actually stopped running the B&B from the castle and she moved into the castle with her family. But because we made reservations so long ago and because she still knew me from working there, she was staying elsewhere for the night and Luke and I had the entire castle to ourselves (including the family dog)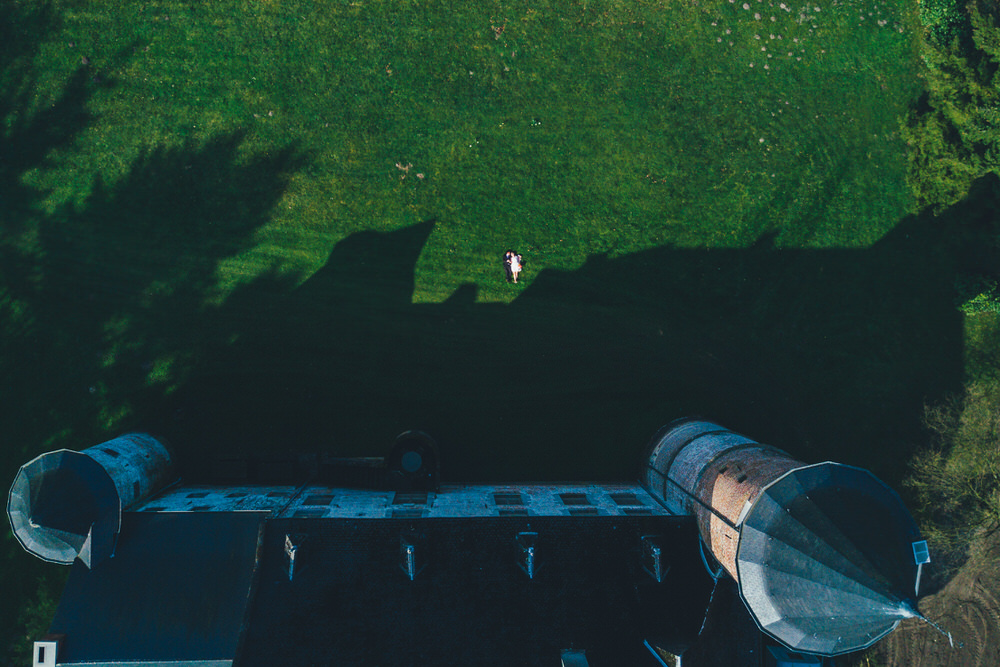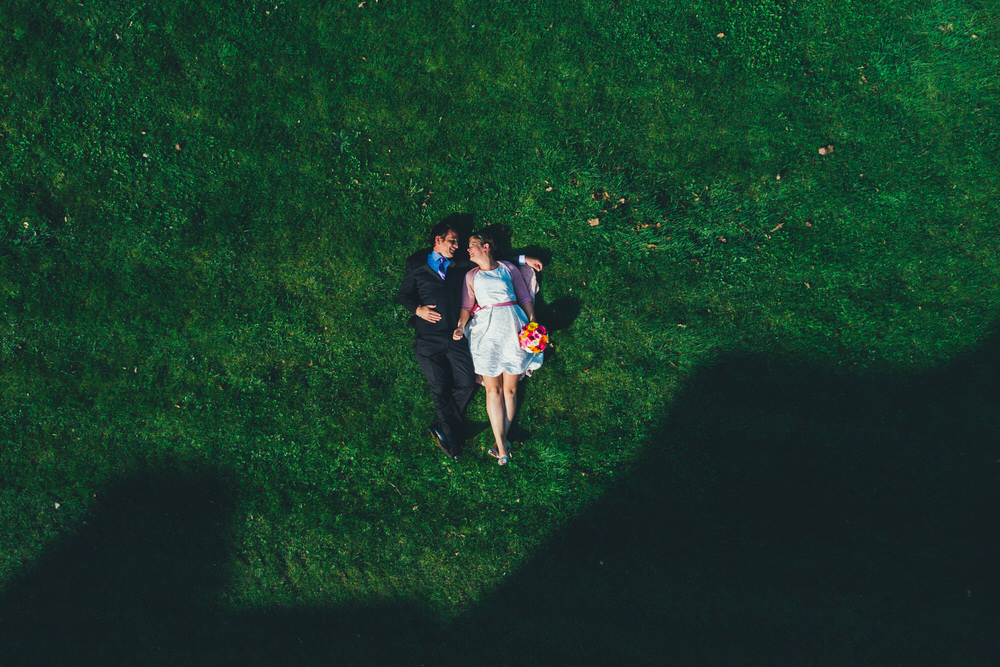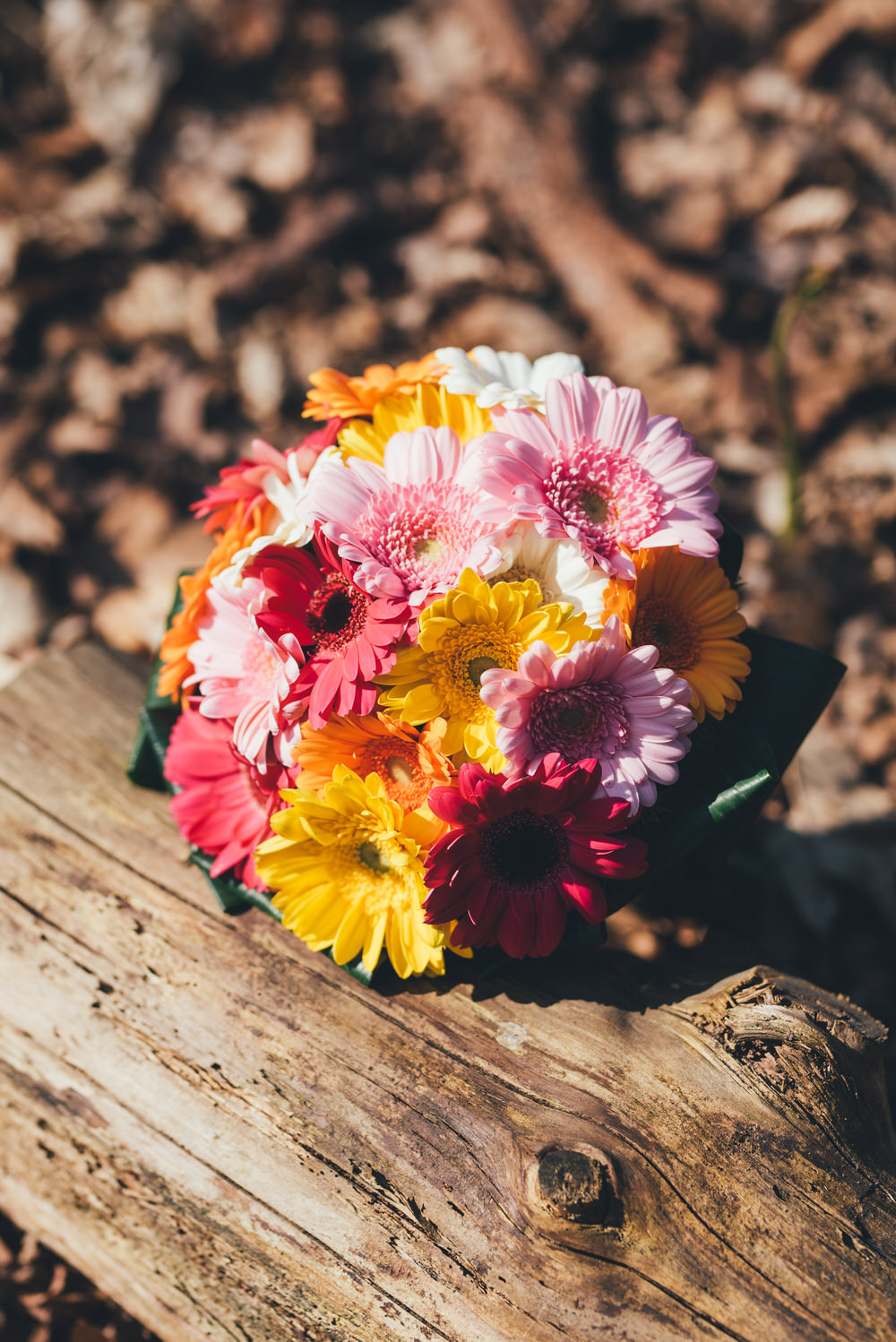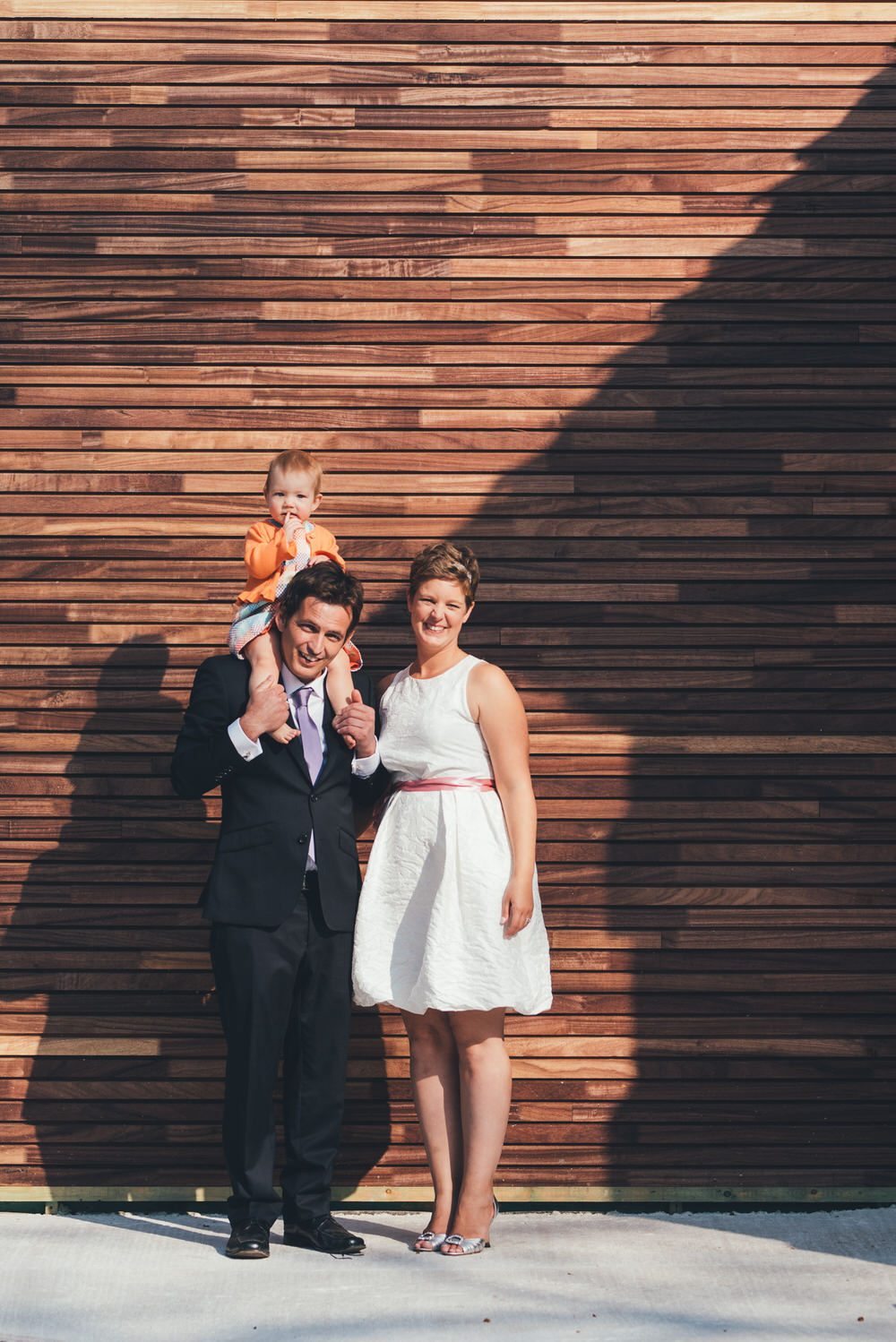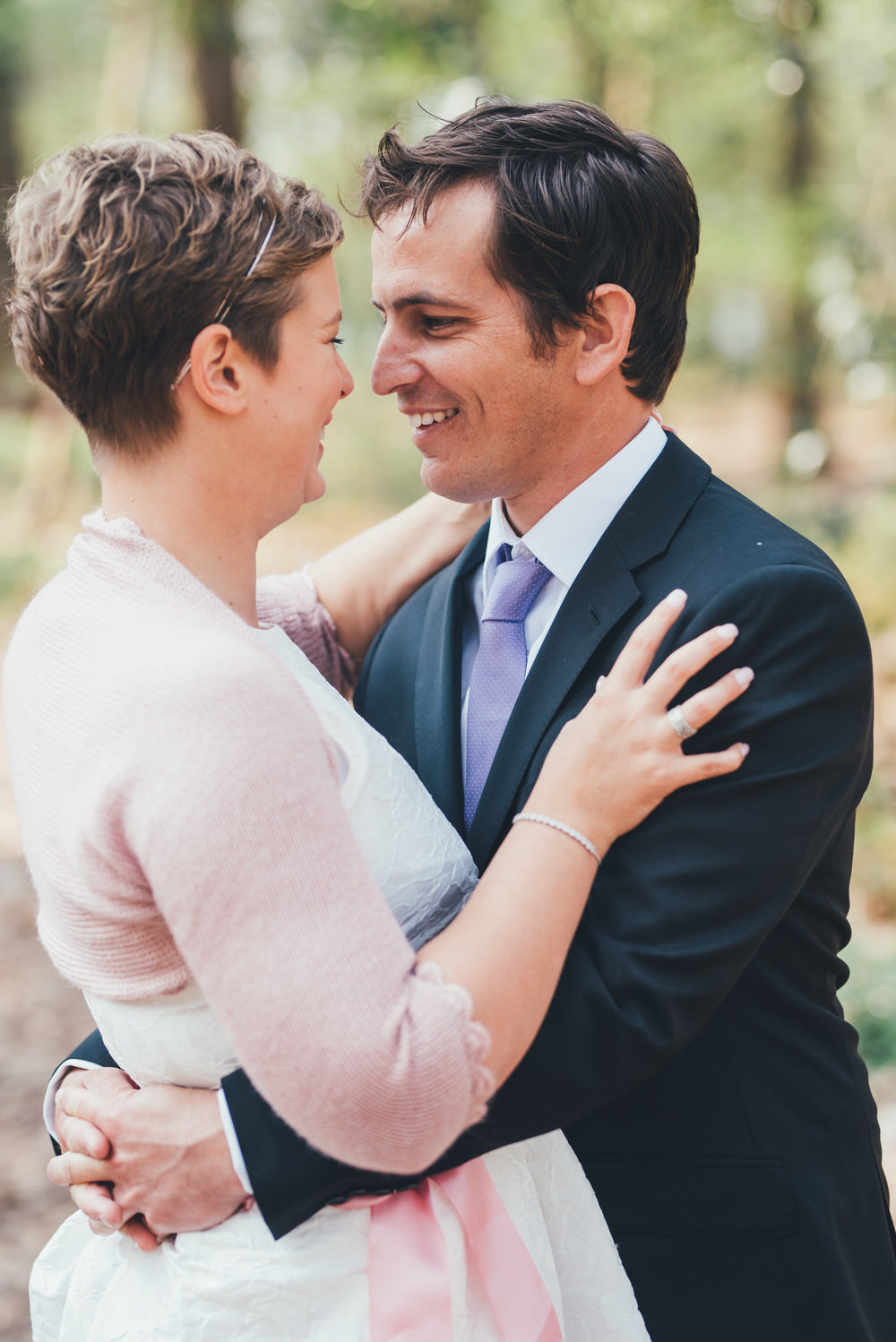 Dress: Carla Zampatti
Makeup & Hair: Café Beauté (Hasselt, Belgium)
Shoes: Manolo Blahnik
Accessories: Miracles by Annelien Coorevits
Jewellery: Love On Jewellery
Grooms Suit: Peter Jackson
Invitations: Adorn Invitations
Photographer: Dieter Decuypere (Speaking through Silence)
On the day stationery: BWedding Invitations
Food: Dennenhof (Genk, Belgium)
Flowers: Provided by family member
Ceremony Venue: Chapel Ten Eikenen (Zonhoven Belgium)
Reception Venue: Dennenhof (Genk, Belgium)
Car: Dreamday Cars (Koersel, Belgium)
DJ: Kurt's DJ team (Hoeselt, Belgium)
Wedding rings: B &S Lyncris Jewellers
Want more real wedding inspo? Take a look at 1940's Vintage Wedding in Hebden Bridge