With a chance 21st-century meeting, Nicholas & Christopher's love story and spring wedding day is an enchanting tale that had to be shared. Their heartfelt, romantic and intimate day was set amongst not one but two stunning venues amidst the Scottish Highlands. They chose a historic setting, Cathedral Church of St Andrew for saying their 'I dos' and a majestic venue, Ness Walk Hotel for their fun-filled and very Scottish celebrations. It's a day filled with ethical elements, personalised touches and hand-crafted styling. Here we catch up with Nicholas who tells us all, from their first meet to their collective first dance together as Mr and Mr…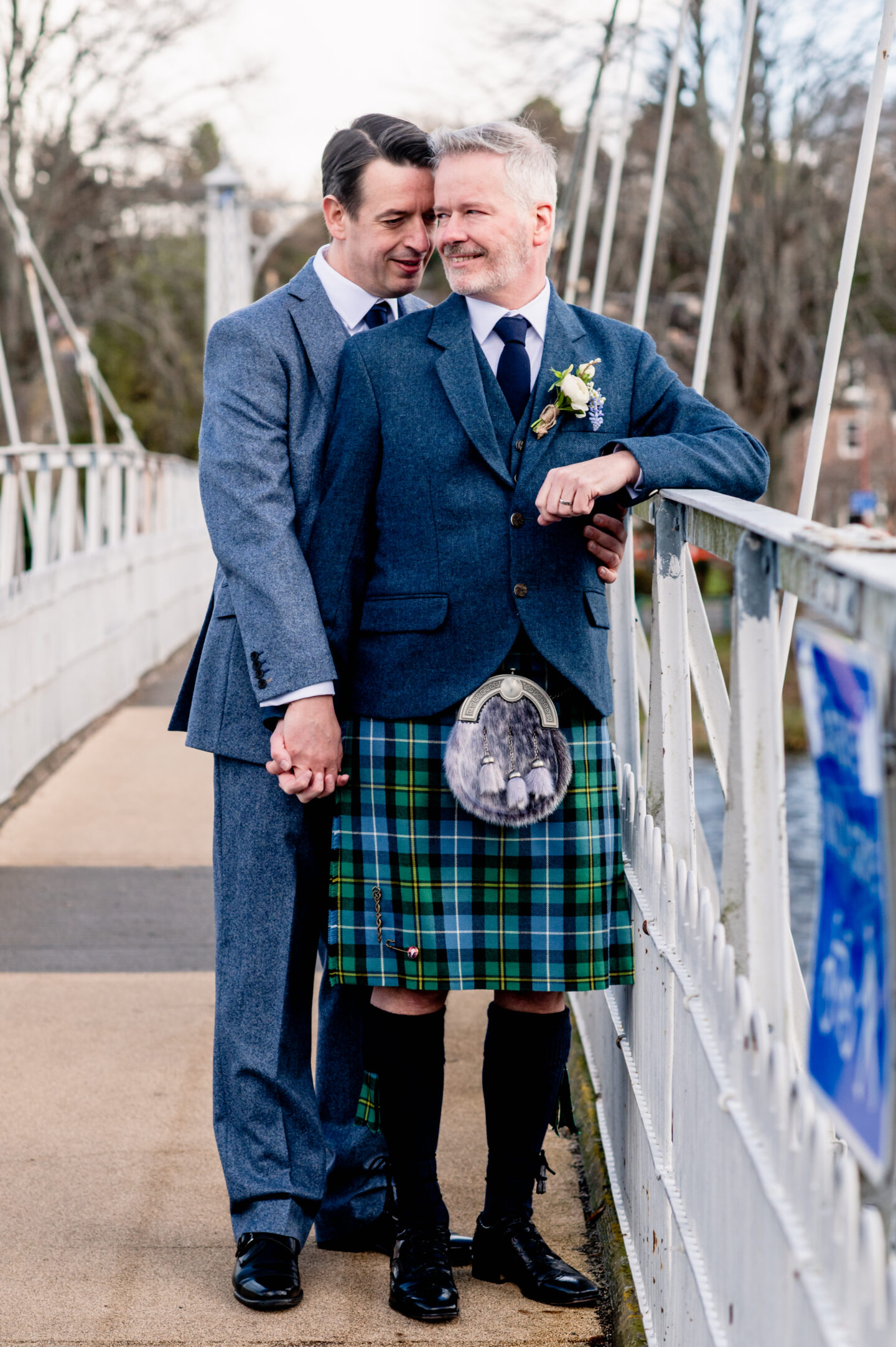 How did you and Chris meet?
"My mother and I were staying with my brother and his family in a Scottish town called Forres. We had travelled up from Wiltshire. I was single and on a dating app and logged on not expecting to meet anyone as I was travelling back in a few days. Chris said hello and we started chatting. He lived a few streets away but had to go and take his parents shopping. The following day we both logged on again and decided to go for a drink. We went to a tiny old pub in Findhorn Bay. As he dropped me back that evening he asked me out for breakfast the following morning as I was flying back in the afternoon. By the time breakfast was over I'd invited him to come and stay with me in the Cotswolds which he did in February… and the rest is history."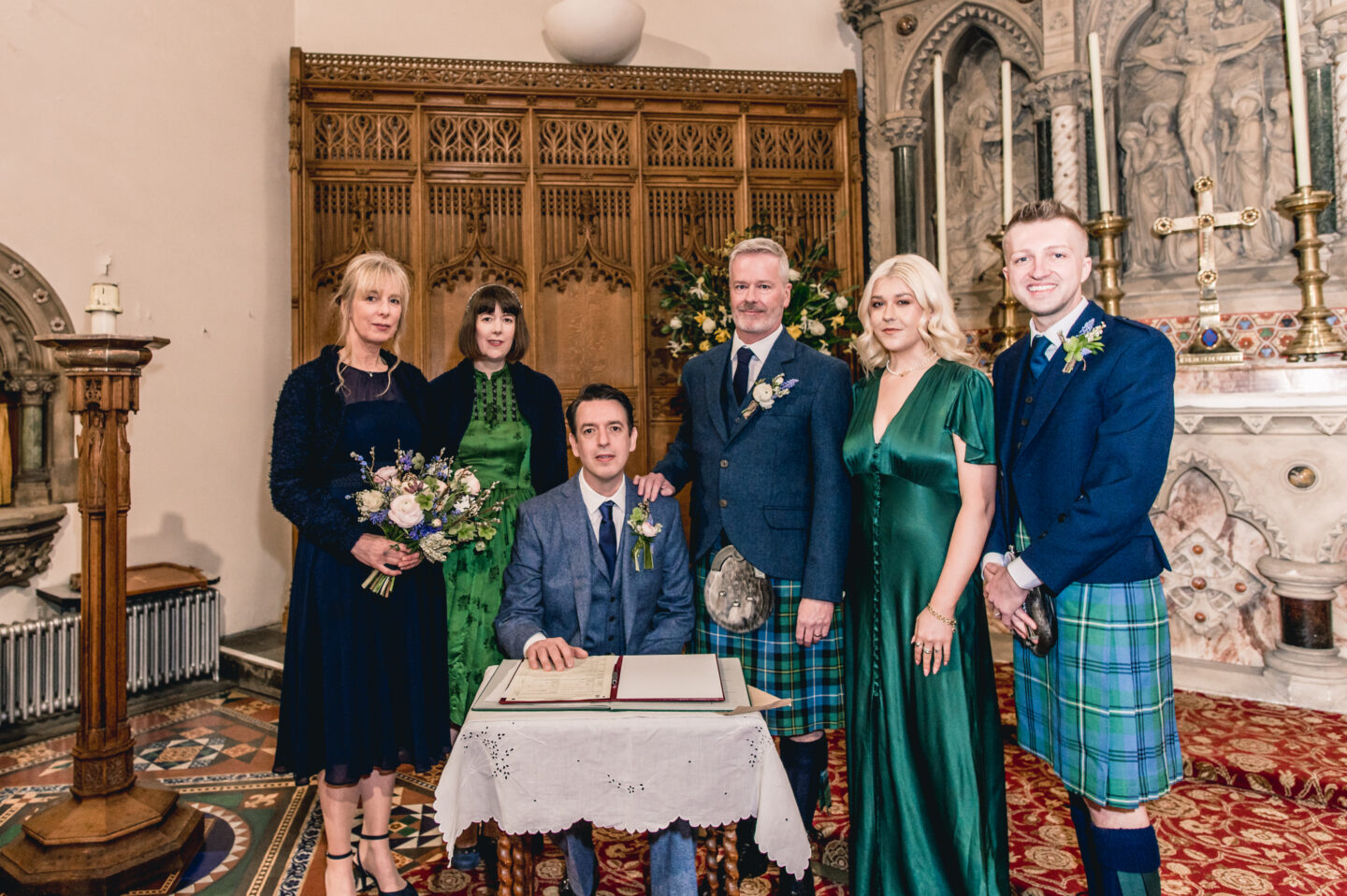 The Proposal
"There is an old Victorian cast iron bridge across the river Ness near the Cathedral. He stopped us halfway across and got on one knee while a lot of tourists looked on."
Planning The Wedding
"The colour scheme came from Chris' family tartan the Ancient MacNeill of Barra which is a beautiful strong blend of blues and green. The dresses for the rest of the wedding party were a blend of new and vintage but sourced to reflect the style of the wearer and be something they would wear again. We worked with the florist to create a looser, lighter contrast with the flowers in pale pinks and creams and lots of locally foraged greenery. This contrasted with the masculine colours of the tartan. As I am a professional handweaver, textiles were always going to play a strong part in the design."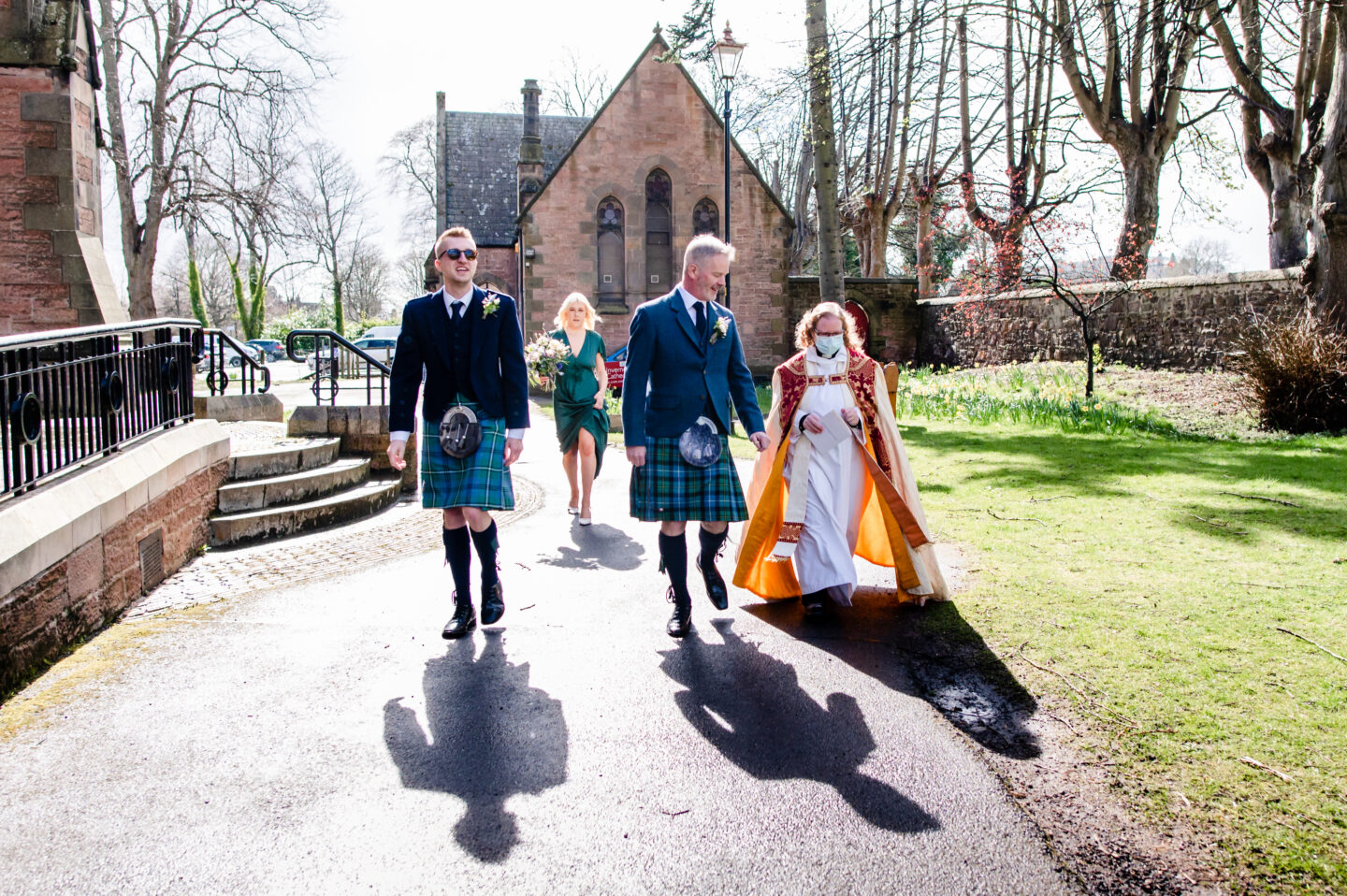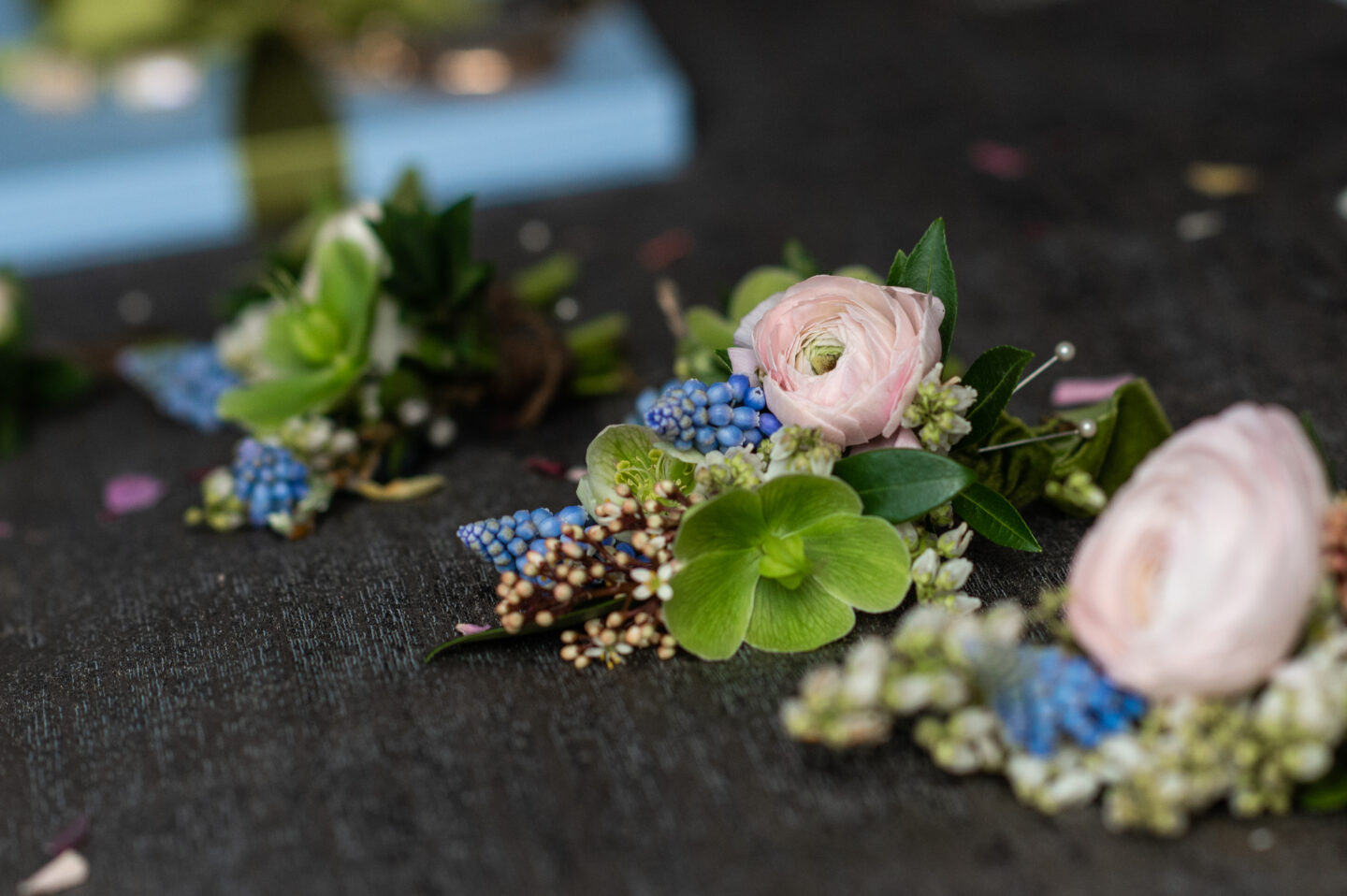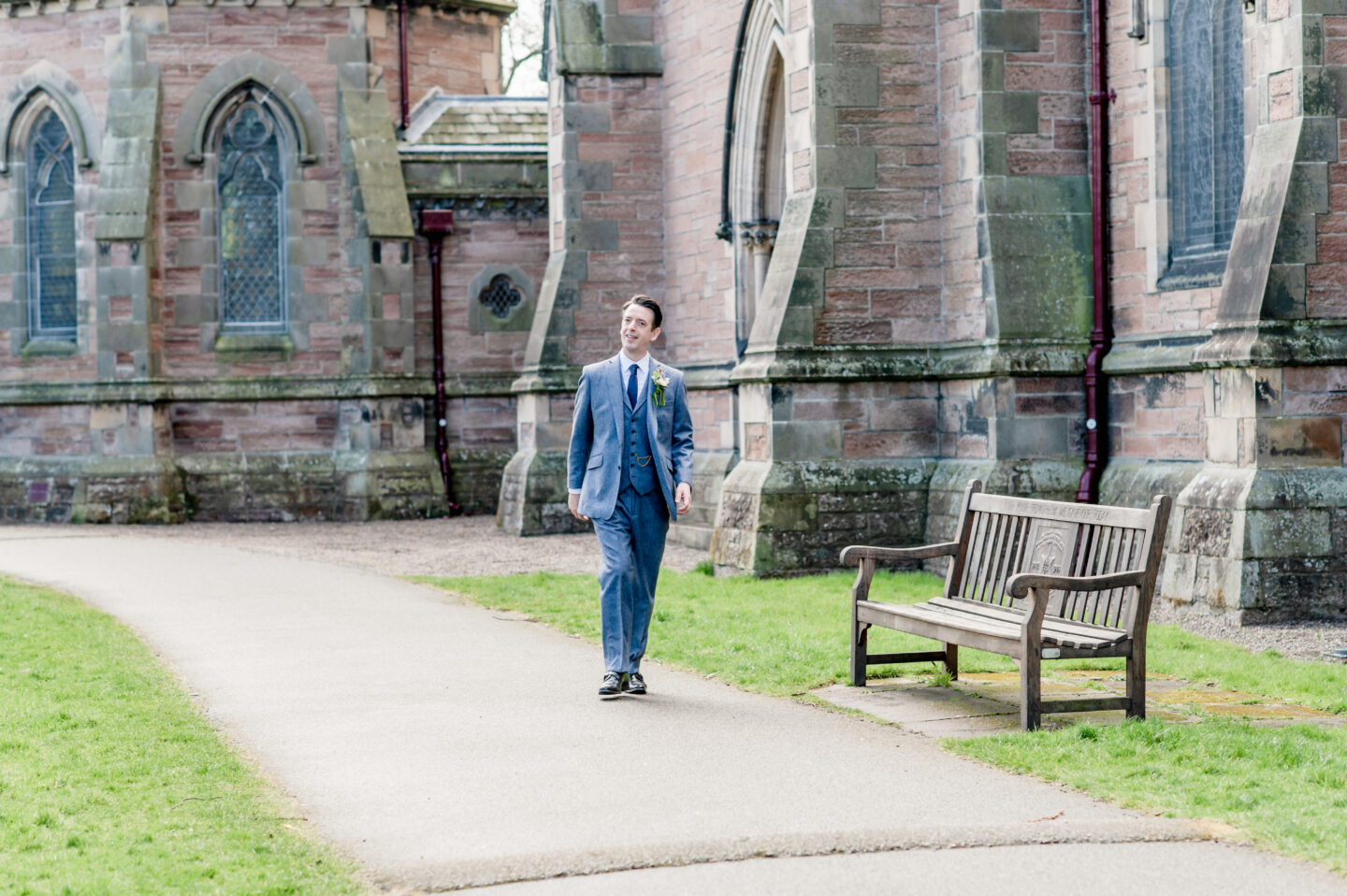 The Ceremony
"The Cathedral is a beautiful Gothic Revival building on the bank of the river near to where Chris proposed. During the early years of our dating, he lived in a flat around the corner so the Cathedral was very much on our landscape but we never imagined being able to get married there. When we started planning we realised the Scottish Episcopal Church welcomed gay couples to marry in the church and, in Inverness that meant the Cathedral. It was a very beautiful setting and yet a very intimate service despite the high vaulted spaces. The ladies of the Cathedral decorated the space simply with pale flowers and lots of greenery as our wedding fell within Lent."
Suits
"I found the tailor King & Allen online as I saw they specialised in many same-sex marriages and I wanted to support them with my custom due to that. I had several fittings with Joe at the Liverpool Street branch where I chose a lightweight Donegal tweed in a mid-blue marl weave with a caramel lining and waistcoat back. I wanted something that I could wear both as a suit and separates for years to come. Shirts and ties for us both came from Hawkes & Curtis (we changed shirts for the evening dancing) and Chris wore his Kilt and Jacket. Shoes from Jones the Bootmaker."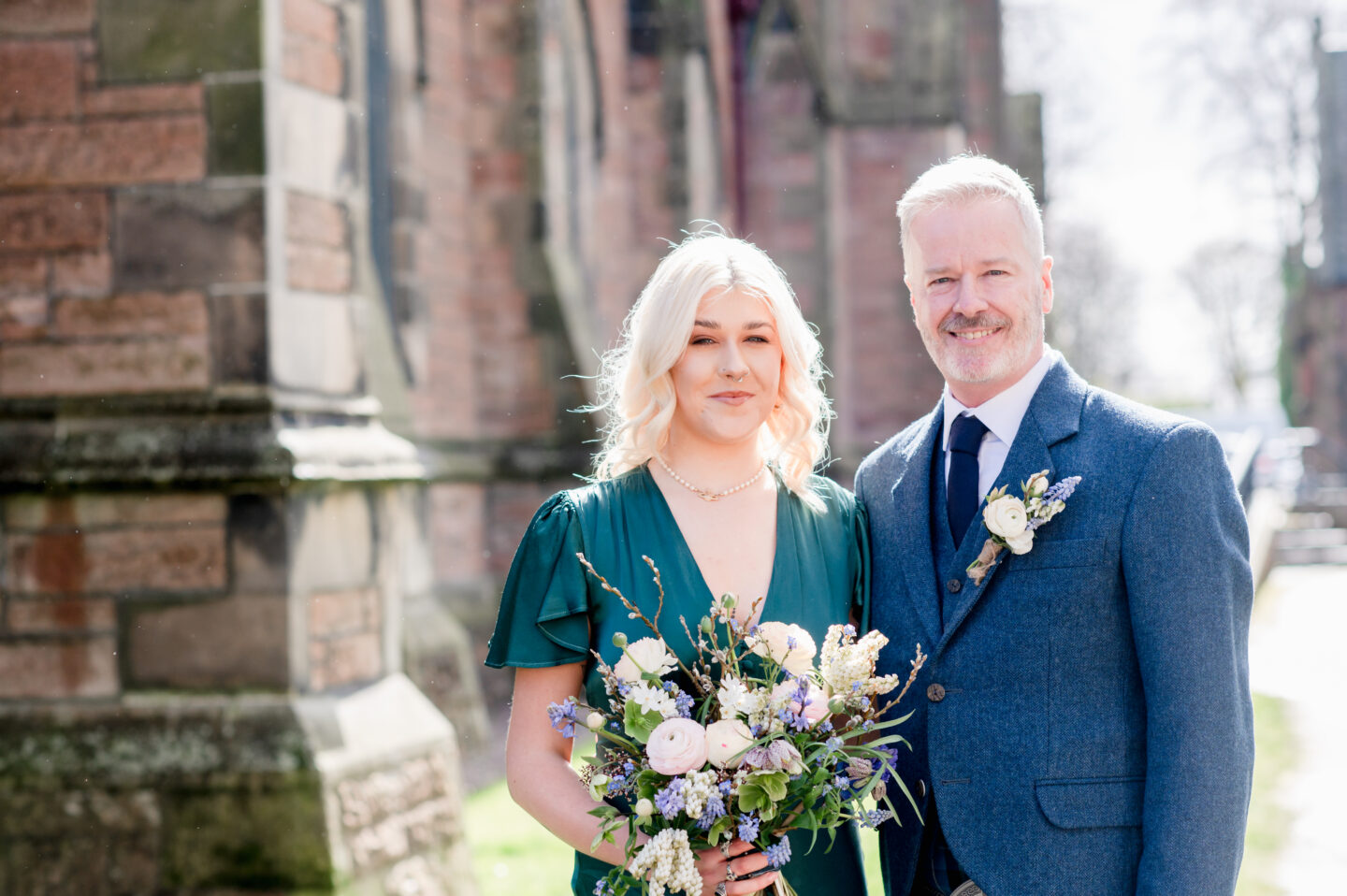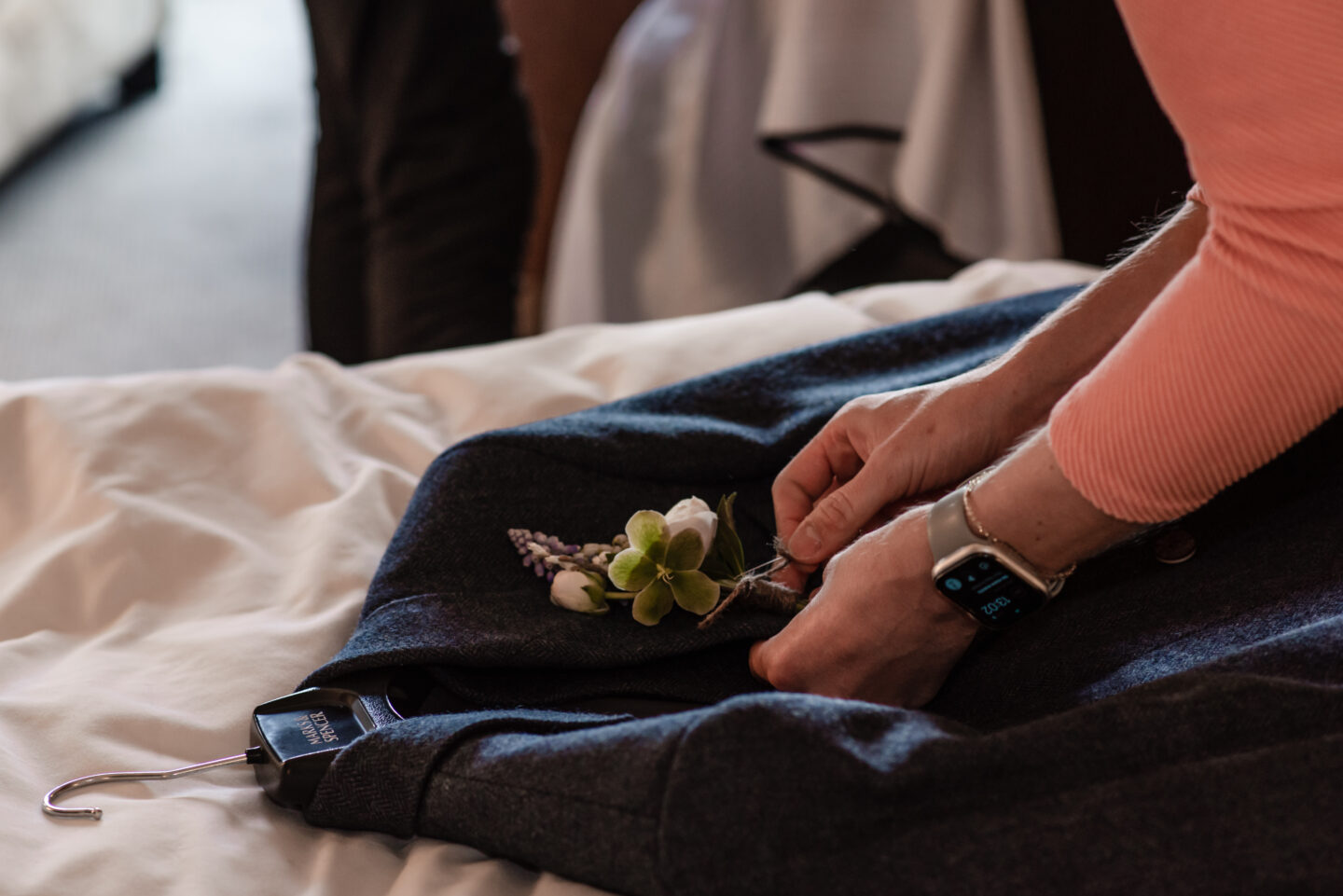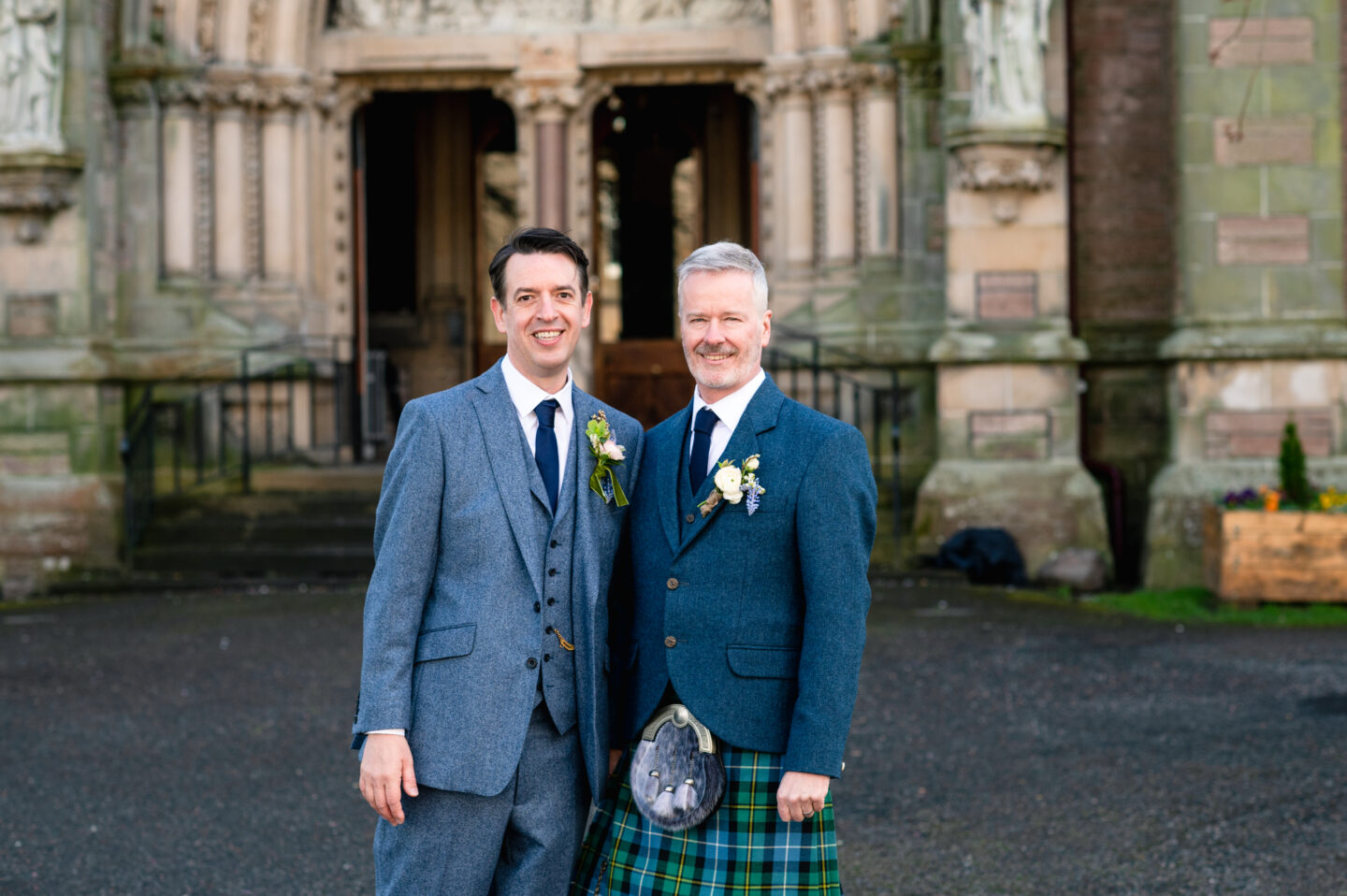 Bridesmaids and Groomsmen Outfits
"Gemma wore a vintage 1950s green silk damask dress which she found online and then repaired and overdyed a deeper green to match Chris' tartan. Kate wore a deep blue dress from Hobbs and Laura chose the pale green floor length from Ghost. Kate and Gemma both wore navy blue bolero jackets custom-made by Gemma from fabrics handwoven by me from a mix of lambswool and dead stock yarn. Gemma used her training as a milliner to make a jewelled comb for Kate and a marqasite headband for herself from repurposed vintage jewellery. Chris' best man Derek hired his kilt from Chisholm Highland Dress in Castle Street, Inverness."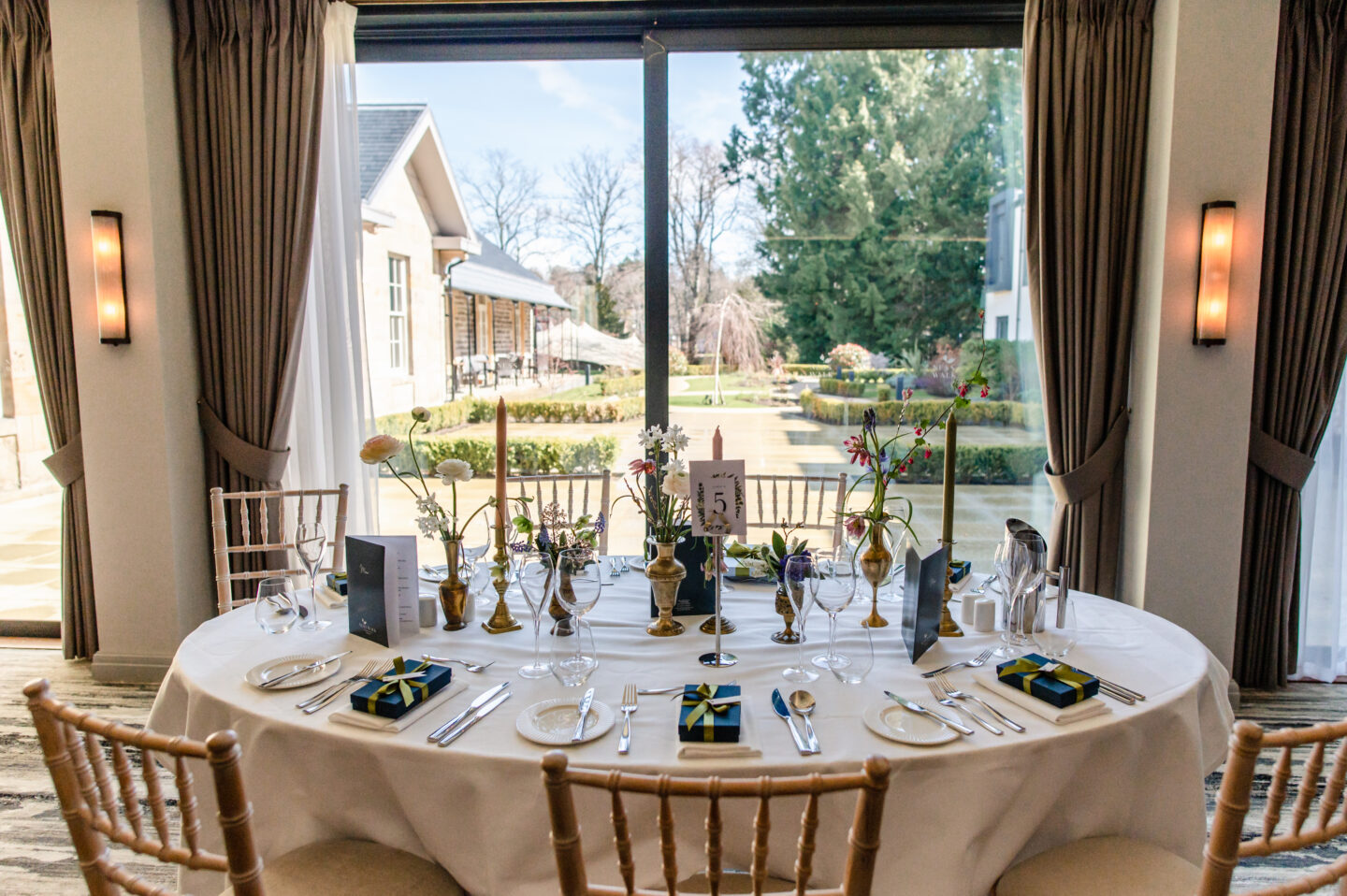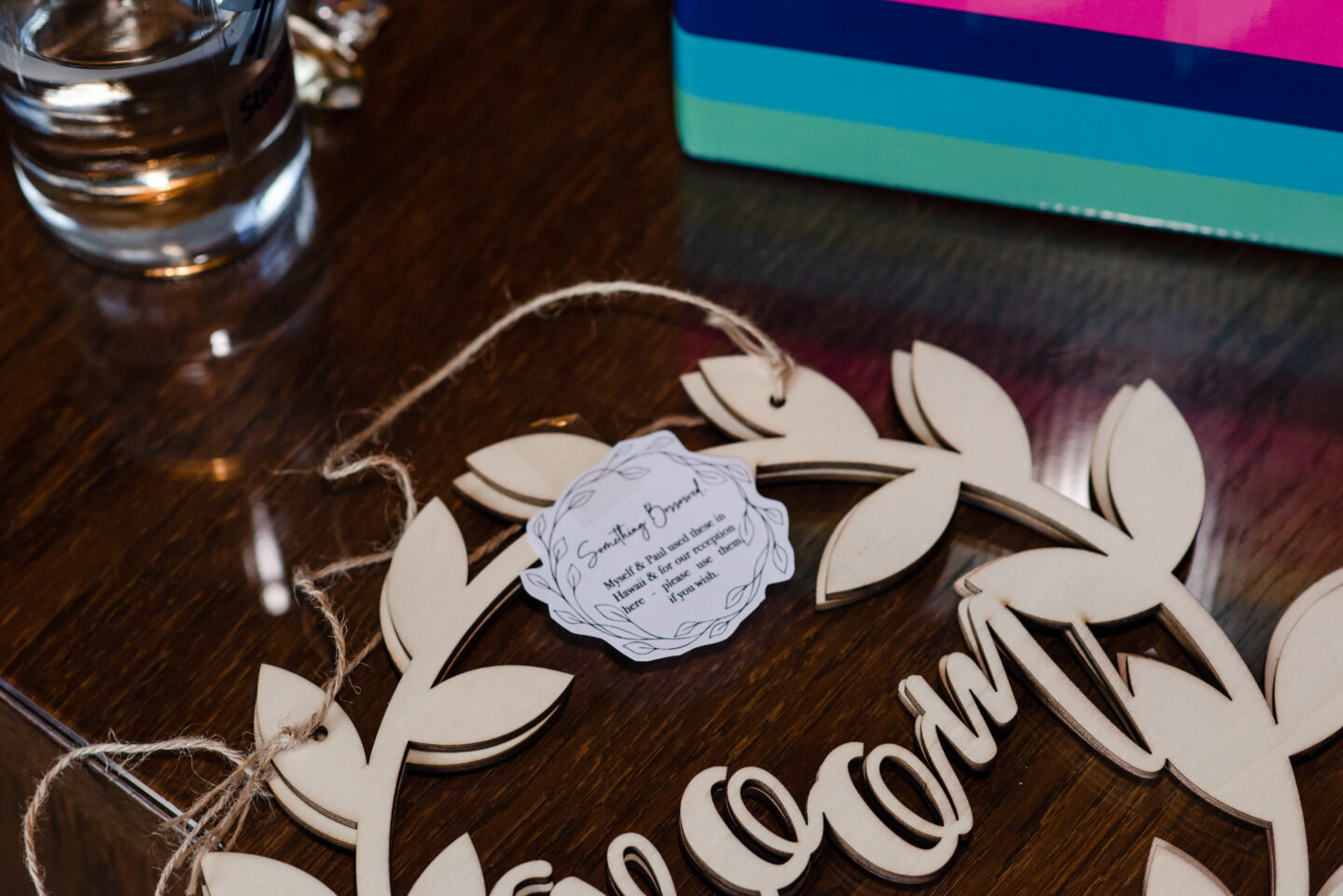 The Details
"Flowers from Wild Gorse Studio made 3 beautiful bouquets for the wedding party along with buttonholes and corsages for my mother, Chris' Dad (and my friend's little boy as a surprise). The cake by Cakes by Fiona was a semi-naked 3-tier sponge in cherry bakewell, raspberry and white chocolate and double chocolate complete with flower sprays provided by Wild Horse. Our invitations and stationery were designed by myself using templates bought online at Creative Market and were printed online.
"Our Reception was held at the Ness Walk Hotel walking distance from the Cathedral. It truly was 5 star food and service for the whole day! For the evening's entertainment, we had a Ceilidh and our first dance was Strip The Willow with everyone dancing with us. The dancefloor was full all night with music provided by the Dandy Ceilidh band who were just incredible. Finally, our photographer Camilla Reynolds deserves the highest praise of all for travelling to Inverness from her base in the Cotswolds and working so hard all day to capture everything so beautifully."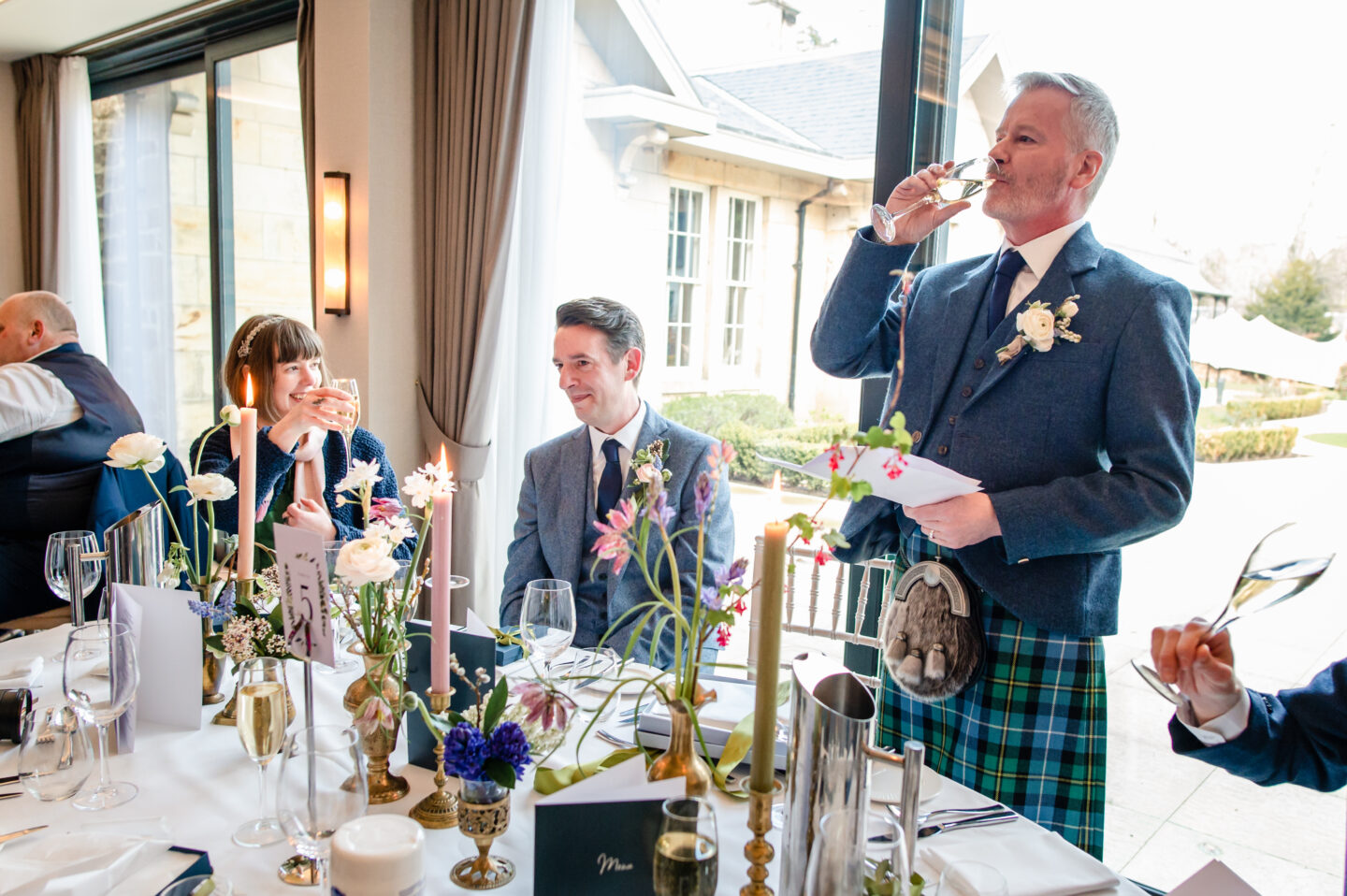 Ethical Elements
"The confetti was dried rose petals bought online and our wedding favours were individually handwoven silk scarves made for each guest by myself to be a practical but luxurious memento of the day and not something for landfill. Re-useable, vintage or hired clothes were chosen rather than single-use occasion clothes. Our flowers were locally grown and foraged greenery was chosen over foreign-sourced and shipped in blooms!"
The Best Part of The Day
"For me, I had two favourite parts; walking into the Cathedral on the arm of my best friend and seeing all of our friends and family there to celebrate and support us getting married. I couldn't stop smiling when I walked towards Chris. And then the evening where everyone had such an amazing time dancing. I recommend every wedding should have a Ceilidh and not a disco as everyone dances and it is the best fun. People still talk about how much fun our wedding was."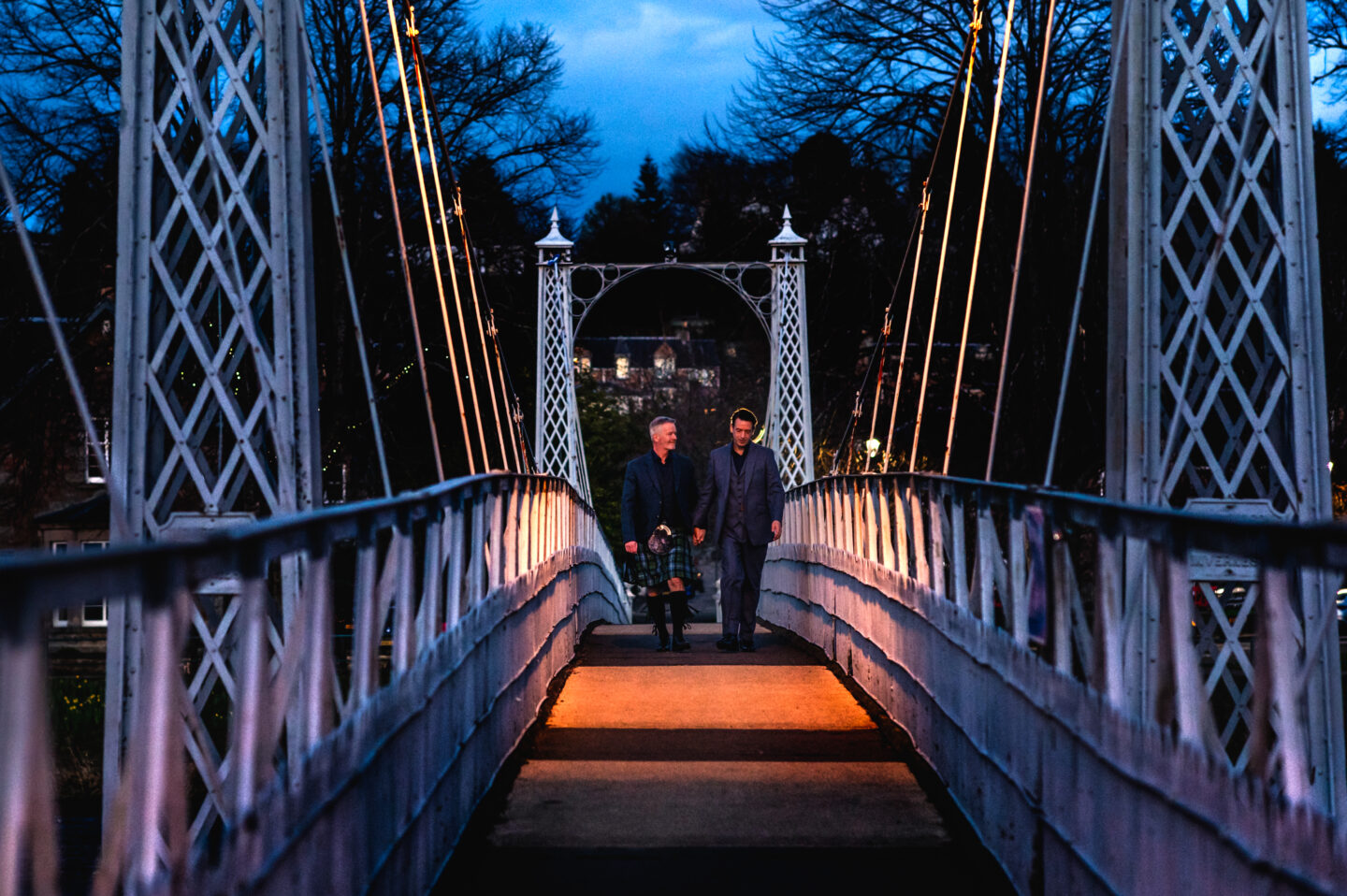 Words of Wisdom
"Plan everything and choose your suppliers carefully. Make sure they are someone you have a rapport with and who will help make your vision a reality. Work with the best photographer you can afford and give them a list of all the group shots you want to achieve on the day. Have someone designated to gather your guests into these groups so the photographer can get through these quickly as guests will get bored hanging around and you want the day to be fun."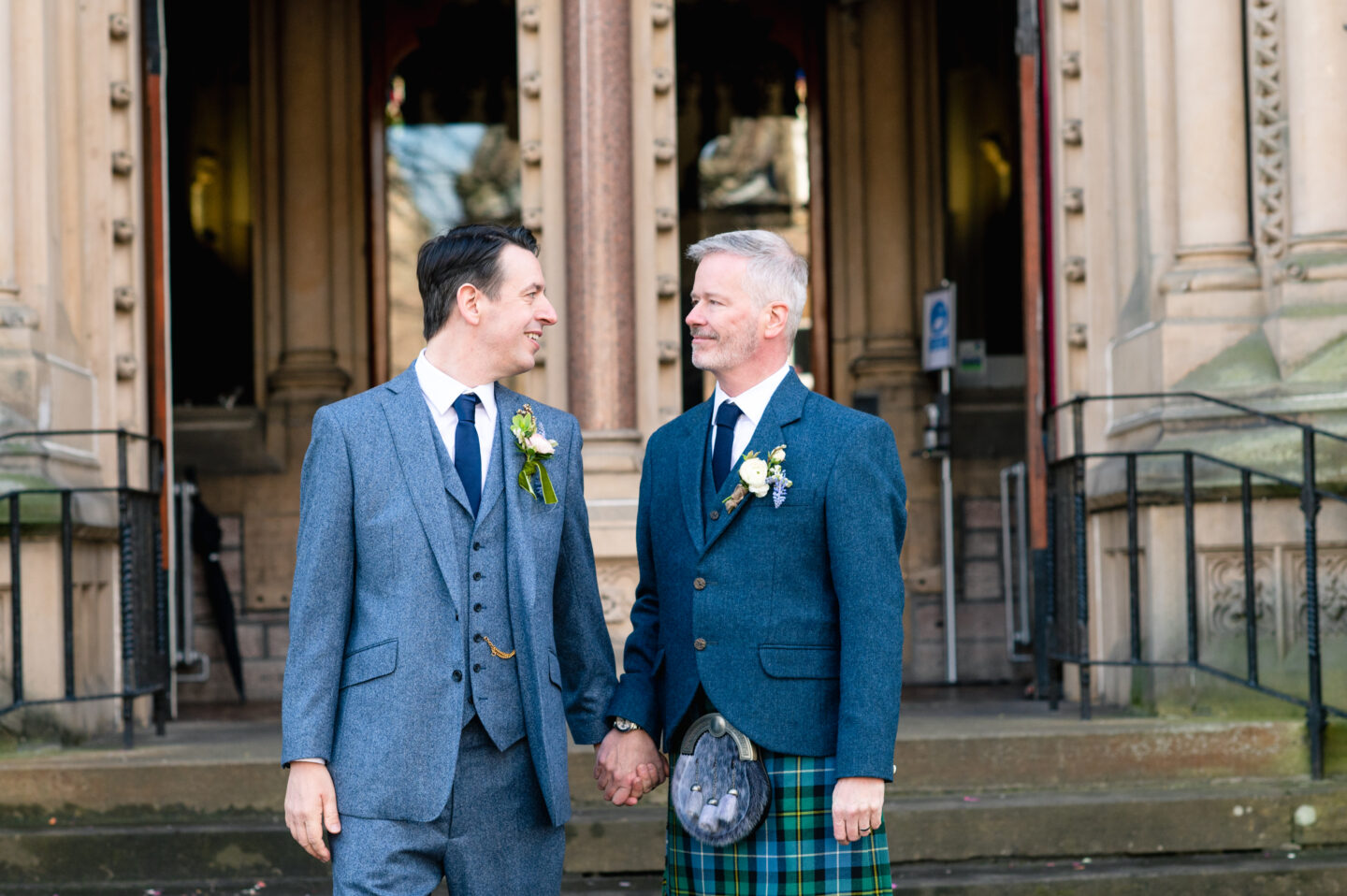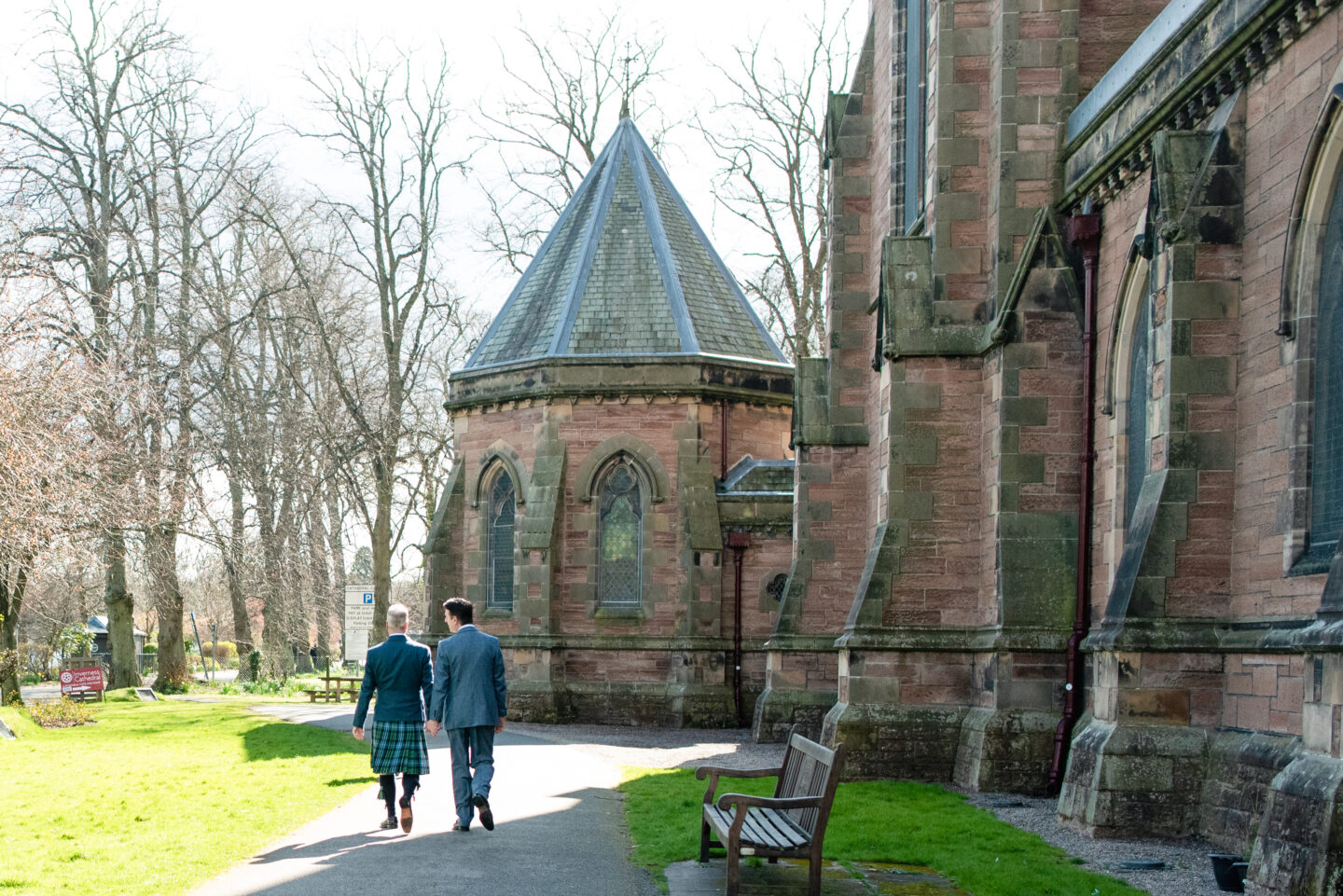 What are you most looking forward to about being married…
"We loved having everyone together on the day in one place; all our favourite and most loved people. Following the wedding, the actual reality of being married is a public declaration of our commitment to each other. We have chosen to be with each other and build a life together. We didn't need to make that public but the moment of us being married was an intensely private act in a very public setting. Ultimately it just meant that he and I became US. And in a world where that cannot happen for so many same-sex or non-traditional couples (we could not marry in a Church of England Cathedral for example) we wanted to have that ourselves to show that it is just a beautiful, wonderful and ordinary as for anyone else."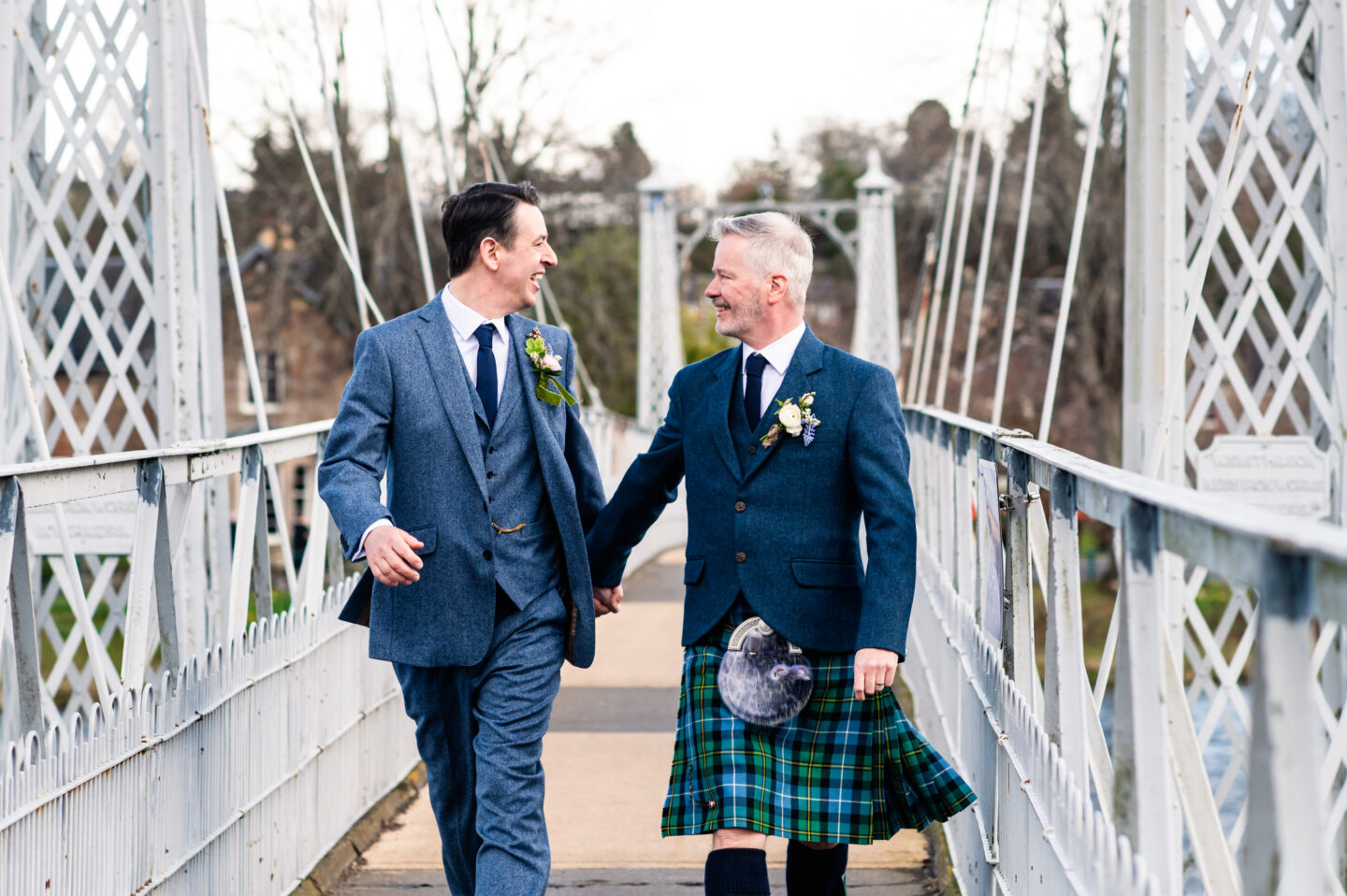 The Suppliers – Intimate Scottish Highland Wedding at Ness Walk Hotel, Inverness
IF YOU LOVED THIS NESS WALK HOTEL SCOTTISH WEDDING PIN IT FOR LATER!