Beautiful natural rustic vibes today with this whimsical woodland wedding created by a team of suppliers who have ethics and sustainability high on their priorities when it comes to planning weddings. They show how we can re-use objects to create beautiful wedding styling and how we can add wedding favours and gifts in an ethical way! Here we catch up with shoot coordinator and photographer Freya from Freya Steele Photography and some of the other suppliers from the shoot who tell us all about how this whimsical woodland wedding was created and there's some top tips for couples along the way too…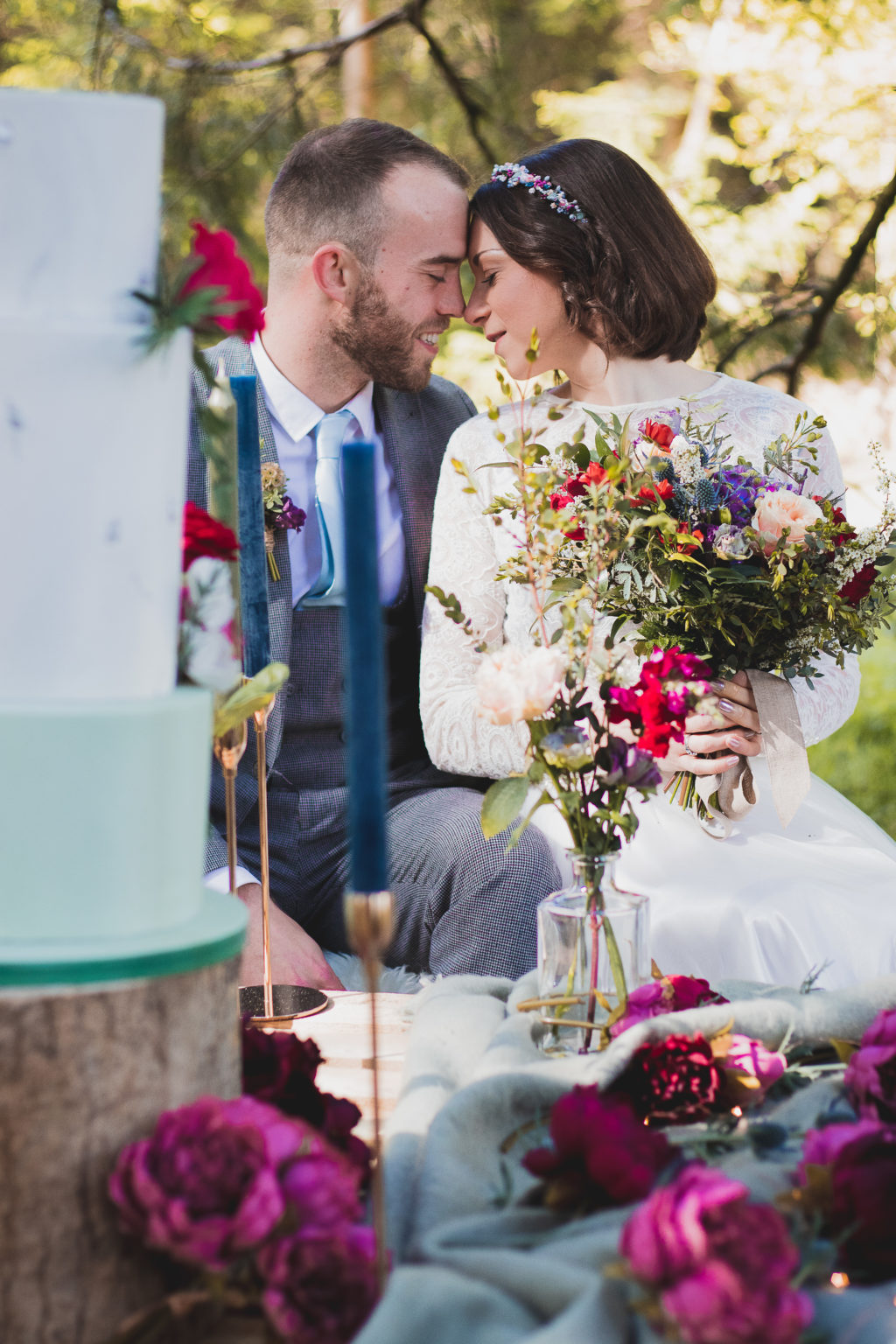 Photography – Freya Steele Photography
"I am a wedding photographer who covers the UK with a base in Somerset, I approach my work with a fun and creative attitude, my style is colourful yet relaxed. In May, I did my first styled wedding shoot with the aim of building a rapport with local suppliers and to extend my portfolio and experiment creatively."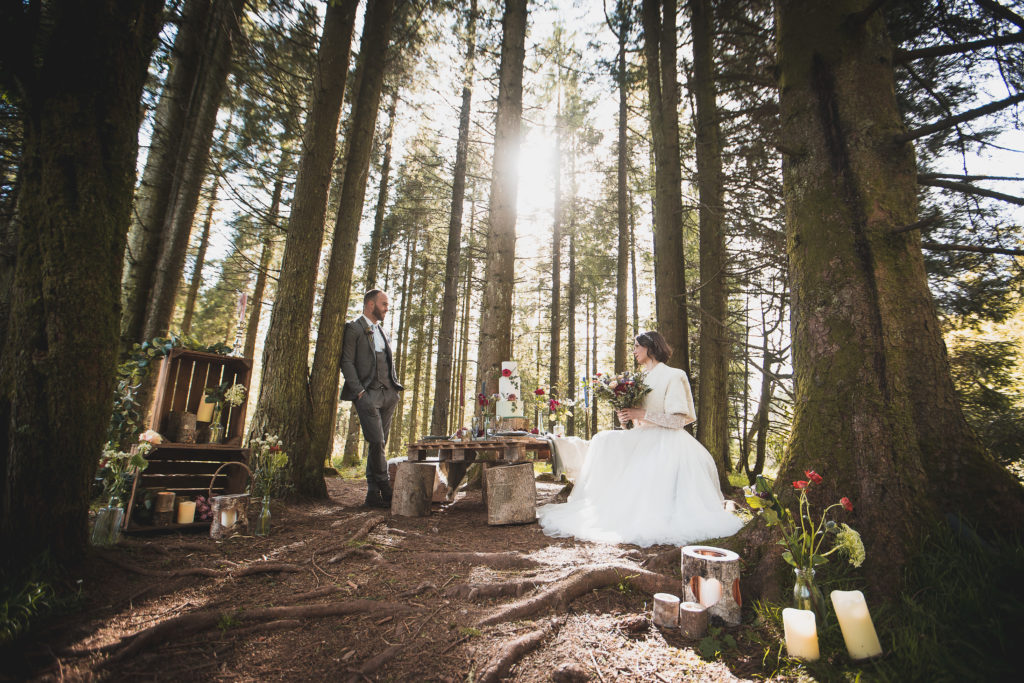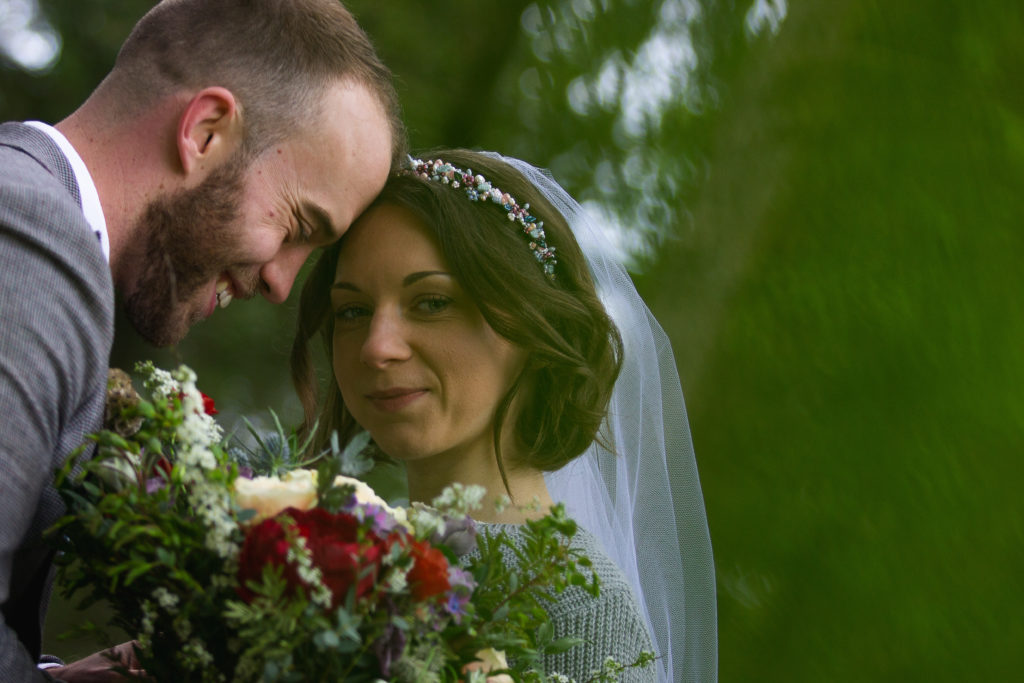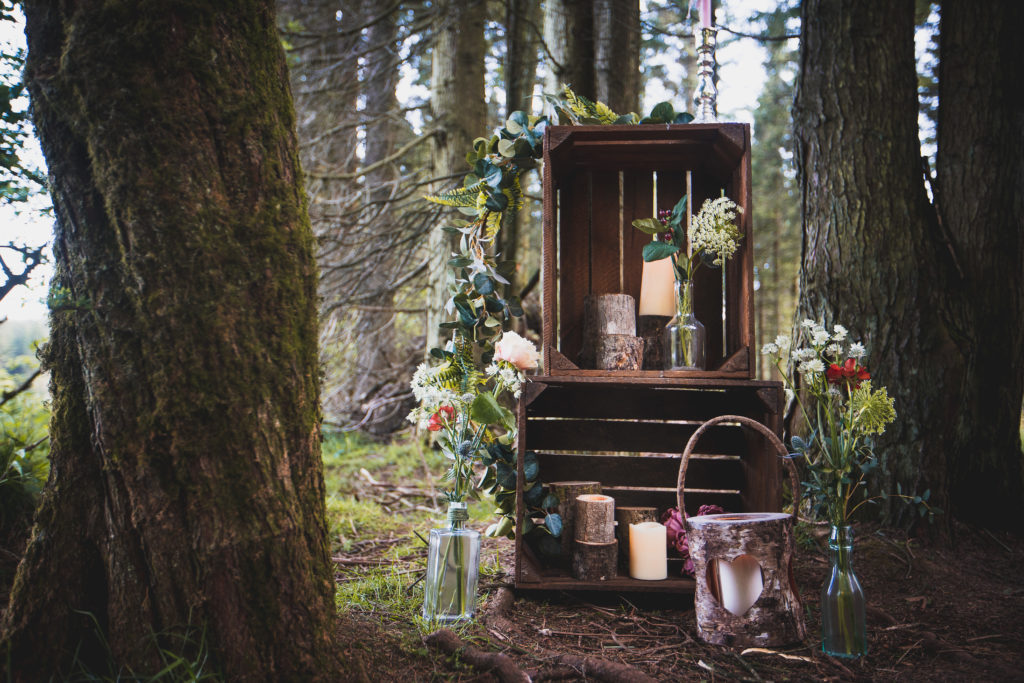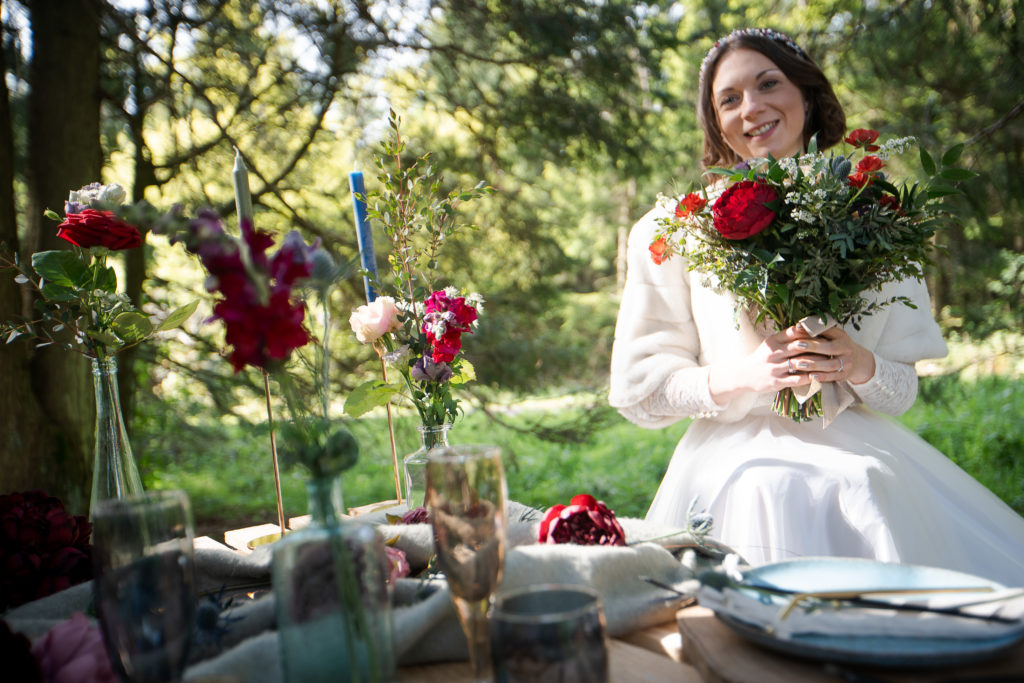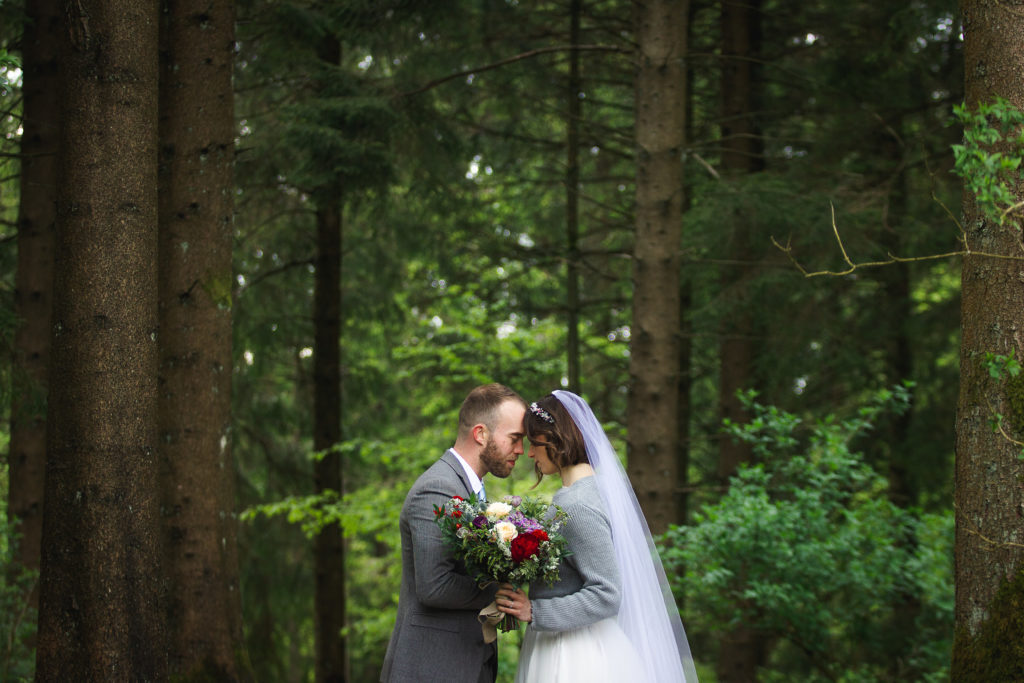 "The theme and inspiration were 'Woodland wedding'. I wanted to show how relaxing it can be surrounded by nature and wildlife – and that is what every bride and groom needs to be on their big day … RELAXED!"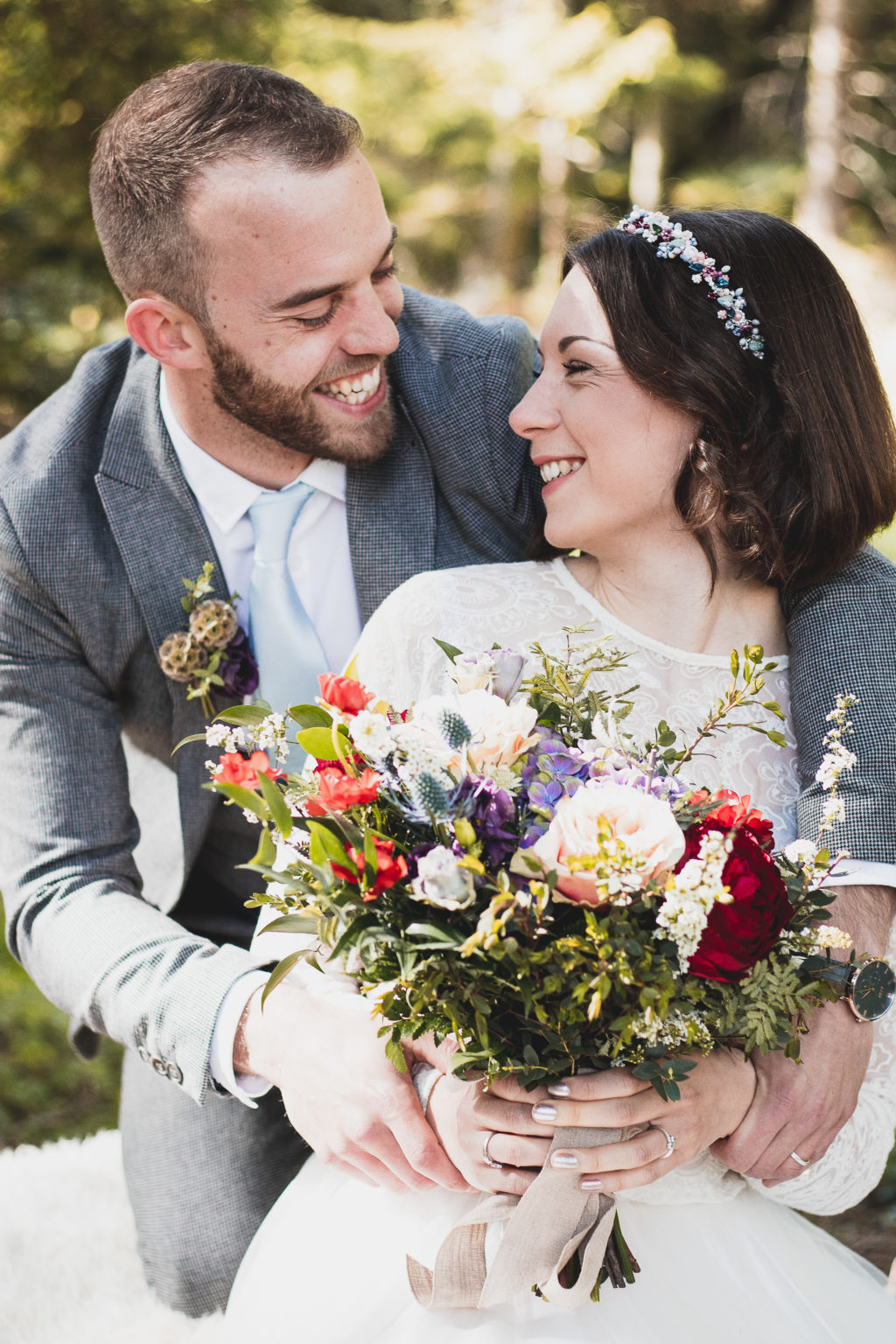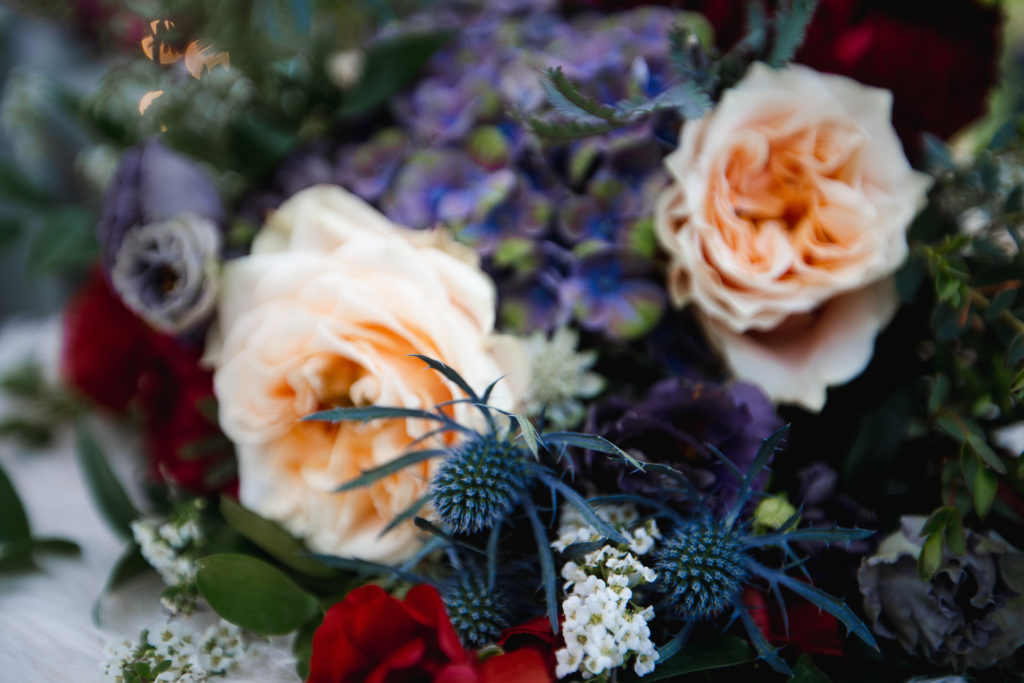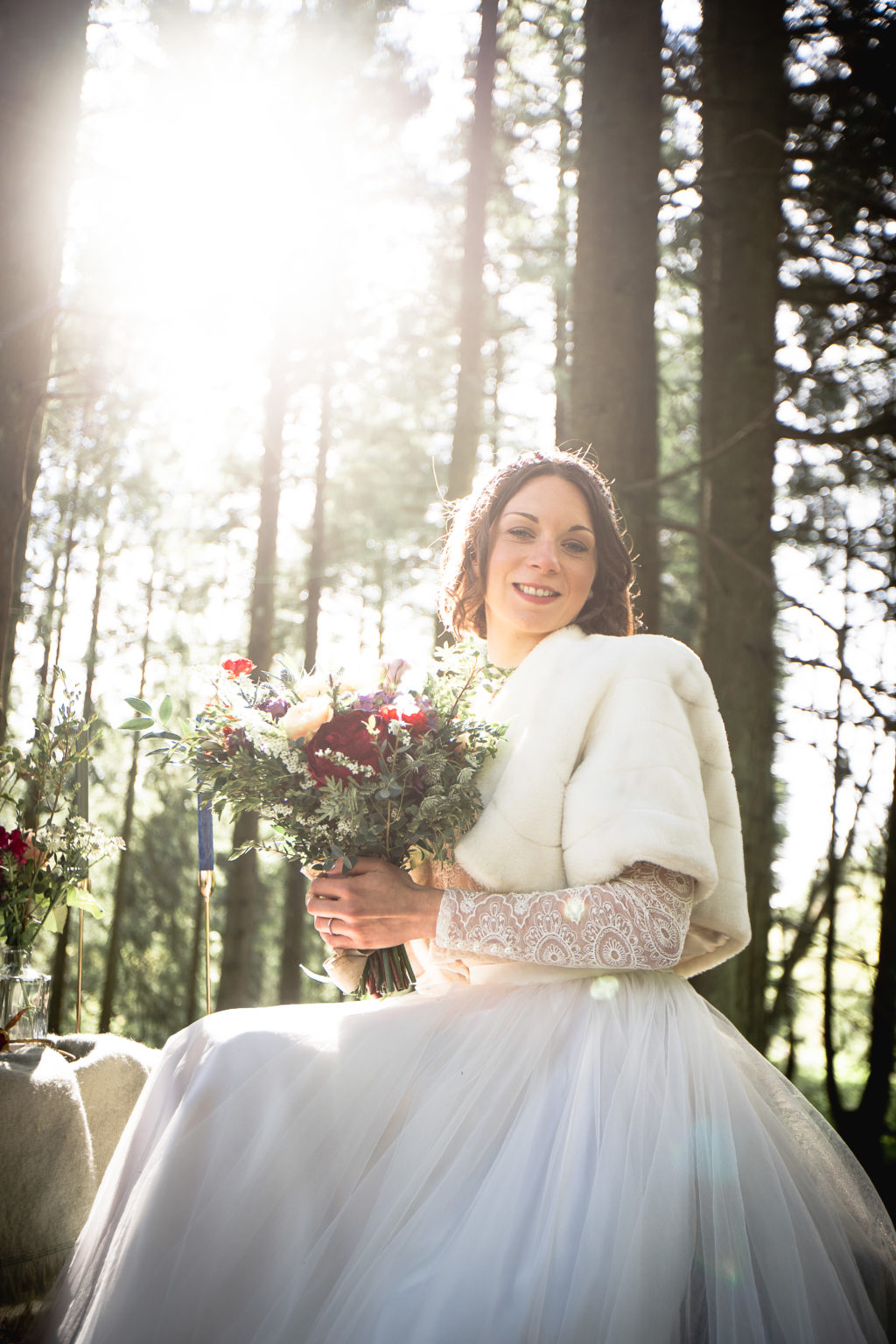 "As nature and sustainability is so important to me, I wanted to introduce some ideas for sustainable chic to this shoot. I made a table out of a pallet and some logs from my garden and used props that were made out of reusable material."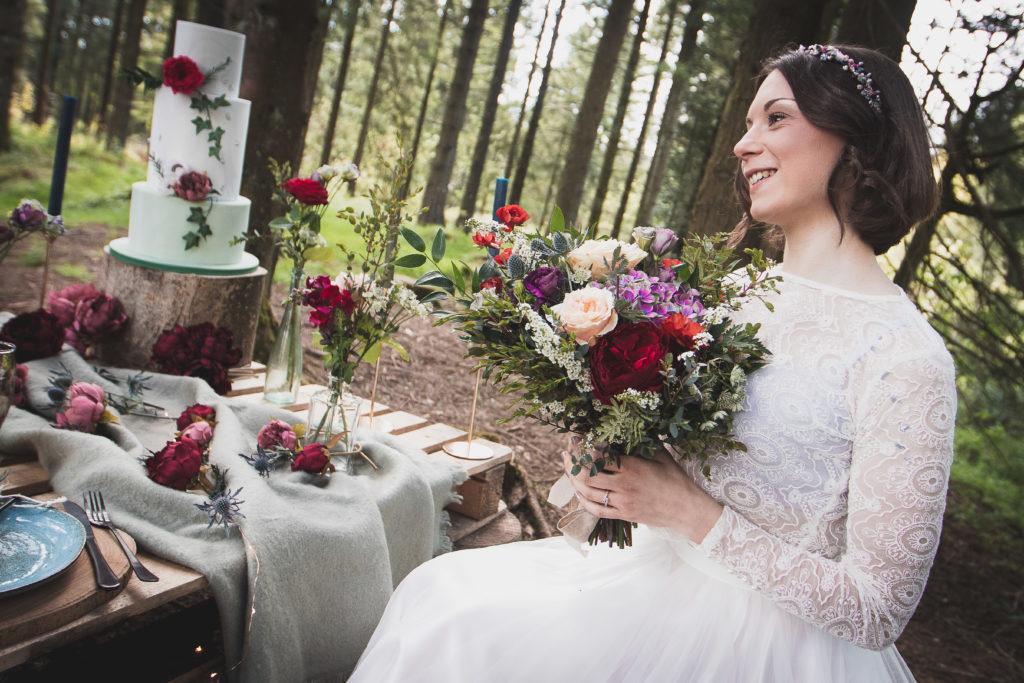 "I had a simple colour scheme in mind, one that stood out against the backdrop of the trees which was created with a mix of browns, greens, blues, reds and gold. Once I had that in mind, the rest just fell into place and the sun shone to create that flare and golden-hour effect. I also used smoke bombs to add to the vibrancy of the shoot."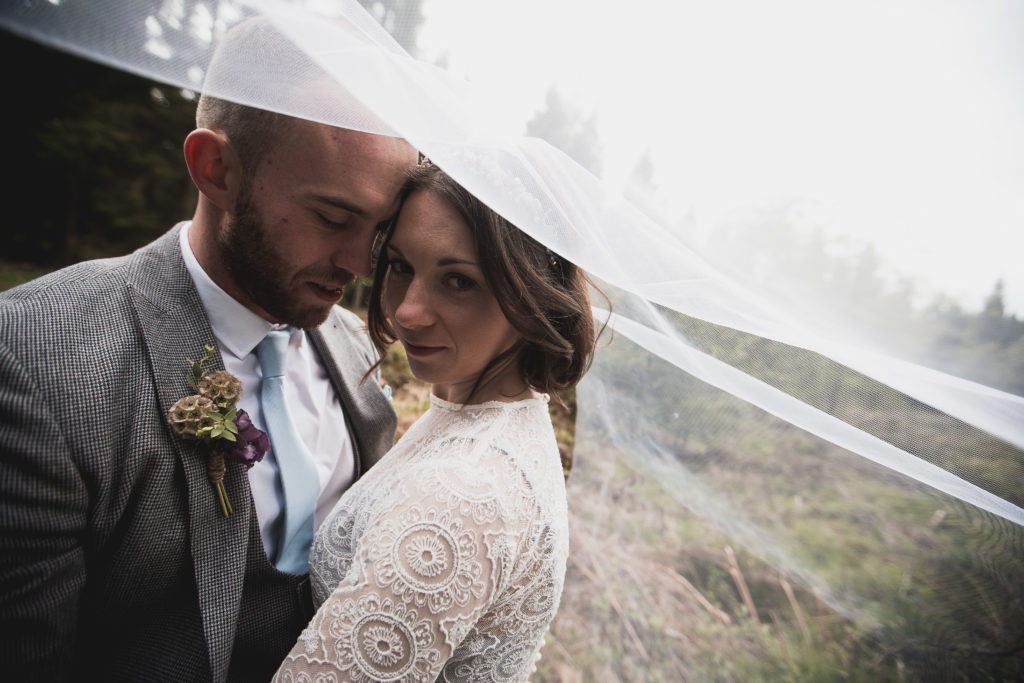 "My tips for any couple trying to create this look is to not be too hung up on the detail – keep it simple. The natural backdrop setting is enough to blow you away and any feature, whether detailed or not, is going to bring a personal touch and add to the day. I would recommend focussing on natural colours as your base line, for example different shades of brown and green and then add to it using more vibrant colours such as blues and reds to add detail."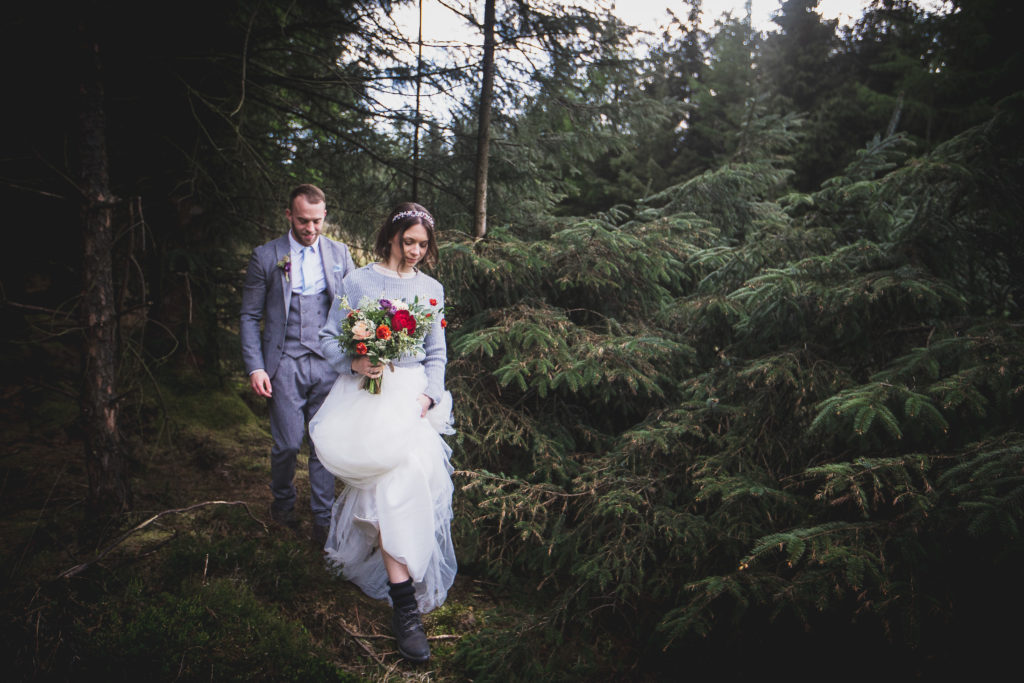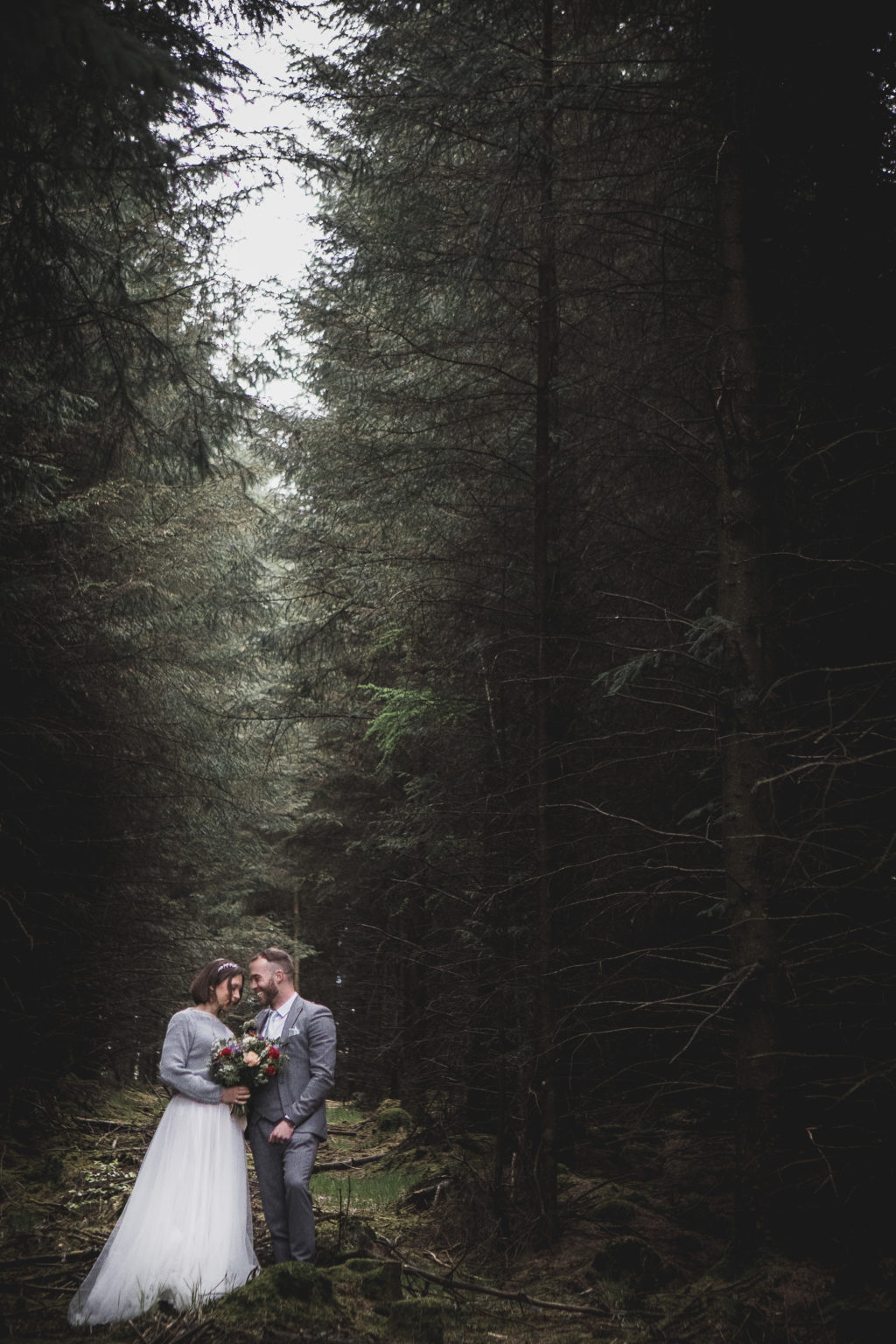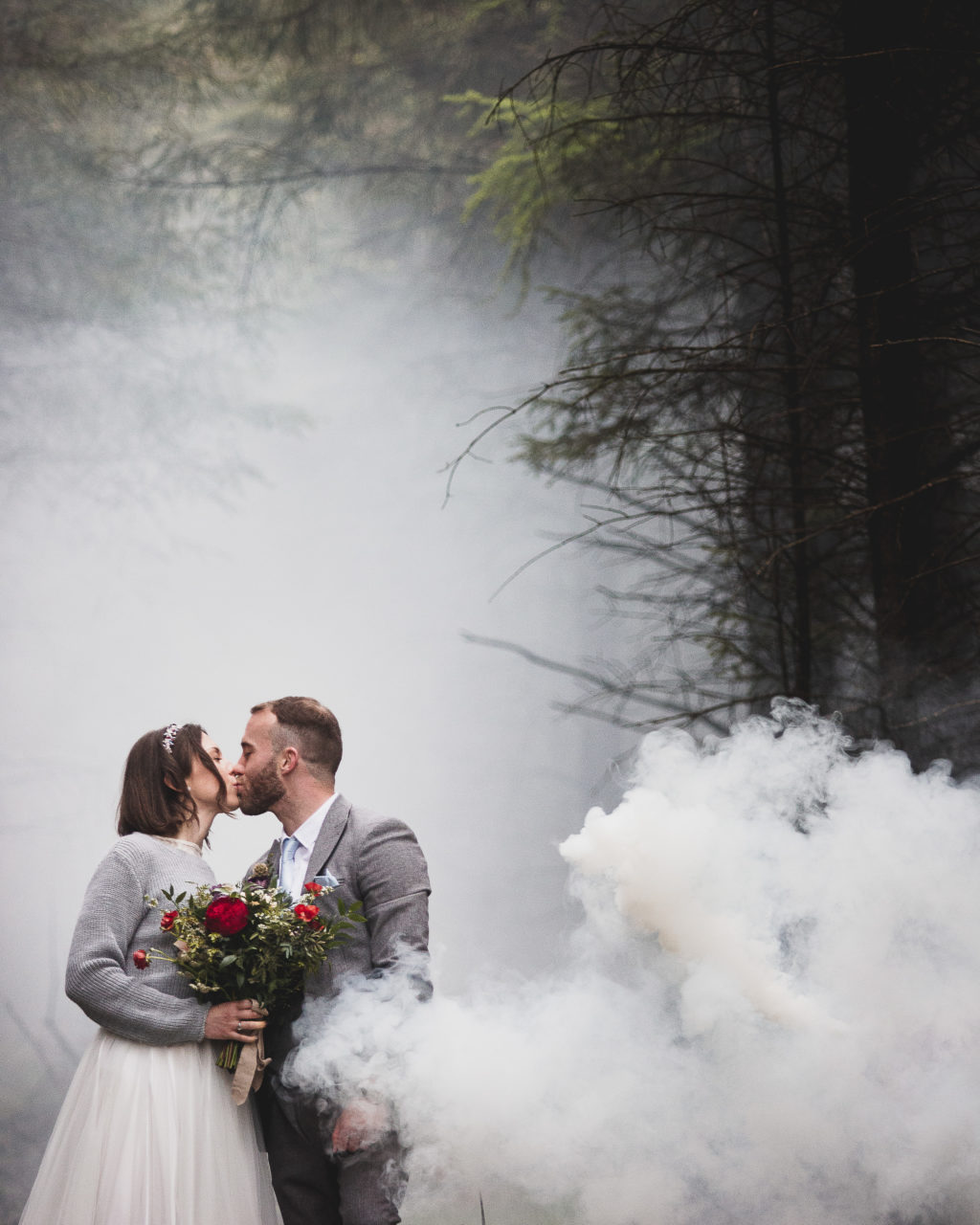 Bridal – Alexandra King
"The natural materials along with Freya's styling of the photo shoot influenced the choices we made in the styling of the bride. Getting the right texture was really important to the dress styling so we chose the natural cotton lace of the Aubrey top and the delicate sheerness of the tulle wedding skirt, both with matte finishes in soft ivories which worked beautifully amongst the light and trees to create added layers of detail. I loved adding the cable knit sweater which was a perfect contrast against the delicate tulle and prettiness of the bridal accessories. It was just right for this style and works so well for outdoor and country weddings.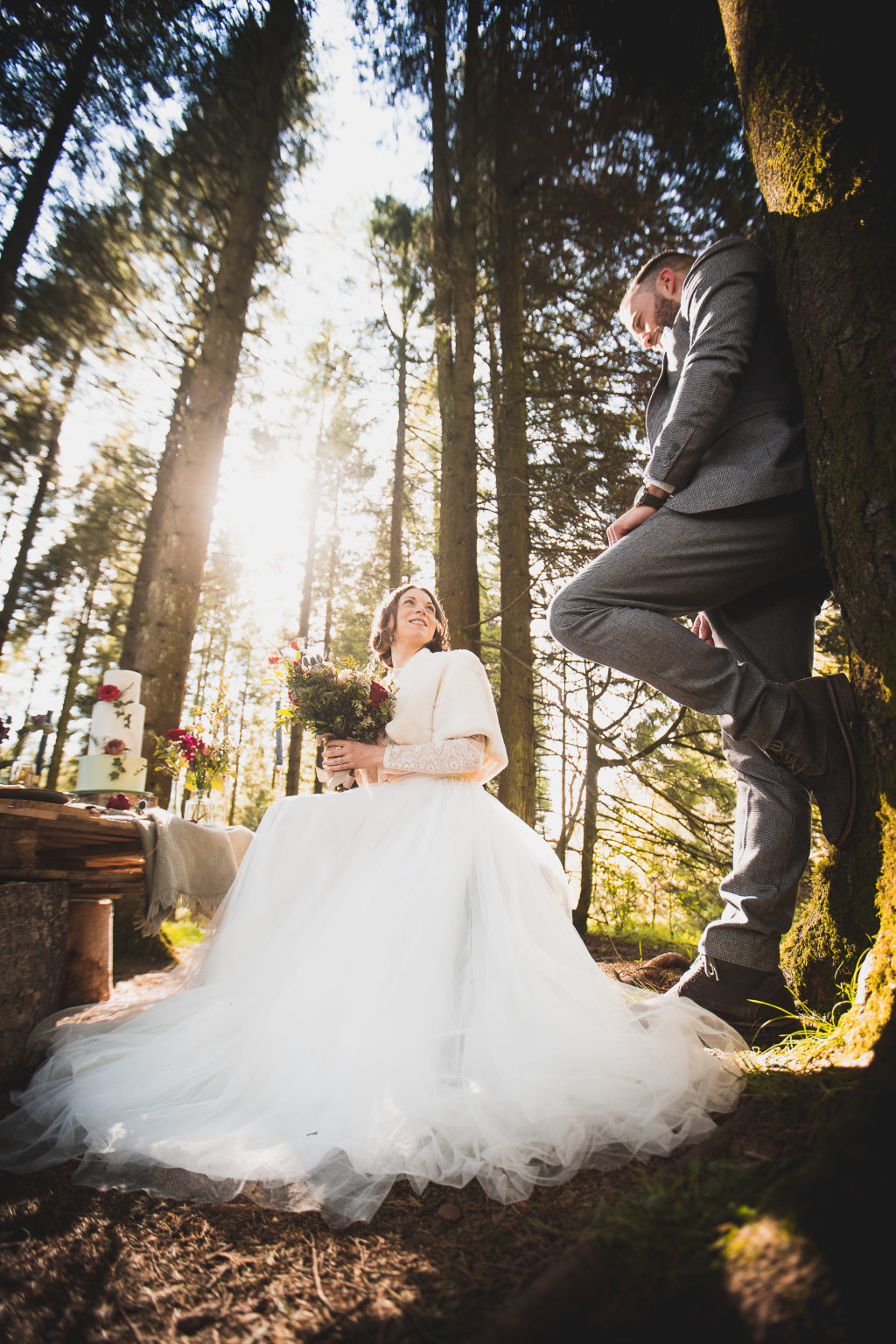 "Styling tips for the day – be comfortable you'll look so good relaxed! A soft sweater or wrap for outside settings can look really cool and you'll wear it forever afterwards!"
Florals – Lynnsey Kelly
"I was thrilled to be asked to be part of Freya's photo shoot. I love her style of photography and it is always great to work with other professionals and to bring the idea to life."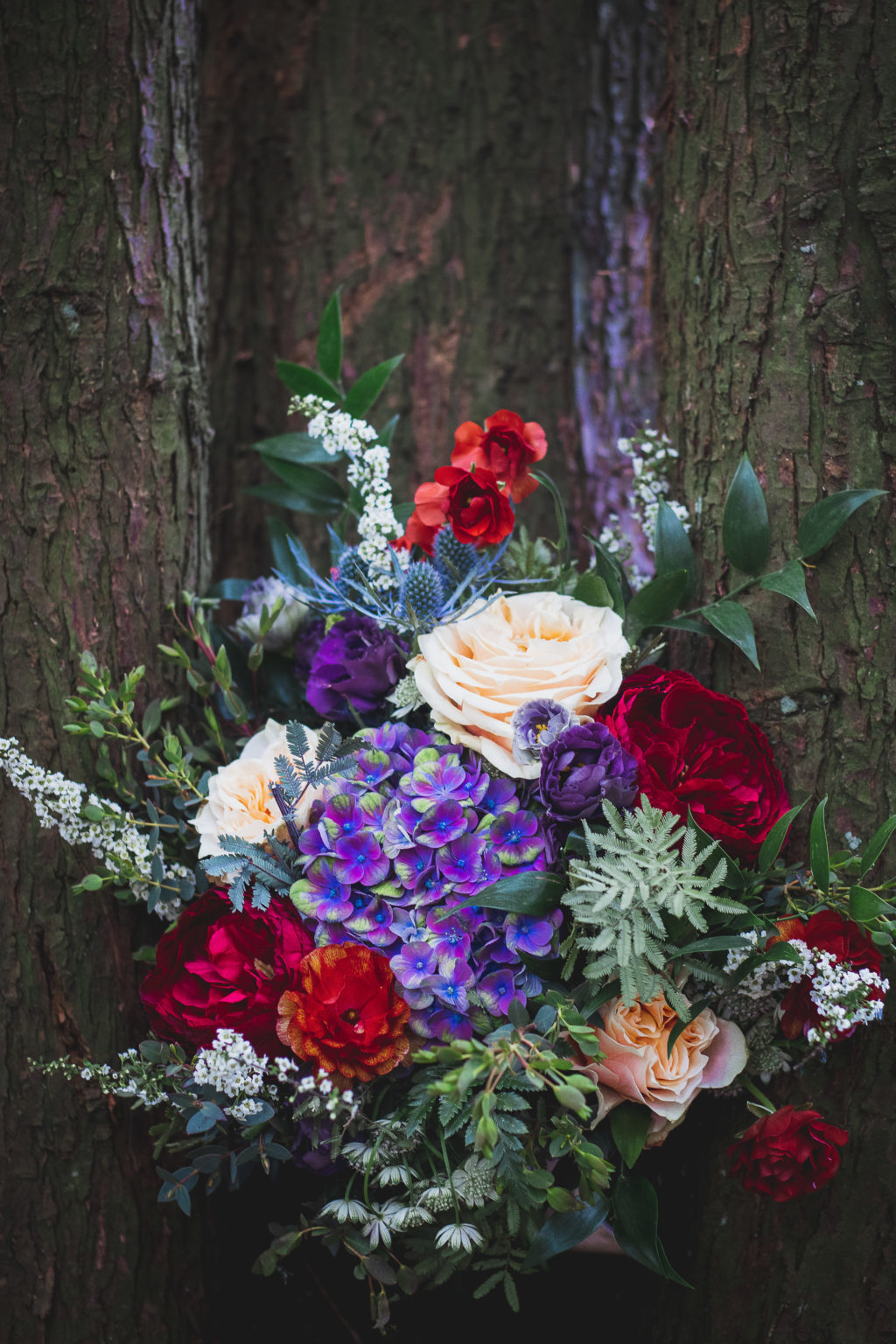 Cake – Claire Sweet Temptations
"I love to bring the themes of the wedding together in the cake, it is a great way to inject your personality. Being in the woods I wanted to echo the greens, but to keep them muted as a background for the sugar flowers. These were created to match the flowers and colours used, and to add a 'pop' of colour. I love to add colour and movement to wedding cakes. Cakes and sugar-work are very versatile, there are many different mediums that can be used to achieve all kinds of looks."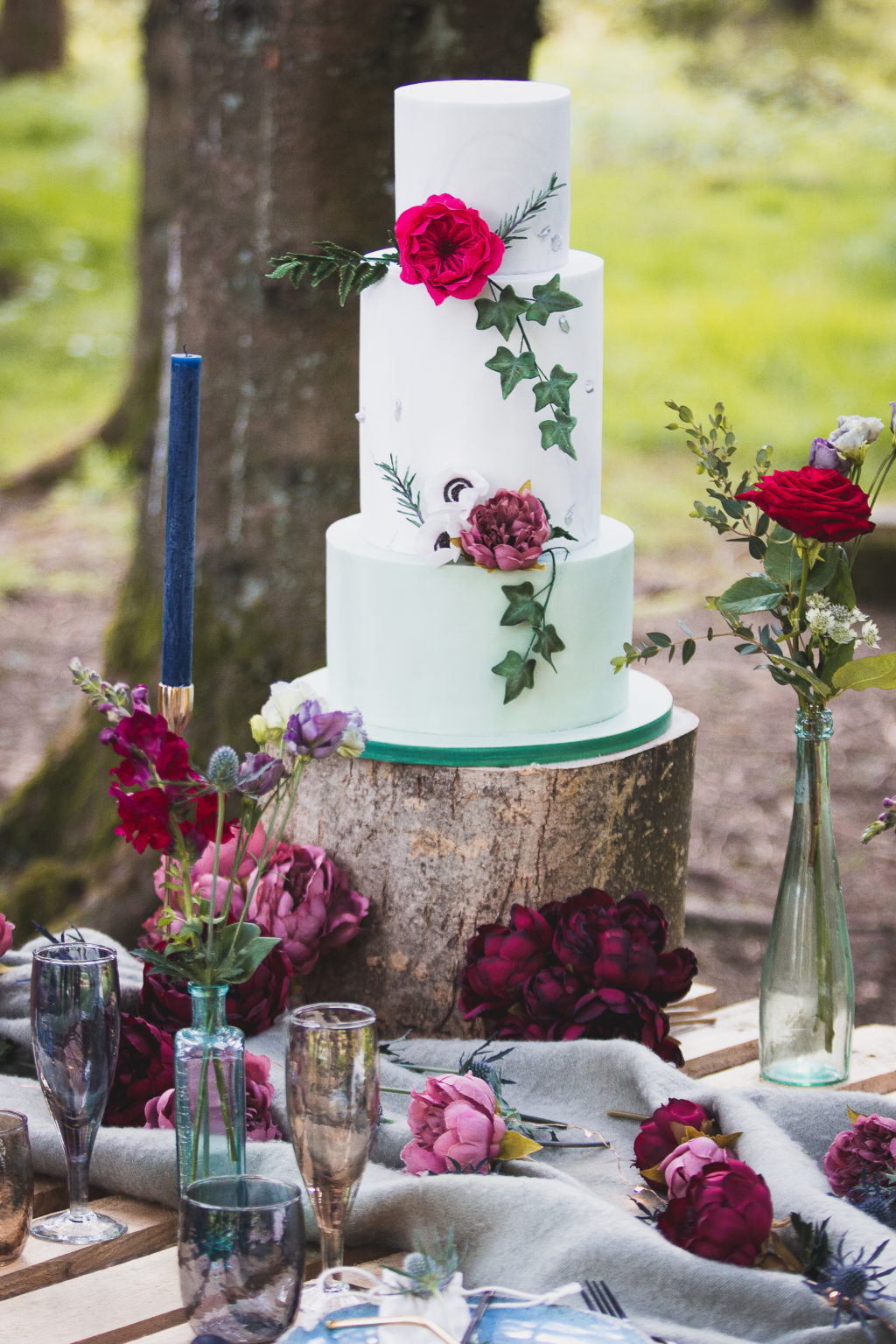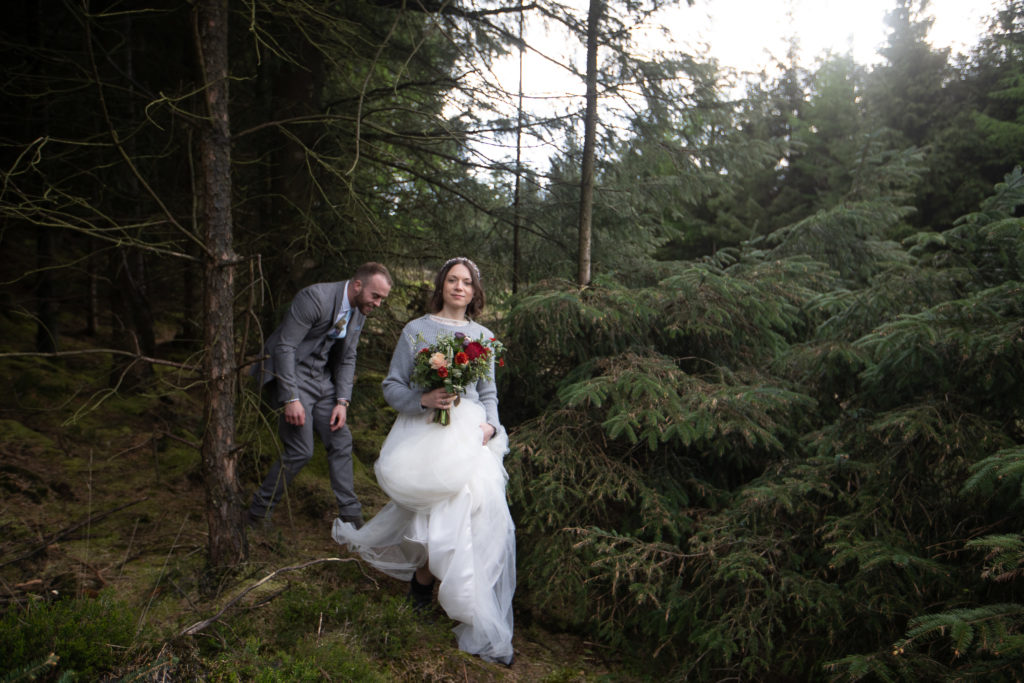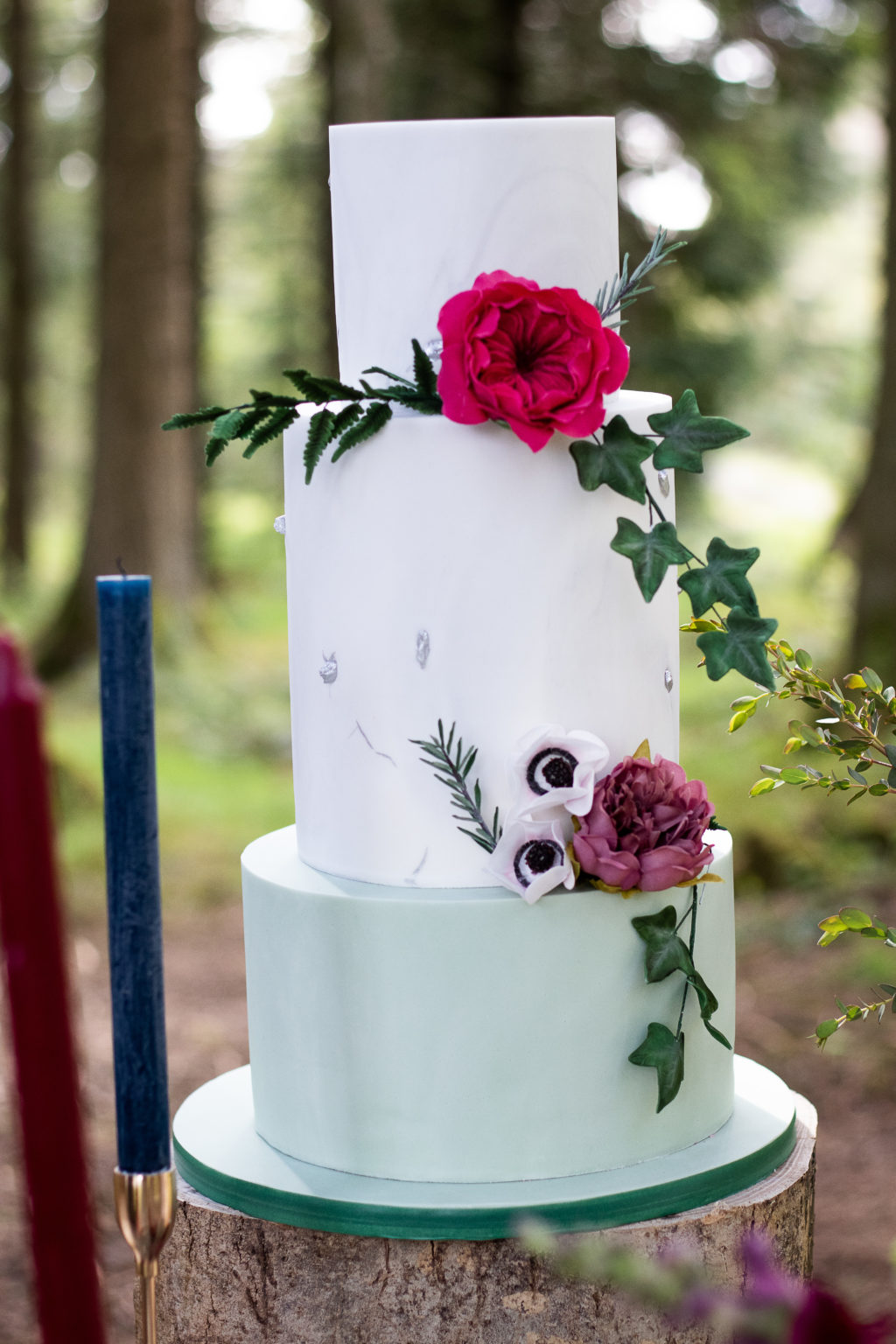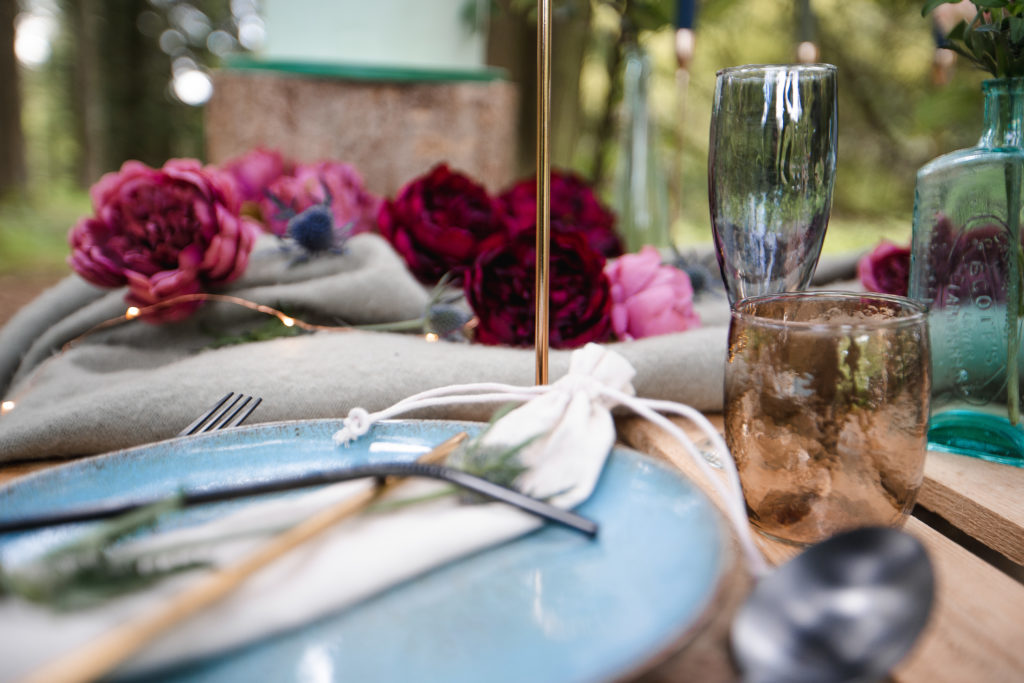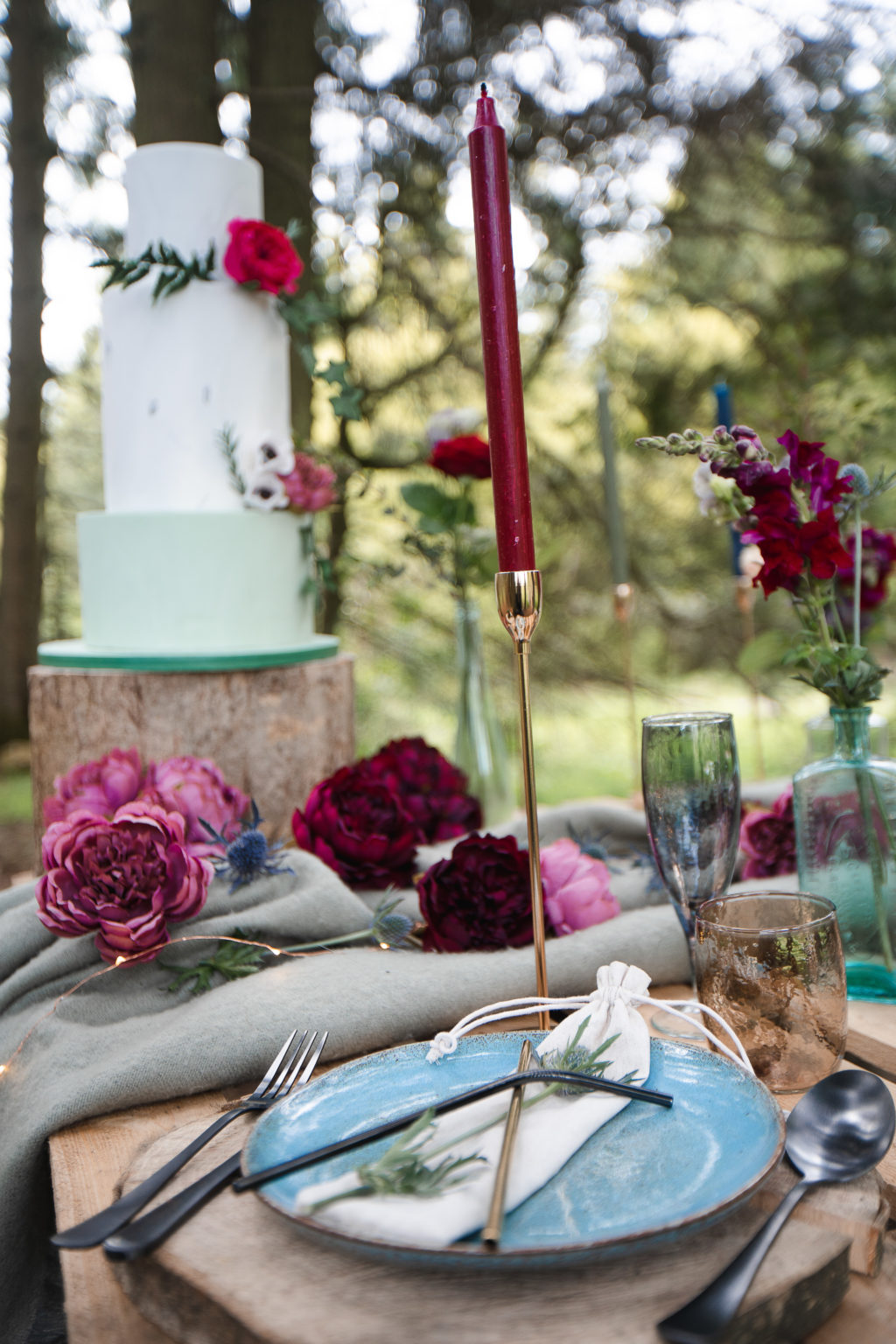 "You can achieve this look by asking your cake maker to match colours and flower types. You could also use fresh flowers that match the other wedding flowers. On the day make sure you relax, enjoy it, and remember to ask your venue to save you some cake. Too many times I hear couples say they were too busy with everything to get cake."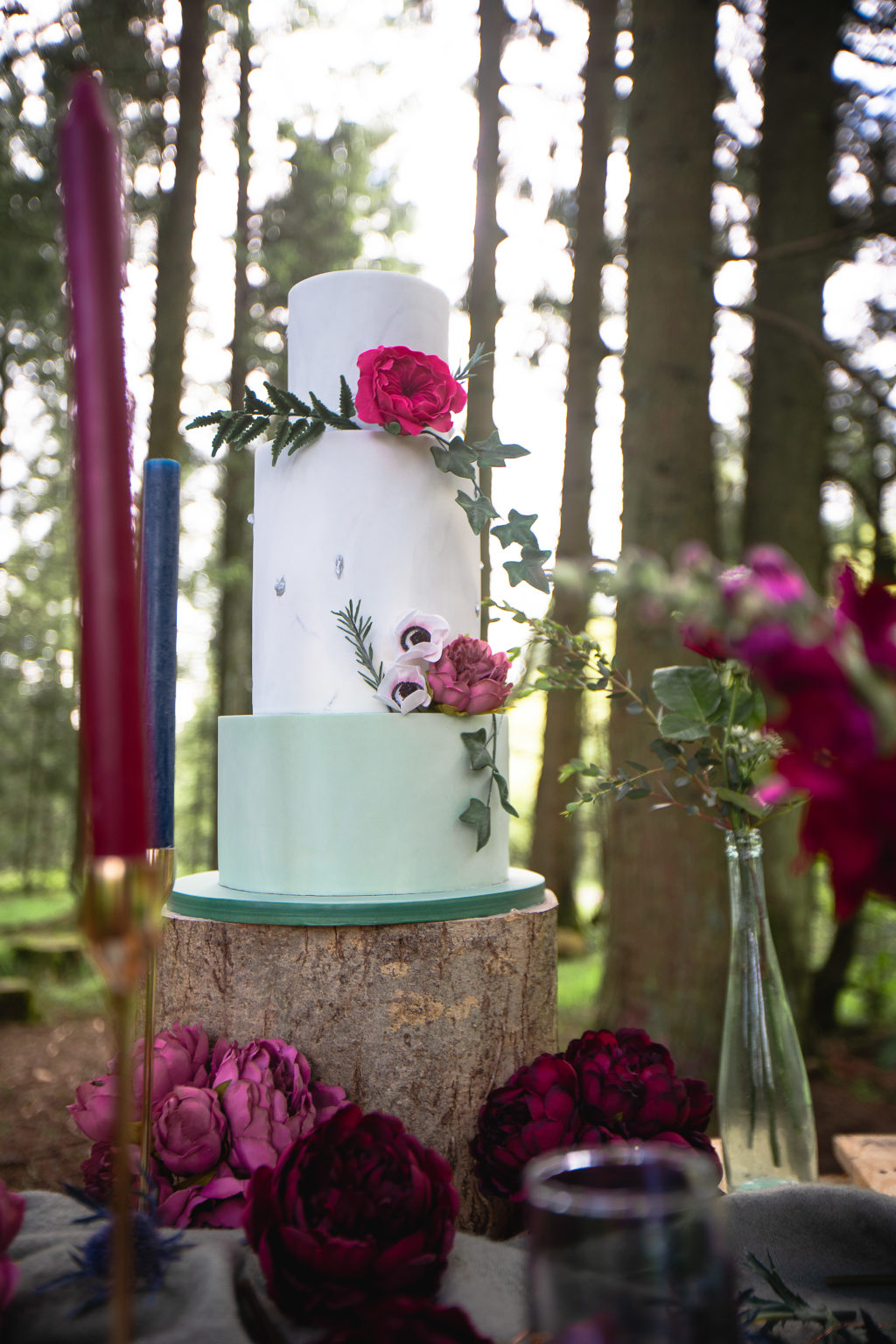 Accessories- Odesia May Jewellery
"These particular headpieces were designed and created to work with a romantic bohemian, rustic, woodland/country theme and could easily be re-interpreted for fairytale, midsummer night's dream, gothic or vintage themes in your chosen style. The look was completed by simple but stunning, handsewn crystal stud earrings made with Swarovski crystal elements. I created two bridal headpieces, primarily influenced by the stunning floral tones, magical but moody backdrop and simple, romantic dress."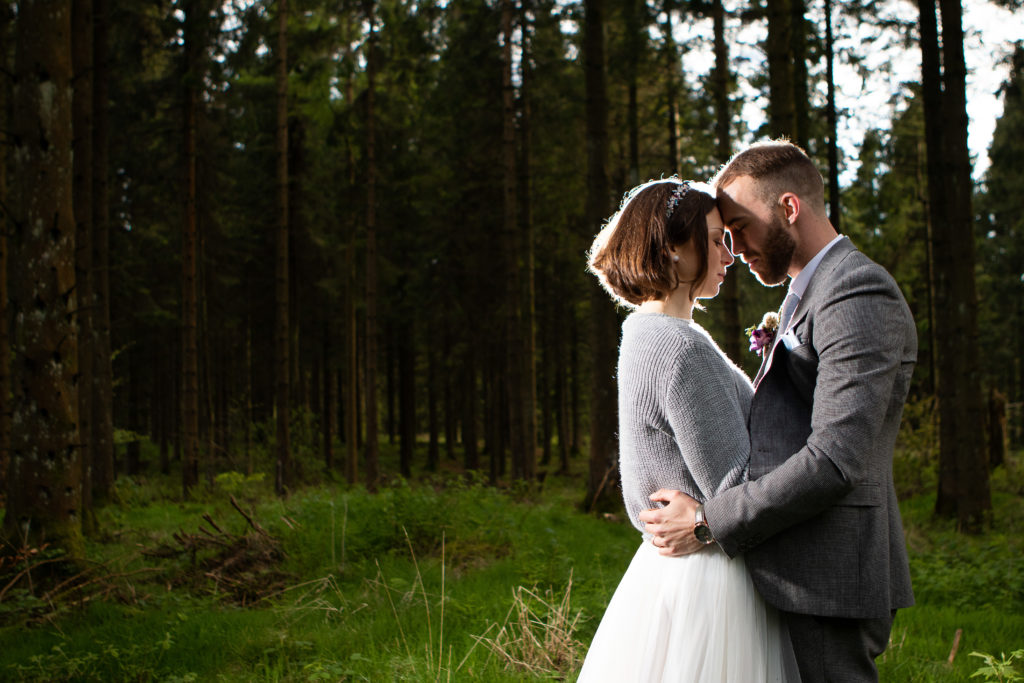 "I used a palette of rich burgundy-red, peach tones and blue-grey on the tiara headdress with a highlight splash of crystal to glint when the sun's rays shone through the dreamy treetops, using all glass beads and incorporating leaves and floral motifs designed to stand out against the bride's' dark hair colour. and also complement the flower bouquet and rustic props."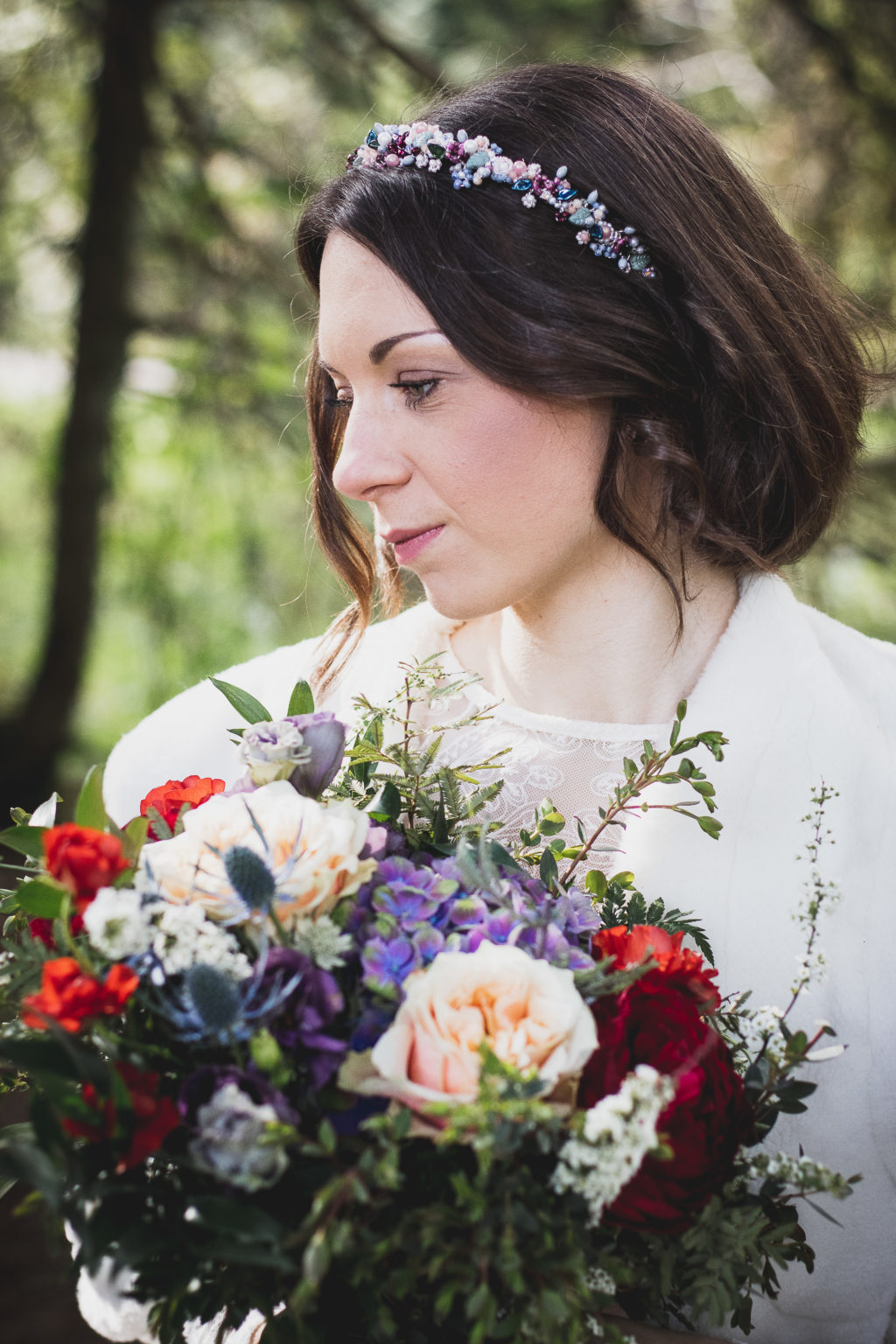 "The hair comb used a lighter, similar colour palette with more peachy, rose tones, green foliage tones and delicate floral tendrils to give a bright and delicate feel when worn with a veil at the back of the head."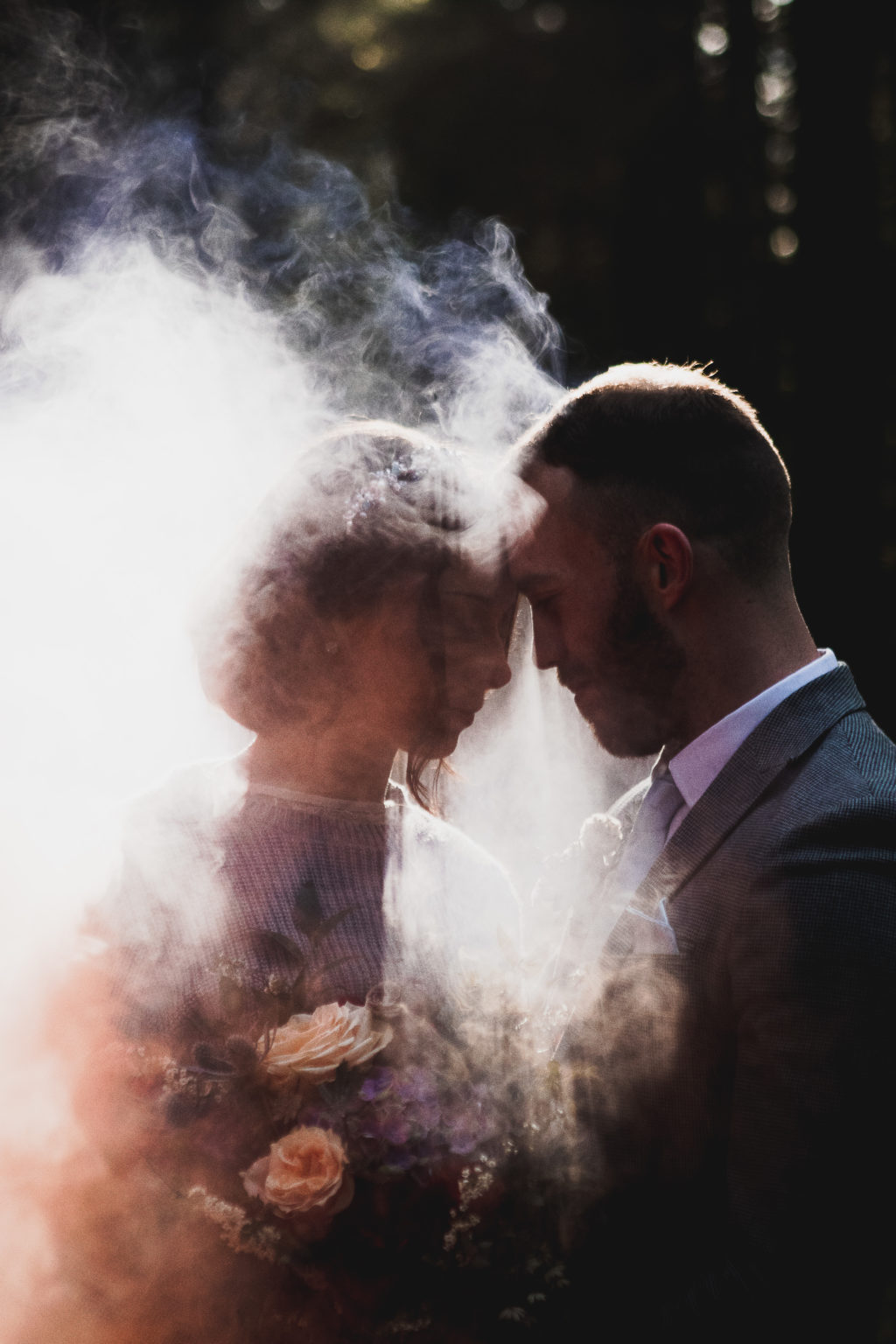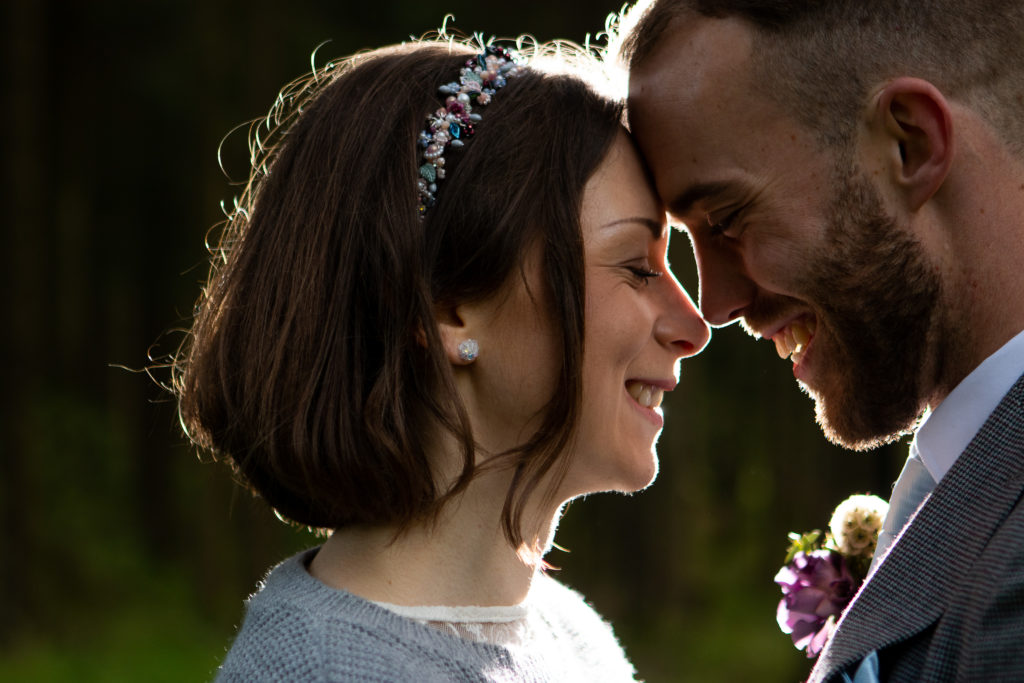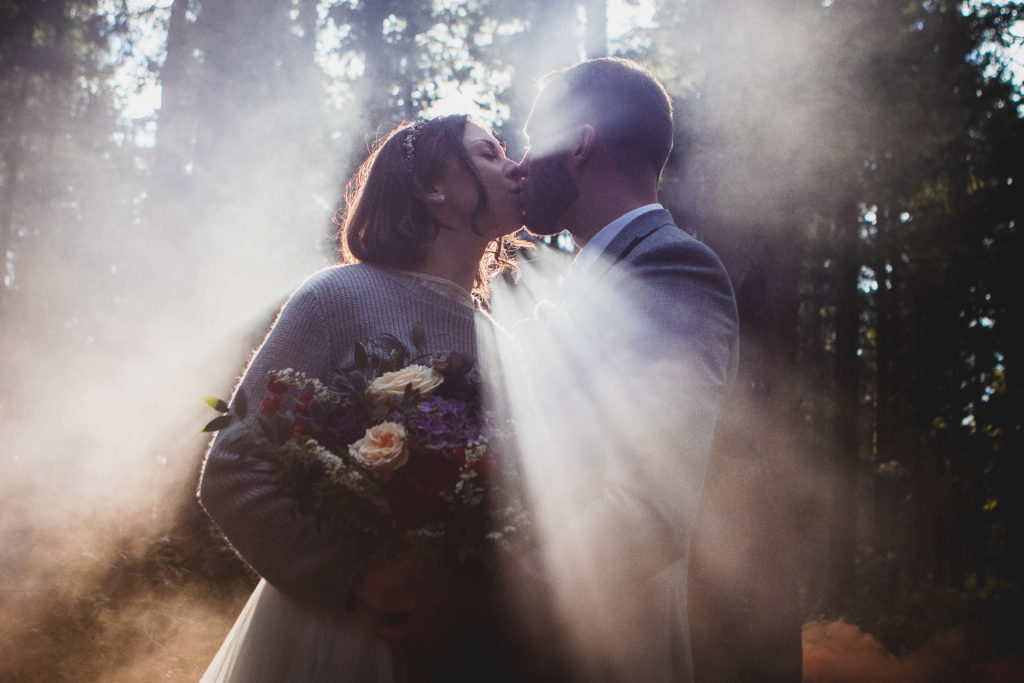 Styling – Wedding Hire South West
"The idea of setting up a wedding shoot in the woods sounded intriguing! Lots of my props are very rustic so I knew they would fit in with the woodland theme. We used my wooden crates, wooden candle holders, and vintage green glass bottles for the floral arrangements. A woodland or forest-themed wedding is a fantastic way to incorporate lots of natural elements into your wedding if you are an outdoorsy couple! This look is easier to achieve than you might think. Use as many natural elements as you can; we used our rustic crates and logs to create this look."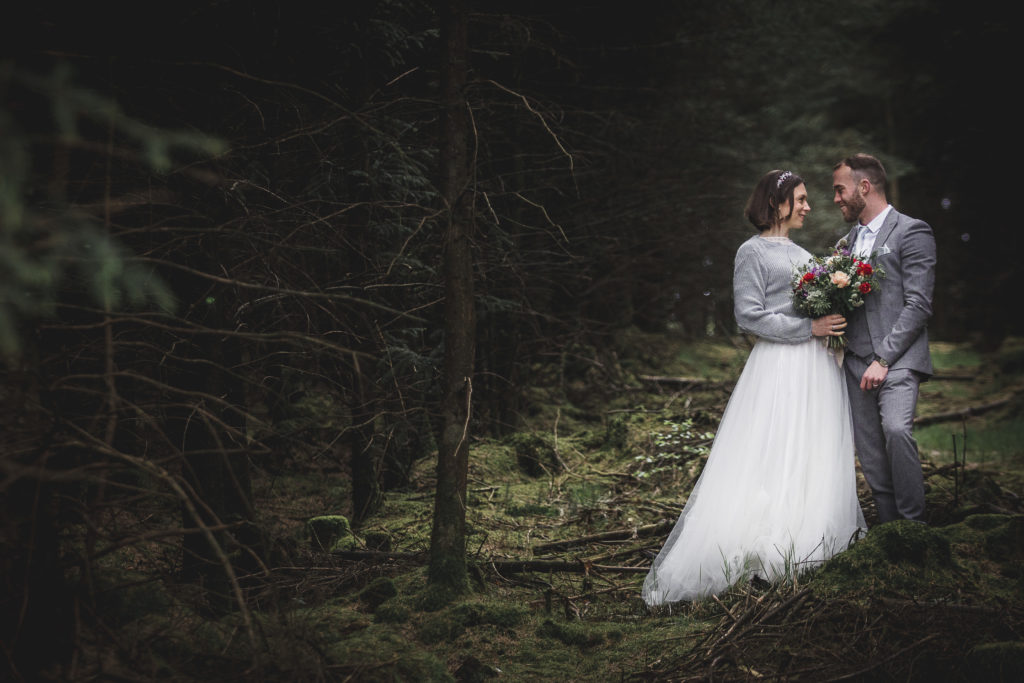 "Wild flowers can also be added to give that pop of colour. Vintage pieces of decor can be used to add the wow factor. Our vintage green bottles were used for the flower arrangements. Remember, everything old can be reused! Finish the look off with lots of fairy lights and candles to add the romantic touch!"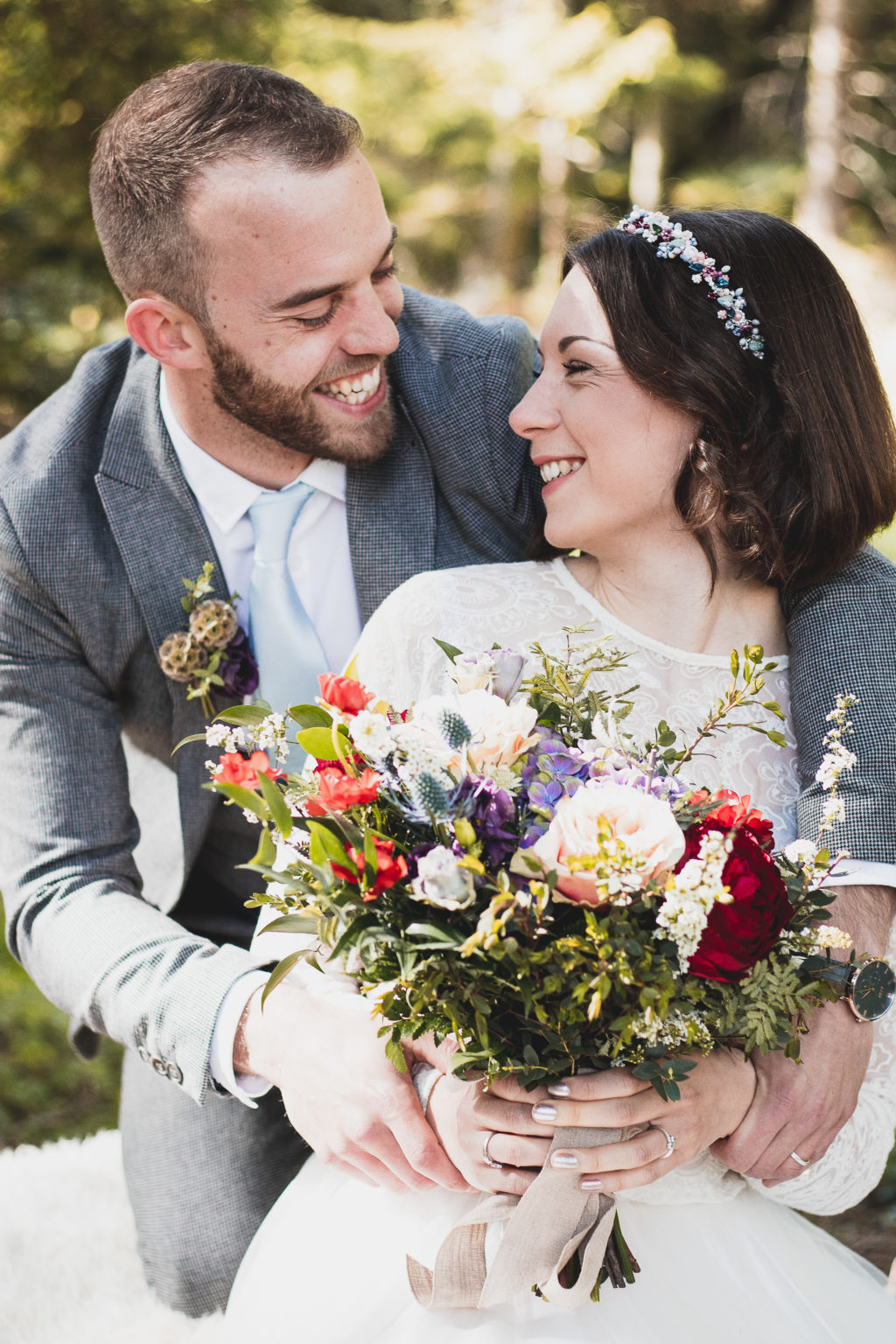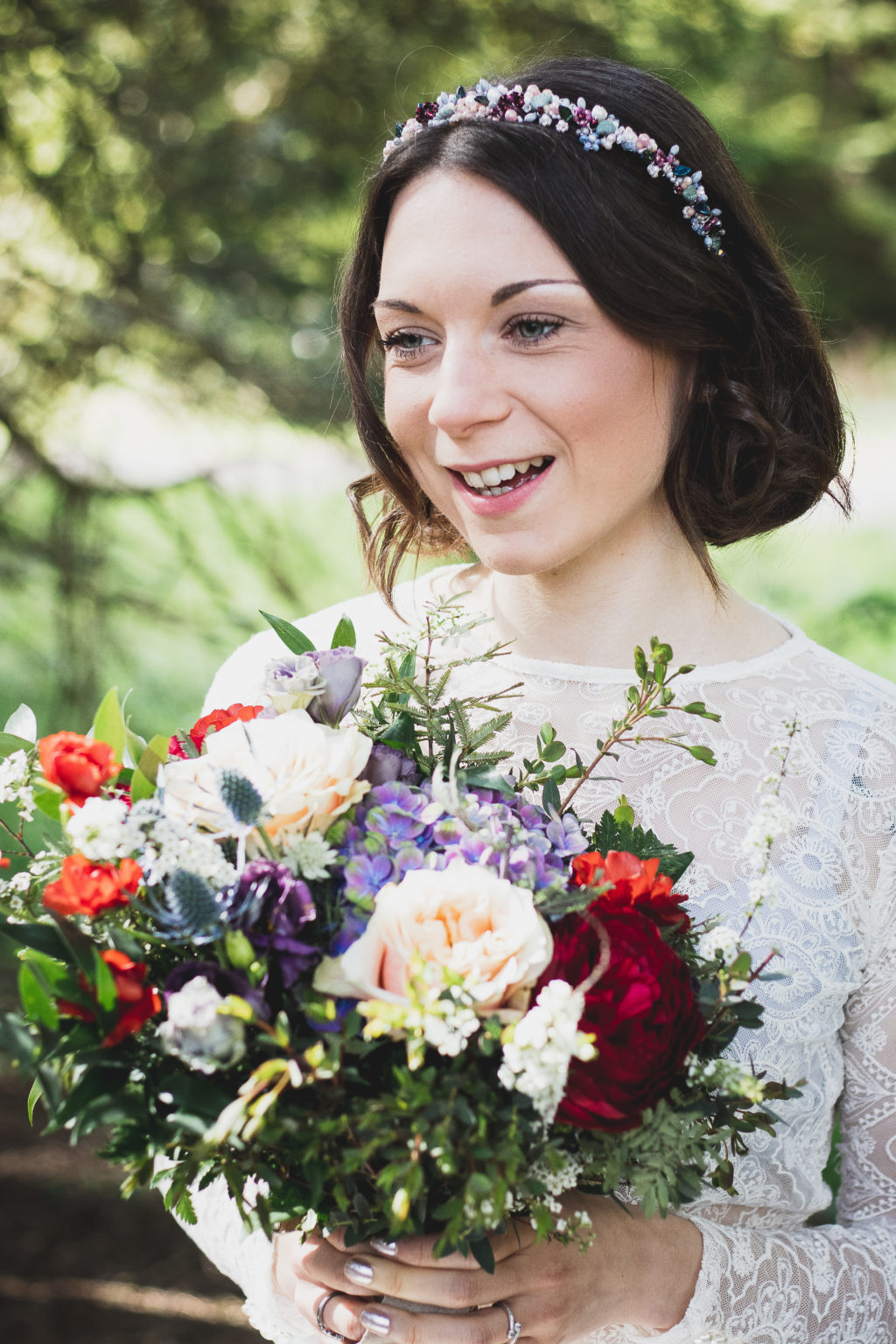 Ethical Tableware- Bare Kind
"If you're thinking of adding the 'green' touch to your wedding then reusable straws can be a thoughtful favour for each of your guests. With the potential of having to buy a large amount of favours, being able to keep the cost down and quality up can be challenging, but Bare Kind gives brides multiple options at bulk price. Brides in the past have either bought a mixture of all the colours for guests to choose their favourite or, as in the photos you can match the straws to your colour scheme.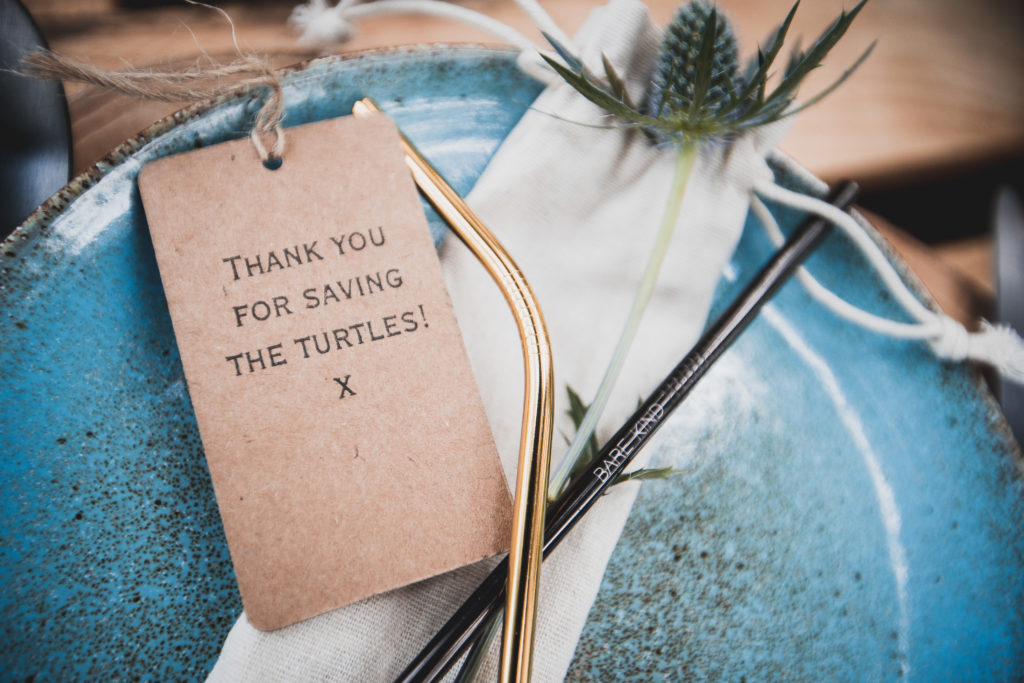 "You can either distribute them out on guests' plates, alongside their name cards, or even in some Mason jars in the middle of the table for guests to help themselves! They can be very diverse, and adaptable to any wedding style. One thing is for certain, your guests will be able to use these favours forever."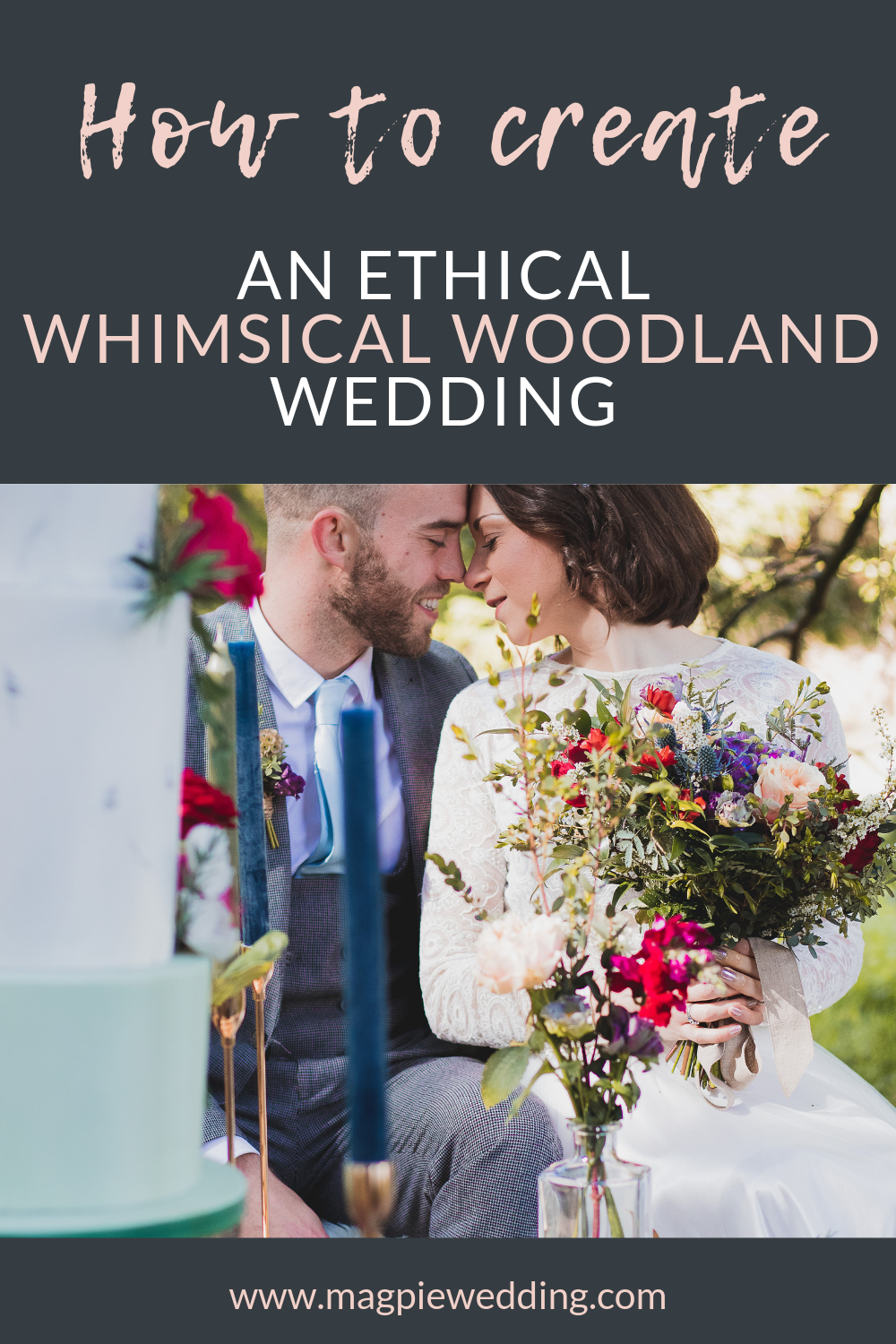 The Team- Whimsical Woodland Wedding With Ethical Styling and Accessories
Photographer: Freya Steele Photography @fsteelephotos_wedding
Dresses- Alexandra King
Accessories- Odesia May Jewellery @odesia_may_jewellery
Wedding cake- Claire's Sweet Temptations @clairessweettemptations
Flowers – Lynnsey Kelly Flowers @lynnseykellyflowers
Props- Wedding Hire South West @weddinghiresouthwest
Metal straws – Bare Kind @bare_kind8
Videographer- Off Grid Films
Models: Holly and Jamie
Love this Whimsical Woodland Wedding and want more inspiration for your big day? Check out our online magazine BOND BRIDE