The master of ethereal fairy tale wedding photography, Nina Pang, is back on Magpie Wedding with yet another dreamy styled shoot. Nina loves to capture the dreamy romantic feel of a wedding against a natural, moody background reminding us of old childhood tales.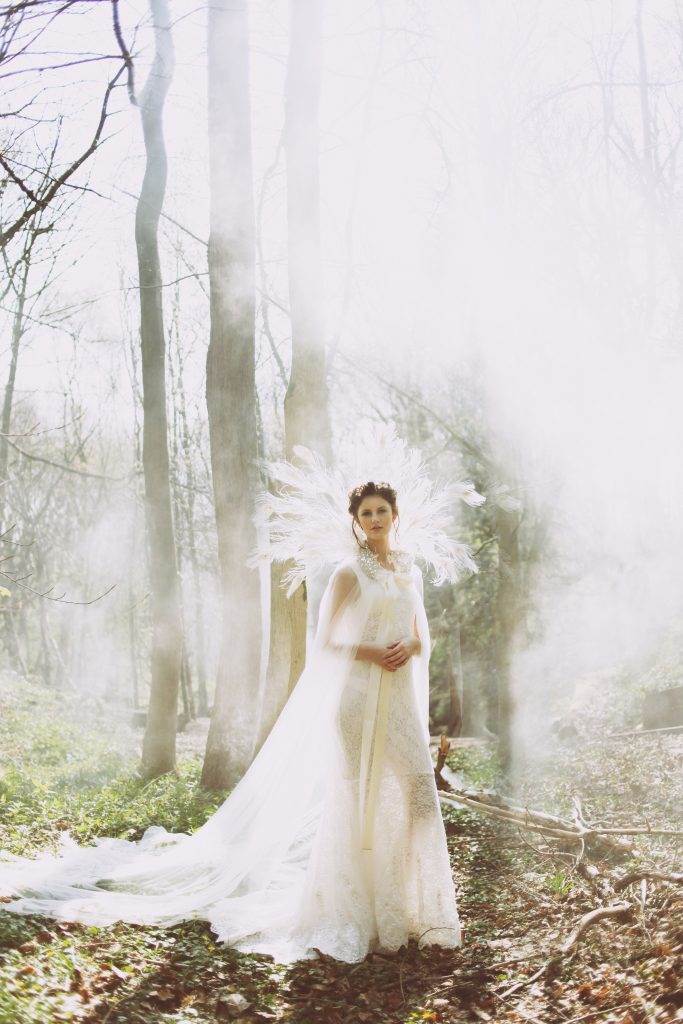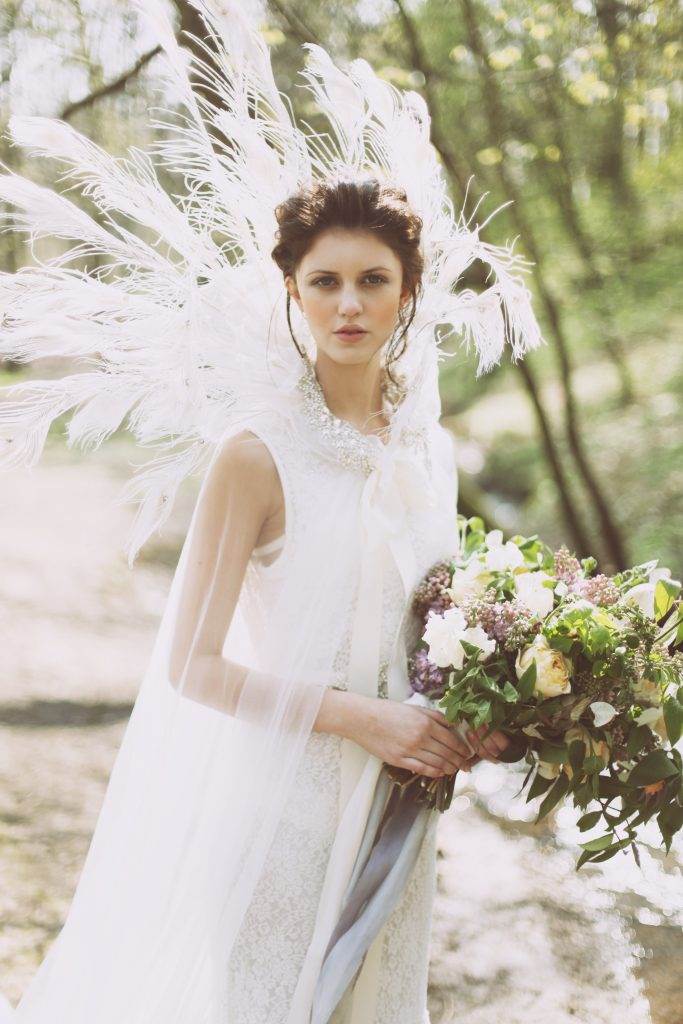 The team behind the shoot have shared their inspiration for the designs, which is always great to understand. Creatives in the wedding industry work tirelessly to make great product, be innovative as well as delivering to brides and grooms so I am so grateful to see these styled shoots. And with a few of the team being our exhibitors in Manchester, I particularly love to see their work on the blog.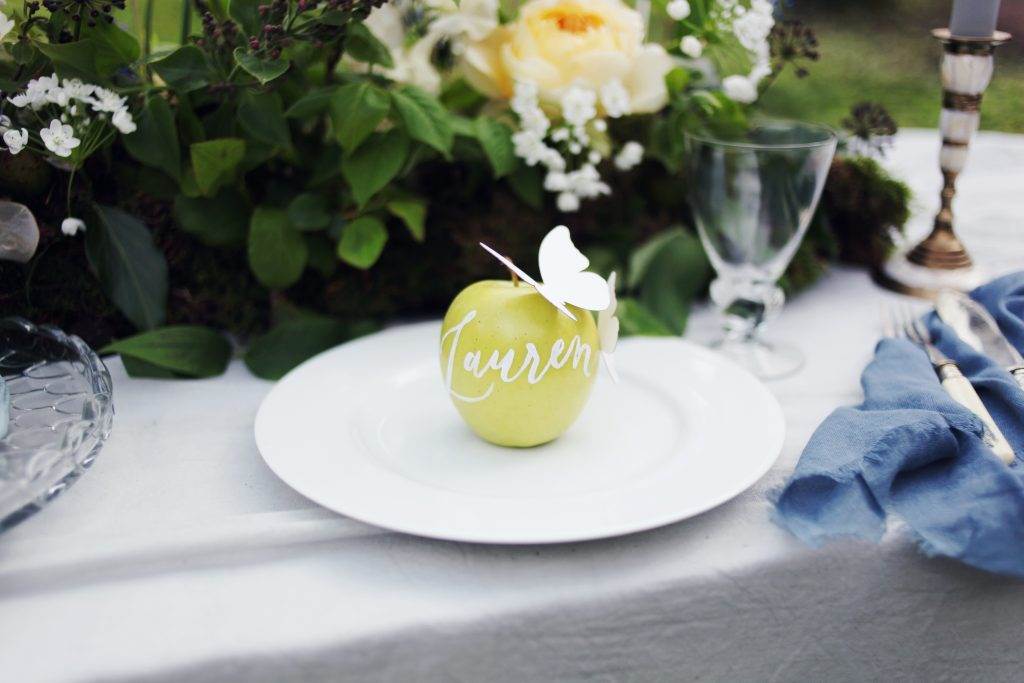 The Flowers by Liberty Lane Flowers:
"For the floral element of the shoot, I envisioned the bouquets and floral crown to be built around dried Lunaria, which, although not seasonal, has a translucent, shimmery, magical quality when it catches the light and is perfectly fitting for the fair tale wedding 'fairy glen' location. Additionally, I wanted to use some beautiful yellow garden roses – a colour not often requested by brides but a personal favourite – which set off the ethereal glow of the Lunaria perfectly. Using less 'obvious' focal flowers was a priority for me on this shoot as Nina's photography style complements this look perfectly and it encourages me to look for more unusual textures and colours. I created two different bouquets using these focal flowers; one more natural and seasonal in style, with Syringa, trailing Clematis and Sweet Peas, and a second more unusual design built from a structure of dried contorted Willow. When it came to the table setting, I created a long, Spring-inspired table runner featuring home-grown Figs, Hyacinth, Muscari, Hyacinths, Alliums and more of those beautiful caramel yellow Roses. This was constructed on a bed of moss with local foraged foliage and Syringa. The table design was perfectly offset by deep blue and grey table linens from Silk and Purl."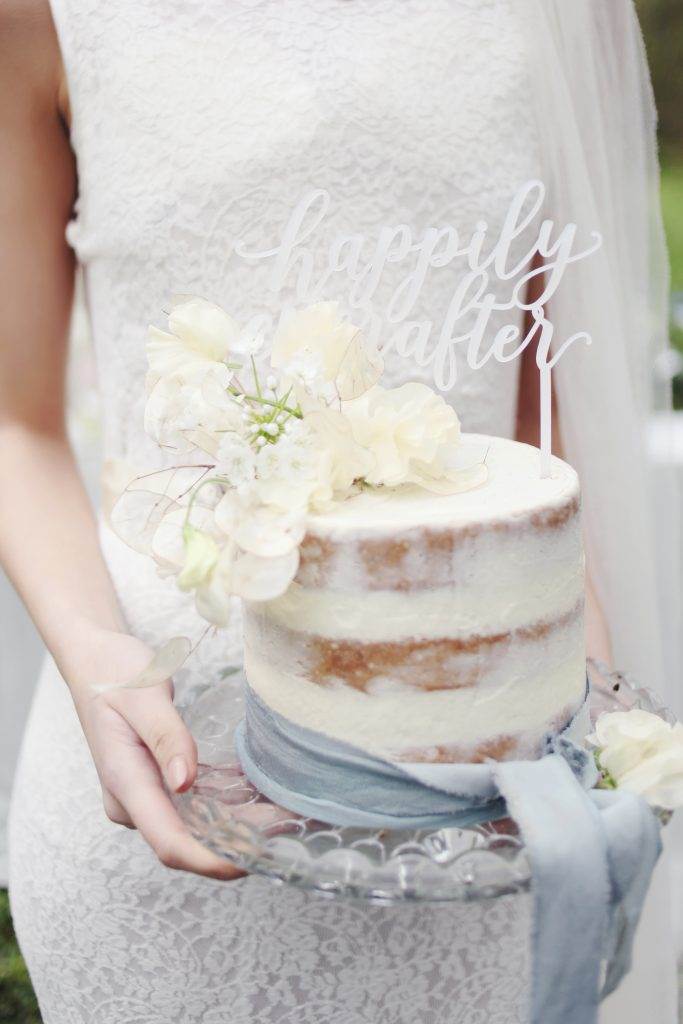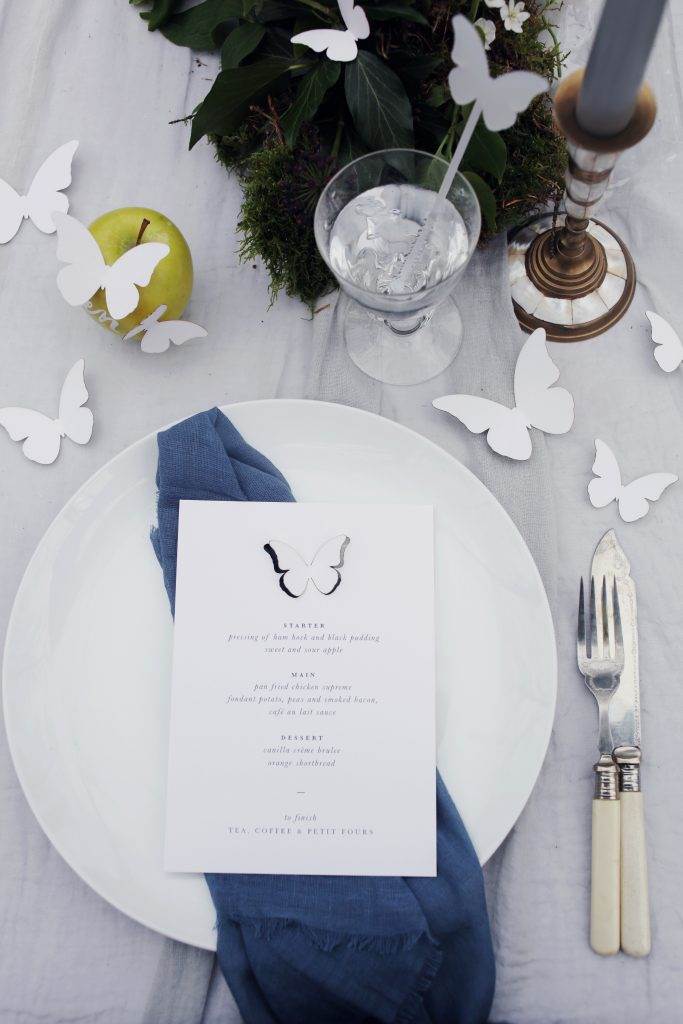 The Cake by Pink Cocoa:
"Inspiration for the cakes came from Nina's amazing photography, our location of 'Fairy Glen' and the beautiful blooms provided by Jennie. With a grey blue watercolour wash running across the tiers to echo the dreamy feel of the location in sunlight and using an unusual mix of both dried ivory berries and sugar caramel yellow garden roses to match with the table settings and bouquets. Along with the main cake I designed an additional semi naked cake, with a rustic, natural but elegant feel which was decorated with shimmery dried Lunaria and a white laser cut 'Happy ever after' topper from Emma Jo Stationery. I added a hand died, washed grey silk ribbon tied loosely around both cakes to carry through the rustic yet elegant feel of the shoot."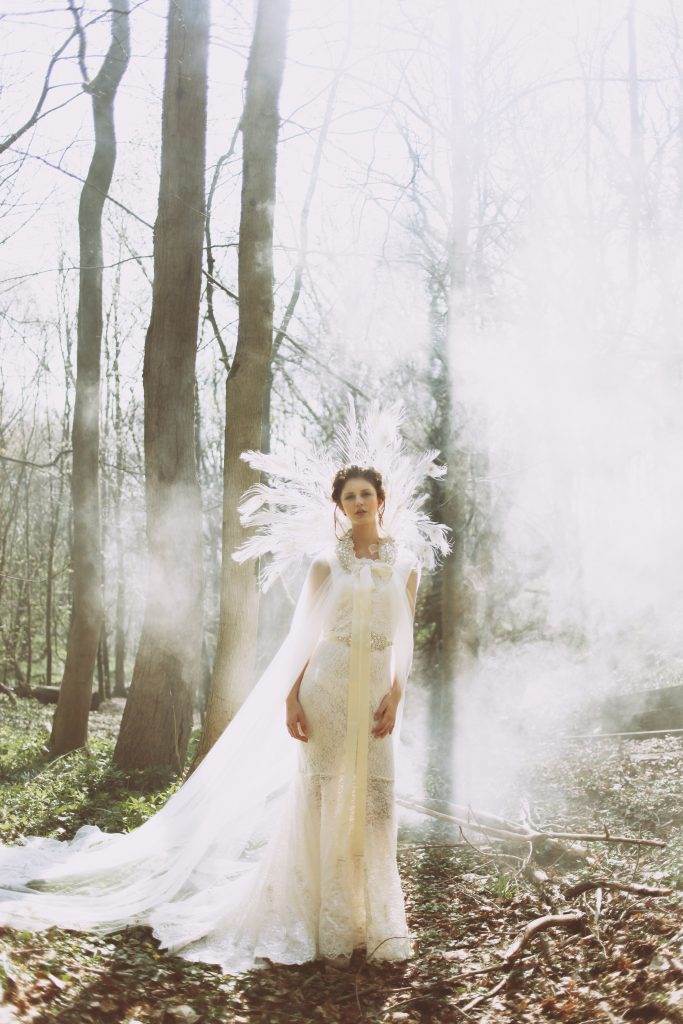 The Stationery by Emma Jo Stationery:
"I wanted the stationery to nod towards the 'Fairytale' theme but remained elegant enough to suit lots of couples and their weddings. I instantly thought of butterflies and knew I wanted to bring an unexpected element, so I chose to keep the overall design very simple with a minimal palette. I then laser cut butterfly wings that could be folded up to look real! I designed invites, save the dates and menus to match. Apples also came to mind, probably because of Snow White! But I thought it would be fun to make some alternative place settings with them so I hand lettered the names across the apple and placed a few paper butterflies on top – I was really pleased with how they turned out! I also made a handful of laser cut pieces, a 'happily ever after' cake topper, cocktail stirrers and little butterfly place settings with engraved names that would make perfect favours too, all in frosted white acrylic."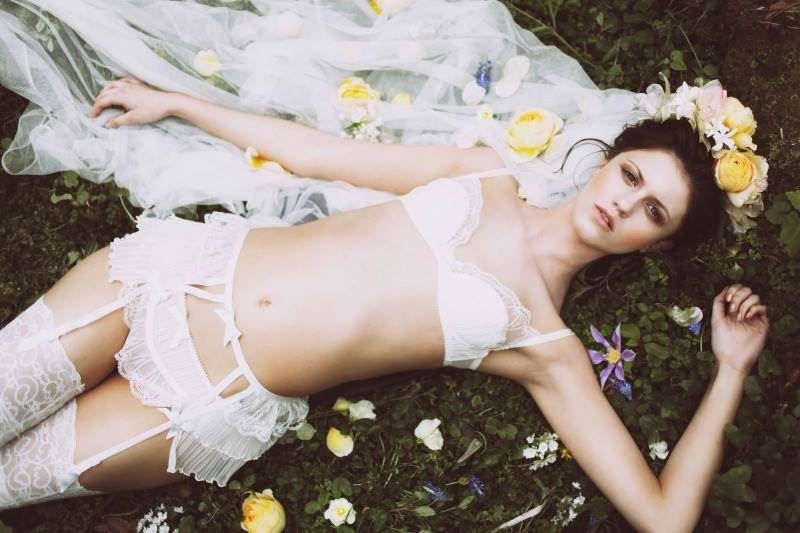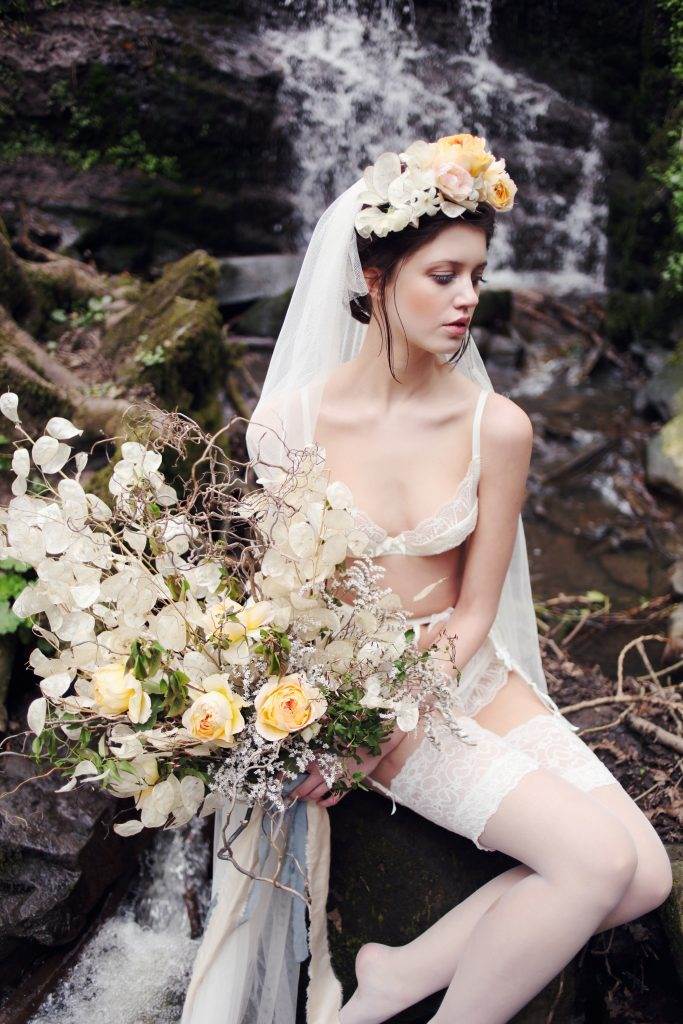 I think you will agree this fairy tale wedding shoot is stunning and so romantic. Have a look at Nina's Alice in Wonderland shoot featured here only a few weeks ago.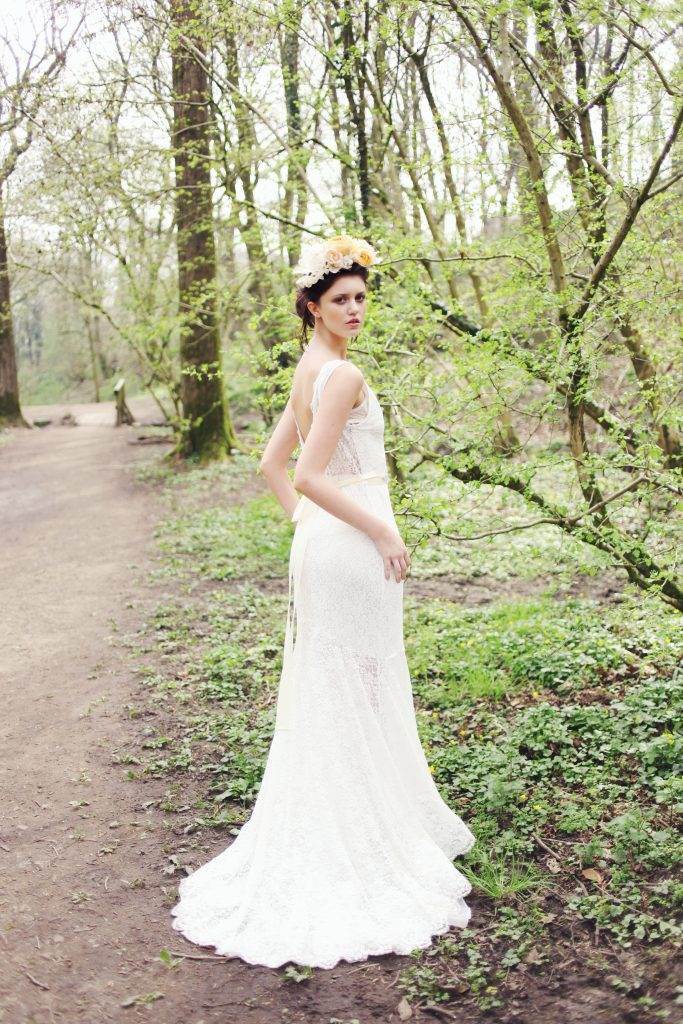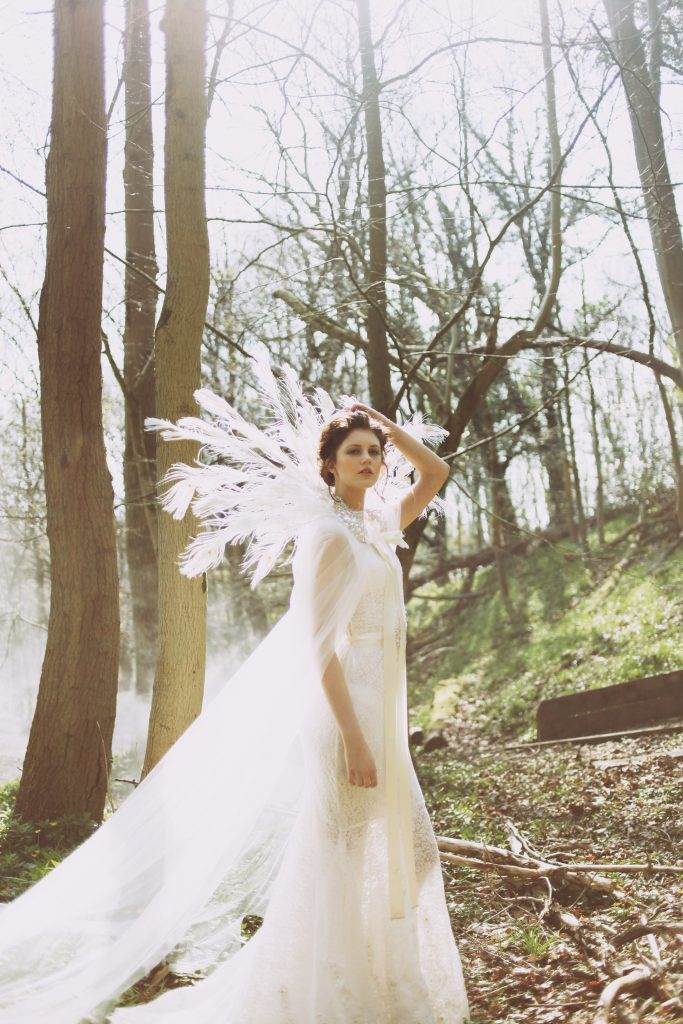 CREDITS:
Photography: Nina Pang
Model: Abby Heaton
Makeup & Hair: Mimi Lomax
Flowers: Liberty Lane Flowers
Cake: Pink Cocoa
Dress: Mel Joy Costume Design
Stationery: Emma Jo Stationery
Silks and linens: Silk and Purl