Oh, we are dreaming of summer already and this styled shoot at Wasing Park Estate is sure giving us those summer vibes. It's full of rustic florals, outdoor boho vibes and a beautiful vintage campervan. Naomi Brown of Vintage Camper Booths coordinated and styled the shoot and we hear from her and some of the team to find out what made this summer shoot at Wasing Park Estate so special…

Inspiration
"With the Covid 19 lockdown and tight restrictions we were all living in last Spring, we wanted to create a 'Magical Elopement Woodland Wedding' journey for couples to be inspired by and we achieved just this in the Summer months with the help of an incredible team of creatives. We wanted to create a journey where the couple just have the freedom to run away together (Elope) into the woodlands in their beloved VW Campervan, get married overlooking a magical lake in a rustic ceremony setting, celebrate with confetti and smoke bombs in between the pines (we do love a smoke bomb!) then celebrate being newlyweds with champagne and wedding cake in front of their Campervan before driving off into the sunset together."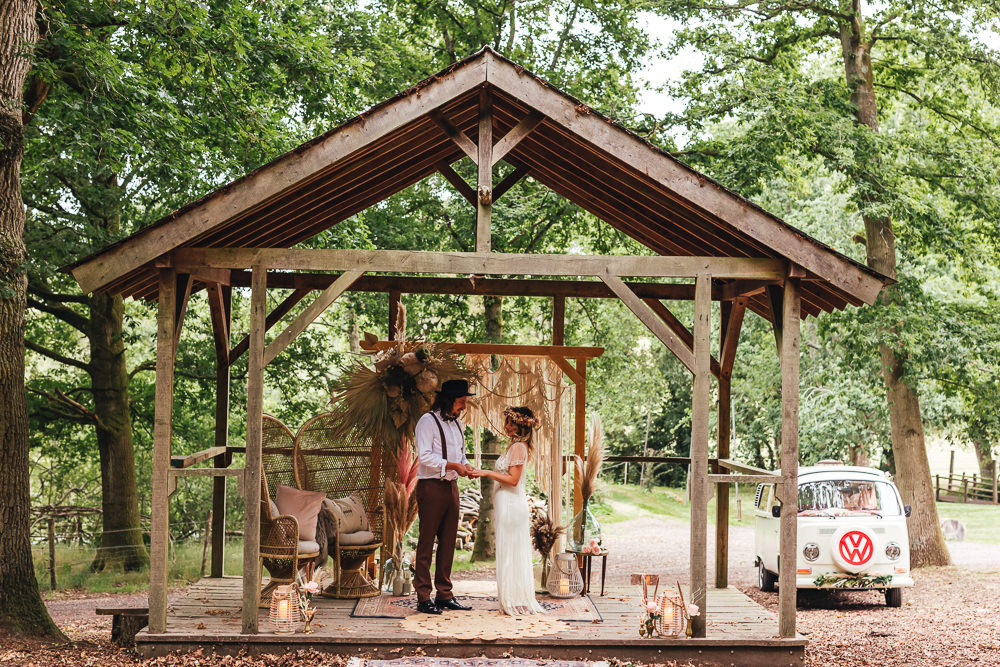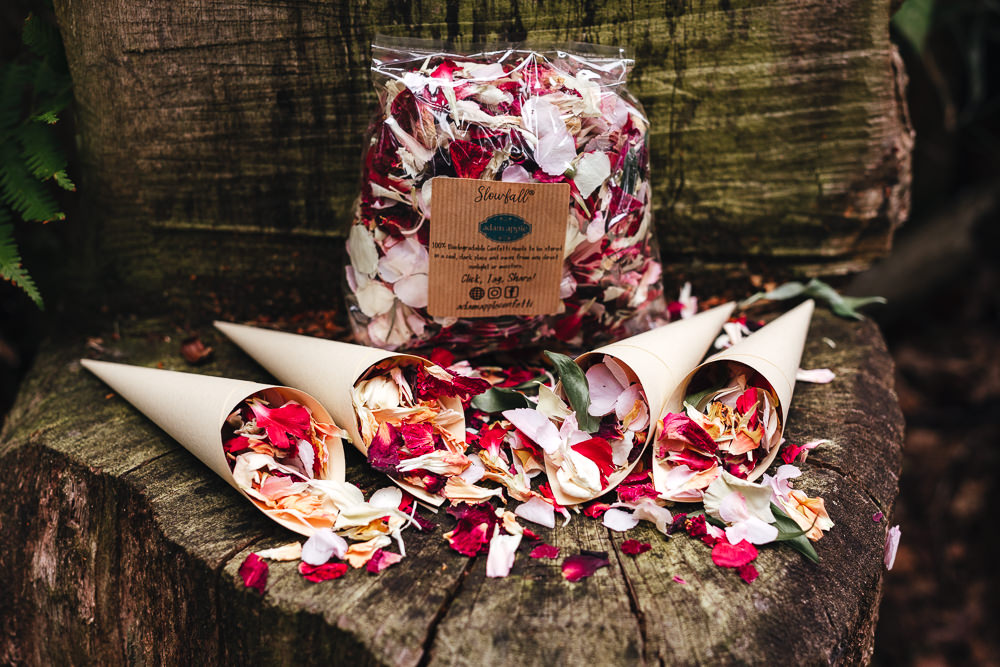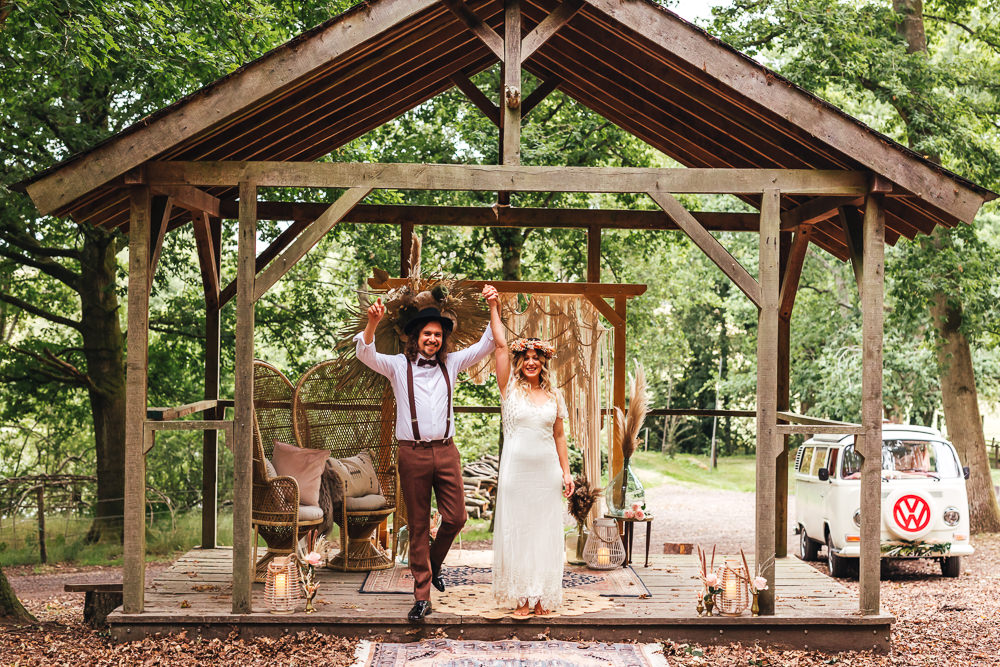 "We wanted to create a Bohemian feel, and the colour palette was very much soft blush pinks and soft earthy muted tones. The florist Cydney from 'Flourish Bespoke' really understood the whole relaxed boho vibe we were going for and worked her magic with all the beautiful and much-loved dried flowers such as Pampas Grass & Bunny Tails! The Styling by 'The Surrey Wedding Company' was just idyllic and on-trend with all the Boho feels with beautiful big Peacock Chairs, Macrame's, soft cushions, and warm soft lighting."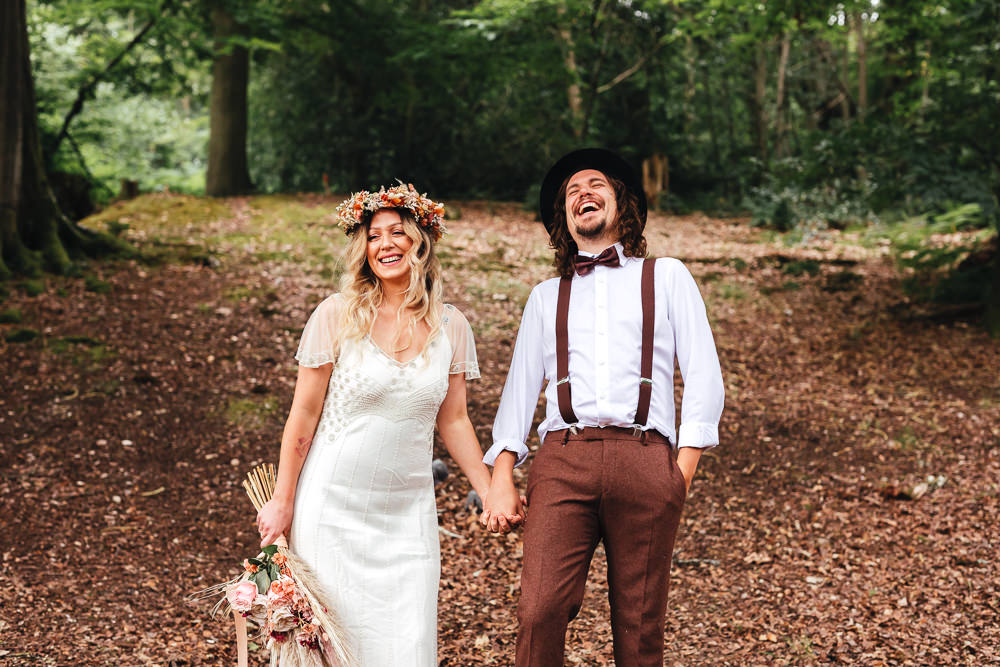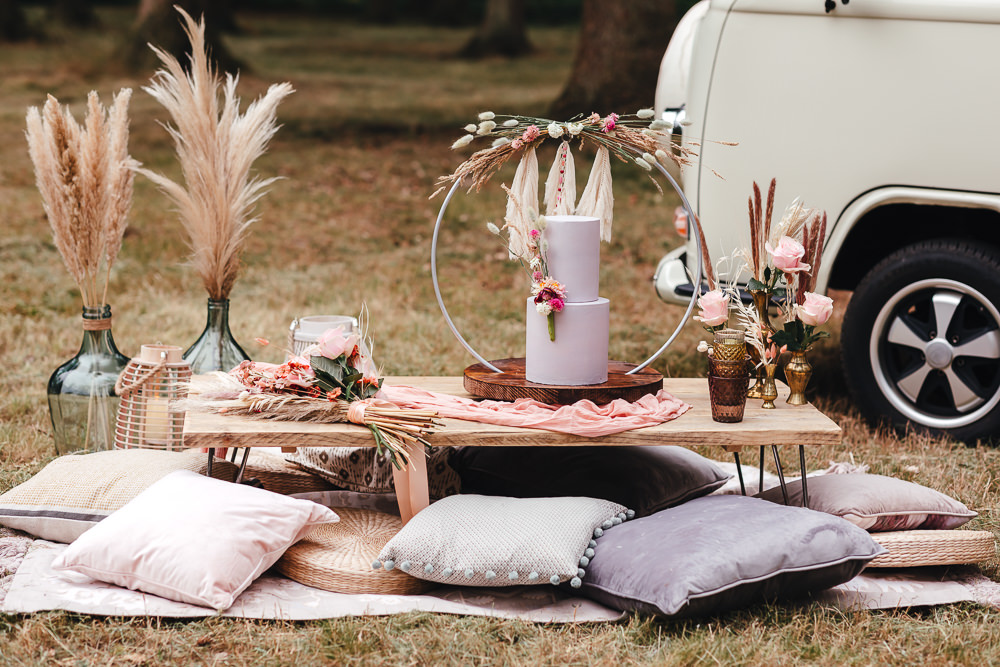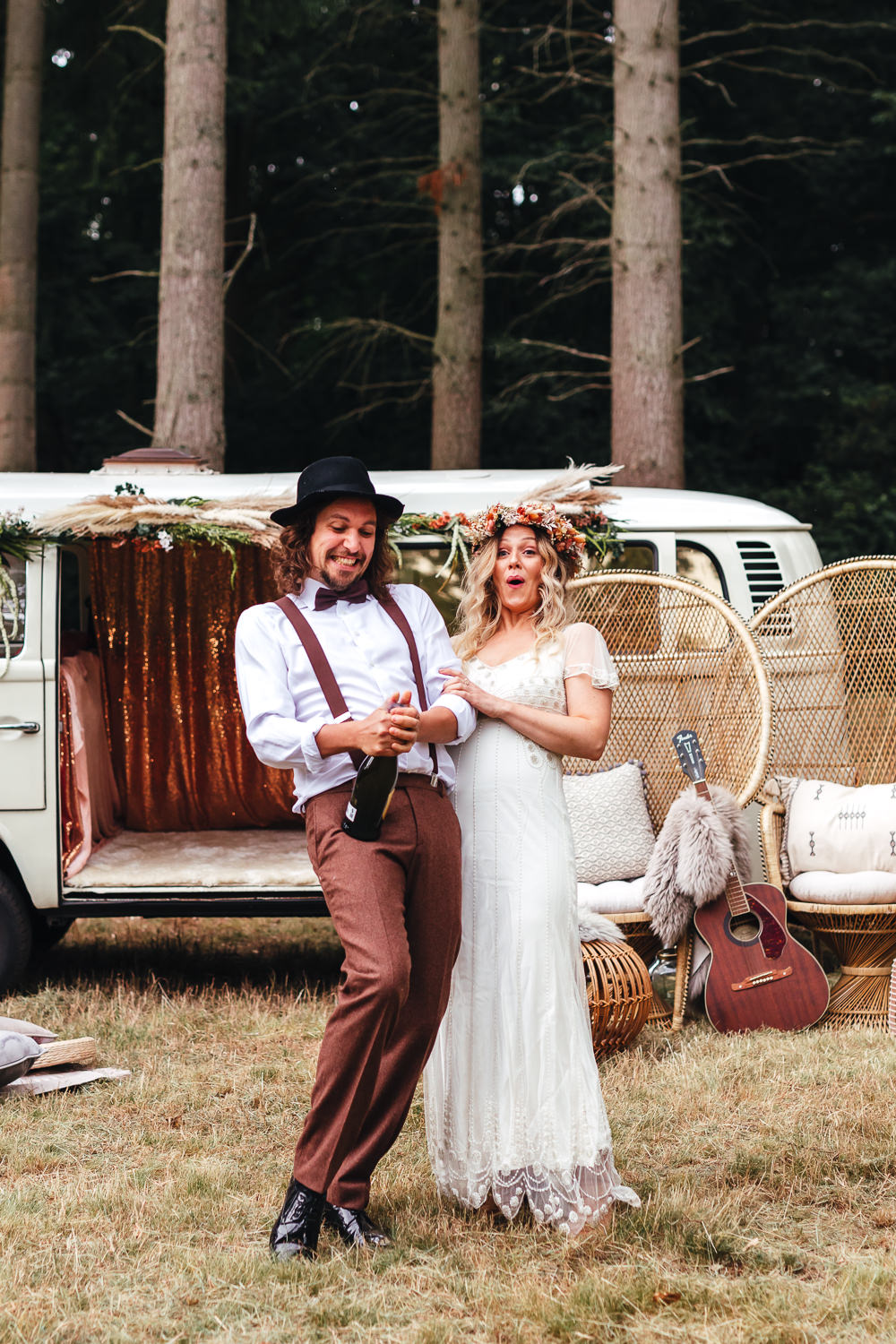 "We are preferred suppliers at Wasing Park Weddings and have done weddings in their Estate as well as their enchanting Woodlands many times, so it was the perfect choice for us to do the Woodland Elopement Styled Photo Shoot here and we were over the moon when they agreed. Wasing Estate Weddings have something for everyone, A Traditional Church, Luxurious Onsite Accommodation, Walled Gardens, Woodlands, A gorgeous Barn and Summer Garden Room. We love it there!"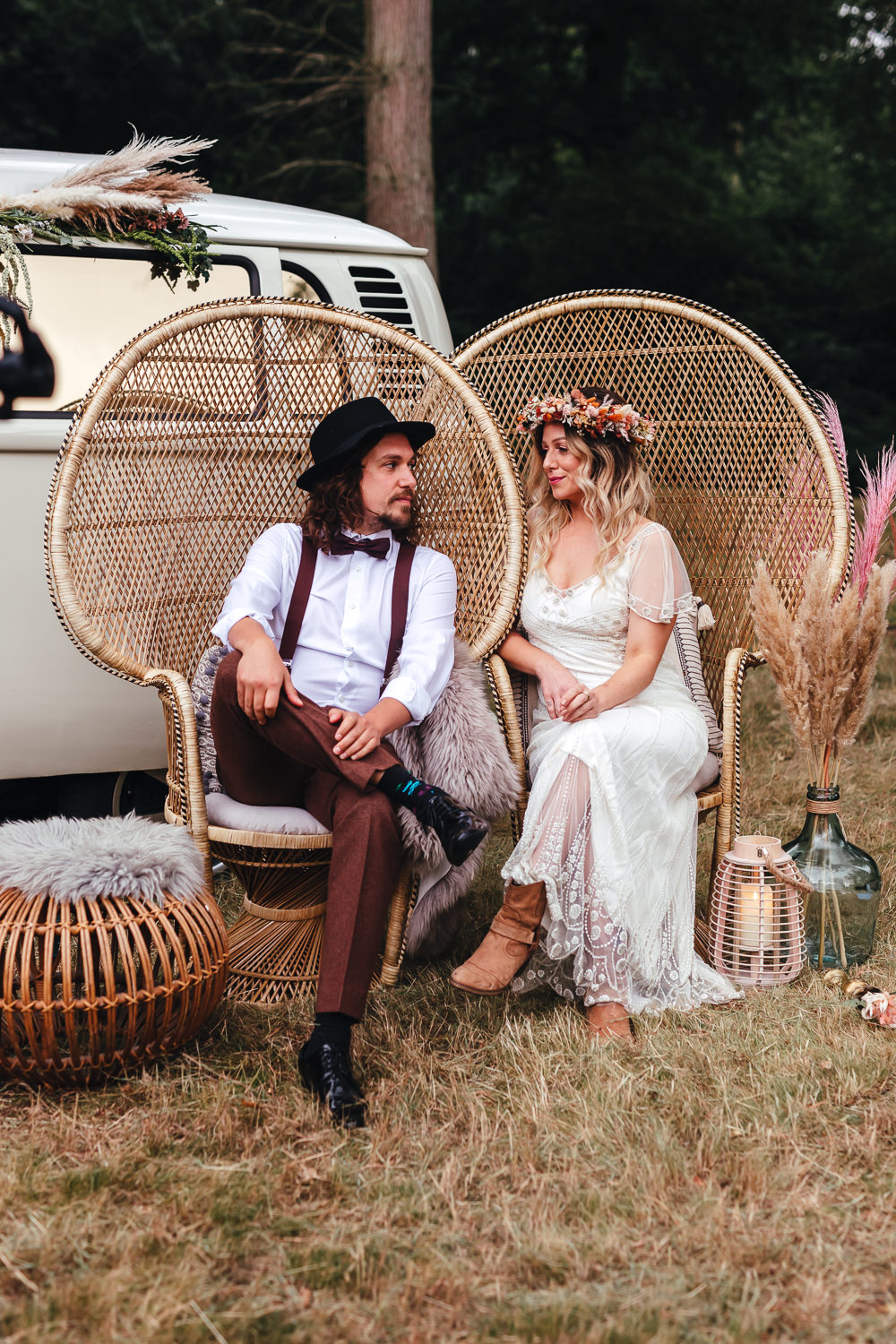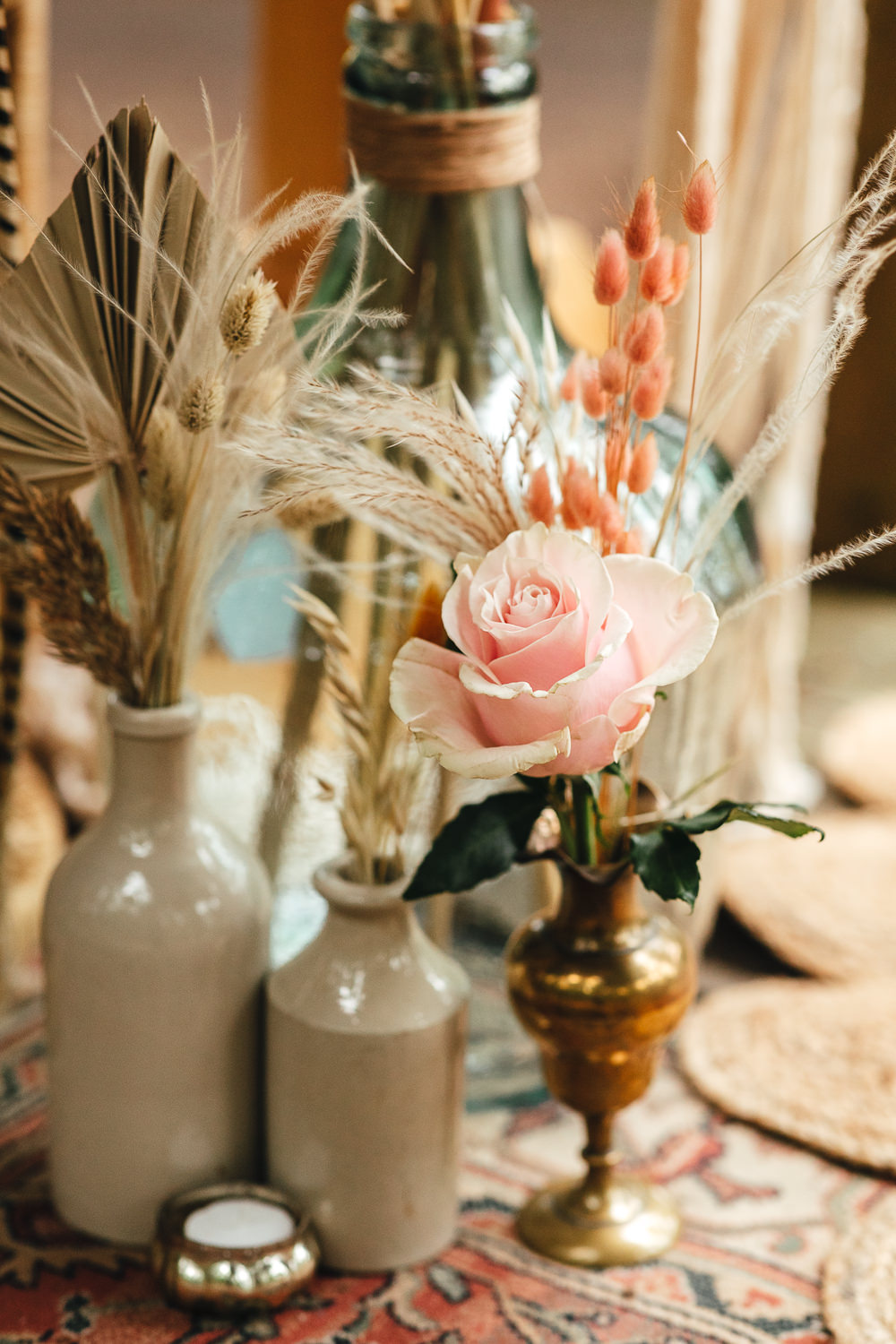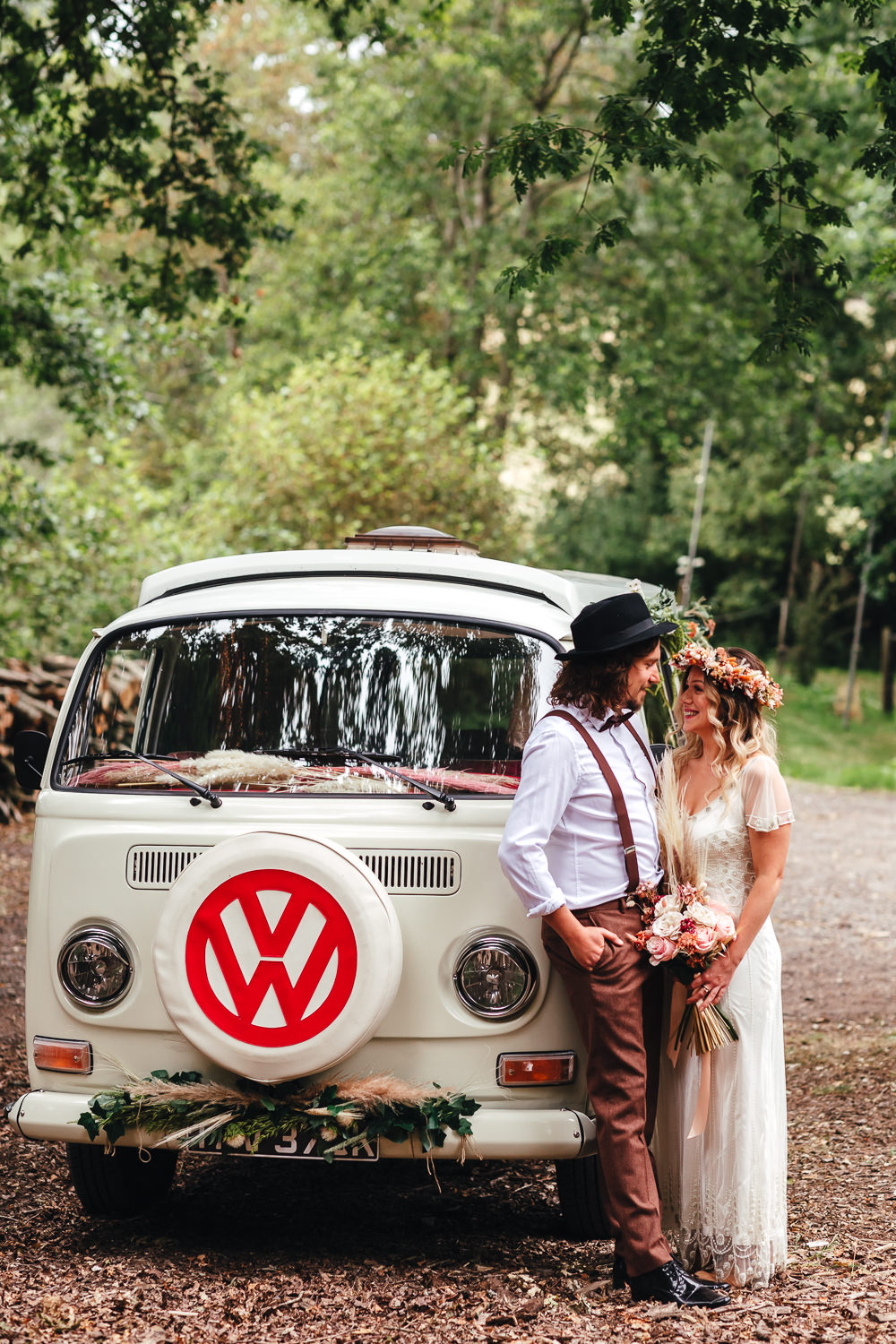 Styling – The Surrey Wedding Company
"With the beautiful woodland as a backdrop, we used light and textural props to create a romantic boho theme. For the ceremony area, we set up a macrame backdrop adorned with pampas and palm leaves. Flowers in glass and brass vases softened the wooden arbour. We then styled a woodland elopement scene around the gorgeous campervan. A low seating area with cushions and dried flowers framed the cake and peacock chairs created an intimate seating area. The soft colours and rustic wood textures ran throughout the scenes to tie the whole shoot together"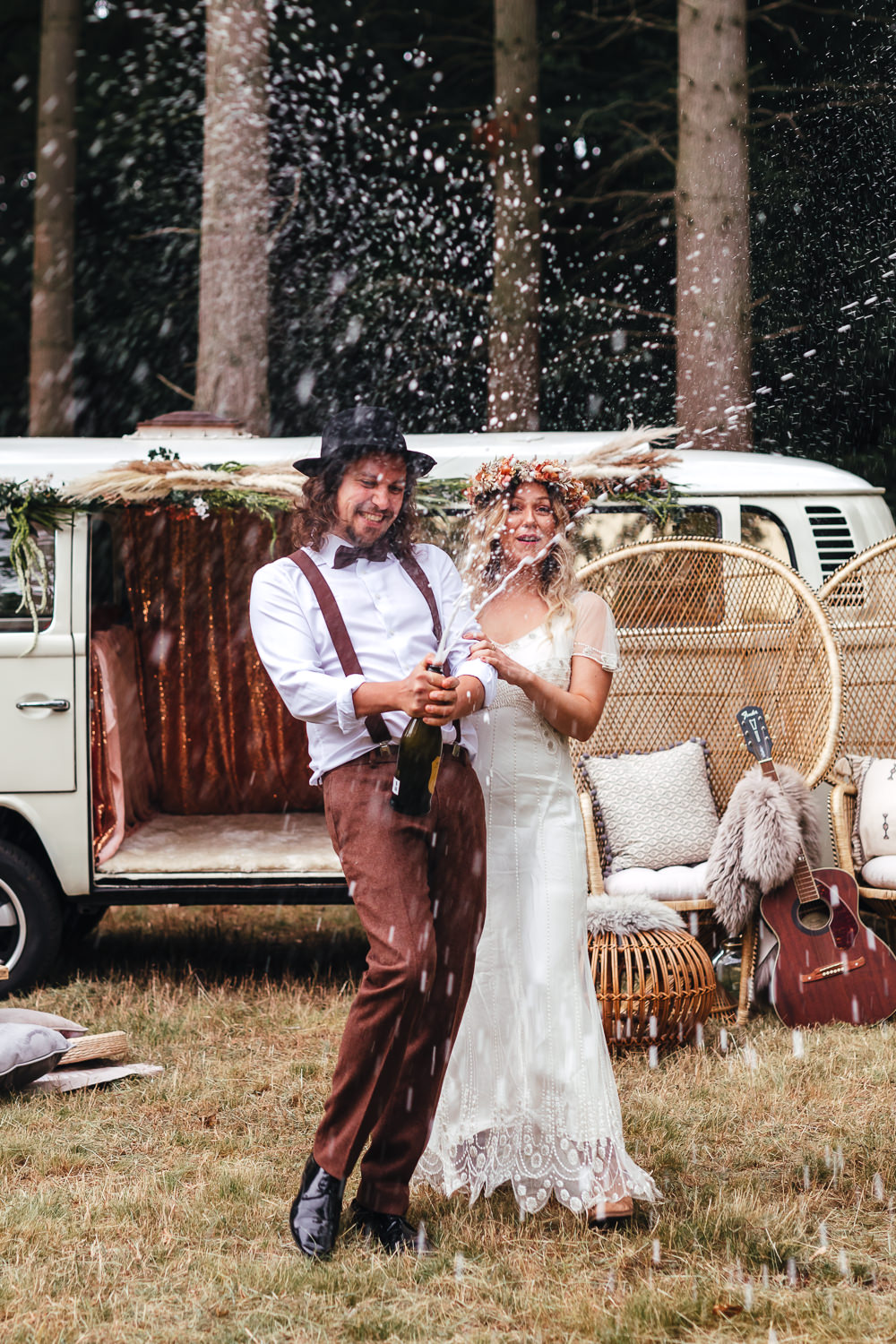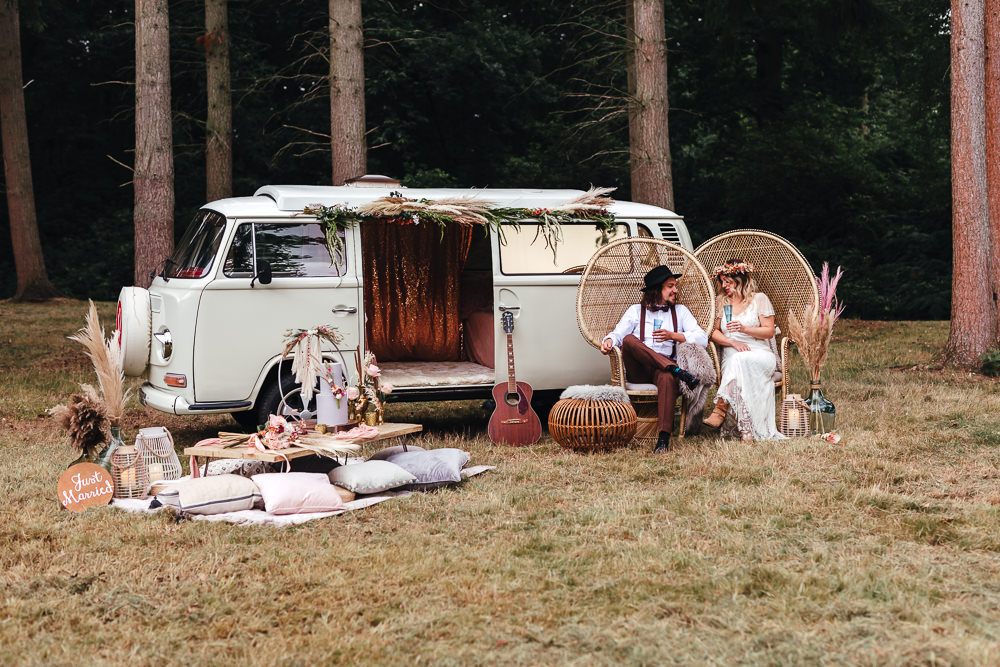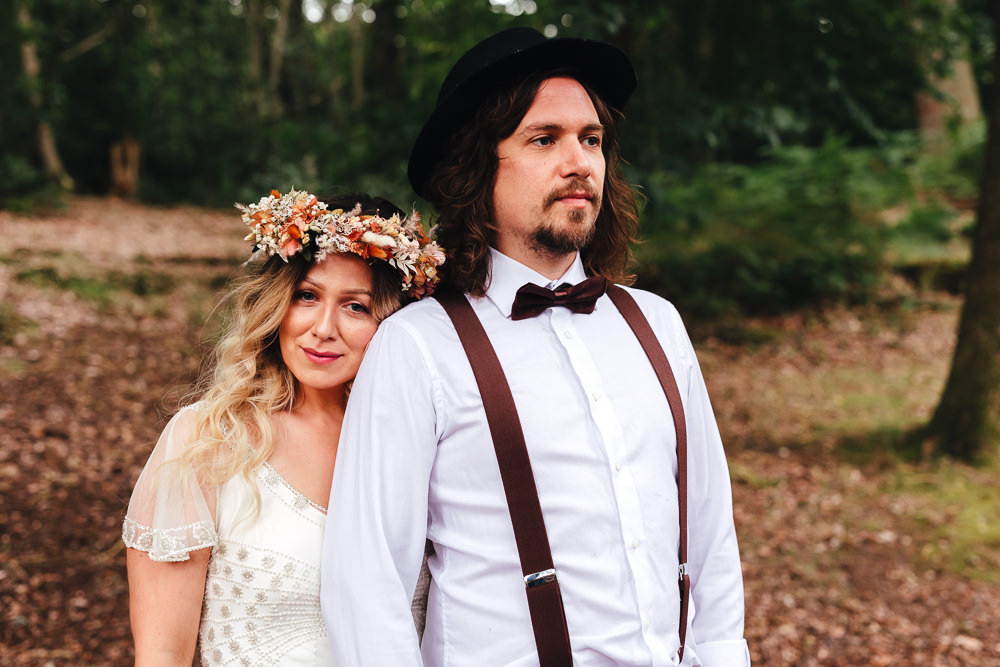 Photography – Kirsty Mackenzie Photography
This lovely boho shoot was planned by Naomi and the brief was bohemian luxe which was just my vibe. We discussed shooting at golden hour to get some magic light to really show off the venue but Of course on the day we didn't get the golden hour we planned, but the shoot was a success none the less! The photographs were relaxed and natural to show the inspiration from a 'this could be you' wedding perspective. We also used some smoke grenades to add a pop of colour to the images. I love the hazy coloured smoke in the background of the images. I think they might be my favourite of the day!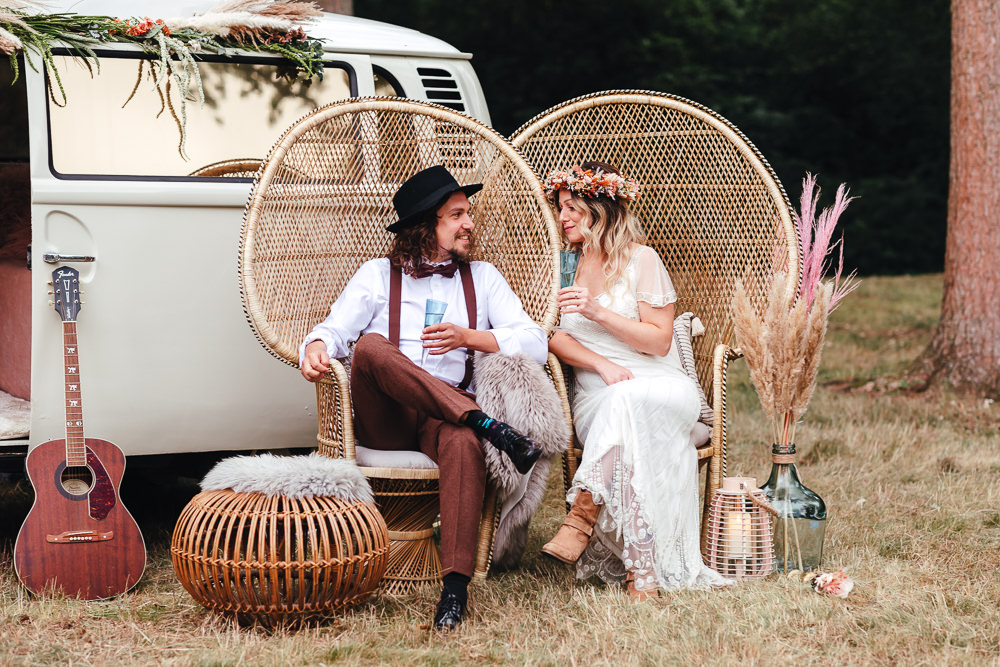 The Bride
Dress and Accessories
"We struck gold with the dresses, one was a gorgeous 'Jenny Packham' Vintage Beaded Dress from Pirouette Bridal and the other, the 'Honeymoon Dress', was a beautiful 'Pink Sequin Tulle Dress' from Bridal Flamingo. We played around with different jackets and headwear and borrowed a beautiful Pink Leather Jacket from Sammy Leas Retro Emporium with light up letters on the back saying 'LOVE' – it looked incredibly cool! Folkey Dolkey let us use one of their stunning Bespoke 'Dried Flower Floral Crowns' and the colours blends of the confetti, which were provided by Adam Apple Confetti were dreamy fitted perfectly with the whole colour scheme. Rock Paper Nib provided us with one of their gorgeous stationery sets too!"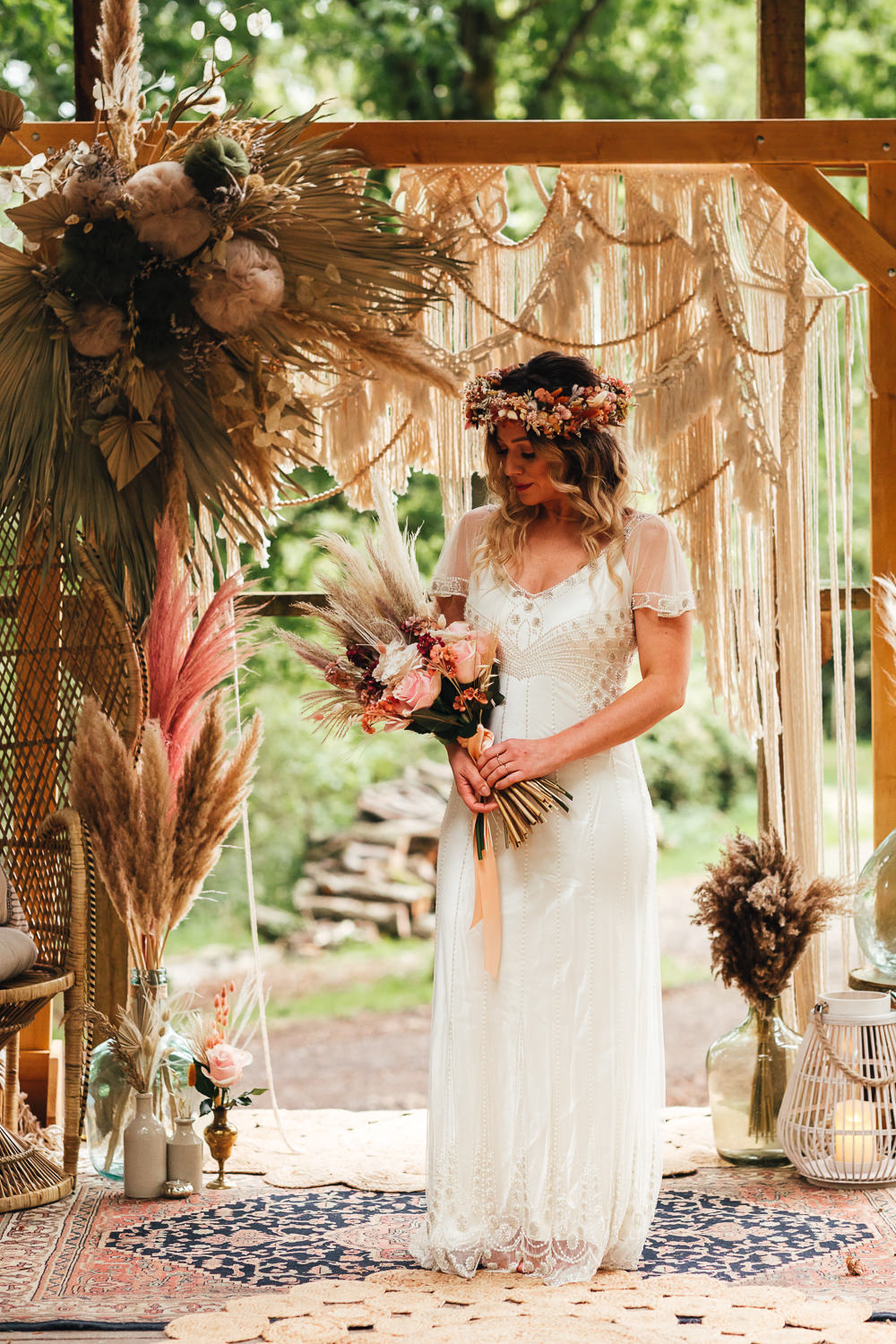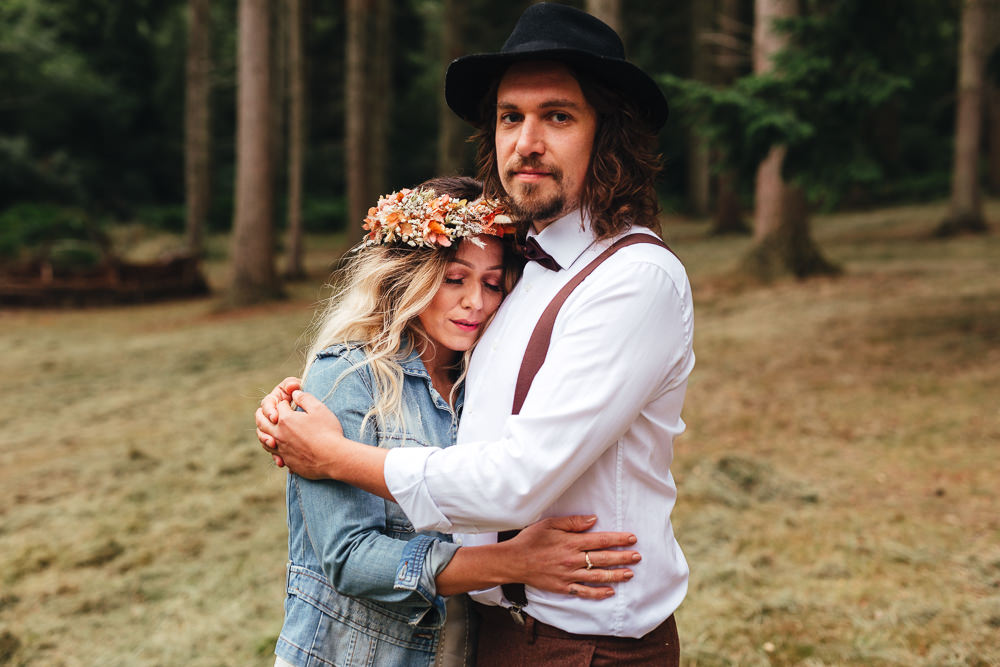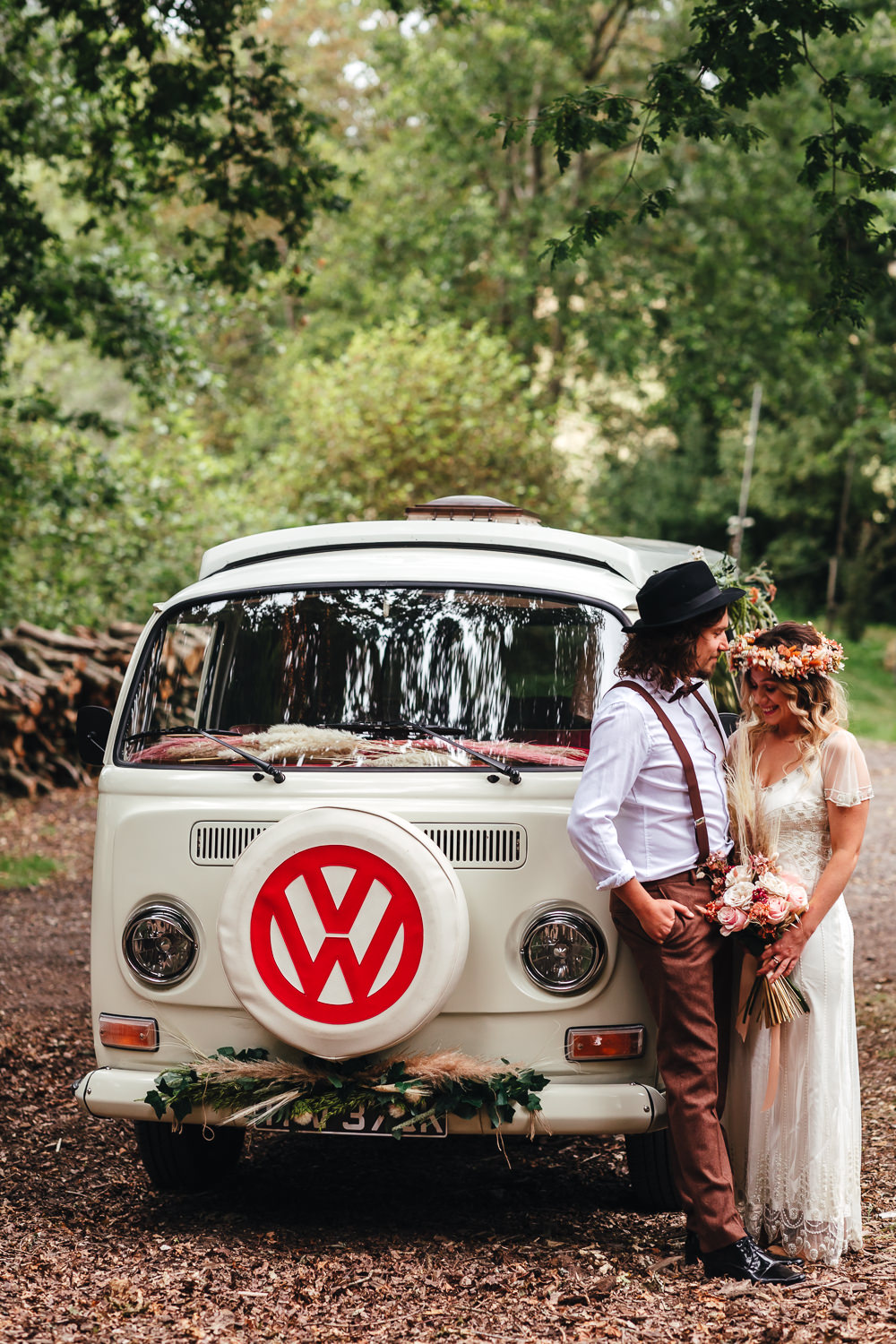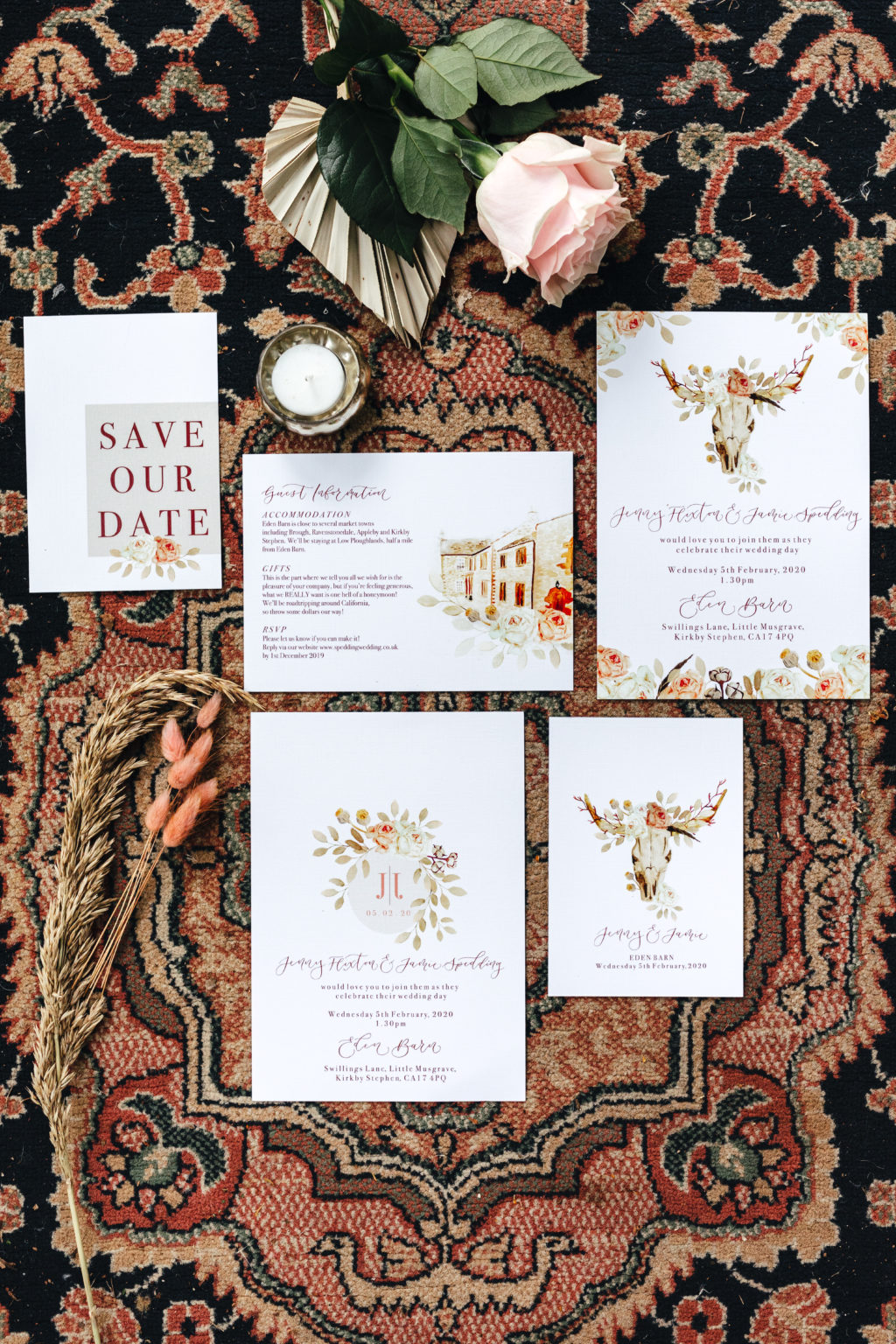 Hair – Rosie Hart
"To complement the rustic, woodland theme, I decided to go for a relaxed half up half down hairstyle. Beachy waves and a chunky braid gave it a romantic, bohemian twist and went hand in hand with the beautiful, wild-flower crown. This tousled style is full of texture and detail and is the perfect hairstyle for those brides that are after a natural look, with a boho vibe! When deciding on your hairstyle for your wedding day, it's always helpful to find images of hair that are similar to your own, in length and colour, to share with your stylist – that way you'll have a more realistic idea of what styles would suit you best, and how they would look on you!"
"The Model did her own make-up due to covid restrictions. She went for soft, creamy & peachy tones which were achieved perfectly using Charlotte Tilbury's amazing makeup range!"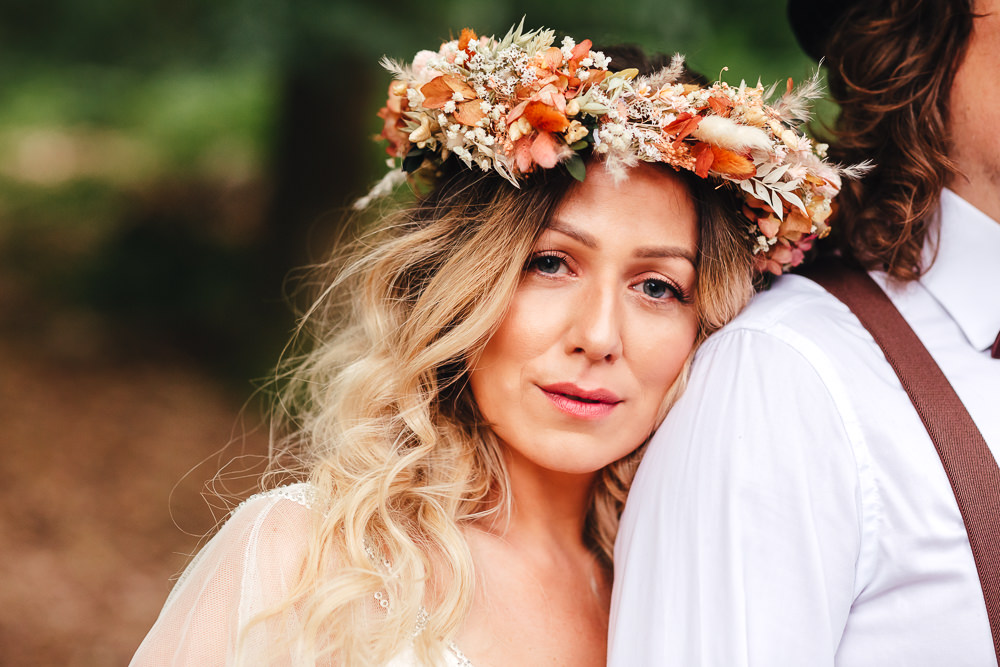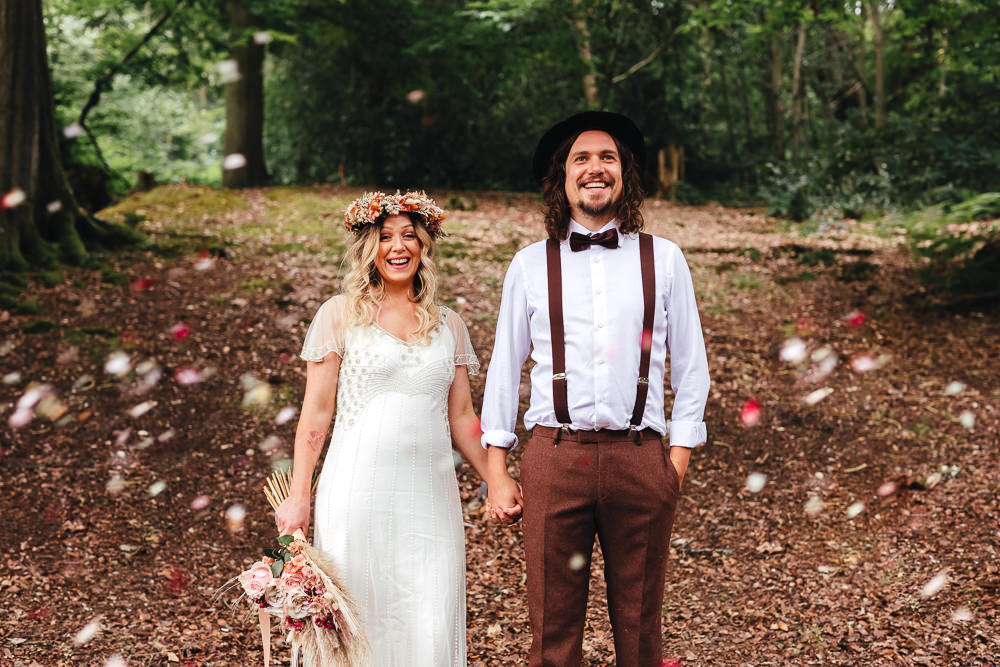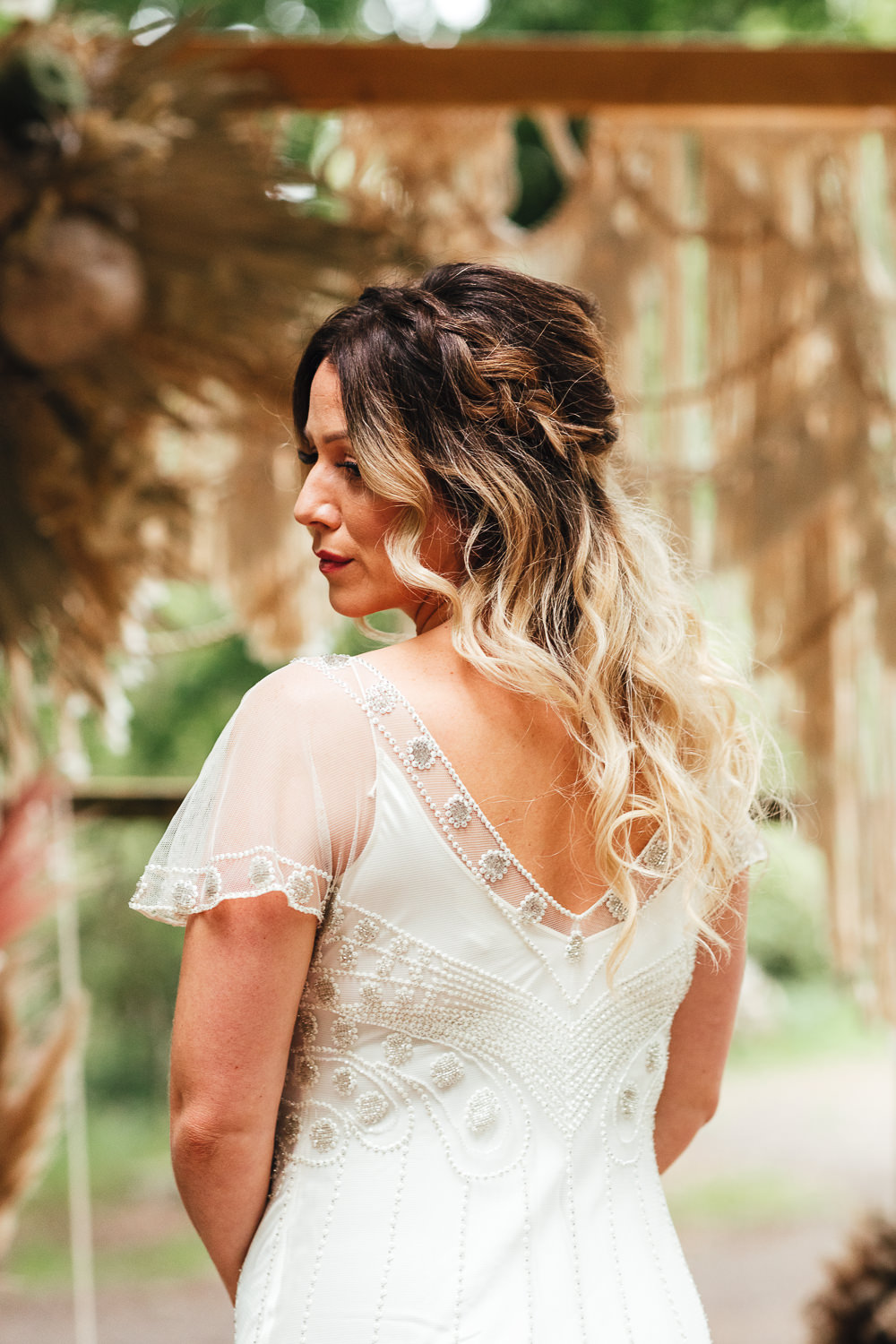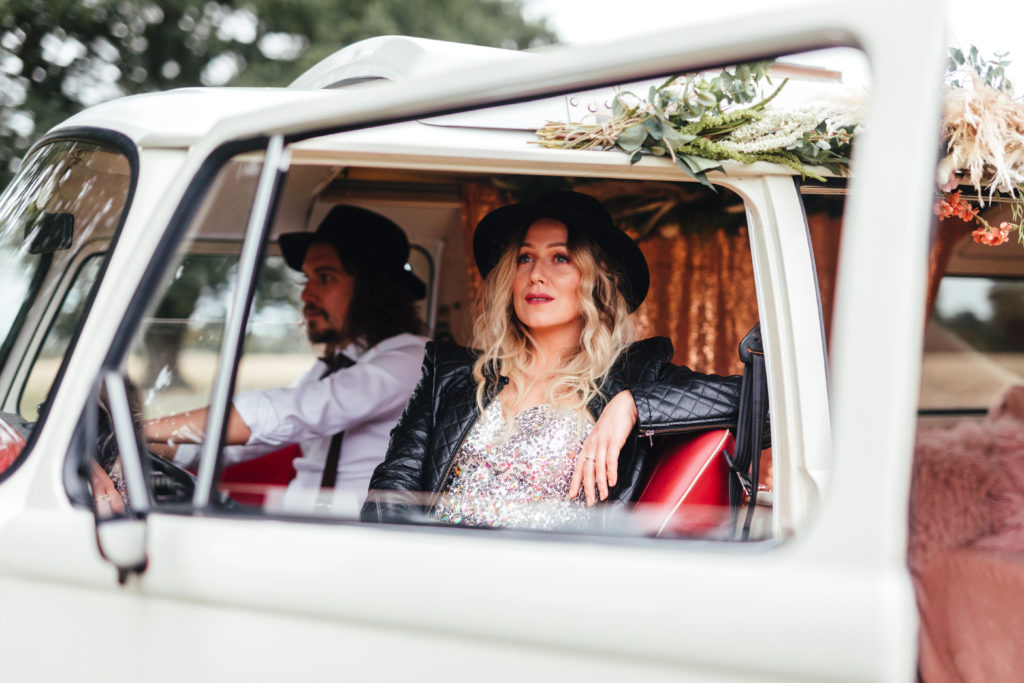 The Details
Flowers – Cydney from Flourish Bespoke
"The choice of flowers for this shoot was trend-led with pampas grass being a still loved favourite and the focal point – bohemian & wild but with a soft pink twist. The flowers encapsulate a rustic yet pretty design that ties in all the styling, decor, the couple's attire and the natural setting. Using a mixture of dried, artificial and fresh materials and flowers, bringing all these elements together to create something eye-catching but still relaxed, which I think represents this shoot and the couple perfectly!"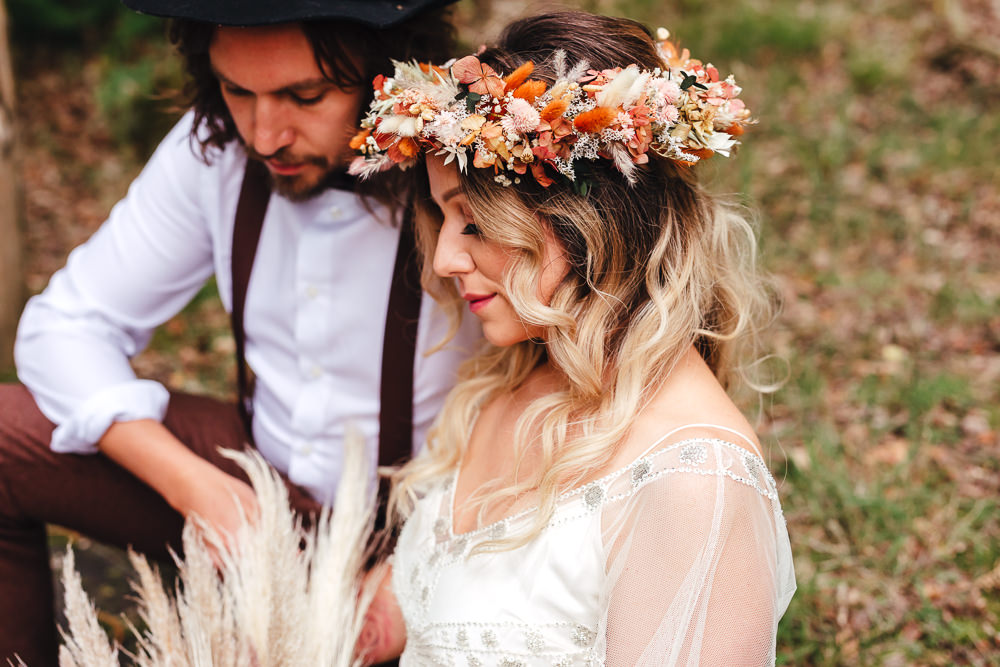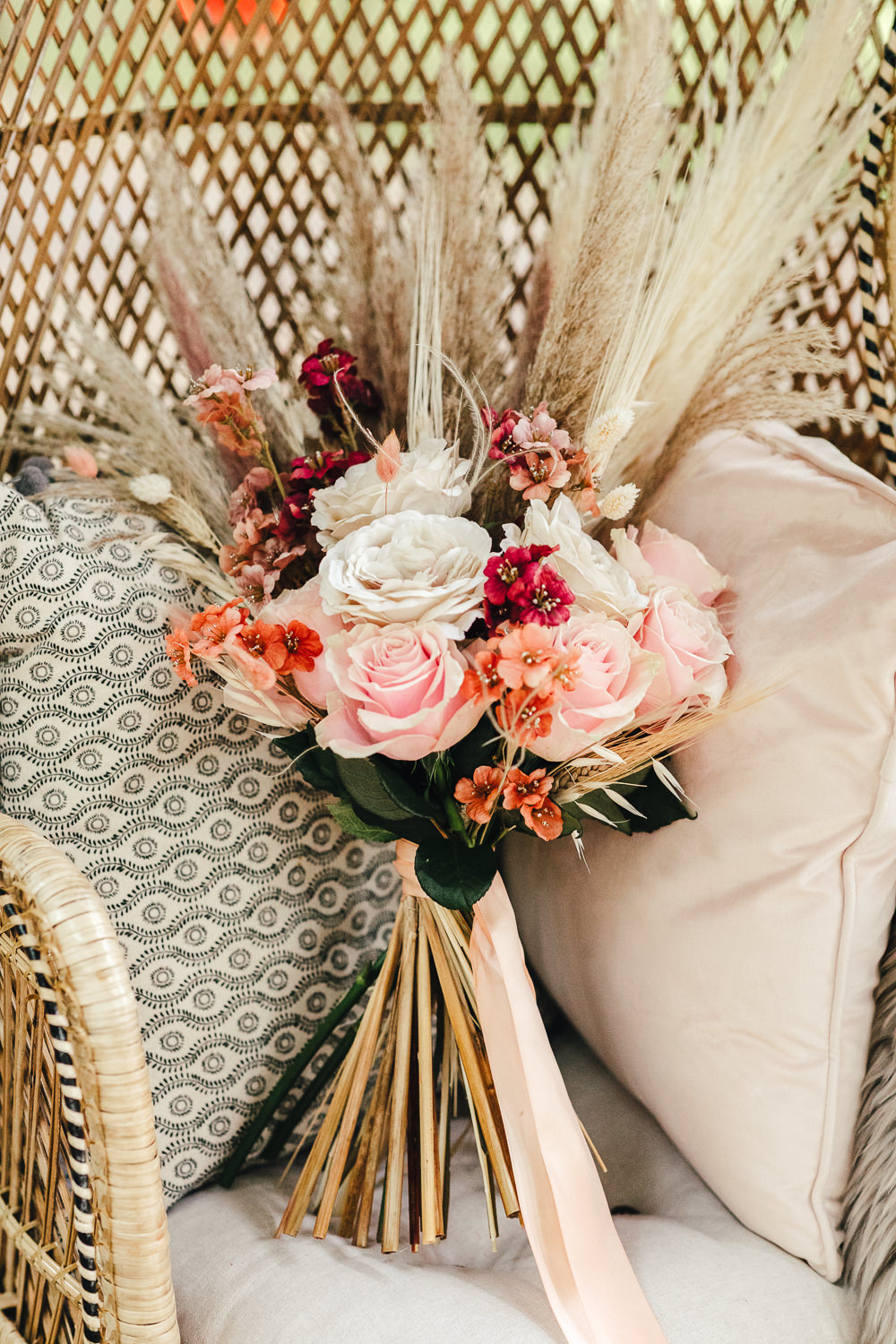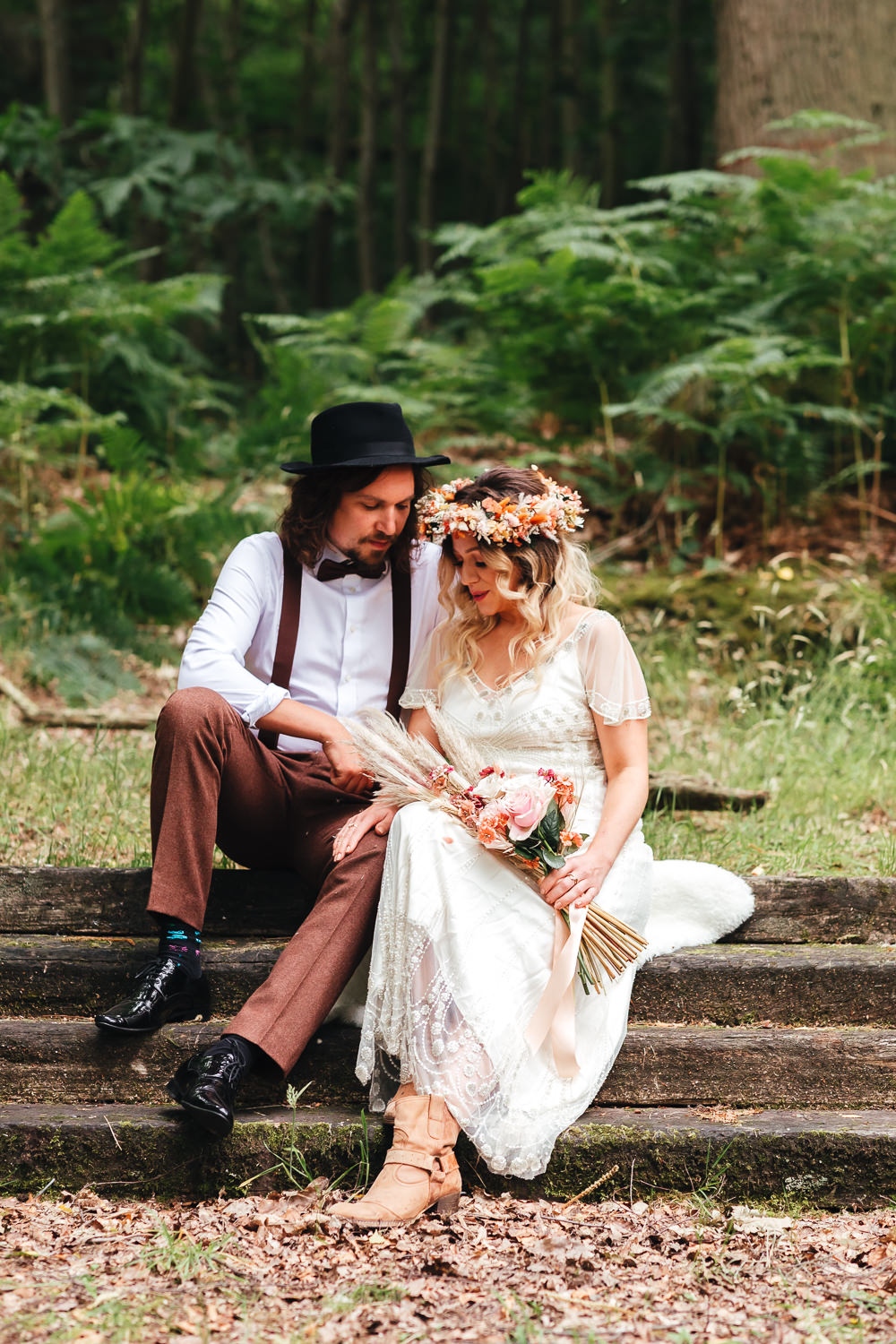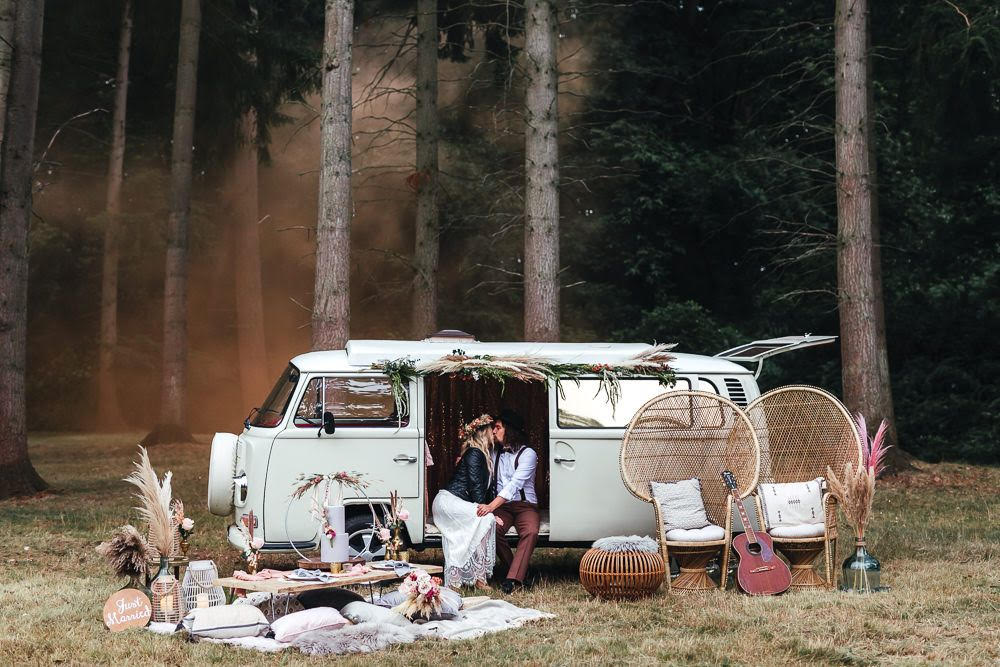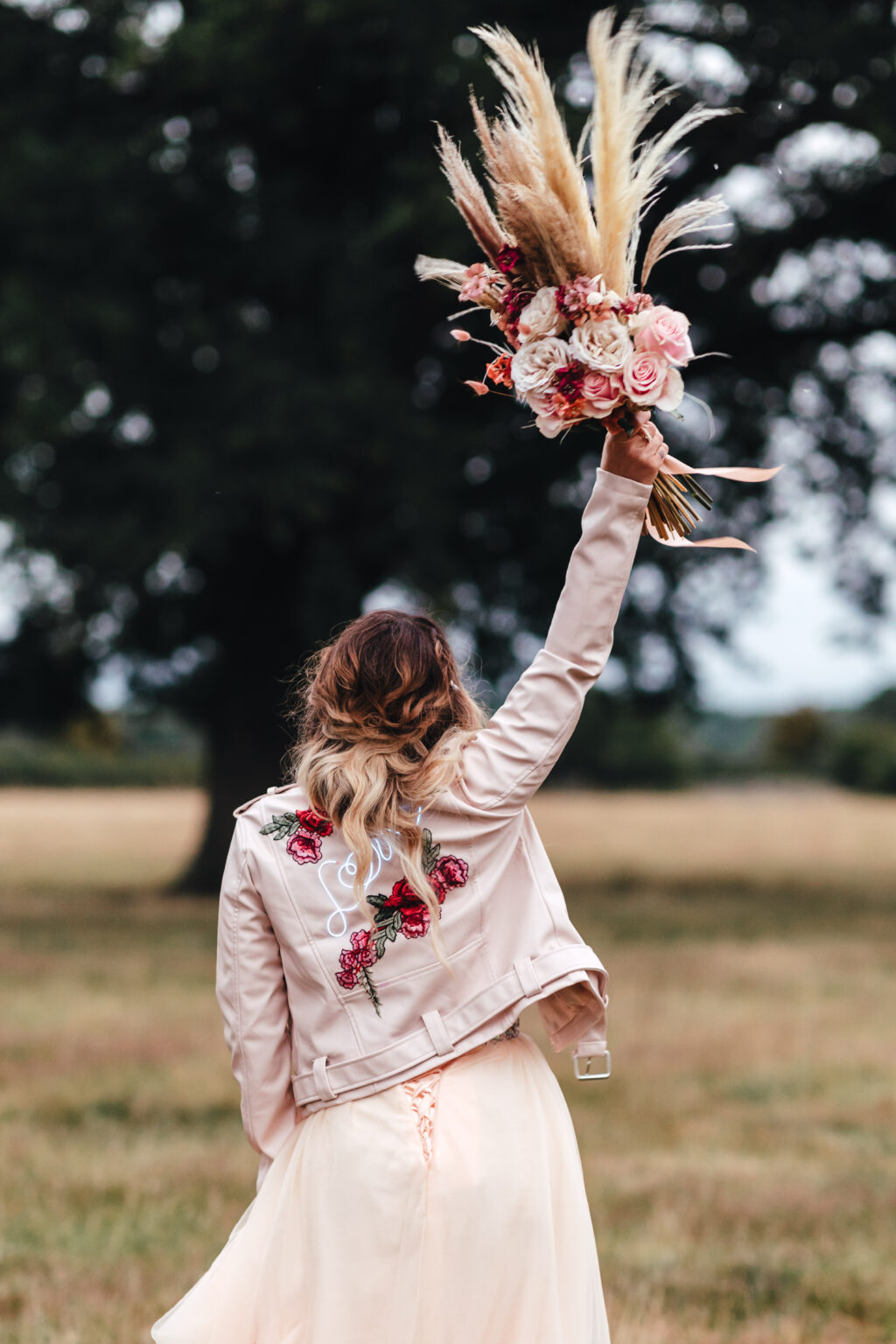 Cake – Lara from Love from Lila
"For the cake, I wanted to create something quite modern but pulling on all of the dried flower, Boho inspiration. As we were going for an intimate, elopement style wedding, I didn't want something too big, so I settled on a pinky purple shimmery based 2 tier cake, decorated with semi-dried flowers. The flowers were grown naturally in Hampshire for that 'at one with nature' spirit that you feel with Boho style. And I included bunny tails and grasses to connect with the pampas grass and other items featured in the floral arrangements. I chose a dark wood stand, from which I hung some handmade macrame feathers to tie in with the other macrame elements on the day."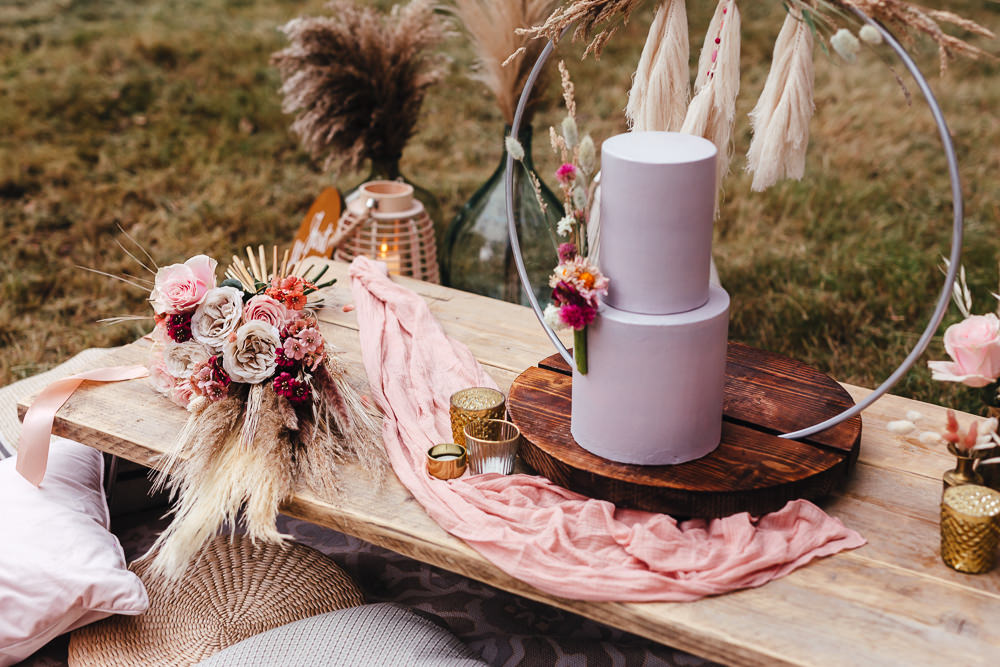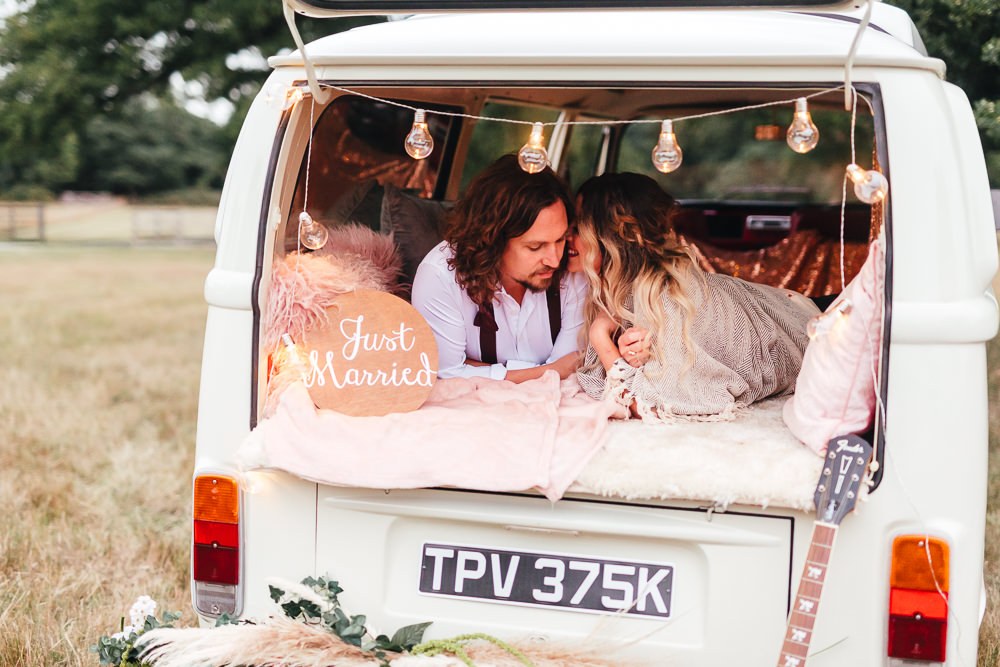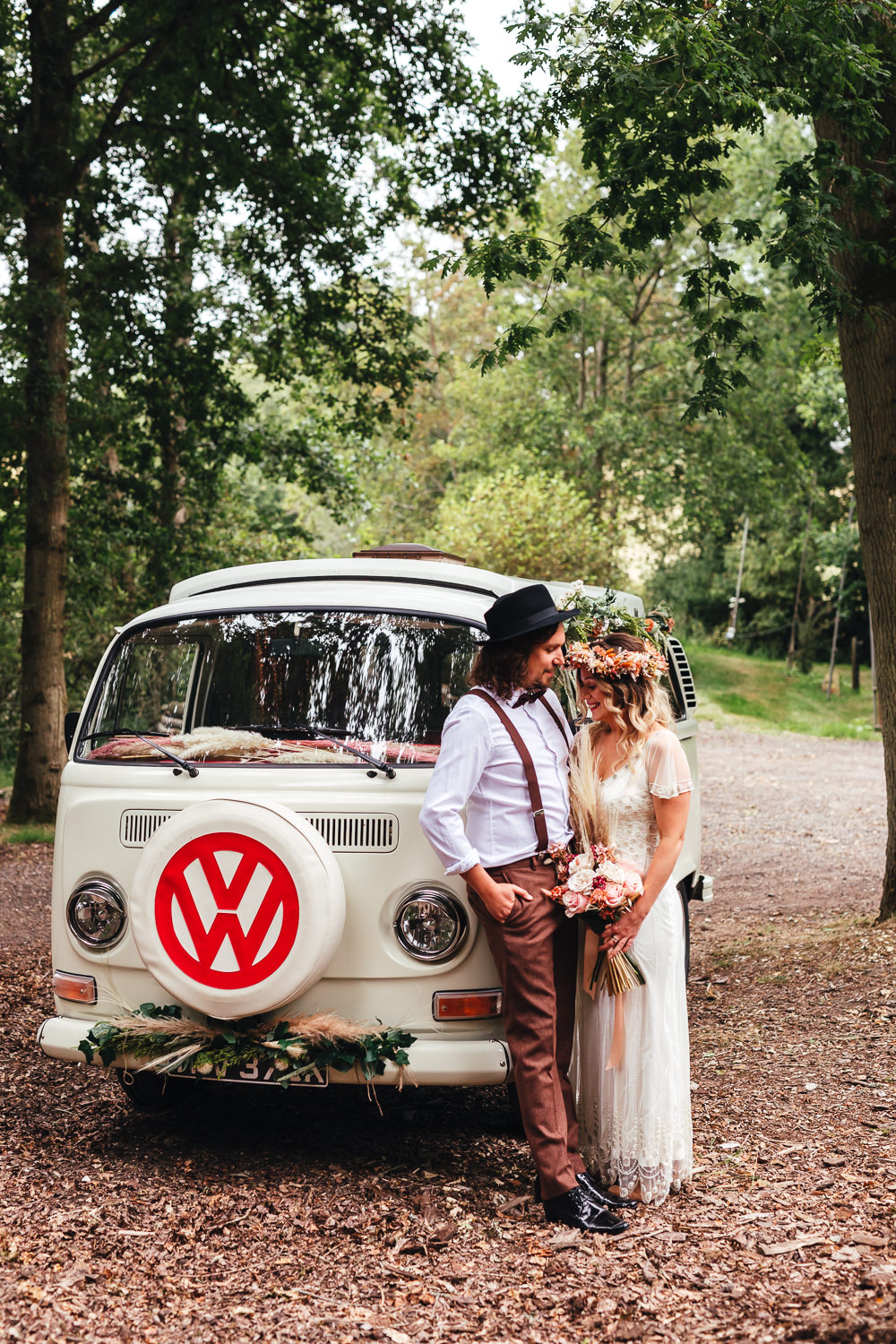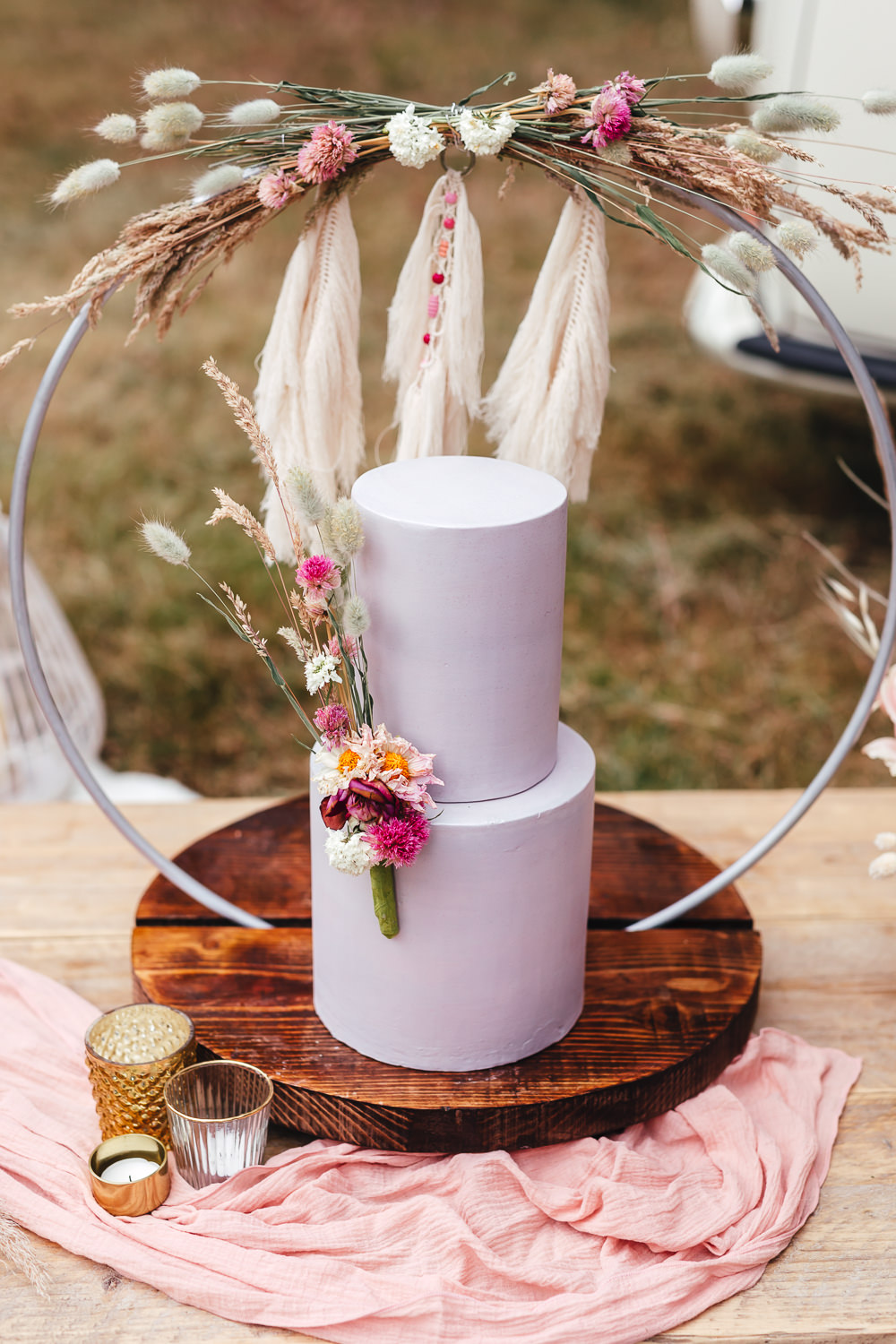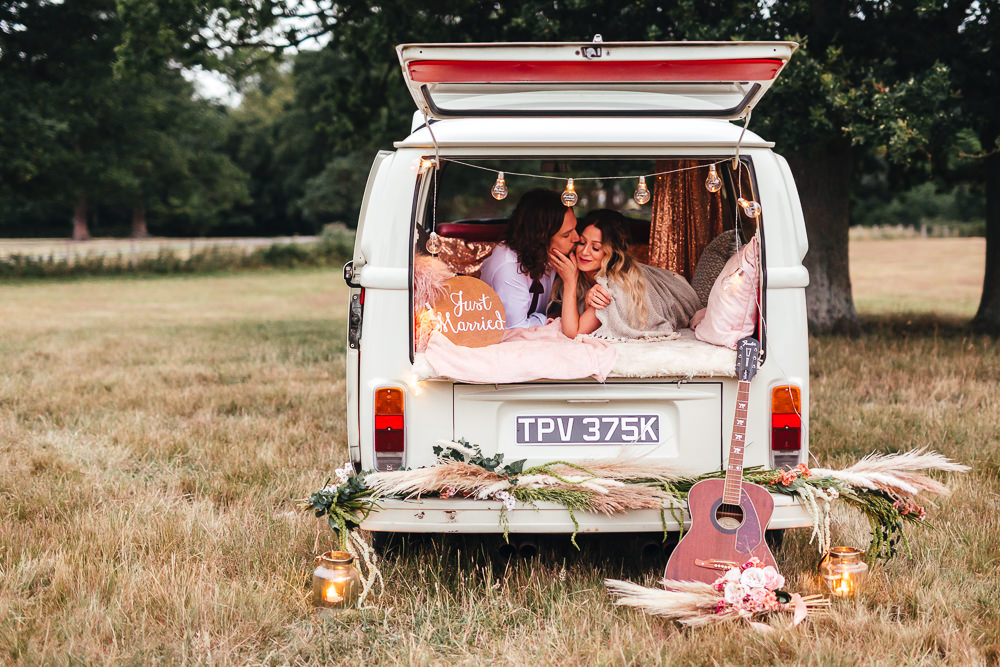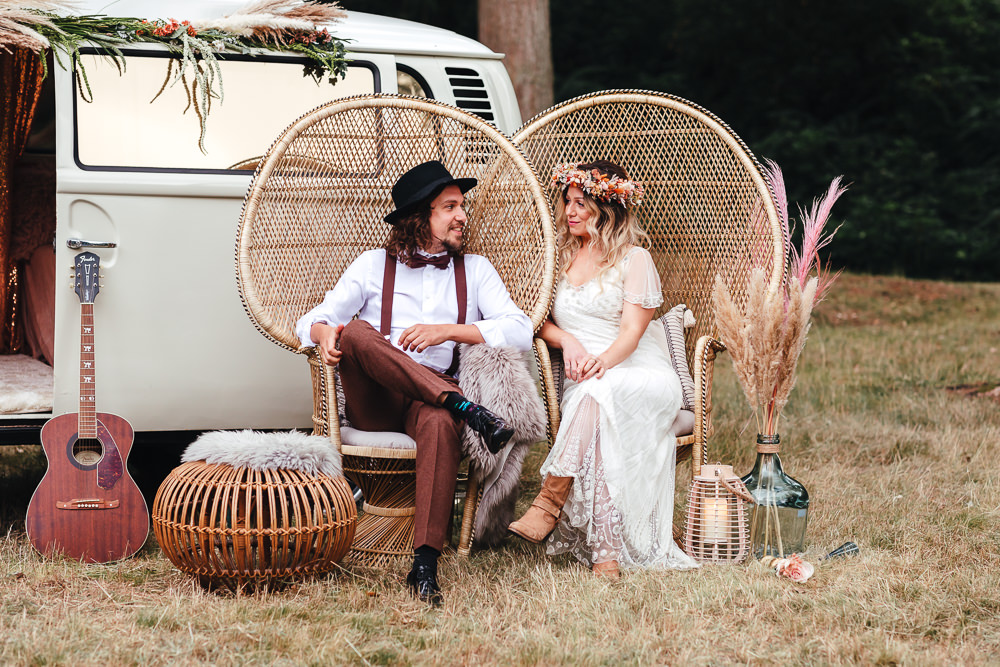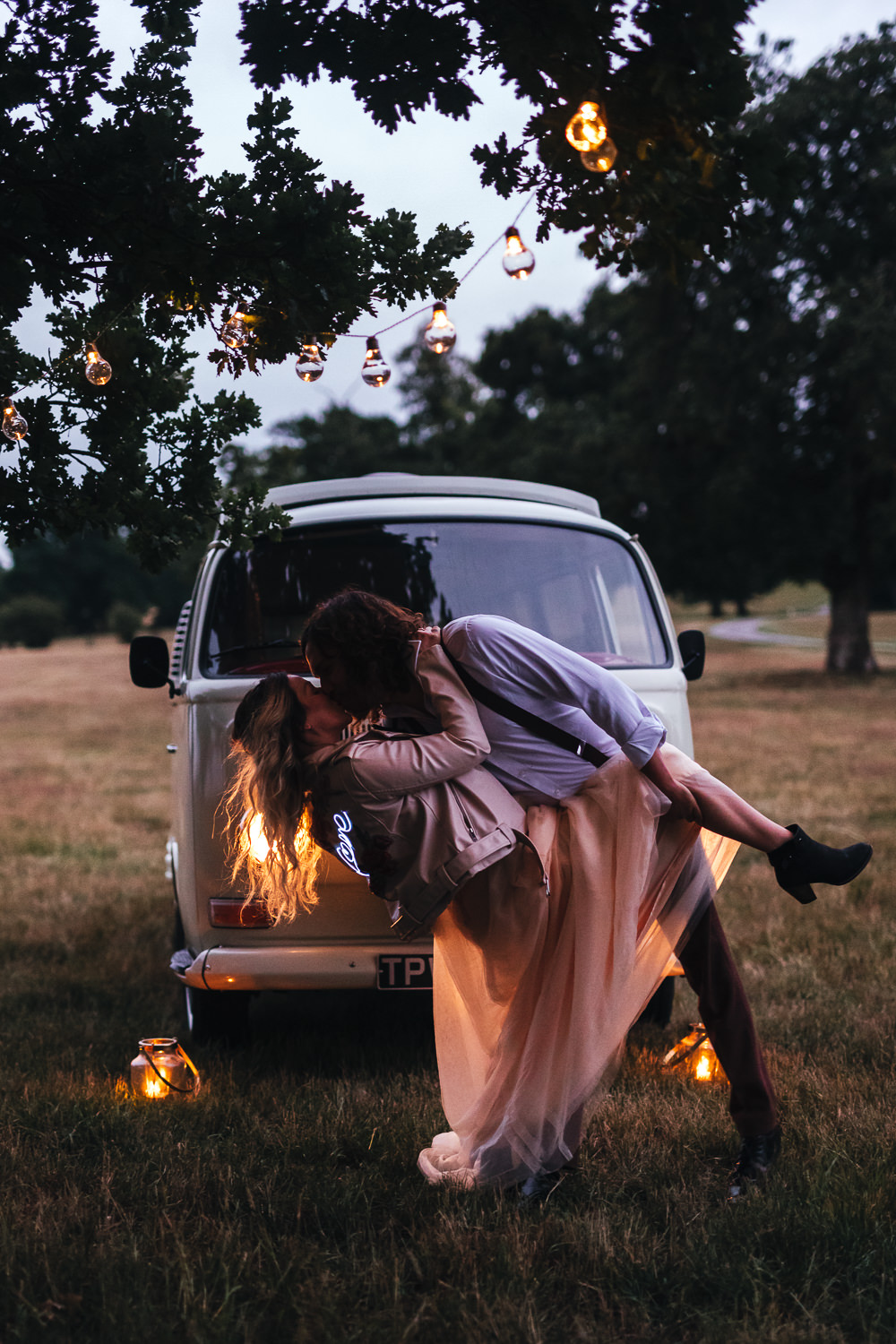 Videographer – Musk Wedding Films
"On arrival at 'Wasing Park', most of the gorgeous boho styling was already in place and my head was spinning with all these creative ideas seeing the amazing setups and the stunning woodland location we had. Naomi from Vintage Camper Booths told me she pictured the video to have a similar music vibe to Lana Del Rey's "Blue Jeans" and so I pictured this outdoor elopement to have a hint of western rebel. The music I found fitted perfectly with the theme and giving the video those quirky vintage effects and fast, snappy cuts really brought out the edginess of the shoot. When you find the perfect music for your shots, that's when the editing magic really happens, and you can really tell the story."
The Team – Outdoor Wedding With Boho Vibes At Wasing Park Estate, Berkshire
Photography – Kirsty Mackenzie Photography @kirstymackenziephotography
Concept, Styling and Campervan – Vintage Camper Booths @vintage_camperbooths and 'Want the Day' @wanttheday / Cake Love from Lila @lovefromlilaxx / Confetti – Adam Apple Confetti @adamapple.co.uk / Jenny Packham Dresses Pirouette Bridal @pirouettebridal / Pink Honeymoon Dress Flamingo Bridal @bridalflamingo / Flower Crown – Folkey Dolkey @f.o.l.k.y.d.o.k.e.y / Florist – Flourish Bespoke Flowers @flourish.uk / Hair – Rosie Hart Stylist @rosiehartstylist / Jacket – Sammy Leas Retro Emporium @sammyleasretro / Stationery- Rock Paper Nib @rockpapernib / Props and styling – The Surrey Wedding Company @surreyweddingcompany / Videographer – Musk Film and Photography @muskphotographyandfilms / Venue – Wasing Park Estate @wasingpark / Models: Hannah & Sooney /
IF YOU LOVED THIS BOHO WEDDING INSPO WHY NOT PIN IT TO YOUR WEDDING PINTEREST BOARDS?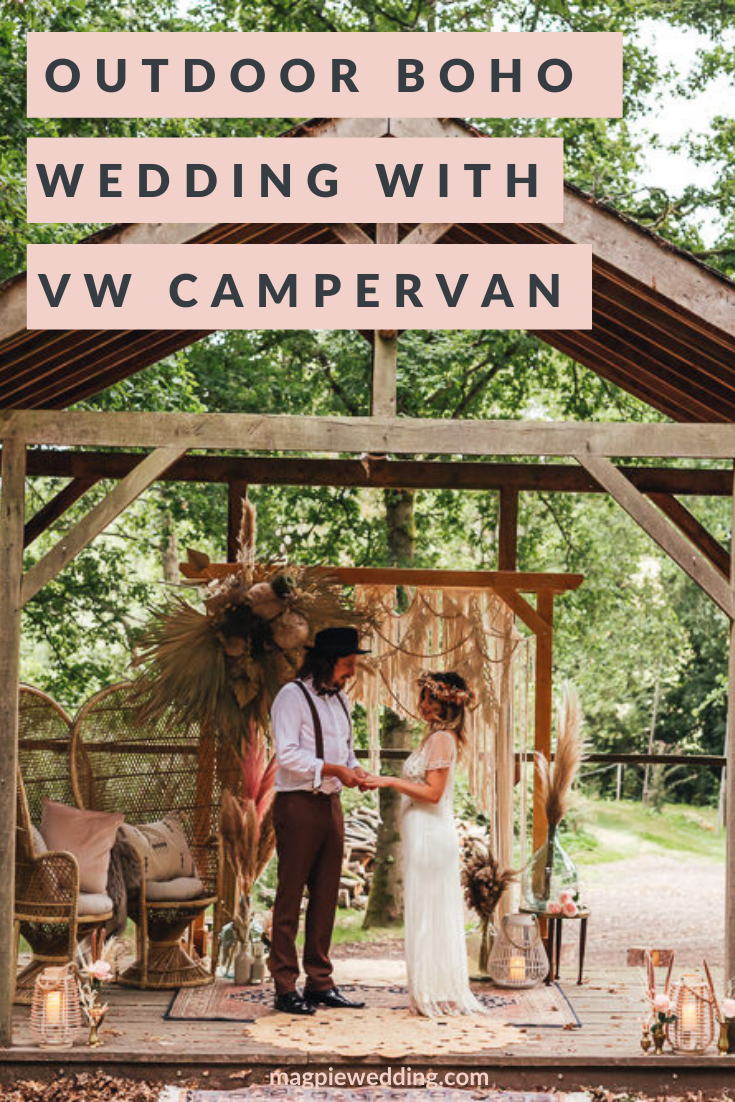 If you loved this wedding at Wasing Park Estate you may also like;
Top Tips For Picking The Perfect Dance Song On Your Wedding Day
Fairground Wedding With Pastel Styling At Dreamland, Margate