Disney Frozen Princess you say? We say grown up glam Frozen Queen! This beautiful wintry styled shoot at Pelham House is perfect if you're planning a Christmas or winter wedding. It's full of dreamy details and luxury vibes. Stylist Jessica Fasciano of The Italian Dream and model Brogan Alexandra were the brains behind the shoot and we catch up with them and the rest of the team to find out all about it.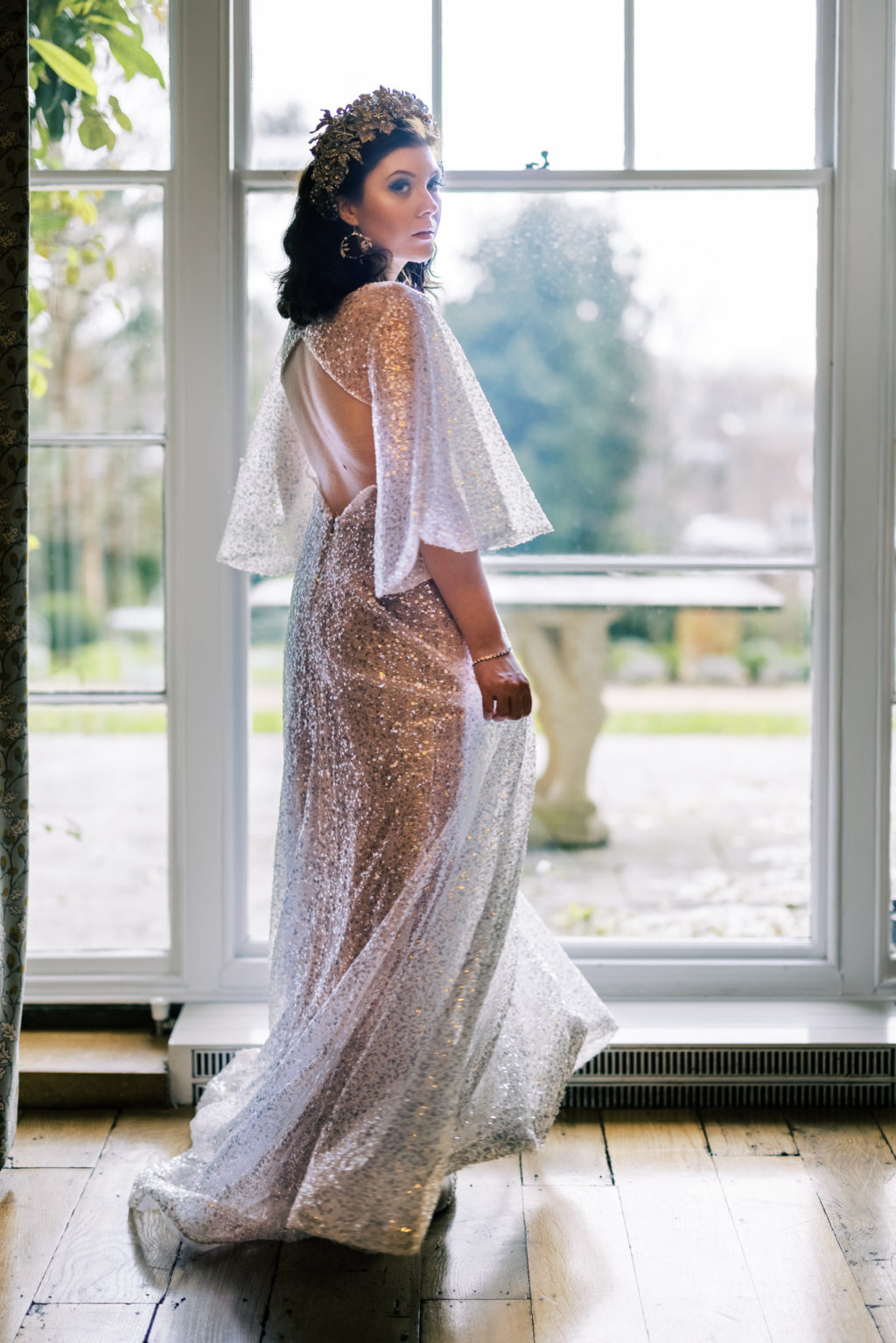 "Frozen in Time's concept comes from the willingness to recreate a magic winter atmosphere, exactly like Disney's Frozen did in their movie. Every bride is the queen of their own day at the end of the day, so why don't add a proper magical touch? In this way sparkly sequins, white glitters and pale blue velvet fabrics have given Pelham House that Winter Wonderland vibe where a snowy effect meets a royal attitude. Brogan, our bride and mind of this concept, is wearing two different gorgeous outfits – the first one is composed by Matchimony's separates with a lace top perfectly works with a pale blue tulle skirt while the second one is a very sparkly sequinned dress with bell sleeves and open back from By Rose Savage – accompanied by Diane Hassall's stunning hand embroidered floral wedding shoes! To finalise these looks we choose Bunny Loves Evie's jewellery and Saint Beth Official's headdresses – we got that shimmery look we were just aiming to have!"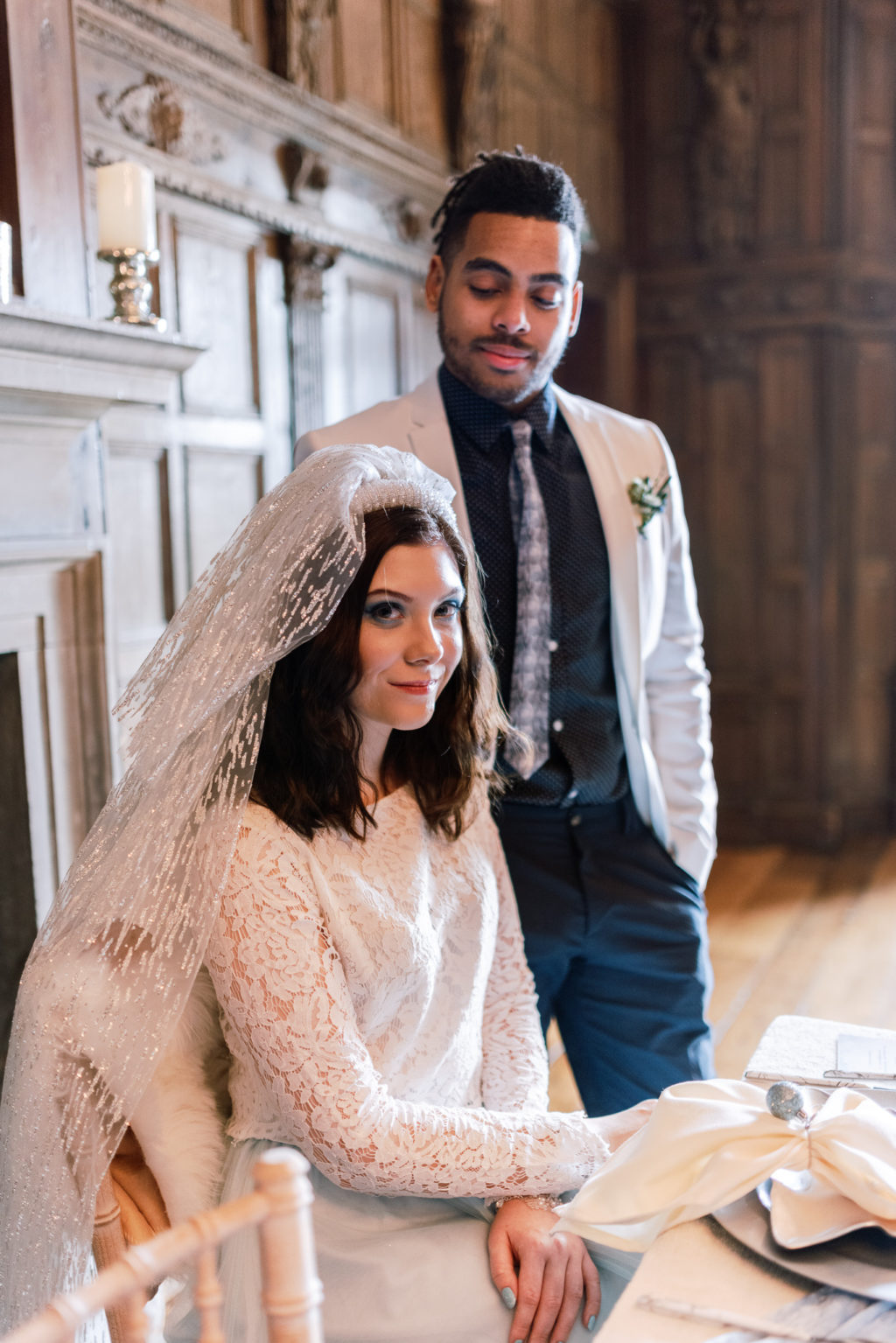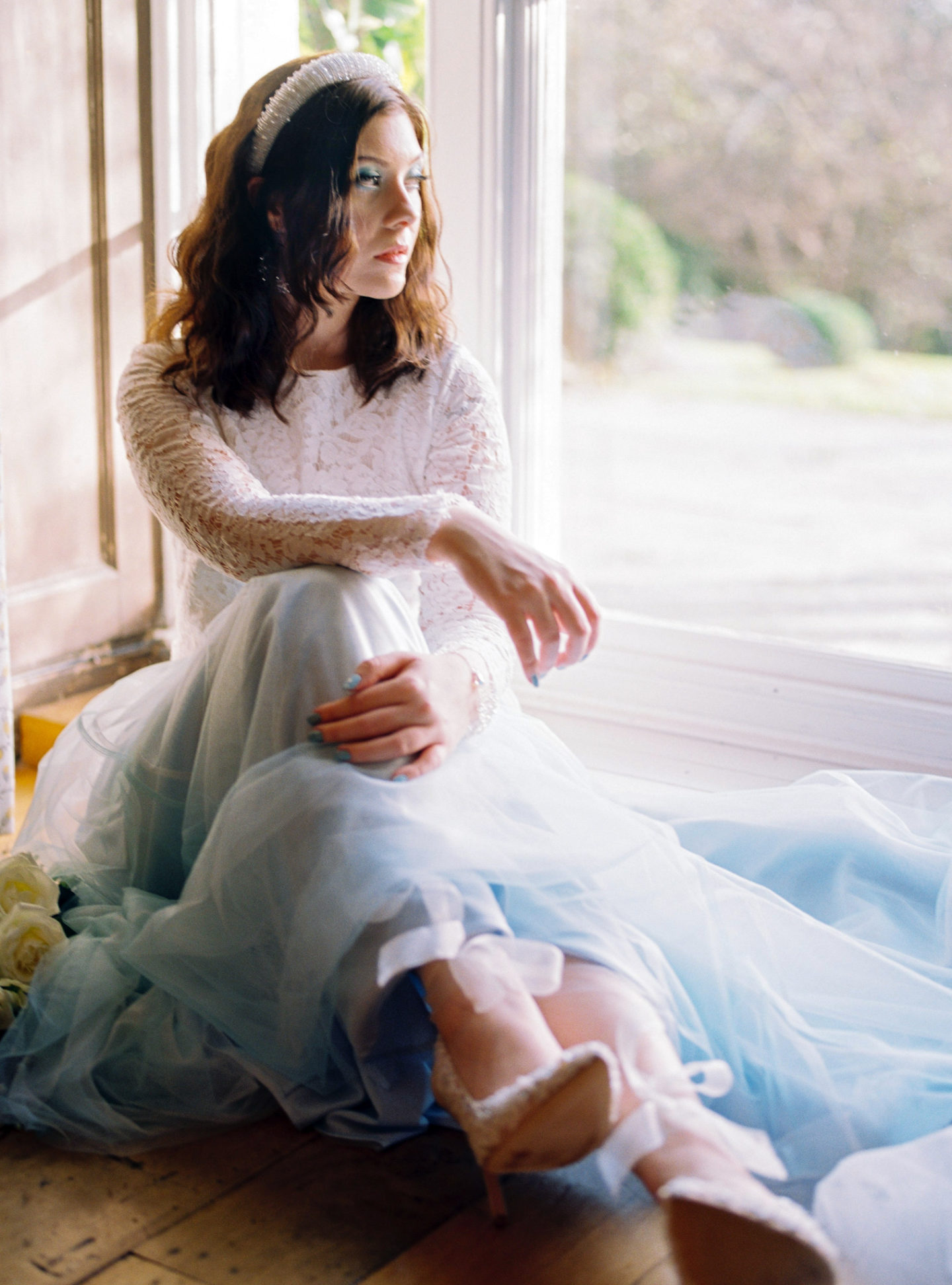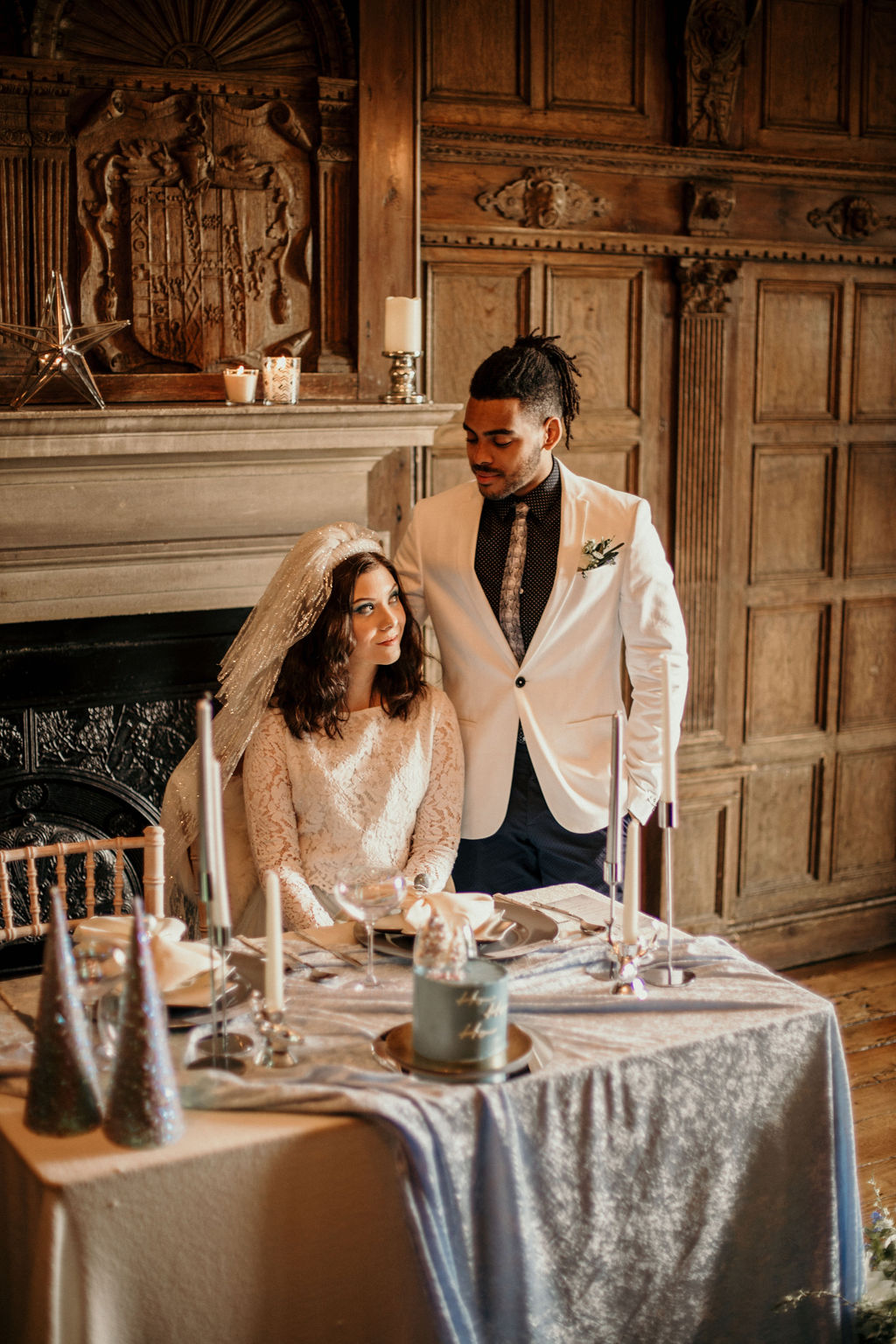 "The colour palette has been used on the make-up by Petal Blush as well – an iced effect that would perfectly suit a real Elsa! To add some extra glitter (and fun!) – who doesn't want them? – we had a Glitter Bar set in Buttercup Bus' Belinda Campervan – we loved to play with some festival vibes, they always help to get the party started!
"Nat from Rose and Grace Ceremonies was in charge for the love celebration between our two beautiful models, Brogan and Basil – all dressed up in sparkles, of course! The veil provided by Rebecca Anne Designs was in perfect line with the theme, with its shiny silver glitters enriching two tiers. Moving to the reception setting, the table has been styled by The Italian Dream with Christmassy details – like the small silver tree-shaped charger plates, the little baubles as napkin holders or the reindeers candle holders – and it has been completed by The Bloominati Florist's stunning flowers arrangement,Alchemy of Sugar's super cute mini cake ( just perfect for a wedding elopement!) and Sharmila Joy's shimmery matte stationery."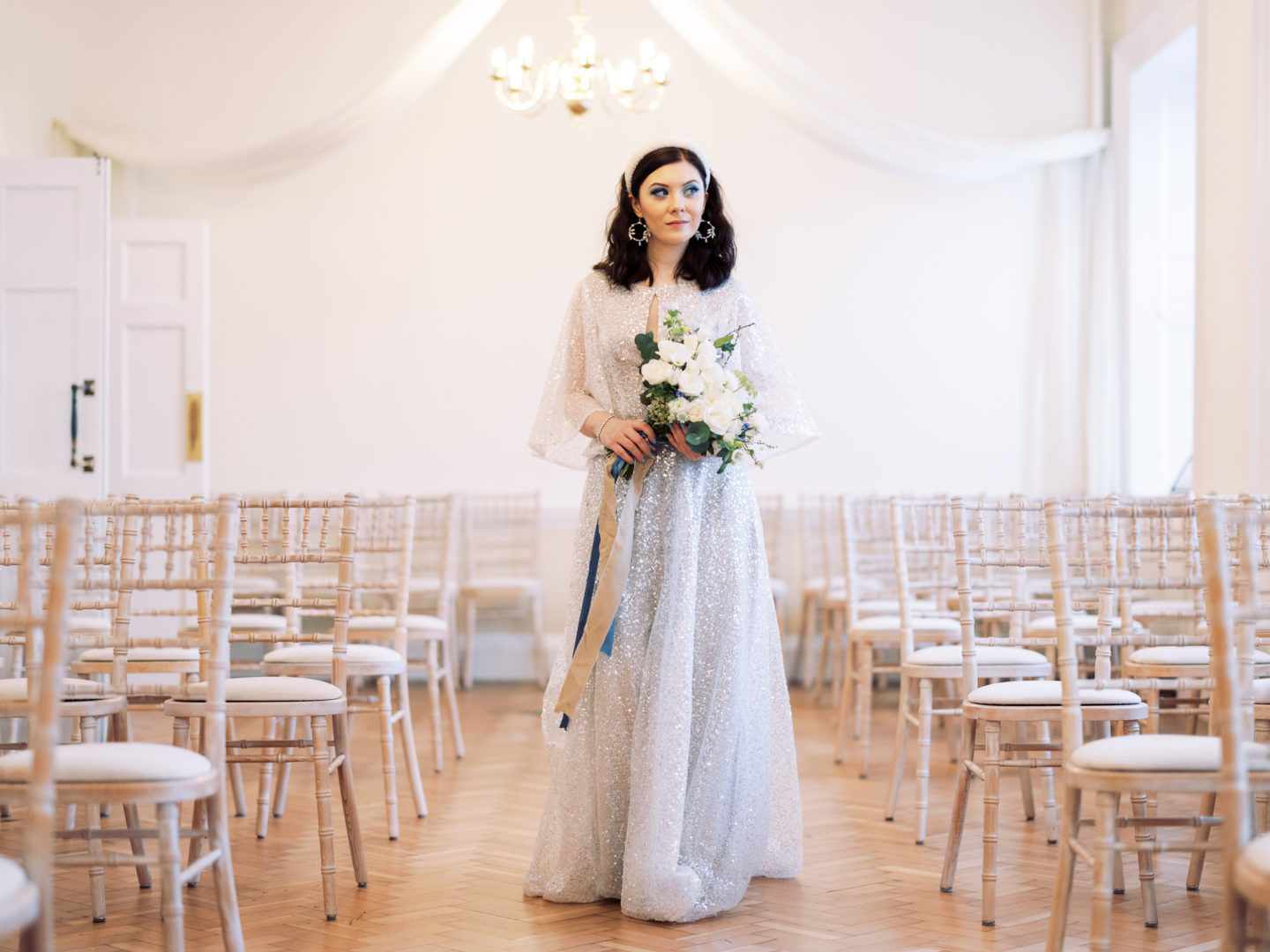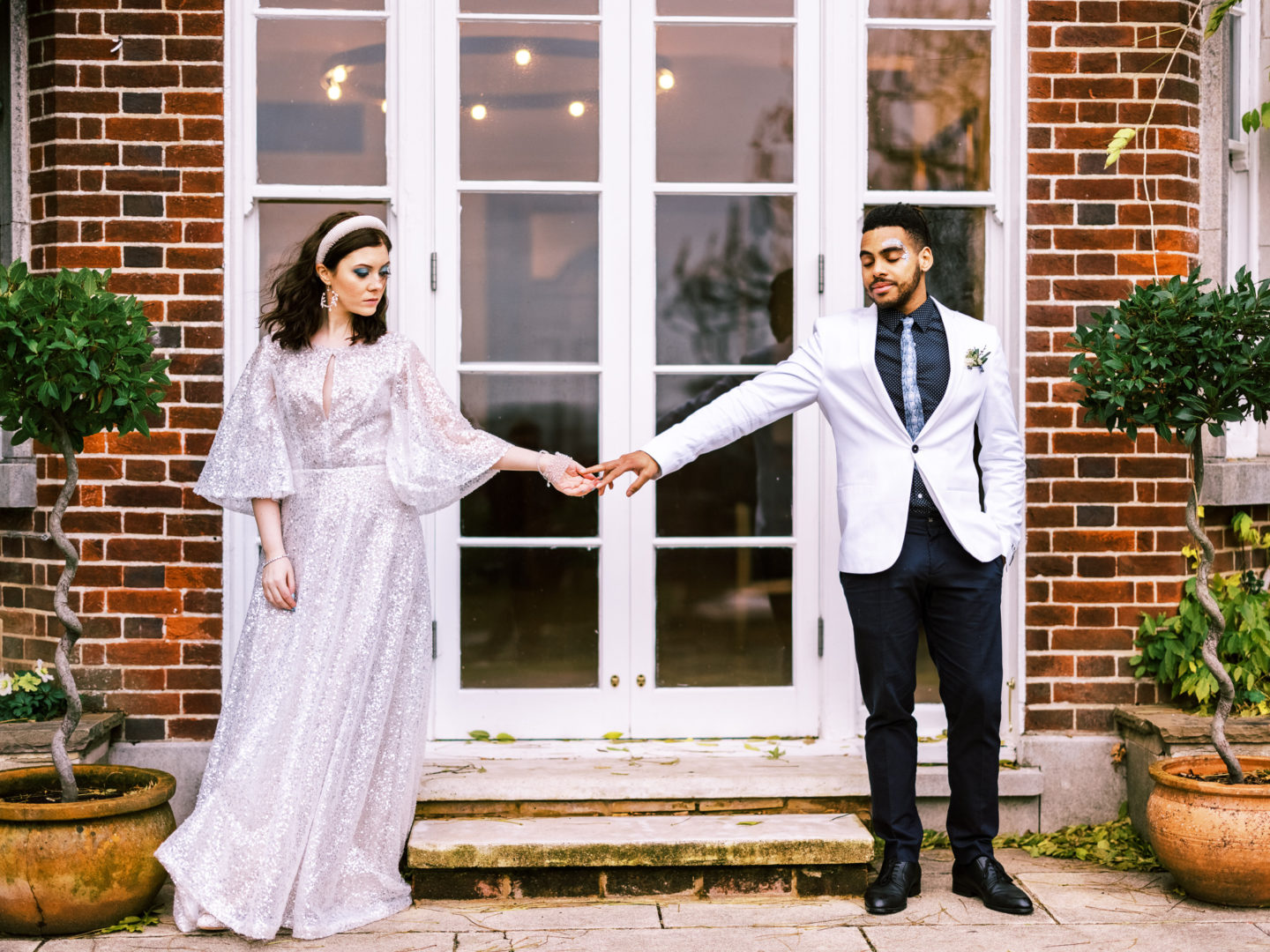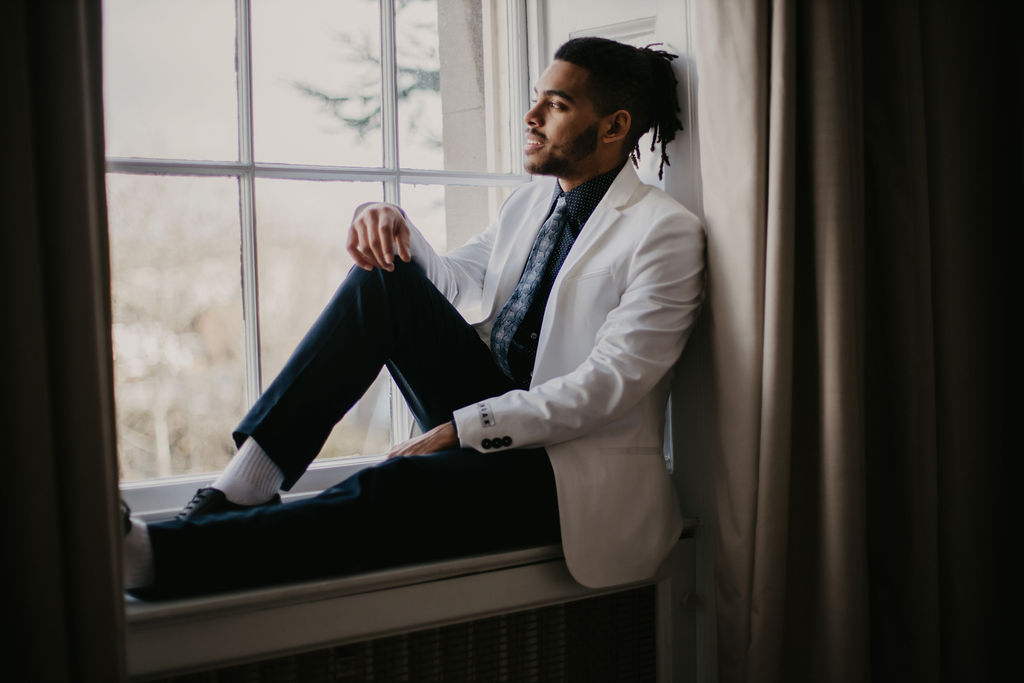 "Photographers pride themselves on their individual artistic style. Their approach to colour, light and direction can yield very different results, even while shooting in the exact same location, with the exact same model. A photographer whose work is light and airy, for example, will have a very different feel from someone with a dark and moody look. Same with an editorial style vs a documentary style. Photographs provide a record of the day – the look, feel and mood. As memories fade, photographs fill in the gaps for us – so it's key that couples find a photographer whose style matches their day, and how they want to remember it. Sit down together and look at a few photographers on a blog – what do you love and what don't you love? Are they colourful? Bright? Dark? Moody? Romantic? Modern? Do you find yourself drawn to candid photos, or those that are more posed to help you look your best? Understanding what matters to you most will help you narrow down a style that best suits you. Our shoot highlights the importance of photography style. Our two photographers, Kernwell Photography and Kate Boston Photography, have very different styles."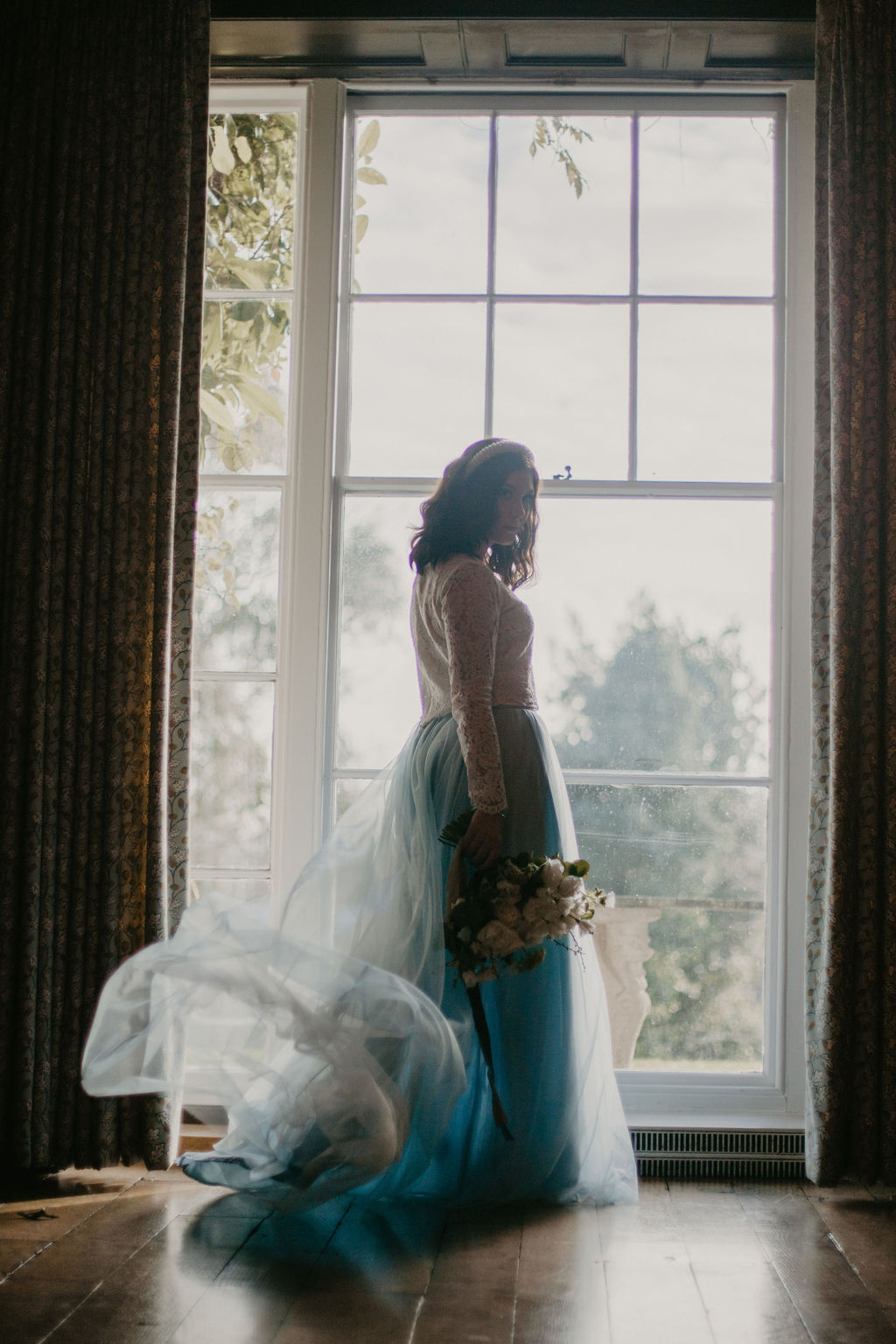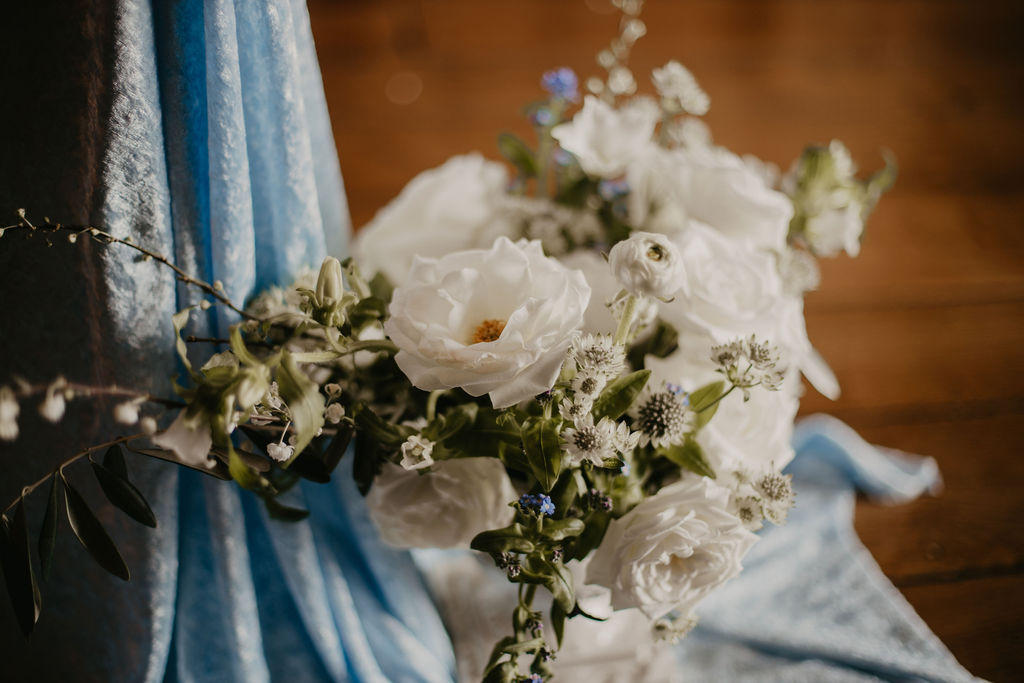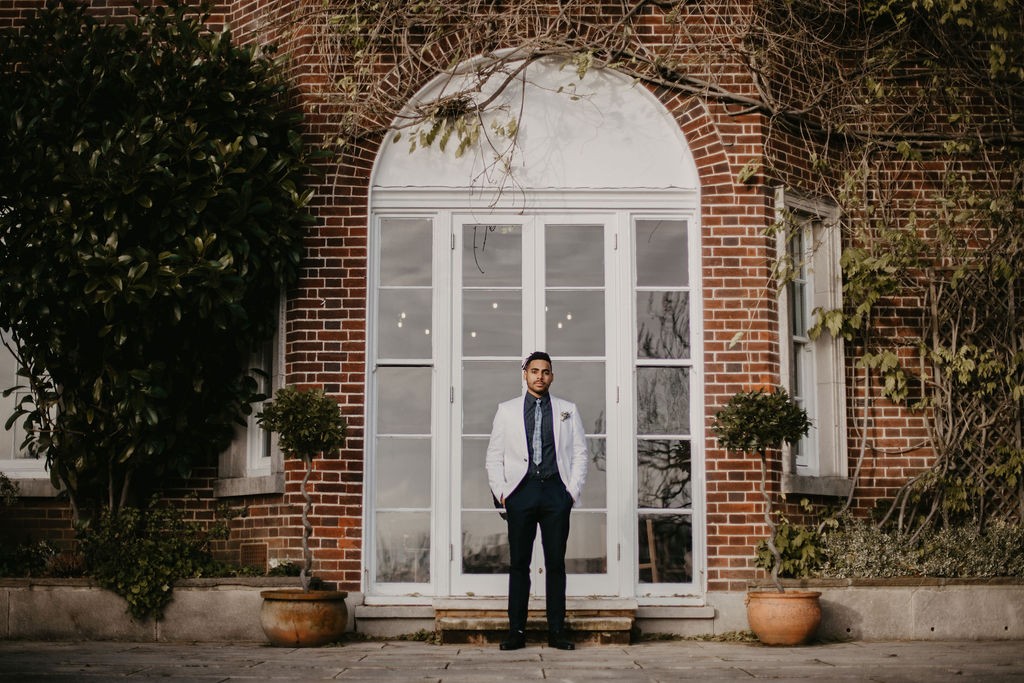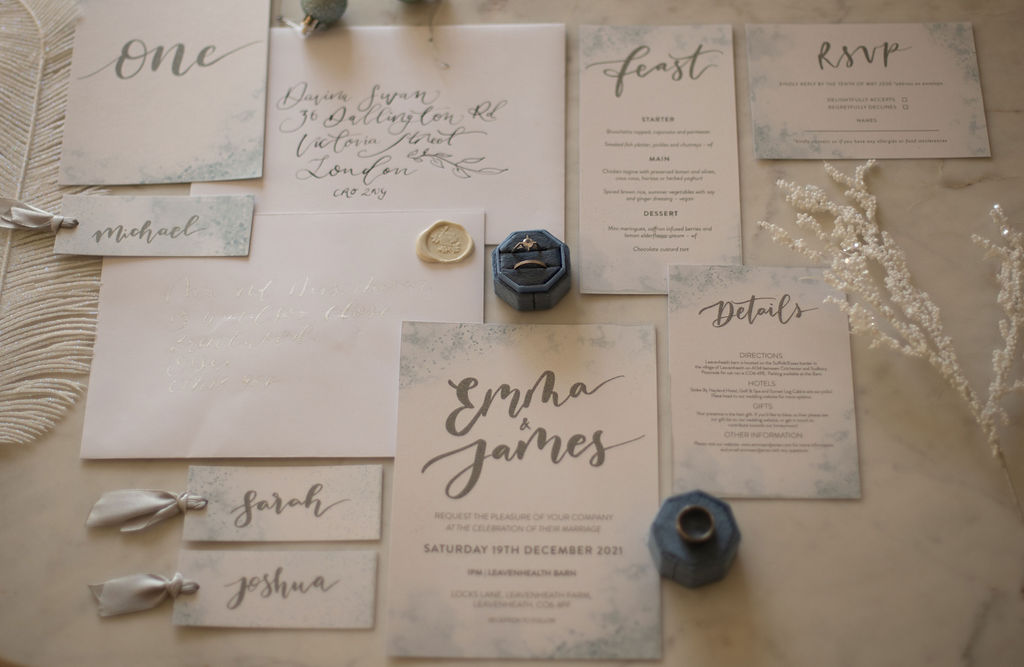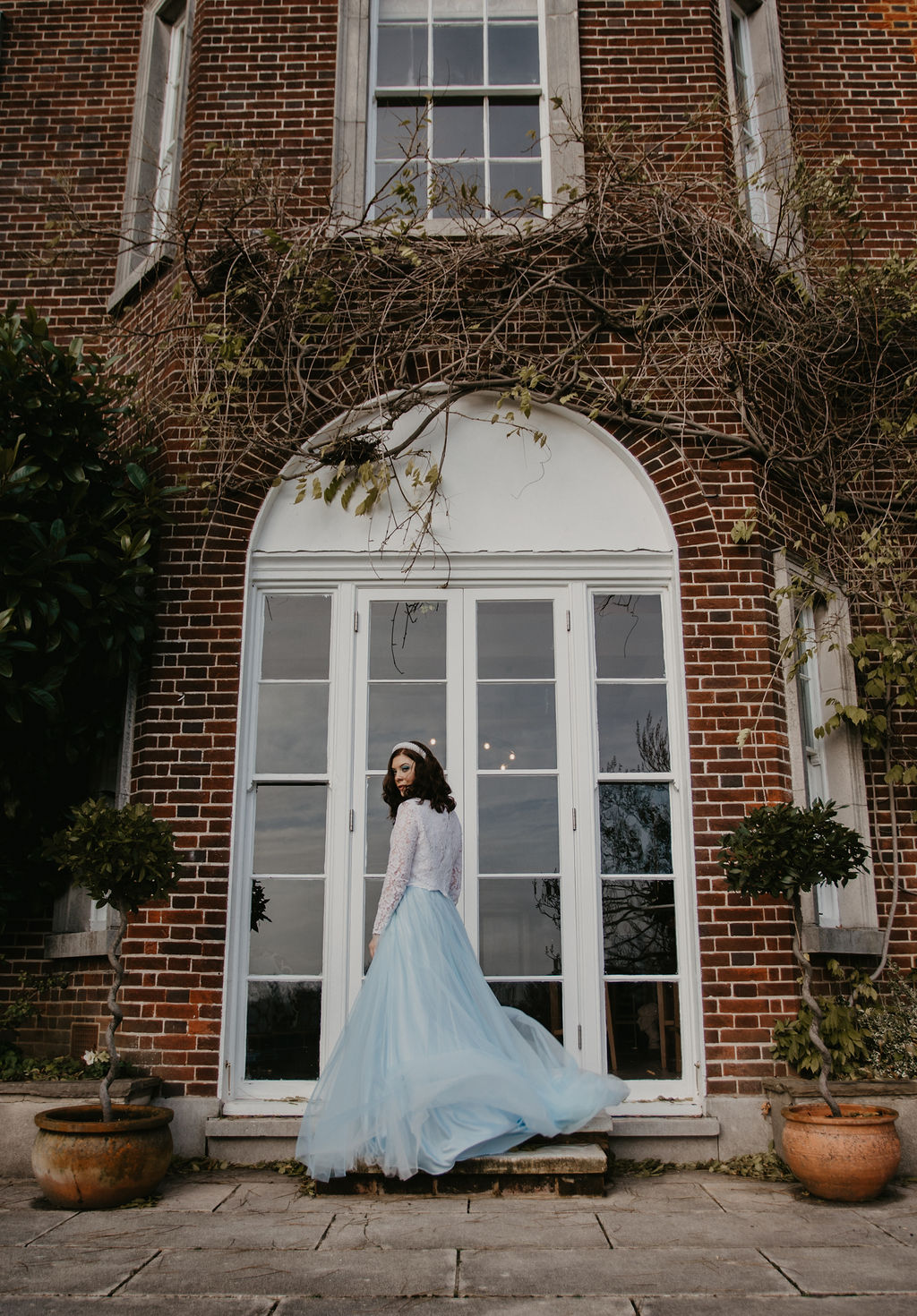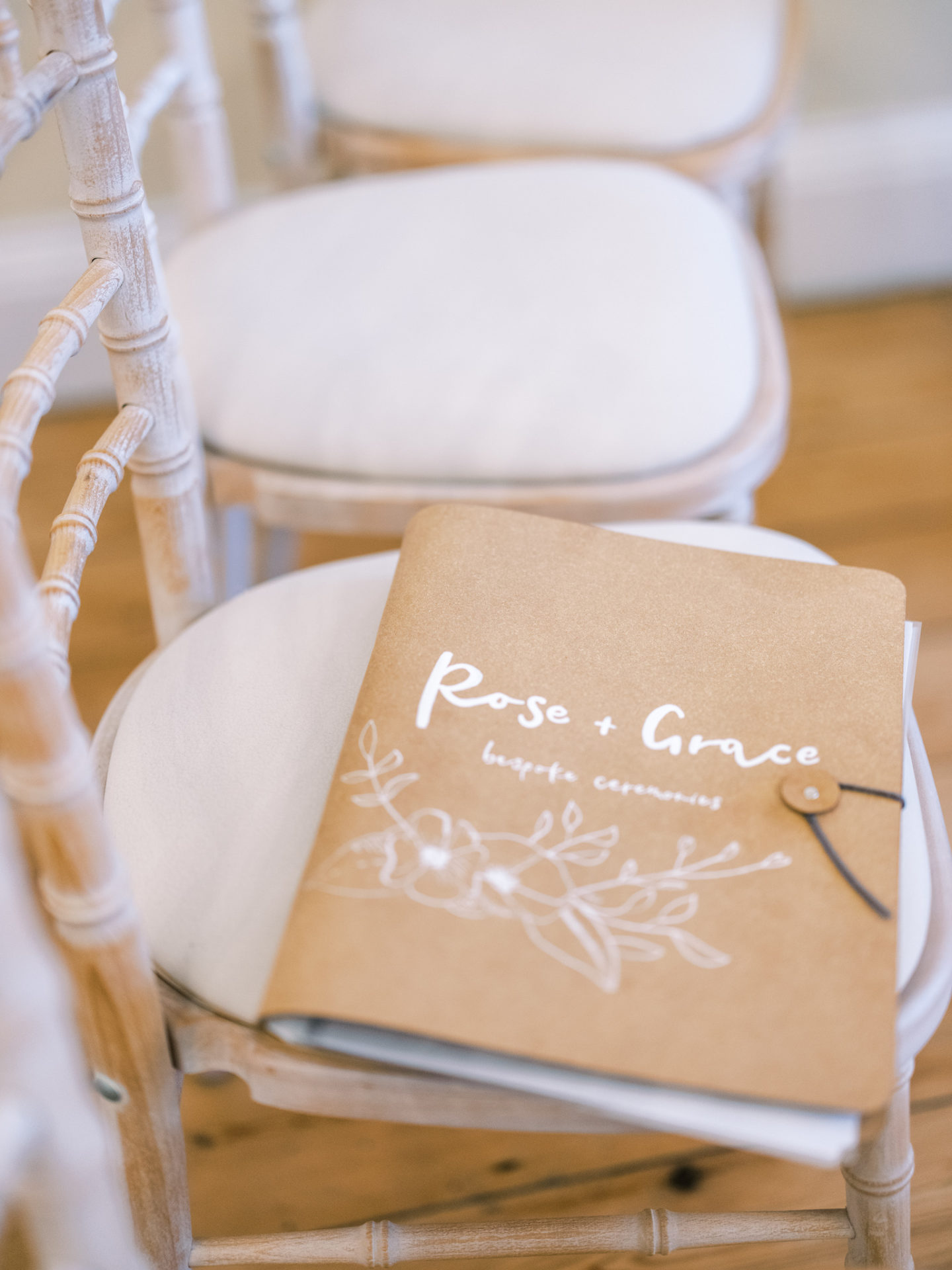 Styling – Jessica Fasciano, The Italian Dream
"When thinking about winter the first thing that comes to my mind is Snow. From there I wanted to recreate a very wintery snowy effect, perfect for a sparkly wedding with a young effect. The first connection I had was recreating a kind of "Frozen" atmosphere, where our bride would represent a real Elsa wearing glittery white and pale blue tones. All started from there – while keeping the Christmas guideline ( I chose some tree shaped-charger plates and centrepieces, some shiny silver reindeer candle holder and a glittery bauble as a napkin ring) I wanted to recreate a style that could fit a young fashion-led couple, with some alternative pieces that created a very unique result.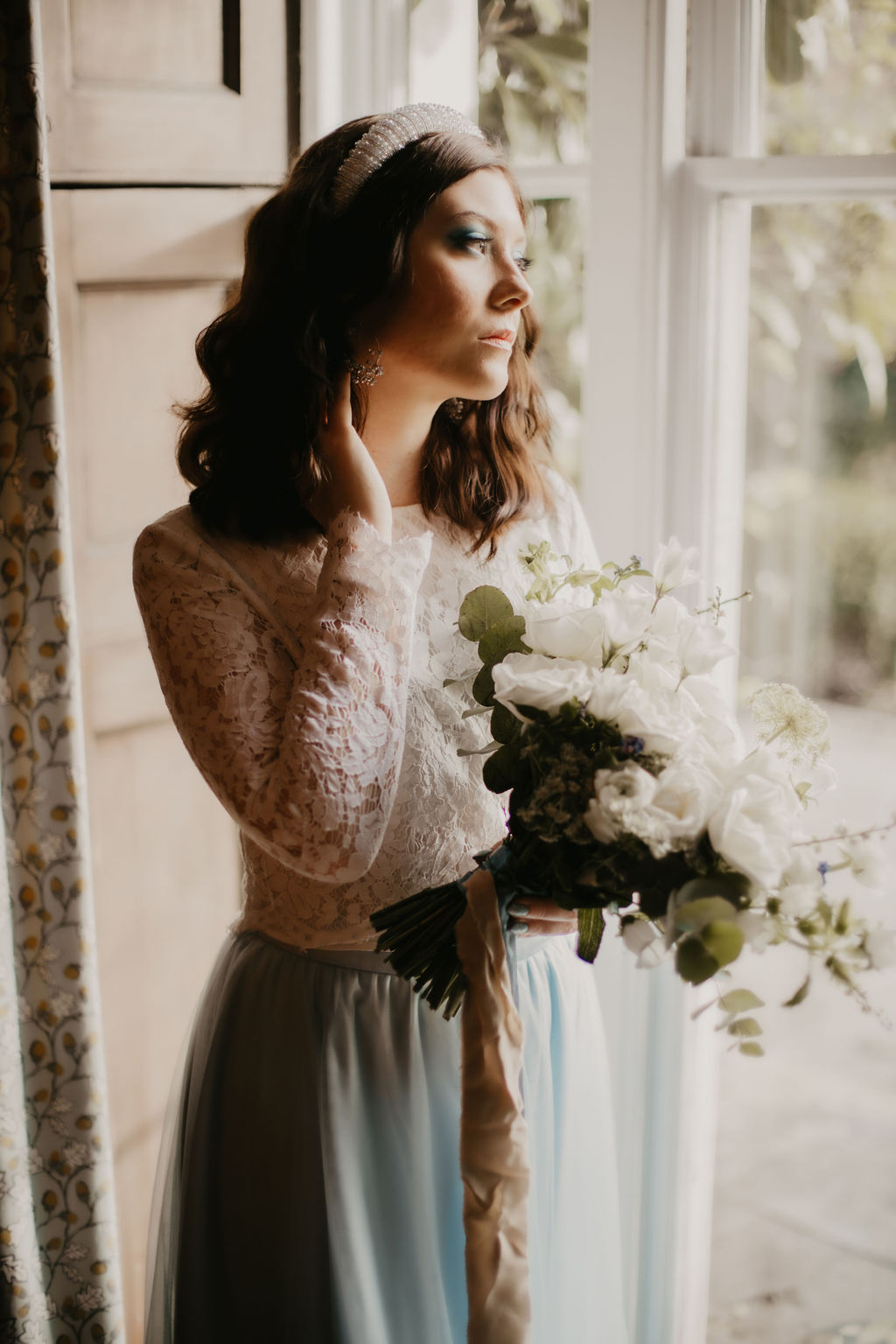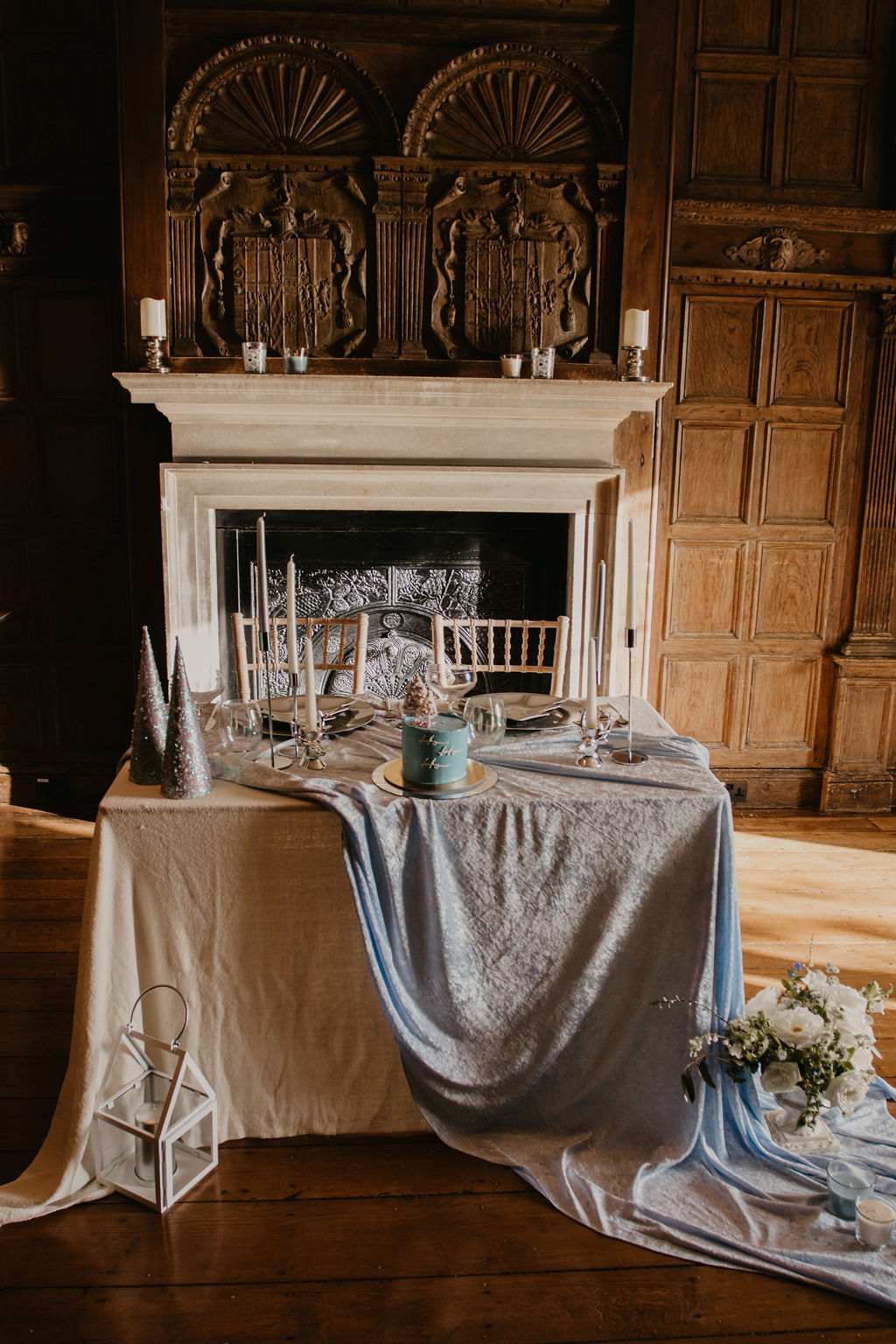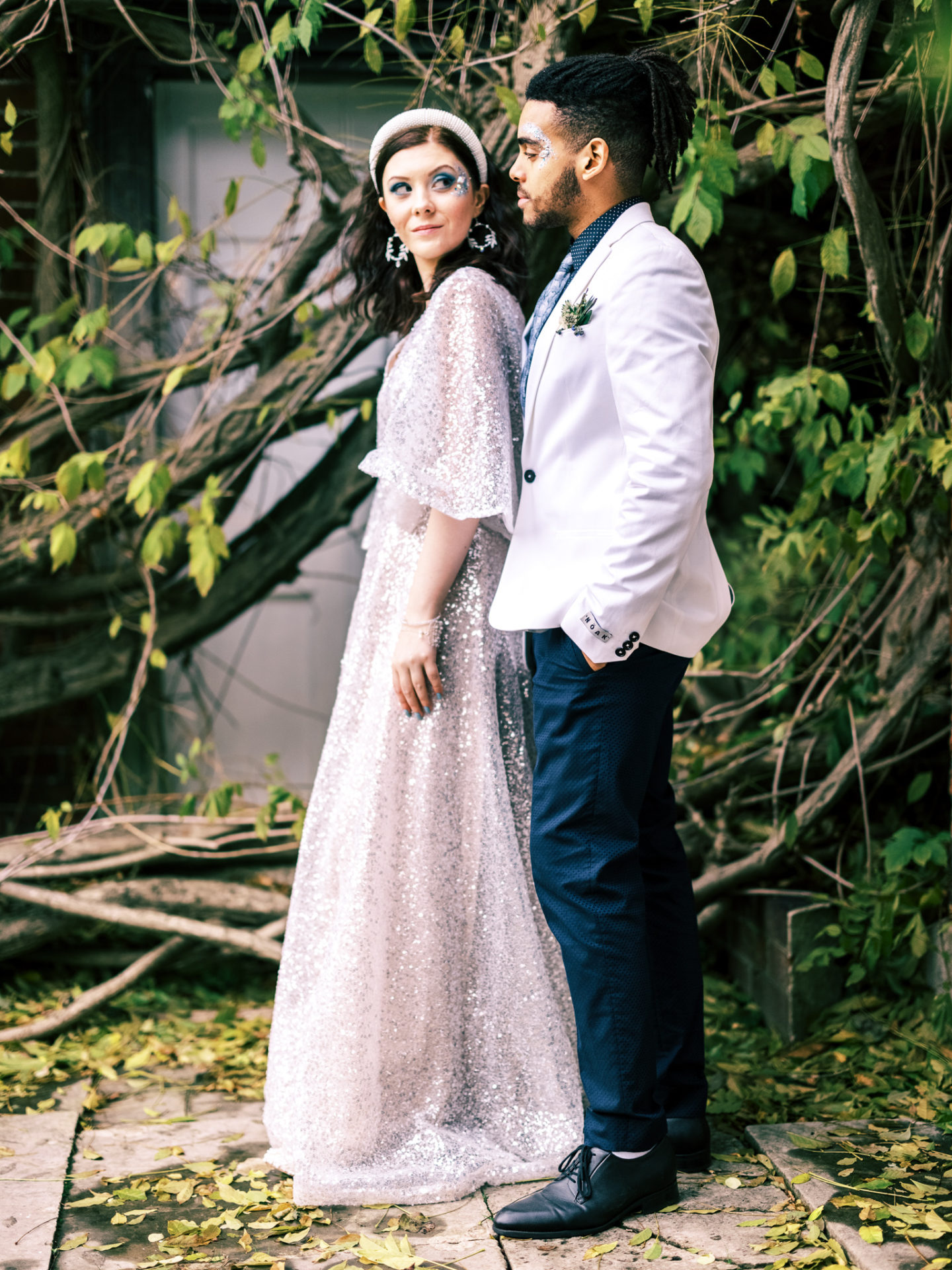 Kate Boston Photography
"Our desire isn't simply to document scenes from your life but rather to join you in the story you're telling – to truly get to know you on a deeper level so that we can craft your visual narrative in such a way that the content we create will stir up and showcase real emotions and leave you saying "oh my gosh, that's US!" That means we are not into awkward posing or forced smiles because, let's be honest, nobody lives life that way. We are all about building real relationships with you so we can create intentional, meaningful content that reflects your unique style and personality."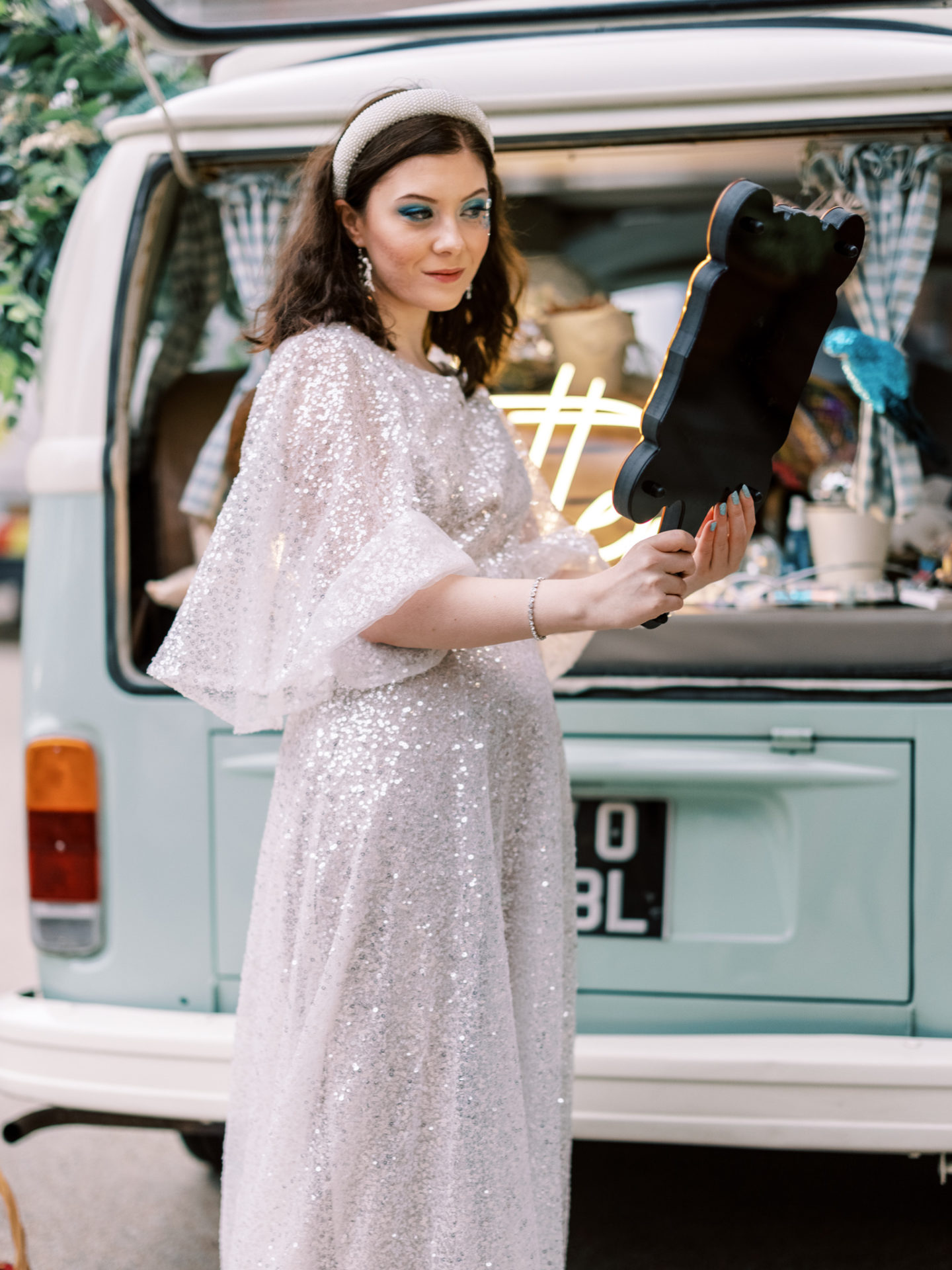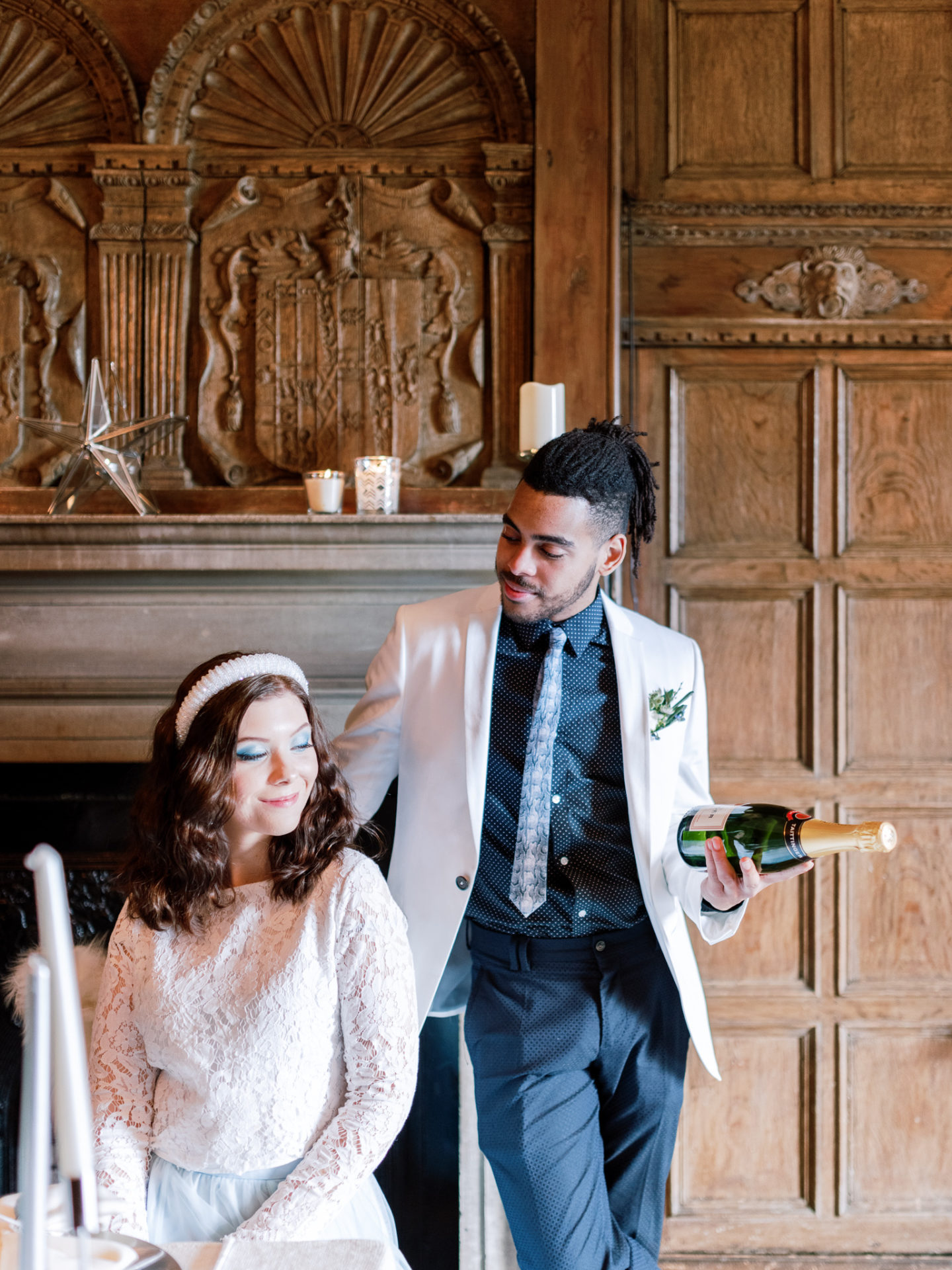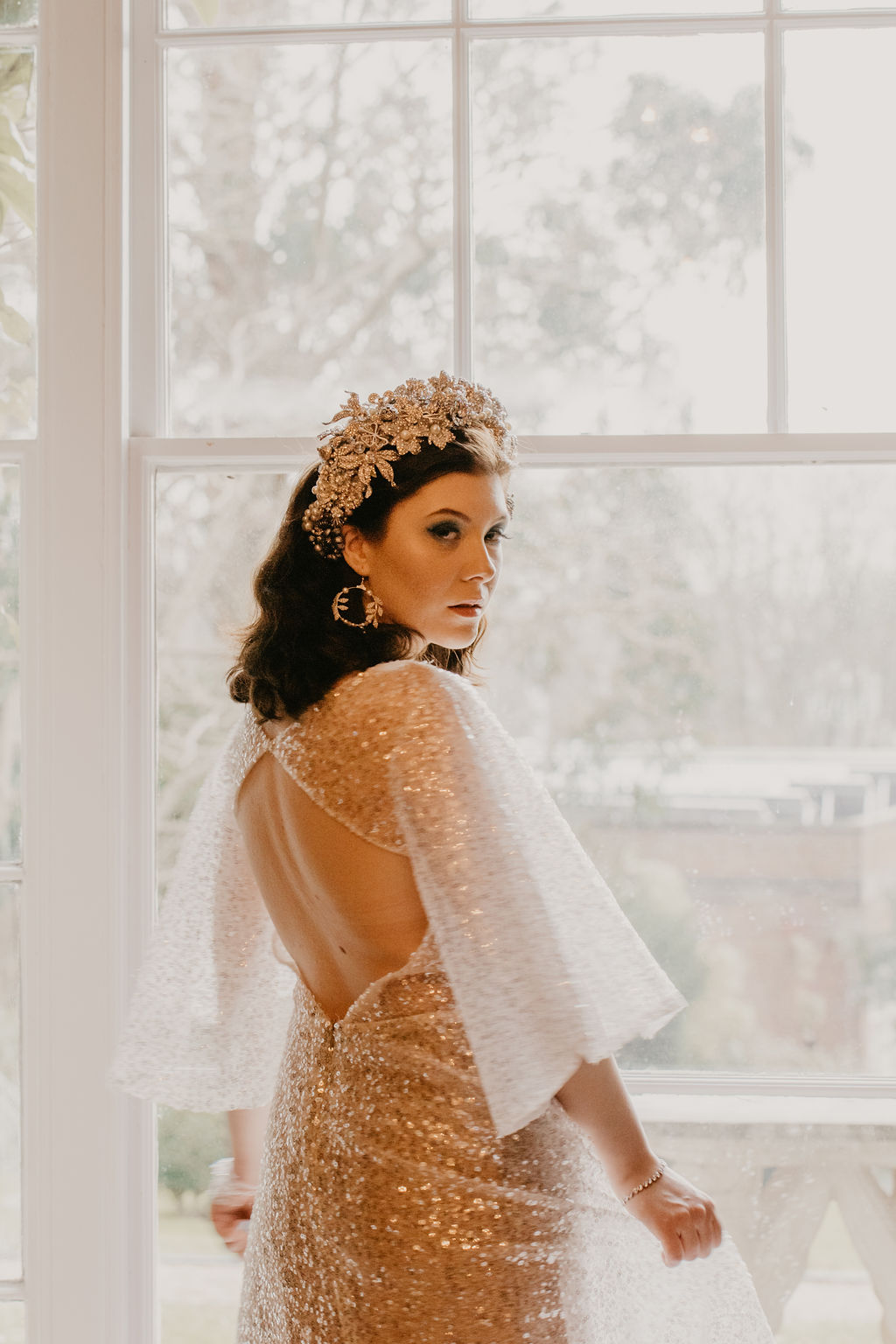 Kernwell Photography
"I describe my work as a joyful fine art style. My photographs are elegant and bright. Colour is incredibly important in my work – I aims for timeless and refined colours that will stand the test of time. To do this, I use both medium format film and digital cameras. Medium format film has unparalleled colour and a textured softness, with perfect imperfections that feel like a memory. Film also means slowing down, shooting deliberately in an editorial fashion. I complement my film work with digital photography, which is perfect for faster paced moments where documentary style is more appropriate. My digital work is then edited to match the feel of film colour and softness, giving couples the best of both worlds."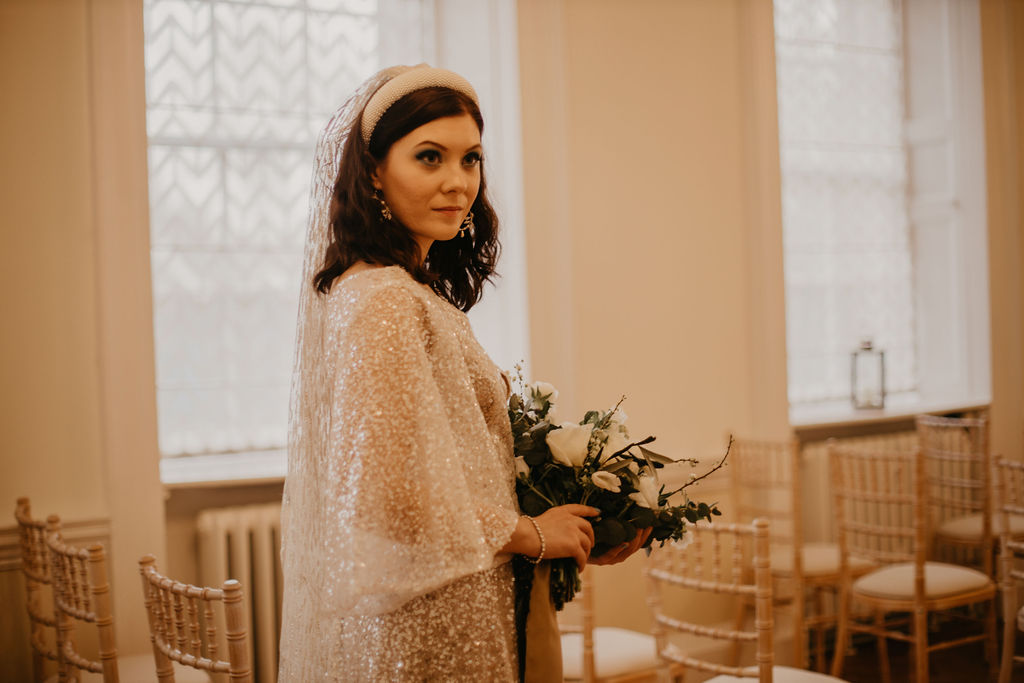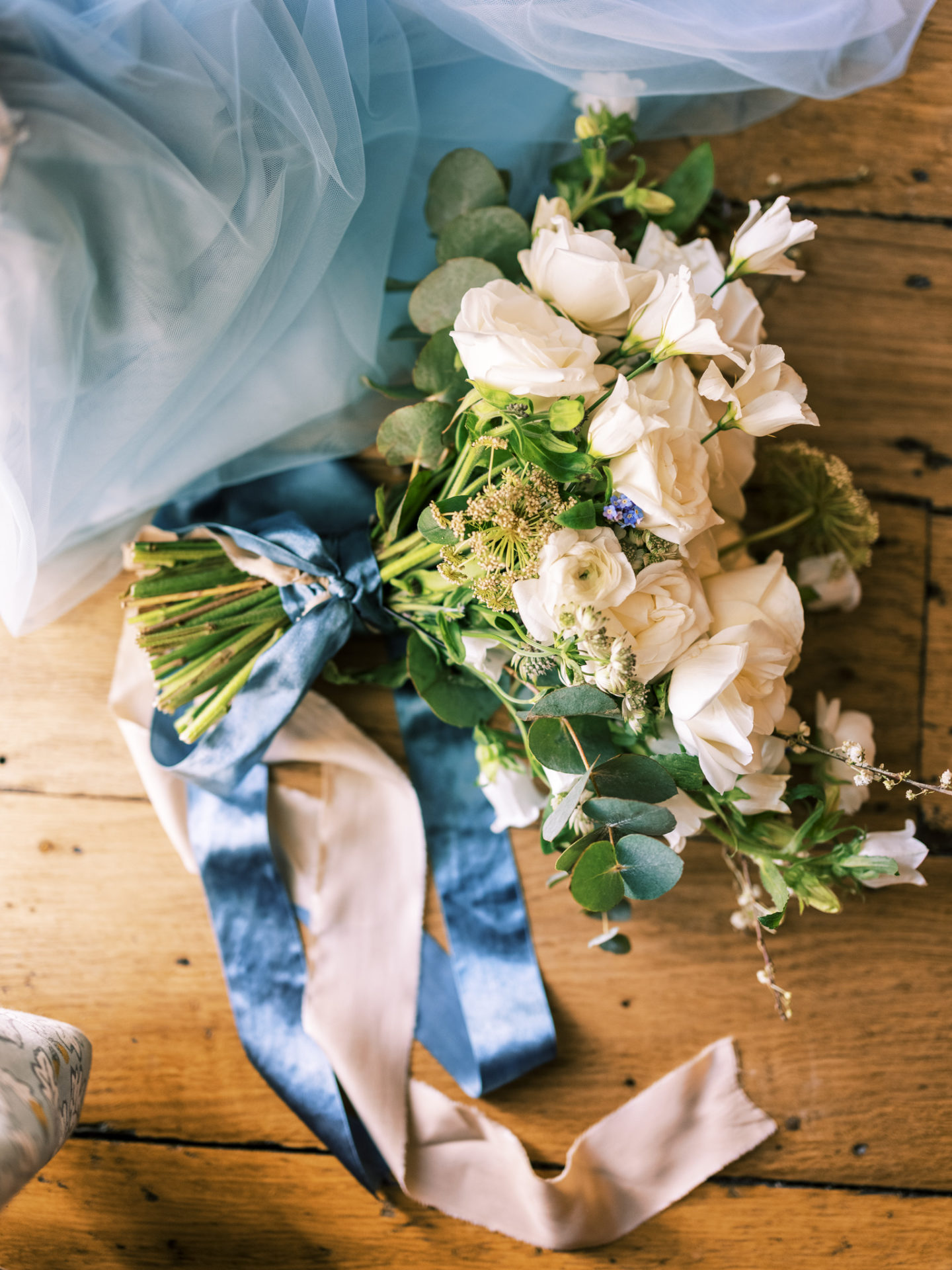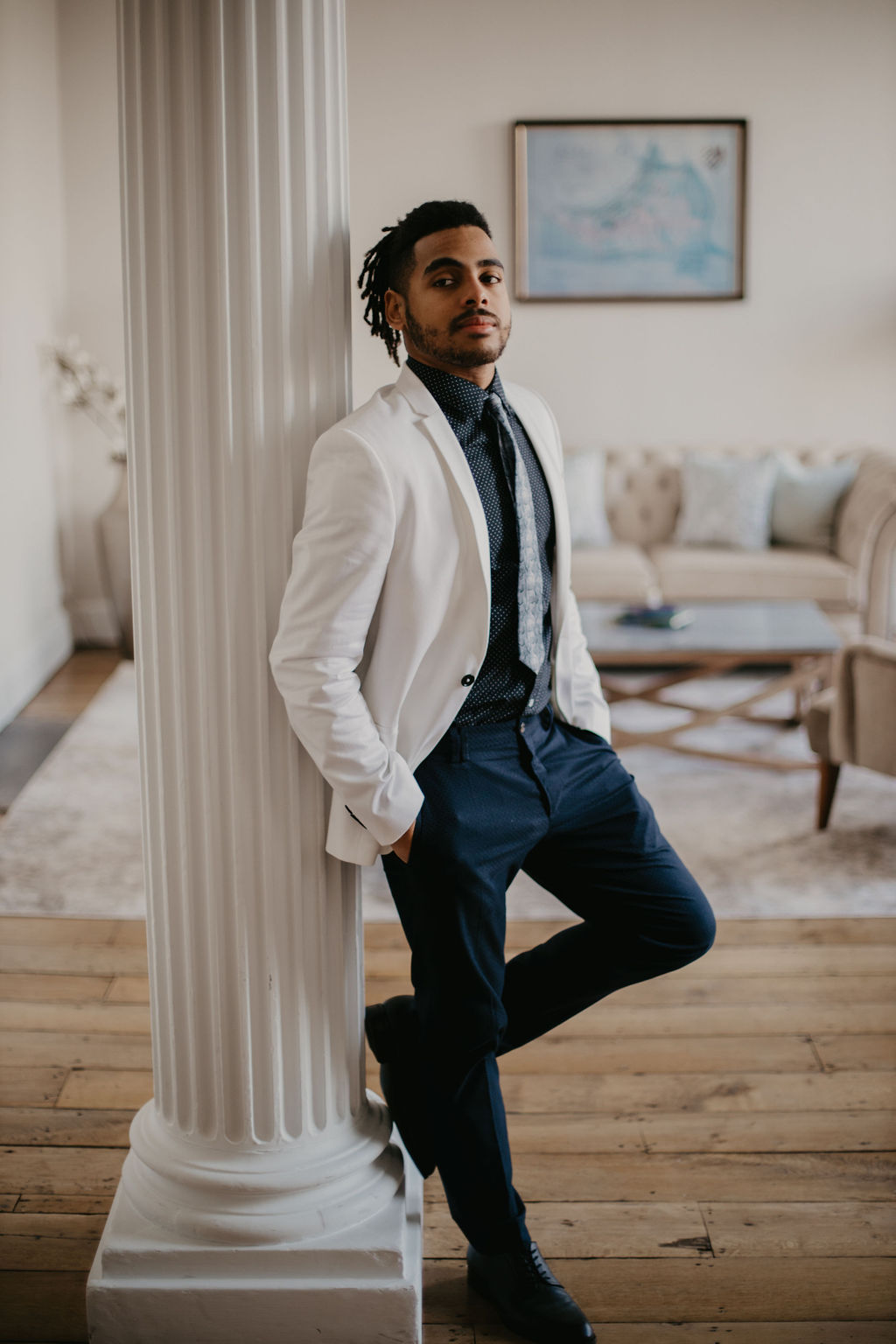 Bridal – By Rose Savage
"When Jessica (The Italian Dream) put a shoutout for a sparkly dress for an upcoming winter themed photoshoot I knew that the 'Citrine' dress from my upcoming collection would be an amazing addition. I'd been wanting to showcase how well it could work for a winter wedding so the styling of the frosted blue, white and silver colour palette worked perfectly. The dress is made fom the most gorgeous glittering sequins with a full swishy skirt, 70s inspired sleeves and modern low-back. It's a proper celebration dress, suitable for a party of 2 or a party of 200!"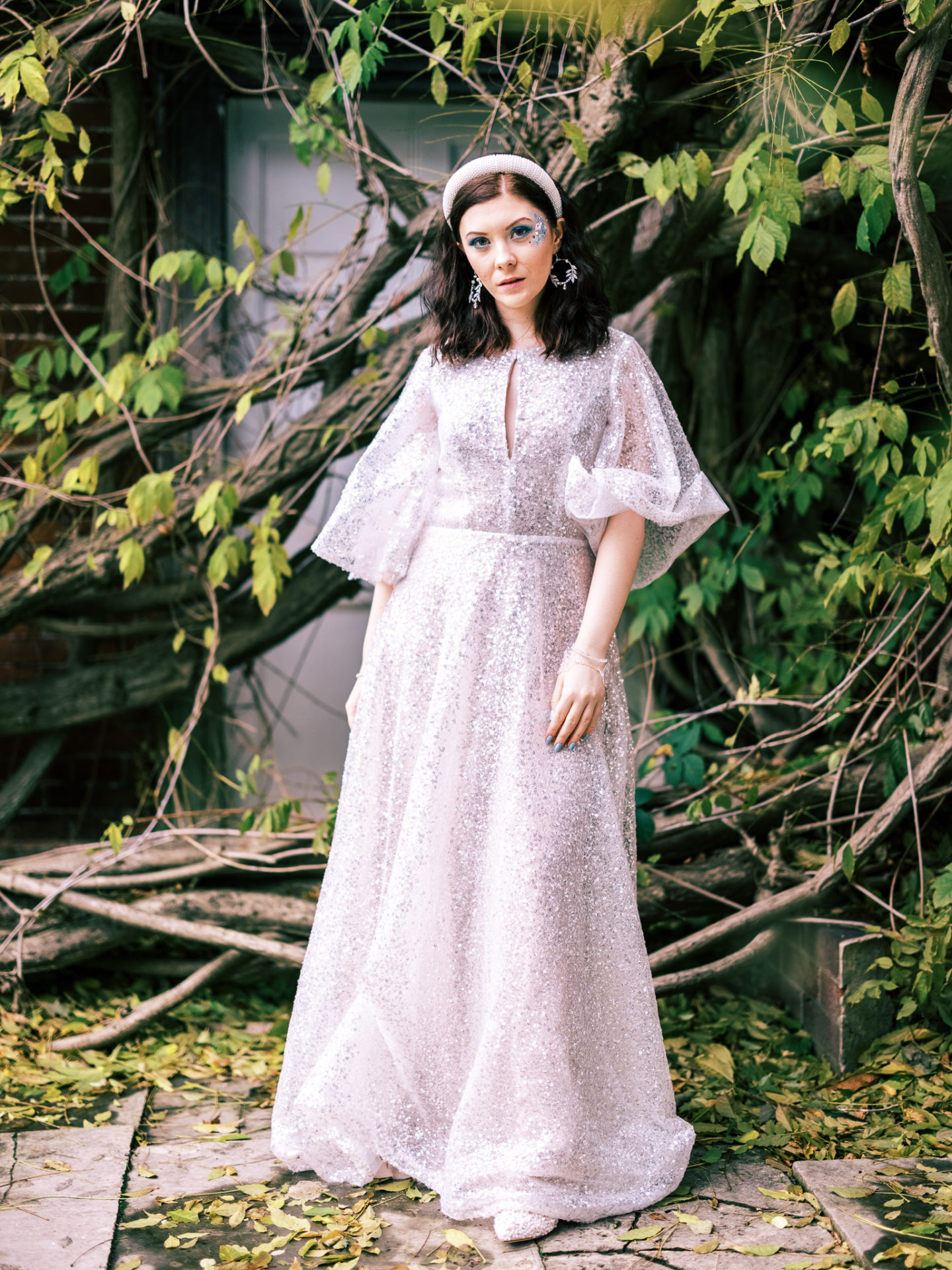 Bridal Separates Matchimony
"Matchimony pride themselves on creating beautifully unique Bridal and Bridesmaid separates. The Frozen shoot featured our billowing Tulle bridal skirt and our cropped long sleeve lace top in beautiful corded lace. Our items are available in sizes 6-30 and make the perfect statement pieces that can be worn again and again even after your intimate wedding. Partnered with our incredible range of bridesmaid and flower girl clothing in 40 colours we are the perfect partner for your wedding day."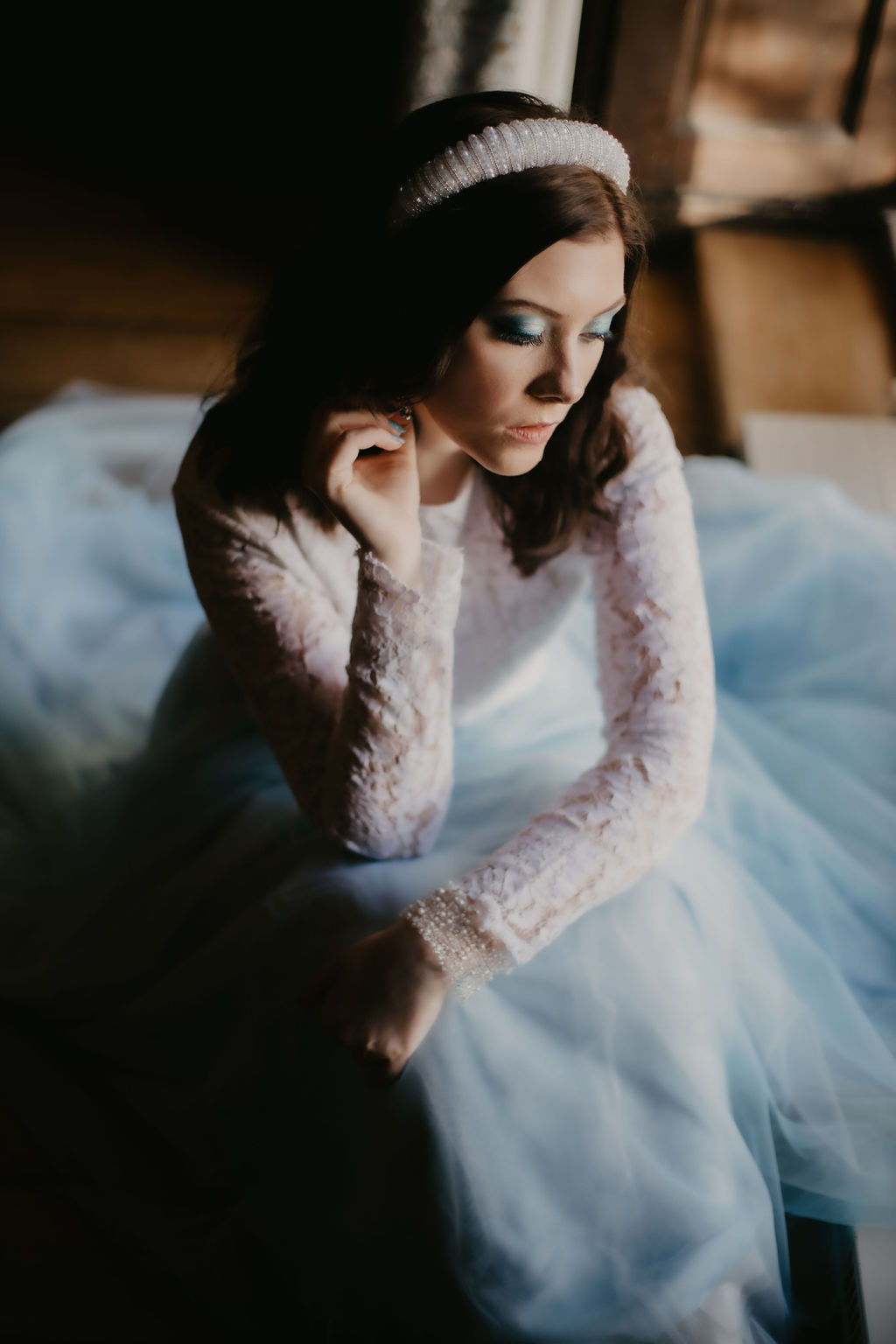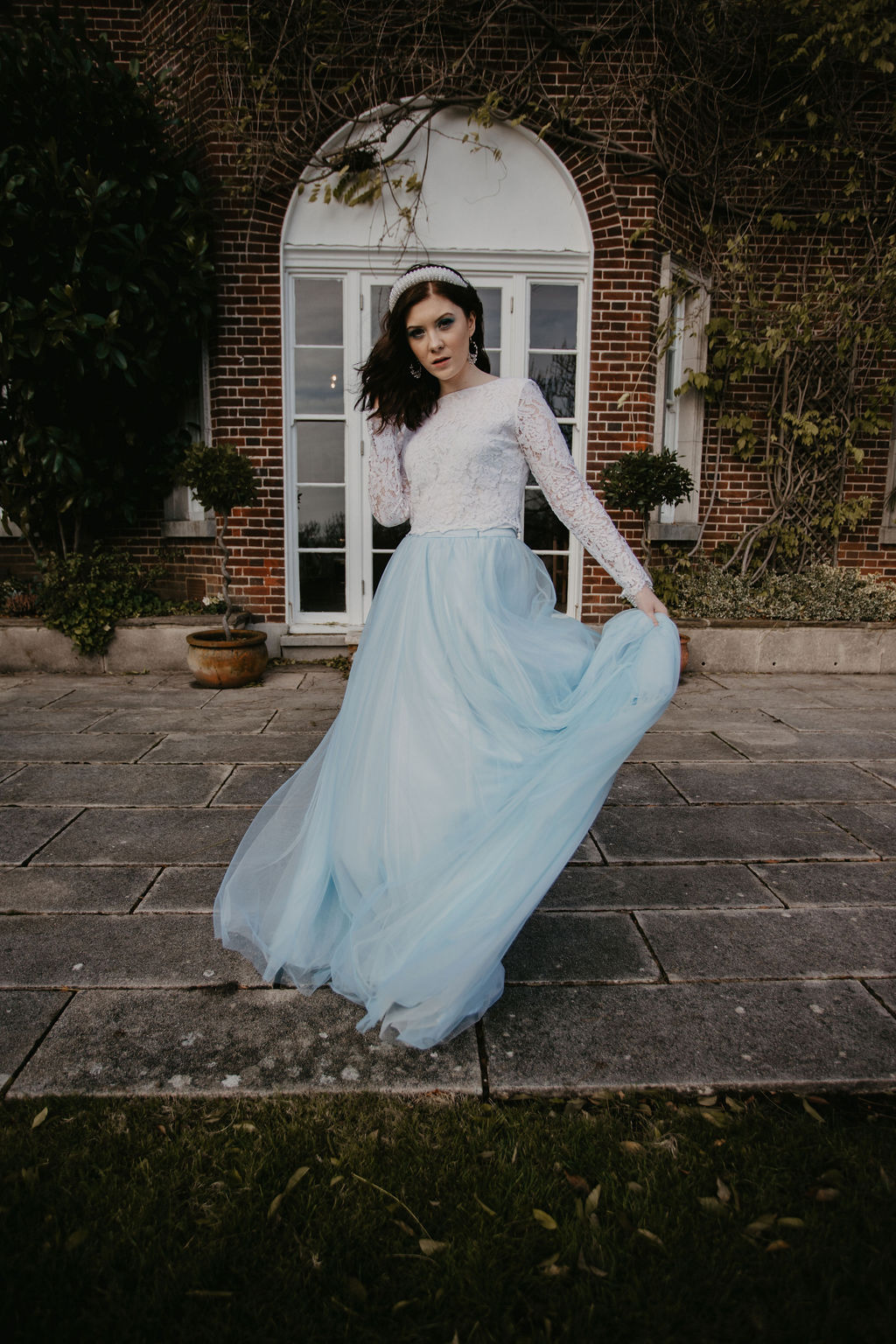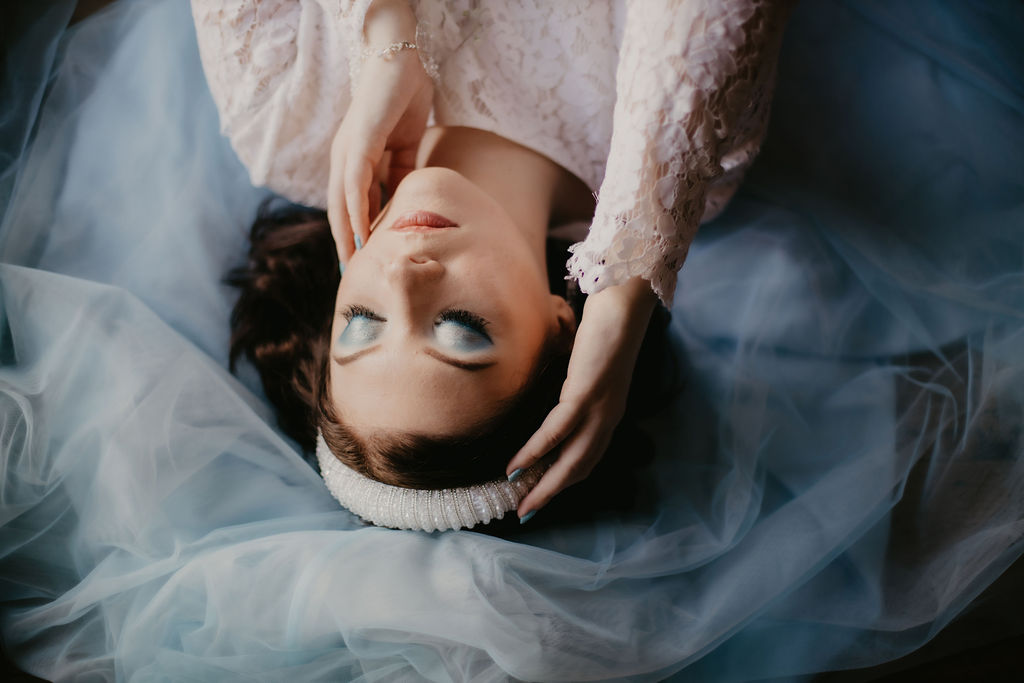 Shoes – Diane Hassall
"Whatever dress you choose you will need a pair of seriously gorgeous shoes for your wedding day…. I can help with that!When you buy a pair of Diane Hassall wedding shoes you are investing in quality, comfort and fresh modern styling. Our shoes are handcrafted in beautifully soft suedes and fabrics with butter soft linings for superb comfort, so that's one thing you won't have to worry about on your wedding day! As well as the traditional ivory and creams I love to work with contemporary nude and blush tones with rose gold accents, so as well as being stunning wedding shoes they're very wearable after the big day too, win win! In addition to the main collection we offer a 'custom' service where we can work with you to personalise your look creating something unique and personal for you.I love designing wedding shoes and feel privileged to have been a small part of so many very big days and would love to do the same for you."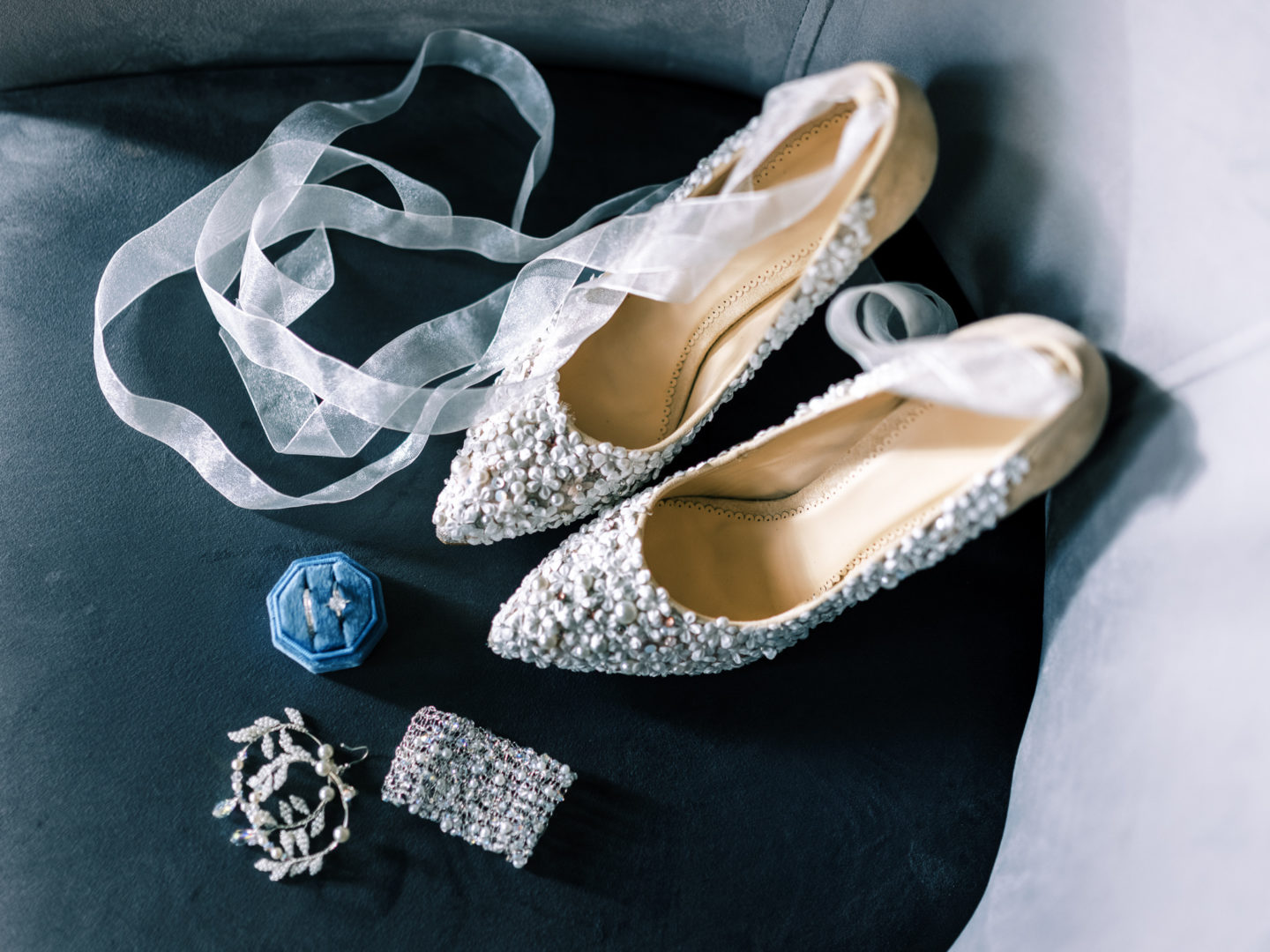 Hair and Make Up – Nadia Wyatt Hair & Makeup
"I used some of my favourite bridal go-to products on the model, including Mac Prep and prime fix plus spray which is great for a little hydrating boost, plouise eye base to keep the shadow from creasing, Charlotte Tilbury Hollywood filter for some inner glow which is a must on your wedding day and of course the cult classic urban decay setting spray to keep everything in place all day long and ensure it looks as good 6 hours later as it does when it's first applied.As I wanted the focus to be on the eyes, I kept the hair more subtle going for some relaxed beachy waves.It was great fun to do something a little different to traditional bridal makeup, I think adding some colour to your micro wedding makeup is such a nice touch!"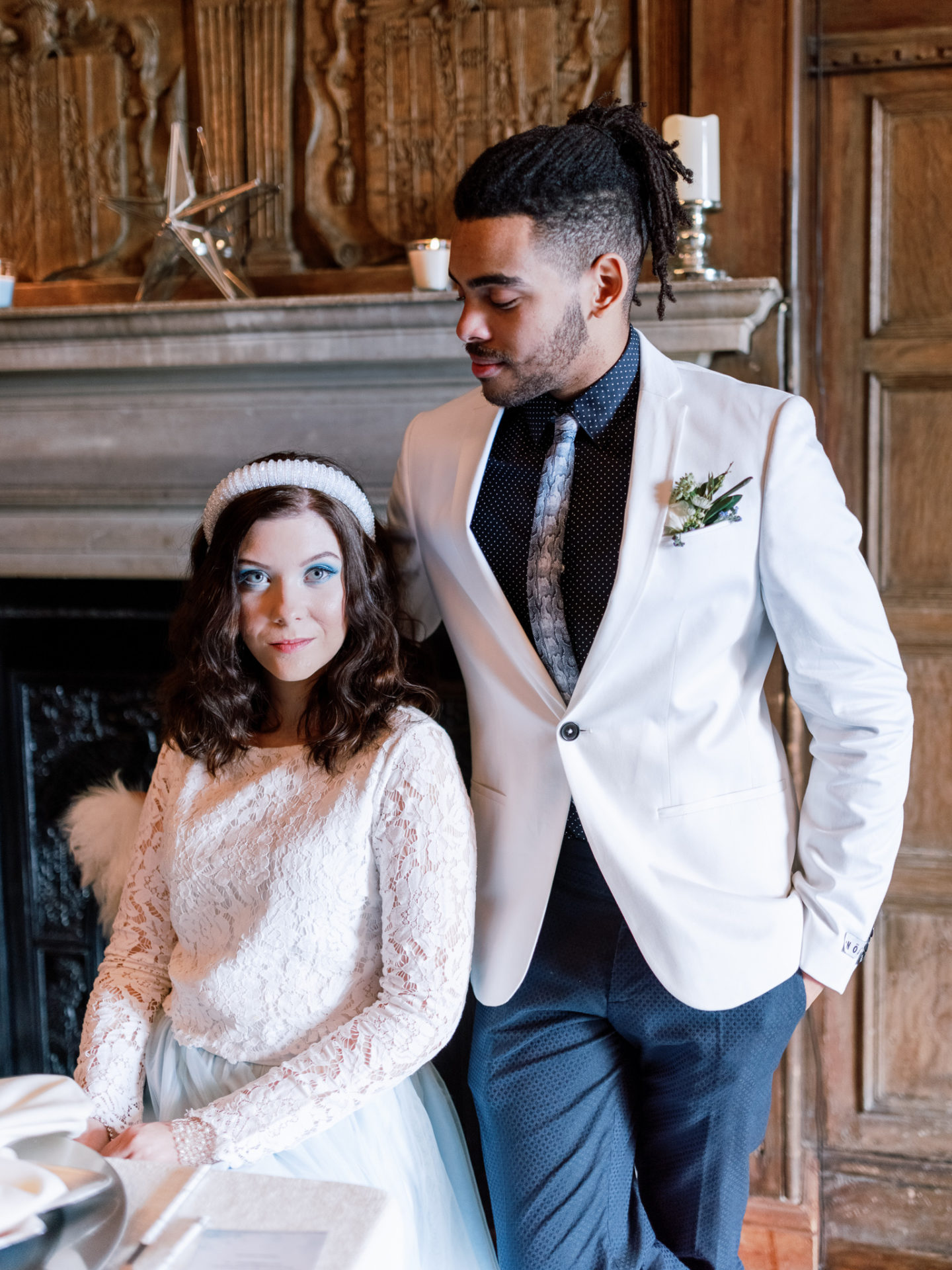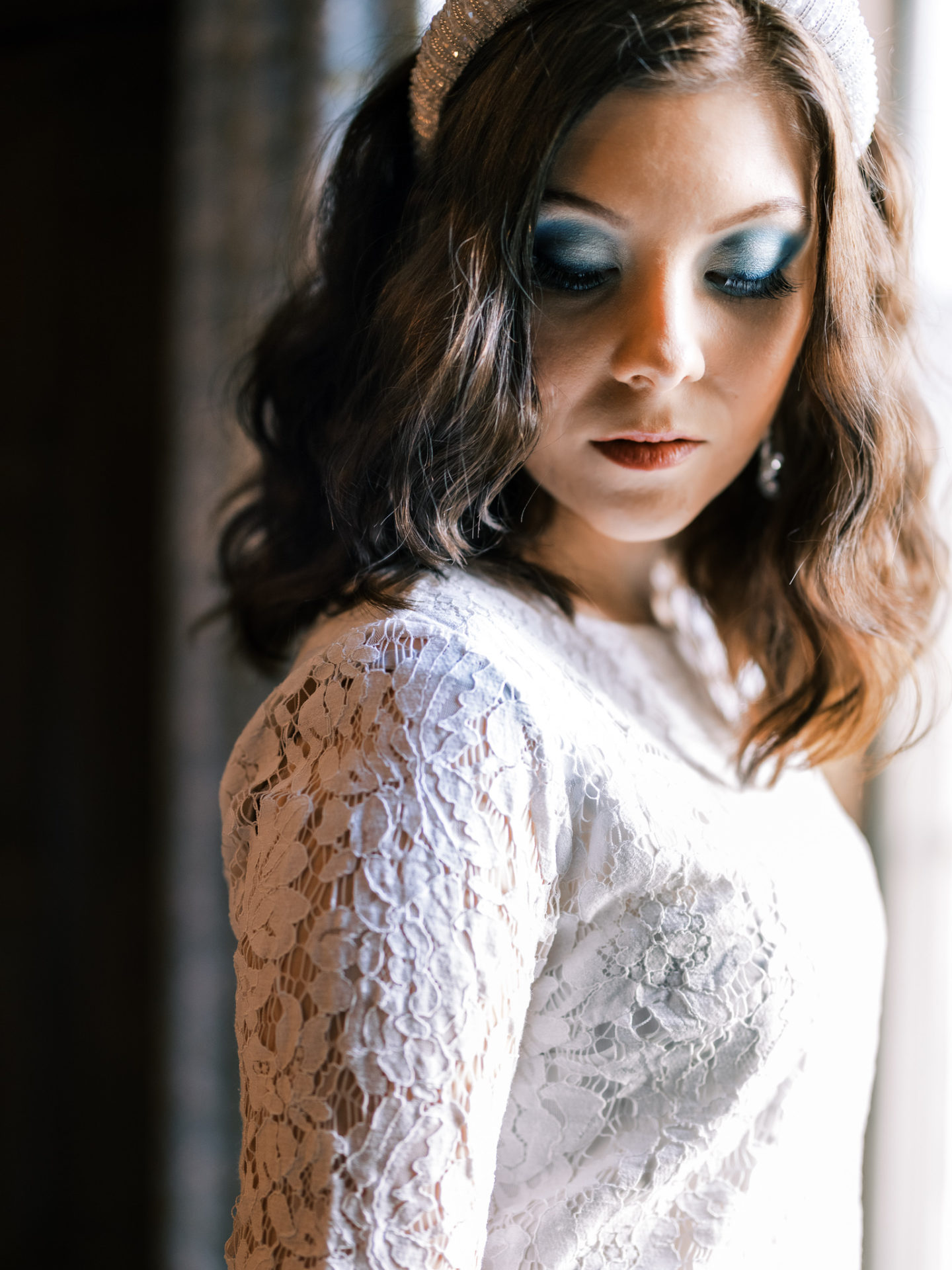 Transport – Buttercup Bus Vintage Campers
"When booking your wedding transport, Buttercup Bus Vintage Campers offer a few unique add-ons to enable you to really get the best out of your package, whilst offering something entertaining for your guests. The fleet of 6 pretty pastel and cream coloured classic campervans on offer can also turn into VW camper photobooths, with the added option to feature their popup campervan glitter bar services in the back – complete with glitter artist, eco glitter, dried flower tattoos and gems. The set up comes with lots of décor, instant prints and props."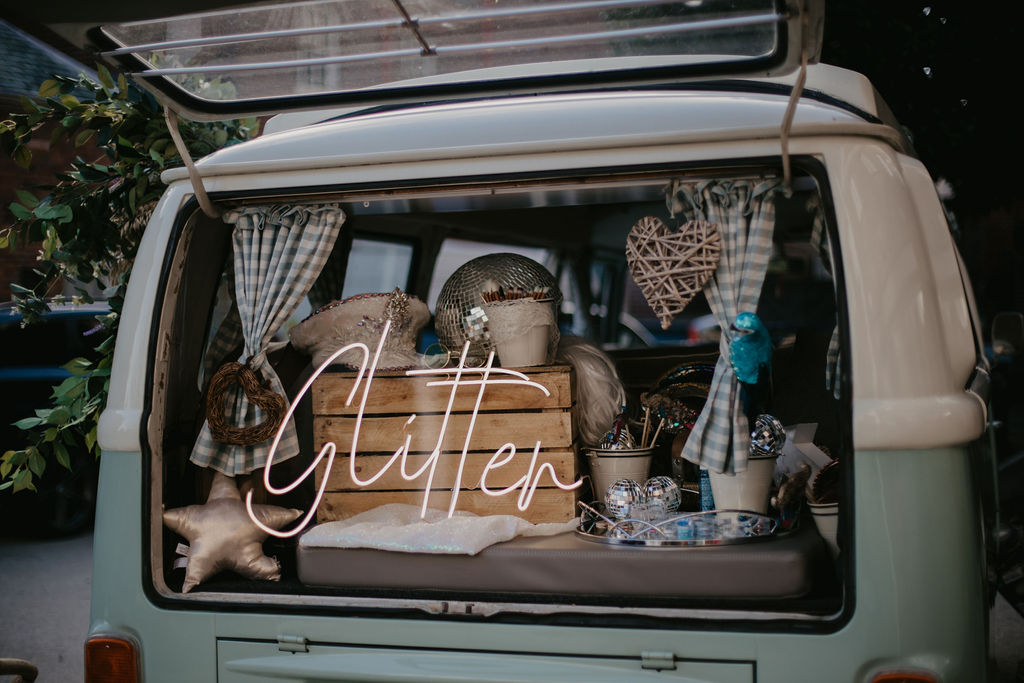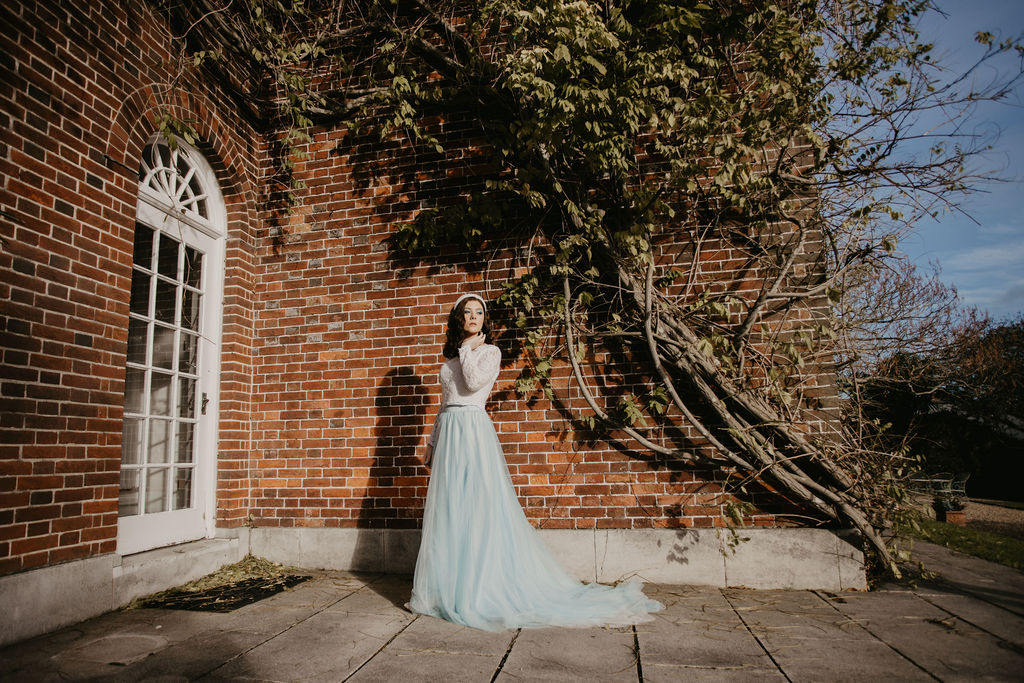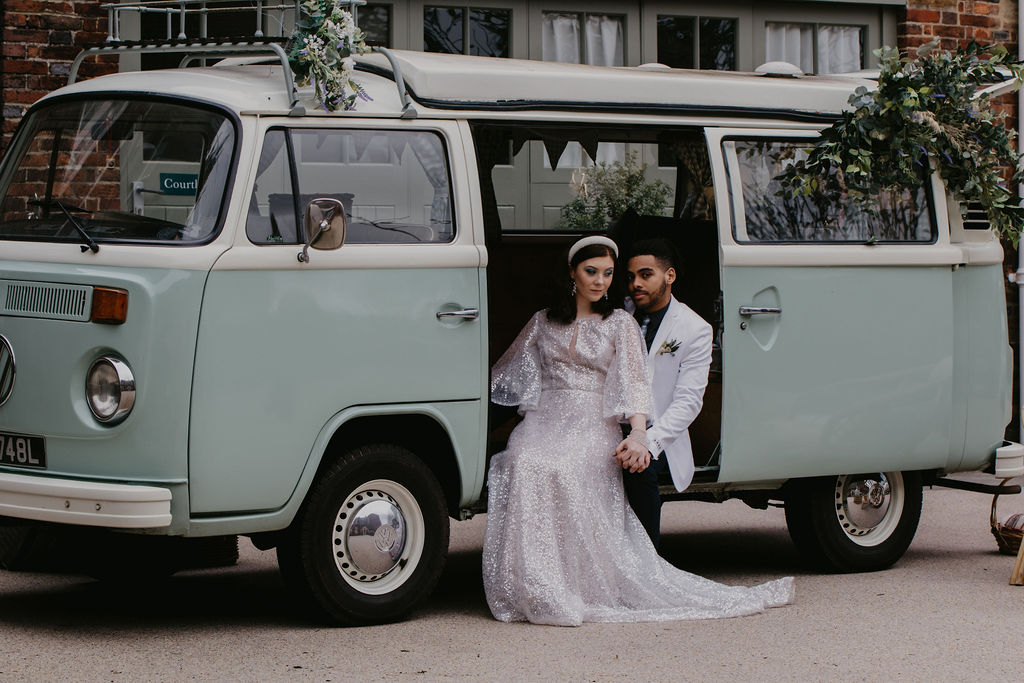 Celebrant – Rose and Grace Ceremonies
"It was such a pleasure to be a part of this festive shoot, full of glamour and sparkle! As a Wedding Celebrant I have the honour of writing personalised ceremonies that truly reflect who my couples are. Often the couple has put a lot of thought into the style and the vibe of their wedding and it's only right that their ceremony should be at the heart of it. A festive ceremony is perfect for conjuring romance, involving loved ones, and creating smiles and laughter all round."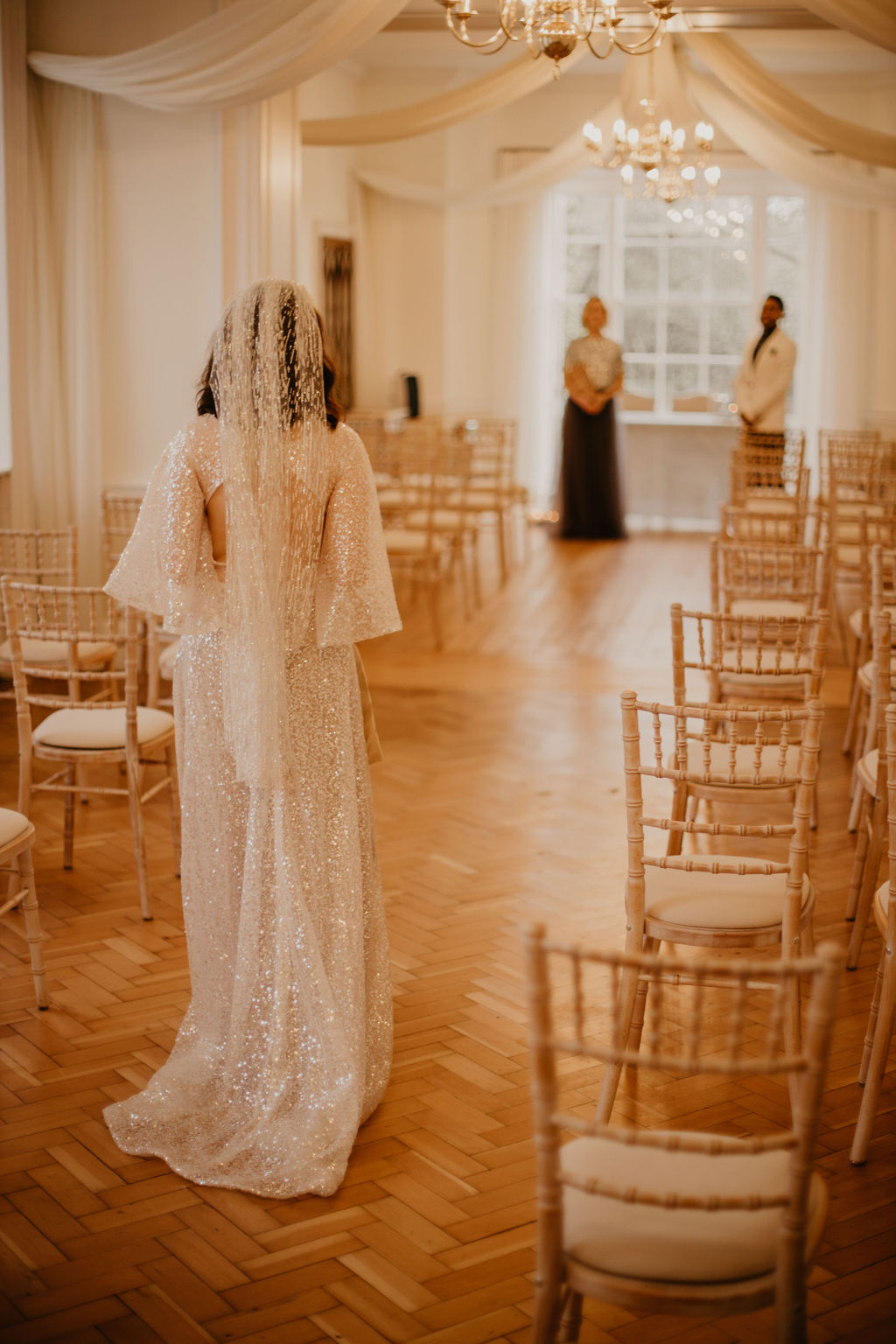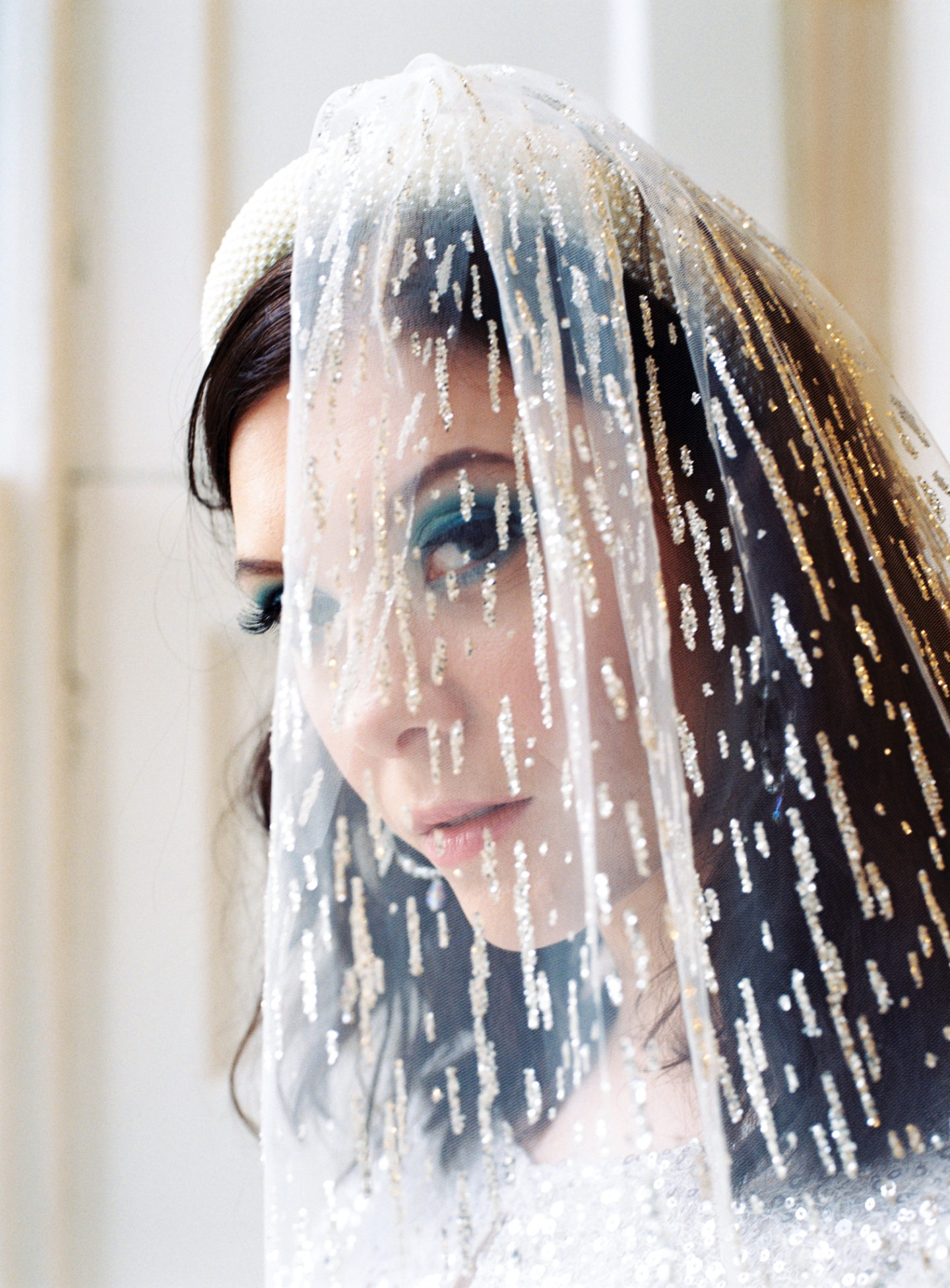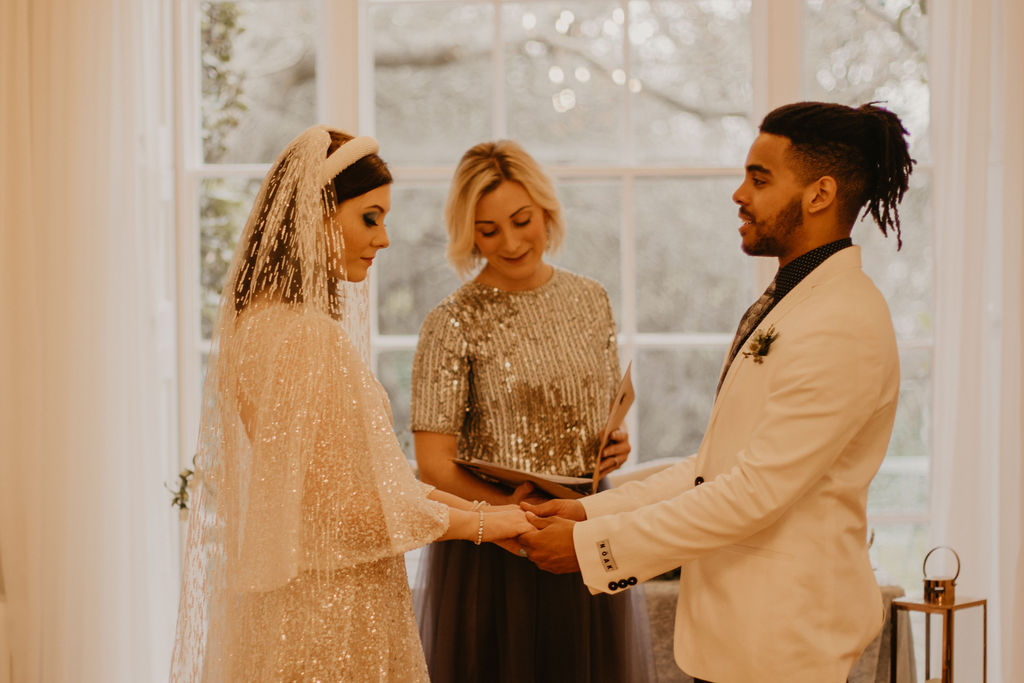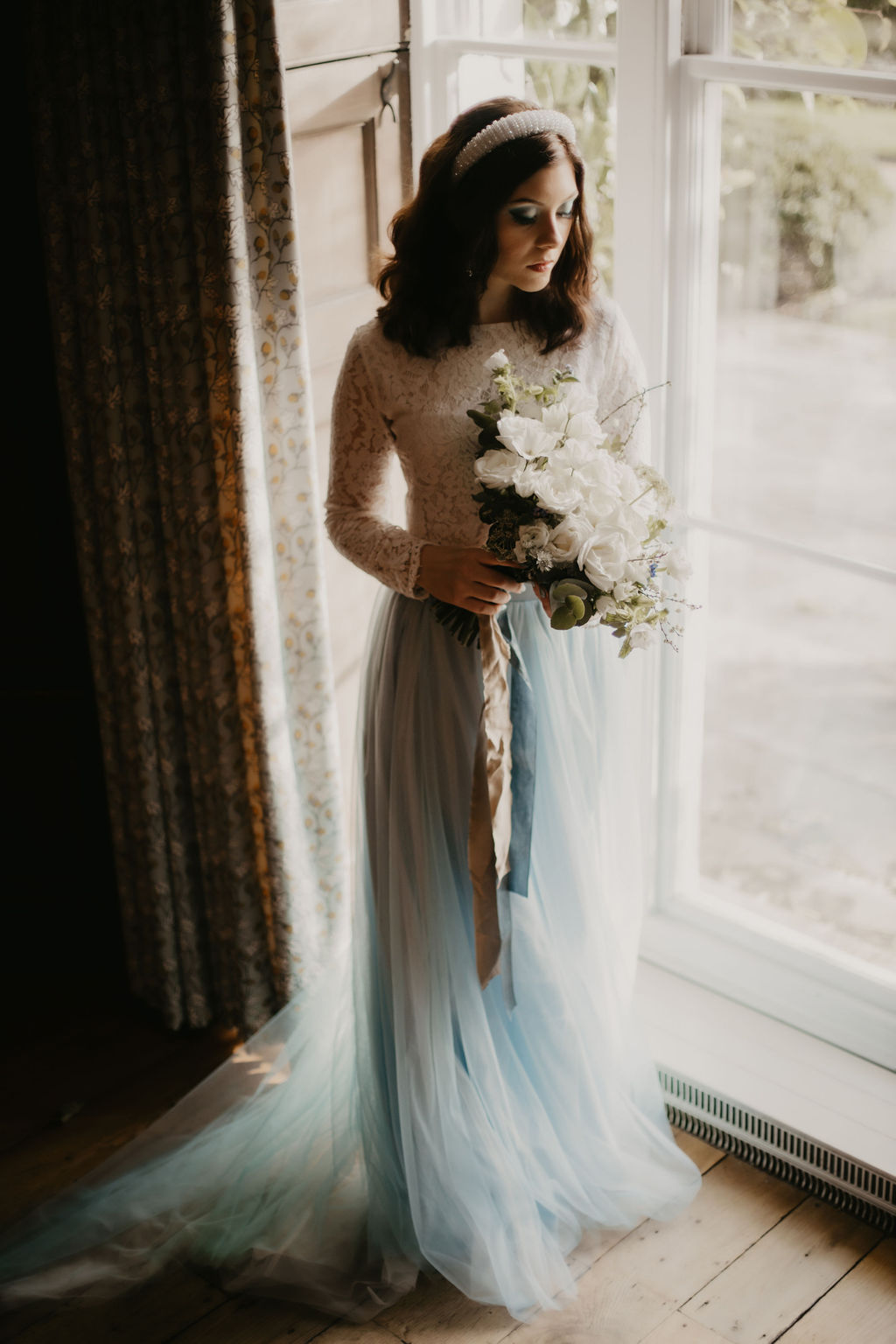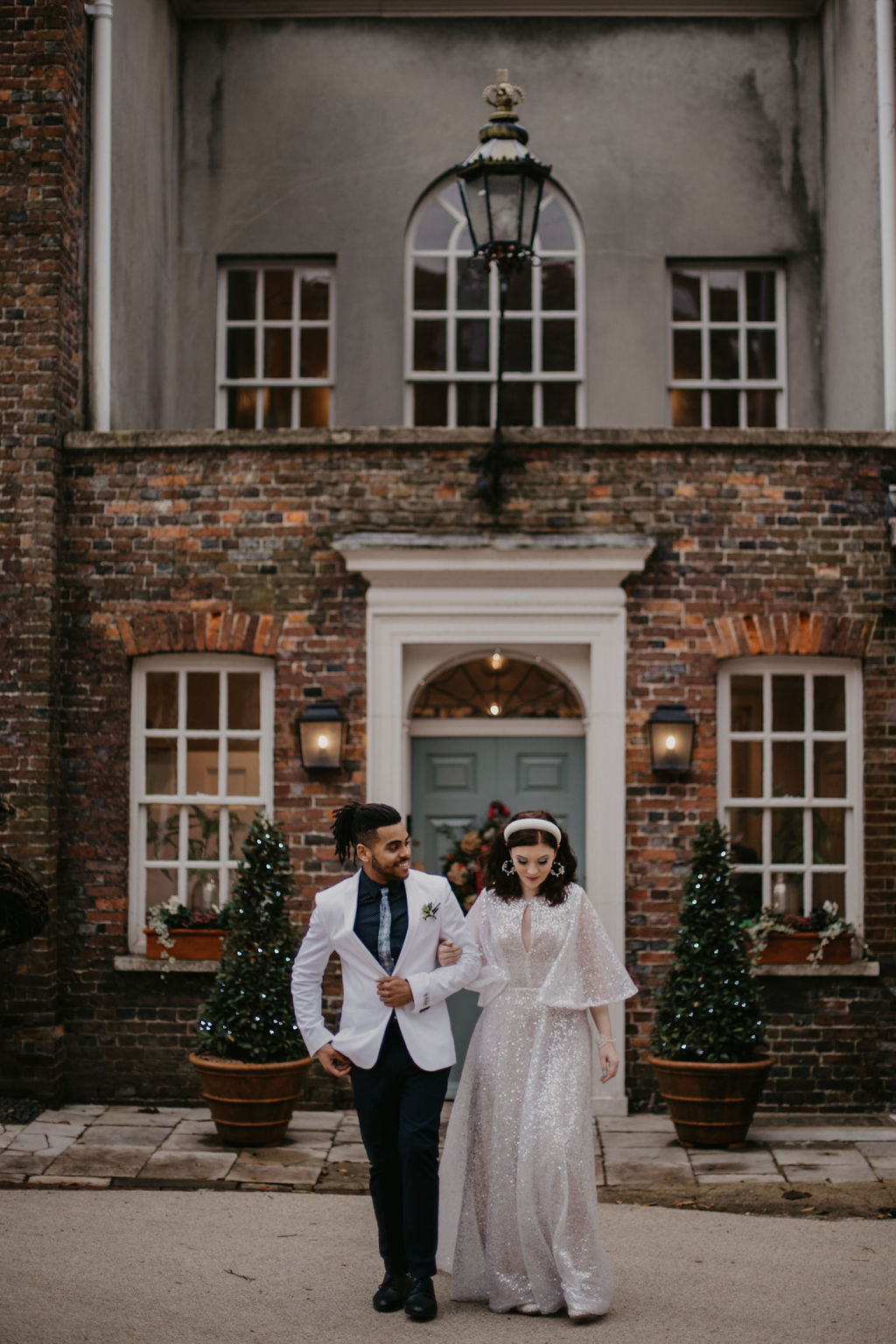 The Team – Grown Up Glam Frozen Winter Wedding Inspiration At Pelham House, East Sussex
Photography- Kate Boston Photography @katebostonphotography / Kernwell Photography @kernwellphoto
Styling The Italian Dream @the_italiandream / Venue Pelham House @pelhamhousewedding / Concept and Model Brogan Alexandra @broganalexandra / Model Basil Dsouza @basil_dsouza / Celebrant: Rose and Grace Ceremonies @roseandgraceceremonies / Videographer: Charli May Video @charlimayvideo / HMUA: Nadia Wyatt hair & makeup @petalblush_ / Cake : Alchemy of Sugar @alchemyofsugar / Flowers: The Bloominati Florist @thebloominatiflorist / Stationery: Sharmila Joy @sharmilajoy / Dress: By Rose Savage @byrosesavage / Separate: Matchimony @matchimony / Hairpieces: SaintBeth Official @saintbethofficial2 / Jewellery: Bunny Loves Evie @bunnylovesevie / Shoes: Diane Hassall @di_hassall / Veil: Rebecca Anne Designs @rebeccaannedesigns / Campervan: Buttercup Bus Vintage Campers @buttercupbus
IF YOU LOVED THIS FROZEN WINTER WEDDING INSPO WHY NOT ADD IT TO YOUR WEDDING PINTEREST BOARD?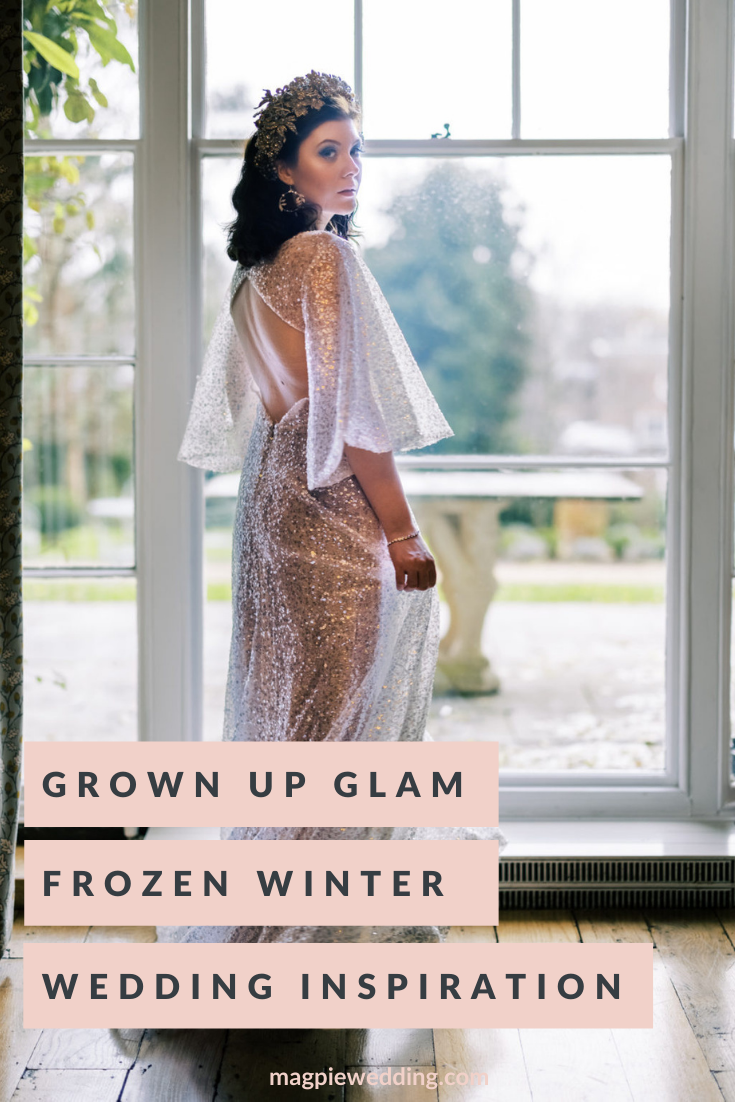 If you loved this Pelham House wedding you may also like;
Beauty and The Beast Inspired City Wedding in Manchester
1970s Wedding Inspiration With Karen Dornelie Dress at The George Hotel, Isle of Wight
Industrial Luxe Wedding With Celestial Vibes At The Old Joinery, Essex