Today's real wedding is beautiful and features Madeline and Daniel from London. They met in at an indie club night called Candybox in Soho that they had both been going to for years and were introduced through a mutual friend, who did a reading at their wedding. What I love about this wedding is it is a mash up of 1950s Americana and the English countryside, resulting in a very British polka dot vintage wedding. Then add their love of music, their love of bunting and their love of balloons…What's not to love?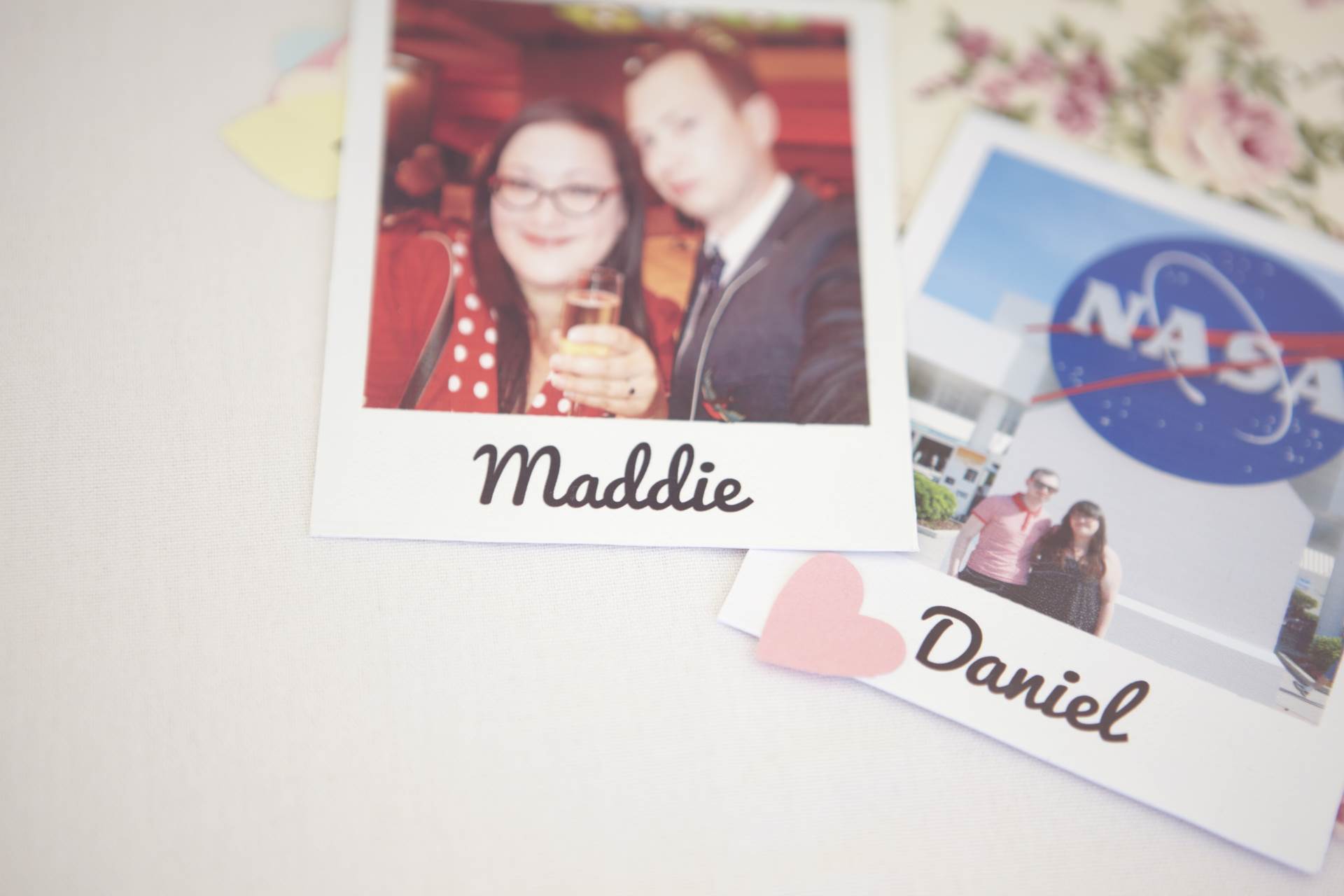 Daniel proposed on Madeline's birthday on 27th birthday, August 15th 2011. She describes it, "He proposed to me on my birthday in our living room, by giving me a piece of art by my favourite artist Rob Ryan. This artwork inspired the ceremony greatly- the flower girls and page boys walked up the aisle ringing bells, and we were married under paper ones in the archway. They incorporated that little bit of a church wedding and meant so much to me because of the writing on the artwork:
"These Bells Shall Peal For Just One Day, But In Our Hearts Will Ring All Winter Long"
Less than a year later they were married. "We didn't want to have a long engagement so we just went for it as soon as we thought it might be sunny- and it was!"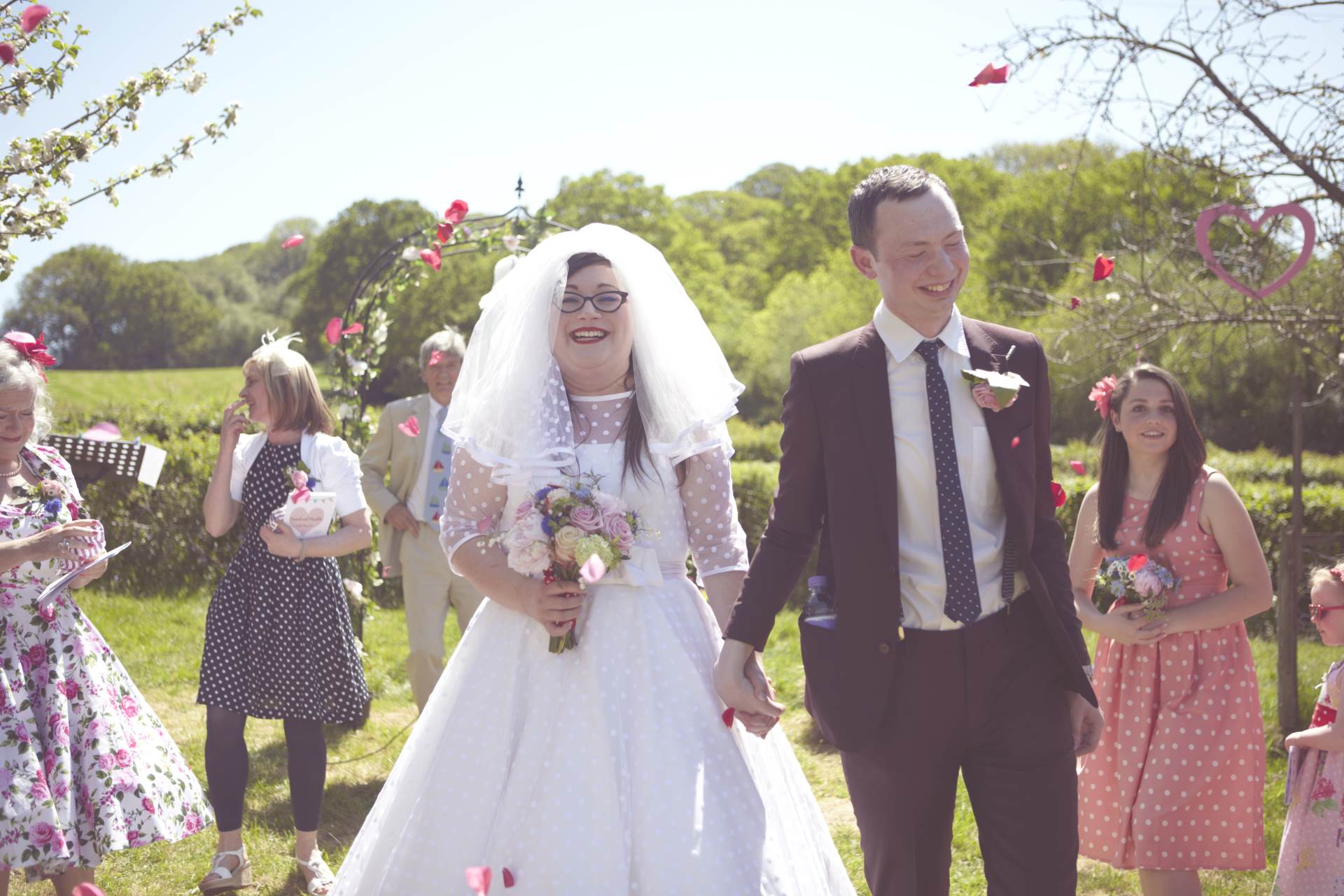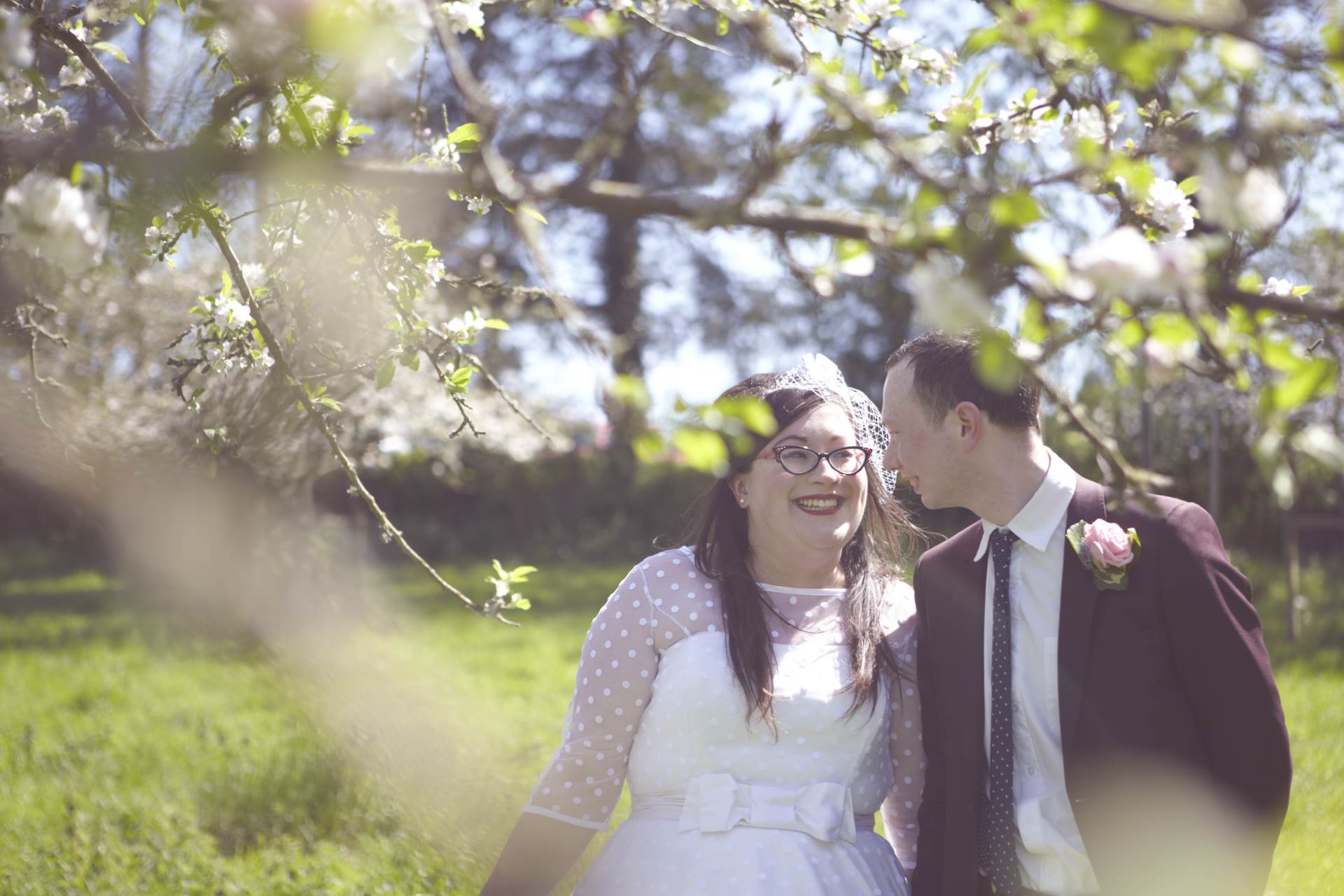 They got married in Taunton Register Office then had another ceremony and reception at her mum's house where she grew up. The house is called Deadbeer and it is in Devon.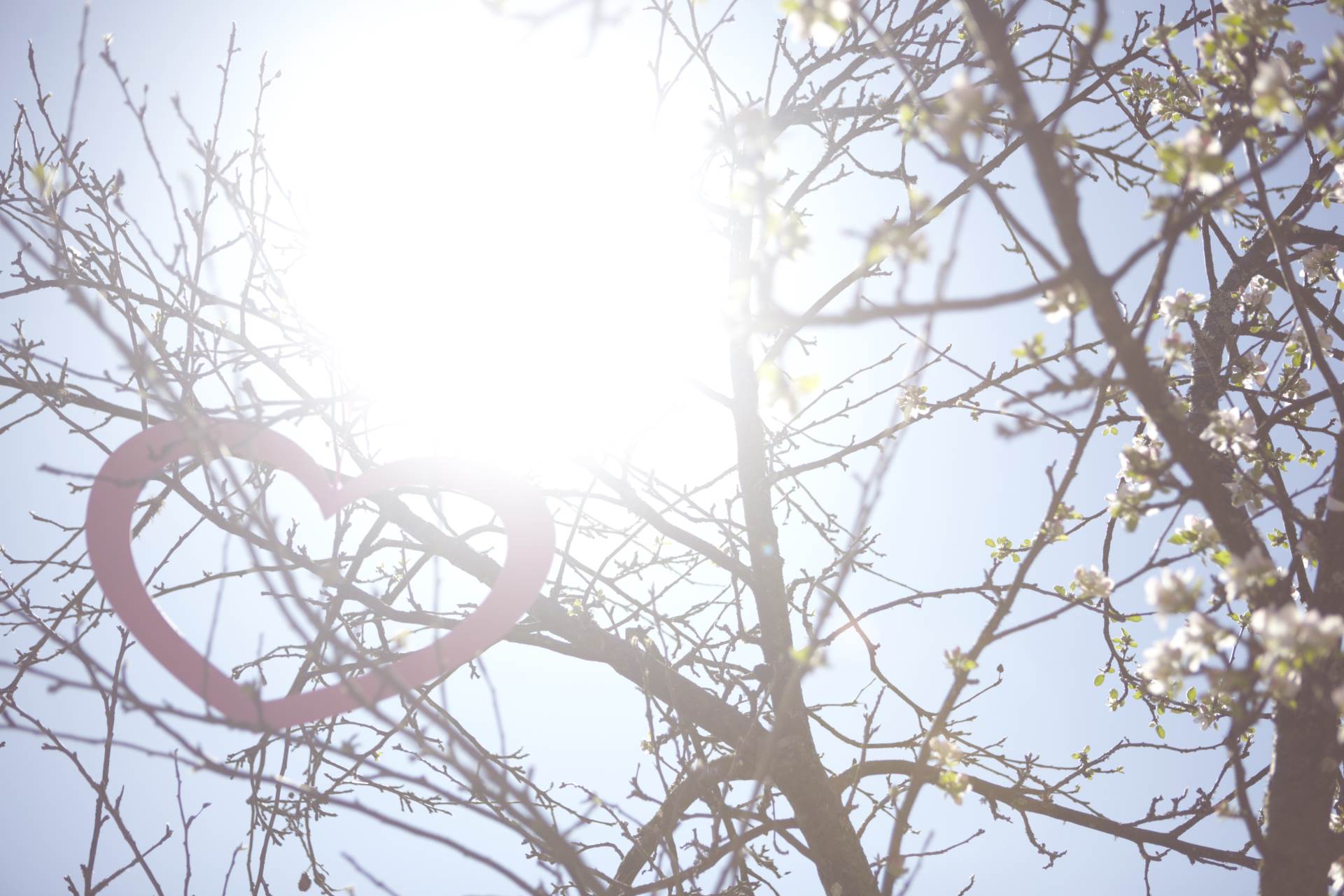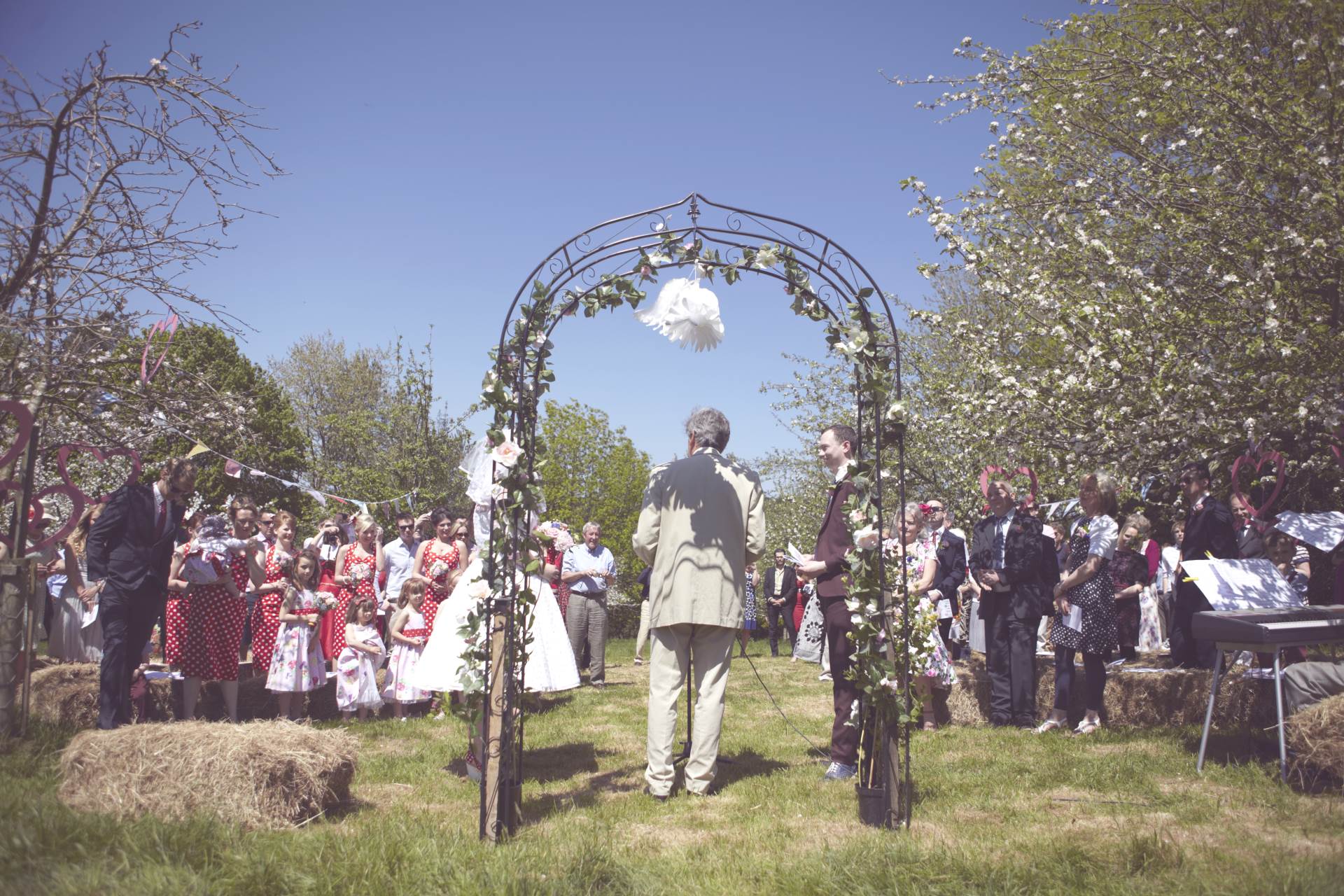 "We held the ceremony in the apple orchard field at my mums house where I grew up and the reception in a marquee in the garden. It is such a beautiful place that I had always dreamed we could make it work there- it would seem silly to pay to have it elsewhere when we had such a beautiful venue already. We are not a religious couple, but the apple orchard gave us the special feeling that you get when you walk in a church-like a sacred place as it was so beautiful. The blossom came out on the trees the day before the wedding, and my step dad and neighbours put an archway of flowers at the top of the field for us to get married under. Either side of it are a line of trees that create a perfect aisle, almost like our own outdoor church.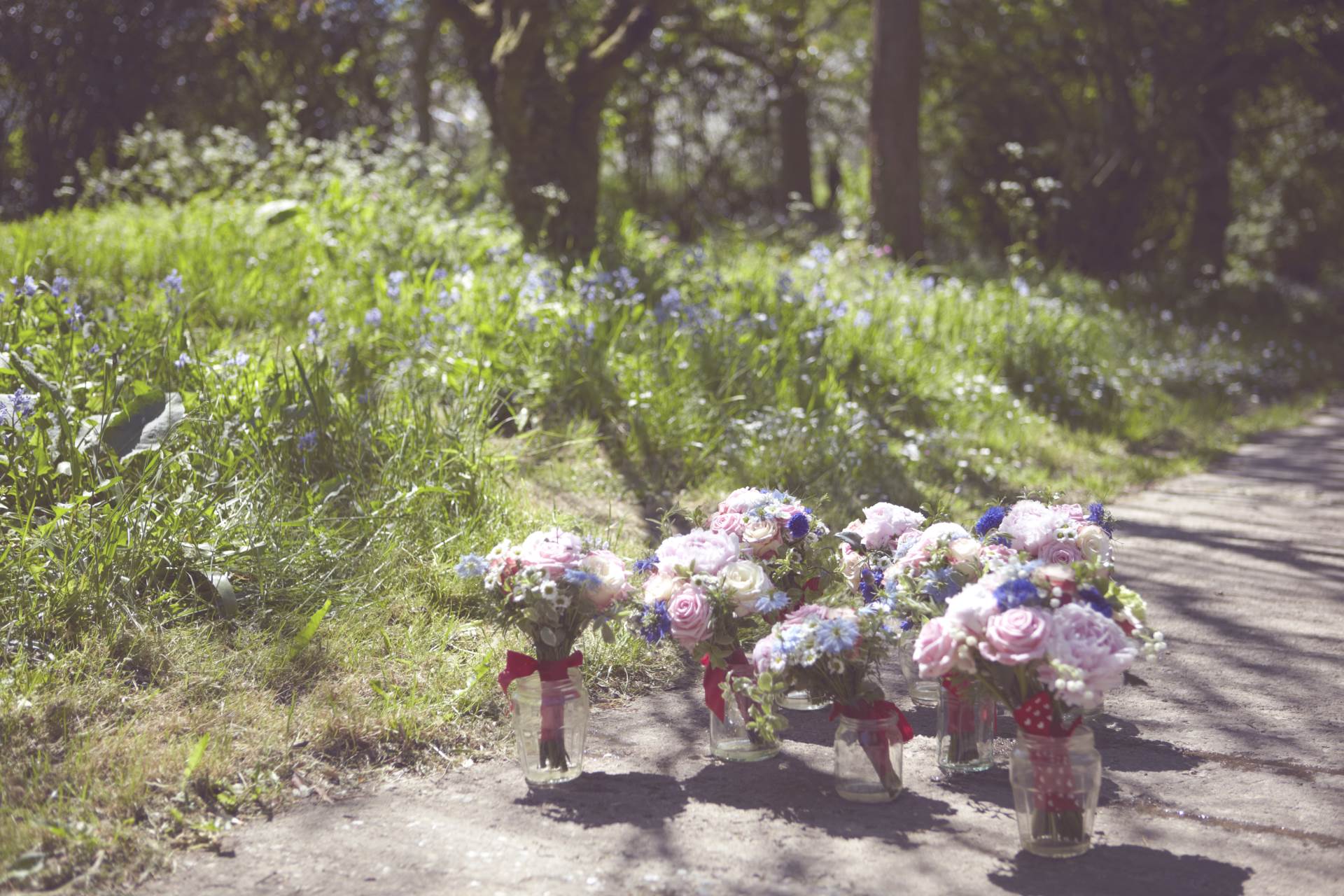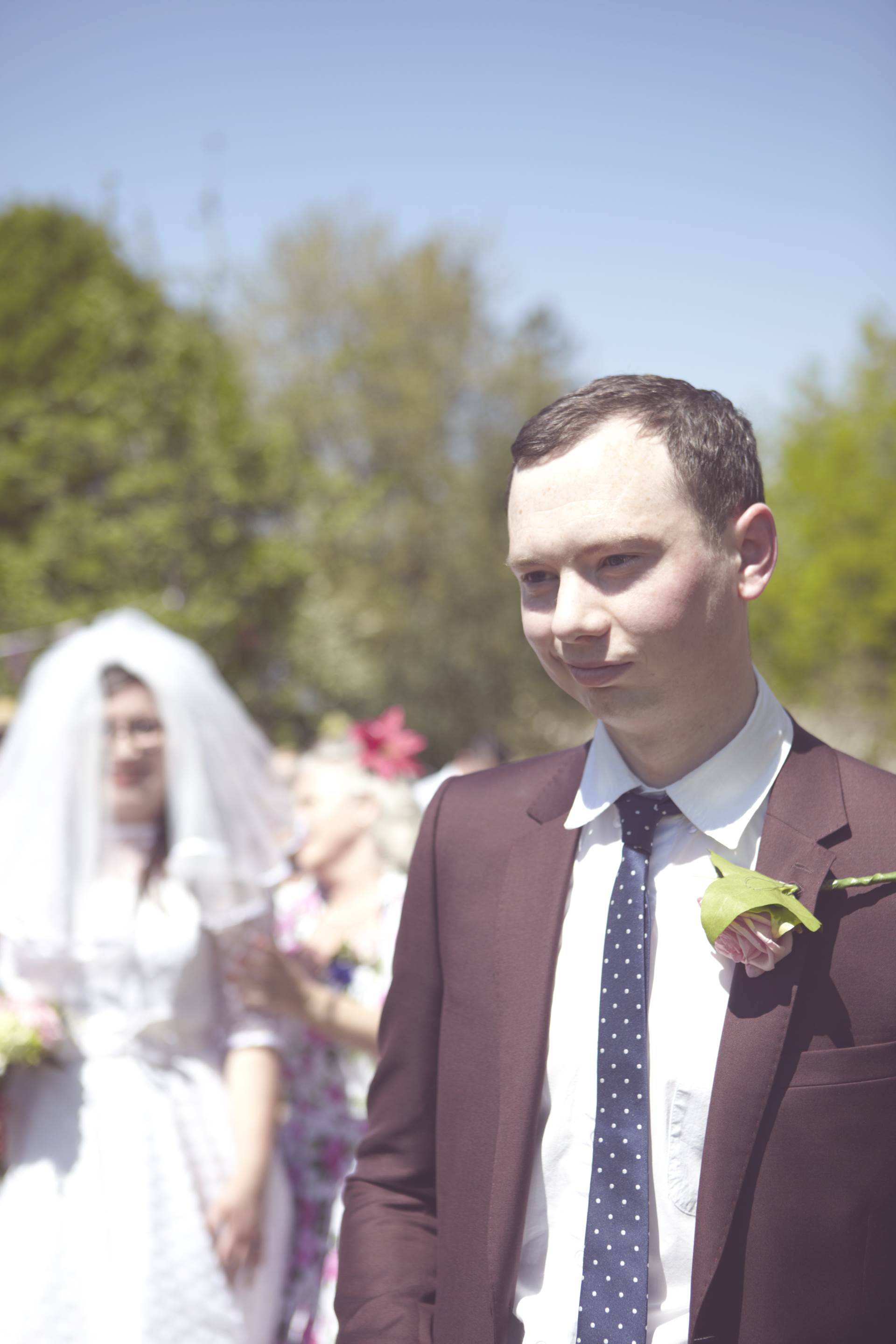 The house and grounds are also special to me as my dad's grave is in the church at the top of the hill which sort of looks down on the house, so it felt like we had his blessing and that he was looking down on us even though he couldn't be there. He must have been with the beautiful weather we were blessed with!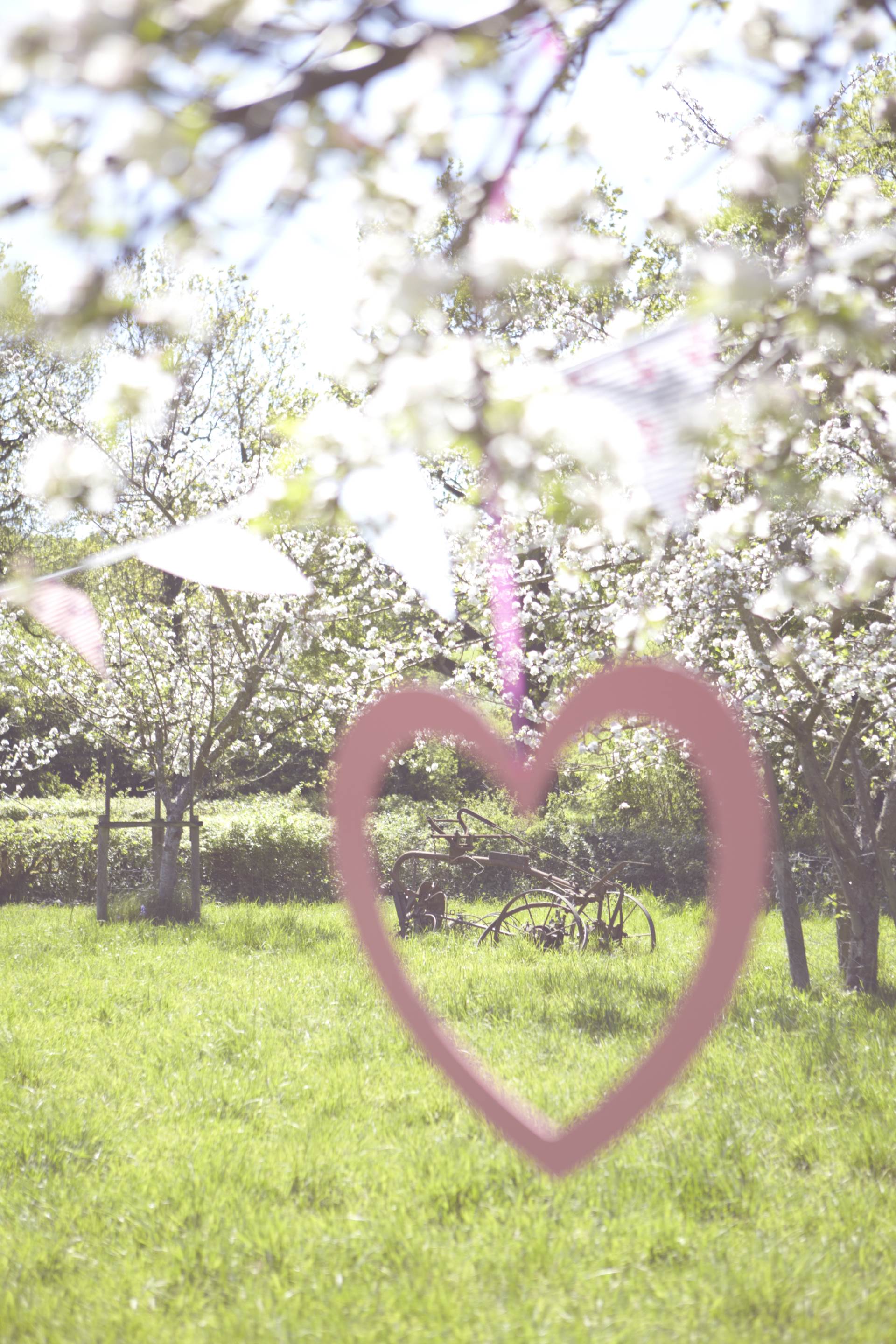 We didn't want a church wedding so we had the legal service the day before in the registry office in Taunton, Somerset. It was hard work doing it like this however. Having the legal ceremony the day before, I thought would feel weird but it was actually quite lovely, and felt like just that- the legal bit. It was just us and our parents, and we wore the outfits we wore when we got engaged. We wanted to play it down abit as to us the real bit was the next day."
So what we the theme?
"Polka dots! We love fifties Americana, mixed with a really British countryside. We wanted it to be colourful and fun and relaxed and enjoyable, which is exactly what it was!"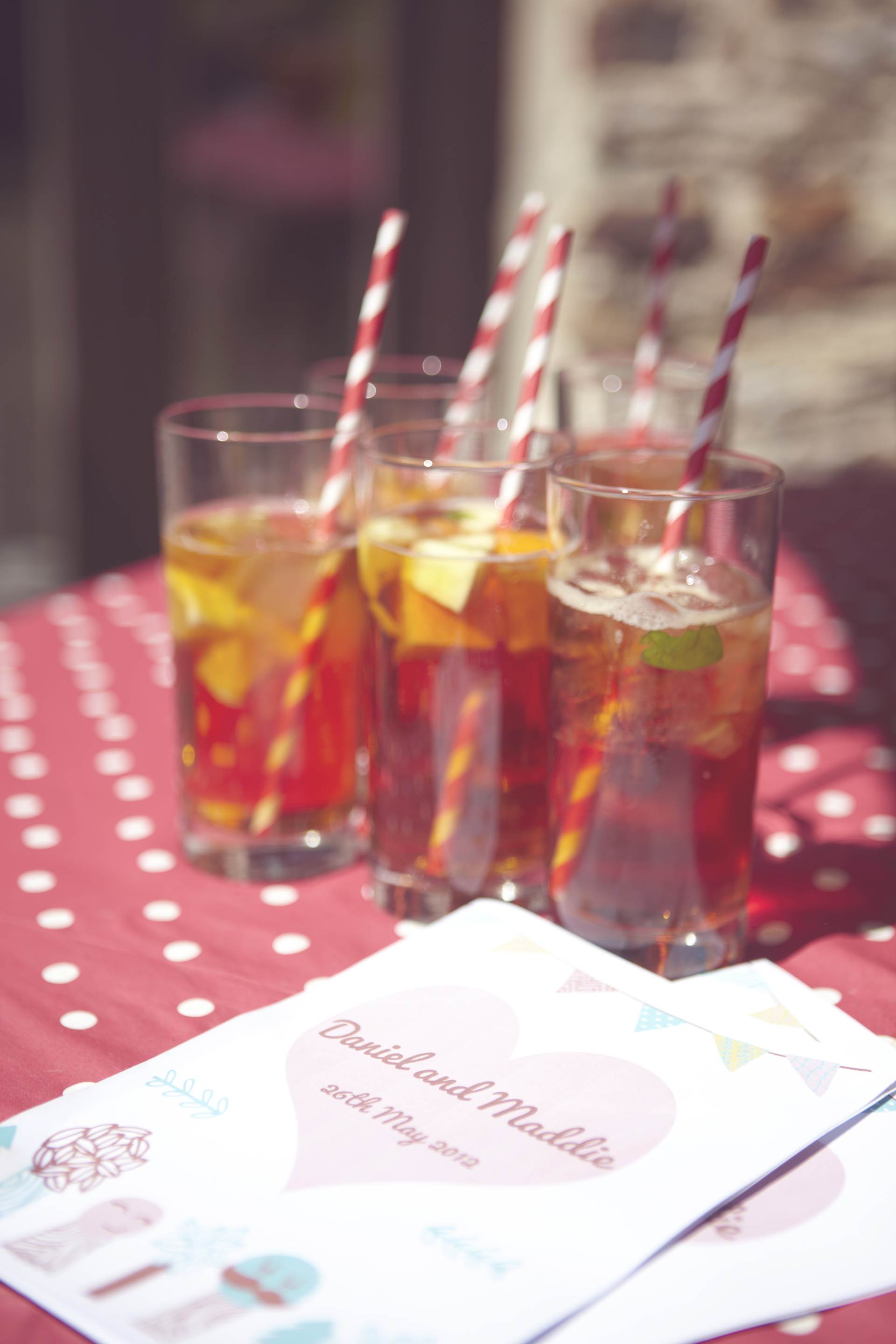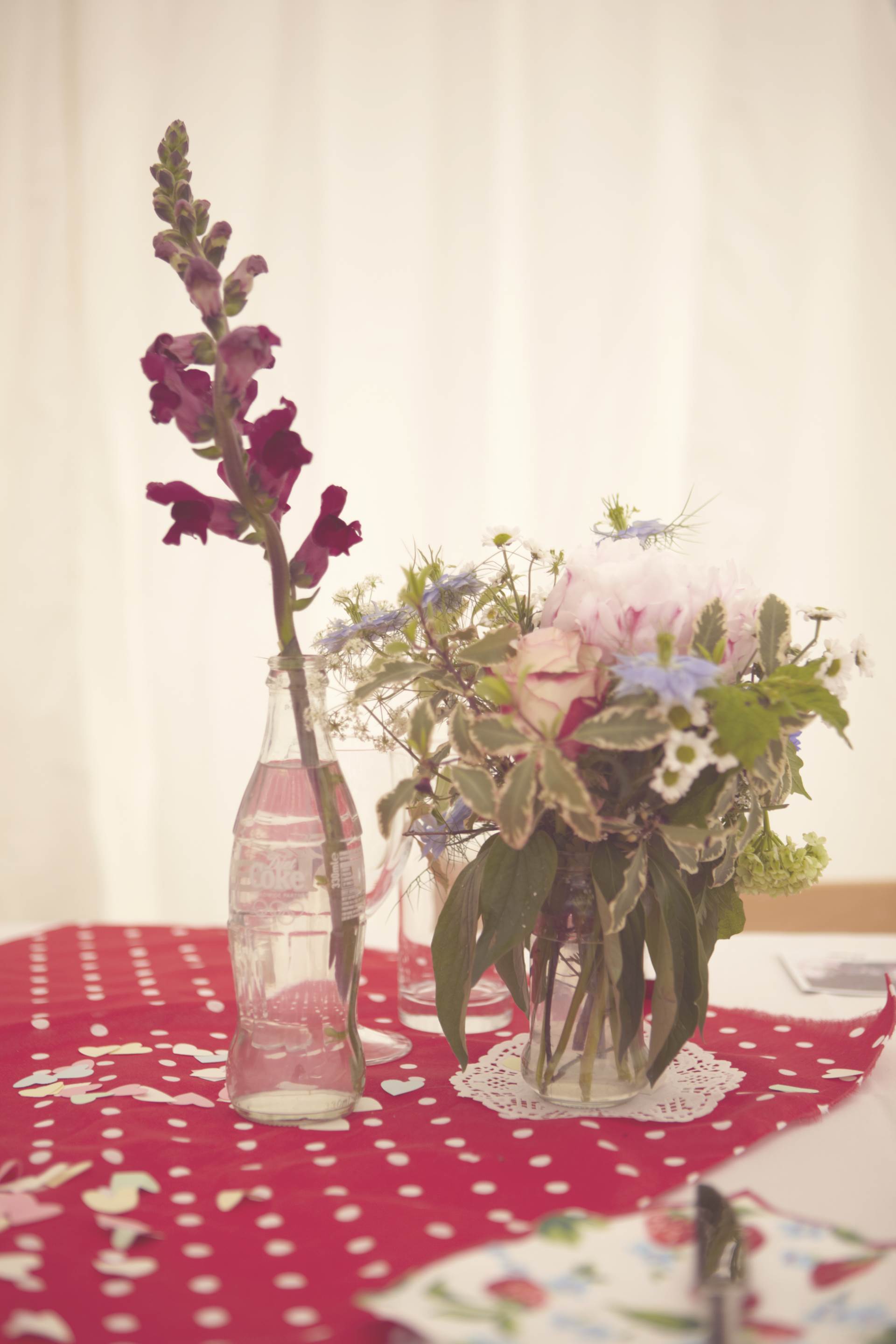 And the dress?
"I used to work near to the Candy Anthony shop and as soon as I saw the shop I knew I wanted my wedding dress to be from there. I didn't look anywhere else, and it was the first dress I tried on. I know what I like and what suits me and this was it! I wanted a white dress, and for it to feel like a wedding dress, but with a fun side to it. Dan and I love fifties style and this shape dress just suits my shape and is more practical for walking around a field- a full length gown would have been a struggle! This was perfect-it had a big petticoat so I felt like a princesss, but I could dance and move and not feel overdressed, at what was a quite relaxed wedding. I don't really own any clothes without patterns so when I saw this polka dot I fell in love. Each dot is a soft and furry, and the rest of the dress is delicate mesh, with a big bow around my waist."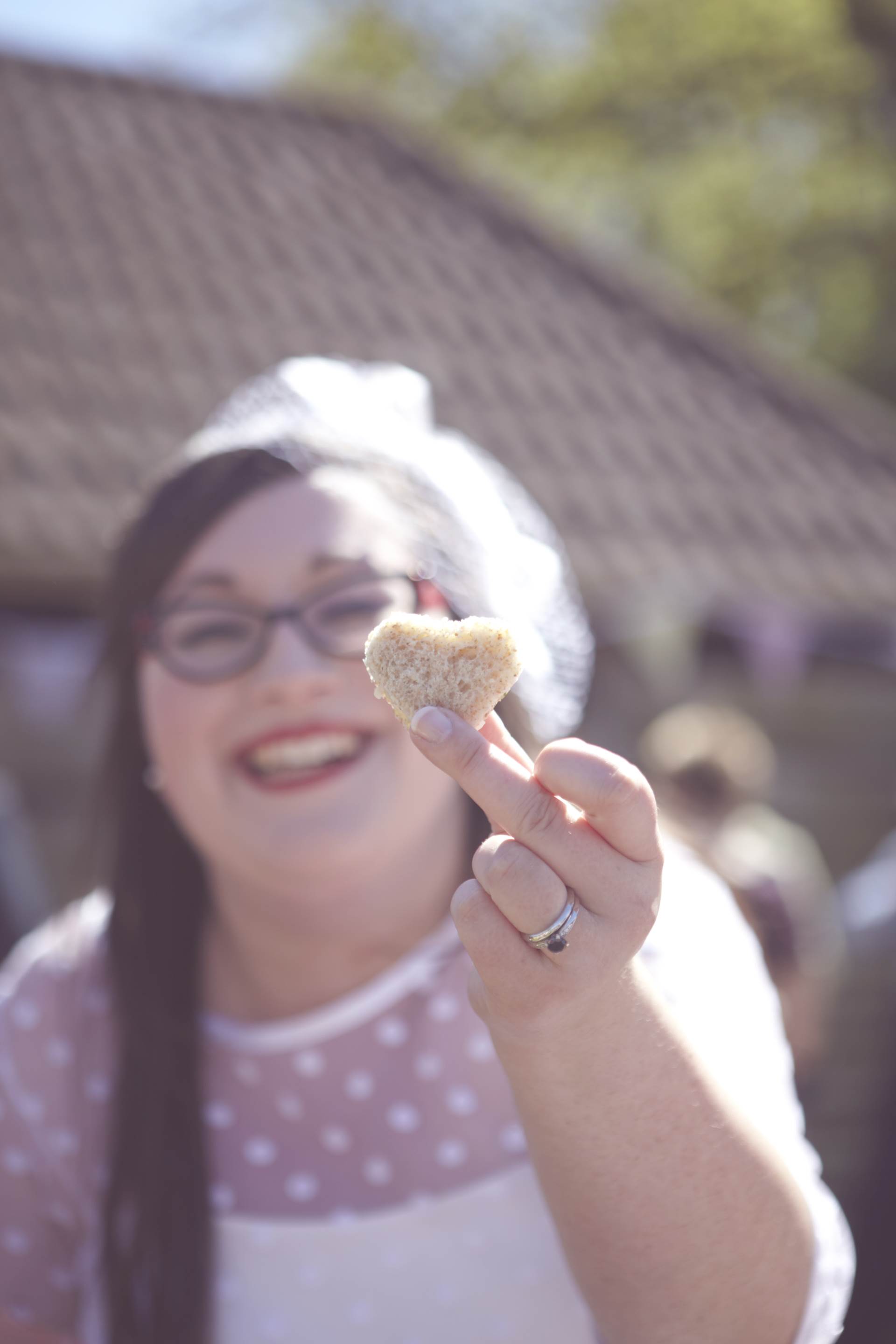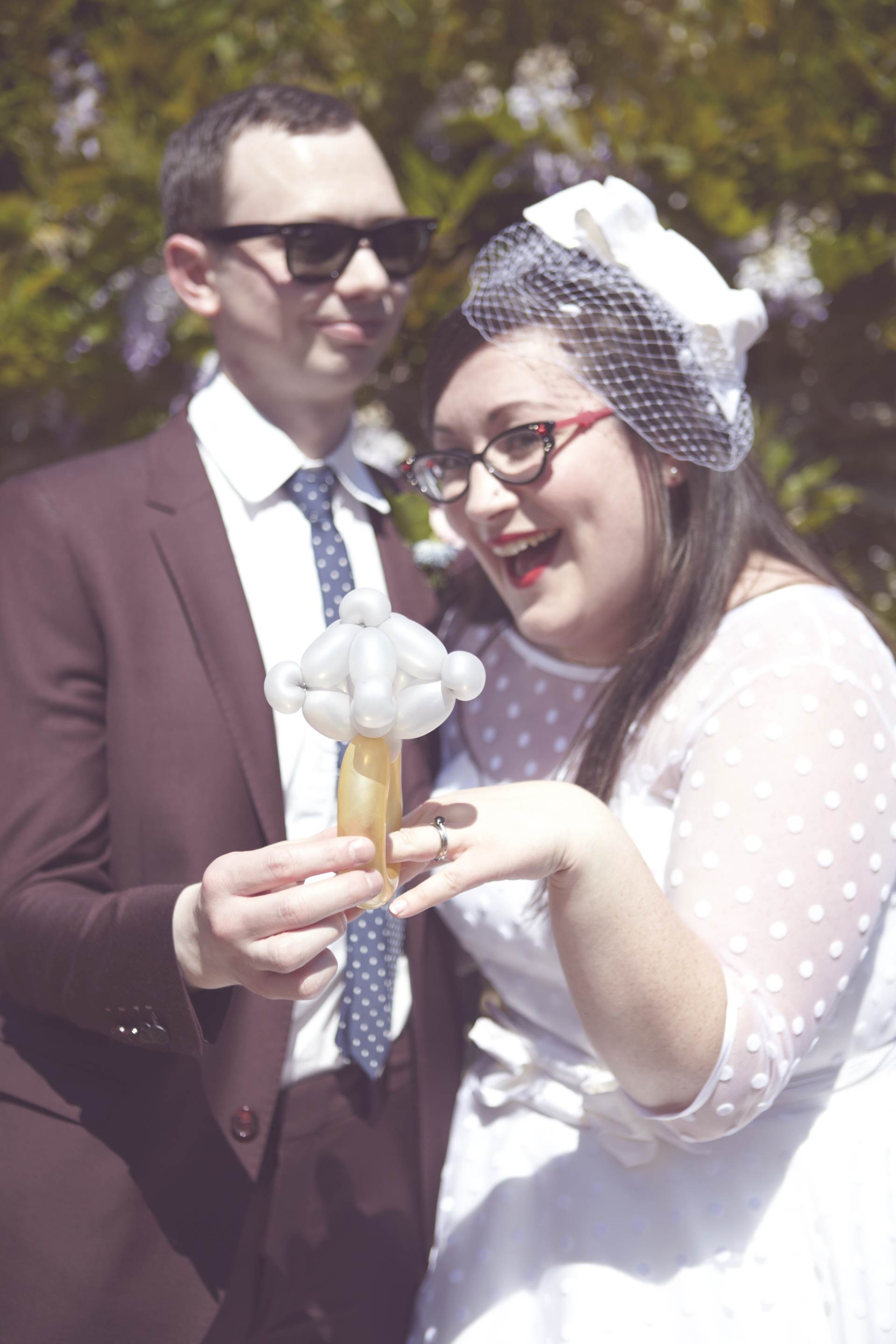 "I had a long matching polka dot veil for the service so I could do the traditional bit, and then changed it to a big bow with polka dot netting after the service. My mother in law spotted my shoes in a shop in Camden market! They match my bridesmaids dresses and add that tiny bit of colour to my outfit, while co ordinating with my polka dots. I added the bow that I bought online (cant find the name of the website annoyingly!) I cant walk in massive heels and the ground was uneven in the field so the wedge was perfect. I did kick them off for flat ballet pumps later in the evening though!"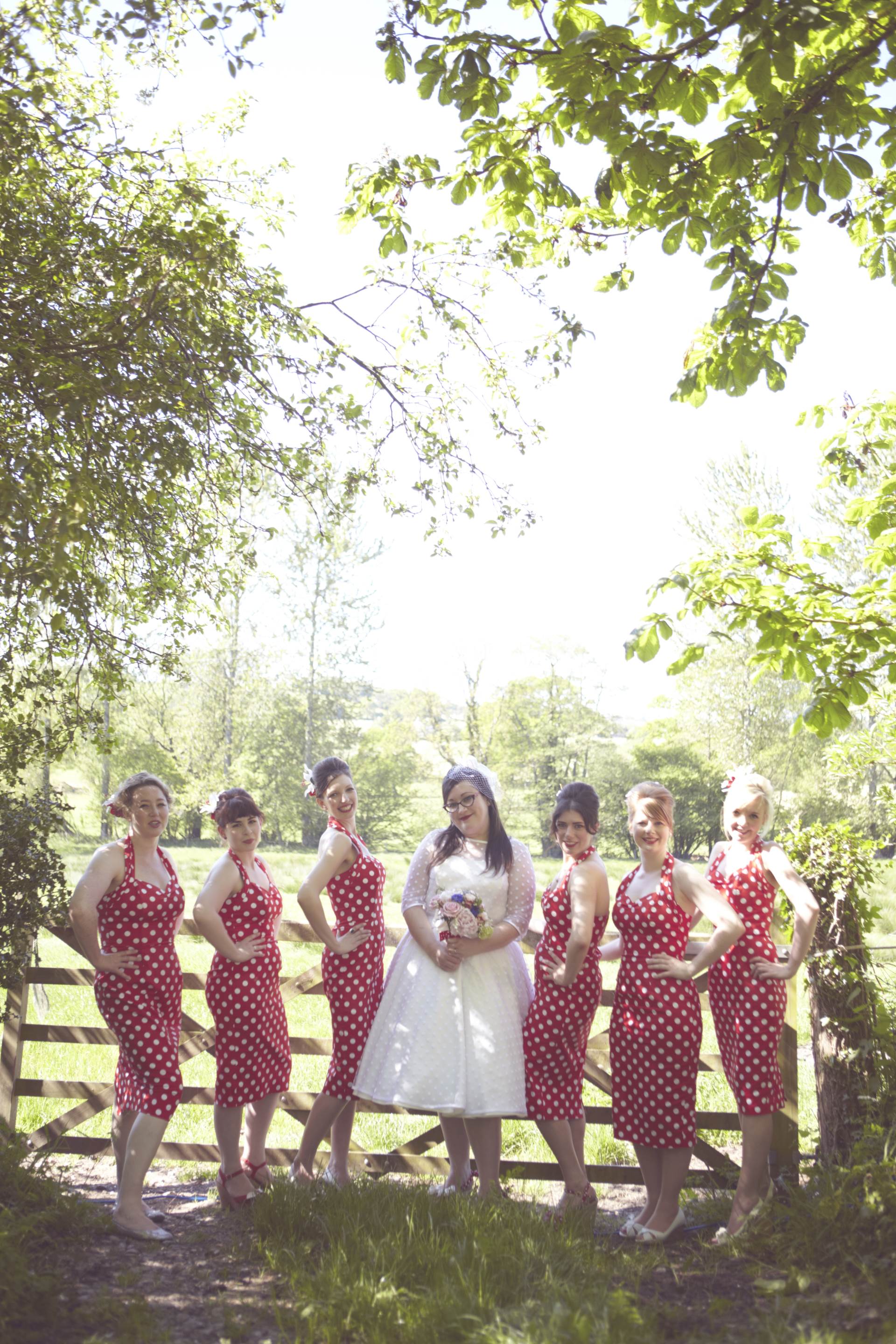 "My older sister was my maid of honour, and my bridesmaids were my 4 best friends from London and my best friend from school. They all wore a gorgeous fitted fifties red polka dot dress from Vivien of Holloway. I always knew id get them from there-I love their dresses. They are sexy in an old fashioned way and they made the girls feel fantastic which was really important to me-I've never understood brides who put their bridesmaid's in ugly unfalttering dresses! They should be the dress you would want to wear if you were the bridesmaid."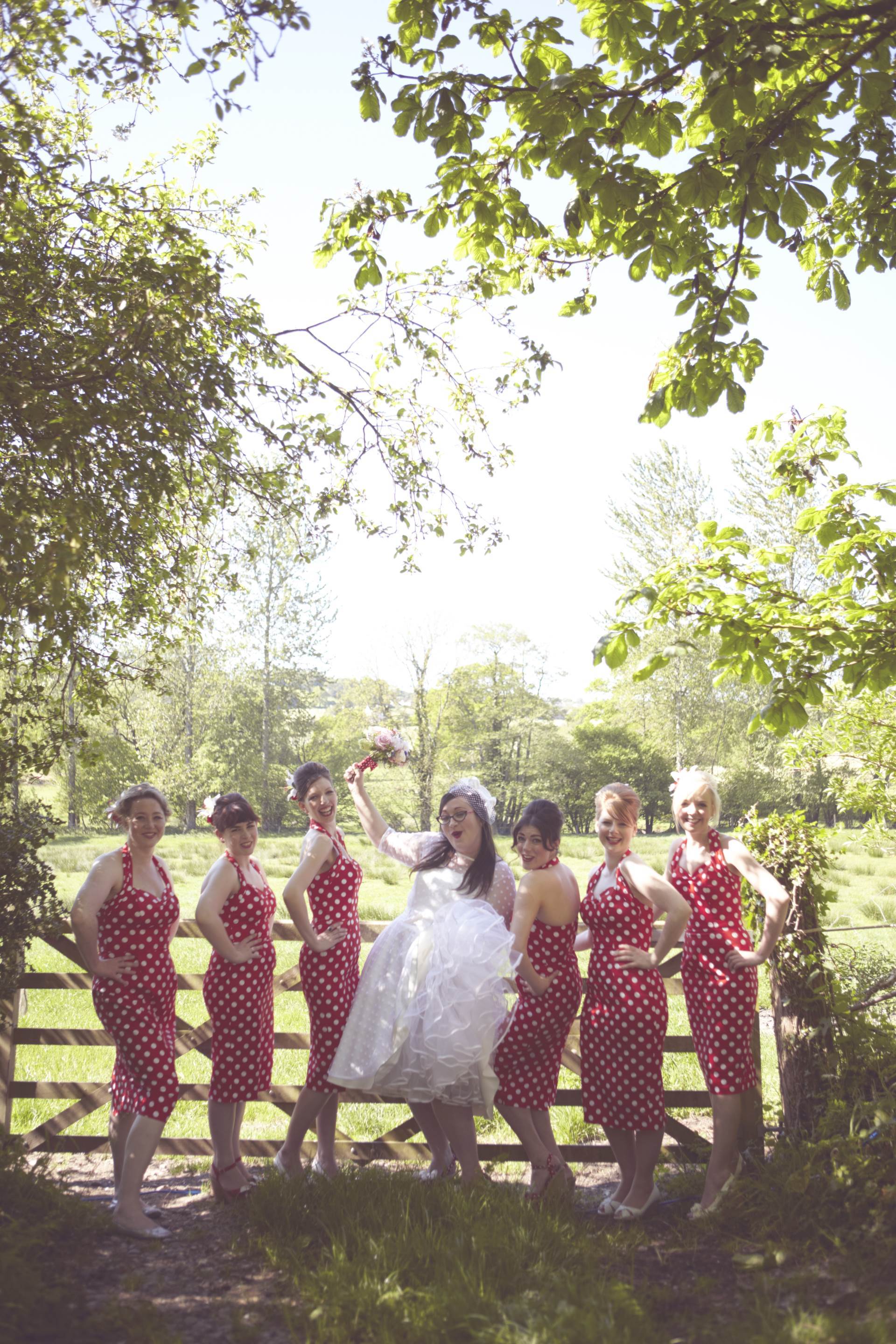 "The hair and make up was so important too. This was done by Caroline Piasecki and Kate Rodman. Caroline is a fantastic make up artist who is a friend from work. She totally understood my style and that I wanted to look like me. I haven't left the house for about 6 years without a big flick of eyeliner, and always wear red lipstick on a night out- so we had great fun doing this make up on the bridesmaids too for the day!"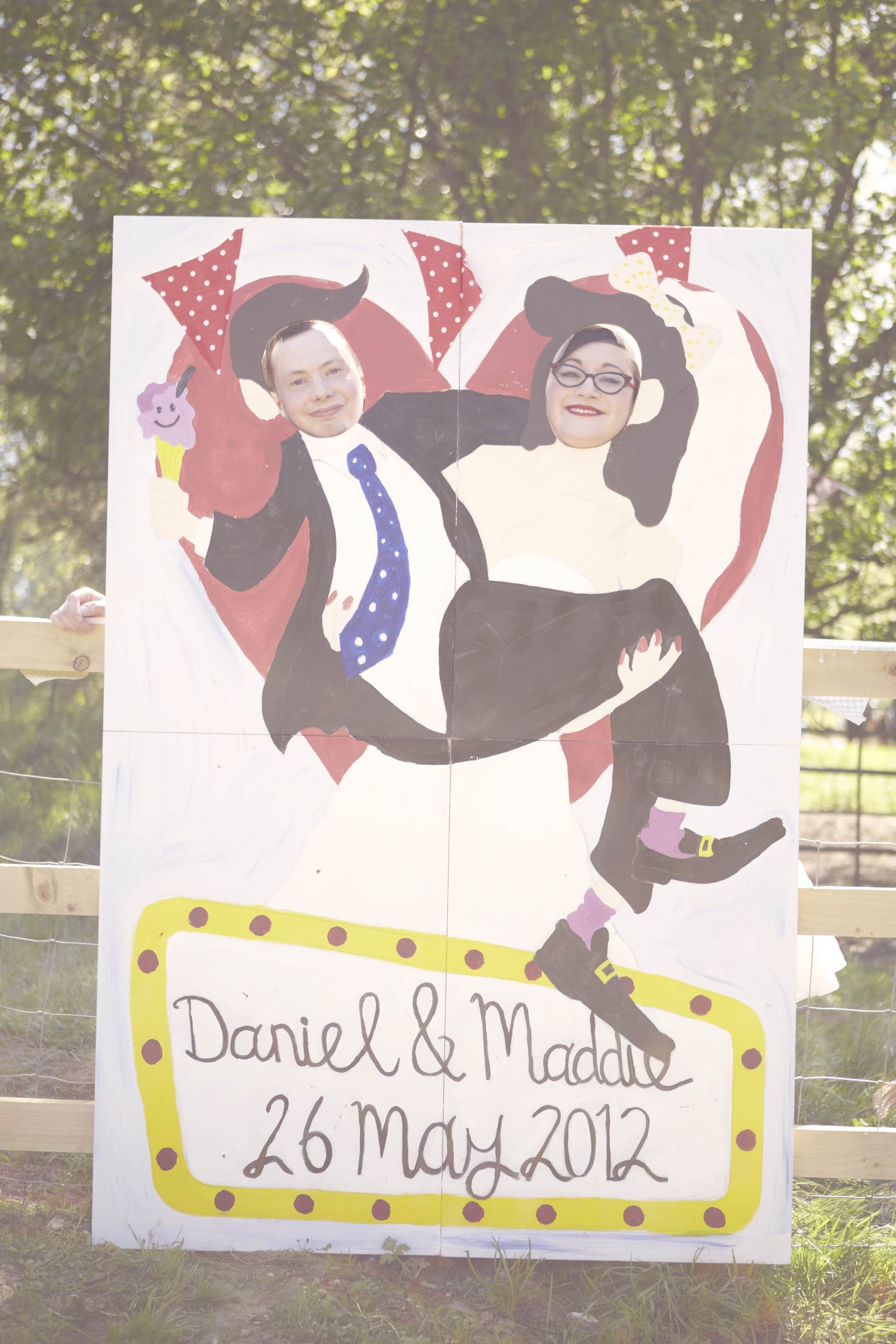 "Dan and I both have big complicated families, so we decided it would be lovely to have all our nieces and nephews as flower girls and page boys on the day we all became one big family! The little girls dresses were from BHS. Then I added the red polka dot sash and bow to tie them in with the bridesmaids dresses. Dan's eldest neice was too old for these, but too young for the red dresses, so we got her a coral polka dot dress from Dorothy Perkins."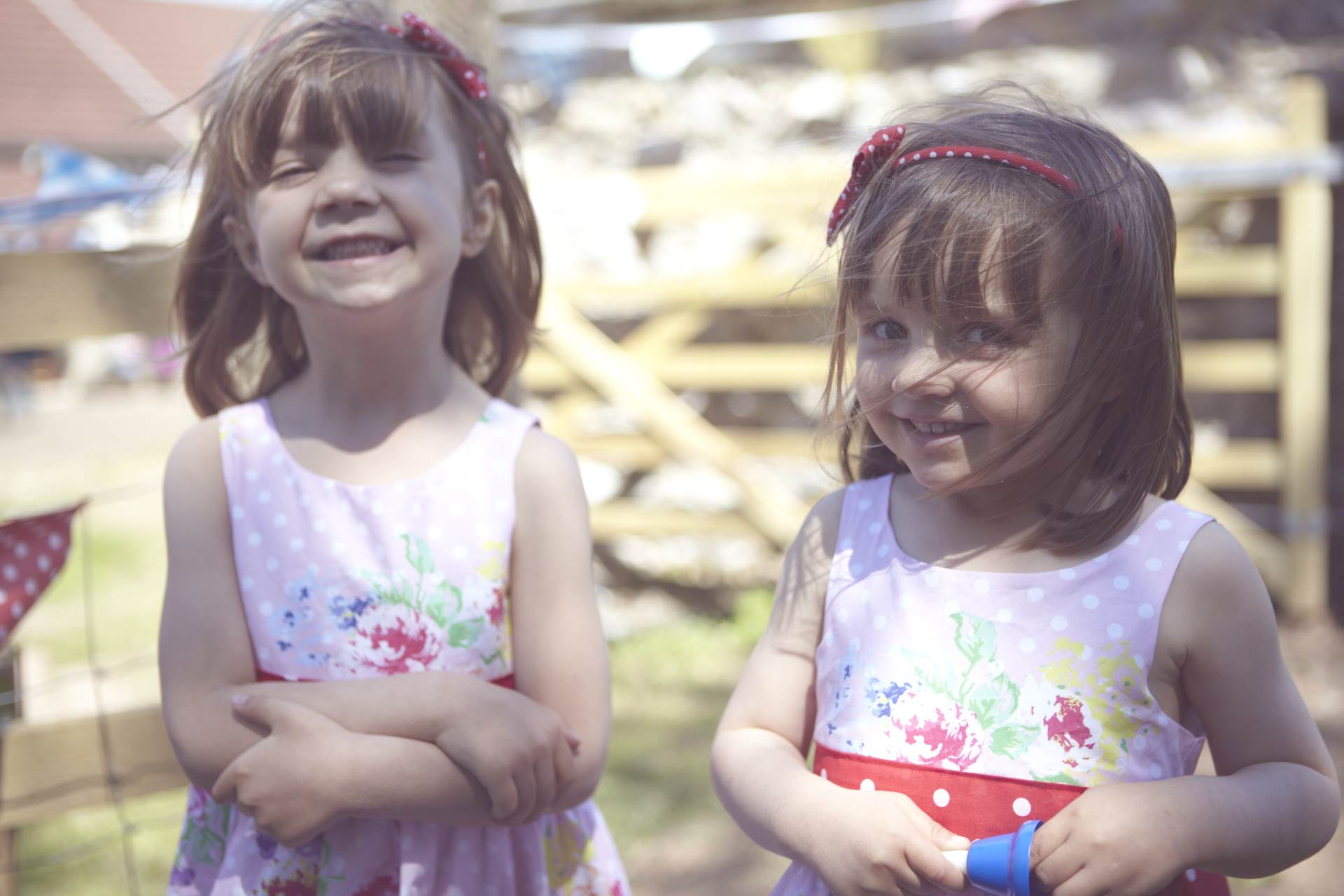 Dan fell in love with his burgundy suit straight away, (from The Kooples) and teamed it with navy with white polka dots on his tie, braces and socks. (Topman) So he asked his Best man (his older brother Kevin) and Groomsman (his younger brothers and one friend) to do the opposite. A navy suit, and then we gave them burgundy socks and a burgundy with white polka dot tie. They all looked fantastic."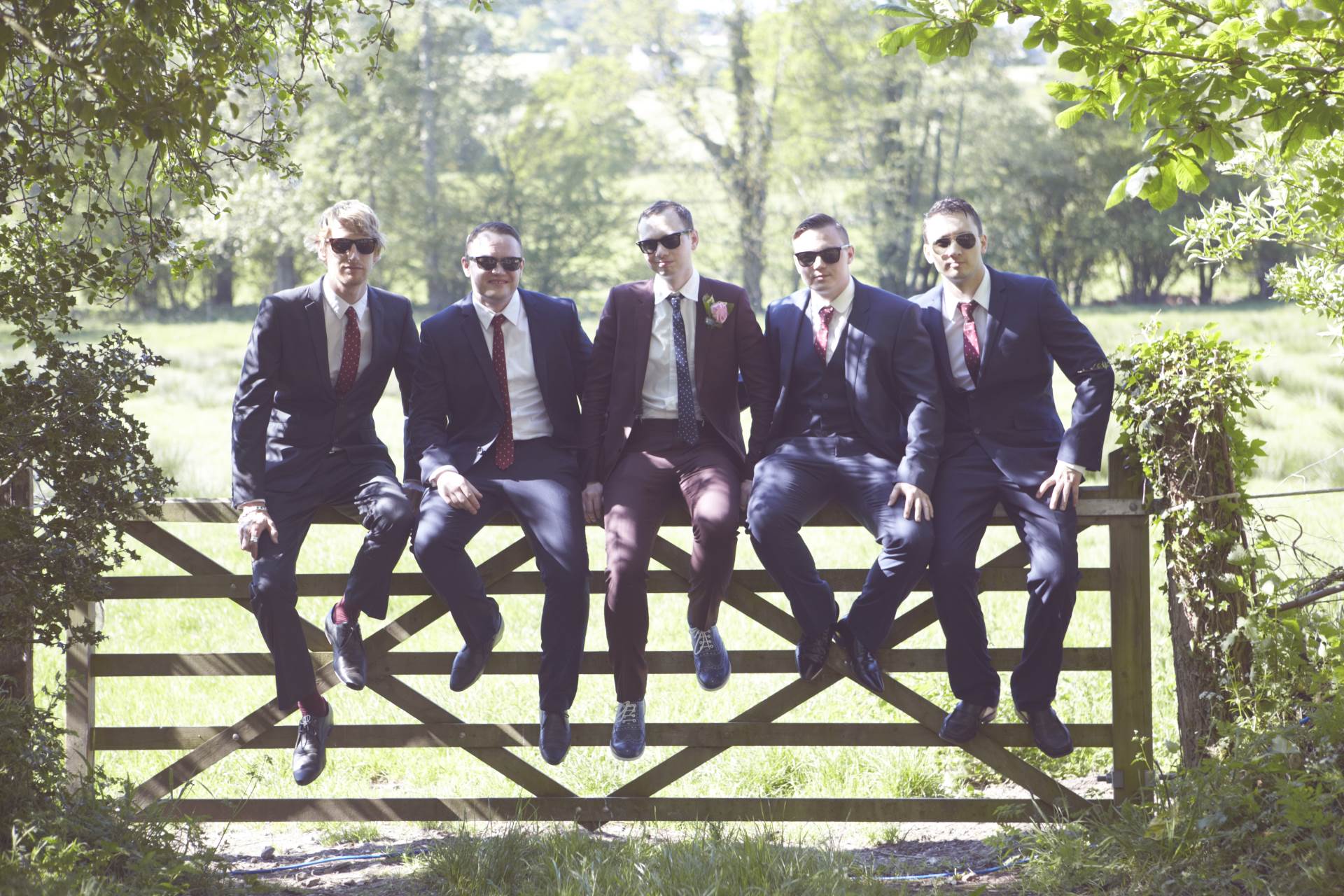 Dan and I's favourite music isn't really what most of our wedding guests would normally listen to, and it was so important in the wedding day that we wanted them to get the chance to hear the songs that mean a lot to us and had been the soundtrack to the wedding. So our favours were CDs we burnt with songs on. The CDS looked like old records, and I designed the packaging myself.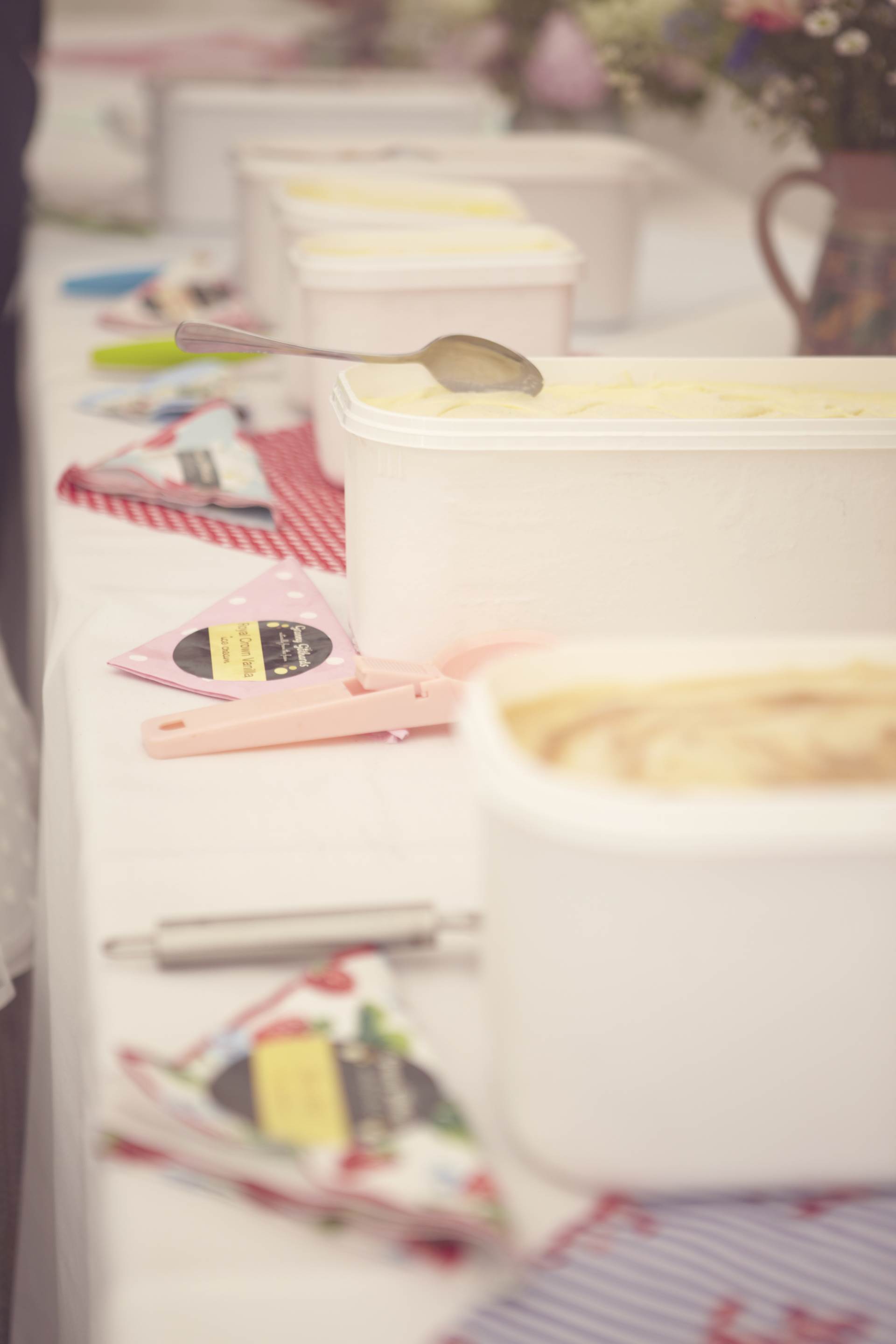 For placenames we made photoshopped old photos of the guest, normally in a photo with Dan or I in some important time of our lives, and made them into polaroids which most guests kept and provided a great talking point.
Our guestbook was on a similar theme- we left a Polaroid camera on the table so people could stick pictures of themselves in the book with a note to us. The book itself was made from an old book about the british seaside which we love, so its become abit of a collage. It gets increasingly funny as the day went on and had had a drink!
We also made goodie bags for all the kids to keep them entertained, and colour in placemats.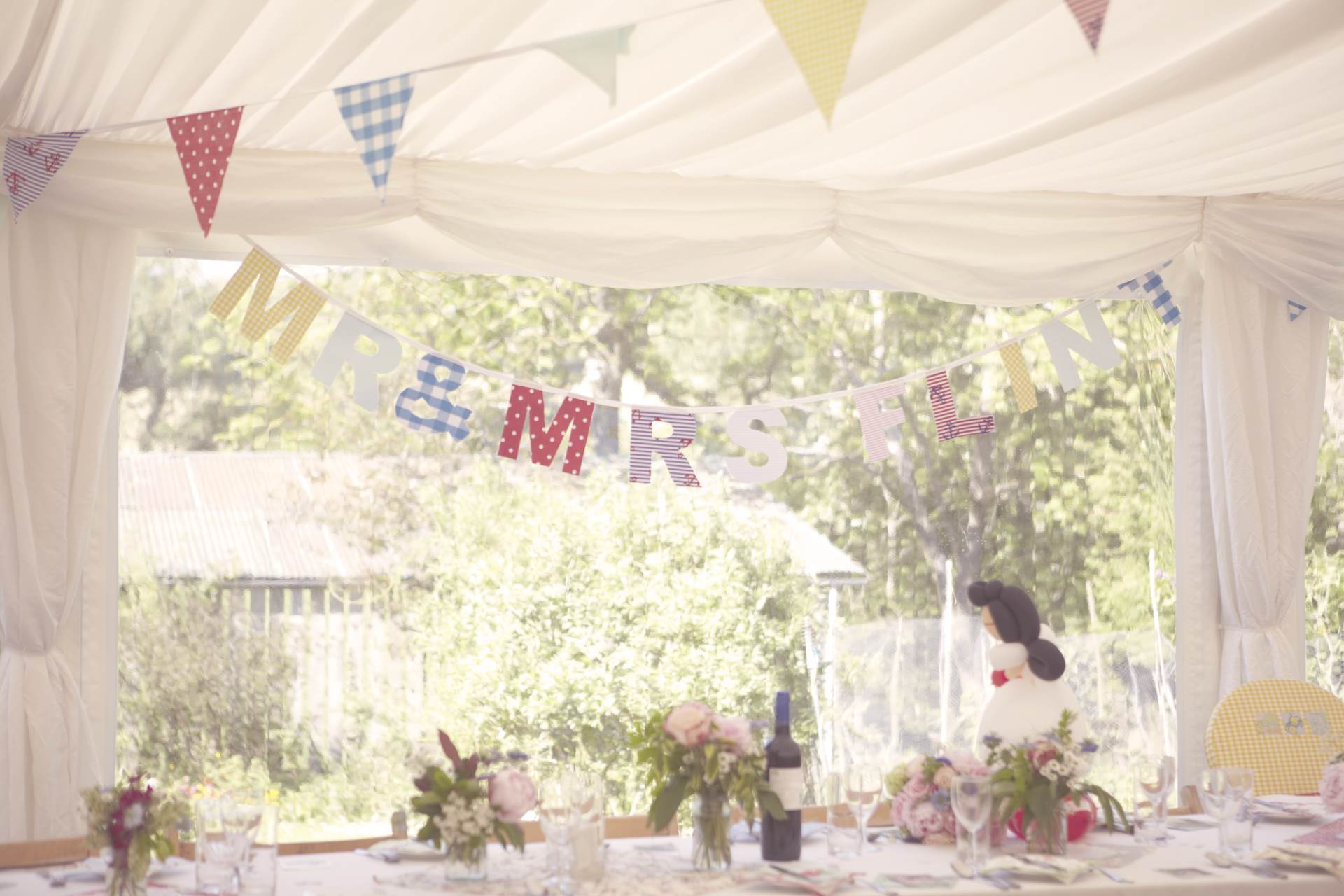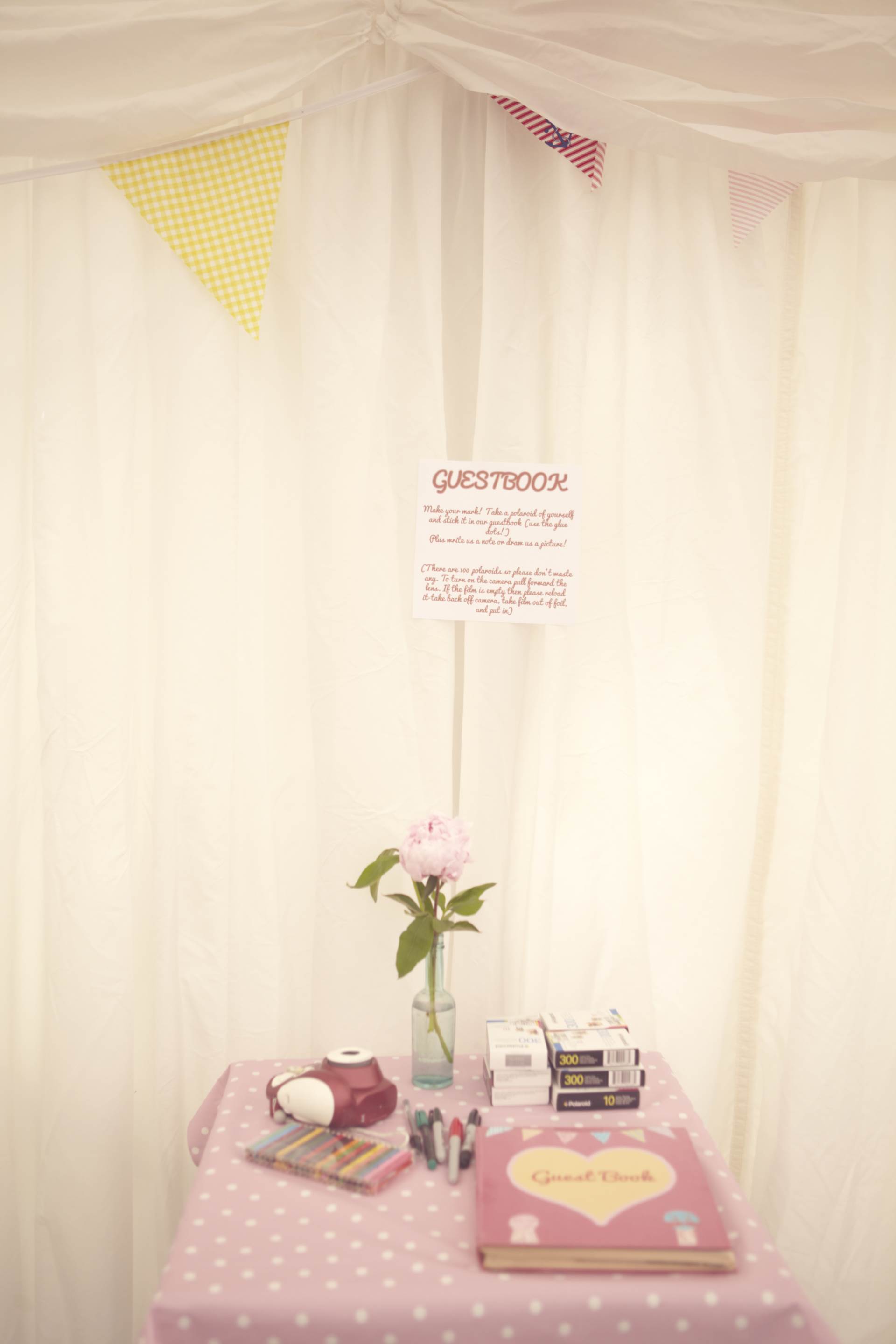 We also had a sweet table called 'Candybox' as this was the name of the club we met in. I know this is done a lot these days but it seemed relevant for us, and was great as we had so many children."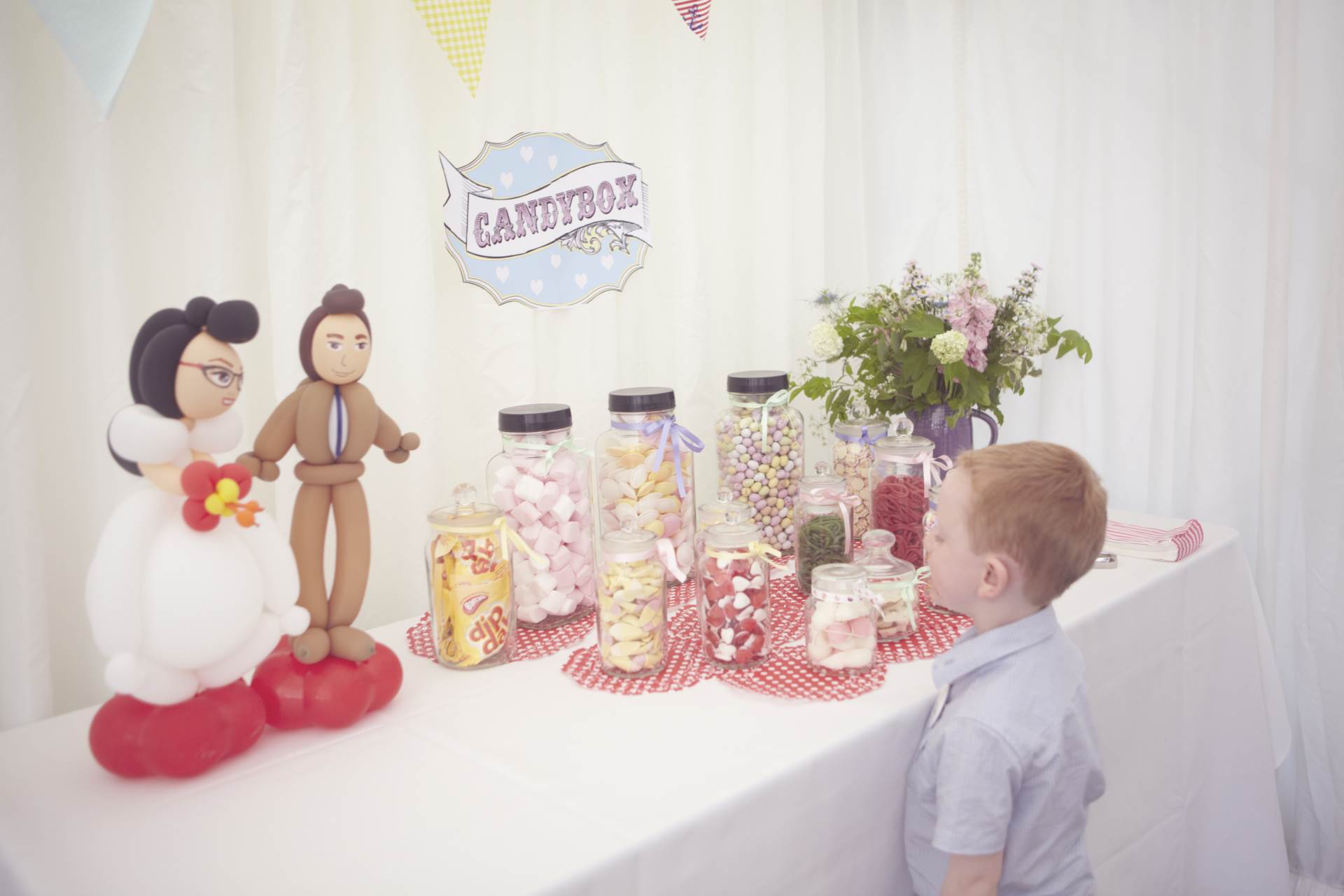 Natalie, our photographer, could not have been a more perfect choice for our wedding. As soon as we met her Dan said 'if she cant take the photos we want then noone can'. And he was right. I can't stop looking at the pictures and I feel like she completely captured exactly how the day felt to us. She is so professional and yet felt like she was a wedding guest. We didn't need to think about it as I knew that she would photograph every detail, and steal Dan and I away when the sun was hitting at the right moment. She has become a friend and is amazing!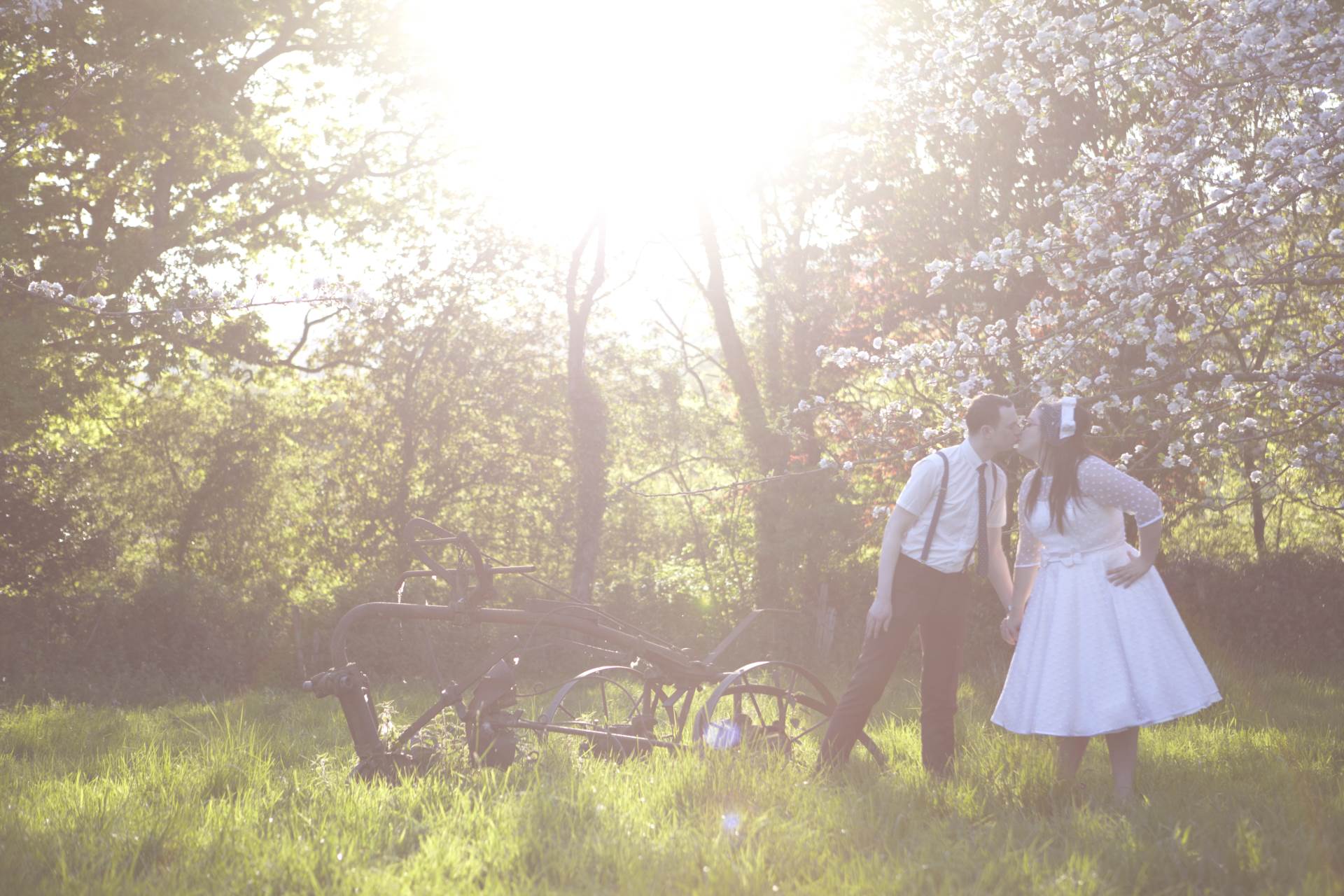 I can't stop looking at the pictures and we're going to treasure them forever.
A local recommendation, Frances Holme, did the most FANTASTIC job on the flowers. They are the most beautiful I have ever seen. I asked for some specific flowers, like roses (my middle name) and daisies (Dan's favourite) but that they should just be a gorgeous mix and be relaxed/colourful/English country/vintage looking. She did an unbelievable job. We filled the marquee with 50 jam jars full of flowers, 8 jugs, and 2 incredible huge milk churns! Plus all our bouquets, including one which I took to our legal ceremony the day before and then lay on my dad's grave the evening before which was very special to me.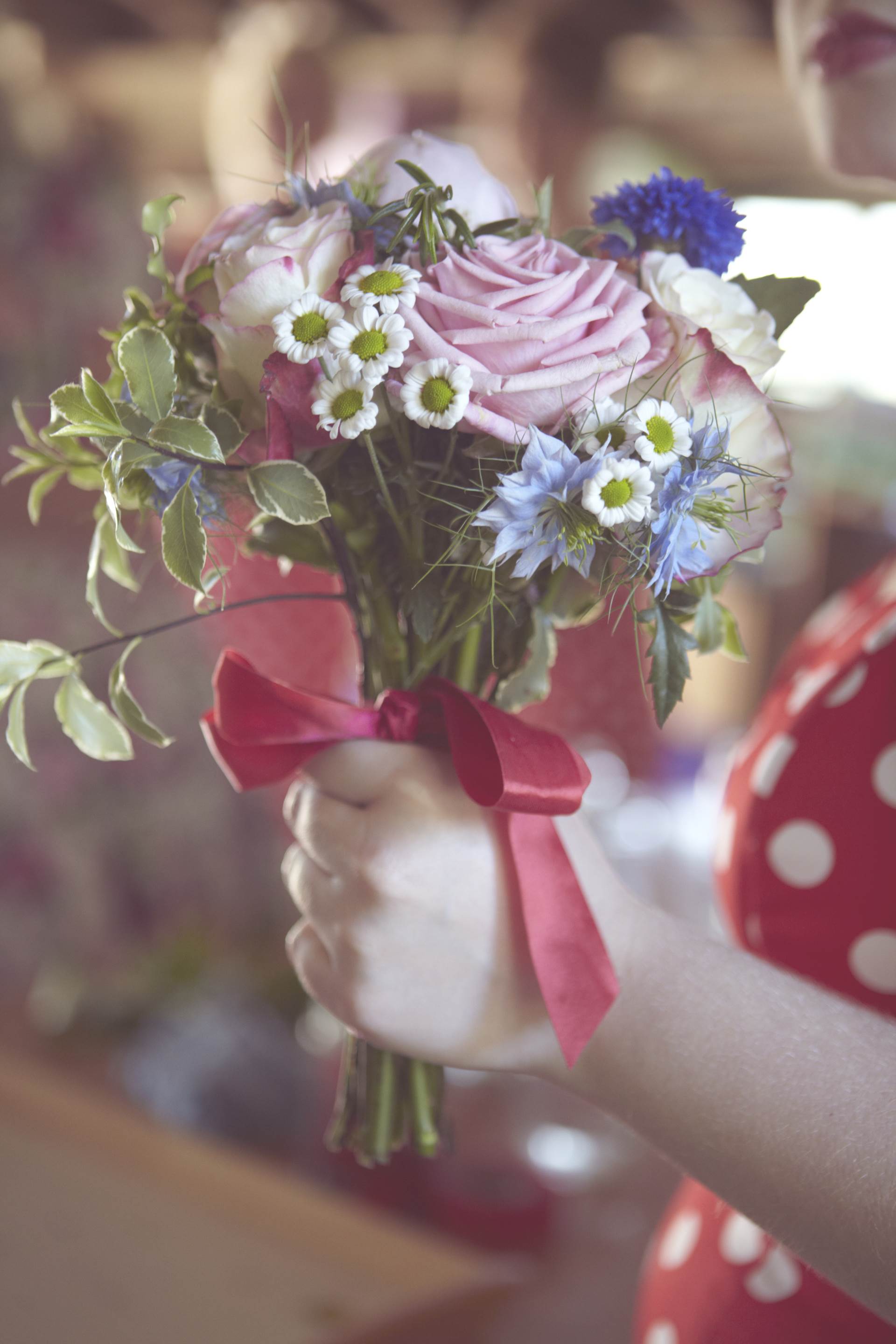 We wanted the cake to go with the relaxed summer fair vibe of the wedding so I didn't want some stuffy iced cake. Plus all Dan likes is Victoria Sponge so that's what we did! A local lady baked the cakes and my dutiful bridesmaids put them together with buttercream, jam and the cake toppers I made. Because it was so hot they ended up having to do this while we were having canapés so it wasn't left out to melt-I think this was abit stressful for them! But it was a fabulous surprise when we came in the marquee to see the cake that we had both dreamed of.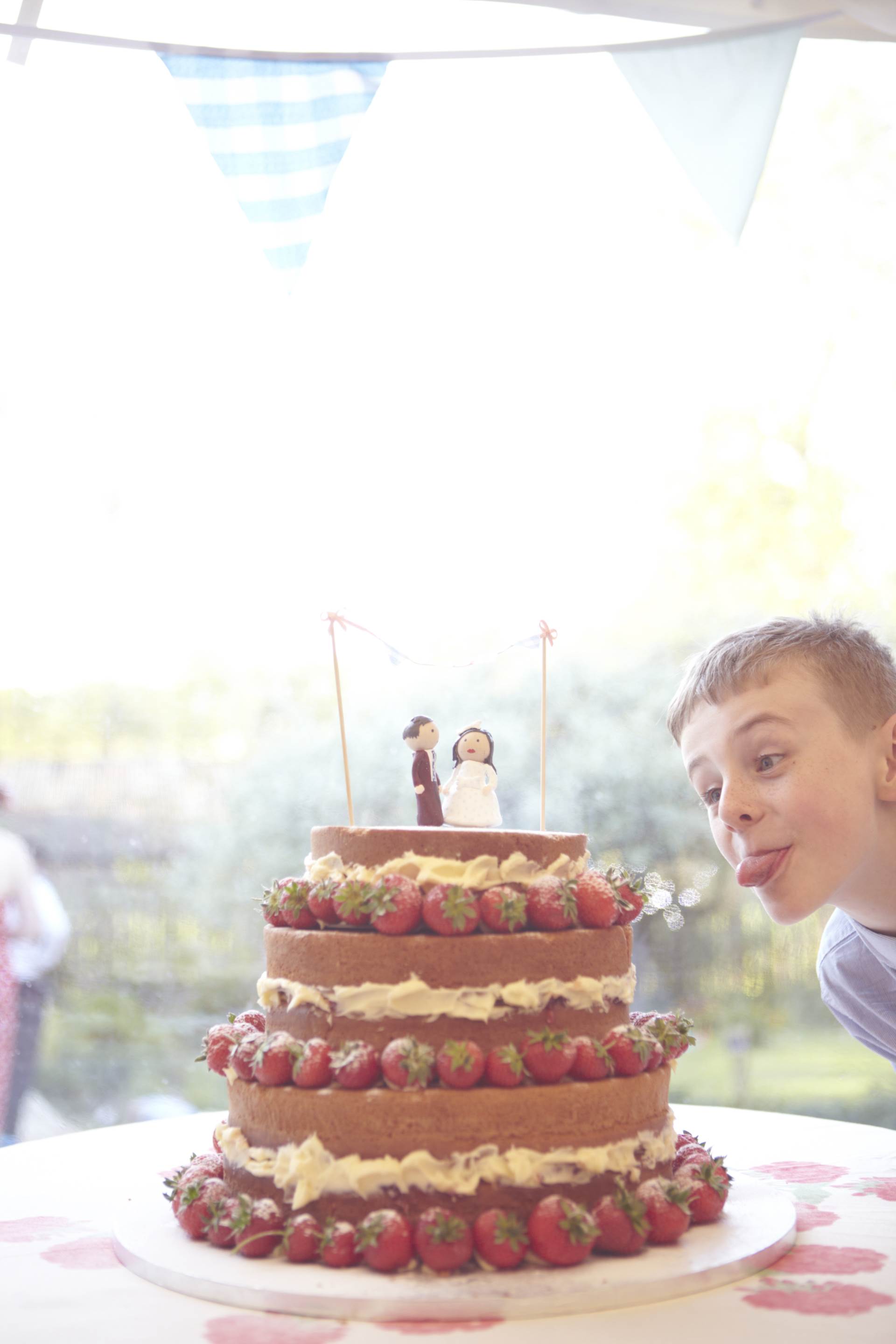 The day wouldn't have been the same without our FANTASTIC band the Milkshakers. We had seen them play at a cabaret night before and we knew they would be just perfect for our day. The music is what we love, and we knew it meant that all ages would dance as it was songs everyone knows. And they did! Noone wanted them to stop! They also played our first dance, Earth Angel for us. They are absolutely amazing- I cant rave about them enough.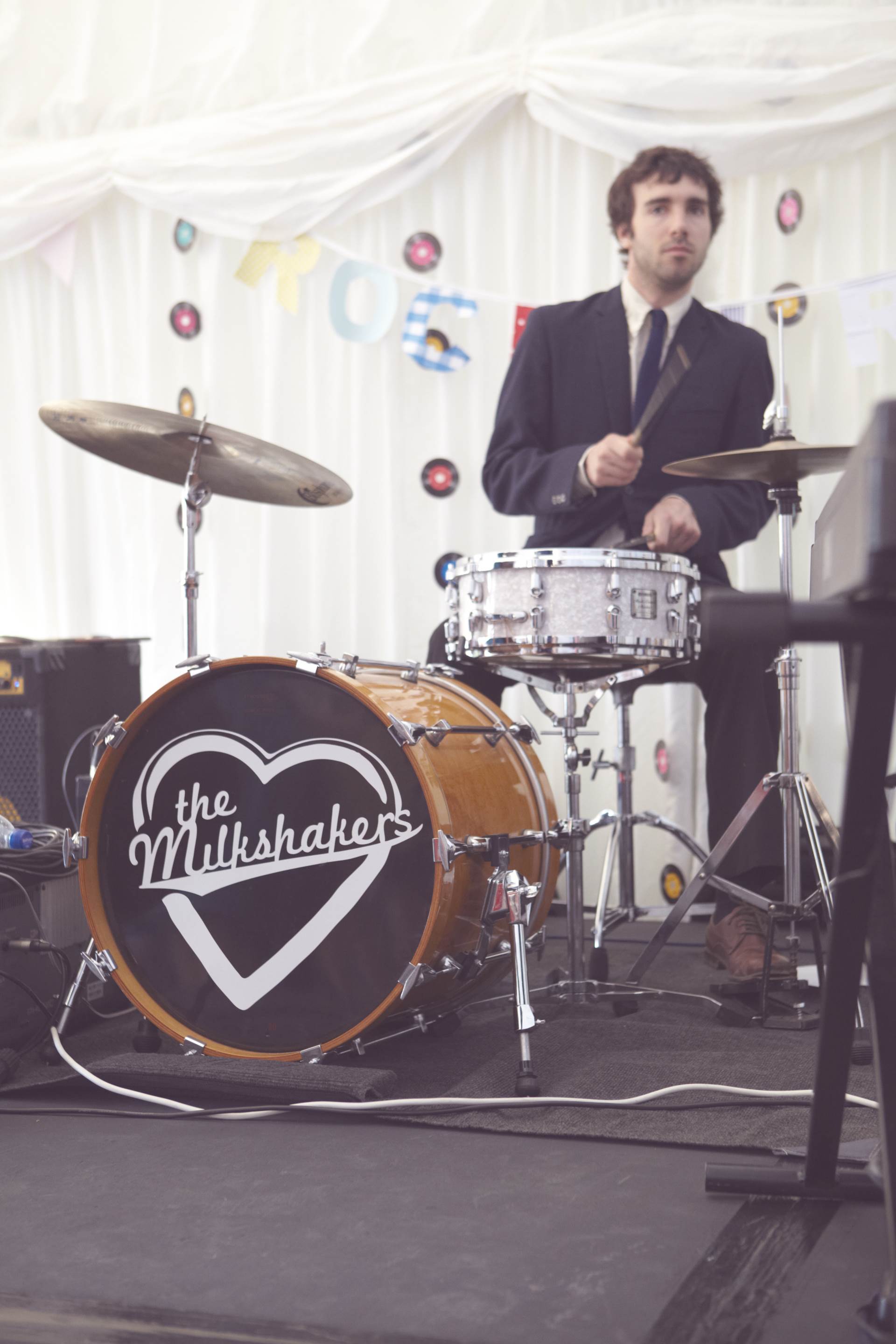 We also had Miss Ballooniverse making unbelievable creations out of balloons. This woman is a creative genius! She can make anything out of balloons and kept everyone entertained. I adore her creations- particularly the little Mr and Mrs Flint she made! She added an air of silliness and fun that just put everyone in a great mood-especially when they had a balloon octopus on their head!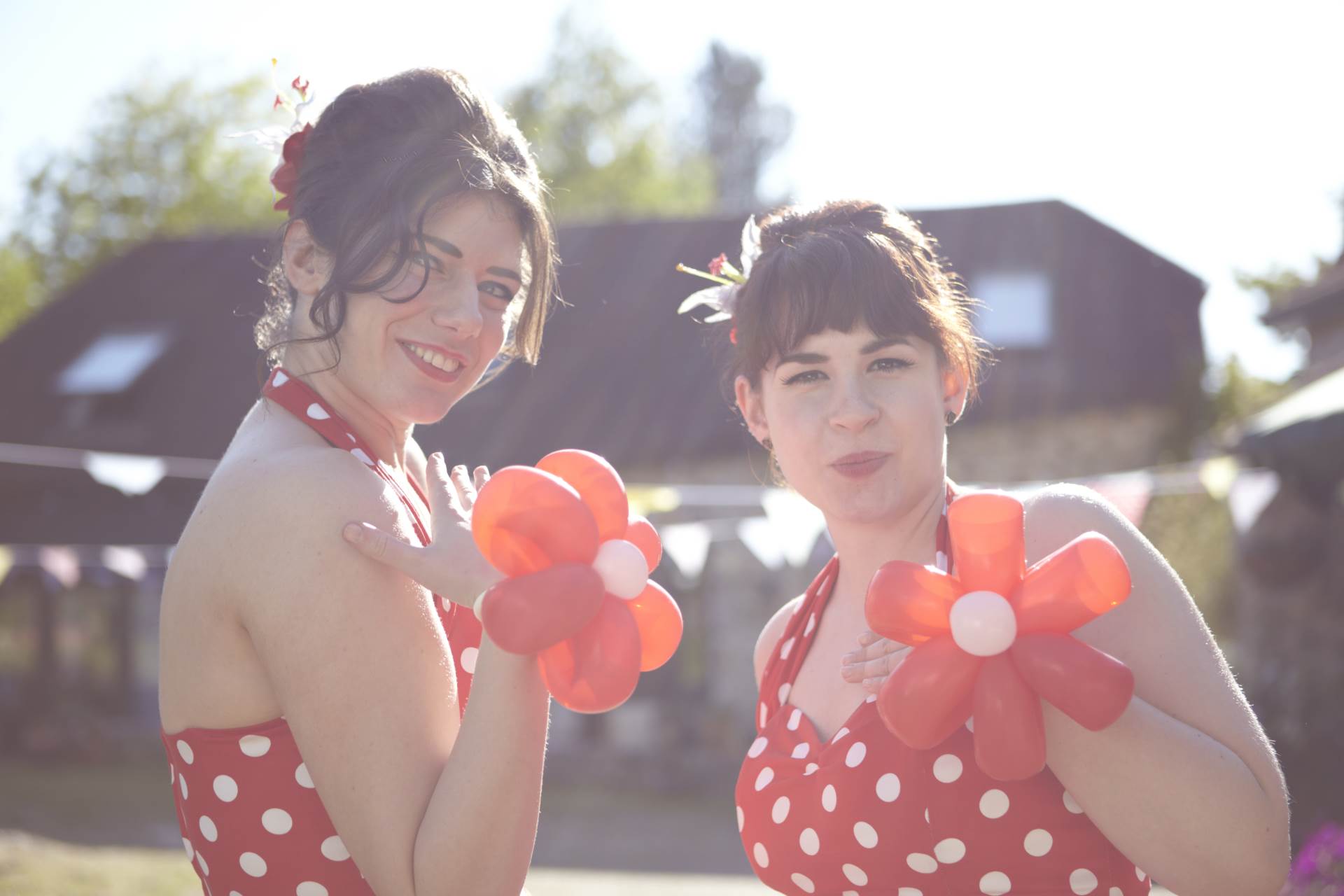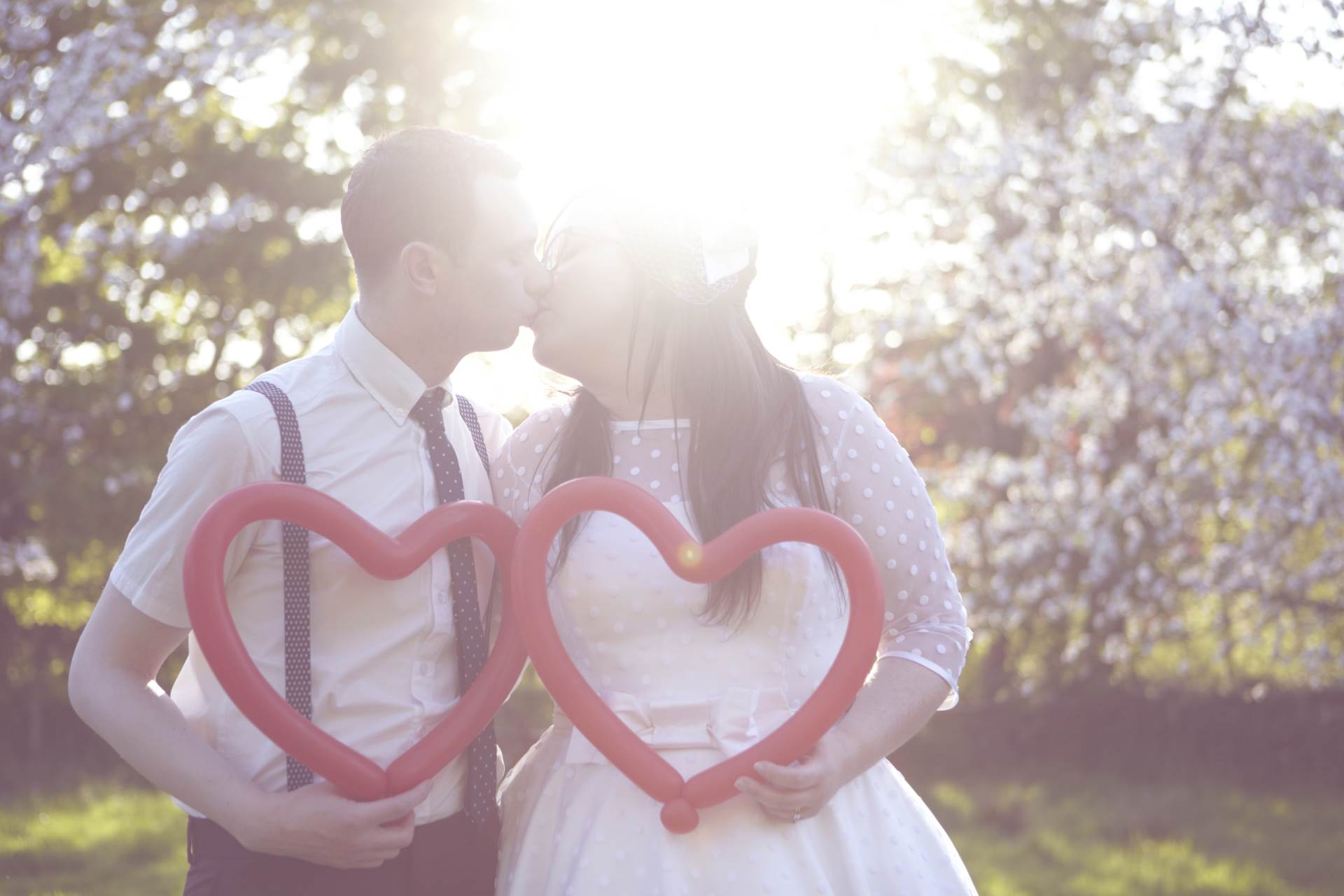 We also had what we call 'a seaside head-holey thing' which my friend Ashley Murray- Fowler very kindly made us, with a picture of a bride carrying the groom, for people to stick their heads through and take a photo with!
In the courtyard we had a jar of jelly beans to guess the number in the jar (and win them!), and another treasure hunt game which resulted in digging up gold from the garden!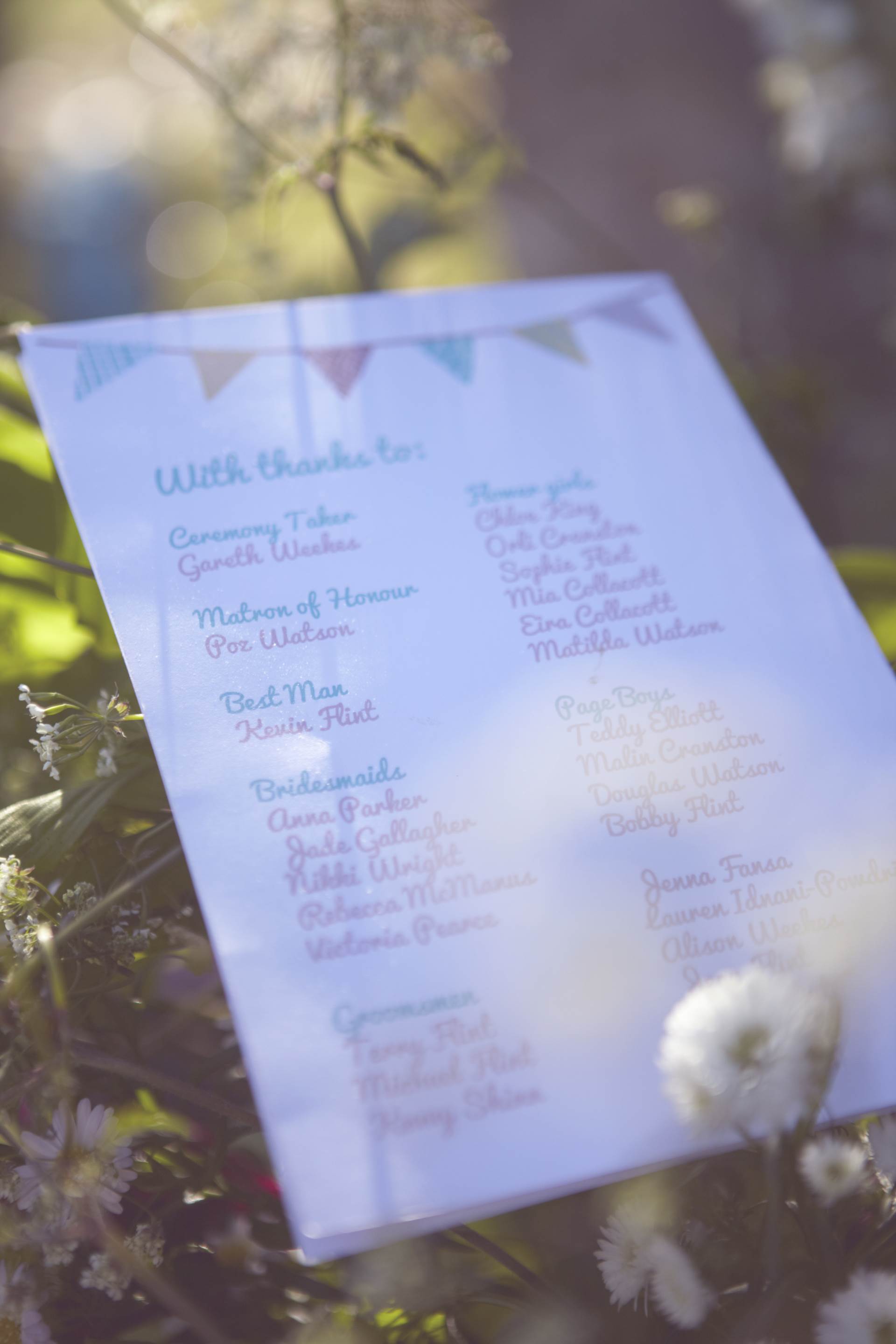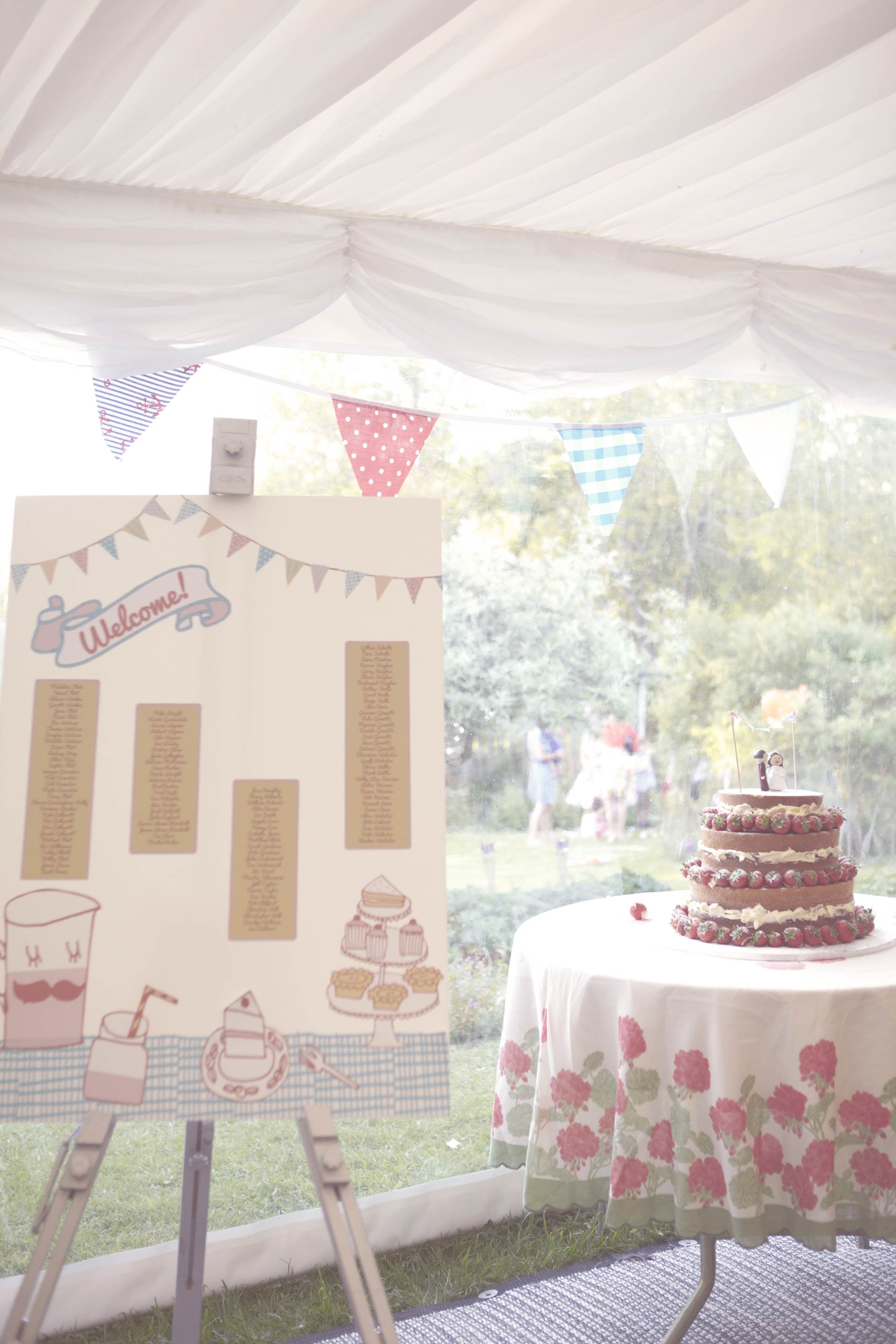 Our beautiful wedding invitations were designed by Kate Sutton, a wonderful illustrator who we persuaded to do them for us as we've loved her work for a while. She was fantastic as we were able to work with her, and the results were SO gorgeous. They were lovely little illustrations with cakes and trees with faces and moustaches, and were sent out tied in string with a tiny 'D & M' attached to it. Sadly she wasn't available to do the rest of our stationary as she was away, so I made the table plan, and order of services by photoshopping elements of her original design.
I know its become abit of a cliché, but bunting is something I've always loved, we even have bunting print wallpaper. It is such a great way to add colour to such a large area, so I made 500metres of it to decorate the field and marquee!
We hung big hearts from the valentines display at one of my bridesmaid's work place from the trees, and the orchard didn't need much else as it was so beautiful. The apple trees formed a perfect aisle and the blossom on them came out just the day before!
We married under an arch which my stepdad and neighbours put together. He worked so hard on making the garden look beautiful that we didn't need much decoration. A few weeks before the wedding it was destroyed by an invasion of lots of sheep so they worked so hard to make it look so fantastic!
We also had a bubble machine to provide gorgeous bubbles glinting in the sun!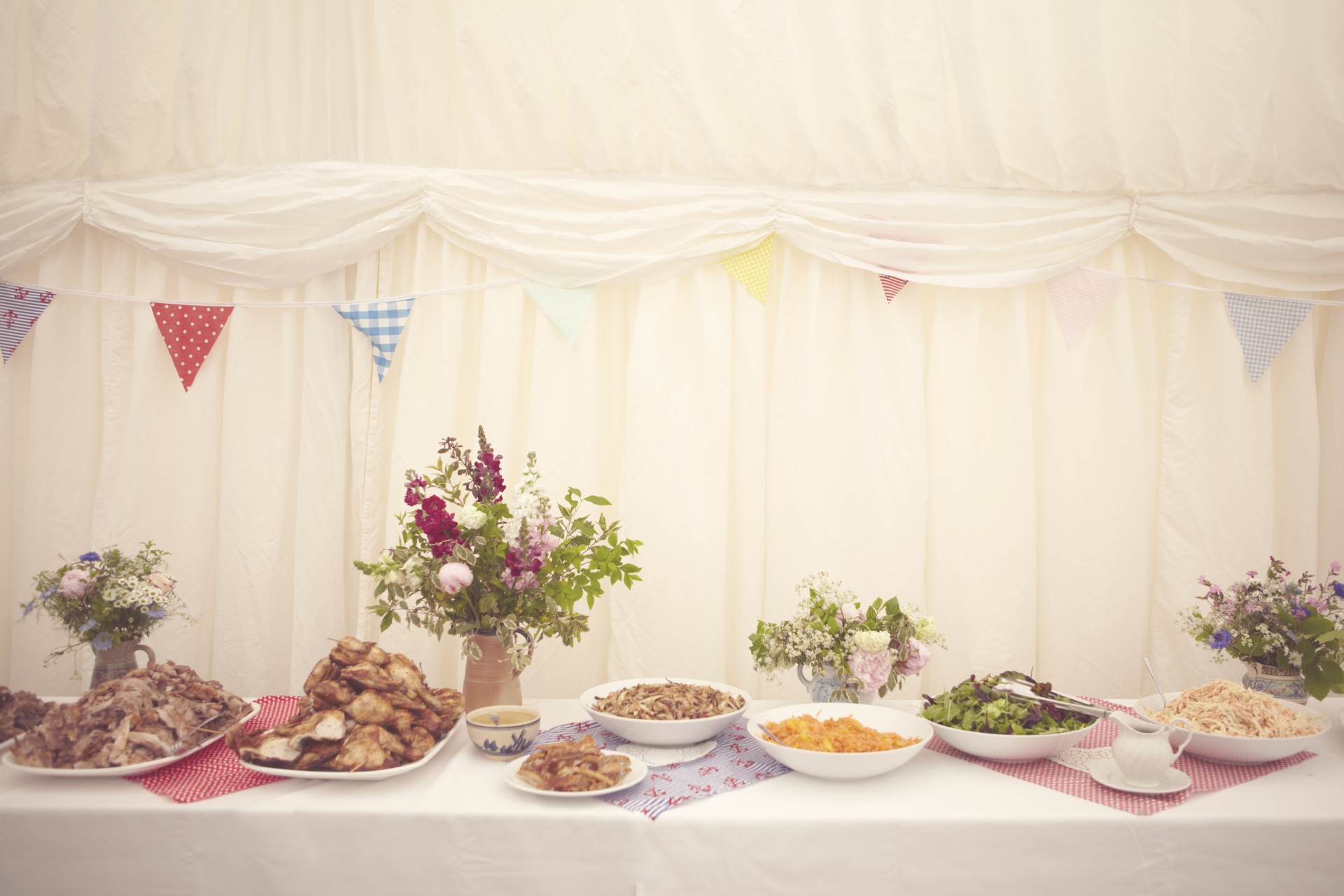 In the marquee we used fabrics from the bunting on the tables, and small hearts cut from pastel coloured paper which the flower girls helped me scatter all over. I also made 'Mr and Mrs Flint' bunting to go over our seats, 'Rock n Roll' bunting to go behind the stage, and 'bar' to go on the bar.
One of my favourite touches was using my Stepdad's boat to hold all the booze on ice next to the bar!
When it got dark we had a lovely surprise that my stepdad had covered the garden with fairy lights!
Credits:
Photography – Natalie J Watts
Venue – An apple orchard at the Bride's Mother's Home
Brides dress + veil – Candy Anthony
Brides Shoes – Camden Market Grooms Suit – The KooplesBridesmaids
Dresses + Hair Accessories – Vivien of Holloway
Flowergirls – BHS + Dorothy Perkins
Catering Company – Sticky Date
Hair and make-up Artist – Caroline Piasecki and Kate Rodman.
Ice Cream – Granny Gothards
Entertainment – The Milkshakers