In todays real weddings blog we get the chance to share the gorgeous wedding of Jenny and Jason Pinkney from Minety in the Cotwolds.
NVWF: Tell us about yourselves? How long have you know each other? When did you get engaged and when did you marry?
I am a primary school teacher and Jason is a book keeper. We'd known each other for 8 years when Jason proposed – we met on a bus which we both travelled on regularly and after 6 months of friendship began a relationship. Jason proposed in Skagen, Denmark – we had hired bikes to cycle to the northernmost tip of Denmark and on the way stopped to climb a lighthouse. At the top of the lighthouse, Jason proposed. We were married almost a year later on 11th August 2012.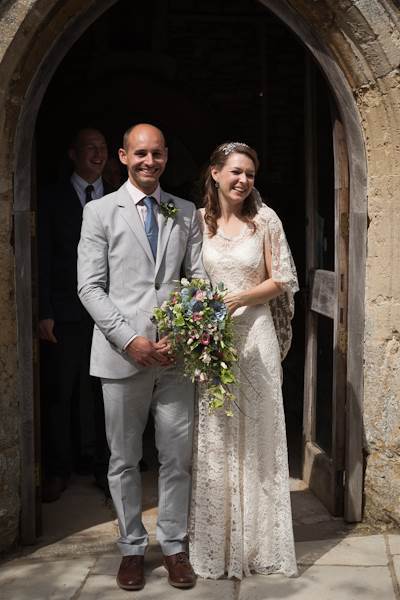 NVWF: What was your vision for your wedding?
I always knew that I wanted a relaxed wedding with a country feel but drew some inspiration from a recipe book called 'Tea and Crumpets' which had pictures of beautiful vintage crockery piled high with gorgeous looking sandwiches, pastries and cakes. I knew that I wanted the wedding to be as personal as I could make it and so decided to handmake as much as I could.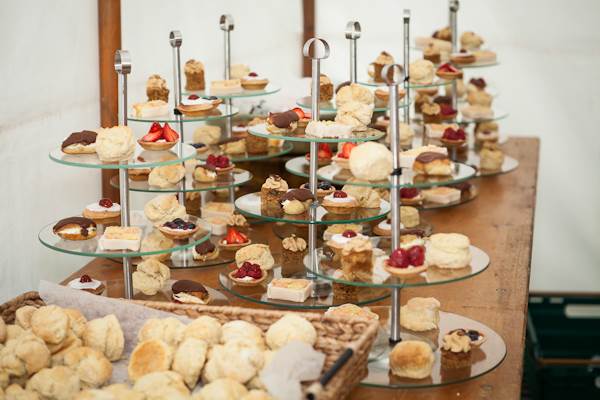 NVWF: Why did you want a vintage wedding? What elements were vintage?
We knew that we wanted our wedding to be a bit different from other weddings that we had been to and the one of the most important things to us was that our guests felt relaxed and enjoyed themselves. We felt that a vintage tea party theme would achieve this. I loved pictures that I had seen of beautiful cakes on pretty china so I spent a lot of time in charity shops and at car boot sales searching for teacups, teapots, plates, saucers and cake stands.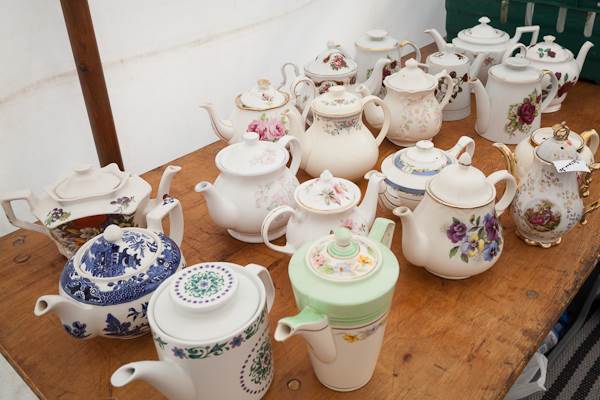 I handmade metres and metres of bunting from Cath Kidston fabric to decorate our traditional marquee. I bought vintage hand-embroidered tablecloths for the tables and I made candles in the extra teacups that I had left over to decorate them along with flowers which we put in old glass jars with raffia tied around the top. I put a miniature bottle of homemade damson gin in the place of each guest.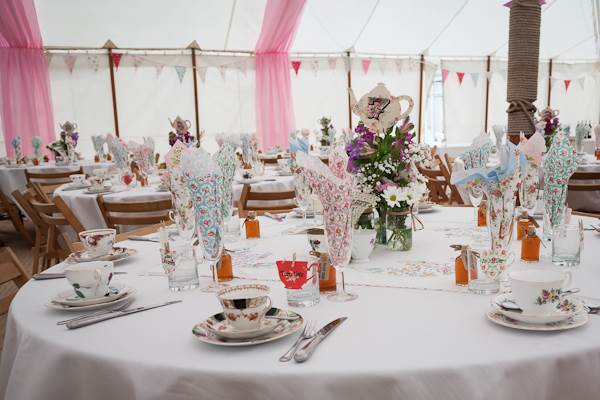 For me, the most stunning vintage element though was my dress which was made by Sally Lacock, my Aunt and Godmother who is a designer of wonderful vintage inspired wedding dresses. Although it was actually a new dress, it was vintage inspired and made from beautiful French lace. I had seen this dress when she first created her collection before I was engaged, and knew right from that moment that it was 'my dress'. She also lent me a hundred-year old veil and I wore a headpiece made from a piece of vintage jewellery from Cherished Vintage.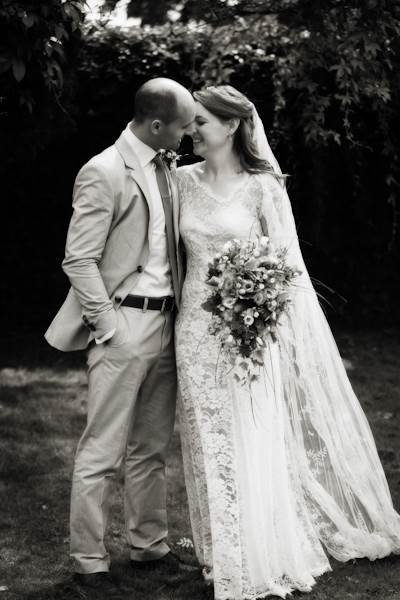 NVWF: How did you choose your venue?
We chose to get married in the beautiful church in the village that I grew up in. Afterwards we rode in a vintage motorcycle and sidecar to my parents' house where we had a traditional marquee in the garden. We were so lucky that the sun was shining and our guests were able to enjoy their Pimms sitting on either bales of straw or the garden furniture and some even in a hammock.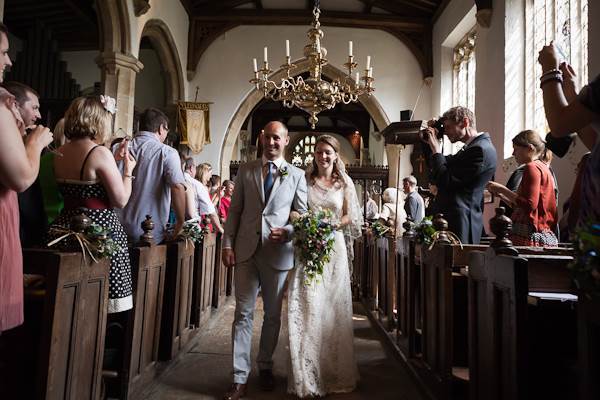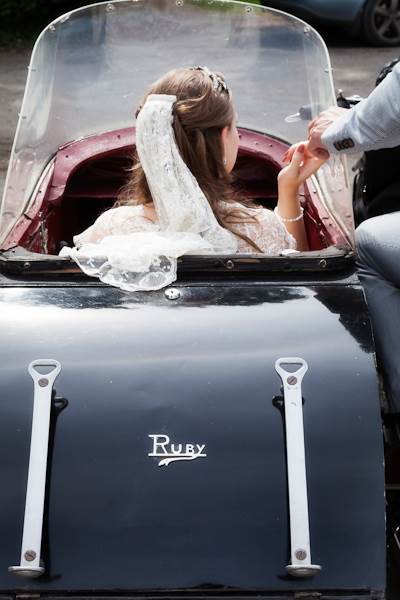 NVWF: Tell us about the rest of the day…
At my parents house in the marquee, I made origami flowers which decorated the poles of the marquee along with twinkling fairy lights. There was also bunting hanging both outside in the oak tree and inside the marquee. Before and during the tea party we had Saxophonist Jools Baker playing in the background – we had seen him busking in Cirencester and he agreed to play at our wedding! After the tea party Swingbytes Dance came and taught swing dancing steps to us and our guests and then we all danced to some vintage music. It was great fun and although we didn't have a 'first dance' one track that stood out for me was 'Why do fools fall in love' because we had so much fun dancing to it.
Anna Rainy Browns 'Really Good Food' catering and Jack's coffee shop in Cirencester provided a very professional and efficient service for all our refreshments. Anna was able to prepare whatever we wanted and could provide advice on every aspect of catering. The food was delicious and beautifully presented and the bar men that she provided were brilliant and great fun!
At the end of our lovely day, our guests camped in the field behind our house and we stayed in a yurt which Jason had constructed and decorated with solar powered lanterns and fairy lights. He had put a proper bed in there with brand new bed linen. My brother and sister had bought us a garden bench which they put in the yurt as a surprise with a cool bag packed with croissants, strawberries and champagne for breakfast the next day.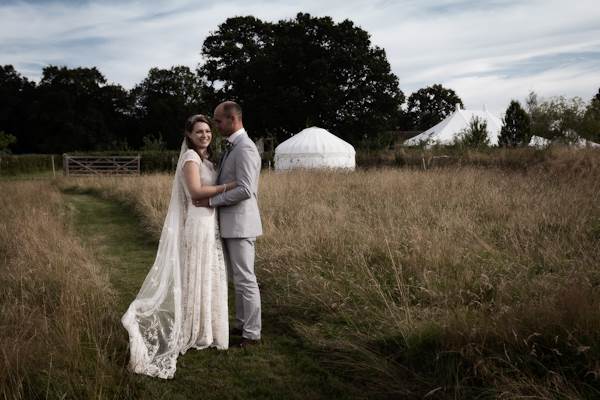 NVWF: How did you choose your dress?
I had seen the dress in Sally's collection before I was engaged and knew right away that it was the one that I would wear on my wedding day. I loved everything about my dress. I loved the delicate French lace and the way that three different styles of lace are sewn together. The vintage glass buttons made it truly unique – the skill and handiwork that goes into making this dress in incredible.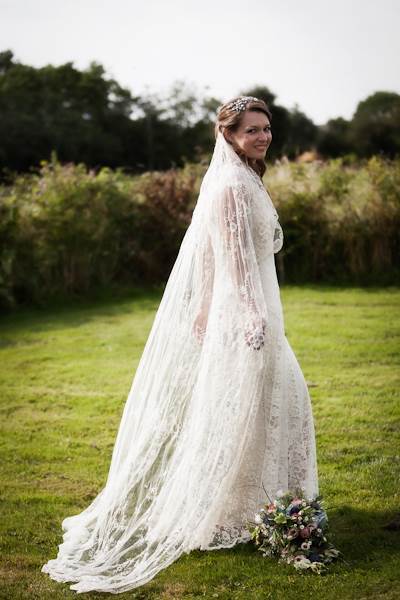 NVWF: Was there a theme to your wedding?
We didn't have a colour theme, instead we created a mis-matched look in the vintage crockery and bunting along with Cath Kidston napkins. The overall theme was simply a relaxed, garden tea party.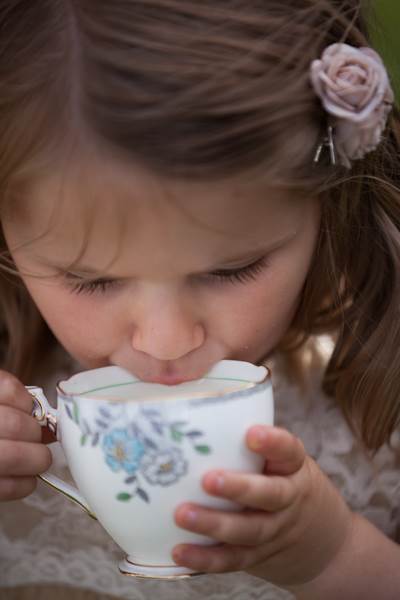 NVWF: How long did it take to plan?
Although not officially engaged, we knew that we were getting married and so I began searching for vintage crockery and making my bunting about two years before the day. Apart from that, the planning took about a year.
NVWF: What were your influences for the day?
I was initially inspired by the recipe book 'Tea and Crumpets' which had been given to me as a gift a few years before the wedding. My mum helped me to come up with lots of ideas ad was very helpful in planning the small details (the ones that I forgot!). Sally Lacock inspired me a lot – thinking of her own beautiful, relaxed wedding gave me the notion that I wanted a similar day. Her styling and advice was invaluable both in the year running up to the wedding and in the days before and with her, I was able to plan not only my own outfit but also that of my bridesmaid and flower girls. We used one of her more simple wedding dresses and embellished and accessorised it to make it into a stunning bridesmaid dress. My flower girls wore dresses that we designed and made together using left over lace from my dress.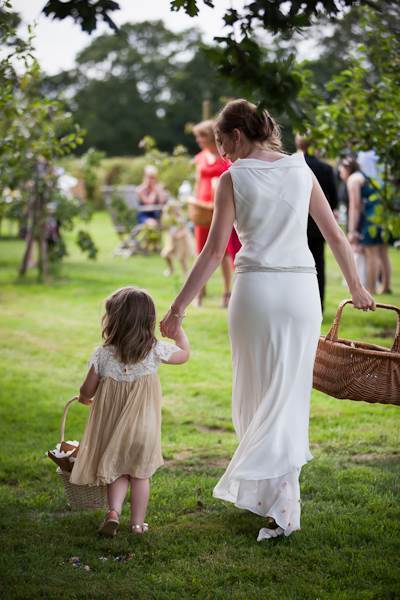 NVWF: And finally, what was the best part of the day?
I thoroughly enjoyed the whole day, especially chatting to people in the garden and drinking Pimms before the tea party. The highlight though, was walking into the church and seeing everyone smiling and Jason waiting for me at the alter (trying not to look at me so that he didn't cry!!). It was very overwhelming but a feeling I'll remember forever.
Photo Gallery:
Credits:
Dress: Sally Lacock
Shoes: Harriet Wilde
Accessories: Head piece – Cherished Vintage , Marcasite earrings – Silver Moon, Cheltenham
Make up: Sarah Barry using Aveda products
Hair: Mick Green, Knock 'em Dead Hairdressing
Bouquet: Oops a Daisy, Cirencester
Grooms suit: Jack Wills
Grooms accessories: Bicycle cuff links – Paul Smith, Tie – Hugo Boss ,Shirt – Dunhill, Shoes – Kurt Geiger
Bridesmaid dresses: Sally Lacock
Venue: St Leonards Church, Upper Minety, Marquee – County Marquees (Chepstow)
Catering: Anna Rainy Brown "Really Good Food" catering and Jack's coffee shop in Cirencester
Photographer: Anna Durrant
Wedding rings: Paul Newton (Malmesbury) worked with Jason to design and make my engagement ring and then worked with both of us to design wedding rings that would sit well next to my engagement ring and suit both of our requirements.
Invitations: GH Knight stationer in Cirencester were extremely helpful in printing the parts that I needed to construct my own invitations (in the style of a teacup with the invitation hidden inside) and with the table plan.
Unless stated otherwise all photography : Anna Durrant Photography
Are you going to be a vintage bride soon? Come visit one of our upcoming vintage wedding fairs in Cambridge on 14th September, Harrogate on 21st September, or in London on 9th November and find everything you need for your big day. For more details check the website – www.vintageweddingfair.co.uk.
Written by Sarah Gorlov