Today's blog shares with you Timmy and Anna Grainger's amazing Brighton vintage wedding. There's not many weddings that can mix the grandeur of the Grand Pavilion, a ghost-walk, dinosaurs, VW's and Burlesque in such a wonderful and quirky way as this bride and groom did.
The June wedding itself was in three distinct parts – a ceremony conducted by a close registrar friend in the over the top surroundings of the Brighton Pavilion, an amazing Ghost walk around the Lanes of Brighton and then a fantastic reception at the Latest Bar in Brighton which included a swing band and Burlesque dancer. Anna says "Timmy lived near Reading and I lived in Lincolnshire so we used the internet and wedding blogs to get inspiration, setting up secret Pinterest boards to share ideas remotely. From this we realised that we wanted a wedding that represented our interests but would also be a great big party for all our friends. Both of us had married before in low key ceremonies and we wanted to make up for this without breaking the bank"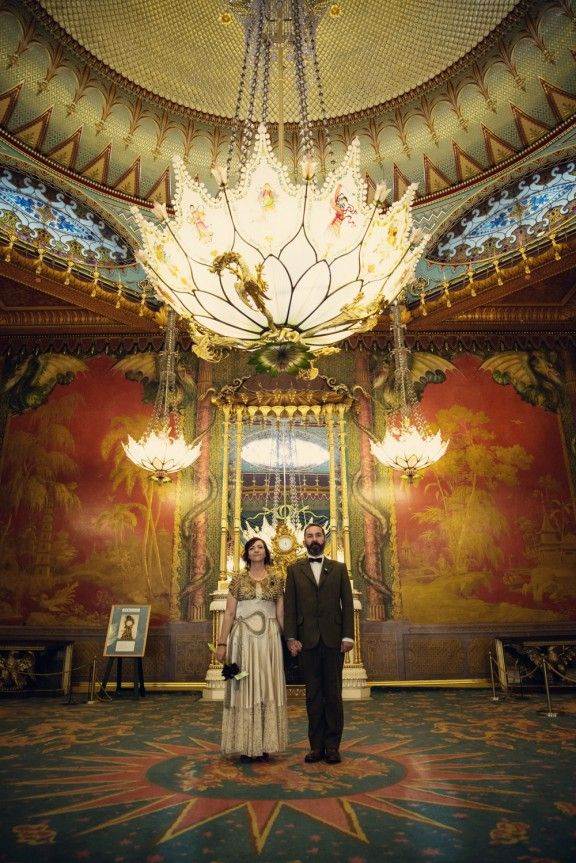 At the ceremony two Dr Seuss readings were made and the couple wrote their own vows which included the line: "I know that if I was bitten in a zombie apocalypse that you would have the courage to bludgeon me to death to save me from a murderous and scavenging existence". Perfect for this zombie film loving couple.
Anna says "One of our favourite places is Brighton…We had seen photographs by Sassy from Assassynation photography and loved the way that they captured the joy of the day. Luckily she was free when we wanted and she was so excited when we spoke to her to plan the photography via Skype. We set up a Facebook event page to co-ordinate guests accommodation and travel arrangements as none of us live in Brighton so it was a bit of a logistical feat."
The ghost walk through the Lanes was a key part of the day with the bride slipping off her Vivienne Westwood heels and changing into more comfortable Thundercat Converse All Stars to navigate the cobbles.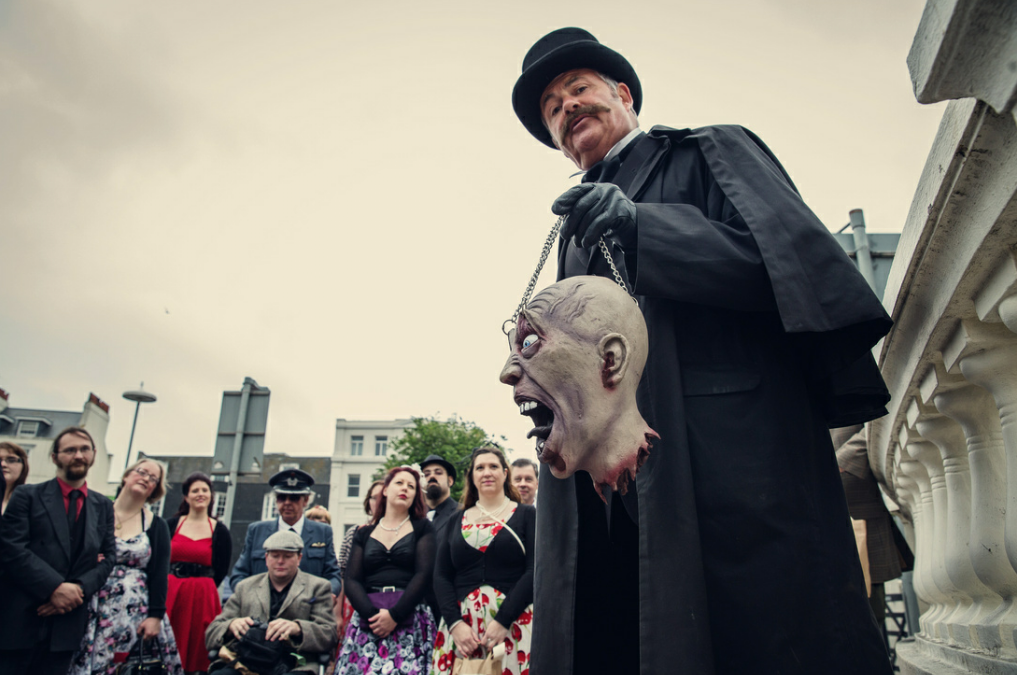 The bride and grooms outfits were chosen on a planning visit to Brighton – Anna's beautiful 1920s dress was the first one she saw in vintage store Hope and Harlequin and she just knew it was 'the one'. Timmy chose his vintage suit in Rob the Dog and accessorised with a cute bow tie.
The couple used Timmys 1960's VW squareback which looked great arriving outside the Pavilion. Anna says "Timmy and I share a love of vintage Volkswagen cars. We had been members of a VW online forum for many years and knew of each other but had never met in real life. We started an online conversation which never seemed to come to an end with both of us rushing home from work to open the next message. We decided to meet up at Bugjam, a VW festival, after a few months conversing and it really was love at first sight…After a few months together he asked me to marry him and we started to plan our wedding. We had both lost our previous spouses who had both died at a young age and we knew life was too short to waste."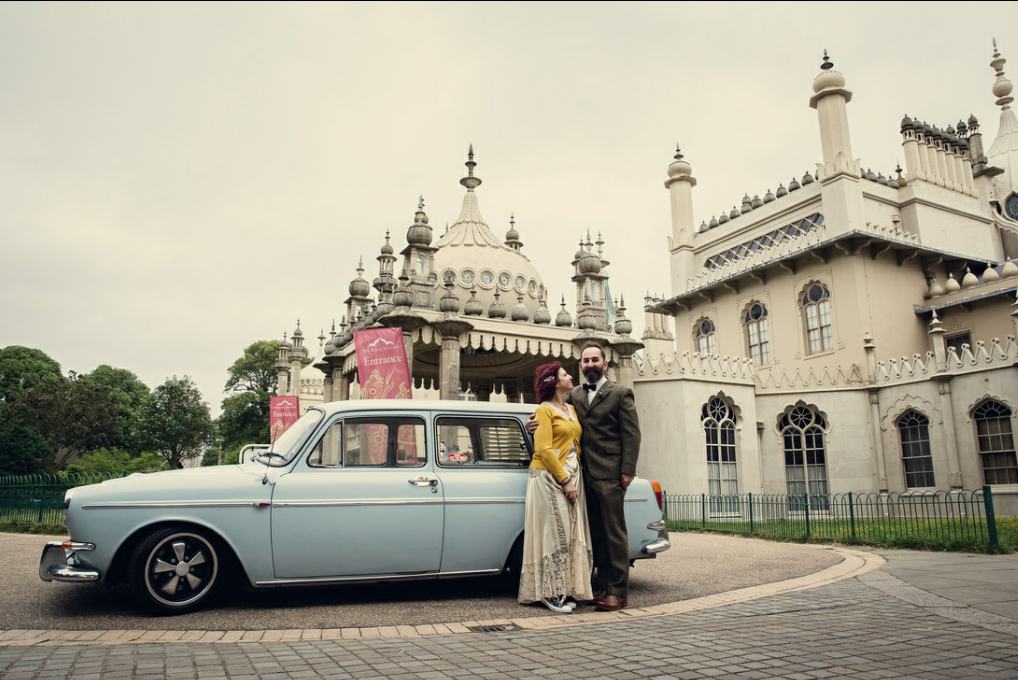 The styling of the wedding was done by Anna and Timmy themselves – they have now set up our own service styling weddings and events as they enjoyed the planning so much. The budget was less than £6,000 on everything – including the dress, the ceremony, entertainment, food (a buffet and bake off competition) as well as accommodation for their family. Timmy and Anna say "We loved everything about the planning and DIY for the wedding and spent every weekend together making invitations, giant dinosaurs and searching for props. We both have always loved spending time looking at antique and charity shops and searched for items that would reflect us – we love travel, kitsch, dinosaurs and zombie films."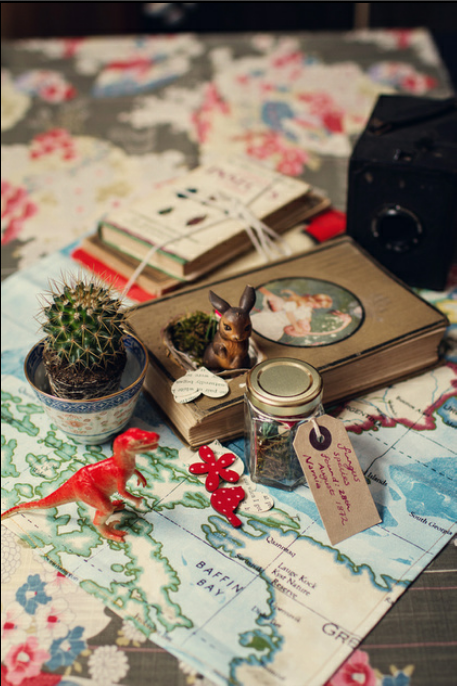 For the reception at the Latest Bar in Brighton, Timmy and Anna chose a gypsy swing band, a burlesque dancer and the whole thing was compared by a friend who DJs at VW events. It was attended by many of their friends who are also vintage VW fans and the day was made all the more special with both pairs of their respective children playing a key part in the proceedings.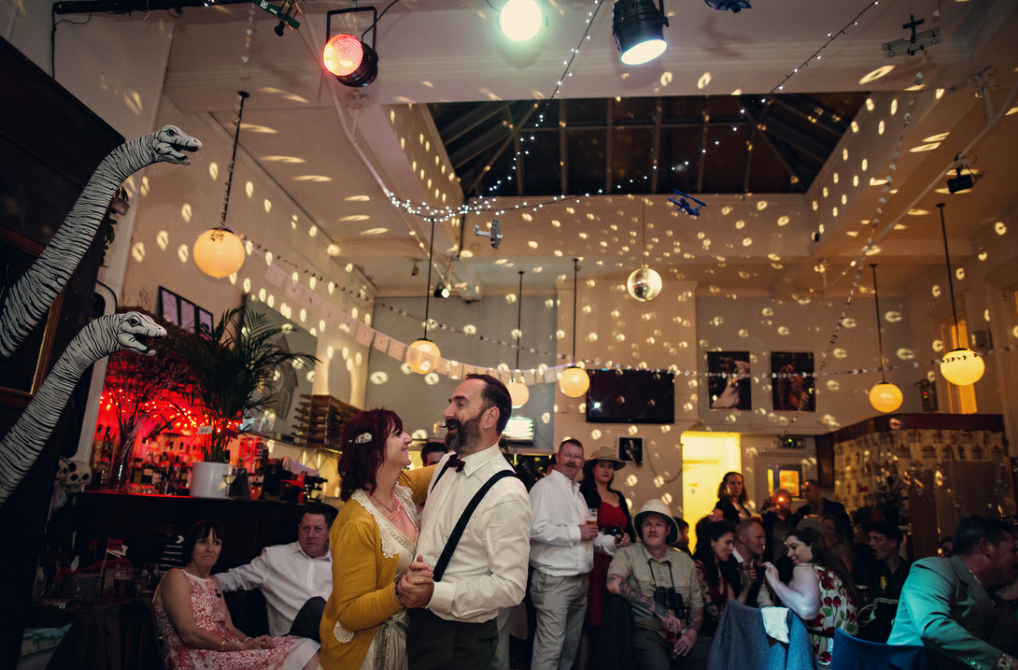 Definitely a wedding day to remember!
And finally, what would be the bride and grooms advice for creating the perfect day? Anna says "Our main tip is to realise when you need help and ask for it – making everything yourself sounds like a money saver but you need to ensure that you have the time and resources to do this so that it does not become a real stress and pressure to you both."
Photo Gallery –
Are you going to be a vintage bride soon? Or have you had a great vintage themed wedding you'd like to share? Email us and your special day could become one of the subjects of our 'Real Weddings' blog.
Written by Sarah Gorlov.
Credits –
Dress: 1920's vintage from Hope and Harlequin, Brighton
Shoes: Vivienne Westwood Melissa and for dancing; Thundercats converse for the Ghostwalk
Accessories: dinosaur necklace – Etsy; beetle hair clips – Liliia
Bouquet: Lilies bought from a florist on the way to the ceremony
Make up/Hair: Venus hair, Brighton
Grooms suit: Rob the Dog, Brighton
Bridesmaid dresses: eBay and Primark
Venue: The Royal Pavilion Brighton; The Latest Bar, Brighton
Stylists: Dollymix and Dinosaurs
Photographers: Sassy – Assassynation; Matt Willis from Matt Willis Photography
Entertainment: Johnny Hepbir Quartet – gypsy swing; Burlesque by Miss Chantilly Lace; Jensen D Groover DJ
Ghost Walk: Rob Marks, ghost walker of the Lanes, Brighton
************************************************************************************
GIVEAWAY!!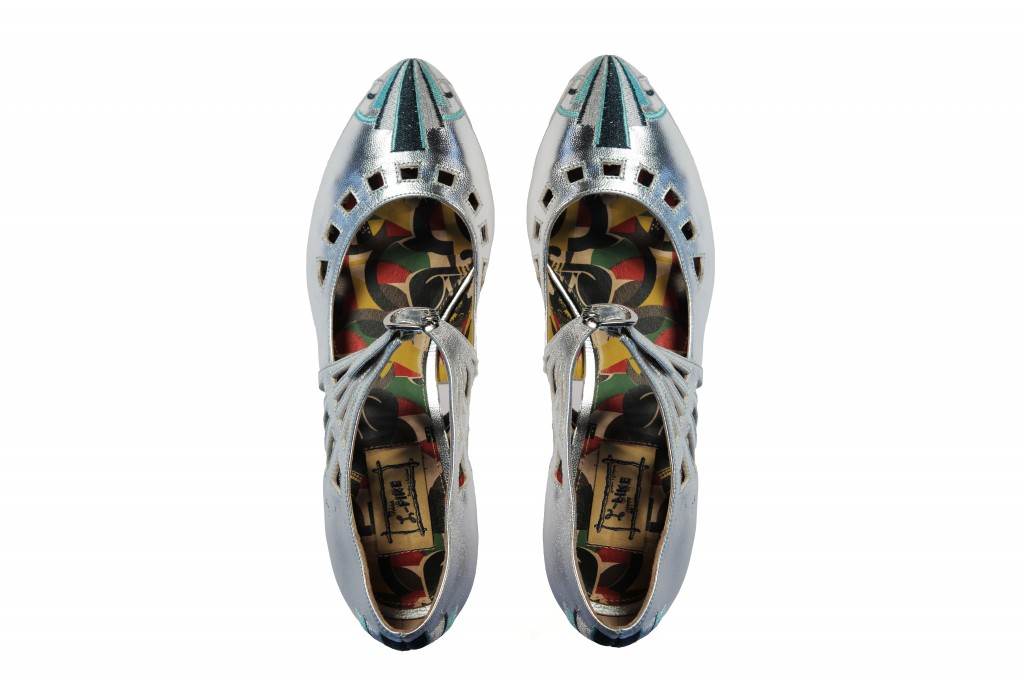 The lovely team behind Miss L Fire, who designed Kate's shoes, are giving away a pair of shoes of your choice. Wow, this is amazing as you could choose some fab wedding shoes or simply a great 1950s inspired pair for the daytime.*
To enter simply:
Subscribe to the blog by email or on Bloglovin
Tweet us @vtgweddingfair and @MissLFire and tell us why you love their shoes!
The winner will be drawn from random on 24th March 2014.
*You will need to choose a pair that is in stock with your size available.