On the blog today Matt and Elly's rustic barn wedding with a difference, it shows how personality can be brought to your wedding day and how different styles of wedding can be mixed to create a picture perfect day! Set at Kingsthorpe Lodge Barn in Peterborough, it has the rustic barn wedding setting down to perfection, yet has the urban luxe surroundings, and the woodland vibes all thrown in. And of course how can we not mention these suits… uber cool disco vibes for the modern grooms attire… we are in love!
Here we catch up with Elly who tells us all about how they met, the proposal, and creating their rustic barn wedding…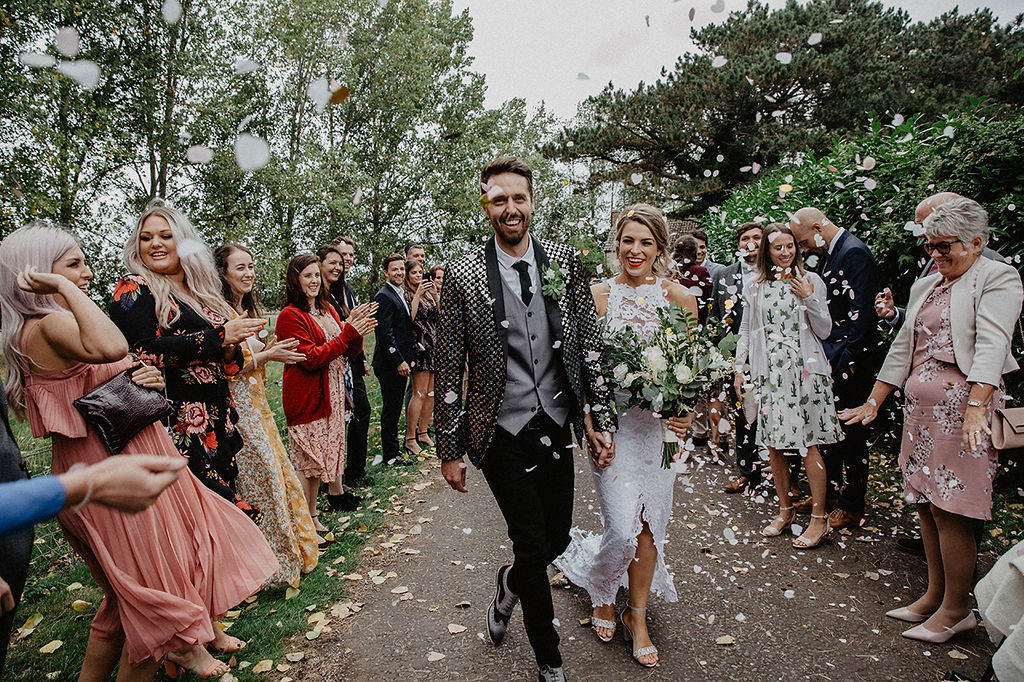 How Did You and Matt Meet?
"Me and Matt met a good 13 years ago when Matt was in College with my eldest brother. He was in a band with my 2 brothers and let's just say this groupie didn't want to go away ha!"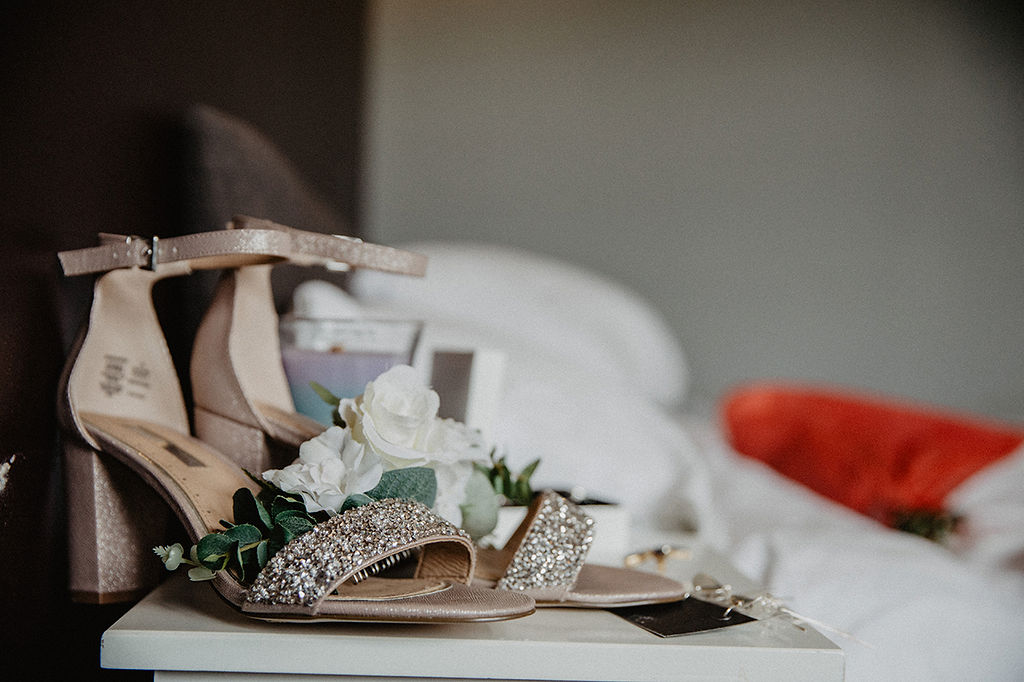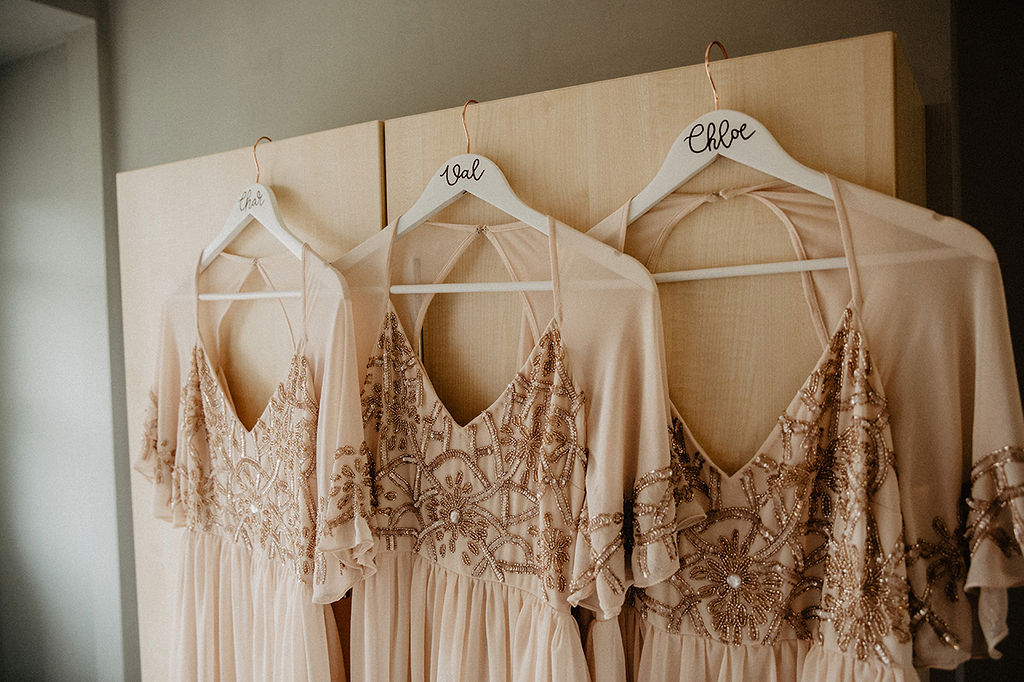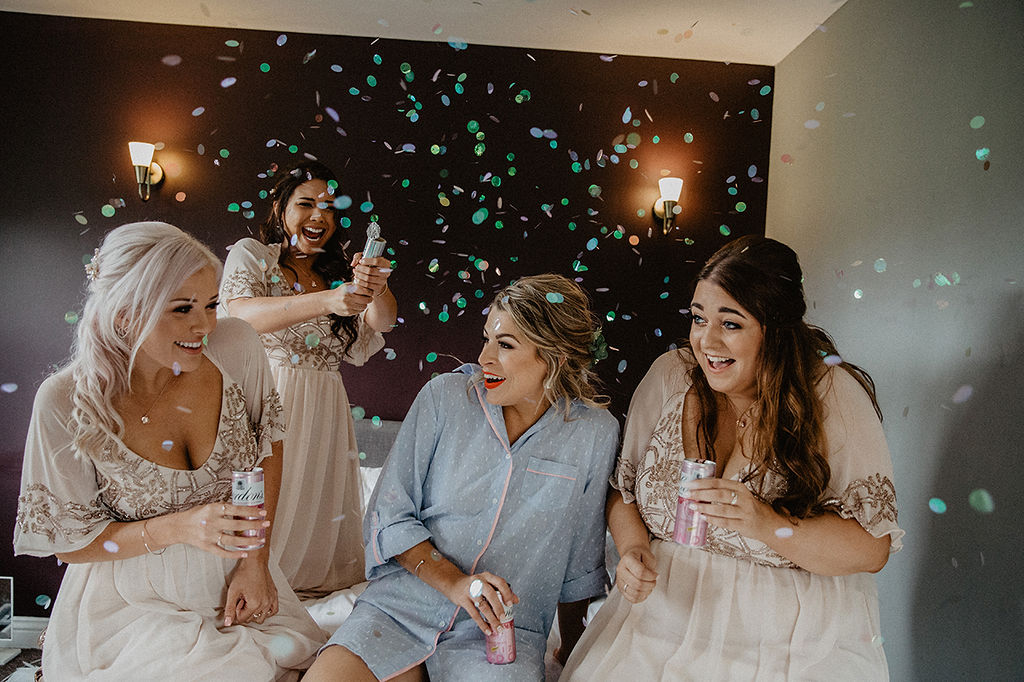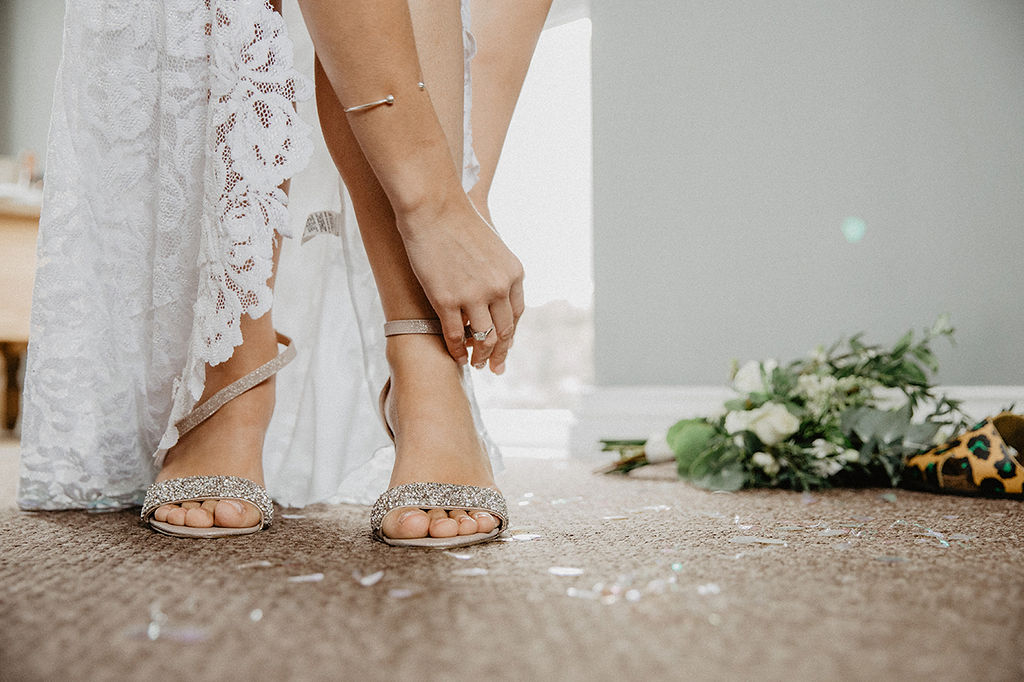 The Proposal
"Matts band Swagger play at Mayfest in Swavesey most years and it usually falls around the same bank holiday as my birthday. On 29th April 2018 Matt got me up on stage so that everyone could sing Happy Birthday as my birthday was the following day. Once everyone had finished singing he announced that he had an early birthday present for me and whipped out the ring and got down on one knee! It really was lovely as so many friends and family were there to see it and we have lots of great videos of the moment."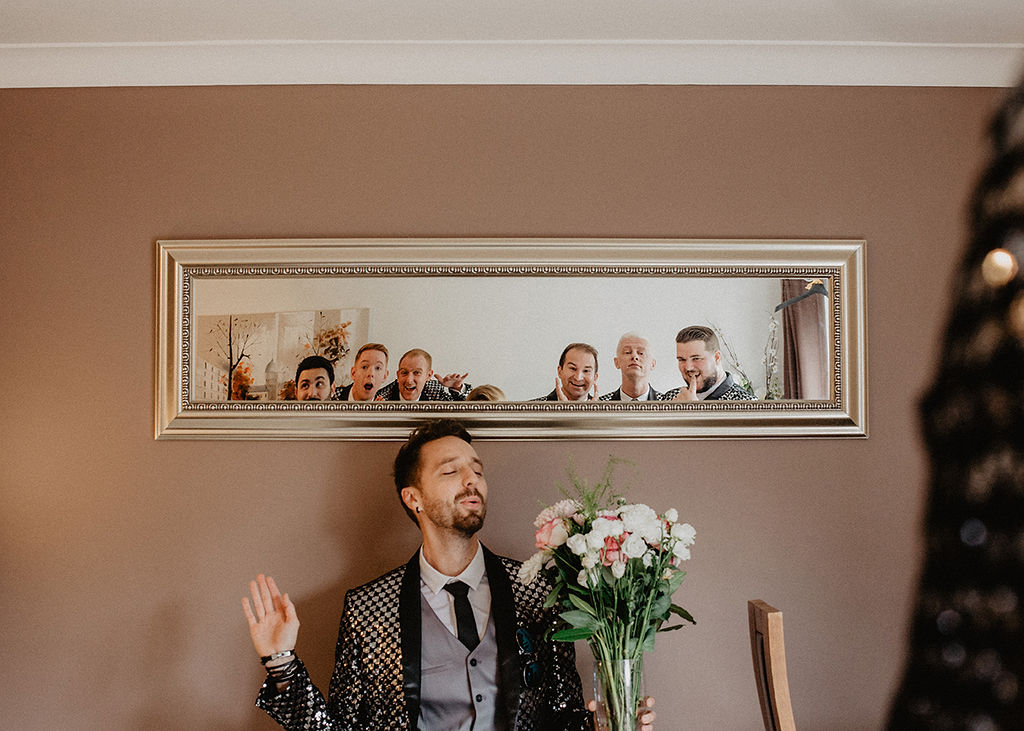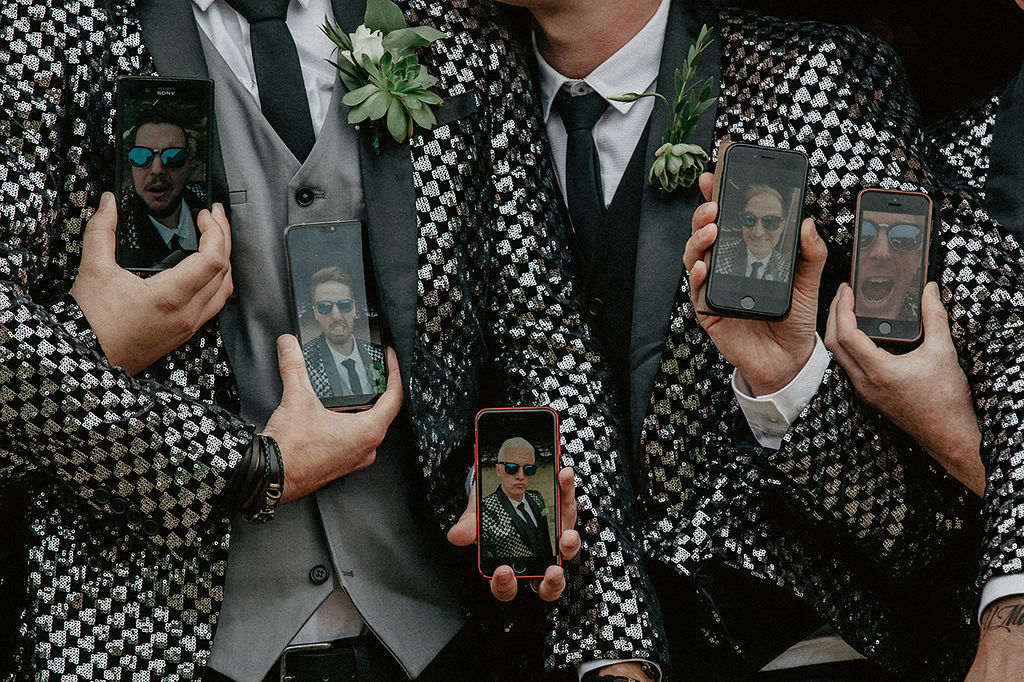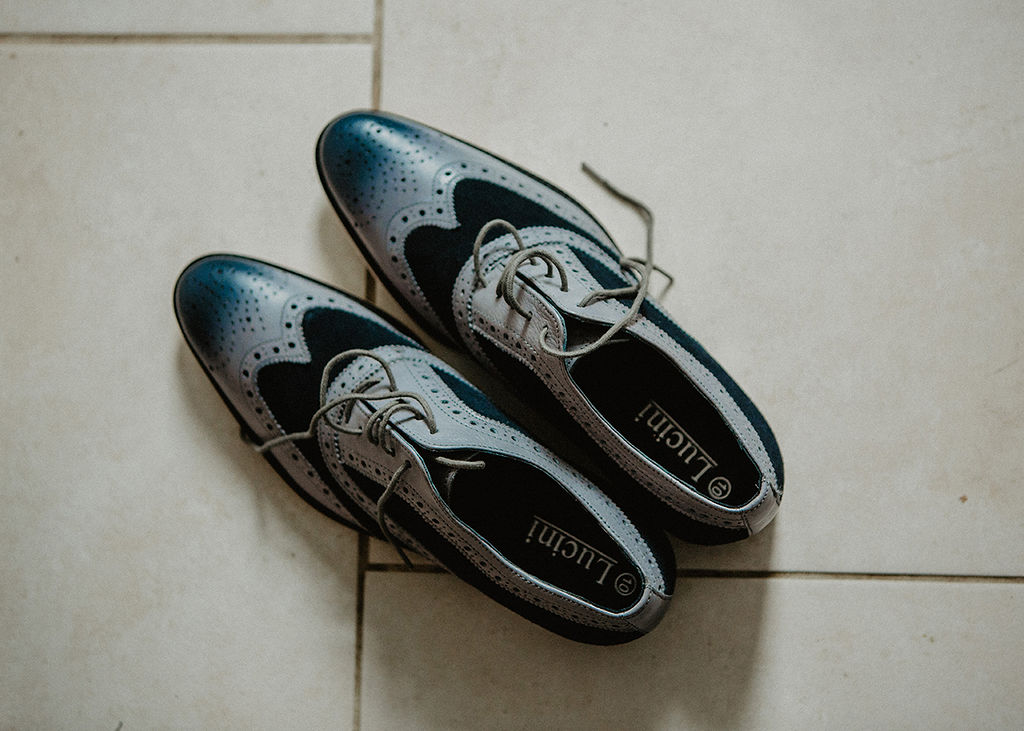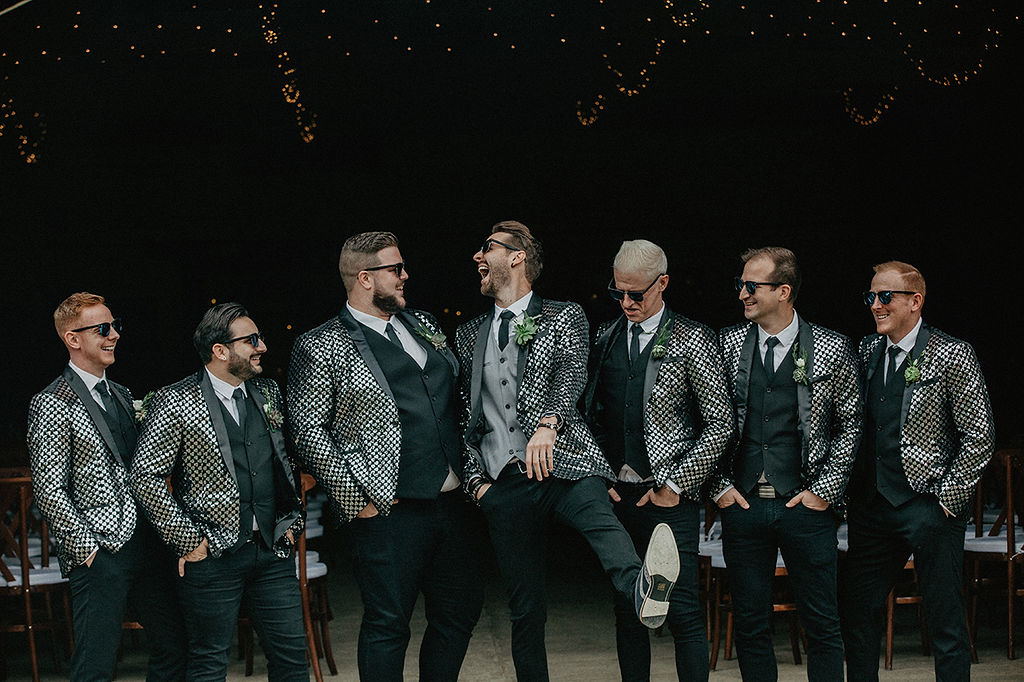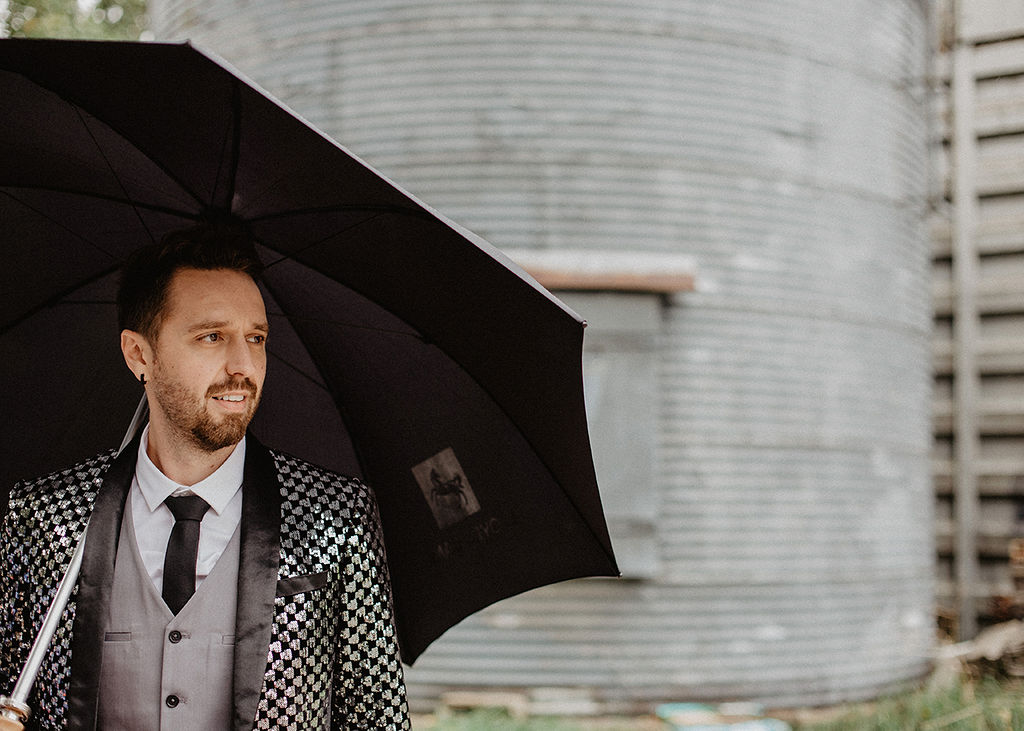 Planning The Wedding
"I had admired 'Hall and Co's' work for a while on Instagram and knew I wanted them to do our food and styling. They really are amazing at bringing all your ideas altogether. After a site visit with them we discussed a huge wooden palette backdrop to have as a backdrop for the ceremony that would hide the stage behind, they covered this in foliage and festoon lights. The ceiling was also draped with lots of festoon lights and we had cosy seating areas with mismatched furniture. Lighting is really important to us as it can really change the atmosphere of the day. The barn also had foliage features on the ceiling and on each table we had candlesticks, edison bulbs and storm lanterns which created a warm glow across the room. Industrial barn chic is the best way to describe the styling!"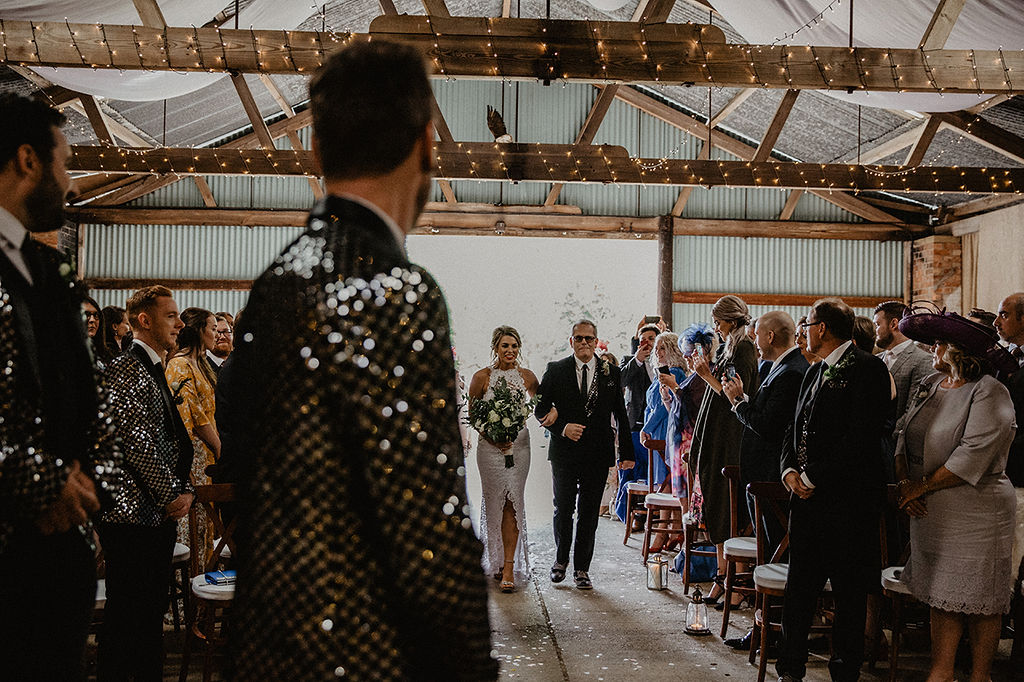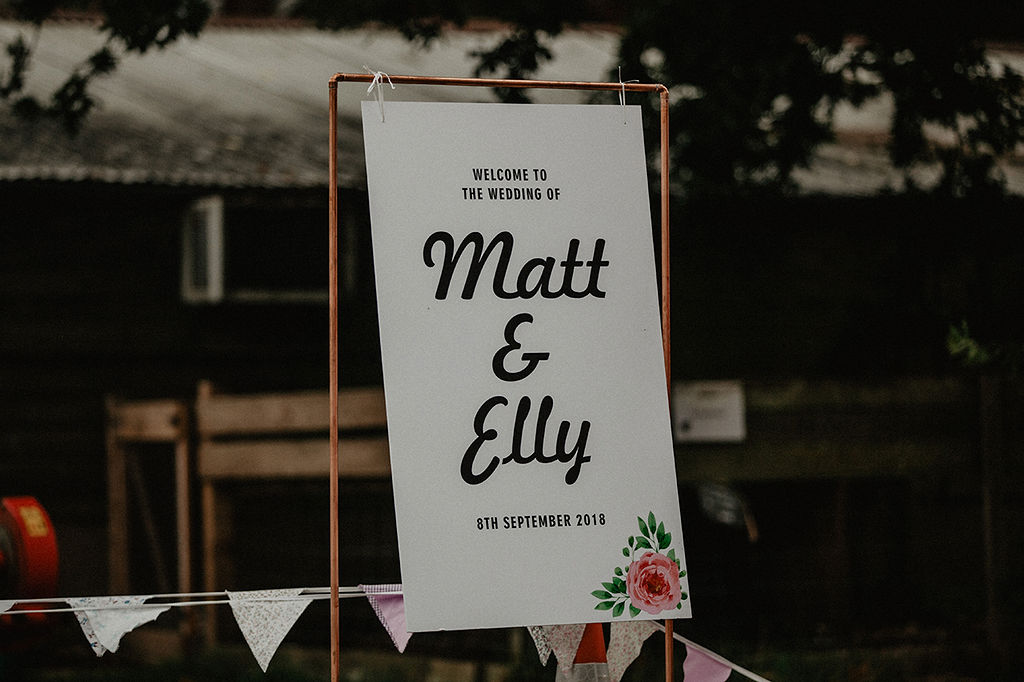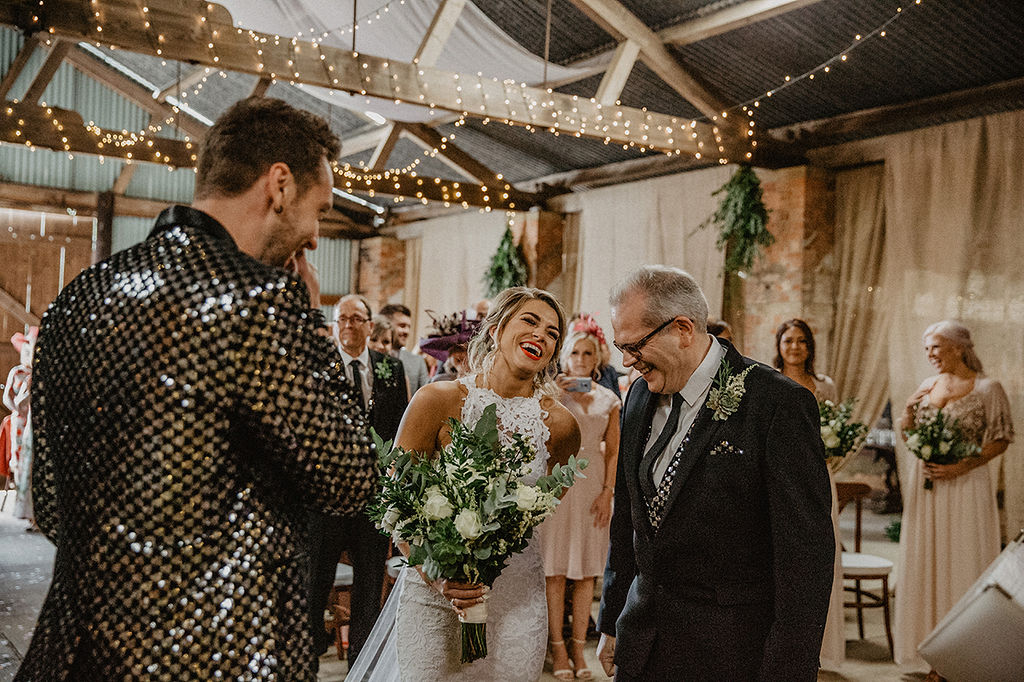 The Location
"This was always going to be a tricky one for us as we both work in the wedding industry. We knew we both didn't want to have our wedding at a venue we had been to before so that it felt totally unique to us. So that ruled out a lot! We also didn't want to be restricted by which suppliers we could have and Matt's worst nightmare…a sound limiter! So I searched and searched for Barn style venues and Kingsthorpe Lodge popped up. It ticked every box as it was a shell of a venue with a few fairy lights dotted around and didn't have the 'wedding factory' feel to it."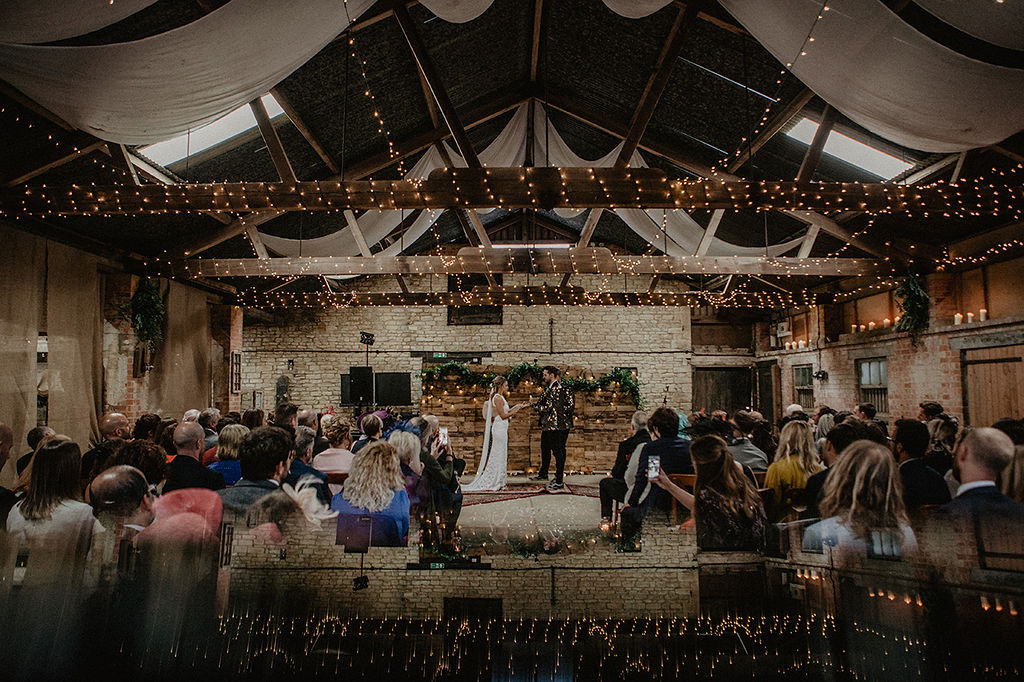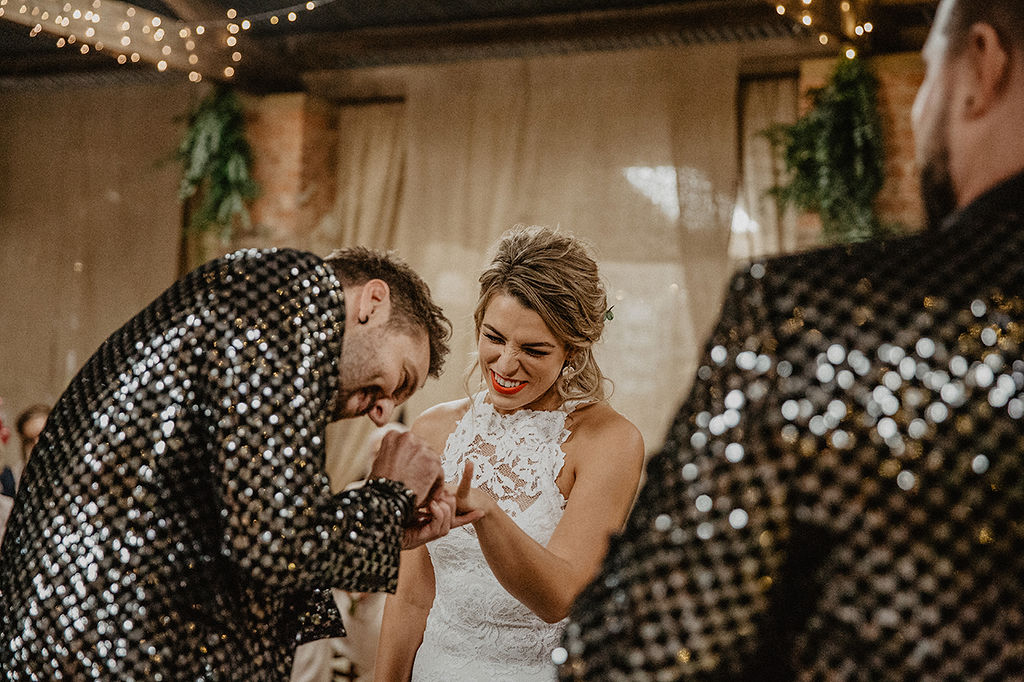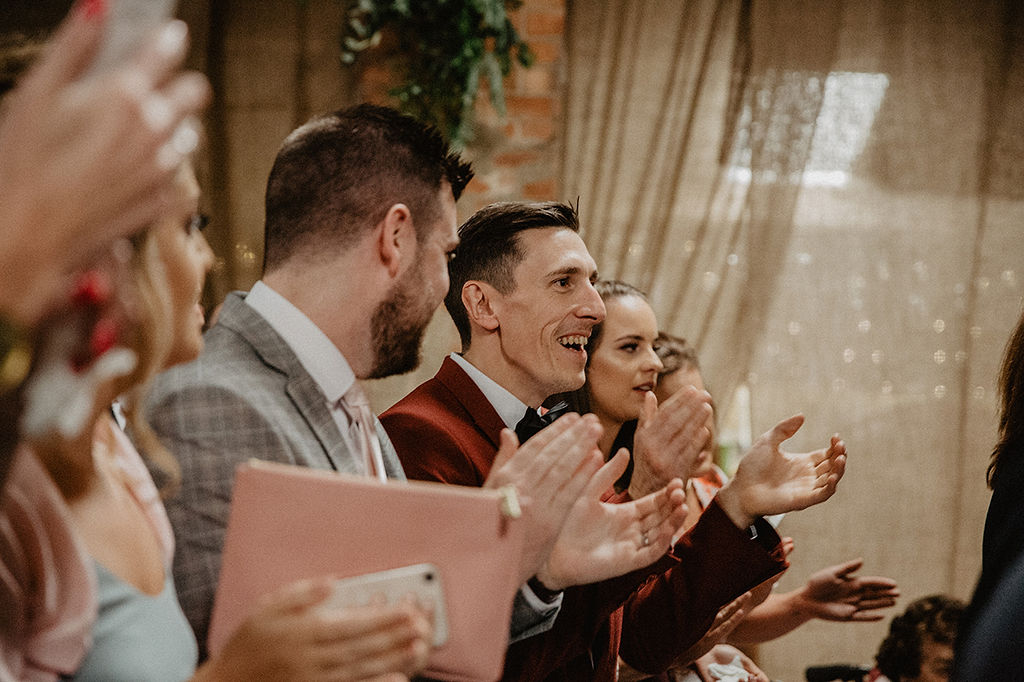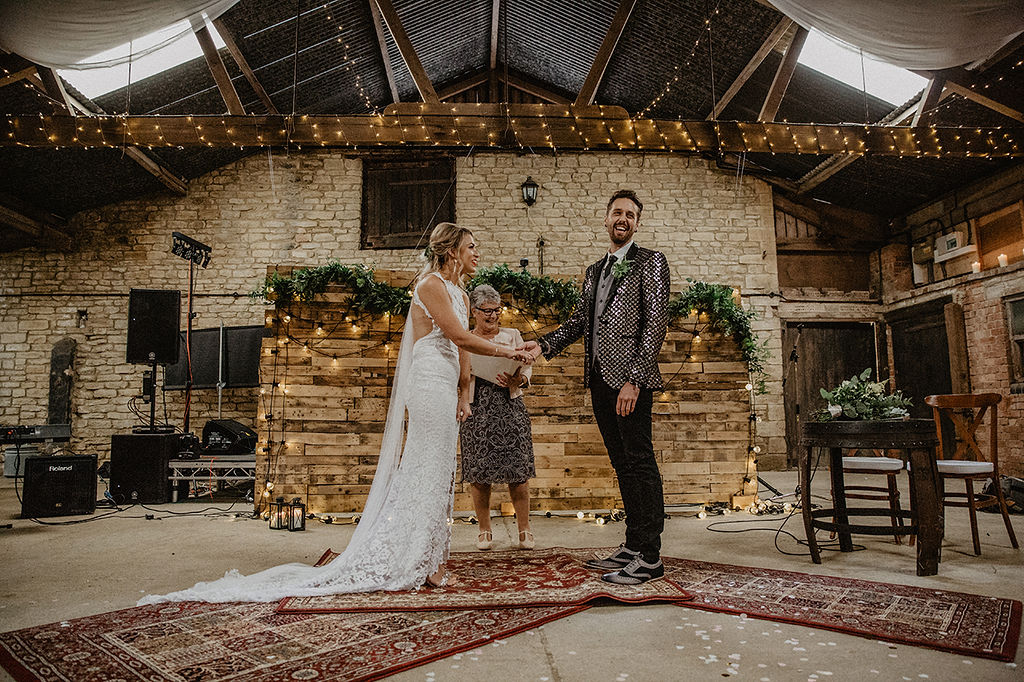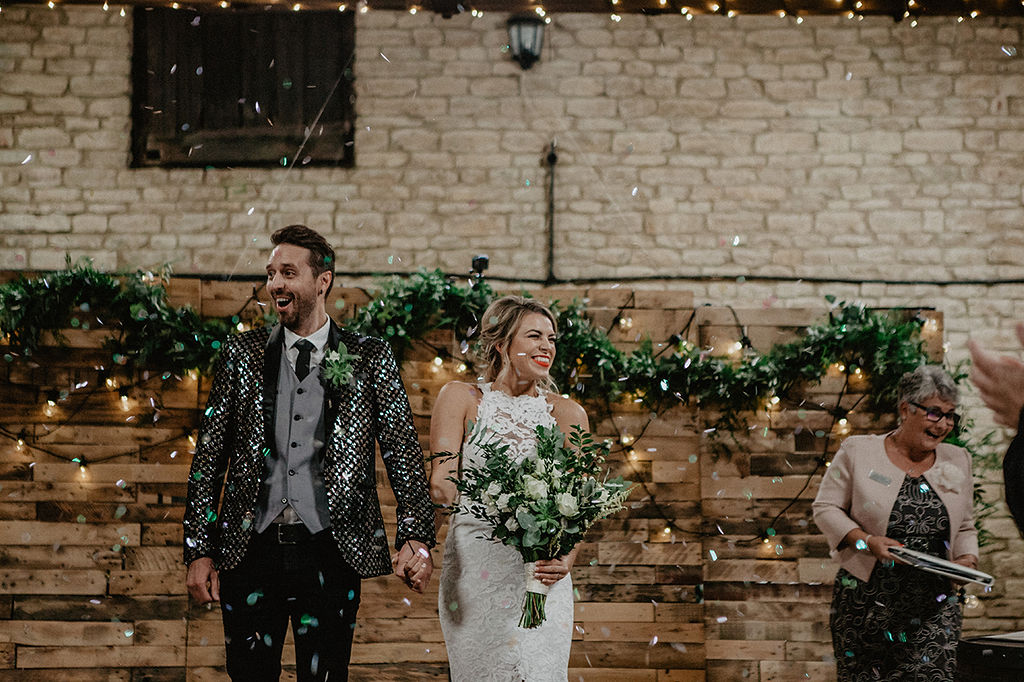 The Dress
"I had seen the dress on Instagram and knew it would suit me. A lot of brides say they go for something they never would have imagined but that wasn't the case for me. I know what suits my shape and I didn't really want your typical wedding dress and was also aware that it had to suit the venue. Again as I see so many wedding dresses I wasn't excited by anything I saw in the usual bridal shops. Grace Loves Lace was perfect as all their dresses are made from stretch lace and I loved how it hugged and complemented my shape. It is an Australian brand and they only have one shop in the UK which is in London. Me and Mum spent the afternoon trying on lots of different styles and I was so happy that I went with my gut instinct."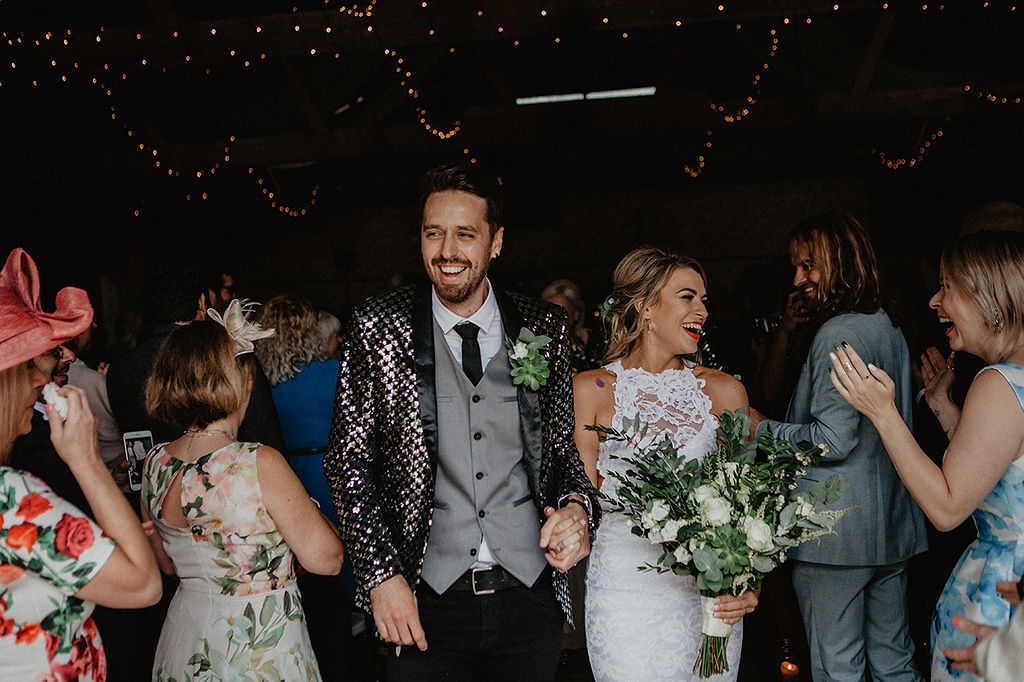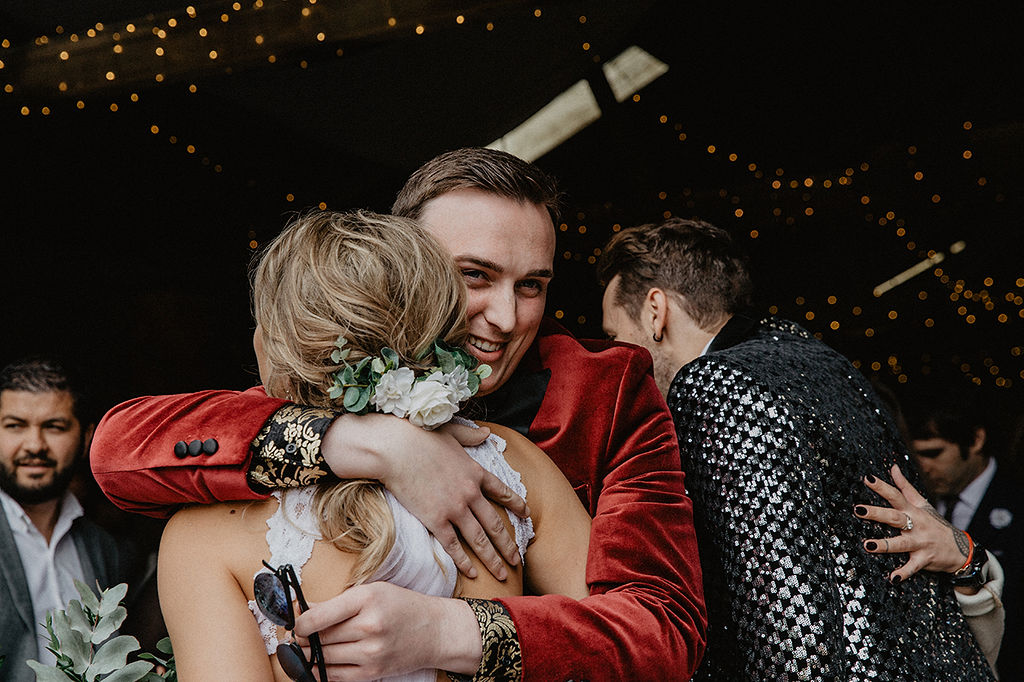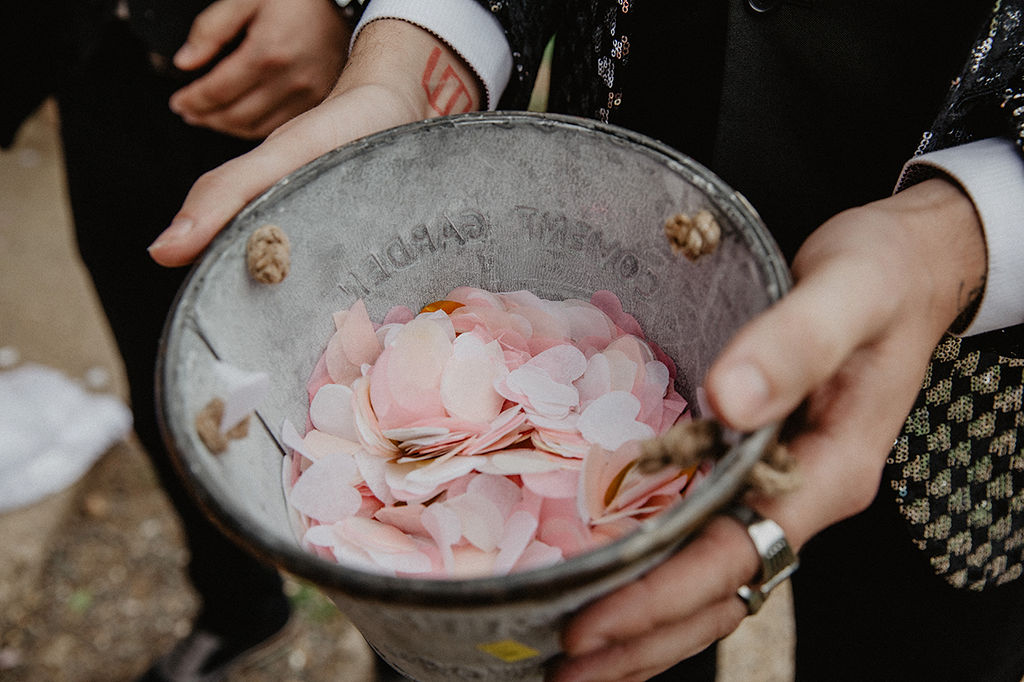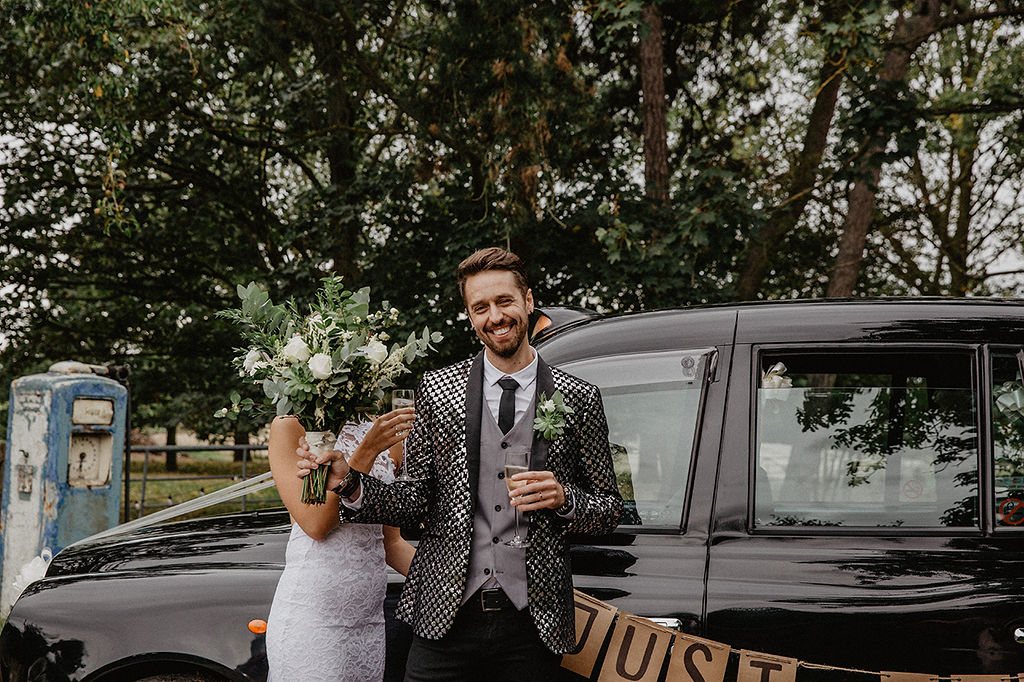 The Suits
"With Matt being the lead singer of a band, he had already pre-warned me that he would not be wearing a 'normal' suit and that he wanted it to be a surprise for me. I said as long as he didn't walk down the aisle in a white dress I didn't mind what he wore. He sorted all 6 groomsmen and both Dad's out by himself and I was very intrigued to what they were all going to look like! Fast forward to the wedding day and I see my Dad and spot his sparkly waistcoat! Matt had got the Dad's waistcoats made in the same material as their jackets. When I walked down the aisle it was amazing to see Matt and all the boys in their silver and black twinkling sequin jackets. So many people comment on the jackets when they see our wedding pictures. Good 'ol ASOS!"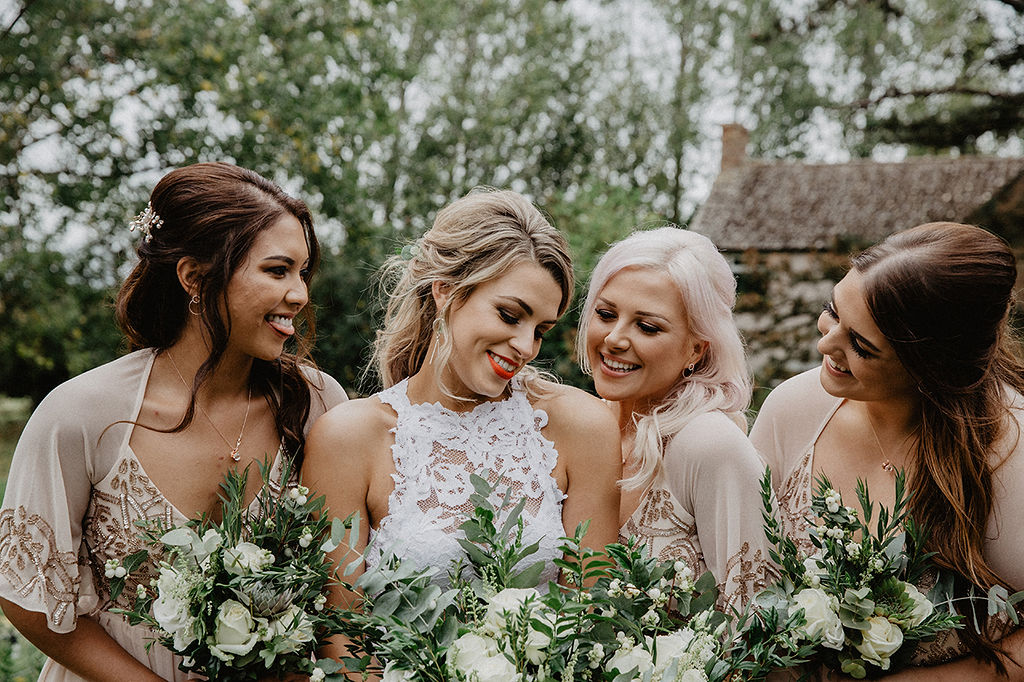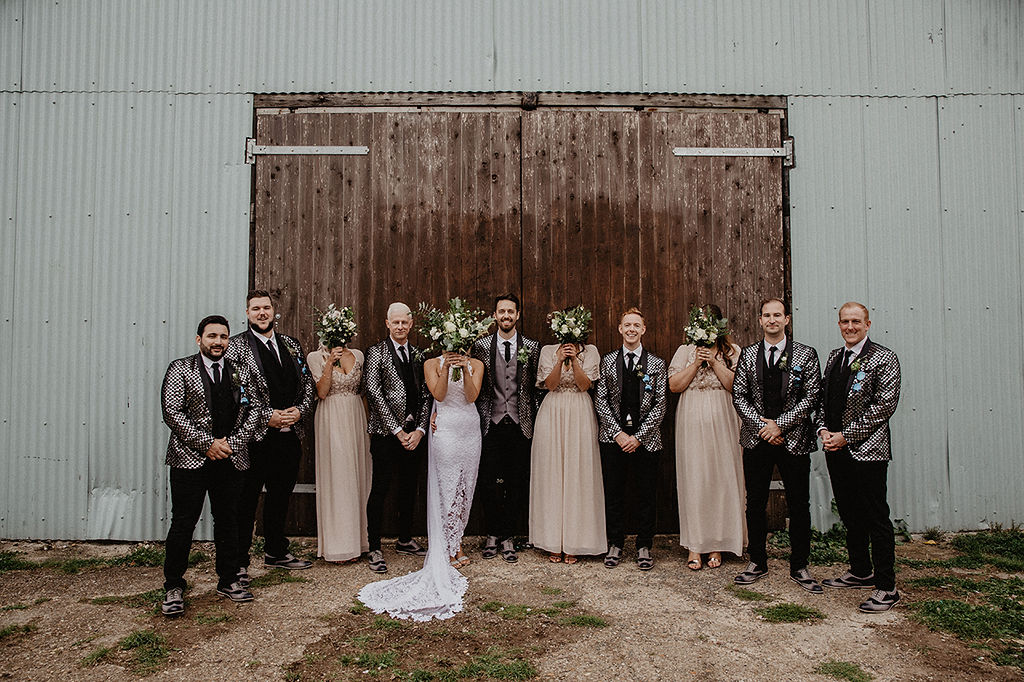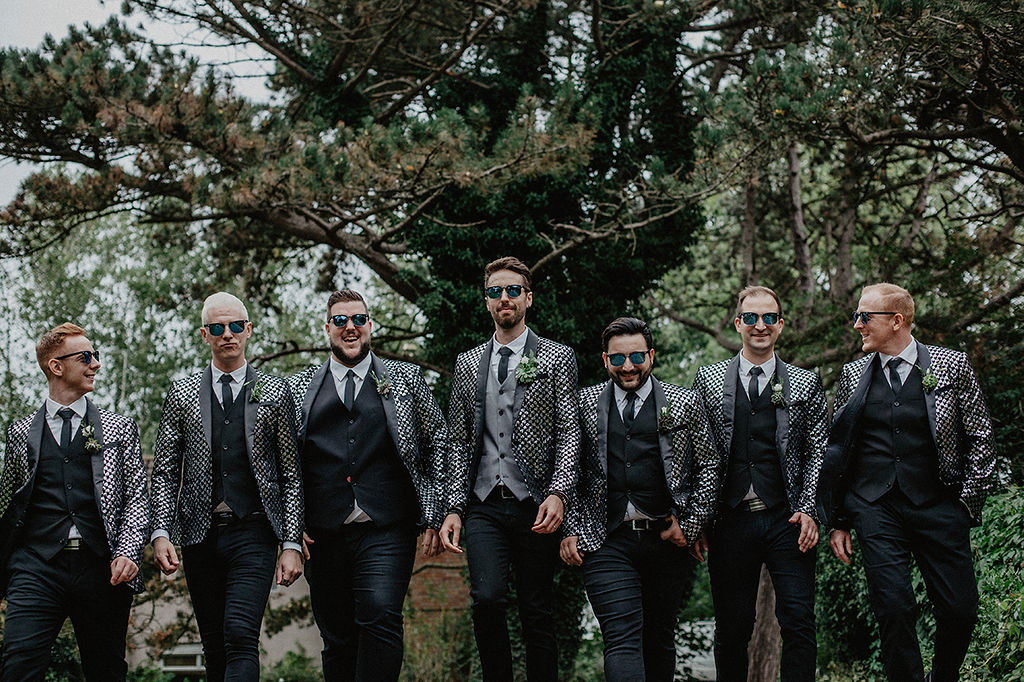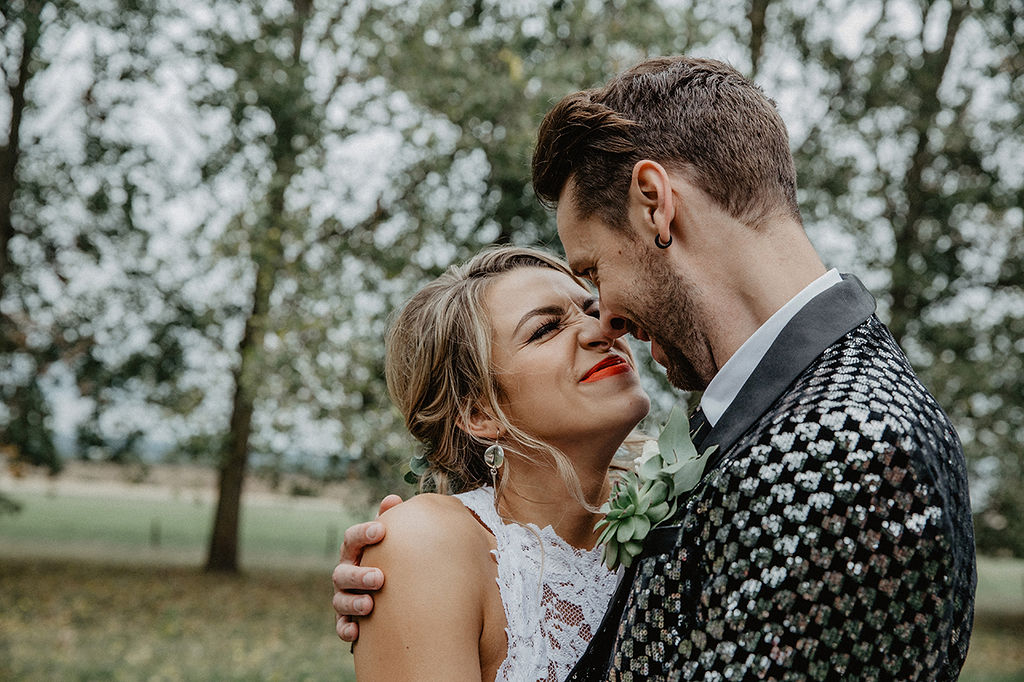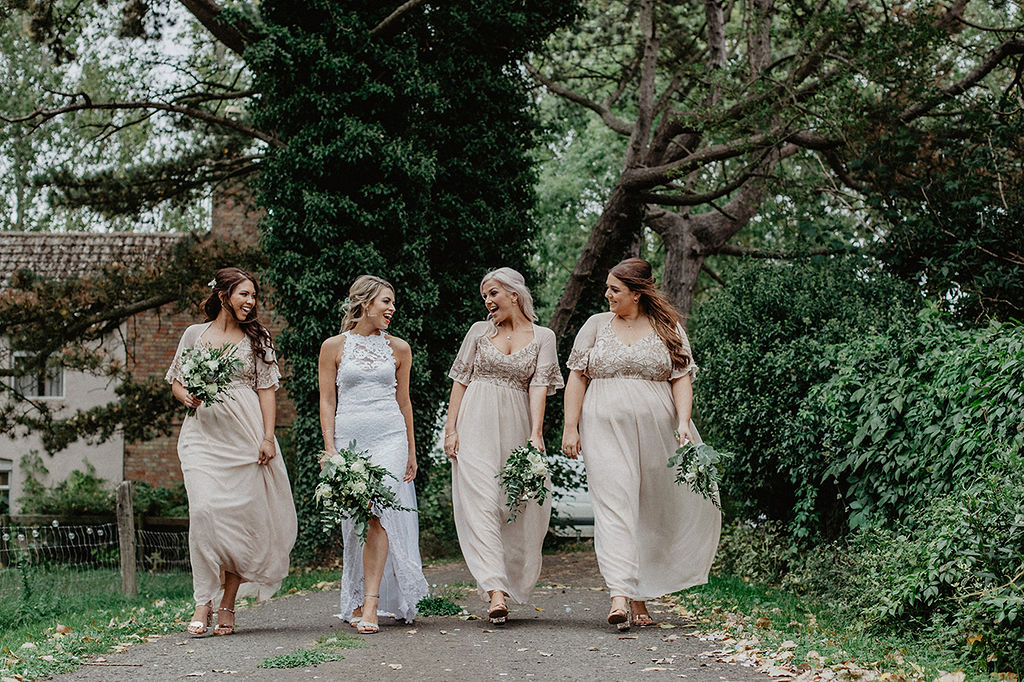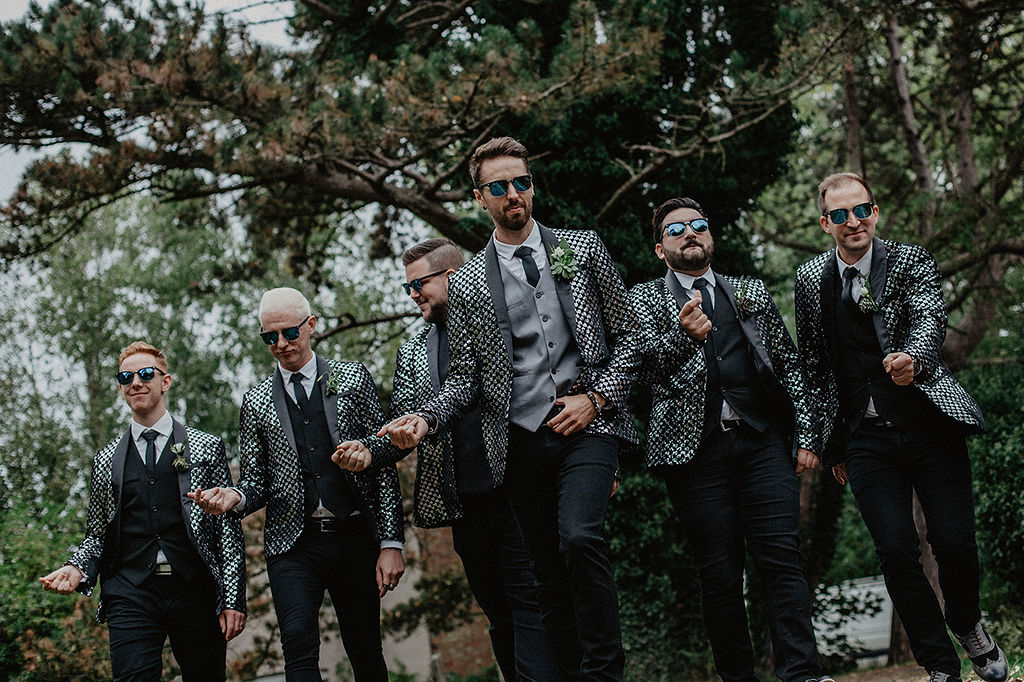 The Bridesmaids
"I really liked the idea of dresses that had a slight cape look to the sleeves and knew that I would be shopping online for them. I think there are so many great websites that do bridesmaids dresses now as I find a lot of the dresses in shops are so dated. They were long with a tulle skirt which suited all 3 of my bridesmaids figures perfectly. I found them on Boohoo and even got a 10% cheeky discount off of them! I knew I had to choose a neutral colour so that whatever the boys wore it would tie in fine. So a soft blush peach/pink tone it was. Weirdly the dresses also had sequin detailing to it so they complemented the mens suits perfectly!"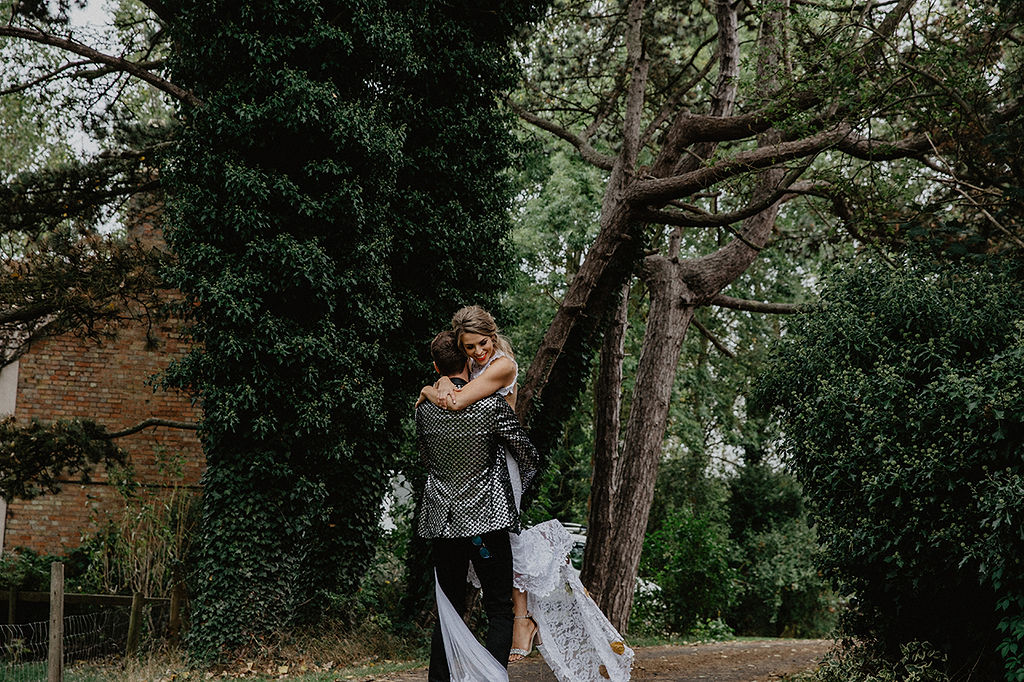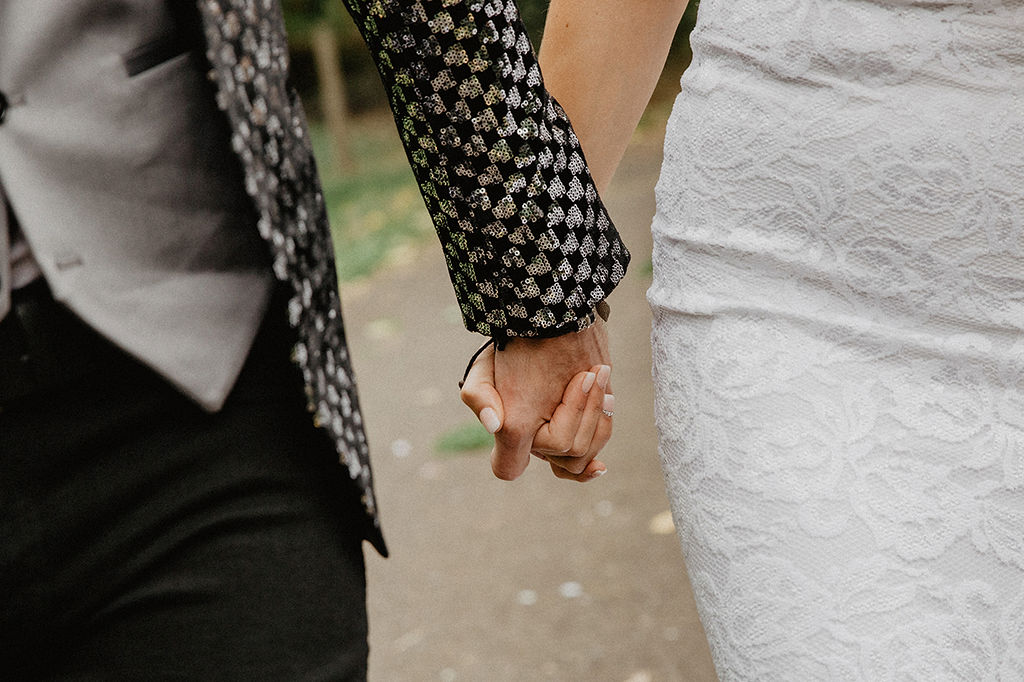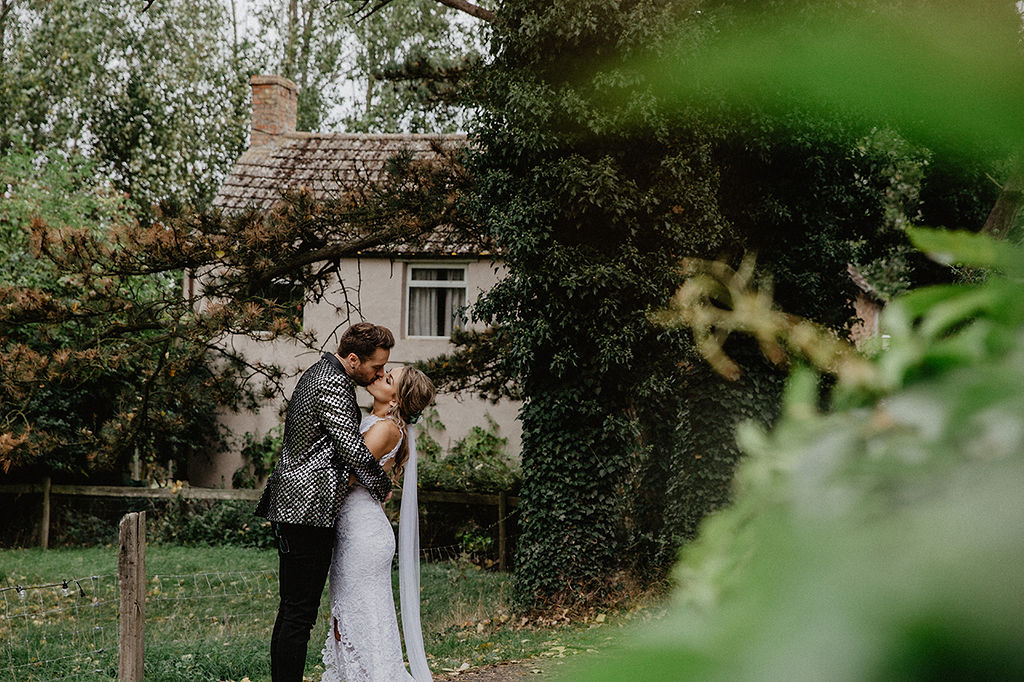 The Details
"I arrived in a black cab as I knew no one would see me pull up on the day, the driver stayed till after the ceremony so that we could have pictures in front of it. We had lots of little touches all over the venue, old photos, lots of bottles with candlesticks in, a Hammerschlagen table which guested loved!! We hired a stretch tent for outside the barn which had large barrels dotted around for drink rests and we even had a mock fire place with logs and sofas topped off with a picture of our dog Elvis dressed as an Admiral above the fireplace because…why not!? Food was gourmet burger and chips with a vanilla ice cream milkshake and a soft chocolate chip cookie as our favour. We had a large dessert table for the evening with lots of different flapjacks, cronuts, rocky roads etc and also a cheese toastie station."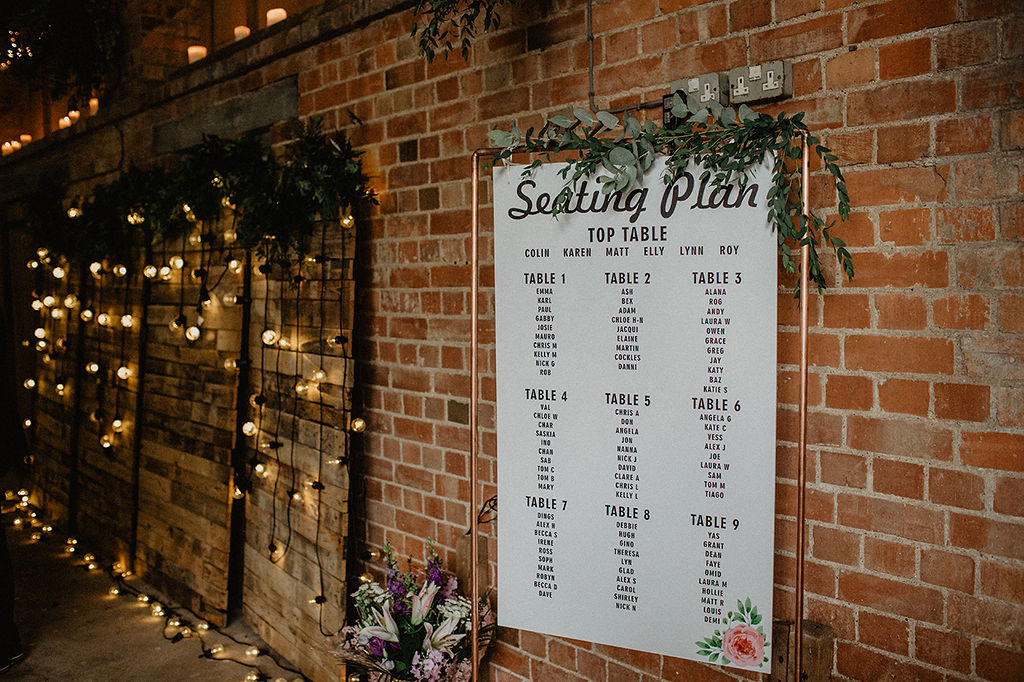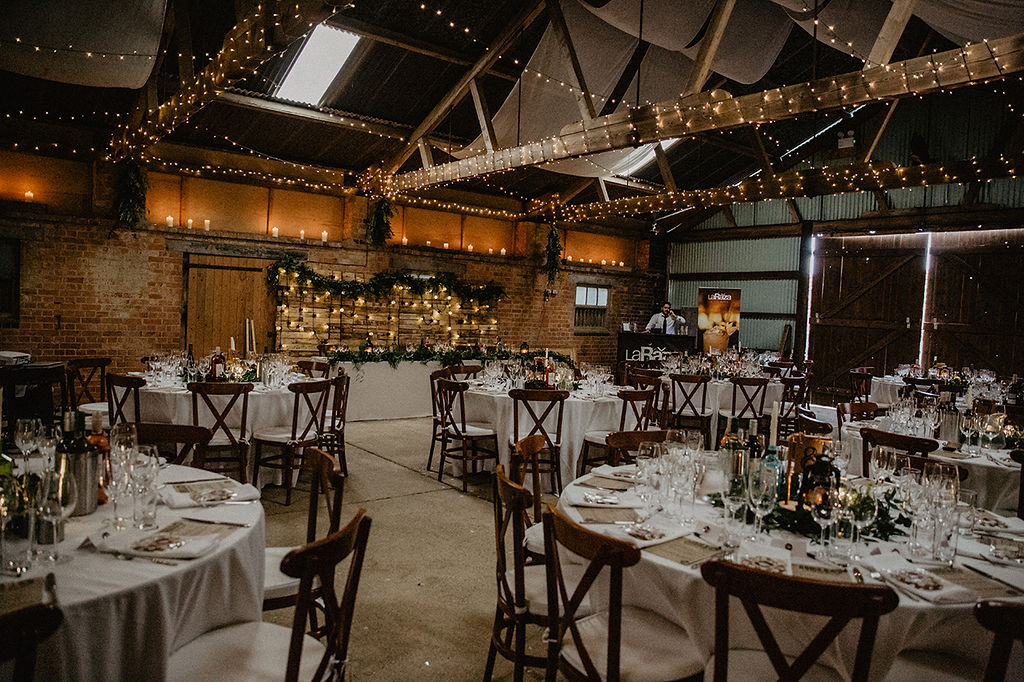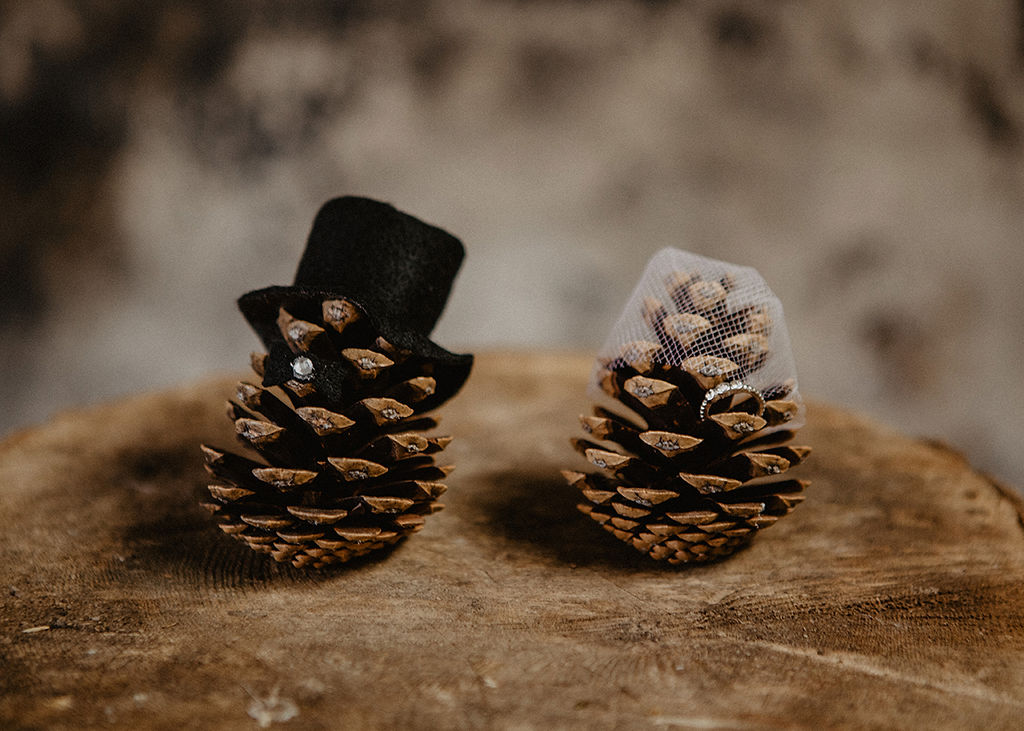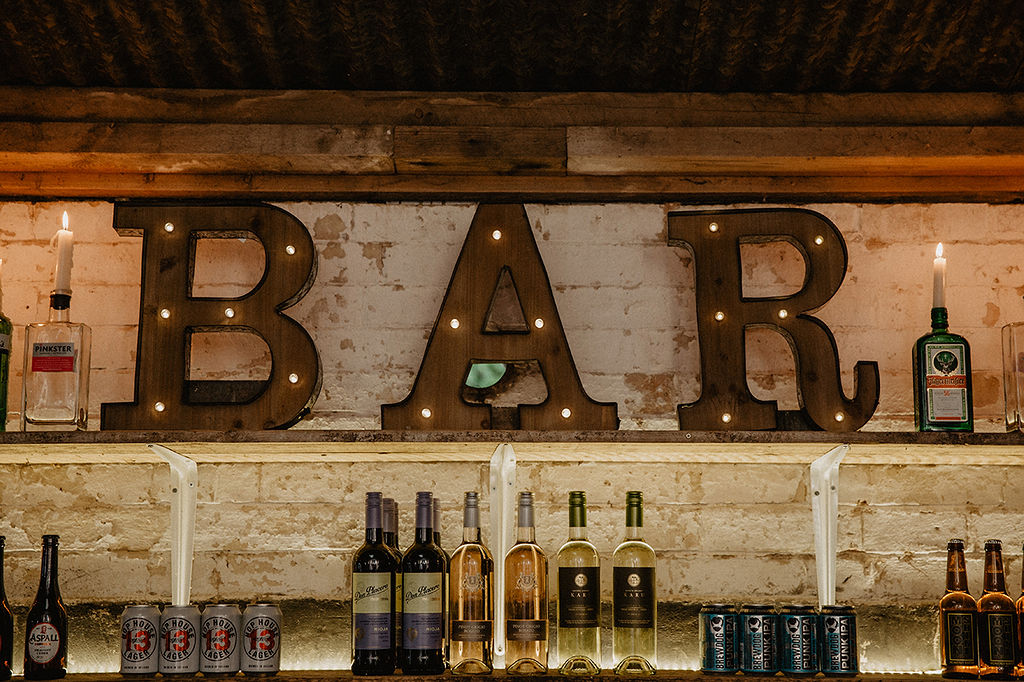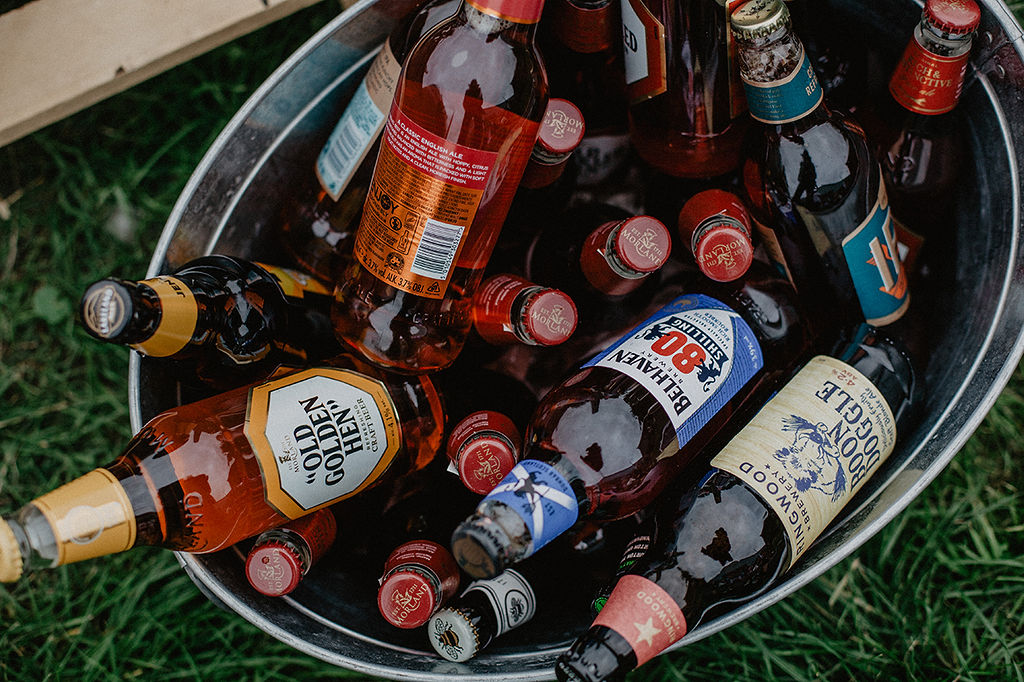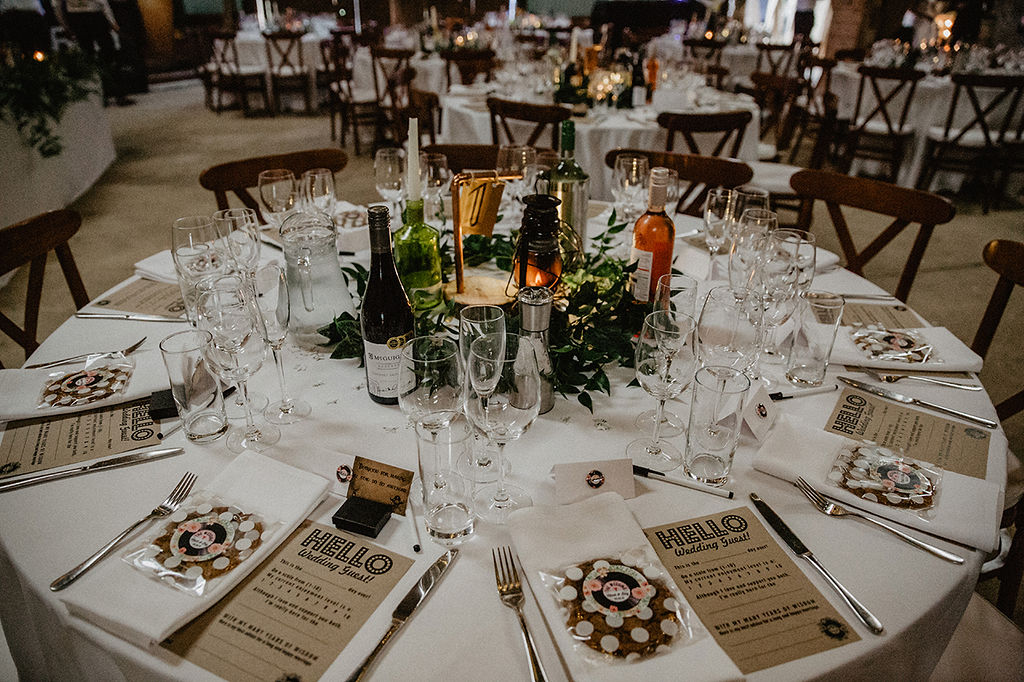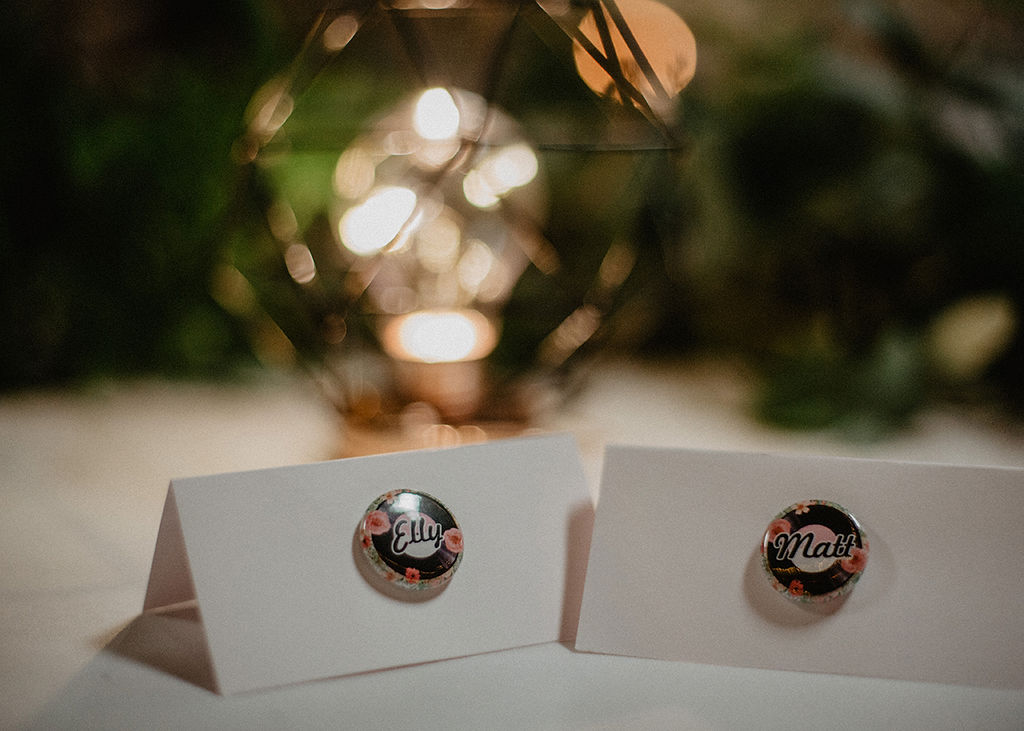 The Best Part Of The Day
"It was walking down the aisle for me as I had chosen an acoustic version of the song by 80's band Erasure called 'Always' that I have always (ha!) loved. I made Matt edit the song to the perfect amount of time so that it would sync up with how long we needed to walk down the aisle. I needn't have bothered as he had already booked a full blown Gospel Choir to sing me down the aisle! I was totally blown away when I saw them singing and let out an 'OMG' as I walked towards Matt. I didn't plan on crying but I couldn't stop at one point! Matt said his favourite part was his speech. Mainly because he could rip it out of me and finally share with everyone my super power, my ability to nap anywhere and everywhere! It really was a funny speech and he delivered it so well."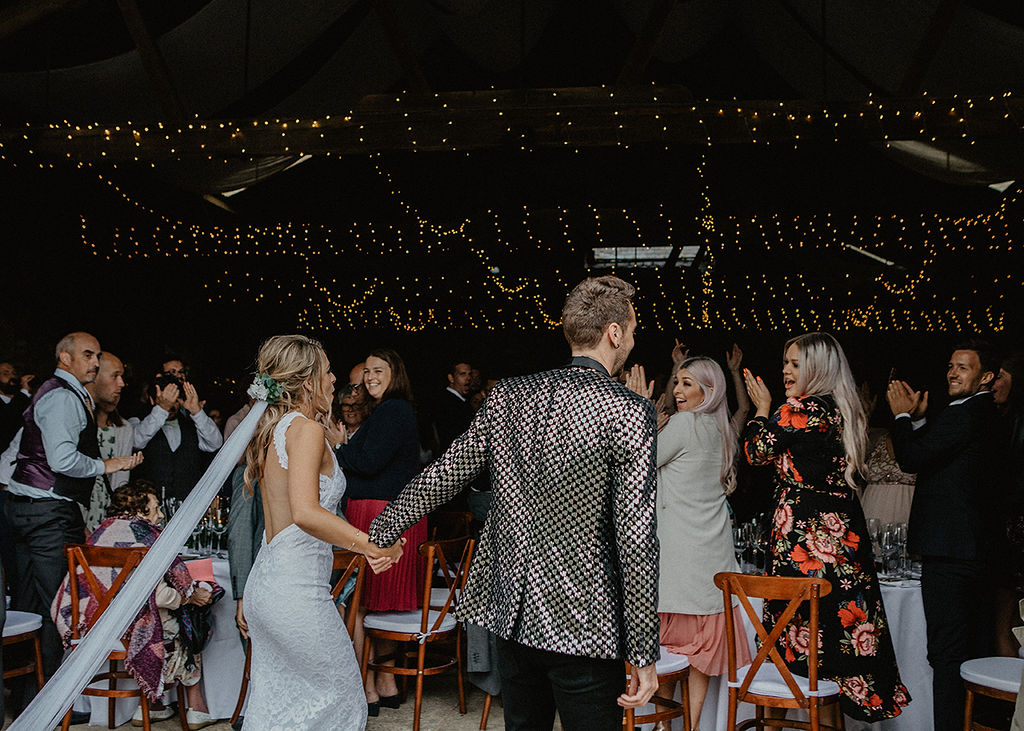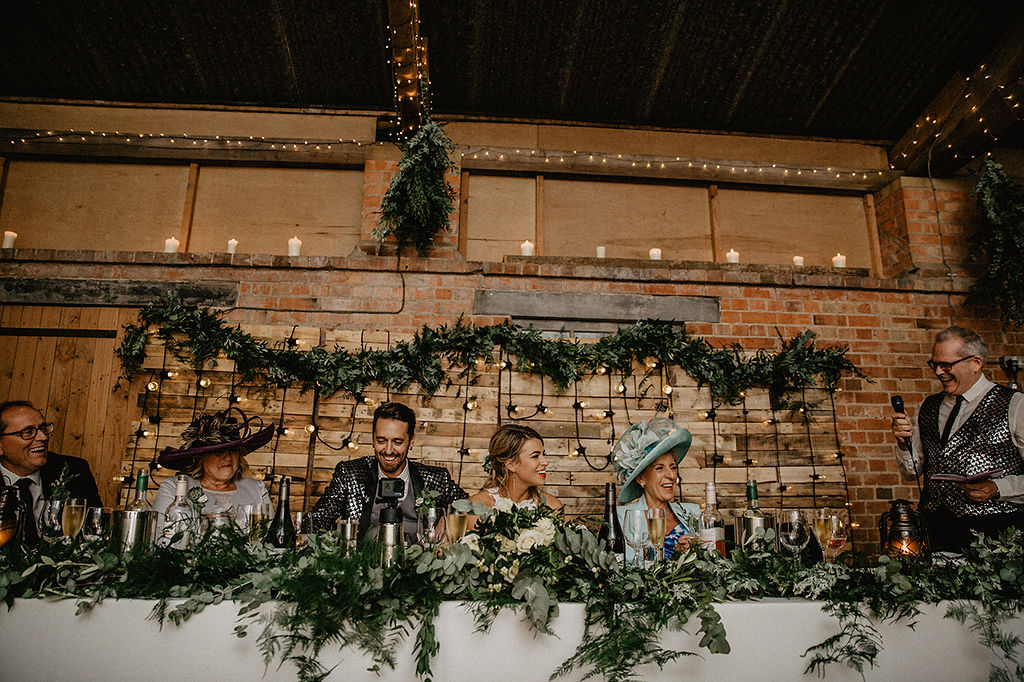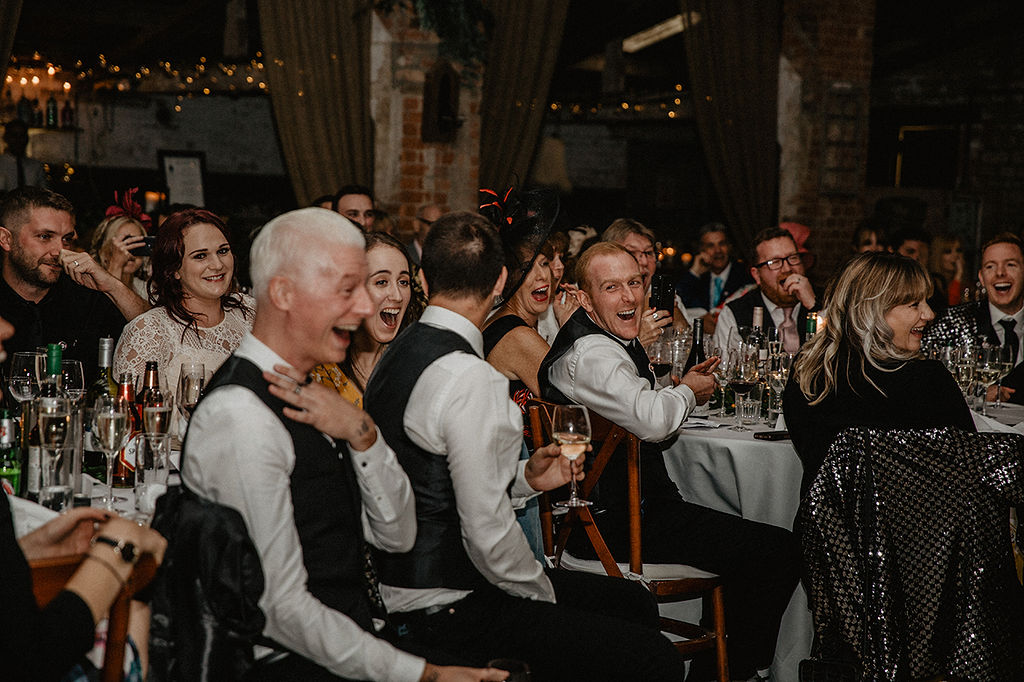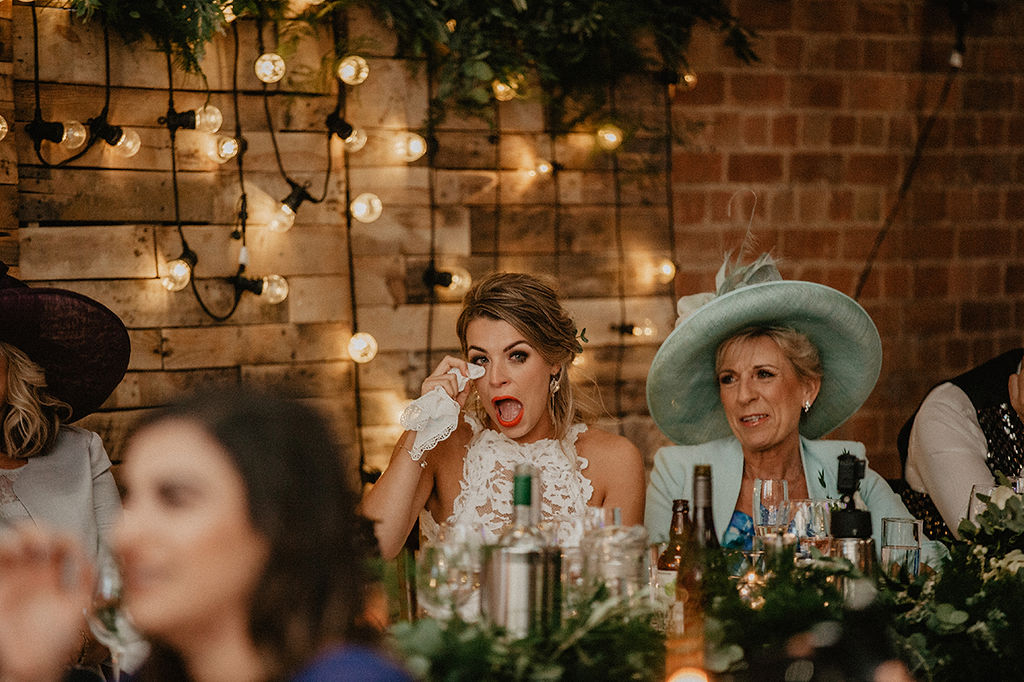 Words of Wisdom
"I think you really have to include everything that is special to you and try to put your own stamp on the day. Try not to go along with traditions just for the sake of it or because it is 'trendy'. Be unique and think of the flow of the whole day, I didn't want any guests to be bored so ensured there was some sort of entertainment or focus at each part of the day to avoid lulls. Don't waste too much money on things that no one pays any attention to and focus on food, entertainment and music. As long as people are fed and have a drink in their hand they will be happy!"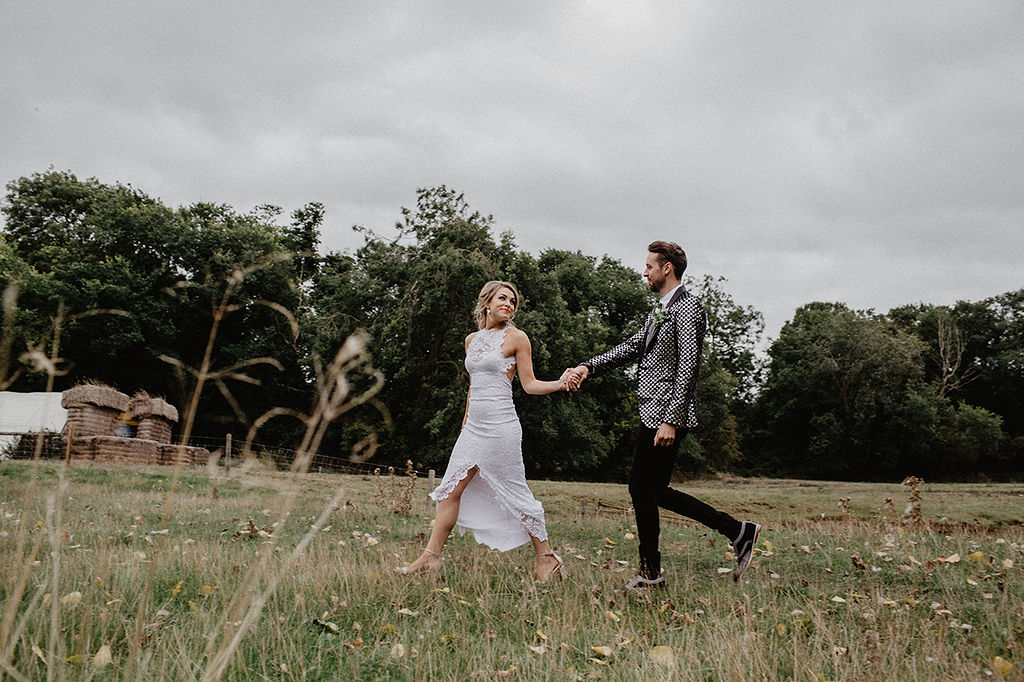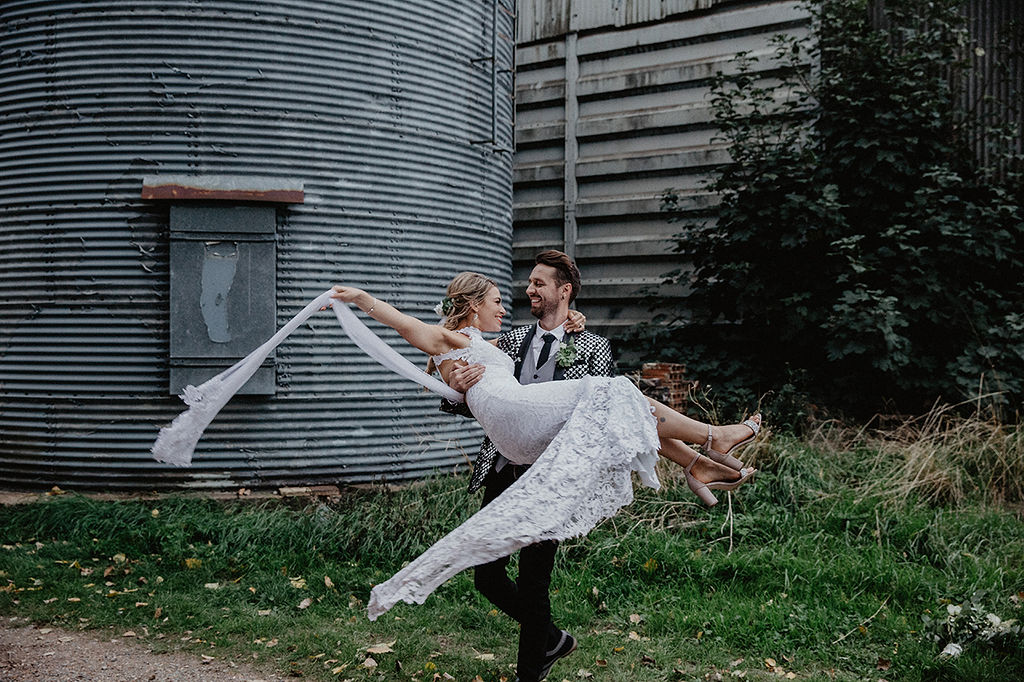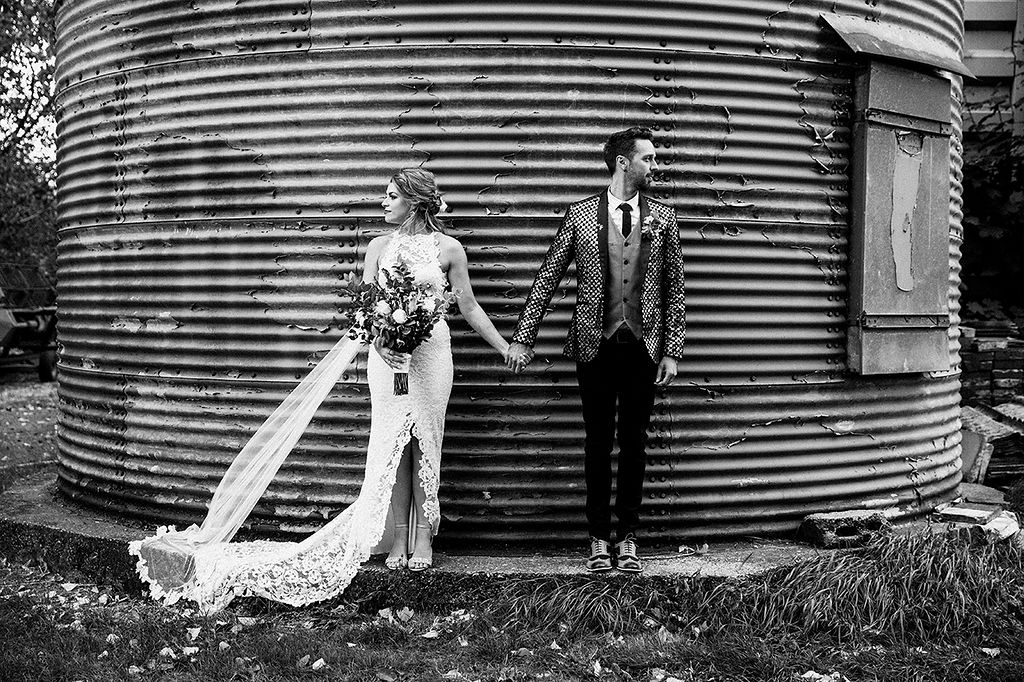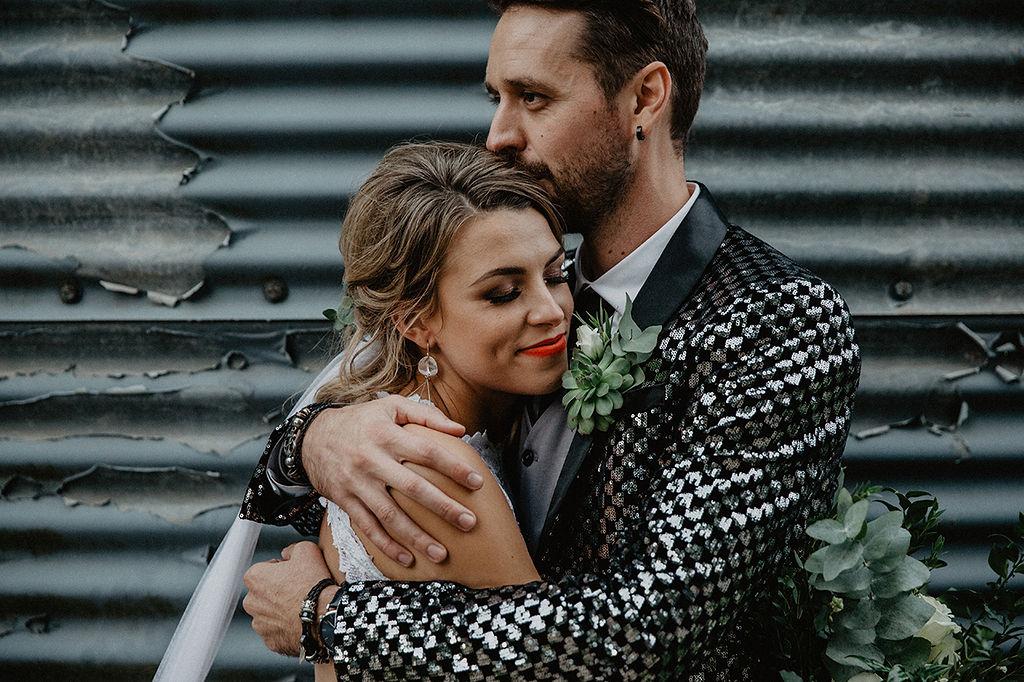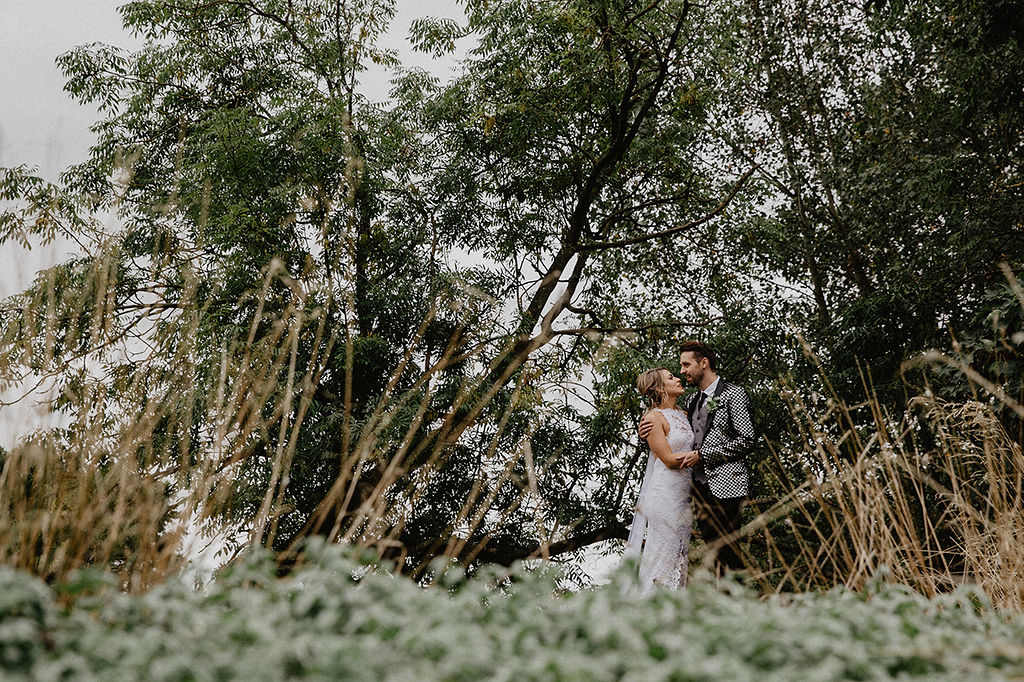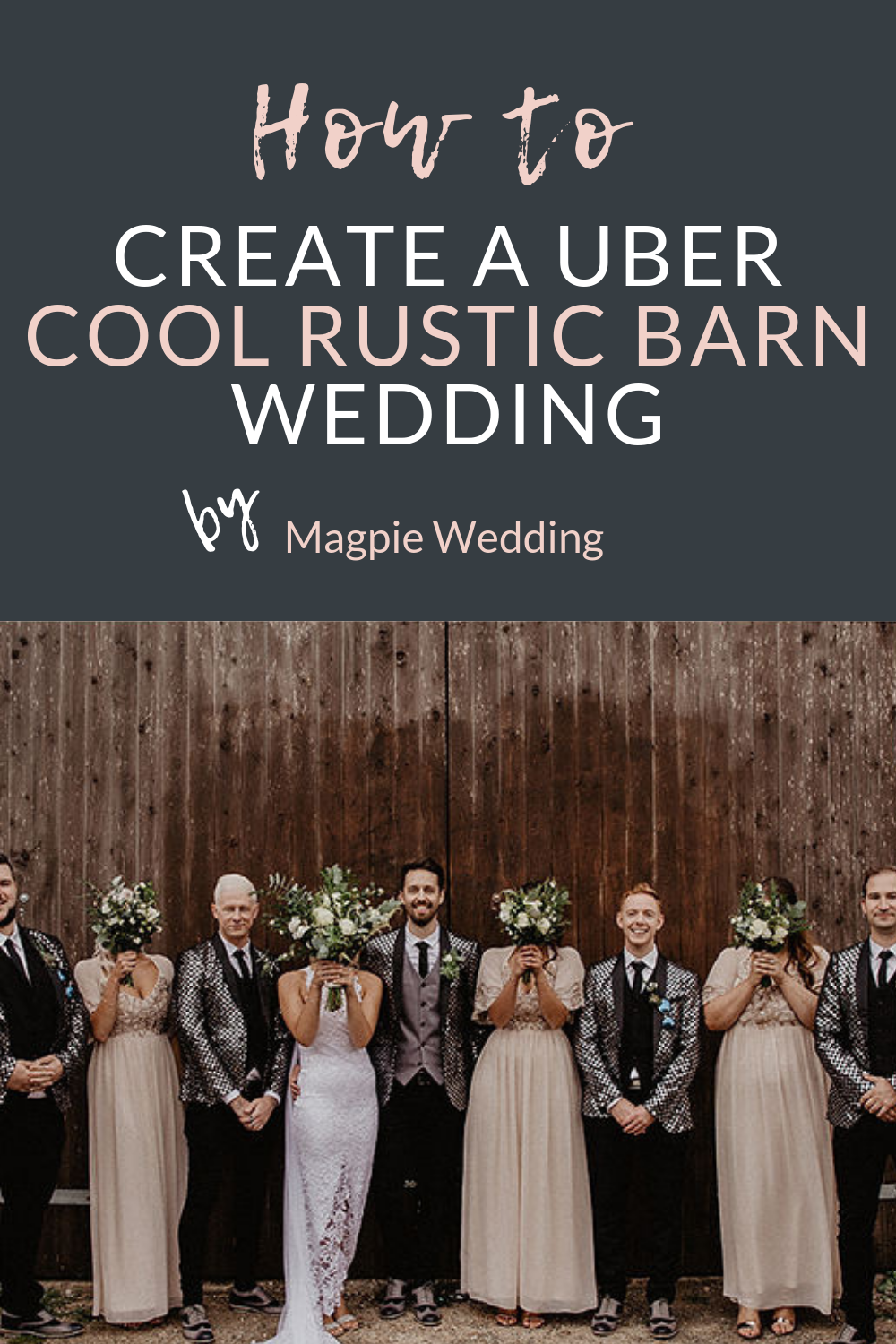 The Suppliers – Rustic Barn Wedding with Disco Suits and Cool Urban Vibes
Dress – Grace Loves Lace @grace_loves_lace
@styleasyouwish1
Make up/Hair – Elly Jayne Make-Up @ellyjaynemakeup
Hair – Chelsea at the Parlour @theparlourcambridge
Grooms suit – ASOS
Bridesmaid dresses – Boohoo
Venue – Kings Thorpe Lodge Barn @kingsthorpelodgebarn
Stylists – Hall and Co Event Design @hallandcoeventdesign
Photographer – Nicki Shea Photography
Caterers/Bars – Hall and Co Events
Eve Bar – La Raza @larazacambridge
Transport – Taxi Man
Band – Swagger @swaggerfunctionband
Band – Doo Wop Band
Choir – Gospel Choir
Celebrant: White Rose Ceremony
Cakes – George's Bakery
Looking for more wedding inspiration? Check out our online magazine BOND BRIDE