I was really excited when this vintage wedding dropped into my inbox. Firstly because the detailing is lovely, but mostly because this bride came to our event last October in Stoke Newington, London. What is more she commissioned her bouquet from our exhibitor Origami Boutique and bought her headpiece from Days of Grace. So a lovely wedding, with inspiration from our fair. Yay! What's not to love?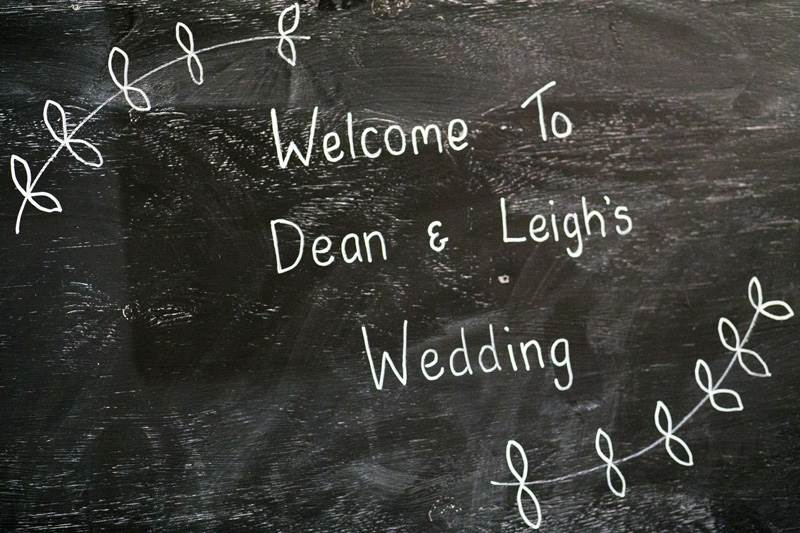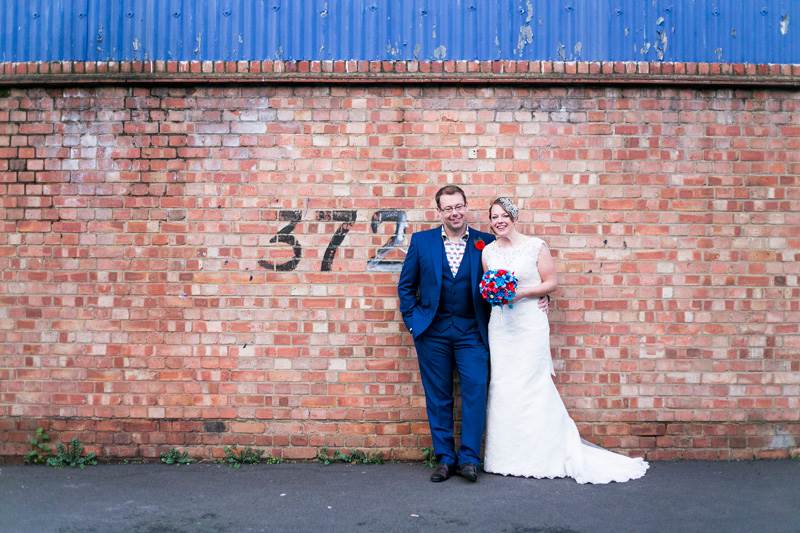 We caught up with the bride, Leigh to find out more about her inspiration for her big day.
"From the moment I got engaged to Dean my Twitter feed filled up with wedding bloggers and suppliers; petrified of missing out on the one great idea that would make our wedding unique and memorable. I'd spend hours every day reading real-life wedding stories to get ideas for my own wedding (sorry boss!). A bit of research, a look at the budget and a quick discussion with the groom (one of the few times he was consulted on matters of our wedding day) and we quickly established that we wanted a fun, informal wedding in London, with the groom's only other stipulation being a live band.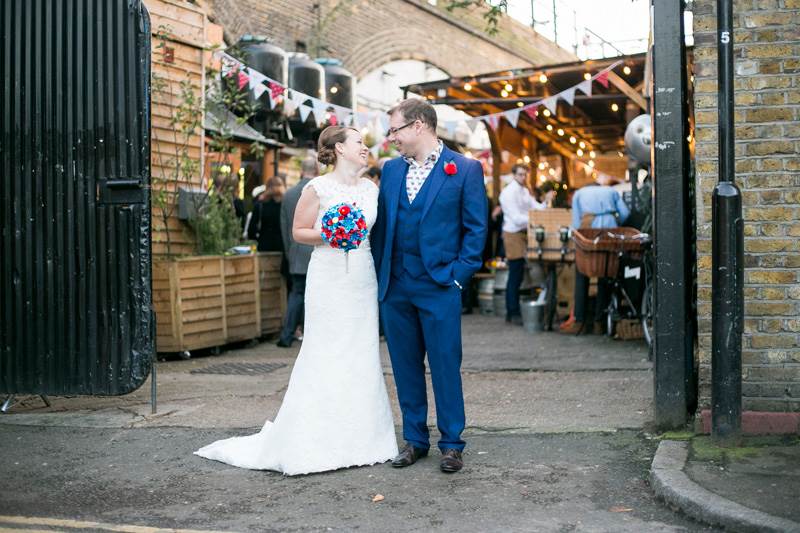 Much venue searching-angst later and we found a brewery that we thought perfect for the festival feel we were looking for. After that, the wedding blogs I followed provided masses of inspiration via real-life wedding stories with brilliant DIY decoration ideas (I spent a lot of money on glue guns and bunting fabric) and other unusual elements for our day.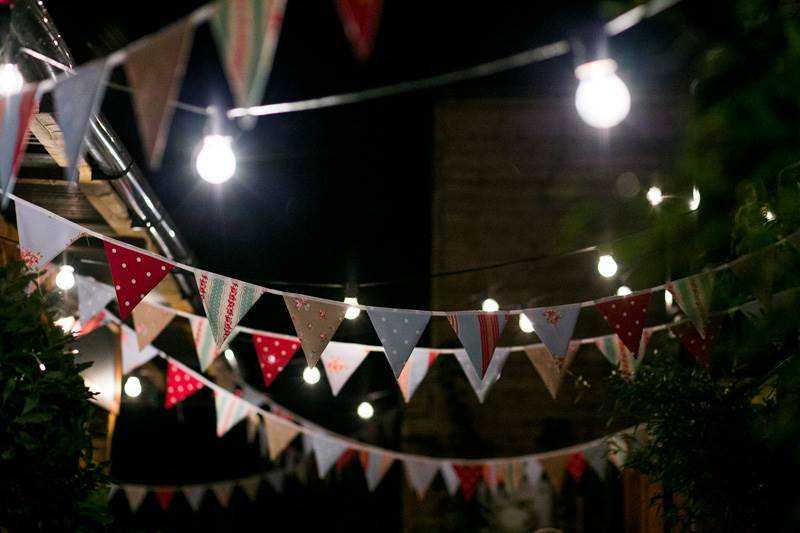 In the six months we spent planning our wedding, I visited a number of wedding fairs but found them completely uninspiring; everything I saw at these fairs felt at complete odds with the wedding I was trying to create, very formal and traditional and not at all suited to a wedding in a brewery. Then during my many hours on Twitter I came across the National Vintage Wedding Fair. This felt far more like what I was looking for, with small, unique suppliers and unusual elements that would add something special to our wedding day. A mere six weeks before my wedding I attended their first Stoke Newington fair, hoping for some last minute inspiration, and despite the fact that I had most things booked and my to-do list was rapidly declining, there was still plenty there to inspire me. I spoke to lots of interesting suppliers who were genuinely passionate about weddings and their products, found a gorgeous vintage headpiece from Days of Grace, and met Cathy from The Origami Boutique.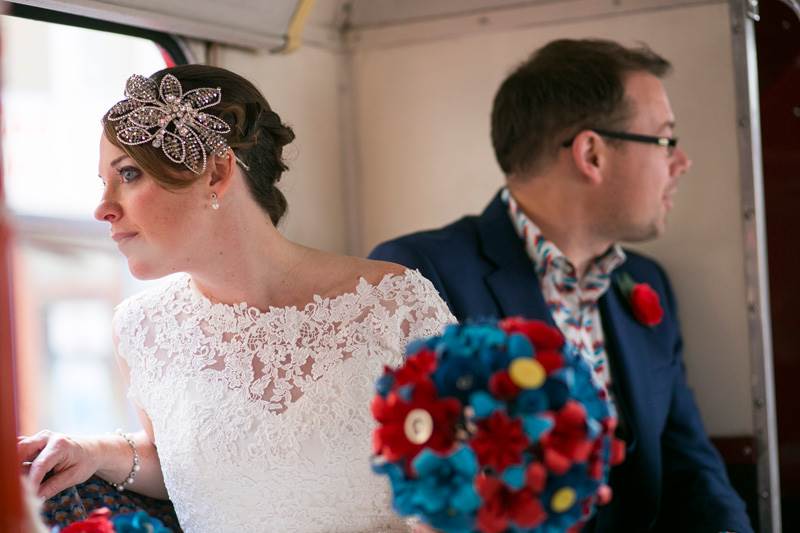 I was absolutely bowled over by her origami bouquets. What a unique idea? It would add instant wow factor, allowed me to match my flowers to our wedding colours (I wanted blue in my flowers but that wasn't going to be possible in November with fresh flowers), I could have my bouquet delivered well in advance of the wedding and as an added bonus it is still looking fabulous months after my wedding.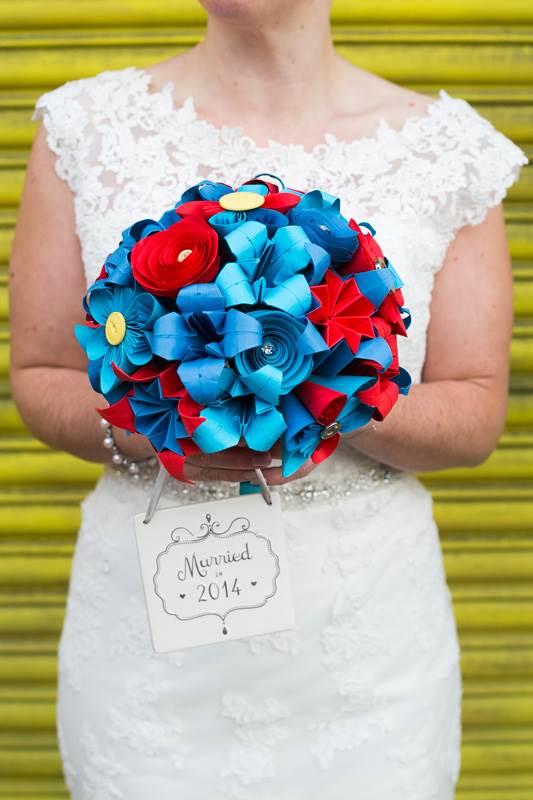 Cathy was a joy to work with and I fell in love with my bouquet so much that I ordered additional bouquets for my bridesmaids and flower girls, buttonholes for the gents and beautiful origami brooches for the Mums. I kept Cathy very busy in the last few weeks before my wedding as I kept extending my order piece by piece yet she kept up with my increasing demands and delivered everything in plenty of time before my wedding day.
Our whole day was fabulous. We incorporated our own vows into our Islington Town Hall ceremony and had a friend play acoustic guitar. We surprised our guests with a Routemaster bus trip across London to our reception where they were greeted on arrival by the Travelling Gin Company boys who served up delicious gin cocktails to our guests. The London Fields Brewery beers went down very well, as did their fantastic food and the amazing cheese wedding cake they put together for us. Kalopsia's quirky coffee van served up after-dinner coffee to our guests, Vowed and Amazed lit up our dance floor with giant lights, and our wedding band, The Hoops, had everyone (and I mean everyone) dancing. Not forgetting about our photographer Peter Buncombe who captured all these memories wonderfully.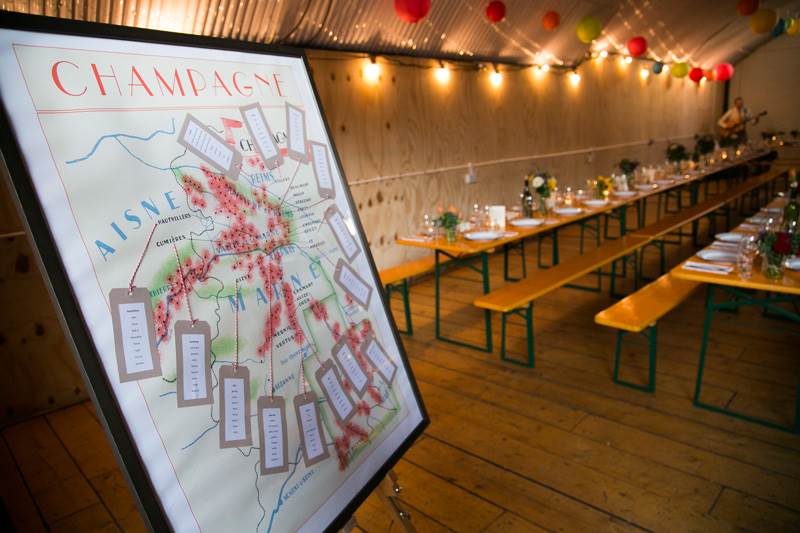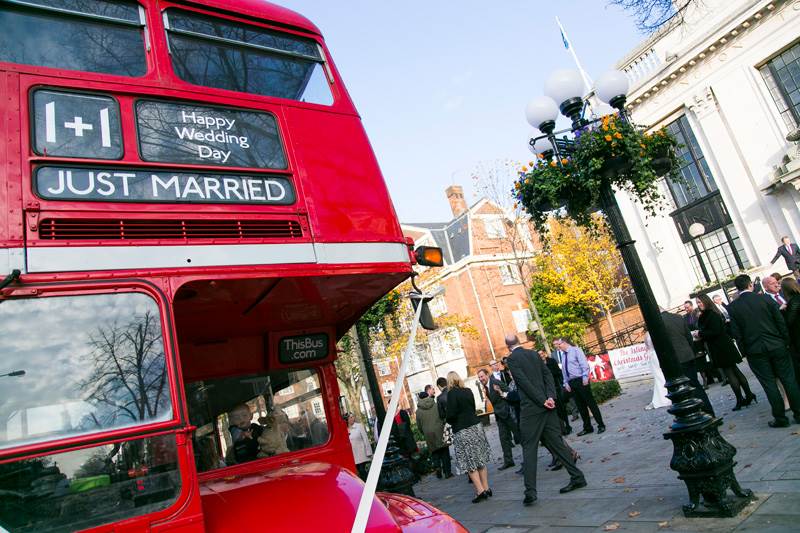 And what did everyone talk about? Well, apart from how much their feet ached from dancing all night, my wonderful headpiece and my incredible bouquet were most definitely the talk of the wedding. It just goes to show how a few original touches can have a huge impact and make your wedding day a truly memorable experience for your guests. Oh, and the headpiece and bouquet looked fab for the photos as well.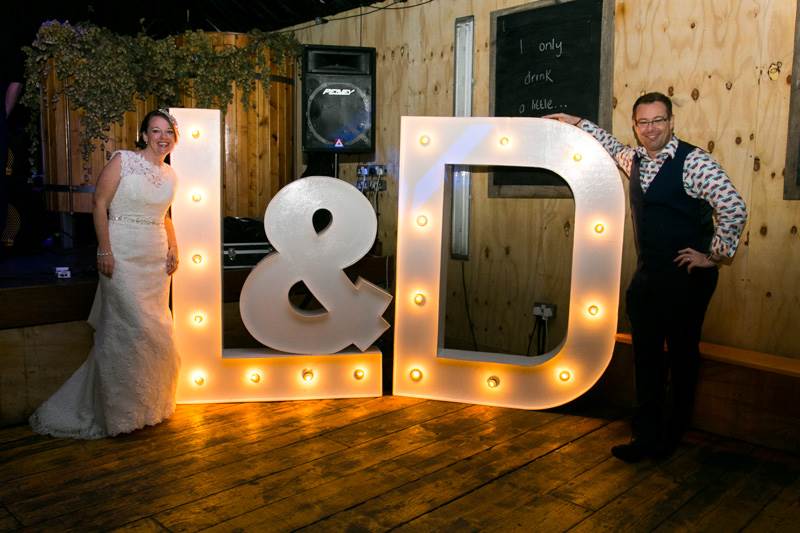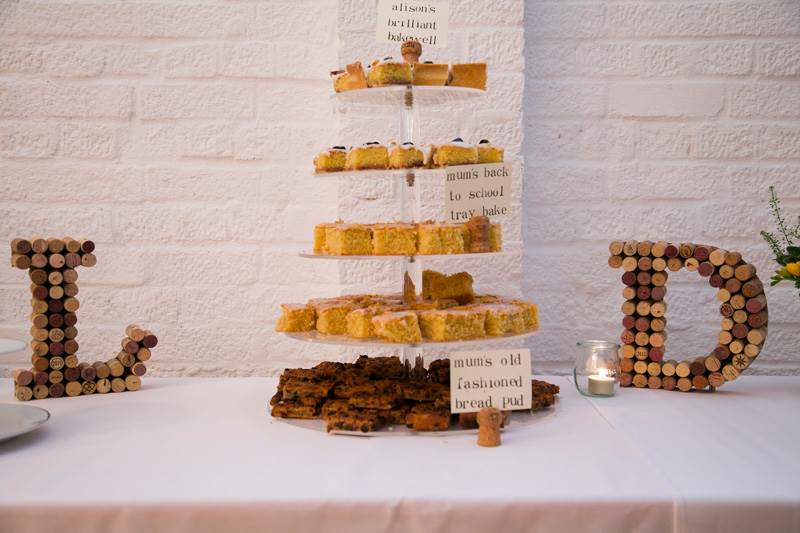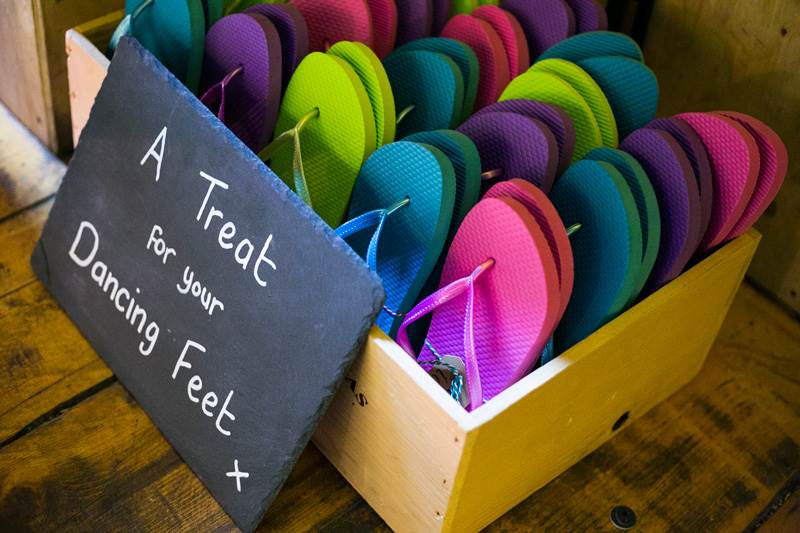 My advice to other brides planning their wedding now?
Read other people's true life wedding stories, I think that's where I got all my good ideas from;
Bigger is not better when it comes to fairs and suppliers, you'll get better service and more originality from smaller companies and individuals than you will from the big boys;
Look for venues and suppliers that are not wedding specific. You'll get a better deal and a more original wedding. Our venue didn't charge us extra because we mentioned the W word and they also couldn't have been more accommodating or excited by our ideas and plans for the day.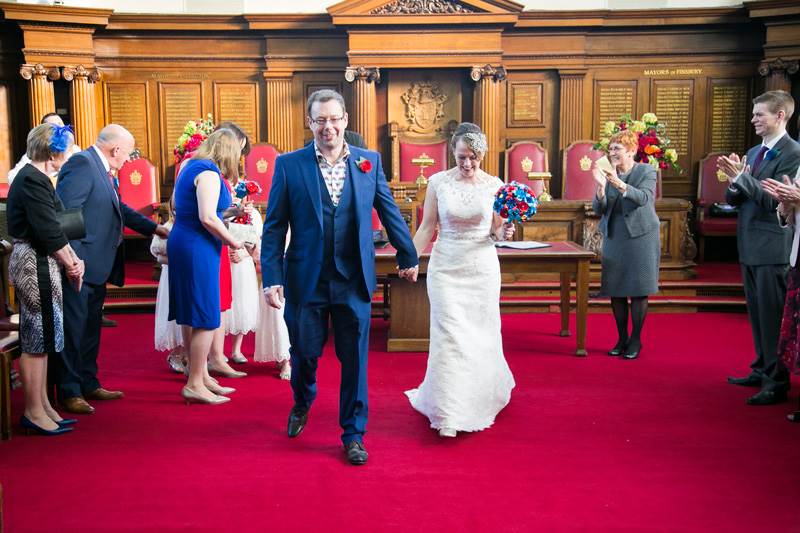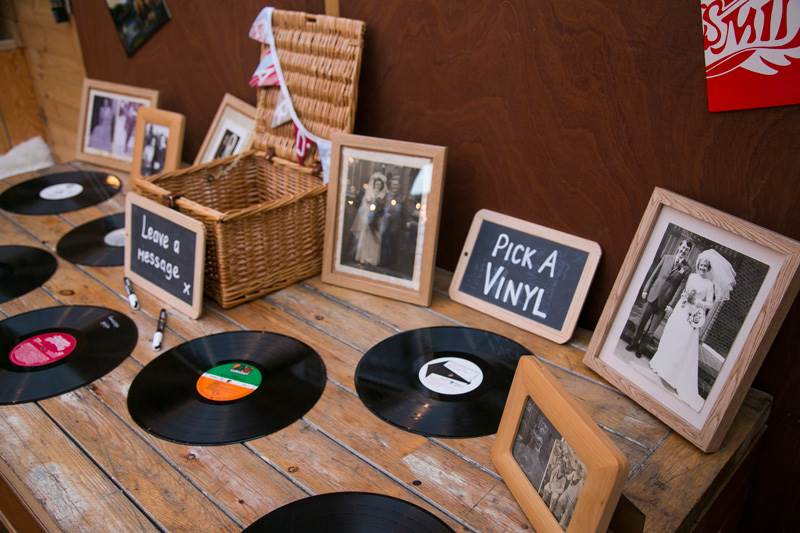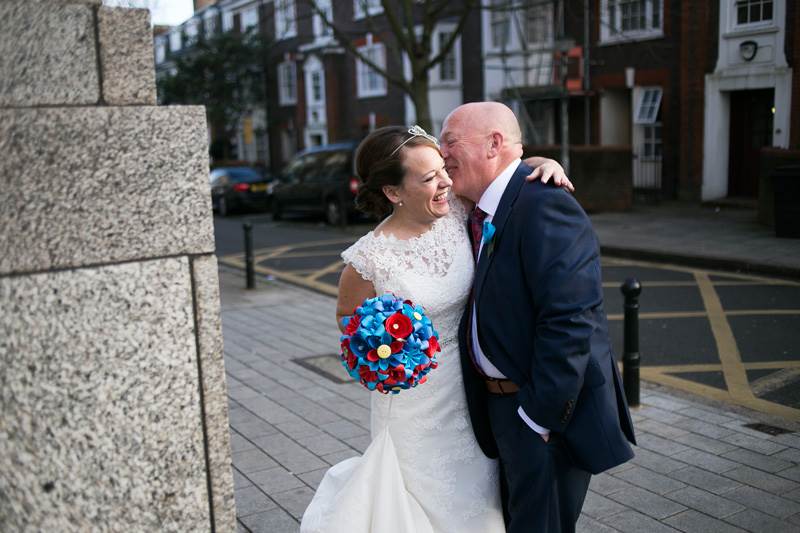 Invest in one or two interesting and unique elements to your day that will wow your guests and keep them entertained. You'll have your guests marvelling at your wedding and talking about it for months afterwards."
This is such an amazing endorsement for our fairs! Congratulations to the both of you and thank you for sending in your photos. And a huge WELL DONE to Origami Boutique and Days of Grace for making a bride and happy bride.
We are returning to Stoke Newington on March 22nd 2015 at the Town Hall. If you have bought anything or been inspired by our fairs and blog, please let us know. We would love to feature your wedding!
All images by Peter Buncombe