On the blog today a retro London wedding that is full of fun, eclectic styling and disco vibes, it portrays the couples personalities and love of music down to perfection and shows that you really can mix different styles and vibes together to create a wedding that is just perfect for the two of you!
We catch up with Laura, who tells us all about their first meeting (she was working as a waitress in a cocktail bar… love!) and how they created their perfect retro London wedding with eclectic styling and disco vibes…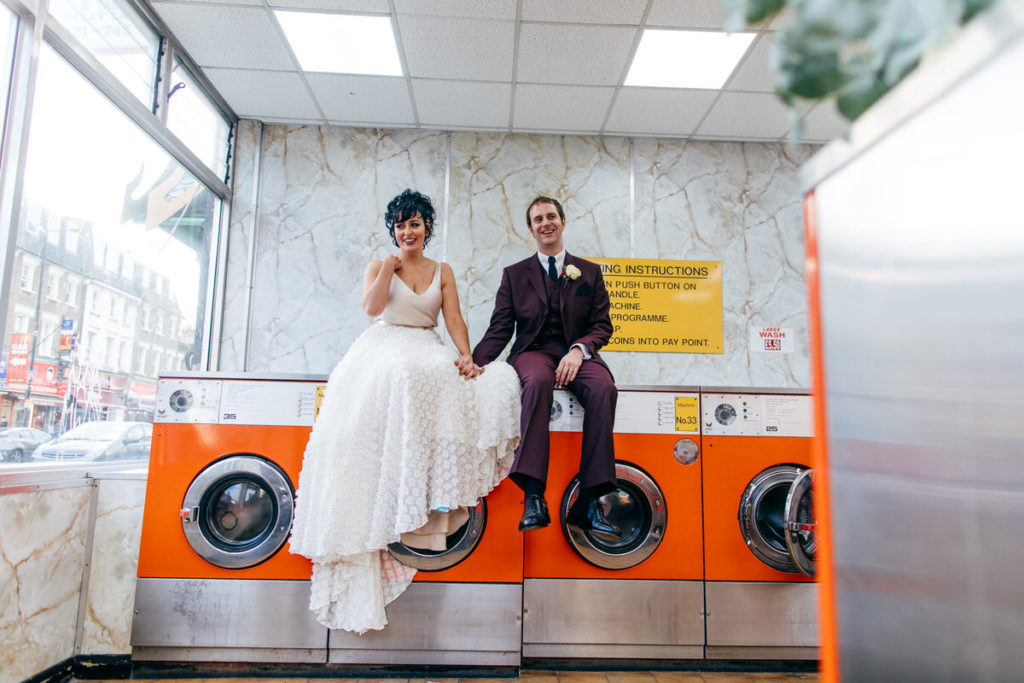 How did you and Lewis meet?
"I was working as a waitress in a cocktail bar (true story) and he let's say didn't exactly charm me straight away!! We were together for five years and went to Cologne, Germany for NYE where he proposed just after midnight. Totally cheesy and not when he had planned to do it but apparently I kept blowing his attempts to do it sooner in the trip and that was actually the last point he could!! However, it was obviously wonderful! We then got married just under two years later. We needed a while….weddings take a while to save for!"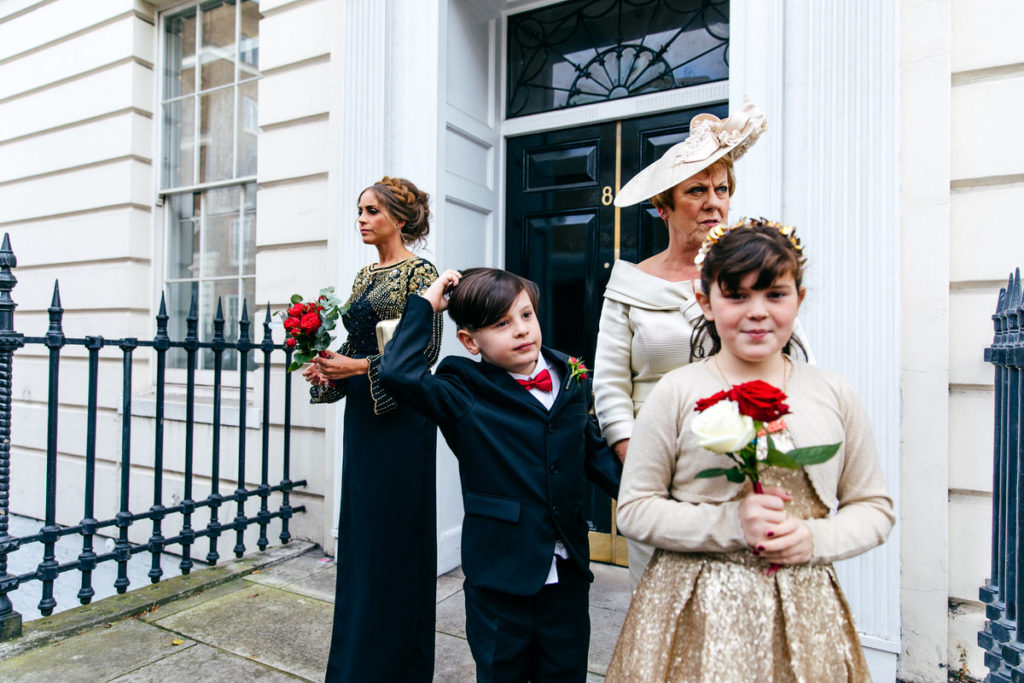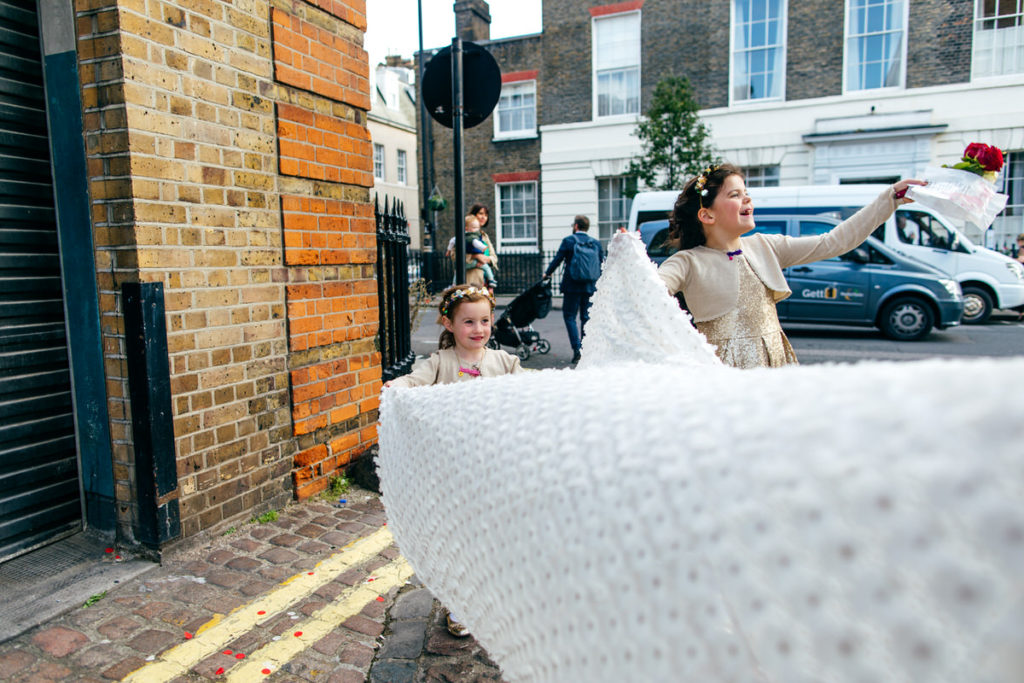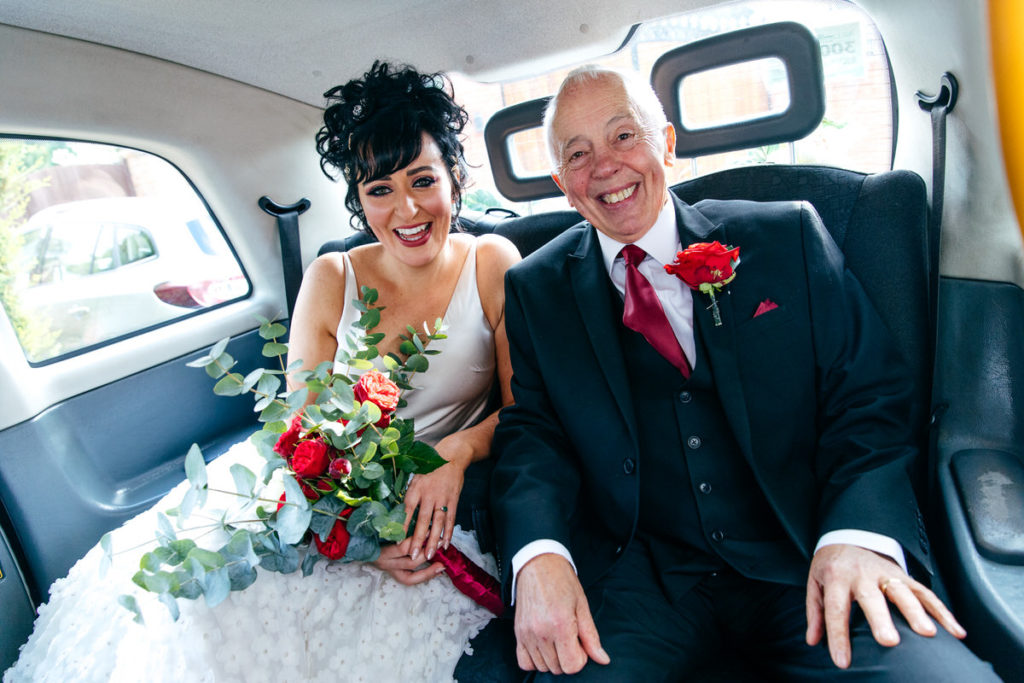 Planning the Wedding
"Our wedding theme was all about our love for music. We wanted to ensure our wedding had a party vibe and was fun for everyone! We are big music lovers, with eclectic tastes and this was one of the things that made us click when we first met. We wanted incorporate that into our day so having a live music venue for out reception venue felt perfect for us! We loved everything about Bush Hall – the old ceilings, the chandeliers, the pictures of all the artists that had played there – it's full of character"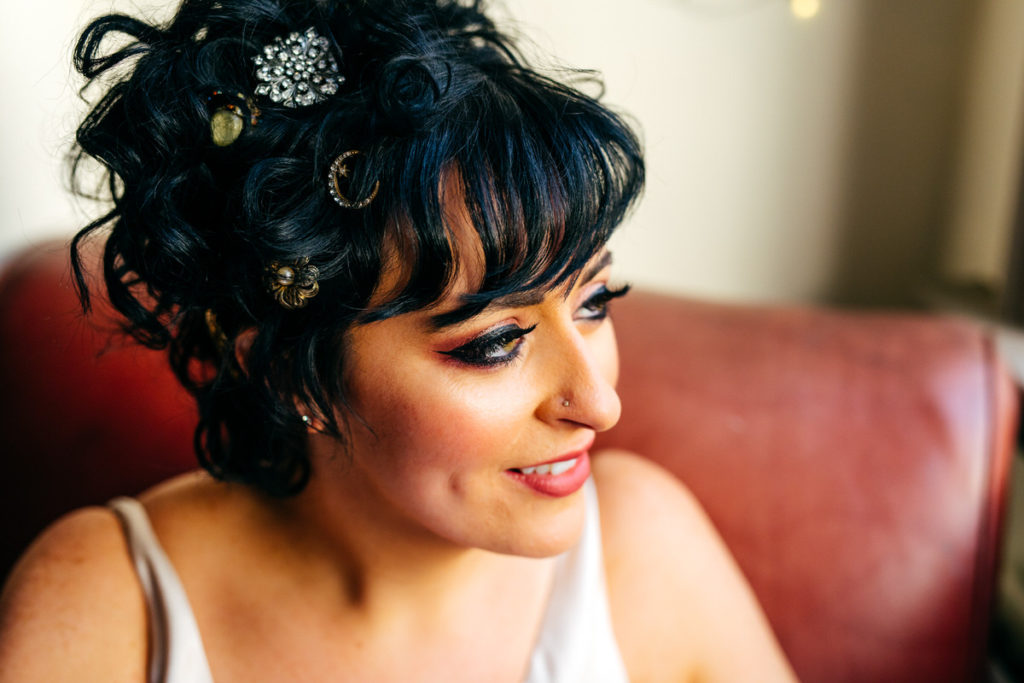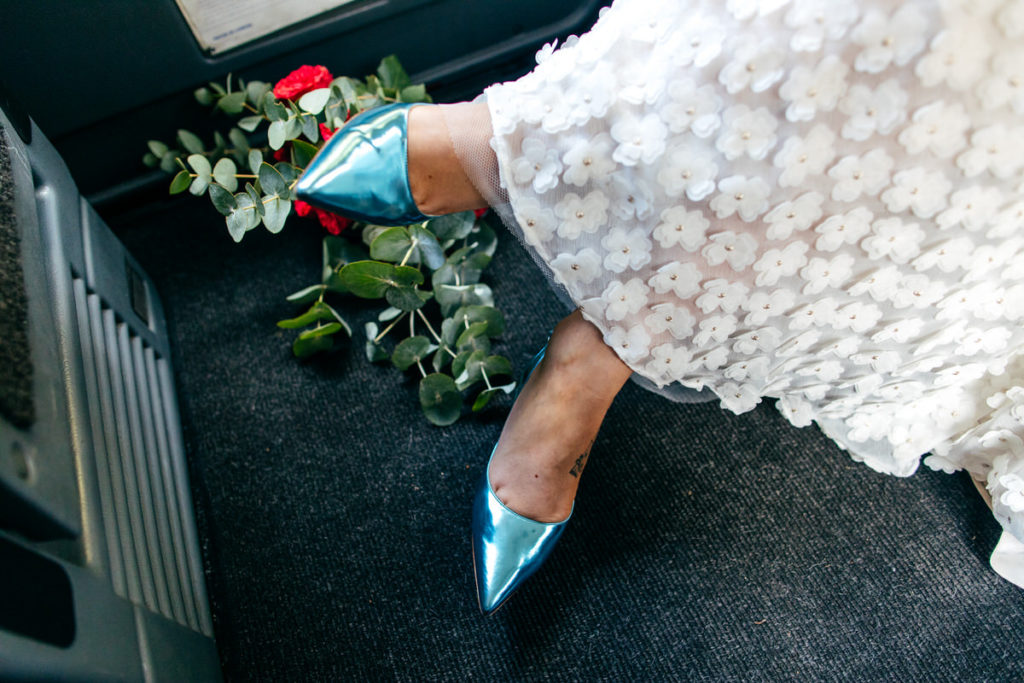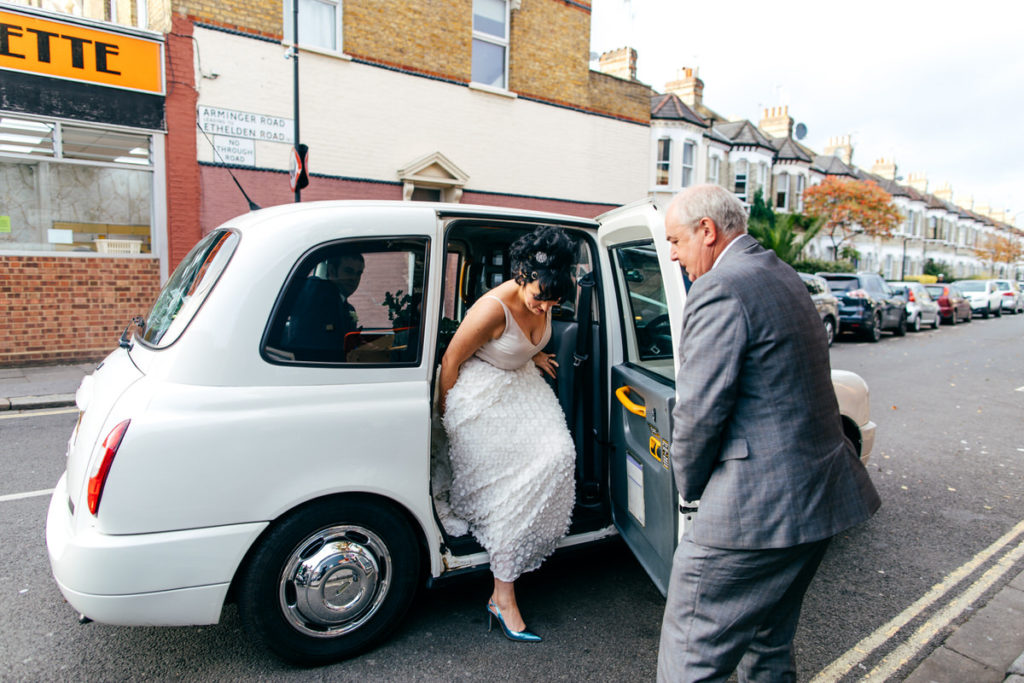 "Anything that made the wedding unique – Probably that we didn't use a typical wedding venue and chose a music venue foe the reception."
"Anything about arranging a wedding you wished you had known before – Having worked for many brides as a makeup artists, I was fortunate enough to have the foresight in knowing what can go wrong, dramas etc. However, I don't think you can ever be prepared for some surprising mishaps / opinions of others when organising your wedding! Expect the unexpected and take it all in your stride!"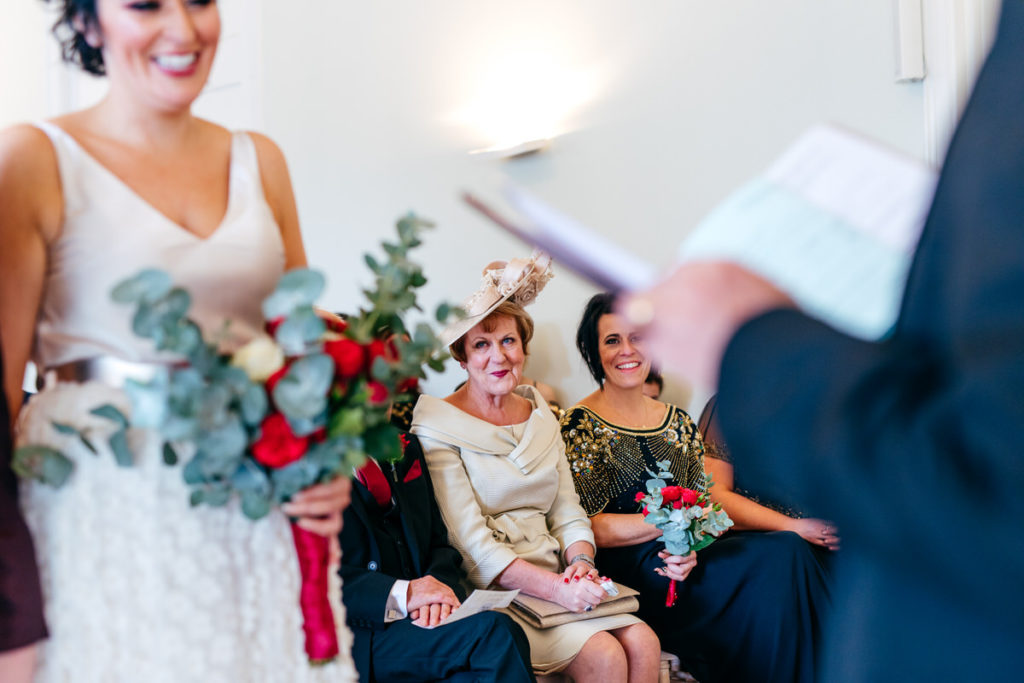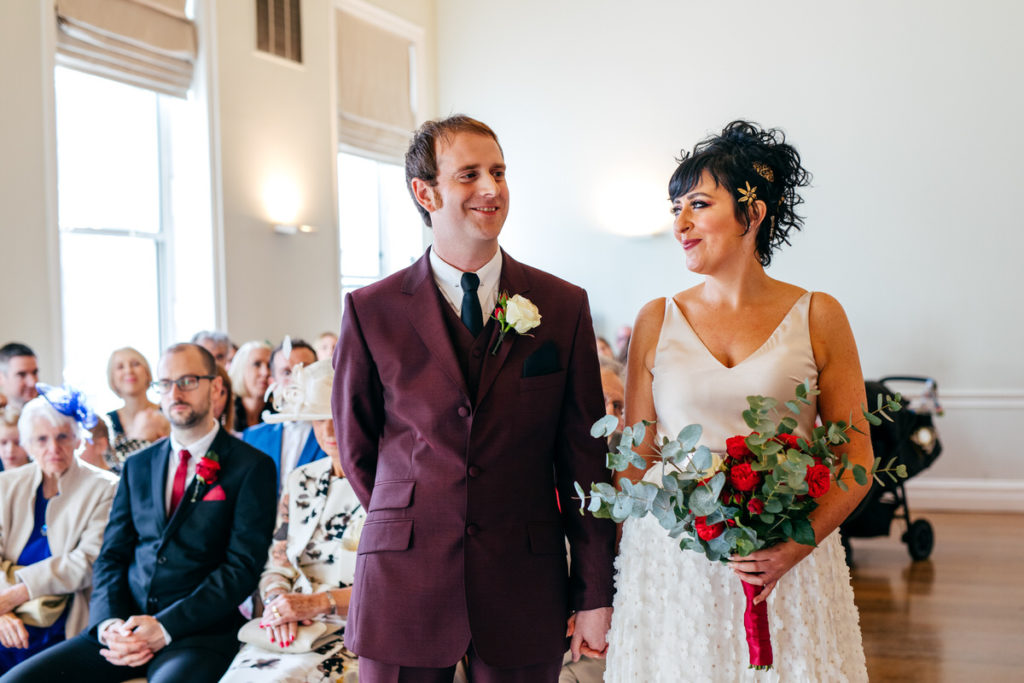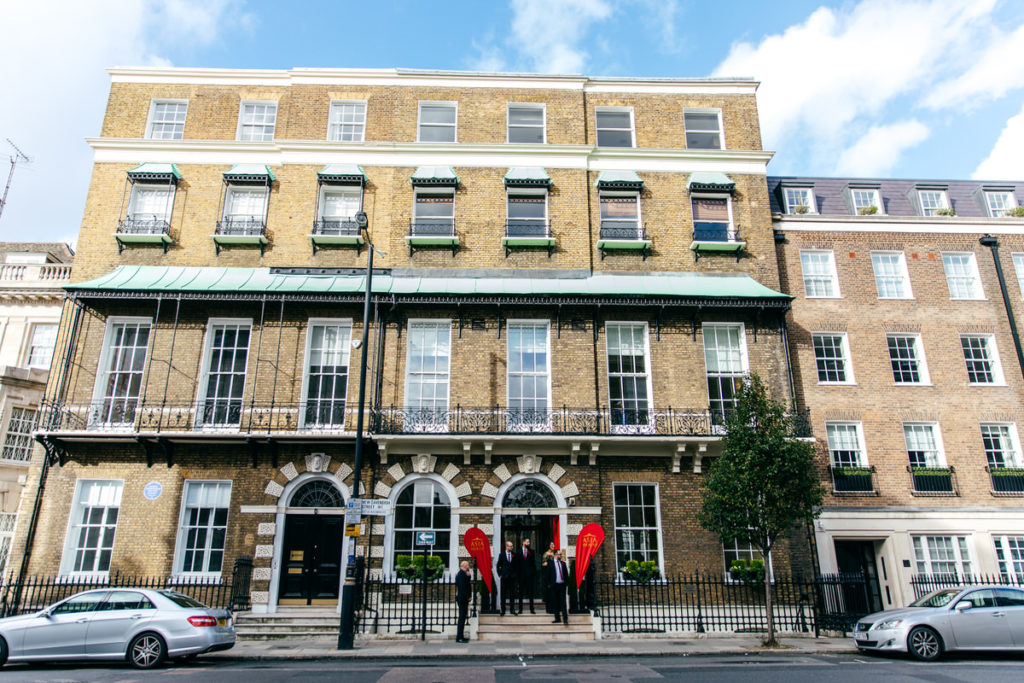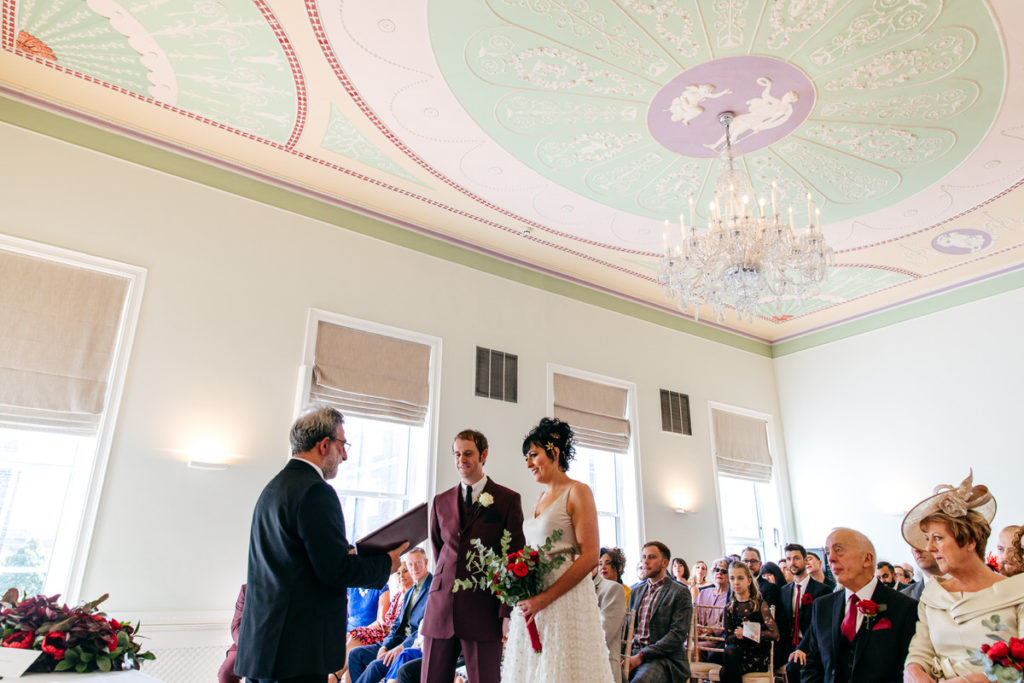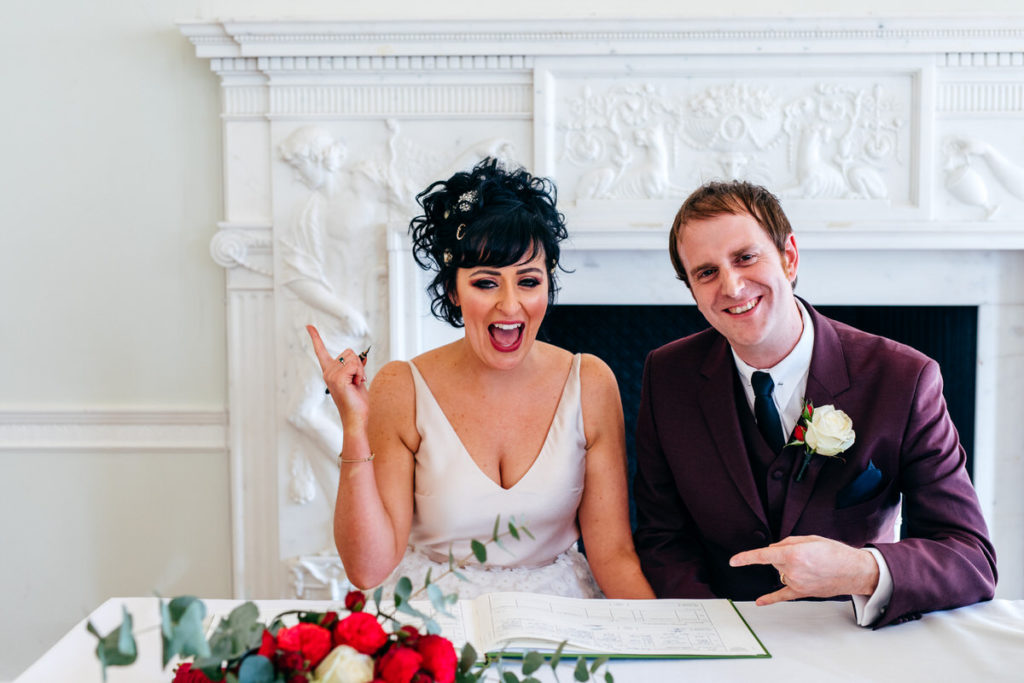 "Besides the actual venue, our biggest expense was our photographer. We both felt like this was super important to get right, as the photos are there forever. We also wanted to ensure that our personalities were captured, the fun of the day, not too formal and full of colour. Jordanna delivered all of this and more! We couldn't have put a price on how good she captured our memories of that day! We love our photos and will cherish them forever."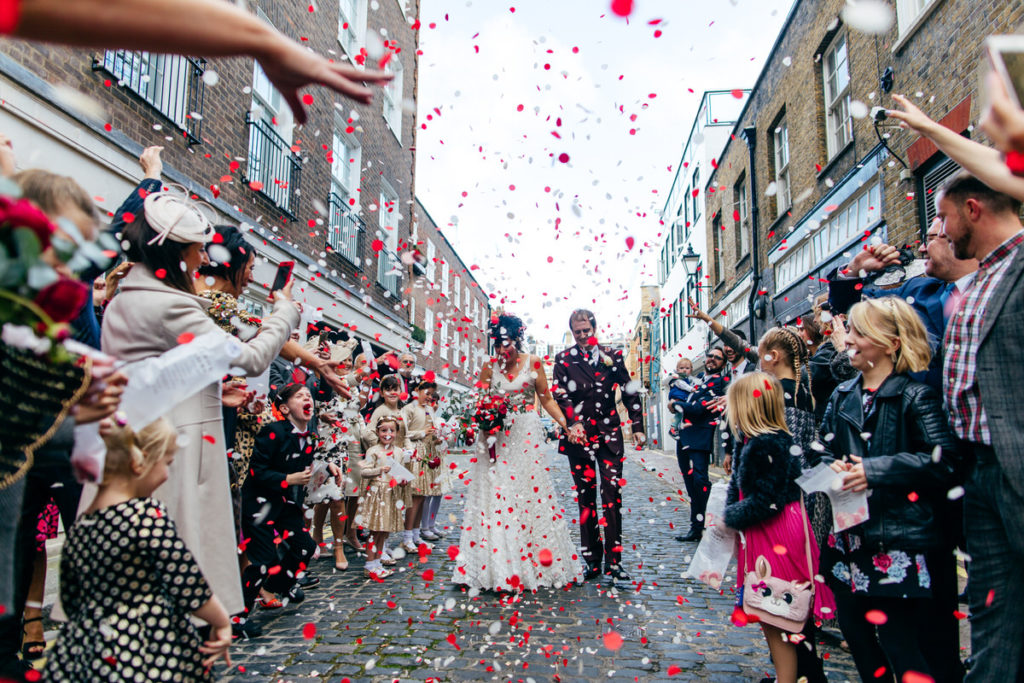 "The biggest thing we saved money on was the flowers by doing them ourselves. It was fun to do and I don't think we could have afforded the amount of red roses we had from a florist. We did a test run first by visiting New Covent Garden Flower market and brought a batch to work with. We chatted to a trader, who helped us understand what would and wouldn't be available for the time of year we needed them. This helped us finalise what flowers to get for the day, prices etc."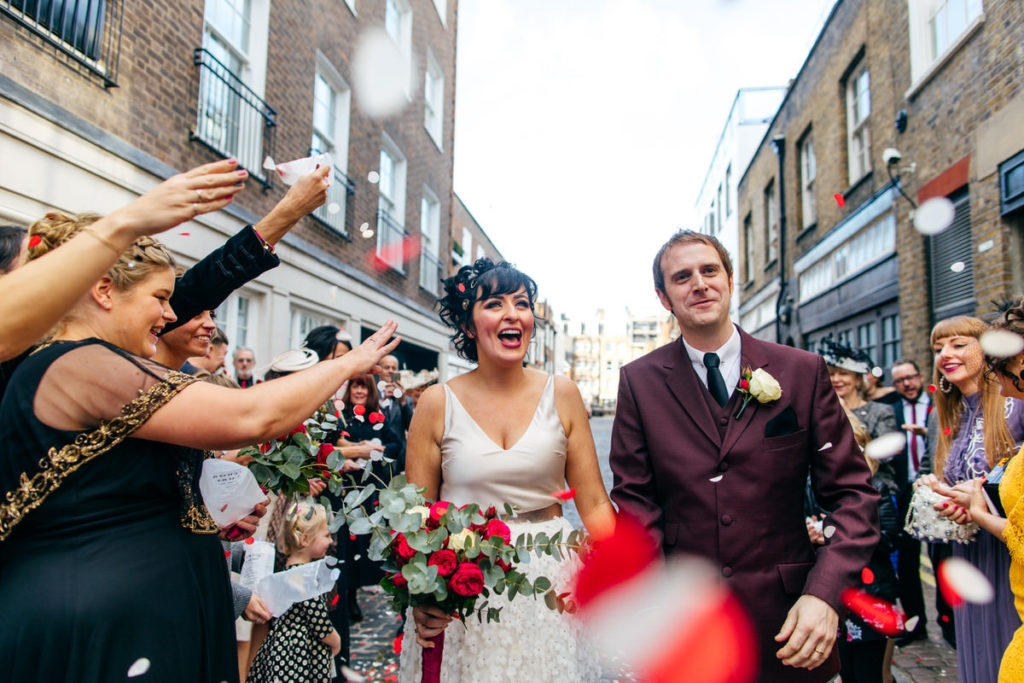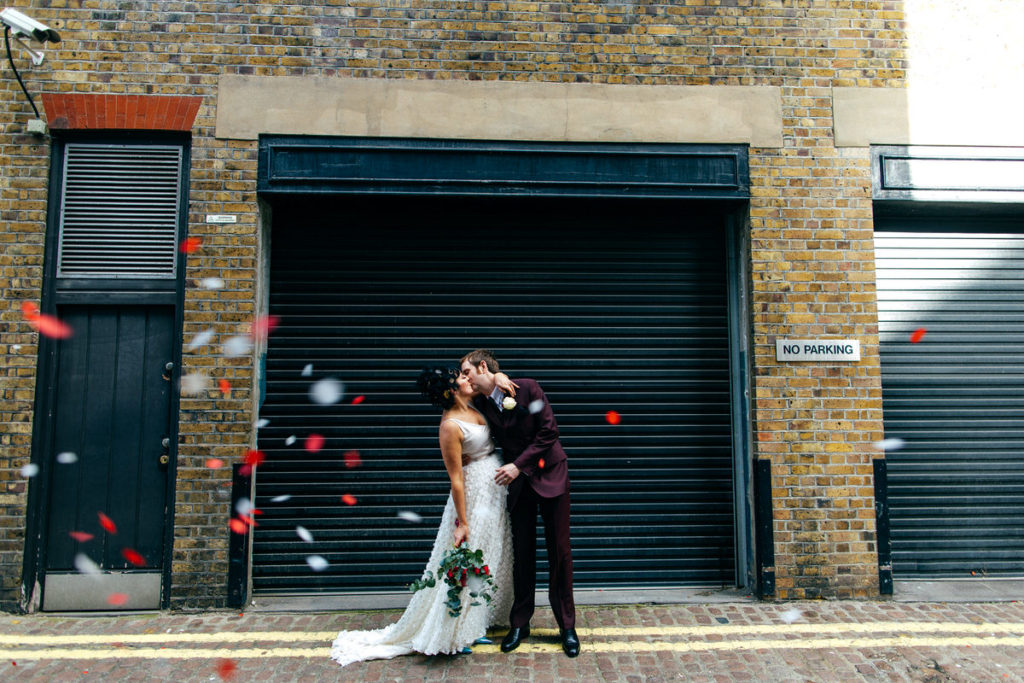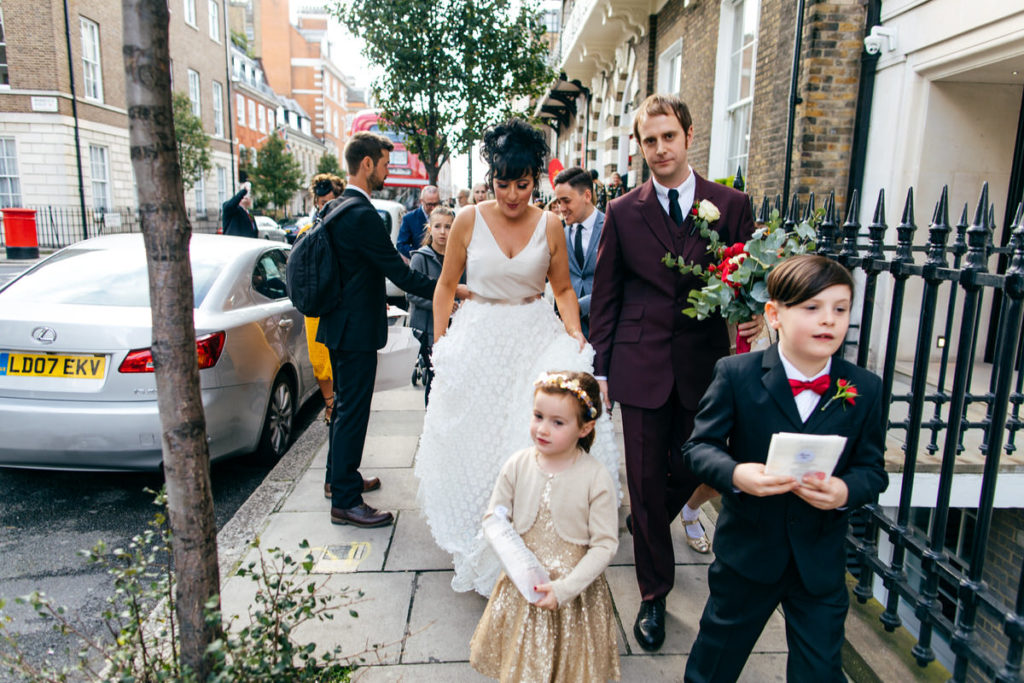 "Best thing about planning a wedding – Creating a setting that reflected our personalities to bring all of our friends & family together in a celebration. I loved every minute of the organising and loved personalising the day with everything we love!"
"Worst thing about planning a wedding – When it's all over, you just want to-do it all again!"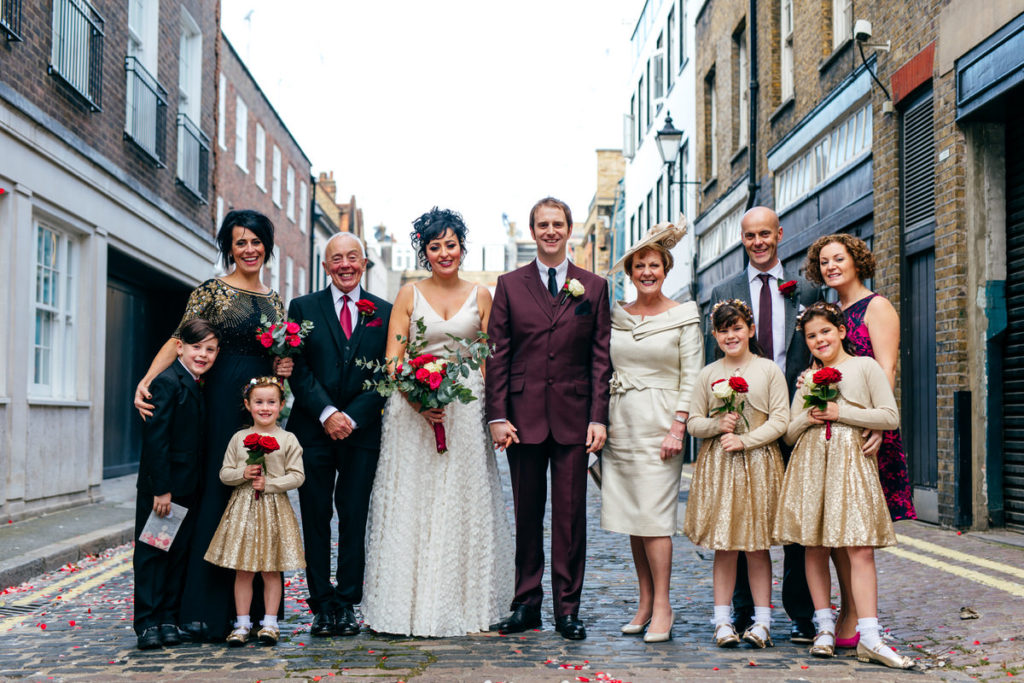 The Ceremony
"Our wedding ceremony was held at Asia House, Marylebone. We wanted to get married in London and Central London was a good point for all of our guests coming from various different parts. I walked down the aisle to "Ecstasy of Gold" by Ennio Morricone, as Lewis is a huge Metallica fan and it is the song they always play before they start their gig sets. When we signed the register, we had "Diamonds & Pearls" by Prince play, as I am a huge Prince fan. The song when we left the room was the theme tune from True Romance, a classic film we love! We had my brother and one of Lewis groomsmen do readings. One was lyrics from a song that we listened to when we first met and the other was a poem that we altered to fit our story."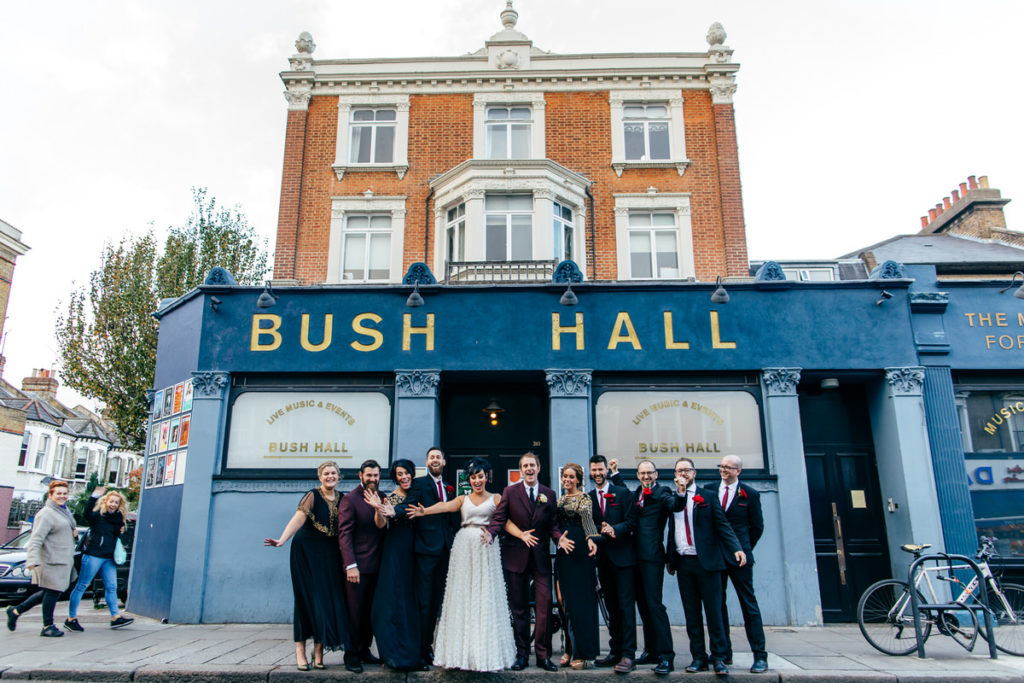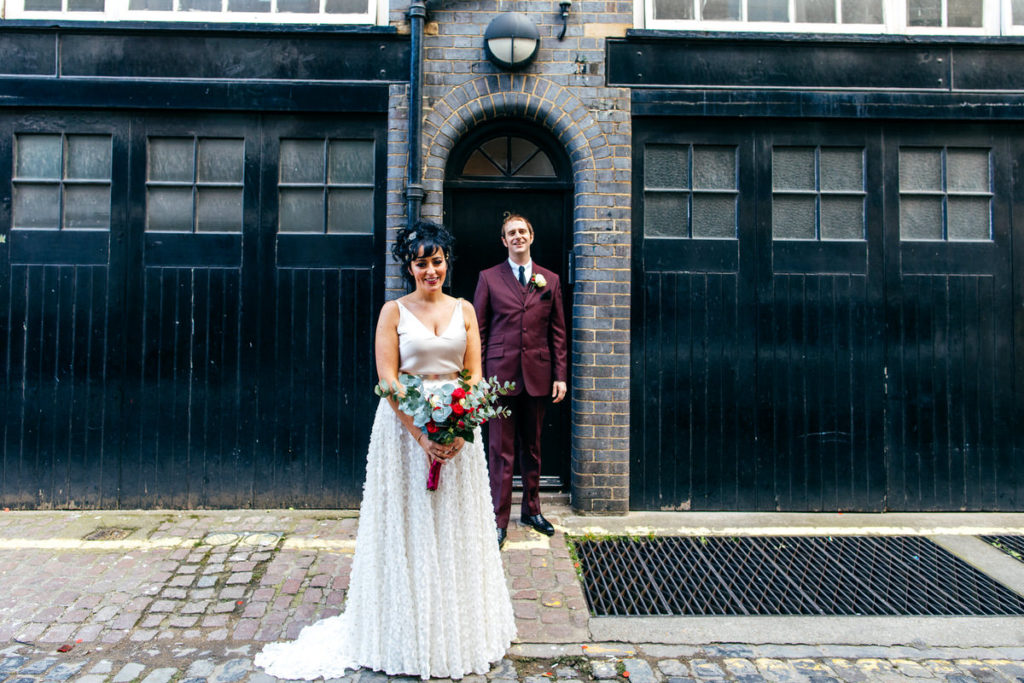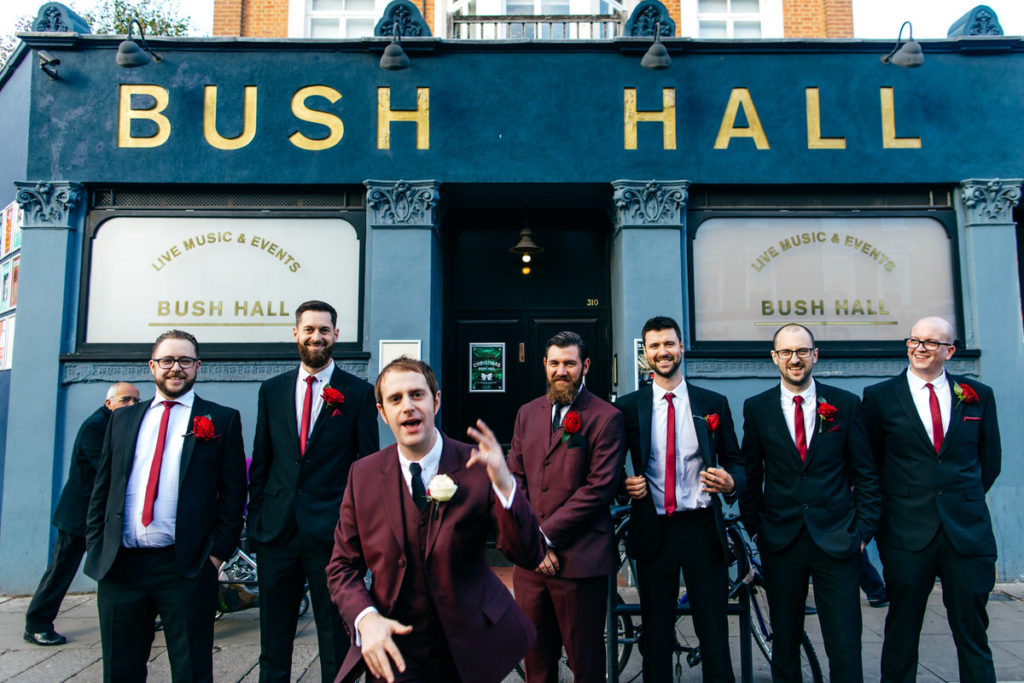 "We totally trusted our photographer to get some wicked shots and when we arrived at the venue, she spotted a laundrette next door so we went in there for an impromptu shoot! It was quiet amusing being dolled up in a wedding dress sitting on top of the machines whilst a lady was in there doing her washing, not batting an eye lid! We did have a few people double take as they walked past though! We loved the shots Jordanna got in there!"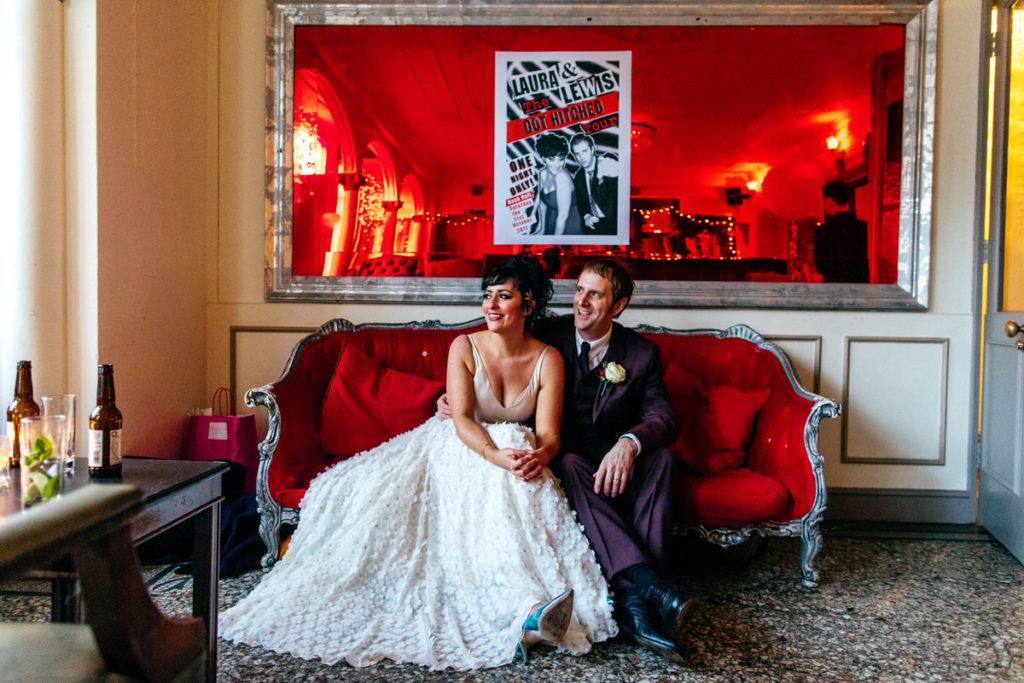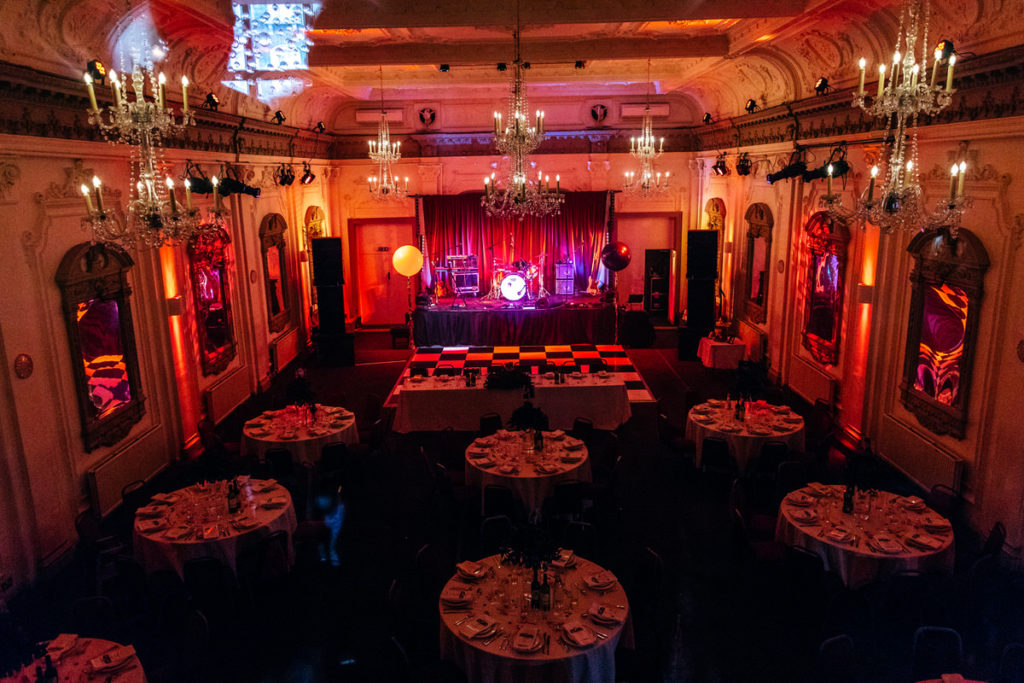 The Details
"DIY – We did lots of diy as I think it really is the best way to personalise your day and it was loads of fun. My sister & I did the flowers. She had done her own at her wedding and saved a significant amount of money so we decided to do the same, especially as I wanted roses, which are obviously costly. We took 12" records and smashed them into pieces and added them into the displays. We made all our own invitations using 7" records brought at an auction. Our friend is a graphic designer and he designed us a label including a personalised logo to look like a real record. It was time consuming but they looked fab and our guests loved them! We also had another friend, who is a technology teacher, and he created all of our guest place settings out of wood that was shaped as microphones (the girls) and guitars (the guys). He so made us a fantastic real looking post box too. We also brought cheap plectrums from ebay and had them scattered on the tables to look like flower petals. We made personalised punk style "gig" posters & put up around the venue, listing the wedding as if it was a gig / tour."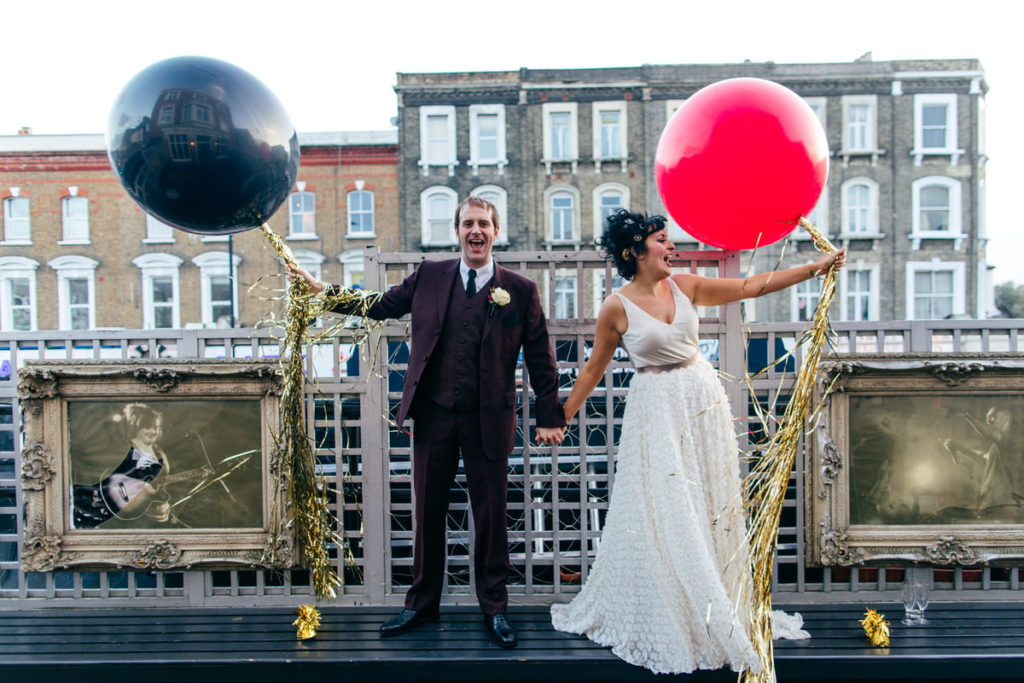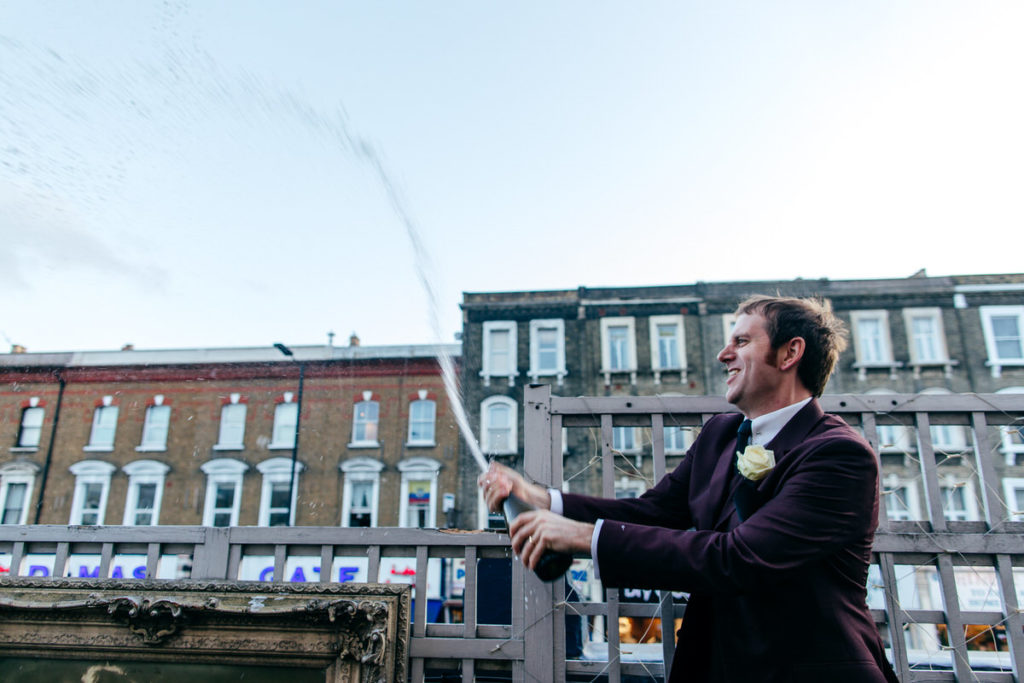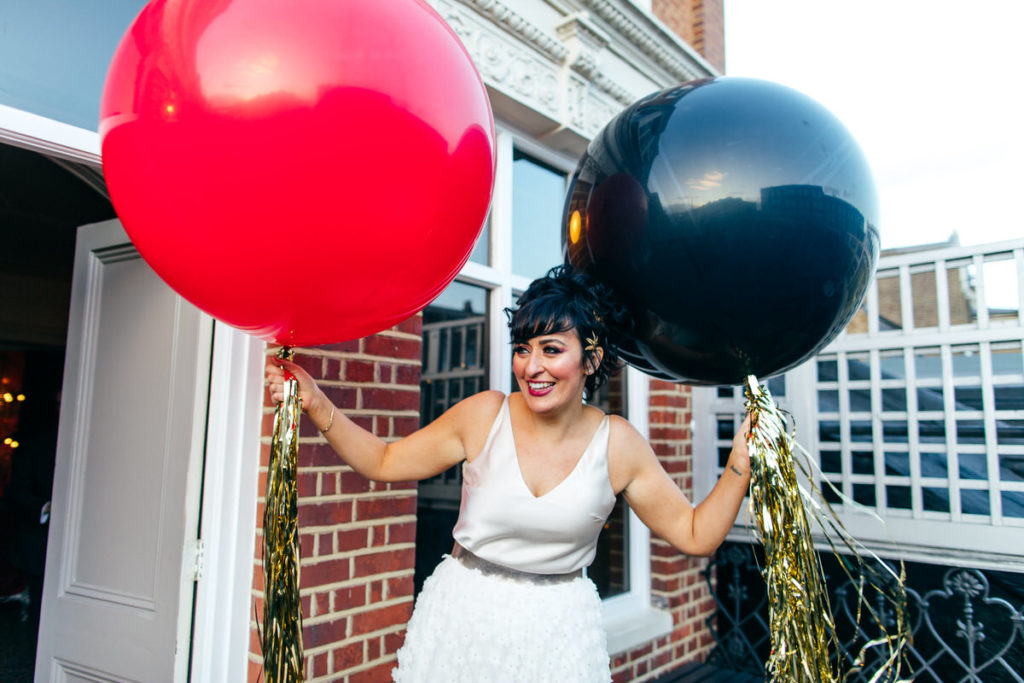 The Best Part of the Day
"Favourite part – Apart from the actual service and totally being wrapped up in the moment, our favourite part was just being at the reception with all of our friends and having a good laugh!"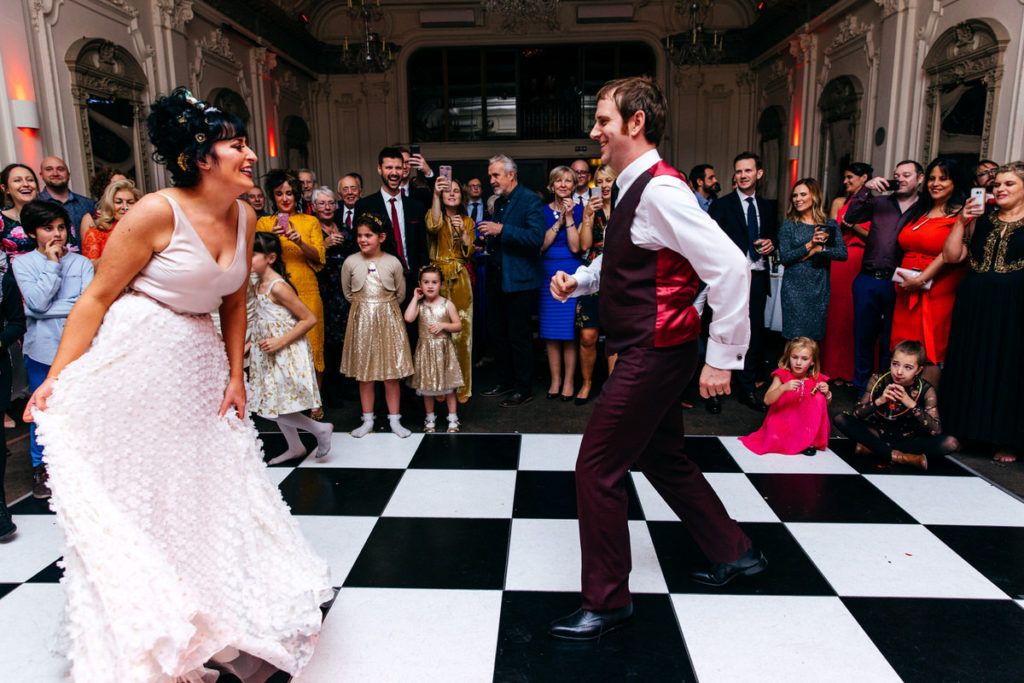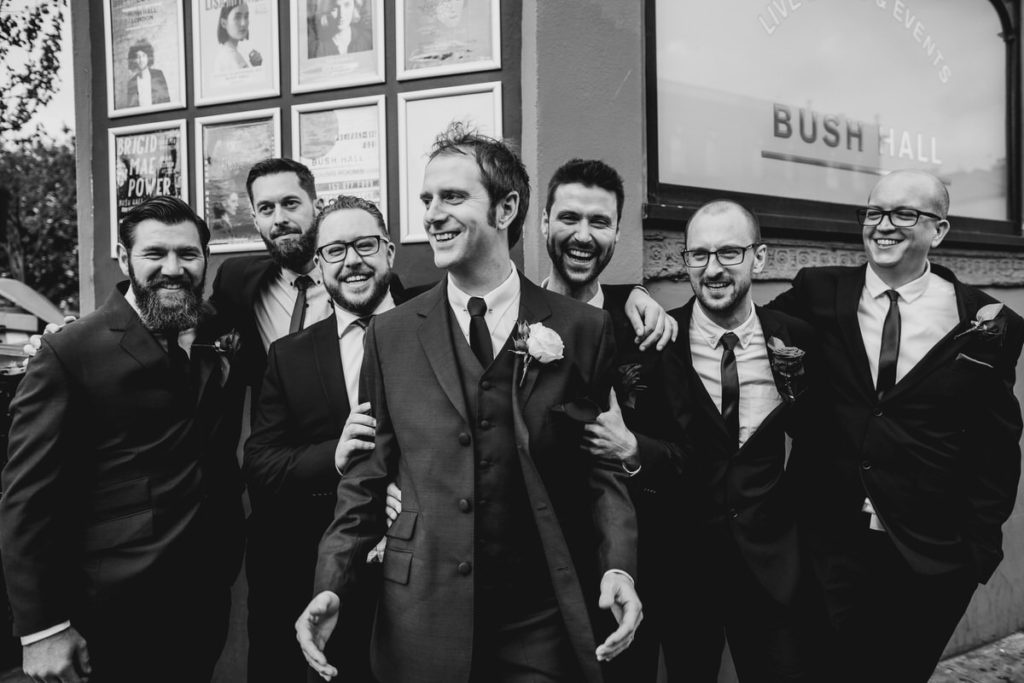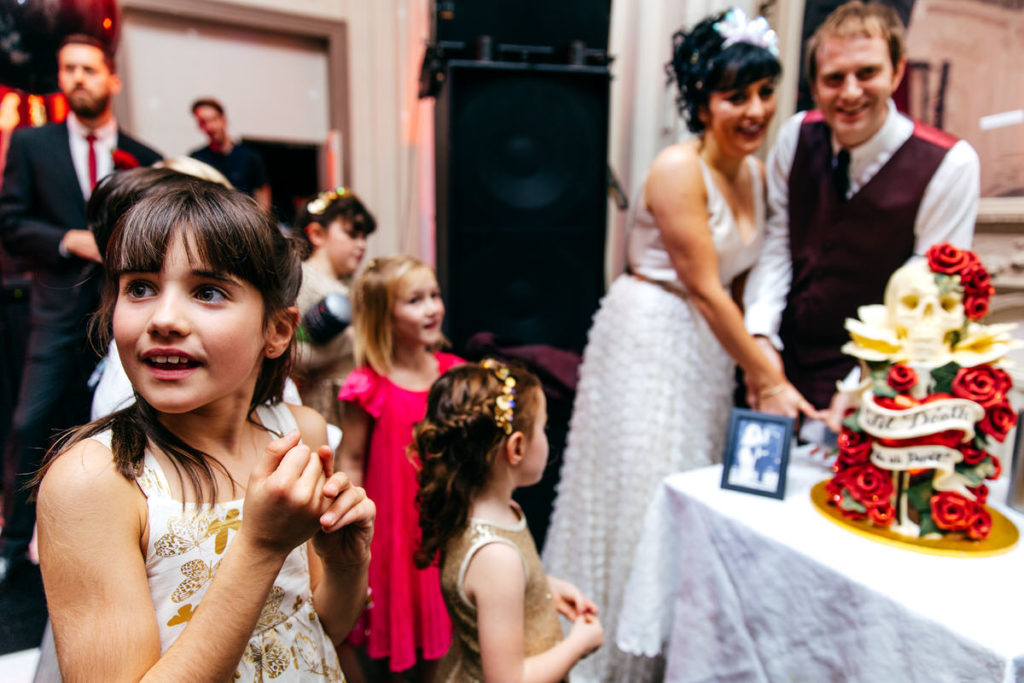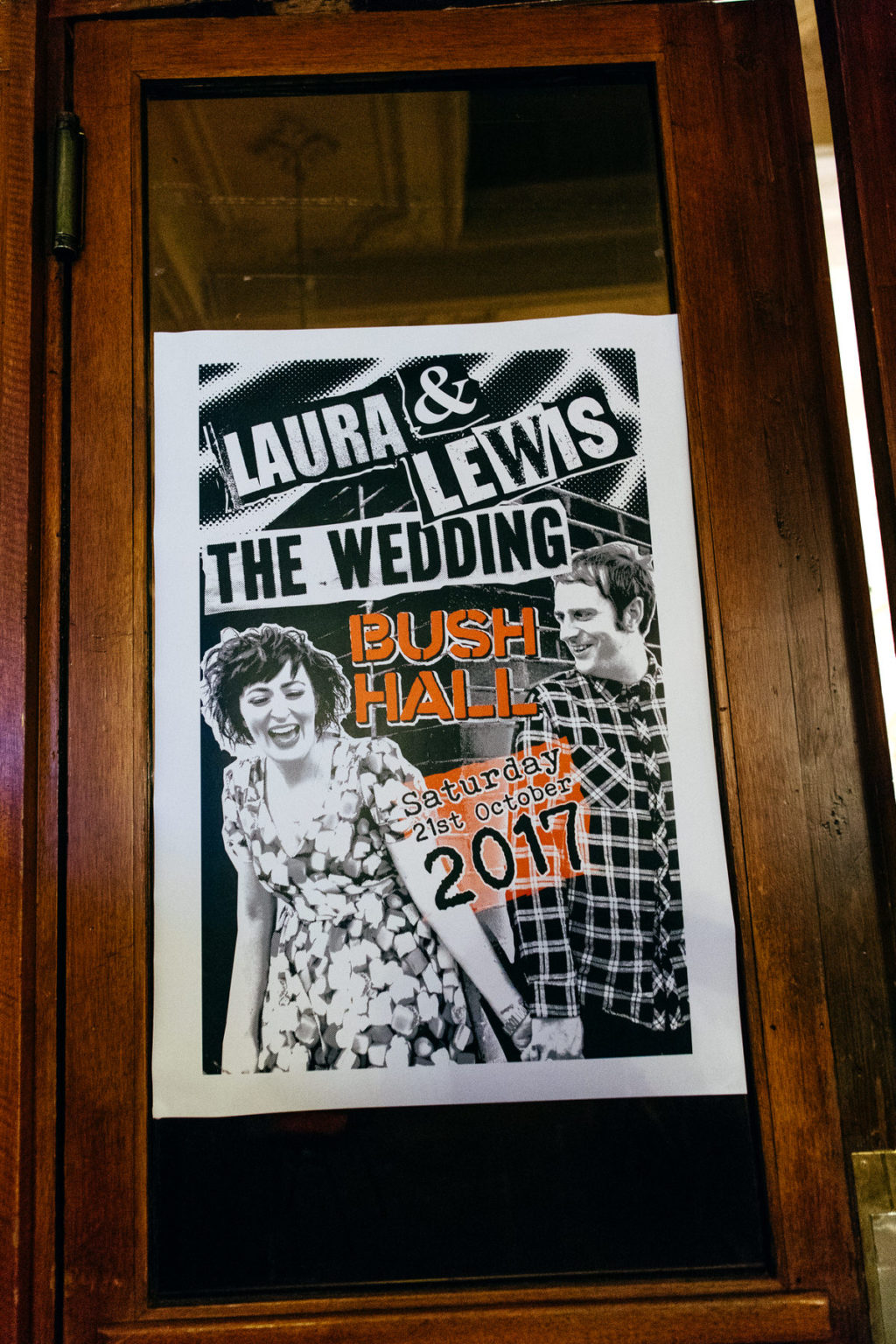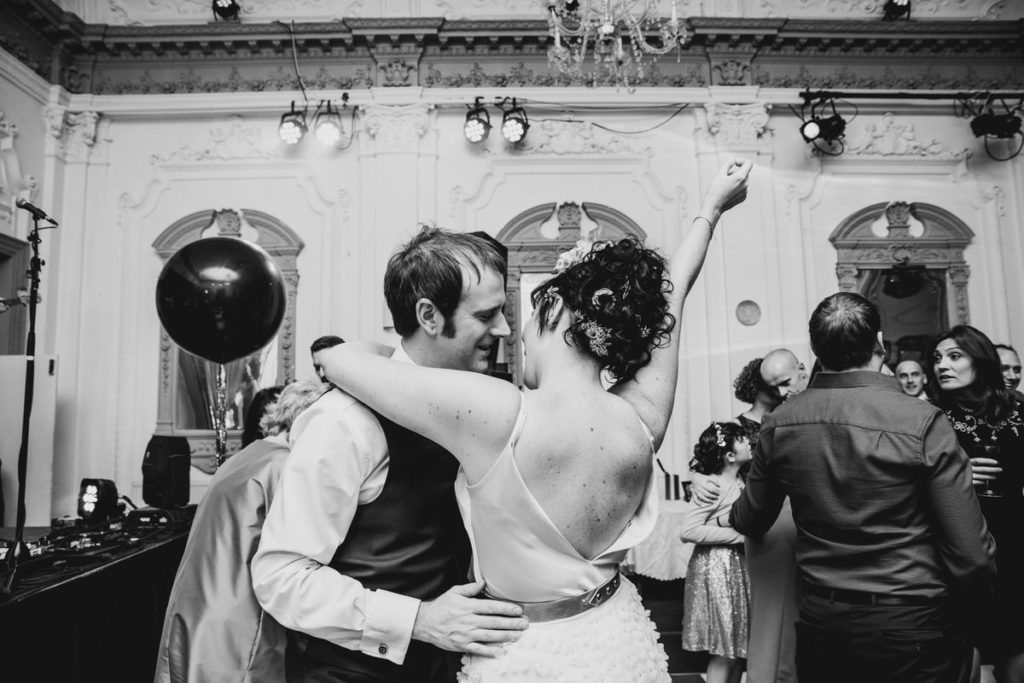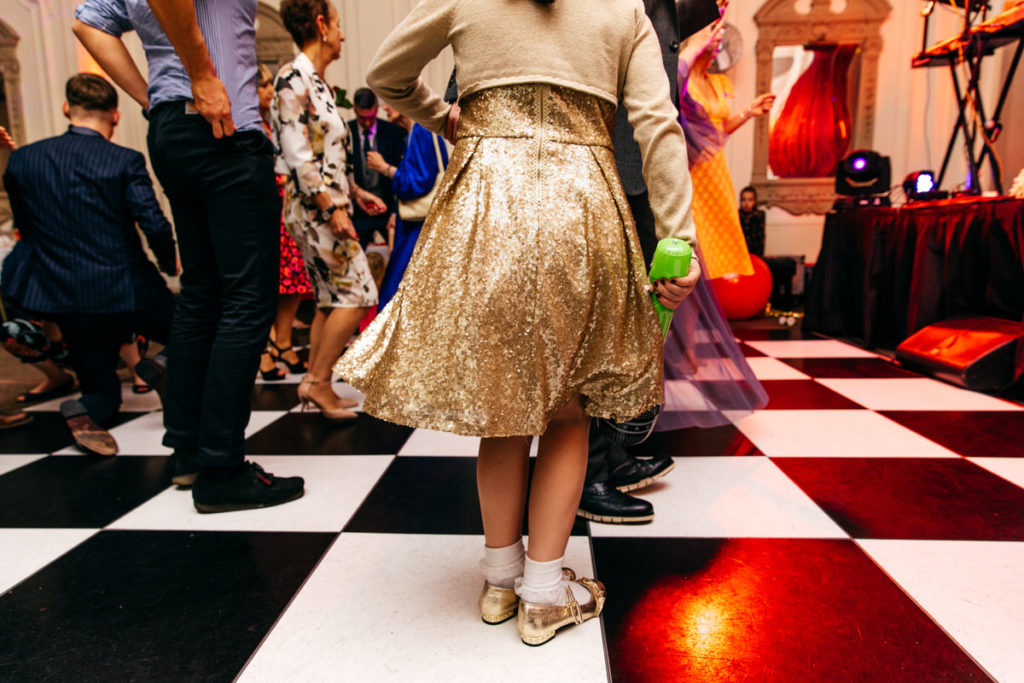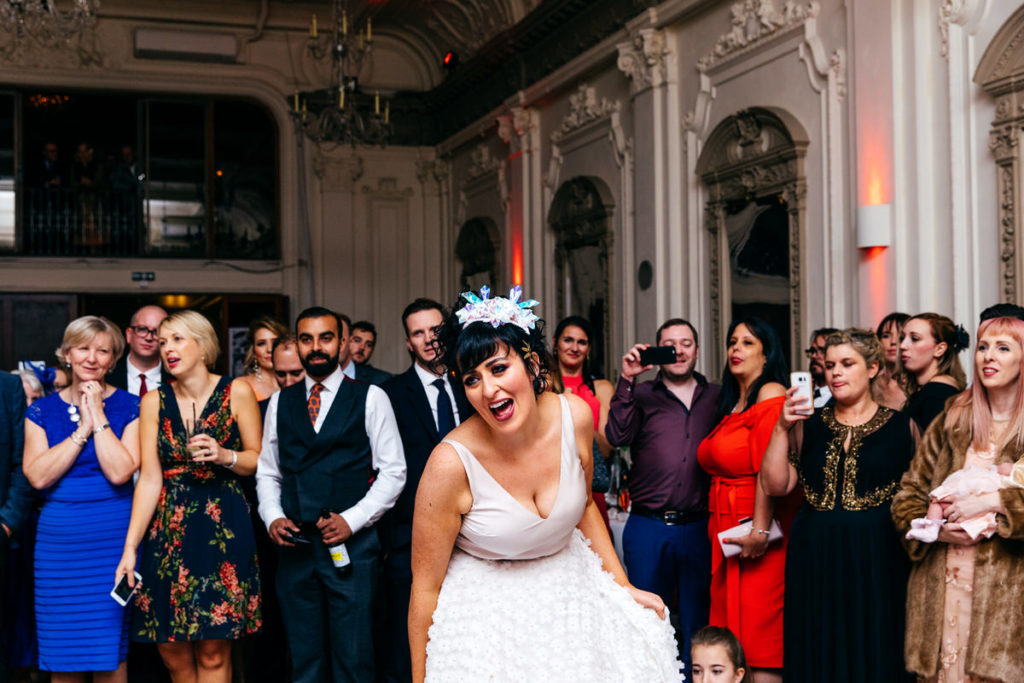 Words of Wisdom
"Advice to other brides – Do it your way! Don't let people's opinions get in the way of what you both want to do. Be true to yourselves and make the day how you want it, not just to please relatives. Relax and have fun with it!"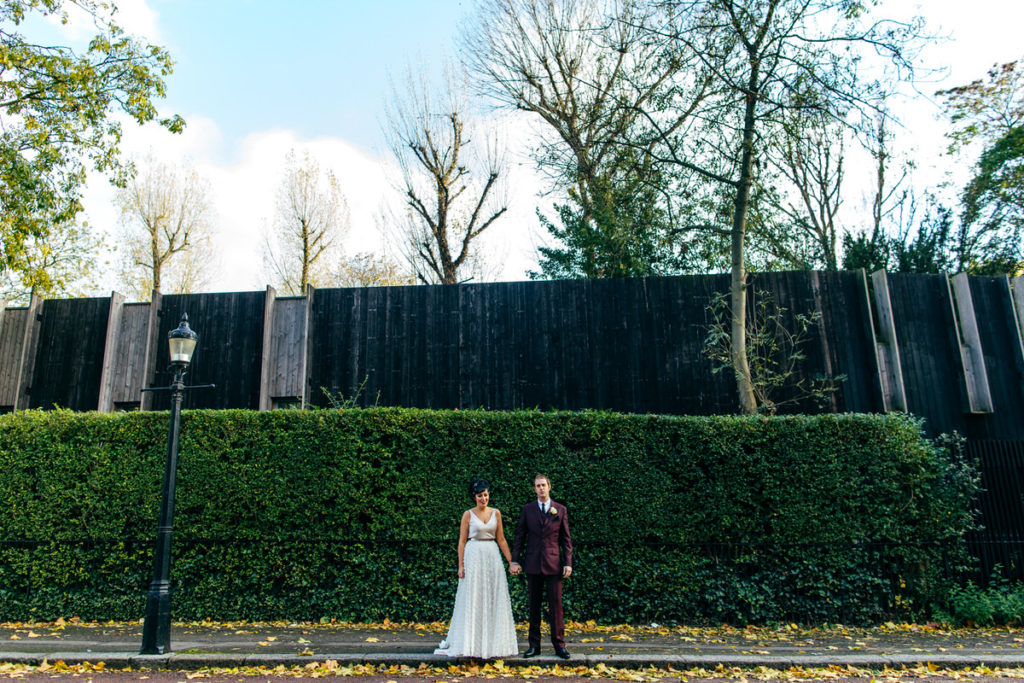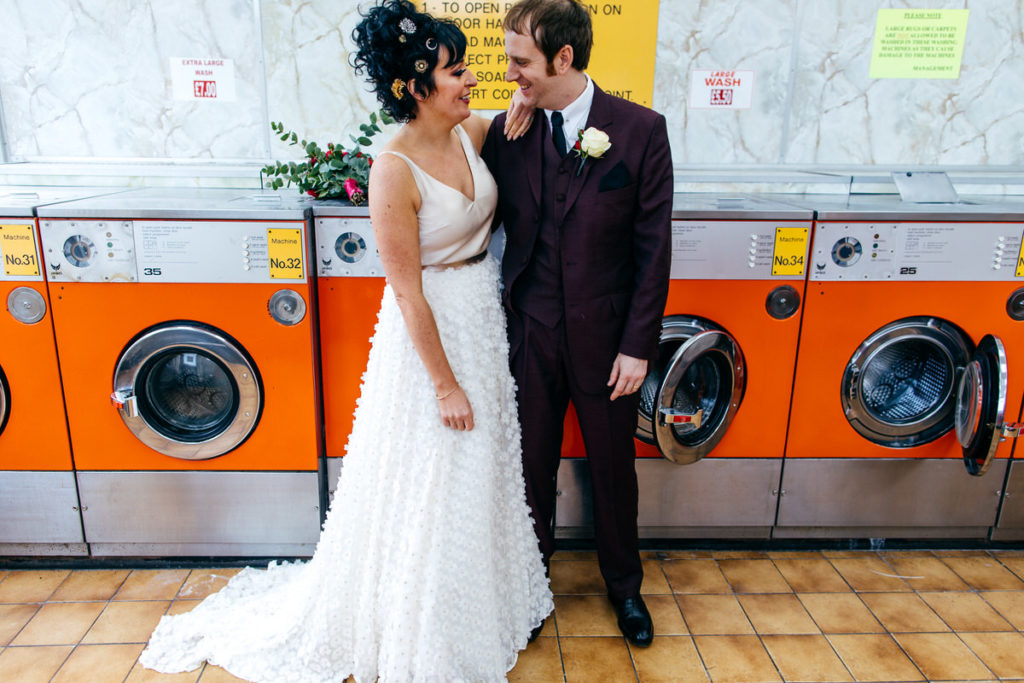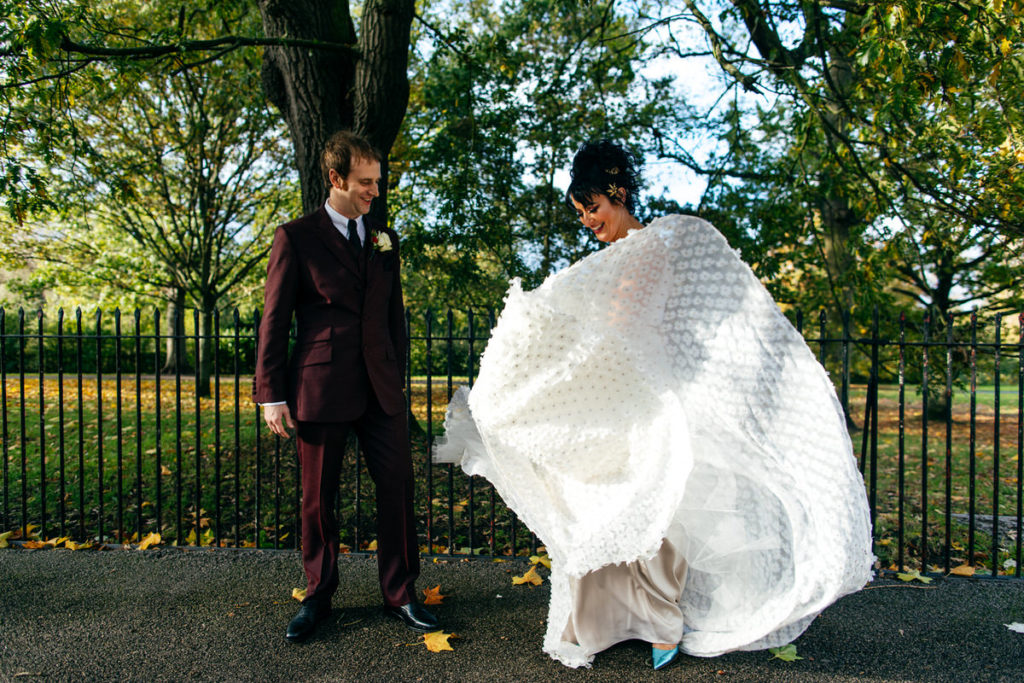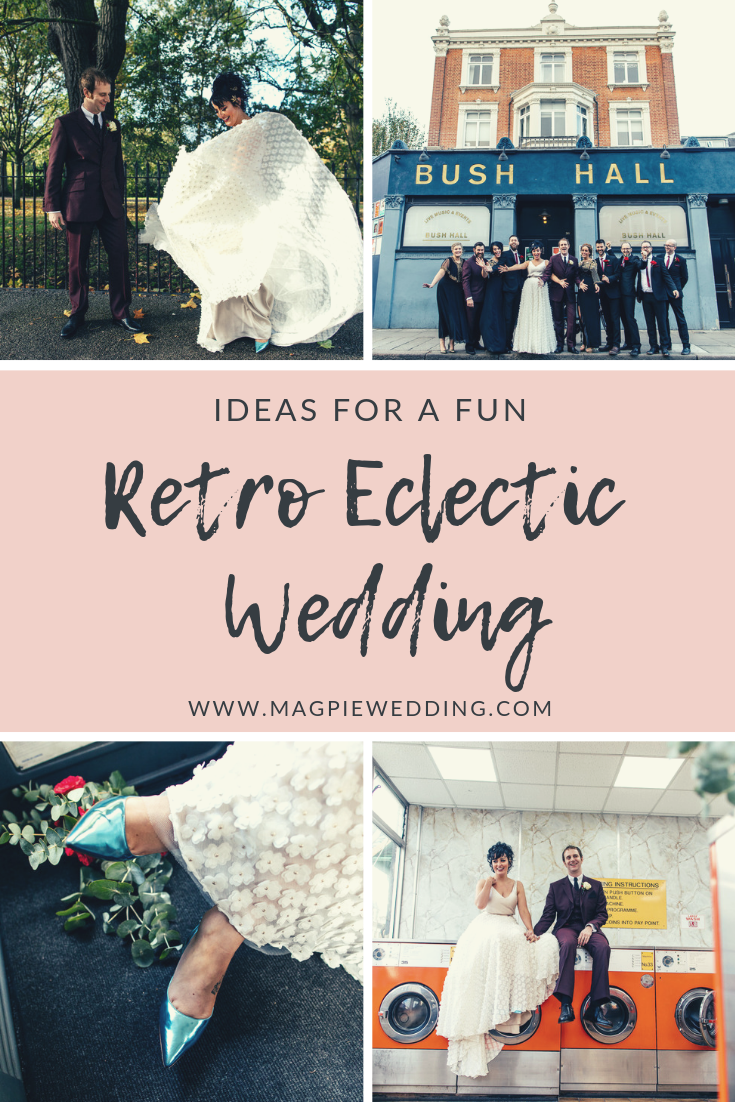 The Team – Retro London Wedding with Eclectic Styling and Disco Vibes
Photography- London Wedding Photographer Jordanna Marston
Ceremony Venue- Asia House, Marylebone
Reception Venue- Bush Hall, Shepherd's Bush
Bride's Dress- Charlie Brear
Hair- Kim Rance
Bridesmaid Dresses- Virgos Lounge
Groom's Suit- Adam of London
Cake- Choccywoccydoodah
Band- Ear Candy Oxford
Flowers – arrangements by ourselves, flowers brought at Covent Garden Flower market
Makeup – myself as I'm a makeup artist
Hair – Kim Rance. She came up with a great idea of combining jewellery in my hair. My nan passed away many years ago but i wanted to remember her on the day so we used her old broaches and stitched them into my hair.
Bridesmaids dresses – Virgos Lounge
Grooms suit – Adams of London
Love this retro London wedding and want more inspiration for your big day? Check out our online magazine BOND Bride
.