Katy and Garry's beautiful love story tells a tale of sorrow to complete happiness from their first meet to walking down the aisle to get hitched. Their wedding, full of colour, personality and uniqueness is the perfect mix of 'nerd' vs 'geek chic'. Married in the picturesque city of Cambridge they took full advantage, which ended in a wonderful set of imagery to inspire any city chic bride and groom wanting a geek chic wedding. They set the perfect example of doing your wedding your way!
Here we catch up with Katy who tells us all about her and Garry's love story, from first (non) date, to the after party…
How did you and Garry meet?
"Garry and I were both widowed in 2014, and had joined an organisation called Widowed and Young. Myself and another member organised a meal for people living in Cambridgeshire, and Garry came along to that. As he was a bit late, the only seat left was next to me. We bonded over talk of running, Slipknot and puddings, although neither of us was looking for a relationship at that time. We decided to stay in touch as we had got on so well, and we started going on 'non-dates', including to the local driving range, out for tea and red velvet cake, and to local country pubs, including the Three Horseshoes in Madingley… Eventually the non dates became proper ones!"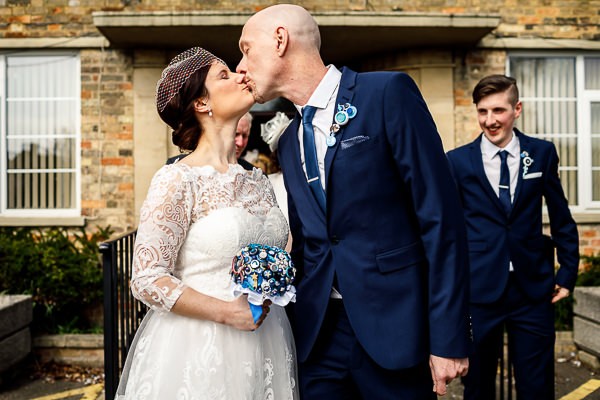 The Proposal
"Garry arranged for us to have a magical mystery date evening at the Three Horseshoes, where we'd had our final 'non-date'. He had arranged for a large red velvet cake to be baked and decorated with red roses, a large red fondant heart with the ring box on it, and the words 'Katy will you marry me?' piped around the top. He excused himself from the table and returned carrying the cake, before getting down on one knee!"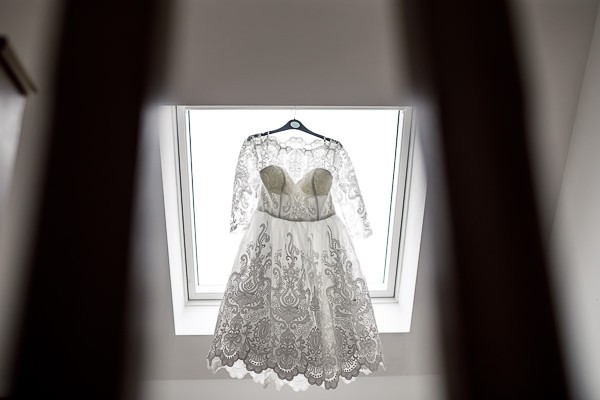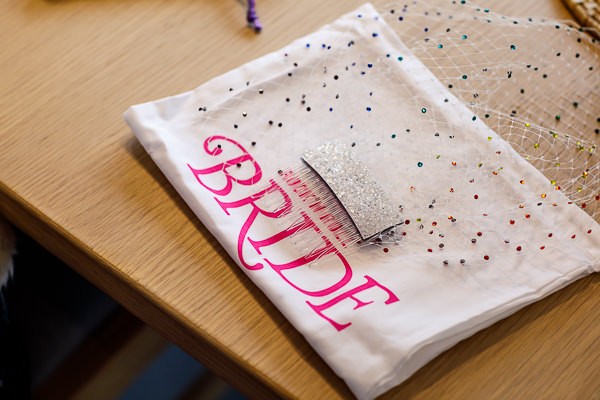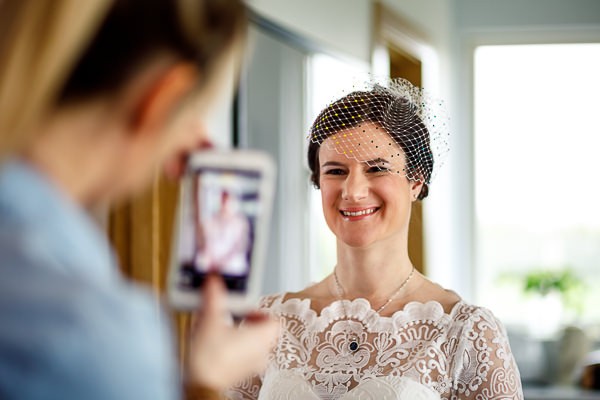 The Dress
"I found choosing a dress really difficult as I had already had the big white wedding dress shopping experience, and didn't want to wear anything similar to what I had chosen for my first wedding. Also, as we had a limited budget, we didn't want to spend lots of money on a dress I probably wouldn't wear again."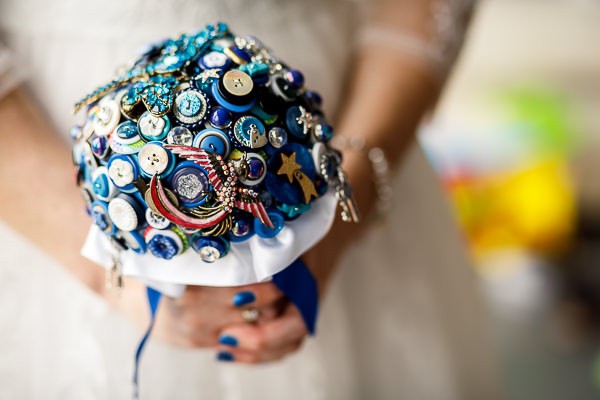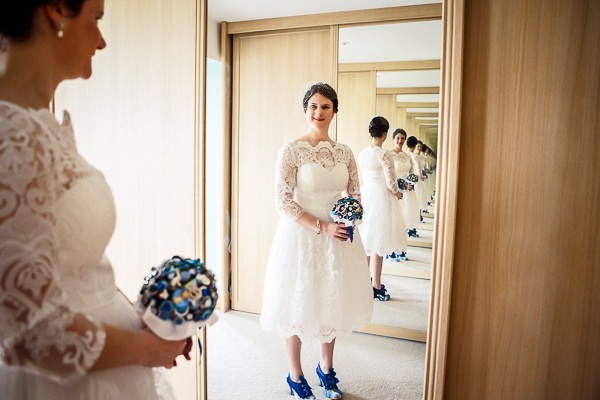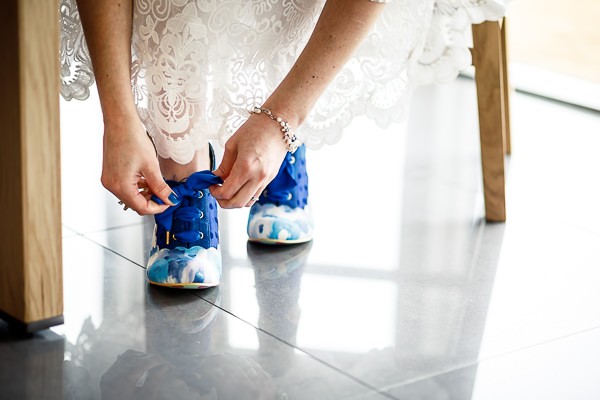 "Garry and I won tickets to The National Wedding show, where I tried on some dresses. I settled on a tea length style dress, and after a false start, I found my dress from Chi Chi London. Even better, I bought it during a flash sale for £60! The quality was excellent and it looked really similar to something I had tried on at the wedding show that was ten times more expensive. I also had some fabulous blue Irregular Choice shoes that drew a lot of attention on the day."
The Suit
"Garry and his son, Zac, who was the best man, both wore navy blue suits from Burton. Garry also had some awesome Irregular Choice boots and Zac wore some navy blue Converse."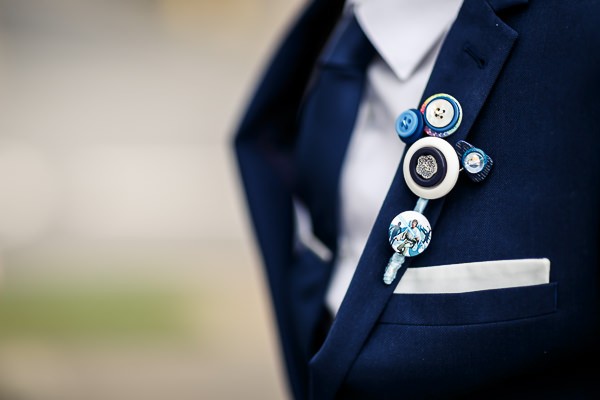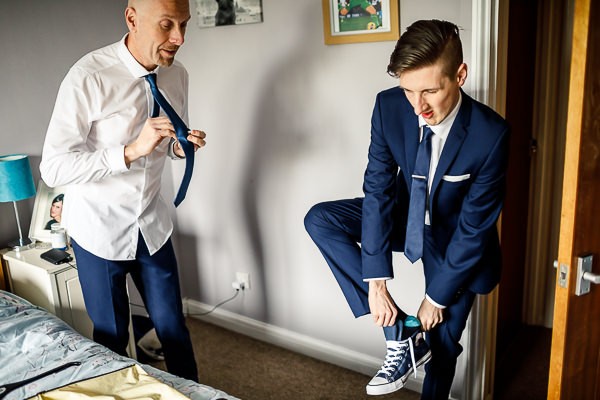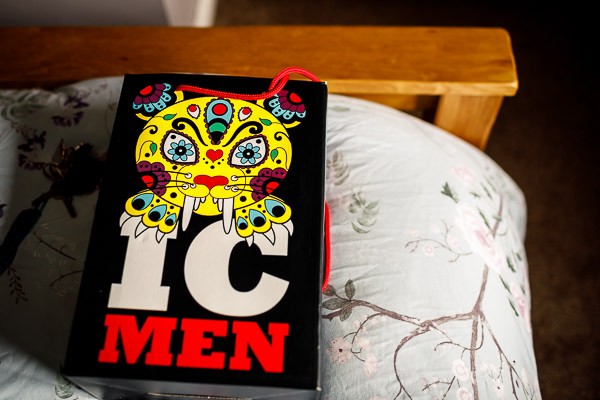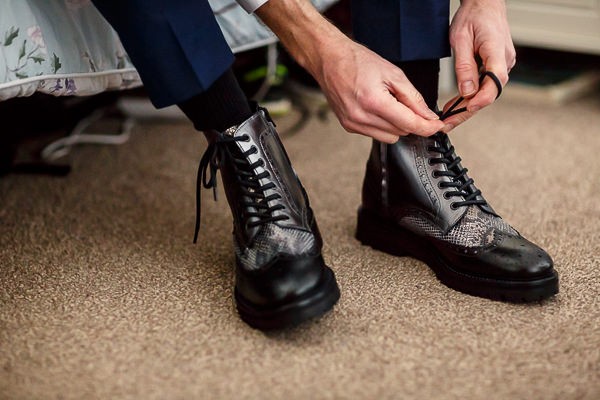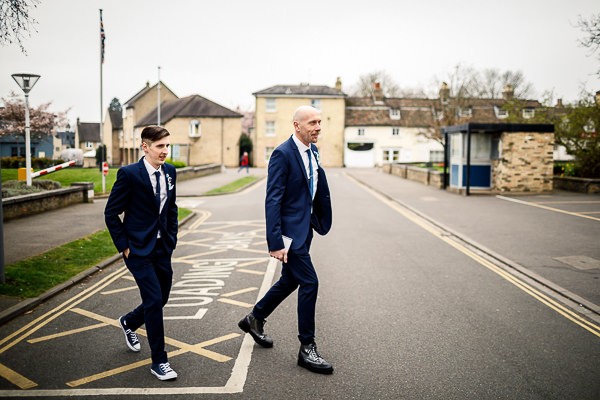 The Details
"We didn't have flowers as we didn't want to spend money on something that wouldn't last. Instead, I collected buttons and brooches for months, and lots of lucky charms, including a sixpence, black cats, four leaf clover, a rainbow and lots of other bright colourful and quirky things. Friends and family gifted buttons which we used in both the bouquet and the buttonholes, which Garry made. These were each finished off with a Star Wars badge for each person. As I was really worried about putting my bouquet together by myself, I sent everything I had collected to Lesa at I Heart Buttons, who created a masterpiece! It now has pride of place on the bookcase in our lounge."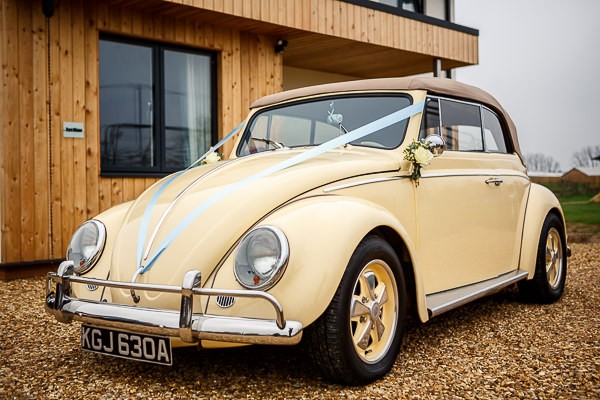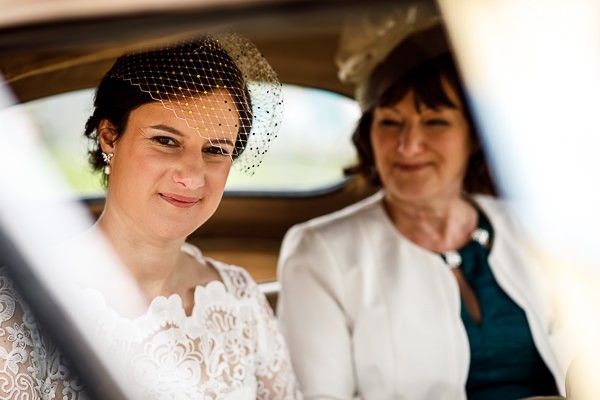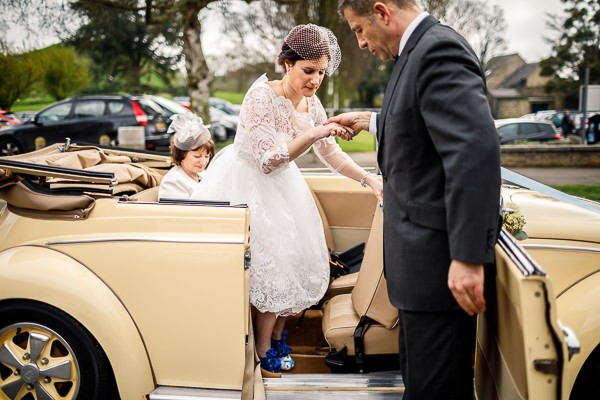 "We're both quite alternative and were keen to do things a bit differently, and as we had both been married before we didn't want to recreate any aspect of our previous weddings. As we were also on a tight budget we wanted to prioritise things we would could keep afterwards.
We felt very lucky having found each other given our circumstances, so we wanted to incorporate some lucky charms, and also create a lovely relaxed day with only very close friends and family who had been there for us during the darker times. We also wanted to include lots of bright colours and nods to our nerdiness. One friend described our theme as 'rainbow geek chic', which we loved!"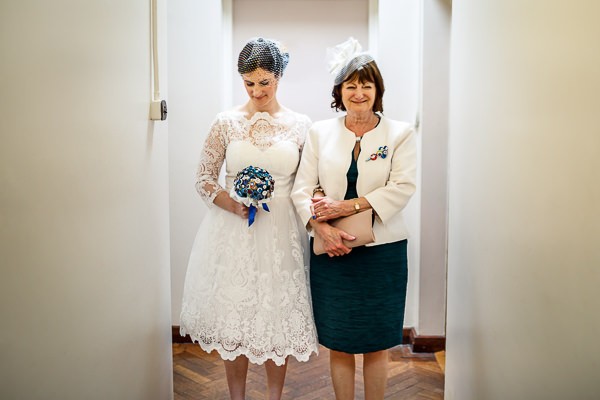 The Cake
"We chose a hidden rainbow cake, which had plain white fondant icing and a personalised Star Wars topper that we found on eBay. When we cut it open, the inside was really vibrant; we loved it! We also had red velvet cupcakes as favours for our guests, in honour of the proposal, which had different handmade fondant lucky charms on top. Our friends were in the early stages of opening their own cake shop, so they were the perfect people to make our wedding cake for us. They went above and beyond what we could imagine!"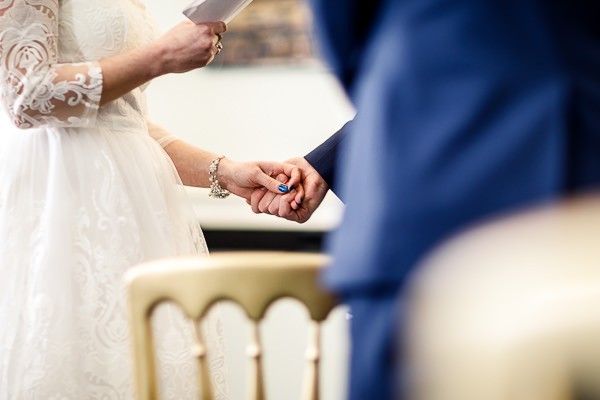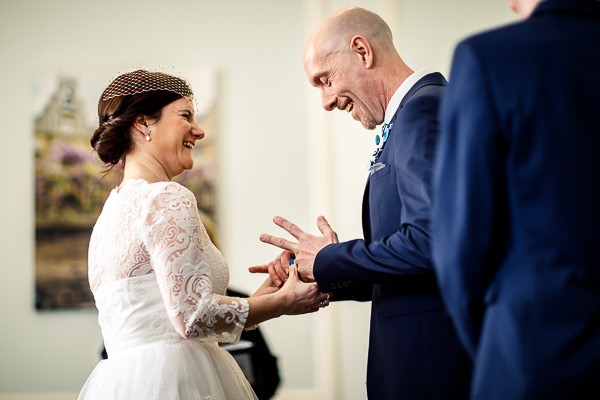 Photography
"We went for a drink with Lina and Tom to chat about our wedding plans and loved their enthusiasm for our day. They totally understood us from an early stage, and both offered loads of advice and suggestions throughout our planning. On the day we didn't notice they were there. They made us and our guests feel relaxed and at ease, and have captured some truly magnificent images for us to treasure. It's difficult to pick just one favourite, although we do love the smoke bomb shots! We had our couples portraits taken in Cambridge city centre, which we also love!"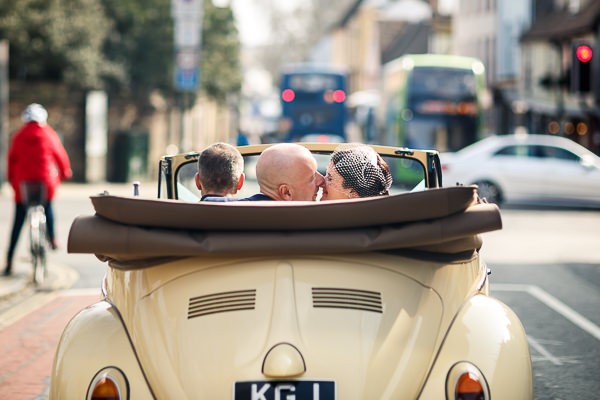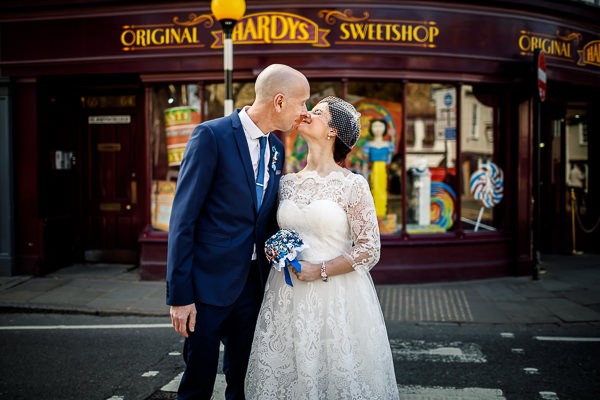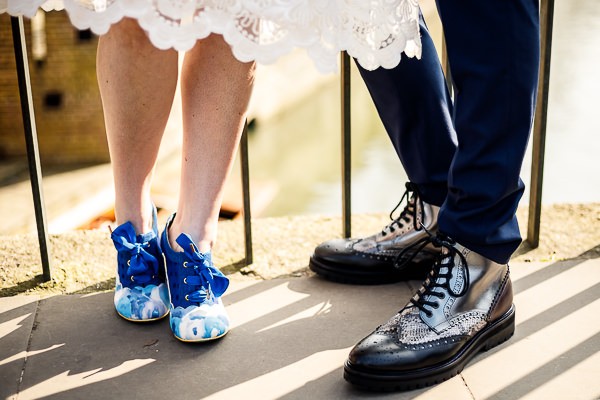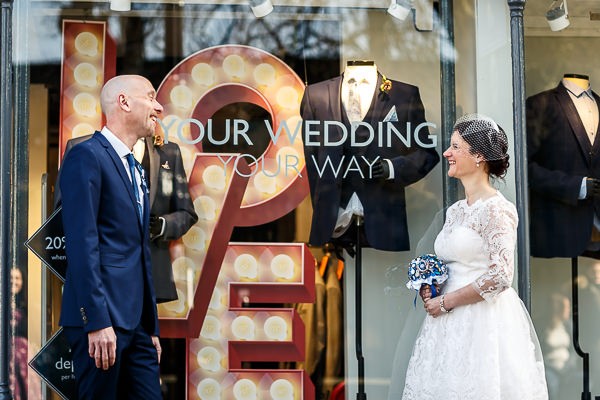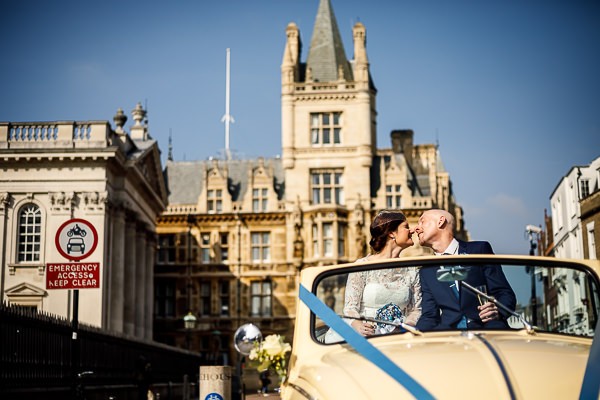 Vintage Influences and DIY
"We had vintage influences, including my dress, and we found the most amazing VW Beetle Cabriolet for our wedding transport. I absolutely love old school Beetles, so when we found we had managed to save a bit more than we thought we would, we booked Carmen. The sun came out after the ceremony and it was awesome travelling into Cambridge with the top down."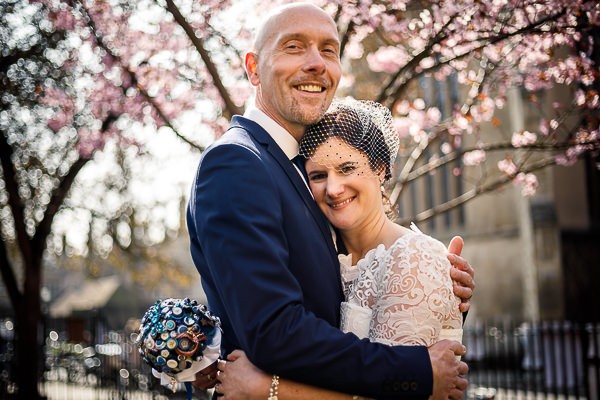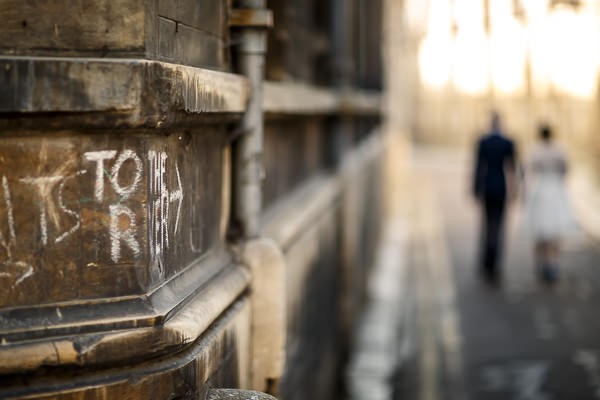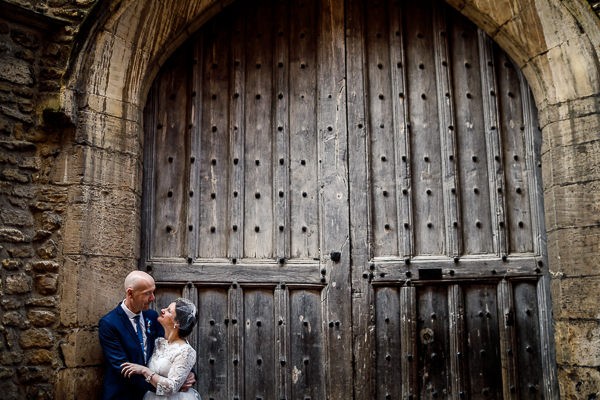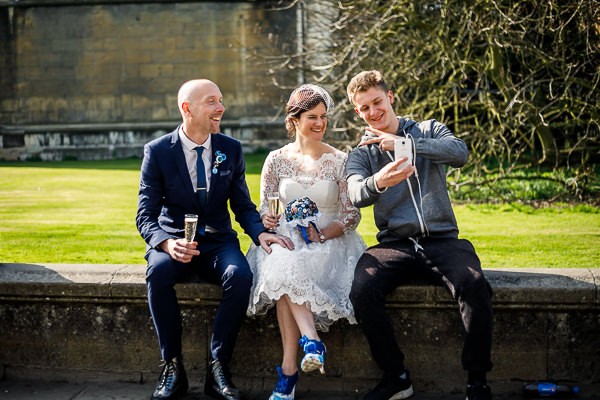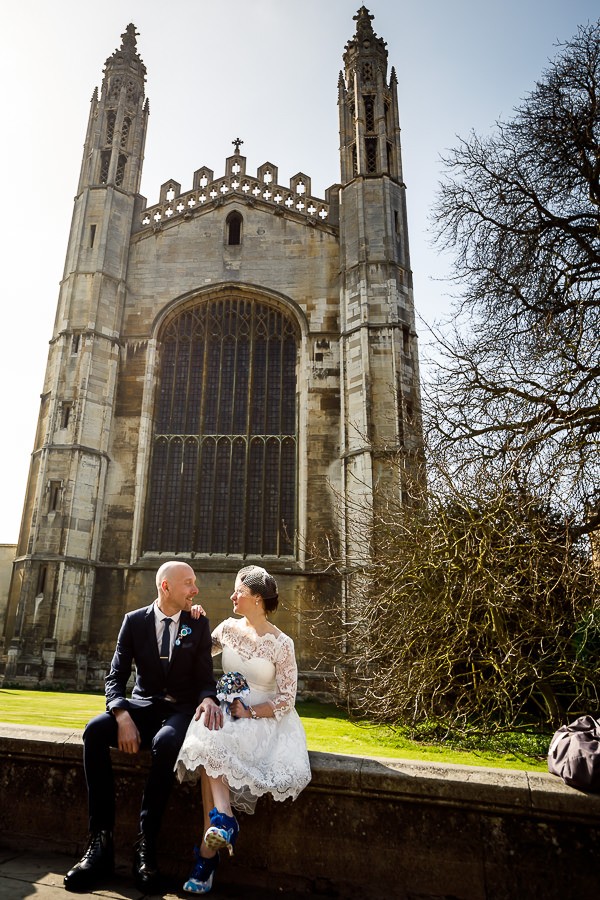 "We did lots of DIY! We folded 1000 origami cranes, Garry made all the buttonholes, I collected all the buttons and brooches for my bouquet, we decoupaged some papier-mâché letters with illustrations from our favourite comics, spray-painted a wooden box to use for cards, glittered up an old jar for the leftover button stems, and we borrowed some chalkboards from a friend which I wrote on in calligraphy."
"A few months before the wedding, we went to ComiCon and fell in love with a set of illustrations of different film and TV shows that we love. So, we framed them and used them as our table centrepieces. We also made a guestbook which we decoupaged with more comic book characters, a borrowed Polaroid camera and lots of different coloured tape and pens, and we made our own seating plan too."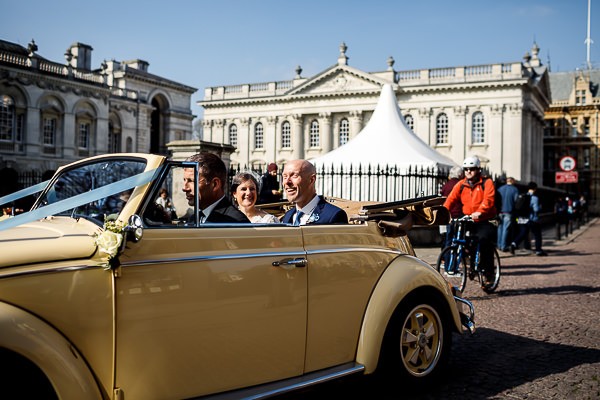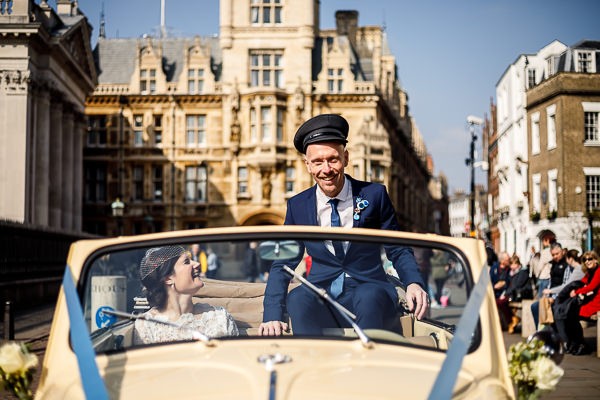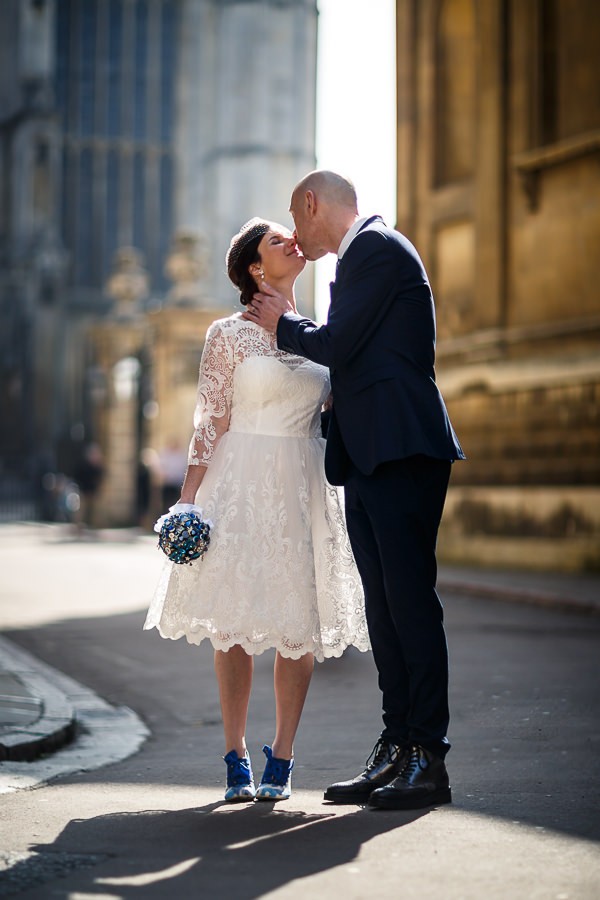 "We'll remember our wedding with an overarching sense of happiness and pride at how everything had come together. I loved our personalised vows, the readings we chose and the speeches, all of which were super-emotional. Our walk around Cambridge was really special too. A group of teenagers out on a school trip cheered us, and people kept asking if they could take selfies with us!"
"The feeling of walking into the pub later in the evening and seeing so many of our friends who had made the effort to travel to celebrate with us on a school night was amazing! We wanted to use our wedding to to say thank you to our friends and family who had been there for us during the darkest of times, and I think we achieved that."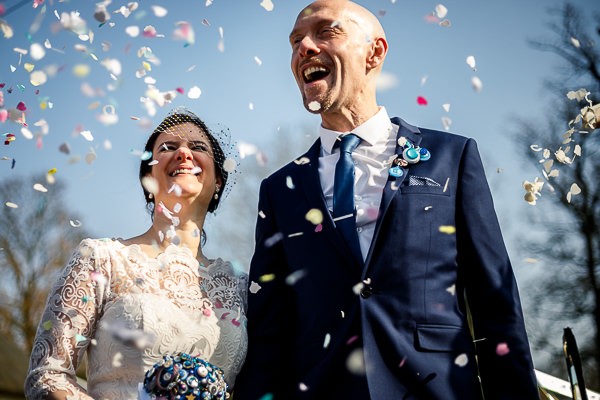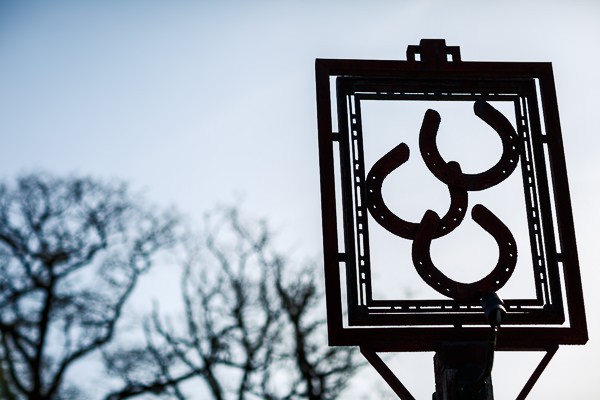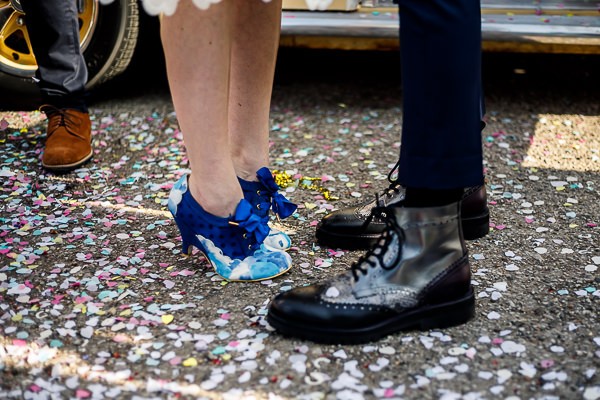 Top Tips
"Our advice to other couples is don't be afraid to do things your own way. Look for inspiration from things you enjoy doing as a couple and find a way to involve this in your wedding day. Talk honestly with each other about what is important to you both and how you will fund it. For us this meant some hard saving, but it was worth every penny, especially when we had more than we thought and could treat ourselves!"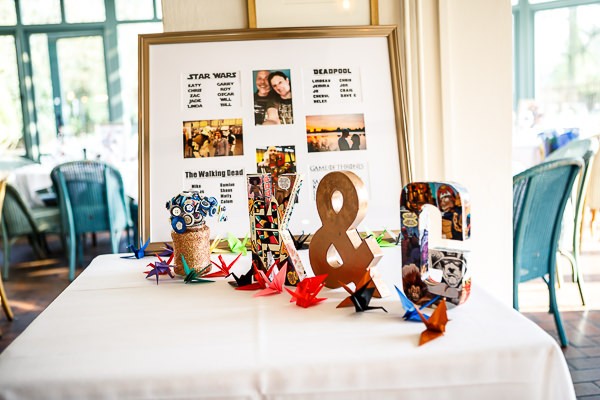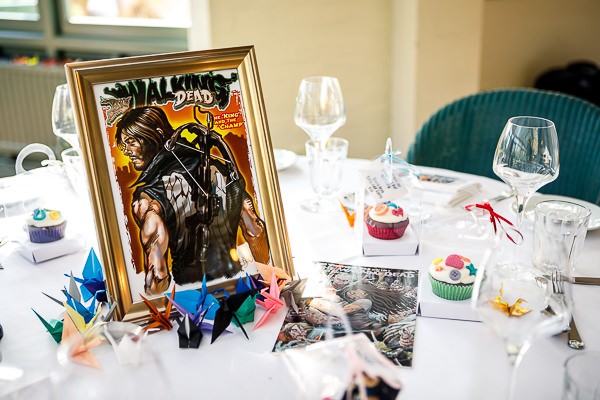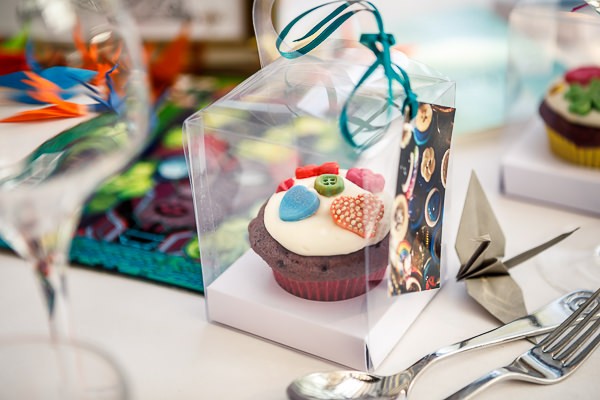 "You also need to be adaptable if things aren't working out how you want. We originally planned to have a big party at the local village hall, but it became apparent pretty quickly that it would have destroyed our budget."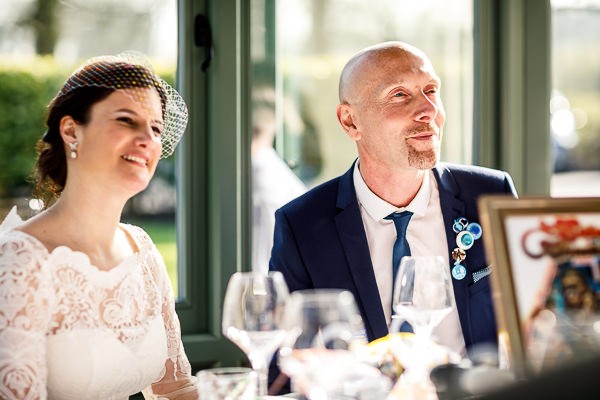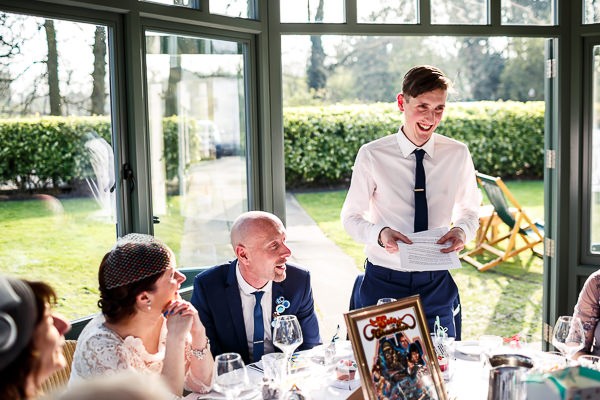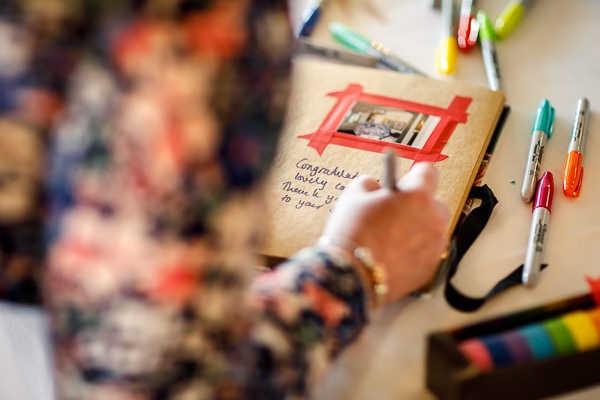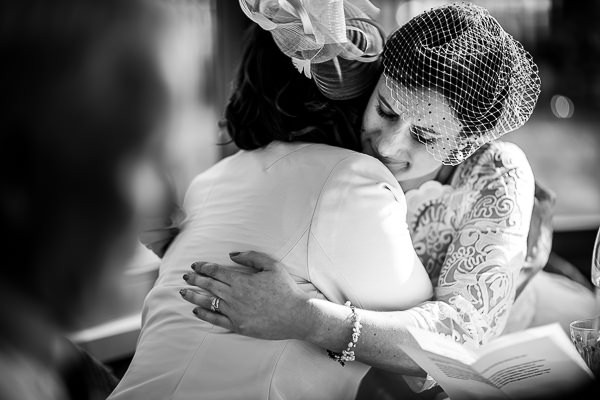 "Whatever you do, choose the best photographer you can afford. They can make your wedding look a million dollars, even if you are on a tiny budget like us. Poor photography will always show, and after your wedding is over, the photographs are your memories of the day.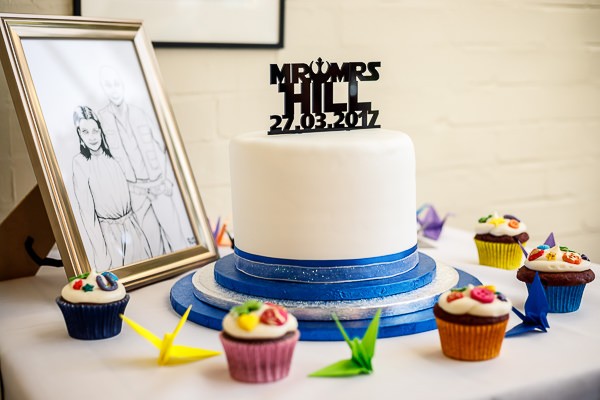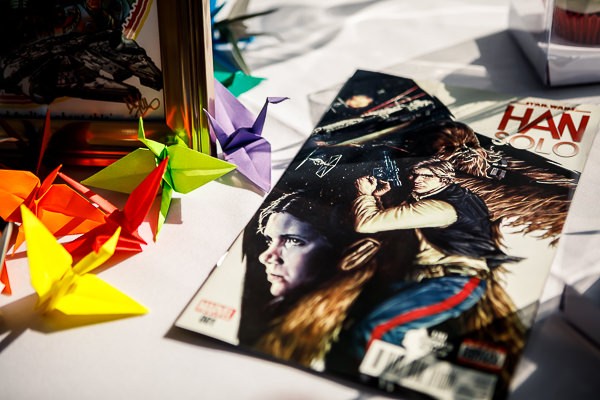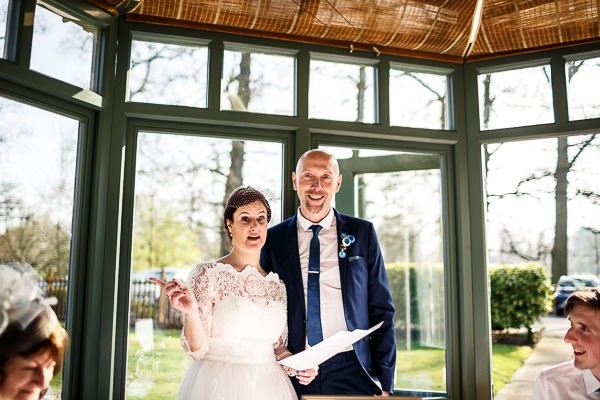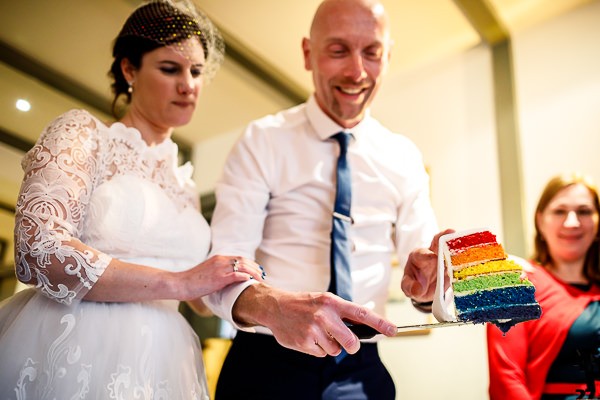 "To save money, we found having a mid-week out of season wedding saved us money with our venue, ceremony and photographers. We also kept our guest list small (tricky, as my extended family is massive!) and chose three things that were our priorities to put bigger chunks of the budget to. This was the food and drink, rings and, most importantly, our wonderful photographers."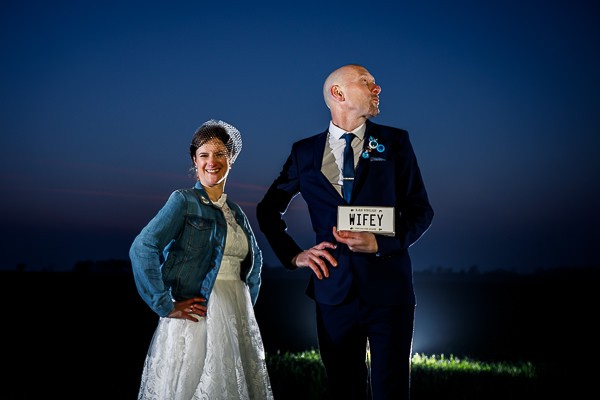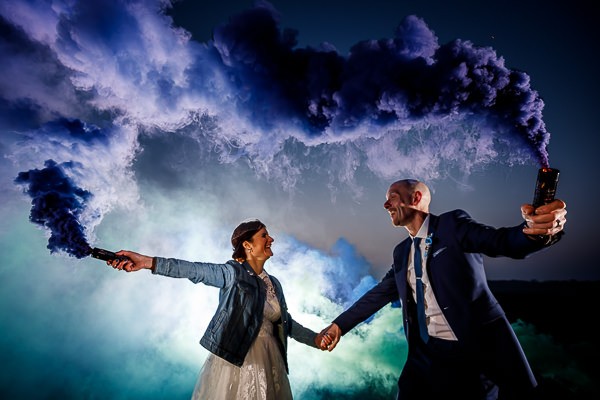 Photography: Lina and Tom
Ceremony Venue: Cambridge Registry Office
Reception Venue and Catering: The Three Horseshoes, Madingley, Cambridgeshire
Smoke Bomb Shots Location: Childerley
Wedding Dress: Chi Chi London
Bride and Groom's Shoes: Irregular Choice
Button Bouquet: Created by I Heart Buttons
Suits: Burton
Rings: Drip Gold
Cake: Quality Cake Company
Stationery: Card Factory
Transport: The Little Vintage Car Company
Want more alternative wedding inspiration? Check out our blogpost 1980s This is England punk and mod alternative wedding inspo