In today's blog we share with you a wedding that's is very personal to us here at the National Vintage Wedding fair – our owners (and founders of vintage website Your Vintage Life), Kate and Adam Beavis' wedding.
The August wedding took place at the beautiful Bromham Mill in Bedfordshire. The ceremony itself was a humanist service conducted in middle of a pretty meadow at the point where the Bedford River meets Stagsden Brook. A lovely touch as before they met Adam lived in Stagsden, and Kate from Bedford. Kate says "I've been married before and had the huge wedding, so this time wanted a personal, intimate day all about us and our values. A DIY approach was chosen so we could add our personal touches without spending a fortune…".
That year it rained all summer and Kate spent most of lead-up panicking about all the guest having to wear wellies! On the day itself there was torrential rain that morning, but thankfully bright sunshine appeared (and stayed) for the ceremonies start at 2pm. Friends played a huge part in adding special touches to the day – Adams best friend played sitar, Kates friends helped out wearing 1950s dresses, handing out handpicked flowers on arrival and confetti of rose petals wrapped in cones of vintage newspaper.
Kate arrived in a vintage VW camper van with her and Adams children Herbie and Kitty and walked down to the meadow where Adam met them. Kate says "We wanted to arrive at the ceremony as us, as a family…together…" Herbie and Kitty held red balloons when they walked in, and let them off during service.
As vintage experts Adams and Kates outfits were not a disappointment. Kate bought her vintage lace dress from eBay, took it up to a calf length and wore it with bright red Miss L Fire shoes with crystals on. Her vintage brooch bouquet was handmade by my Adams mother and her vintage inspired headpiece was made locally. Adam wore a vintage three piece suit and silk 1950's tie.
Kate sent out picnic baskets to her guests the month before the wedding with a note saying to fill them with goodies and after the ceremony as the band 'Swing Ninjas' from Brighton played, guest ate their picnics sitting on benches, rugs and deckchairs both outside and inside the venue. Kate says "We didn't want a seating plan, we wanted our friends to catch up in a relaxed environment while having fun" Everyone brought cakes for the cake table, there was jars of retro sweets, a raffle and quiz and Champagne was drunk in tea cups. Kate says " We wanted it to feel like a fun village fete with a raffle, quiz and coconut shy, and a colour theme of stripes, with retro games on the tables"
As evening came, Kate and Adam cut a cake made from cheese made by Kates mum who used to own a cheese shop, and then rocked out all night to their favourite indie and rock tunes and ate a late supper of fish and chips catered by a fish and chip van.
A few days later they attended the register office with just a handful of guests with Kate wearing a Jean Varon 1960s dress and Adam a 1960s navy suit arriving in a fabulous vintage car. Kate says "We wanted to do this second so the service outside always felt like our wedding, not the other way round."
Photo Gallery –
Are you going to be a vintage bride soon? Or have you had a great vintage themed wedding you'd like to share? Email us and your special day could become one of the subjects of our 'Real Weddings' blog.
Written by Sarah Gorlov.
Credits –
Wedding dress: Vintage, ebay
Shoes: Miss L Fire
Veil: Birdcage veil, Lil Mischief
Hair/Make up: Samantha O'Sullivan
Bridesmaid dress: Monsoon, Pageboy suit: M&S
Grooms suit: Vintage, Charity Shop
Flowers: Handpicked. Bouquet handmade
Venue: Bromham Mill, Bedfordshire
Photographer: Jon West
GIVEAWAY!!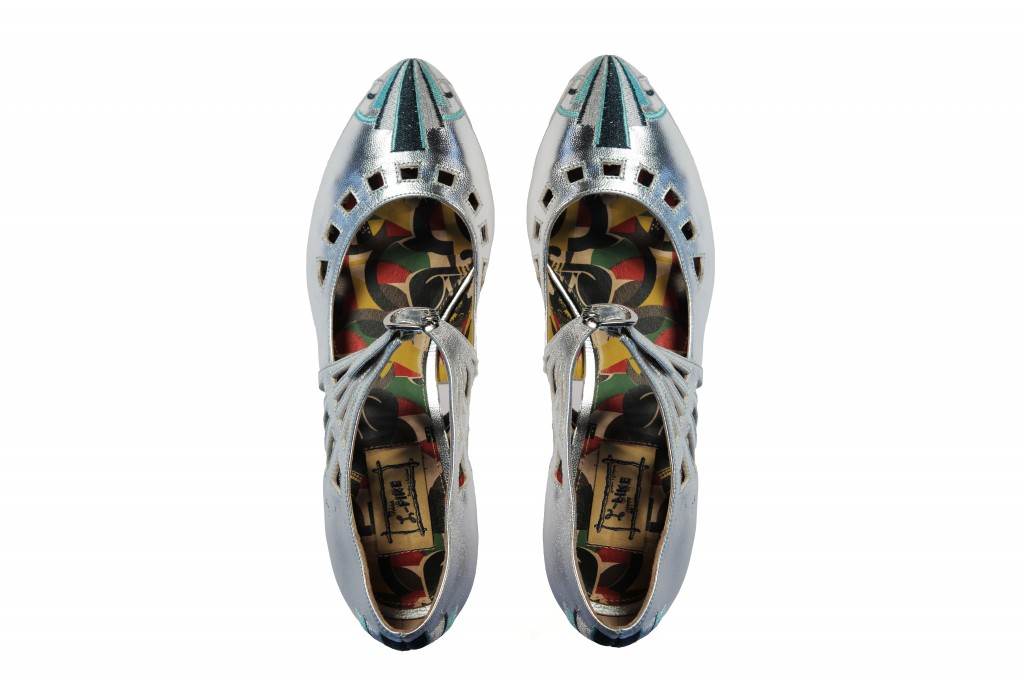 The lovely team behind Miss L Fire, who designed Kate's shoes, are giving away a pair of shoes of your choice. Wow, this is amazing as you could choose some fab wedding shoes or simply a great 1950s inspired pair for the daytime.*
To enter simply:
Subscribe to the blog by email or on Bloglovin
Tweet us @vtgweddingfair and @MissLFire and tell us why you love their shoes!
The winner will be drawn from random on 24th March 2014.
*You will need to choose a pair that is in stock with your size available.