Neon brights and retro love for this inspirational shoot at Gods Own Junkyard, Walthamstow, London! It's full of eclectic decor and styling and shows the grunge side of the 50s with a splash of elegance thrown in. Debbie Clifford of specialist bridal shop Bridal Reloved, who sell vintage and pre-loved gowns for your wedding day, coordinated the shoot. She wanted to give couples some alternative inspiration on a classic vintage wedding! This retro 50s inspired shoot is full of quirky details and in the most amazing venue, you're going to love it!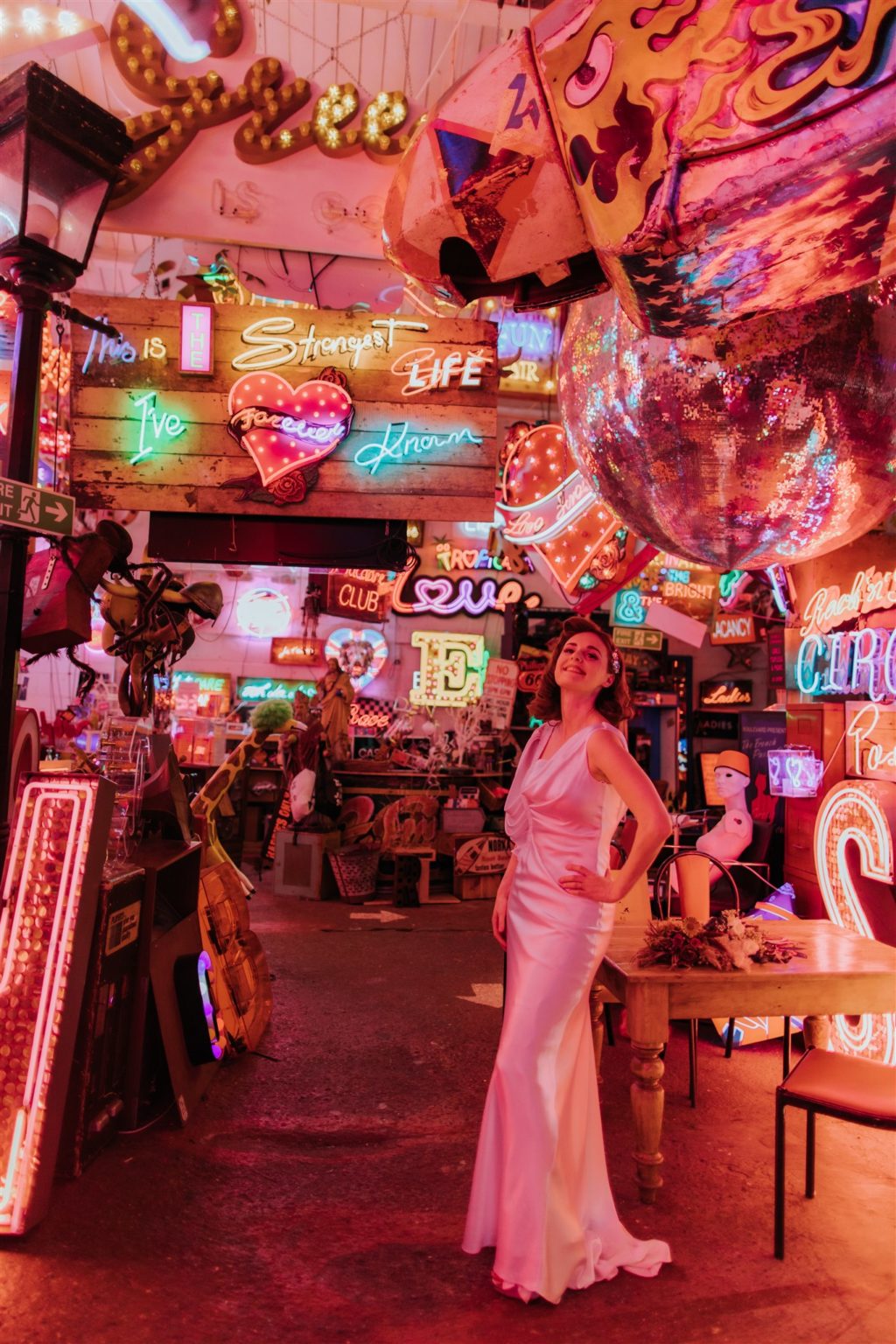 Inspiration
"I wanted to do something a little alternative. I'd been to the venue years before and it had always stuck with me as a great wedding venue! In terms of decor and styling, there's v
ery little needed from you! The venue is packed floor to ceiling with neon signs and 50s memorabilia, a bit like being in Vegas! It's perfect for an East London urban vibes wedding with lots of bright colours, and fun pieces."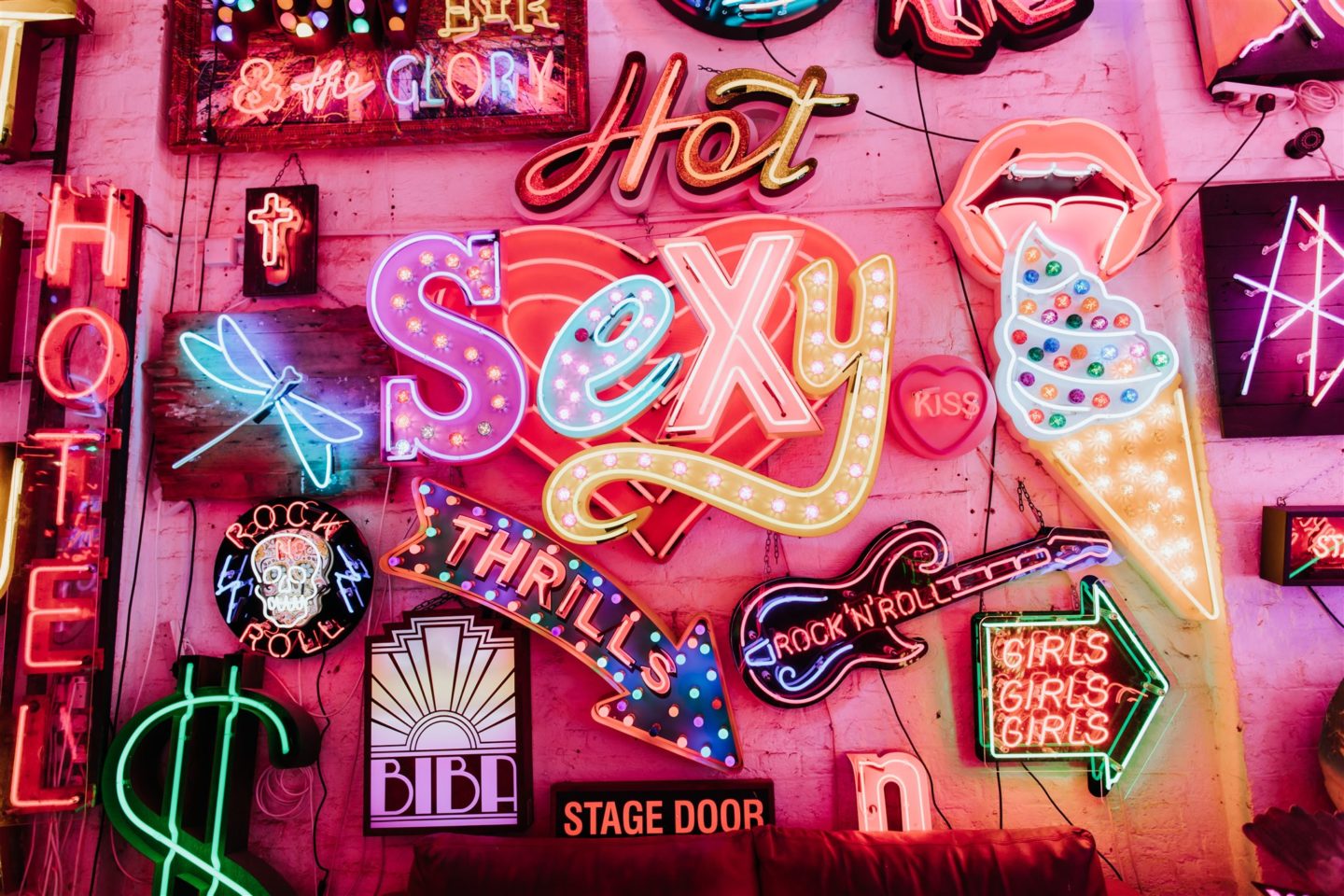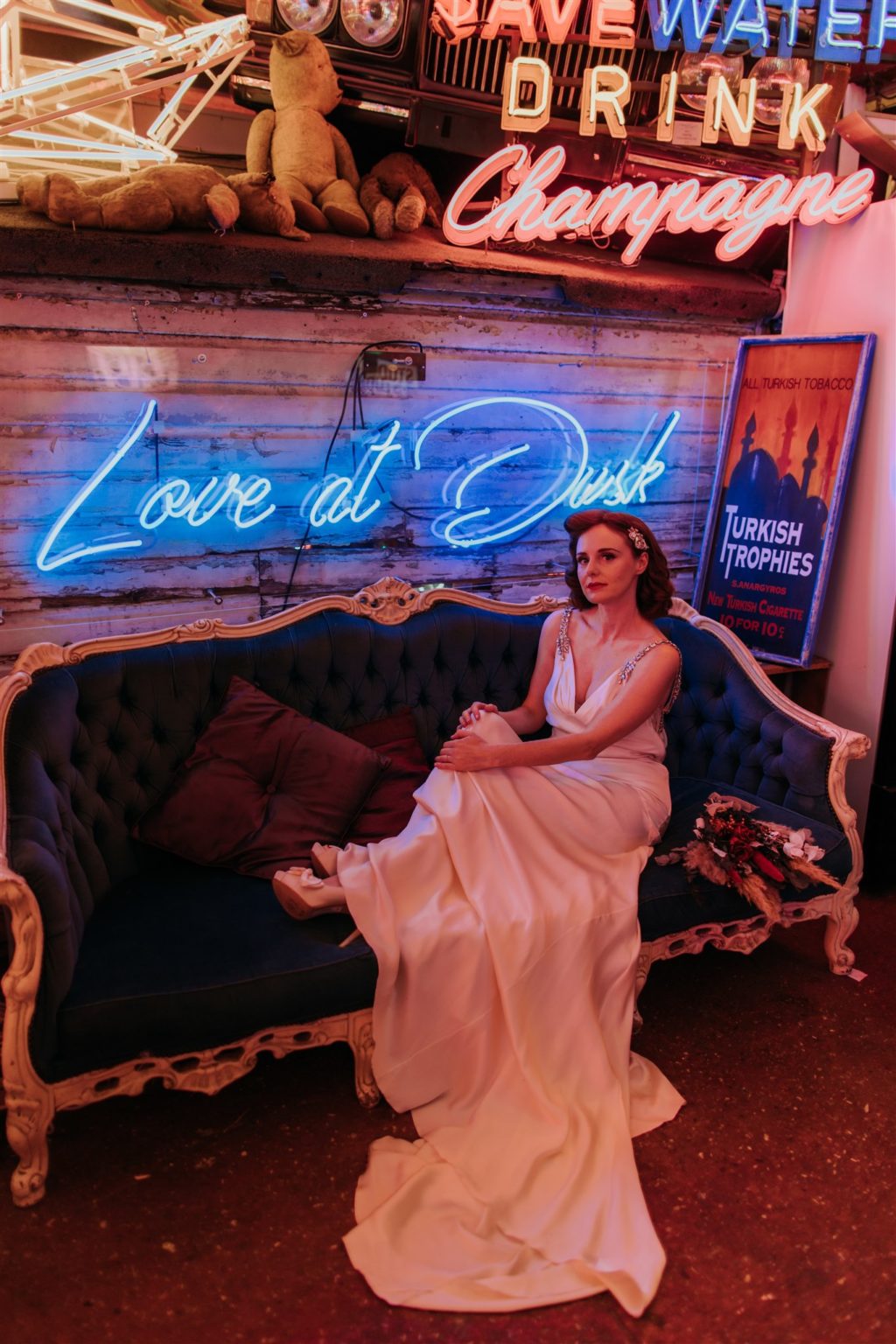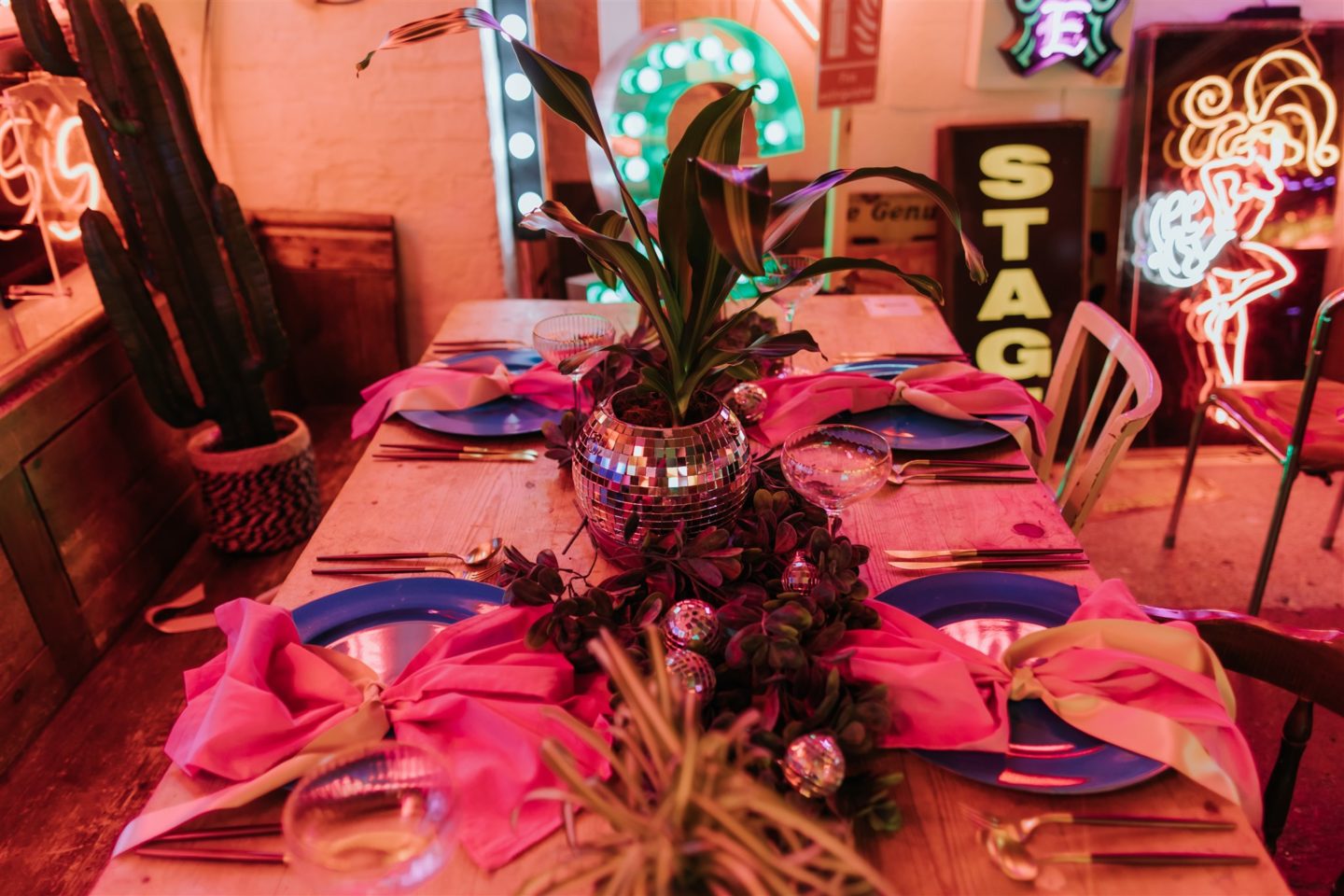 Photography
Photographer – Isabelle Elliott
"I really wanted to make the most of our venue, God's Own Junkyard, which is so quirky, fun, and full of colour. The dresses were unique with some great vintage styles, so I used the versatility of the venue to find the perfect spots to match the style of each different dress. My photography style is fun, candid and natural, and I think it's really important for couples to find a photographer that not only takes photos in a style they love but also creates a wonderful experience that suits you well. It's helpful to have a chat or a meet-up before booking with someone, to make sure you really click and trust you'll have a great time with them on your wedding day!"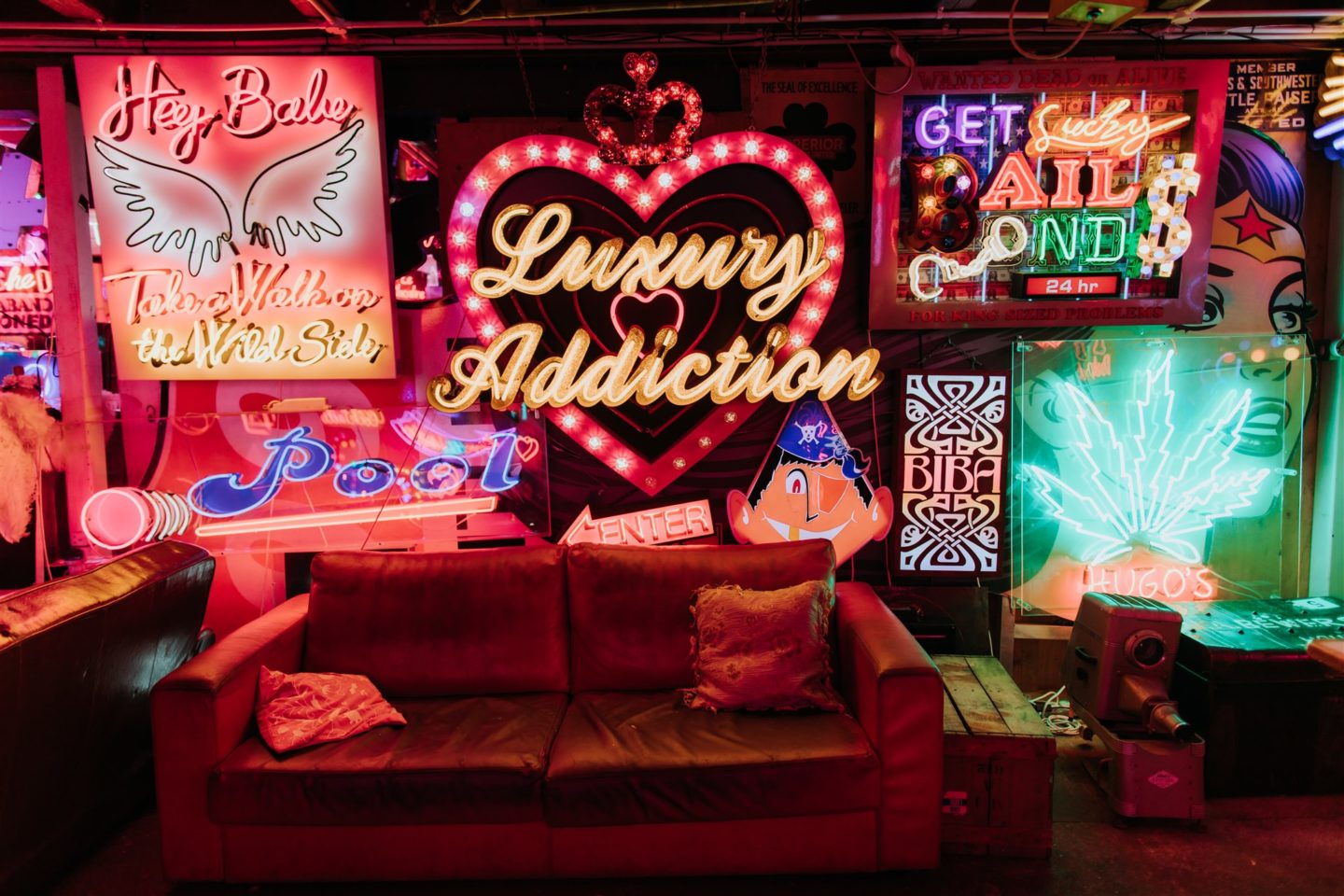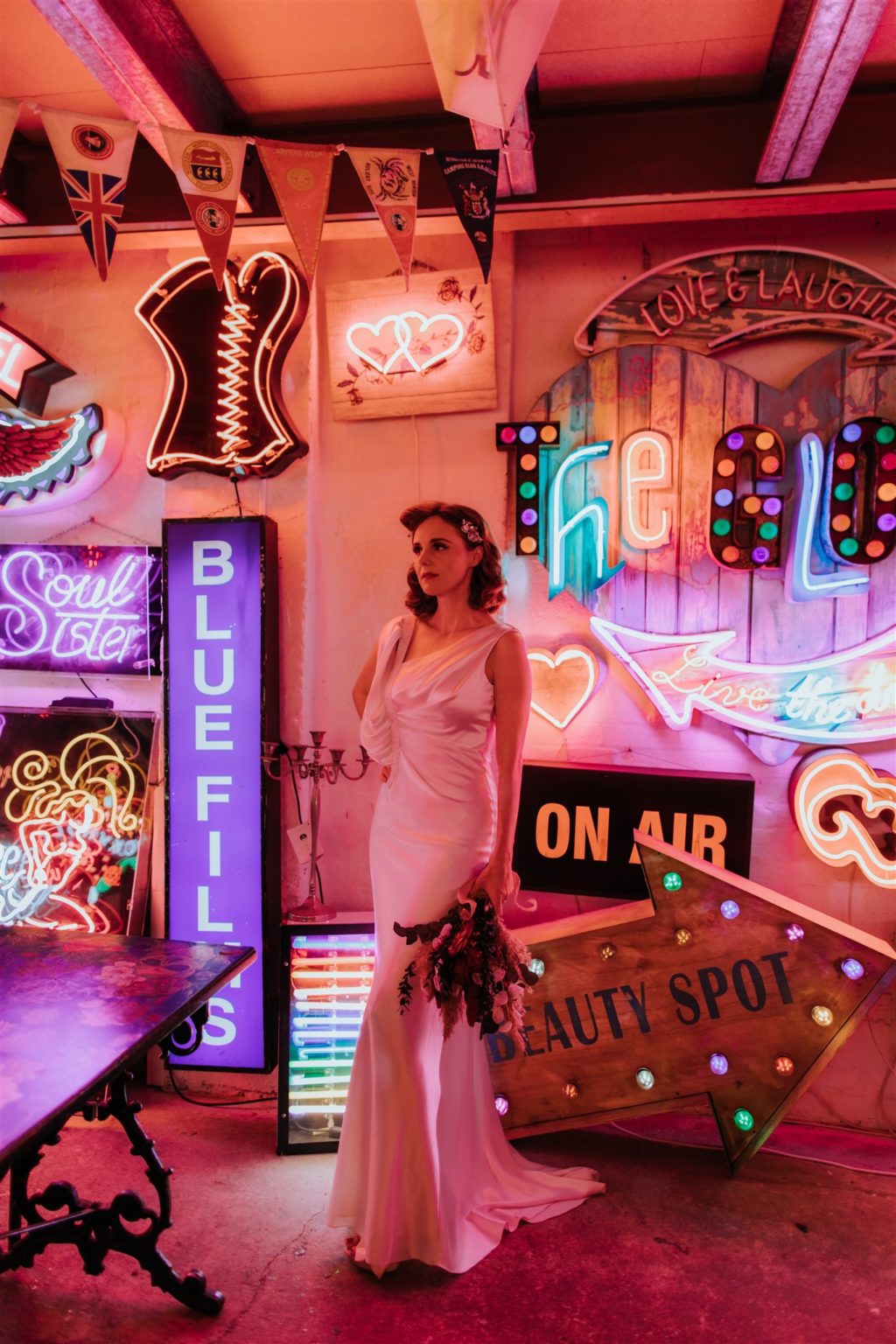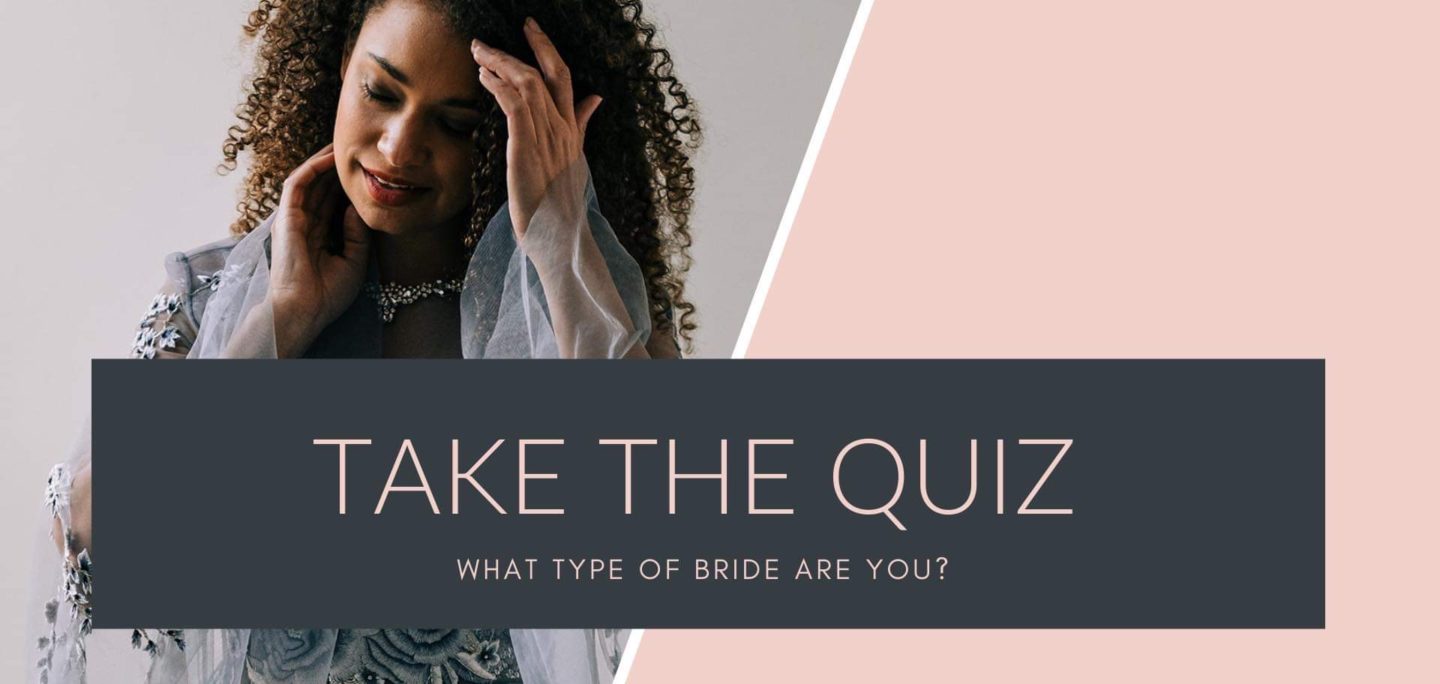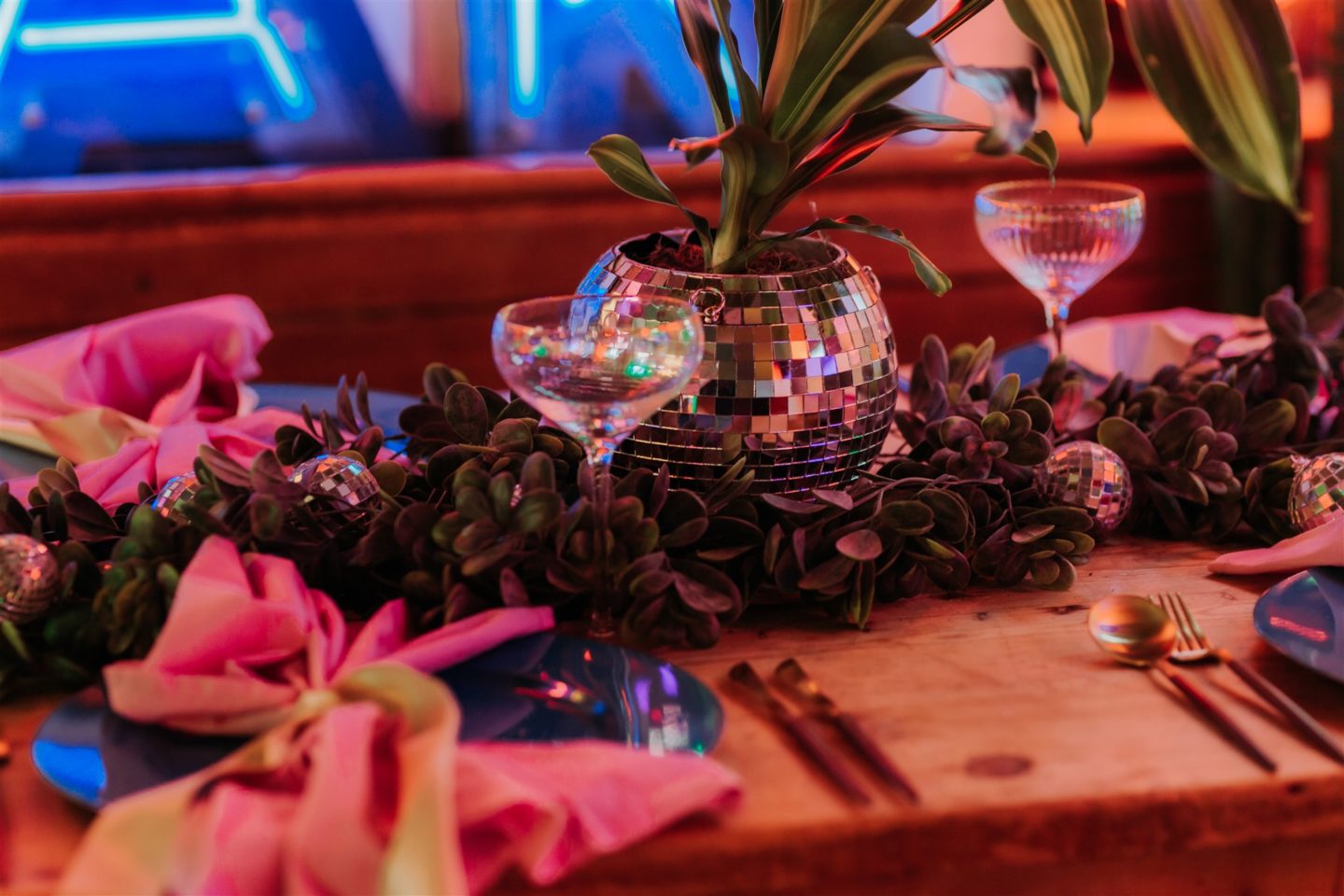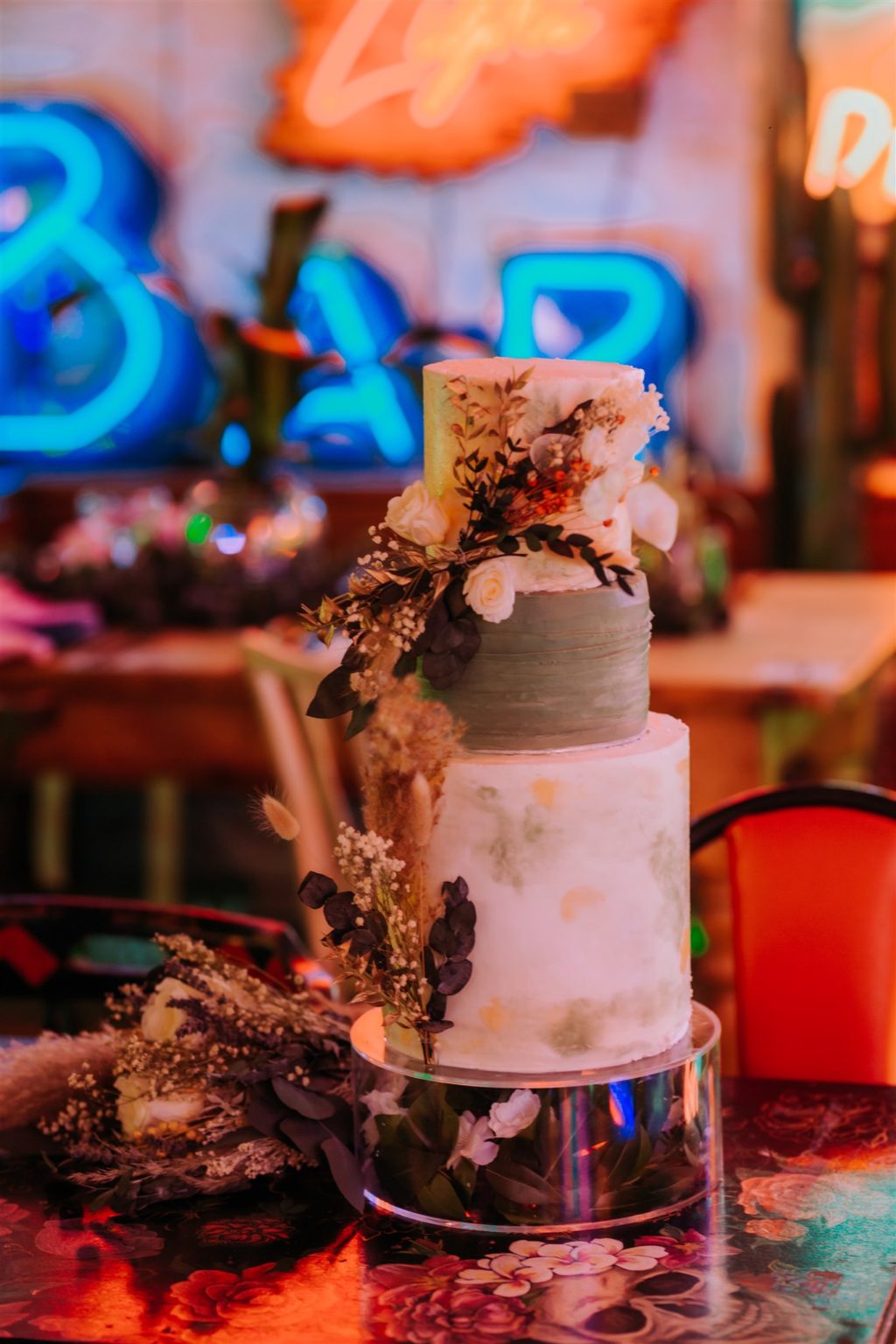 The Details
Cake – Herons Nest Cakes
"For the cake, we used the same dried flowers as the bouquet, it was a great touch to bring everything together. When looking for a cake for your wedding day a good cake maker will ask you lots of questions to get to know you both and your wedding vibe to create something in harmony with that. Some of the key questions I ask couples are around finding out whether they're into something formal and structured or less obviously constructed, a conservative look or something more avant-garde, traditional cake flavours or something more contemporary, bold or muted colours. Knowing these things makes it possible to narrow the brief and zero in on your ideal wedding cake."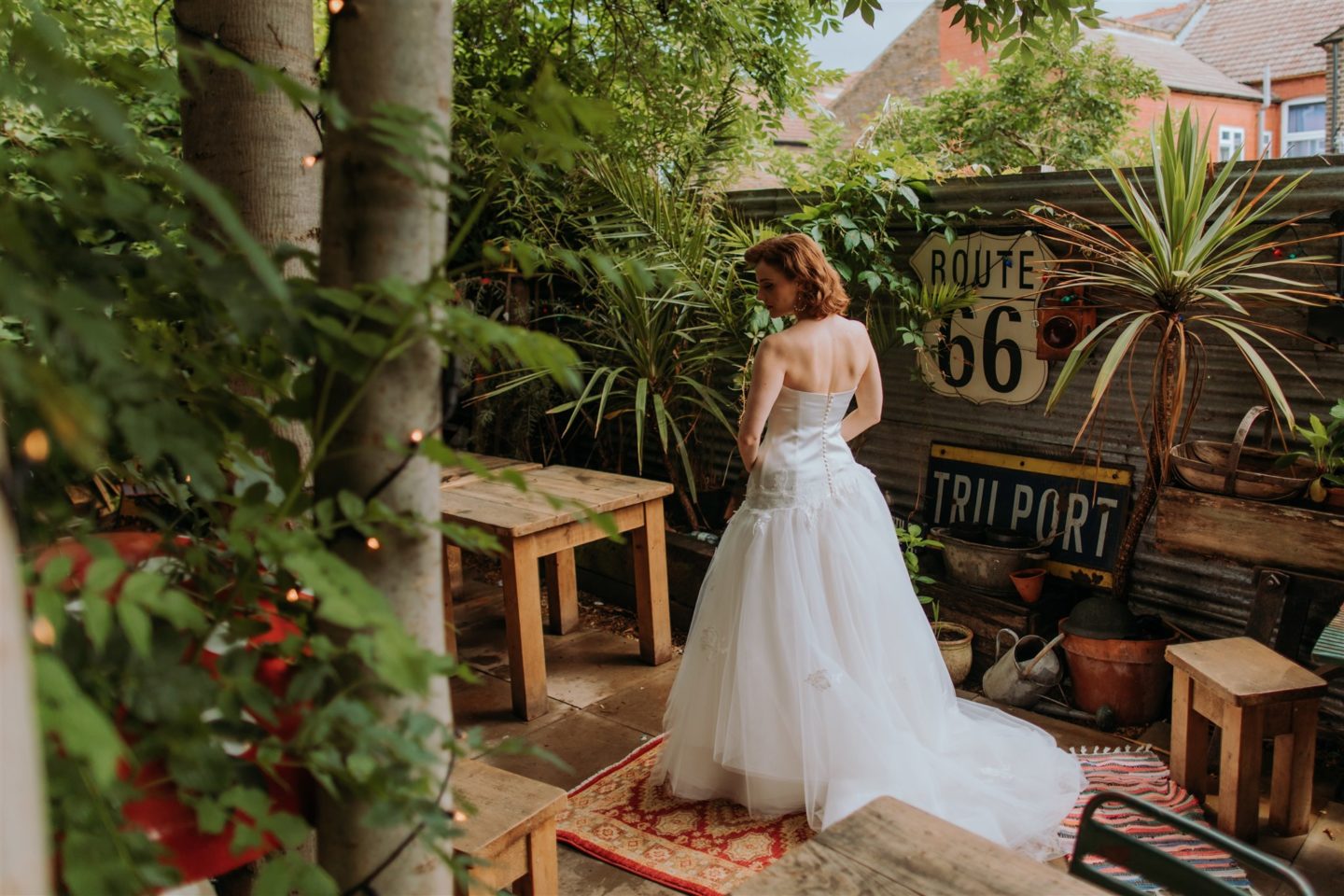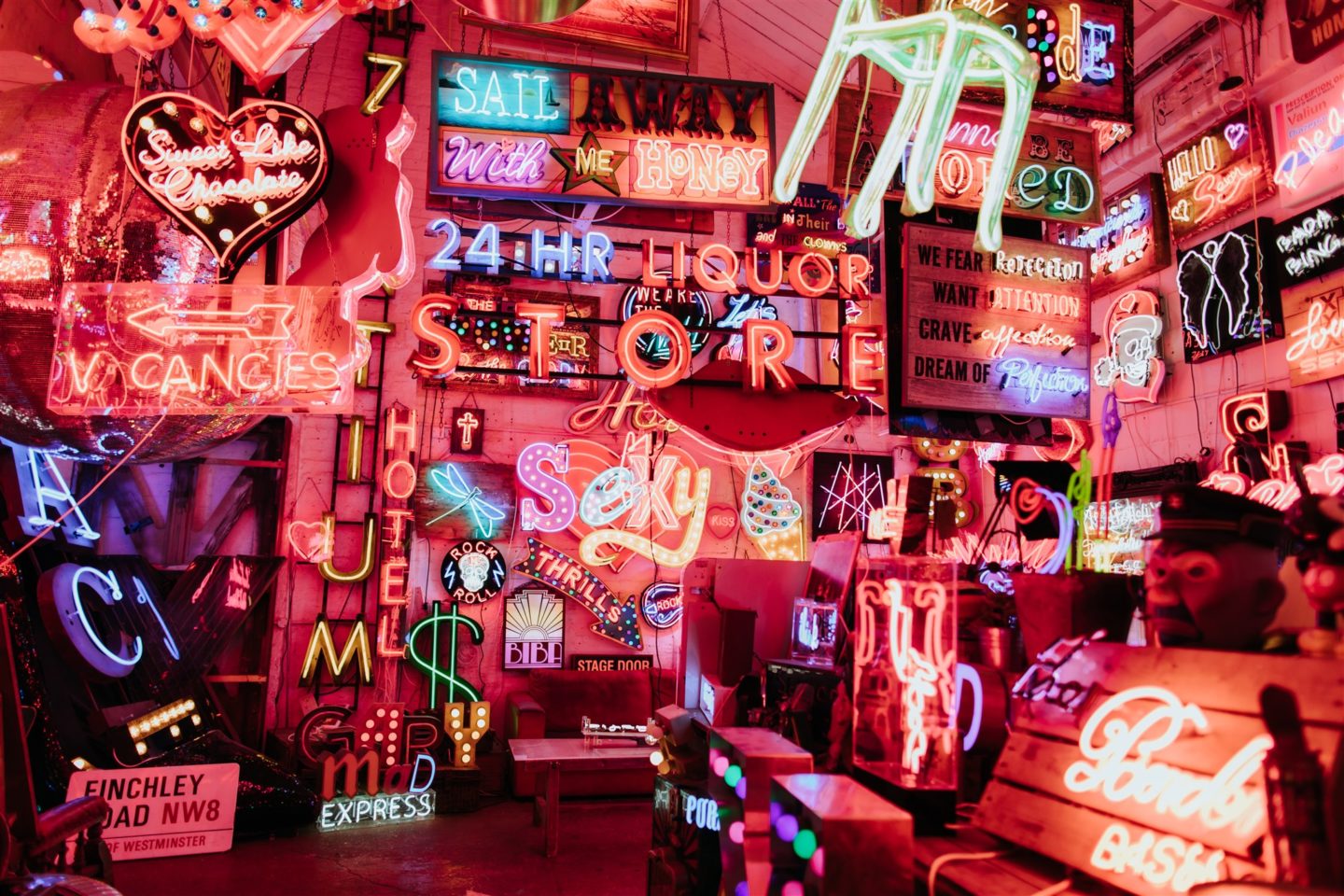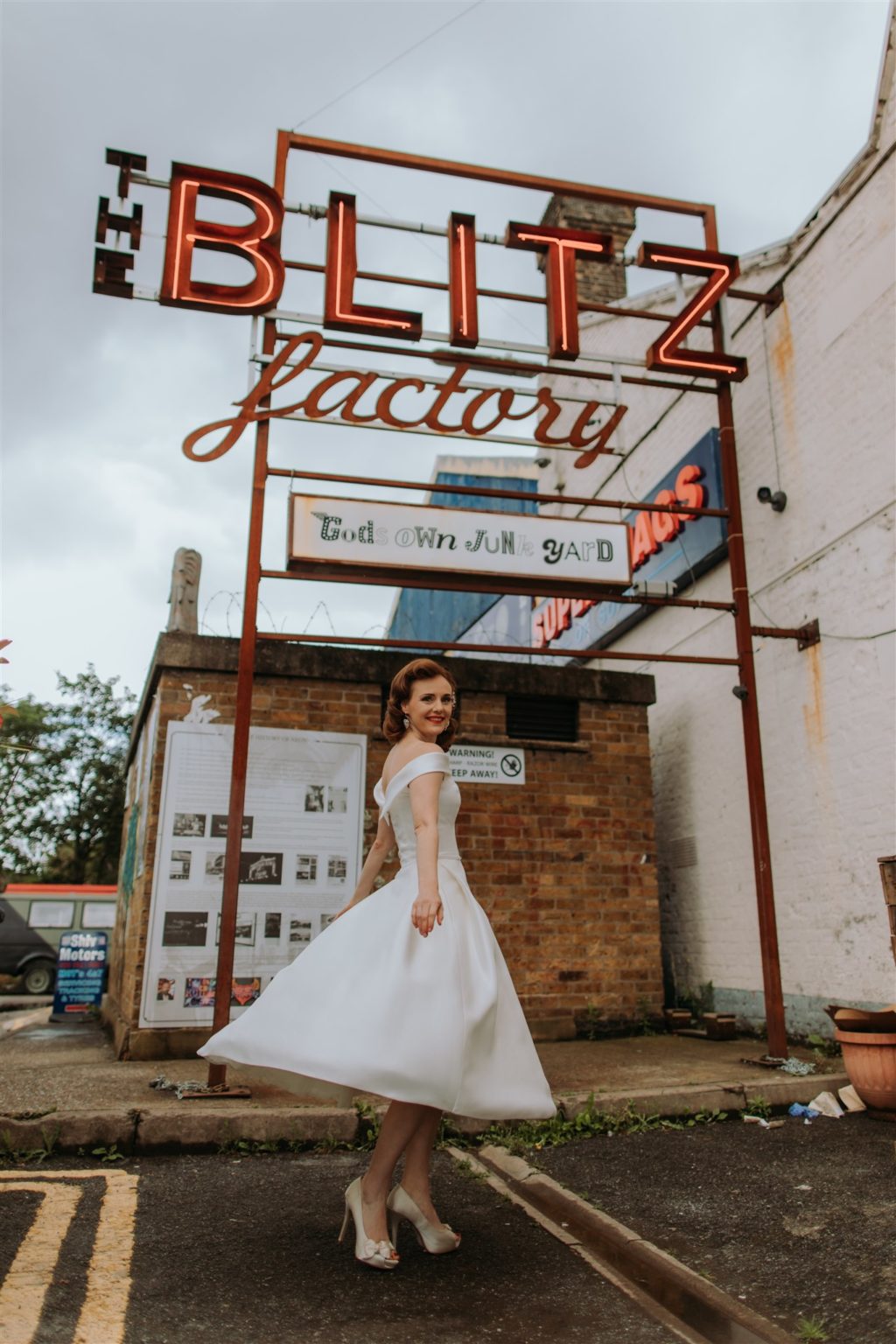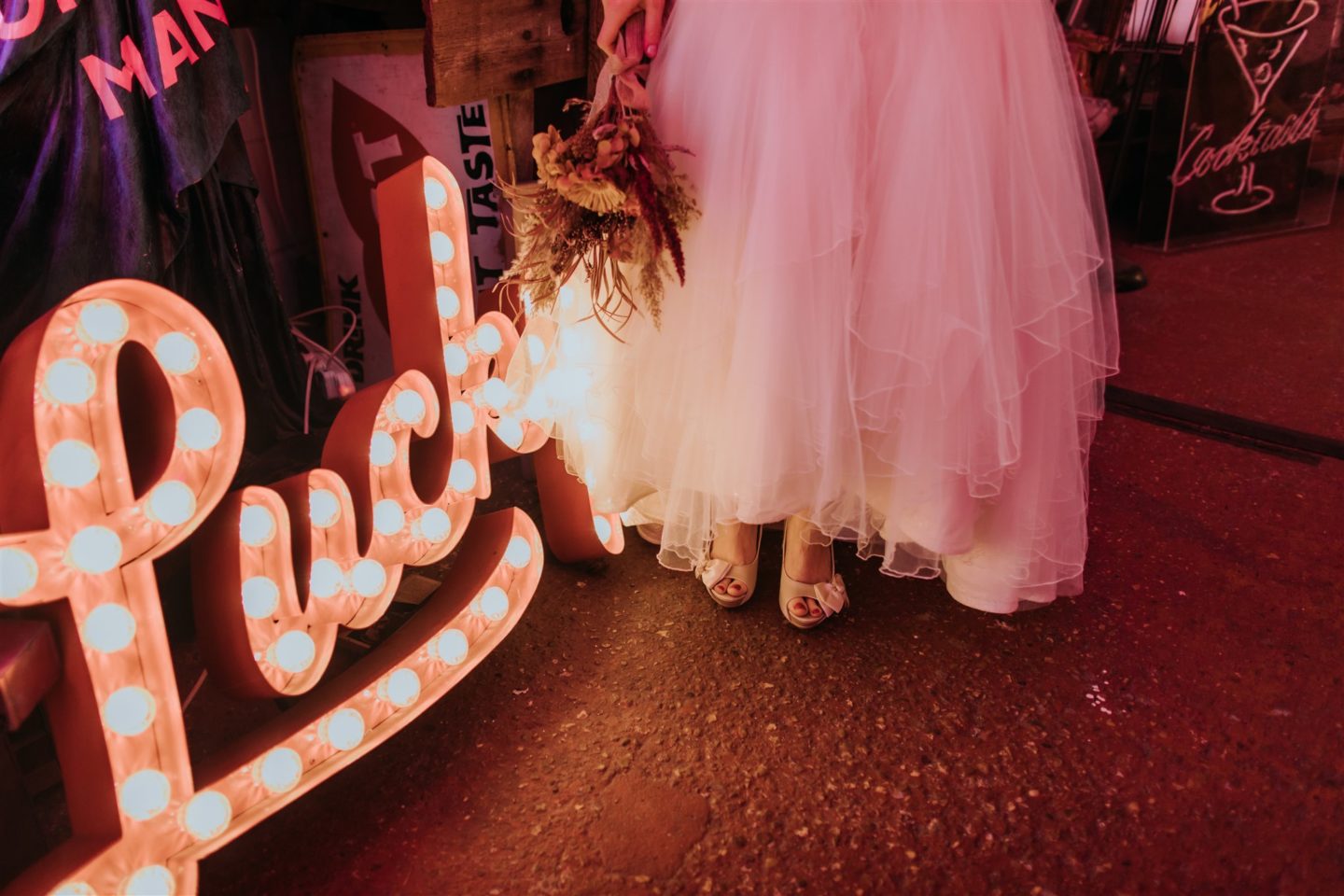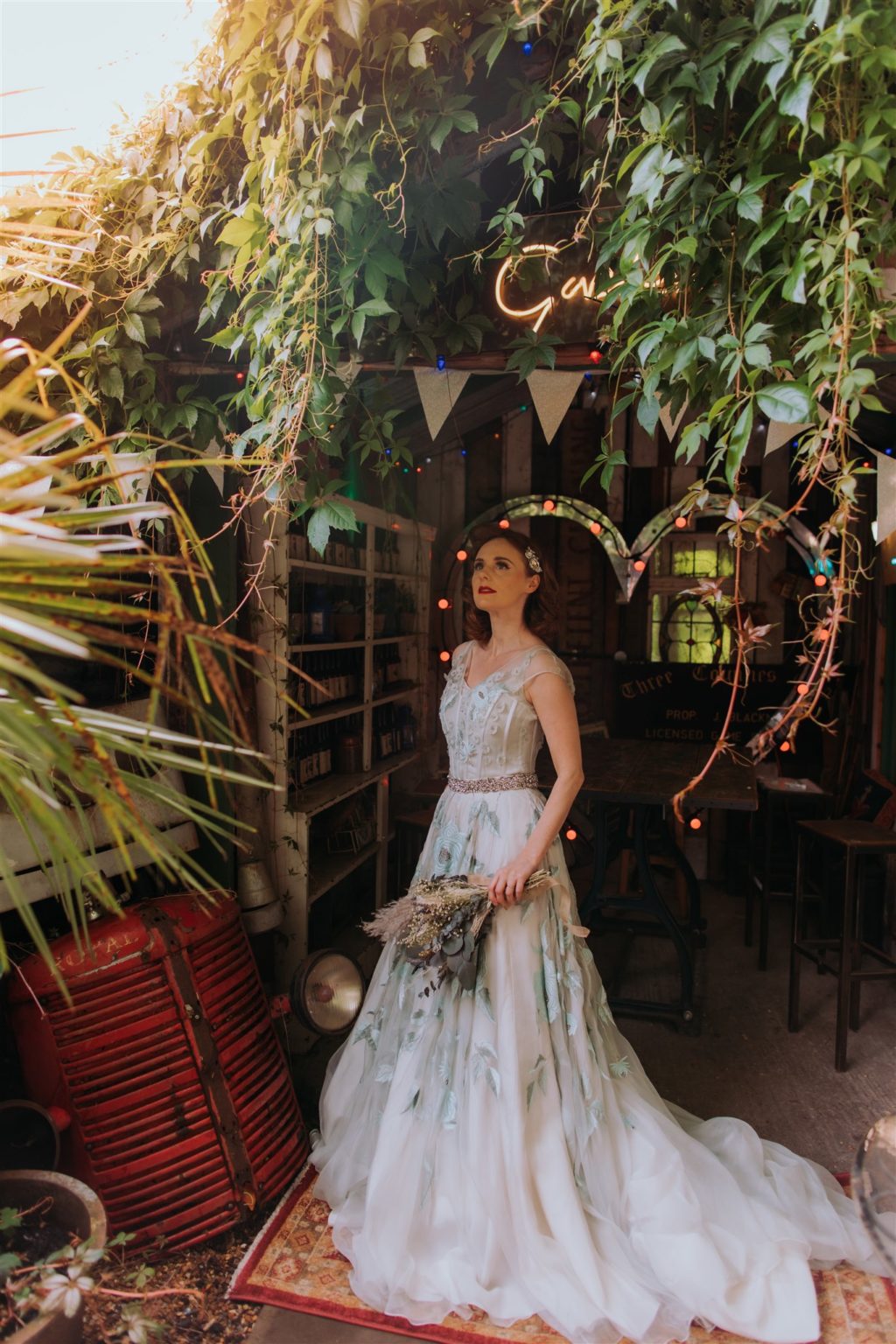 Flowers – Fleur De Lace UK
"Wedding flowers really help to set the scene and feel for your day, If you are going for something simple and laid back, then we would always recommend pairing a small and simple bouquet to match and smaller table arrangements. If you are going for big and bold then the flowers should also be that too! A large bouquet and lots of big table pieces and installations. The biggest trend this year is sustainability so try and find flowers that will last longer than just the day and can be put to use after the wedding. We used colourful dried flowers for the shoot, they smell amazing and last for years. A great memento of the day and If you opt for dried and preserved stems, you can gift all of your arrangements to members of the wedding party."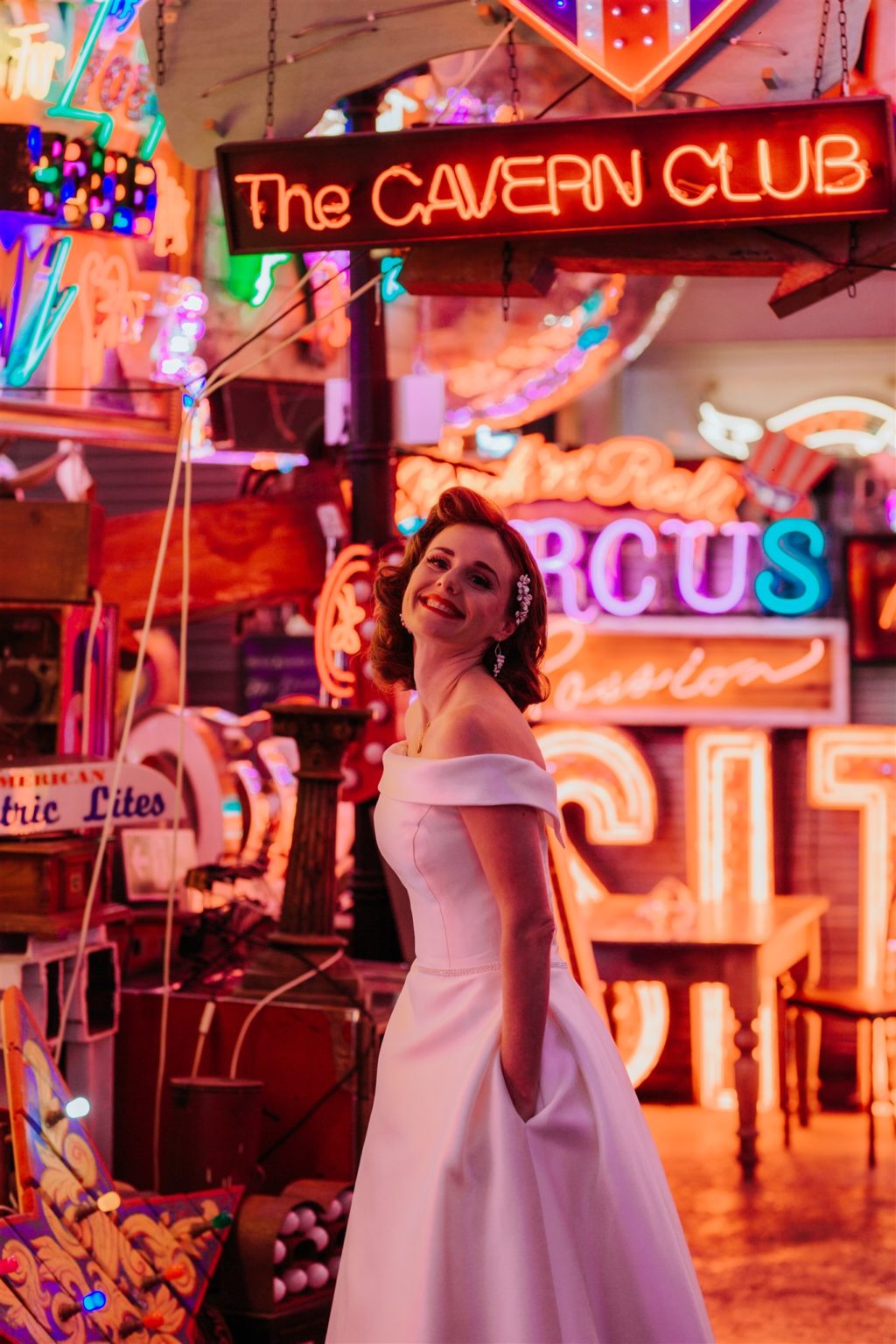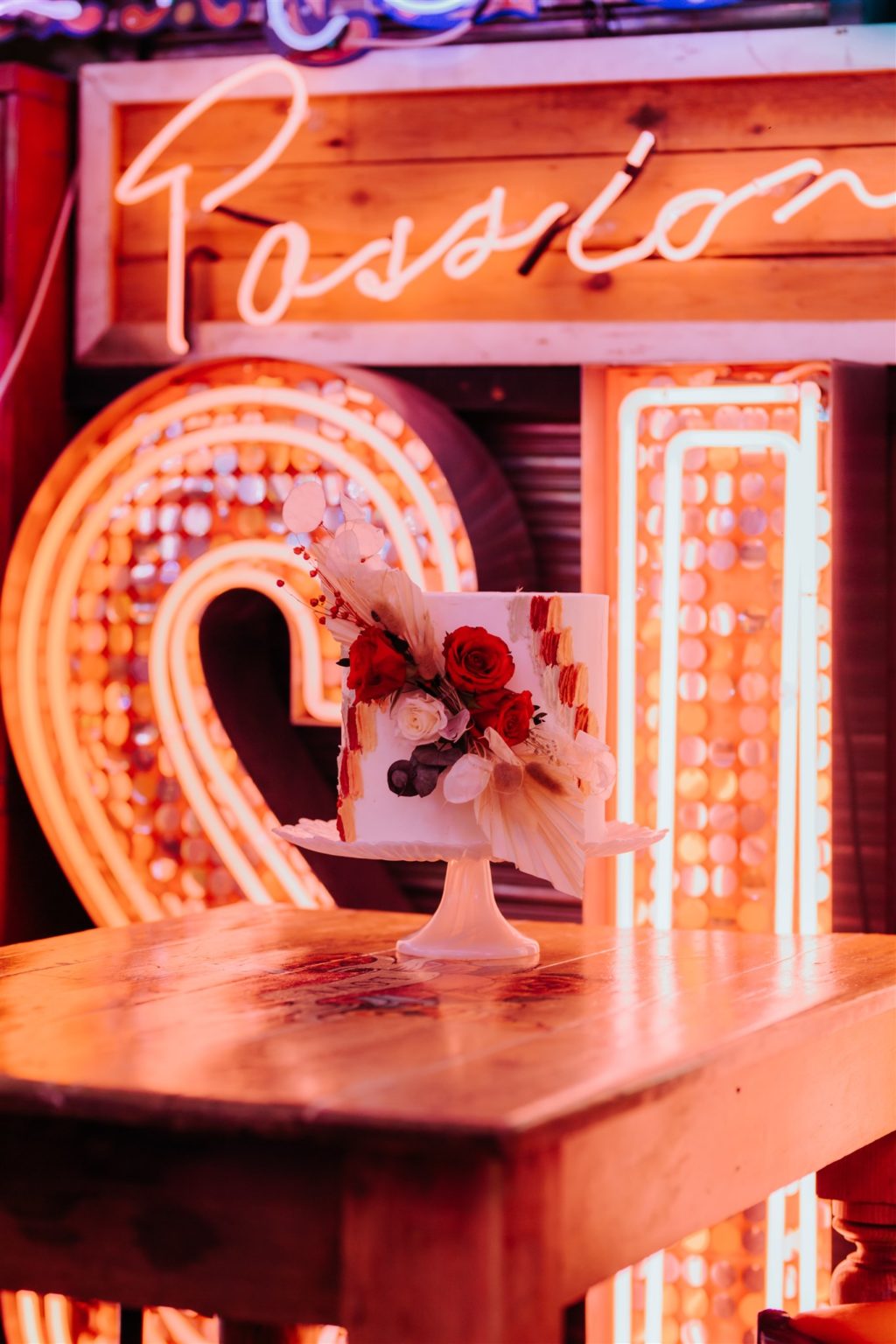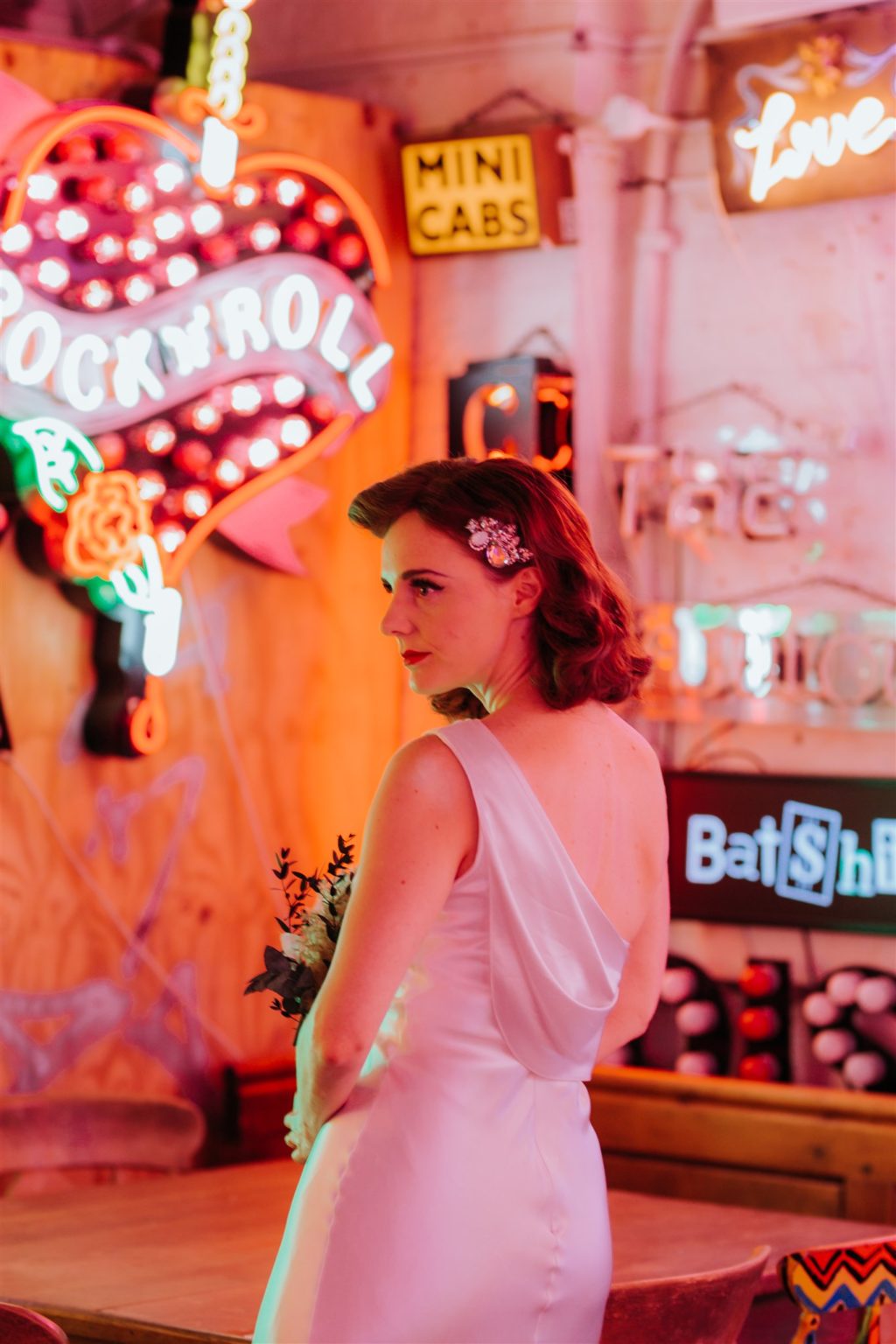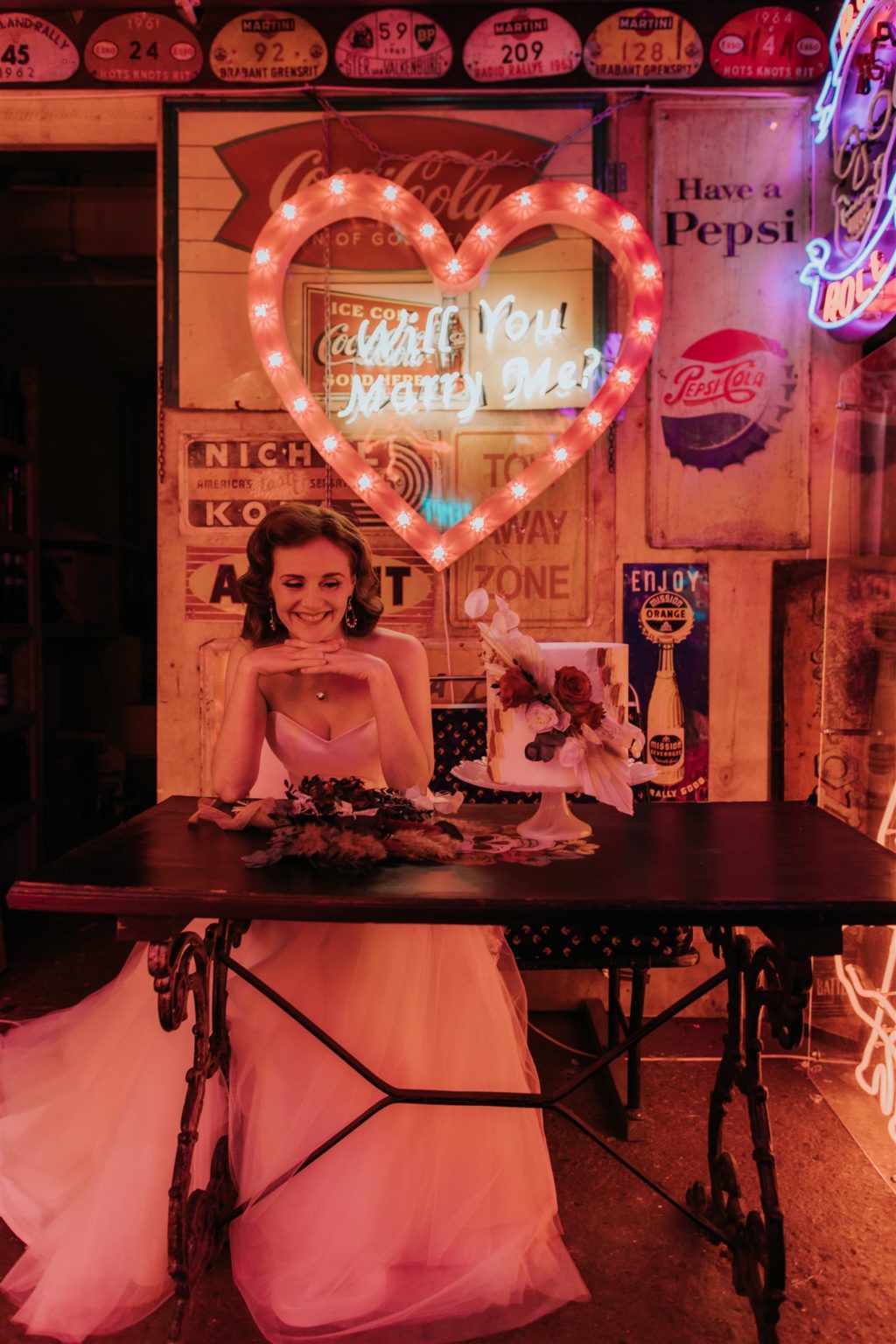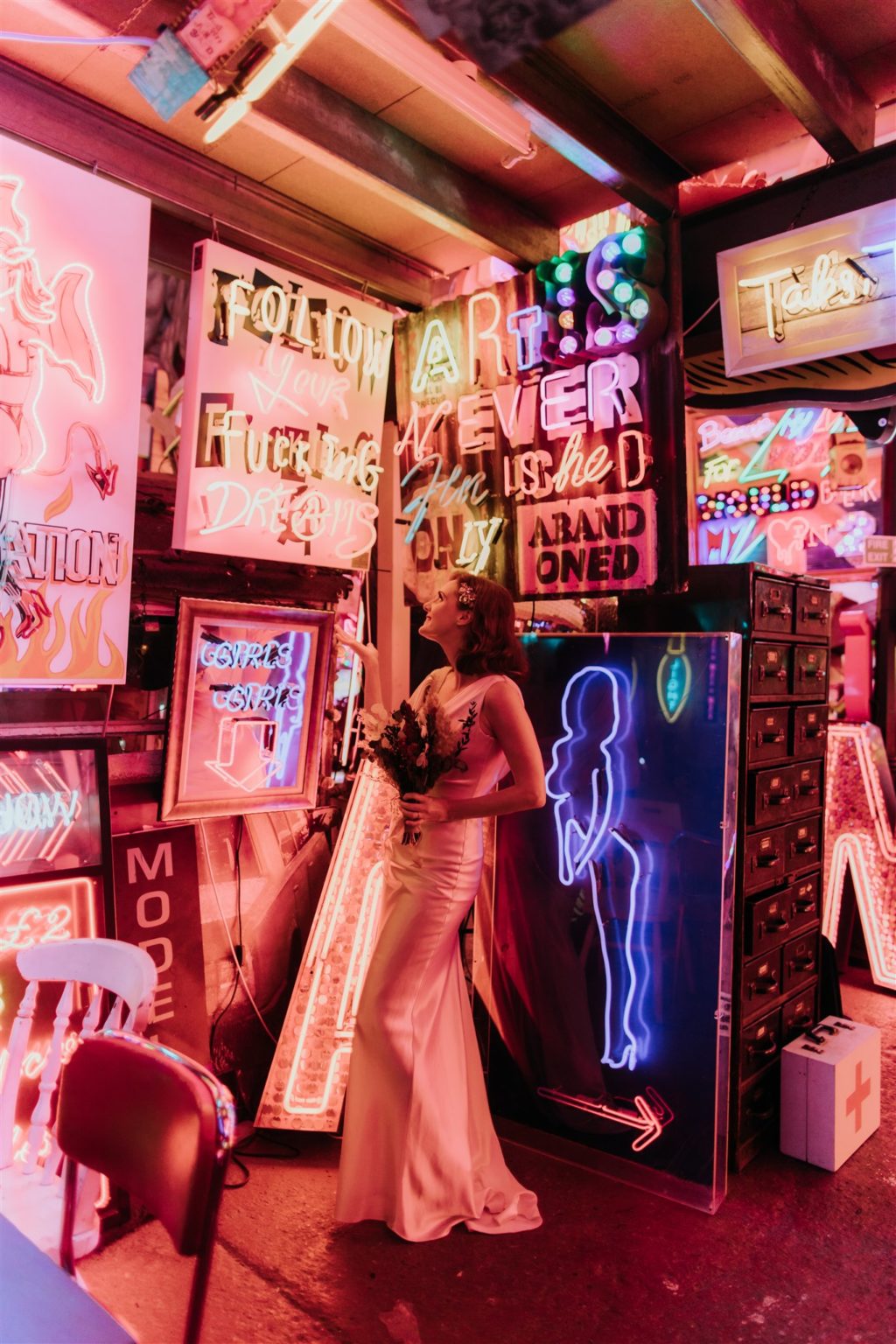 Hair and Makeup – Le Keux Essex
When Debbie at Bridal Reloved Wanstead contacted me to be involved in her amazing shoot at God's Own Junkyard to provide a Le Keux Vintage twist I was delighted as this location has been on my shoot bucket list! I knew straight away that a classic pageboy curl set and 1950's style makeup would be the perfect pairing for a great contrast against the vintage neon, brickwork and gorgeous classic dresses picked out by Debbie. This hairstyle was often seen on stars on the silver screen in Hollywood in the 1950s and has more recently been made popular again by celebrities such as Dita Von Teese. It adds instant glamour and is timeless so I knew it would compliment all of the dresses we would be using. Choosing one of our Le Keux lipsticks in the glamourous 'whistle Bait Red' and adding a classic eyeliner flick then finished the look giving a nod to vintage with a modern rock n roll twist to update the overall styling.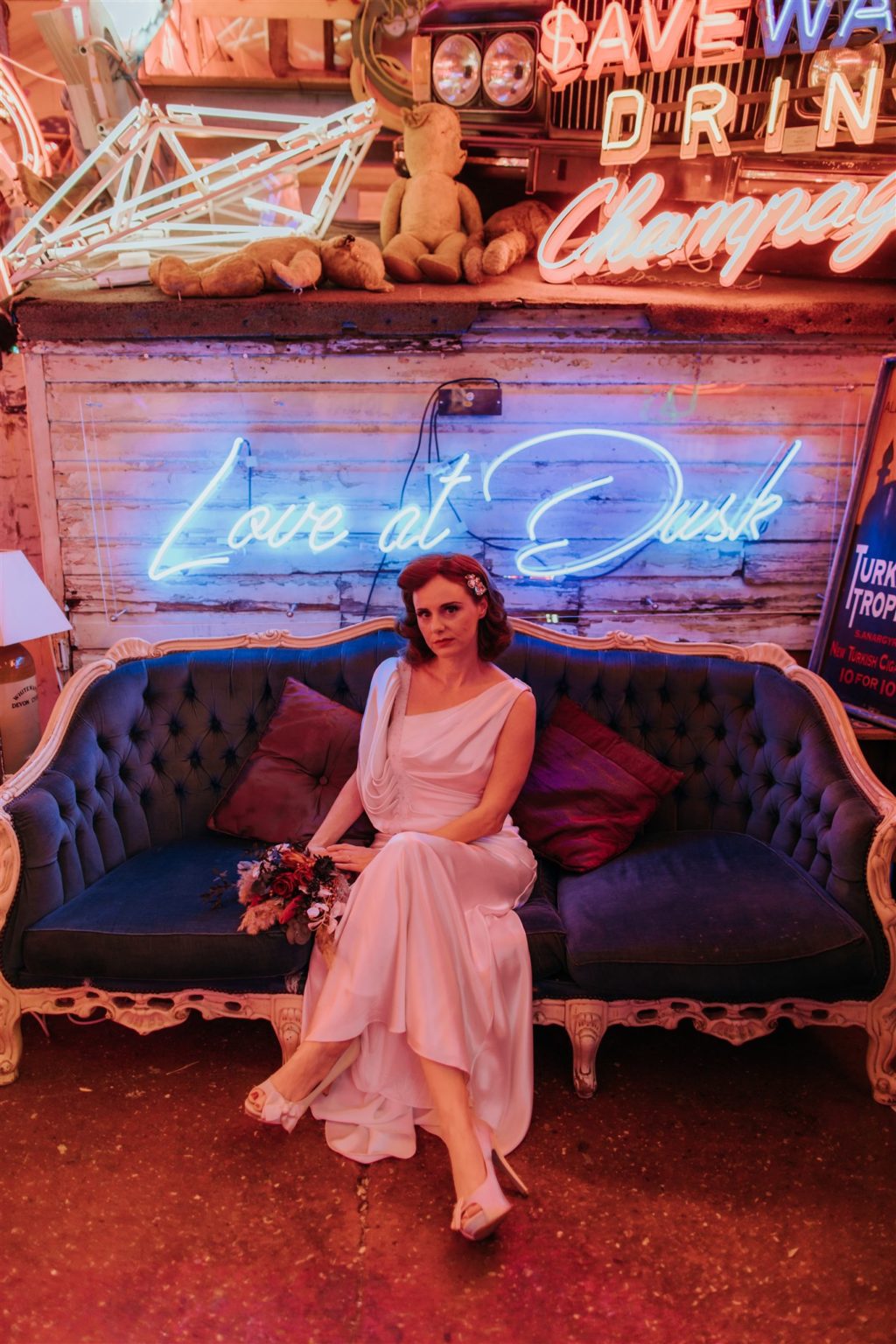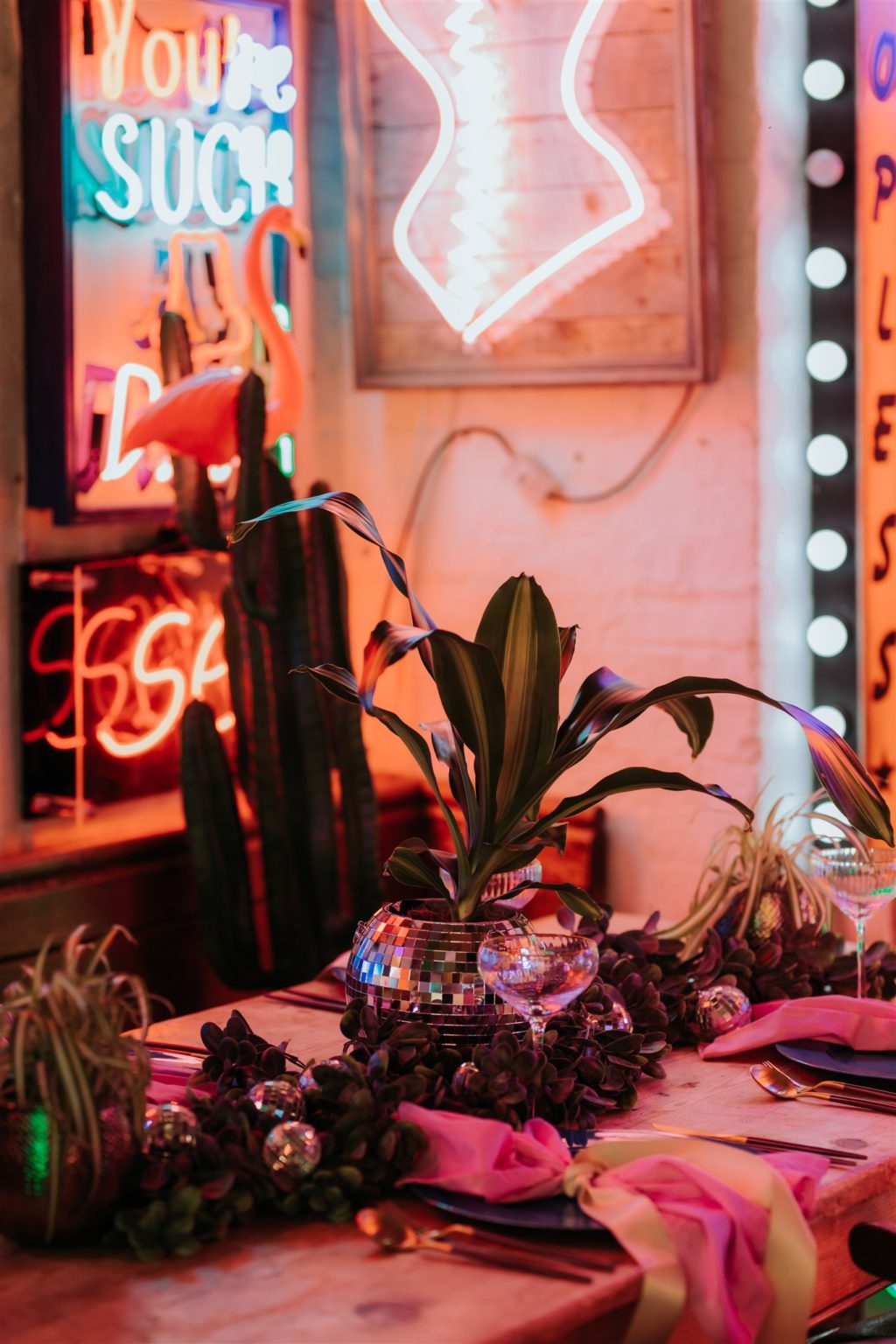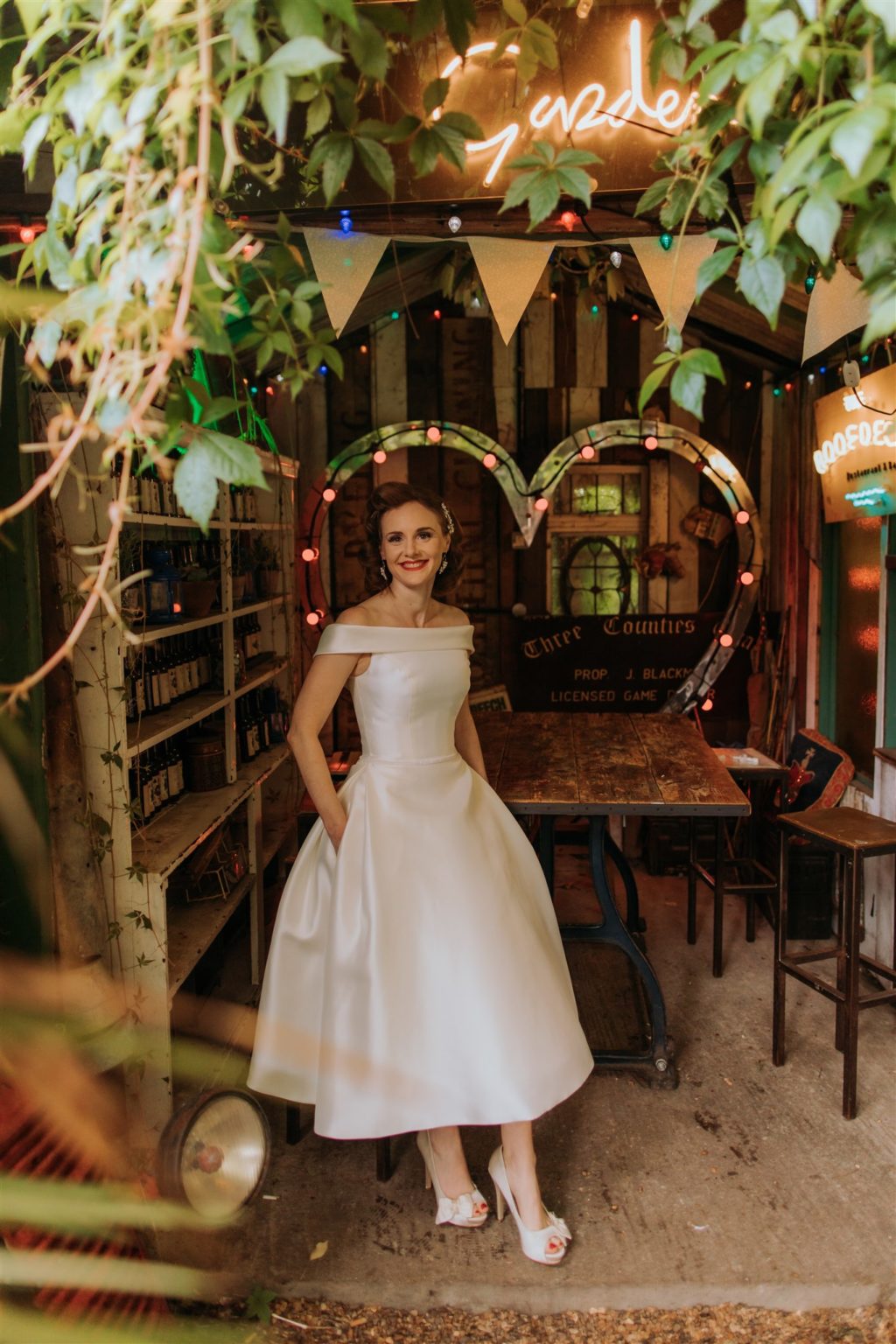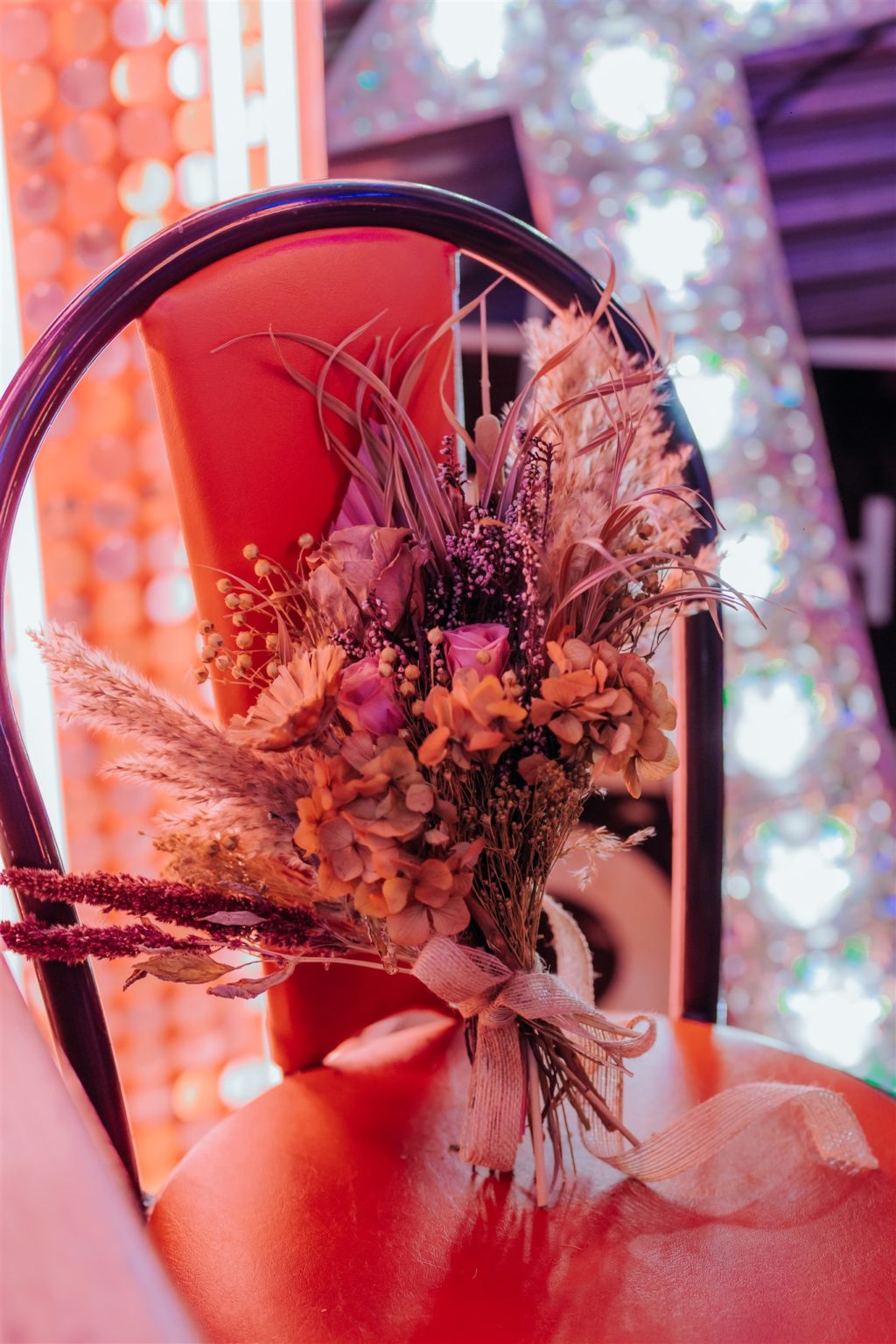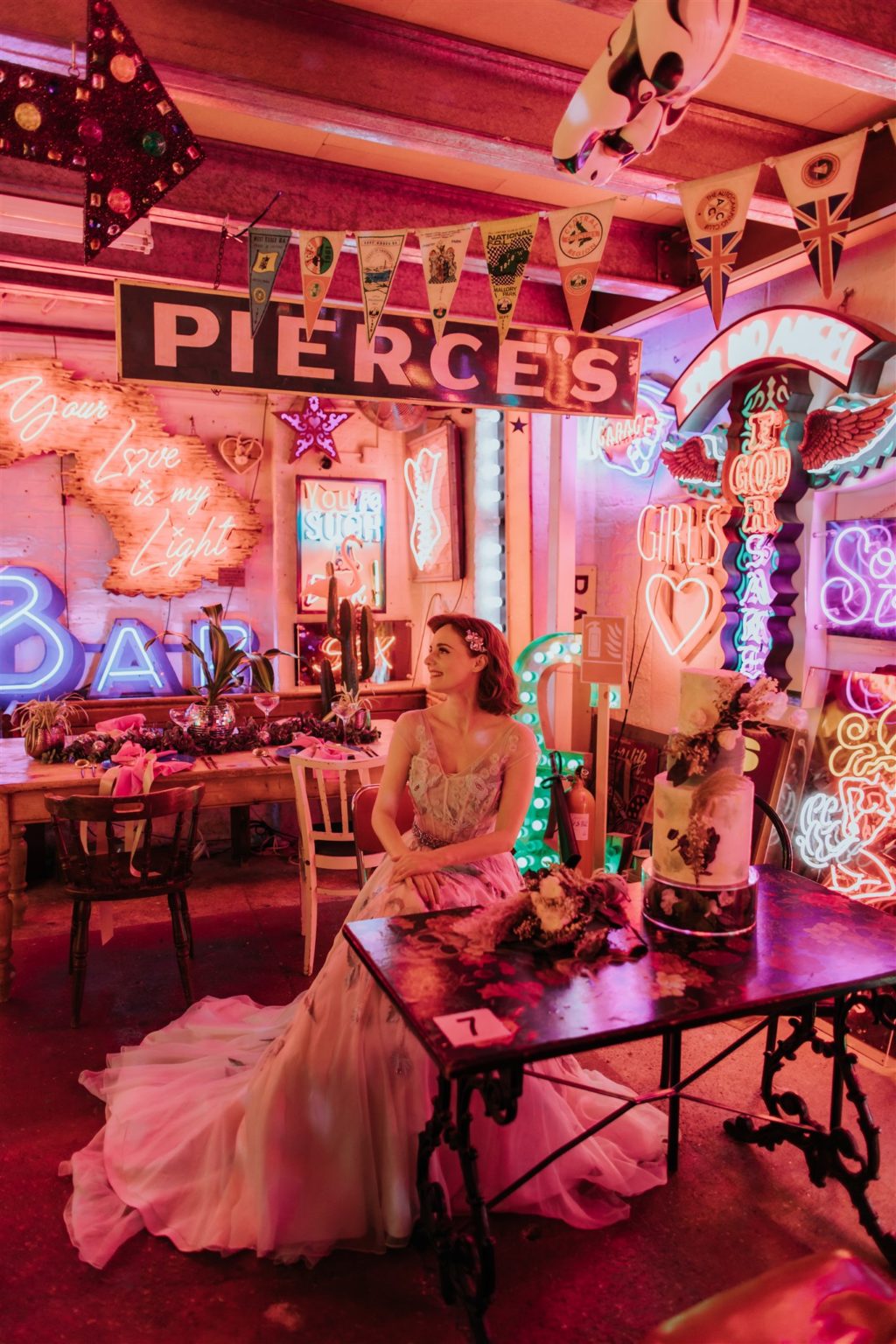 The Team – Retro 50s Wedding Inspiration At Gods Own Junkyard, London
Photographer Isabelle Elliott @isabelleelliottweddings
Venue Gods Own Junkyard @godsownjunkyard / Dress, shoes and accessories Bridal Reloved @bridalrelovedwanstead / Styling/Stylist Fleur De Lace UK @fleurdelaceuk / Florist The Botanical Bunch FB IG @botanicalbunch / Hair and Makeup Le Keux Essex @lekeuxessex / Cake Herons Nest Cakes @heronsnestcakes / Model @daniellekrhodes
IF YOU LOVED THIS 50S WEDDING PIN IT TO YOUR PINTEREST BOARD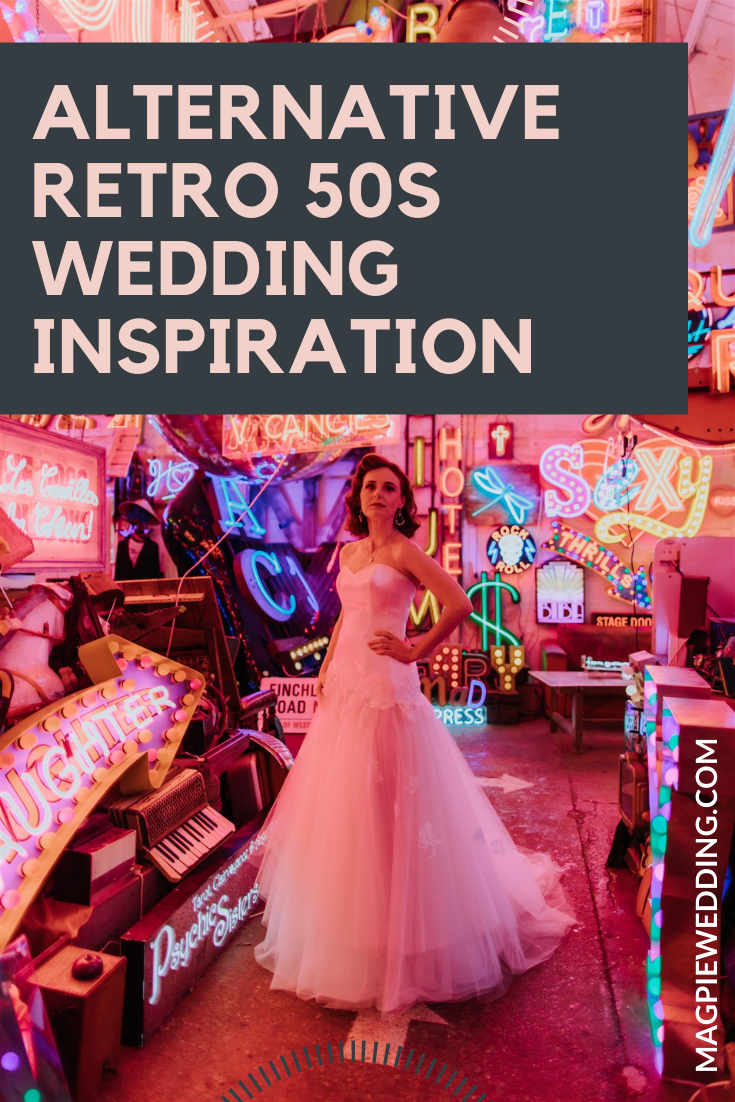 If you loved this 50s wedding at Gods Own Junkyard you may also like;
Vintage Wedding Dresses; 5 Bridal Looks For Your 1950s Wedding
A 1950's style vintage wedding in historic Cambridge
Vintage Art Deco Wedding at Charlton House with Authentic Styling